Arizona Road Trip Itinerary
This 14-day Arizona Road Trip Itinerary will help you prepare for one of the best Southwest adventures! Arizona, aka Grand Canyon State, is one of the most popular tourist destinations in the USA. Of course, the main reason is the amazing Grand Canyon National Park. But except for this, the state has a lot to offer. In this post, we want to give you ready-to-go the ultimate 14 days Arizona road trip itinerary. You will find here everything you should know to have a fantastic vacation. We have visited this state many times, one of our favorites, and that's why we share with you the best experiences and places to see in Arizona.
This article may contain affiliate / compensated links. For full information, please see our disclaimer here.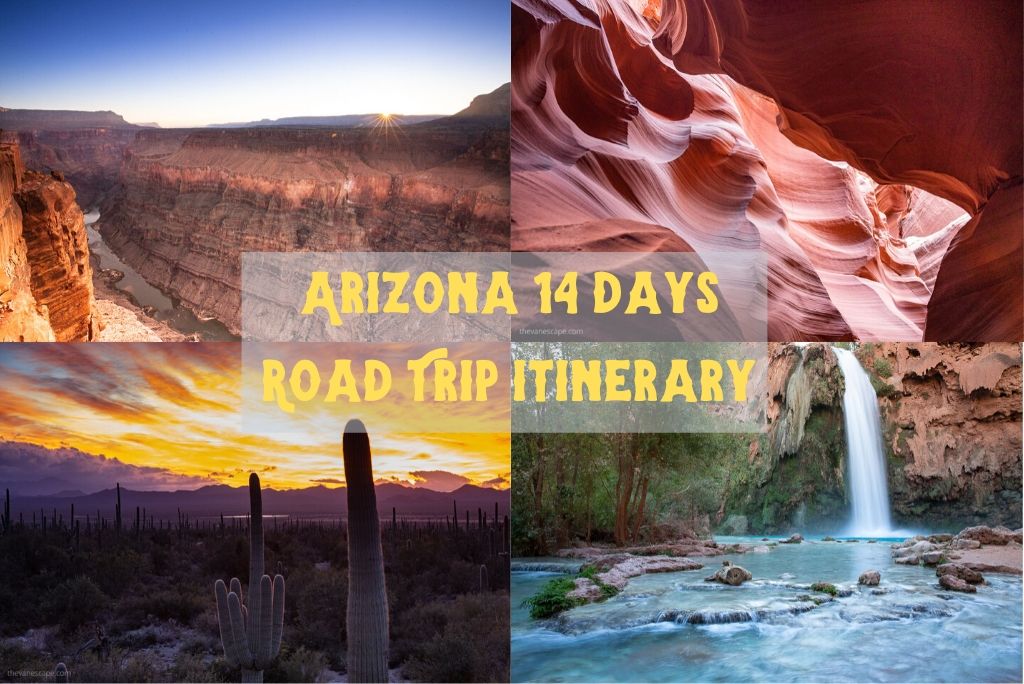 Arizona Road Trip Itinerary – Introduction
This is not a standard Arizona road trip itinerary. This is a route for people who like adventure. In addition, it's a very intensive road trip. There is no time for laziness. We want to show you the real gems of Arizona, hard-to-reach places that take your breath away, such as Toroweap Overlook, North Rim, or Havasu Falls. Of course, there will be some highlighted natural landmarks such as Grand Canyon, Monument Valley, Antelope Canyon, and more. So you can adapt this itinerary to your needs. For sure, you will find here lots of inspiration and tips. We love Arizona and have visited this state many times at different times of the year.
Because some places listed below require permits (Toroweap Overlook and Havasu Falls), it's a good idea to plan your Arizona road trip months in advance. This Arizona itinerary involves also a lot of hiking (some moderate to challenging), so it might not be suitable for small children or people with disabilities. We have planned this Arizona road trip itinerary for 14 days, but you can freely shorten or extend it depending on the time you have.
Best time for Arizona Road Trip
Arizona is an excellent place to visit the whole year. And the state is so big that it differs if you go north or south and the altitude in the selected location. So in the case of Grand Canyon South Rim, it's best to go in the spring or fall. Winter is not bad, but cold. In the summer, it's scorching and crowded, so it's better to choose North Rim this season. And North Rim is closed in winter and most of the spring.
So, this itinerary is best for Arizona road trips between May 15 – October 15 because some places we recommend are closed during winter. But you can adapt it to the winter months by excluding the North Rim of the Grand Canyon. March and April are also perfect for the Arizona road trip, but you will need to modify this itinerary slightly.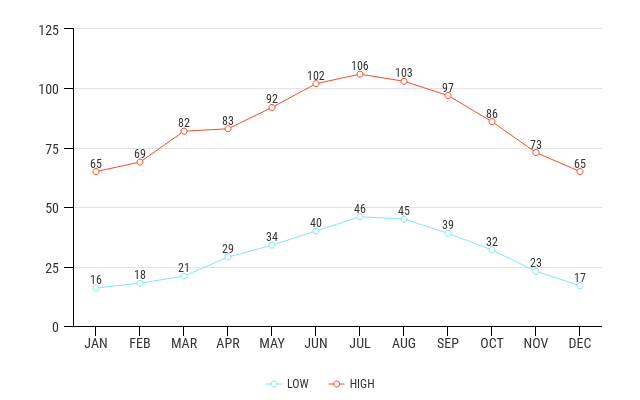 If we focus on the weather in the south, summers are definitely too hot, so the best time is fall to spring. Winters are usually mild, but some snow can happen even in the Saguaro National Park, so check the weather forecast before going there.
In the picture, we are showing you the lowest and highest average temperatures for the whole of Arizona – it will vary depending on altitude and if you are most to the north or south.
We collected some data about rainfall. On the chart, you can see the average inch of precipitation for the whole of Arizona. Generally, rain is not a big problem in this state. You can expect more rainy days in the northern part than in the southern.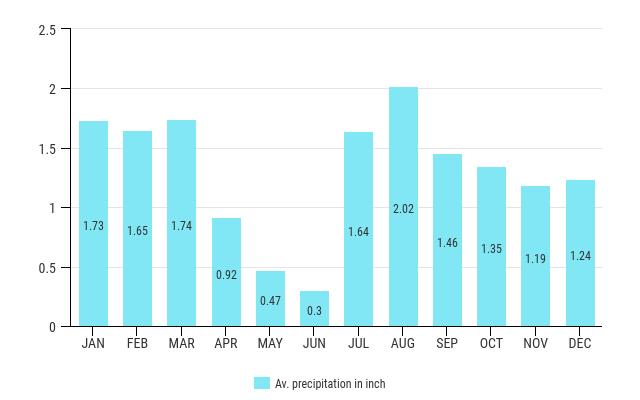 Estimation of 14 days Arizona Road Trip Itinerary cost
Arizona is not very different than the rest of the United States. For sure, it's cheaper than California. Please find some recent data for 2022:
A gallon of unleaded fuel is 3.7-4.5 USD
Average RV campsite with hookups – 35-55 USD/night
Horseshoe Bend parking lot – 10 USD/day
Grand Canyon 7-day fee – 35 USD/vehicle
The average price of lunch is 35 USD+/person
The price of dinner is 50 USD+/person (alcohol not included)
The average price of lodging in motels and hotels (prices are usually lower when booking accommodation several months in advance):
Use the link with Deal Finder below and book your hotel in Sedona today with an extra discount!
Arizona Road Trip Packing List
As you plan to visit Arizona national parks, don't forget to buy America the Beautiful Annual Pass before your road trip. Annual America the Beautiful Pass is your ticket to more than 2,000 federal recreation sites across the country, including all US national parks. The pass is valid for one year from the month of purchase and costs only $79.99. With this card, you will save on entrance fees to the parks.
It's best to check our Havasupai Packing List – it is dedicated more to camping with a tent, but you can browse it to prepare for Arizona weather as well. If you are planning an Arizona road trip in your own car, our articles may also be helpful: Road Trip Packing List Essentials and How to plan a road trip?
Arizona Road Trip Itinerary Map
You will not always have phone and internet coverage in Arizona. In many places, there is no connection. Indeed, there will be no range on the Toroweap Overlook, on the North Rim, or on the hiking trails of the Grand Canyon. We always use a paper map on our road trips to Arizona. We like and use this Arizona Road & Recreation Atlas because, first of all, it is detailed. Secondly, it contains a lot of exciting information, thanks to which we discover other great places on the route. In addition, we used maps of national parks and this guide with Best Day Hikes on the Arizona National Scenic Trail. Check also our Day Hiking Packing List before you hit more challenging trails!
Arizona Road & Recreation Atlas
Arizona Road and Recreation Atlas is an invaluable resource for adventure planning and exploration. The regional Recreation Guides show public land access and categorized points of interest with descriptions and details found in no other map product. Landscape Maps provide the largest scale and 54 pages of highly detailed road classifications and conditions.

Categorized listings include: Parks, Monuments, Natural Wonders,Campgrounds & RV Parks, Forest & Wildlife Areas and more.
Ready to go 14 days Arizona Road Trip Itinerary
Below we show you our proposition to fill 14 days of Arizona road trip itinerary. Later we describe each day in detail to help you plan as you like. We assume that you are renting a car or motorhome. In the case of a vehicle, you can sleep in a hotel/Airbnb or a tent – you will find all the options below.
Day
Activity
Est. Driving Time
Photographic Opportunities
Recommended Lodging location
1
Arrive in Las Vegas
0
Sunset in Las Vegas
Las Vegas
2
Go to Toroweap Overlook
6h
Sunset at Toroweap Overlook
Tuweep Campground (Permit Required!)
3
Go to Grand Canyon North Rim
5h
Sunrise at Toroweap, North Rim Viewpoints
Campgrounds on North Rim or Lodge
4
Drive to Page (Horseshoe Bend, Canyon X or Upper Antelope Canyon)
2.5h
Canyon X or Upper Antelope, sunset at Horseshoe Bend
Page
5
Drive to Monument Valley , drive to Grand Canyon South Rim
2h+3h
Monument Valley, Grand Canyon South Rim
Grand Canyon Village
6
West side of Grand Canyon South Rim (shuttle bus), drive to Flagstaff
1.5h
Sunrise at the Rim, Flagstaff and Route 66 in Flagstaff
Flagstaff
7
Drive to Sedona, hikes in Sedona
1h
Views from hikes in Sedona, city of Sedona, Sunset
Sedona
8
Drive to Saguaro NP East and West
4h+1.5h
Cacti in Saguaro NP
Tucson

9
Drive to Williams, then Peach Springs
4.5h+1.5h
Williams and Route 66 in Williams
Peach Springs
10
Go to Havasupai
1.5h
Hike to Havasupai, waterfalls
Havasupai Campground (Permit Required!)

11
Havasupai
0h
Havasupai Waterfalls
Havasupai Campground
(Permit Required!)
12
Havasupai
0h
Havasupai Waterfalls
Havasupai Campground (Permit Required!)

13
Return from Havasupai, Hackberry, Kingman
3h
Route 66
Hackberry & Kingman
14
Arizona Hot Springs, Hoover Dam
1h
Hot Springs, Hoover Dam
Las Vegas
Day 1 of Arizona Road Trip Itinerary – Arrive in Las Vegas
The best starting point for Arizona Road Trip is Las Vegas, Nevada, due to its location and International Airport. There is also a great selection of affordable lodging options in Las Vegas and the right choice of car rental companies. You can check flights to Las Vegas on skyscanner.com.
In this Arizona itinerary, we assumed it would be more convenient to come to Las Vegas. Still, another potential starting point might be Phoenix or Tucson. If it fits you better, adjust the itinerary to your needs (you have only changed day numbering and decided on loop direction).
After arriving in Las Vegas, you will need to rent a car. We recommend Alamo Car Rental for regular vehicles, but it's up to you if you like other companies. It's always a good idea to compare rentals and prices on RentalCars. If you would like to use our itinerary as prepared, you will need a high-clearance 4WD vehicle. It will be required to access Tuweep Campground and take the loop drive in Monument Valley. Everywhere else, a regular car will be enough.
PRO TIP: If planning a party with your friends in Las Vegas, we highly recommend Limo Find. It's also the best option if you need a bus or charter for transporting a group of people.
Lodging and dining in Las Vegas
Our article, called Las Vegas 3 Days Itinerary, described all Las Vegas lodging options. Please check it there. Below, you can check the best deals in Vegas.
If you need a dinner recommendation, you can also find it in this article.
Arizona Road Trip – Photographic Opportunities in Las Vegas
It might happen you will have plenty of time after arrival. You will have to arrange your car, lodging, and dinner, but if you have some time, you also can take some beautiful pictures of the sunset in Las Vegas. Please read our Las Vegas Photo Shoot Locations recommendations if it is your case.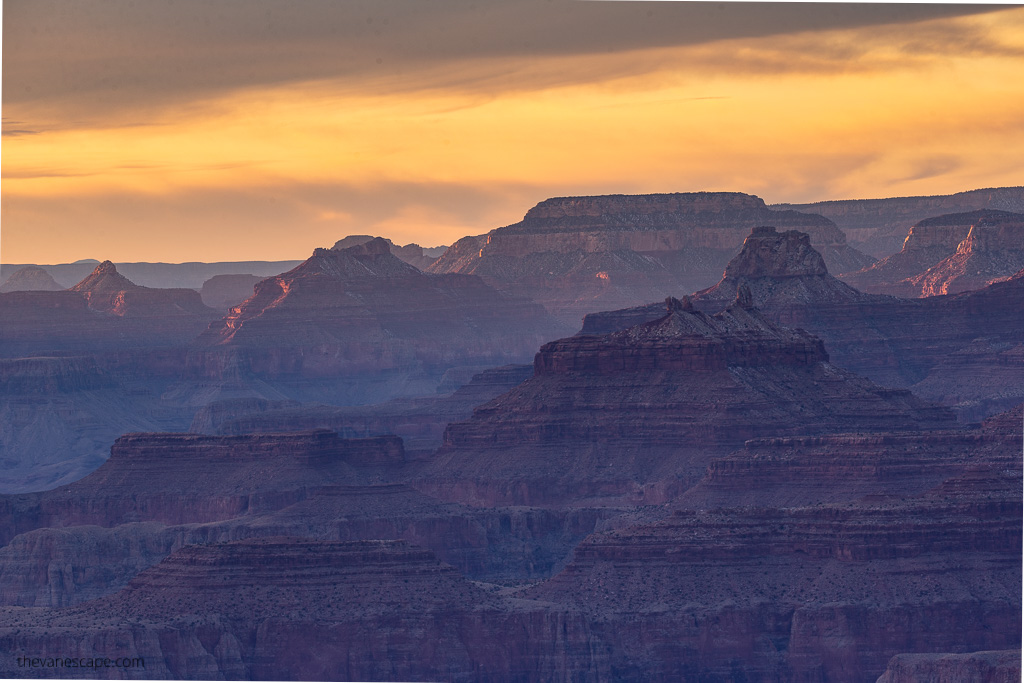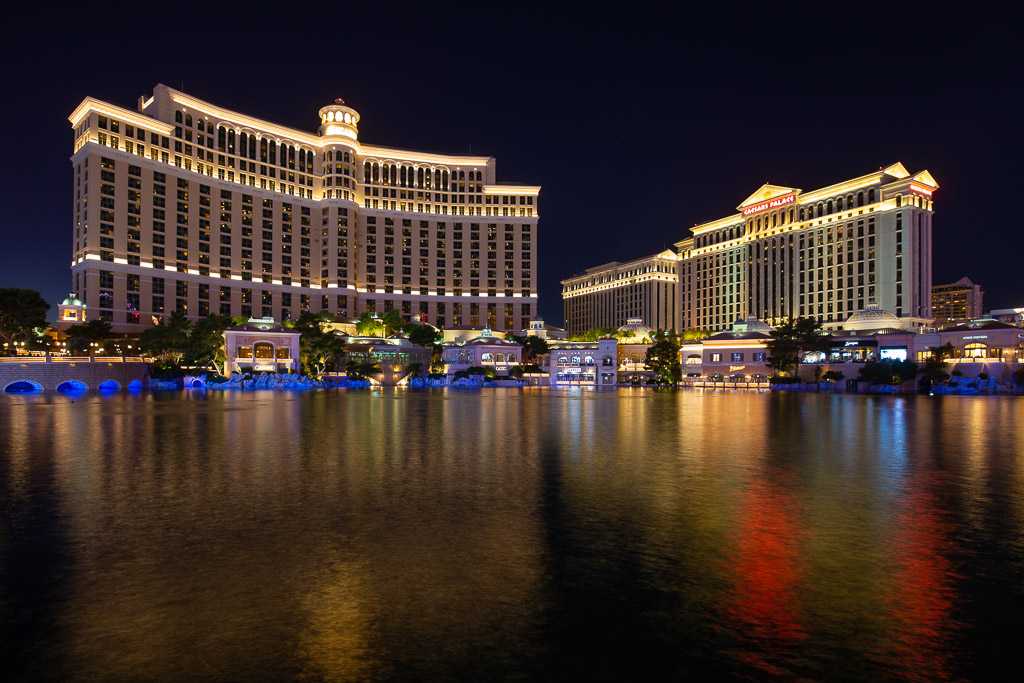 Arizona Road Trip – Organized Tours from Las Vegas
Suppose you have more time in Las Vegas and prefer organized tours. In that case, we can recommend you some of them (not included in this itinerary). You can use these recommendations if you plan to skip Toroweap Overlook or Havasupai Waterfalls (if you have failed to obtain the necessary permits). It can perfectly fit your itinerary in this case. More day trips from Las Vegas we described in this article.
Valley of Fire – You will drive about one hour to reach the Valley of Fire, located 50 miles northeast of Las Vegas. It is a state park covering 46000 acres of rock formations made from Aztec sandstone. Those rocks look like being on fire and, thus, the park's name on a sunny day. You can spend just an hour or two driving in the park and stopping at the selected overlooks. If you have more time or like to hike, there is more to do – even for a couple of days. Hikes are short and long, even with an overnight option (permit required). You can book this wonderful excursion.
Zion and Bryce National Park are ranked among the most popular US parks! So if you are in Las Vegas and have an extra day, why don't you visit this treasure of nature? Of course, we believe that you need much more than a day, but still, one day is better than nothing. The excellent option is Zion and Bryce National Park Full-Day Adventure.
Day 2 – Arizona Road Trip – Driving to Toroweap Overlook
On that day of the Arizona road trip, you will drive from Las Vegas to Toroweap Overlook, arrange a campsite on Tuweep Campground and go to the breathtaking views from the overlook. It's a part of Grand Canyon National Park, but it's a hidden gem of Arizona. One of the best viewpoints of the Colorado River! But it's also one of the most challenging days during the Arizona road trip, as it is a very hard-to-reach area. We planned everything for you to have enough time and prepare well for sunset/sunrise photos.
IMPORTANT TO KNOW: For visiting Toroweap (aka Tuweep), you must have a permit (Day Use Ticket). Also, a permit is mandatory to camp at Tuweep Campground (Backcountry Permit). You should book it months ahead. Check out our detailed article about Toroweap.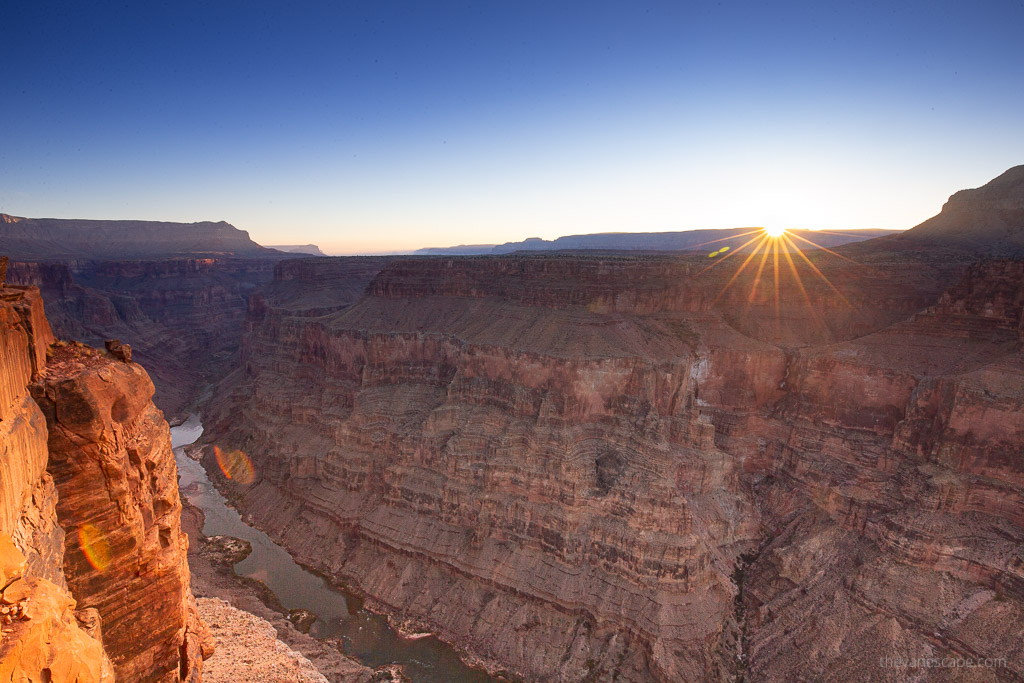 How to get to Toroweap Overlook?
You have two options. You can stay at a hotel in Kanab or in the campground next to Toroweap Overlook. Read our tips carefully, as it's not easy to get there, and you must also have a permit for day-use trips and camping.
The Toroweap Overlook is located in the western part of the Grand Canyon on the North Rim. Driving to Toroweap Overlook is an adventure in itself. Not every driver can do it, and not every car does. As a result, bring tire plugs and a portable air compressor to repair potential flat tires. The road is primitive, with sharp rocks, deep holes, and dust. It's a rough road. Due to this, it is recommended to have 4WD to get to Toroweap Overlook and Tuweep Campground.
WARNING: If you don't have a 4WD high-clearance vehicle, you can skip this attraction. Don't worry. You will have more time to spend later in other places like Page, Sedona, or Grand Canyon.
Driving directions from Las Vegas
You have to leave Las Vegas very early in the morning. The route is long. To Kanab are 200 miles and about 3 hours and 15 minutes drive. From Kanab/Fredonia is about 2-3 hours of driving to Toroweap Overlook. Since you are driving through the picturesque Valley of Fire – you can add a stop on the route and spend an hour or two in this park. But it all depends on how much time you have on your Arizona road trip. The total time from LV to Toroweap Overlook is about 6 hours. So there's a chance you'll make it to the sunset, which is spectacular. But to do this in one day, you must skip visiting of Valley of Fire. Just drive through it.
You can choose one of three main routes to Toroweap from AZ 389 between Fredonia, Arizona, and St.George, Utah. And it takes you two to three hours to drive time.
Sunshine Route: from Fredonia, Arizona, by Country Road #109. This is 61 miles (98 km) primitive road featuring sharp rocks, wash-boarding, and dust. We did this route.
Clayhole Route: County Road #5 leaves AZ 389 at Colorado City, Arizona. It is 56 miles (90 km) long and impassable when wet.
Main Street Route: BLM Road #1069 and County Road #5 from St. George is 90 miles (145 km) long. This scenic route is impassable in winter due to snow and mud.
Tuweep Campground – A permit is required
Tuweep Campground is one of our favorites in Grand Canyon National Park. Why do we like it so much? Because you can hear the silence. You can admire the Grand Canyon rim. Above all, you can listen to the sound of the Colorado River. Finally, sunsets, sunrises, and stargazing from this edge moved us to tears. There is no civilization, coverage, electricity, or water available. There is only you and the infinite space of Toroweap formation.
WARNING: If you don't like staying overnight at the ridge and sleeping in a tent or are unable to get the permit, you can make a day-only trip to Toroweap and stay in one of the motels in nearby Kanab, UT. It's on your way to North Rim, so it should be a very convenient option. You can check Kanab's lodging prices and options here.
First of all, you need a permit to stay overnight. Advance permits are required for camping at Tuweep Campground and backcountry use areas. You can obtain a permit at go.nps.gov/tuweep. You must apply for the permit in advance because the place is gaining popularity. Check our post for details. There are no facilities except for composting toilets and picnic tables.
As it might be challenging to get a permit for Tuweep Campground, check the Deals Finder below to stay in Kanab, as it's a charming town!
Arizona Road Trip – Photographic Opportunities on Toroweap
Any time of day over Toroweap is delightful, but the most beautiful are the sunrises and sunsets. There are some excellent spots, but finding your own and having unique pictures is best. Depending on what you like, you will photograph in the eastern or western direction at dusk. So it's good to choose a point that will allow you to rearrange during the session in both directions. Sunrise is also spectacular. But if you don't have a permit to stay for a night, you must leave the place just after sunset. Such rules apply in the national park.
You can find more photography hints here. The article also describes recommended gear to take with you to Toroweap.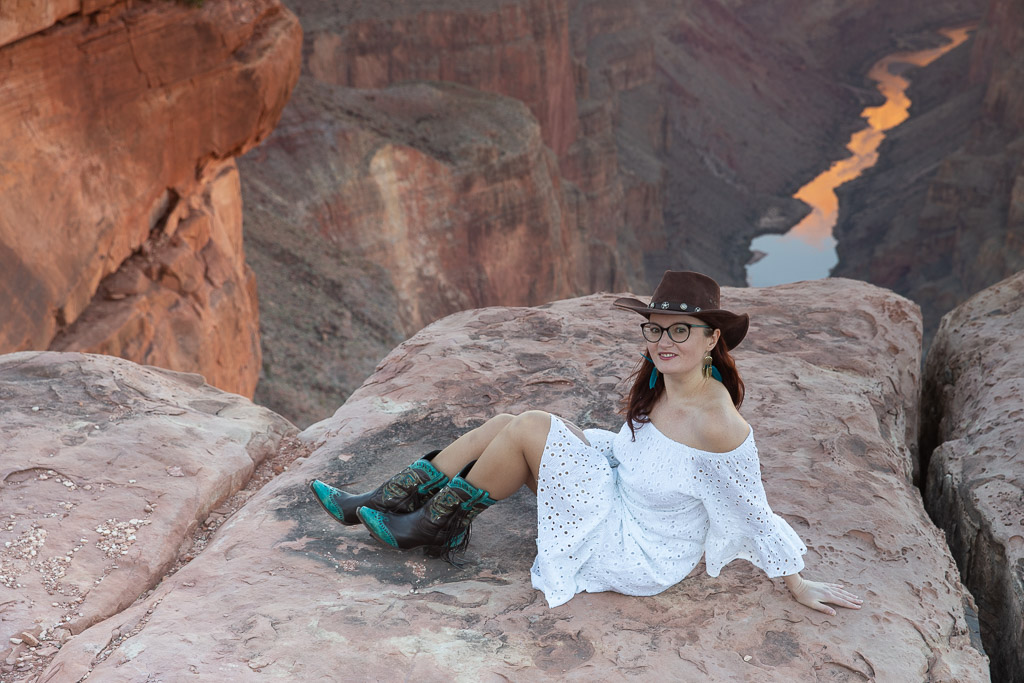 Day 3 of Arizona Road Trip Itinerary – Grand Canyon North Rim
If you stayed overnight at Tuweep Campground, leave the place just after sunrise, as you have a long and challenging road back. If you slept in Kanab, you have a much easier route to North Rim.
The North Rim part of the Grand Canyon is visited less often than the accessible South Rim. There are two reasons for this – first is that North Rim is open only May 15 – October 15 (if the weather allows, even till December 1 for day use only). The second is accessibility. It's much easier to get to the South Rim, and thus it is more popular.
But we love North Rim. The main reason is that it's less crowded, and you can easily access it with your own car and then hike the rim at your own pace. It's also much higher altitude, and you have a fantastic view of the canyon and South Rim from the viewpoints. If you are visiting the North Rim on a day-use-only basis, you also need much less time because all the main viewpoints are within walking distance of each other.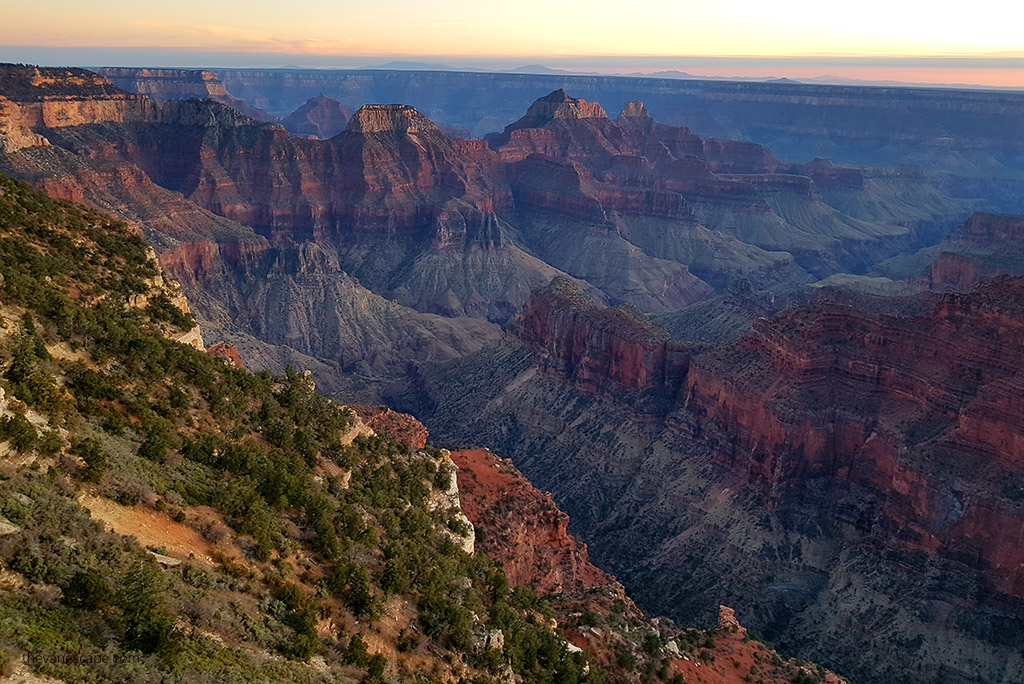 How to get to the North Rim of the Grand Canyon?
You can quickly drive to North Rim in the season from Kanab or Page.

From Kanab, head south to Fredonia and join route 89A in the eastern direction. In Jacob Lake, you must take route 67 to the south. Route 67 is a dead-end, so you will return the same way. It's 81 miles from Kanab to the North Rim. If you are staying in Kanab, make sure to check the top things to do in Kanab to have a great time in this Western city.
From Page, take 89 directions south, then join 89A in Bitter Springs. Drive to Jacob Lake and take route 67 to the south. It's 123 miles from Page to the North Rim.
The optimal road is like in this itinerary to travel from west to east and visit North Rim on your way to Page.
Arizona Road Trip – Where to stay while visiting the North Rim?
More about lodging in Grand Canyon North Rim is in our separate article. Please check it.
Use the link below to find the best deals in Kanab, and book your hotel now! It's a beautiful town!
Photographic Opportunities at North Rim
North Rim is an excellent photographic opportunity in many aspects. First of all, you will see fantastic rock formations. But in photography, light is essential, so the best time is sunrise and sunset. But also, in the middle of the day, Grand Canyon looks good and has some shadows and lights on the rocks.
Let's be honest. It's not easy to photograph North Rim. You will always have something in the shadow and something in the light. Maybe the best weather is a cloudy day or after the rain. But with all those modern cameras and techniques, we are sure the best is to use HDRs and try to get something out of the shadows and darken some strong lights. To take proper HDR, you will need a good tripod.
Day 4 -Arizona Road Trip – Horseshoe Bend and Antelope Slot Canyons
Page area is a must-see in any Arizona road trip itinerary. There are at least three Navajo slot canyons you can choose from, and the famous Horseshoe Bend. Beyond this, you will find here Lake Powell with many kayaking and boating options.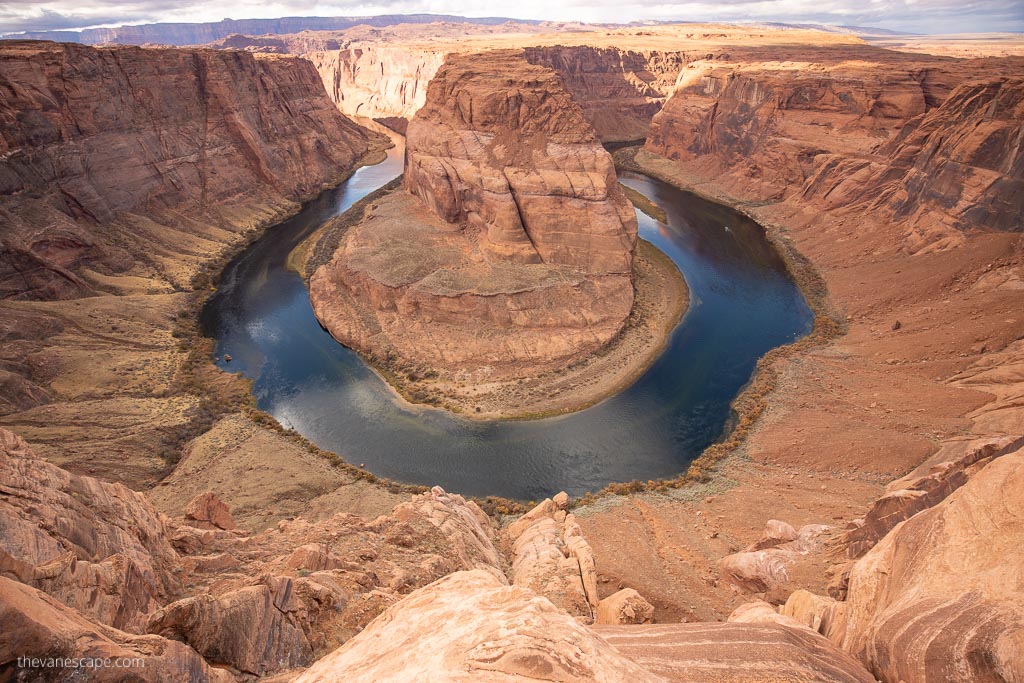 Antelope Slot Canyons
People visit Page mainly to visit Upper Antelope Canyon and Lower Antelope Canyon. You must book a guided tour to see this miracle of nature. The place is trendy, so book your tour a few months in advance. You will have the best light for pictures around noon. You can compare our tips and photos from Upper Antelope Canyon and from Lower Antelope Canyon.
The other slot canyon you can visit is Antelope Canyon X. Is less popular and cheaper. Here you can book your tour to Canyon X. You can also visit the part of Antelope Canyon freely accessible from Lake Powell by water. Over the last 15 years, we had visited all those Antelope slot canyons on regular tours and photo tours when they were still available.
Which is better? Upper or Lower Antelope Canyon?
In our opinion, Upper Antelope Canyon is definitely #1 and thus is the most popular. The Lower Antelope Canyon is entirely different. In the Upper, you have wide bottom and narrow top; in Lower, it's the opposite – tight bottom and a broader top, so more light is coming into the canyon. For photographers, it's not right, so don't think you will take similar pictures in Lower and Upper. They will be completely different, and those breathtaking ones are made mainly in the Upper. Here you can book the slot canyon tour to Upper Canyon. We made this tour as well.
The ultimate solution might be to visit Canyon X, which is a kind of a mix of Lower and Upper. It has two parts, and each of them varies.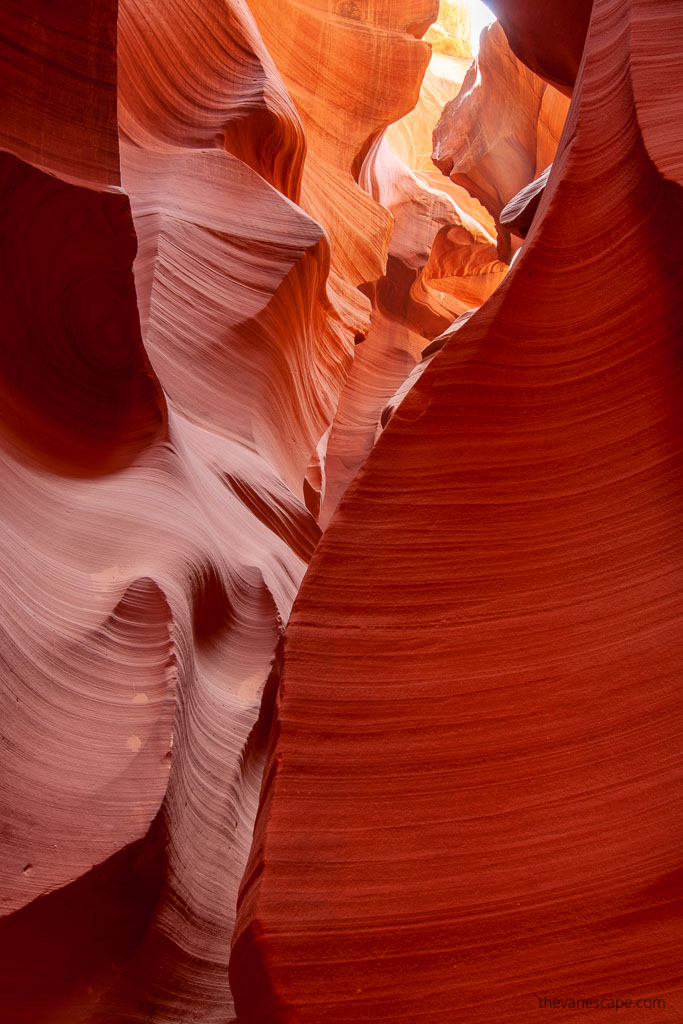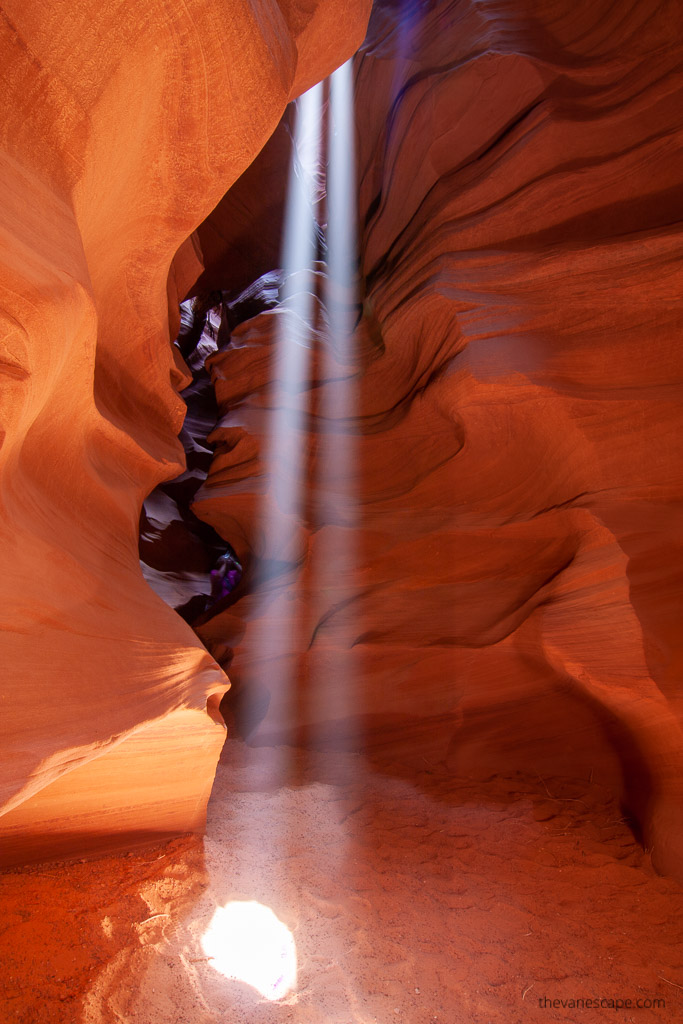 Horseshoe Bend and Lake Powell
Except for slot canyons, you must plan the visit to Horseshoe Bend. The best time is midday to have balanced light on the whole rock. But some people love to come for romantic sunset here. To get to the bend, you must pay a 10 USD fee for a parking lot and hike to the edge. In our Horseshoe Bend Hike Guide article, you will find all the required information on this photography spot.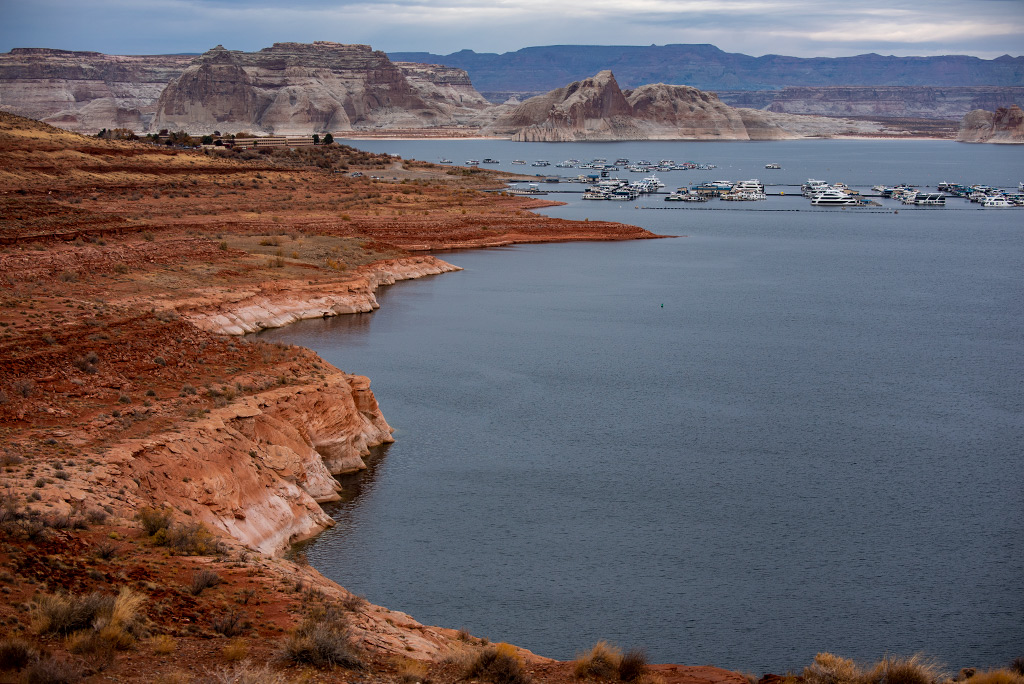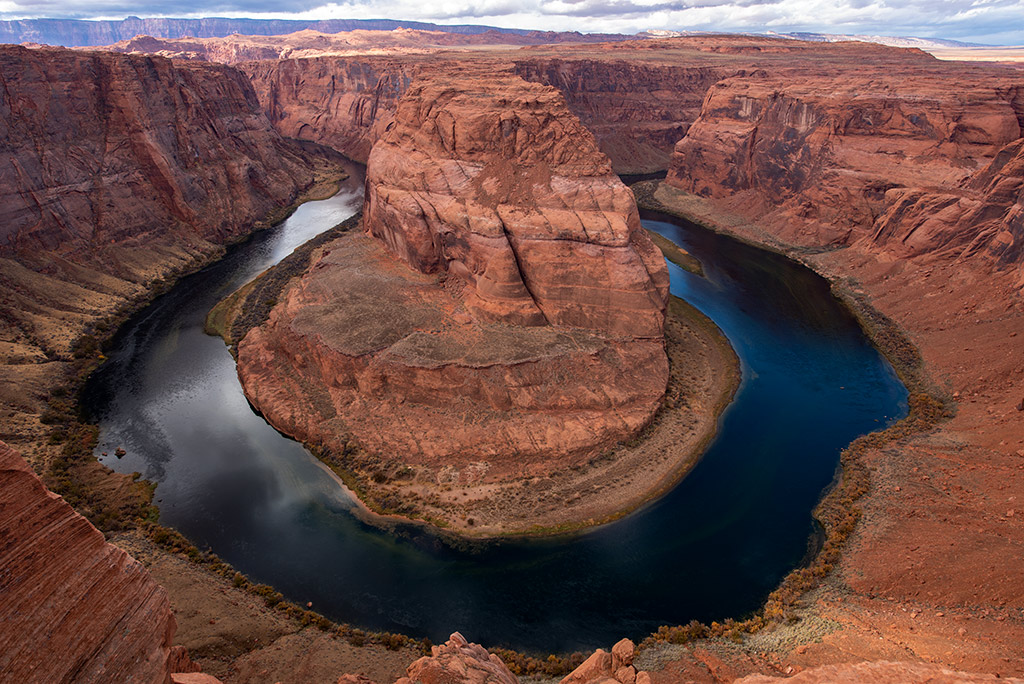 Arizona Road Trip Itinerary – Where to stay in Page?
A Page is a perfect place for lodging to visit Horseshoe Bend and slot canyons in the area. There is an excellent selection of hotels in the town. On the map below, you can check the best deals. If you need a campground, we can recommend Page Lake Powell Campground.
Day 5 of Arizona Road Trip Itinerary – Visiting Monument Valley
We put celebrated Monument Valley in this itinerary in this exact place because if you are leaving Page, it is relatively not far away. Monument Valley is a spot that can be easily made in one day, with the driving time required to get there and back. But to make it possible to start the day early. It's about 2 hours drive from Page, Arizona.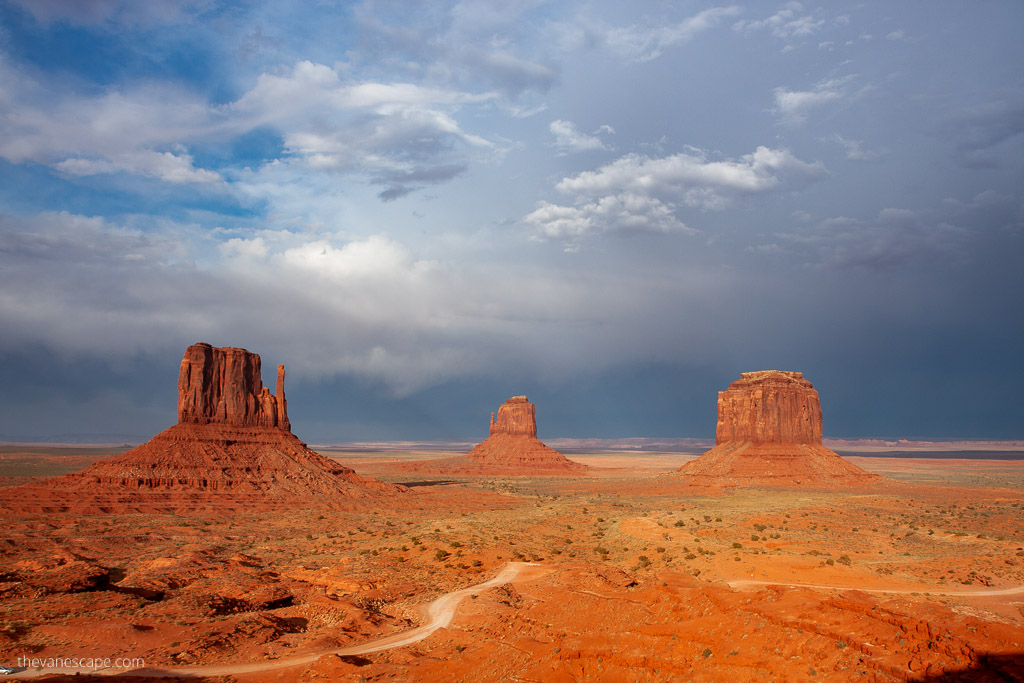 In Monument Valley, you will drive a 17-mile Valley loop. It is a gravel road starting and ending in the Visitor Center. Some people are asking if it is possible with a regular economy car. The answer is yes. You can make the loop with regular vehicles and some caution at your own risk. Of course, it is more convenient to have high-clearance 4WD, but it's not a must. The loop should take you about 2-3 hours together, with stops for pictures.
If you are following this itinerary, you will need 4 hours to drive back to your next stop. The plan is to reach Grand Canyon Village at sunset, so check your time precisely. We recommend you spend this night at the Grand Canyon National Park area (South Rim).
Trip Tip: From Monument Valley, take a drive to the Cameron. Head south on Eagle Rd toward US-163 N. Take US-160 W to AZ-64 W/Desert View Dr in Cameron. Follow AZ-64 W/Desert View Dr to your destination at Desert View Point. From this point, you will still have a 20-mile scenic drive to Grand Canyon Village or Tusayan. Finally, book your accommodation at the Grand Canyon Village or Tusayan well in advance, as it is difficult to find accommodation at a reasonable price during the high season.
Photography Opportunities in Monument Valley
Entering this area, you will spot plenty of photographic opportunities. The first one will appear just next to the Visitor Center, where you will have a chance to take a classic photo with mittens. Another one might be on the road if you skip the Visitor's Center turn and go a couple of miles forward. There will be a view known from the Forest Gump movie.
This Arizona road trip itinerary schedule is tight. We assumed that you have three hours to visit Monument Valley. And you will do the most popular 17-mile route at that time. But if you have more time, consider one of the Navajo-guided tours below. Some of the amazing sites in Monument Valley are only accessible with a licensed Navajo guide and pre-booked tours. Then you have a much more interesting chance for amazing pictures.
Day 6 of Arizoana Road Trip Itinerary – Grand Canyon South Rim
Start this day early. You must leave your private car in one of the parking in Grand Canyon Village and switch to a shuttle bus to discover the western part of the South Rim. It will take you probably about half of the day – it depends on how many times you plan to hop off and hop-on on the viewpoints. Please check our separate article to see what viewpoints at South Rim are interesting to you.
A day is not much time to see the Grand Canyon, but if this is your first Arizona road trip and you're short on time, it should be enough. But it's worth planning your schedule so as also to take a scenic flight over the Grand Canyon because it's an adventure for life.
When you are happy with the amazing Grand Canyon views, it's time to move forward and head to Flagstaff. It will take you about 1.5h to get to this historic town. Spend the evening walking in downtown or drive slowly across old Route 66 and try to find all the remains and take some pictures. You can skip Flagstaff and stay for one more night in Tusayan to enjoy more of the Grand Canyon.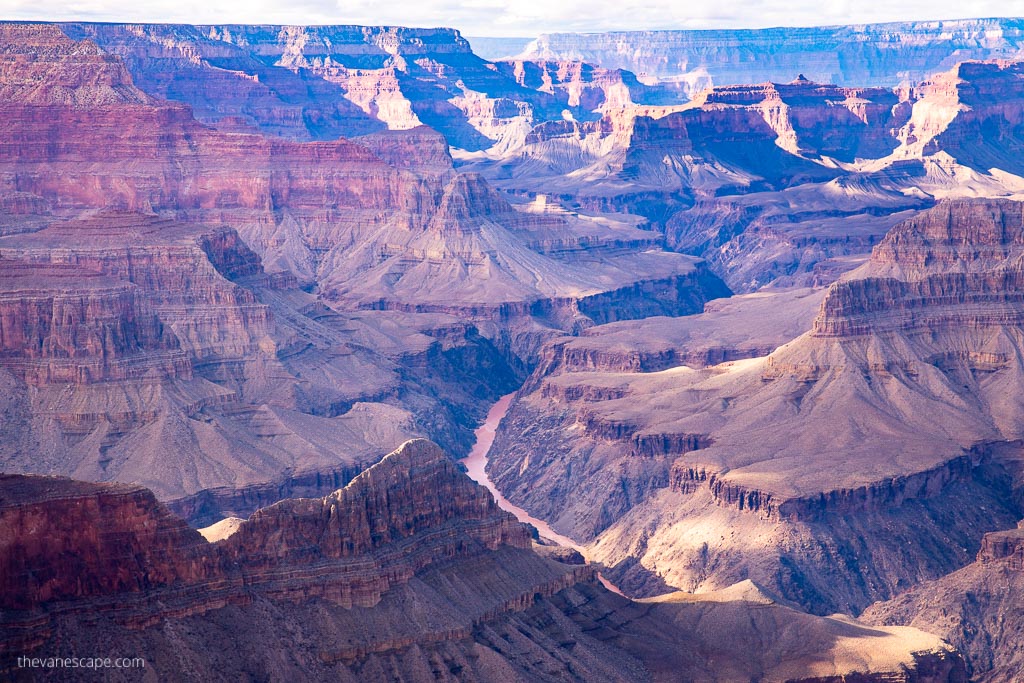 Where to stay while visiting the South Rim of the Grand Canyon?
Stay in Tusayan, if you can. But Flagstaff is a nice place to stay as well. It has a wide selection of inns and hotels starting from the very cheap and ending with the luxurious and expensive ones. We were staying in Flagstaff often, so we give you some nice recommendations:
Budget Host Inn NAU ($) – Even if you can notice a lower rating of this Inn, it can surprise you. It's old route 66 inn renovated to current standards, very well maintained with beautiful clean rooms, and close to downtown and other attractions. We spent a couple of nights there. It was the best price/quality ratio in the town. Check price on booking.com.
Little America ($$$) – This is an excellent place to stay if you are traveling with kids. They have a beautiful pool and are family-friendly. The restaurant is also lovely, and you can have dinner if you prefer to stay in the hotel and then go downtown, especially since it's not that close. Check price on booking.com.
Organized tours near Grand Canyon South Rim
If you have more time in Grand Canyon South Rim and prefer organized tours, we can recommend you some of them (not included in this itinerary). You can use these recommendations if you plan to skip Toroweap or Havasupai. It can perfectly fit your Arizona itinerary in this case.
Grand Canyon from above – If you are in Grand Canyon and would like to do something different, like looking at it from above, the best idea is to go for one helicopter or plane tour. You can find a couple of options. One of the most affordable is Grand Canyon: Discovery Air Tour.
Grand Canyon Jeep Tour – if you prefer to see the best viewpoints of the South Rim on the jeep tour, we can recommend you this short 2 hours excursion. Just click and purchase The Grand Canyon National Park: Hummer Tour with Transfer. You will admire the incredible scenery at several stops, including the Grandview Point, and your entry fee to Grand Canyon is included in price.
Day 7 of Arizona Road Trip Itinerary – Hiking in Sedona
Early in the morning, leave charming Flagstaff or Tusayan and drive a scenic byway (U.S. 89A) to Sedona. However, if you are traveling with the motorhome, it would be better to take intestate 17 because scenic byway is very winding and it will not be easy to drive with a big vehicle.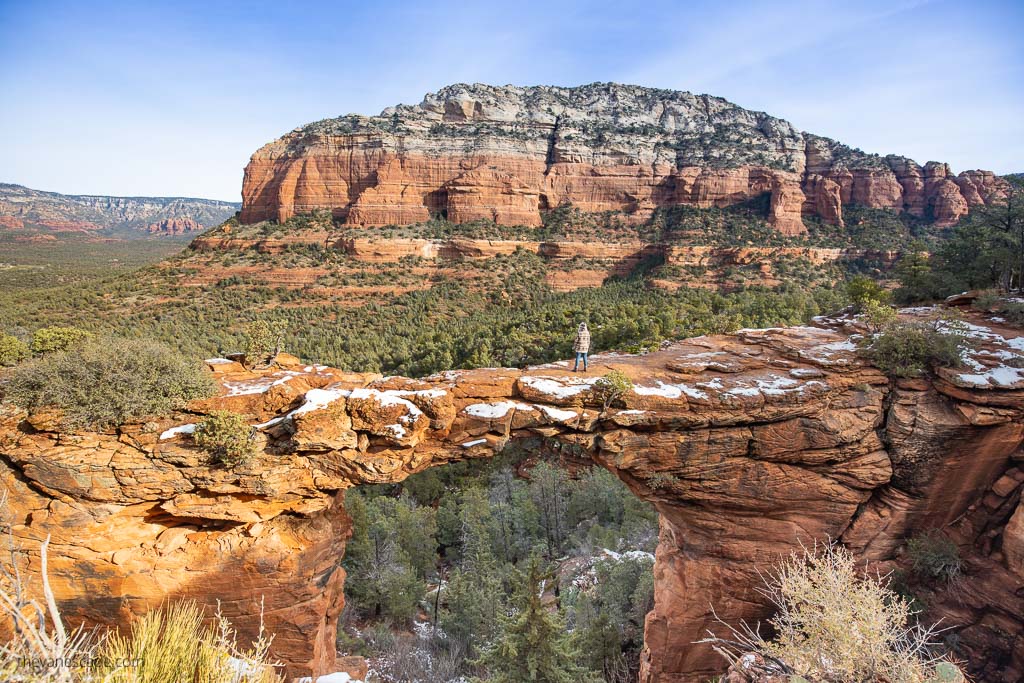 Driving from Flagstaff to Sedona will take less than an hour. But if you are driving from Tusayan, it is about 4 hours. So consider what activities or hikes you would like to do in Sedona. We have some propositions in our article Three Best Sedona Hikes. If you are in good shape, the whole day is enough time to make two or even three of those hikes, primarily in the summer when days are long. After hiking, you will be tired, but Sedona is a charming town offering excellent restaurants and relaxing hotels. So please read where to have a good dinner and where to sleep well in Sedona.
Plan your day to be in some beautiful place at sunset. One that might be nice to celebrate this part of the day is Cathedral Rock. The only problem might be to hike down in darkness. So if you plan it, please take a good headlamp with you because the hike is not long but very technical.
Arizona Road Trip Itinerary – Where to Stay in Sedona?
Where to stay in Sedona? Well, it depends on your budget and traveling style. Sedona is a stylish town that offers unique lodging with stunning views. The accommodation choice is large and varied. During the high season, we suggest booking accommodation for several months in advance. Our first choice in Sedona is Best Western, it has a reasonable price and great quality, and most of all the location is excellent too.
If you are looking for a campground, we can recommend Rancho Sedona RV Park in Sedona, with 84 spaces available, free Wi-Fi, restrooms, showers, and laundry. It is next to Sedona Stream, so fishing is possible, too. Distant Drums RV Resort is located in Camp Verde close to Sedona. It offers amazing views of the mountains, and excellent reviews.
Organized tours from Sedona
If you have more time in Sedona and prefer organized tours, we can recommend you some of them (not included in this itinerary). You can use these recommendations if you plan to skip Toroweap or Havasupai. Moreover, it can perfectly fit your itinerary in this case.
ATV Canyon Tour – If you like to ride ATV, it might be an excellent tour for you. And if you are a movie fan on this tour, you can experience locations where over 40 movies were shot. So don't hesitate and book this 3-hour tour West Sedona Canyon: 3-Hour ATV Tour.
Nighttime UFO & Stargazing Tour – It is hard to find a better place than Sedona desert to enjoy stargazing at night. You can do it alone, but we suggest that it might be a better option to purchase this tour because of the possibility of using high-quality night vision goggles! With them, you can marvel at UFOs and other unexplained phenomena. Added value is the tales presented by the guides. So if you like the idea, book your tour here.
Day 8 of Arizona Road Trip Itinerary – Saguaro National Park
Start this day early in the morning. You will drive to the Tucson area. Above all, the main reason we put this southern part of Arizona in this itinerary are the cacti. Those plants are very typical for this state, and it wouldn't be too smart to skip them. Saguaro National Park near Tucson has two parts: eastern and western. And it's not enough to see one of those because both are different. Make some hikes among those giant cacti trees to understand their scale. But be careful – they are sharp, and it's easy to get hurt. Stay on designated trails.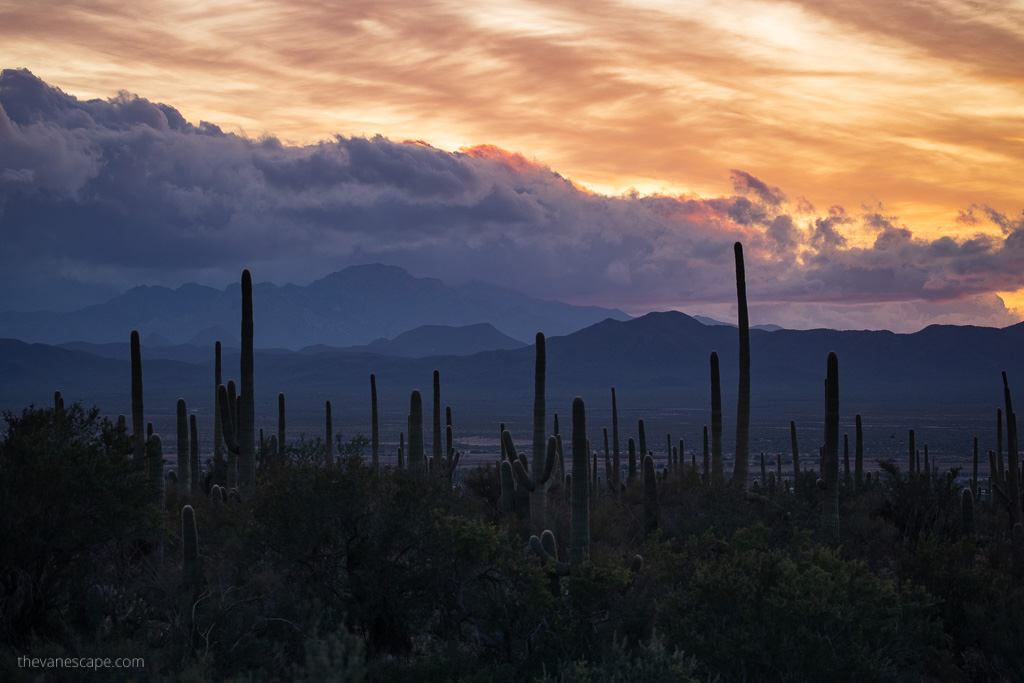 To get to Saguaro National Park West, where we suggest beginning your journey, you will be driving for about 4 hours. You can spend 2-3 hours in the park but plan to have another 1.5h to move to the eastern part. This part is bigger, and you can make a nice loop with the car with some stops for short hikes. You will drive over hills and have a perspective view of the cacti forest.
You will find all the required details about planning your day in both parts of Saguaro in our separate article: The Best Things to do in Saguaro National Park.
Where to Stay while visiting Saguaro National Park?
After the whole day of looking at those giant plants, finding a comfortable place to sleep in Tucson is a good idea. You can check the lodging selection on booking.com.
There are many possibilities for lodging in Tuscon. Below are some suggestions with high guest ratings. Above all, check the reviews before you book.
Closer to East (Rincon Mountain) District
Hampton Inn & Suites Tucson East – around 8.6 miles from the Park East Entrance
DoubleTree Suites Williams Centre – around 10.2 miles from the Park East Entrance
Comfort Suites Sabino Canyon – around 11.1 miles from the Park East Entrance.
Closer to West (Tucson Mountain) District
Holiday Inn Express Tucson – around 14.6 miles to the Park West Entrance
Holiday Inn Express Marana – around 14.8 miles to the Park West Entrance
Day 9 of Arizona Road Trip Itinerary – Williams
On that day, we suggest you return to route 66 and explore it a little more. After 4.5h of driving from Tucson, you will reach wonderful Williams just for lunch in one of the classic diners. Check this article with things to do in Williams and the best restaurants in Williams. After visiting those places, you will feel the climate of route 66. When you are not hungry anymore, please walk across the city and take a couple of pictures. Who knows how long this town will survive in its current shape?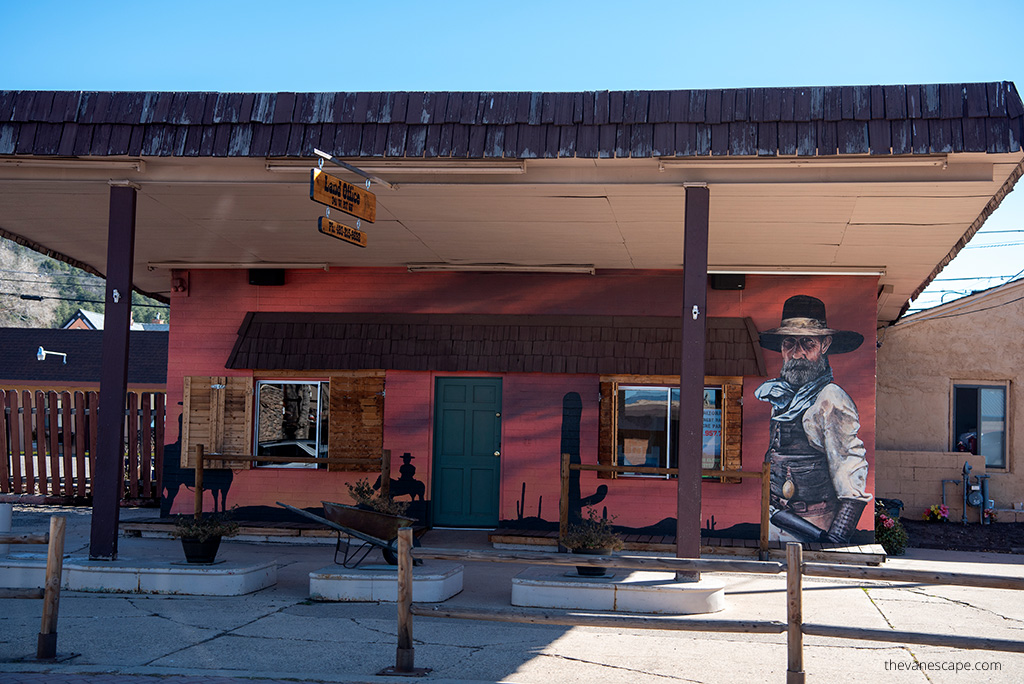 From Williams, you should be heading via old route 66 to Peach Springs. Unfortunately first part will be going over intestate 40, but still, you can drive some old 66 from Ash Fork or Seligman. Of course, we suggest to take some stops for pictures and visiting famous places on the road.
Peach Springs will be your place to sleep before you go to Havasupai. Please book your hotel well in advance because the rooms are limited.
Day 10 of Arizona Road Trip Itinerary – Havasupai Waterfalls Day 1
Havasu Creek is reopening for tourists in February 2023
READ THIS PARAGRAPH/DISCLAIMER PLEASE: The best information we could receive at the end of 2022 from the Havasupai Tribe, which you can read on their official website, is that on February 1, 2023, the fantastic Havasupai Reservation with Havasu Creek Waterfalls is reopening for tourists. So, you can explore impressive waterfalls, including the most popular, Havasu Falls. But "they are eager to welcome tourists back to our beautiful Reservation starting February 1, 2023, for current reservation holders."
You MUST HAVE a permit to Hike to Havasu and its challenging trip
First of all, you must have a permit to Havasu Falls. Furhermore, if you are not ready to sleep in a tent, you can skip days 10-12 and just extend your stay in Sedona, Grand Canyon, or Page. In those places, you will have a lot of things to do. We only suggest the most beautiful places in Arizona and couldn't skip Havasupai, but we know it's not a hike for everyone. Please feel free to adjust this itinerary to your expectations and abilities to make 10-miles one mile hike and stay within your comfort zone. Or you can visit some fabulous places in Utah, which we described in Utah National Parks Road Trip Itinerary.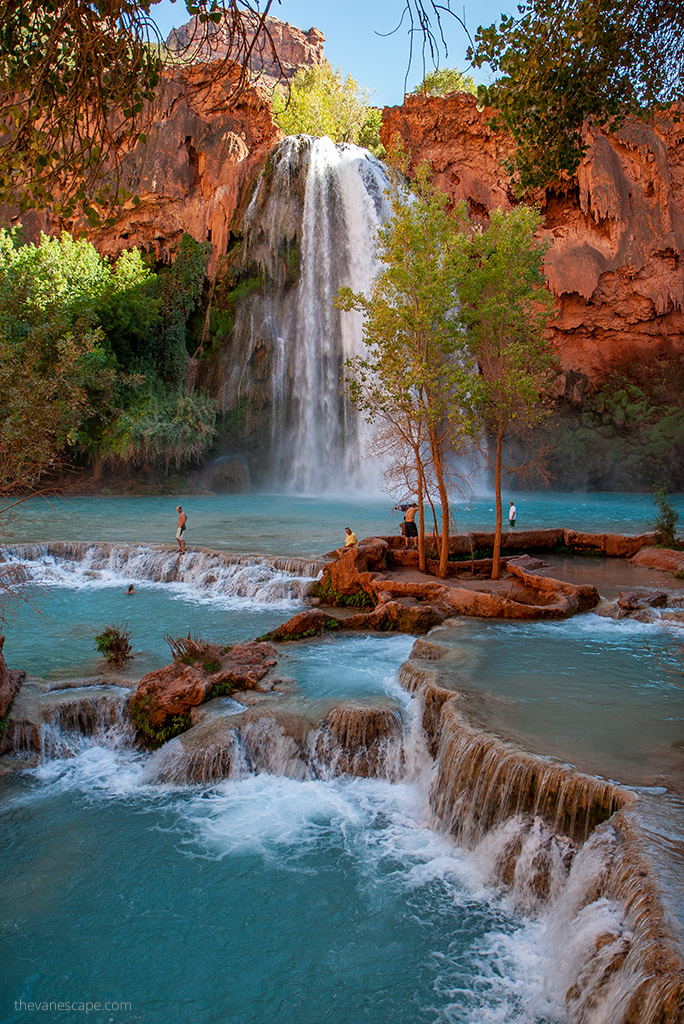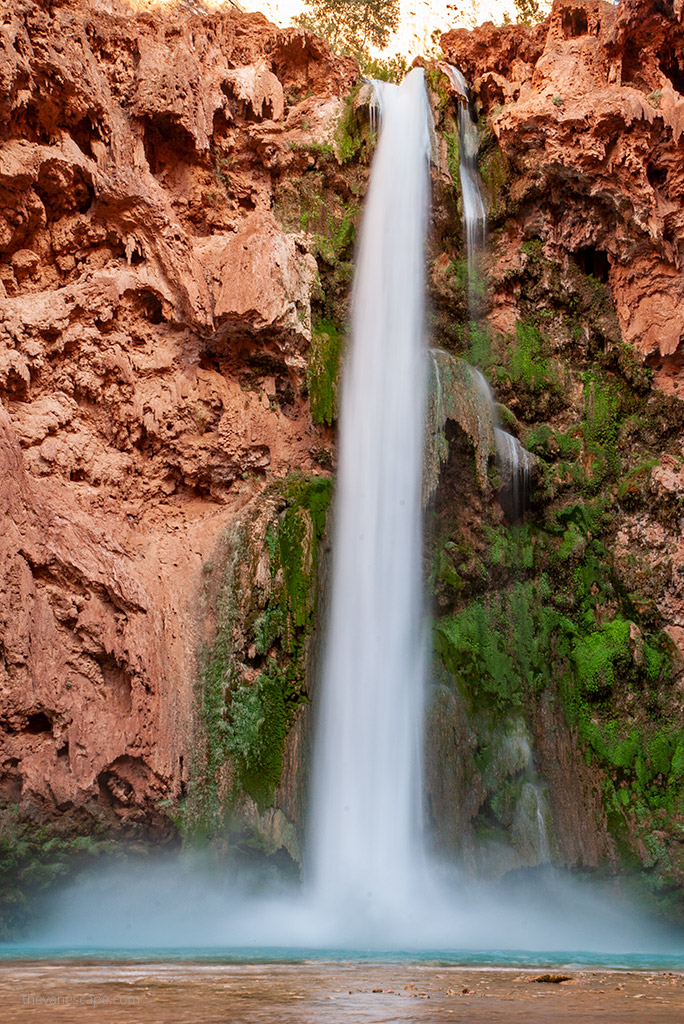 Hike to Havasu
If you have a permit to Havasu, depart very early from Peach Springs – depending on the season, it might be even useful to leave at 3 am. From your hotel, you will be heading to Hilltop Parking at the Havasupai Trailhead. Here you will find details about this hike and trailhead. In summer, you should be there as early as possible and start your 10-mile hike at 5:30 am or even earlier to avoid scorching day on your first exposed part of the hike. It would be best if you reached the trees and shadows at about 9:30 am. And get to Supai Village 1 hour later. In the village, you must register for the campground and move there to put up your tent (it might be helpful to read Havasu Falls Camping Guide and Rules). You can check our very detailed description of the hike in the post. All you need to know about hike to Havasu Falls.
On the first day after the whole hike to Havasu Falls and putting up your tent, you will probably be tired, so we recommend relaxing at the creek – the best idea is to have a hammock and listen to the fast-flowing water. Check our Havasupai Packing List to pack only essentials for this challenging hike!
WARNING: Trip to Havasu can be made only as 4 days/3 nights, and your most likely option is to sleep in a tent (lodge rooms are limited and very hard to get). The cost is also very high – camping in a tent costs 375 USD/per person.
Day 11 of Arizona Road Trip Itinerary – Havasu Falls Day 2
If you feel good after sleeping in the tent and the weather is good, we recommend going to Beaver Falls. This hike is not that easy but worth doing. It will take you most of the day, and you should start early to catch the best sun in the waterfall (you can check all the details in our article focused on photography: Havasu Creek Waterfalls Photography Guide. On the way to Beaver, you will have a chance to admire incredible Mooney Falls also. If you feel good after getting back from Beaver hike, it might be a good idea to visit Havasu Falls at sunset. Otherwise just spend another evening in the hammock at the river. It's very unique experience!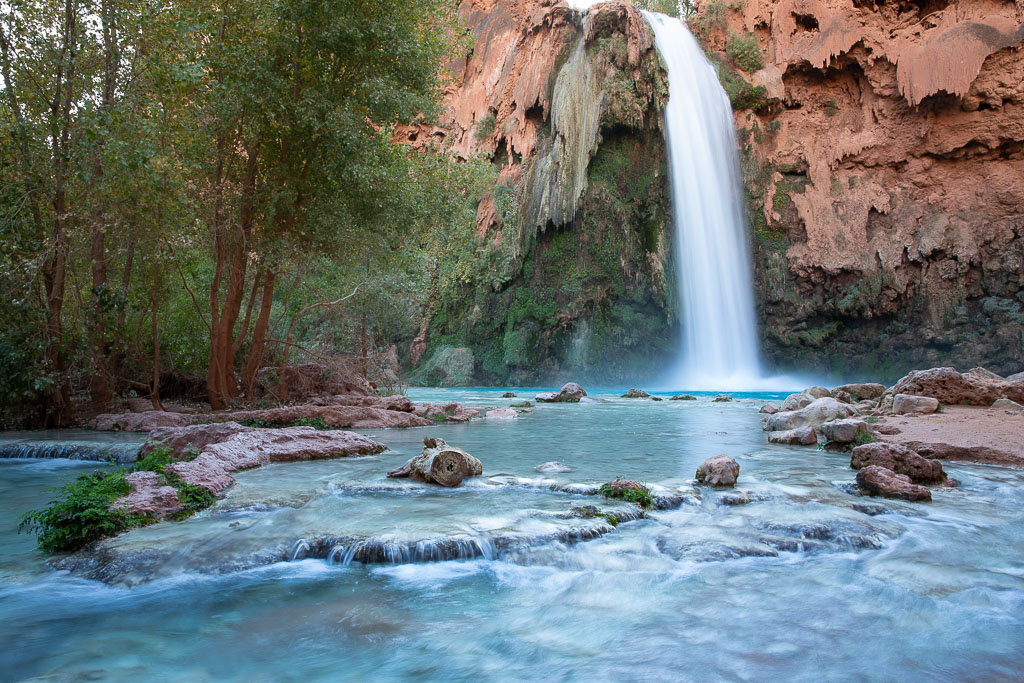 Day 12 of Arizona Road Trip Itinerary – Havasupai Waterfalls Day 3
On the third day of your life experience in Havasupai, we suggest doing some swimming in Havasu Falls. Water gets warmer after 9:30 am, depending on the season, and early in the morning, it shouldn't be that crowded. After having some relax in breathtaking Havasu Falls, you can go further in the direction of Supai village to admire Fifty Foot Falls and Little Navajo Falls. Those waterfalls are also great for swimming and bathing in the water. Even in October, we were able to spend there a couple of hours.
Day 13 of Arizona Road Trip Itinerary – Route 66 – Hackberry, Kingman
On that day, you have to get back from Havasupai to Hilltop Parking. Most people will hike up. Some of them will try to catch a helicopter or at least put the luggage on the mules. Whatever are your plans for this day, you should start packing your camping early in the morning, the latest just after sunrise. Please remember that you will be going up in the sun. The hike up from Havasu to the parking lot can take you up to 5-8 hours, depending on your fitness level and the weather.
In this itinerary, we assumed that you start early and have time to see some other parts of route 66. Still, optionally if the day is really hot and the temperature is high, we suggest skipping this part and waiting with the hike till early afternoon to avoid overheating your body on the hike up.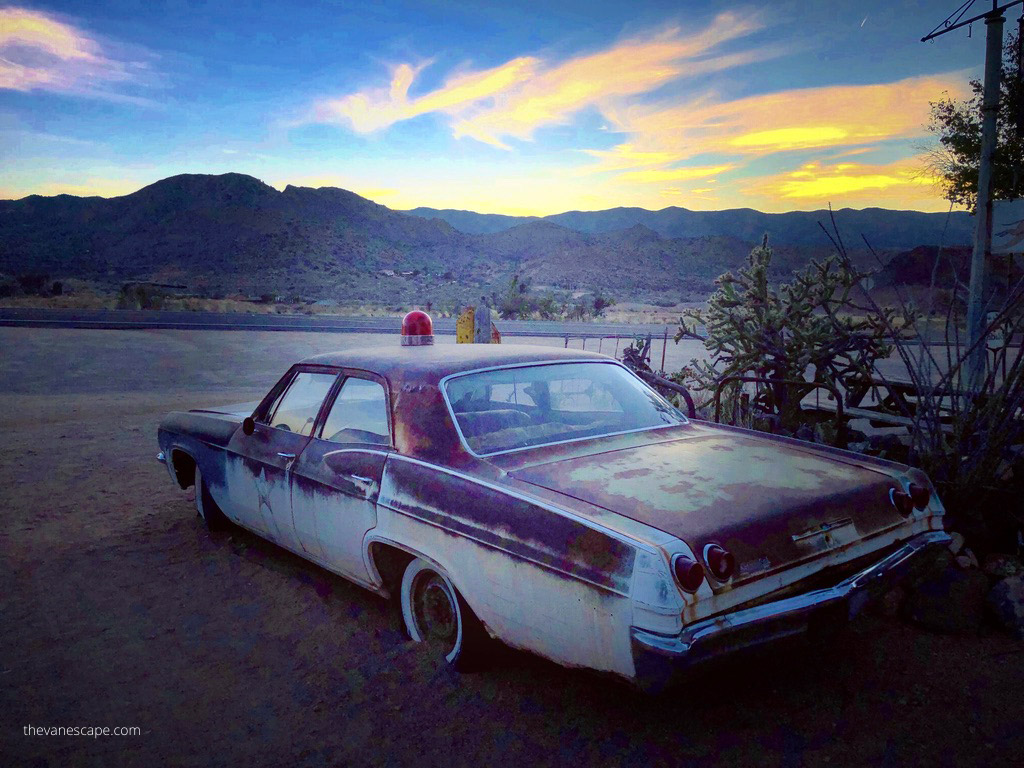 But we are sure that you will make it in the first part of the day and will have time to drive route 66 to Kingman for the night. On your way, don't miss a fantastic stop in Hackberry. You will find there a lot of route 66 history artifacts like old cars and memorabilia. It's an incredible opportunity to take amazing pictures.
From Hackberry, you will drive to Kingman. Stay for the night there. The town is maybe not as charming as Williams, but still tells a lot of history. And it is excellent from the lodging perspective due to a lot of old cheap hotels and restaurants. You will find here also a place to camp your motorhome.
Day 14 – Arizona Road Trip – Arizona Hot Springs & Hoover Dam
If you are making your road trip in the fall or spring, you have a great chance to soak in beautiful Arizona Hot Springs. This place is still not very popular, so there is a chance to avoid crowds. The good idea is to be there around noon, mainly because it requires 1-2 hours of hiking one way from the parking lot. The hike itself is also fascinating, and you can do it in two different ways – we described everything in detail in the Arizona Natural Hot Springs article.
Getting back from Arizona Hot Springs to Las Vegas, you can't omit the legendary Hoover Dam. You will be passing it on your right heading to Vegas. Two options are possible. You can just stop by or take a tour – it depends on how much time do you have for this place.
We wish you an amazing Arizona road trip adventure! If you like it our Arizona Road Trip Itinerary and it's helpful for you, please share it!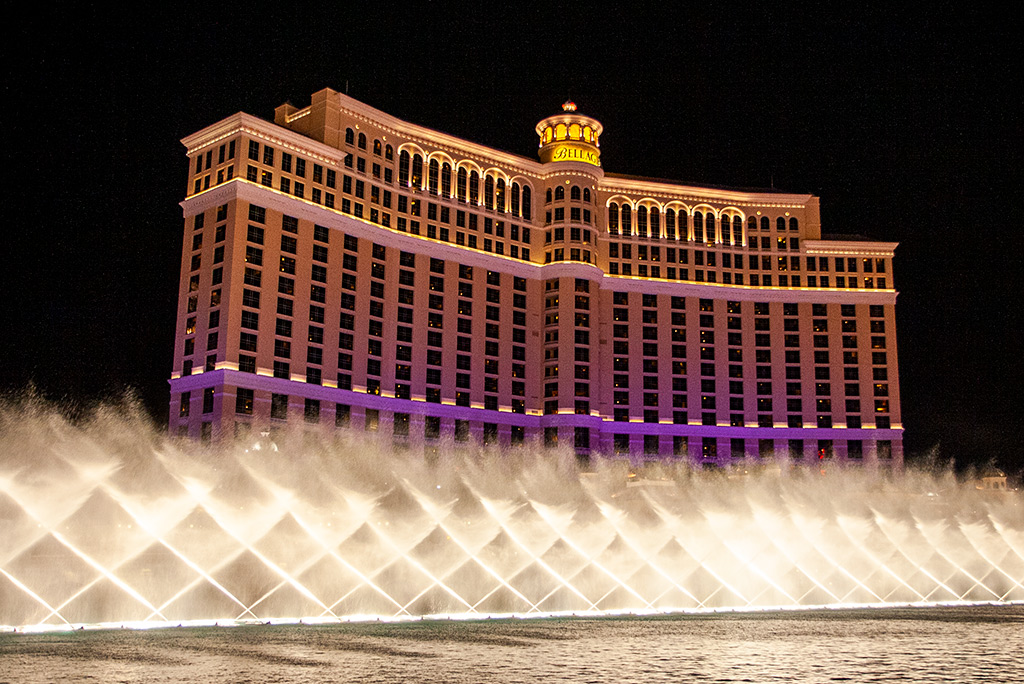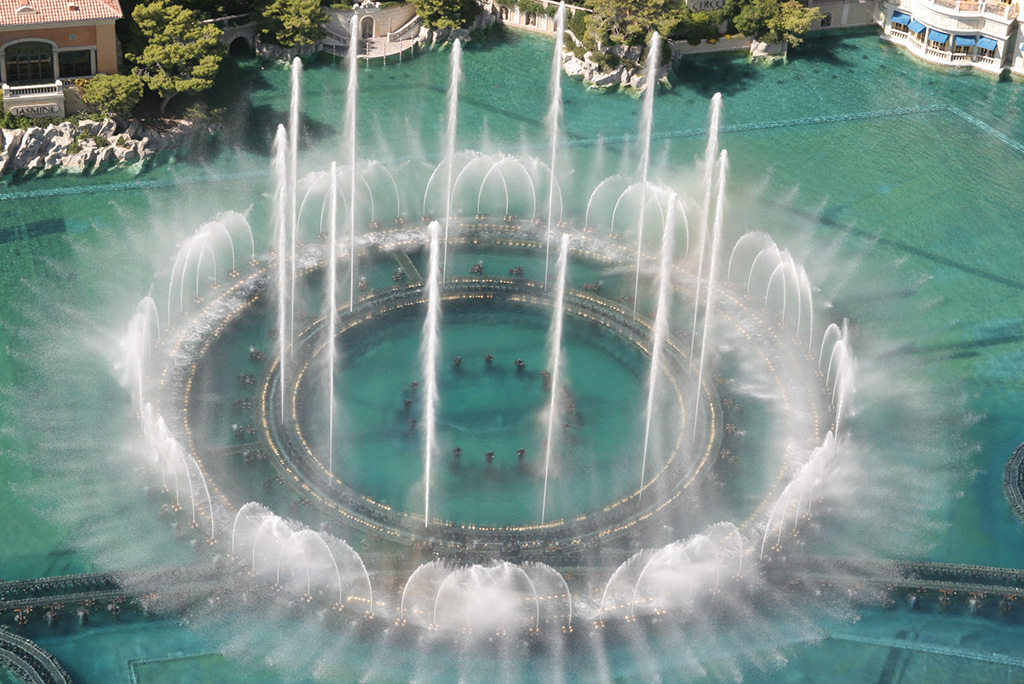 Like it? Pin it!