Horseshoe Bend Hike Guide
Horseshoe Bend is an iconic spot on the Colorado River, in Arizona. It is a meander of the river shaped like a horseshoe, thus the name. You probably have seen plenty of pictures of this place, and it is your must-see point on the southwest trip. We prepared this short Horseshoe Bend Hike Guide to make it easier for you and prepare well for this encounter.
This article may contain affiliate / compensated links. For full information, please see our disclaimer here.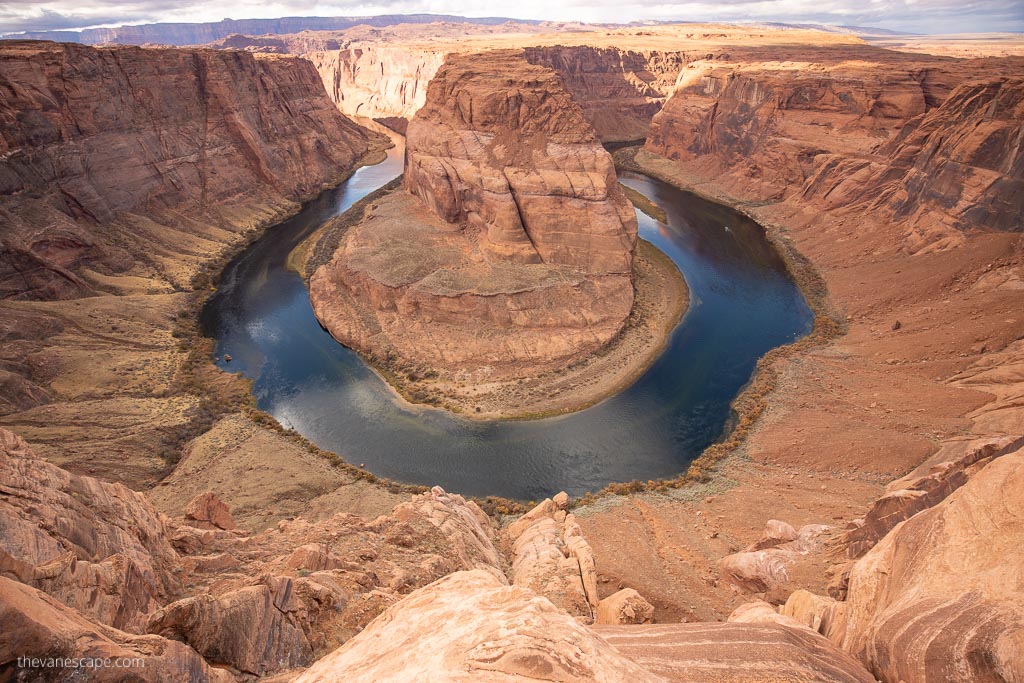 What is Horseshoe Bend
Horseshoe Bend is a horseshoe-cut meander of the Colorado River near the town of Page, Arizona. It is also referred to as the "eastern rim of the Grand Canyon". Horseshoe Bend is located 5 miles (8 km) downstream from Glen Canyon Dam and Lake Powell in the Glen Canyon National Recreation Area, about 4 miles (6 km) southwest of Page.
Horseshoe Bend Hike
It's very easy to get to Horseshoe Bend, so don't miss this fabulous spot during your Arizona road trip. Horseshoe Bend can be reached by a short and easy 1.5-mile (2.4 km) trail from a parking area on U.S. Route 89 in southwest Page. The land south of the parking lot, trailhead, and overlook is on Navajo Nation territory, where you can see Horseshoe Bend from the steep cliff. The overlook is 4,200 feet (1,300 m) above sea level and the Colorado River is 3,200 feet (1,000 m) above sea level, a 1,000-foot (300 m) elevation change.
How to get to Horseshoe Bend Hike?
Horseshoe Bend is located 5 miles downstream from the Glen Canyon Dam and about 4 miles southwest of Page, AZ. It is easily accessible from US Route 89. You can reach it by driving from the south or north.
The best idea is to combine the Horseshoe Bend Hike with Antelope Canyon Tour
Horseshoe Bend is adjacent to three other stunning Arizona natural landmarks -breathtaking slot canyons on Navajo Tribal Land: Upper Antelope Canyon, Lower Antelope Canyon, and Antelope Canyon X. That is why it is worth combining the Horseshoe Bend trip with one of the Canyons. But while you can explore Horseshoe Bend on your own, you must purchase in advance a guided tour to see the Navajo slot canyon. A guided tour is the only option to see this Antelope miracle of nature.
How to get to Horseshoe Bend from Page, AZ?
From the Page, drive south on US Route 89 (direction Flagstaff) for about 4 miles, and after passing Route 98 junction, look to the right for the Horseshoe Bend parking lot sign. After turning right, you will have a fee kiosk. Pay 10 USD to get to the parking lot (an interagency pass doesn't work here).
How to get to Horseshoe Bend from Flagstaff, AZ, or Grand Canyon?
A lot of people are coming to Horseshoe Bend from the south after visiting Flagstaff or Grand Canyon South Rim or North Rim. In both cases, you must reach US Route 89 north, and after the junction with 89A in Bitter Springs, just drive about 21 miles to the parking lot entrance. You will see it on your left. Take a turn, then approach a fee kiosk and pay 10 USD to get to the parking lot (an interagency pass doesn't work here).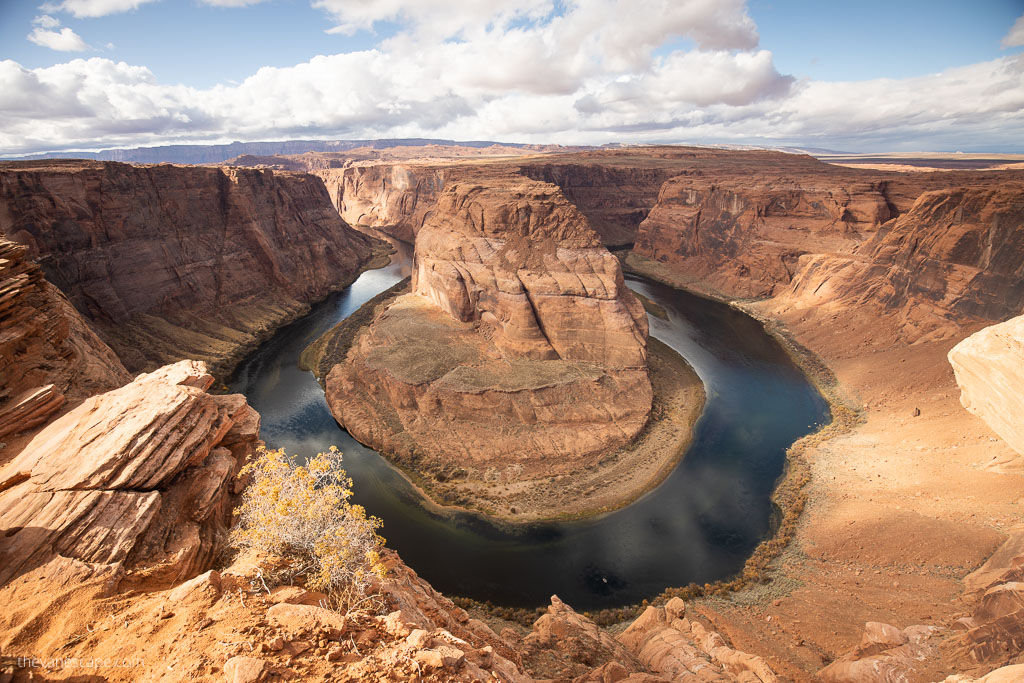 Where to stay when visiting Horseshoe Bend?
The most convenient lodging to visit Horseshoe Bend is in Page, AZ. There is an excellent selection of hotels in the town. On the map below you will find the best offers.
If you are traveling by RV, it might be a more convenient option to choose a campground or RV park. Unfortunately, options are limited here. If you need a campground, we can recommend Page Lake Powell Campground.
When to visit Horseshoe Bend and do Horseshoe Bend Hike?
Any time of the year will be good for visiting this attraction. The most important is to choose the time of the day. There are plenty of opinions, and many people suggest coming for the sunset. But at this time, you will have the sun directly in your eyes. It's not bad if you are a photographer and want to catch some last rays disappearing behind the horizon and agree to have a river in the shadow.
But for most people, it seems much better to come in the late morning or early afternoon. The river should be out of a shadow at about 9:30 am and stay like that until the afternoon. If you have more time, you can try both options – morning and afternoon. But remember that now each entry will cost you 10 USD.
Horseshoe Bend Hike Guide
The 1.3-mile roundtrip easy, but heavily trafficked hike. You will be stepping on a mix of stone, sand, and gravel, so we recommend wearing good hiking shoes or boots. For most people, it will take 20 minutes to get from the parking lot to the cliff. It is a very light elevation gain – about 200 ft – downhill to the cliff and uphill on the way back.
The hike was renovated recently and now is more kids friendly due to the railing installed at the cliff. But it would help if you still took special care because you will find those only at the most dangerous part. Otherwise, it is easy to fall. Fortunately falling down is not the biggest problem and most of the tourists that need to be rescued here are because of the heat and dehydration. People assume it is a short hike, and they will survive without water. Very often, it is not valid, and most of the year, you must take at least a bottle of water with you. There is no shade on the hike or the cliff itself.
You can take your pet on the hike. But remember to keep your dog on a leash and control your animal at the edge.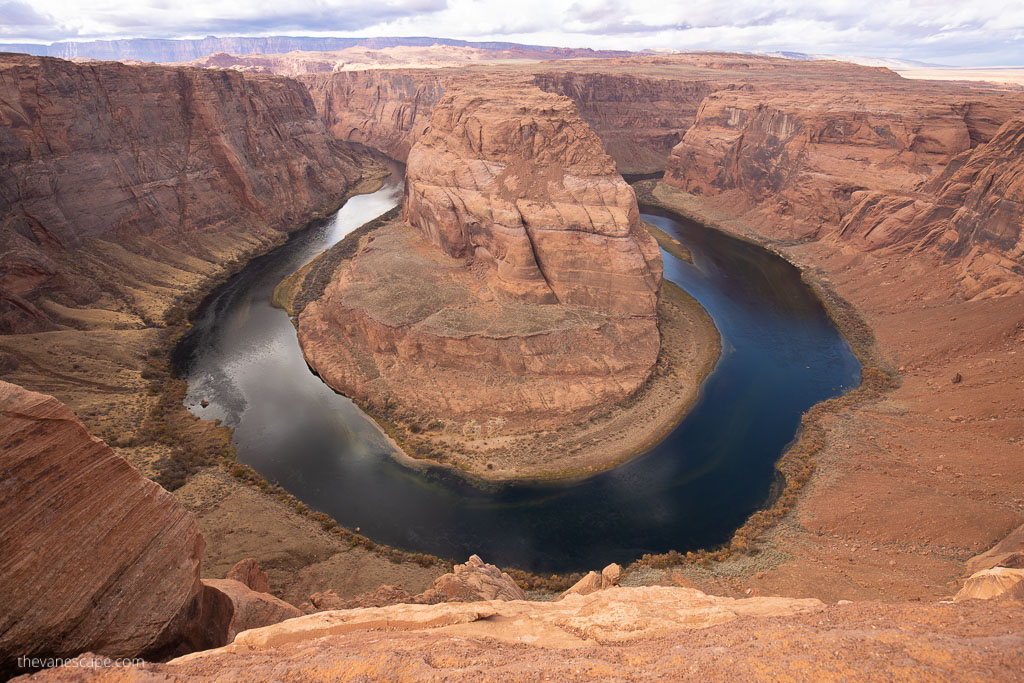 Photography Hints and Tips for Horseshoe Bend Hike
Time of the Year for Horseshoe Bend Hike
As we already mentioned, each time of the year is good to visit Horseshoe Bend, but it might not be correct for photographers. In case you want to have a fantastic and unique picture of this place, you should rather try to choose the weather differently than a sunny day. It's much easier to have unusual weather in late fall or winter. In the spring, there is, however, a better chance for rain and subtle colors. We believe that one visit is not enough to get a somehow unique picture. And make sure to check the weather before coming.
Other posts about Arizona with tons of tips and exciting information you will find in our Arizona PhotoTravel Guide!
Time of the Day for Horseshoe Bend Hike
For most of you, it is much easier to choose the time of the day than the time of the year. And each combination will be right but will give you a completely different picture too. You can try to catch the sunrise, but the river will be in the shadow. It seems to be better in midday to have balanced light on the whole rock. Or come for the sunset and try to catch the last rays. In this case, you must agree to have a river in the shadow again. Maybe it is better to wait until after the sunset and have everything in the shadow? It is up to you. We like mid-day or sunset photos best.
Photography Gear for Horseshoe Bend Hike
The crucial part is to have a wide-angle lens. Or the phone that allows you to take a wide-angle picture (like iPhone 11, for example). If you are coming for the sunset or sunrise, don't forget to grab your tripod. It might also be a good idea to take an ND grad filter to avoid a big contrast between the sky and the rock. If you have a tripod, you should try to capture HDR as well.
What else to see around Horseshoe Bend?
For sure – book a guided tour to one of the slot canyons: Lower, Upper, or Canyon X. They are spectacular. Lake Powell offers a lot of activities as well. You can rent a kayak or boat on Lake Powell. Or you can take Lake Powell & Horseshoe Bend 30–Minute Air Flight.
You will find more inspiration and tips in our detailed Arizona Road Trip Itinerary and Utah Road Trip Itinerary.