Lower Antelope Canyon Tours
Are you planning a Lower Antelope Canyon tour? The abstract shapes that wind and water have carved into the red rocks of the Navajo Sandstone over thousands of years are breathtaking. The fairy-tale interior of Lower Antelope Canyon is like a work of art with its shapes, colors, and forms. Moreover, it is a work of art that has been precisely sculpted, perfectly contoured, and phenomenally lit by Mother Nature. Navajo slot canyons inspire with their unusual beauty.
This article may contain affiliate / compensated links. For full information, please see our disclaimer here.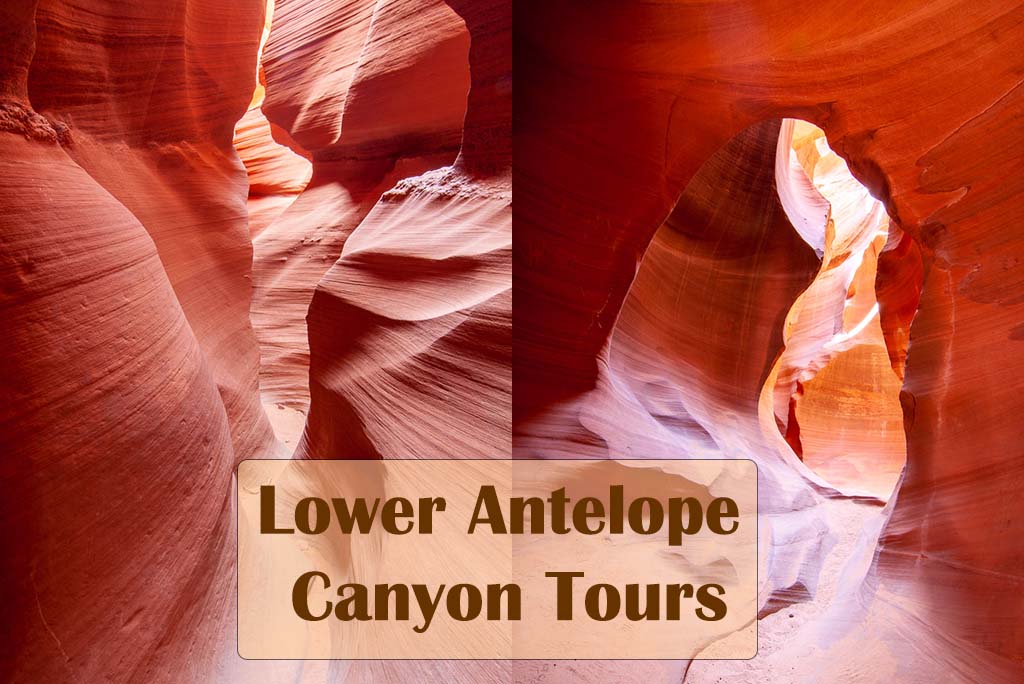 Lower Antelope Canyon Tours – Introduction
This phenomenal place is definitely worth a visit during your Arizona road trip. Since we have been to both Antelope Canyons Lower and Upper, we have shared our tips, photos, and experiences. Which Lower Antelope Canyon tour is the best? What does the hike through Lower Antelope Canyon look like? Which slot canyon is better? What is the difference between Lower and Upper Antelope Canyon? Lower Antelope Canyon vs Upper. What to choose? Read our post!
What is Lower Antelope Canyon?
Lower Antelope Canyon is a sandstone slot canyon, one of the world-famous scenic Navajo Antelope Canyons near Page, Arizona. It is one of the icons of the Southwest. We have also described the second part of the canyon separately: Upper Antelope Canyon. Lower Antelope Canyon is about 1,335 feet (407 m) long. The depth of Antelope Canyon is about 120 feet (37 m). Lower Antelope Canyon, like Upper Canyon, is protected by Navajo Parks and Recreation. Therefore, only approved tour companies and guides can take visitors into the canyon.
What Does the Lower Antelope Canyon Mean?
Lower Antelope Canyon is Hazdistazí (called "Hasdestwazi" by the Navajo), or "spiral rock arches". The walls are a true work of art. They have a fascinating smooth and rough texture that you can feel with your fingertips. The sandstone rocks are shrouded in soft, diffused light through narrow slits. This brings out their unusual colors particularly well. The play of light, shadows, and colors in the Antelope Canon will be remembered forever. Shades of orange, red, yellow, violet and navy blue interpenetrate with the wandering rays of light. The unique creation of Navajo Sandstone naturally provides a kaleidoscope of colors due to rain, wind, and erosion. The light creates an unusual illusion of rock movement. At times, it feels as if the rocks are gently moving like waves on a calm sea.
Below you can check the availability and prices of this amazing Lower Antelope Canyon Tour with a Navajo Guide. Select only the date of your planned trip and the number of participants.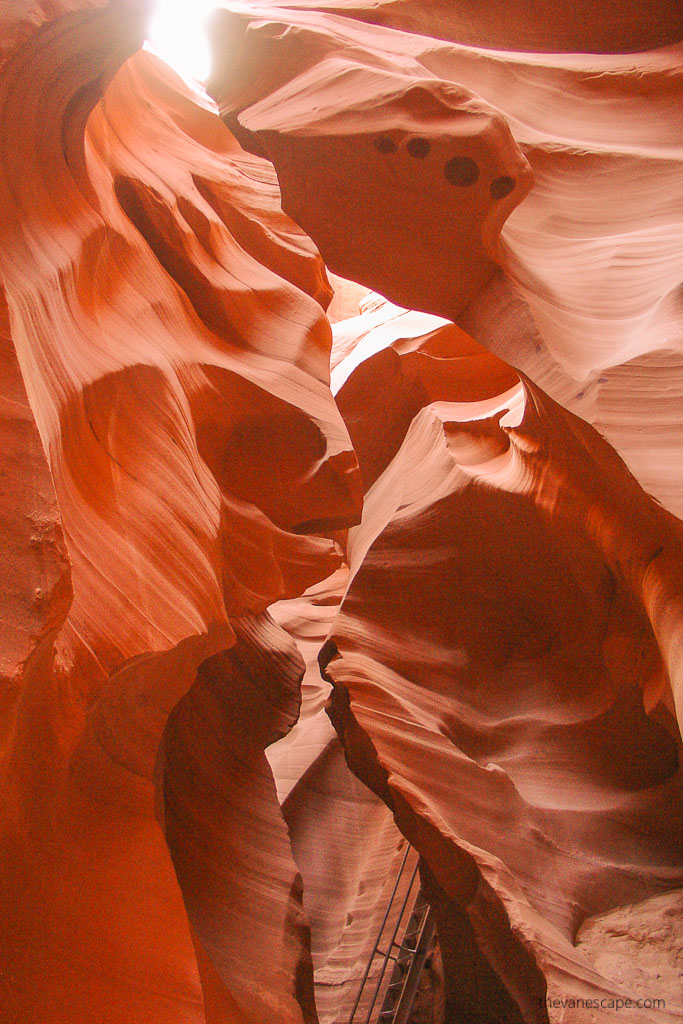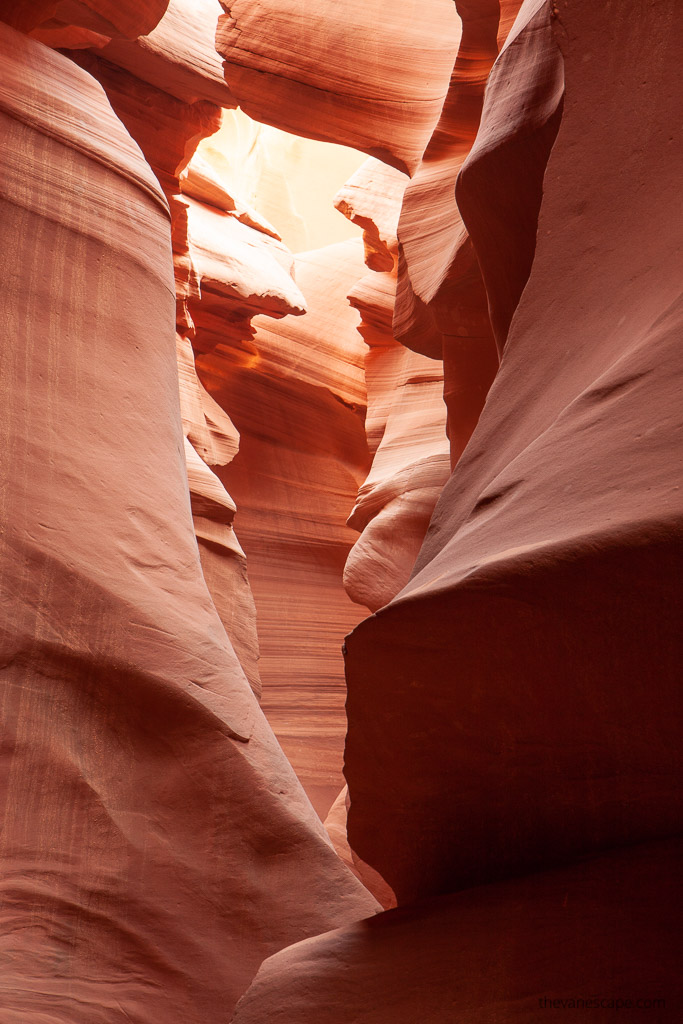 How to get to Lower Antelope Canyon?
The road to Lower Antelope Canyon is guarded by the Etsitty Family/Navajo Nation, and access is permitted only for authorized guided tours. Antelope Canyon is located in the southwest near the town of Page in Northern Arizona. Page sits on the Arizona-Utah border near Lake Powell.
From Page, take AZ-98 W and Coppermine Rd. It's only 10 minutes of driving. Some tours start in Page, so check details on your reservation.
Grand Canyon National Park (Tusayan) is about 125 miles and 2 hours and 30 minutes of driving via AZ-64 E/Desert View Dr and US-89 N.
From Las Vegas is a more extended trip. It's at least 4 hours 30 minutes of driving and 275 miles via I-15 N and US-89 S.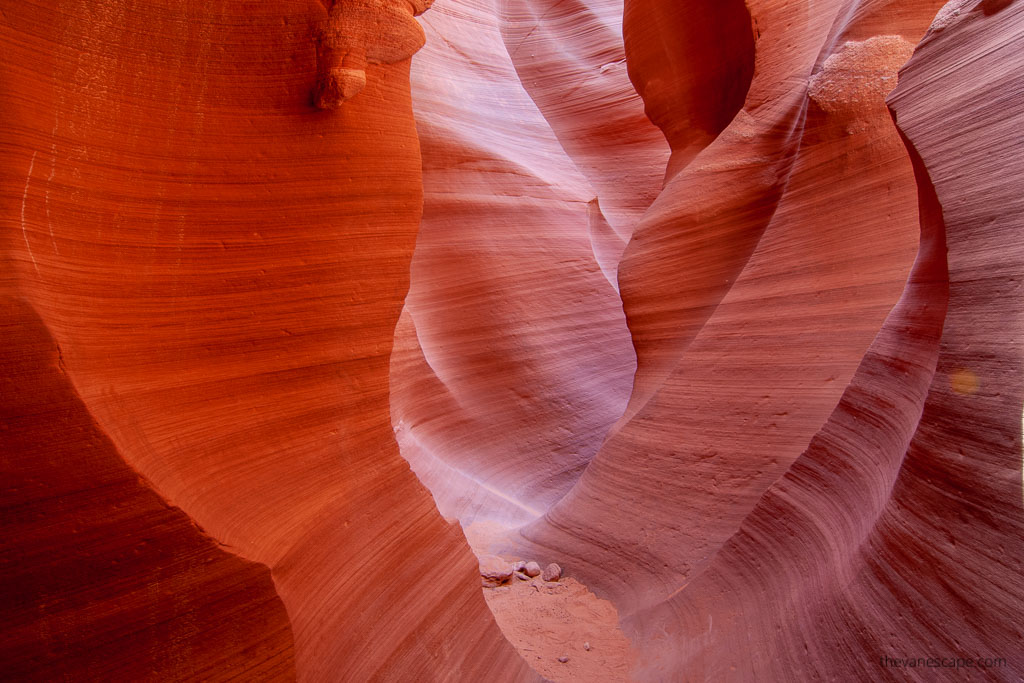 Can you go to Lower Antelope Canyon without a tour?
No. You cannot go to Lower Antelope Canyon without guided tours. There are no self-guided hikes. The Navajo Parks and Recreation protect the Antelope Canyon. As we mentioned above, only authorized tour companies and guides can take visitors into the canyon. Antelope Canyon is on Navajo Tribal Land, so respect their rules. What's more, it is one of the most popular iconic natural landmarks of Arizona, so it's worth booking your tour in advance, especially in the peak season (March-October). A reservation is required due to COVID-19 as well. Also, face masks are required, so don't forget to pack them.
Guided Tour is a must due to the protection of Lower Antelope's sandstone formations
This is due to the care for the canyon and its delicate sandstone formations. Unfortunately, there were cases of destroying rocks or drawing on them in the past. Another, and more important reason, is to take care of the safety of tourists. Unfortunately, the slot canyons can be flooded with water quickly during rain. And such situations already took place in Lower Antelope Canyon. Therefore, a guided tour is a safe way to visit this miracle of nature. So, check the availability below:
Guided Tour is a must due to flooding protection
Flooding? Yes, there is a risk of flooding in the Lower Antelope Canyon, and in the last chapter, we describe exactly the tragedy that happened there. That's hard to believe because Antelope Canyon is located in the desert region of Arizona. There are no trees here, only rocks and sand. The ground is dry and cracked under feet. The ground had not seen a drop of water in months.
Heavy rains are rare here. But it is enough if rain is a few dozen miles away for the water to start flooding the canyon.
Antelope Canyon is located right at the mouth of three periodic rivers. Thus, during a downpour, thousands of gallons of turbulent water begin to flow through the crevices into the canyon, where the water level rises rapidly due to the lack of wide drainage basins. Within minutes, the water can collect in the canyon's narrow bottom enough water to cover a grown man. There is no chance of escape. Therefore, the Lower Antelope Canyon Tour is only available with a licensed guide who knows the current forecasts and knows the terrain perfectly.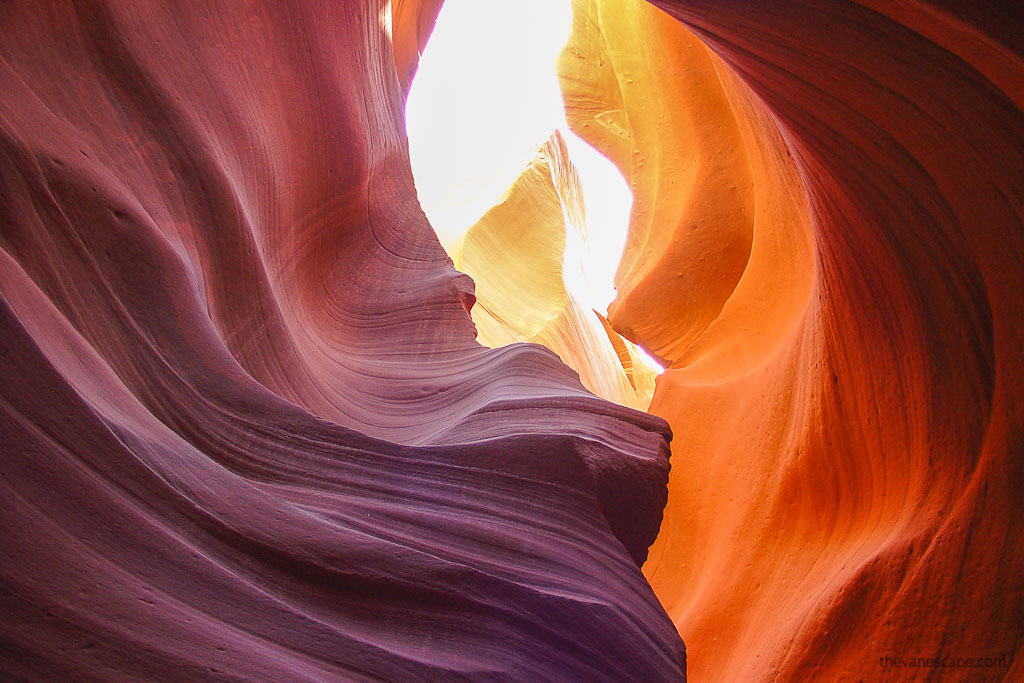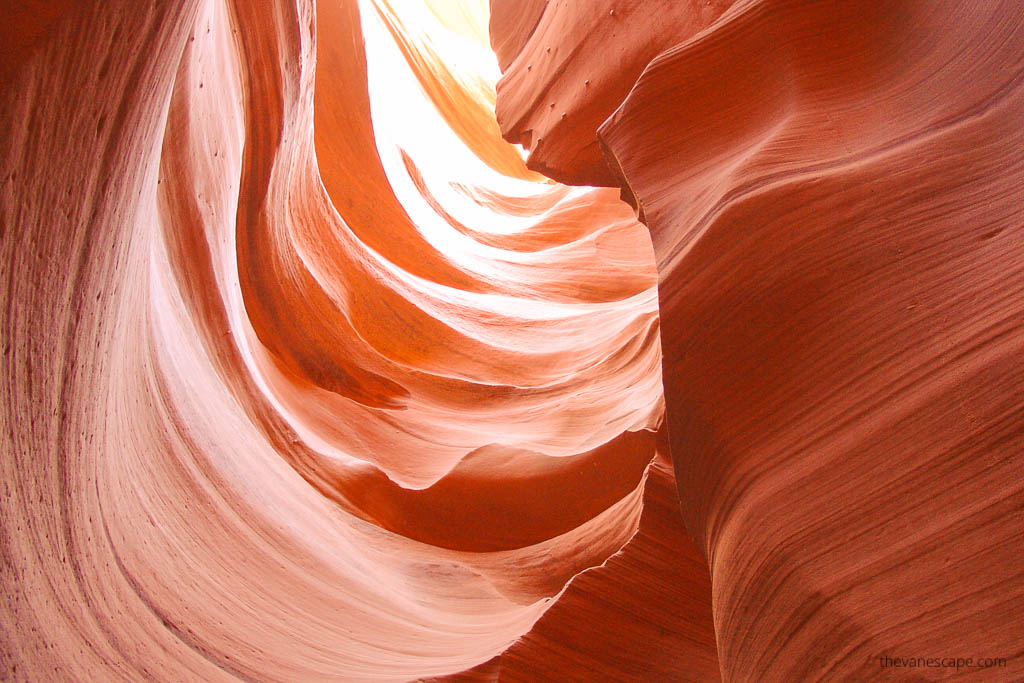 Which Lower Antelope Canyon tour is the best?
You have several licensed tours to choose from. And they all look almost the same and have a similar duration. We are sharing our personal experiences and can recommend the tour we chose. We took this licensed slot canyon tour from Ken's Tours. It was an excellent time for us. Our tour guide was well informed. He told us stories about the formation of Antelope Canyon and the dramatic flash floods in Lower Antelope Canyon in 1997. Guides are indigenous to the surrounding area and thoroughly versed in Southwestern culture. We had enough time to enjoy the beauty of the slot canyon as well.
You can also consider Lower Antelope Canyon and Horseshoe Bend Half-Day Tour if you are in Page. It's a perfect idea to combine those two beautiful places. And for sure, with this tour, you save some time.
If you are in Las Vegas (you can also check our Las Vegas Itinerary), you have lots of Antelope Canyon tours to choose from. If you have an extra day in Las Vegas, it is worth considering such options as tours are often combined with other unique attractions like Horseshoe Band or Grand Canyon.
TRIP TIP: The slot canyon tours operate on Arizona Standard Time. Keep this in mind as you are booking your tour.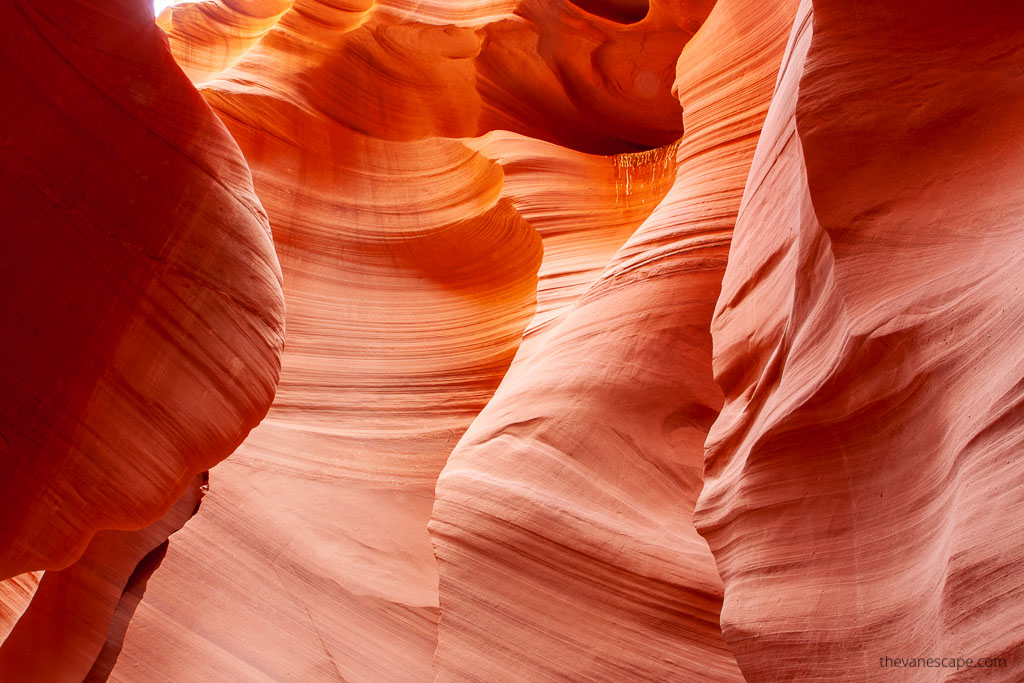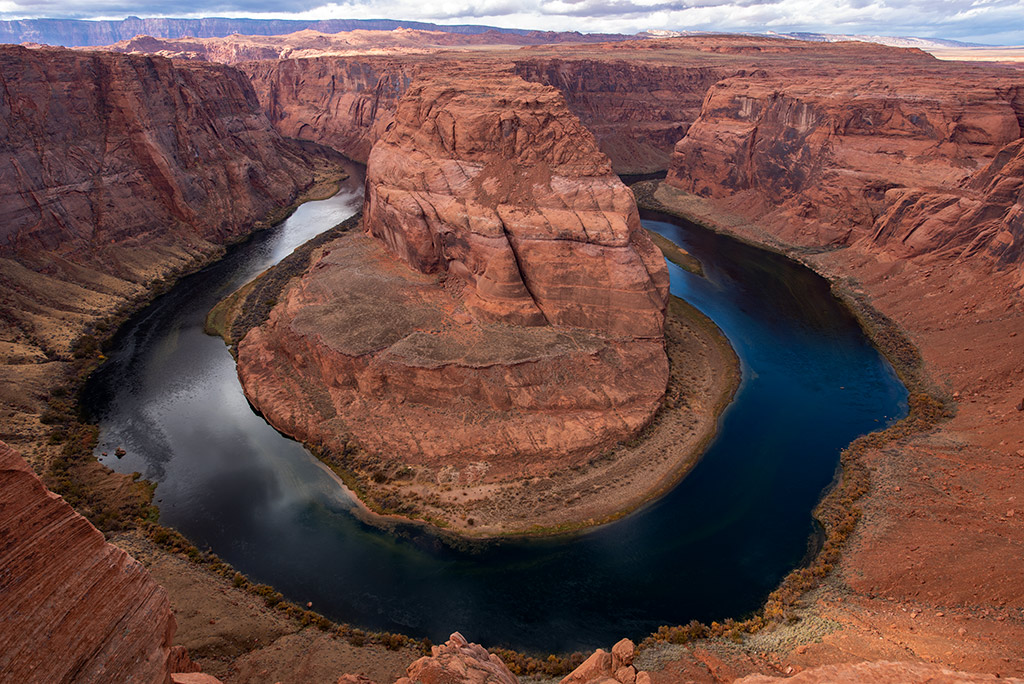 What time is best for Lower Antelope Canyon tours?
Lower Antelope Canyon is open year-round. But light beams occur from mid-March to mid-October. However, only on a very sunny day is a chance to see the famous beam rays of light fall into the slot canyon. You have to be in the Lower Antelope Canyon around noon to succeed. This is only possible when the white-hot Arizona sun approaches the highest point of the sky. For Lower Antelope Canyon, the best months for a visit are June, July, and August, if you want to catch light beams. But you are not guaranteed to see them. The Lower slot canyon rarely has light beams. One cloud in the sky is enough to cover the beam of light. But many tourists come during Summer. So, book your tour well in advance. We visited both slot canyons, and only in Upper, we were lucky to see light beams.

Less tourist is from November through March. There are no light beams in those months, but the place is still worth visiting. Morning hours are also spectacular, and light is excellent for pictures. Even without light beams, Lower Antelope Canyon looks spectacular any time of the year.
How long is the Lower Antelope Canyon tour?
Lower Antelope Canyon tours require about 1.1 miles of walking. The tours go and back take about 1-1.5 hours.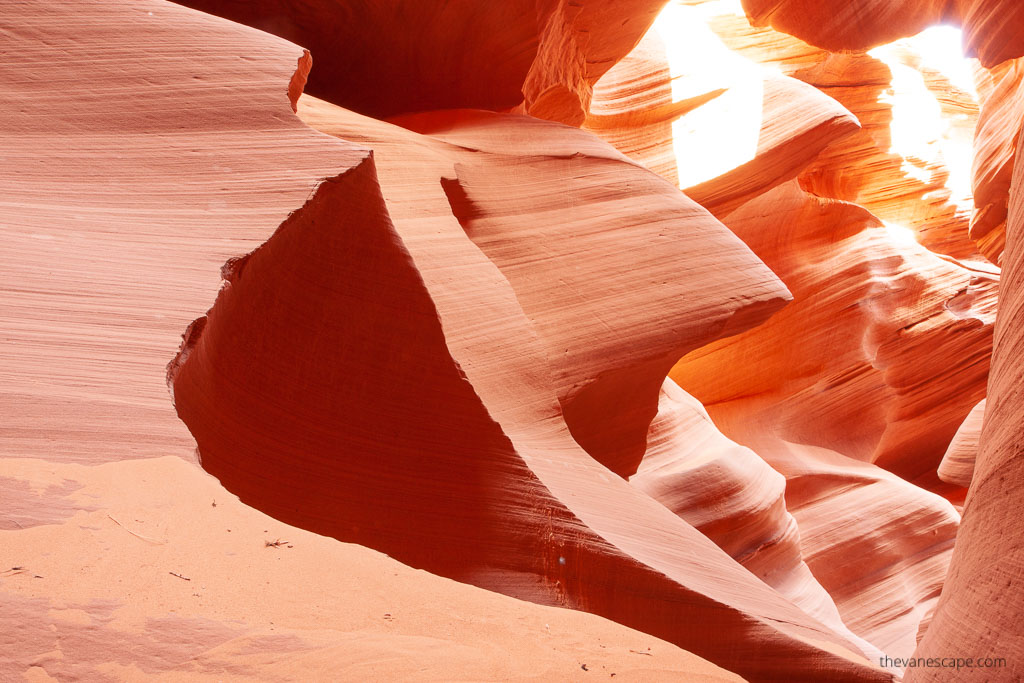 How does the Lower Antelope Canyon hike look like?
The Lower Antelope hike is more complicated than the Upper Canyon (see our detailed comparison below). From the outside, the canyon looks inconspicuous, a gap in the rock from which a gentle breeze of cool and moist air escapes. You have to go down quite steep metal stairs. Indeed, you should be very careful and wear comfortable shoes with covered toes: no flip-flops or high heels. Comfortable shoes with a sole with an excellent grip to not slip on the metal steps. In addition, there is a lot of sand on the steps, making it easier to fall.
From the main parking lot, there is about a 10-minute easy walk to the entrance of the Lower slot canyon. The Lower Antelope Canyon tour is a more strenuous walk but is still doable. There are about 5 flights of stairs to descend in the Lower Antelope tour and 8 flights of stairs to ascend. The ladders are pretty steep, so be careful.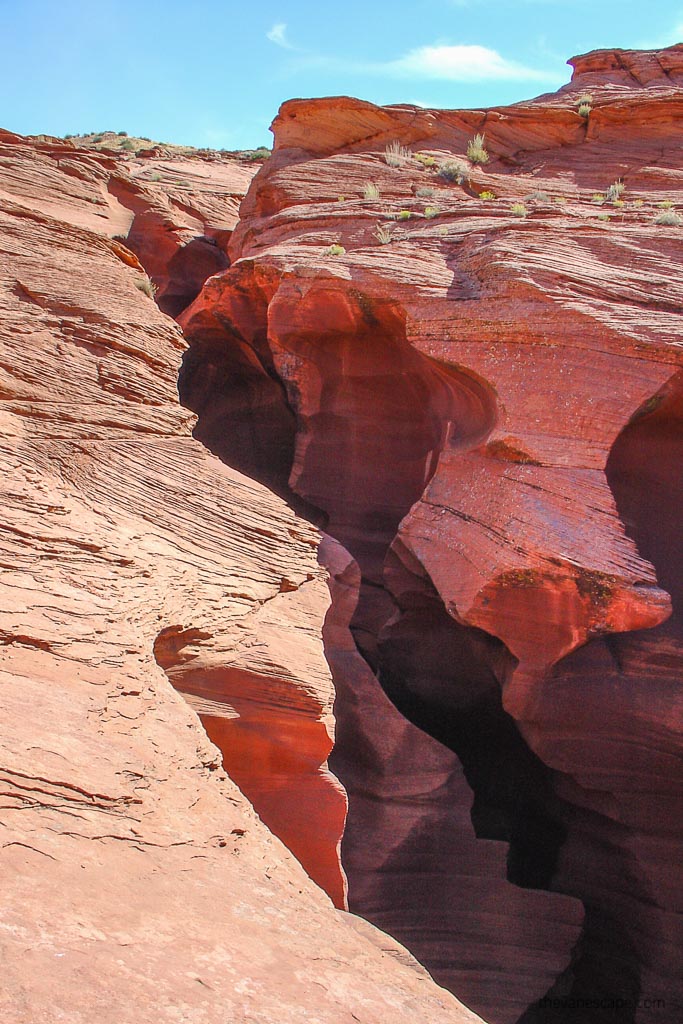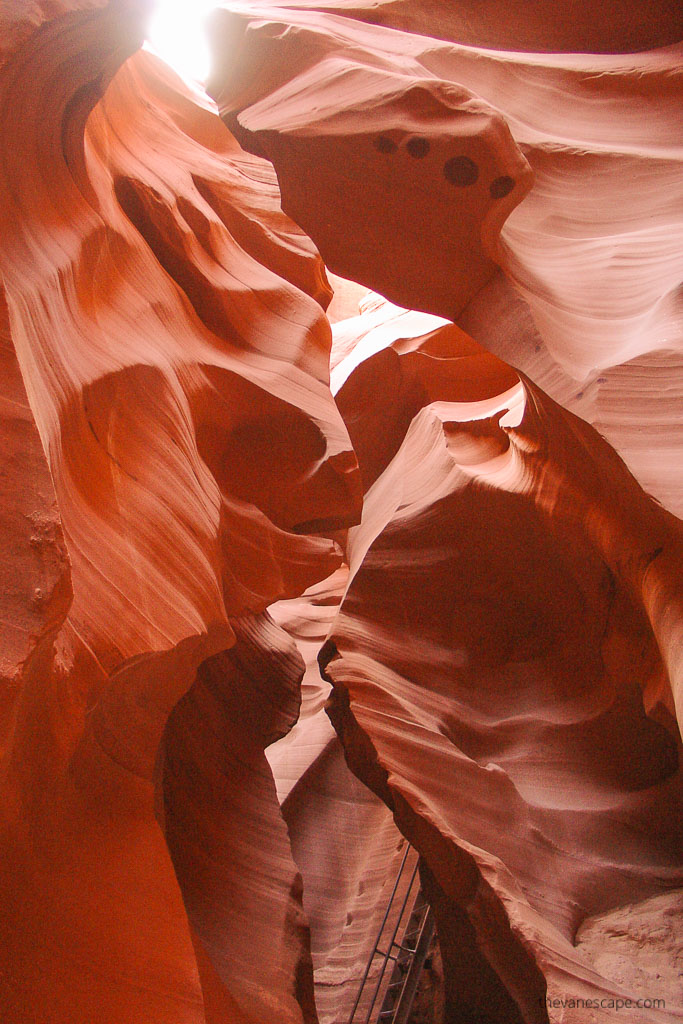 Which slot canyon is better? Lower Antelope Canyon vs Upper
It's a difficult question, as they are both spectacular. We share our subjective opinion.
From the hike difficulty perspective?
Both slot canyons are magnificent and exceptional. You can compare pictures of the Upper here. Lower Antelope Canyon hike is mostly below ground and Upper Antelope Canyon is above the ground. The hike in Lower Antelope Canyon is more challenging. The walk requires descending steep metal stairs. Therefore, we do not recommend it for the elderly, mobility problems, or small children. According to the official website, Lower Antelope Canyon tours are also unsuitable for people with heart problems or pregnant women. We recommend Upper Antelope Canyon, which is much easier to hike. There are no stairways/ladders.
Also, Lower Antelope Canyon is longer and narrower in some places, so it is more claustrophobic. Currently, there are five stairs of varying widths to help with the descent and ascent. In the end, the climb out requires flights of stairs. Also, sand is constantly falling from the crack above. So, Lower Antelope Canyon is certainly a place for people who love adventure and for experienced in more challenging hiking routes.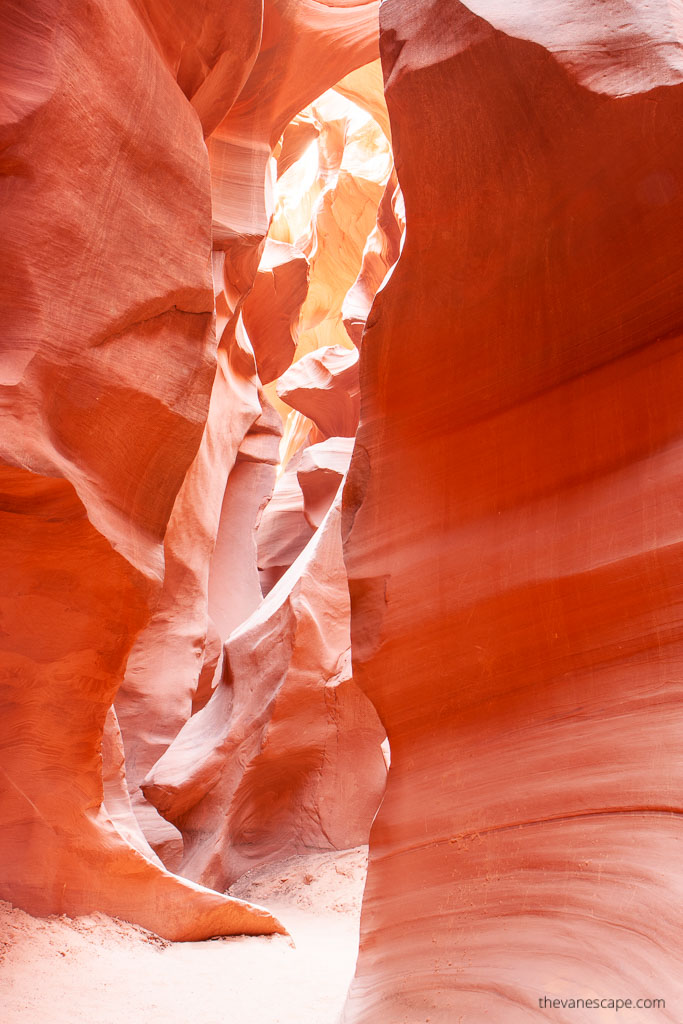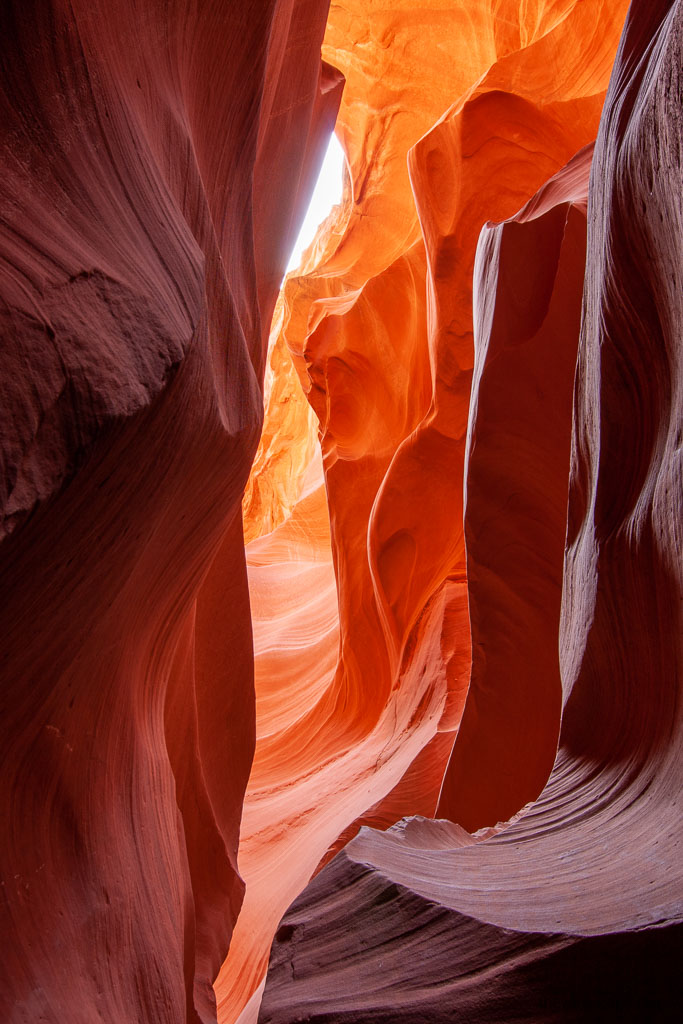 From the photography perspective?
The biggest difference between the Upper and Lower Antelope Canyon is the size of the canyon itself. Upper Antelope Canyon is wider at the bottom than at the top, resulting in beautiful rays of light inside the canyon.
Upper Antelope Canyon is much darker than Lower Canyon because it is shaped like the letter "A". Lower Antelope Canyon is shaped like a "V" and is shallower than Upper Antelope. Lower Canyon is also longer than Upper. Lighting in the Lower Canyon is better in the early morning and late morning. But the famous light beams appear less frequently in Lower Antelope.
From a photographic point of view, both offer endless possibilities for taking pictures. But you cannot take a tripod at any time. Tours for photographers in both the Lower and Upper Antelope Canyon were terminated in 2019. Photography tours are currently organized exclusively at Canyon X.
As photographers, we visited both Lower and Upper Antelope Canyon. We believe that each of them is worth seeing.
But you often ask us: I don't have enough money / enough time to see the two slot canyons. I have to decide on one of them. Which one do you recommend to me? Should I book Lower Antelope Tour or Upper Antelope Tour?
We would say that Upper Antelope Canyon is the more picturesque of the two and will take your breath away. We took more exciting photos because we had the opportunity to see light beams in Upper Antelope Canyon. So if you are a photographer and plan to visit during the light beams months and have a chance to book a tour around noon – choose Upper Antelope Canyon. But we cannot guarantee that you will be lucky enough to see a phenomenal spectacle of light on this day.
But if you do not really need to see the light rays and love hiking, choose the Lower Antelope Canyon tour. It's incredibly beautiful as well! We agree with the opinion, that it's not just a tour. It's a kind of adventure. Book your tour here!
What to pack for the Lower Antelope Canyon tour?
Not too much. Follow rules from your tour company (all have the same rules). It's a narrow slot canyon. So bags, backpacks, fanny packs, hydration bags, and purses are not allowed. No go-pros or live-action cameras. No drones on the Navajo land as well. Also, tripods, monopods, selfie sticks, trekking poles are not permitted for Lower Antelope Canyon tours. No open-toed shoes, sandals, or shoes with heels.
Bring a Passport or your ID card and your Lower Antelope tour reservation. Take a small bottle of water. Don't forget a face mask.
As colored bags are not allowed into the canyon, you can bring your belongings in a pocket or in a clear plastic bag like the one below.
You can only take photos with your phone or camera in your hand. We do not recommend changing lenses as sand particles can damage the camera. So it's best to take a camera with a single, bright wide-angle lens.
Were comfortable shoes with good grip. If you are going in the summer months remember about sun protection.
Antelope Canyon Weather
Always check the weather before your trip. Since entry to the slot canyon is only possible with a guide, you can feel safe. Warning systems are of the highest standard, and the most important thing is the safety of tourists. Any time of the year is good for visiting the canyon.
However, you need to know that the summer months are scorching in this area, so be sure to protect yourself from the sun. It is pleasantly cool at the bottom of the canyon. Summer's temperatures reach almost up to 100 °F. Arizona's monsoon season also runs from mid-June through mid-September. This usually brings more rain, lightning, and wind. But rainfall in Page is rare.
Winter months are perfect too for a visit. There are fewer tourists, but before noon there is enough light to enjoy the canyon's beauty. It's cooler, so put on a warm sweatshirt. Highs during the winter range from 40 to 50°F. Snow is rare in Page.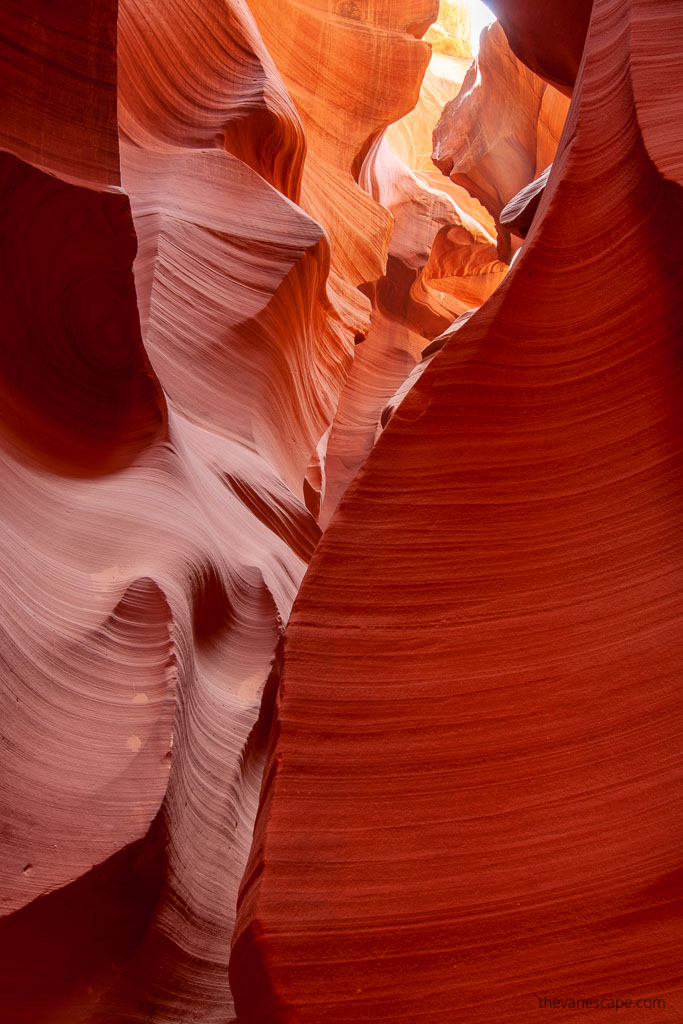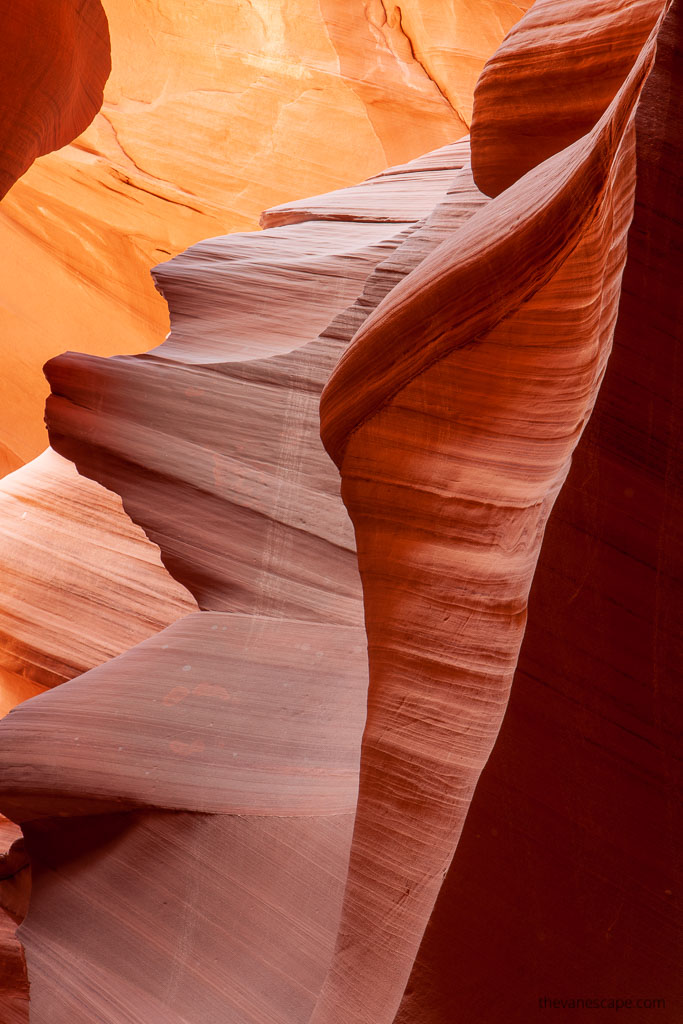 Flash flooding in Lower Antelope Canyon
During the monsoon season, any slot canyon can be quickly inundated by water. Importantly, rain does not have to fall on or near Antelope Canyon slots for flash flooding to occur. Rain that falls dozens of miles away can enter the canyons unnoticed.
The most dramatic flash flood occurred on August 12, 1997, when eleven tourists, 9 from Europe and 2 from the United States, were killed by a flash flood in Lower Antelope Canyon. According to Wikipedia, very little rain fell at the site that day. But an earlier thunderstorm had poured a large amount of water into the canyon basin 7 miles (11 km) upstream. After this tragedy, warning and safety systems in Lower Antelope Canyon were improved, but the threat of flash flooding remains.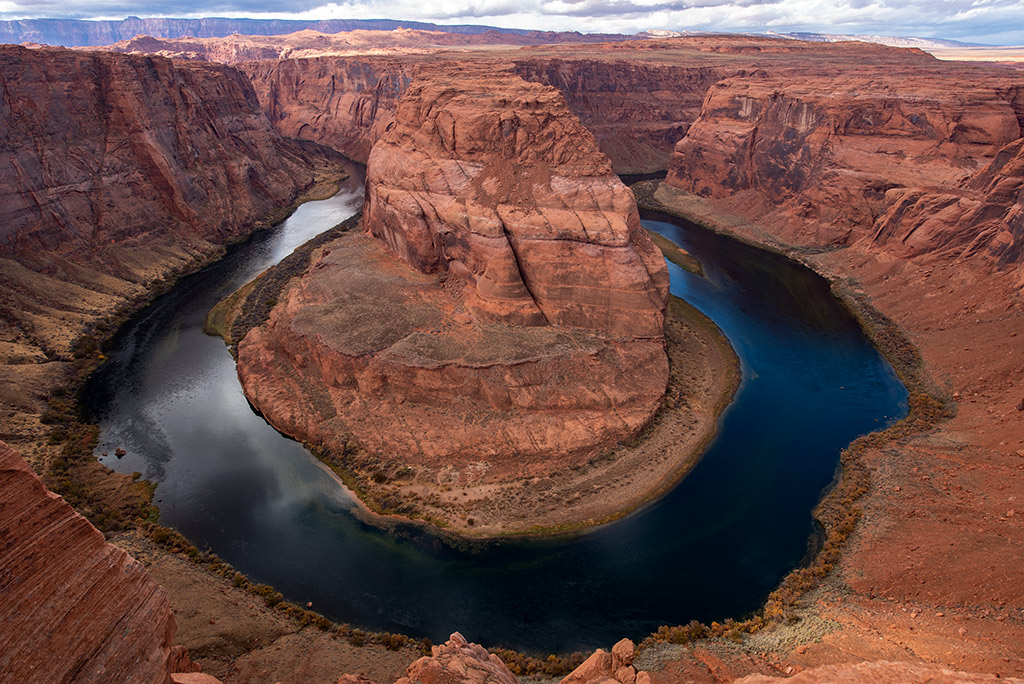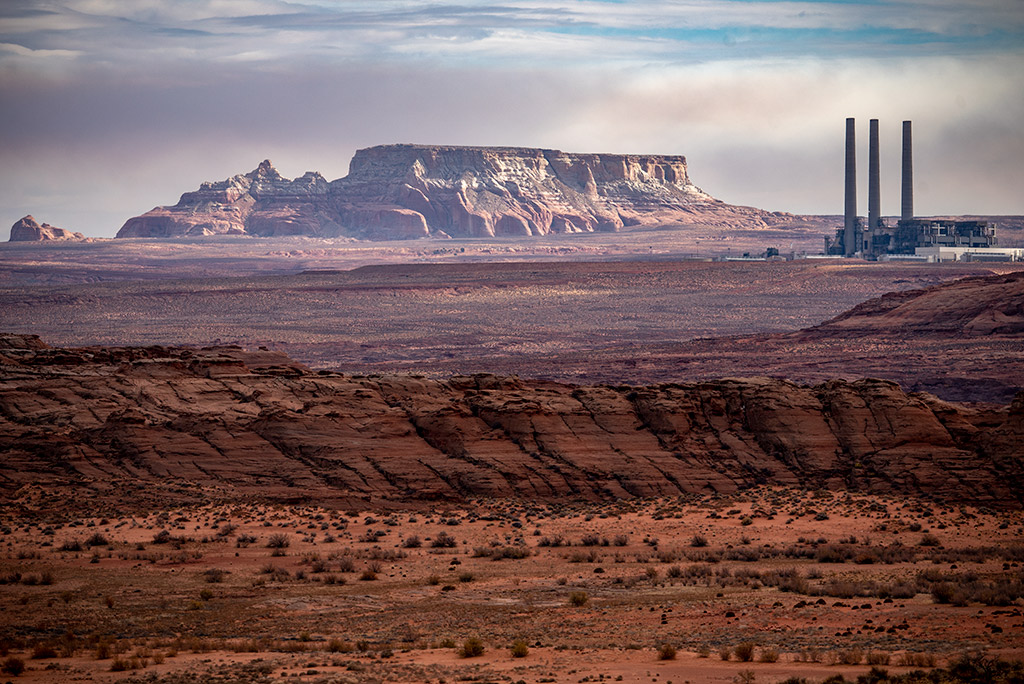 Best places to stay near Antelope Canyon
The best place to stay for a night is Page, Arizona. Below you can check Deals Finder to find the best offers. Book your accommodation in advance. Because of unique attractions such as Powell Lake, Horseshoe Bend, and Antelope Canyon, Page is a popular stop during Arizona road trips and Utah road trips. For more inspiration, check our Arizona Travel Guide.
Do you like it? Pin It!