BEST THINGS TO DO IN ARIZONA
Below is our list of the most exciting and must-see places in Arizona. We have been to each of these places several times, and we are happy to come back there. We have described each of these places in detail, and below you will find links to our related articles that help you prepare for your trip. If you are planning a road trip to Arizona, check out our two weeks Arizona Itinerary.
Admire the sunset in Grand Canyon South Rim
Grand Canyon is a stunning must-see place once in a lifetime. Carved out by the Colorado River, the Grand Canyon is, for sure, one of the most spectacular gorges and one of the most beautiful places in the world. It is 277 miles long and attains a depth of over a mile, so it is on UNESCO World Heritage List. The views from the South Rim of the Grand Canyon are breathtaking and spectacular. It's a great idea to take a helicopter tour to see its majesty! In our article, you will find detailed info about the best viewpoints on Grand Canyon South Rim and how to get great photos there. You will also find all the necessary information to prepare your perfect trip to the South Rim of Grand Canyon: how to get there, the best lodging to stay, how to spend time, which trail to take, and tour recommendations.
One of the most beautiful and exciting experiences of the Grand Canyon is the helicopter flight.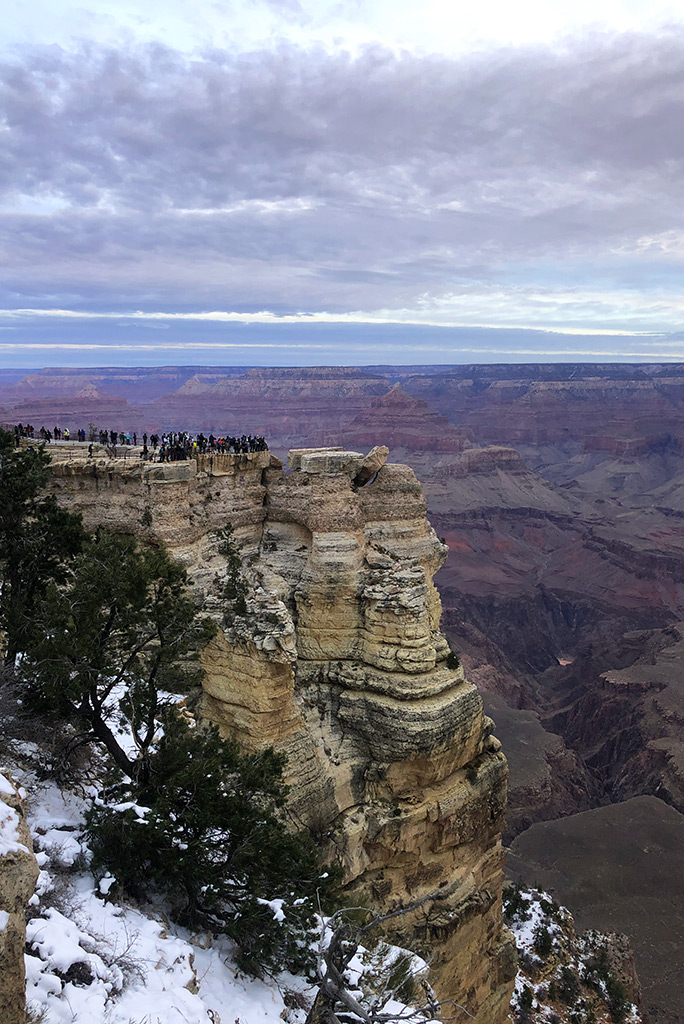 Take a trip to Upper Antelope Canyon or Lower Antelope Canyon
To see one of the most famous wonders (right after the Grand Canyon) of Arizona – Antelope Canyon, you must take a guided tour. We highly recommend these slot canyons as the views are breathtaking. The canyons are located near Page, on Navajo Tribal land. Reservation is required, so book your tour in advance, as these sites are top-rated. Find more of our photos from Upper Antelope Canyon here. And here from a trip to Lower Antelope Canyon.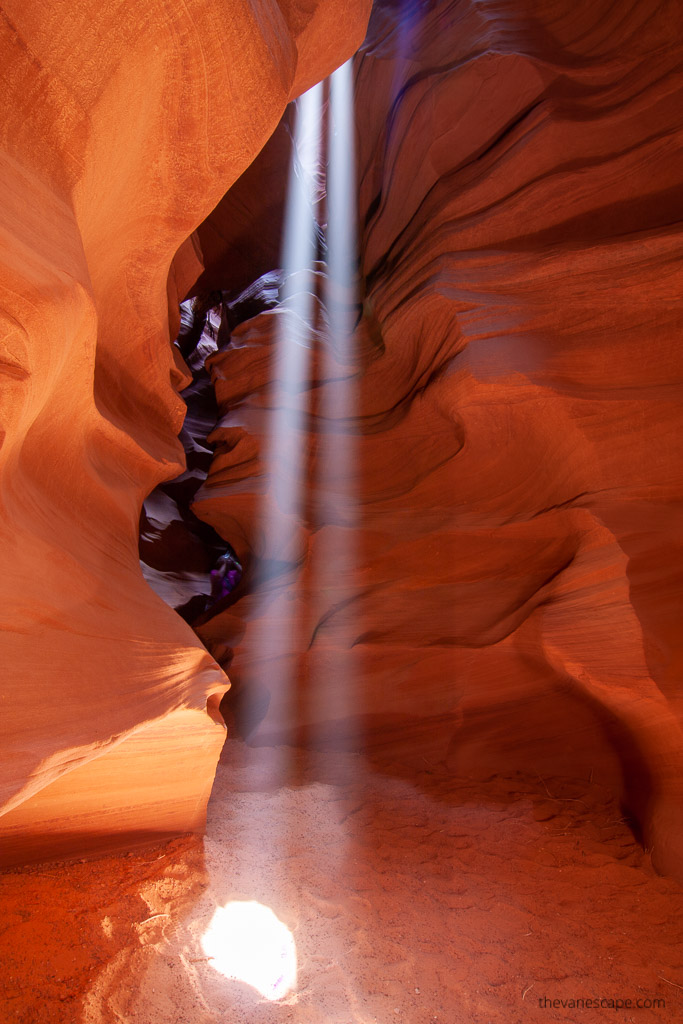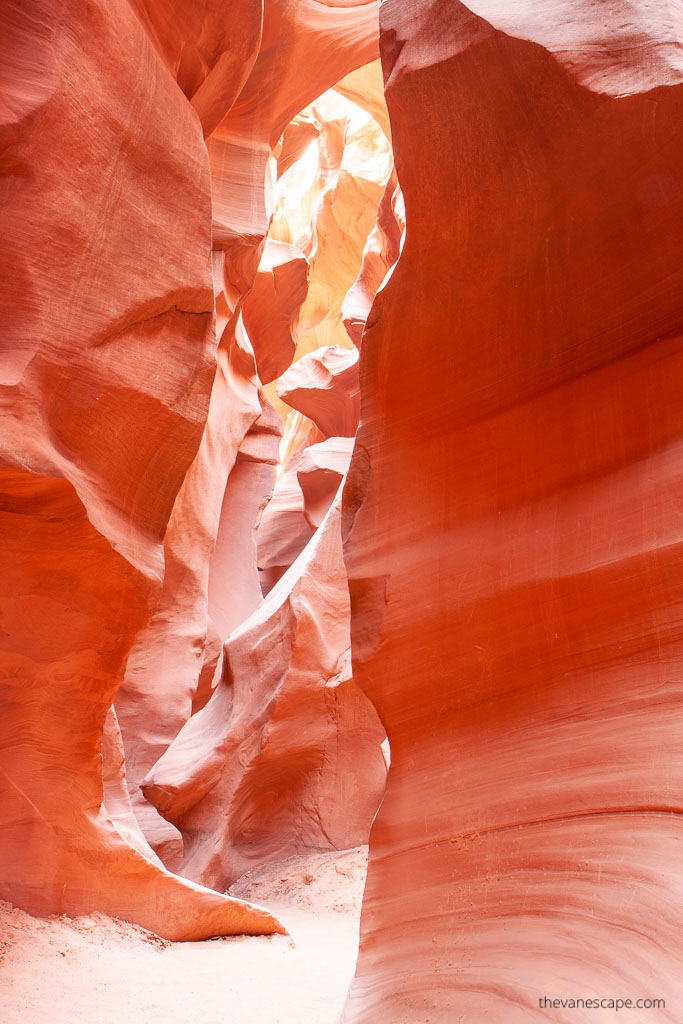 Visit Grand Canyon North Rim and Toroweap Overlook
The northern part of the Grand Canyon is more wild, remote, more challenging to access. Only 10 percent of all tourists visiting the Grand Canyon National Park reach the North Rim. But for us, the view from the hard-to-reach Toroweap Overlook is one of the most beautiful in the world. So if you have time and a 4-wheel drive high clearance vehicle, consider Toroweap and the North Rim of Grand Canyon. All information on how to plan your adventure you will find in our article on the most beautiful viewpoints and hikes of the Grand Canyon North Rim.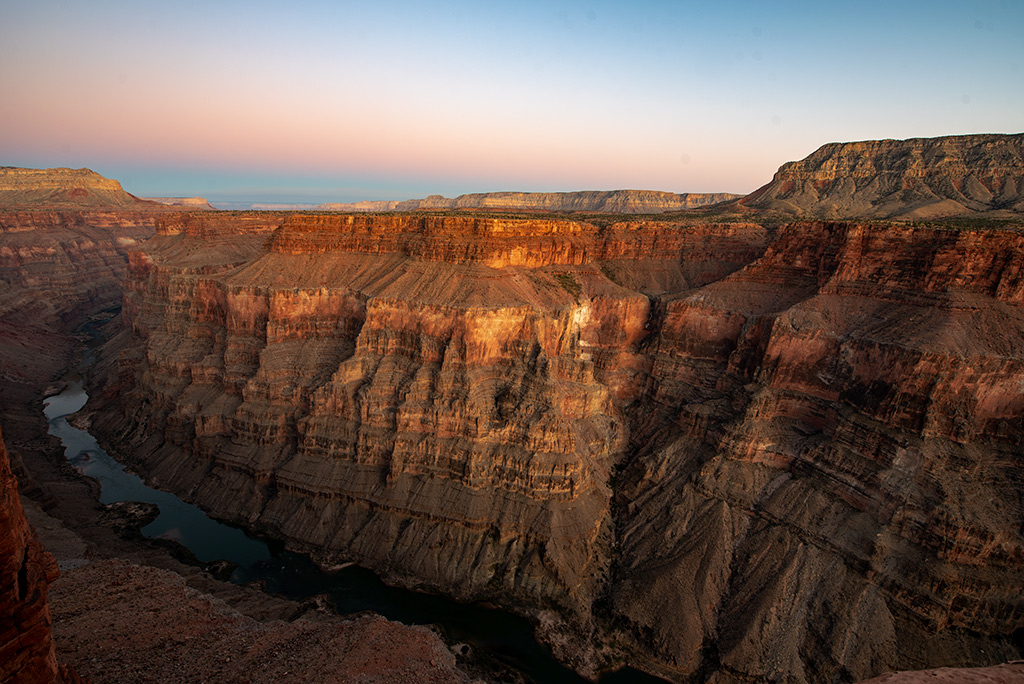 Visit Monument Valley the best western movie location
It is The a real American "Wild" West. When you get there, your imagination flies to old western movies "Stagecoach" and "The Rio Grande" with John Wayne. Or to the outstanding "Once Upon a Time in the West" by Sergio Leone with moving music by Ennio Morricone. So, check our detailed post about Monument Valley and the best things to do there.
Organized guided tours with a guide who will tell about the history of this place and the Navajo Indians Tribe can be found below.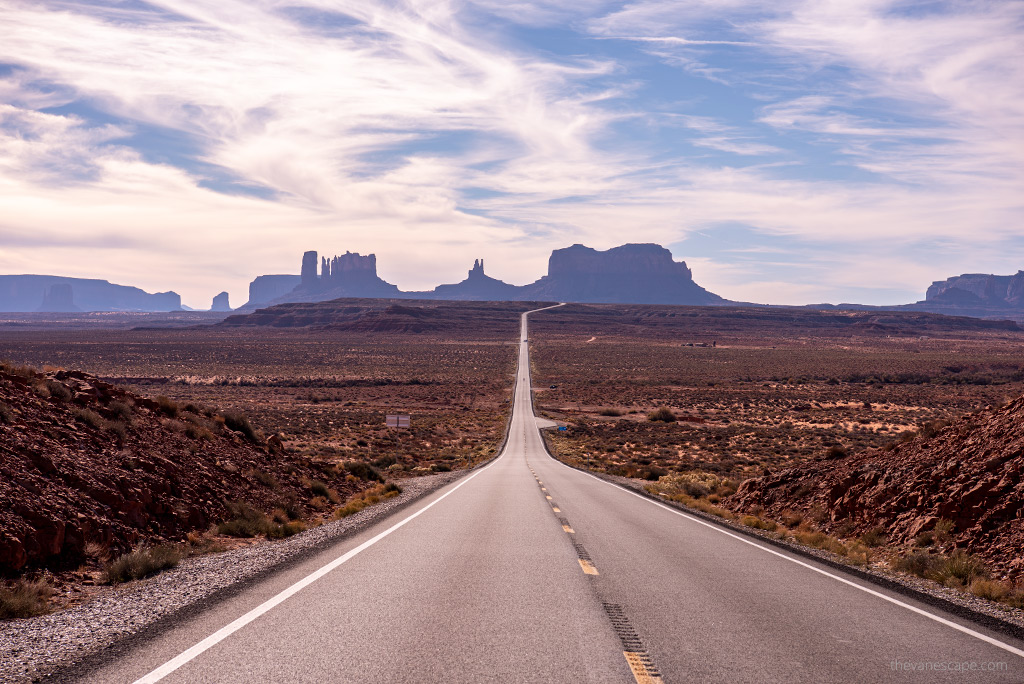 Take Devil's Bridge Trail in Sedona
Sedona is one of Arizona's most picturesque towns. It's a favorite place for art lovers and nature lovers. Surrounded by red rocks, it has an excellent atmosphere. It offers a variety of attractions and hiking trails. One of the most interesting is the Devil's Bridge Trail. But in our article The Three Best Sedona Hikes you will find much more information about what to do in Sedona, where to eat, where to stay, how to spend time in Sedona, and what trails are worth to take to have a great experience and best views.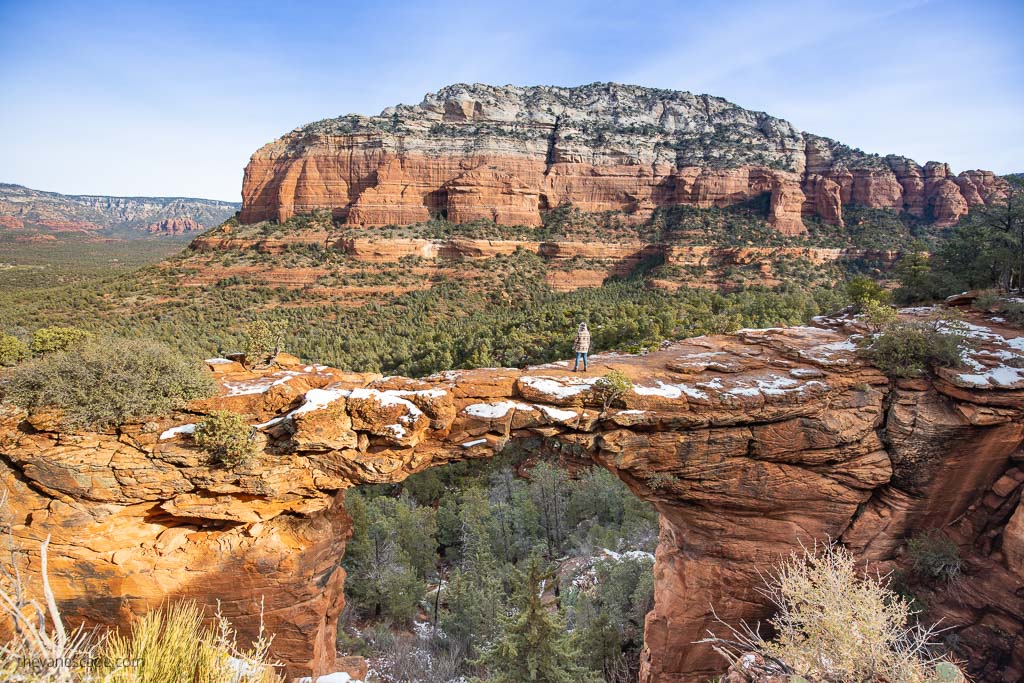 Go hike to Havasupai Waterfalls (famous Havasu Falls)
Havasu Falls in Havasu Creek is a hidden gem at the bottom of the Grand Canyon. We have prepared a comprehensive five-part guide about this unique place. It is 10 miles hike through the desert to get to five waterfalls with blue-turquoise water.
It is not easy to get a permit from the Havasupai Tribe to enter this miracle of nature. But in our article, you will learn how to get a permit to Havasu Falls successfully. We advise you on how and what to pack for this challenging hike and a 3-day camping. We give details on how the hike to Havasu Falls looks and how to prepare for it. Besides, we share with you hints about the best places to camp in Havasupai campground.
Finally, we tell you details about each of the five amazing waterfalls, including hiking trails and photo tips: Havasu Falls, Mooney Falls, Beaver Falls, Little Navajo Falls, and Fifty Foot Falls.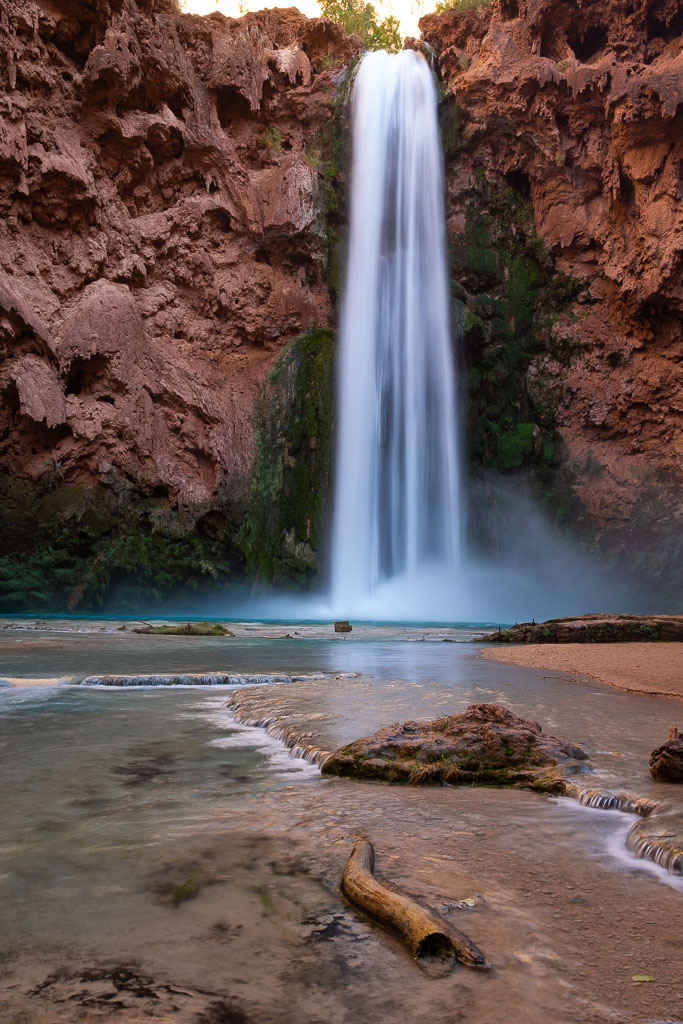 Visit Saguaro National Park
Cacti, cacti, forest of the tallest plants in the world! It's a fantastic Saguaro National Park near Tuscon. So it is a great adventure to watch these impressive plants. Each cactus has a different shape, and no two are identical. We suggest you the best way to spend time in Saguaro National Park. We give you detailed info about both districts of the Saguaro Park: Rincon Mountain District (East) and Tucson Mountain District (West), where to stay, and how to get there.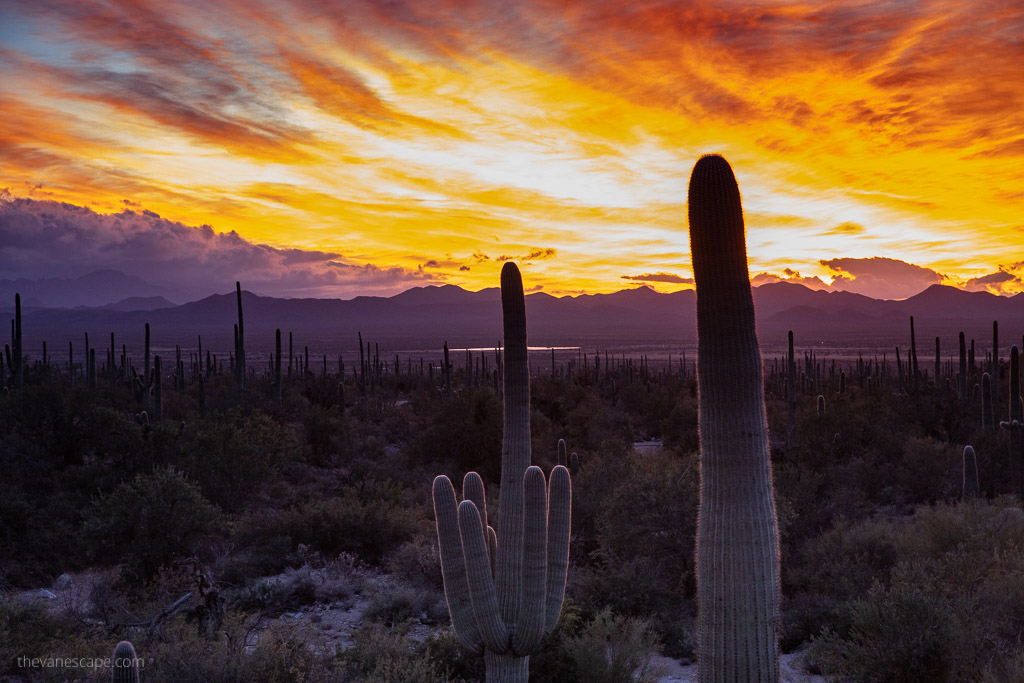 Take a bath in Arizona Hot Springs
Does Arizona have hot springs? Yes! There are some natural hot springs in Arizona! And they are fantastic places. We are big fans of hot springs and don't miss any opportunity to visit hot springs during our trips. Often we change our plans to see the next hot spring. So we share detailed info about Arizona Hot Springs, near Las Vegas, which is excellent if you need a break after sightseeing in the city. It's a great idea to go for this short hike and take a bath in this unique place.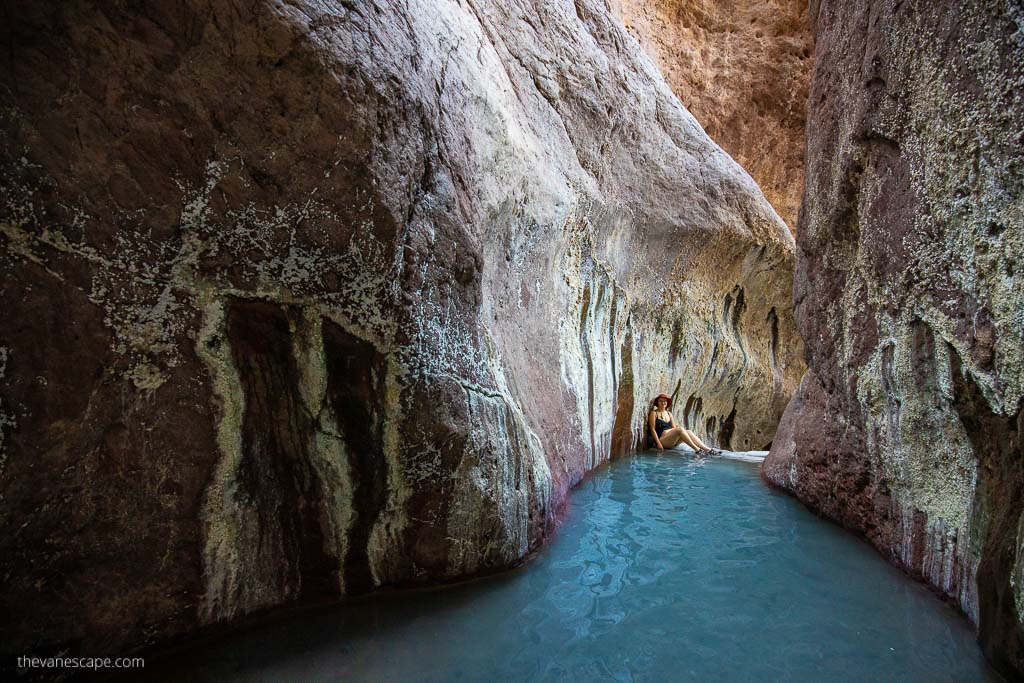 Horseshoe Bend Hike
Horseshoe Bend is an iconic spot on the Colorado River. It is a meander of the river shaped like a horseshoe, thus the name. You probably have seen plenty of pictures from this place, and it is your must-see point on the southwest trip. We prepared short Horseshoe Bend Hike Guide to make it easier for you and prepare well for this encounter.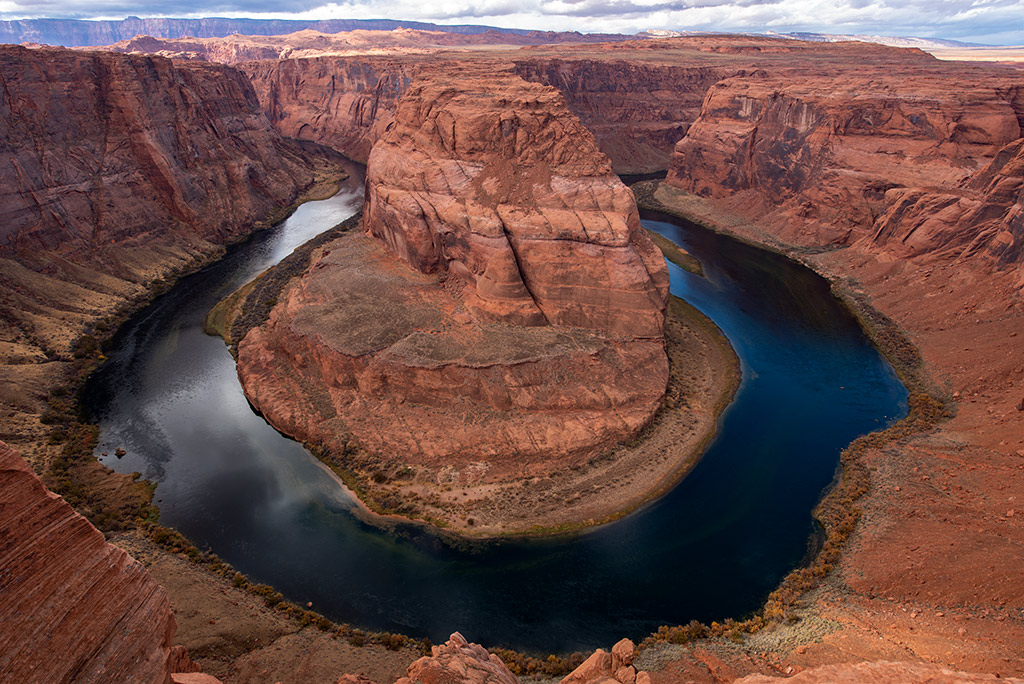 Take a slot canyon: Antelope Canyon X
Antelope Canyon X is our alternative for crowded Antelope Canyon. We checked this beautiful slot canyon and prepared the photography guide to help you arrange this experience. Canyon X is located within the same Antelope Canyon as the epic Upper & Lower Antelope Canyon. So the best idea is to get there from Page, AZ. You will find detailed info on how to get there, how much does it cost, and if it is worth to take a photo tour in this article.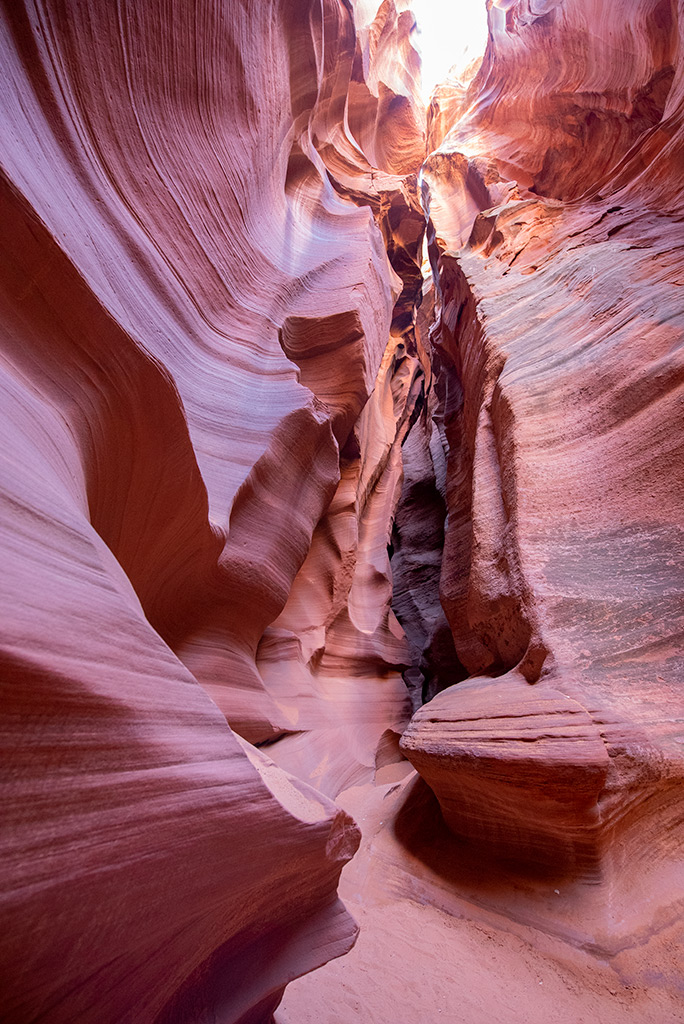 Take The Wave Hike
The Wave is one of the most Instagrammable and the premier photography spot in the US Southwest. It's located on the border of Arizona and Utah, between Kanab and Page. But you MUST HAVE a permit. How to get it? How to win the Wave Lottery? From our post Guide to The Wave – Coyote Buttes North, you will learn how to get a permit. How looks hike to the Wave and how to prepare for this hike.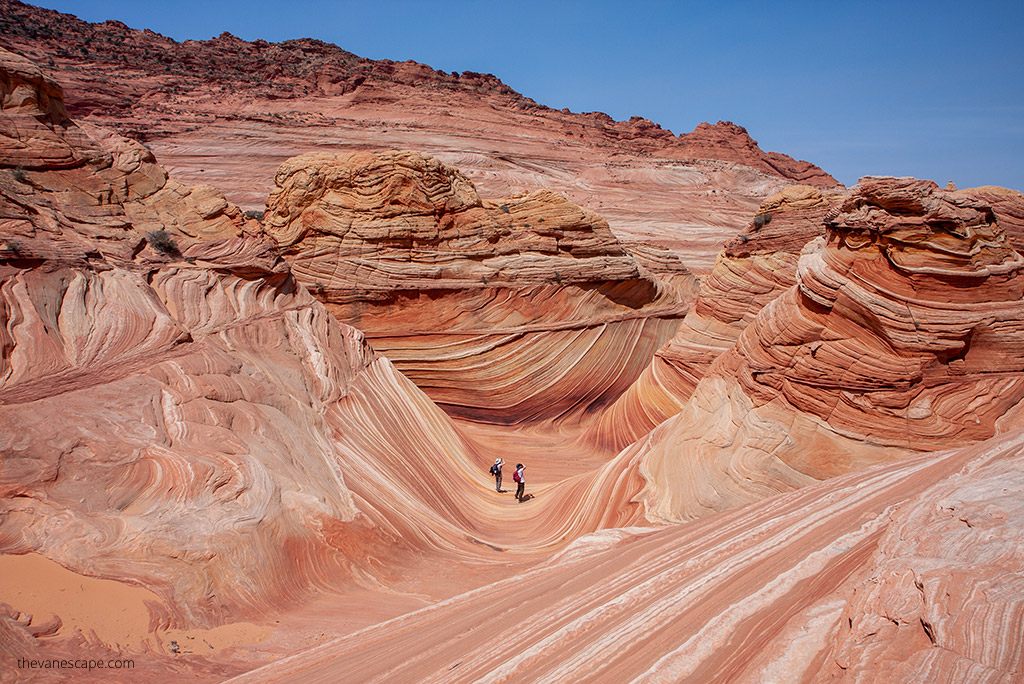 Take Coyote Buttes South Hike – The Wave Alternative
Famous the Wave formation is the only small northern part of the fantastic Coyote Buttes area. Coyote Buttes South Hike is an even more delicate sandstone formation. And it is much easier to get a permit to these fragile windswept stones layers. So, if you don't have luck getting the Wave permit, take Coyote Buttes South Hike. In our post, we described how to get a permit and how you should prepare for this hike!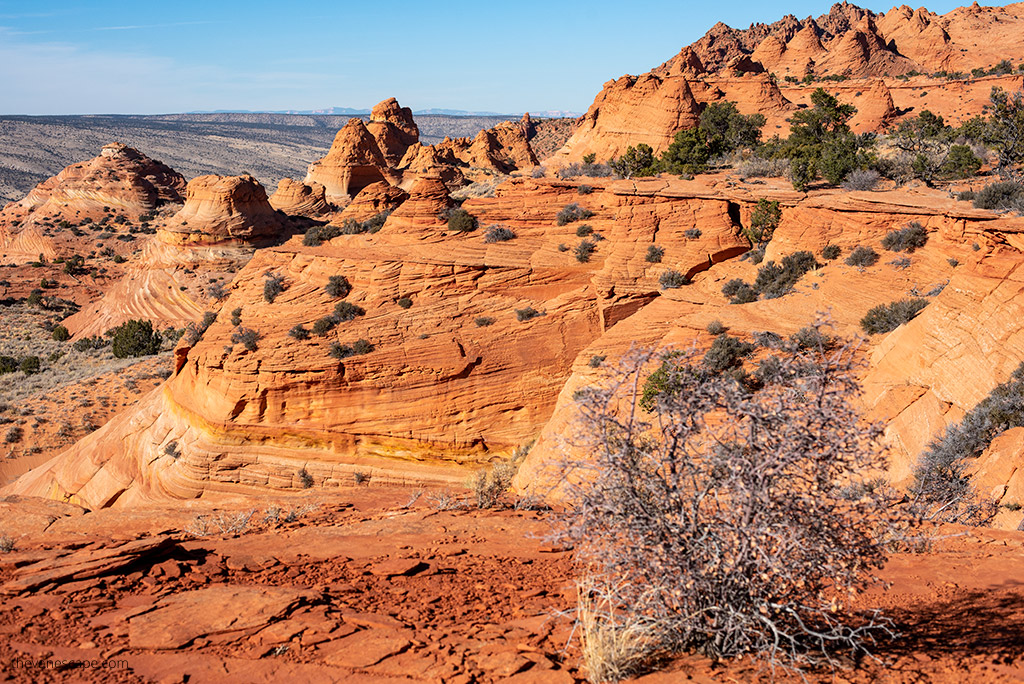 Get Your Kicks on Route 66
Route 66, Main Street of America or the Mother Road is a classic of Old Times. Most of all, we love Route 66 towns in Arizona, where you can feel the old days spirit and atmosphere. Our Best Route 66 Towns in Arizona are Williams, Flagstaff, Saligman, and Hackberry. When you drive this nostalgic road 66 through these towns, it feels like you've been moved back in time. So, get your kicks on Route 66, with us and check our detailed post!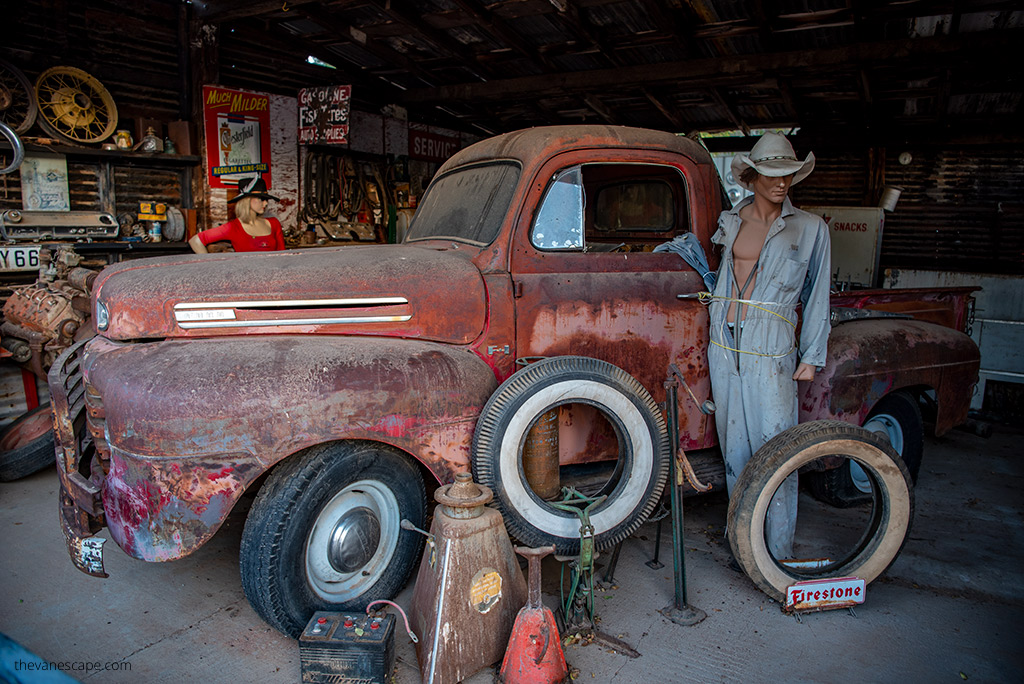 Tours Around Arizona
If you prefer traveling with a group tour, we highly recommend viator.com & Get Your Guide. They are a reputable company and have been selling the best trips for a long time. They offer different tours so anyone finds something interesting, allowing you to explore a little bit of everything in Arizona. So check out the variety of tours that they have and the details of each trip. Viator.com offers both tours and tickets for various events, so check out this wide offer.
ARIZONA QUICK INFORMATION
Arizona, the Grand Canyon state, is a fantastic place for holidays. It is the essence of the wild west, western movies, and Indian tribes. This state is full of amazing places just waiting to be explored. And in this Arizona Photography & Travel Guide, we will show you how. We have been to Arizona many times. And that's why after so many road trips, we have gathered a number of our experiences to share here. We have prepared detailed articles with many valuable hints and tips from the places we have visited in Arizona. On this page, you will find links to these articles. We also give you pointers to the best sources for trip planning.
With so much to do and see in Arizona, it might be hard deciding what to experience. What is a must-see in Arizona? Well, we love this state and spent there many months exploring its beauty. So after that, we put together a list of the best and most exciting places worth seeing in Arizona. What are the best Arizona photography spots for beautiful sunsets in Grand Canyon or Saguaro National Park? What is the best time to visit Arizona? Do you want to spend a lot of time exploring the wilderness or sightseeing historic U.S. Route 66? Where to eat and where to stay? How to get there, and much more, you will find in this Arizona photography travel guide, which will help you prepare for your dream vacations and take great photos and memories. Below you will also find links to our detailed posts from some of the most exciting places in Arizona. Moreover, if you are planning a road trip to Arizona, we have prepared a ready-to-go 14-days Arizona Itinerary. So, check it out to find inspiration for your Arizona dream vacation!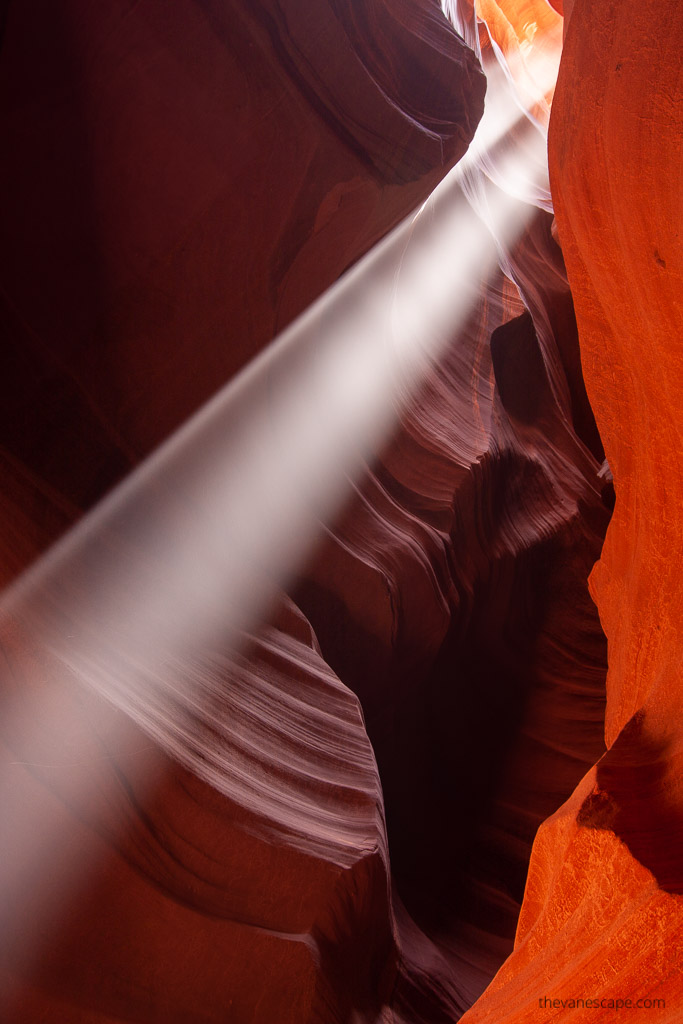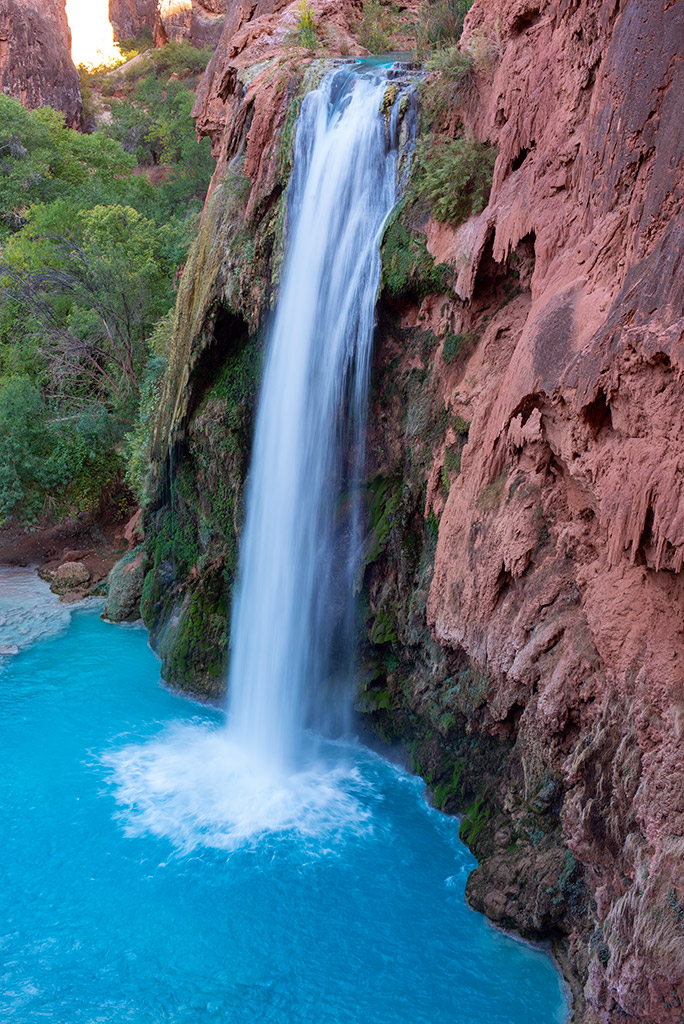 Arizona is a state in the southwestern region of the United States, is the sixth-largest state in the country in terms of area, with 113,990 square miles (295,233 square km), and population 7,171,646 (14th most populous of the 50 states). It achieved statehood on February 14, 1912, the last of the 48 conterminous United States to be admitted to the union. Its capital and largest city is Phoenix. Arizona shares the Four Corners region with Utah, Colorado, and New Mexico; its other neighboring states are Nevada and California to the west and the Mexican states of Sonora and Baja California to the south and southwest.
Some believe that the state's name comes from a Basque phrase meaning "place of oaks," while others attribute it to an Indian phrase meaning "place of the young (or little) spring." Arizona is a state of contradictions, known as a wild desert. However, although it is known as a hot low-elevation desert covered with cacti and bushes, more than half of the state lies at an elevation of at least 4,000 feet (1,200 meters) above sea level, covered by pine trees. Such spectacular landforms as the Grand Canyon and the Painted Desert have become international symbols of Arizona.
The culture of Native Americans is very much in evidence in Arizona. Native Americans are grouped into 15 tribes on 17 reservations that range in size from the 85-acre (34-hectare) Tonto Apache reserve to the 23,400-square-mile (60,600-square-km) reserve (nearly three-fifths of which lies in Arizona) of the Navajo (numbering about 100,000 in Arizona). Among the remaining tribes, the best known are the legendary Apache and the much-studied Hopi. Less well known is the Havasupai, who live at the bottom of the Grand Canyon.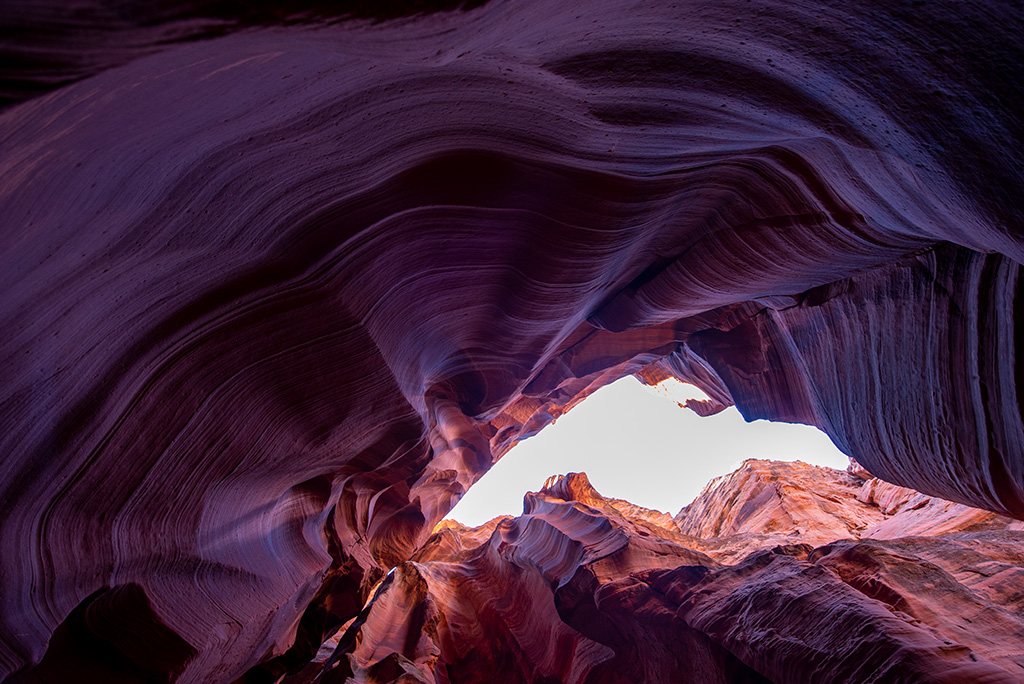 TRIP PLANNING
THE BEST RESOURCES FOR ARIZONA TRIP PLANNING
If you are planning a road trip to Arizona, be sure to pack a good map. There is not always coverage, and not everywhere. Especially if you plan to hike, the map is essential. For our road trips, we use the Arizona Road & Recreation Atlas. It details national parks, monuments, natural wonders, campgrounds and RV parks, forest and wildlife refuges, and BLM and state land ownership.
We also like RoadTrip America Arizona & New Mexico: 25 Scenic Side Trips as it's very inspirational. Full-color maps and photographs illustrate easy-to-follow scenic routes through breathtaking landscapes and iconic Arizona and New Mexico towns. And we used Arizona Bucket List Adventure Guide & Journal with 50 must-see destinations in Arizona.
Arizona Road & Recreation Atlas
Arizona Road and Recreation Atlas is an invaluable resource for adventure planning and exploration. The regional Recreation Guides show public land access and categorized points of interest with descriptions and details found in no other map product.
WHEN IS THE BEST TIME TO GO TO ARIZONA?
Due to its large area and variations in elevation, the state has a wide variety of localized climate conditions. Southern Arizona is known for its desert climate, with sweltering summers and mild winters. Northern Arizona features forests of pine, and spruce trees; the Colorado Plateau; mountain ranges; as well as vast, deep canyons, with much more moderate summer temperatures and significant winter snowfalls. So, spring and autumn are the best seasons to travel around Arizona, the temperatures are pleasant, and it is not too hot. Over the year, the temperature typically varies from 40°F to 105°F and is rarely below 32°F or above 110°F. Due to the primarily dry climate, significant diurnal temperature variations occur in less-developed areas of the desert above 2,500 ft (760 m). Always check the weather before your road trip.
TRANSPORTATION TO ARIZONA
By Air
The most convenient airports are Phoenix (PHX), AZ, and Las Vegas (LAS), NV. Further airports are Denver, Los Angeles, San Diego, and El Paso. Find the best on TripAdvisor and CheapOair, which is a leading provider of airline tickets, hotel rooms, rental cars, and vacation packages
By Car
A car is the best option to travel around this great state. By car, you will reach every exciting place and trail. The state is large, so it's best to have at least 2 weeks to see the most interesting places in Arizona.
If you need to rent a car, we recommend Alamo rental, which we have been using for many years and we are always satisfied. In hard-to-reach places, for example, to get to Toroweap Overlook in the Grand Canyon, you need a four-wheel-drive and high clearance car (AWD SUVs might not be enough). Compare prices on Rentalcars.
Our favorite Arizona maps & guides:
WHERE TO STAY IN ARIZONA?
First of all, suitable accommodation is half the success of travel, so you should plan it. As in every country and state, you can travel around for as cheap or as expensive as you want. It depends on your travel style and budget. No matter if you plan to sleep on campings, on a ranch, or in a hotel. Lodging will help you relax after a busy day of sightseeing, hiking, exploring, so book it in advance.
If you are planning to visit the north part of Arizona, the best accommodation can be found in cities such as:
Kingman, Page, Flagstaff, Williams, Kanab, and Las Vegas.
If you want to visit the south part of Arizona, it's best to stop by Sedona, Phoenix, and Tuscon.
But in each of our articles, you will find specific accommodation suggestions, usually checked by us personally.
When planning accommodation in hotels, we recommend booking.com, which has the best offers.
WHAT TO PACK FOR TRAVELING ARIZONA
It's essential to pack properly because it might be a little bit challenging to find the necessary equipment when you arrive. Except for Phoenix, Flagstaff, and Tuscon, it's challenging to find well-stocked travel stores in Arizona. No matter when you travel to Arizona, it's going to be changing weather. You have to be prepared for temperature differences, especially if you are going to the desert, where amplitudes are high. However, the weather in Arizona often surprises. So pack well, especially if you're going camping.
We have prepared a complex packing list for our four days camping in Havasu Falls. It was 10 miles hike to the bottom of the Grand Canyon, through a desert area where the temperature differences are extensive. Therefore this list will be helpful for every Arizona region you want to visit. In our packing list, you will find information about what camping gear to take, what clothes, everything about photo equipment, and cooking gear. And of course, how you should take care of your safety, and more. Finally, the list contains items we have checked and use.
ARIZONA PHOTOGRAPHY TIPS
Arizona is a paradise for photography and adventure enthusiasts. On photos, you can capture the beauty of the desert, red rocks, wilderness, or vastness of the Grand Canyon. But Arizona is not only a rock. There is also a lot of greens or unique plant, like cacti or pines.
From beginner to professional, each will find something for himself. Are you interested in Arizona landscape photography? Grand Canyon? Hikes? We share the best spots for taking great photos, including sunrise and sunset in this Arizona photography & travel guide.
In each of our articles on this website, we prepared a part for photographers. We share our tips and recommendation. You will find what kind of equipment we used, and more.
For each place, we give you hints include answers to following questions:
What season is best?
Best time of the day to take photos?
Best spots for photos?
What photographic opportunities are here?
Finally: what gear should I take with me?
GET INSPIRED
Above all we carefully prepare for each of our trips. Reading books is one of the most important ways. We read novels related to a given place, documentary books, and guidebooks, of course. As photographers, we love photo albums, too. They help us find inspirations. We also watch movies and listen to music connected with the region we are going to visit.
Below are some of our favorites suggestions for Arizona guides, maps, and books get you inspired.
Disclaimer: The Van Escape is a participant in the Amazon Services LLC Associates Program, an affiliate advertising program designed to provide a means for us to earn fees by linking to Amazon and affiliated sites at no additional cost to you. Please note we only link to products & services we personally use or trust.