Upper Antelope Canyon Tour
Dreaming of catching those world-famous rays of sunshine among the orange rocks? Are you planning an Upper Antelope Canyon Tour near Page, Arizona? Then check out our tips and photos of this incredible slot canyon of the Southwest. We share our experiences on which Navajo tour is the best and how to prepare for this slot canyon adventure. On the Upper Antelope Canyon Tour, you'll be guided through the iconic sandstone walls that have been sculpted by water and wind over the years.
This article may contain affiliate / compensated links. For full information, please see our disclaimer here.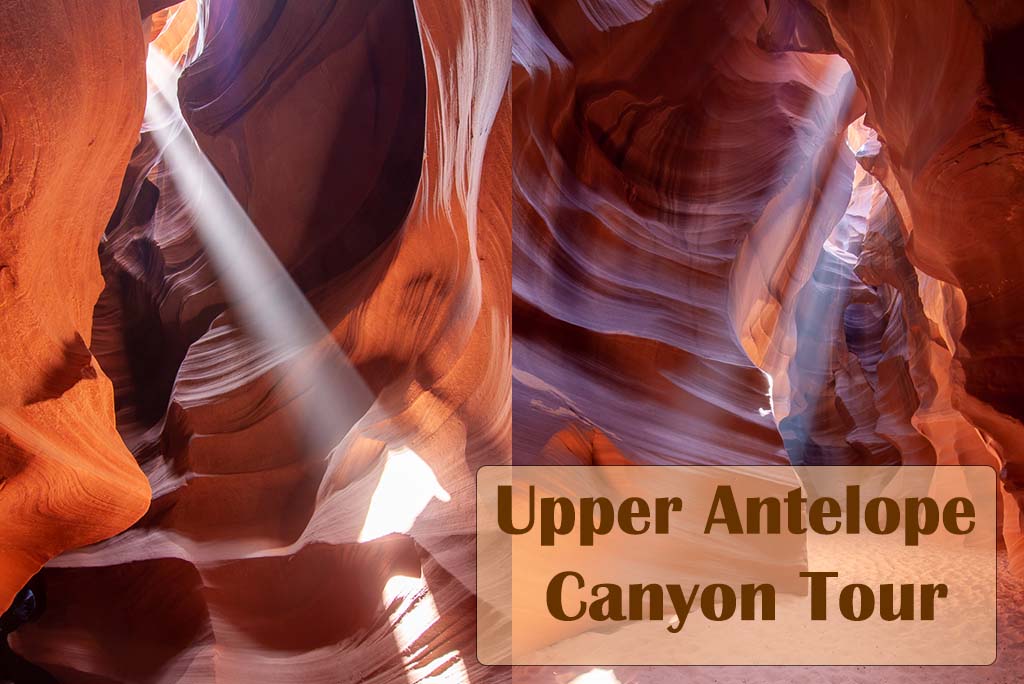 Upper Antelope Canyon Tour – Introduction
In this article, we share reviews, tips, and photos from Upper Antelope Canyon Tour. But we also visited other Navajo slot canyons. So you can check our review of the Lower Antelope Canyon Tour and Antelope Canyon X Tour. All are located in Arizona.
What is Antelope Canyon?
Antelope Canyon is a slot canyon, a tiny canyon formed when water seeps into crevices in the bedrock. Slot canyons are most commonly found in desert areas. They are the result of many millennia of extreme weather conditions. Antelope Canyon was formed over thousands of years by flash floods from the stream flowing through it, which eroded the rock face of Navajo sandstone before flowing into the Colorado River and now Lake Powell. During long droughts, windblown sand polished the narrow slot walls into a streaked, swirling finish. Antelope Canyon is famous for its ever-changing light shows on the walls and the flowing sand falls that plunge into the depths of the slot canyon.
Navajo Antelope Canyon is located near Page in Arizona. It's in the American Southwest, on Navajo land east of Lechee, Arizona. It includes two separate scenic slot canyon sections referred to as Upper Antelope Canyon (aka The Crack), and Lower Antelope Canyon (aka The Corkscrew). Both most popular Navajo slot canyons must be visited with a licensed guide.
What does the Upper Antelope Canyon name mean?
The Navajo name for Upper Antelope Canyon is Tsé bighánílíní, which means "the place where the water flows through the slot canyon rocks". The only way to see this miracle of nature is with a licensed guided tour. Reservations are required.
Why is Upper Antelope Canyon so unique?
Upper Antelope Canyon is the most popular of the two slot canyons that make up Antelope Canyon. It is also undoubtedly the most visited slot canyon in the American Southwest and the most photographed worldwide. But why is Upper Antelope Canyon so unique? Tourists most frequently visit the Upper Antelope Canyon because the entrance and the entire canyon's length are at ground level, so there is no climbing.
Light Beams in Upper Antelope Canyon
But the main reason for the popularity of Upper Antelope is because the rays of direct sunlight beaming down from the openings at the top of the canyon are much more frequent. Light beams in Upper Antelope Canyon are breathtaking. The rays occur most often in the summer because the sun has to be high in the sky for them to happen. The glow of light appears in the canyon on March 20 and disappears on October 7. This slot canyon tour was one of the best we did. Check its availability below. Enter your trip date and number of participants.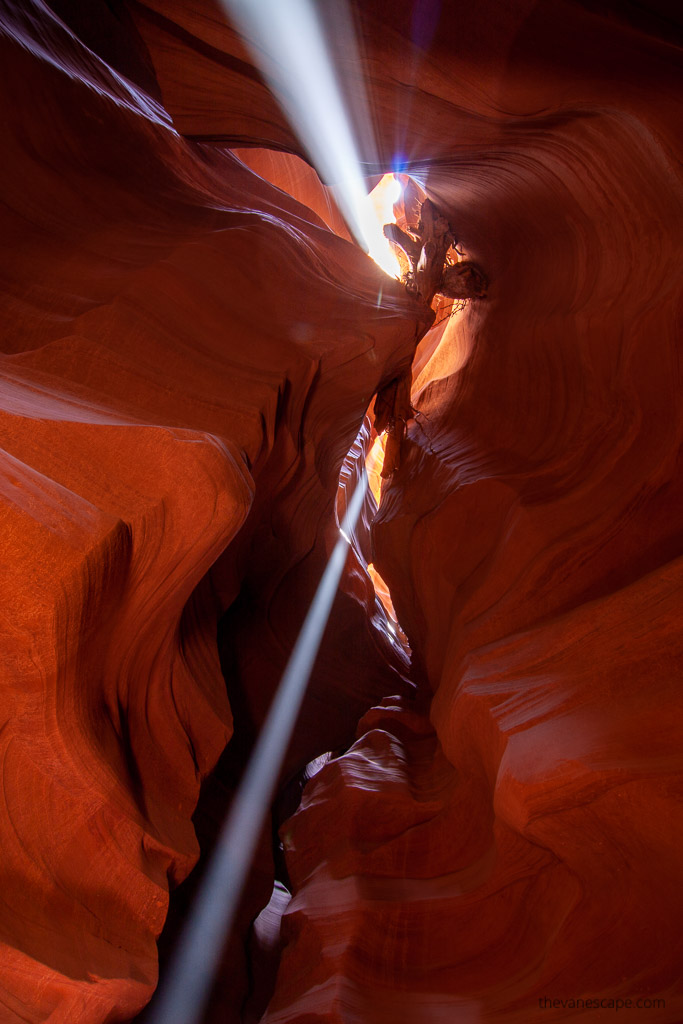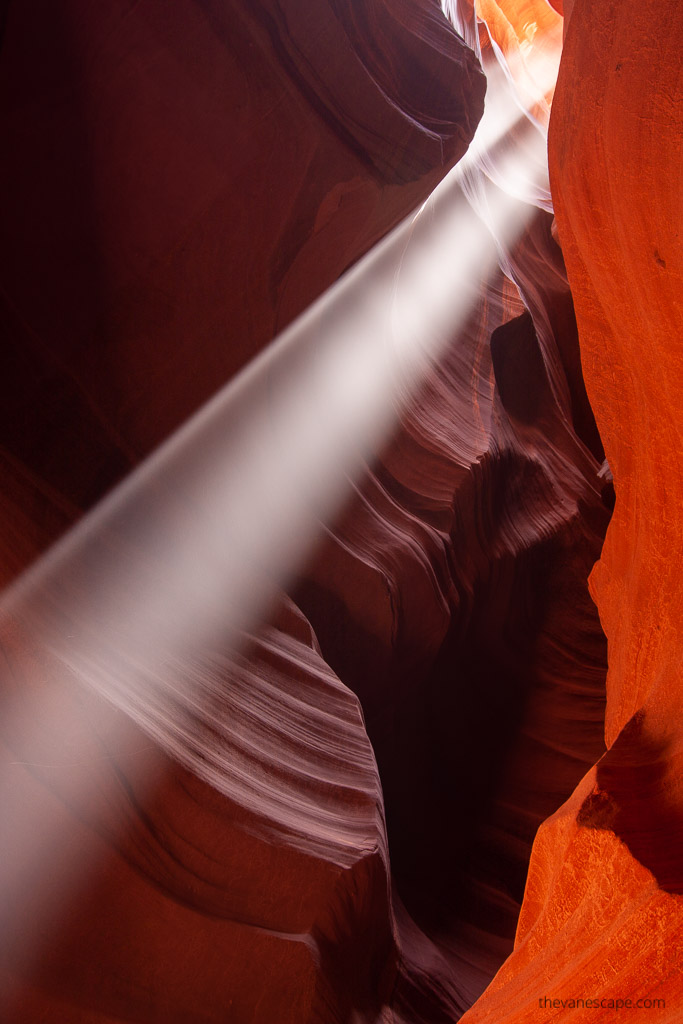 How tall is Upper Antelope Canyon?
Navajo Antelope Canyon is located at an elevation of 4,000 feet (1,219 m). The walls of the Upper Antelope Canyon can rise as much as 120 feet (37 m) above the normally dry streambed. The length of the Upper Antelope Canyon is about 660 feet (200 m).
How was Antelope Canyon formed?
Antelope Canyon was formed by the erosion of the Navajo Sandstone as a result of flash flooding and other subsurface processes. Rainwater, especially during the monsoon season, runs into the extensive basin above the slot canyon sections, picking up velocity and sand as it flows into the narrow passages. Over time, the passages eroded, deepening the corridors and smoothing the hard edges to form the characteristic "flowing" shapes.
Where is Upper Antelope Canyon?
Upper Antelope Canyon is located in Arizona, near Page. It is only 4.5 miles from Page, making it the best place to stay. Important to know, that it is located on land owned by the Navajo Nation – more specifically, the Bengay family, which has long been a member of the Navajo community. It is located on the south shore of Lake Powell. Other famous attractions in the area include Lower Antelope Canyon, Antelope Canyon X, and the fabulous Horseshoe Bend.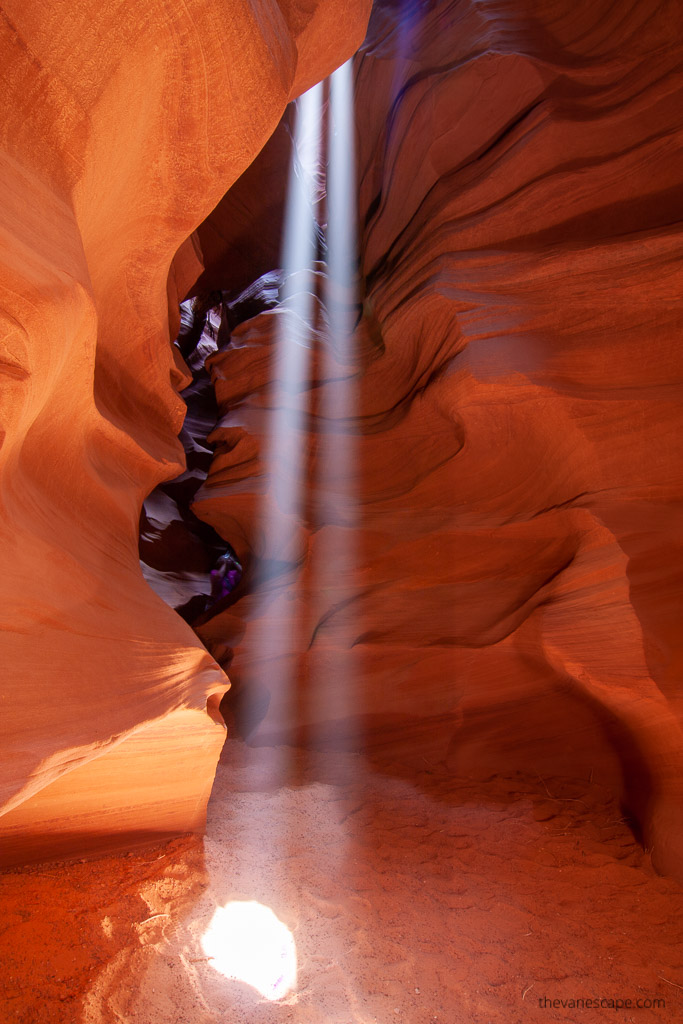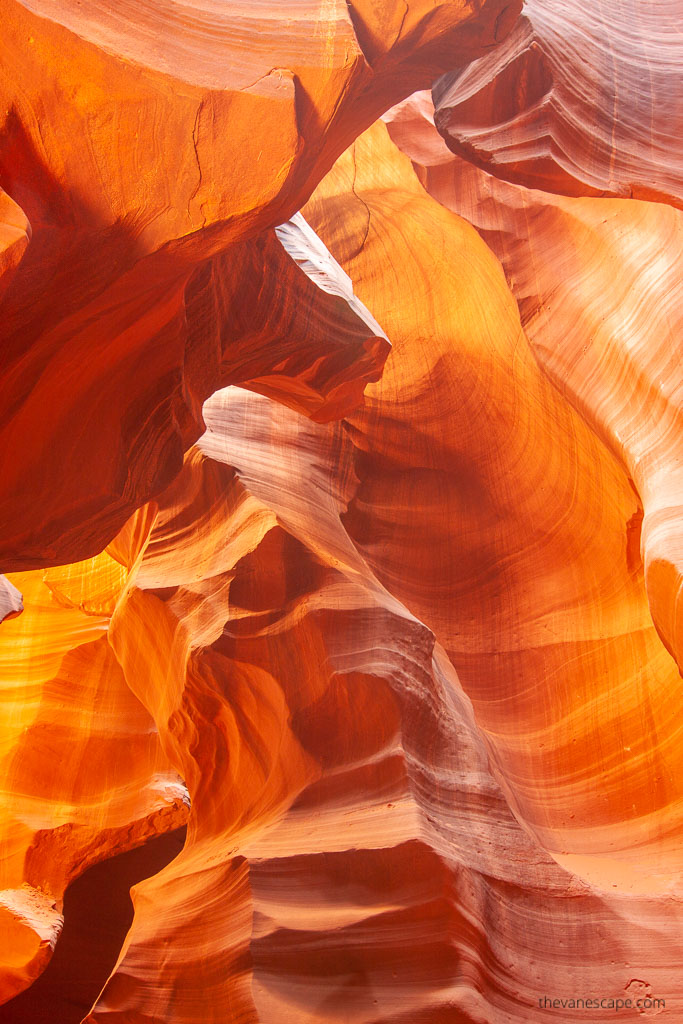 Can you visit Upper Antelope Canyon on your own?
No. Antelope Canyon is protected by Navajo Parks and Recreation, and only authorized Navajo tour companies may take visitors into the Lower or Upper Canyon. You cannot go alone. You must be with an authorized tour company, and you must have a reservation. As the place is trendy, it is worth booking your trip many months in advance. Also, due to COVID-19 reservations are required.
Which Upper Antelope Canyon Tour is worth booking?
We have booked this tour and can definitely recommend it. Because it was one of the most delightful tours of the slot canyons. We've been to several slot canyons, and we have a comparison. During our Upper Antelope Canyon tour, the light was amazing. If you can, be sure to choose the trip which starts around noon, at 11 or 11:30 am as we did. Then you have the best chance of spectacular light rays. The Upper Antelope Canyon Tour is worth your money because the location is fantastic, and the photo opportunities are endless. The spectacle of rays of light on rusty orange rocks is breathtaking. We were overwhelmed by the beauty of nature in the Upper Antelope Canyon. Book this tour here.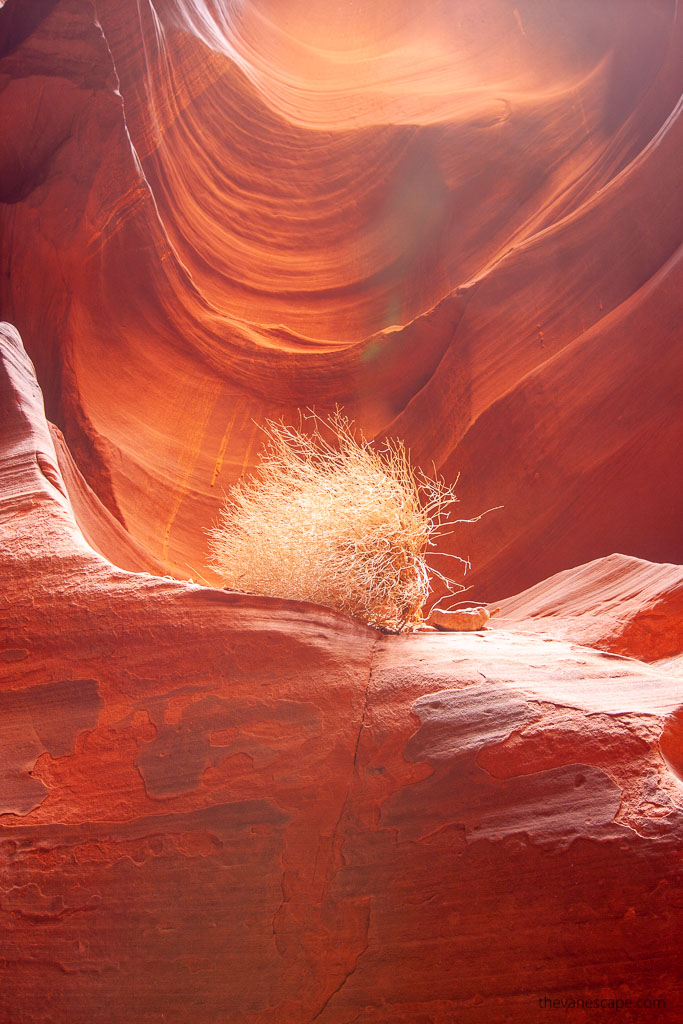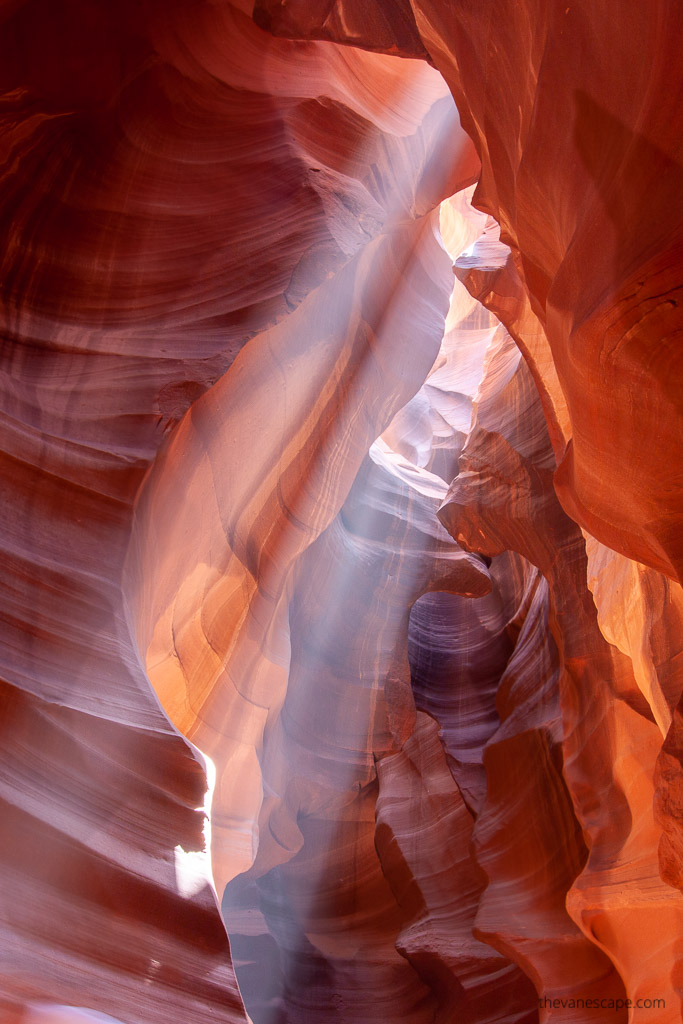 Is it possible to take Photography Tour in Antelope Canyon?
It's impossible right now. We were lucky enough to be there twice. It was possible to book a special photography tour during our first visit. And it was possible to use a tripod during Upper Antelope Canyon Tour. Photography in slot canyons is difficult because of the large exposure area created by light reflecting off the canyon walls. There was a special "photographer's tour" of Upper Antelope Canyon for several years. But these tours were discontinued in late 2019 to improve the experience for the smaller number of participants on the available tours.
So now you can only take regular tours. However, if you book a tour around noon, as we did, and during a peak season, it is possible to see this unique spectacle of nature with rays in the canyon. What's more, you don't need a tripod if you have a bright lens and hit the canyon at the right time with intense light. Only hand-held photography is allowed these days. With the new One-Way system, there is a bit more room inside the canyon, and no more two-way traffic, so you have great photo opportunities.
There are also no photography tours to take your tripod in Lower Antelope Canyon. The only photo tour option (when you can take a tripod) is currently available in Antelope Canyon X. Here, we go into the details. Here you can book an Antelope Canyon X Ticket with an Upgrade Option to Photo Tour.
Which is easier Upper Antelope Canyon Tour or Lower Antelope Canyon Tour?
The Upper Antelope Canyon tour is much easier. Therefore, it is also the best choice if you are traveling with children or the elderly. There is a short and relatively easy hike to this slot canyon. Inside Upper Antelope Canyon, there are no ladders or stairs – everything is at ground level. Throughout your time in the canyon, you will be walking on softer sand in some areas and firmer in others. To get back to the parking lot, you'll have to do a 20-minute walk on sandy trails with steep metal stairs and walkways. Lower Antelope Canyon Tour is a little more challenging; there are stairs to climb.
How long is a tour?
The duration of the Upper Antelope Canyon tour is 1 hour and 30 minutes. There is plenty of time for everyone to take photos on this Upper Antelope Canyon tour and also enough time for you to experience the canyon. Check-in time is at least 30 minutes prior to tour time. But check the details on your reservations!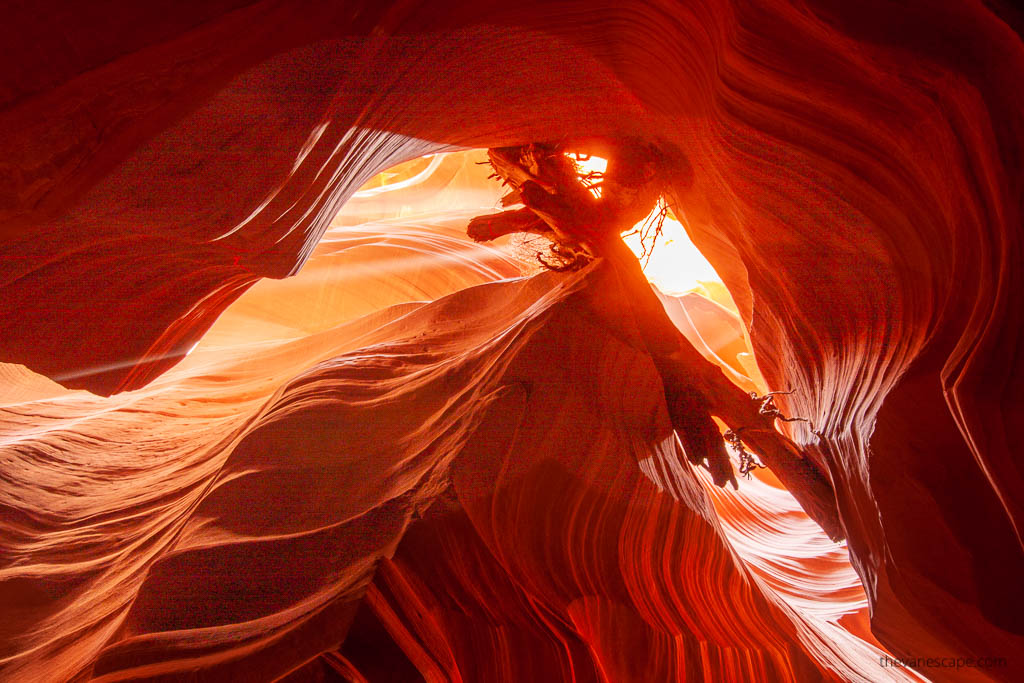 What to pack for Upper Antelope Canyon Tour?
Not too much. You cannot take a tripod, monopod, any large bag (even a large handbag), or a large backpack into the canyon slot. The canyon is very narrow, and it is forbidden to take large backpacks or bags. The limit is one bag/backpack per group/family. Only hand-held photography is allowed these days. So pack a bottle of water (the trip is short), something warmer just in case because the slot canyon is shadowed and chiller than the weather on the surface. Wear comfortable shoes. Don't wear flip-flops. Sneakers or trekking sandals are best.
So remember, and do not bring: a large bag/backpack, selfie sticks, tripods, monopodes, strollers, drones, pets, or service animals.
How to get to Upper Antelope Canyon?
How far is Upper Antelope Canyon from Las Vegas?
The fastest way from Las Vegas is via I-15 N and US-89 S. It's about 4 hr 30 minutes driving and 276 miles. If you are going from LV, check our detailed 3 Days Las Vegas Itinerary. From Las Vegas, you also have a lot of organized licensed tours to all the Navajo slot canyons. What's more, there are often combined with other must-see attractions in the area. So it's worth considering them if you have little time for your road trip.
How far is Upper Antelope Canyon from Flagstaff?
From Flagstaff, which is a perfect place as a base to explore the South Rim of the Grand Canyon, it's only 129 miles to Antelope Canyon. Take US-89 N. Driving time is 2 hours 10 minutes. If you are staying in Flagstaff, check out also our guide to the Best Route 66 Towns in Arizona.
How far is Upper Antelope Canyon from Sedona?
From Sedona are 2 hr 45 min driving and 159 miles via US-89 N. If you are going from Sedona, please look at our post about the best hikes in Sedona, as Sedona offers great hiking activities. It's worth adding this place to your Arizona road trip itinerary.
Where to stay when visiting Upper Antelope Canyon?
The best place to stay is Page. Below you can check the best Deals Finder. If you plan to see more amazing places in the Page area, please check our detailed and ready-to-go Arizona Road Trip Itinerary and Utah National Parks Road Trip Itinerary.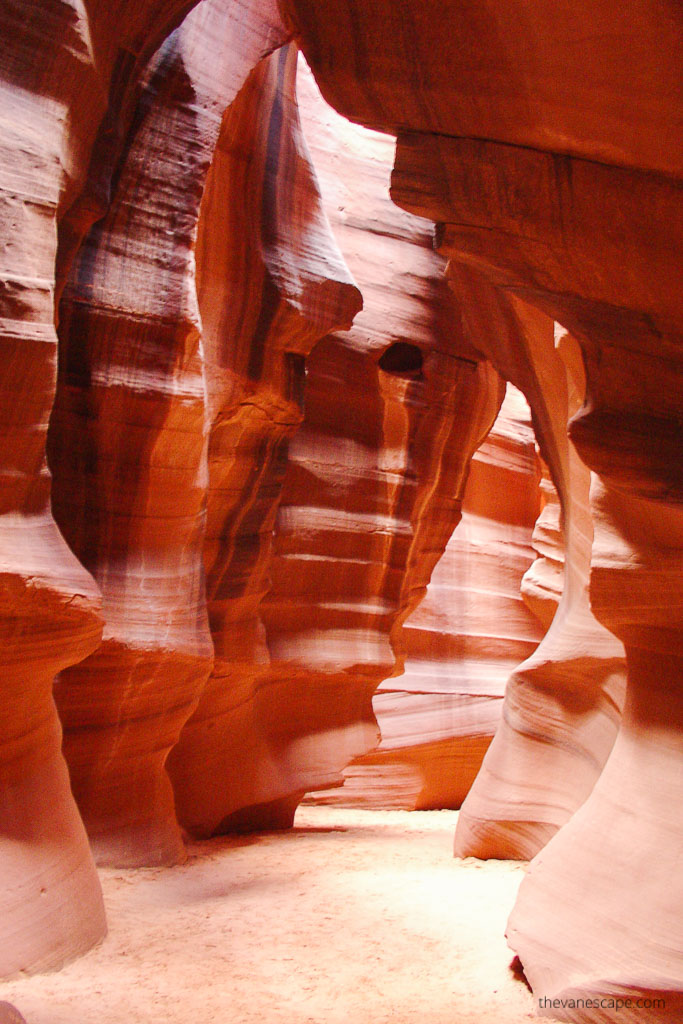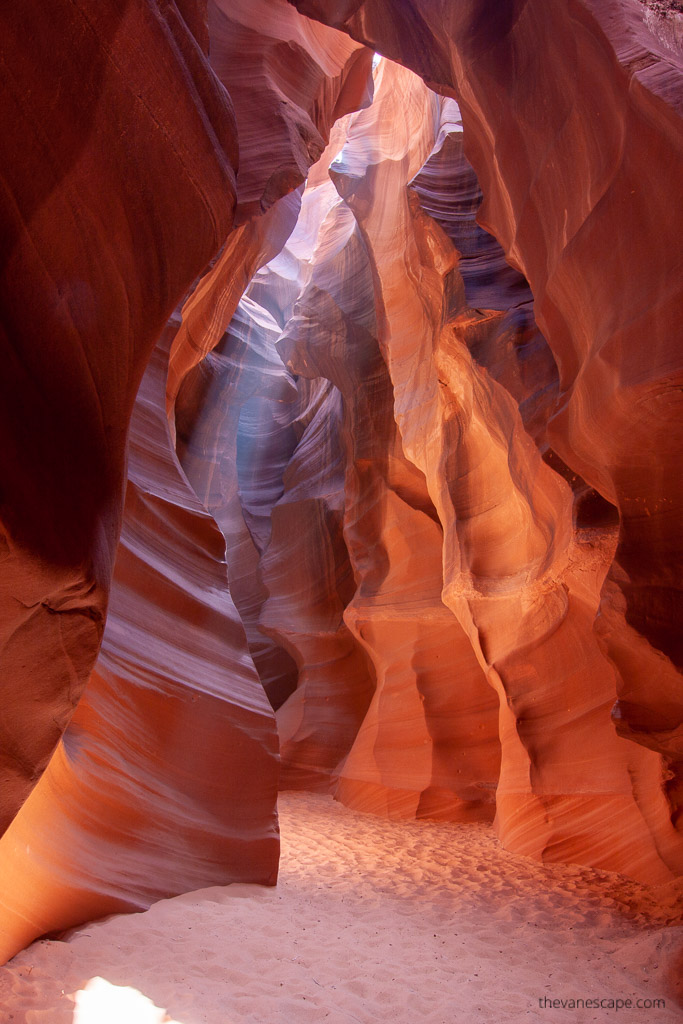 Love this post? Pin it!