9 Best Day Trips From Las Vegas
Check out our list of 9 Best Day Trips From Las Vegas to plan your perfect vacation! Las Vegas day trips are perfect for staying in Sin City. Las Vegas is a city that never sleeps. A fabulous city of gambling, entertainment, concerts, and great food. Located in the middle of the desert, it is also a great starting point for day trips around Arizona, Nevada, or California. Being in Las Vegas is also worth taking a break from the hustle and bustle of the city and admiring the surrounding wonders of nature. So, in this article, we'll show you The 9 Best Day Trips From Las Vegas.
This article may contain affiliate / compensated links. For full information, please see our disclaimer here.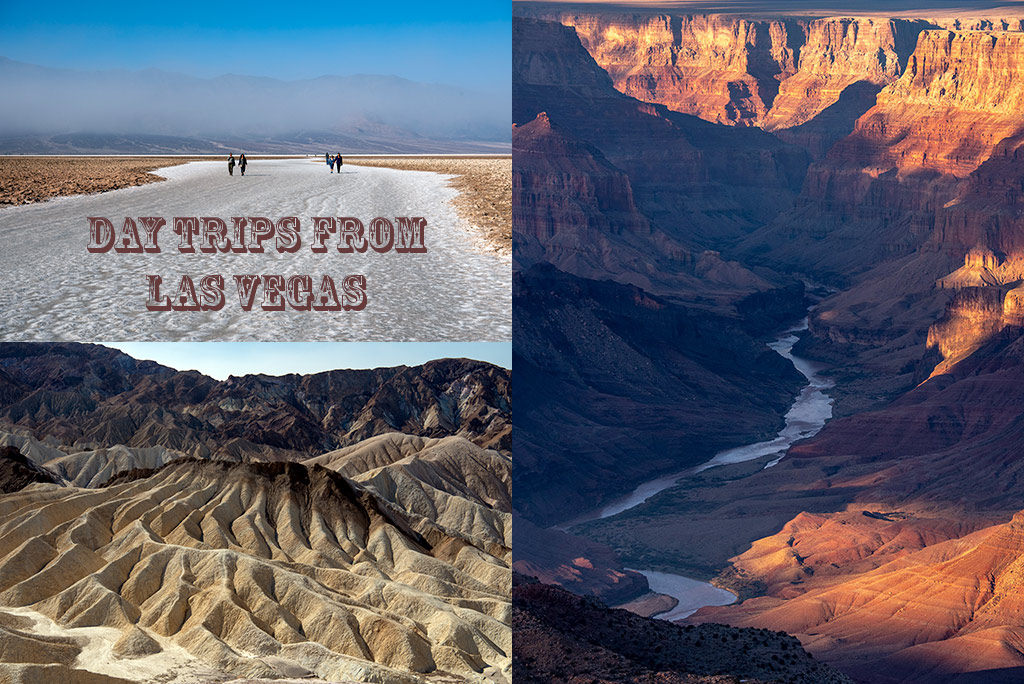 The 9 Best Day Trips From Las Vegas – Introduction
Below we recommend the 9 best day trips from Las Vegas. In our opinion, Las Vegas is the perfect base for exploring the Southwest and the most iconic places in the USA. Organized trips are worth considering if you have little time and want to get to know attractions as accurately as possible. Las Vegas day trips with transportation and guides will be the best solution. We only recommend proven and popular trips with the highest customer reviews. Some of them we experienced ourselves. They are trips from trusted sellers such as Viator (which is a TripAdvisor company) and GetYourGuide.
TRAVEL TIP: If you're planning a multi-day visit to Las Vegas, check out our ready to go & complete 3 days Las Vegas Itinerary and our Las Vegas Photo Shoot Locations. If you're planning a trip on your own, check out our Utah National Park Road Trip itinerary from Vegas and Arizona Road Trip Itinerary from Las Vegas. We visited Las Vegas many times, and it's a perfect place for road trips!
Day Trips from Las Vegas – Grand Canyon Helicopter Tour
#1 of the best day trips from Las Vegas is a trip to Grand Canyon National Park. One of the most beautiful places on earth and one of the most popular in the US. Staying on the Grand Canyon rim is a lifetime experience.
Grand Canyon is immense – a mile (1.6 km) deep and up to 18 miles (29 km) wide. You can admire millions of years of geologic history on the colorful rocks. At the bottom of the gorge, the Colorado River meanders like a ribbon. The vistas are breathtaking.
It is possible to take a helicopter Grand Canyon tour from Las Vegas, which will be absolutely unforgettable trip. During this flight, you will see America's most iconic natural wonder from the best perspective. You can even choose between a Grand Canyon helicopter flight during the day or a luxury and romantic flight at sunset. One of the reviews is: "From takeoff to landing, this was a tremendously exhilarating experience. Breathtaking view, a skilled pilot, and the small group made for a wonderful time. Highly recommend this tour".
A more affordable Grand Canyon West Rim Airplane Tour might also be a great option.

You can check reviews and book your dream flight here.
In our opinion, if you must choose only one day trip from Las Vegas, choose a helicopter flight. It is the most delightful adventure. The Grand Canyon seen from above is breathtaking, and only from this perspective will you realize the power of nature and that man is only one of its elements. The views are stunning. It's a lifetime experience.
Day Trips from Las Vegas to Grand Canyon National Park
Perfect as a Las Vegas day trip is the most popular place in Grand Canyon – South Rim. You can get there by coach, minibus, train or your own car following our guide. But if your time for seeing this wonder of nature is limited, consider a day trip from Las Vegas. South Rim offers the best scenic spots and trails in the Grand Canyon National Park. A great option is a Grand Canyon South Rim Day Trip from Las Vegas. It is an all-day trip. This tour offers a balance between guided and free time at the most stunning part of the Grand Canyon. You will have time to explore the South Rim, traveling along Rim Trail, with scenic stops at Bright Angel Trail, Yavapai Point, and Mather Point. Book it here.
Another option for a day trips from Las Vegas is Grand Canyon West Rim Tour by bus. So, if you like the thrill, walking on the glass-bottom Grand Canyon Skywalk with the abyss under your feet is something for you. Try it here.
Check our detailed travel & photo guide to the best Grand Canyon Viewpoints from South Rim.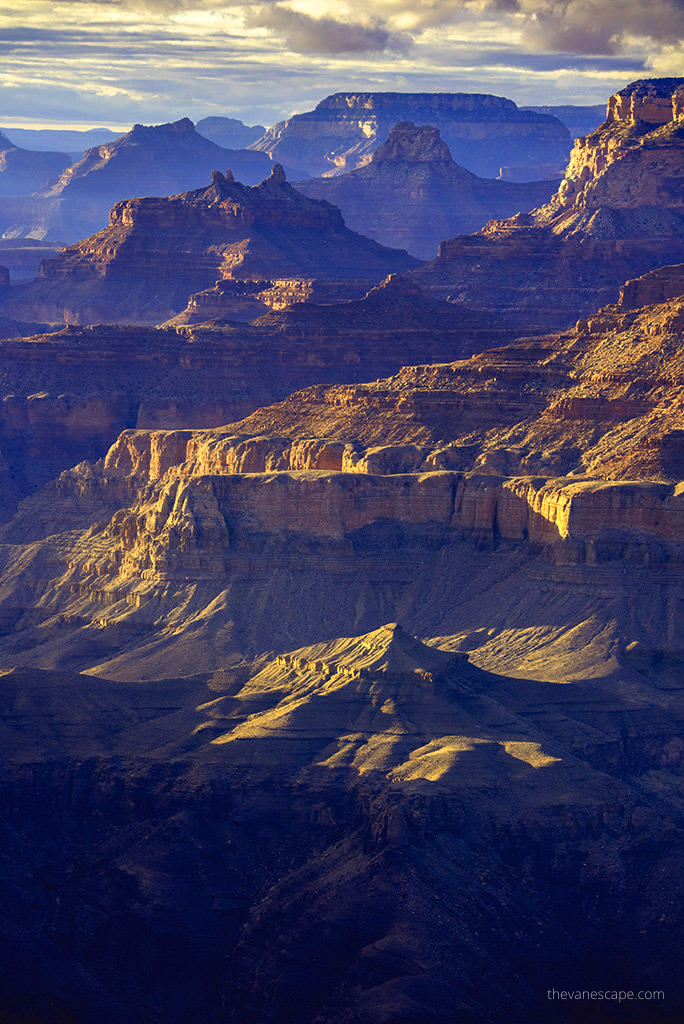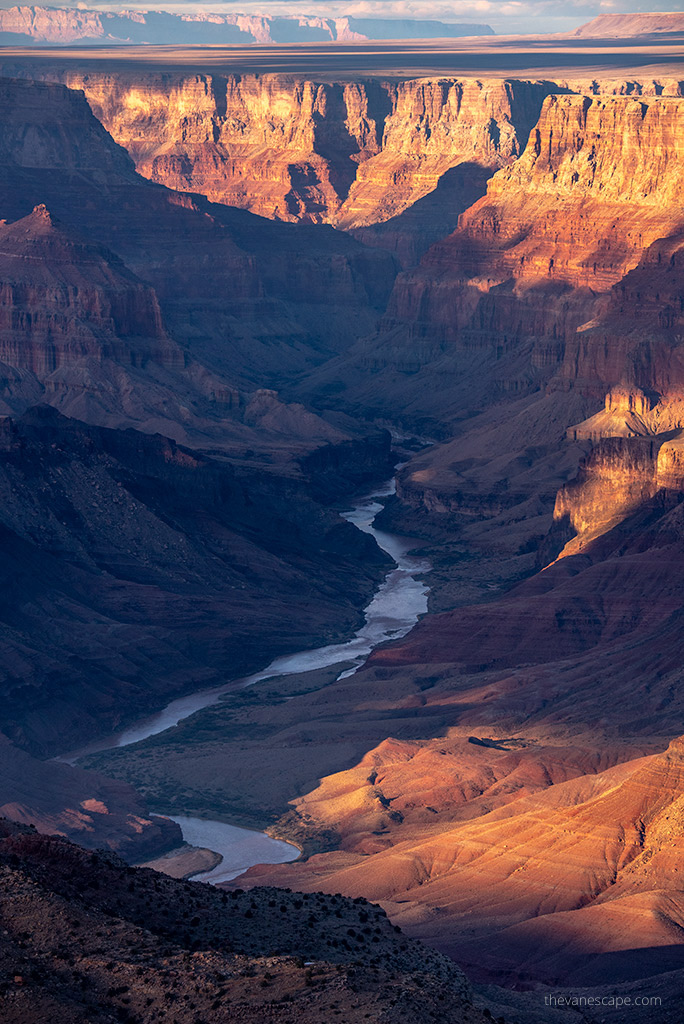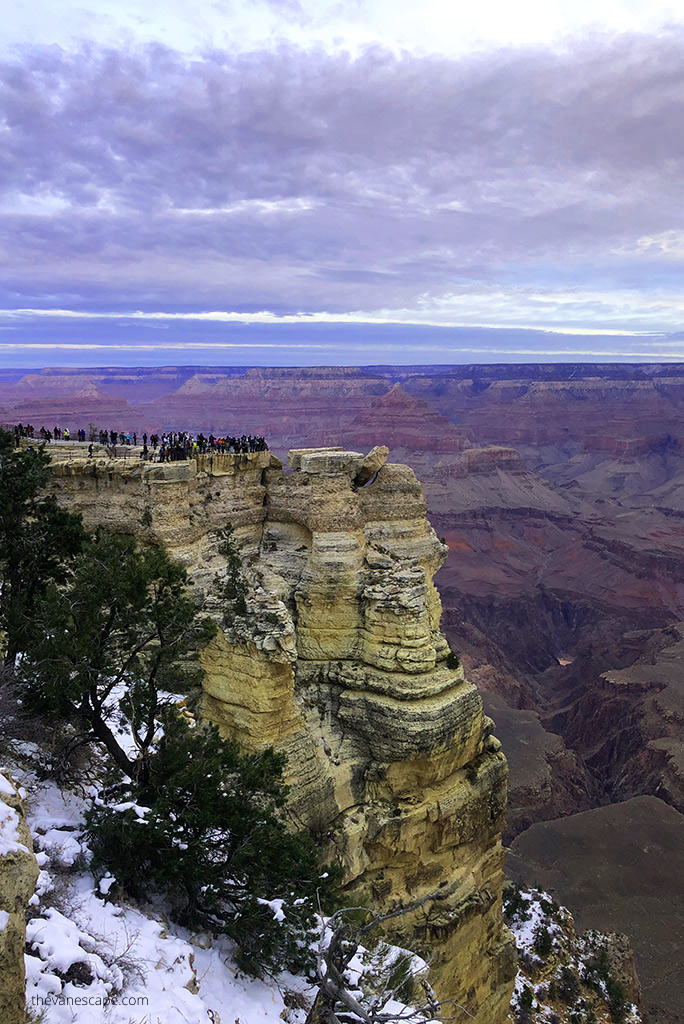 Day Trips from Las Vegas – Horseshoe Bend
Another place in Arizona that will always remain in your memory. Horseshoe Bend & Antelope Canyon near Page are perfect for a one-day trip from Las Vegas.
Horseshoe-shaped incised meander of the Colorado River is one of the most spectacular views of the US. Furthermore, it is easily accessible via a short hiking trail, a 1.5-mile (2.4 km) round trip from a parking area.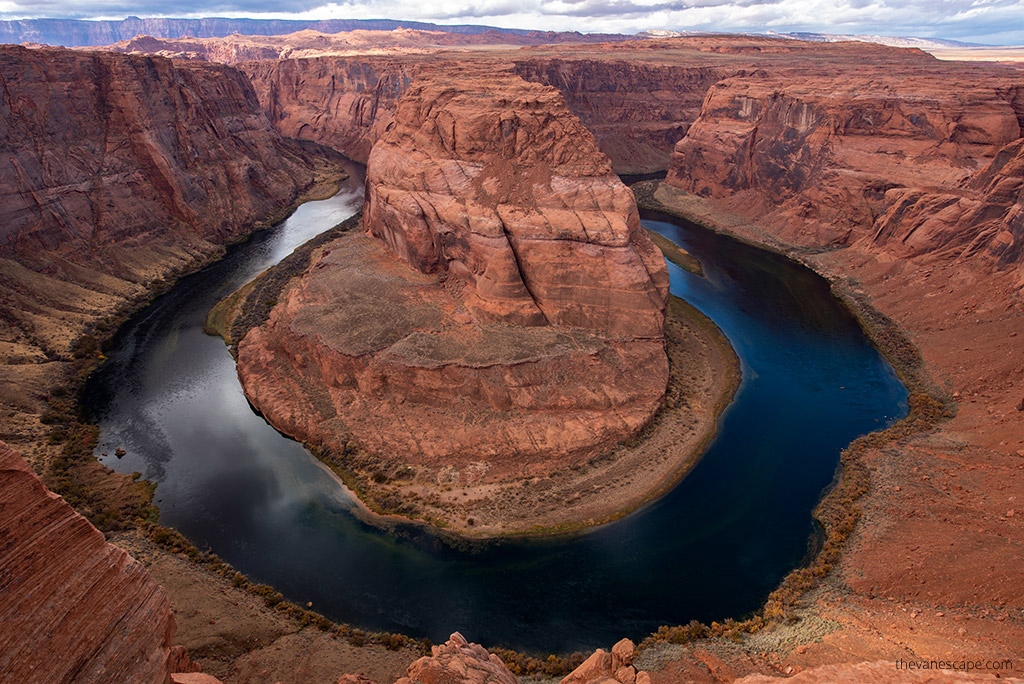 Day Trips From Las Vegas – Antelope Canyon Tours
Antelope Canyon is one of the most visited and photographed slot canyons in the southwest of the United States. It was formed over millions of years due to sandstone leaching by flash floods. The canyon is divided into Upper Antelope Canyon and Lower Antelope Canyon. During this fantastic guided tour, you will see Lower Canyon.
Both attractions, Horseshoe Bend & Antelope Canyon, are on the Navajo Nation territory and are close to each other due to the worth of doing it during one day trip from Las Vegas. The best idea is to visit Horseshoe Bend just before sunset. The most spectacular light in Antelope Canyon is around noon. So, it is a perfect combination.
One of the reviews is: "I would totally recommend this trip. It's worth your time and money. We were part of a small group and the person who drove our van, believe his name is Anthony is an amazing guide. He gave us amazing details throughout the journey and also helped us take some beautiful pics . It can get a little exhausting considering it's a 15 hr day tour but it is totally worth it. Quick review of the Antelope Canyon: We had a tour of the lower canyon which is beautiful. One of the most beautiful natural wonder you will ever see.". Read more & Book your trip here.
If, for some reason (claustrophobia, breathlessness, crowd) narrow slot canyons are not for you, consider combining Horseshoe Bend with Lake Powell trip from Page. It's a fantastic experience with 30–minute air flight!
TRIP TIP: We love Antelope Canyons in Arizona. You must book a guided tour to get there. We visited most of them. If you don't know which slot canyon to choose, you can check out our tips, photos, and reviews from Lower Antelope Canyon Tours, Upper Antelope Canyon Tour, and Antelope Canyon X Tours.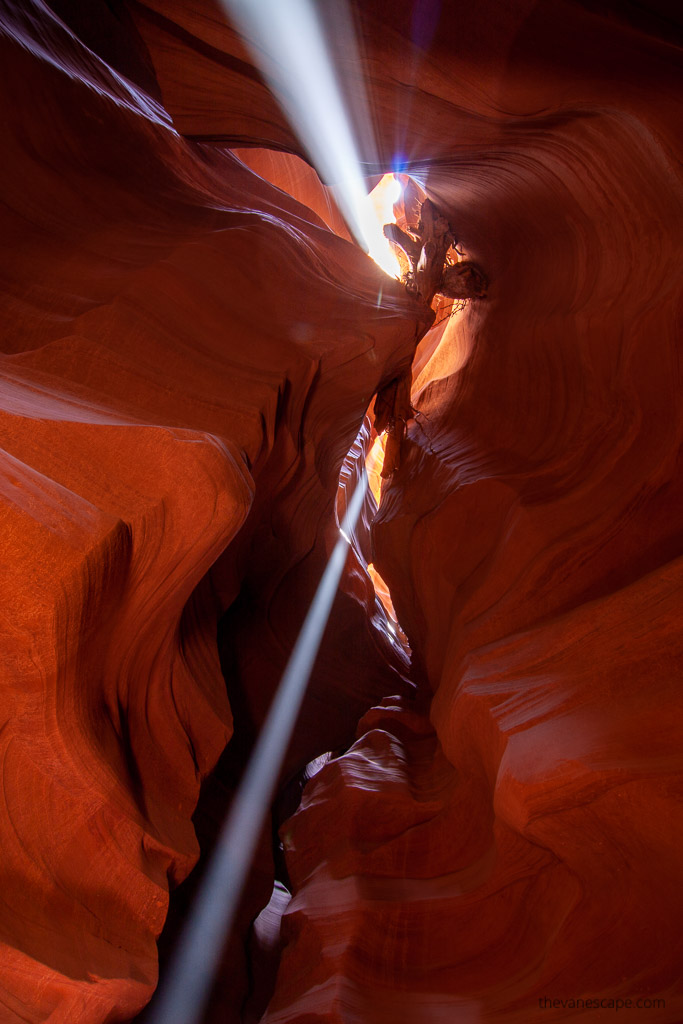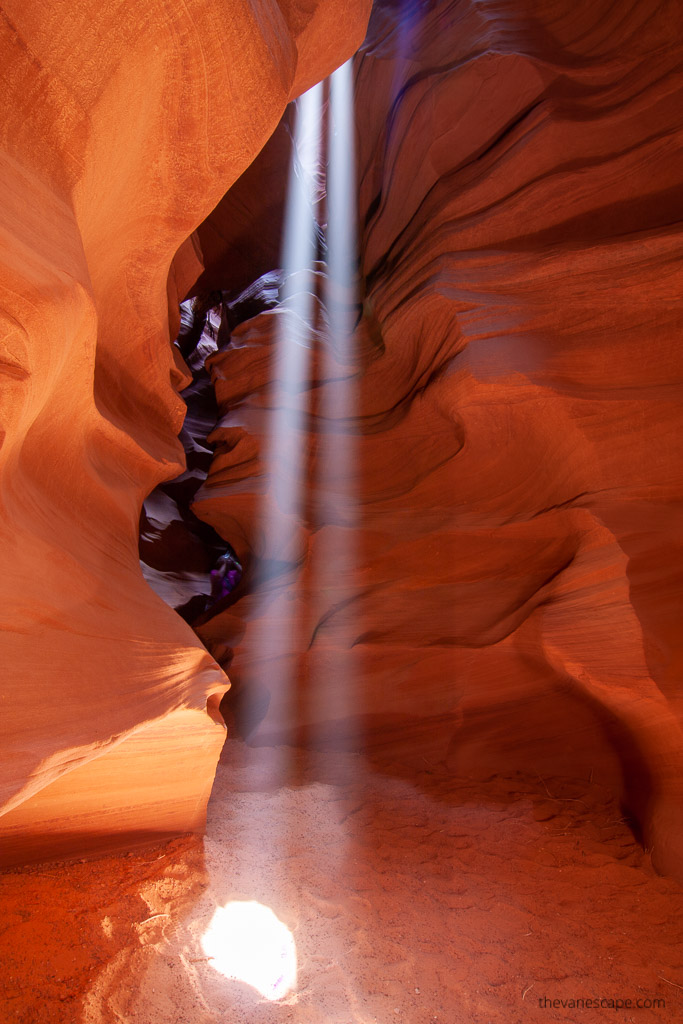 Day Trips from Las Vegas – Death Valley Tours
Death Valley National Park is also one of the best Las Vegas day trips, the hottest, driest, and lowest National Park in the US. Here you can check our detailed guide to Death Valley. The park is located on the border of Nevada and California, so it's an excellent idea for a day trip from Las Vegas. It's worth taking a full-day guided tour from Las Vegas to Death Valley. Why? Because you will see the most desolate places on earth. You can learn about Death Valley's history, landscape, and wildlife. You will see other desert highlights like the old ghost town of Rhyolite, Furnace Creek, Artist's Palette, Badwater Basin, Zabriskie Point, and more.
In this below-sea-level basin, steady drought and record summer heat make Death Valley an area of extremes. That's why is much safer to take a guided tour of this park.
Death Valley is the lowest point in North America. At 282 feet below sea level (86 m), Badwater Basin is a surreal landscape that tricks the senses. Check prices and book your tour here.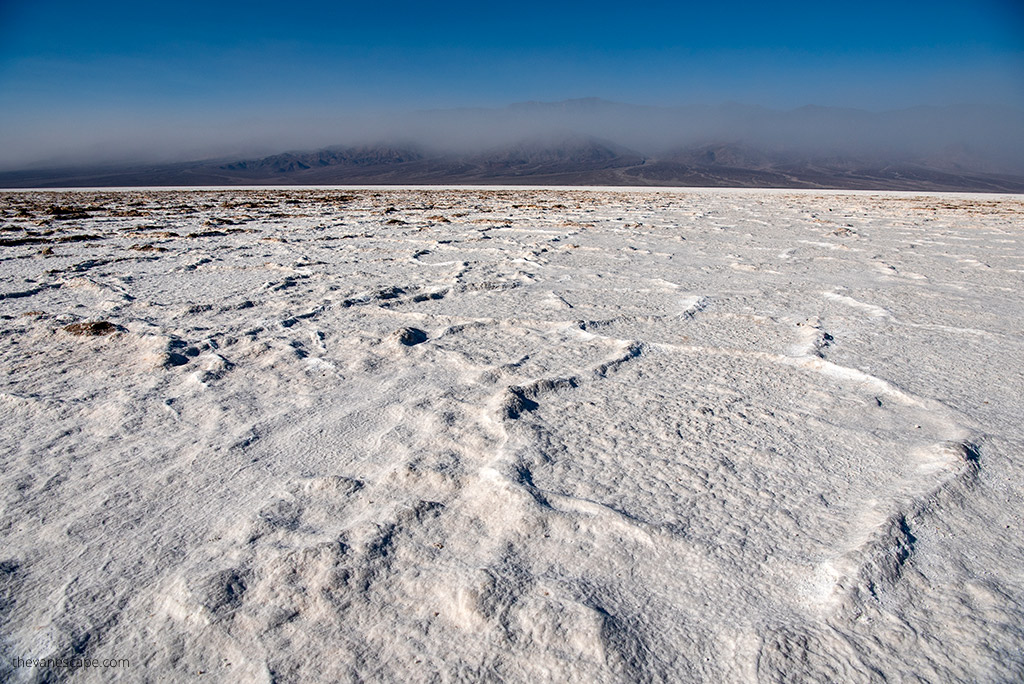 Day Trips from Las Vegas – Lake Mead Trip
Another option for day trips from Las Vegas might be Lake Mead. It is an America's First & Largest National Recreation Area. Only 45 minutes driving from Vegas, you can enjoy the warm breeze. Amazing landscapes and brilliant blue waters offer swimming, fishing, boating, and camping activities. So, if you like water adventures, the perfect way to get away from the cities will be Lake Mead Kayaking from Las Vegas. It is a fantastic water experience along the colorful bluffs and hidden beaches that line Lake Mead's dramatic shoreline.
Lake Mead is an artificial lake created by damaging the Colorado River and damming its waters with the Hoover Dam, built-in 1931-1936. At maximum capacity, Lake Mead is 112 miles (180 km) long, 532 feet (162 m) at its greatest depth, has a surface elevation of 1,221.4 feet (372.3 m) above sea level, and 247 square miles (640 km2). You can book your trip here.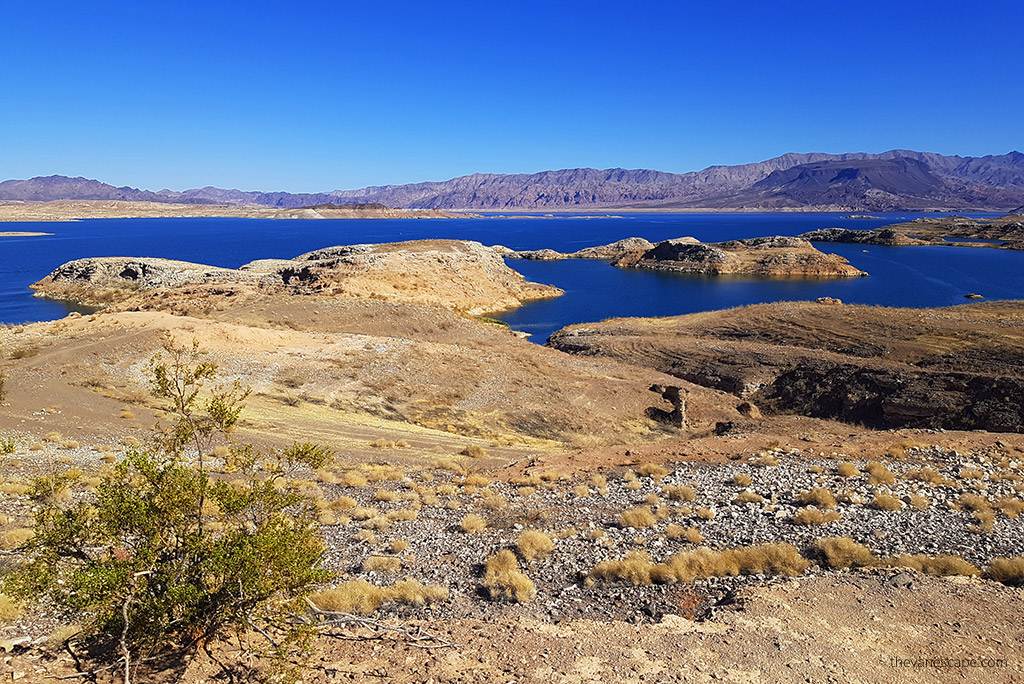 Day Trips from Las Vegas Valley of Fire Hiking Trip
If you like outdoor activity and hiking, as a Vegas day trips, you can consider the Valley of Fire hiking trip. It will be a perfect rest from the hustle and bustle of the city. This state park is one of the most colorful places in the west, and the rocks are all the colors of the rainbow. Furthermore, Valley of Fire State Park is about an hour's drive from Las Vegas, so it's a perfect destination for a day trip. Several movies were filmed here, including Star Trek Generations, Viva Las Vegas, The Professionals.
You have 12 official trails to choose from, varying in length and difficulty. Below are some most exciting and interesting.
The Fire Wave Hike is only a 1.2-mile trail that offers the most stunning vistas and immerses you in the landscape. The trail follows a faint sandy path and then switches to traversing sandstone to get to The Fire Wave.
White Domes Hike is a scenic one-mile loop hike. It was a movie location for The Professionals from 1965.
The Rainbow Vista is a short 1-mile trail, which takes you to a small cliff with a view out into Fire Canyon Wash.
A great option as a day trips from Las Vegas is also Valley of Fire and Red Rock Canyon Trip. During this one tour, you will see two wonderful sites in one day.
TRIP TIP: It is a desert & sunny area, so take lots of water. If you don't know what else to pack for a hike, check our Day Hiking Packing List.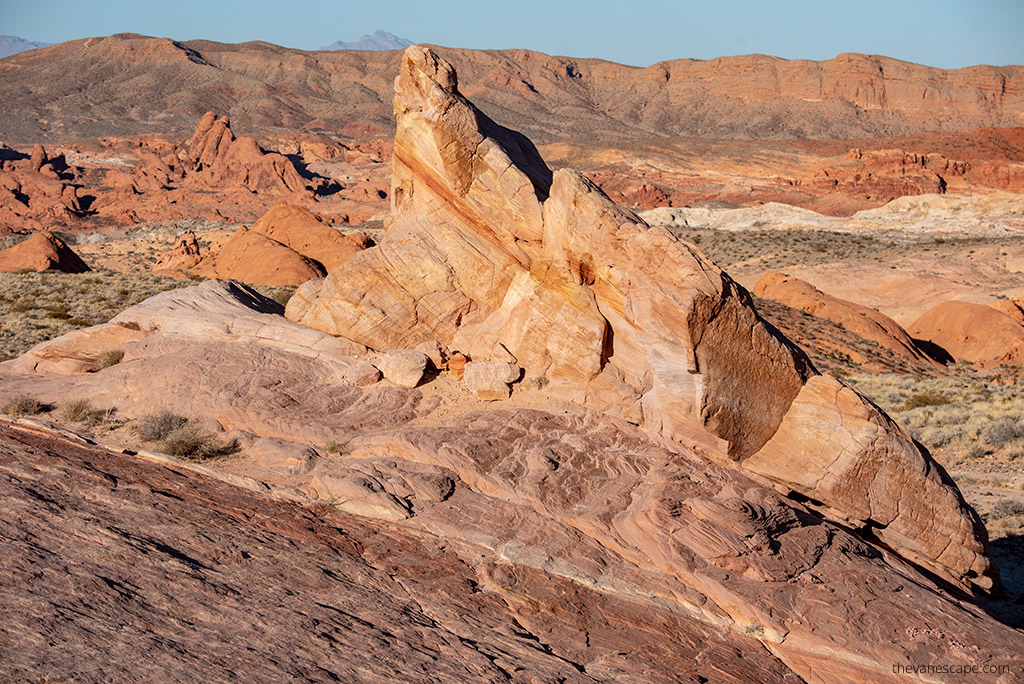 Day Trips from Las Vegas – Nostalgic Route 66 Trip
Get your kicks on Route 66! As a day trips from Las Vegas. U.S. Route 66, known as the Main Street of America or the Mother Road, originally ran from Chicago, Illinois, through Missouri, Kansas, Oklahoma, Texas, New Mexico, and Arizona before ending in Santa Monica, California. It was established on November 11, 1926, covering a total of 2,448 miles (3,940 km).
In the 1980s, road 66 fall in popularity due to the new Interstate Highway System. The new highway bypassed towns on Route 66. Businesses began to collapse, and cities were devastated. Local communities started to fight to keep the road alive as a "Historic Route 66". Now it's almost ghost towns. So it's worth visiting them during this Arizona Ghost Towns and Wild-West Day Trip as soon as possible.
Peach Springs, Kingman, Seligman, and Oatman are Arizona's most popular places on the historic Route 66. Great idea as a Vegas day trip will also be Historic Oatman Mining Town and Route 66 Experience.
TRIP TIP: You will find more of our photos from the quaint towns on Route 66 in Arizona in this article.
Check more day trips from Las Vegas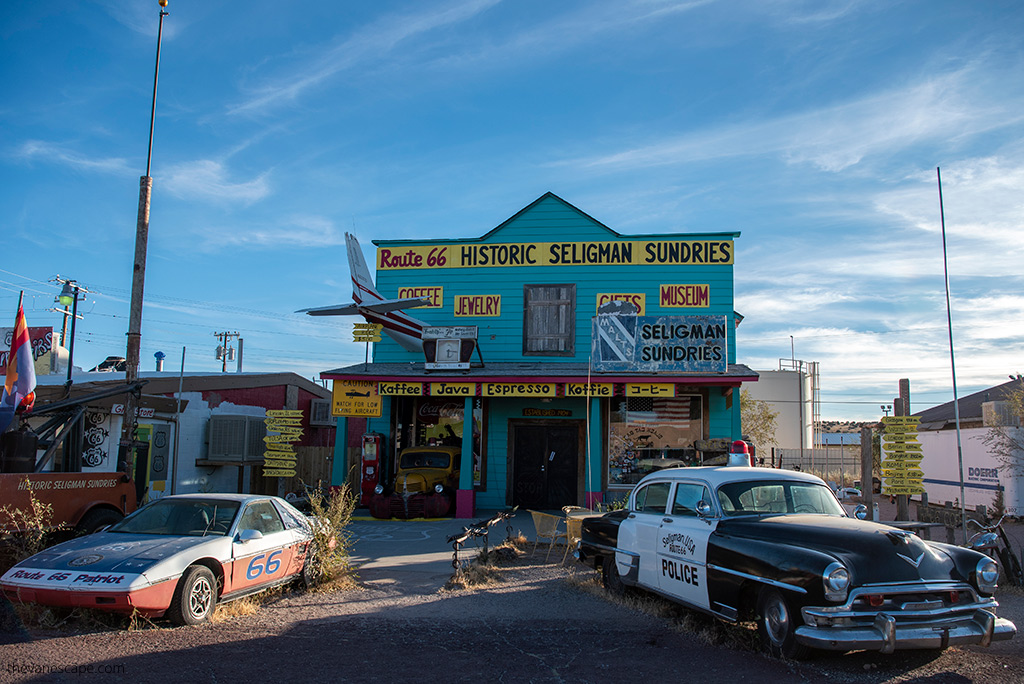 Day Trips from Las Vegas – Hoover Dam Trip
If you are interested in engineering, take a trip to the Hoover Dam. It is a fascinating structure, just 30 minutes from the gambling city. So, it's a perfect idea as a day trips from Las Vegas.
Hoover Dam is a concrete arch-gravity dam in the Black Canyon of the Colorado River, on the border between the states of Nevada and Arizona. It was constructed between 1931 and 1936 during the Great Depression. Its construction was the result of a massive effort involving thousands of workers and cost over one hundred lives. On September 30, 1935, was dedicated by President Franklin D. Roosevelt. The guided tour is approximately 4.5 hours and makes for a perfect half-day adventure. So, you can book your trip here.