Best Things to do in Utah
VISIT UTAH MIGHTY 5
Five of the U.S.'s most beautiful national parks are all located in a small geographical area. And yet, each one is so different from its neighbors. Each is worth visiting. Utah mighty 5 offers some of the unique landscape and rock formations you won't find in the world. Below we share our opinion on the best hikes in each of Utah mighty 5 to help you decide which is worth visiting. And, most of all, check our detailed Utah National Parks Road Trip Itinerary for 7, 10, and 14 days road trip!
THE BEST HIKES IN UTAH NATIONAL PARKS- FIND YOUR EPIC TRAIL
There are endless hikes in Utah to choose from, and they offer a diverse landscape and physical features. The state has a great variety of hiking terrain and some of the unique views.
So below is a list of our best hikes in Utah. We hope to give you a little travel inspiration. Some of these hikes we did several times. We love them because of breathtaking views, fantastic hiking experiences they offer, and perfect photo spots. Detailed info about each of the best hikes in Utah, with preparation, trail description, best photo spots, permits, and much more, you will find in separate articles.
The Subway Hike in Zion
The Subway hike in Zion National Park is a fantastic adventure. It's our numer one. But it's not an easy trek; it is a backcountry, off-trail route. You will need a Zion wilderness permit and prepare yourself a little bit because it's a long, 8 miles round trip in rough terrain. A lot of this time, you will walk in the cold stream, crossing it from one riverbank to another.
How to get the Subway permit? How to prepare for The Subway Zion Hike? What gear to take? We share our experience in this separate article.
The Narrows Hike in Zion
In our opinion, The Narrows hike is one of the best hikes in Utah. It is an essence of a slot canyon hikes. For miles, you are in the cold water of the Virgin River, surrounded by steep rock walls. The walls are reddish and goldish. Sometimes the water reaches above the thighs. The water current is strong, and you are fighting with the element. It's a challenging and unique trek, and it makes for a very memorable experience. Specialized water hiking shoes, dry gear, and walking poles are essential for this trip. We share our experiences to help you prepare for this amazing adventure. We give you detailed The Narrows Zion Hiking Guide.
Angels Landing Trail in Zion
In third place is Angels Landing Trail, which is also in Zion. We admit that this is one of our favorites, too. It offers spectacular views. But it's a strenuous hike, demanding climbing. So, the most important thing is to prepare well for it. If you have a fear of heights it might be not for you, because the last part of the hike is a very exposed cliff. In our article, we share our experience of how to prepare for this hike, with hiking tips, how it looks step by step with the map and trail description, and much more you should know about this adventure. Check it here.
Delicate Arch Hike
Arches National Park located in southeastern Utah, offers more than 2000 natural sandstone arches and unique geological formations. Our best hike in this Park is for sure Delicate Arch Hike. It offers breathtaking views, and it's not too hard. The best idea is go there for the sunset. Detailed info you will find in this article.
Mesa Arch Hike in Canyonlands
Canyonlands National Park encloses 337,598 acres of colorful canyons, mesas, buttes, fins, arches, as famous Mesa Arch, and spires in the heart of southeast Utah's high desert. In our opinion, it is one of the best spots for sunrise in Utah. Finally, it is a short and easy hike, so check details here.
Sunset Point to Sunrise Point in Bryce
If you have limited time in the Bryce Canyon National Park this paved walking trail is for you. It is a part of the Rim Trail, runs along the top of the canyon and looks out over the Bryce Canyon Amphitheater and one of the most impressive vistas in Utah. Hoodoo rocks look like from a fairytale. They are shining in the sun with reds and oranges. Photos and more information about the best hikes in Bryce you will find here.
THE BEST HIKES IN UTAH OUTSIDE NATIONAL PARKS
Utah also offers amazing trails outside of Utah mighty 5. They are truly fabulous, challenging, and worth adding to the Utah itinerary. Here are our favorite hikes that we have described in detail in separate articles.
Great Chamber aka Cutler Point
Cutler Cove, also known as the Great Chamber, is a distinctive and remarkable geological formation located near Kanab, Utah. Although it's an off-the-beaten-path destination, we're here to provide you with all the tips and details to ensure that your adventure is both unforgettable and safe, despite the challenging journey. Read our tips from a trip to Great Chamber.
Hike to Zebra Slot Canyon and Peekaboo Slot Canyon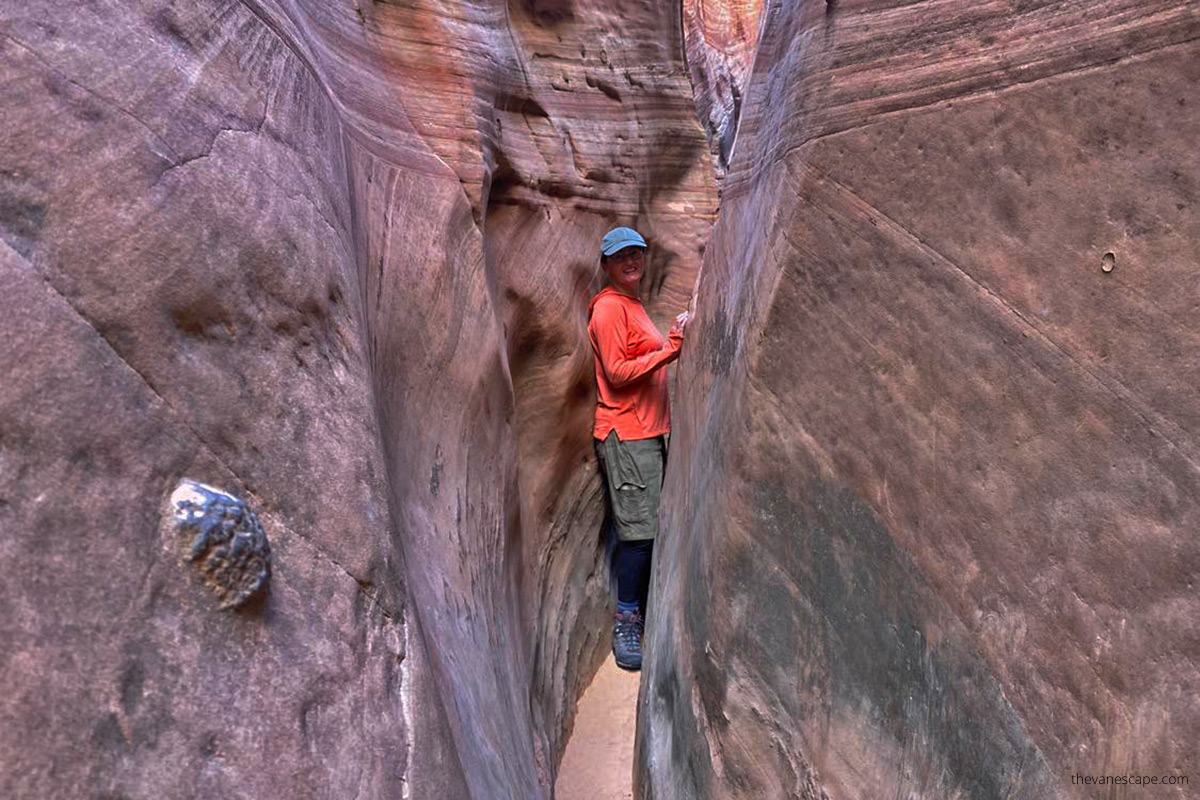 Buckskin Gulch in Paria Canyon
Buckskin Gulch in Paria Canyon is the longest slot canyon hiking trail in the world. And for sure, one of the most dangerous. The main reason for this is the flood danger. And the threat is real – while in the canyon, there are limited escape options. Still, you can do part of the Buckskin Gulch as a Day Hike. From the other side, this canyon is so magnificent that you can't compare it to anything else. Even if you know Antelope or Canyon X or Zebra, Buckskin Gulch still is something incredible, and its charm is unimaginable. So, we have for you detailed guide for easier day hike option. Easier from permit perspective, but you still have to prepare yourself a similar way as multi-day hikers. Check our article.
The Nautilius Hike in Paria Canyon
Very often on your trip, you stop by slot canyons in Page, unusual rock formations in Paria, or the most famous The Wave or Coyote Buttes South. We are sure that you were traveling many times on route US 89 between Kanab and Page. And we are also confident that most of you missed the hidden gem of Paria Canyon – Vermillion Cliffs Wilderness area – The Nautilus rock formation that needs a short hike and is located in Utah. It is a great and easy hike. So, read our detailed information, please.
Paria Rimrock Toadstool Hoodoos
This fantastic spot is usually missed by people making a Southwest road trip. And if you plan to drive from Kanab, Utah to Page, Arizona or the other way round, why don't you stop for a two hours hike to admire those formations from another planet? In this short article, we would like to share all the required information to plan your visit to Paria Rimrocks Toadstool Hoodoos.
Visit Moab, Kanab and Springdale
Moab, Kanab, and Springdale are our favorite towns in Utah. They are an excellent base for visiting national parks and other Utah attractions. If you can stay there for a night to feel their atmosphere, they are incredibly charming. They have great tourist facilities, and excellent restaurants. You can also buy beautiful handicrafts and other souvenirs here. Check out our 25 best things to do in Kanab for a great vacation.
TAKE A TOUR
If you prefer traveling with a group tour, we highly recommend Get Your Guide, Viator.com and TripAdvisor.com. They are a reputable companys and have been selling the best trips for a long time. They offers different tours, so anyone finds something interesting, allowing you to explore a little bit of everything in Utah. So check out the variety of tours that they have and the details of each trip.
Utah Quick Information
Utah offers 5 amazing national parks, colled Utah Mighty 5. We have prepared detailed posts about each of the Utah parks. We prepared also a Perfect Utah National Parks Road Trip Itinerary. Below you will find links to them. You will also find below our selection of the best Utah hikes and the most exciting and must-see places in Utah (not only in national parks).
Utah National Parks:
Zion National Park, which is Utah's First National Park. It offers massive sandstone cliffs of cream, pink, and red that soar into a brilliant blue sky, amazing wildlife, and lots of fantastic hikes with different levels of difficulties.
Arches National Park, near Moab, with more than 2,000 natural sandstone arches, such as the massive, red-hued Delicate Arch or thin Landscape Arch in Devils Garden. It offers many easy trails providing opportunities for kids and adults.
Bryce Canyon National Park, with unique worldly geology. The erosional force shaped the colorful limestone rock into bizarre shapes, including slot canyons, windows, and spires called "hoodoos." Red, orange, and white rocks create spectacular views. Bryce Canyon amphitheater looks like on fire. It offers several day-hiking trails.
Canyonlands National Park, which offers colorful canyons, mesas, buttes, fins, arches, as famous Mesa Arch, and spires in the heart of southeast Utah's high desert. Park is divided by nature into four districts: Island in the Sky, The Needles, The Maze, and The Rivers. So, if you like hiking trails, go to the Canyonlands.
Capitol Reef National Park offers cliffs, canyons, domes, and bridges in the Waterpocket Fold, a geologic monocline extending almost 100 miles. Among the park's sights are the Chimney Rock pillar, the Hickman Bridge arch, and Capitol Reef. So, check The Ultimate Guide to Capitol Reef before your visit.
Moreover, Utah has the third most national parks of any state after Alaska and California.
In addition, Utah features 8 national monuments, 45 state parks, 7 national forests, dozen national monuments & recreation areas.
Finally you will find there charming towns like Moab, Kanab, Springdale or Salt Lake City, which offer a wide range of accommodation and tourist attractions. Book your accommodation in advance to get the best offers and prices.
Below are our favorite Utah parks maps and guides:
We were in Utah several times, we spent there a few months, hiking, visiting, and photographing Utah natural wonders. Utah is a perfect place for outdoor lovers, offers plenty of opportunities to reconnect with nature.
As a result, in this article, we show must-see in Utah and hidden places in Utah as well because there is a lot of hidden gems in Utah. We hope it inspires you and helps you decide where to go for your next getaway, U.S.
What are the best Utah photography spots for sunsets & sunrises? We tell you what is the best time to visit Utah? What are the best hikes in Utah? How to get there, where to stay, and much more. This Utah photography travel guide will help you prepare your dream vacations and take great photos and memories.
Utah is a state in the western United States, with borders to Colorado on the east, Wyoming on the northeast, Idaho on the north, Arizona to the south, and Nevada to the west. It also touches a corner of New Mexico in the southeast. Of the fifty U.S. states, Utah is the 13th-largest by area, and with a population over three million, the 30th-most-populous and 11th-least-densely populated. It was admitted to the Union as the 45th, in 1896.
Trip Planning
WHEN IS THE BEST TIME TO VISIT UTAH?
Each of 5 Utah's national parks has its own character, with a different climate and weather patterns. However, Autumn is an excellent time for all of them.
Utah features a dry, semi-arid to desert climate that is a combination of high-altitude mountains and low-altitude deserts. Which makes it easy to customize your outdoor experience and choose attractions depends on wether.
Utah's temperatures are extreme, with cold temperatures in winter due to its elevation, and sweltering summers.
So, expect extremes temperature differences all year and always prepare for hot days, cold nights. Furthermore, check the weather condition before you go and during your visit as well. Pack yourself properly for your trip. Check our day hike essentials.
So, in our opinion, the best time to visit Utah is in the Fall. We love this season because temperatures are warm and the days are pleasant, but not too hot. Hence they are excellent conditions to explore the big five national parks of Utah and other fantastic landscapes. It is also less crowded during the offseason.
You can choose the best hikes in Utah, like Angels Landing or The Subway and The Narrows in Zion National Park. Furthermore, it is great weather also for Bryce National Park or hike in Canyonlands National Park, Arches National Park, and much more.
Spring is also suitable for a visit. However, it might snow-melt, so water levels are much higher.
Summer, especially from July to September is hottest time of the year. However, this does increase the chance of rainfall and a risk of flash flooding, especially in Zion. Summer temperatures might be over 100 F, which makes hiking challenging and strenuous. So, always bring extra water and food for your hike. Start your hike early in the morning.
PROTIP: If you're planning your holidays in Summer plan well in advance, visitor levels are high in the Summer, so many properties fill up early. Check prices of accommodation and availability on booking.com
Winter can bring snow in Zion, Capitol Reef, and Bryce Canyon. However, the landscape looks fabulous, covered by the storm. But some trails might be close to visitors because of weather conditions. So if you plan your visit from December to March, check weather forecasts and weather warnings on the official's national parks website carefully.
Finally, remember that the nights can freeze between October and May, so pack warm clothes.
TRANSPORTATION TO UTAH
BY AIR
The most convenient airports is Salt Lake City International Airport (SLC) or St. George Regional Airport (SGU). However, Las Vegas McCarran International Airport (LAS) offers very many connections at great prices and is not so far to Utah border.
Check the best flight prices on TripAdvisor.com or skyscanner.com
BY CAR or RV
Car is the best option to travel across Utah. By car, you will reach every exciting place, trails, and hidden gem in Utah. So a road trip will be perfect in a car. However, it is good to reserve at least two-three weeks to do a must-see in Utah.
Finally, if you need to rent a car, we recommend Alamo rental, which we have been using for many years and we are always satisfied. In hard to reach places, on an unpaved and sandy road, you might need a four-wheel-drive and high clearance car (AWD SUVs might not be enough).
We love RV's and also traveled by the camper. It was a fabulous adventure. So, if you plan to rent an RV, we highly recommend RVshare for this road trip.
WHERE TO STAY IN UTAH?
Lodging in Utah National Parks
We have prepared a separate complete travel guide about each of the Utah mighty 5 national parks. In each of these guides, you will find our suggestions for the best and the most interesting accommodation.
So, if you plan to visit Zion National Park, you will find our accommodation offers, including hotels and campsites here.
Are you going to Bryce National Park? Check our lodging suggestions here.
Would you like to see Arches National Park? Check accommodations in this part of article.
If you plan to visit Capitol Reef National Park and Canyonlands National Park, check some our lodging suggestions here.
Hotels in Utah
As with each state, you can have different accommodation options with various prices and facilities. You will find spa, small hotels, motels, bed and breakfasts, mountain lodges, cabins, private rentals, campgrounds.
However book it in advance, because tourism is a major industry in Utah. The best way to find a hotel at a reasonable price and best quality is to check the offers on booking.com.
Our favorites towns to stay in Utah, for a holiday in this amazing state are Kanab, Moab, and Springdale. However, we like also St. George, Salt Lake City.
Campgrounds & Public Lands in Utah
For 8 months we were traveling through the U.S. in a camper truck, and it was an amazing experience. So, in case you are traveling with RV or another type like van, you should know that Utah is very friendly for boondocking, because of BLM. Public land comprises the majority of the west. With roughly 63% of all Utah land remaining public, there are plenty of opportunities for free camping in Utah. Free camping options throughout Utah offer a way to explore the hidden gems in Utah.
From spectacular red-rock canyons and roaring rivers to high mountain peaks across 23 million acres in Utah, BLM public lands are unparalleled in scenic beauty.
However, if you need hookups or dumps and shower, the campgrounds and RV parks are very popular in this state. Prices are reasonable. But this type of traveling is increasingly popular, so book your campsite in advance.
Our favorite campgrounds in Utah, close to the Utah mighty 5 national parks are:
Zion River Resort RV Park & Campground
Archview RV Park & Campground
Spanish Trail RV Park
Utah Mighty 5 Map
It is great to have a map of Utah national parks to plan your visit correctly. We use this set of 5 Utah national parks maps, and we can highly recommend it. They are waterproof, tear-resistant, and most of all detailed. Each of the charts in this map pack covers a different park with its unique landscape. So it will help you plan your trip for sure. You can check prices and availability here.
Another one we often use is the general map of Utah. It helps to plan a road-trip around this state. It is also detailed and waterproof. In addition to national parks, you will find state parks, national forests, campsites, ski areas, hospitals, airports, and other points of interest. You can check the details on the website.
Packing List For Utah
Temperature amplitudes in Utah is very large. You can sweat and, in a moment, shivering with cold. The weather can change drastically in a few minutes.
So, regardless of the season, you must be prepared for hot and cold weather. The Utah desert temperatures can fluctuate 30 degrees in one day, so be sure to pack light layers for daytime and others hoodie that will keep you warm in the evenings, including a beanie and gloves. It is especially important during fall, winter and spring in Utah when temperatures can plunge quickly after rainfall and sunset. However, if you are going in winter, pack a lot of warmer clothes.
The best way is to wear on layers and take extra thermal underwear and clothes to change. Always pack more water and food with you than you need, just in case.
So, you need a very comfortable and capacity backpack for your day trips. It is crucial to your daypack has a lap belt that relieves your spine.
Hiking boots with excellent traction are essential because it is rocky and deserted terrain. Trekking poles on the trail are also very helpful.
GPS is crucial for us during hikes. And we also pack a detailed map with trails. Of course, we also use the application with the map, but many times we have lost coverage or unloaded the phone on the trail, so the printed map is always with us.
No matter if the trail is short or long, easy or demanding, you always have to be prepared for your hike. Accidents happen, or the weather can change dramatically in a few minutes. That's why we pack carefully, even for shorts and leisurely walks. Below is a hiking gear list of our essentials, the most necessary things you must have on the trail. So, we pack these essentials even on day hikes. We do not use most of them, but take just in case of emergency. If you are hiking responsibly and carefully, you should have them. They might save your life or someone else life. If something happens on the trail, these items could be essential to your survival.
| | |
| --- | --- |
| | Water is most important even during short hikes, so bring a sufficient amount of water, and extra water in case of emergency. Always carry a water treatment method, f.e.tablets. Check before the hike if there any water sources on the trail. The best idea is to take a light water reservoir. |
| | Take a salty snack, as high energy protein bars and beef jerky or other high - calorie meals, as nuts and sandwiches. Always take extra portions. |
| | Always take a trail map. You can use App with your hike, but remember that there is no coverage often on the trails, so you should have printed maps too. |
| | GPS watch or GPS device allows you to find your location on a digital map accurately. They are waterproof and robust. Another option is to use a smartphone with a GPS app, but often there is no connection on the trails. If you have a phone, remember not to use its battery. Finally, monitor your battery power. |
| | First aid kit with blister care, duct tape. It will help you handle unexpected moments (includes CPR Mask, Bandaids, Blanket, Tourniquet and more) |
| | Headlap or flashlight with spare batteries. Yes, we take it with us even if the hike is lasting only a few hours during the day. A long time ago we lost during the day and then we had to come back through the wilderness at night. You never know what will happen, that's why we always have headlamp with us. |
| | Emergency sleeping bag, which serves as your emergency blanket, survival shelter, and emergency bivy sack all-in-one. |
| | Pocket Knife with Multitool it's ideal for outdoor activities like camping, and hiking. It's essentail for gear repair, food preparation, first aid. |
| | Fire Starter, because in case of an emergency, you need to have reliable supplies with you for starting and maintaining a fire. |
| | Emergency Whistles is must-have, too. Battery in the cellphone will run down, or there will be no coverage on the trail, and this is the only way you can call for help. |
| | Sun protection. Always pack with you and wear sunglasses, sun-protection hat and sunscreen. |
| | Always carry some type of emergency shelter to protect you from wind and rain in case you get stranded or injured on the trail. |
| | Extra Clothes. Even for short hikes, we dress in layers. We always have high trekking shoes with reliable traction, and we use trekking poles, too. But we always put it in the backpack extra clothes beyond those required for the trip. We add a warm hoodie, raincoat, gloves, a hat, and socks,in case of weather breakdown. |
Utah Photography Tips
Utah is a paradise for photography and adventure enthusiasts. On photos, you can capture the beauty of the desert, red rocks, arches, hoodoos, wilderness, or the vastness of the landscapes.
From beginner to professional, each will find something for himself. Are you interested in Utah landscape photography? Arches or fabulous hoodoos? Hikes? We share the best spots for taking great photos, including sunrise and sunset, in each of our Utah articles.
In each of our articles on this website, we prepared a part for photographers. We share our tips and recommendation. You will find what kind of equipment we used, and more.
For each place, we give you hints include answers to the following questions:
What season is best?
Best time of the day to take photos?
Best spots for photos?
What photographic opportunities are here?
Finally: what gear should I take with me?
If you are looking for photo inspiration, here are some of our favorite books. We love series Photographing the Southwest. These are the best photo guides available for explorers of the western states and beyond. Laurent's four volumes in the "Photographing the Southwest" series are filled with amazing photos and helpful information. Lots of tips and photo hints. You will find a description of how to get to each location, which makes this place unique, what time is best for taking photos, and much more. The books are well-organized by state and region. Moreover, you will find rating the sites by useful criteria, including scenic value, photo interest, road difficulty, and trail difficulty. If you like photography, this series is the best!
Get Inspired
Above all we carefully prepare for each of our trips. Reading books is one of the most important ways. We read novels related to a given place, documentary books, and guidebooks, of course. As photographers, we love photo albums, too. They help us find inspirations. We also watch movies and listen to music connected with the region we are going to visit.
Below are some of our favorites suggestions for Utah books and music to get you inspired.
Our Guide Books selection of Utah:
It's always challenging to choose what to visit in Utah during the holidays, especially when you have limited time.
More unusual & best places worth visit in Utah, you can check in this post.