Tips for Exploring Factory Butte in Utah
Factory Butte in Utah is a breathtaking flat-topped summit that allows you to capture and experience otherworldly desert scenery. Whether you're a photographer seeking the perfect shot, an adventurer looking to explore the rugged terrain, an OHV fan, or simply a nature lover drawn to the beauty of the American Southwest, it is a must-visit. Our guide provides insights, tips, and directions to help you make the most of your visit to Factory Butte, a true gem in Utah's diverse geological tapestry.
This article may contain affiliate / compensated links. For full information, please see our disclaimer here.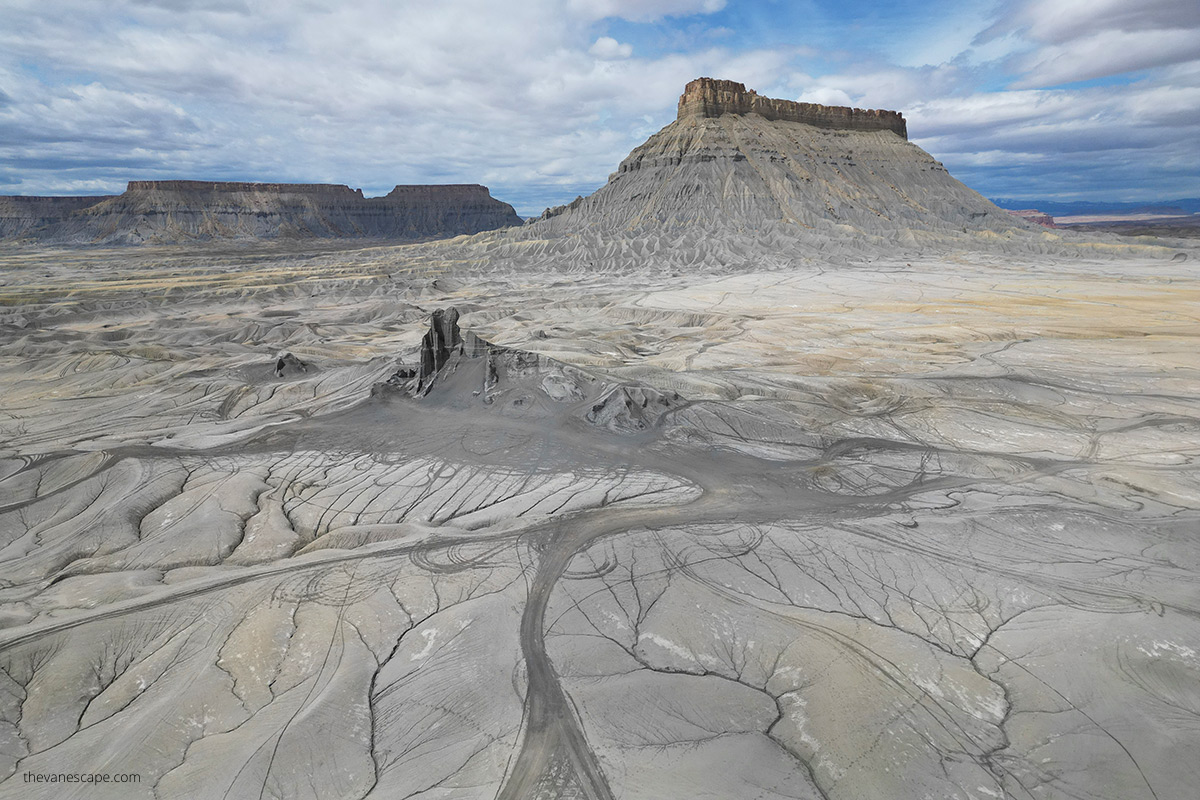 What is Factory Butte?
Factory Butte, a majestic and iconic landmark in Wayne County, Southern Utah, is a testament to the awe-inspiring power of nature's artistry. Rising to an elevation of 6,302 feet, this flat-topped summit is a geological marvel.
Located near Hanksville, Factory Butte is part of the Upper Blue Hills and is characterized by its unique combination of Mancos Shale and Emery sandstone. Its name, inspired by its resemblance to a massive factory building, mainly the Provo woolen mill, reflects the industrial appearance of this natural wonder.
We visited Factory Butte in early May during our last road trip around southern Utah. We highly recommend it if you are in the Hanksville, Moab, or Fruita area. Below are some tips for getting there, planning your time, and where to stay.
Location and Accessibility
Factory Butte is located about 12 miles west of Hanksville, accessible via Utah scenic route 24 and N. Factory Butte Road. While the road is generally suitable for passenger cars, having a vehicle with good ground clearance is advisable, especially during wet conditions.
It is located on land managed by the Bureau of Land Management (BLM) in Utah. The BLM's management oversees recreational activities, conservation efforts, and land use regulations. This may include guidelines for OHV riding, camping, hiking, and other outdoor activities in the Factory Butte Recreation Area.
Our Tip: As long as it's dry, you can get to Factory Butte by regular car, as it's only a few miles from the main road. But if you are planning other exciting routes in this part of the state, such as the Cathedral Valley Loop, Great Chamber, Coyote Buttes South or North (the Wave), a 4WD is a must. So think carefully about the route before you rent a car. We rented a Jeep Wrangler with 4WD to reach the most challenging places.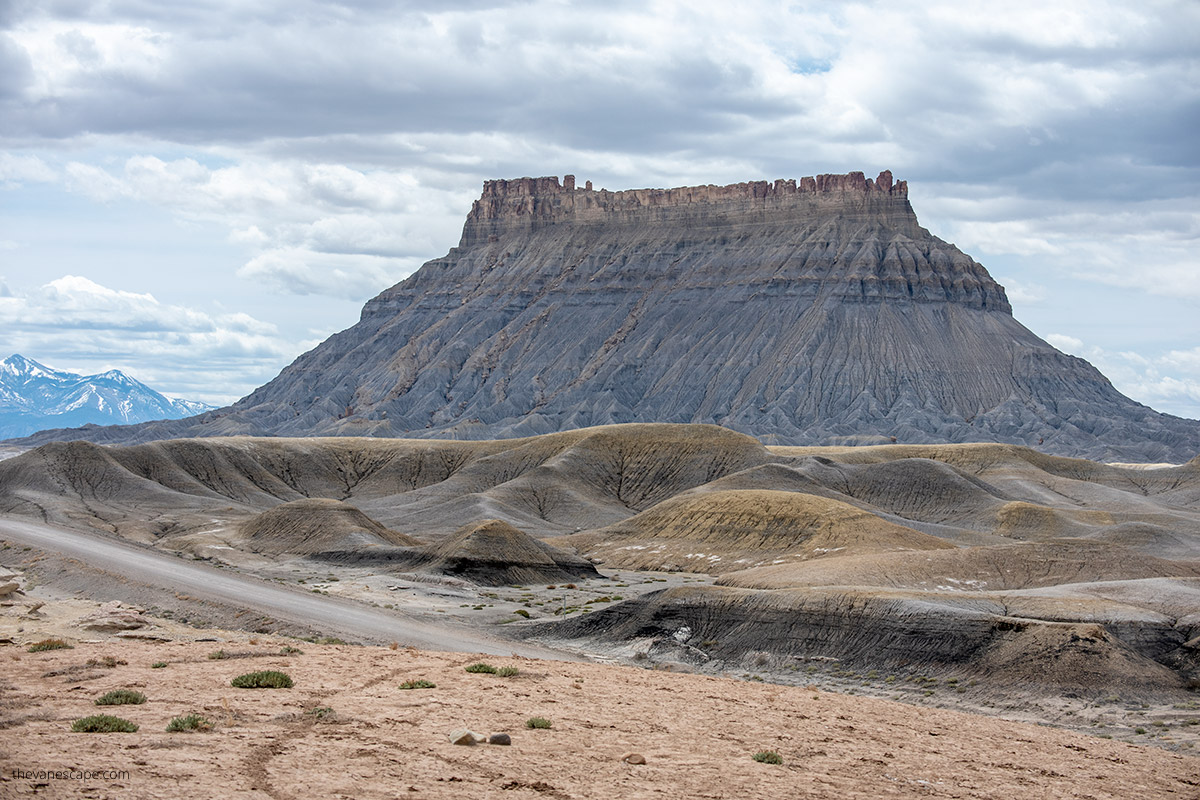 What is the size of Factory Butte?
It is a prominent flat-topped summit that rises to an elevation of 6,302 feet (1921 meters).
What is Factory Butte made of?
Factory Butte is made of various geological formations, including gray stone and layers of Mancos Shale. The Mancos Shale in the area gives Factory Butte its unique appearance, with ripples of greys, purples, oranges, and golds.
The top of the butte and other flat-topped mesas in the Upper Blue Hills region is formed of resistant Emery sandstone, overlying the Blue Gate shale. This combination of geological features contributes to the distinct and otherworldly appearance of Factory Butte.
Why is it called Factory Butte?
Factory Butte's name is derived from its distinctive appearance. The flat-topped summit of gray stone resembles the shape of a factory building, particularly when viewed from certain angles and distances. "Butte" refers to an isolated hill with steep sides and a flat top, a common geological feature in the American Southwest.
The combination of the flat top, steep sides, and the unique layering of colors and textures gives Factory Butte a man-made, industrial appearance, akin to a factory structure. Early settlers named the butte "Factory Butte" because they believed its silhouette resembled a massive factory building, specifically likening it to the Provo woolen mill.
The name captures the essence of its geological formation and its visual impact on those who view it, making Factory Butte a fitting description for this iconic landmark in Utah.
How to Get to Factory Butte?
Factory Butte is a remarkable destination you can easily access from various locations in Southern Utah, making it a convenient addition to any travel itinerary in the region. Whether exploring the Utah national parks or enjoying the scenic towns, visiting Factory Butte offers a unique and unforgettable experience. Here's how to get there:
From Hanksville
Distance: Approximately 12 miles
Driving Time: Around 15 to 20 minutes
Head west on UT-24 W from Hanksville.
Continue on UT-24 W for approximately 12 miles.
Turn right onto N. Factory Butte Road to reach Factory Butte.
From Fruita (Capitol Reef National Park)
Distance: Approximately 45 miles
Driving Time: Around 1 hour
Head west on UT-24 W from Fruita.
Continue on UT-24 W for about 45 miles. Turn right onto N. Factory Butte Road.
Note: Visiting Factory Butte is a great idea to combine with a trip to Capitol Reef National Park or visiting Fruita. The proximity allows for a rich exploration of both natural wonders.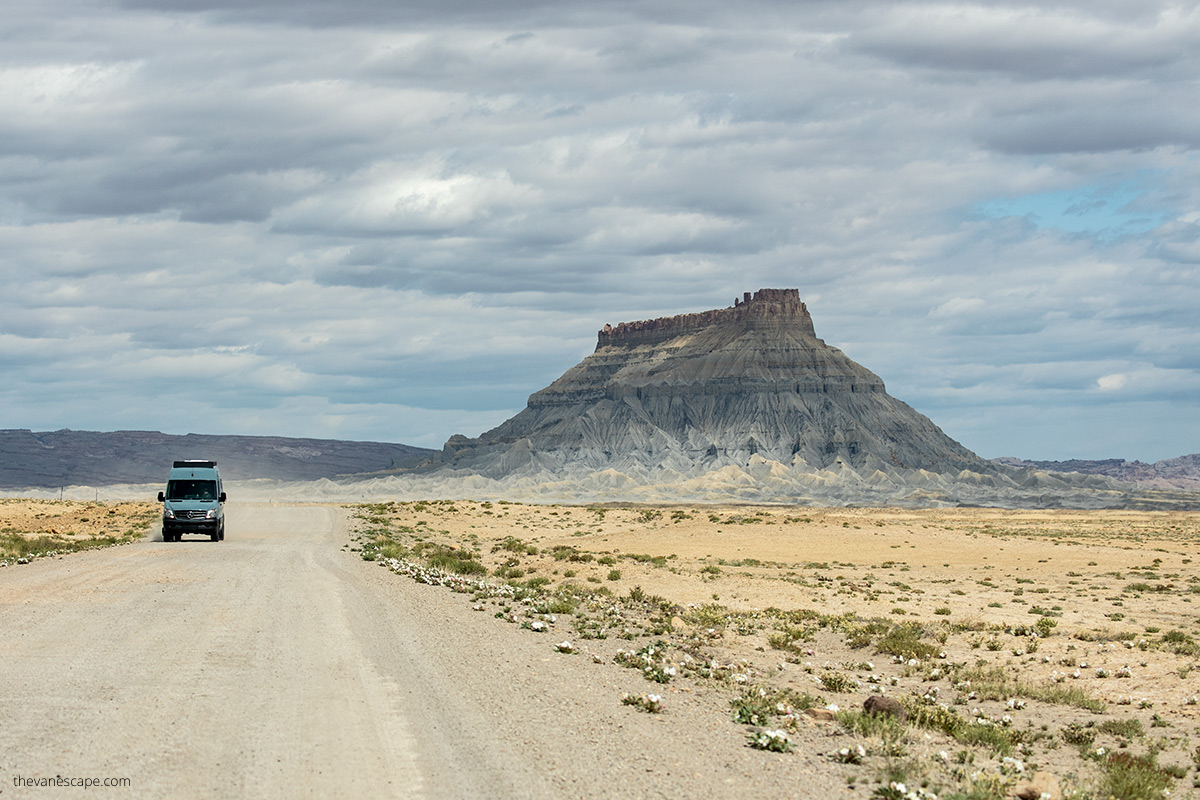 Driving Directions from the town of Escalante
Distance: Approximately 90 miles
Driving Time: Around 1.5 to 2 hours
Head north on UT-12 E.
Turn right onto UT-24 E.
Continue on UT-24 E for approximately 90 miles.
Note: You can combine your trip with exploring Grand Staircase-Escalante National Monument
From Moab
Distance: Approximately 150 miles
Driving Time: Around 2.5 hours
Take US-191 N from Moab.
Turn left onto I-70 W.
Take exit 149 for UT-24 W toward Hanksville.
Continue on UT-24 W for approximately 45 miles to the turn.
Note: Moab is a great place to explore the area. It is worth spending a few nights there and visiting Arches National Park.
From Canyonlands National Park
Distance: Approximately 160 miles
Driving Time: Around 2.5 to 3 hours
Head southeast on UT-313 W.
Turn left onto US-191 S.
Turn right onto I-70 W.
Take exit 149 for UT-24 W toward Hanksville.
Continue on UT-24 W for approximately 45 miles to the turn.
Note: You can check our detailed article about the best things to do in Canyonlands National Park.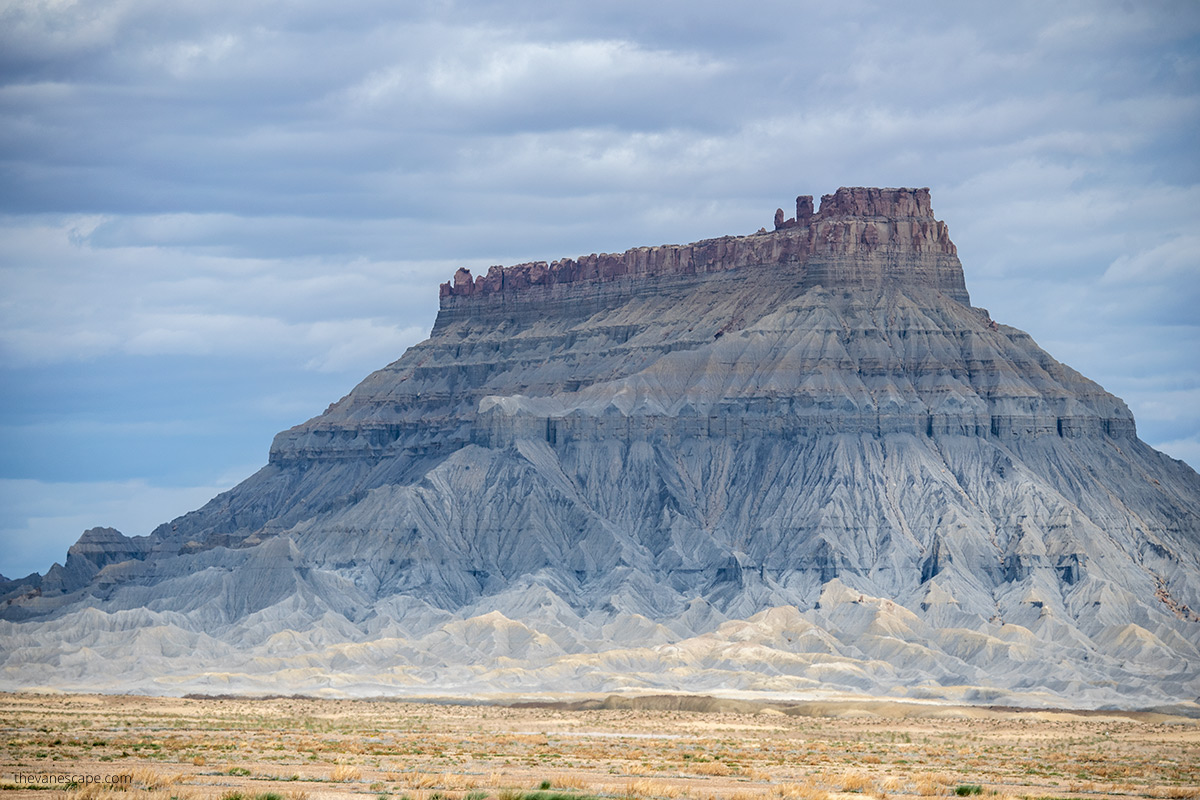 What is the geology of the Factory Butte?
Factory Butte's geology is a complex interplay of rock types, erosion, weathering, and geological history. Its unique appearance is a testament to the dynamic forces of nature that have shaped this iconic landmark in Utah. The combination of Mancos Shale and Emery sandstone, along with the erosive forces, has created a visually stunning and geologically significant feature that continues to attract visitors and researchers alike. Here's an overview of the geology of Factory Butte:
Formation and Rock Types
Mancos Shale: Factory Butte sits on a wide flat badlands plateau of Mancos Shale. This shale layer gives Factory Butte its unique appearance with ripples of greys, purples, oranges, and gold.
Emery Sandstone: Resistant Emery sandstone forms the top of Factory Butte, giving it its distinctive flat-topped appearance.
Erosion and Weathering
The intricate shapes and textures of Factory Butte result from erosion and weathering processes. Wind, water, and temperature fluctuations have carved the butte over time, creating its distinctive features.
Surrounding Landscape
Barren badlands, canyons, and valleys characterize the area around Factory Butte. The otherworldly appearance of the landscape results from the same geological processes that shaped Factory Butte itself.
Fossil Record
The rock layers in the region may contain fossils and provide insights into the ancient environments and organisms that once inhabited the area.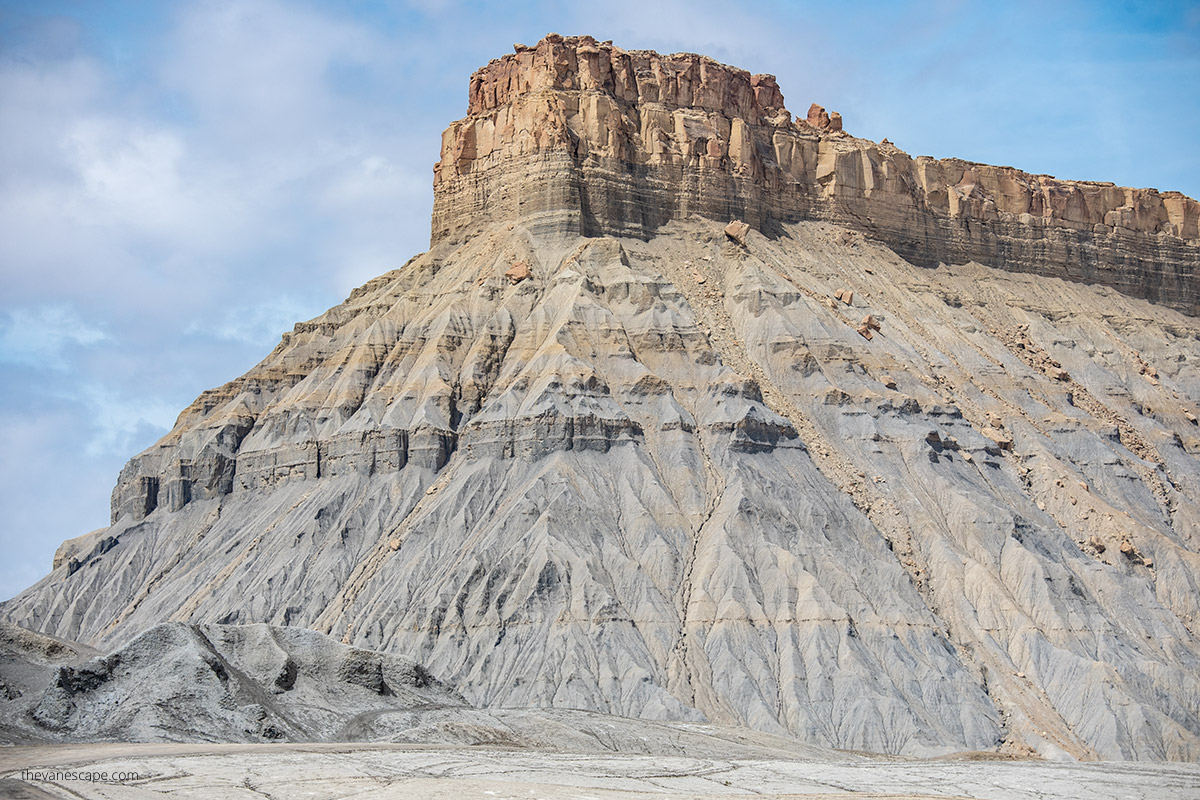 When is the Best Time to Visit Factory Butte?
Factory Butte is a year-round destination, but certain times of the year and specific moments of the day can enhance your experience.
Spring (March to May)
Average High: 60-70°F
Average Low: 35-45°F
Spring is a delightful time to visit, with mild temperatures and the potential bloom of wildflowers. April and May are enjoyable. The last time we were in this place was in the first days of May, and the weather was perfect.
Summer (June to August)
Average High: 85-95°F
Average Low: 55-65°F
Summer can be hot, especially in July. Early mornings or late afternoons are best for avoiding the heat.
Fall (September to November)
Average High: 65-75°F
Average Low: 40-50°F
Fall offers cooler temperatures and clear skies, with September ideal for outdoor activities.
Winter (December to February)
Average High: 40-50°F
Average Low: 20-30°F
Winter provides unique views, but accessibility may be limited due to snow or icy conditions.
Wettest Months
The most rainfall typically occurs in October and March. While rain can bring freshness to the landscape, it may also affect road conditions.
Sunrise and Sunset Considerations
Sunrise and sunset provide magical lighting for photography. The soft morning light and the golden hues of sunset are particularly striking.
Crowds and Accessibility
Factory Butte is less crowded than other destinations, but weekdays and off-peak seasons can offer a more tranquil experience.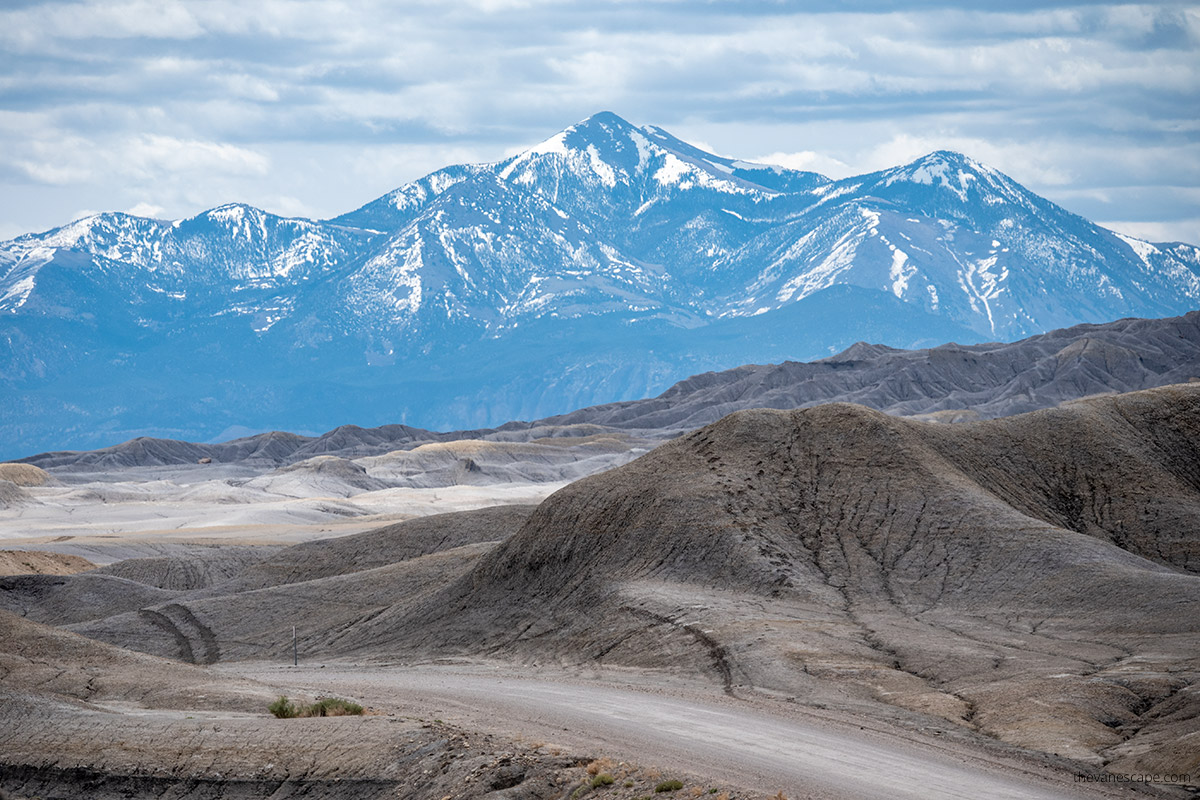 Photography Tips for Factory Butte
Factory Butte offers endless opportunities for photographers to capture its unique beauty. Whether you're a professional photographer or a hobbyist, these tips will guide you to capture the perfect shot, including with a drone, a practice allowed in this area.
Choosing the Right Equipment
Camera: A DSLR or mirrorless camera with manual settings will provide the most control.
Lenses: Various lenses, including wide-angle and telephoto, can offer different perspectives. A minimum focal length of 200mm is recommended for detailed shots.
Tripod: A sturdy tripod can help with long exposures and stability, especially during sunrise and sunset.
Compositions and Perspectives
Angles: Experiment with different angles and heights to find unique compositions.
Foreground Interest: Including elements in the foreground can add depth to your images.
Panoramas: Factory Butte's expansive landscape lends itself to panoramic shots.
Capturing the Perfect Light
Sunrise and Sunset: These golden hours provide soft, warm lighting.
Weather Conditions: Clouds and storms can add drama and contrast to your images.
Drone Photography
Regulations: Drone photography is not prohibited in BLM areas, but you must always adhere to local regulations and guidelines. However, the Federal Aviation Administration has authority over all airspace, so always check their website and maps before using your drone. We used this ultralight mini drone by DJI, which is perfect for travelers. Here is our review.
Safety: Be mindful of other visitors and wildlife when flying a drone.
Creative Opportunities: Drones offer unique aerial perspectives and can capture Factory Butte's grandeur from angles not accessible on foot.
Battery Considerations: Cold weather and high winds can affect battery life, so plan accordingly. But DJI mini 3 Pro is great as it has a 34-min extended flight time.
DJI Mini 3 Pro Camera Drone Quadcopter with RC Smart Remote Controller, 4K/60fps Video, 48MP, Tri-Directional Obstacle Sensing, DJI Care Refresh 1YR Plan Bundle with Deco Gear Backpack + Accessories
DJI USA Authorized - Includes FULL USA 1 Year DJI Warranty + DJI Care Refresh 1-Year Plan for DJI Mini 3 Pro Drone | Care-free Creation - Lightweight and Foldable Camera Drone with 4K/60fps Video, 48MP Photo, 34-min Flight Time, Tri-Directional Obstacle Sensing, Ideal for Aerial Photography and Social Media. Weighing less than 249g, Mini 3 Pro doesnt require registration in most countries and regions. The foldable and compact design also makes it easy to carry on any adventure.

Seriously Pro Shots - Capture your world in remarkable detail with 4K/60fps video and 48MP photos.

Sweet Air Time - 34-min extended flight time | Fly with Confidence - DJI Mini 3 Pro features tri-directional obstacle sensing and APAS 4.0, bringing unrivaled safety.
Best Places to Photograph Factory Butte
Here are some of the best places to photograph Factory Butte:
Factory Butte Road: This accessible road offers several pull-offs and viewpoints, allowing you to capture Factory Butte from various angles. Sunrise and sunset provide particularly stunning lighting.
North Caineville Mesa: Hiking to the top of North Caineville Mesa provides an elevated perspective of Factory Butte, showcasing its grandeur against the backdrop of the surrounding landscape.
Swing Arm City: also offers unique viewpoints. The juxtaposition of the trails and the butte can create dynamic compositions.
Coal Mine Road: A drive along Coal Mine Road offers opportunities to photograph Factory Butte with the Henry Mountains in the background, adding depth and context to your images.
Aerial Perspective (Drone Photography): If you have a drone (and adhere to regulations), capturing Factory Butte from the air provides unparalleled perspectives and creative possibilities.
Nearby Canyons and Mesas: Exploring the surrounding canyons and mesas may reveal hidden viewpoints and compositions, allowing for more intimate and unique portrayals of Factory Butte.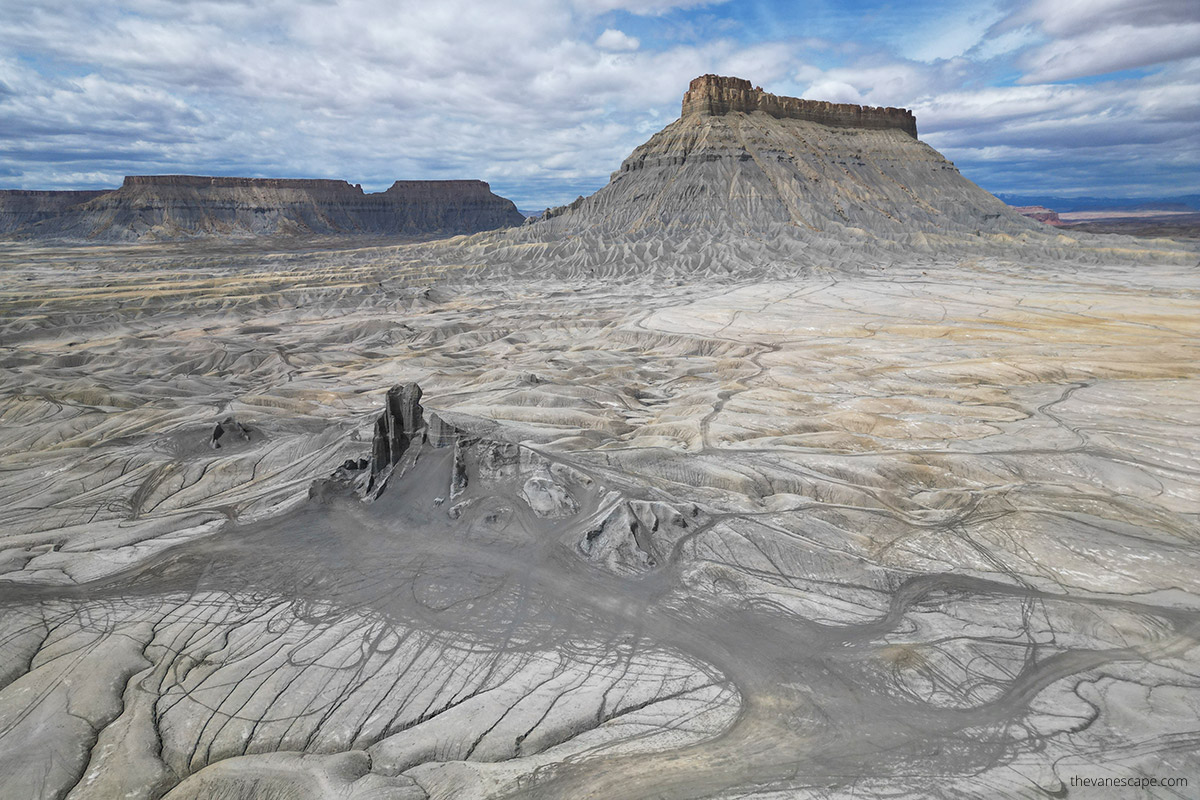 OHV Adventures
The area's unique terrain offers exciting opportunities for Off-Highway Vehicle (OHV) activities, including guided tours.
OHV Riding
Swing Arm City is renowned as one of the best OHV areas in Utah. Its intricate network of trails, hills, and jumps provides challenges and thrills for riders of all skill levels.
Regulations: OHV riding is permitted in designated areas. Always follow local regulations, including safety guidelines, vehicle registration, and trail etiquette.
Equipment: Whether you're riding an ATV, dirt bike, or other OHVs, proper safety equipment, including helmets and protective clothing, is essential.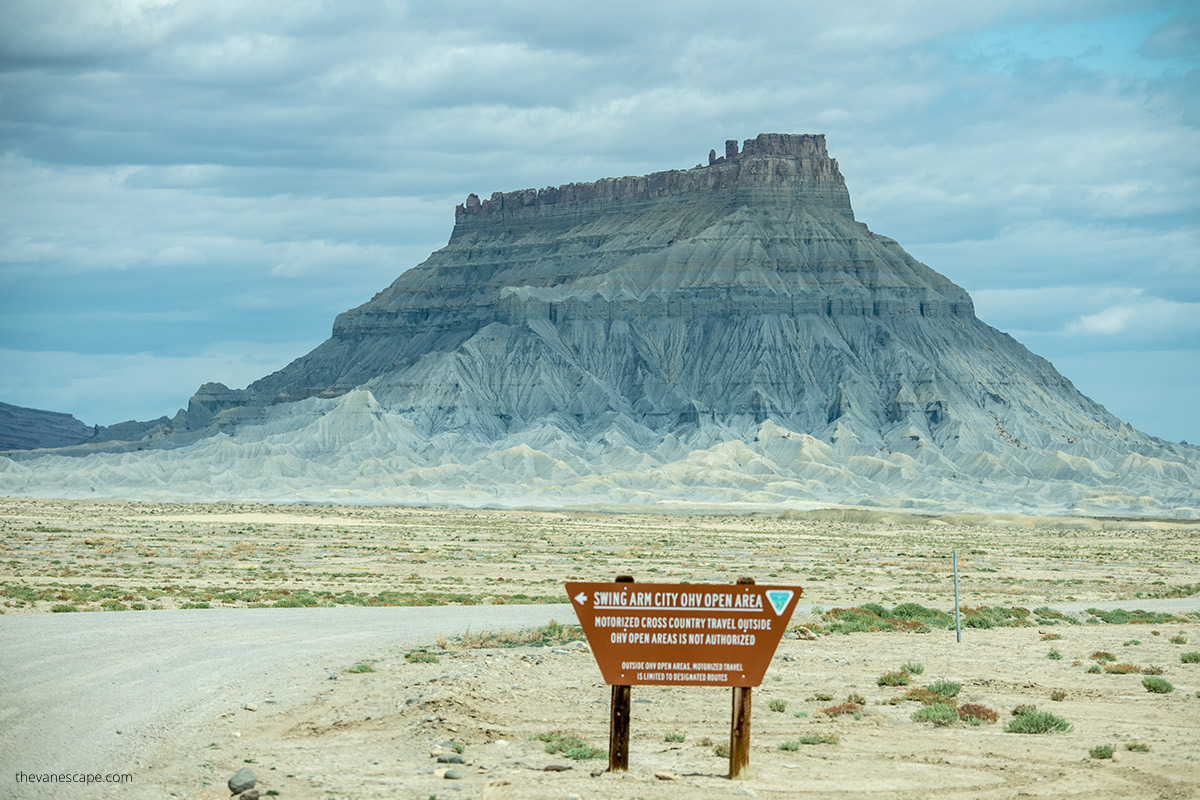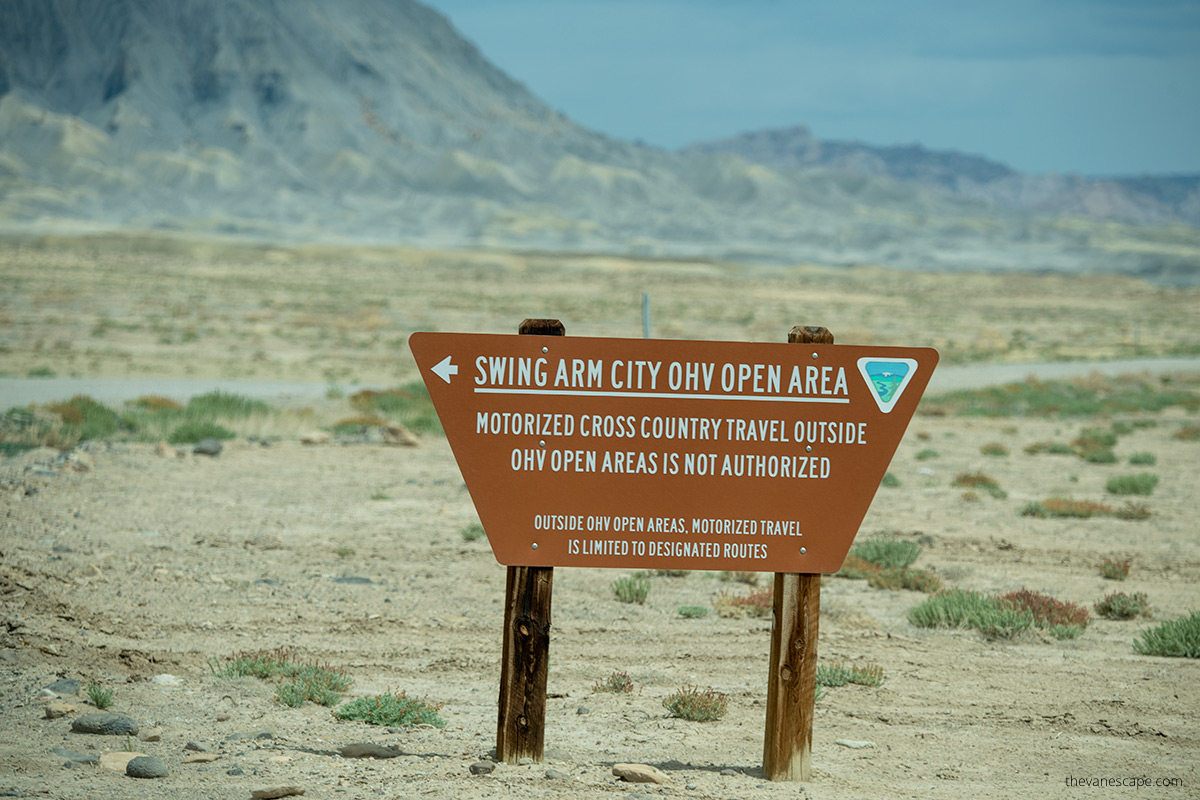 Guided Tours
Professional Guidance: Several local companies offer guided OHV tours, providing expert guidance, equipment, and an insider's perspective on the best trails and viewpoints.
Customized Experiences: You can customize tours to suit your interests and skill level, ensuring an enjoyable and safe adventure.
Or consider a package tour of the hard-to-reach Capitol Reel area, like this Moonscape, Factory Butte, and Capitol Reef Park Tour.
Can You Climb Factory Butte?
Yes, Factory Butte can be climbed, but it's important to note that it's a challenging and steep ascent suitable only for experienced rock climbers. The slopes of Factory Butte are incredibly steep, and the terrain can be treacherous. You can read about climbing experiences on Factory Butte by John Fleming, a former interpretive park ranger at Capitol Reef National Park.
The top of Factory Butte is formed of resistant sandstone, resulting in sheer vertical cliffs. Climbers have successfully ascended Factory Butte, but it requires careful planning, proper equipment, and awareness of the unique challenges posed by the geological composition of the butte.
If you're considering climbing Factory Butte, it's advisable to consult with local climbing guides or experienced climbers familiar with the area. Understanding the specific conditions, potential routes, and safety considerations is essential for a successful and safe climb.
Camping and Facilities at BLM Lands
Dispersed Camping: The Factory Butte Recreation Area offers dispersed camping sites, allowing you to immerse yourself in the region's natural beauty. Check out the BLM regulations.
Safety Considerations for Factory Butte
Exploring Factory Butte and the surrounding recreation area is an exciting and rewarding experience, but safety should always be a priority. Here are some essential safety considerations to keep in mind:
Weather Awareness
Heat: Summer temperatures can be extreme. Stay hydrated, wear sunscreen, and avoid strenuous activities during peak heat. Check out our detailed Day Hiking Packing List.
Cold: Winter can bring freezing temperatures. Dress warmly and be prepared for potential snow or ice.
Storms: Sudden storms can occur. Monitor weather forecasts and be prepared to seek shelter if necessary.
OHV Safety
Equipment: Ensure that all OHVs are in good working condition and that you have the necessary safety gear, including helmets.
Training: If you're new to OHV riding, consider taking a safety course or joining a guided tour.
Trails: Stay on designated trails and follow all posted regulations and guidelines.
Our Tip: If you love OHVs, consider visiting Coral Pink Sand Dunes State Park and Peekaboo Canyon, as they are perfect for OHVs enthusiasts. They are located in the Kanab area, which is a paradise for outdoor and OHV enthusiasts.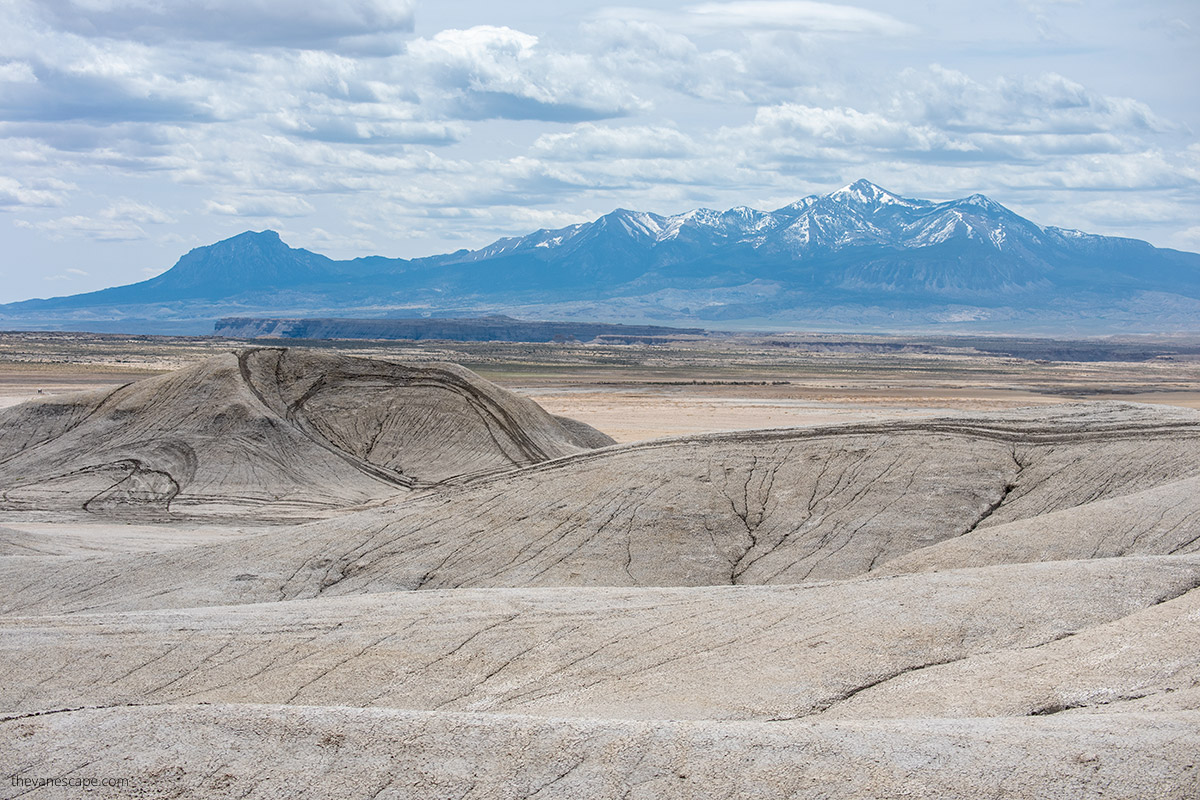 Hiking and Exploration
Terrain: The terrain can be rugged and uneven. Wear appropriate footwear. When wet, this area is very muddy and slippery; it's like walking on clay.
Wildlife: Be aware of wildlife and keep a safe distance. Do not feed or disturb animals.
Navigation: Carry a good Utah map, compass, or GPS watch, especially if venturing off marked trails.
Drone Usage
Regulations: Follow all regulations for drone usage, including height restrictions and no-fly zones.
Courtesy: Be mindful of other visitors when flying a drone.
Camping and Fires
Regulations: Follow all regulations related to camping and fires, including fire bans or restrictions.
Leave No Trace: Practice Leave No Trace principles to minimize environmental impact. Pack all your rubbish.
Emergency Preparedness
First Aid: Carry a basic first aid kit and know how to use it.
Local Authorities: Know the contact information for local authorities, including park rangers or emergency services.
Where to stay while exploring Factory Butte?
You will find Torrey's most exciting accommodation options if you prefer a hotel over a campground. You will find Torrey's most exciting accommodation options if you prefer a hotel over a campground. Torrey is 43 miles from Factory Butte via scenic UT-24 W. It's closer to Capitol Reef National Park, so combining those places during one trip is a perfect idea. Consider Capitol Reef Resort, or The Rim Rock Inn. Below you can check the best deals.
Factory Butte – Final Thoughts
Exploring Factory Butte is an unforgettable experience, filled with opportunities for adventure, creativity, and connection with nature. By prioritizing safety and adhering to guidelines, you can fully immerse yourself in all that this remarkable destination has to offer.
Whether you're conquering the trails on an OHV, capturing the perfect photograph, or simply soaking in the breathtaking views, Factory Butte invites you to explore responsibly. Remember, the land's beauty is a shared treasure, and your mindful approach ensures that future generations can enjoy it too. Happy exploring!