How to Plan a Trip to White Sands National Park?
Wondering when is the best time to visit White Sands National Park, how to get there, or where to stay? Dive into our comprehensive guide, rooted in personal experience, for planning your perfect trip to White Sands, New Mexico. With the world's largest gypsum dune field, this park is a living testament to the awe-inspiring power of natural forces. Whether you're a nature enthusiast, a photography lover, or someone simply looking for a unique getaway, White Sands has something for everyone. So check out our tips on how to visit this park.
This article may contain affiliate / compensated links. For full information, please see our disclaimer here.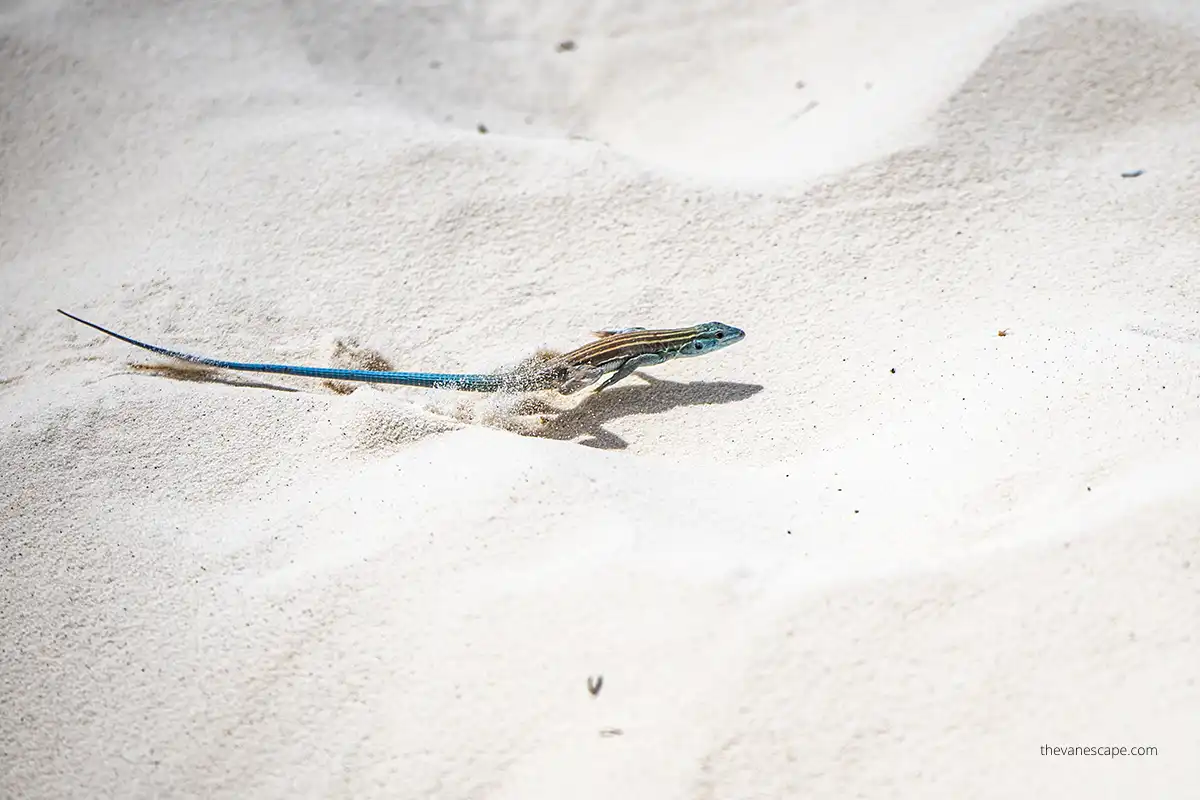 Introduction: Why White Sands National Park Is a Must-Visit?
Welcome to your go-to guide for planning an unforgettable White Sands National Park trip! Nestled in the heart of New Mexico, this unique destination offers a surreal landscape unlike any other. Imagine walking on powdery, snow-white dunes as far as the eye can see, all while basking in the warm glow of the desert sun. Sounds like a dream, right? Well, it's time to turn that dream into reality.
We were utterly captivated by White Sands National Park. The brilliance of the gypsum sand is so intense that it's essential to wear sunglasses to protect your eyes. While we've explored other Southwest dune landscapes, like the towering hills at Great Sand Dunes National Park in Colorado and the Coral Pink Sand Dunes near Kanab, or a stunning Great Chamber, White Sands offers a completely unique experience. Its gypsum dunes are unlike any other sand formations we've encountered.
So, make sure to add this park to your New Mexico itinerary. And let's start reading our tips on how to plan a trip there.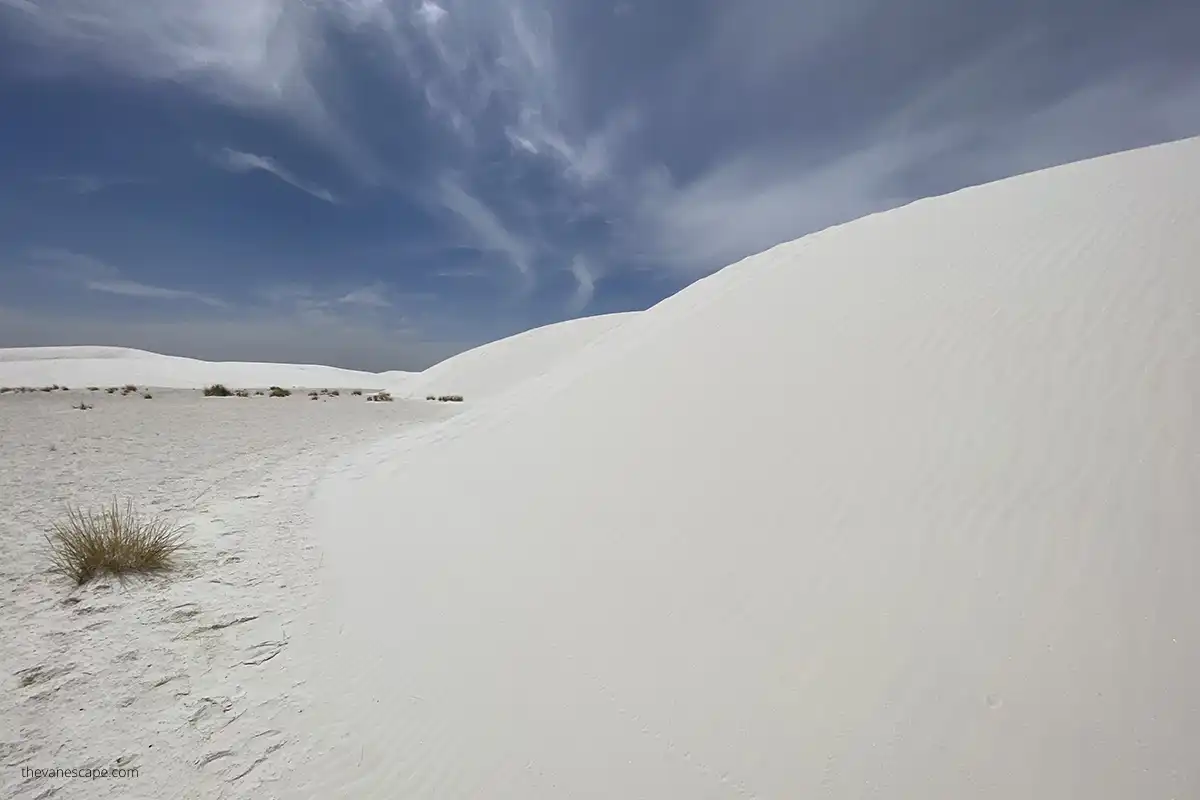 What's Inside This Guide?
We've crafted this comprehensive guide to answer all your questions and help you plan your trip down to the last detail. From the best time to visit and how to get there, from camping tips and nearby hotels to photography spots and a to-do list, we've got you covered. We created it based on our experiences visiting this park because. New Mexico is one of our favorite states; we visit it often.
If you're fascinated by the park's rich history and unique geology, don't miss our in-depth article: White Sands National Park Facts. Looking to make the most of your time in the park? Our curated list of the 15 Best Things to Do in White Sands has got you covered. Moreover, our comprehensive New Mexico Packing List is also a must-read, featuring essential tips specifically for desert regions.
So, let's dive in and start planning your dream trip to White Sands National Park!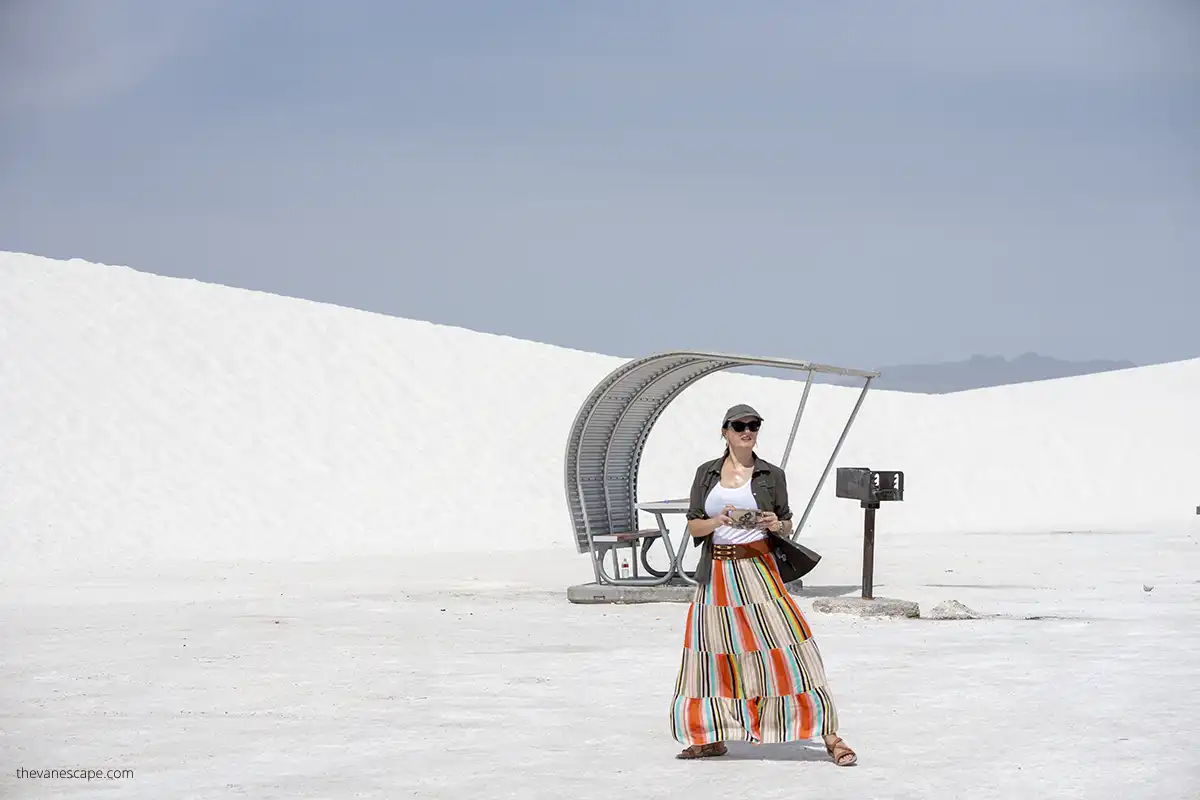 Is White Sands National Park Worth the Trip?
You might be wondering, "Is White Sands National Park worth it?" The answer is a resounding yes! From the ethereal beauty of the dunes to the rich history that shaped this land, White Sands offers an experience that you won't find anywhere else. But don't just take our word for it; read on to discover why this park should be at the top of your travel bucket list.
A Landscape Like No Other
The first thing that strikes you about White Sands is its otherworldly beauty. The vast sea of white gypsum dunes is a sight to behold, offering endless opportunities for stunning photography. Whether you're an amateur with a smartphone or a pro with a DSLR, you'll leave with some Instagram-worthy shots.
Family-Friendly Fun
Traveling with family? White Sands is a hit with kids and adults alike. The soft dunes are a natural playground, and the Junior Ranger Program offers the little ones a fun and educational experience.
Adventure Awaits
For the thrill-seekers among us, White Sands offers a variety of activities that are as unique as the landscape itself. From sledding down the dunes to backcountry camping under the stars, the park provides a one-of-a-kind outdoor experience. And let's not forget the hiking trails that take you through the heart of this mesmerizing dune field.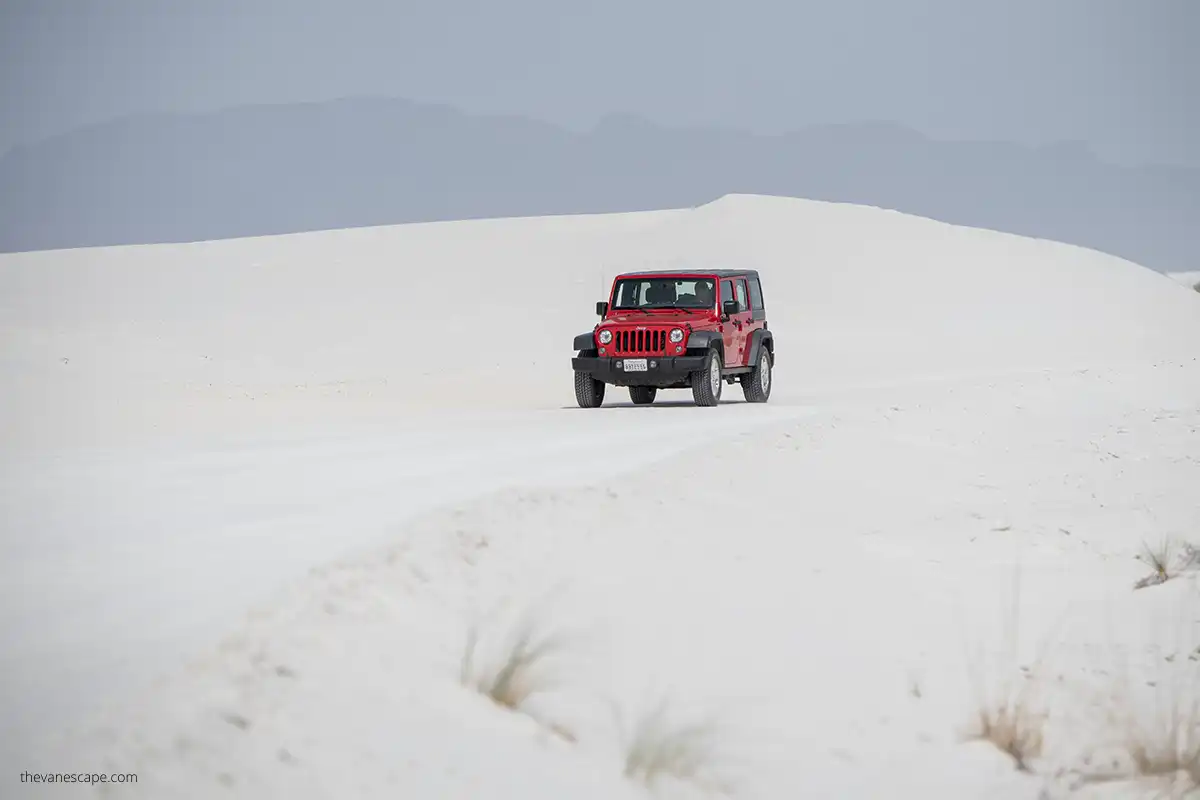 What is the Best Time to Visit White Sands National Park?
Choosing the right time to visit White Sands National Park can make all the difference in your experience. From avoiding the scorching heat of summer to catching the park's natural phenomena, timing is key. So, let's break it down month by month.
We visited White Sands National Park at the end of April, and it was a perfect trip. The weather in Spring was ideal, with average daytime temperatures around 75°F, making it comfortable for all the outdoor activities we wanted to do. The park was also less crowded, allowing us to immerse ourselves in its natural beauty fully.
The Cooler Months: October to April
If you do not like extreme heat, consider visiting between October and April. The temperatures are milder, ranging from 50°F to 70°F during the day. Nights can be chilly, so pack accordingly.
October to November: Fall offers pleasant weather and fewer crowds. It's an excellent time for photography, thanks to the softer light and clear skies.
December to February: Winter is quiet and peaceful. While daytime temperatures are moderate, nights can get cold, dropping to around 30°F. You might even catch a rare snowfall on the dunes if you're lucky!
March to April: Spring starts to warm up, but outdoor activities are still comfortable. This is also when the park's flora starts to bloom, adding a splash of color to the white landscape.
The Warmer Months: May to September
Summer in White Sands can be hot, with daytime temperatures often exceeding 90°F. However, the dry climate makes the heat more bearable than you might expect.
May to June: Early summer is hot but manageable. Just be sure to carry plenty of water and sunscreen. The heat also means fewer crowds, giving you more space to explore.
July to September: These are the hottest and busiest months. However, summer evenings offer a unique experience with ranger-led "Full Moon Nights" programs, where you can explore the dunes under the moonlight.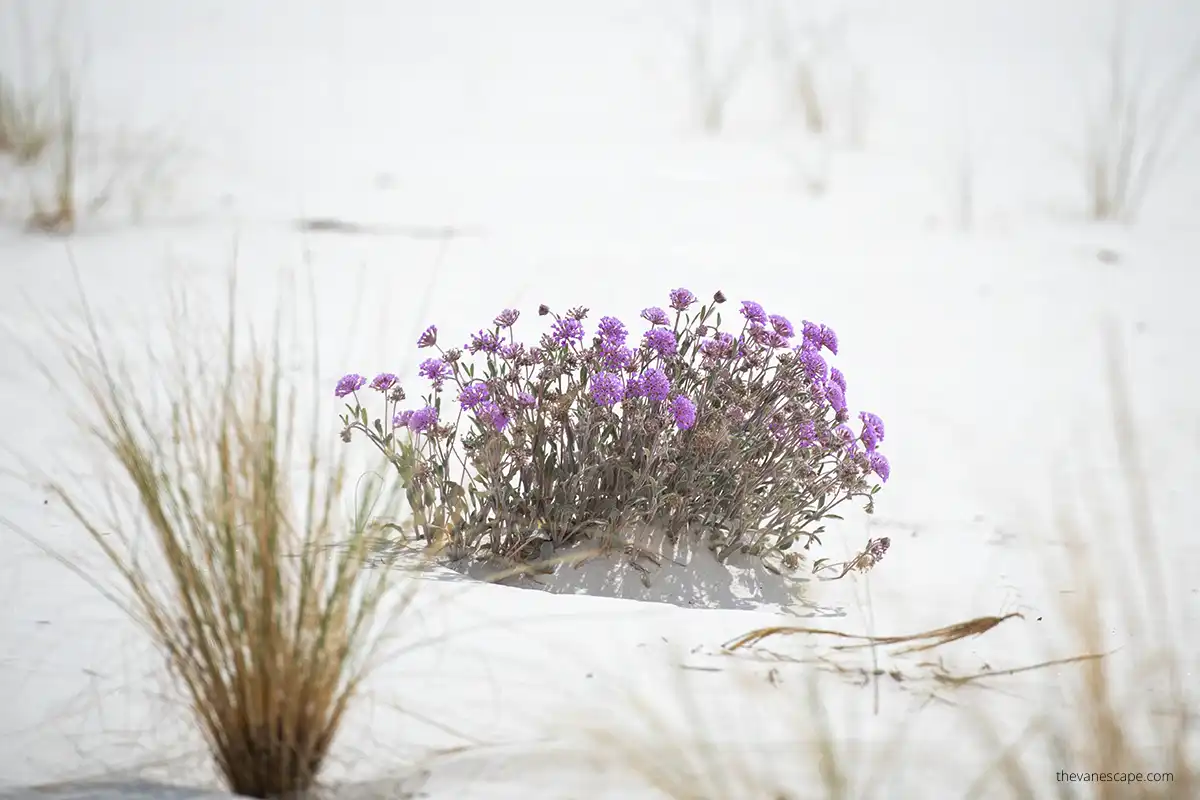 Morning Visits
Mornings in White Sands are serene and offer a unique experience. The temperatures are cooler, and the soft morning light provides excellent photography opportunities. It's also a great time to take a hike before the day heats up.
Sunset Time
Sunset is another magical time to visit the White Sands National Park. The sky turns into a palette of colors, casting a golden glow over the white dunes. It's a moment you won't want to miss and offers yet another opportunity for stunning photography. However, the park is closed for the night, so ensure you will be on time next to the park gate.
Special Events
White Sands Balloon Invitational: Usually held in September, this event fills the sky with colorful hot air balloons—a photographer's dream.
Full Moon Nights: Offered during the summer months, these ranger-led programs let you experience the park in a whole new light.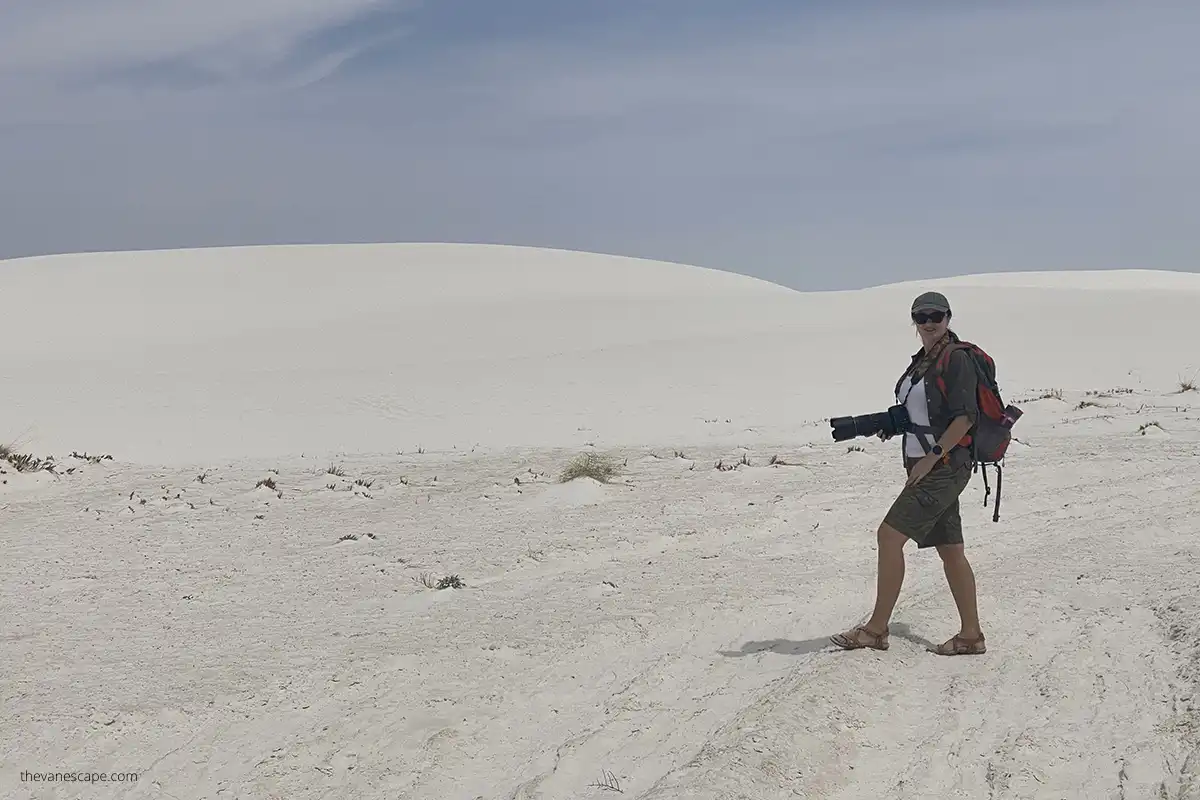 Getting There: How to Reach White Sands National Park?
Getting to White Sands National Park is easier than you might think. Whether you're flying in or hitting the open road, we've got you covered with all the essential details.
The closest city that is located approximately 15-20 miles from the park entrance is Alamogordo.
By Air: Nearest Airports
El Paso International Airport (ELP): Located about 85 miles south of the park, El Paso is the closest major airport. The drive to the park takes approximately 1.5 hours.
Albuquerque International Sunport (ABQ): Another option from the north, approximately 223 miles away, with a driving time of about 4 hours.
Phoenix Sky Harbor International Airport (PHX): About 390 miles away, a drive from Phoenix would take around 6 hours. The last time we took this route, we also visited Saguaro National Park along the way, making it a two-for-one adventure.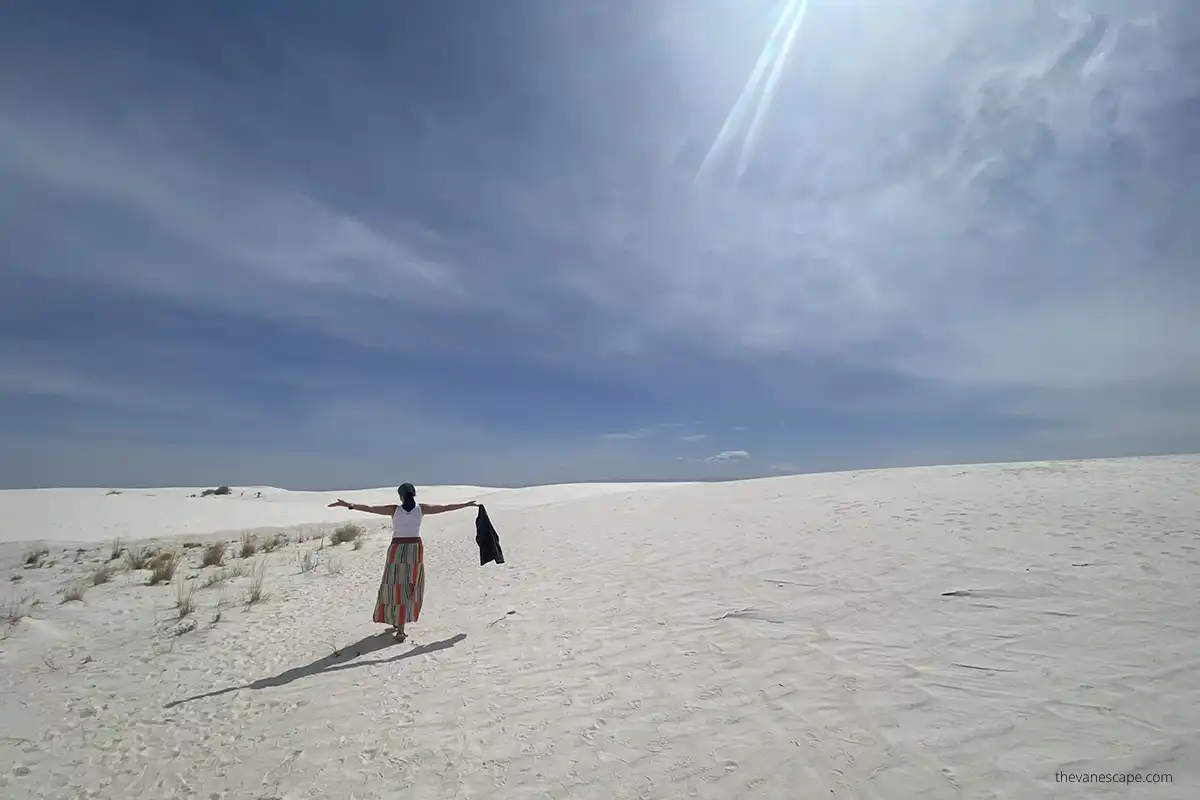 By Road: Driving Directions
From El Paso: Approximately 85 miles, 1.5 hours. Take US-54 N and then merge onto US-70 E. Follow the signs to the park entrance.
From Albuquerque: Approximately 223 miles, 4 hours. Take I-25 S to Las Cruces, then switch to US-70 W toward Alamogordo. The park entrance is well-marked.
From Santa Fe: Approximately 285 miles, 4.5 hours. Take I-25 S to Las Cruces, then switch to US-70 W toward Alamogordo.
From Tucson: Approximately 320 miles, 5 hours. Take I-10 E to Las Cruces, then switch to US-70 W toward Alamogordo.
From Carlsbad Caverns National Park: Approx 190 miles, 3.5 hours. Take US Hwy 285 N and US-82 W. It's great to combine those two national parks in one trip, as New Mexico has two national parks, and both are spectacular. We highly recommend visiting Carlsbad Caverns as well.
If you are driving from the north of New Mexico, like from Shiprock or Farmington, it is more than 6 hours of driving and approximately 400 miles via Albuquerque.
Public Transport: Limited
Public transport options are limited, but some local shuttle services offer trips to the park from nearby cities like El Paso and Las Cruces. It's best to book in advance. However, keep in mind that most of the buses run to the nearest city of Alamogordo. You can check Greyhound services. Check out the website of the New Mexico Department of Transportation to find other shuttle possibilities.
Parking Facilities
Once you arrive, you'll find ample parking near the visitor center and various trailheads. During peak seasons, arriving early is advisable to secure a spot. However, the best way to explore this park is by using a car and stopping along the scenic way on trails and viewpoints.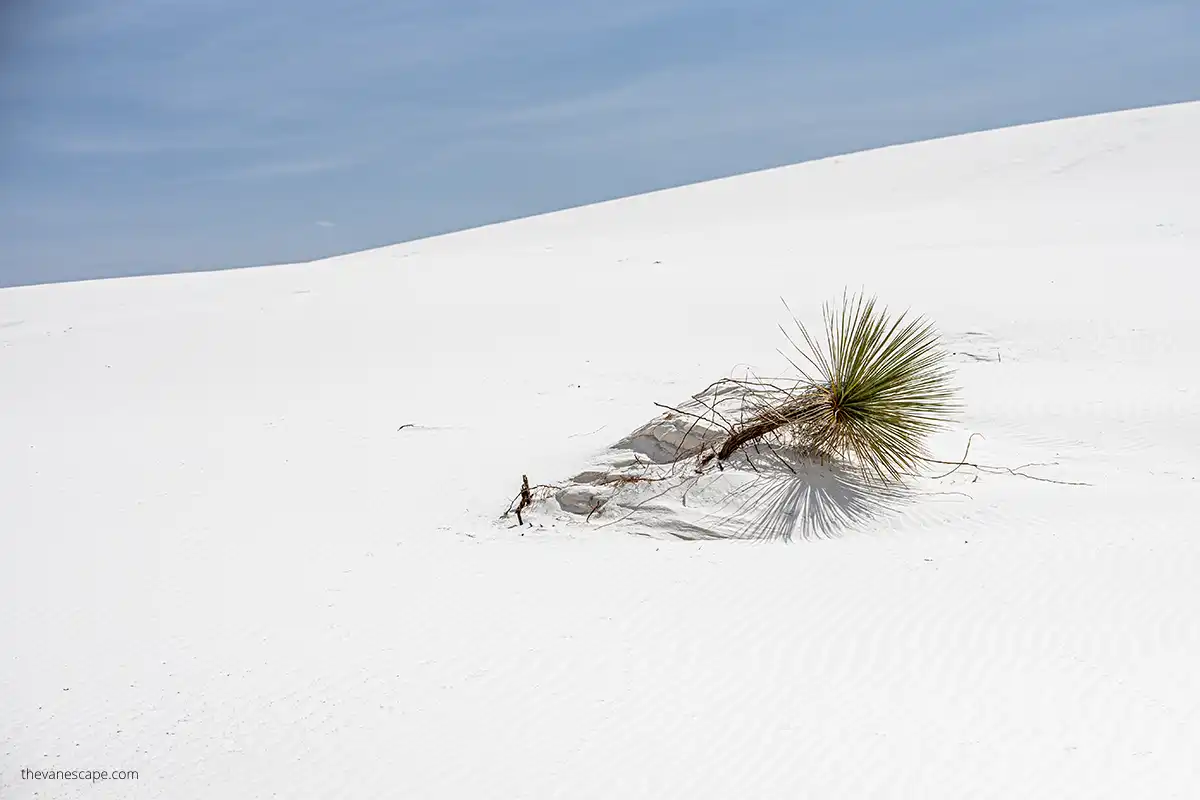 Is a 4WD Car Needed for Visiting White Sands National Park?
No, a 4WD car is not necessary for visiting White Sands National Park. The park's main road, Dunes Drive, is a well-maintained, paved road that is accessible to all types of vehicles, including sedans and RVs. The road takes you from the visitor center to several trailheads, scenic viewpoints, and picnic areas within the park. However, if you plan to explore areas outside the park that may have rough or unpaved roads, a 4WD could be beneficial. Always check current road conditions and park advisories before your visit.
On our last Southwest road trip, we rented a Jeep Wrangler 4×4 from Alamo, as our itinerary included some less-traveled and gravel roads and more remote areas. However, if your plans are focused solely on exploring White Sands National Park, a 4×4 vehicle isn't necessary.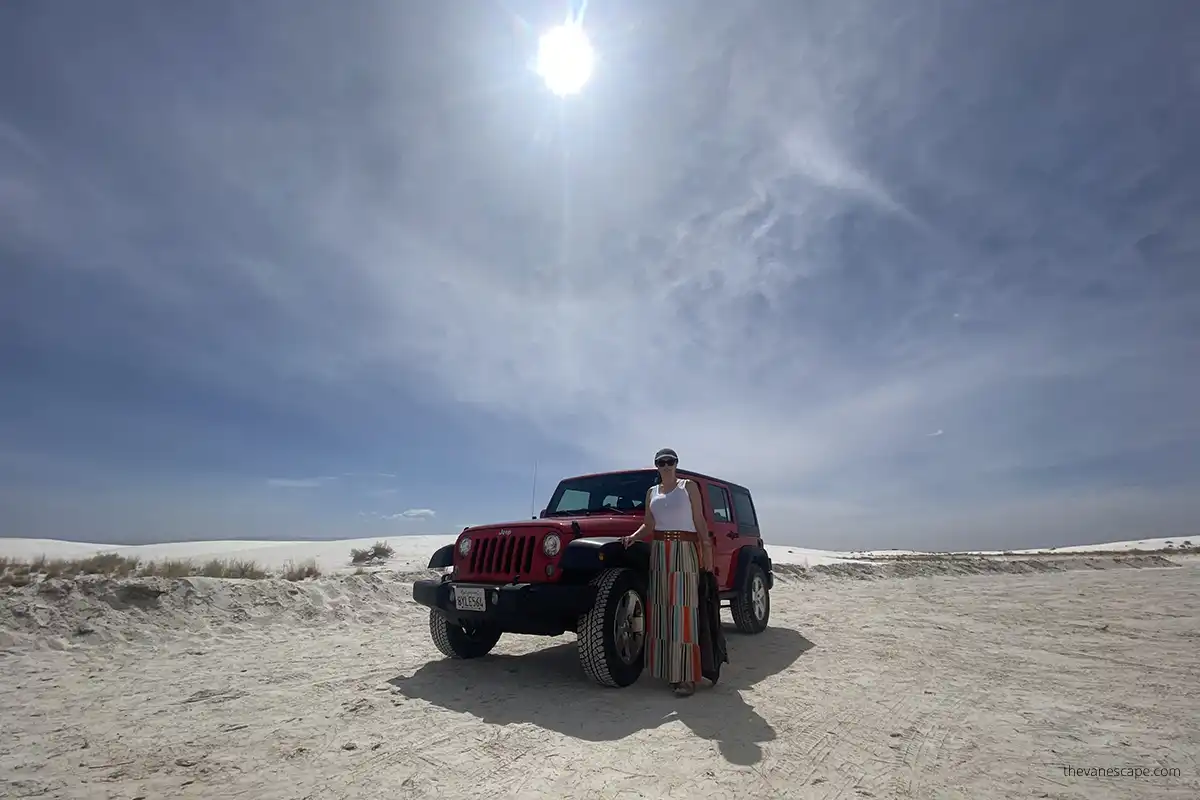 Where to Stay While Visiting White Sands National Park?
Figuring out where to stay can be one of the most challenging aspects of trip planning. But don't worry; whether you're a camper or a hotel lover, White Sands National Park has options to suit every traveler's needs. However, you need a car to get to your lodging.
White Sands National Park Camping
Backcountry Camping is currently unavailable as the sites are undergoing rehabilitation. A reopening date has yet to be announced. For the adventurous souls, White Sands offers 10 backcountry camping spots. These are first-come, first-served and are about a mile from the trailhead. Remember, there are no water or restroom facilities, so come prepared. Check the official website to see if camp's possible in the park again.
Nearby Hotels
Fairfield Inn & Suites by Marriott Alamogordo: Located about 15 miles from the park, this hotel offers free Wi-Fi, breakfast, and a fitness center. Approximate starting price: $100 per night.
Holiday Inn Express & Suites Alamogordo: Also about 15 miles away, amenities include an indoor pool, free Wi-Fi, and breakfast. Approximate starting price: $110 per night.
Days Inn by Wyndham Alamogordo: offers budget-friendly accommodations conveniently located just a short drive from White Sands National Park. With amenities like free Wi-Fi, complimentary breakfast, and an outdoor pool, it's a comfortable base for travelers looking to explore the area's natural wonders.
RV Parks
Boot Hill RV Resort: Located in Alamogordo, about 20 miles from the park. Offers full hookups and Wi-Fi. Approximate starting price: $47 per night.
Oliver Lee Memorial State Park: About 30 miles from White Sands, this state park offers RV spots with electric hookups. Approximate starting price: $10 per night.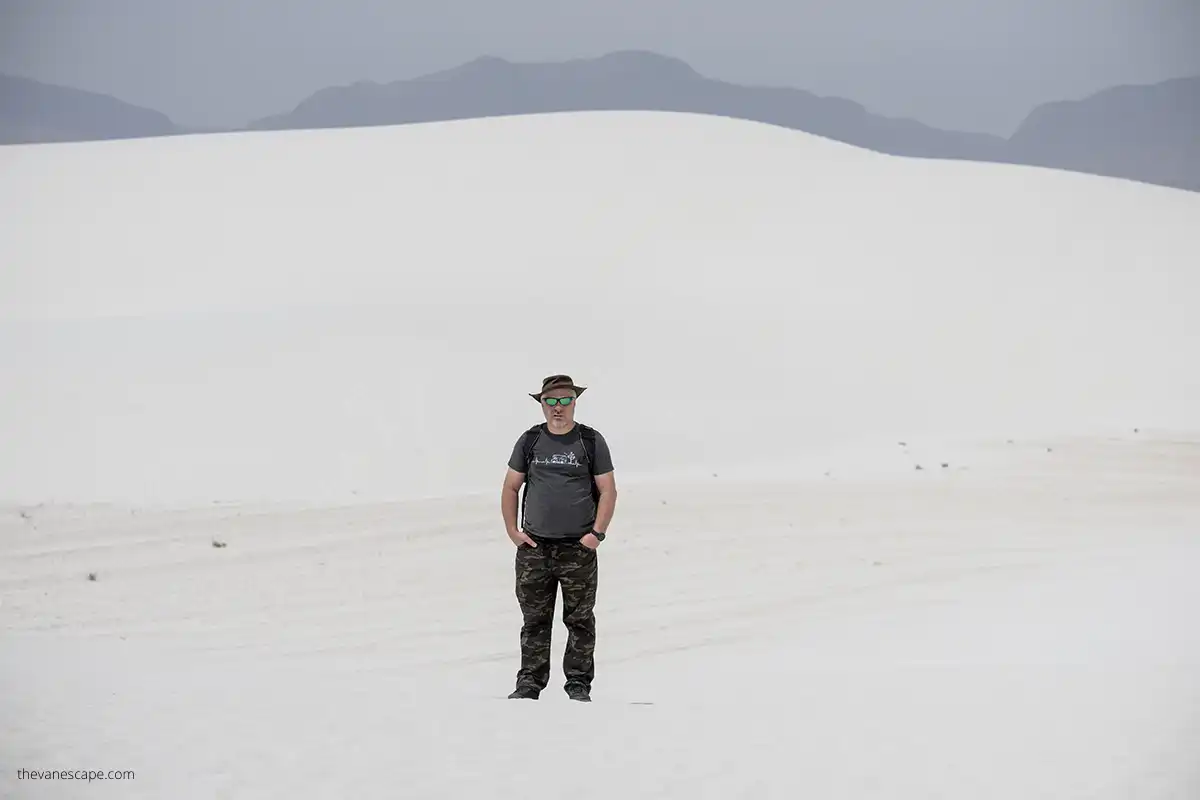 Planning Your Visit: Know Before You Go
Know the Entrance Fees
Per vehicle: $25
Per person (walking or cycling): $15
Motorcycle: $20
Annual Pass: $45
You can pay these fees upon arrival or purchase an annual pass online if you plan on multiple visits. Details are on the official website.
Check Hours of Operation
The park is generally open from 7 a.m. to 9 p.m., but these hours can vary seasonally. Always check the official website for the most current information.
Familiarize Yourself with Park Rules
No off-road driving
Pets must be leashed at all times. Note that not all trails may be pet-friendly.
No open fires.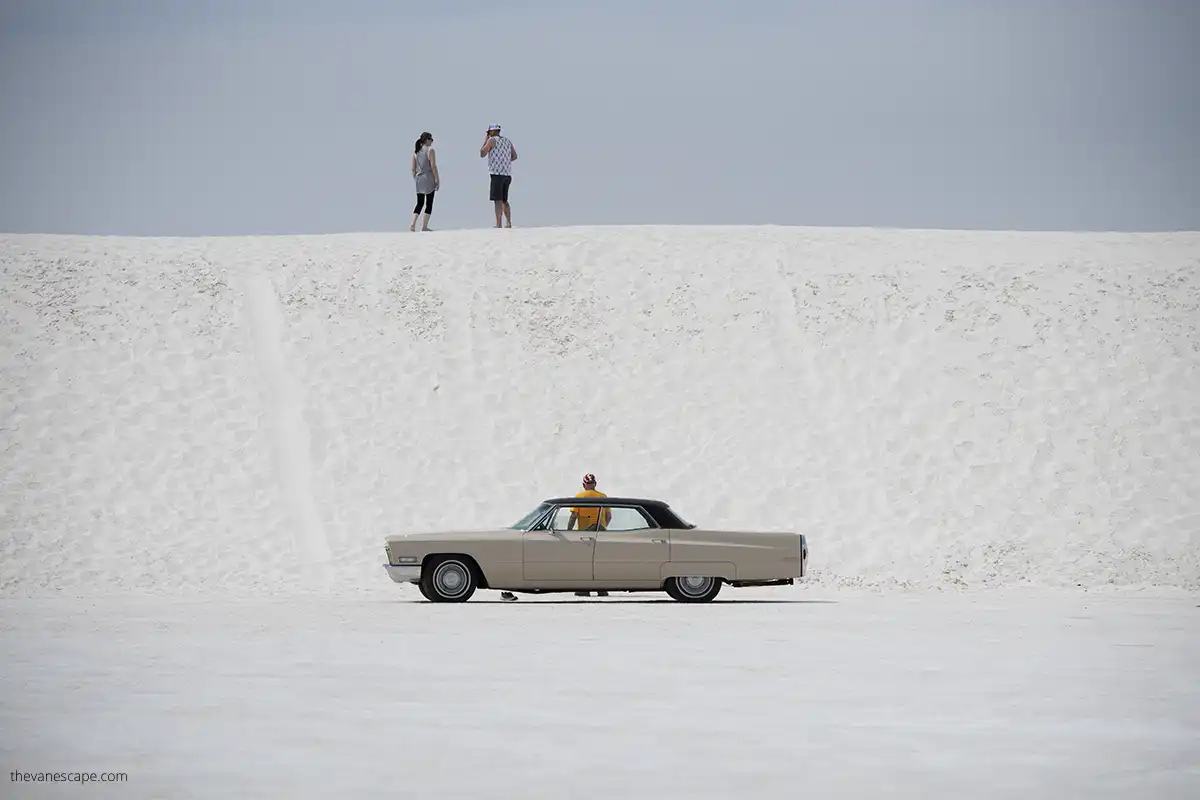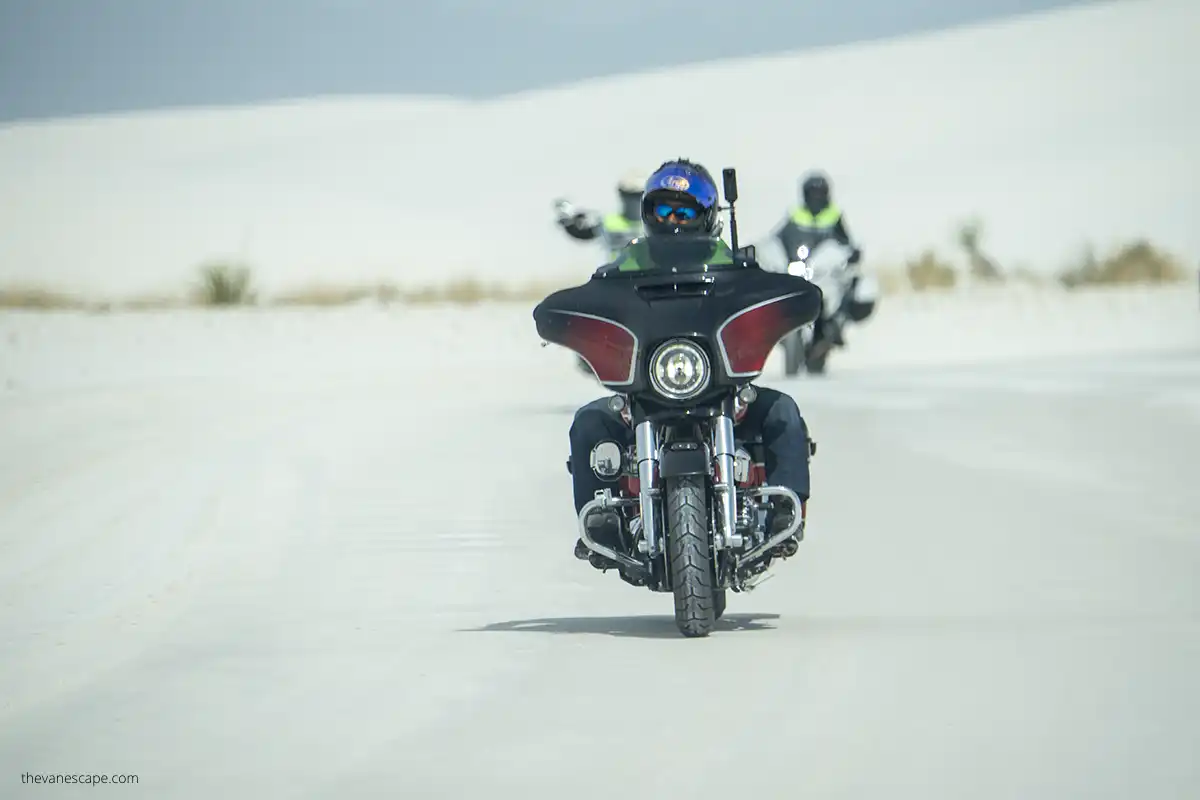 Be Aware of Cellular Service
Cellular service can be spotty. Download maps and important information ahead of time.
Check for Road Closures
Weather conditions can lead to road closures. Always check the park's website or social media channels for the latest updates.
Pack Accordingly
Pack essentials like sunscreen, water, and appropriate clothing. Make sure to cover your body with long sleeves and long pants. If you're camping, make sure you have all the necessary gear. There are no stores in the park; the nearest you will find in Alamogordo. So bring enough snacks and water for your trip. Drinking water is available in the Visitor Center. If you plan fun activities like sandboarding and sand sledding, don't forget your sand sleds or sandboards.
Agnes & Chris Advice: As we explored many deserted areas in New Mexico, including the challenging Ah-Shi-Sle-Pah Wilderness Study Area or Bisti Badlands, we know how the desert might be dangerous. Last time, we even had to escape from one trail before a sandstorm. So, we decided to prepare the New Mexico Packing List, including the section on what to wear and what to pack for exploring White Sands National Park. Make sure to check it before your trip.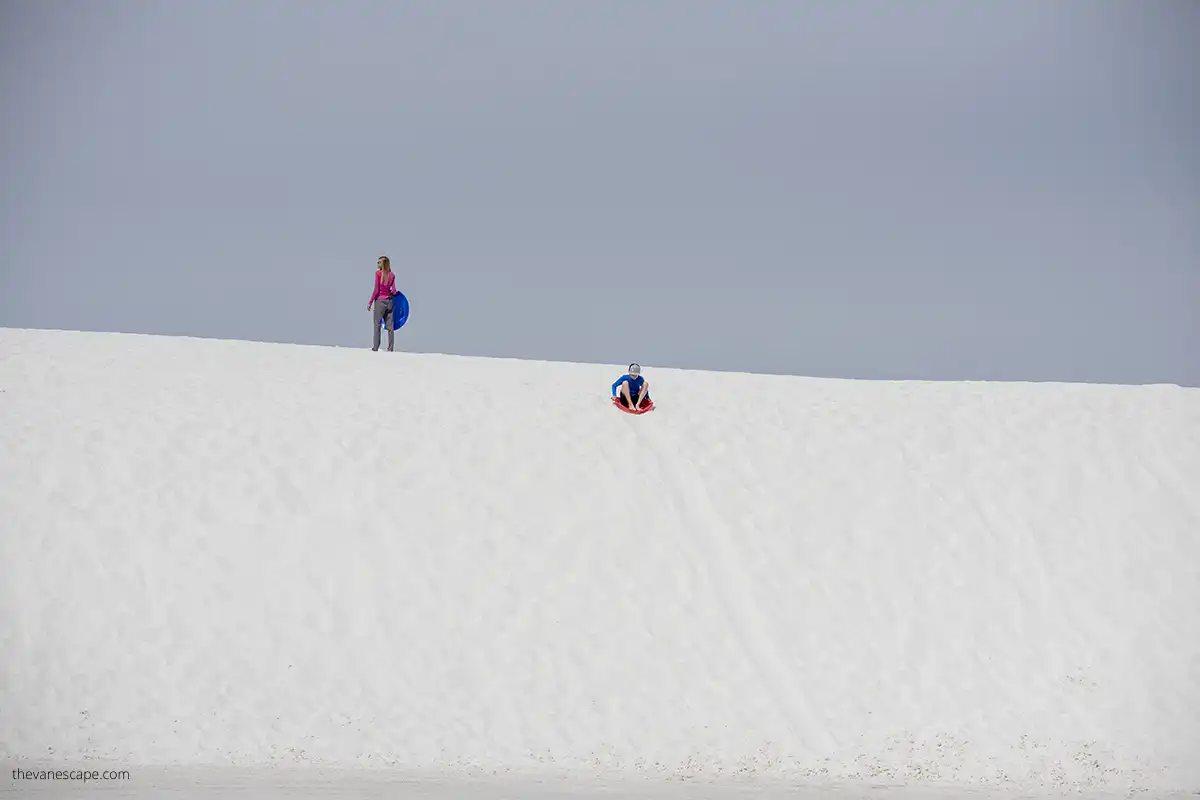 How To Visit White Sands National Park – Accessibility
White Sands National Park is a remarkably accessible destination, making it an ideal choice for individuals with mobility issues as well as families with children. However, it's essential to be prepared for the desert heat and take necessary precautions to protect yourself from the elements.
Visitor Center and Parking
The White Sands Visitor Center is the ideal starting point for your journey. It's fully accessible, with two parking lots featuring designated accessible parking spaces marked with the international access symbol. Ramps are also available next to the restrooms for easy access.
Restrooms
Accessible restrooms are available in a standalone building near the main visitor center. Each restroom has one accessible stall. Note that there are no restrooms inside the main visitor center itself.
Getting Around the Visitor Center
The visitor center is designed for easy navigation, with walkways exceeding 36 inches in width and proper turnaround radius at cash registers. A courtyard with accessible ramps connects the visitor center and the trading post.
Accessible Trail
The Interdune Boardwalk is the only accessible trail in the park. This 0.5-mile round-trip trail features a boardwalk with interpretive waysides, benches, and a covered pavilion. However, blowing sand can sometimes make the trail impassable for wheelchairs.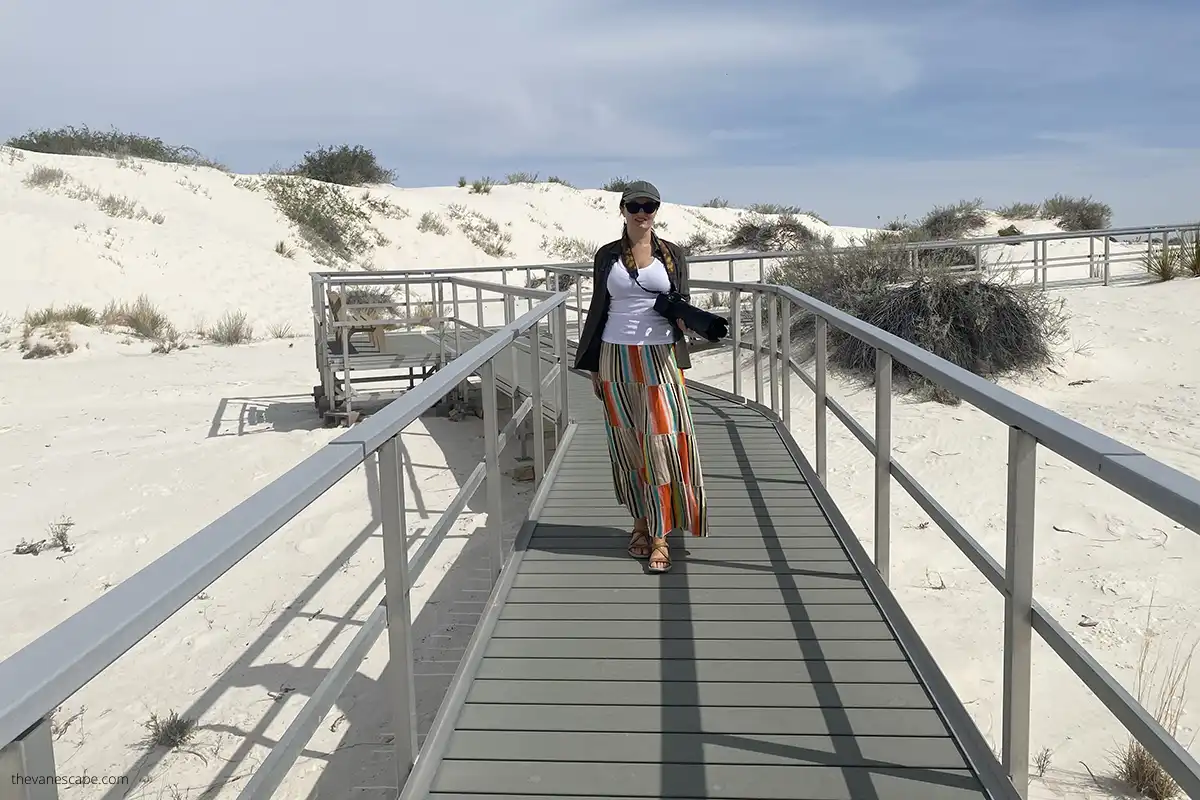 Ranger Programs
White Sands offers accessible ranger programs, including Patio Talk and Solar Viewing programs, held in the accessible courtyard at the visitor center. The Solar Viewing program even features an adjustable eyepiece for inclusive participation.
Dunes Drive
This 8-mile road takes you into the heart of the dunes and is navigable by most vehicles. The first half is paved asphalt, while the second half is compacted sand. Large parking areas are available throughout the drive, including accessible parking spaces.
Picnic Areas
Three picnic areas—Yucca, Primrose, and Roadrunner—are available along Dunes Drive. Each area has large, compacted sand parking lots and accessible picnic shelters. Accessible vault toilets are also available at these picnic areas.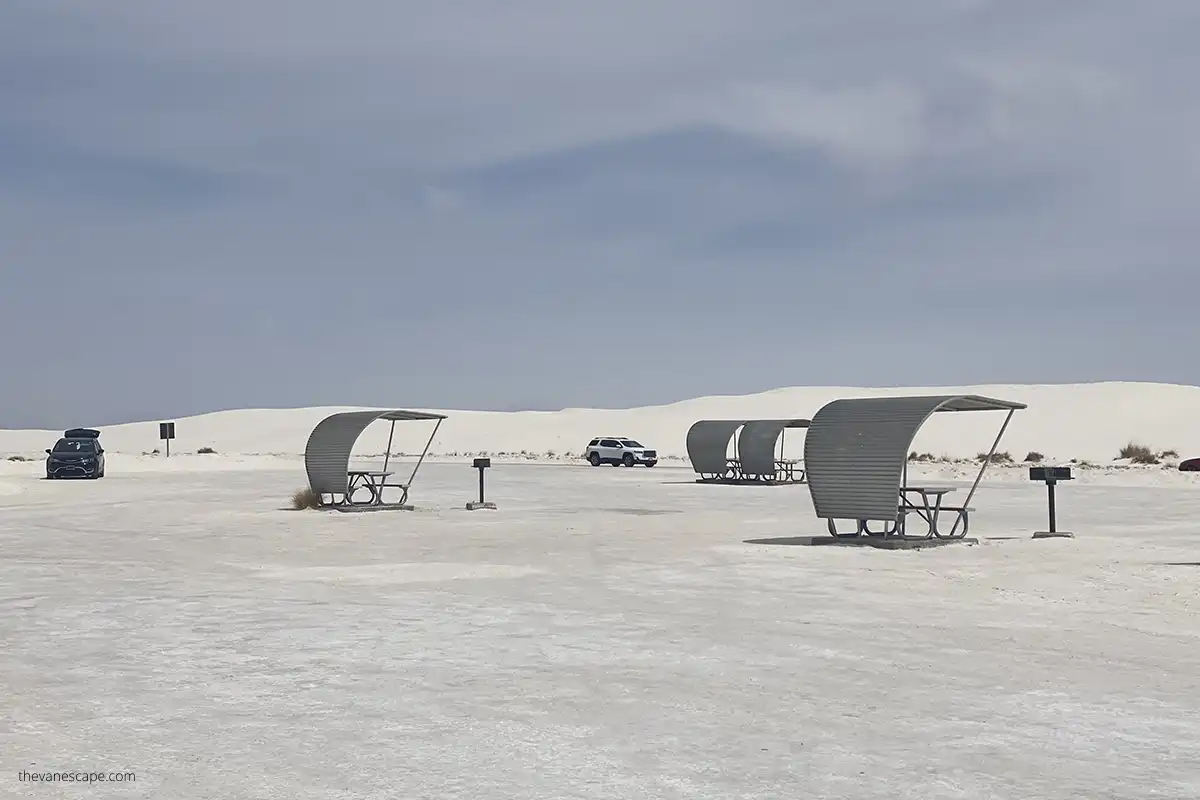 How Long to Spend at White Sands National Park?
How much time should you allocate for your White Sands National Park trip? The answer largely depends on what you want to see and do. White Sands National Park covers an area of 275 square miles, making it one of the largest gypsum dune fields globally. Despite its expansive dune field, it's actually one of the smallest U.S. National Parks. This makes it quite manageable to explore in a single day, allowing visitors to take in its unique beauty without feeling rushed.
Agnes & Chris Advice: Also read our article 15 Best Things To Do in White Sands National Park, where we describe each activity in detail. It helps you make a decision about what time you want to spend in this park. In our opinion, one day is a must, but it would be better if you could enjoy the sunset as well.
Day Trip: 4-6 Hours
A day trip can offer a fulfilling experience if you're short on time. If you have one day for your visit to White Sands National Park, you can:
Visit the visitor center to learn about the park's history and ecology.
Drive the Dunes Drive, an 8-mile scenic route.
Try sledding down the dunes.
Take a short hike, like the Interdune Boardwalk or Playa Trail.
Weekend Getaway: 2 Days
A weekend allows you to explore more and perhaps catch a sunset or sunrise, which are magical here. Your itinerary could include:
Multiple hikes, such as the Alkali Flat Trail.
A ranger-led program, like "Sunset Stroll" or "Full Moon Night."
Backcountry camping for one night (if allowed, check the official website).
Extended Stay: 3-4 Days
Consider an extended stay if you're looking for a more relaxed pace or want to dive deep into photography. This gives you time for:
Revisiting favorite spots at different times of the day for photography.
Taking part in multiple ranger-led programs.
Exploring nearby attractions like the White Sands Missile Range Museum.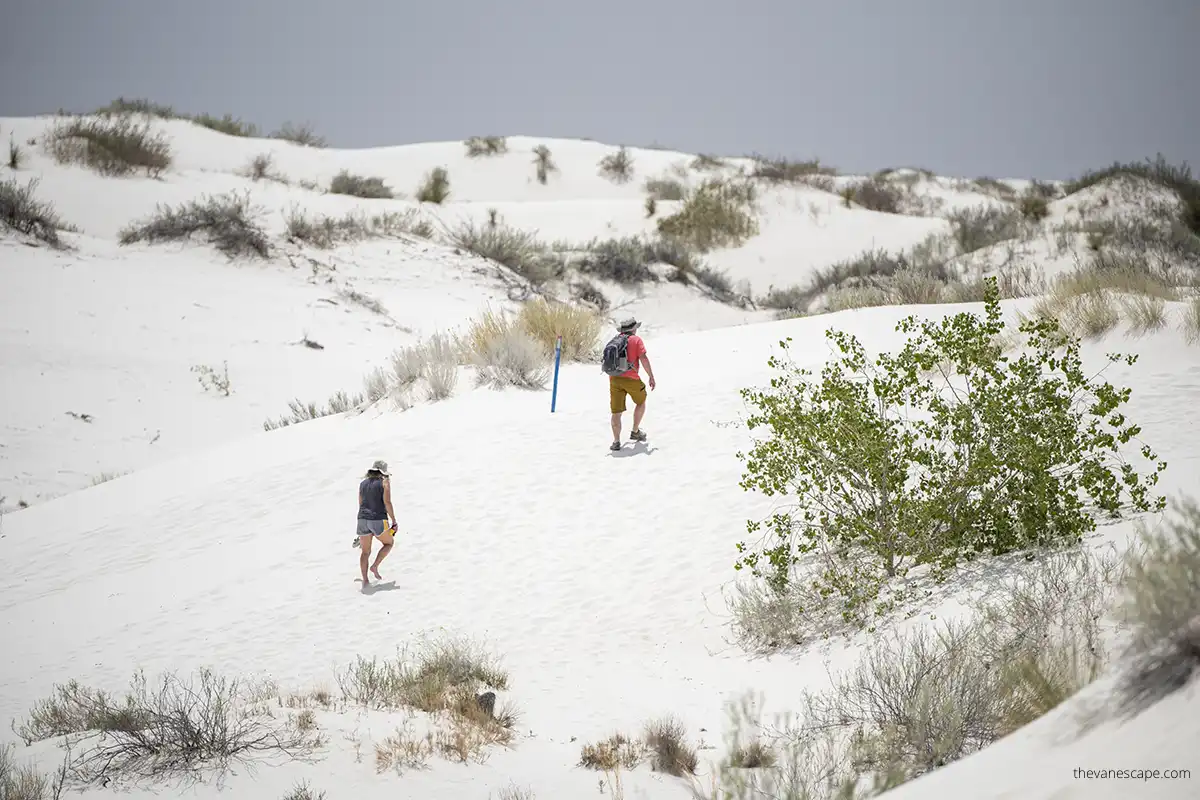 How To Visit White Sands National Park – Safety Tips
When it comes to venturing into the mesmerizing dunes of White Sands National Park, safety should be your top priority. The park's unique gypsum landscape can be as challenging as it is beautiful. Here are some crucial safety tips to ensure your visit is both enjoyable and secure.
Hydration is Key
The arid conditions can quickly lead to dehydration. The park recommends carrying at least one gallon of water per person per day. Emergency water stations are available, but it's best to come prepared.
Protect Your Eyes
The reflective white sand intensifies the sun's rays, making wearing sunglasses with UV protection crucial. This will help you avoid eye strain and potential damage.
Sun Protection
In addition to sunglasses, wear a wide-brimmed hat, long sleeves, and sunscreen with at least SPF 30. The sun can be relentless, and sunburn can occur much faster than you might expect.
Footwear Matters
While the gypsum sand is cool to the touch, the surrounding areas can be rocky and uneven. Hiking shoes, closed-toe shoes, or hiking sandals are recommended for better grip and ankle support.
Exercise Caution While Driving
While Dunes Drive is a paved road, driving slowly and being vigilant for other road users is crucial. The scenic road is only 8 miles long. However, the white dunes can sometimes spill over onto the road, making driving conditions challenging. Additionally, visibility can be severely reduced on windy days when white dust fills the air.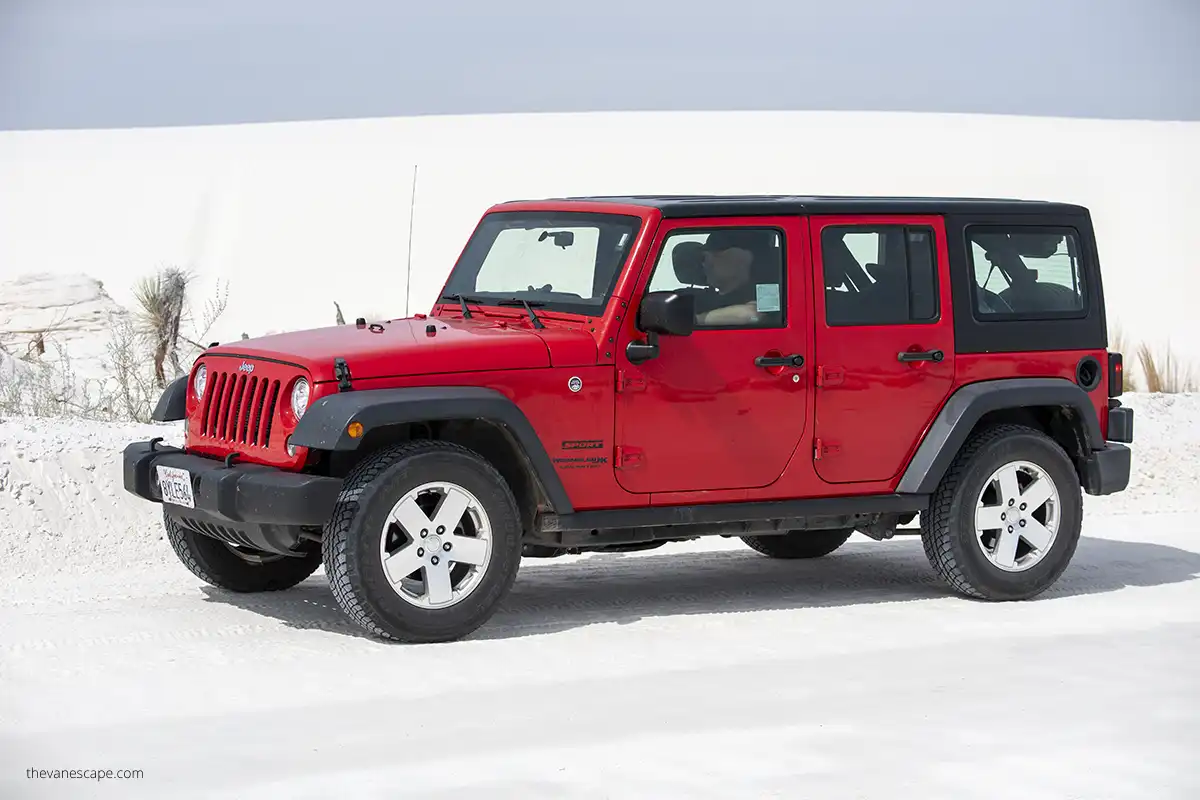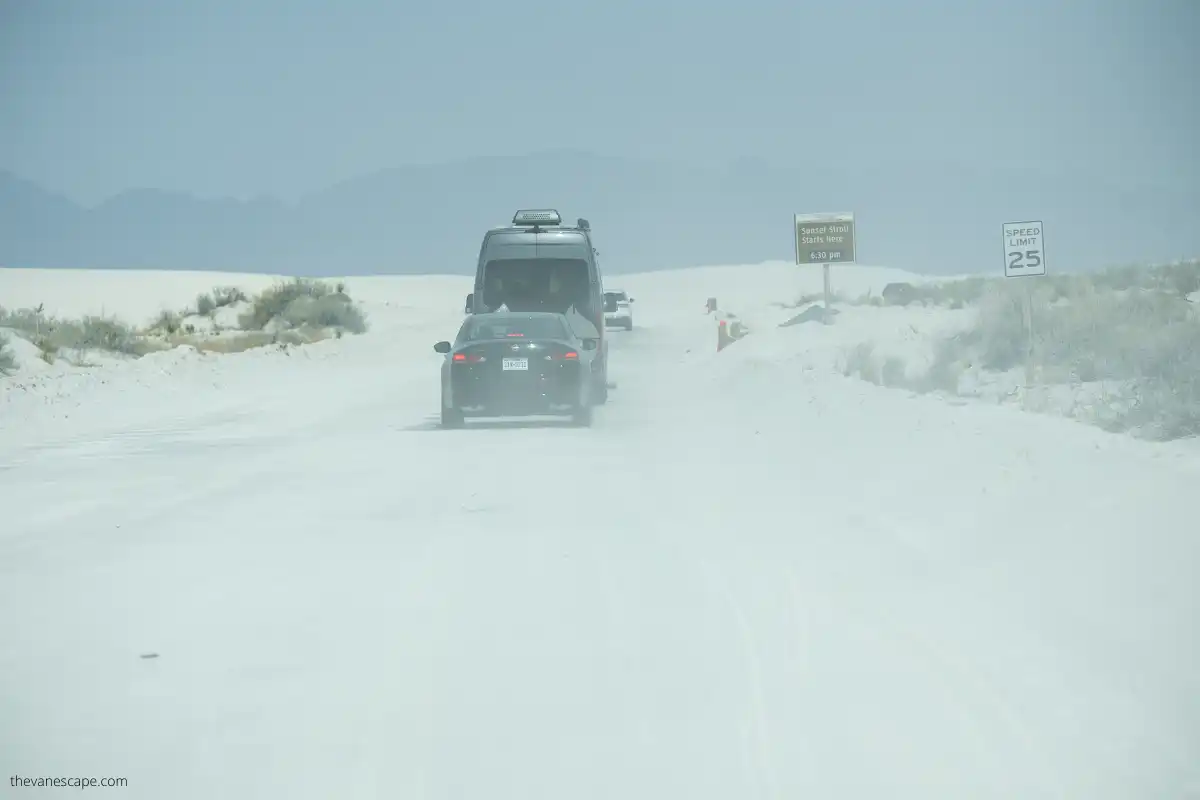 Stay on Marked Trails
White Sands has several well-marked trails that vary in difficulty. Staying on these trails helps protect the park's delicate ecosystem and ensures you can easily find your way back.
The dunes are ever-changing, and shifting sands can quickly obscure trails. Although the park uses red trail markers to guide visitors, limited visibility can make it easy to lose your way. Exercise extreme caution when navigating the dunes, especially in conditions of reduced visibility, to avoid getting lost.
Check Weather Forecasts
Sudden weather changes, including sandstorms and thunderstorms, can occur. Always check the weather forecast before heading out, and be prepared to seek shelter. If you plan to go hiking with your dog, pack more water for your pet.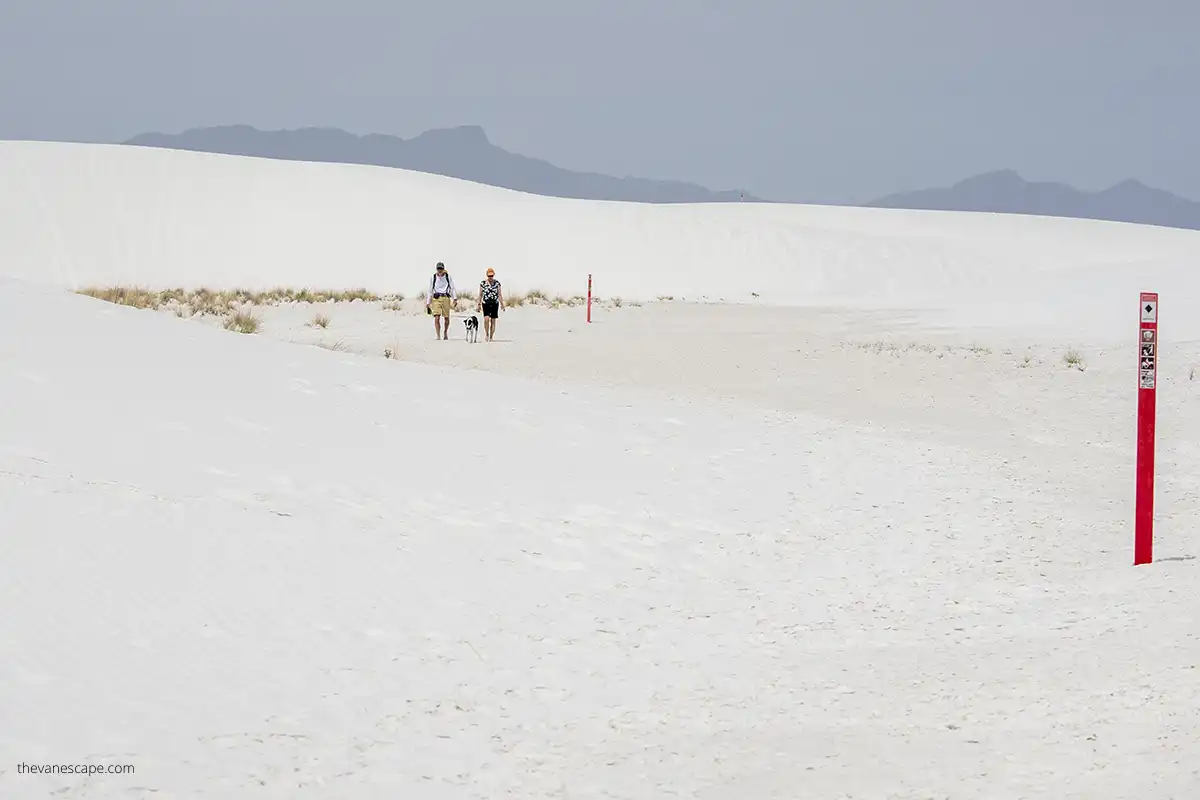 Know the Park Hours
The park has specific opening and closing times, which can vary by season. Make sure to plan your visit accordingly to avoid being locked in overnight.
Attend Ranger Programs
For a safer and more educational experience, consider joining one of the many ranger-led programs. These programs provide valuable insights into how to explore the park responsibly.
Emergency Contacts
Keep a list of emergency numbers, including the park's ranger station, and ensure your group knows where to find it. Cell service can be spotty, so a backup plan is essential.
Beware of Wildlife
Though they may be hard to spot, the park is home to over 600 species of animals and birds. Always maintain a safe distance, and never feed or approach wildlife. Also, do not destroy delicate plants; remember to leave no trace.
By adhering to these safety tips, you'll be well-equipped to explore the stunning landscapes that White Sands National Park has to offer, all while minimizing risks and maximizing enjoyment.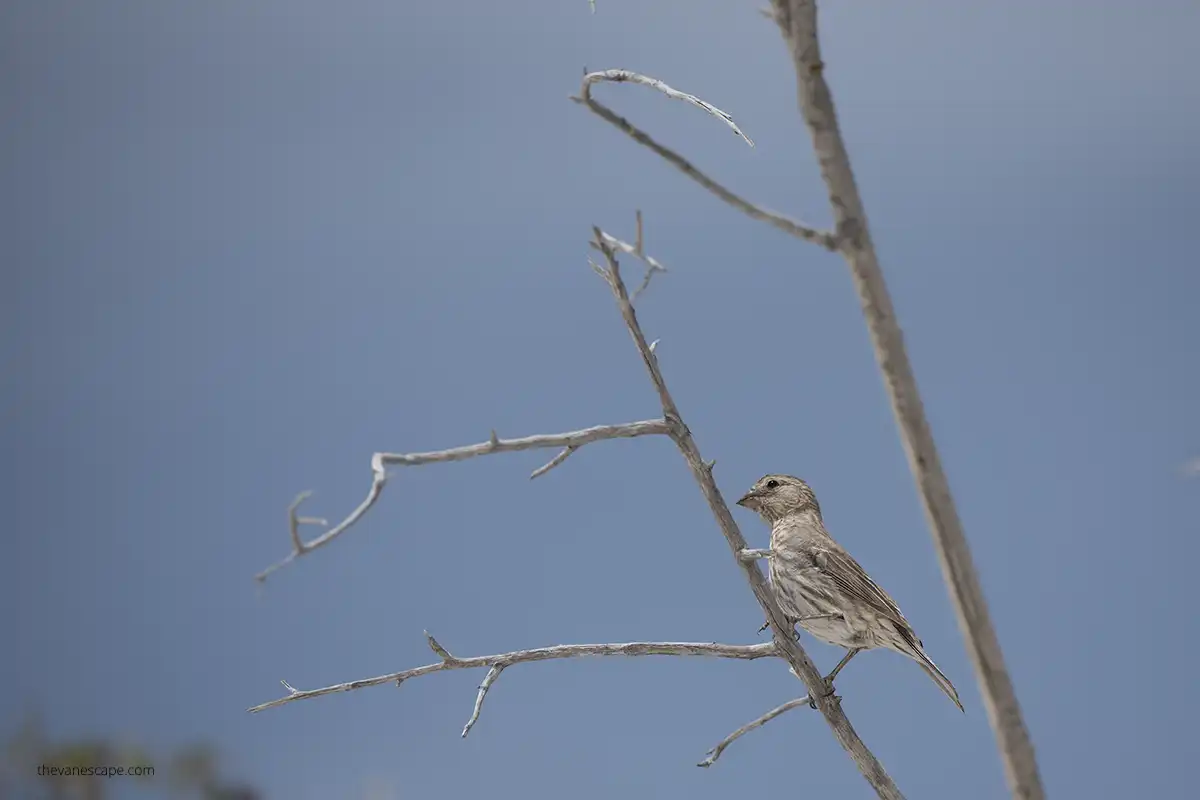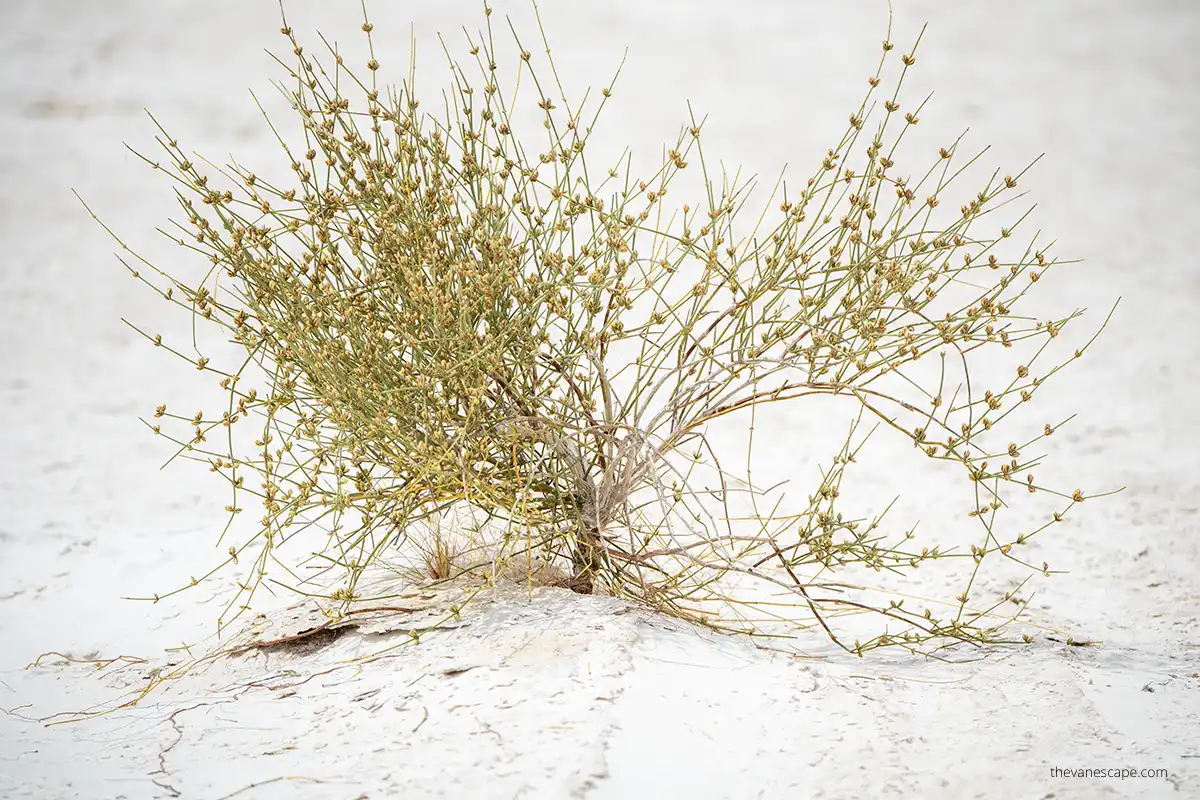 Capturing the Moment: Tips for White Sands Photography
Frame Your Perfect Shot: White Sands National Park offers a unique landscape that's a dream for photographers. Whether you're an amateur with a smartphone or a pro with a DSLR, here are some tips to help you capture the essence of this stunning locale.
Golden Hours are Golden: The best times for photography in White Sands are during the golden hours—shortly after sunrise and just before sunset. The low-angle sunlight enhances the contours of the dunes and adds depth to your shots.
Use the Rule of Thirds: To create a balanced composition, use the rule of thirds. Imagine your frame divided into nine equal parts and place the subject at the intersections of these lines.
Experiment with Angles: Don't just shoot from eye level. Experiment with different angles—get low to the ground or find a high vantage point—to make your photos more dynamic.
Capture the Sky: The vast, open skies of White Sands can add drama to your photos. Whether it's the vibrant colors of a sunset or the clear blue of a midday sky, make sure to include it in some of your shots.
Play with Shadows: The strong desert sun creates sharp shadows that can add an element of contrast and intrigue to your photos.
Use a Polarizing Filter: If you're using a camera that allows for lens attachments, a polarizing filter can help reduce glare and make the sky pop.
Mind Your Footprints: Be aware of where you walk, especially if you plan to shoot in that area. Footprints can either add to or take away from the natural beauty, depending on your composition.
Include a Focal Point: Whether it's a person, a plant, or any other object, having a focal point can help draw the viewer's eye into the photo.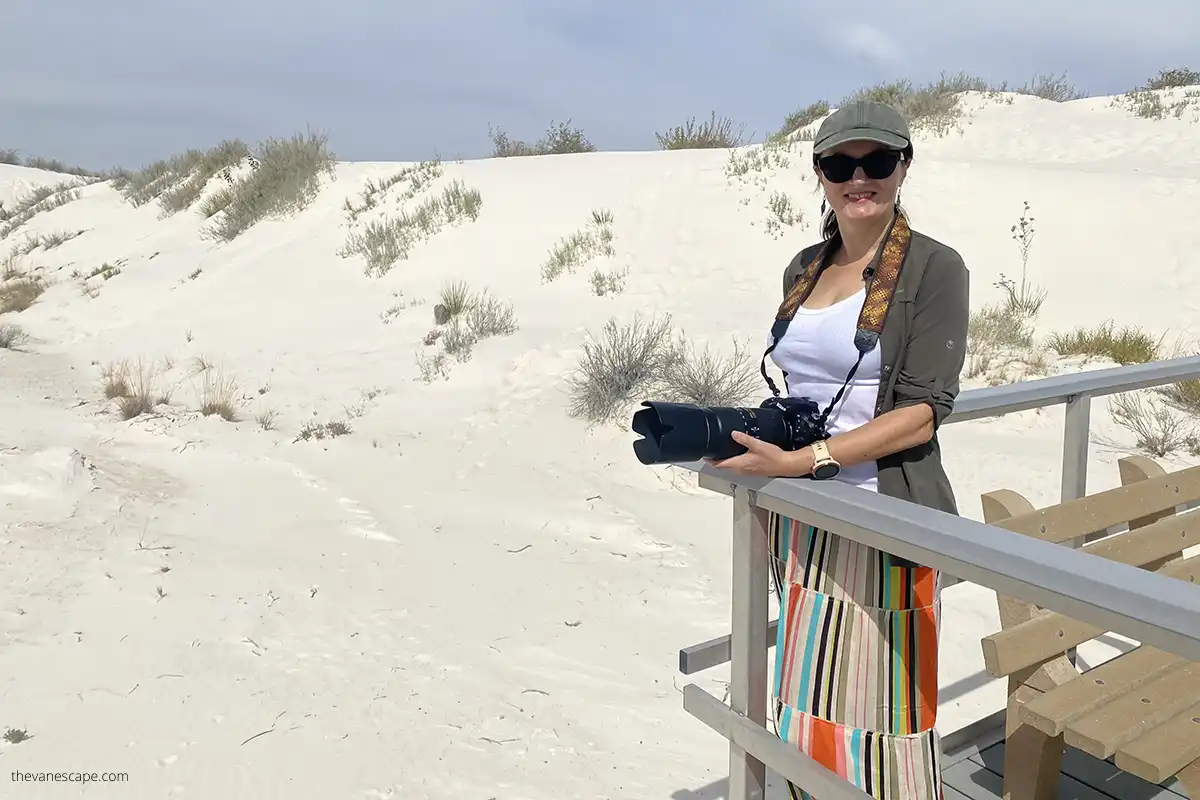 Final Thoughts on How to Visit White Sands National Park
You've reached the end of our comprehensive guide to White Sands National Park, and we hope it serves as a valuable resource for planning your perfect trip. From the best times to visit to insider photography tips, we've covered all the bases to ensure you have an unforgettable experience. Rooted in our journeys to this awe-inspiring destination, this guide aims to provide practical, firsthand knowledge.
Dive into our other in-depth articles on White Sands: Top Things to Do and Facts about White Sands. Good planning is key to a successful trip, so read our detailed New Mexico Packing List.
Do You Like It? Pin It For Later!