The 21 Best Things To Do in Capitol Reef National Park
Are you wondering what are the best things to do in Capitol Reef National Park? What to do in Capitol Reef to make your trip unforgettable? So, you've landed in the right place. We've visited this Utah gem multiple times, and each visit has only deepened our love for its awe-inspiring landscapes and rich history. In this article, we're thrilled to share our favorite Capitol Reef National Park activities that have made our trips truly special.
This article may contain affiliate / compensated links. For full information, please see our disclaimer here.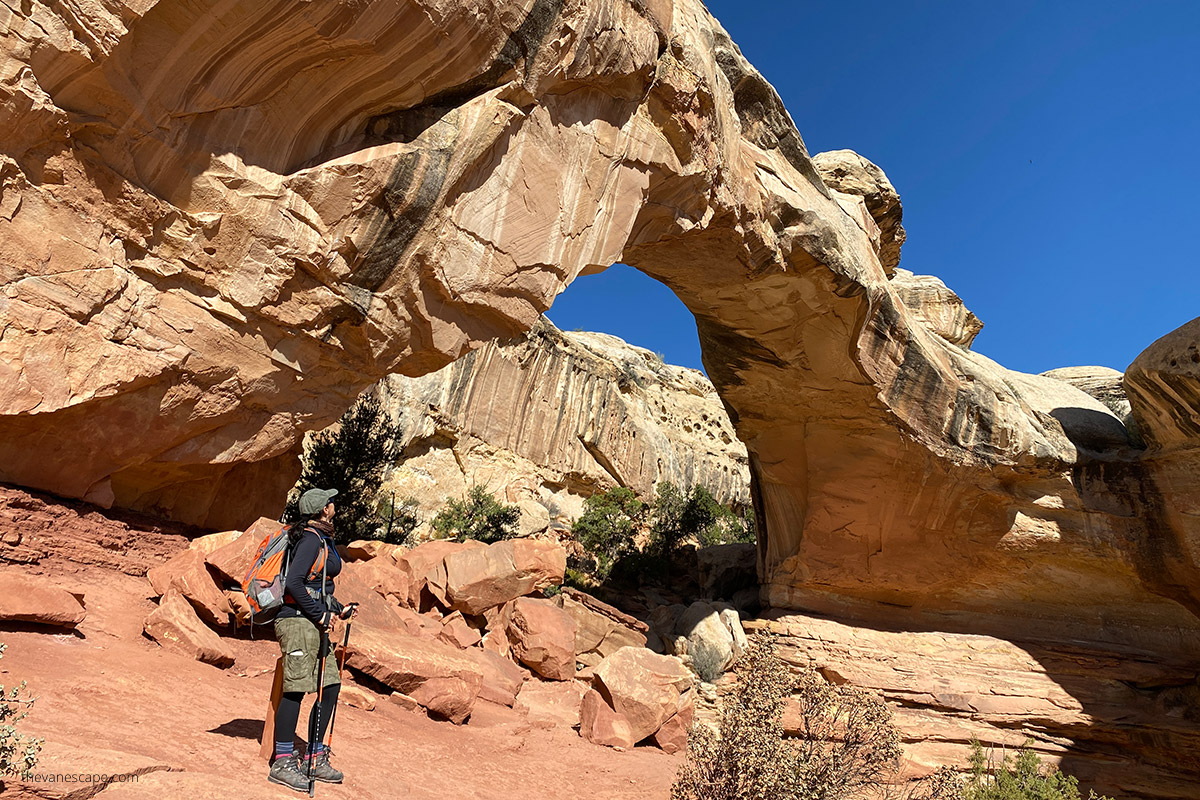 Things to do in Capitol Reef – Our Experiences
From scenic drives along the Waterpocket Fold to hiking trails offering jaw-dropping vistas, Capitol Reef is a playground for outdoor enthusiasts and history buffs alike. Whether it's your first visit or you're a returning fan, this list of things to do in Capitol Reef will help you plan a trip you'll reminisce about for years.
As avid enthusiasts of Capitol Reef, we've explored its wonders multiple times and still have a bucket list of 21 activities we're eager to revisit or try for the first time. We've segmented this list into two categories. The first focuses on easy, family-friendly activities perfect for those with limited time or looking for a leisurely experience. The second category is tailored for adventure-seekers who thrive on hiking or excursions requiring a 4×4 vehicle. Trust us; there's something for everyone in this awe-inspiring national park.
If you're considering visiting Capitol Reef or embarking on the iconic Utah Mighty 5 road trip, don't miss our comprehensive guide on How to Plan a Trip to Capitol Reef. We share essential details like the best seasons to visit, driving directions, and top accommodation options.
For those looking to optimize their time in the park, our Capitol Reef itinerary outlines how to make the most of a single day and explore the park's hidden gems over three days. These resources are your ultimate companions for an unforgettable Capitol Reef adventure.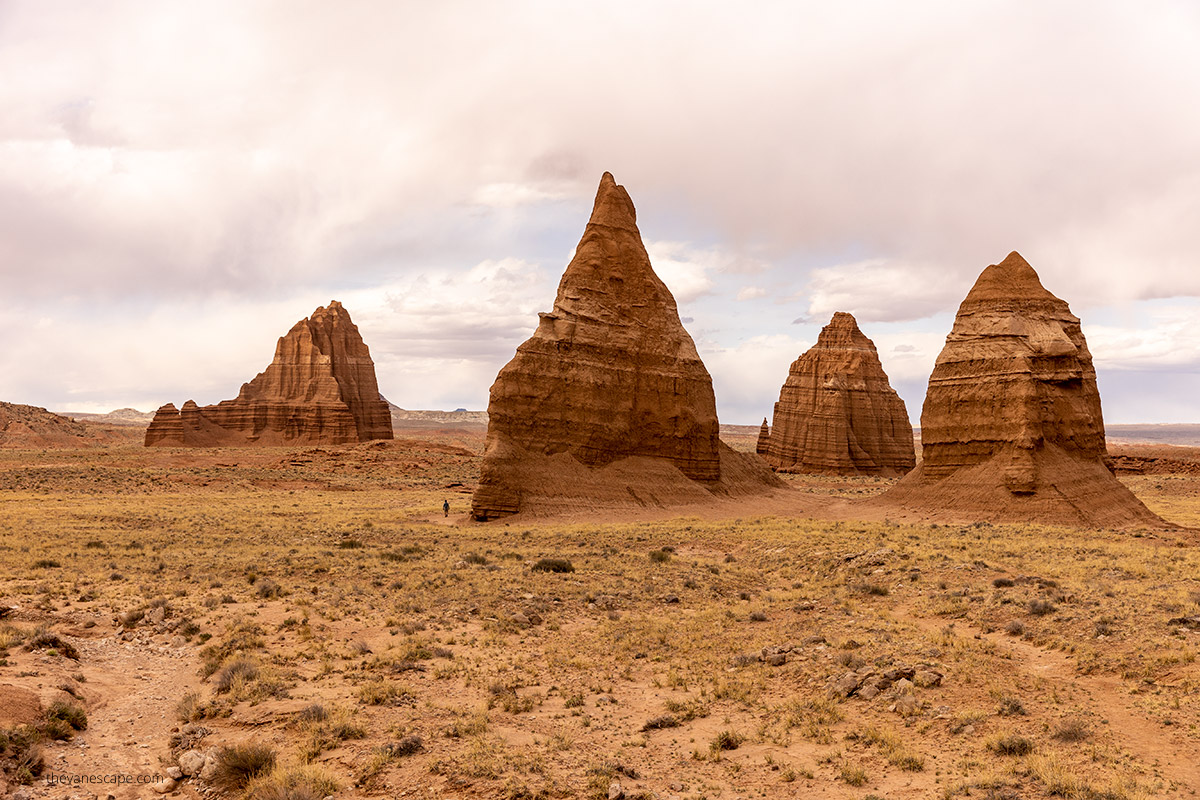 The 21 Best Things To Do in Capitol Reef National Park
Top Easy Activities in Capitol Reef National Park
Are you searching for activities that are a hit with the whole family? Look no further. Our curated list of top easy activities in Capitol Reef National Park is both leisurely and family-friendly. From orchard strolls to exploring historical landmarks, these activities offer a wholesome experience that both kids and adults will love. Our handpicked favorites are ideal for families looking to discover the best things to do in Capitol Reef without the strenuous hikes. It's also a perfect list if you have limited time for your visit.
1. Take a Scenic Drive Along the Waterpocket Fold
One of the must-do things in Capitol Reef National Park is taking a scenic drive along the Waterpocket Fold. This geological marvel stretches for nearly 100 miles and offers some of the most breathtaking views in the park. The Scenic Drive is a 16-mile round-trip journey that takes about 1-2 hours, depending on your stops.
Our Tip: A regular car will suffice for this adventure; no need for a 4WD vehicle. Don't miss the pull-offs for Grand Wash and Capitol Gorge for short hikes and photo ops.
2. Visit Fruita Historic District
The Fruita Historic District is a step back in time, offering a glimpse into the lives of early Mormon settlers who arrived in the 1880s. This area was originally known as "Junction" and was later renamed Fruita due to the abundant fruit orchards. The settlers built a self-sustaining community with a one-room schoolhouse, which operated from 1896 to 1941. Today, you can still see several historic buildings, including the Gifford Homestead, which now serves as a museum and store.
Our Tip: The best spot for photographing the large wooden barn (The Pendleton Barn) adjacent to the homestead is from the road leading to it, framed by the stunning backdrop of the Waterpocket Fold.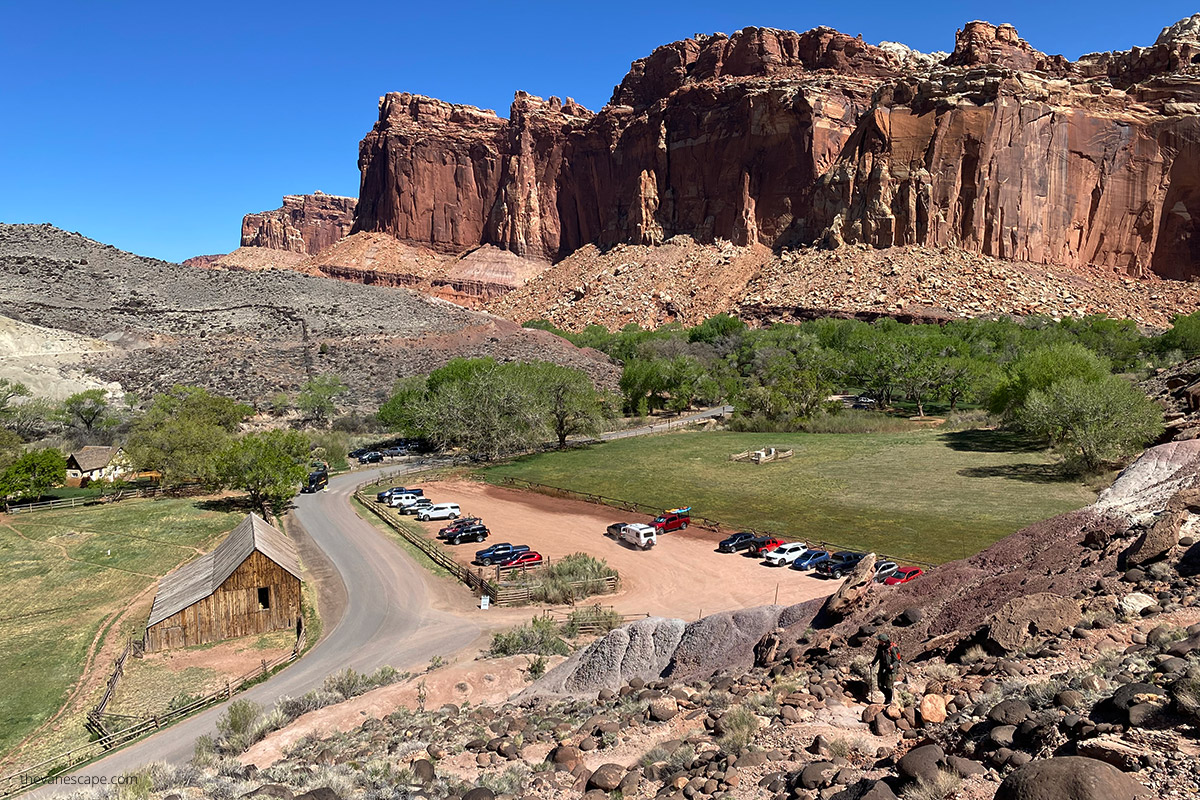 3. Savor a Pie at Gifford Homestead
The Gifford Homestead is not just a historic site; it's also a culinary stop you won't want to miss. Their fruit pies are legendary, made from orchard fruits grown right in the park. The apple pie, in particular, is a crowd-pleaser.
Our Tip: Pies sell out quickly, especially during peak season. Arrive early to ensure you get to try one.
4. Enjoy Fruit Picking in Fruita Orchards
Fruita Orchards offers a unique experience that's both fun and educational. You can pick apples, pears, or peaches, depending on the season. It's a delightful way to connect with the land and enjoy delicious fresh fruit.
Our Tip: The National Park Service updates the fruit-picking schedule on its website. Make sure to check it before your visit.
5. Explore the Petroglyphs and Historic Schoolhouse
The Petroglyphs and Historic Schoolhouse near Fruita offer a fascinating look into the area's rich history. The Fremont people carved the petroglyphs nearly a thousand years ago, while the schoolhouse dates back to the early 20th century.
Our Tip: The late afternoon sun enhances the visibility of the petroglyphs, making it the best time for viewing and photography.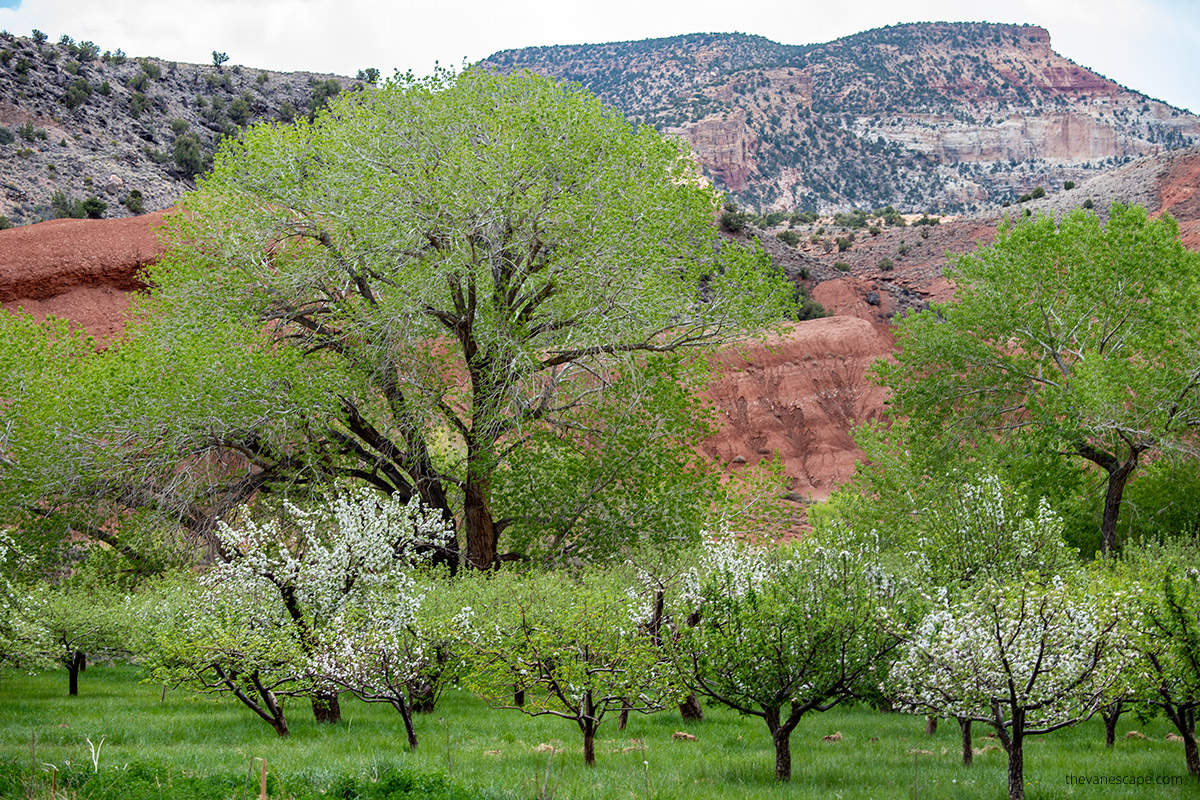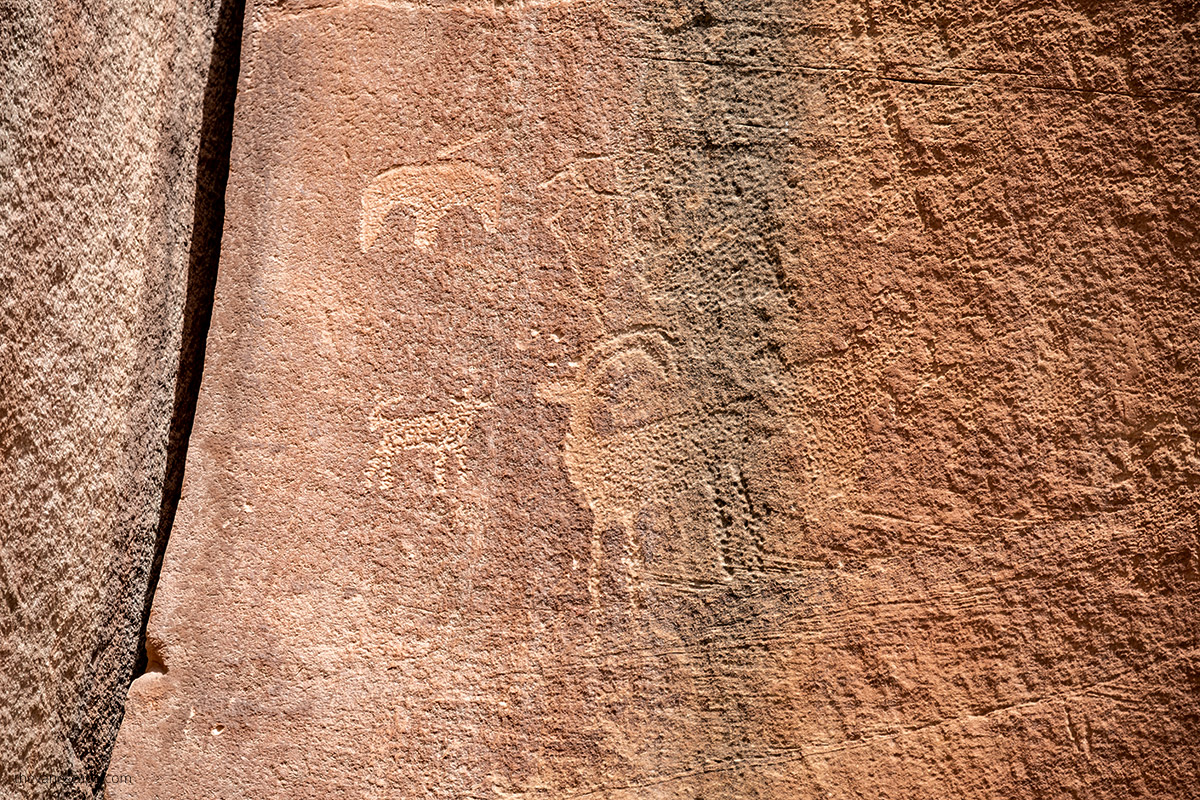 6. Photograph the Iconic Castle Formation
The Castle is a striking sandstone formation that stands as one of Capitol Reef's most iconic landmarks. Its unique shape and rich colors make it a photographer's dream, especially during the golden hours of sunrise and sunset.
Our Tip: A polarizing filter can help capture the depth and richness of the colors, making your photos stand out.
7. Visit the Ripple Rock Nature Center
The Ripple Rock Nature Center is an excellent stop for families or anyone interested in learning more about the park. Interactive exhibits cover topics from geology and paleontology to local flora and fauna.
Our Tip: This is an excellent indoor activity for days when the weather is less than ideal, offering both education and shelter.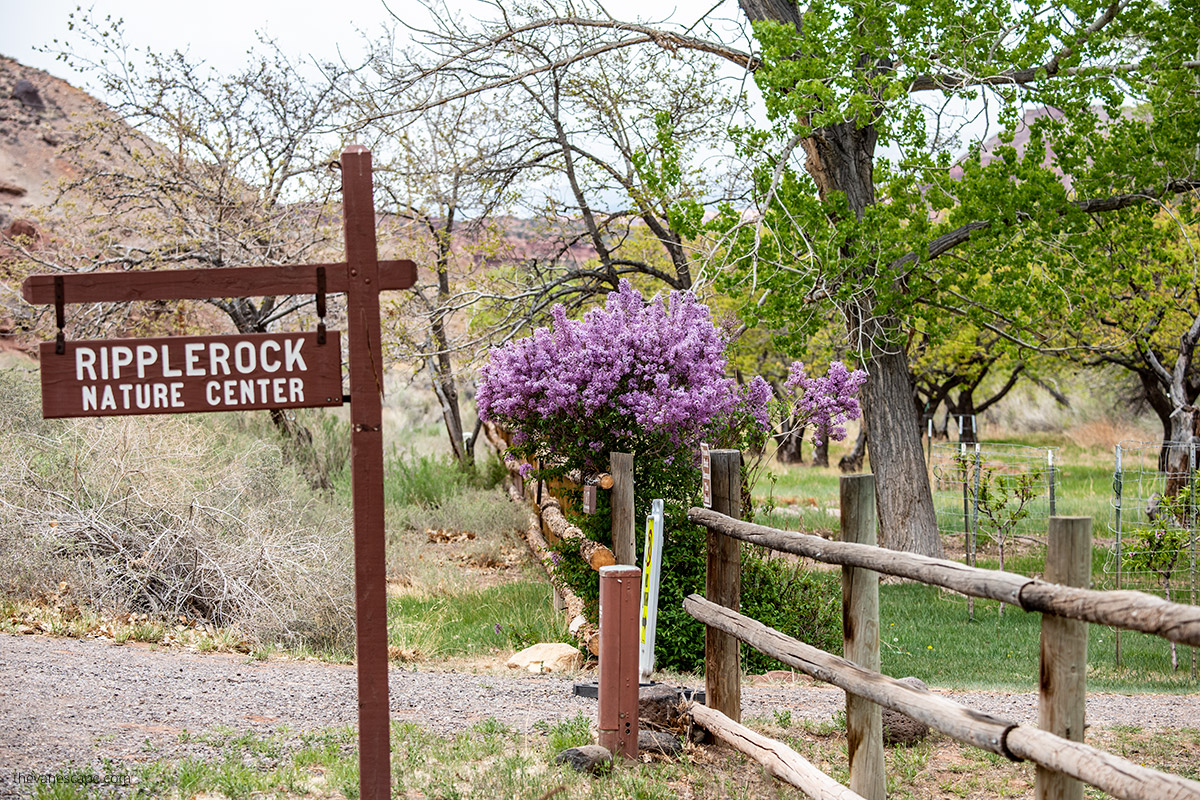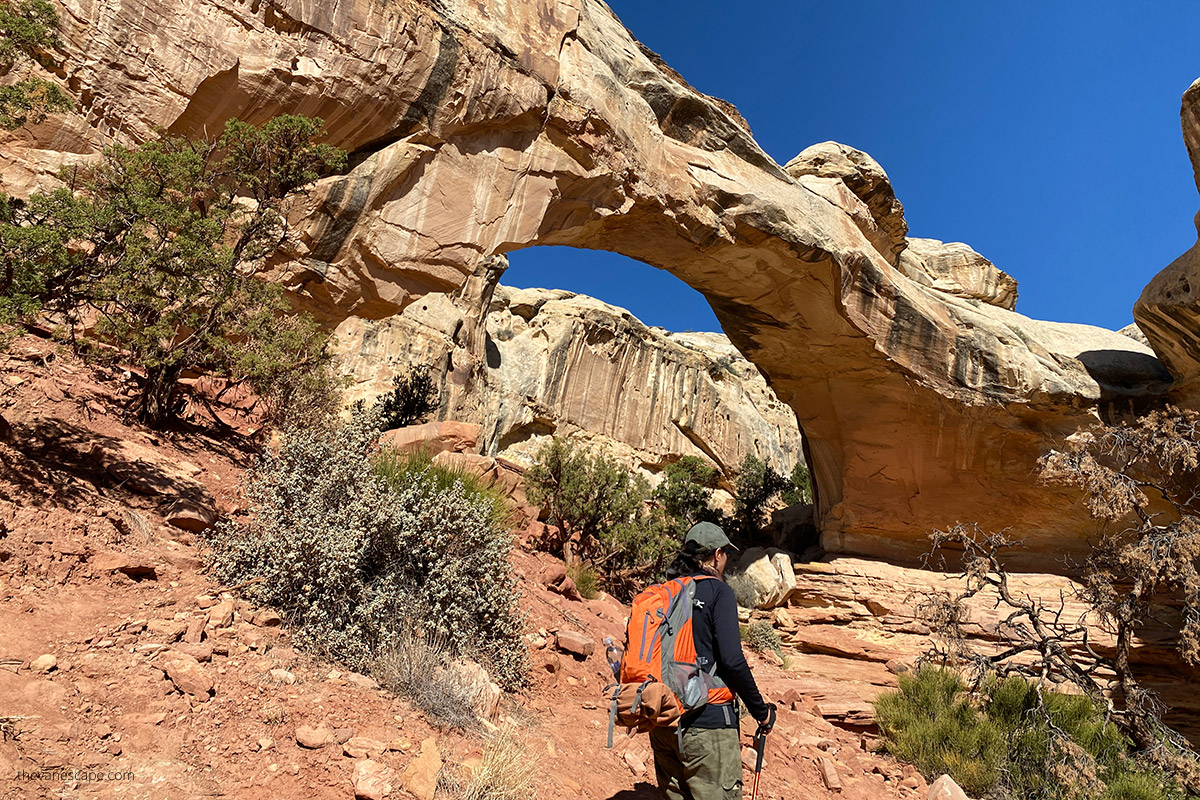 8. Stargaze in a Dark Sky Park
Capitol Reef is an International Dark Sky Park offering some of the best stargazing opportunities in the United States. The lack of light pollution allows for clear views of constellations, shooting stars, and even planets on a good night.
Our Tip: A new moon phase will provide the darkest skies, making celestial bodies more visible.
9. Hike to Hickman Bridge
Embark on a 1.8-mile round-trip hike to Hickman Bridge, one of Capitol Reef's most iconic natural bridges. The trail meanders through a scenic canyon and offers intermittent shade, making it a good choice for those warmer days. It's not a challenging hike. It's moderate.
Our Tip: Start early to avoid the midday sun and to capture the perfect photo of the bridge in the morning light.
10. Join a Ranger-Led Program
These programs offer a deeper understanding of the park's ecology, geology, and history. They can range from guided hikes to informative evening talks.
Our Tip: Programs vary by season, so check the current schedule at the Visitor Center.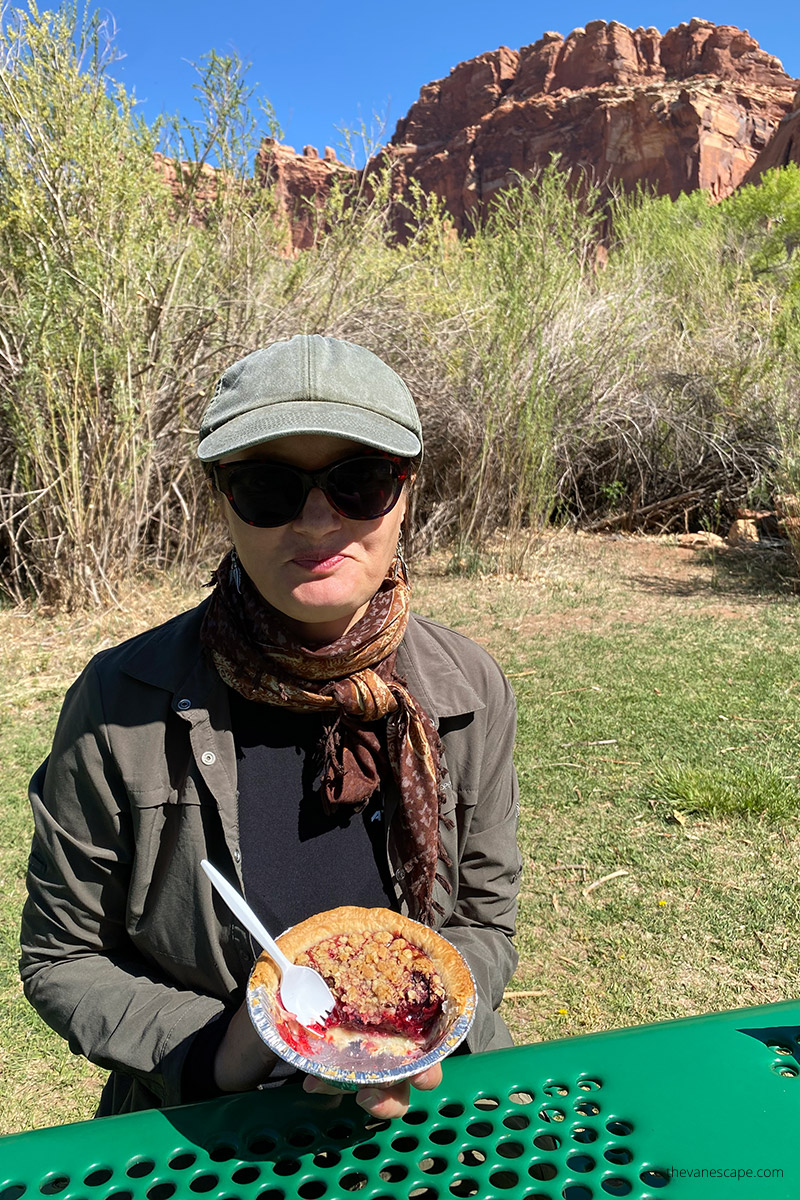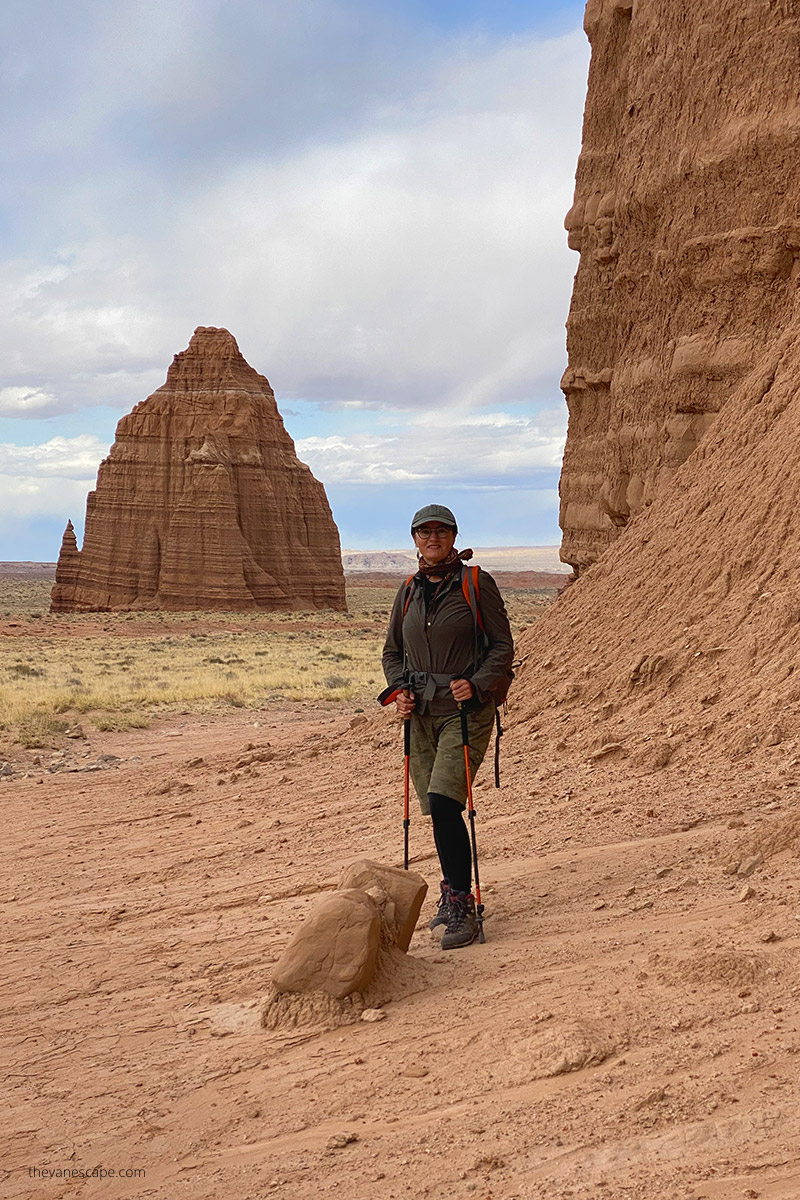 Best Adventure Activities in Capitol Reef
If you're an adrenaline junkie or an outdoor enthusiast, Capitol Reef National Park has many activities to quench your thirst for adventure. From challenging hikes to off-roading experiences, here are the best things to do in Capitol Reef that promise an adrenaline rush.
11. Experience the Thrill of Off-Roading in Cathedral Valley
For a heart-pounding adventure, tackle the Cathedral Valley Loop. This off-road journey requires a high-clearance vehicle and offers unparalleled views of monolithic sandstone formations. We love this drive, but 4WD is a must.
Our Tip: Check the latest road conditions at the Visitor Center; the terrain can be challenging.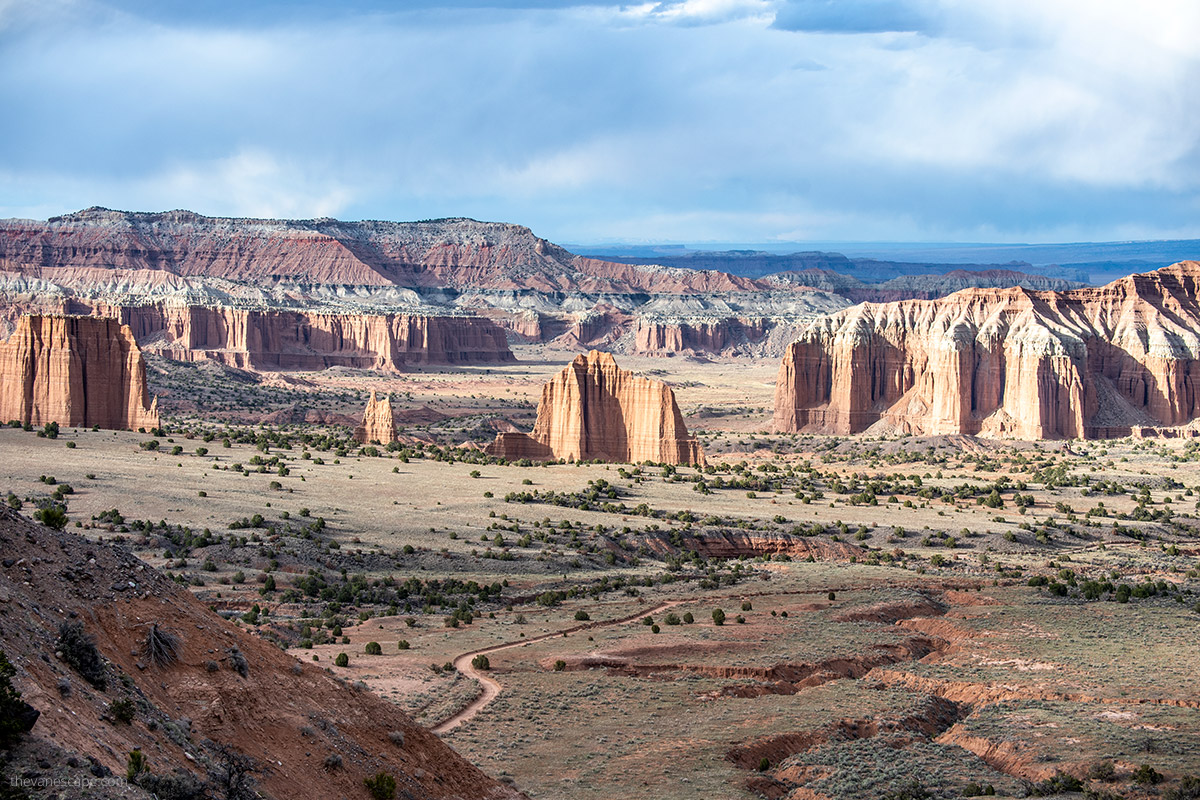 If you don't have a 4×4 vehicle, consider this full-day local tour when you traverse 70 miles of Southern Utah's breathtaking desert, witness geological phenomenons, the Temples of the Sun and Moon, and see what only 1% of visitors to the region are lucky enough to experience in Cathedral Valley. 
12. Discover the Grand Wash Trail
This 2.2-mile trail is a flat but dramatic journey through a narrow canyon with towering walls. The trailhead is easily accessible, and the hike itself is a great introduction to the park's unique geology.
Our Tip: Look out for the Cassidy Arch, a hidden gem along this trail.
13. Marvel at the Views from Goosenecks Overlook
This overlook offers a panoramic view of the Sulphur Creek goosenecks. The short walk from the parking area is well worth the effort for the stunning vistas you'll encounter.
Our Tip: Bring a pair of binoculars to closely examine the intricate erosion patterns below.
14. Traverse the Capitol Gorge Trail
This 2-mile trail takes you through a narrow gorge filled with historical inscriptions and unique geological formations known as "waterpockets."
Our Tip: Wear water-resistant shoes; you might encounter some shallow water along the trail.
This strenuous 9.4-mile round-trip trail offers some of the most breathtaking panoramic views of Capitol Reef National Park. The trail is steep but rewarding, with vistas of the Waterpocket Fold and surrounding landscapes.
Our Tip: Pack plenty of water and snacks; this is a long hike. Check our detailed list of what to pack for a day hike.
16. Explore the Sheets Gulch Slot Canyon
Sheets Gulch offers a solitary experience with its unique rock formations and narrow passages. The hike is approximately 6 miles round-trip and offers a different kind of adventure.
Our Tip: Always check the weather before venturing into any slot canyon; flash floods are a real danger.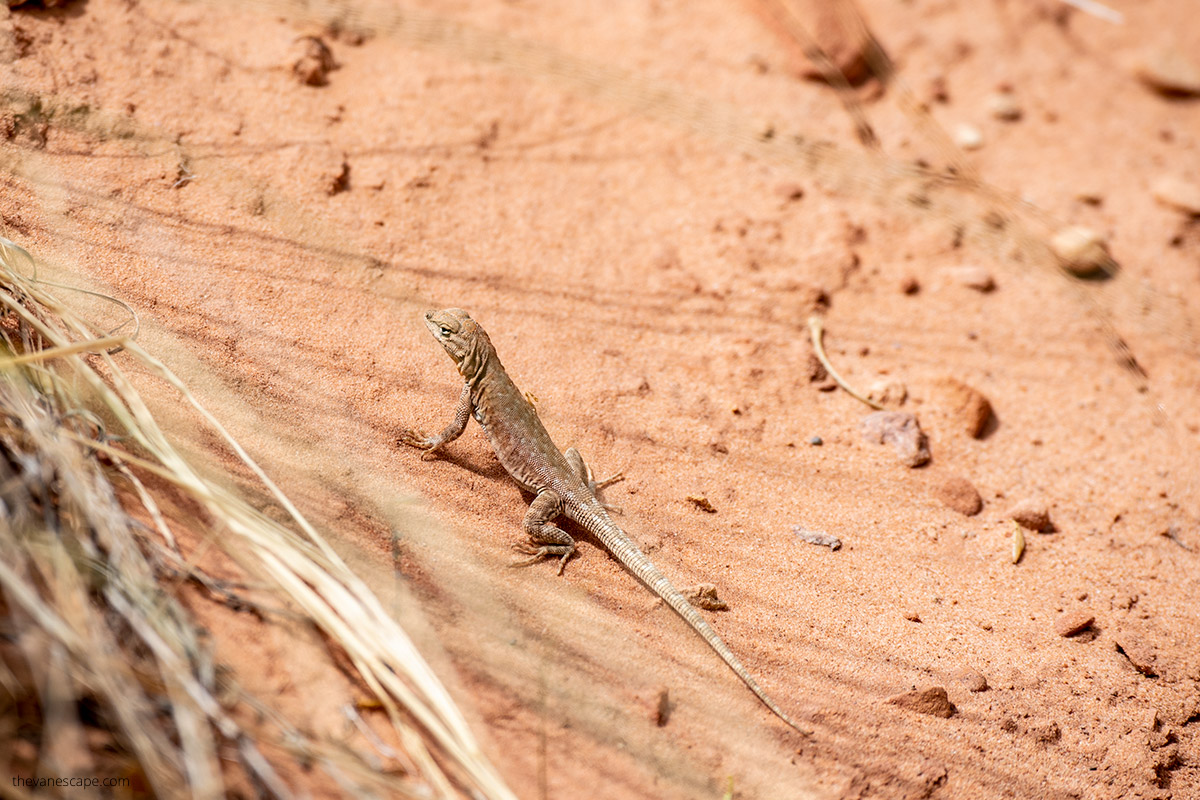 17. Go Backcountry Camping
For those who want to get away from the crowds, backcountry camping is an excellent option. Permits are required and can be obtained at the Visitor Center.
Our Tip: Make sure to pack out all trash and leave no trace to preserve the park's natural beauty.
18. Take the Bentonite Hills Cathedral Valley Tour
This 3-hour Bentonite Hills off-road tour offers a guided experience through some of the most visually stunning landscapes in the Capitol Reef area, including the mesmerizing Bentonite Hills.
The photo below was taken with a DJI Mini 3 Pro Drone. But remember that using a drone in the national park is prohibited. The Bentonite Hills are outside the park boundary on Bureau of Land Management land.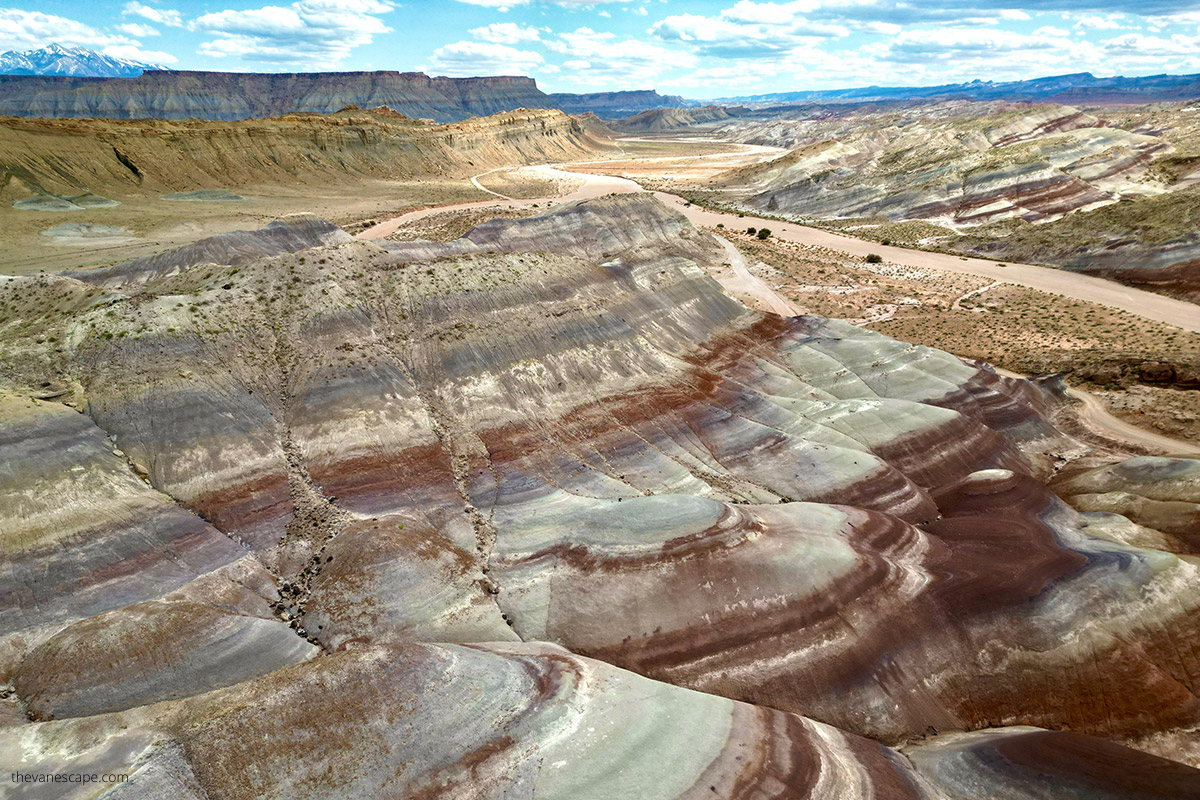 Our Tip: These tours are popular, so book well in advance to secure your spot. You'll encounter formations similar in hue but geologically distinct near Kanab, Utah. Check the Paria Rainbow Mountains close to the Paria Townsite.
Below, you can check the availability of this tour.
19. Try Capitol Reef National Park Canyoneering Adventure
For an adrenaline-pumping experience, try canyoneering through some of Capitol Reef's most secluded canyons. This activity is on our bucket list. We plan it for our next Utah adventure.
Our Tip: No previous experience is required; guides will provide all the necessary training and equipment.
20. Take a Guided Horseback Ride
Experience the park's backcountry in a unique and traditional way—on horseback. Guided rides offer a different perspective of Capitol Reef's stunning landscapes.
Our Tip: Wear long pants and sturdy, closed-toe shoes for a comfortable ride.
21. Take a Picture of the Temple of the Sun and the Temple of the Moon
These towering monoliths in Cathedral Valley are a must-see and a photographer's paradise. The Temple of the Sun is best captured at sunrise, while the Temple of the Moon is most photogenic at sunset. Both formations are made of Entrada Sandstone and have been sculpted by erosion over millions of years.
The Temple of the Sun and the Temple of the Moon are among the most photographed landmarks in Capitol Reef, making them a top activity for visitors looking to capture the park's unique geology.
Our Tip: Use a tripod for stability and to capture the best possible shots. The natural lighting at dawn and dusk can create dramatic shadows and highlights, adding depth to your photos.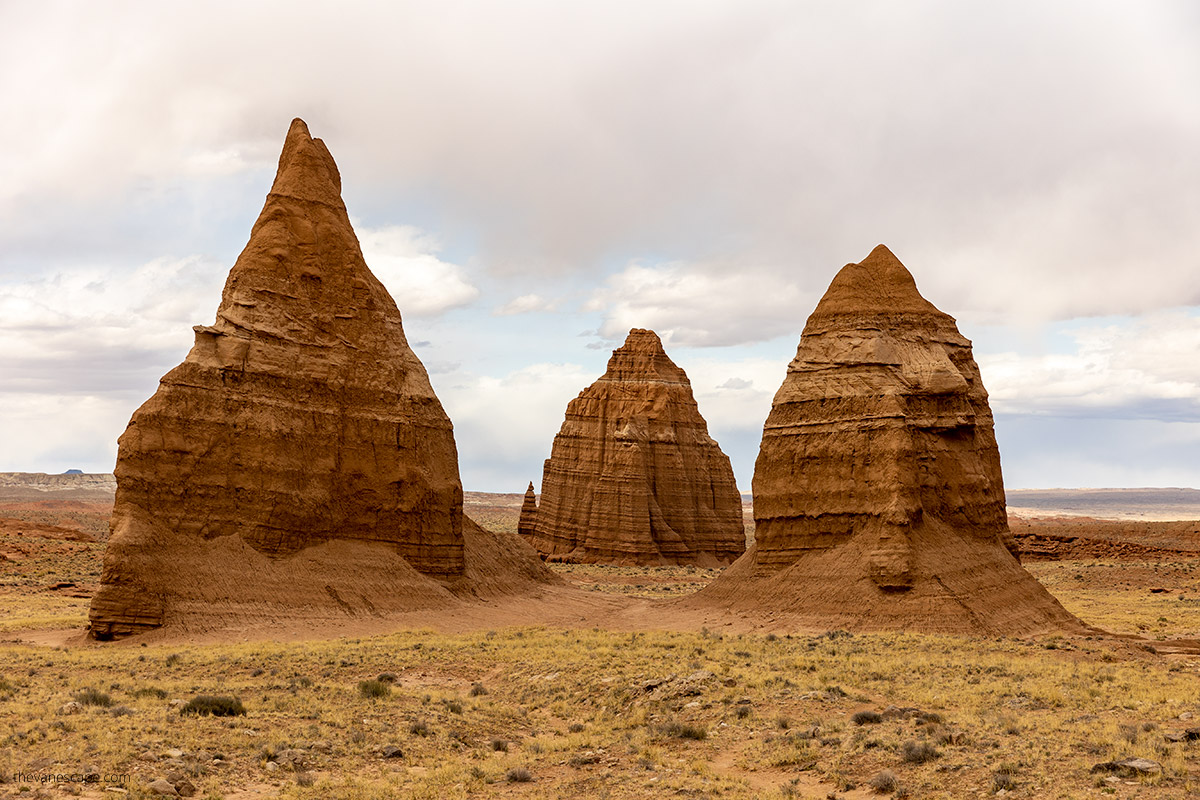 Things To Do in Capitol Reef – Final Thoughts
Capitol Reef National Park is a treasure trove of natural beauty and historical significance, and this guide aims to help you make the most of your visit. Whether you're a first-timer or a seasoned traveler, our curated list of 21 best things to do in Capitol Reef offers a balanced mix of leisure and adventure. From the serenity of scenic drives to the thrill of off-roading in Cathedral Valley, Capitol Reef has something for everyone.
On a personal note, our all-time favorites are the Cathedral Valley Loop drive and capturing the ethereal beauty of the Temple of the Sun and the Temple of the Moon through our lenses. The orchards in Fruita hold a special place in our hearts, and we never miss a chance to savor a pie at the Gifford Homestead. The thrill of discovering ancient petroglyphs etched into the massive rock walls is something we look forward to every visit. As for our next trip, we're already excited about the prospect of horseback riding and embarking on a canyoneering adventure.
Do You Like It? Pin It For Later!