The Best Oregon Covered Bridges
Oregon's Covered Bridges are a wooden architectural gem and a heritage of the past. Oregon is famous for its bridges. We have added some of the most interesting to our Itinerary around this state. When choosing, we were guided by the attractiveness of covered bridges as photographic objects. So, below, in our opinion, are the most beautiful covered bridges in Oregon.
This article may contain affiliate / compensated links. For full information, please see our disclaimer here.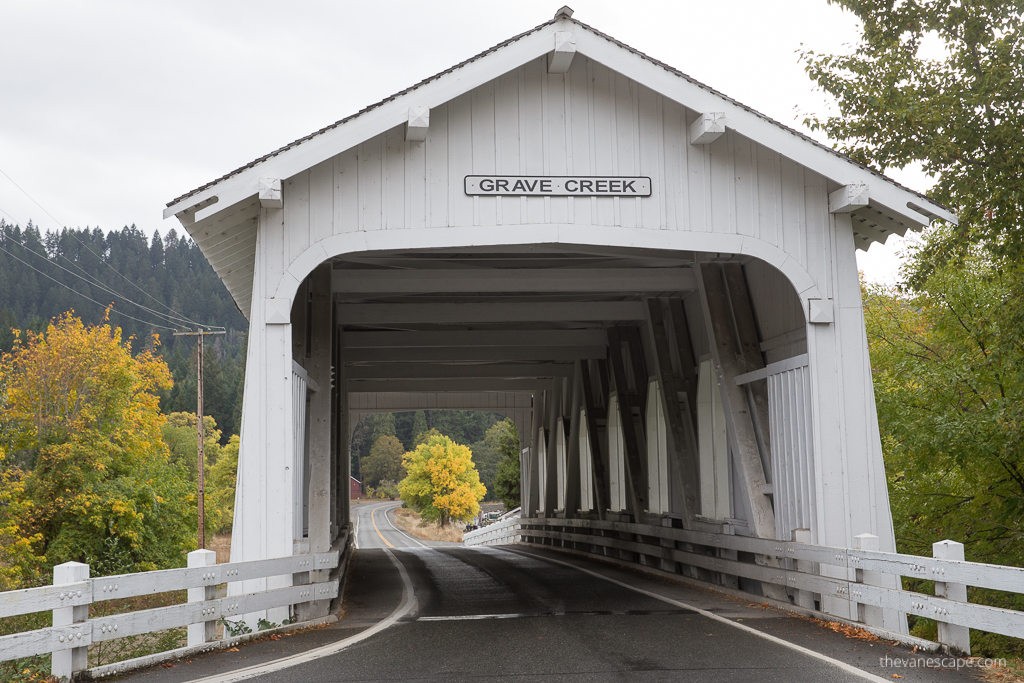 How many covered bridges are in Oregon?
You can find 48 historic covered bridges in Oregon. It's the largest concentration of wooden-covered bridge construction of any state in the West. We have visited around 10 so far. We share our favorites with you below. But used be around 450 covered bridges in Oregon between 1905 and 1925.
And most of the covered bridges of Oregon are in Lane County. You can find a list of all 48 Oregon bridges on Wikipedia. Most of the bridges were restored, and only a few still allow vehicular traffic. Furthermore, most of Oregon's covered bridges are on the National Register of Historic Places.
So, suppose you plan an Oregon Rod Trip from Portland to Crater Lake National Park. In this case is worth adding some stops in Lane County, Linn County, and Willamette National Forest to admire some of the best-covered bridges of Oregon.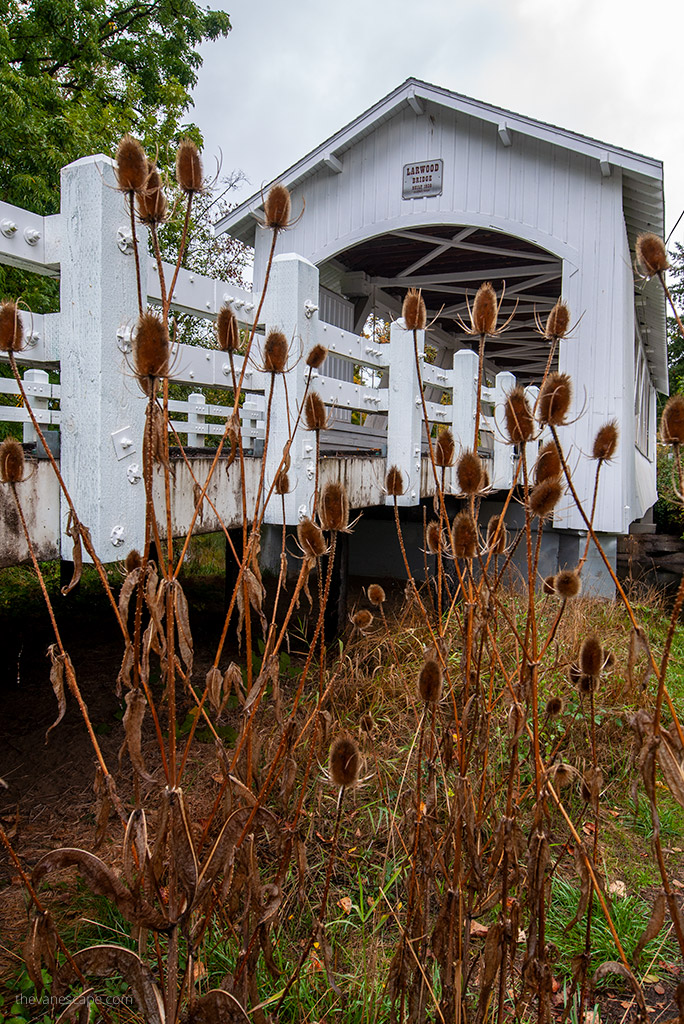 Why are some bridges covered in Oregon?
The bridges were built by the first pioneers with simple hand tools. A tree from dense Oregon forests was used for the construction. Douglas fir was great to bridge construction. Furthermore, to increase bridges' useful life, timber trusses were used. This way, bridges were protected from the damp.
It was a time of horse-drawn wagons and elegant carriages. It was a time of long dresses with corsets and cowboy duels. The first covered bridges were built in the early 1850s. Construction continued into the 1950s. The increasingly popular road traffic, heavy loads, large transports, and technological development meant that wooden bridge construction was ended. And the focus was on more durable iron bridges.
What is the purpose of the cover on a covered bridge?
After rain or snow, the wood was becoming dangerously slippery, especially in Oregon, when there is high air humidity for a large part of the year. So, the cover over the bridges was to protect against slipping so that the horse-drawn wagons would not fall into the river.
So, if you want to step back in time to imagine the sound of horses' hooves on wooden bridges, add covered bridges to your Oregon Itinerary.
More about these historical structures you will learn in the books below.
Oregon Covered Bridges – Grave Creek Bridge
Grave Creek Bridge is the only remaining covered bridge in Josephine County, Sunny Valley. It was built in 1920 and is the oldest one we have seen so far in Oregon. It has 105 feet in length.
GPS coordinates are 42.636097°N 123.377638°W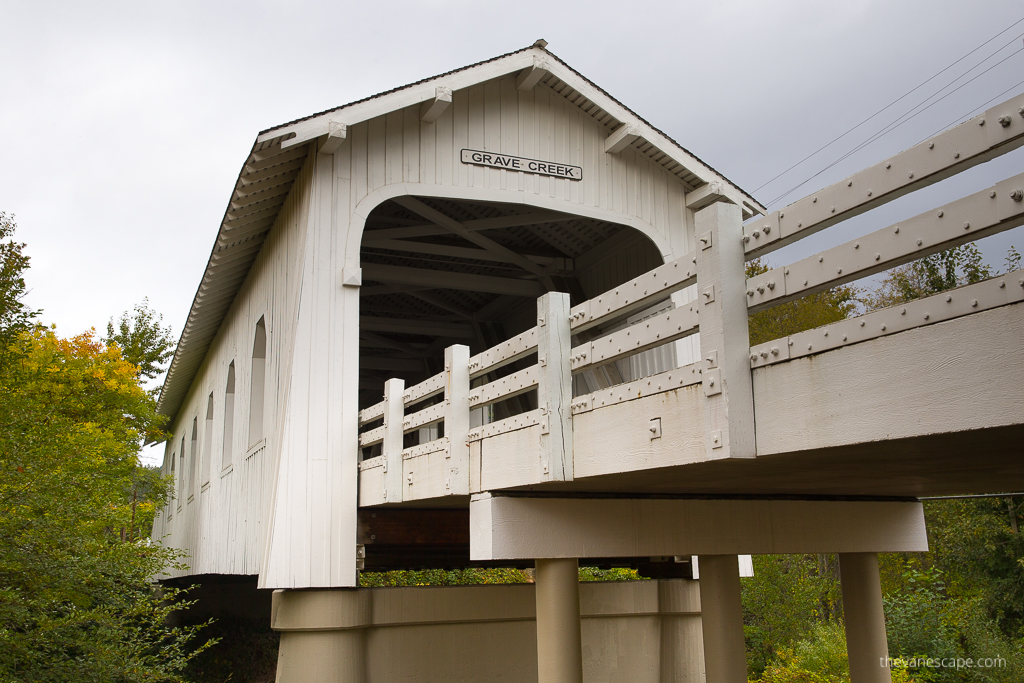 Oregon Covered Bridges – Larwood Bridge
Larwood Bridge is our favorite covered bridge in Oregon. The wood is white, and light-exposed truss side openings are perfect for photos there. It is in Linn County, near Crabtree, at Roaring River's confluence, and Crabtree Creek. It was built in 1939 and had 105 feet in length.
The Larwood Bridge is one of three covered bridges across Crabtree Creek in Linn County.
Furthermore, it's open to cars. The area is amazing, with the Larwood Wayside Park beside the bridge. So, it's a perfect place to stop and rest during an Oregon road trip.
GPS coordinates are 44.630678°N 122.740921°W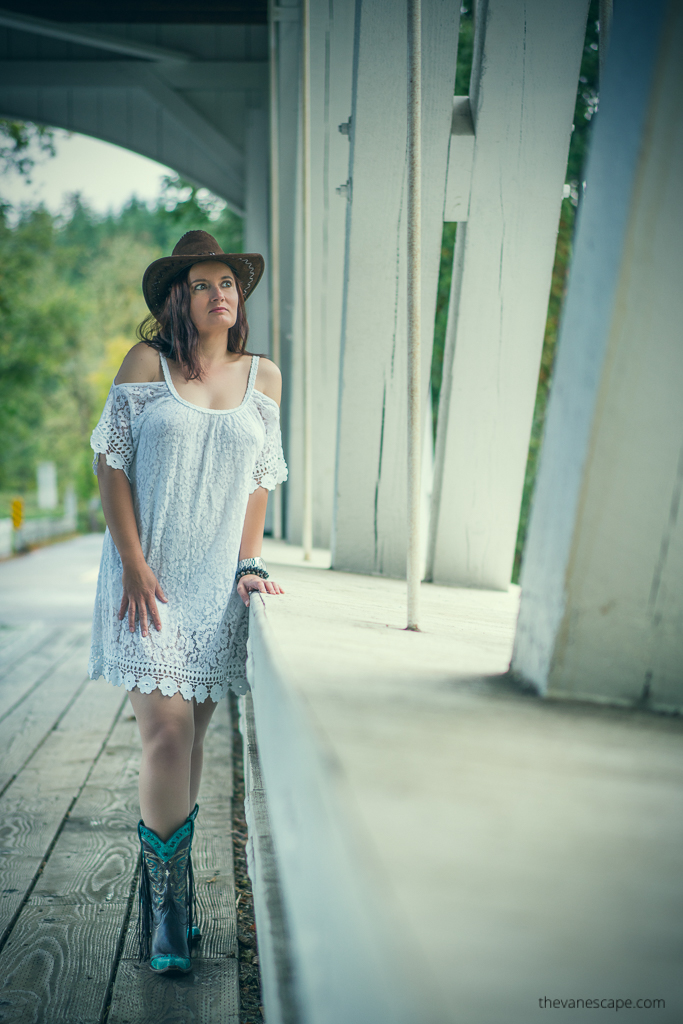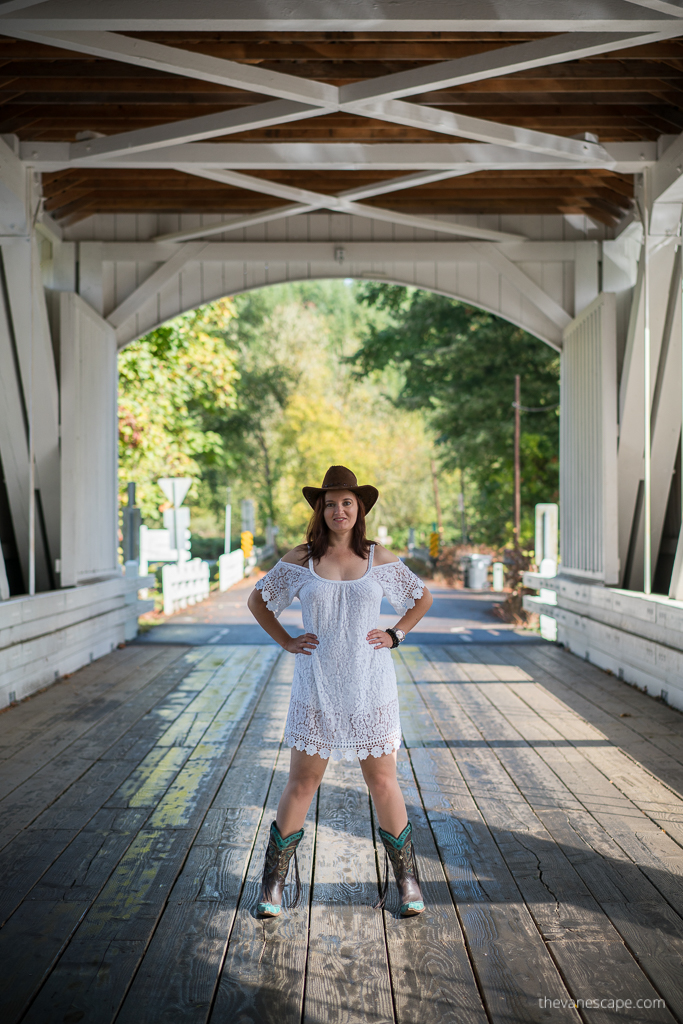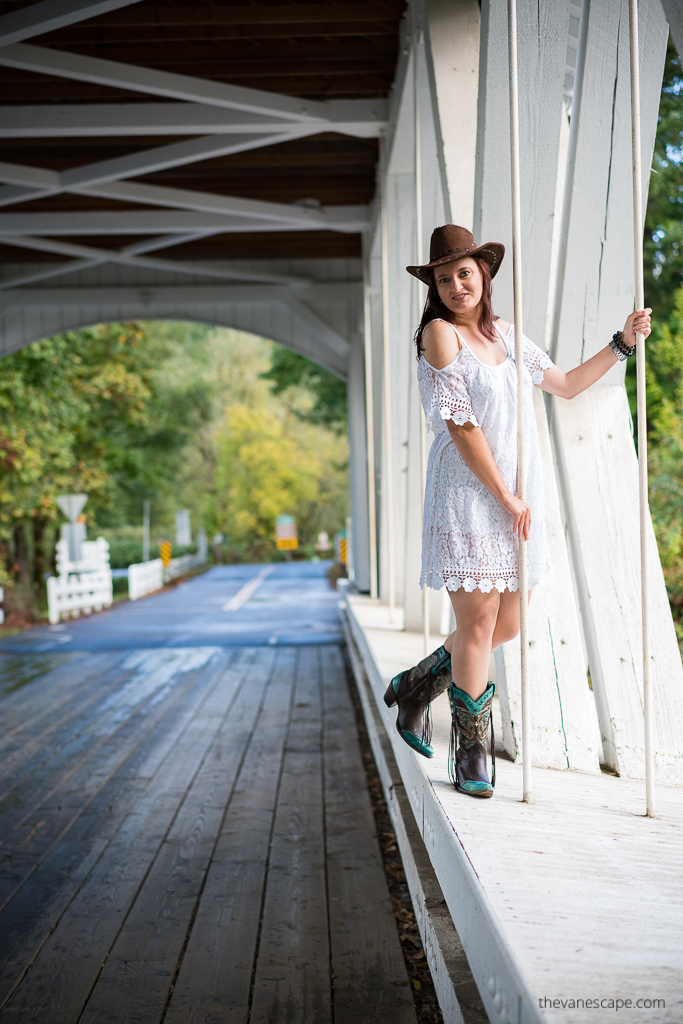 Oregon Covered Bridges – Hannah Bridge
Hannah Bridge from 1936 also is in Linn County, near Scio. The other name is Thomas Creek Bridge. It has 105 feet in length.
GPS coordinates are 44.712067°N 122.718420°W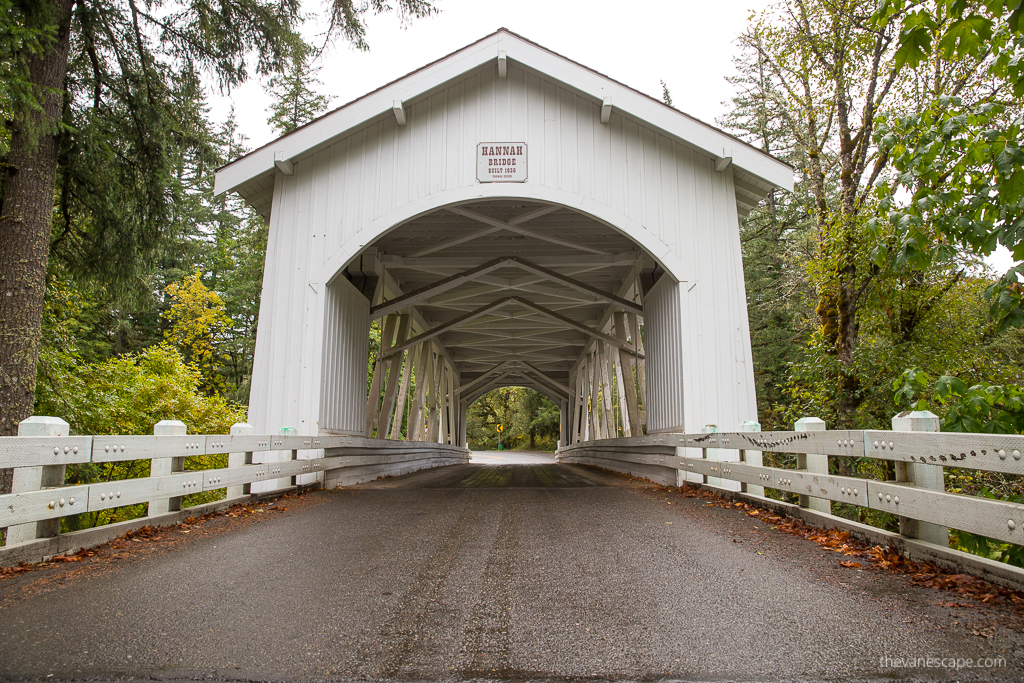 Oregon Covered Bridges – Shimanek Bridge
Shimanek Covered Bridge, aka Thomas Creek, was built in 1966. Its location is in Linn County, near Scio. It has 105 feet in length. Actually, the first bridge was built at this place as early as 1861. Then replaced in 1891 and 1904, then again in 1921 and 1927 after damaging floods, and one last time in 1966. Furthermore, a dark red color characterizes it. We love it.
GPS coordinates are 44.715673°N 122.804398°W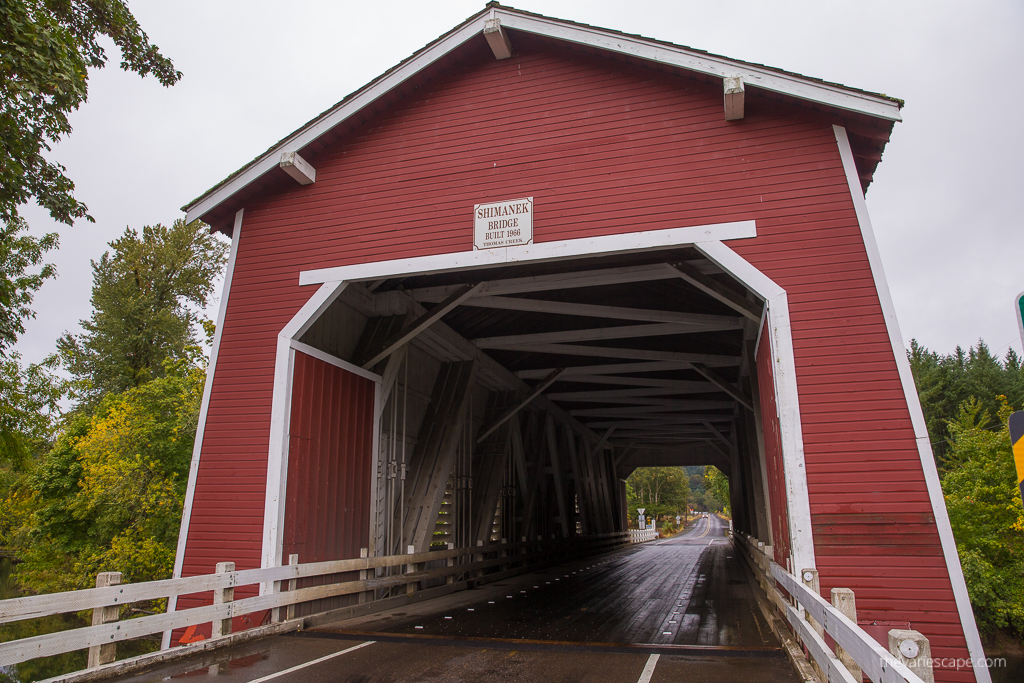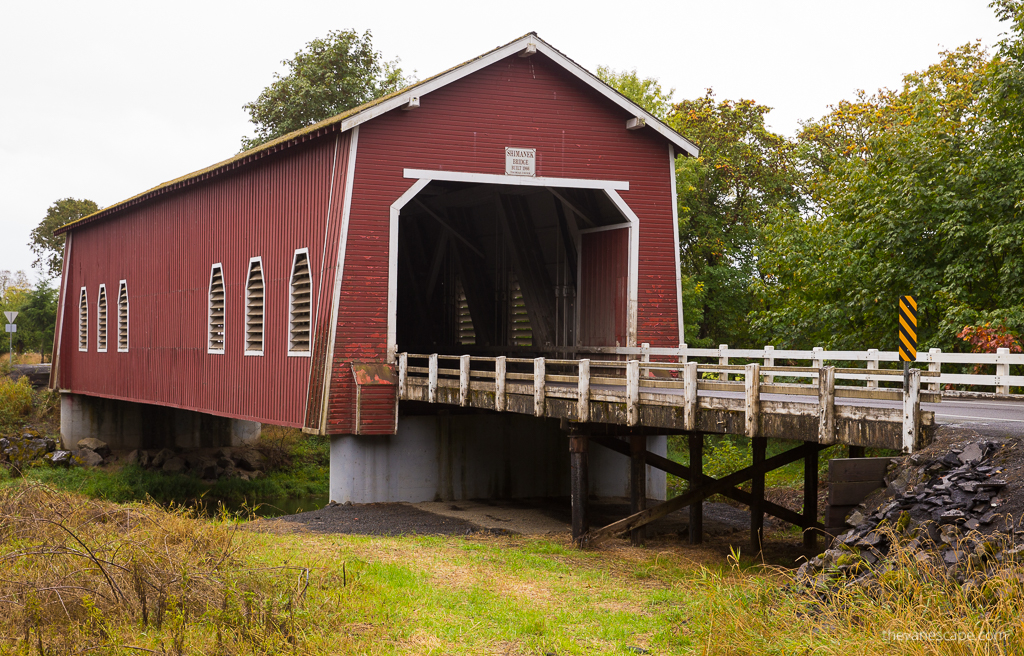 Oregon Covered Bridges – Sandy Creek Bridge
Sandy Creek Bridge is a footbridge of 60 feet in length. Furthermore, it's one of the oldest covered bridges in Oregon we have seen so far. It was built in 1921, so it is 100 years old! And it still looks pretty! It is in Coos County, near Sandy Creek's confluence with the Middle Fork Coquille River. GPS coordinates are 43.00637°N 123.89177°W.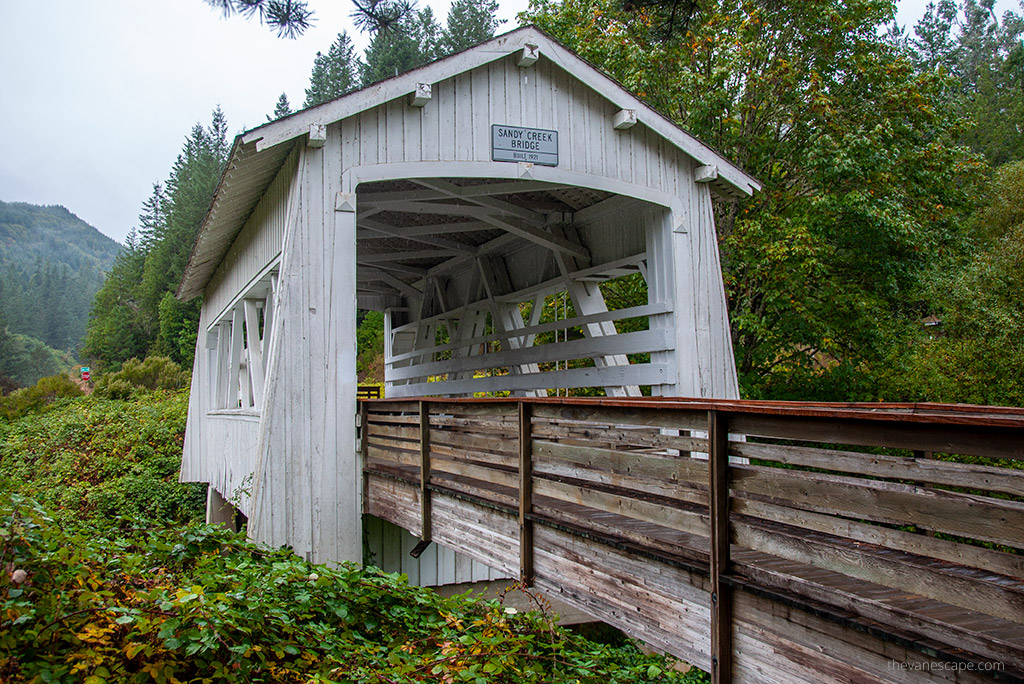 Oregon Covered Bridges – Currin Bridge
Currin Bridge is from 1925 and has 105 feet in length. Actually, it was built in 1883 and was replaced in 1925. The bridge has an unusual look – it is red on the sides and white on the front and back. It's open to pedestrians. It is a covered bridge in Lane County, near Cottage Grove. Furthermore, in Lane County remains, 19 covered bridges. So, if you are an interested history of covered bridges is worth adding Lane County to your Oregon itinerary.
The GPS coordinates are 43.7930389°N 122.9964583°W.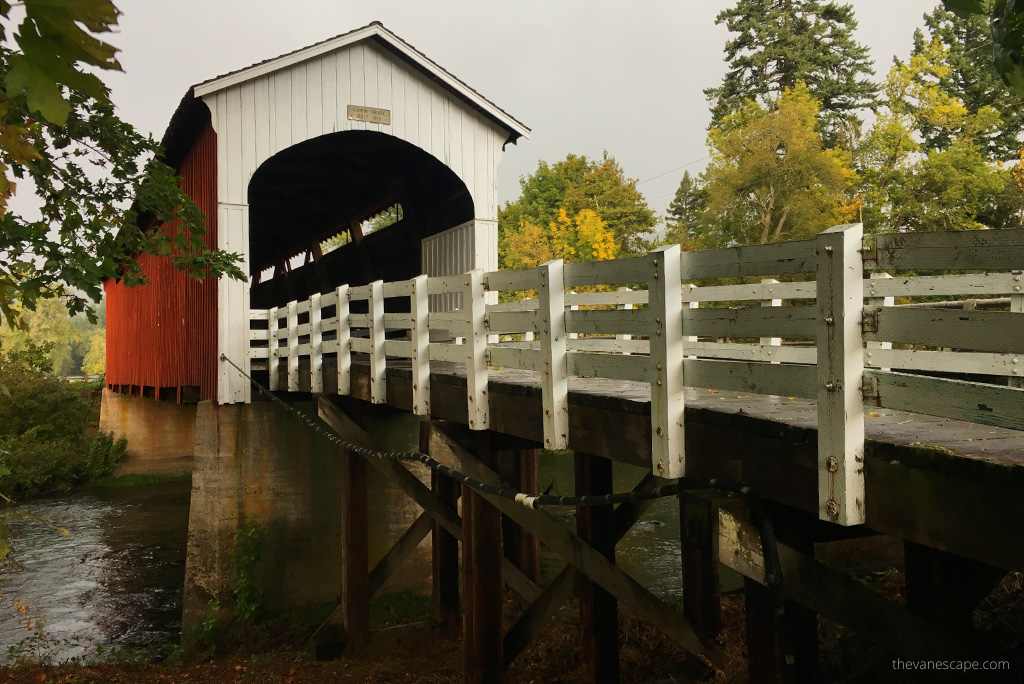 Oregon Covered Bridges Scenic Bikeway
If you like cycling and have more time, you can do the great bike route and see the most beautiful covered bridges in Lane County. There are 19 bridges.
Covered Bridges Scenic Bikeway route totals 36 miles (57.94 km). And it is a moderate route for an all-day cycling excursion. A scenic bikeway begins and ends in the All-America City of Cottage Grove, Oregon. It can be easily shortened. Furthermore, this route is also a great idea for families who love active holidays.
During this trip, you can admire Cottage Grove Covered Bridge, Chambers Bridge, Dorena Covered Bridge, Stewart Bridge, and more.
Finally, details you will find in the Covered Bridges Scenic Bikeway Map and the route description.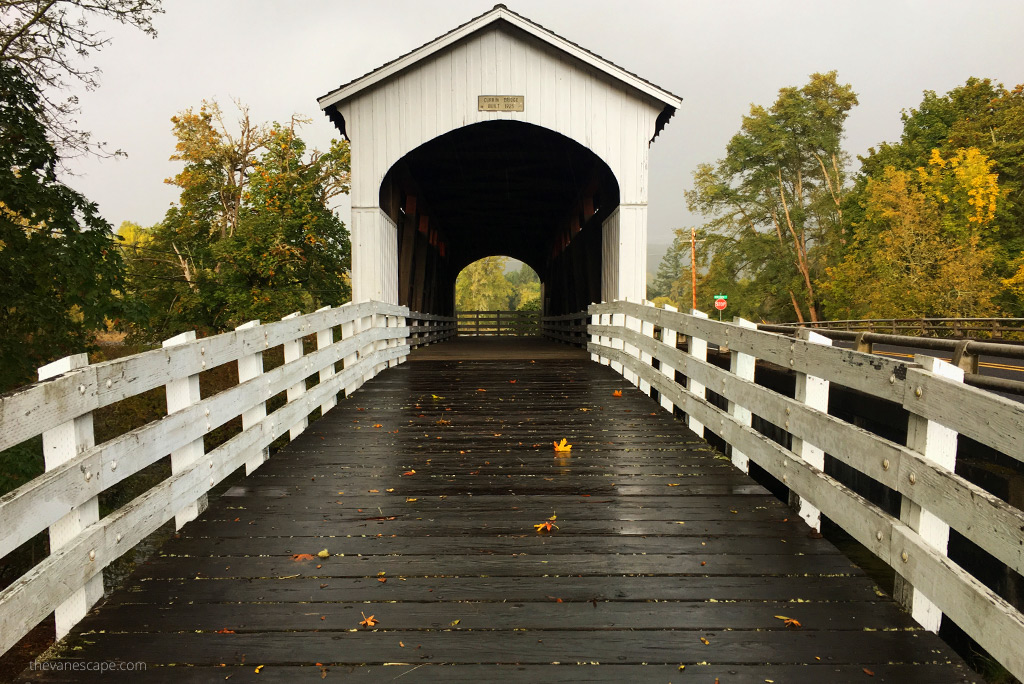 Cottage Grove Covered Bridge Tour Route
The Cottage Grove Covered Bridge Tour Route is a laid-back, easy, 20-mile journey through beautiful Lane County. This is one of Oregon's many officially designated scenic drives, along with the National Scenic Byways and Oregon State Scenic Byways. Furthermore, you'll see a half-dozen covered bridges as you travel along the Dorena Lake and the Row River.
Furthermore, it's also possible to extend your drive by heading north (east) toward Eugene. You will find more covered bridges in Lookout Point Lake and Fall Creek Lake.
So, if you are a fan of bridges, consider an Oregon Covered Bridges Road Trip. If you would like to see pictures of the rest of Oregon's covered bridges, we recommend this article.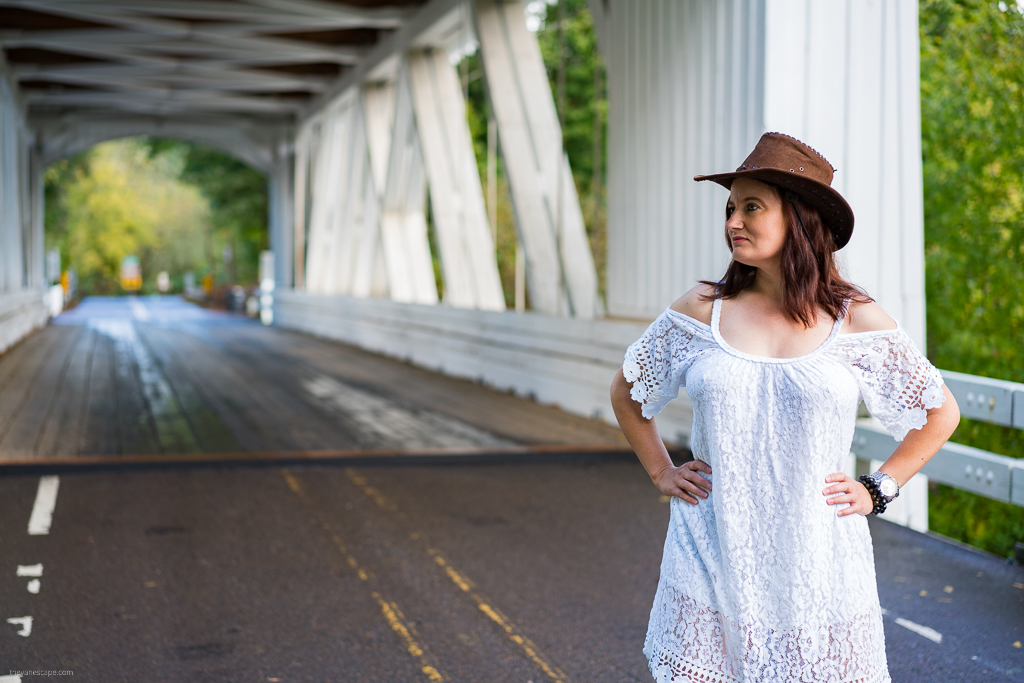 Related Articles to Oregon Covered Bridges
If you are planning an Oregon road trip, check out our articles below. Maybe it will inspire you to visit these places. So, our best places in Oregon are:
Portland is a fabulous city with 12 impressive bridges. So, check our Portland Itinerary.
The trip to the USA's deepest lake is an unforgettable experience. So, check our list of The Best Things to do at Crater Lake. The only National Park in Oregon.
Multnomah Falls is undoubtedly an icon of the Pacific Northwest. So, check our photos and tips here.
Here you will find our Guide to the Oregon Proxy Falls Hike & Photography Tips hidden in the Three Sisters Wilderness near Bend.
Tamolitch Blue Pool Hike in Oregon is fabulous. It is hidden in the Willamette National Forest on the McKenzie River in Linn County. So, you can combine it with covered bridges.
Or maybe you like ghost towns? One of the best in Oregon is, for sure, Shaniko Ghost Town.
Or maybe you are a fan of Jack Nicholson and Stanley Kubrick? So, visit Timberline Lodge: The Shining movie location in the Mount Hood area.
Or maybe you are interested in the Oregon desert? So, check our tips from the Alvord Desert in Oregon.
If you are a fan of hot springs, we can highly recommend three amazing hot springs in Oregon. Alvord Hot Springs in the desert, Crystal Crane Hot Springs, AKA Crane Hot Springs near Burns. And finally, the famous Umpqua Hot Springs.
Our favorite town in Oregon is Sisters. And we highly recommend it. Time has stood still there, and the possibilities for hiking in the area make it a perfect holiday destination.