Day Hiking Packing List with Printable PDF Checklist
Check out this comprehensive Day Hiking Packing List with Printable PDF Checklist if you are wondering what gear you need to hit a trail. Whether you are an experienced hiker or are just starting, we have prepared the day hike essentials you should pack for every hike. It is our must-have list, the practical gear we use and can recommend. We love hiking, but we packed useless items at the beginning of our hiking adventures. Years ago, we had various adventures with the wrong equipment or the necessary gear missing. We have gained experience and knowledge, which we can now share with you. Please find below our Day Hiking Packing List containing all the essentials you should pack to keep you safe on the trail. Furthermore, we share plenty of tips on how to choose your perfect gear! Finally, you can print our Day Hiking Packing Checklist!
This article may contain affiliate / compensated links. For full information, please see our disclaimer here.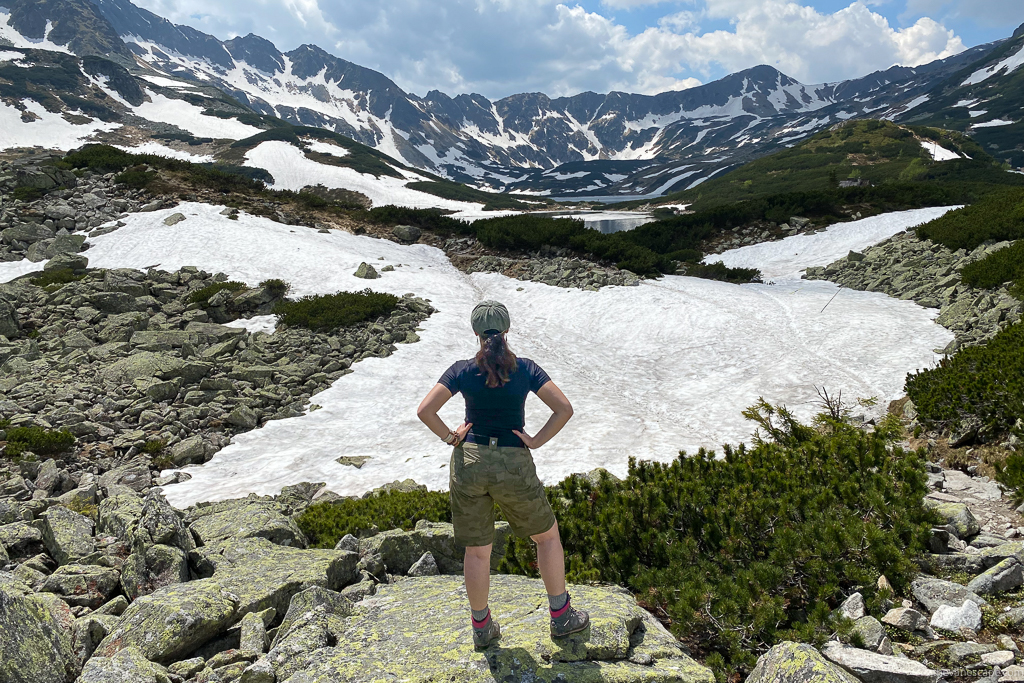 Day Hiking Packing List – Introduction
We have wandered hundreds of miles of trails from Alaska to Florida, Central and South America, Asia, and Europe. Furthermore, we also hike wilderness areas where trails are not marked. We hike through the snow, mountainous regions, deserts, and forests. We love hiking, and we try to spend every free day actively. This list is the result of our many years of hiking experience. So, in this article, we share our Day Hiking Packing List.
Moreover, we share plenty of tips on how to choose your perfect hiking gear. What features to pay attention to before buying equipment? So, you will find below a few chapters about hiking gear essentials. The sections are Daypack, Hiking Gear & Tools, Clothing & Footwear, Navigation & GPS Devices, Emergency & First Aid, Food & Water, Health & Hygiene, Personal Items, Day Hiking Extras.
We present a Day Hiking Packing List of gear that we use and like. All this stuff has worked or works excellently on our hikes. We like it and recommend it. Finally, you can print our Day Hiking Packing Checklist!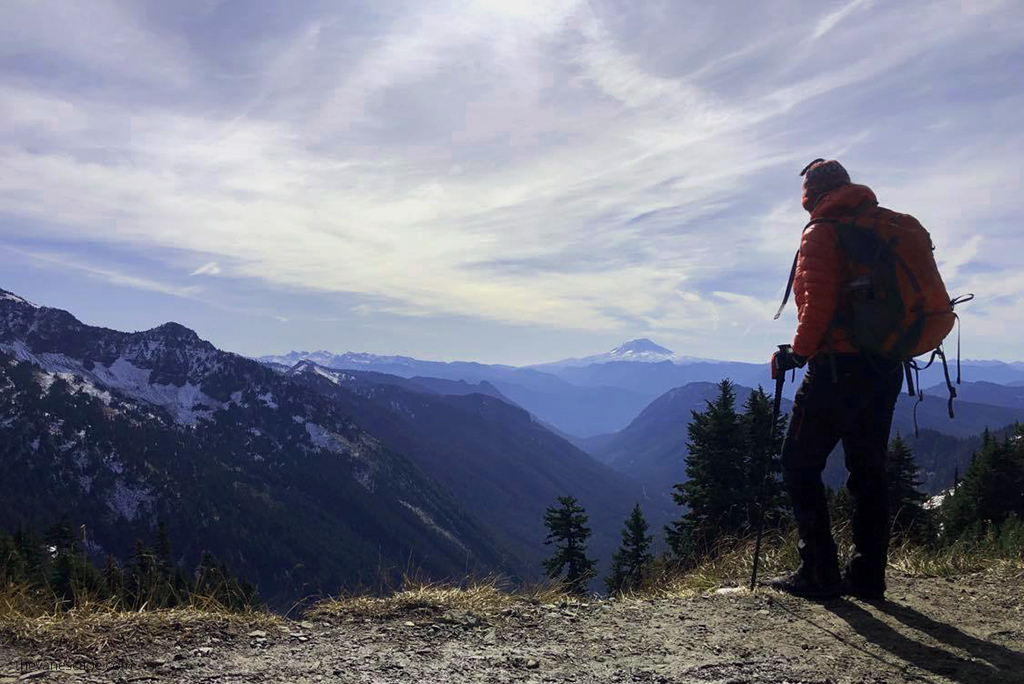 Day Hiking Packing List – Daypack for Your Hiking Adventure
How to choose a perfect daypack?
First of all, a proper backpack is essential gear for day hiking. It must be your perfect hiking companion. So, how to choose a perfect daypack?
Before you buy a daypack, consider these four things:
Activity: How are you going to use your daypack? Only for short few hours and easy hikes? Or maybe longer all-day trails with moderate/challenging levels?
Capacity: Do you need extra clothes because of the weather changes, or do you want to pack your camera and lenses? The size of the backpack depends on how much gear you plan to carry.
Fit: Your torso length and hip size are relevant factors, so check the size before you buy your daypack.
Features: Things like frame type, belts, number of pockets and compartments, and backpack access affect how the daypack works. How easy it is to find an item when you need it.
The backpack has to be lightweight, sturdy, waterproof, or with a cover, you can put on in case of rain. It should have a lap belt to protect your spine. It's great to open it from the top and bottom to reach any item you need easily. It is important to keep the weight down as much as possible, so try not to go for a backpack with a capacity of more than 30-40 liters for women or 40-50 for men.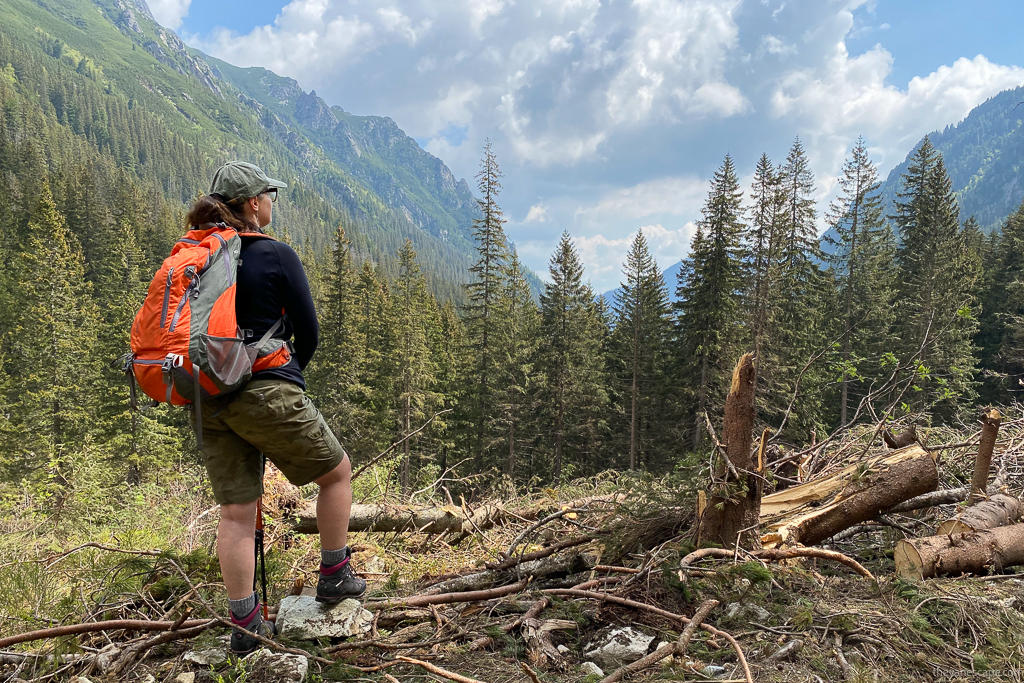 Daypack for a short & easy day hike
For short few miles & easy trails with predictable weather conditions, 20-30 liters daypack should be enough.
Day Hiking Packing List – Daypack For Women
Agnes likes Osprey Sirrus 24 Women's Hiking Backpack because it has a Stow-On-The-Go Trekking pole attachment allowing you to attach and carry trekking poles while wearing the pack quickly. Moreover, it has an internal hydration sleeve accommodating up to a 3L reservoir. You also have a larger 36L version here. Check reviews and prices for Osprey Sirrus 24 on Amazon.
Day Hiking Packing List – Daypack For Man
Chris uses Deuter Freerider Pro 28, an ultralight that lets you go faster and farther. It has ample cargo room and is very comfy. The construction just fits very well with your build. Great venting.
Best Daypack For All-Day Hike
But most of our hikes are longer, and we also carry photo gear, so we usually use a bigger daypack.
If your hike is longer than 3-4 hours go and back; you need food, more water, additional clothing, or gear; consider a bigger daypack of 30-45 liters. You need a very comfortable and high-capacity backpack for your day trips. It is crucial to your daypack to have a lap belt that relieves your spine. We love our Osprey backpacks. So, here are our favorite men's and women's backpacks that we use.
Best Daypack For Women
Agnes likes Tempest 40 Women's Hiking Backpack. 40L of capacity is perfect for committing day hikes or even lightweight multi-day trips. It has a comfortable wrap hip belt, which gives an incredibly stable carry system. It is also more breathable. Agnes loves the Stow-on-the-Go trekking pole carry system, which is useful during climbing when you need free hands. It has an external hydration sleeve that accommodates up to a 3L reservoir, which is a great solution. So, check more reviews and prices.
Best Daypack For Man
Chris uses Stratos 36 Hiking Backpack, a ventilated, featured, and durable backpack for one-day hiking. Smartly organized pocketing keeps all your equipment where you need it when you need it. It has a Stow-on-the-Go trekking pole attachment and an internal hydration sleeve. Ample size for coats, food, drinks, and a camera. It has excellent quality. Check prices.
Daypack Budget Option
We know that these Ospreys or Deuters are not cheap backpacks, but they are the best. So, if you are looking for something more affordable and still good quality, we can highly recommend this Waterproof Hiking Backpack perfect for men & women. Agnes uses it and likes it because it is ultralight, tear-resistant & waterproof. It has padded shoulder straps, an adjustable sternum strap, with a rain cover. Very comfortable and great for all-day hiking. 45L of capacity makes it perfect even for a few day's trips. Check it here.
Our favorites:
Day Hiking Packing List – Hiking Gear & Tools
Trekking Poles
There are many advantages to using trekking poles. Above all, the poles used for hiking need to be smoothly regulated. Trekking poles relieve the joints and the spine. When walking, especially in rough terrain or in the mountains, the body is exposed to heavy loads, the effects of which can be minimized by using poles. With trekking poles, you can gain more control when going down and soften the momentum of descent. You can also partially transfer loads to the upper body. Using trekking poles allows you to correct your posture. When using trekking poles, you often feel less tired. Trekking sticks help keep balance in places that are difficult to cross. Thanks to them, you can reduce the risk of falling on unstable surfaces. So, trekking poles are a must on our Day Hiking Packing List. Check our post: How to choose and use trekking poles.
One of our favorite models is Foxelli Carbon Fiber Trekking Poles and Montem Ultra Strong Trekking, Walking, and Hiking Poles. We used them for years. Great value for money. They're made of sturdy material, so you can use them and scratch them without worrying they'll break. Furthermore, they are lightweight enough. They are easy to unfold and fold. Finally, the grip is perfect because it is less sweaty. You can check prices.
The newest poles Agnes bought last year are Black Dimond. They are sensational but more expensive. So if you haven't used the hiking poles yet and want to see if it's a good solution, consider buying the trekking poles mentioned earlier.
Headlamp or Flashlight
A strong headlamp or flashlight with extra batteries are also must-have items for every hike. Even on short trails, we take a small flashlight. Remember that a flashlight can be used to call for help, so it's a tool for emergency use. Years ago, we had lost a trail during our hike. It was getting dark immediately after sunset. Thanks to our headlamps, we found the proper path. So, we always pack headlamps and an extra set of batteries, because you never know when they will need replacing.
We use these model of PETZL – TACTIKKA Headlamp. The lamp is bright, simple to use, and has a thick and comfortable headband.
Multi-tool or Knife & Repair Kit
We use these Pocket Knife with Multitool, which is ideal for outdoor activities like camping and hiking. It has great Swiss army-quality stainless steel. We like it because it is a compact multitool with essential implements that maximize usefulness while keeping bulk to a minimum. It's essential for gear repair, food preparation, and first-aid. You never know if you might need a knife in an emergency. All of the tools are easy to open and close. The scissors are very sharp. So, check prices of these Victorinox Swiss Army Climber Pocket Knife. We also take a mini repair kit & tape, which may help you fix something like a broken strap during your trip.
Our favorites:
Navigation is one of the most important and essentials for your safety during your hike. So, we present our must-have.
Map & Trail Description
We always pack a paper map for our hikes. And we use paper maps. Of course, we use phone applications as well. Our favorite app is AllTrails. But electronic devices can fail, especially on rough terrain where there is no coverage or batteries on your smartphone can run out. The map helps you find a proper trail, especially when the trail split off in different directions. So, the paper map is always on our Day Hiking Packing Checklist. Our Favorite Hiking Maps are National Geographic Trails Illustrated Maps.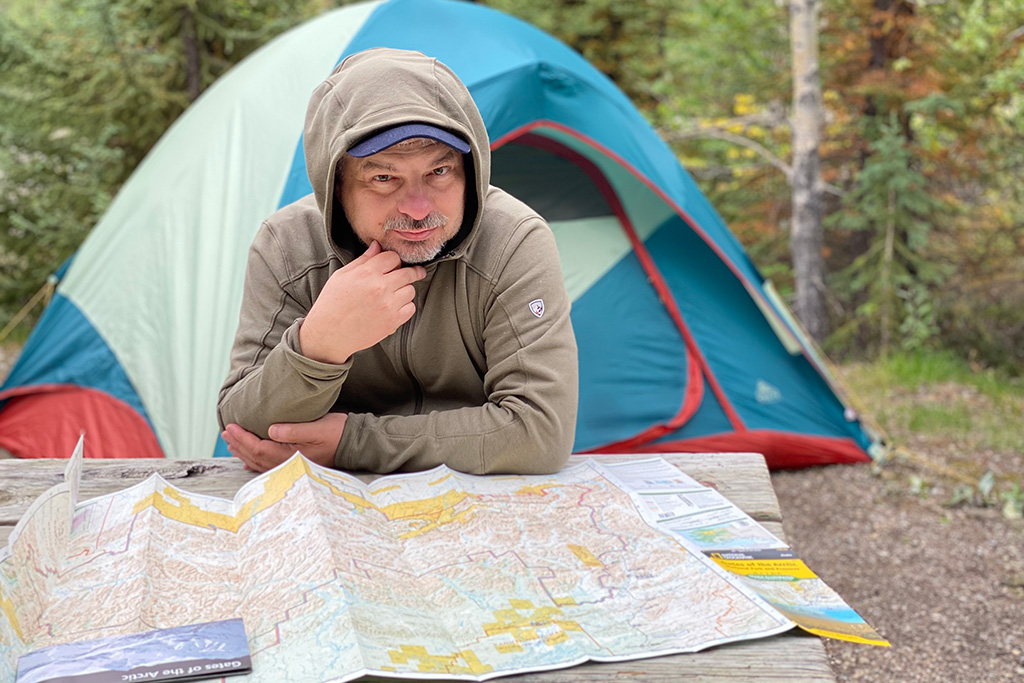 Outdoor Watch with GPS
If you love hiking and great outdoor adventures, you need a reliable GPS watch. It is helpful in everyday activities and measuring your every sporting activity. A good GPS watch offers top navigation features and a long battery life set up for multi-day adventures. It helps you enjoy your adventures, but most of all, it is a great safety tool, which enables you to find the right way. Outdoor watches can measure the altitude and speed of your hike, offer GPS guidance on walks or runs, and track your trips with long battery life. We love Garmin & Suunto outdoor watches.
Chris uses Garmin Instinct GPS Watch which has navigation, uploading of GPX routes, elevation data, storm alerts, and TrackBack (for following waypoints back to your starting location). There's a heart rate monitor on board, and much more.
Agnes uses Suunto 7 GPS Watch, which fits her perfectly. It works great during hiking and everyday activities. Suunto 7 doesn't only track your sports but your daily activity, stress levels, and sleep quality as well. It offers 60 customizable sports modes, so you can get relevant statistics regardless of your sport.
Compass
Small Basic Hiking Navigation Compass is a must just in case all devices fail. We use GPS devices, which have excellent quality, but the simple small compass is always in our backpack.
We use the Silva Ranger Compass, which is great for our adventures. This compass features a detachable distance lanyard as well as a sighting mirror so you can stay on track. The Ranger 2.0 Compass also has a magnifier for greater detail when reading your map. Luminous markings enable nighttime navigation. If you are looking for something more affordable we recommend this simple Costin Compass.
Our favorites:
Day Hiking Packing List – Optional Devices
We use these devices only as an option when we go into a more difficult, inaccessible area, a wilderness area, where there are no marked routes and where there is no phone reception. It's not in our backpacks during regular hikes, where trails are well-marked. These devices have been very useful for us during Alaska road trips, in Denali National Park, several times on the more difficult trails in Utah, the Wave hike, and in New Mexico when we went to the Bisti Badlands. So, we recommend them only for more challenging terrain.
Handheld GPS
GPS devices are very useful for safety, and we like to use them. For us, it is an essential gear in more remote areas.
When we lost in the wilderness area without a marked trail, our Garmin GPSMAP 64st navigated us and helped to find our way back. You don't want to stay overnight in the middle of nowhere, on the rough terrain. Getting lost might be very dangerous for your safety.
GPSMAP 64st includes a 3-axis electronic compass with a barometric altimeter, wireless connectivity, and preloaded TOPO U.S. 100K maps. It is helpful during hiking and quite intuitive and straightforward to use.
We also had the opportunity to check the Garmin Oregon 700 Handheld GPS in the field. And it is also fantastic piece of technology. It's very functional but learning how to use it presents a small challenge.
But, if you can afford it, please consider Garmin in Reach Explorer+ with Satellite Communicator. If you love challenging/strenuous trails, hiking in the wilderness area without marked trails, or you are a solo hiker, it is a perfect solution to have an SOS satellite search and rescue communicator. It is an extremely useful device that can save your life.
Personal Locator Beacon
Personal locator beacons (PLBs) are a satellite-synced device that sends an SOS signal to rescue agencies, along with your location. It works in remote areas worldwide and has multi-year battery life. It has a more reliable signal than a satellite messenger (unobstructed view of the sky works best). There are no subscription fees and no ability to send messages home or cancel an SOS call. PLBs must be registered. This device should be considered most of all by solo hikers who love challenging trails in remote, wilderness areas.
Satellite messengers
Satellite messengers are similar to PLBs in that they also allow you to send SOS distress signals from remote areas where there is no cellphone coverage. Most important are additional features like the ability to exchange texts from home and to do GPS navigation.
Our favorites:
Day Hiking Packing List – Emergency & First Aid Kit
First Aid Kit
Don't forget the First Aid Kit for your hike. We always have a First Aid Kit in case of an accident. So, it is a must-have on hiking trails.
We like this set because it is compact, light, waterproof, and contains everything necessary. What's inside the kit? This set includes shears, a polyester bag, adhesive bandages with different shapes, cotton gauze swabs, cotton swabs CPR Pouch with instructions, Crepe Bandage, an emergency blanket, hypoallergenic tape, nitrile gloves, safety pins, splinter probes, strip wound closures, First Aid Guide, tweezer, whistle, and more. So, it is perfect for an adventure. First Aid Kit is a must-have even for a short & easy hike.
Whistle
A safety whistle is also essential in your daypack. Our First Aid Kit set has it. If your set doesn't include a whistle, you should buy it. It is small and light. You can attach it to a backpack, and it will not take up space. Sometimes, there is no coverage. So, the only way to be found is to be heard. The loud, crisp sound of the safety whistle help find your location in case of an accident.
Day Hiking Packing List – Optional Emergency Gear
For hikes all-day long way, we always pack Fire Starter & Emergency Shelter. Just in case. In case we lose the trail and have to come back at night, in case of sudden weather breakdown. They take up little space and are light.
Fire Starter & Lighter
A firestarter & waterproof lighter is also essential just in case of emergencies. If you lost your trail and have to spend the night in the middle of the wilderness or in the mountains, this small lightweight item might save you.
Emergency Shelter
A sudden weather breaking may prevent your hiking. It may also happen that the temperature drops a dozen degrees even during summer. Or darkness surprises you on the trail. That's why you should have just in case an emergency shelter and emergency blanket. We have these Life Tent Emergency Survival Shelter.
Our favorites:
Day Hiking Packing List – Food & Water for Your Hike
Water and snacks are a must during a hike when you lose energy. Always take more water than you need just in case. Get yourself hydrated the day before the hike. What do we have on our Day Hiking Packing List?
Water Reservoir & Water Bottle
Here are our favorite water reservoirs, so that you can reduce your plastic waste. Agnes uses these HydraPak Water Bladder (3 liters) and Chris has Camelbak Reservoirs. We also got Osprey as a Christmas present – and it works great too. They are perfect for hiking. Very high quality and well constructed. Watch your body while hiking. Even experienced hikers have weaker days. If you start to feel dizzy, disoriented, nauseated, take a rest. Drink water, eat a salty and high-proteins snack, and rest as long as you feel better. If you are hot, drink more water and rest. The amount of water you carry on should depend on the length and intensity of your hike, your fit condition, sweat rate, season & weather conditions. So, if our hike is longer, and especially in summer, we carry on also a durable water bottle.
Hiking Snacks
You should pack snacks even for a short hike. For all-day hikes we always pack:
energy bars,
beef jerky,
different nuts,
energy gels or
electrolytes.
We take bananas, apples, or sandwiches. We prefer high protein & energy foods and drinks.
Trash Bags
Don't forget the waste bags, and don't leave any trace behind. Even a banana peel must be taken. Their scent can lure wild animals, so you must pack all your rubbish.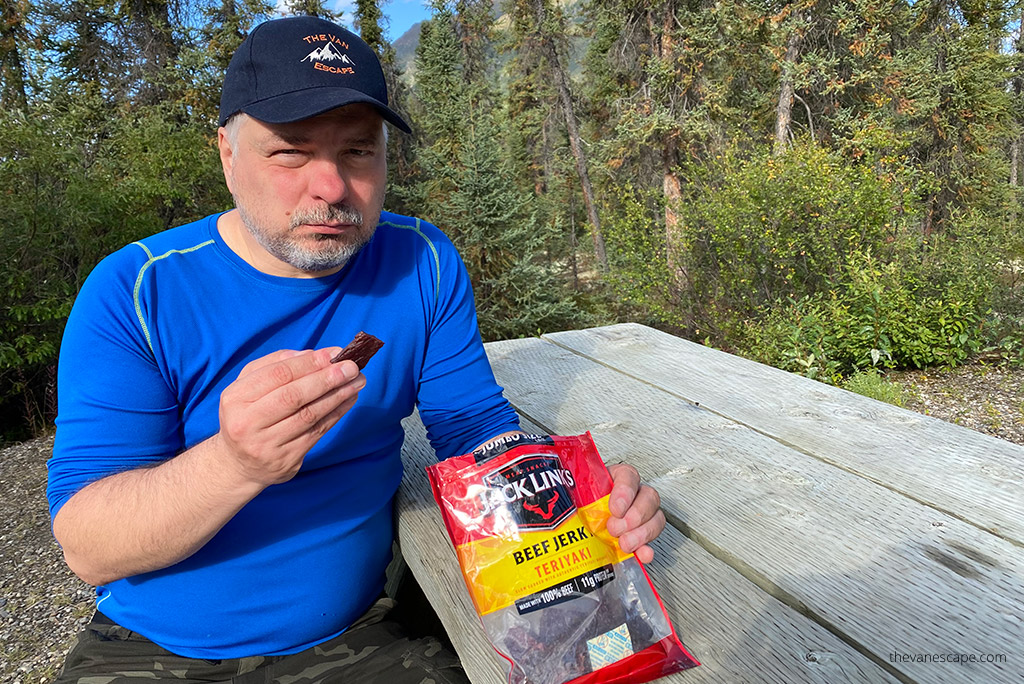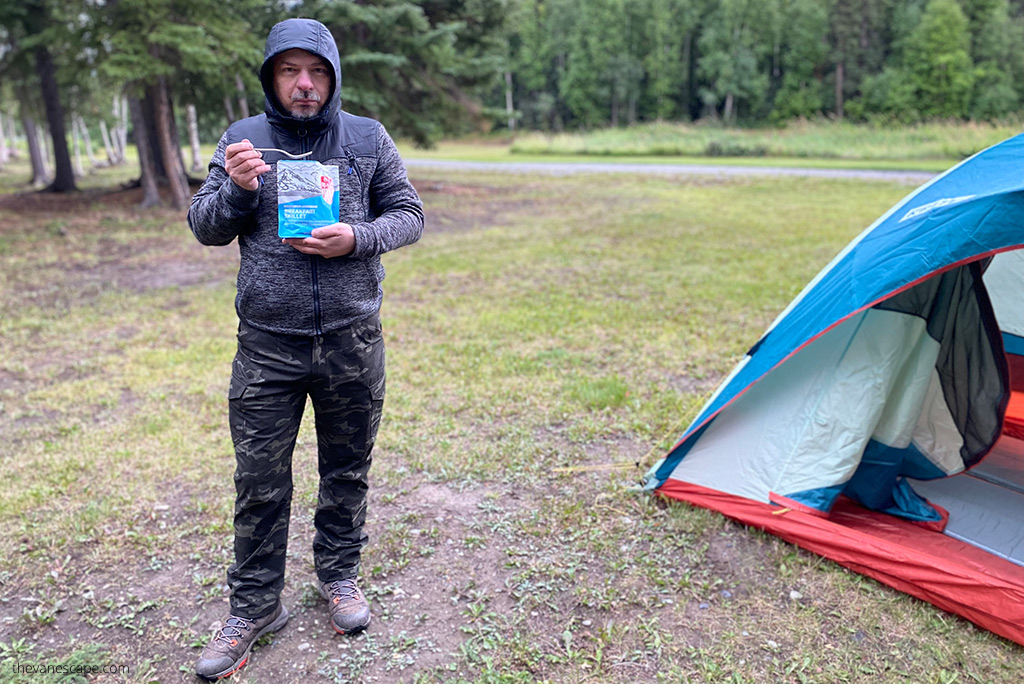 Day Hiking Packing List – Optional
Water Filter
Emergency Water Filter is optional. We take it for longer hikes, or when we hike in the remote/wilderness areas. And when we know that there are rivers or streams in a given area from which it will be possible to draw water. Potable aqua tablets are light and makes questionable water bacteriologically suitable to drink within 35 minutes, so just in case we pack them. Or you can pack a Survival Straw Water Filter which is a perfect solution. They use American Space Program NASA Technology: The material of the filter is made from Ahlstrom Disruptor adsorptive technology to ensure the water is free of impurities and safe to drink.
Spoon/fork
If you pack for your hike any dish, salad or yogurt don't forget to pack a hiking spoon/fork.
Extra Supply of Food
For longer, strenuous hikes, where we use our energy faster and burn more calories, we pack additional food.
Our favorites:
Day Hiking Packing List – Clothing & Footwear for Your Hike
This part of our Day Hiking Packing List is about clothing & hiking boots. Proper clothes and footwear are essential for your comfort and most of all for your safety during your hike. Even for a one-day hike pack some extra clothes. Wear layers. You have to be prepared for the sudden weather collapse or storm. If your hike is long, not marked, or in a remote area, you should pack warmer clothes just in case you have to spend an unplanned night on the trail.
Always check the forecast before your hike, and make sure to dress suitable for the weather conditions. Even if you are hiking during summer and it's hot, remember that temperature differences can be over a dozen degrees.
Hiking Boots or Shoes
Your hiking boots should become your best friends. What kind of footwear wear is determined by the type of your hike, the terrain you are going to, and the season. If you are going to hike in mountain, desert, or rock areas on rugged trails, you need hiking boots or shoes with excellent traction. We choose shoes covering the ankle. In our opinion, hiking boots with excellent traction are essential in rocky and deserted terrain. Always protect the whole feet and ankles if in your hiking area is possible to occur rattlesnakes, spiders, scorpions, or ticks. So check our favorites from Day Hiking Packing List.
Our favorite hiking boots are Mammut, which we used it for over three years right now. We hiked in Mammut's boots in the mountains in Europe, Argentina, Chile, Alaska, and also Arizona, Utah, New Mexico, and more. We love them. They provide exceptional support. We used them during all seasons. They managed in the rain, snow, and the scorching sun. So, we can higly reccomend them.
Agnes uses Mammut Boots DUCAN High GTX and they fit her perfectly. They are lightweight, direct, close-fitting, and close to the ground. Furthermore, they have a climbing zone that provides additional comfort, a precise fit, and safety.
Chris uses Mammut Men Trovat Advanced High Boot. They are great boots, very durable, super comfy with very good arch support. They worked great both in summer and in the snow.
To be honest, we have several pairs and shoes for several brands. Depending on the trip and terrain we choose the right one.
We also have, and we also like La Sportiva boots, Keen boots, Merrell boots.
With short shoes, Chris likes these La Sportiva Men's Akyra Mountain Shoe with great traction, impact, and downhill runner.
Agnes use these short KEEN Women's Targhee. The shoes have good support and keep her feet warm and dry even when hiking in the rain. Very comfy.
Our favorites:
Clothing
Layers of clothing are an essential part of all our hiking gear. So before your hike, think about these types of layers. Depending on the time of year, weather conditions, and the area you are hiking in, you may need other items, which we present below on our day hiking packing list.
Wool Socks
For a longer day hike, we add to our backpack an extra pair of socks. It's essential to have a dry foot. Good moisture-wicking socks are a must-have during your hike. When during the trek it is possible to rain or to go through a stream, we pack Smartwool Socks. Or we pack socks just in case of sweaty during summer. This way, you prevent getting blisters or undercooling your feet.
Our choice is Wool Hiking Socks, which are incredibly soft and warm and have natural wicking and odor-resistant properties. As a result, keep you dry and comfortable while active in cold weather.
Moisture-wicking Underwear
First of all, you need high-quality and quick dry underwear, for the reason that it's essential to feel comfortable during your hiking. So choose well your travel underwear. For Agnes best-hiking, underwears are sports bra and quick dry women's outdoor bikini. Chris' choice is breathable travel boxers. Breathable and moisture-wicking are the most important features. Our favorite underwear is made of ultra-light mesh fabric and thus they provide an ergonomic fit. The mesh fabric is smooth to the touch and extremely comfortable, which makes these underwear briefs offer superb durability and efficiently wick moisture away from the skin. Furthermore, due to the nylon and spandex fibers, they also dry very fast and offer good stretch.
Our favorites:
Long Sleeve Thermal Base Layers
The weather is unpredictable. That's why layered clothing will help you get ready for any conditions. Right thermal underwear is essential during hiking. We always wear a breathable base first upper layer. Its thickness depends on the season. We prefer lightweight long sleeve because it protects skin before the sun and before the bugs. So, the first upper layer you wear should be perfect.
Long Sleeve Top For Woman
For colder days, Agnes' choice is Smartwool Women's Base Layer Top – Merino, which is soft and warm and helps stay warm without overheating. The quality is perfect. For fall/winter, she always chooses a set with the highest weight (230-250gm) to protect against cold.
For hiking on warmer days she wears Woolly Clothing Co. Merino Wool, which is also the perfect top, which is no-odor, anti-microbial, fire-resistant, moisture-wicking. It is 150 Ultralight Weight Model, but in combination with an additional sweatshirt, it can also be worn on colder days.
Long Sleeve Top For Man
Chris's choice for mountains hiking is Smartwool Men's Base Layer Top with 1/4 Zip. which has a perfect quality. This heavier 250, soft, 100% Merino wool fabric offers breathable warmth, moves sweat away from the body, odor control, thermoregulation, and provides next-to-skin comfort in colder weather conditions.
The lighter top he uses is Smartwool Men's Long Sleeve Shirt – Merino 150. It is super light and of great quality. Really nice on the skin. It is the perfect choice for all of your spontaneous detours.
Our favorites:
Second Upper Layer – Lightweight Fleece or Jacket
We always pack Upper Mid-Layer for our day hike. It is usually a light breathable jacket or fleece. What we pack always depends on the hike area and weather conditions. For us seccond upper layer is essential on our Day Hiking Packing List.
Agnes loves her The North Face Women's Thermoball Eco Hoodie. It's one of the best she ever had because it's warm enough and comfortable. This jacket is excellent for everyday layering in chilly weather. It also has deep pockets for necessary gear as smartphone & the hidden inside pocket. Very warm and comfty. This jacket stows in the hand pocket, so it is great for keeping in your backpack. Finally, it is waterproof.
Chris' choice is Mammut Men Aconcagua Light Midlayer-Jacket which is warm and great as a layer as well. It is the mid-layer you can rely on in the mountains. The lightweight, comfortable, and stretchable material with high breathability will help you conquer ascents and descents. The flat design of the seams makes it feel very comfortable to wear and avoids chafing under a backpack. A technical mid-layer placing top priority on a good performance.
Rain & Wind Upper Layer
Windproof and warm jacket in the mountains is a must-have. Windbreaker & Waterproof is ideal for backpacking and hiking. It is a good idea to pack a raincoat or poncho even if you don't expect the rain.
Agnes loves Marmot Women's Starfire Lightweight Waterproof Hooded Rain Jacket. It is lightweight, hooded women's rain jacket is great for long travel days, tackling the tough mountain, and challenging hikes. Waterproof and breathable 3-layer NanoPro MemBrain fabric provides superior weather protection in moderate rain, snow, and wind.
Chris usually packs his Marmot Men's Magus Lightweight Waterproof Rain Jacket. Which is a great-fitting, waterproof & breathable 2.5-layer NanoPro fabric with stretch for moderate rain, snow, and wind; taped seams ensure true waterproofing.
Our favorites:
Third Upper Layer For Cold Weather (Optional)
It's optional and depends on the weather and your hiking area. During winter or if going to be extra cold or huge temperature amplitudes are possible, or you are going up to the summit in the mountains, where might be much colder, pack an extra warm jacket.
For women, Winter Warm Snow Coat is a great solution. This waterproof ski jacket is made from polyester, which is waterproof, windproof, durable, and stain repellent. It fits perfectly and is excellent for hiking and other outdoor activities. Special high-density fabric and coating, film composite process to obstruct the air intrusion effectively and works well on windproof. It provides enough warmth for outdoor life.
For men, we can recommend as heavier down jacket these Marmot Men's Tullus Hoody Winter Puffer Jacket. Which is ideal for chilly, damp conditions when hiking or climbing. Moisture-resistant Down Defender treatment on 600 fill power down keeps you warm in wet conditions.
Our favorites:
Hiking Pants and Hiking Shorts
We prefer light waterproof outdoor long trousers which are also windproof. It's important to be breathable and quick drying. If it is cooler out, consider adding thermal wool under the layer as well. However, for summer hiking adventures we prefer hiking shorts.
Hiking Pants and Hiking Shorts For Women
Agnes loves KÜHL's FREEFLEX™ ROLL-UP Women's Pants, which are lightweight, durable, surprisingly quiet, and packable. What's more, they are moisture-managing and quick-drying. Perfect for hiking. Breathable and quick-drying, keeping you cool and dry when hiking. Have excellent quality at a reasonable price.
For summer hiking adventures her favorite hiking shorts are Women's SPLASH™ 11. Here you can check photos and review the best hiking shorts.
Hiking Pants and Hiking Shorts For Man
Chris likes KÜHL Klash Pants, which are perfect for hiking and climbing. They have durable soft-shell fabric with a 2-tone weave, added abrasion resistance, and a durable water repellent (DWR) finish for year-round performance for a multitude of activities. For summer hiking activities his choice is KÜHL's innovative venting system and a nine-pocket design, the AMBUSH™ Cargo Men's Short.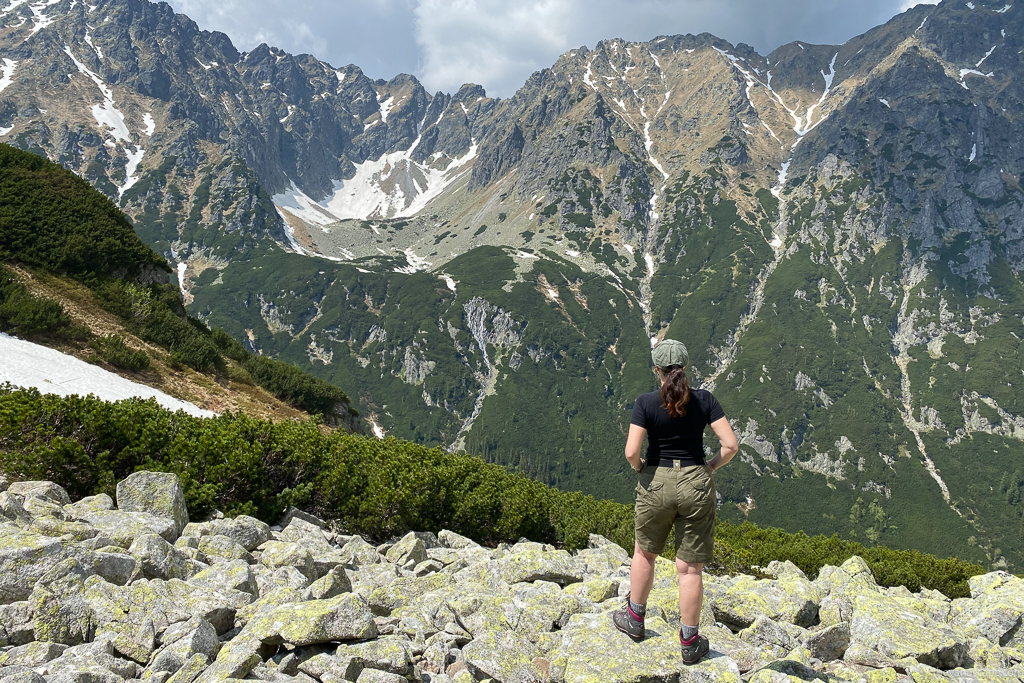 Beanie & Headbands or Hats
Depending on the weather, take a hat to protect the head against the sun. Don't forget about your sunglasses, as well. Or a warm beanie & headbands to protect against the cold.
Gloves
We use gloves not only during the winter. They are also helpful during hiking, especially when climbing in mountainous or rough deserted terrain. That's why we always have gloves on our Day Hiking Packing List.
Extras For Cold Weather (Winter)
Head & Foot Warmers
If you are planning a winter hike or trek in an area where it can get colder like the ascent to the peak, consider packing hand and foot warmers. It can save your life if you are surprised by a severe frost. Check our Yellowstone in winter photos and tips to see how cold it might be.
We have already used these heaters several times in winter conditions. They turned out to be a great solution. So, pack a few pairs Hand Warmers, and Foot Warmers or Toe Foot Warmers.
Crampons
If you expect snow on your trail, it is worth packing hiking crampons. It might be useful.
Our favorites:
Day Hiking Packing List – Health & Hygiene During Your Hike
Hand sanitizer
Taking care of hygiene is also essential during hiking, so a small hand sanitizer gel with alcohol must always be in our backpack.
Biodegradable Wet Wipes & Toilet Paper
We also always pack moisturizing/wet wipes. Choose biodegradable ones. We use them for refreshing the face, wiping hands, for intimate hygiene, or for cleaning dirty surfaces (picnic tables). Small biodegradable toilet paper is always on our daypack.
Our favorites:
Day Hiking Packing List – Optional Items
Trowel
For short routes, where there are rest areas with restrooms along the way, we do not pack the trowel. But for wandering remote areas and for longer hikes, we always pack small and light trowel. It is essential not to leave your trace. It's also for your safety because your smell can attract wild animals.
Sunscreen
Depending on the season and the place where you hiking, remember to protect your skin. Take a small sunscreen with you to avoid getting burned.
Lip Balm
As above, it is worth protecting your lips before the sun, but also before frost. During physical exertion, the lips crack faster, so we wear lip balm at any time of the year.
Insect Repellent
Bug Spray/Lotion or Bug Wipes we carry only if it's needed. It depends on the area of our hike and the season. During summer months or rainy, it might be a massive problem with insects, especially mosquitos & flies.
We prefer wipes because it's easier to use them. Check if your insect repellant consist DEET substance, which makes it more effective.
Menstrual Products
Don't forget menstrual products, if you need them during a hike.
Medicines
If you take any medications or have repetitive ailments like migraines, don't forget to pack the right pills, which helps you.
Our favorites:
Day Hiking Packing List – Personal Items
ID & Emergency Contact with Itinerary
ID is a must on your day hiking packing list. Don't forget it. Furthermore, for your safety, you should have a note with the emergency contact number of the person to be notified of an accident that happened to you.
You should also inform someone about your hiking plans, especially if you are hiking alone. So give someone your itinerary. Leaving your itinerary in the car (under the seat) with your contact and emergency contact numbers is also a great solution.
Credit Card/Cash
Take some cash or credit cards if you go on a trail where the fee must be paid. If you are going to the national park, don't forget your annual pass.
Cellphone & Power Bank
Don't forget your cellphone and power bank. Yes, you need it. Very often, there is no coverage on the trails. The phone trying to find a connection will discharge faster. Also, when using the app or taking pictures, the battery runs out quicker. So, power bank is always on our day hiking packing list.
Travel Insurance
Travel Insurance is the basis of the journey. No matter if you are going on one day hike or longer backpacking hiking take the insurance. No matter if you are going an organized luxury vacation or a road trip, remember about insurance. It's crucial to travel & hiking safely. We always use World Nomads. You can buy and claim online, even after you've left home. Travel insurance from WorldNomads.com is available to people from over 130 countries. It's designed for adventurous travellers with cover for overseas medical, evacuation, baggage and a range of adventure sports and activities. It must have on the Day Hiking Packing List.
Day Hiking Packing List – Optional
Permits
If your trip requires additional permits – don't forget to take/print your permission.
Day Hiking Packing List Extras
What else you pack for the hike depends on your needs and for the type of your trek.
These optional extra items on your Day Hiking Packing List might be:
Camera & Lenses
What cameras and lenses we use during our travels & hikes, you can check in this article.
Tripod
You can find our favorite tripods here.
DJI Osmo Pocket Camera or Go Pro
Chris was not a big fan of videos until he got DJI Osmo pocket to his hands. This camera is so small and so flexible that you can record great youtube videos only with this. And it is 4K. After using it for a couple of weeks, we have fallen in love and decided that we don't need anything else. DJI Osmo Pocket is enough for most of the tasks on the road trip, perfect during our hikes. And we decided to share our experience with you in this short DJI Osmo Pocket Review.
Bear Spray or Bear Bells
If you are planning a trip to bears areas, like Alaska, Wyoming, or Canada, you have to be aware that you can see bears. And it is essential that this meeting is safe for both sides. So, just in case take bear spray or bear bells. More about bear safety, we write about this article from Alaska.
Rain Pack Cover
If your backpack is not waterproof or does not have a cover, be sure to pack Rain Pack Cover.
Hammock
We love to rock in the hammock and read books. That's why if our hike leads through a wooded area and is not very long and tough, we often take these light hammock. It is wonderful to rest in it during the hike.
Book or Kindle
If your hike is not too long and too strenuous and you have time for a more extended rest, you can always take your favorite book or Kindle to read and relax.