Capitol Reef National Park Itinerary: 1 and 3 Days in Park
Discover the ultimate Capitol Reef National Park itinerary that turns any visit into a memorable adventure. Whether you're here for a day or an entire weekend, we've curated the best activities and must-see spots. Get ready to explore the awe-inspiring landscapes and hidden treasures that make Capitol Reef a Utah must-visit destination. Check how to spend one day in Capitol Reef and what to do during three days in this park. Your dream adventure starts now!
This article may contain affiliate / compensated links. For full information, please see our disclaimer here.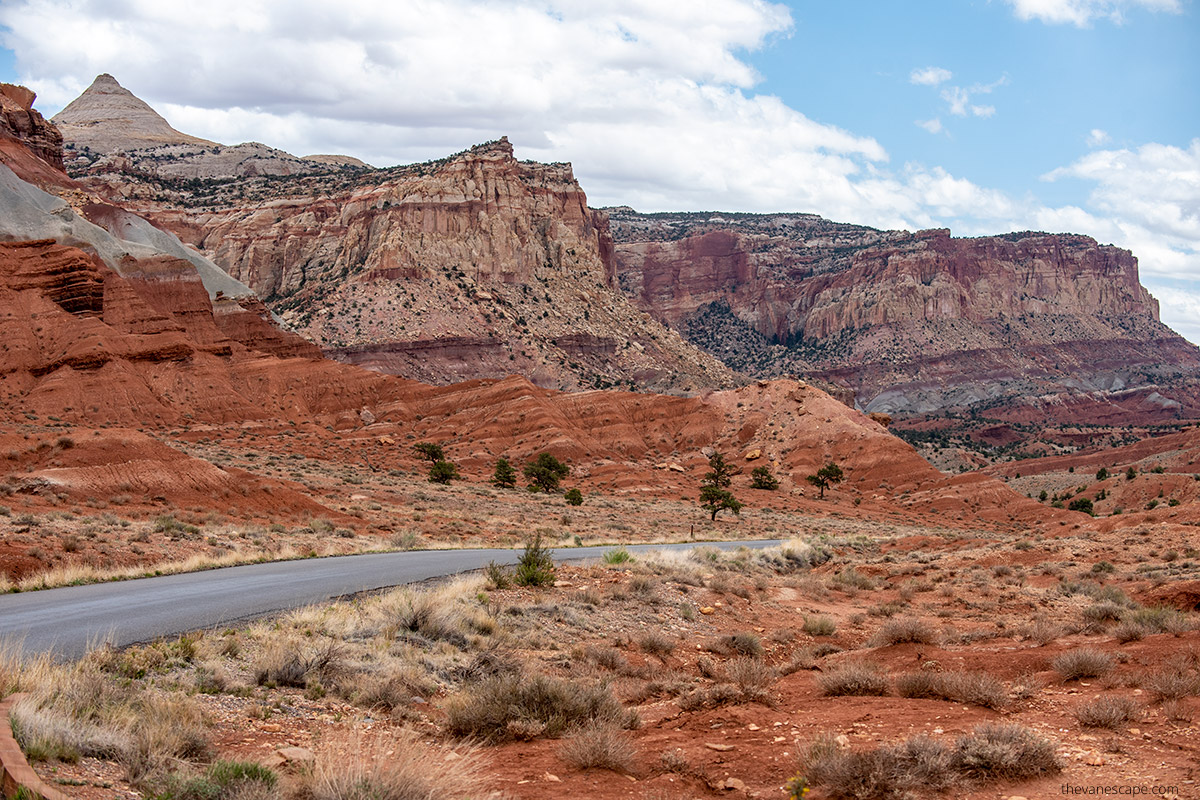 Capitol Reef National Park Itinerary – Introduction
Welcome to your ultimate guide for crafting the perfect Capitol Reef National Park itinerary! Whether you've got just one day in Capitol Reef or a three-day weekend, this awe-inspiring national park has something for everyone. But let's face it, planning an adventure in such a vast landscape can be overwhelming. That's where this guide comes in handy. We'll break down how to make the most out of your time, from catching the sunrise at iconic viewpoints to hiking through hidden canyons.
Have you already read our comprehensive guide on how to visit Capitol Reef and how to plan a trip step by step? How to get there, the best time to visit, where to stay? Great! This itinerary will be the cherry on top, helping you plan your days down to the last detail. And if you're intrigued by the driving Cathedral Valley Loop, don't worry—we've got a whole article dedicated to that, too.
Following this guide sets you up for a trip filled with expert-approved activities and must-see spots. This Capitol Reef itinerary is based on our firsthand experiences and trips to this national park. We share well-thought-out and proven tips and the most interesting daily plan – highlights if you have one day to explore and the park's hidden gems for travelers fortunate enough to spend up to three days exploring. So, let's get started!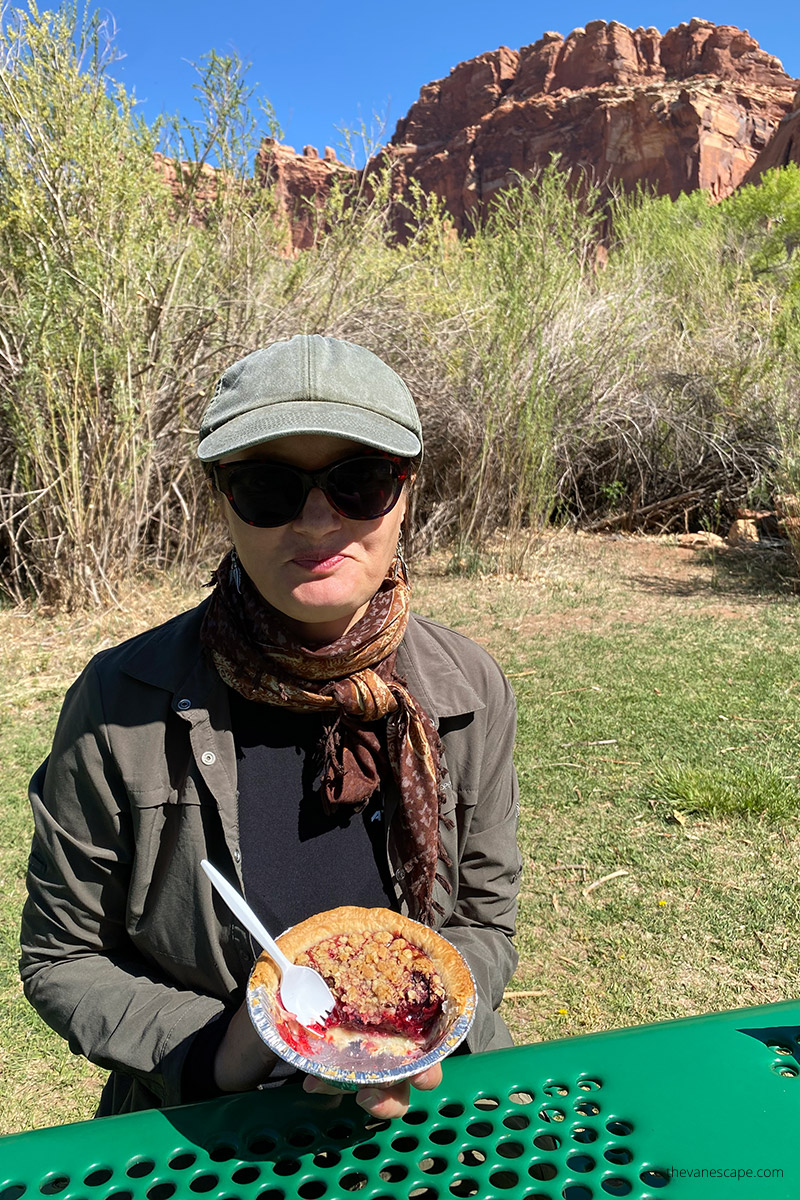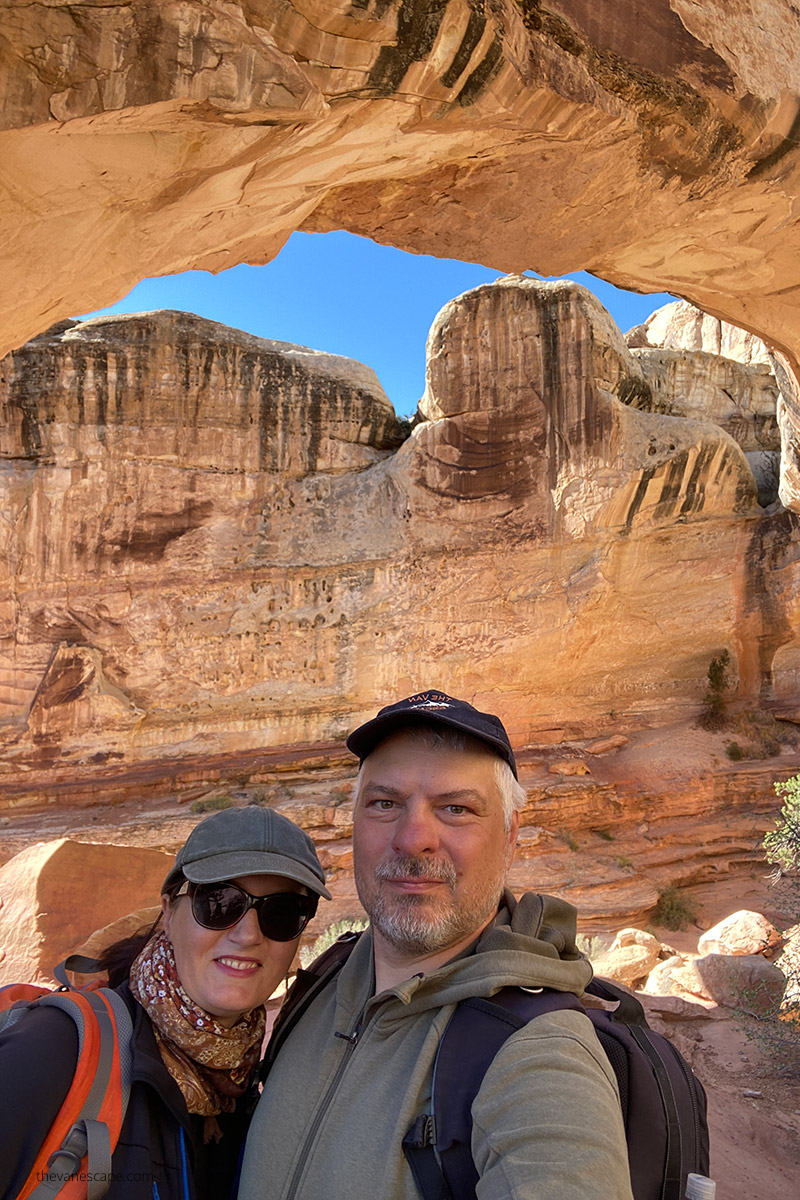 One Day in Capitol Reef National Park Itinerary
Wondering if it's possible to capture the essence of Capitol Reef National Park in just one day? The answer is a resounding yes! This one-day itinerary is tailor-made for first-time visitors looking to experience the park's highlights. It's also an ideal option if you're on a Utah National Parks road trip and time is of the essence. From awe-inspiring geological formations to historical landmarks, this itinerary packs in the best of Capitol Reef, offering a day filled with unforgettable adventures.
The best part? You don't even need a 4×4 vehicle to explore these iconic spots, which we suggest for one day in Capitol Reef; a regular car will do just fine. So, what to do in Capitol Reef National Park in one day? Here are our first-hand suggestions.
Start Your Day at the Visitor Center
Start your day at the Visitor Center to get oriented. Here, you can pick up a park map, learn about current conditions, and maybe catch a ranger-led program. It's a great way to get a quick education on the park's geology and history.
Why: The Visitor Center is your gateway to Capitol Reef National Park. Here, you can get the latest updates on trail conditions, weather forecasts, and even wildlife sightings.
Details: The Visitor Center opens at 8:00 AM and is staffed with knowledgeable park rangers. They can provide personalized advice tailored to your interests and physical capabilities.
Our Tip: Don't miss the short film about the park's geology and history. It's a quick 20-minute watch that enriches your visit.
Exciting Fact: The Visitor Center itself is a sustainable building designed to minimize energy use and environmental impact.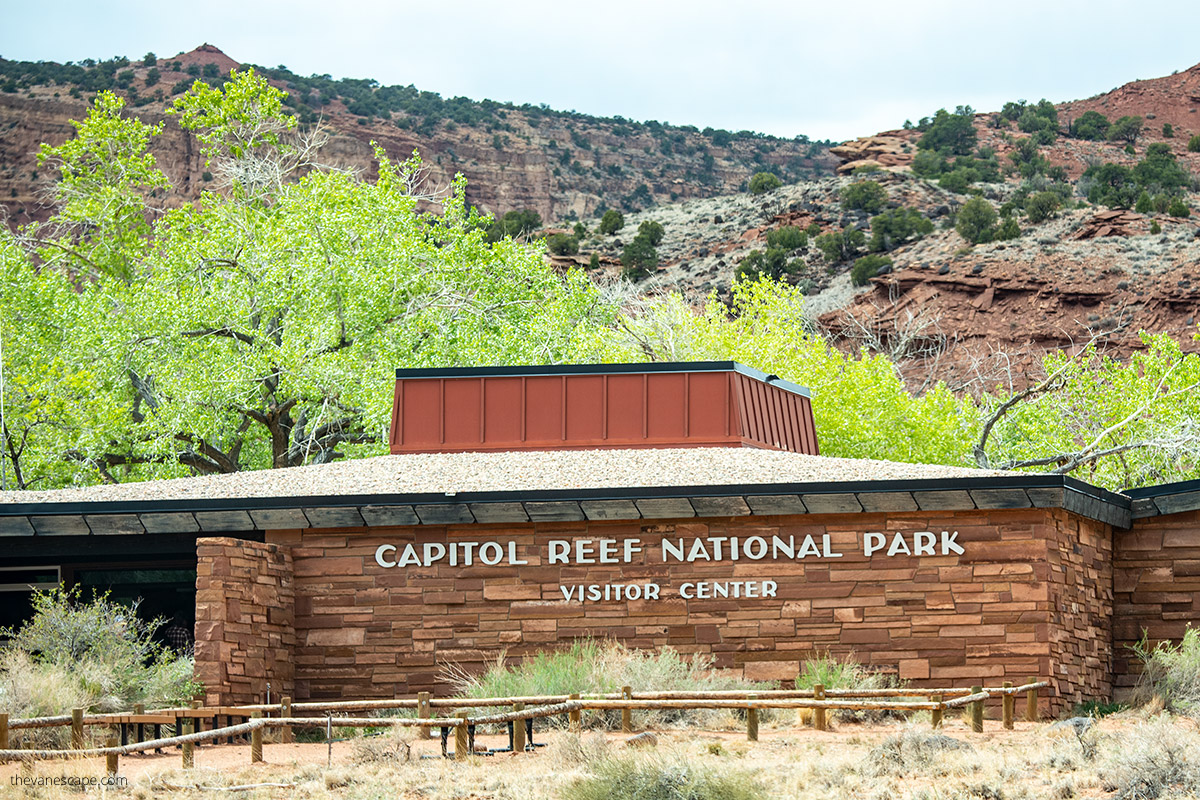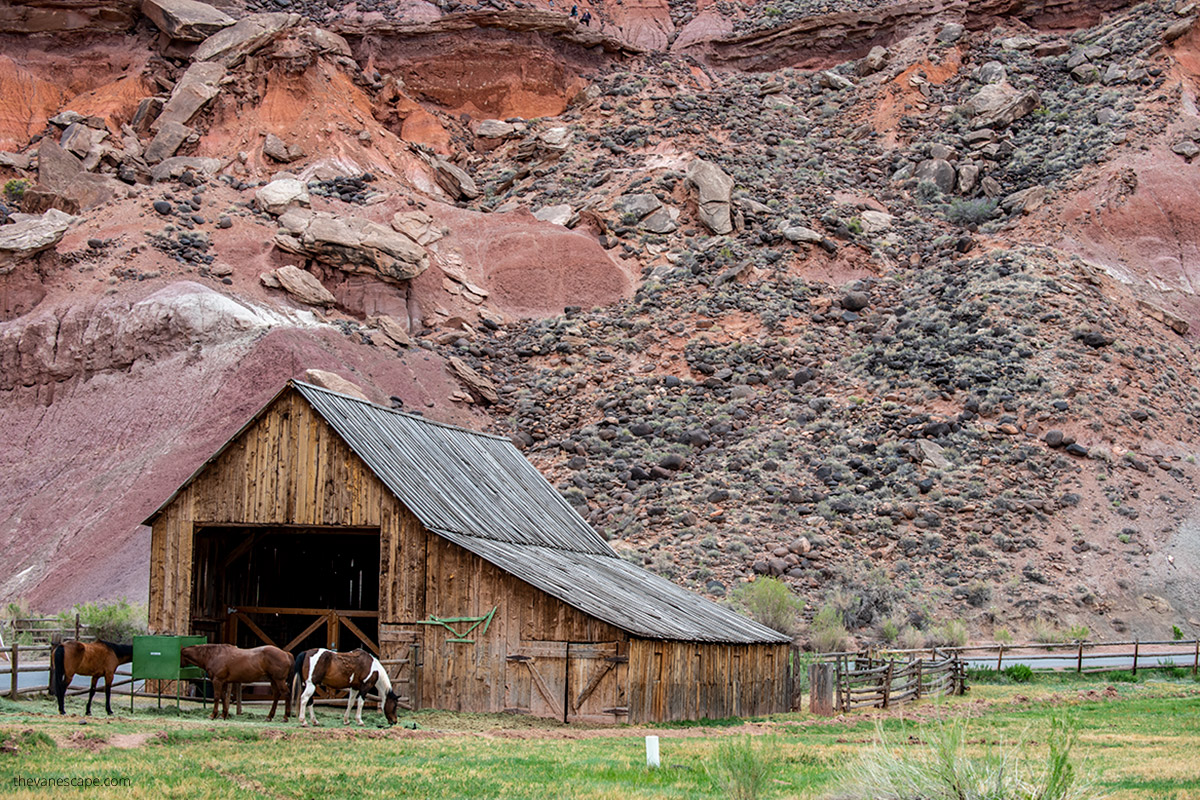 Gifford Homestead
Before you hit the trails, make a stop at the Gifford Homestead. This charming historic site offers a glimpse into the life of early Mormon settlers. Don't miss the chance to try their famous fruit pies, made from orchard fruits grown right in the park.
Large Wooden Barn
Adjacent to the Gifford Homestead is a photographer's dream, a large wooden barn ( the Pendleton Barn). The best spot for capturing this rustic beauty is from the road that leads to the homestead, where the stunning backdrop of the Waterpocket Fold frames the barn.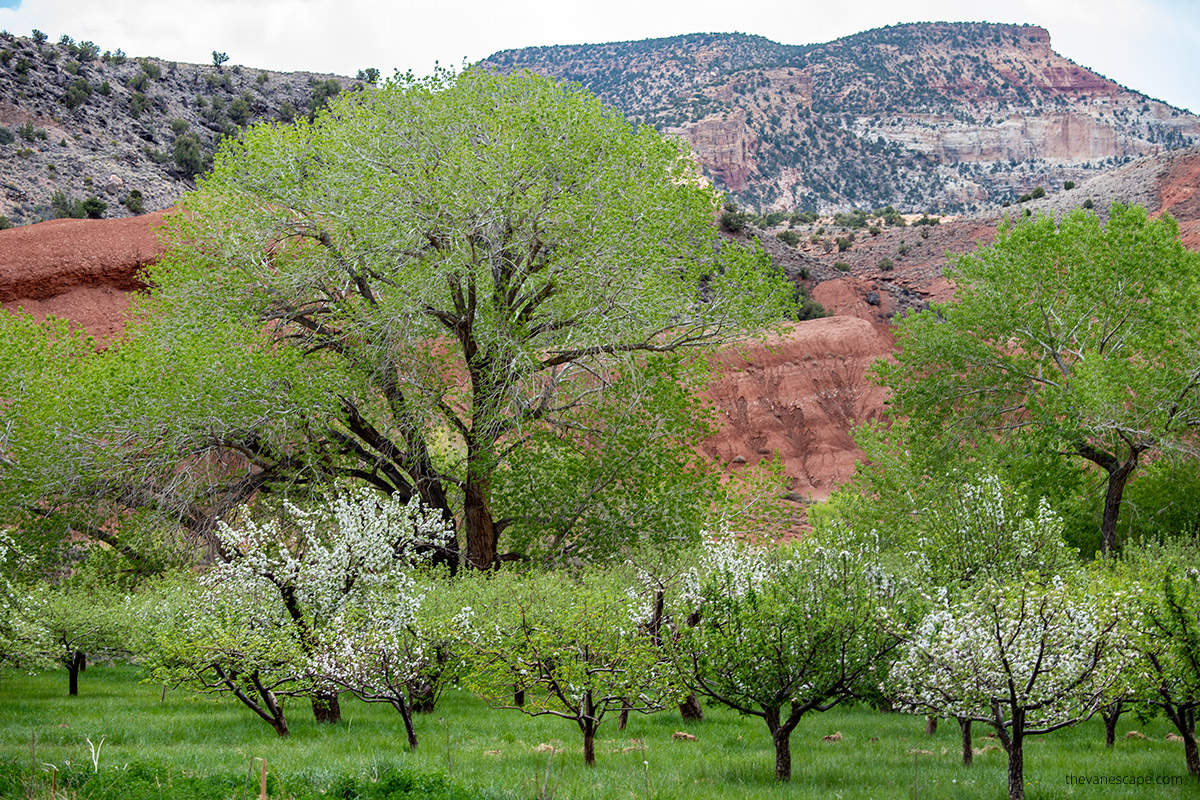 Scenic Drive: The Heart of Capitol Reef
After your delicious pie, take a leisurely drive down the Scenic Drive. A regular car is sufficient for this paved road. Stop at Panorama Point for a sweeping view of the Waterpocket Fold, and don't miss the pull-offs for Grand Wash and Capitol Gorge. These short trails offer a closer look at the park's unique geology.
Why: The Scenic Drive is like a "best-of" album for Capitol Reef. It offers a condensed experience of the park's diverse landscapes.
Details: The drive is 16 miles round trip and takes about 1.5-2.5 hours, depending on how many stops you make.
Our Tip: A regular car will suffice for this adventure; no need for a 4WD vehicle.
Highlights:

Grand Wash: This canyon is a geological marvel with walls rising up to 800 feet. It's also a habitat for desert bighorn sheep.
Capitol Gorge: This is where pioneers inscribed their names on the canyon walls. It's like a guestbook dating back to the 1800s.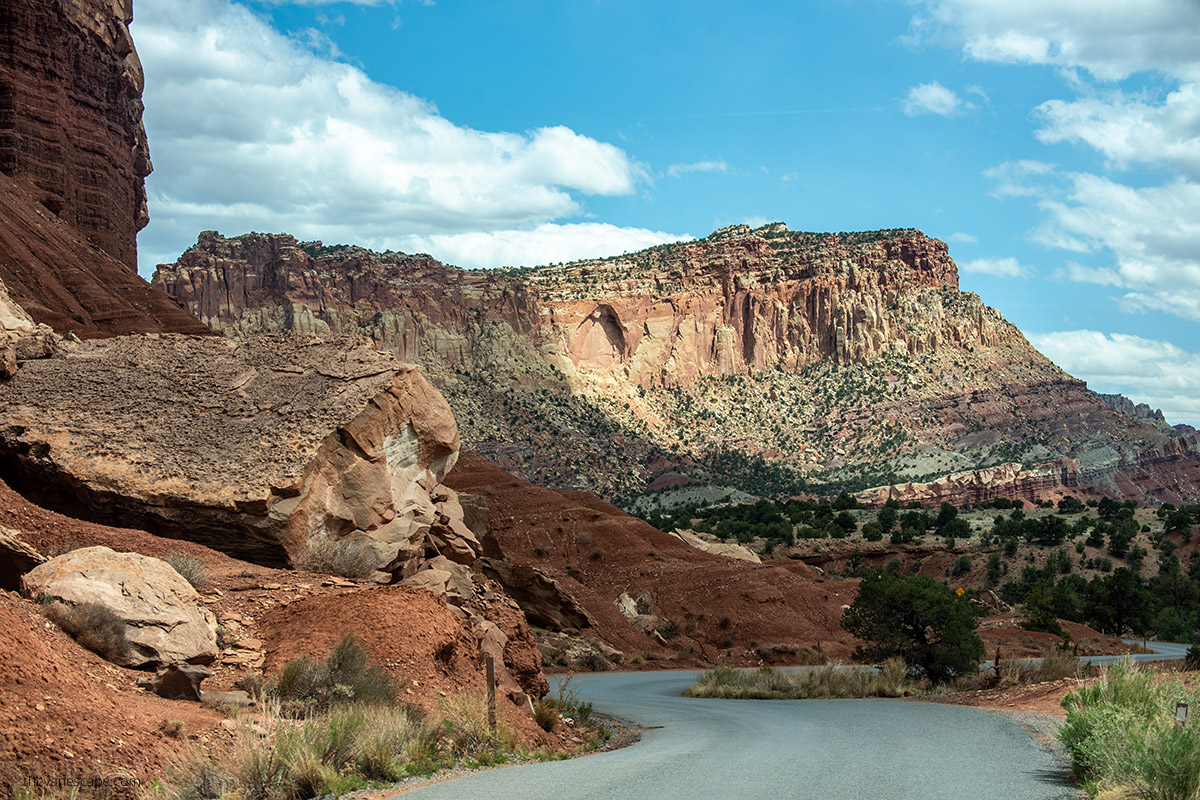 Explore the Petroglyphs and Historic Fruita Schoolhouse
A one-day visit to Capitol Reef wouldn't be complete without seeing the Petroglyphs and the Historic Schoolhouse. Located near the town of Fruita, these ancient rock carvings and the charming old schoolhouse offer a fascinating glimpse into the area's past.
Why: This is your chance to connect with the history and culture that shaped Capitol Reef.
Details: The Fremont people carved the petroglyphs nearly a thousand years ago, while the schoolhouse dates back to the early 20th century.
Our Tip: Afternoon is the best time to view the petroglyphs, as the sun's angle makes them more visible.
Exciting Fact: The schoolhouse was in operation until 1941 and served as a community gathering place.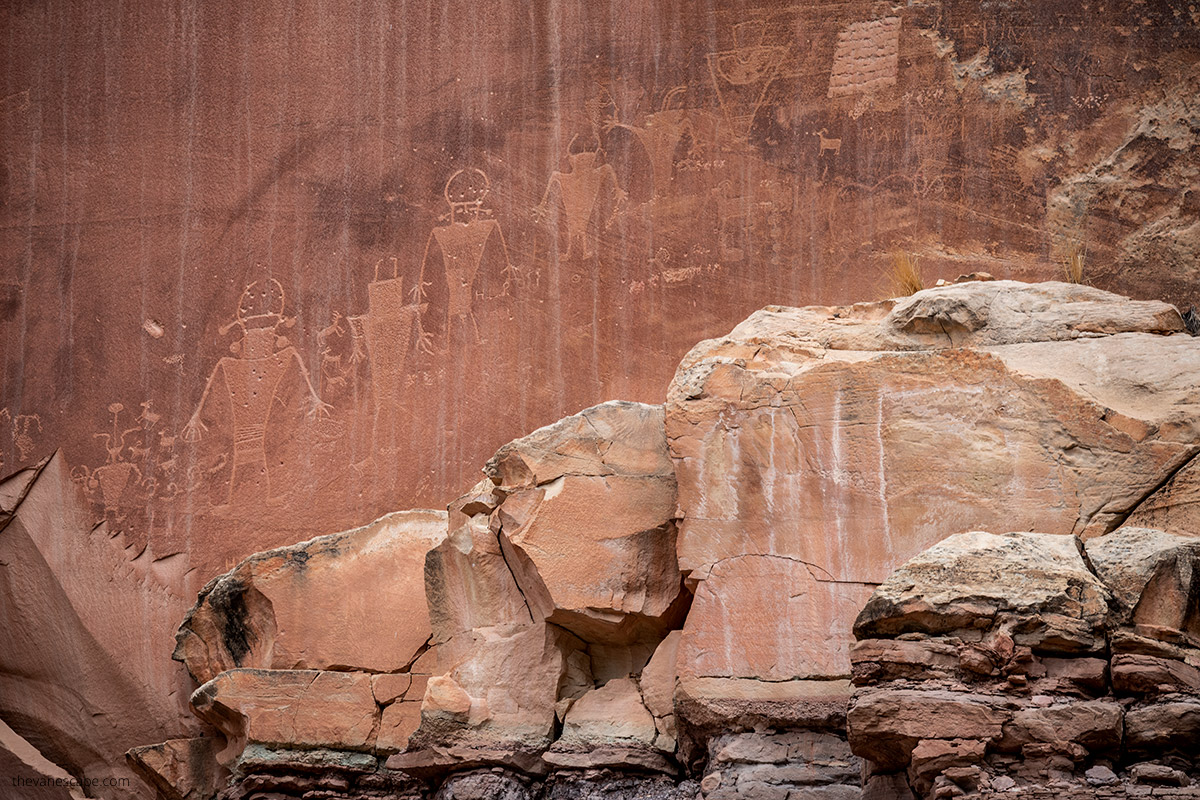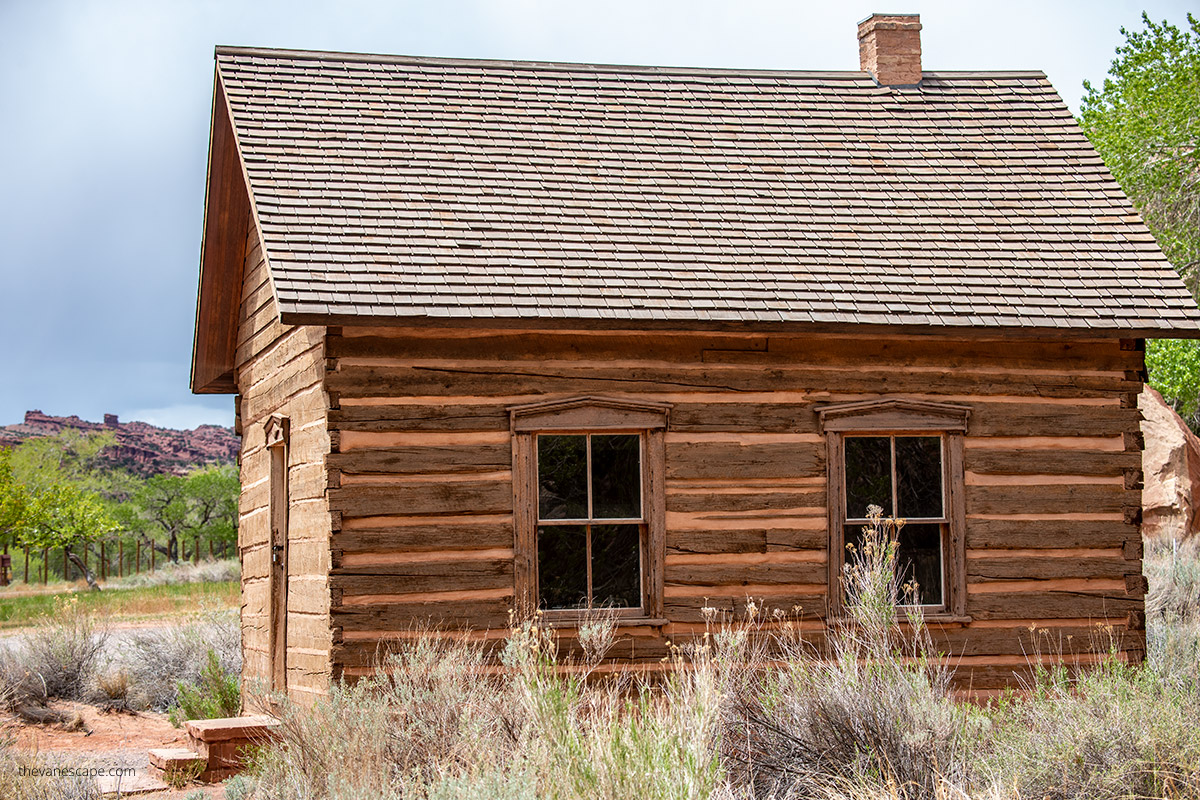 Hike to Hickman Bridge
Next, head to the Hickman Bridge trailhead. This moderate 1.8-mile round-trip hike leads you to a natural bridge that spans 133 feet. The trail offers some shade, making it a good choice for warmer days. Along the way, you'll encounter petroglyphs and a small arch, adding layers of interest to your hike. If you have only one day in Capitol Reef, this hike is a must.
Why: Hickman Bridge offers a taste of everything—canyon vistas, a natural bridge, and even some petroglyphs.
Details: The trail is 1.8 miles round trip with a moderate elevation gain of 400 feet. It usually takes about 1.5-2 hours to complete.
Our Tip: Wear shoes with good grip. Trekking poles may be helpful. If you are in southern Utah, be sure to see the most exciting arches in Arches National Park, and there is also a stunning hidden Grosvenor Arch in the area.
Exciting Fact: The natural bridge you'll see is about 125 feet long and is one of the most photographed features in the park.
Sunset at Sunset Point
End your day at Sunset Point. This easily accessible viewpoint offers a panoramic view of the park, making it a perfect spot to catch the sunset.
Why: There's no better way to end your day than by watching the sun dip below the horizon at Sunset Point.
Details: The viewpoint offers a panoramic vista of the Waterpocket Fold and the Fremont River valley.
Our Tip: Arrive at least 30 minutes before sunset to secure the best spot.
Exciting Fact: The Waterpocket Fold is a nearly 100-mile-long warp in the Earth's crust, and you'll have a front-row seat to its majesty.
Trust us, one day in Capitol Reef is enough to make you fall head over heels for this Utah gem. We've been there, done that, and keep coming back for more. If you're short on time or combining this visit with other Utah national parks in a whirlwind road trip, this one-day itinerary gives you the highlights without feeling rushed. And the best part? You'll be so obsessed you'll already plan your next trip before the sun sets. Stick around as we now guide you through how to spend two or three days in Capitol Reef National Park for an even deeper dive into its wonders.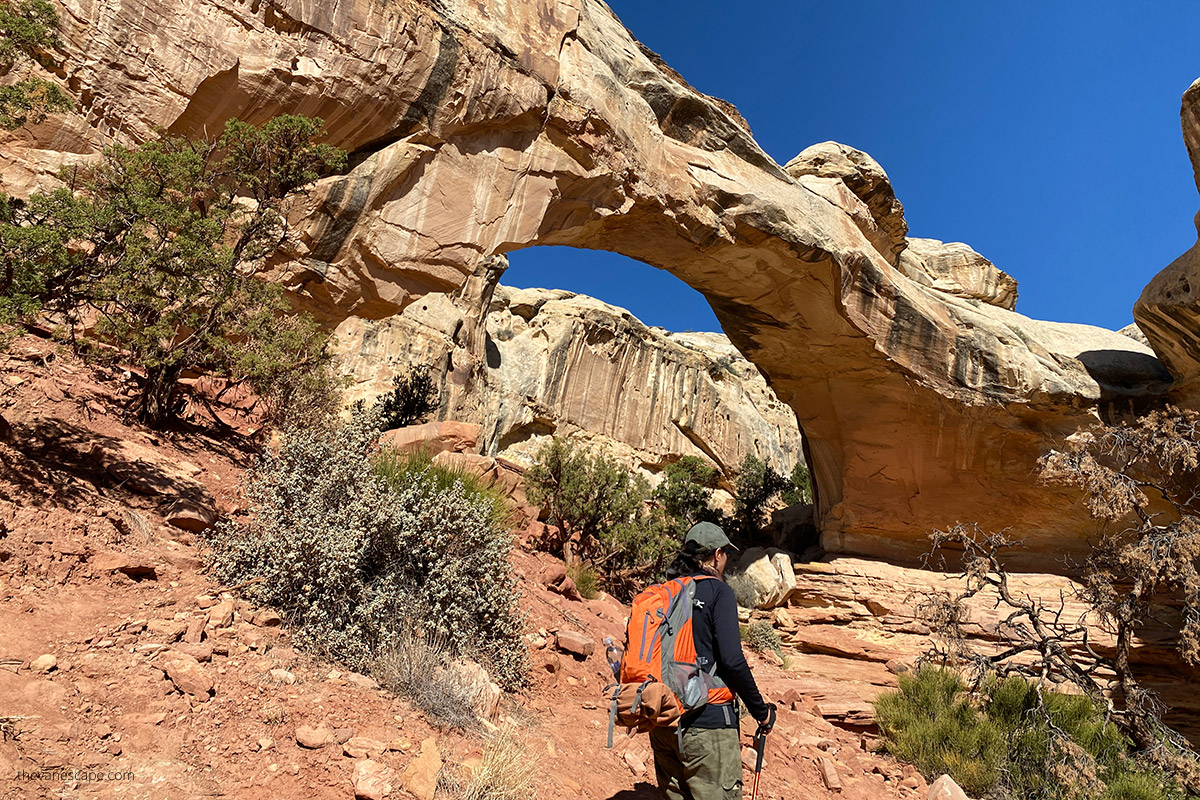 2 Days Capitol Reef National Park Itinerary: An Off-Road Adventure in Cathedral Valley
If you have two days to explore Capitol Reef, we strongly recommend renting a 4×4 vehicle or booking a local guided tour for an off-road adventure in Cathedral Valley.
We suggest you spend your second day in Cathedral Valley. It is a less-visited but equally mesmerizing part of Capitol Reef National Park. Due to the rugged terrain, this remote area is best accessed with a 4×4 vehicle. The Cathedral Valley Loop takes you through a landscape of monolithic sandstone formations, including the iconic Temple of the Sun and Temple of the Moon. The loop is about 60 miles long and can take 4 to 6 hours, depending on stops.
If you're uncomfortable driving off-road, consider taking a guided local tour. Local experts can navigate the challenging terrain while providing valuable insights into the geology and history of the area.
Our Tip: Check out our in-depth article for a more detailed guide on driving the Cathedral Valley Loop as we made this loop, and we share personal experiences and tips.
Remember, Cathedral Valley is remote, so prepare with plenty of water, snacks, and a full gas tank. Whether you drive yourself or opt for a guided tour, this off-road experience in Cathedral Valley will surely be the highlight of your 2-day itinerary in Capitol Reef National Park.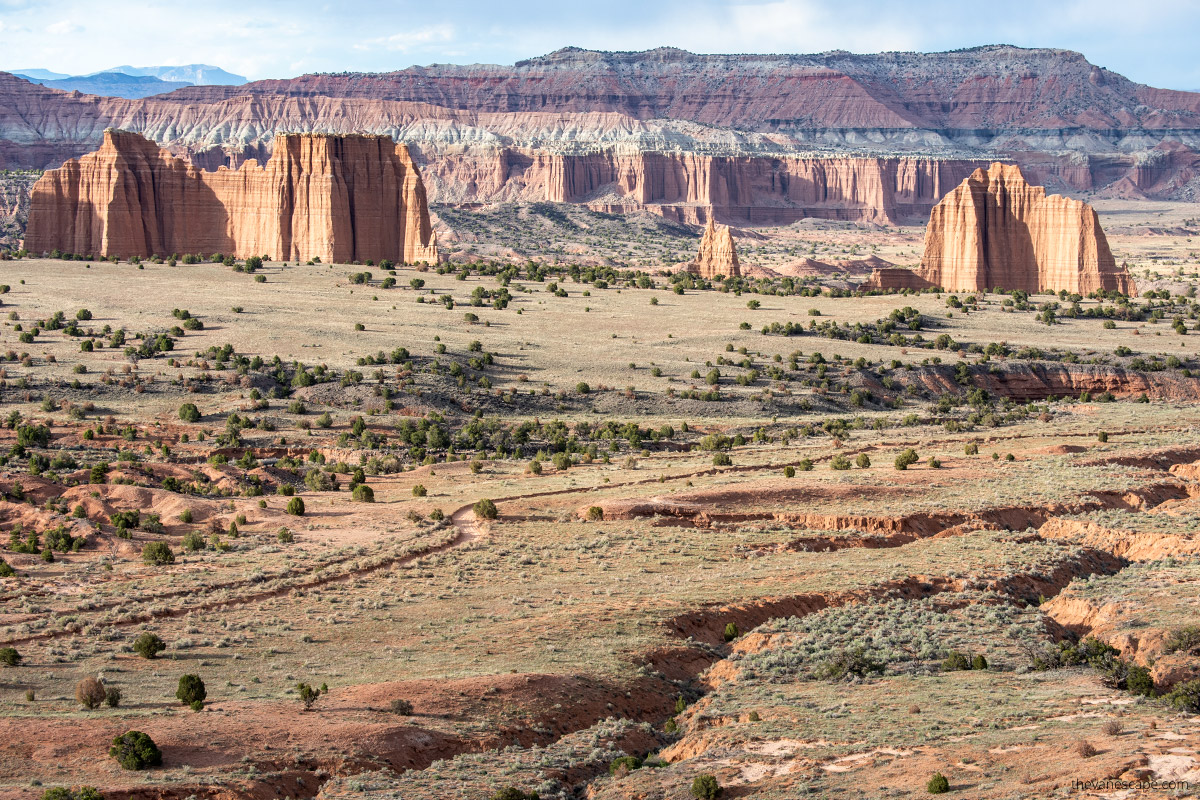 You are lucky if you have 3 days in Capitol Reef Capitol Reef National Park. We suggest diving deeper into Capitol Reef's lesser-known wonders.
Morning: Cassidy Arch Trail
Begin your third day with the Cassidy Arch Trail, a moderately challenging hike that rewards you with stunning views of a natural arch named after the infamous outlaw Butch Cassidy. The trail is 3.4 miles round-trip and gains about 670 feet in elevation. It's a great way to start your day with a bit of adventure and history rolled into one.
Why: This trail offers a blend of natural beauty and historical intrigue, making it a must-visit for those looking to go beyond the usual tourist spots.
Details: The trailhead starts at the Grand Wash parking area. The hike takes about 2-3 hours to complete.
Our Tip: Early morning is the best time to tackle this trail to avoid the heat.
Exciting Fact: Legend has it that Butch Cassidy used the arch as a hideout, adding a layer of historical allure to your hike.
Midday: Waterpocket Fold Overlook
After your morning hike, drive to the Waterpocket Fold Overlook. This overlook provides a breathtaking view of the geological marvel that is the Waterpocket Fold, a nearly 100-mile-long warp in the Earth's crust.
Why: This overlook offers one of the most stunning panoramic views in Capitol Reef, making it a must-see.
Details: The overlook is accessible by car and has a small parking area.
Our Tip: This is a great spot for photography, so bring your camera!
Exciting Fact: The Waterpocket Fold is a geological wrinkle on the Earth that formed between 50 and 70 million years ago.
Afternoon: Cohab Canyon Hike
For your afternoon adventure, tackle the Cohab Canyon Hike. This 3.4-mile round-trip trail offers a mix of narrow canyons, overlooks, and opportunities to explore off-trail alcoves. It's a moderate hike with an elevation gain of about 440 feet.
Why: Cohab Canyon offers a more secluded experience, allowing you to explore the park's intricate geology up close.
Details: The trailhead is near the Fruita Campground. The hike takes about 2-3 hours.
Our Tip: Keep an eye out for the spur trails that lead to Fruita Overlook and Hickman Natural Bridge if you're up for a longer hike.
Exciting Fact: The canyon gets its name from the early Mormon settlers who allegedly hid their multiple wives ("cohabitation") here to evade federal officers.
Evening: Star Gazing at Panorama Point
Capitol Reef is a designated International Dark Sky Park, making it an ideal location for stargazing. End your third day at Panorama Point, laying back to enjoy the celestial wonders.
Why: Few experiences can match the awe of looking up at a sky full of stars, unspoiled by light pollution.
Details: Panorama Point has a dedicated parking area and is easily accessible by car.
Our Tip: Bring a blanket and some snacks for a cozy stargazing experience.
Exciting Fact: On a clear night, you can see over 15,000 stars with the naked eye!
By the end of your third day, you'll have delved deeper into the hidden corners and lesser-known trails of Capitol Reef National Park. This itinerary ensures you experience the park's diverse offerings, from iconic landmarks to secluded gems. Whether you're a first-time visitor or a seasoned explorer, these three days in Capitol Reef will leave you yearning for more, just like they did for us.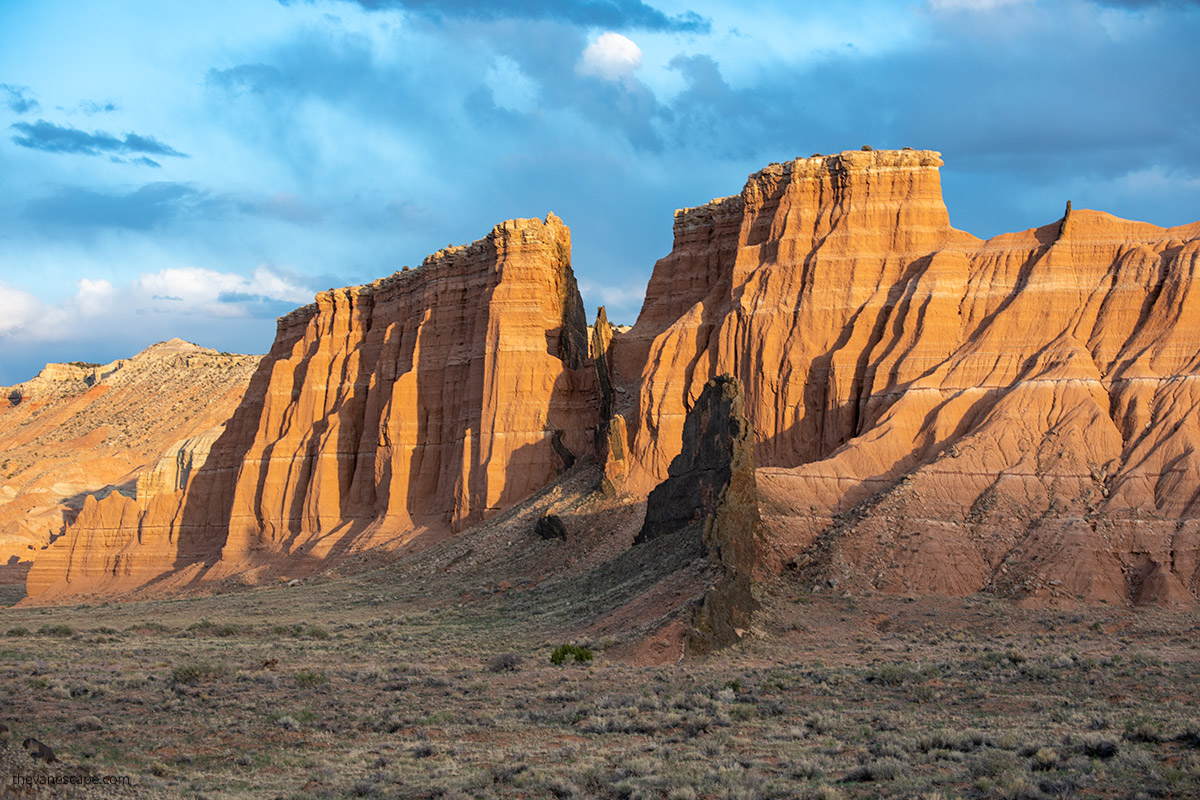 Final Thoughts for Capitol Reef National Park Itinerary
There you have it—a comprehensive guide to making the most of your time in Capitol Reef National Park, whether you're here for a quick day trip or an extended weekend.
Why Choose This Itinerary: This guide is crafted based on our extensive experience and expertise in exploring Capitol Reef. We've included a mix of popular attractions and off-the-beaten-path experiences to ensure you get the most out of your visit.
Details: Each day's activities are planned to maximize your time, offering a blend of scenic drives, historical landmarks, and adventurous hikes.
Tip: Remember, the key to a successful trip is preparation. Always check current weather conditions and trail statuses, and make sure your vehicle is up to the task, especially if you're planning to venture into Cathedral Valley.
Exciting Fact: Capitol Reef is home to some of the oldest exposed rock layers in the world, dating back nearly 270 million years!
Whether you're capturing the sunrise at Panorama Point, hiking to awe-inspiring arches, or stargazing in one of the world's best dark sky parks, Capitol Reef offers endless opportunities for adventure and discovery. And trust us, once you've had a taste, you'll plan your next trip before leaving the park.
We hope this Capitol Reef National Park itinerary helps you plan a trip that's as unforgettable as the landscapes you're about to explore. Safe travels and happy adventuring!