Taos Pueblo Tour in New Mexico
Is it worth taking a Taos Pueblo Tour, while exploring New Mexico? Definitely yes! Taos Pueblo in New Mexico is one of the oldest continuously inhabited communities in North America. Moreover, the multi-storied buildings have been dwelled for over 1000 years. Taos Pueblo is the only living Native American community designated both a World Heritage Site by UNESCO and a National Historic Landmark. It is an extremely picturesque place that is worth adding to the itinerary around New Mexico. The best idea is to take the Taos Pueblo Tour. This way, you learn as much as possible about the culture and history of this place. In this article, we will share with you our impressions of the Taos Pueblo Tour.
This article may contain affiliate / compensated links. For full information, please see our disclaimer here.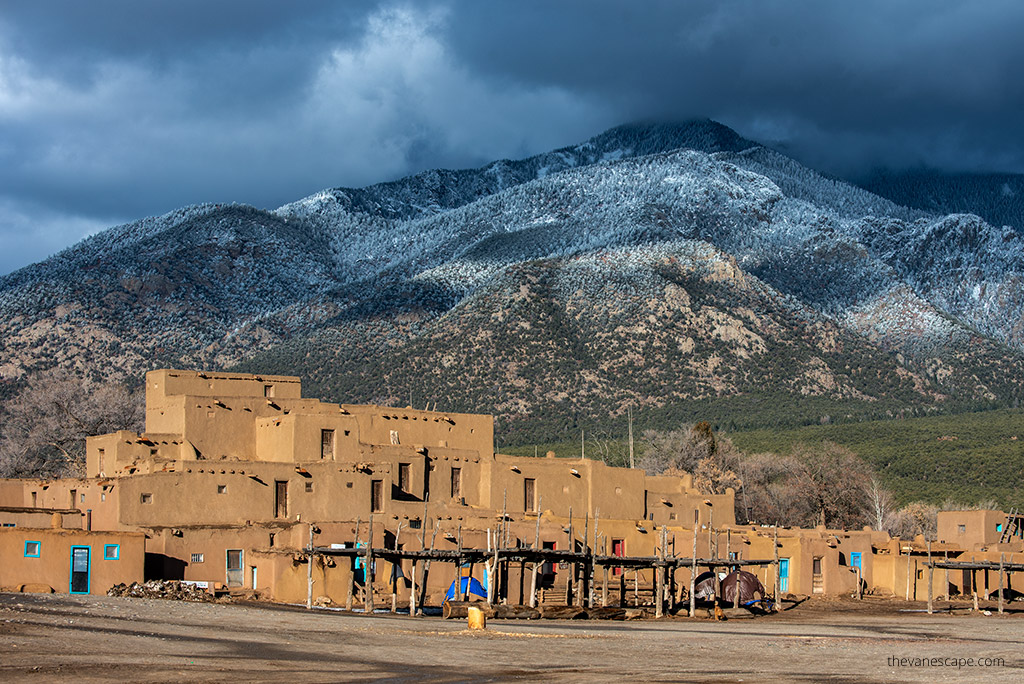 Facts About Taos Pueblo
Taos Pueblo, also known as the place of the red willows, sits at the base of the Sangre de Cristo Mountains. The historic Taos Pueblo, the northernmost of New Mexico's 19 pueblos, is located at an elevation of 7,200 feet. Taos Pueblo is an ancient pueblo belonging to a Taos-speaking (Tiwa) Native American tribe of Puebloan people.
It lies about 1 mile north of the modern city of Taos, which is a perfect place to stay and offers a lot of attractions.
The Taos Pueblo consists of ceremonial buildings and facilities, and multi-story adobe dwellings are an example of the living culture of the Pueblo Indian people. Taos Pueblo represents a significant stage in the history of urban, community, and cultural life and development in this region. Taos Pueblo has been continuously inhabited and is the largest of these Pueblos that still exist. That is why is worth taking Taos Pueblo Tour. Book your tour on the official website, and make sure to follow all Taos Pueblo rules.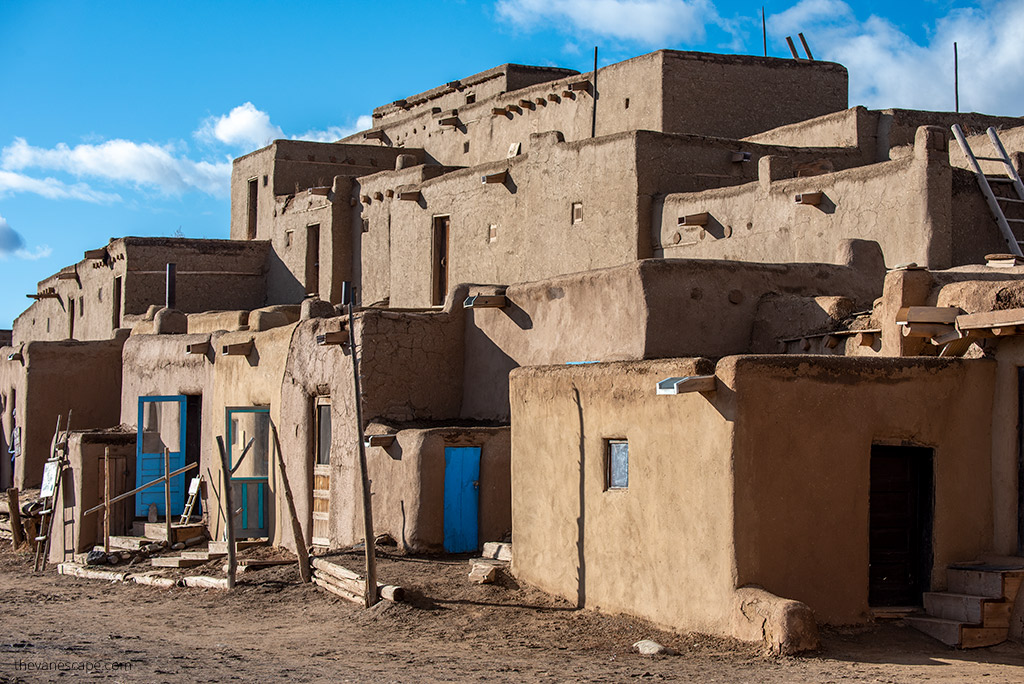 Taos Pueblo as a UNESCO Heritage
Taos Pueblo is the only UNESCO Living World Heritage Site in the U.S. Since 1992 it is a UNESCO Heritage Site. Before, in 1960 Pueblo was a National Historic Landmark.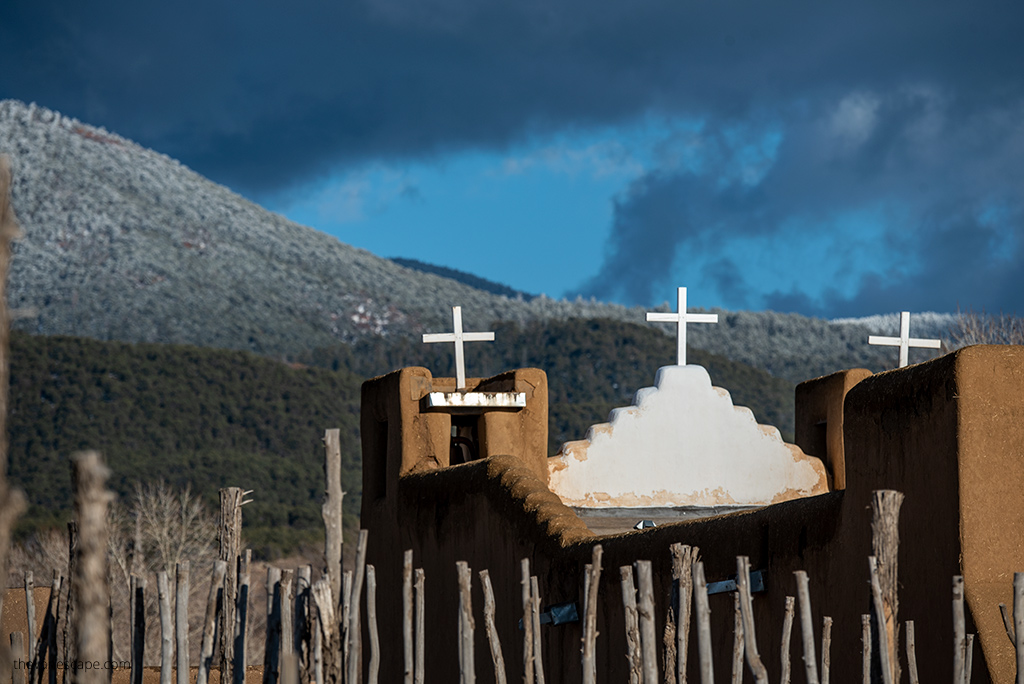 How old is Taos Pueblo?
The ancestors of the Taos people lived in this valley near Taos Mountain of the Sangre de Cristo Range long before Columbus discovered America in 1492. Ancient ruins in the Taos Valley have been 1000 years. The main part of the present buildings was most likely constructed between 1000 and 1450 A.D. The two structures called Hlauuma (north house) and Hlaukwima (south house) are considered to be the oldest continuously inhabited communities in the USA. When the Spanish came to Pueblo country in 1540, some assumed they had found their "Cities of Gold" because of the micaceous mineral found in the clay used for mudding the buildings. Micca glitters in the light.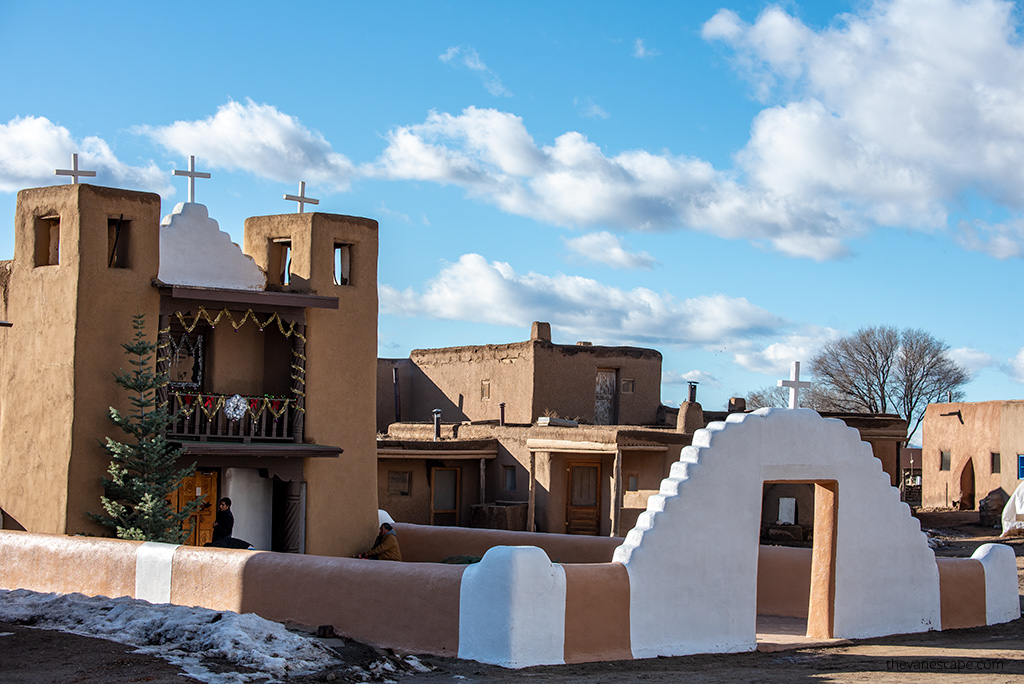 How Were The Buildings of Taos Pueblo Constructed?
The Pueblo is made entirely of adobe. So, the earth is mixed with water and straw, then either poured into forms or made into sun-dried bricks. The roofs are supported by large timbers. The outside surfaces of the Pueblo are covered by layers of mud. Interior walls are covered with white soil to keep them clean and bright. Adobe dwellings, built four or five stories high, were designed as lookout posts so inhabitants could see enemies if they approach. The Pueblo is actually many individual homes. Furthermore, they are built side-by-side and in layers, with common walls but no connecting doorways. Finally, years ago there were no doors or windows, and entry was gained only from the top through the roof – from holes in the ceiling. Spanish explorers introduced doors that are still used today. Hence, the ladders against the sides of the buildings.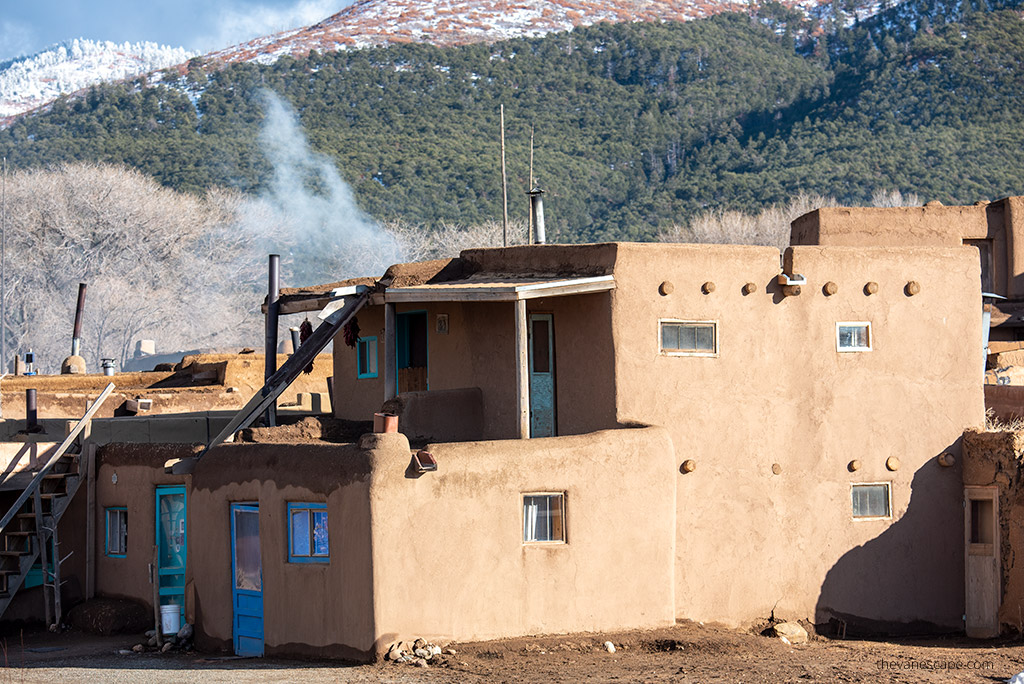 Who Lives in The Pueblo of Taos?
Around 150 people live inside the Taos Pueblo full-time. So during your Taos Pueblo Tour, you will have a chance to see how they live. However, other families live around too. A reservation of 95,000 acres (38,000 ha) is attached to the pueblo. The pueblo land is home to nearly 4,500 people. The Pueblo Indians are about 90% Catholic. But Catholicism is practiced along with the ancient Indian religious rites. Tiwa is the native language of Taos Pueblo. English and Spanish are also spoken. The Taos Pueblo community is known for being one of the most private, secretive, and conservative pueblos. So check the rules and regulations you must abide by during your visit.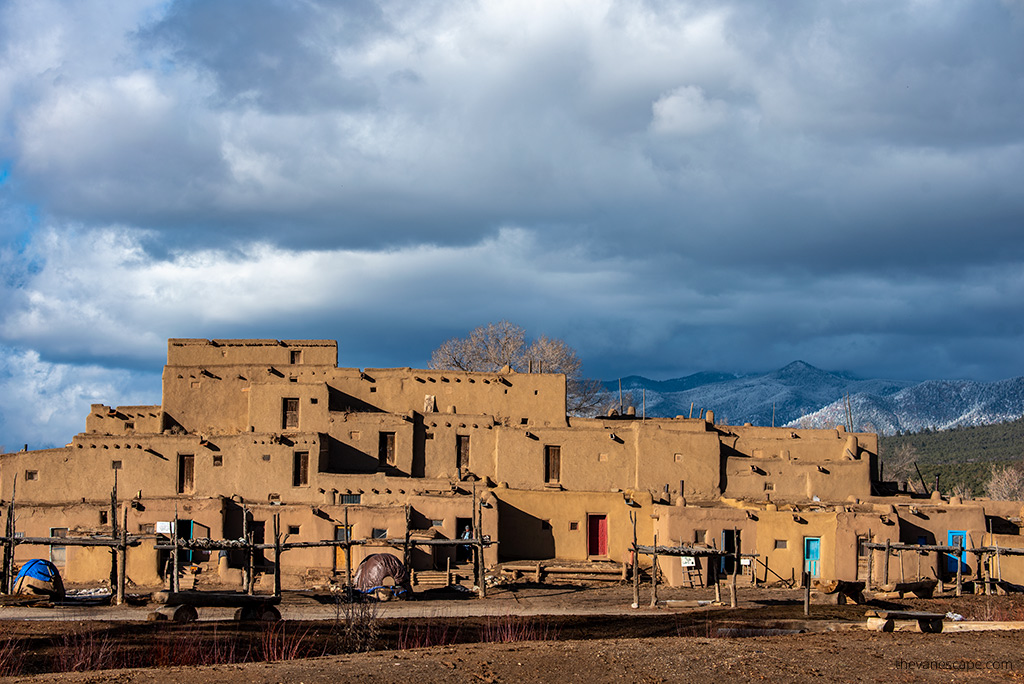 How People Live in Taos?
Taos Indians who live inside the ancient village do not have running water or electricity. Resident Taos Indians still cook with traditional outdoor ovens, called horno. So, try horno-baked bread or fry bread during your visit. Silver jewelry, mica-flecked pottery, and moccasins are made by local artisans and sold at many of the shops within Taos Pueblo. Their works a combining Indian tradition with modern artistic expression, so it is worth visiting their shops inside Pueblo, as well as Taos town.
Above all, the village is still governed by a Tribal Governor and War Chief with their staff. They are appointed yearly by the Tribal Council, a group of some 50 male tribal elders.
Trip Tip: You can support the local community by purchasing their handmade work during your Taos Pueblo Tour.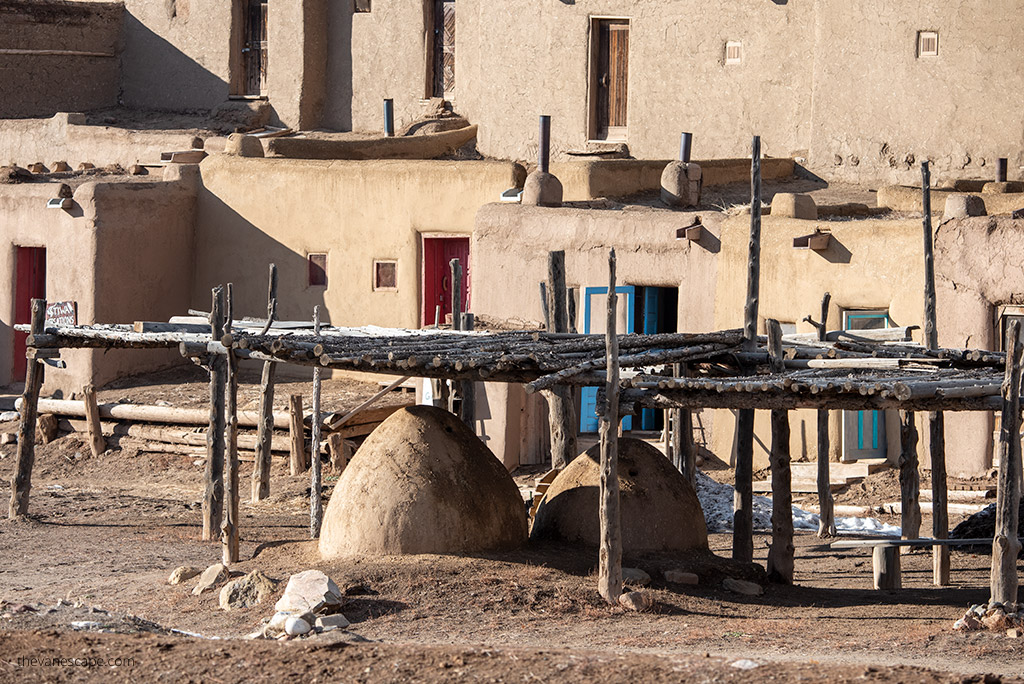 How Old is The Pueblo Church?
One of the most charming places you see during your Taos Pueblo Tour is the Church. The present San Geronimo Chapel was completed in 1850 to replace the original church which was destroyed in the War with Mexico by the U.S. Army in 1847. You can't take pictures inside. In 1619, Spanish Jesuits built the first Catholic church in Taos Pueblo and established the mission of San Geronimo or Saint Jerome. The ruins of the original church are on the west side of the village. However, religion is still is complicated. St. Jerome's Chapel dominates the landscape, but Puebloan people use traditional kivas for religious practices, also.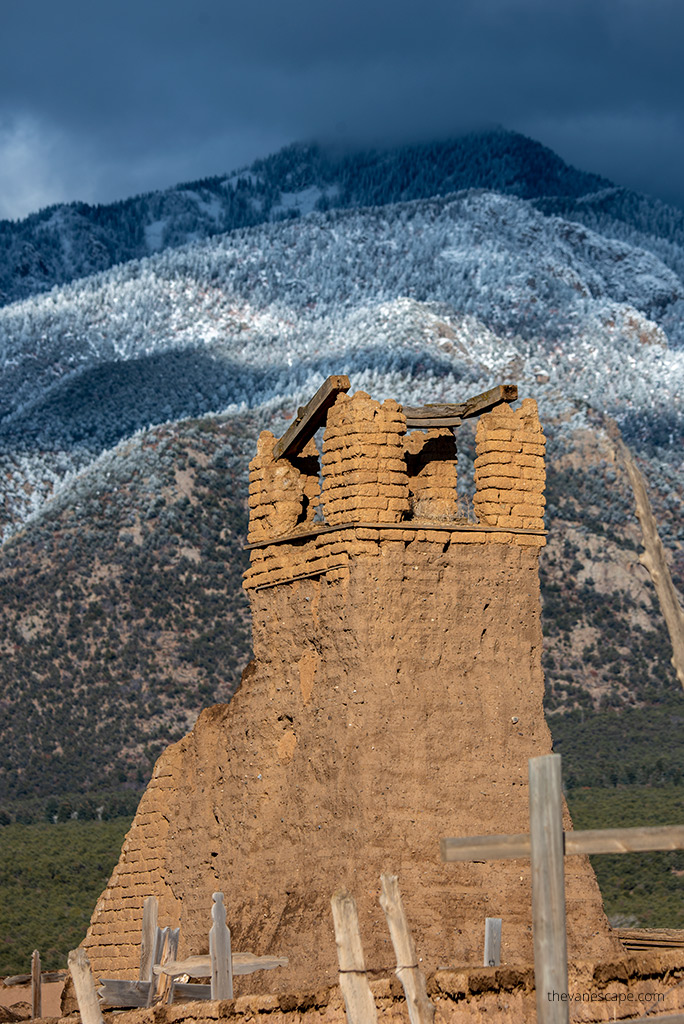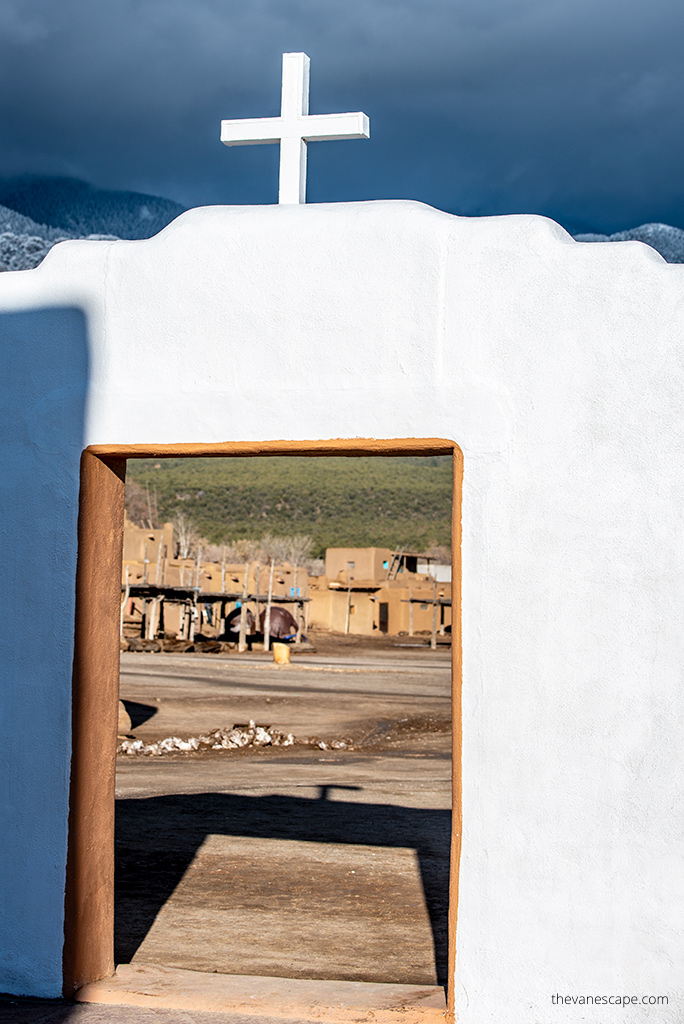 How to Get to Taos Pueblo?
By Air
The nearest international airport is 135 miles away in Albuquerque, New Mexico. You can also get it from Las Vegas, Denver, or Dallas. The regional airport is also in Santa Fe.
Taos Pueblo Driving Directions
From Albuquerque to Taos
Taos is located about 135 miles North of Albuquerque. If you are driving from Albuquerque drive North on I-25. At Santa Fe, drive towards Espanola on US 285. In Espanola, look for NM 68 to Taos. The drive from Albuquerque takes approximately 2 and a half hours.
From Santa Fe to Taos
The most direct route to Taos, also known as the "The Low Road," is 73 miles north of Santa Fe. The estimated Time is about 1 hour 25 minutes.
Another option is "The High Road" to Taos from Santa Fe. It travels through the mountains, past 13,000-foot peaks and small, isolated mountain villages. Distance: 105 miles, driving time: 2-1/2 hours from Santa Fe to Taos (no stops). As there are so many interesting places to stop along the way, this trip can take from 4 to 8 hours.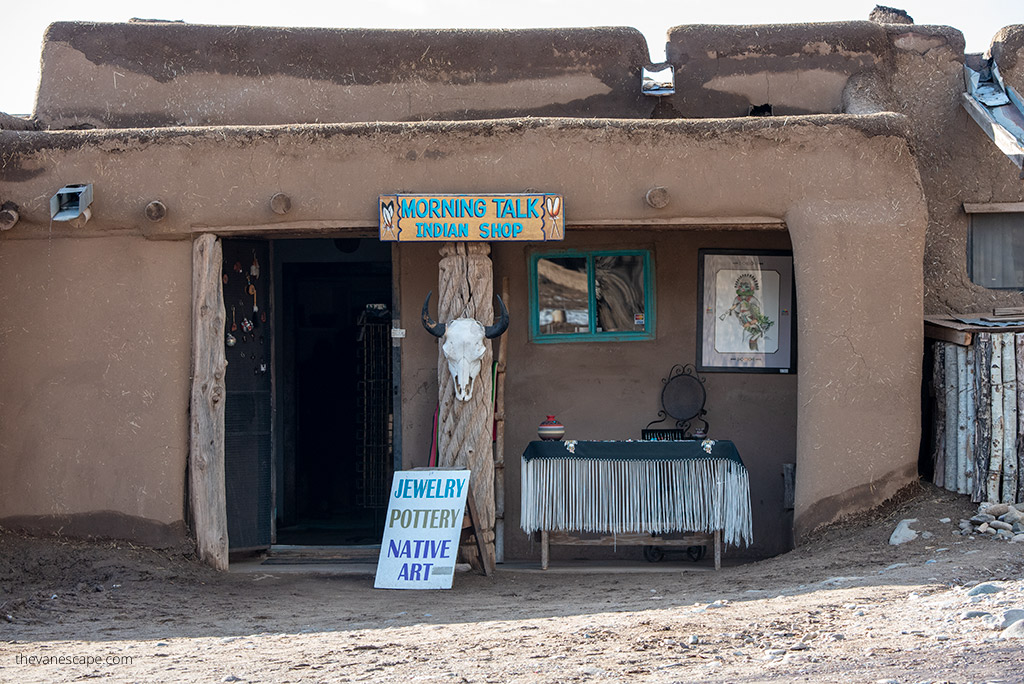 Taos Pueblo Tours Hours & Fees
Taos Pueblo Hours
Pueblo of Taos's opening days and hours may change. Above all, it is always worth checking on the official website if Taos Pueblo is open before you come.
Finally, from late Winter to early Spring the Pueblo closes for about ten weeks.
Phone number: 1-575-758-1028
Address: 120 Veterans Highway, Taos, New Mexico 87571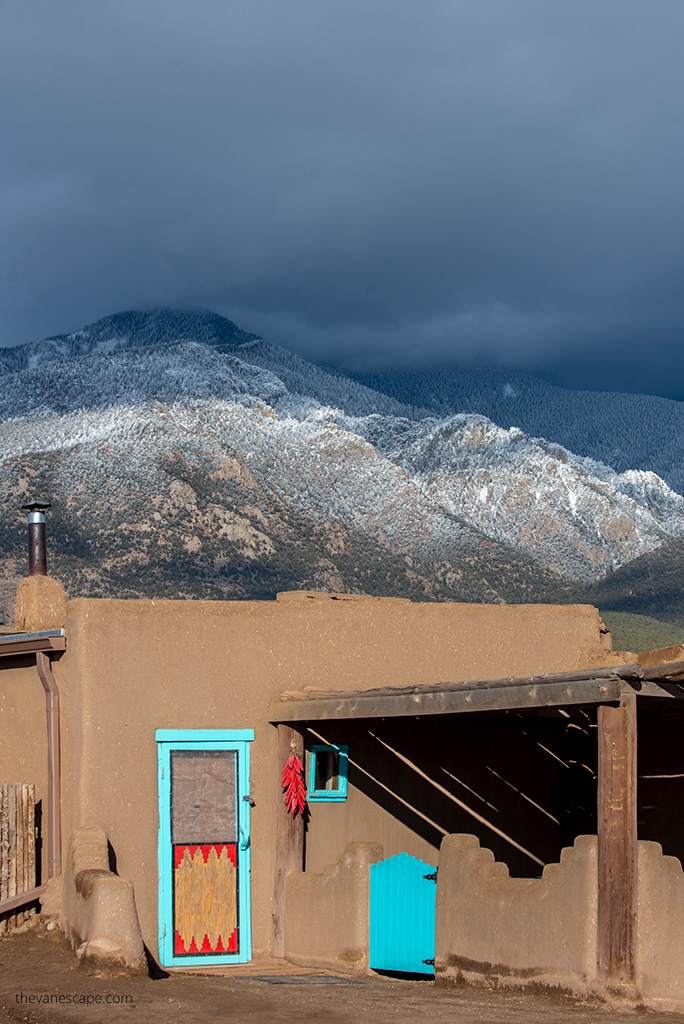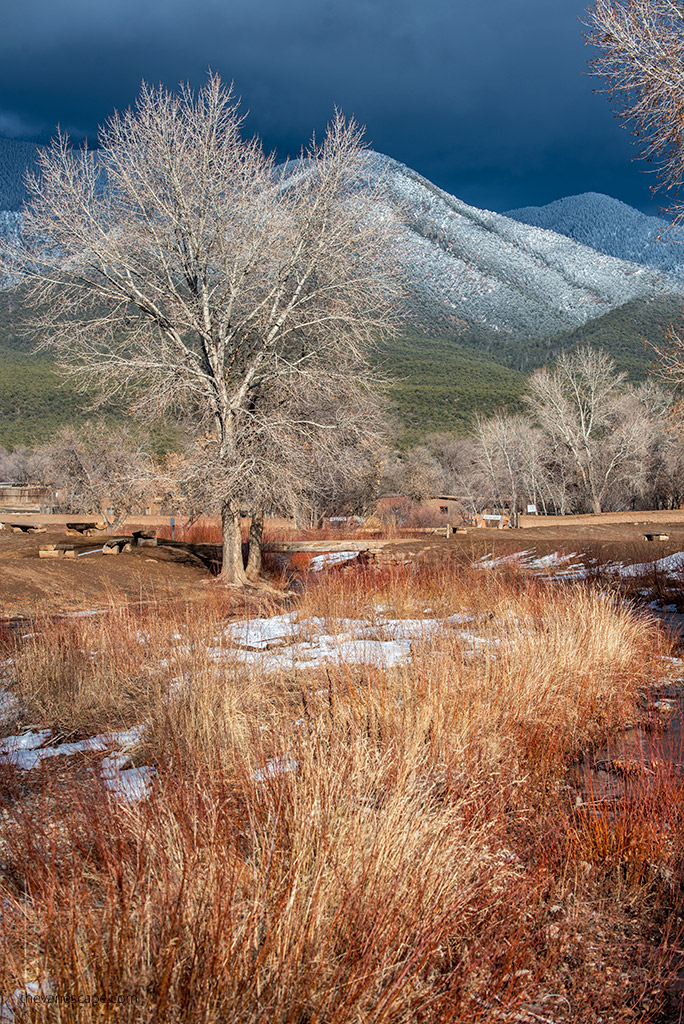 Taos Pueblo Fees
Adults: $16 per person
Groups (8 or more Adults): $14 per person
Seniors: $14 per person
Students: $14 per person
Children 10 and under: Free
Taos Pueblo Tour
The best way to learn about the history and traditions of Taos Pueblo is on tour. Guided Taos Pueblo Tours are available daily starting at 9:00 am., and run every 30 minutes. Moreover, Tour Guides are volunteers and tell you about the highlights of the culture, history, and people. Finally, guides take you to areas of significance in the village, you won't miss important places. And don't forget about tips. Put on comfortable shoes for this tour. Furthermore, after the rain, it is very muddy.
Taos Pueblo Visiting Rules
Above all, as a guest of the Taos Pueblo, you must respect their laws and customs. So, the most essential rules in Pueblo of Taos are:
respect the "restricted area" signs as they protect the privacy of Pueblo residents and the sites of native religious practices,
you can't enter doors that are not shops,
also, you can't photograph members of the tribe without permission,
you can't take pictures in San Geronimo Chapel,
you can't take pictures in "restricted area",
do not enter the walls surrounding the ruins of the old church and cemetery,
do not wade in the river — it is a source of drinking water for a tribe,
no photography on feast days,
all photos are for personal use only.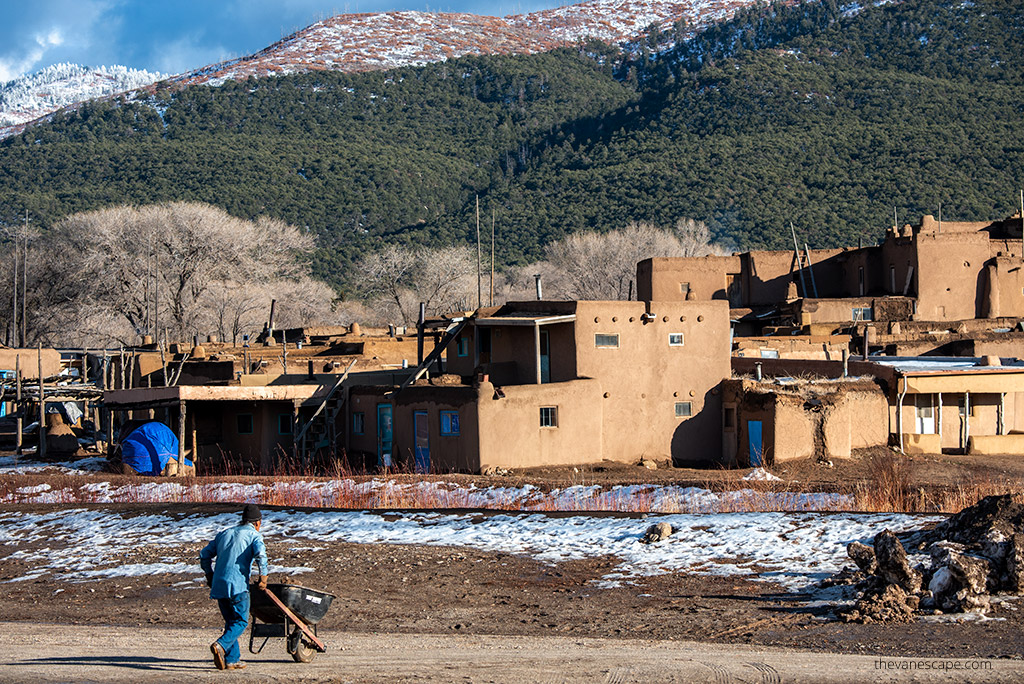 Sources of information about history of Taos Pueblo:
https://taospueblo.com/
https://taos.org/
https://en.wikipedia.org/