Visiting Shiprock in New Mexico
Check our tips for visiting Shiprock in New Mexico. Shiprock formation in New Mexico is majestic and incredible; it's also an important place for Navajo Nation. The first time we saw it while the sun was slowly hiding behind the horizon. We were driving an empty road, US-491 N. Suddenly, like a mirage, the flat, dusty New Mexico desert raised the mysterious rock formation. It looked like the wreck of a vast ship that sea washed ashore; the famous Shiprock formation. So, we decided to stay overnight in Farmington to visit Shiprock in New Mexico the next day. As always, we share our tips and impressions from this fantastic Navajo Nation saint place.
This article may contain affiliate / compensated links. For full information, please see our disclaimer here.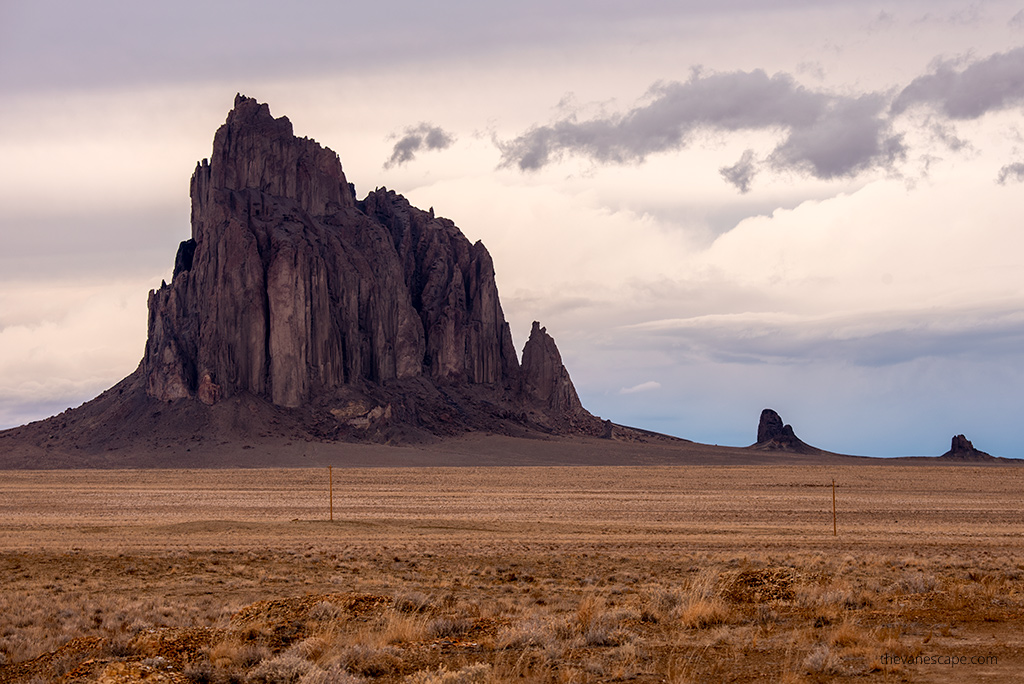 What is Shiprock New Mexico?
Name of the rock
Shiprock (Ship Rock) in the Navajo language is Tsé Bit'a'í. Which means "rock with wings" or "winged rock." And it refers to the legend of the great bird that brought the Navajo from the north to their present lands, to the Four Corners region. When you use your imagination, Shiprock, viewed from certain angles, resembles a large sitting bird with folded wings. The north and south summits are the tops of the wings.
Size of the Shiprock in New Mexico
This striking volcanic plume was formed around 30 million years ago, developing as a plug within the vent of an active volcano. The rock formation is rising nearly 1,583 feet (482.5 m) above the high-desert plain of the Navajo Nation in San Juan County, New Mexico.
Shiprock peak elevation is 7,177 feet (2,187.5 m) above sea level. The rock formation has 27-30 million years old.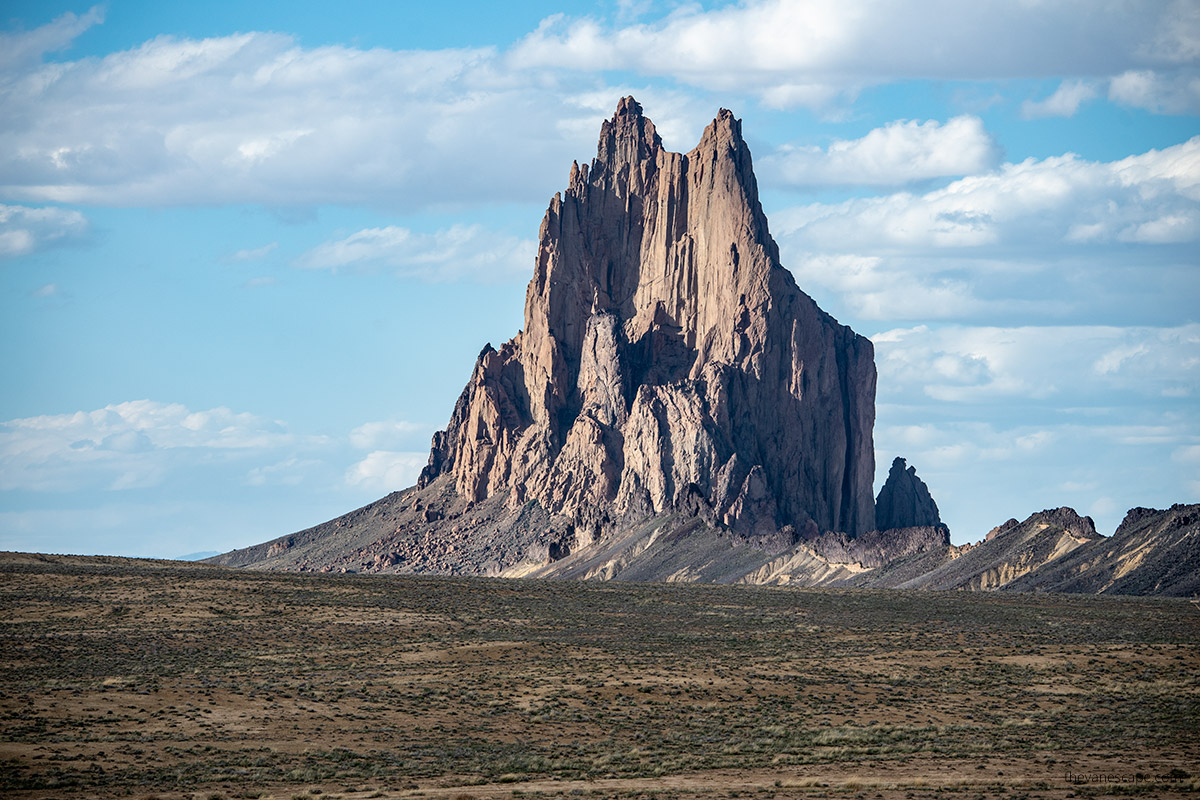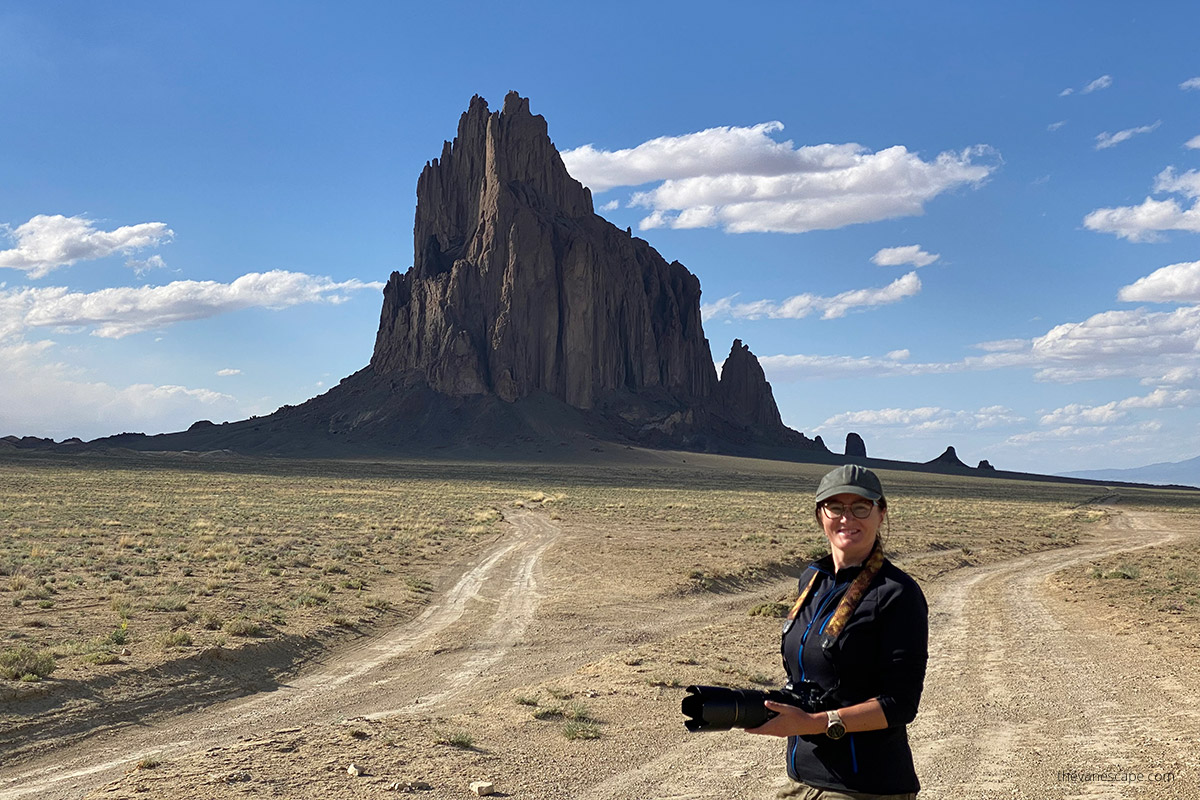 The Navajo Nation governs the Shiprock formation. The most important to know is that it is a sacred place. Since 1975, Shiprock is a National Natural Landmark. Moreover, it is the most prominent landmark in northwestern New Mexico. It is in the Four Corners region, so it's a perfect idea to add Shiprock to your road trip plan if you are going to Four Corners Monument. Furthermore, rock plays a significant role in Navajo religion, myth, and tradition. It is located in the center of the area occupied by the Ancient Pueblo People, a prehistoric Native American culture of the Southwest United States often referred to as the Anasazi.
Are you interested in Ancient Pueblos & the Native American community in New Mexico? Check out our related posts about the famous Taos Pueblo, Bandelier National Monument, and Santa Fe.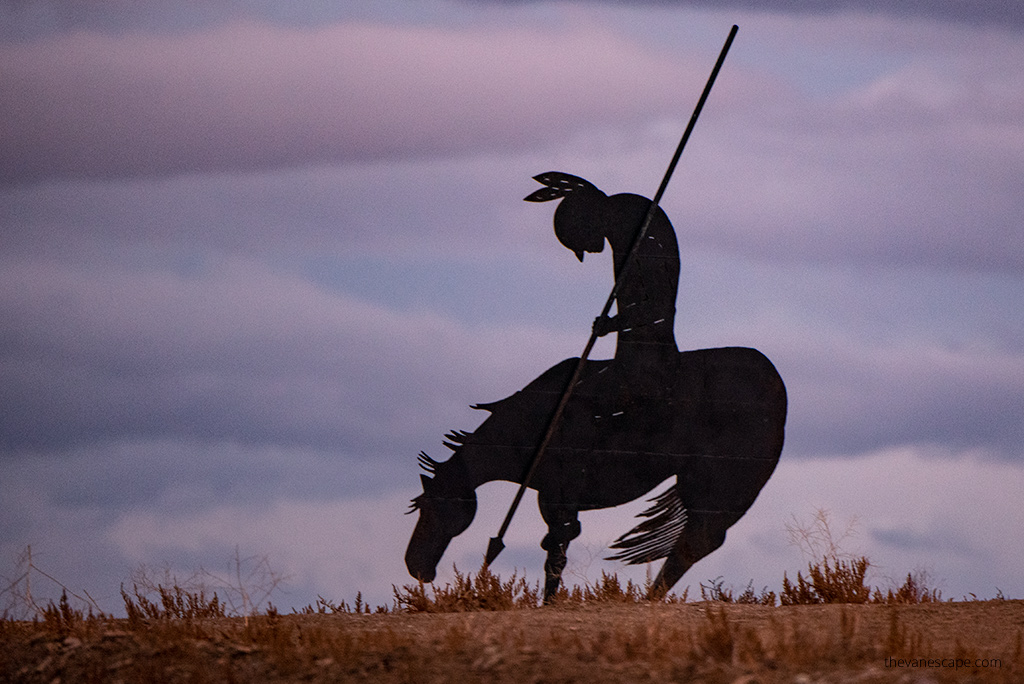 Shiprock Geology
The Shiprock is a monadnock, an isolated rock hill that rises abruptly from a virtually flat surrounding.
Shiprock is composed of fractured volcanic breccia and black dikes of igneous rock called Minette, or lamprophyre. It is the erosional remnant of the throat of a volcano. The rock probably was initially formed 2,500–3,000 feet (750–1,000 meters) below the Earth's surface, but it was exposed after millions of years of erosion.
Shiprock is the exposed neck or throat of a long-vanished volcano, which is the solidified feeder pipe of the volcano that erupted over 30 million years ago. At that time, lava or molten rock came up from the Earth's mantle and was deposited on the surface of the mountain. Evidence suggests that the lava explosively interacted with water and formed what geologists call a diatreme or a carrot-shaped volcanic vent.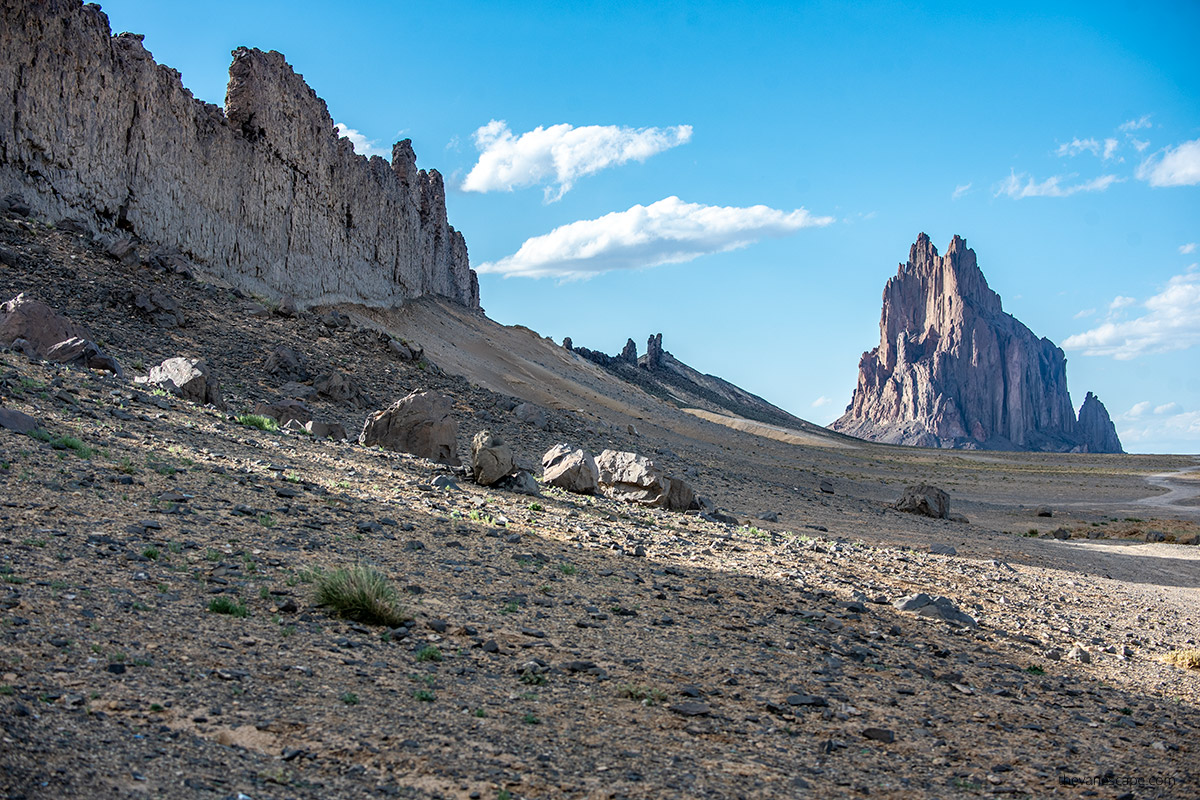 Climbing Shiprock
The first ascent took place in 1939 by David Brower, Raffi Bedayn, Bestor Robinson, and John Dyer. But a climber tragic accident in 1970 caused the Navajo Nation to ban rock climbing not only on Ship Rock but on all Navajo lands. For Navajo Nation, it was a curse. So, similar to other cultures around the world, rare rock formations are considered mystical and not to be climbed right now.
Pro Tip: If you are interested in rock climbing in New Mexico, check out this detailed guide: Rock Climbing New Mexico. It is the only climbing guide that covers all the major climbing areas in the Land of Enchantment. It includes hundreds of routes ranging from 5.6 to 5.14, appealing to both traditional and sport climbers.
Shiprock Marathon
During our last visit, we enjoyed observing the 40th annual Shiprock Marathon. This prestigious event is a Boston Qualifier and part of the Abbott Marathon Majors Masters World Championships, attracting runners from all over. The marathon, half marathon, and 5K offer a challenging yet breathtaking course that begins and ends in the community of Shiprock. It's no surprise that the Shiprock Marathon has been recognized by USA Today as one of the top 10 marathons in the USA. If you're looking for the perfect time to visit Shiprock, the marathon is it! Plan ahead for the next event on Fri, May 3 – Sat, May 4, 2024, by checking out the official website.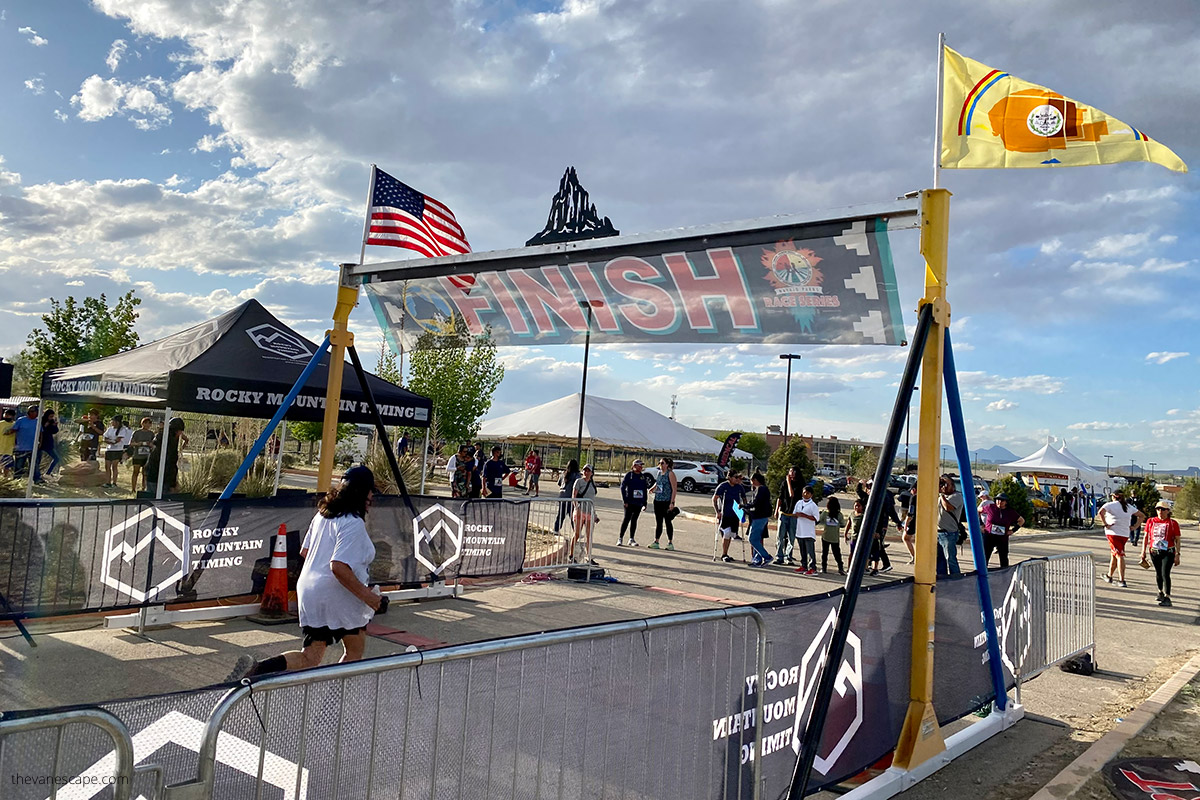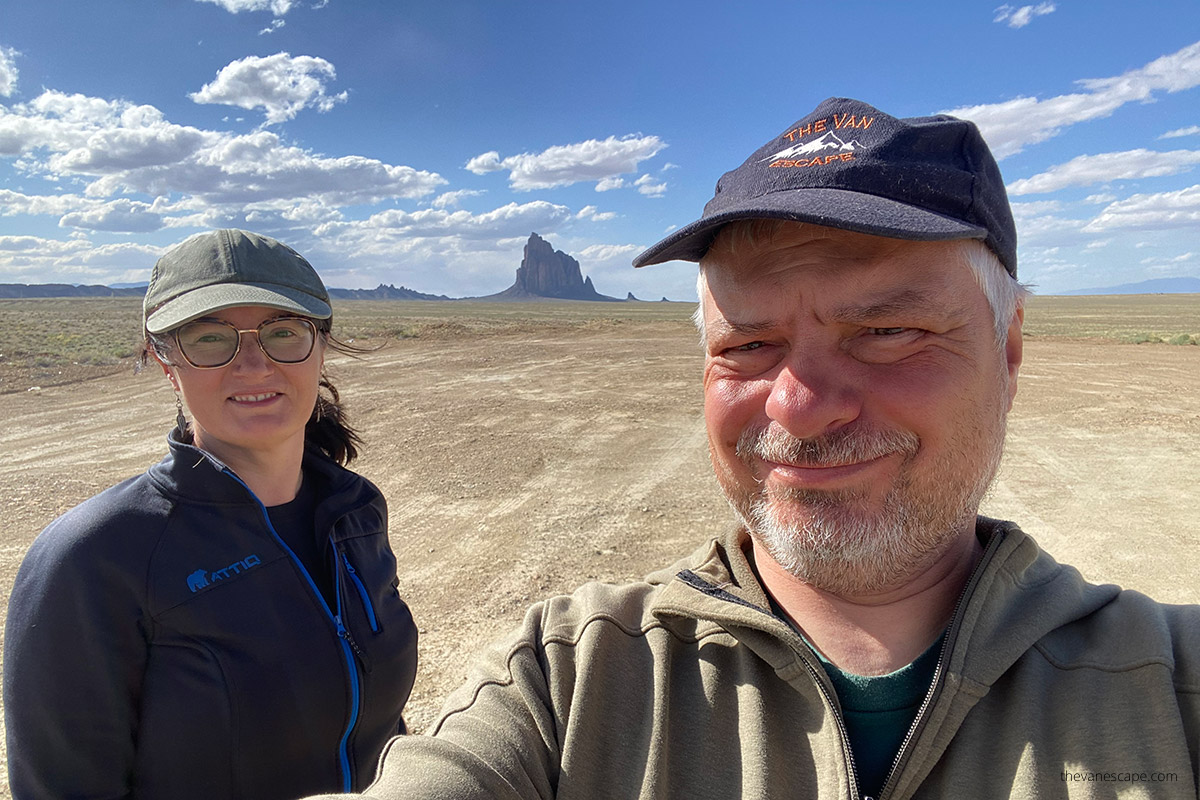 Movie Appearance
Shiprock Pinnacle is a point of interest for photographers. Furthermore, it has been featured in several film productions and novels. Movies in which Shiprock Pinnacle appeared are: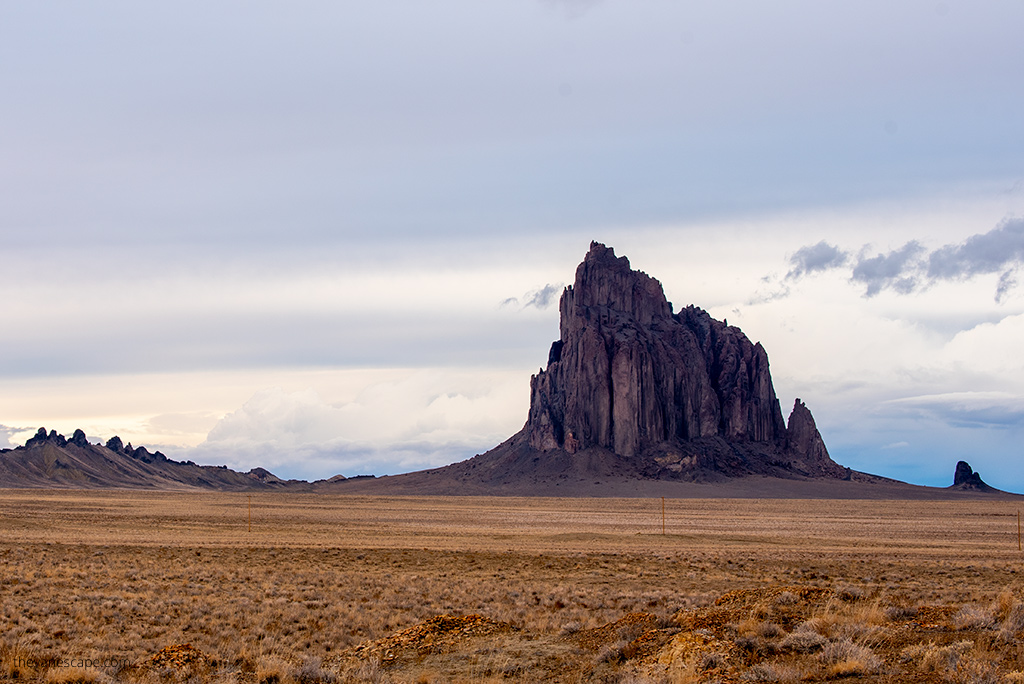 Where is Shiprock?
Shiprock Peak coordinates are 36°41′15″N 108°50′11″W. It lies about 15 miles southwest of the town of Shiprock, which is named for the peak.
How to get to Shiprock Peak from Farmington?
From Farmington is about 41 miles. So, take US 64 west to Shiprock and bear left at the intersection with US 491. Continue 7.1 miles on US 64, and 491 and turn right (west) onto the paved Indian Service Route 13. Continue 7.6 miles on IR 13 and turn right (north) onto IR 5010, a good dirt road. Follow IR 5010 north to Shiprock, which is about 3.5 miles away. Visiting Shiprock is one of the best things to do while exploring the Farmington area.
How to get to Shiprock Peak from Four Corners Monument?
From the Four Corners Monument, you have two options. The shorter route leads through US-64 E and is 35 miles. It takes around 50 minutes to drive. The longer route we have chosen leads through US-160 E and US-491 S. the length of the road is about 55 miles and about a 1.5-hour drive.
How to get to Shiprock from Santa Fe?
From Santa Fe to Shiprock is 237 miles and about 4 hours of driving via US-550 S. Please read our full of tips and detailed 3 days Santa Fe itinerary, as this town is one of the most beautiful in New Mexico.
Our favorite NM maps and guides: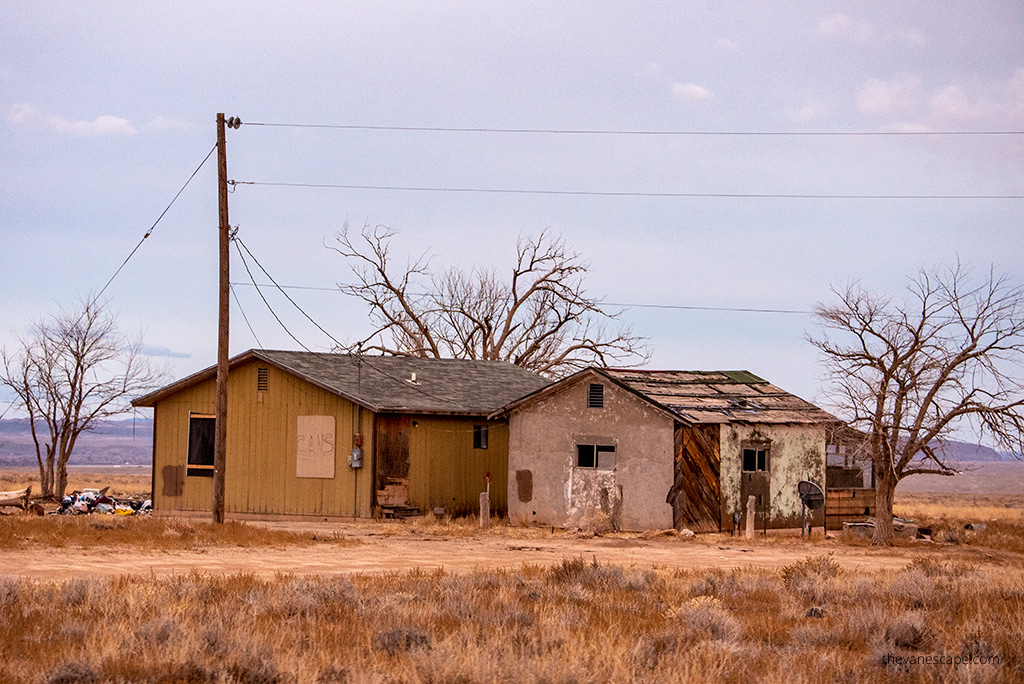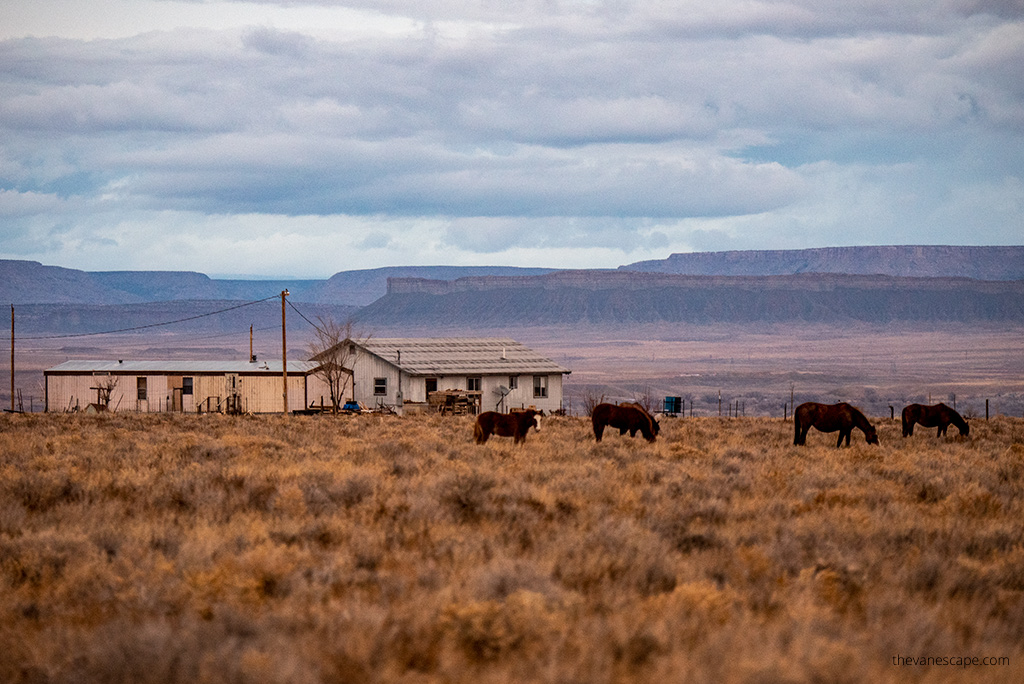 The best visibility of Shiprock
Visiting Shiprock in New Mexico is not easy. However, Shiprock Peak is visible 30 to 50 miles from the peak, in almost every direction. But the best viewing is west of Farmington along Hwy. 64 or south of Shiprock on Hwy. 491.
It's not legal to get to the base of the rocks as it's a sacred place for the Navajo Nation. We admired it only from a distance, and the same we recommend it to you.
To get the base of Shiprock for an up-close view, turn west off Hwy. 491 onto Red Valley Road / Route 5, south of the formation. Route 5 passes through the south dike and connects with dirt roads that lead to the base of Shiprock's peak. But check if the road is open for tourists on the Navajo website. During our visit, it was prohibited, so we took photos from a distance. We admired the pinnacle of the Indian Service Route 13 and US Highway 491.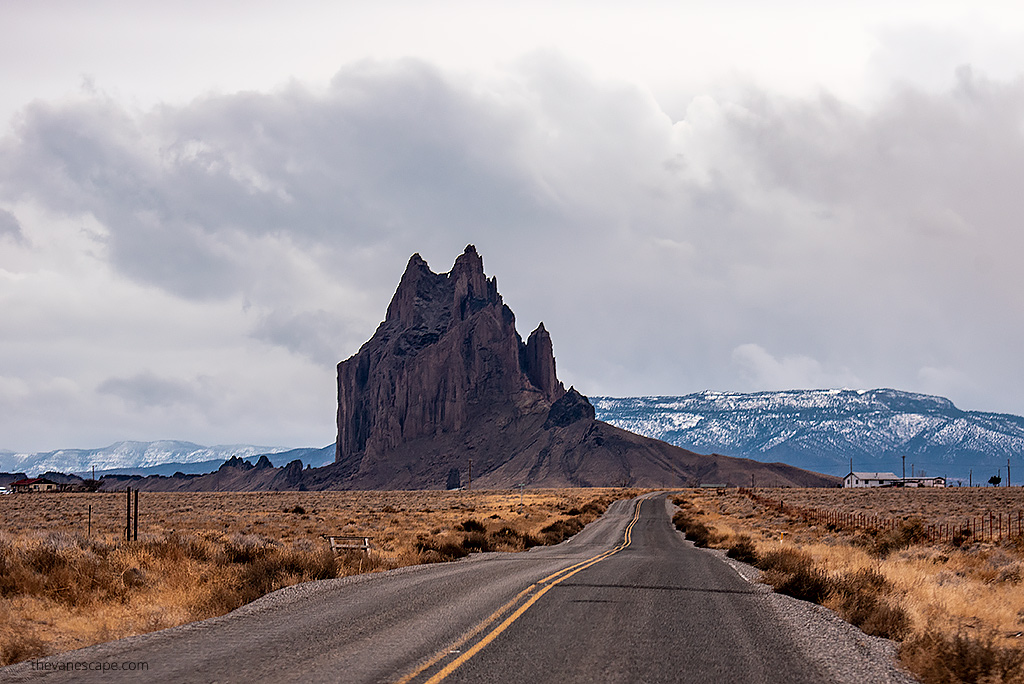 According to the Navajo Nation website, driving onto the dirt road leading to the formation is prohibited, so respect their rules. You can view and photograph the pinnacle from the paved roadway (Indian Service Route 13 or from US Highway 491). So, when you visiting Shiprock use zoom to take great photos, as we did. We used Nikkor 80-400 and Canon 24-70 to make our photos from a distance, and to respect their rules.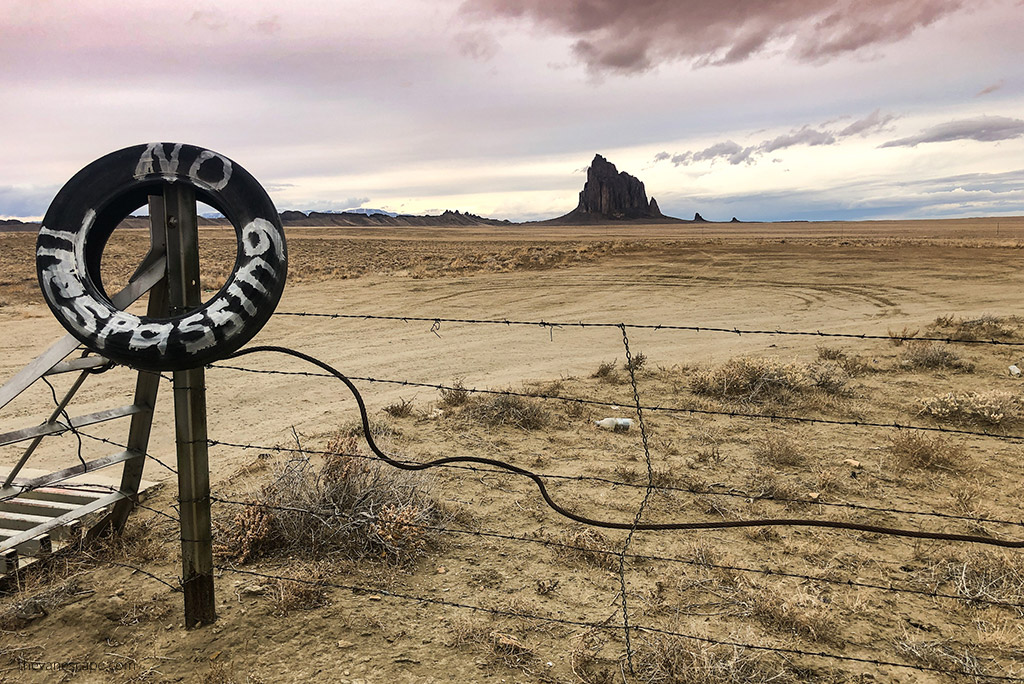 Where to stay when visiting Shiprock in New Mexico?
The Navajo Nation prohibits camping in the area. But visiting Shiprock is worth your time. So, the best idea is to stay in Farmington. Check availability and prices on booking.com.
We stayed in Best Western Plus the Four Corners Inn, and we can recommend it. It has high standards, spacious, clean rooms, and excellent service. The hotel offers classically furnished rooms with free Wi-Fi and cable TV. It features an indoor pool and a relaxing jacuzzi. You can book it directly through the Best Western website.
You will also find shops and restaurants in Farmington. Furthermore, it's a great base not only for visiting Shiprock but for exploring this part of New Mexico.
Nearby Shiprock Attractions
Visiting Shiprock in New Mexico takes you a few hours. But, as we mentioned above, Farmington is a great base for exploring the area, so it is worth considering this city to stay in it for 2-3 days. What are the best nearby attractions?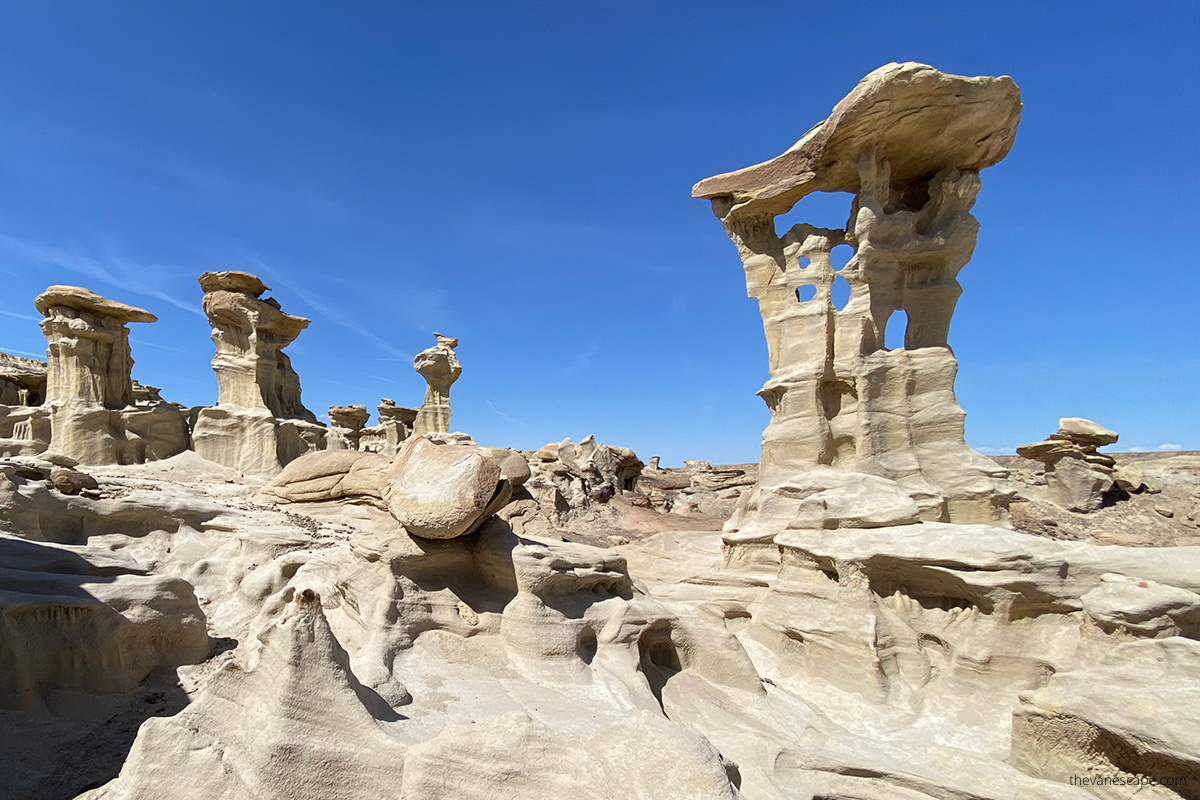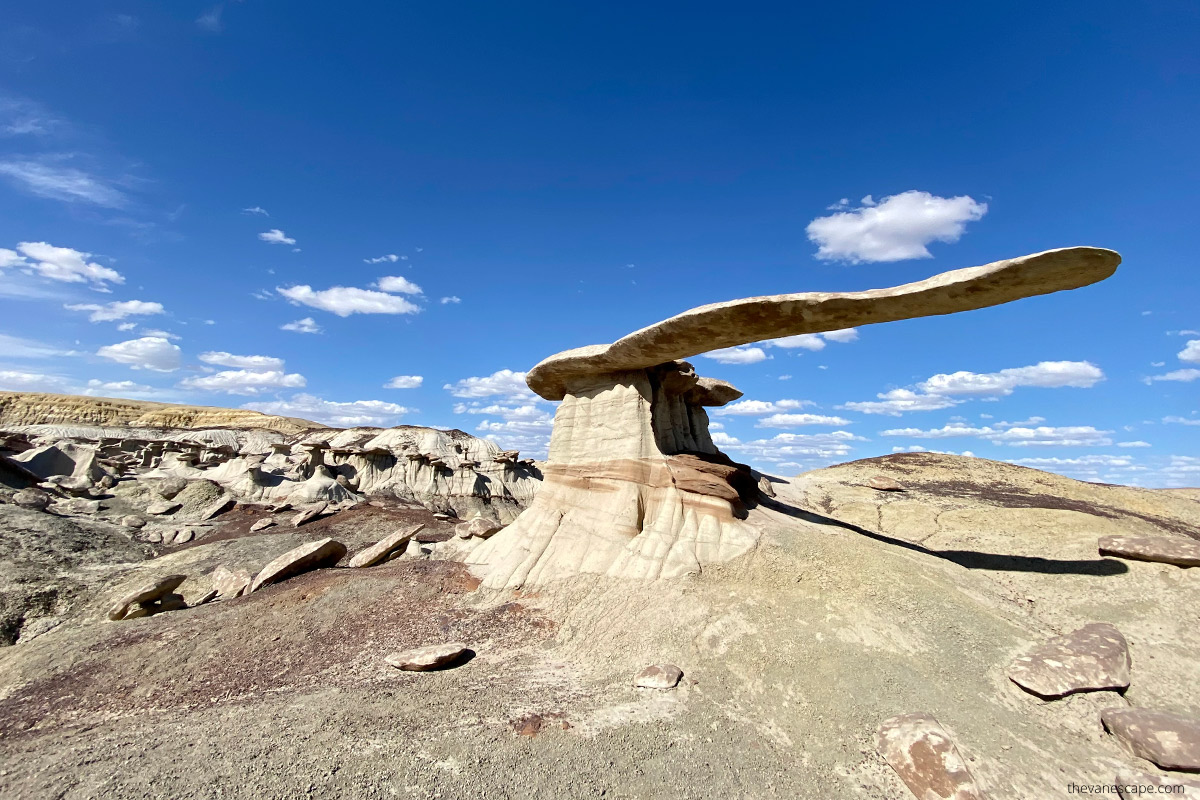 Hiking in Bisti Badlands and Ah-Shi-Sle-Pah Wilderness Areas
Have you heard about The Bisti/De-Na-Zin Wilderness Area in New Mexico? Also, named Bisti Badlands? Have you seen pictures of the Ah-Shi-Sle-Pah formations (Alien Throne and spectacular King of Wings)? Walking through the Bisti Badlands and Ah-Shi-Sle-Pah Wilderness is like entering an alien, prehistoric world of desolate desert and bizarre rock formations. But, there are no marked trails, so it is difficult to find them. So, we have prepared the complete Hiking The Bisti/De-Na-Zin Wilderness Guide and the Ah-Shi-Sle-Pah Wilderness Study Area Guide for you.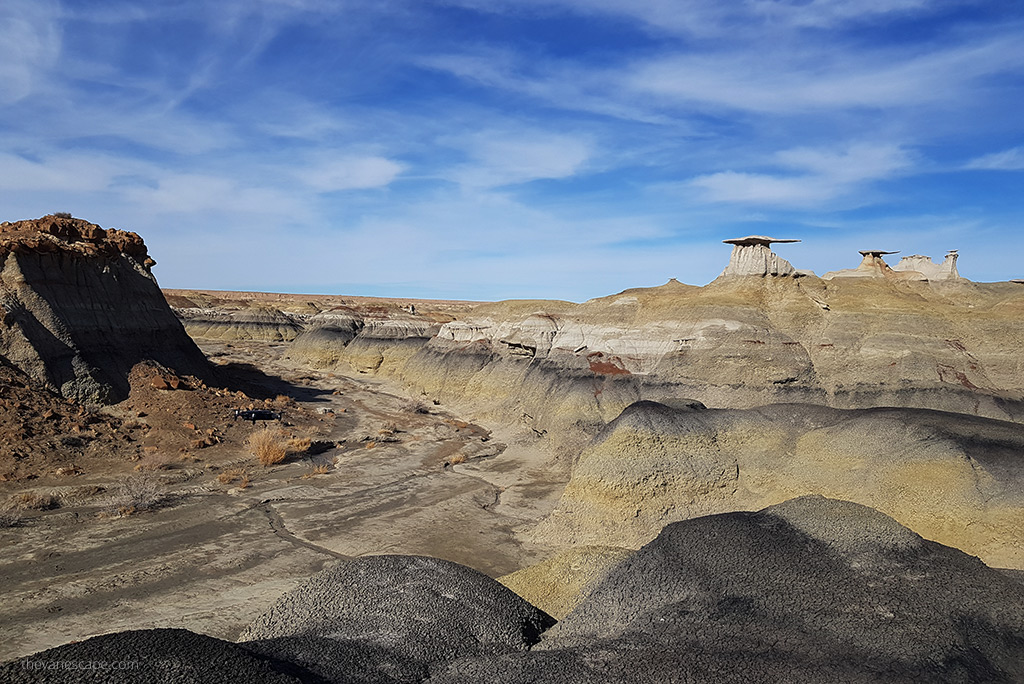 Visit Four Corners Monument
You can combine visiting Shiprock in New Mexico with the Four Corners Monument. The Four Corners Navajo Tribal Park is a unique landmark in the United States where four states intersect at one point: Arizona, New Mexico, Utah, and Colorado. So, it is possible to be in four states in one day!
The original marker erected in 1912 was a simple cement pad but has since been redone in granite and brass.
The park is open year-round and features a demonstration center with Navajo artisans. Furthermore, the Navajo are selling handmade jewelry, crafts, and traditional Navajo foods there.
The Four Corners Monument general admission is $5.00 per person. For ages six or younger is free. National Park and Golden Age Passes are not accepted. No dogs allowed. More information you will find on the Navajo Nation website.
Others things to do near Shiprock
Shiprock in New Mexico is located close to Arizona, Utah, and Colorado state borders. This area might be a great starting point for your Southwest road trips. So if you plan a longer road trip through the most spectacular landscapes and most incredible US national parks, check out our detailed itineraries, which help you plan your dream road trip: