How to Visit Capitol Reef National Park: The Ultimate Guide
How to plan a trip to Capitol Reef National Park? You will find an answer in our detailed guide. From essential planning tips and the best times to visit to must-see attractions and hidden gems, we've compiled everything you need to know for a memorable adventure. Read on to find out why Capitol Reef is a must-visit destination, as it's one of Utah's most awe-inspiring yet under-the-radar destinations.
This article may contain affiliate / compensated links. For full information, please see our disclaimer here.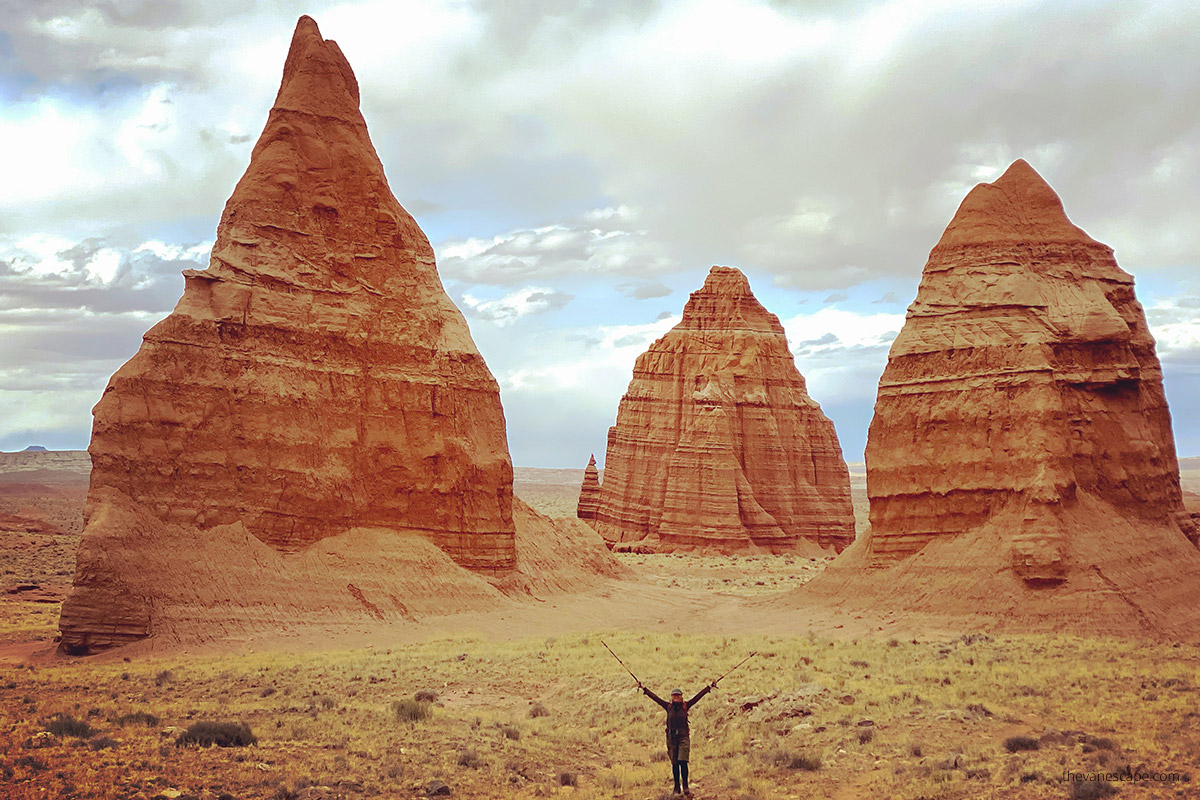 What is Capitol Reef National Park Famous For?
Welcome to your go-to guide for visiting Capitol Reef National Park, one of the USA's most stunning natural wonders. Nestled in south-central Utah, Capitol Reef is renowned for its unique geologic formations, including the Waterpocket Fold—a nearly 100-mile-long warp in the Earth's crust. This park offers diverse landscapes, from towering cliffs and arches to sprawling canyons and lush orchards.
Whether you're a first-timer or a returning visitor, this guide will provide you with detailed and valuable information, from the best times to visit and must-see attractions to hidden gems and safety tips.
Our Experiences with Visiting Capitol Reef
On Chris's first trip to Capitol Reef a few years back, he thought he'd seen it all. So, when we planned our Utah adventure to explore the Mighty 5, he was ready to skip Capitol Reef altogether. "I've already been there," he said, convinced he didn't need a second visit.
But I had questions. "Have you driven the Cathedral Valley Loop? Seen the Temples of the Sun and Moon? Witnessed the orchard trees in full bloom? Or tasted the famous pie at Gifford Homestead in Fruita?" To each question, Chris had the same answer: "No."
"That settles it," I declared. "You haven't truly experienced Capitol Reef National Park. We're staying longer this time."
And you know what happened? Chris fell head over heels for the park's diverse vistas and unique experiences, admitting that his first trip barely scratched the surface. Now, Capitol Reef holds a special place in both our hearts, and we can't wait to explore it further.
As seasoned travelers and experts in U.S. Southwest travel destinations, we've visited Capitol Reef several times so far and are thrilled to share our firsthand experiences and tips. This comprehensive guide aims to answer all your questions and equip you with everything you need to know for an unforgettable visit to Capitol Reef. So, let's start planning your Capitol Reef adventure!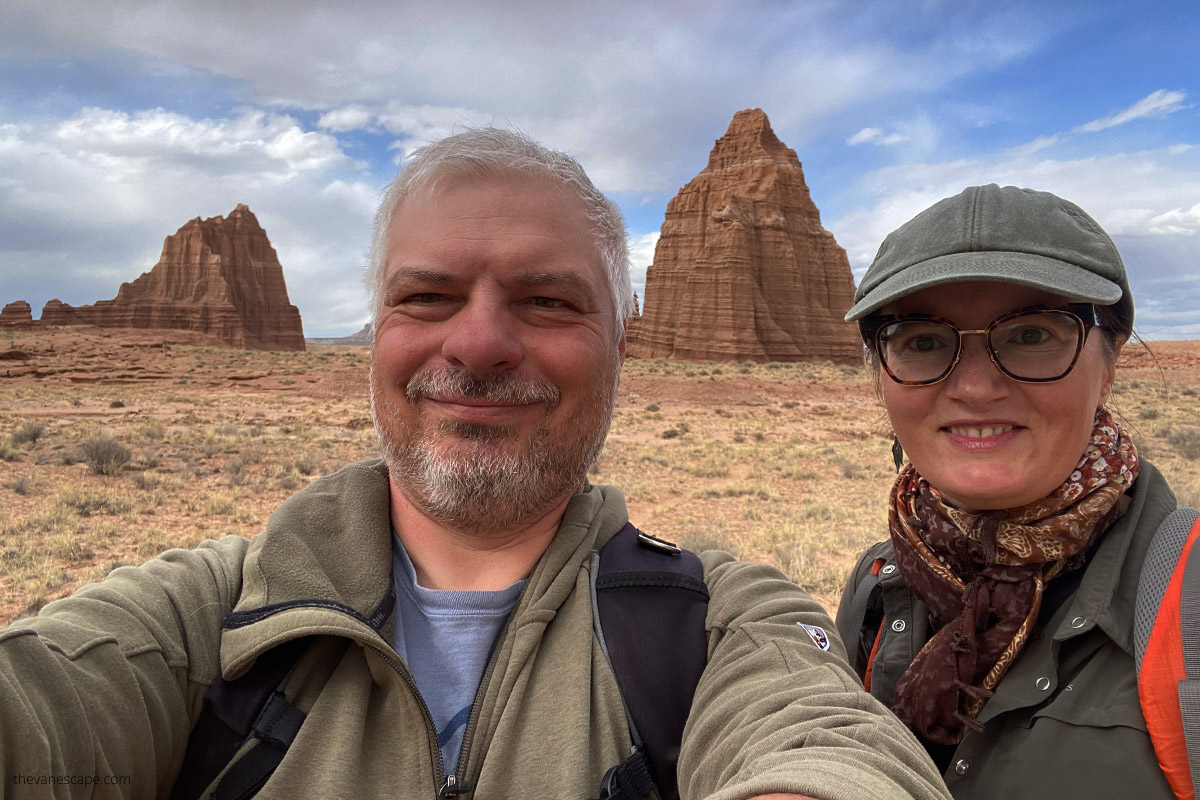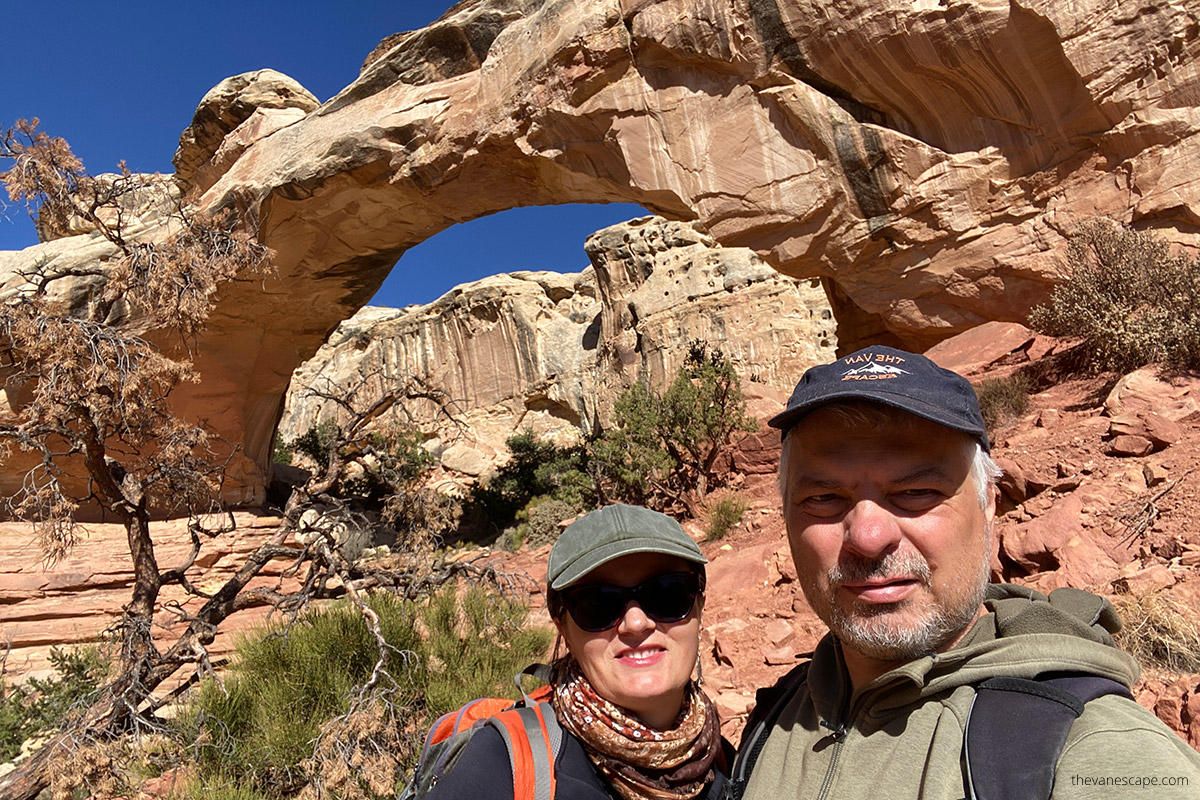 Why You Should Consider Visiting Capitol Reef National Park?
So, you're thinking about a road trip to Utah's national parks? Great choice! But have you considered Capitol Reef? It's the most remote and least visited of Utah's famous "Mighty 5." That's right, it sees fewer crowds than nearby Arches, Zion, and others. So, what makes it worth your time?
Unique Geological Features
First off, the park is a geologic wonder. It's home to the Waterpocket Fold. This is a nearly 100-mile-long warp in the Earth's crust. It's a must-see for geology buffs. But you don't have to be an expert to appreciate its beauty. You can read more in our article Facts about Capitol Reef.
Rich Cultural History
Next, let's talk history. Capitol Reef is more than just pretty rocks. It has ancient petroglyphs and historic orchards. These offer a glimpse into the lives of Native Americans and pioneers. It's like a history lesson but way more fun.
Diverse Activities
Now, onto activities. Are you a hiker? A photographer? Or maybe you love scenic drives? Well, Capitol Reef has you covered. From challenging trails to family-friendly fruit picking, there's something for everyone.
Accessibility
And don't worry about getting there. The park is easily accessible by car. Plus, the main attractions are close to parking areas. So it's convenient for all ages and fitness levels.
Less Crowded
Lastly, let's talk crowds—or the lack thereof. Capitol Reef is the least visited among Utah's "Mighty 5." So, it's perfect if you're looking to escape the masses. Think of it as a quieter alternative to the ever-popular Arches National Park, especially in the high tourist season.
Trust us, it's a gem waiting to be discovered. In the coming sections, we'll dive into all the details you need for a memorable trip.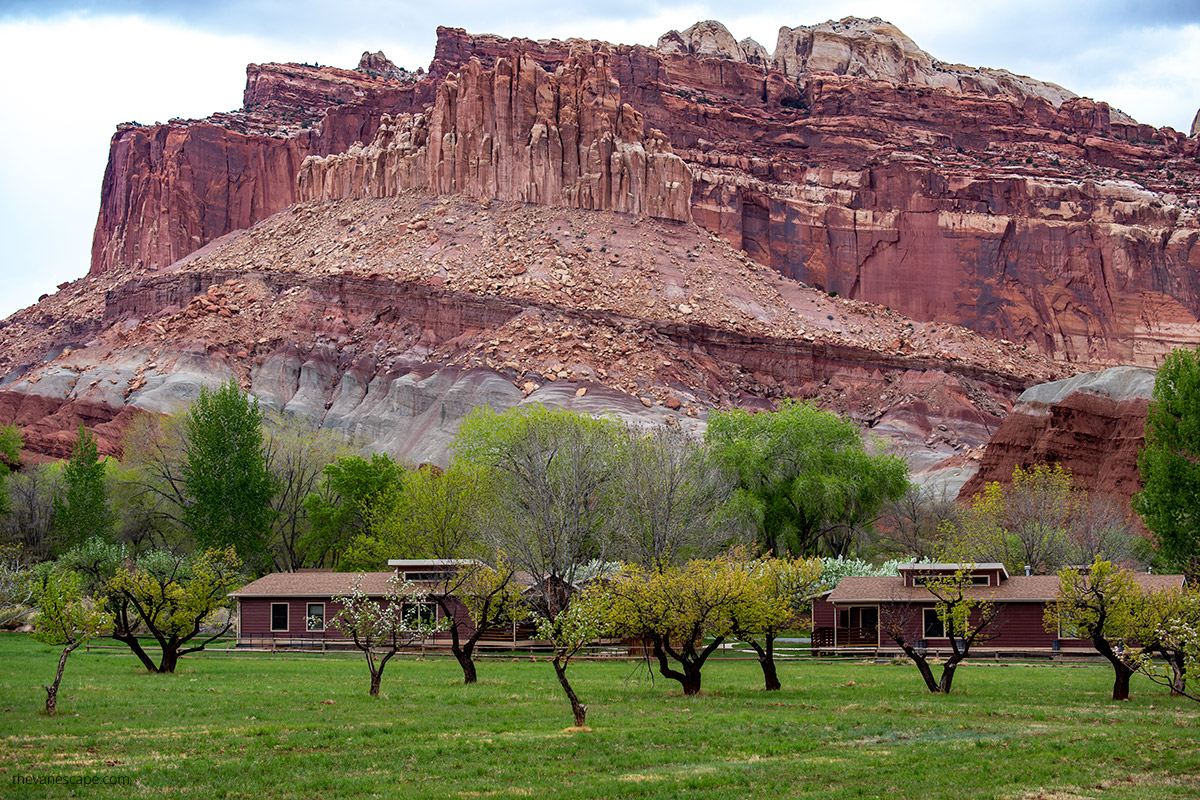 Best Time to Visit Capitol Reef National Park
So you're set on exploring Capitol Reef. The next big question is, when should you go? Timing is crucial and can make or break your trip. In this section, we'll break down the best times to visit Capitol Reef National Park, month by month.
Overall: What is the best time to visit Capitol Reef?
The best time to visit Capitol Reef National Park is spring and fall. Spring offers mild temperatures and blooming wildflowers, while fall provides cooler weather and stunning foliage. Both seasons have daytime temperatures ranging from 50°F to 75°F, making them ideal for outdoor activities.
Our Experiences: During our last visit to Capitol Reef at the beginning of May, we found the weather to be ideal for hiking. The trees were in full bloom, and the vistas were nothing short of spectacular. However, it's worth noting that river levels were high, which could be a concern for those looking to explore more remote areas. Fortunately, most of the park is accessible year-round, and the main roads are well-paved.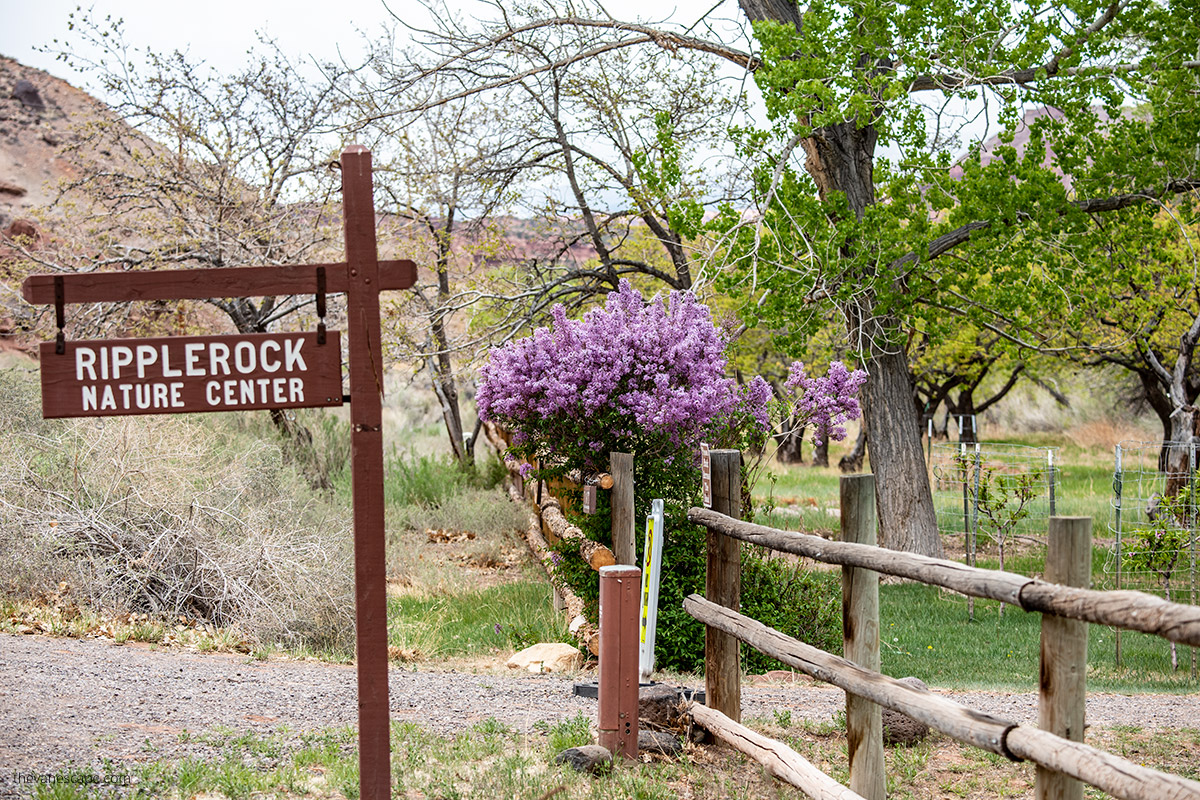 Seasonal Highlights in Capitol Reef
Spring
Firstly, spring is a popular choice. Temperatures range from lows of 40°F to highs of 70°F. Wildflowers bloom, adding color to the landscape. However, weekends and holidays can get crowded, especially in the famous Fruita – the gateway to the Park. There may be more water in streams, so check the water level if you plan to cross streams.
Our Experiences: On our most recent trip, we rented a 4×4 Jeep Wrangler with the intention of tackling the Cathedral Valley Loop in a clockwise direction. However, due to high water levels, we opted for caution to avoid damaging the rented vehicle. As a result, we completed the loop in a counterclockwise direction, which required a bit more time but ensured a safer journey on this challenging drive.
Summer
Next, there's summer. It's hot, with highs reaching up to 100°F and lows around 60°F. Fewer people visit, but there's a catch. Summer is monsoon season, which means a risk of flash floods. Always check weather forecasts, especially if you plan to drive challenging routes like the Cathedral Valley Loop.
Fall
Fall is another great option. Temperatures are milder, ranging from 50°F to 75°F. The orchards in Fruita offer fruit picking, and the fall foliage is stunning. But, like spring, it can get busy.
Our Experiences: During one of our visits to Capitol Reef in late November, we enjoyed the solitude of a nearly empty park. However, the weather was on the chilly side, and the reduced sunlight made the iconic orange rocks appear somewhat darker. The colors were a bit muted compared to other seasons, lending the landscape a more mysterious and subdued beauty.
Winter
Lastly, winter is the least visited season. Highs are around 40°F, and lows can drop below freezing. The park is serene, but some trails and roads may be closed due to snow.
Flash Floods and Road Conditions
Now, let's talk safety. Flash floods are most common in late summer. They can make roads like the Cathedral Valley Loop impassable. Always check road conditions and weather forecasts before heading out.
Pros and Cons of Each Season
Every season has its trade-offs. Spring and fall have the best weather but can be crowded. Summer offers solitude but comes with heat and flood risks. Winter is peaceful but has limited activities due to cold and snow.
Weekdays vs. Weekends and Holidays
Lastly, consider the day of the week. Weekends and holidays are busier, especially in the main part of the park, in charming Fruita. If you're looking for a quieter experience, aim for weekdays.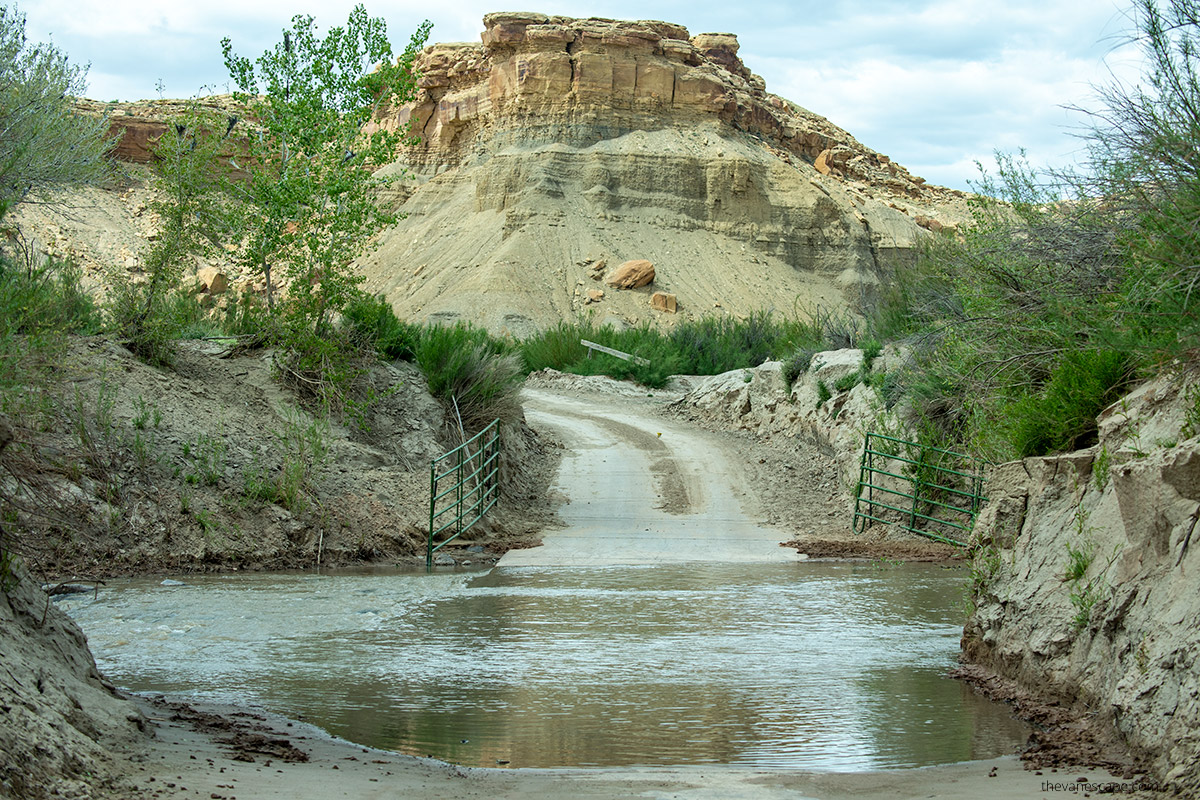 How to Get to Capitol Reef National Park?
So, you're convinced that Capitol Reef is a must-see. Great! Now, let's talk logistics. How do you actually get there? Whether you're flying or driving, check out some details.
Nearest Airports
Firstly, let's talk about air travel. Salt Lake City International Airport and Las Vegas McCarran International Airport are the closest major airports. Both are roughly a 4-5 hour drive from the park. We have taken several Southwest road trips from Las Vegas due to the competitive rental prices in the city, making it a more budget-friendly option.
Driving Routes
Next up, driving. Most visitors arrive by car, and the main entry point is via Highway 24. If you're coming from the north, you'll likely take I-70 to Highway 24. From the south, you'll probably use Highway 12. Both routes offer stunning scenic drives.
Highway 24 is also known as the "Capitol Reef Scenic Byway," and it takes you through some of the most picturesque parts of the park. Highway 12 is famously known as "Scenic Byway 12" and is designated an "All-American Road." It's renowned for its breathtaking landscapes and connects Capitol Reef to Bryce Canyon National Park.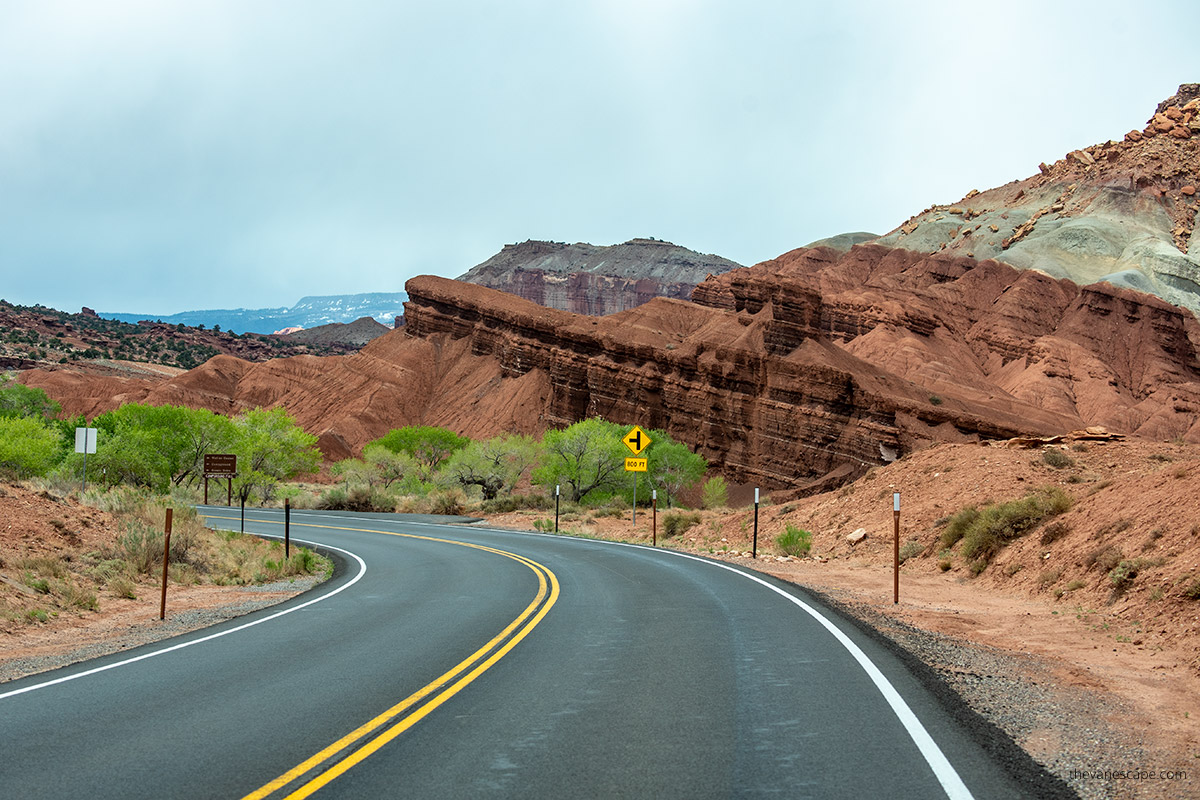 Driving Routes to Fruita in Capitol Reef
Getting to the Fruita area, the heart of Capitol Reef National Park is straightforward but does require some driving.
Fruita is a historic district within Capitol Reef National Park, known for its lush orchards, scenic landscapes, and the charming Gifford Homestead. It's an ideal spot for those with limited time, offering a taste of the park's diverse attractions. If you have only a few hours to explore, Fruita provides a fulfilling experience.
Here are detailed directions and distances from key locations to Fruita:
From Salt Lake City
Route: Take I-15 S to US-50 E in Scipio. Follow US-50 E and then take UT-24 W straight into the park.
Distance: Approximately 225 miles
Time: Around 4 hours
Driving From Moab
Route: From Moab, take US-191 N to I-70 W, then exit onto UT-24 W to the park. On the way, you have a spectacular formation of Factory Butte, and we highly recommend stopping there for a while. It's about 12 miles west of Hanksville.
Distance: Roughly 150 miles
Time: About 3 hours
From Escalante
Route: From Escalante, take UT-12 E to UT-24 W.
Distance: About 75 miles
Time: Approximately 1.5 hours
Driving From Kanab
Route: From Kanab, take US-89 N to UT-62 E, then to UT-24 W.
Distance: Around 185 miles
Time: Close to 3.5 hours
Distances from Other Utah National Parks
Arches National Park: About 145 miles, 2.5 hours.
Bryce Canyon National Park: Approximately 120 miles, 2.5 hours of driving.
Zion National Park: Roughly 185 miles, 3.5 hours.
Canyonlands National Park: Around 150 miles, 2.5 hours.
Given the relatively close proximity of Utah's "Mighty 5", it's entirely feasible to explore them all in one Utah National Park epic road trip. If you have around 7-10 days to spare, you can experience the unique beauty and diverse landscapes of each park, from the arches of Arches to the canyons of Canyonlands and from the spires of Bryce Canyon to the cliffs of Zion, all while making Capitol Reef a centerpiece of your adventure.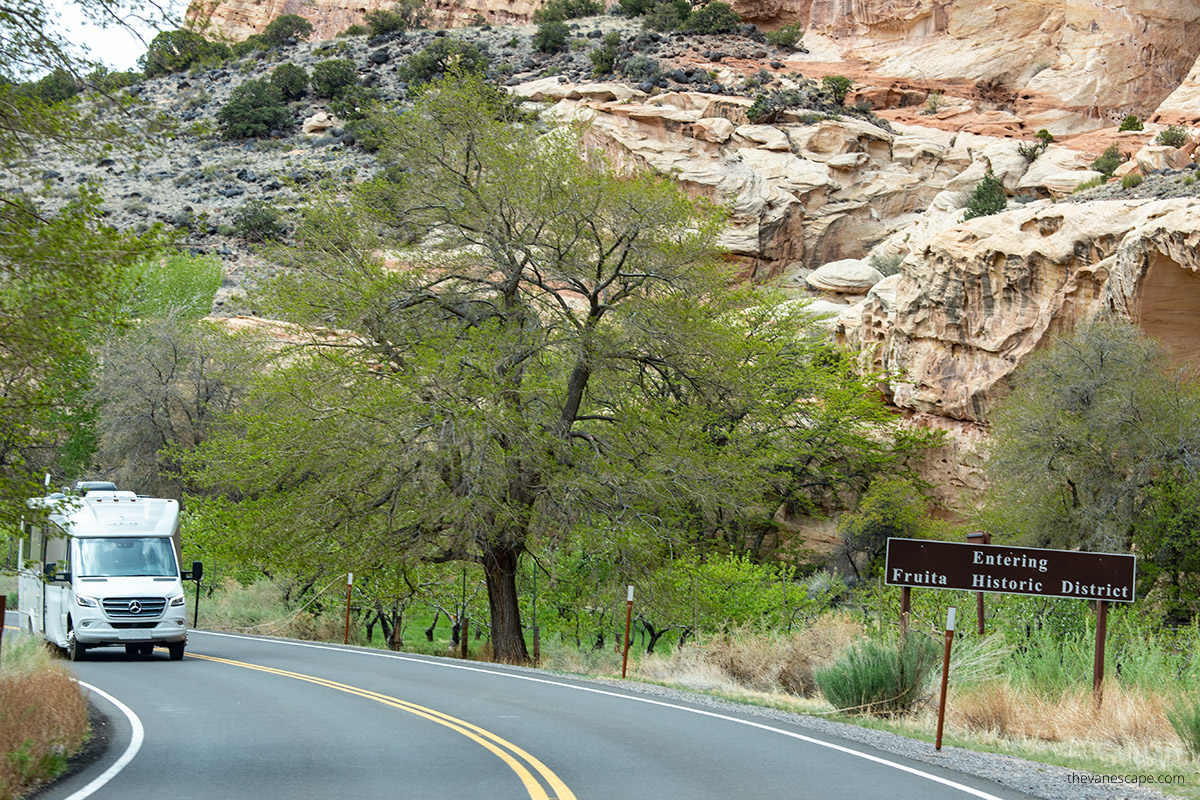 Where to Stay When Visiting Capitol Reef National Park
So, you've figured out how to get to Capitol Reef, and you're all set on when to go. Let's tackle the next big question: Where should you stay? Whether you're a camper or prefer the comfort of a hotel, we've got recommendations for you.
Camping Inside the Park
First up, camping. Capitol Reef offers a campground in the Fruita area, right inside the park. Fruita campground has 71 sites. It's a popular choice, especially in peak seasons. So, booking in advance is a must.
Fruita Campground
Amenities: Flush toilets, running water, and picnic tables.
Cost: $25 per night.
Booking: The park campground has a reservation system from March 1 – October 31. Reservations are accepted 6 months ahead of time. From November 1 – February 28, all campsites are first come, first served.
Hotels and Motels Near Capitol Reef
Next, let's talk hotels. If camping isn't your thing, no worries. There are several lodging options nearby. It's best to look for accommodation in the area of Torrey or Henksville because this is the closest to the main attractions in the park.
Location: Less than 5 miles from the park entrance. Check prices and book Capitol Reef Resort.
Amenities: Pool, Wi-Fi, and a restaurant.
Cost: Starts at around $150 per night.
Location: About 8 miles from the park. Here you can book the Red Sands Hotel.
Amenities: Free breakfast, Wi-Fi, and an indoor pool.
Cost: Starts at approximately $100 per night.
Costs and Permits for Visiting Capitol Reef National Park
You've got your travel plans sorted and your accommodation booked. Now, let's talk about the financials. What will a trip to Capitol Reef cost you in terms of fees and permits? Here's a breakdown.
Entrance Fees
Let's discuss the park entrance fees. These are essential for maintaining the park's facilities and conservation efforts.
Private Vehicle: $20, valid for 7 days
Motorcycle: $15, valid for 7 days
Individual (Bike, Walk-in): $10, valid for 7 days
Annual Entrance: $35, unlimited visits for one year
Our Tip: The America the Beautiful Annual Pass is a great value. Not only did it cover our entrance fees for Capitol Reef, but it also made sense for our extended Utah National Parks road trip. It's an option worth considering if you plan to visit multiple parks. It's cost $80 per year.
Camping Fees
Next, if you're camping in the park, there are additional fees.
Fruita Campground: Around $25 per night
Backcountry Camping: Free, but a permit is required.
Special Permits
Some activities in Capitol Reef require special permits, especially if you're venturing into backcountry areas or canyoneering.
Additional Costs
Beyond the essentials, you'll want to budget for food, gas, and those irresistible souvenirs. One must-try treat is the pie at Gifford Homestead in Fruita. The last time we visited, we couldn't resist and ended up devouring three pies—mixed berry, cherry, and strawberry. They were absolutely delicious!
Our Tip: It's a good idea to visit Gifford Homestead early in the morning. Their pies are so popular that they often sell out quickly. On weekends, you might even find yourself in a line. We learned this the hard way once; after a long wait, we found out there were no freshly baked cookies left. We bought two jars of their mouthwatering jams to lift our spirits and enjoyed some delightful sandwiches while camping in Capitol Reef.
Are Dogs Allowed?
Dogs are allowed in Capitol Reef National Park, but there are restrictions to ensure both the safety of the pets and the preservation of the park. Dogs must be kept on a leash no longer than six feet at all times. They are allowed in developed areas such as campgrounds, parking lots, and along roadsides.
However, pets are not permitted on hiking trails, in public buildings, or in the backcountry of Capitol Reef.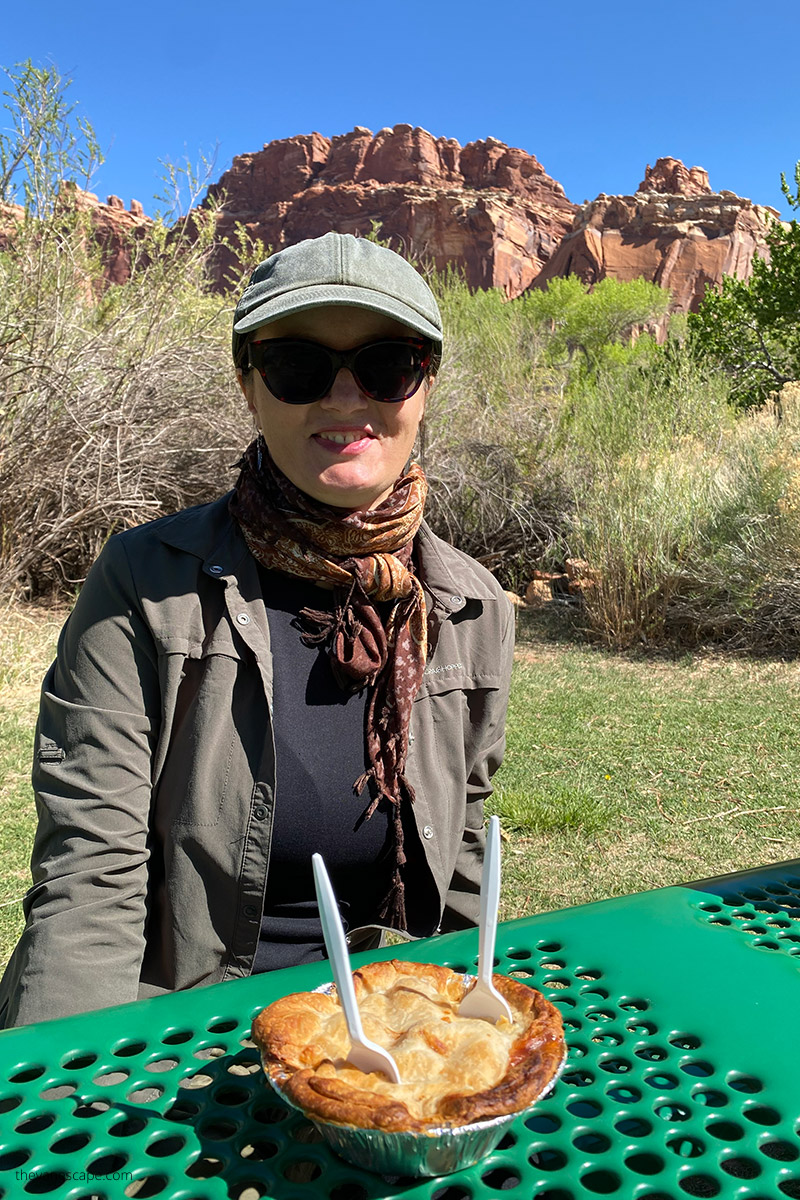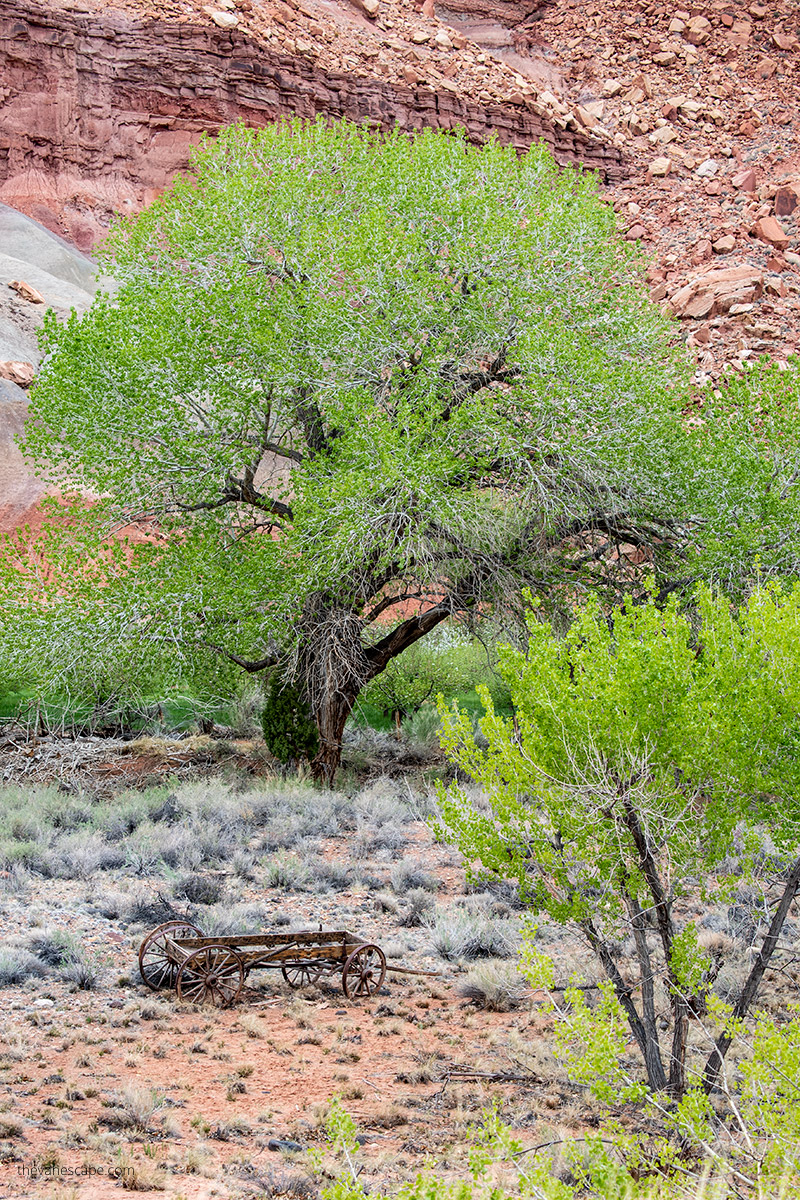 Capitol Reef National Park Map
If you spend just one day in Capitol Reef National Park and stick to the main attractions, you do not need to invest in a detailed map. A complimentary brochure available at the Visitor Center will suffice. This brochure includes a basic park layout and is also downloadable from the park's official website.
However, a detailed topographic map is essential if your plans involve exploring backcountry trails, tackling challenging hikes, or driving through the breathtaking Cathedral Valley—which we consider the crown jewel of the park and a Utah must-see. We highly recommend the National Geographic Trails Illustrated Map. Crafted in collaboration with local land management agencies, this map offers unparalleled detail, covering the park and adjacent areas like Anasazi State Park and portions of Fishlake National Forest, Grand Staircase-Escalante National Monument, and Dixie National Forest. It highlights key features such as scenic viewpoints, trailheads, campgrounds, and equestrian staging areas.
Its durability sets this map apart; it's printed on "Backcountry Tough" waterproof and tear-resistant paper. Plus, it features a full UTM grid to assist with GPS navigation.
Must-See Attractions in Capitol Reef National Park
You've got your logistics sorted, and you're ready to explore. But with so much to see, where should you start? Here are some must-see attractions in the park.
Our Tip: For those looking to optimize their time in the park, be sure to check out our detailed article on a Capitol Reef National Park Itinerary, where we provide expert advice on how to make the most of a one-day visit as well as a comprehensive three-day Capitol Reef itinerary.
Visitor Center
Start your trip at the Visitor Center. It's a treasure trove of information, maps, and exhibits about the park's geology and history. Make sure to watch a 15-minute film that dives into the park's unique geology and history.
Scenic Drive
The Capitol Reef Scenic Drive is an 8-mile stretch that takes about an hour to complete without stops. It offers pull-offs at key viewpoints like Panorama Point and Goosenecks Overlook, perfect for capturing those Instagram-worthy shots.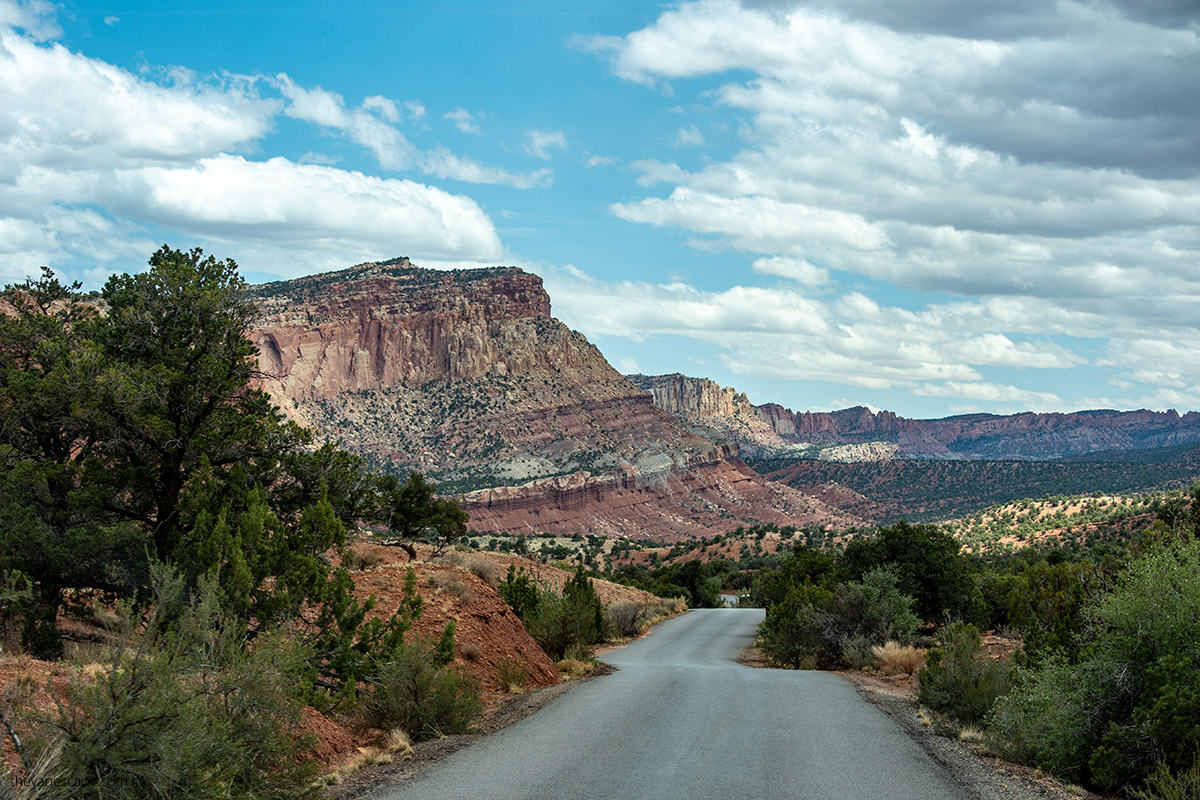 Hickman Bridge
Hickman Bridge is not just another natural arch; it's one of the largest in the park, spanning 133 feet. The 2-mile round-trip hike gains about 400 feet in elevation, making it accessible for most fitness levels. As it's one of our favorite hikes in the park, make sure to check more photos and tips in this article about the trail to Hickman Bridge.
Fruita Orchards
The Fruita Orchards are a living testament to the pioneer history of the park. You can pick apples, peaches, or cherries, depending on the season. The orchards cover about 200 acres and contain nearly 3,000 trees.
Gifford Homestead
Gifford Homestead is more than just a pie shop located in the historic Fruita district. It's a step back in time, housed in a building that's over 100 years old. Their pies are so popular that they often sell out by noon, especially on weekends. Don't miss to photograph the famous Pendleton Barn.
Temples of the Sun and Moon
These towering monoliths in Cathedral Valley are best visited during sunrise or sunset when the light creates a magical glow on the rocks. If you don't have a 4WD vehicle, consider taking a guided tour, as the road can be challenging.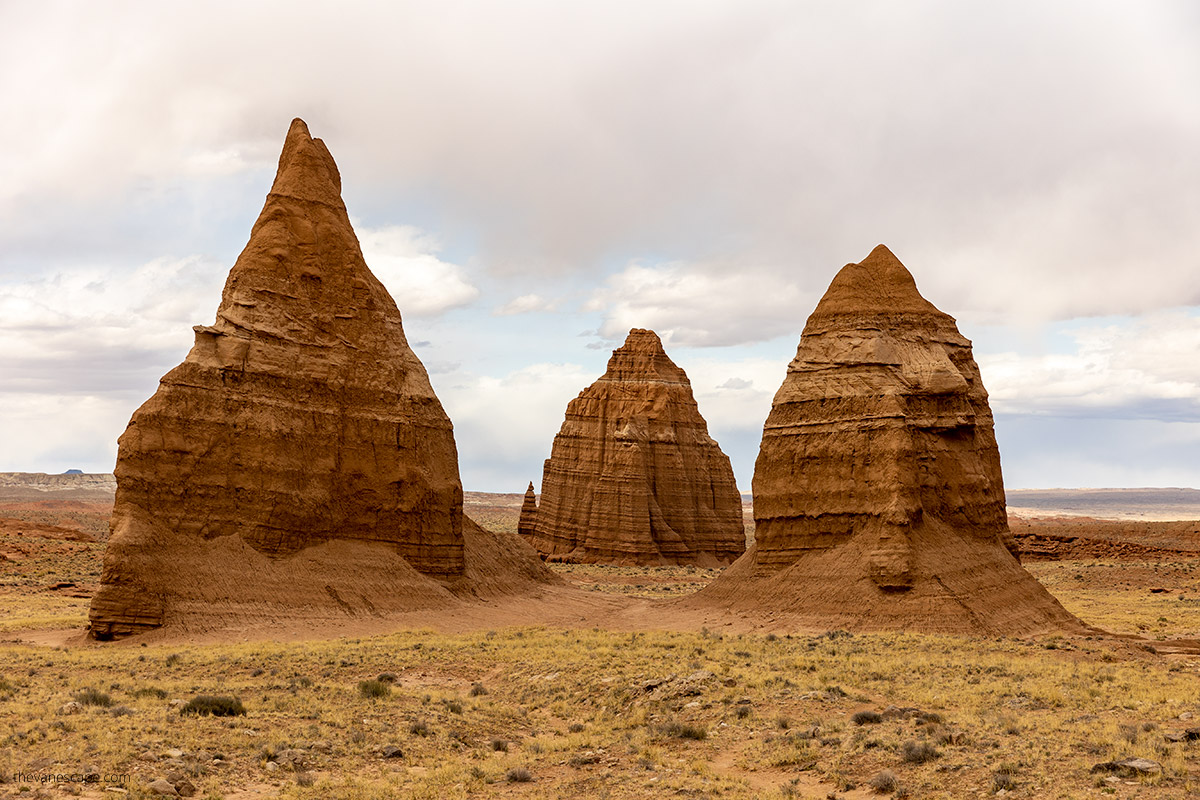 Cassidy Arch
Named after the infamous outlaw Butch Cassidy, this arch is a challenging hike but offers panoramic views of the Grand Wash. The trail is 3.4 miles round-trip and gains about 670 feet in elevation.
More Scenic Hikes
Grand Wash: A 4.4-mile round-trip hike through a narrow canyon.
Chimney Rock Loop: A 3.6-mile loop offering views of Waterpocket Fold.
Navajo Knobs: A strenuous 9.4-mile hike leading to one of the highest points in the park.
Our Tip: As we enjoyed this park a few times, check out our list of the best things to do in Capitol Reef National Park.
Capitol Reef Petroglyphs: A Glimpse into the Past
One of the most intriguing aspects of Capitol Reef National Park is its rich history, preserved in the form of petroglyphs. These ancient rock carvings offer a window into the lives and beliefs of the indigenous people who once inhabited the region.
The petroglyphs in Capitol Reef National Park are believed to be between 600 and 1,400 years old. They were created by the indigenous Fremont people who lived in the area from approximately 300 to 1300 CE. These ancient rock carvings offer valuable insights into these early inhabitants' lives, cultures, and beliefs.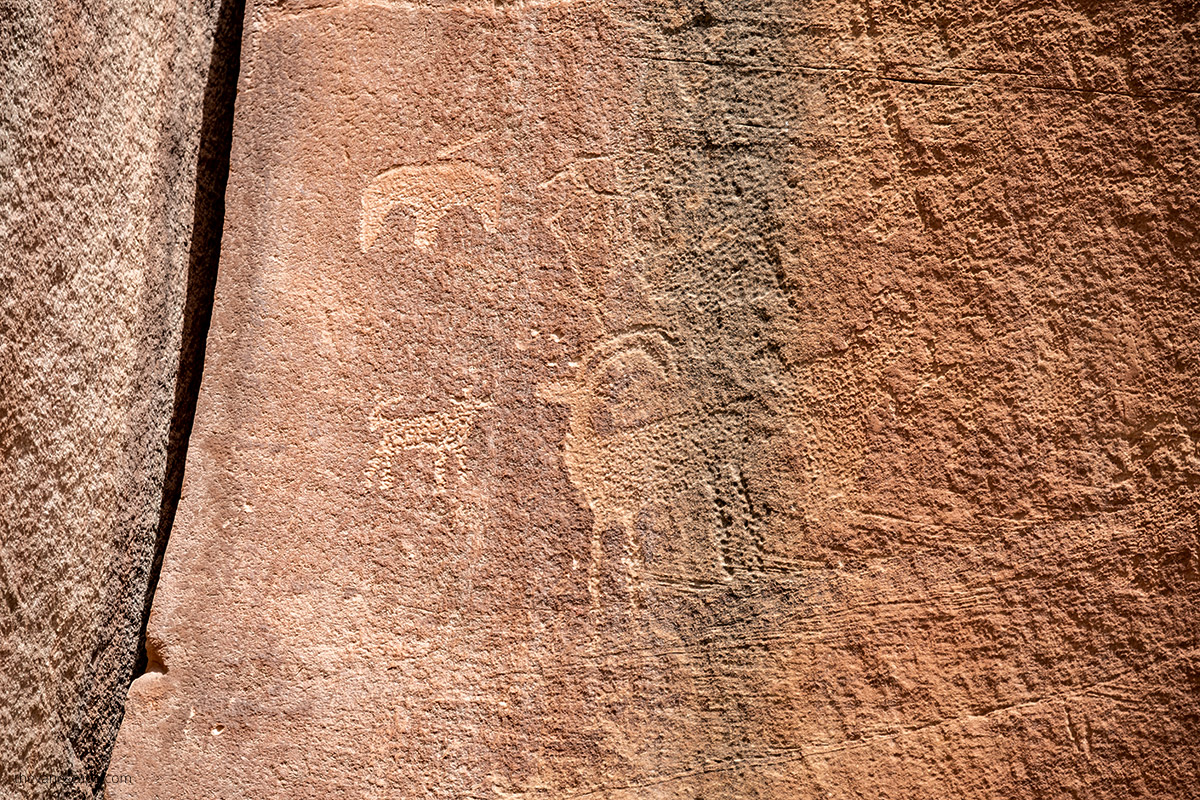 Petroglyph Panel
Located just off Highway 24 near the Visitor Center, the Petroglyph Panel is one of the most accessible and well-preserved sites. The panel features a variety of figures, including humans, animals, and abstract shapes.
During our visit, we were fascinated by the intricate details of the petroglyphs at the Petroglyph Panel. It's a humbling experience to stand before these ancient artworks, pondering the stories and cultures they represent.
Hickman Bridge Trail
Another spot to catch a glimpse of petroglyphs is along the Hickman Bridge Trail. Keep an eye out for these ancient markings as you hike towards the arch.
Capitol Gorge
The Capitol Gorge trail offers stunning natural beauty and features the Pioneer Register, where you'll find petroglyphs and inscriptions from early settlers.
Our Experiences: Spotting the ancient petroglyphs proved to be a bit of a treasure hunt for us. These millennia-old etchings are incredibly subtle, requiring a keen eye to discern them on the expansive rock walls. To capture their intricate details, I found myself relying on my telephoto lens. Below, you'll find two contrasting photos—one from a distance and one close-up—to give you a sense of their scale. If you're not equipped with a telephoto lens, a pair of binoculars could be your next best friend. Scouring the rocks for these hidden gems of art was an engaging and rewarding experience for us.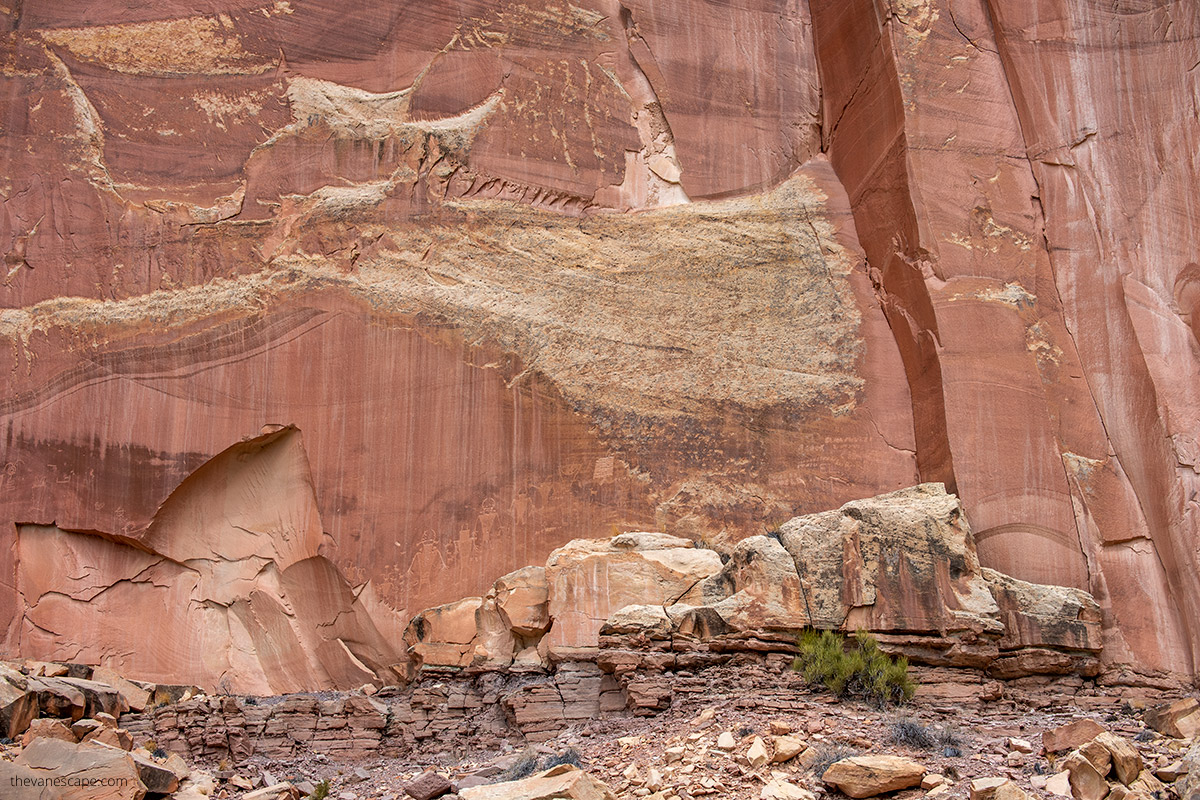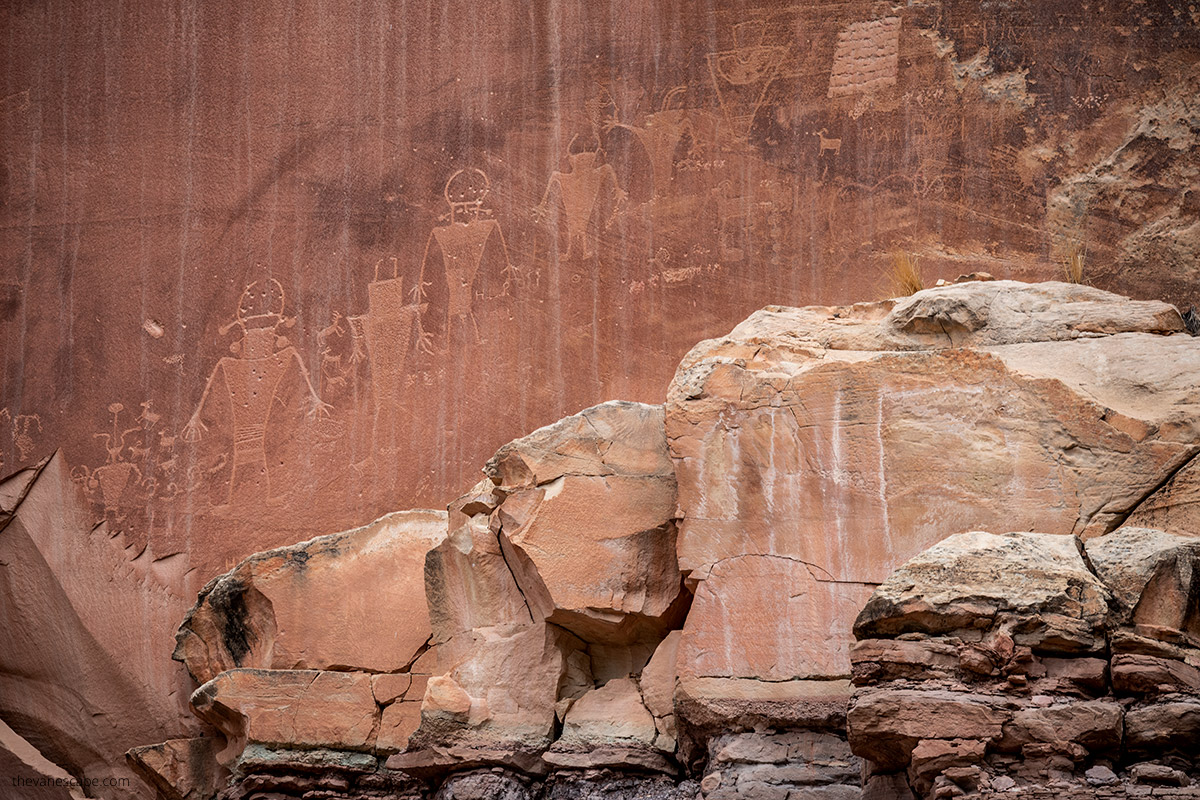 Hidden Gems in Capitol Reef National Park
Capitol Reef is known for its iconic landmarks, but what about its hidden treasures? As frequent visitors, we've discovered some lesser-known spots that deserve your attention. Here's our curated list of hidden gems.
Sulphur Creek
This off-the-beaten-path hike offers a unique experience with waterfalls and natural water slides. It's a 5.8-mile point-to-point trail, so you'll need to arrange a shuttle or hike back the way you came. Read more on how to explore Sulphur Creek, as it's a challenging trail, like the Subway hike or the Narrows hike.
Our Tip: Wear water-resistant hiking boots, as you'll be crossing the creek multiple times.
Capitol Gorge
Capitol Gorge is a narrow canyon that's often overlooked. A 2-mile round-trip hike takes you to the Pioneer Register, where early settlers left their names etched in the rock walls.
Our Tip: Wear sturdy hiking shoes; the trail is rocky and uneven.
Brimhall Natural Bridge
This challenging 2-mile round-trip hike leads to a double arch, a rare geological feature. The trail involves some scrambling and route-finding, so it's best for experienced hikers.
Our Tip: Bring plenty of water; the hike is strenuous and exposed. Hiking poles are helpful for balance during some of the challenging sections.
Sheets Gulch
Exploring slot canyons in Utah is an adventure we can't get enough of, and Capitol Reef National Park offers some of the best in the state. Sheets Gulch is a prime example, a hidden gem within the Waterpocket Fold that provides an exhilarating hiking experience. The narrow, winding passages and the occasional obstacle, like chockstones and dry falls, make it a challenging but rewarding trek.
Sheets Gulch is a captivating slot canyon that stretches approximately 12 miles round-trip, although you can turn back at any point to suit your comfort level. The hike is considered moderate and can take anywhere from 4 to 6 hours, depending on how far you venture. The canyon gradually narrows as you go deeper, offering a mix of sandy floors, rocky obstacles, and towering sandstone walls.
While we adore other Utah classics like Buckskin Gulch and Zebra Slot Canyon, Sheets Gulch is a great adventure in Capitol Reef. We also highly recommend the nearby Willis Creek Slot Canyon for those looking to extend their slot canyon adventures. Trust us; if you're a slot canyon enthusiast like us, you don't want to miss out on what Capitol Reef offers.
Our Tip: Carry a topographic map; the trail is not well-marked.
Cathedral Valley Overlook
While many visitors focus on the Temples of the Sun and Moon, the Cathedral Valley Overlook offers a panoramic view of the entire valley. It's accessible via a short, 0.2-mile trail from the Hartnet Road.
Our Tip: Visit during sunrise or sunset for the most dramatic lighting. We admired the view during sunset, and it was spectacular.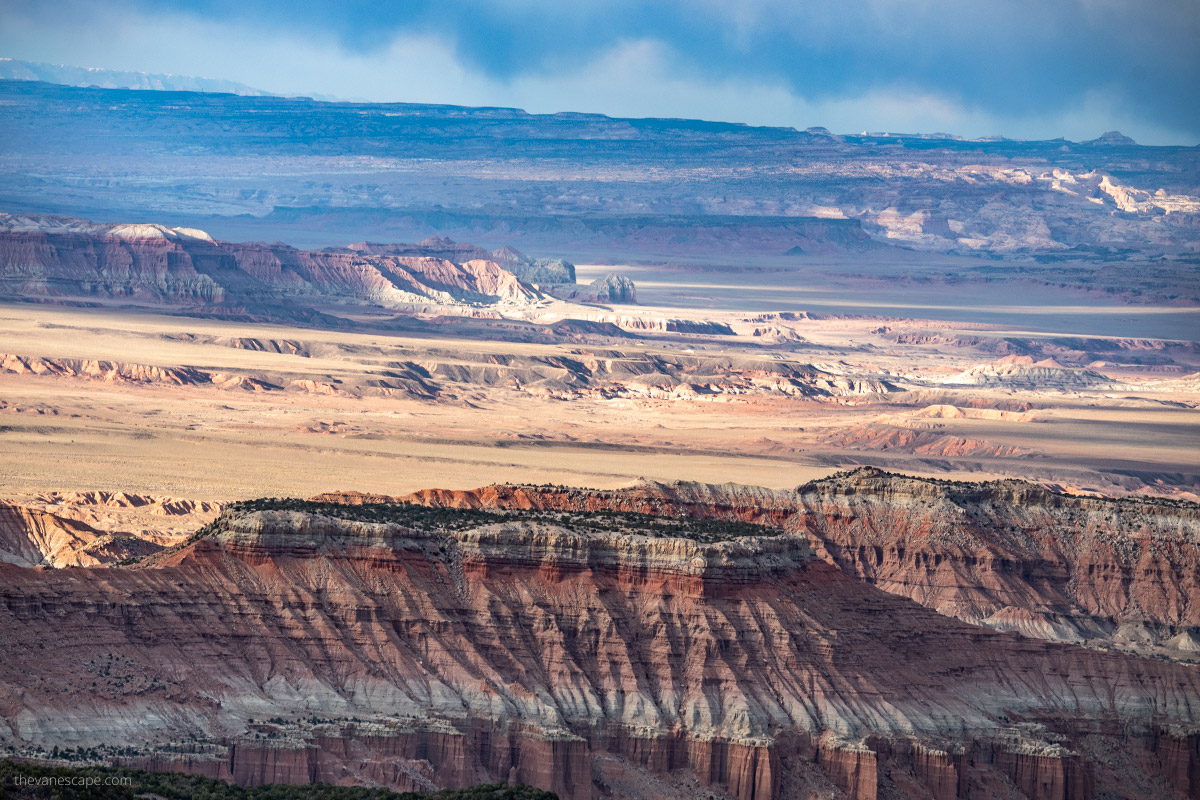 Best Hiking Trails in Capitol Reef National Park
If you're an outdoor enthusiast, Capitol Reef National Park offers a plethora of hiking trails that cater to all levels of experience. From easy walks to challenging backcountry routes, there's something for everyone. Before you hit the trail, check out what to bring on a hike for an unforgettable and safe adventure. Here are some of the best hiking trails you shouldn't miss:
Hickman Bridge Trail
Difficulty: Easy to Moderate
Distance: 1.8 miles round trip
Highlights: Natural bridge, panoramic views
Tips: Ideal for families and beginners, this trail offers a relatively easy hike leading to the stunning Hickman Bridge—a natural wonder you'll want to capture on camera.
Cohab Canyon Trail
Difficulty: Moderate
Distance: 3.4 miles round trip
Highlights: Unique rock formations, canyon views
Tips: This trail is less crowded and offers a peaceful hike through narrow canyons and past fascinating rock formations.
Cassidy Arch Trail
Difficulty: Moderate to Strenuous
Distance: 3.4 miles round trip
Highlights: Cassidy Arch, expansive vistas
Tips: Named after the infamous Butch Cassidy, this trail leads you to an arch that you can actually stand on. Make sure to bring plenty of water, especially in the summer.
Difficulty: Strenuous
Distance: 9.4 miles round trip
Highlights: Panoramic views, Navajo Knobs
Tips: This is a long and challenging hike but the panoramic views from the Navajo Knobs are worth every step. Start early and pack energy-boosting snacks.
Sulphur Creek Route
Difficulty: Moderate
Distance: 5.5 miles one way
Highlights: Waterfalls, creek crossings
Tips: This trail offers a unique experience as you'll be hiking through a creek for a majority of the time. Wear water-resistant footwear and be prepared for multiple creek crossings.
Bonus: Scenic Drive to Capitol Gorge
Difficulty: Easy
Distance: 1 mile round trip
Highlights: Petroglyphs, pioneer inscriptions
Tips: If you're short on time or looking for an easy hike, the Capitol Gorge at the end of the Scenic Drive offers a flat trail with historical petroglyphs and pioneer inscriptions.
Our Tip: Before you set out on any trail, make sure to check the weather conditions, carry sufficient water, and let someone know your itinerary.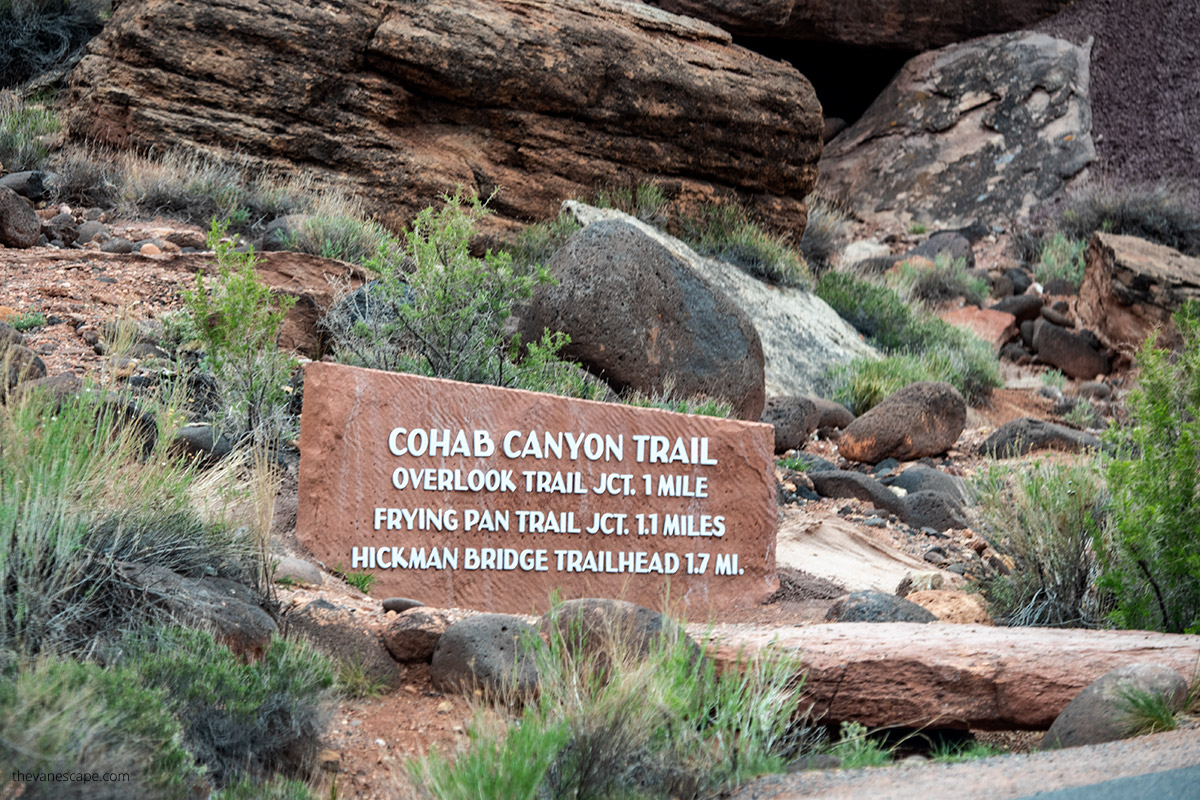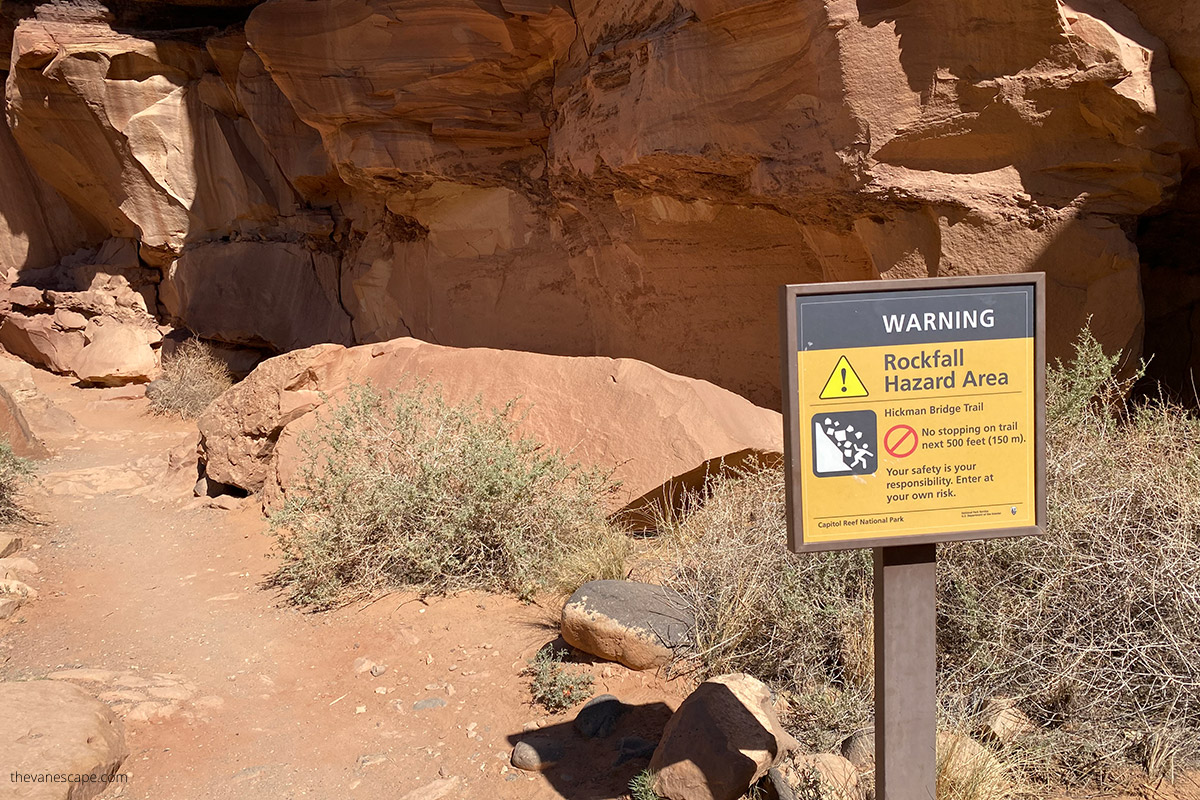 Capitol Reef National Park Photography Spots
Capitol Reef National Park is a photographer's paradise, offering diverse landscapes, from towering cliffs to narrow canyons. Whether you're a seasoned photographer or a hobbyist, here are our favorite photography spots in Capitol Reef.
Sunset Point
Best Time: Golden Hour
Highlights: Panoramic views, colorful skies
Tips: This is the go-to spot for capturing the park's expansive vistas bathed in the warm glow of the setting sun. A wide-angle lens is recommended.
Hickman Bridge
Best Time: Mid-morning to Early Afternoon
Highlights: Natural arch, shadow play
Tips: The natural light during these hours illuminates the arch perfectly, offering opportunities for creative shadow photography.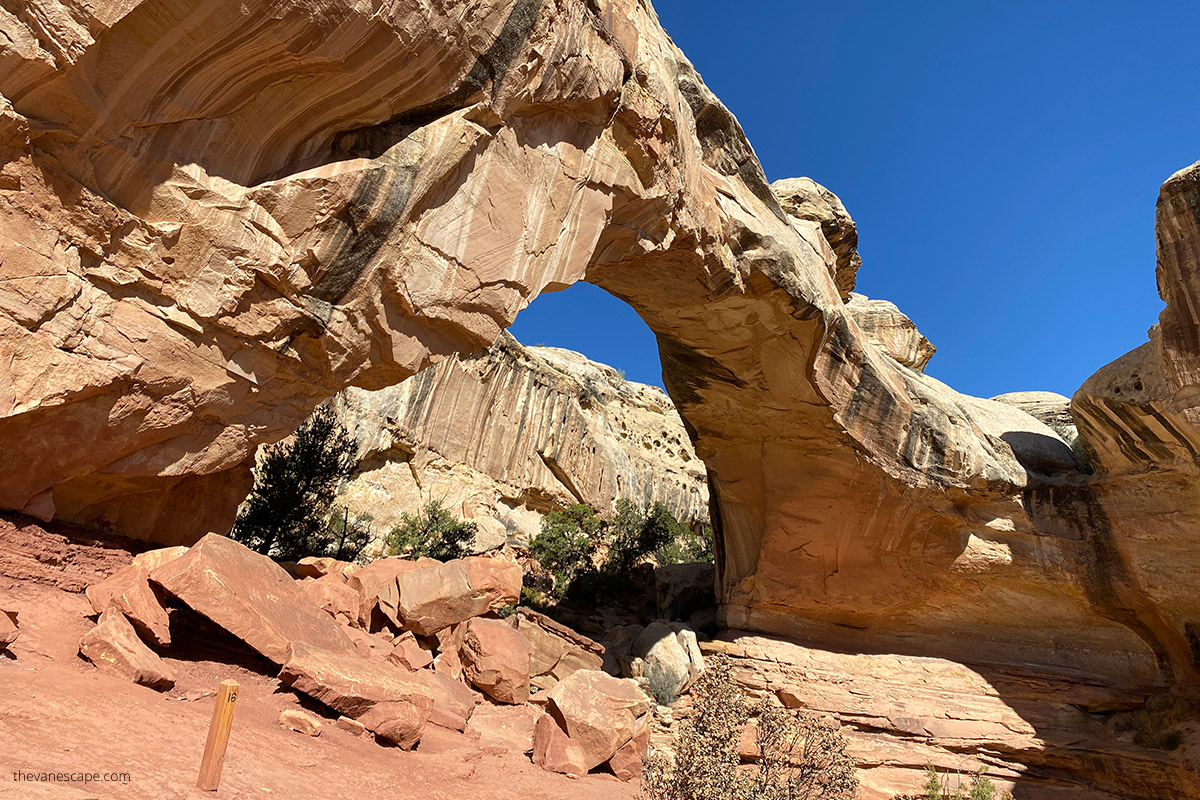 Cohab Canyon
Best Time: Late Afternoon
Highlights: Rock formations, textured walls
Tips: The afternoon light brings out the rich colors and textures of the canyon walls. Don't forget a macro lens for detailed shots.
Capitol Gorge
Best Time: Mid-day
Highlights: Petroglyphs, narrow canyons
Tips: The high sun illuminates the gorge, making photographing the ancient petroglyphs and inscriptions on the canyon walls easier.
Sulphur Creek Overlook
Best Time: Golden Hour
Highlights: Creek views, reflections
Tips: This spot offers a unique perspective of Sulphur Creek, especially during the golden hour when the water reflects the sky's colors.
Cathedral Valley
Best Time: Sunrise
Highlights: Monolithic formations, dramatic skies
Tips: The early morning light casts a magical glow on the sandstone monoliths. A tripod is essential for long-exposure shots.
Bonus: Scenic Drive
Best Time: Anytime
Highlights: Panoramic views, roadside attractions
Tips: The Scenic Drive offers multiple pull-offs for quick shots. Keep your camera ready for unexpected photo ops.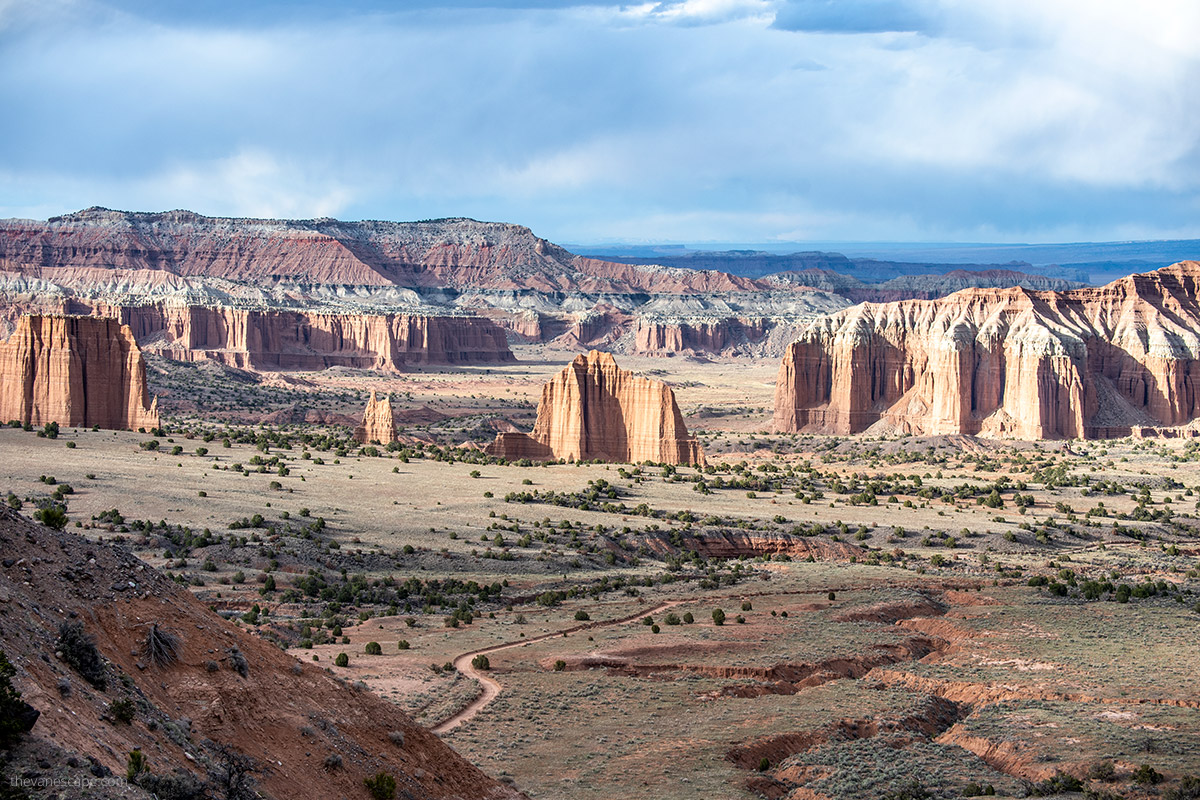 Accessible Locations in Capitol Reef National Park
Capitol Reef National Park is a rugged backcountry. However, it offers some accessible features to ensure that everyone can enjoy its natural beauty. Whether you have mobility challenges or other accessibility needs, here are some locations and activities that are more accommodating.
Visitor Center: The Visitor Center is fully accessible, complete with ramps, wide doors, and an accessible restroom. Audio-visual programs are also available with closed captioning.
Scenic Drive: The 8-mile-long Capitol Reef Scenic Drive is an excellent way for those with mobility issues to experience the park's stunning vistas. There are several pull-offs and viewpoints that are accessible by car. The road is paved.
Panorama Point: This overlook is accessible and offers breathtaking views of the Waterpocket Fold. It has paved pathways and handrails for added safety.
Ripple Rock Nature Trail: This is a short, 0.2-mile, wheelchair-accessible loop trail. It offers interpretive signs along the way, providing educational insights into the park's geology.
Picnic Areas: The Fruita picnic area is accessible and provides tables that are compliant with the Americans with Disabilities Act (ADA).
Gifford Homestead: This historic site is accessible and offers a glimpse into the pioneer life in Capitol Reef. The store also sells its famous pies, which can be enjoyed at nearby accessible picnic tables.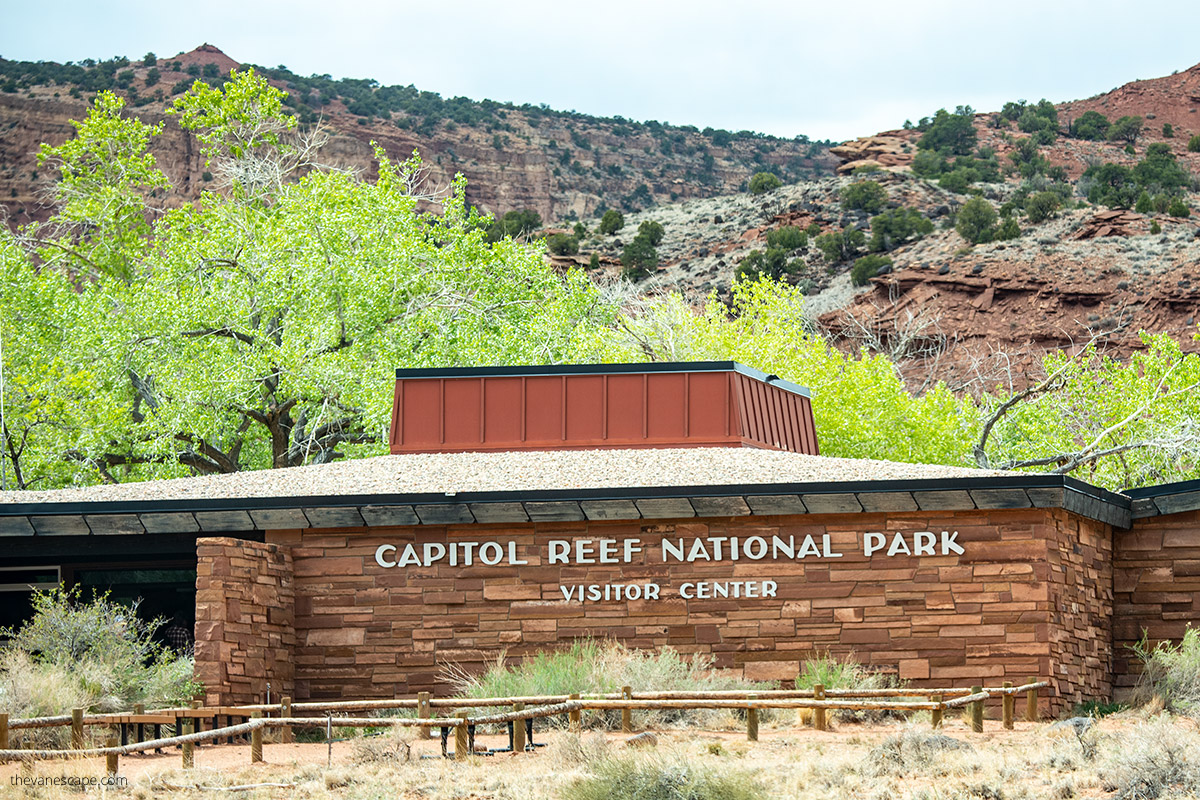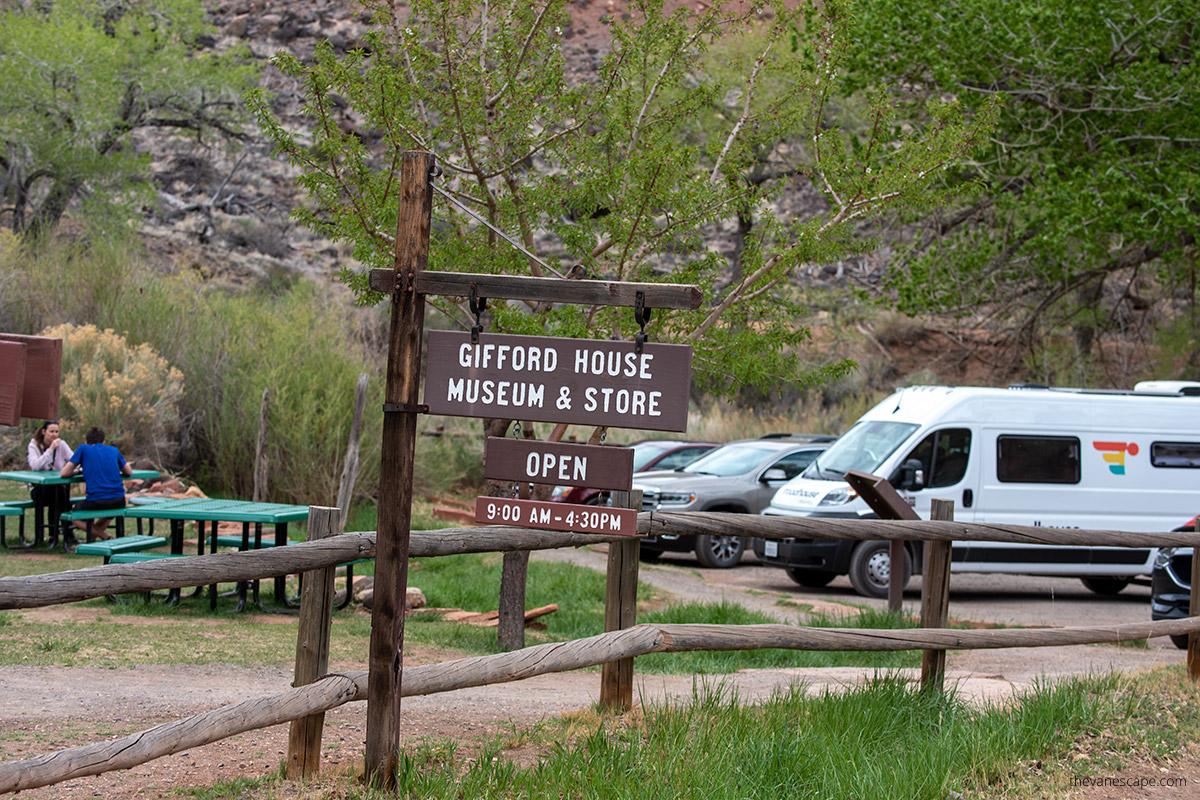 What to Pack for Your Capitol Reef Adventure
So you've planned your itinerary and know what attractions you want to hit. But what should you bring along to make the most of your Capitol Reef adventure?
Essential Gear
Hiking Boots: Good hiking boots are essential for the varied terrain.
Daypack: A comfortable daypack can carry all your essentials.
Water Bottle: Hydration is key, especially in the desert climate.
Sun Protection: Don't forget sunscreen, sunglasses, and a wide-brimmed hat.
Clothing
Moisture-Wicking Layers: Quick-drying fabrics are a must.
Insulating Layers: Even in summer, temperatures can drop at night.
Rain Gear: A lightweight rain jacket can be a lifesaver.
Navigation
Map and Compass: While trails are generally well-marked, having a backup is always good.
GPS Device: Useful for off-the-beaten-path adventures.
Personal Items
First Aid Kit: Basic supplies can treat minor injuries.
Snacks: Energy bars or trail mix can keep you fueled.
Our Tip: Check out our packing list for day hikes for more detailed packing tips.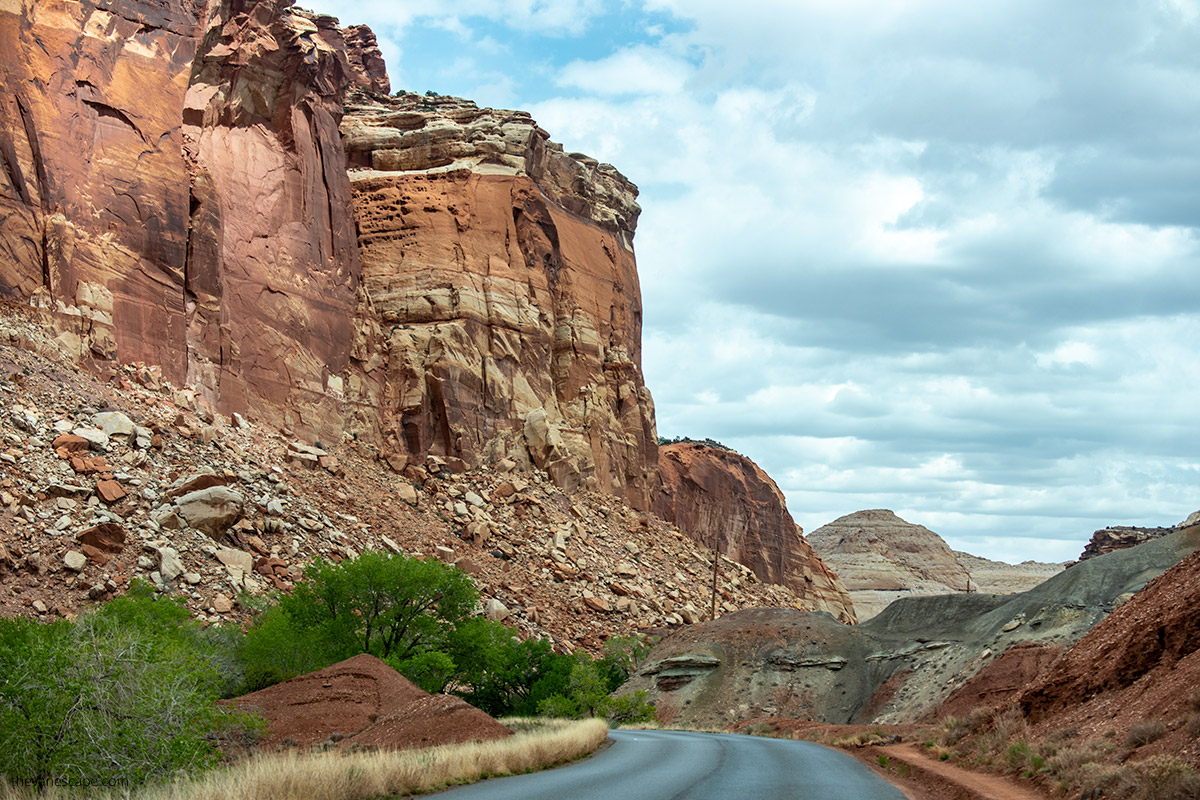 Frequently Asked Questions about Visiting Capitol Reef National Park
How much time should I spend in Capitol Reef National Park?
A one-day allows you to see key attractions like Fruita and the Scenic Drive. However, 2-3 days give you the opportunity to explore trails and hidden gems. Check out our Capitol Reef National Park Itinerary article for a detailed itinerary.
Is Capitol Reef worth seeing?
Absolutely, Capitol Reef offers a unique blend of geological wonders, historical sites, and fewer crowds compared to other Utah national parks. It's a must-see for nature enthusiasts and those looking for a more tranquil experience.
What is so special about Capitol Reef National Park?
Capitol Reef is unique for its Waterpocket Fold, a geological marvel stretching nearly 100 miles. The park also offers a rich history, from ancient petroglyphs to pioneer settlements, making it a diverse and educational destination.
Can you just drive through Capitol Reef National Park?
Yes, you can drive through the park via Highway 24, which offers stunning views and access to several key attractions. The famous Scenic Drive is 8 miles long. However, to fully appreciate the park, it's worth spending time exploring trails and other features.
Do you need 4WD for Capitol Reef?
A 4WD vehicle is not necessary for the main attractions but is highly recommended for exploring backcountry areas like Cathedral Valley. Check road conditions and consult park rangers before embarking on any off-road adventures. There are also local tours available for off-road exploration.
Is Capitol Reef crowded?
Capitol Reef is the least visited among Utah's "Mighty 5" national parks, making it a quieter alternative to places like Arches and Zion.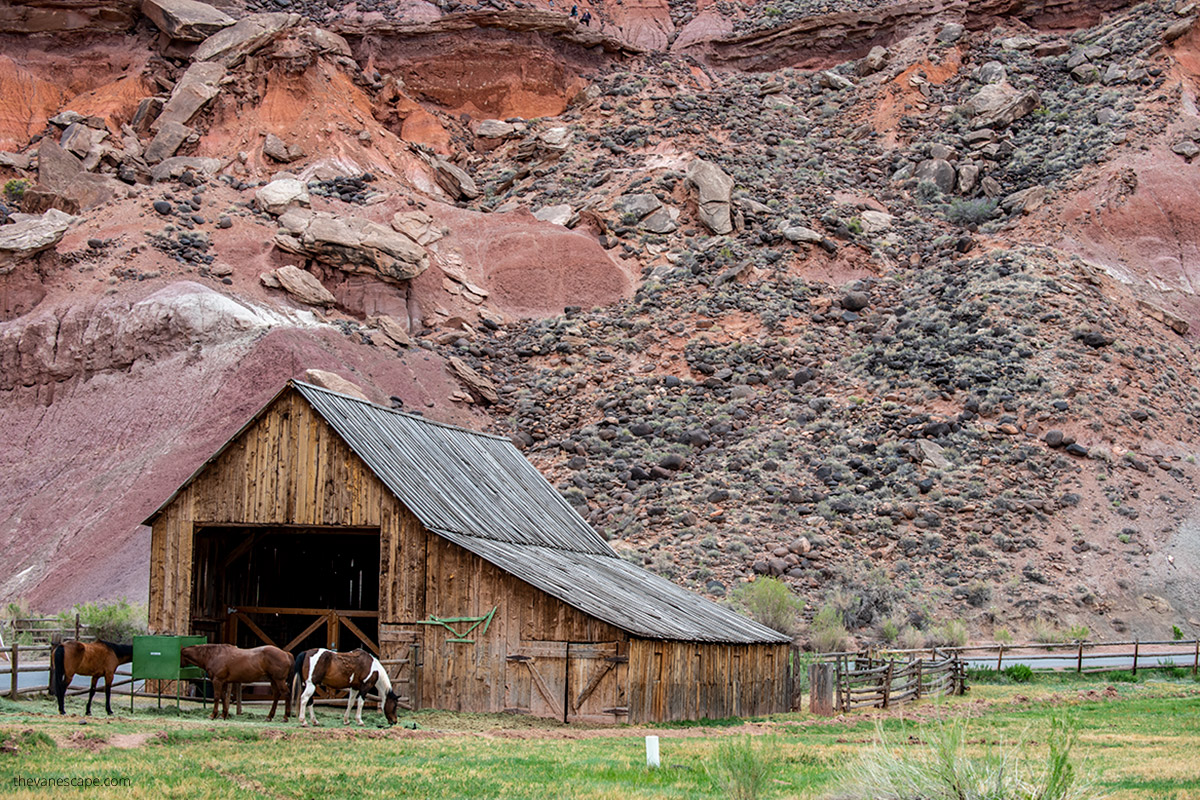 How to Visit Capitol Reff National Park – Final Thoughts
Capitol Reef National Park has a special place in our hearts, offering a unique blend of natural wonders and historical gems. It's a park that's less crowded than its Utah siblings, making it perfect for those who crave a more tranquil experience. From our numerous visits, we've come to appreciate the diverse offerings of this incredible destination.
Our personal favorites? Don't miss Cathedral Valley's awe-inspiring Temple of the Sun and Temple of the Moon. If you're up for a hike, the Hickman Bridge Trail offers stunning views and a moderate challenge. And for a slice of history (and delicious pie), Gifford Homestead in Fruita is a must-visit.
This guide is designed to be your comprehensive resource for planning a trip to Capitol Reef. We've poured our own experiences into it, aiming to provide you with the most valuable and specific information possible.
Do You Like It? Pin It For Later!