A Guide to Zebra Slot Canyon Hike in Utah
Embark on a thrilling Utah adventure by hiking through the picturesque Zebra Slot Canyon. The wavy zebra-striped walls and impressive rock formations enhance its charm. This hike is a must-try when exploring the Escalante area. But due to its challenging location and extremely narrow walls, go through our helpful tips for planning the perfect hike.
This article may contain affiliate / compensated links. For full information, please see our disclaimer here.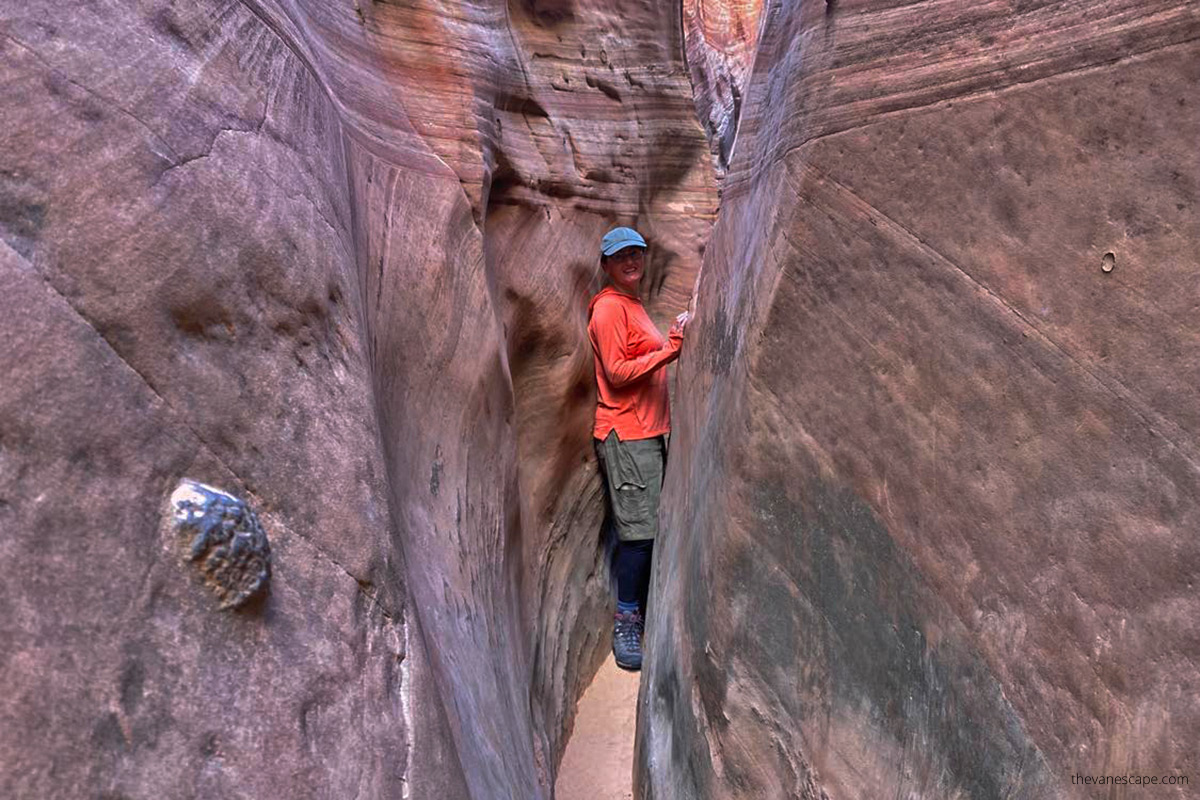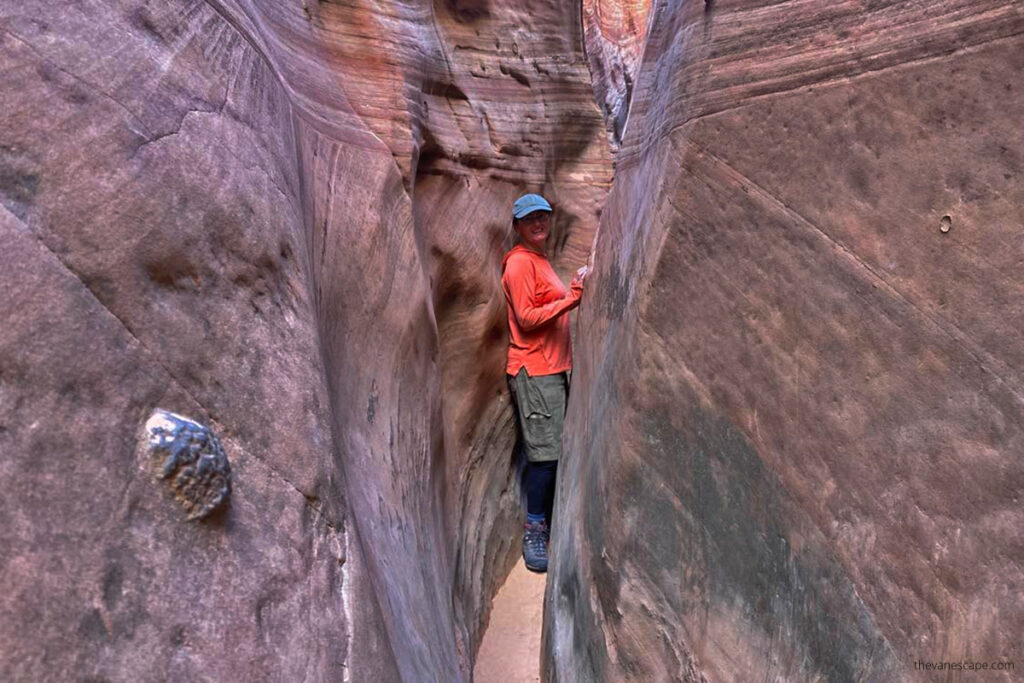 Zebra Slot Canyon Hike – Quick Overview
If you're a fan of adventure off the beaten path, Zebra Slot Canyon in Grand Staircase Escalante National Monument is a must-see destination in Southern Utah. Its vibrant stripes lining the walls make for a stunning natural wonder. However, reaching this slot canyon requires a challenging 8-mile drive on a gravel road and a 5-mile round-trip hike through tricky desert terrain (keep reading to get detailed directions!). Once you arrive, you'll have to navigate through short but highly narrow gaps in the slot canyon walls.
Are you interested in exploring this Utah hidden gem? Our article provides all the necessary tips for preparing for the hike to Zebra Slot Canyon, including how to get to the trailhead, the journey to the canyon, the risks you need to assess, and what to pack for the trek. Use the table of content for more straightforward navigation.
Facts About Zebra Slot Canyon Hike
Zebra Slot Canyon Trailhead Locations: 13 miles south of Escalante, on mile 7.6 of the Hole in the Rock Road, in Grand Staircase-Escalante National Monument.
Hiking Distance: 5.2 miles (8.4 km) round-trip
Hike Duration: 3 – 4 hours round-trip
Elevation Change – 400 feet (122 m)
Level Difficulty: moderate to strenuous, depending on the weather and water level in the canyon.
Gear Required: No special equipment is required, but pack water shoes if water is in the canyon.
Are Fees Required? No
Are Permits Required? No
Zebra Slot Canyon Trail Map: You can download the map from All Trails or purchase Canyons of the Escalante Map and Guide to Hiking Grand Staircase-Escalante & the Glen Canyon Region.
Special Note: It is essential to be cautious of water levels when hiking in a slot canyon. The water can vary from ankle-deep to neck-deep, which might pose a severe danger. It is advisable to avoid walking during high water levels. The canyon may be arid as well.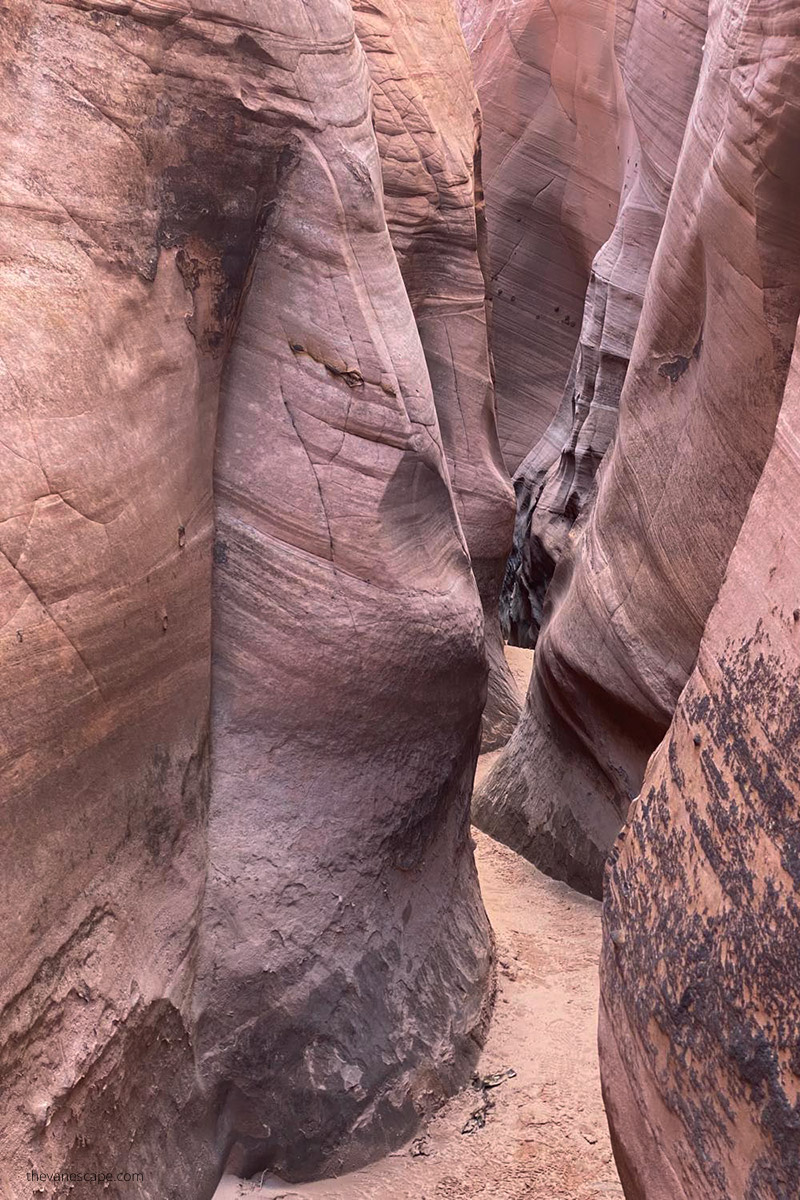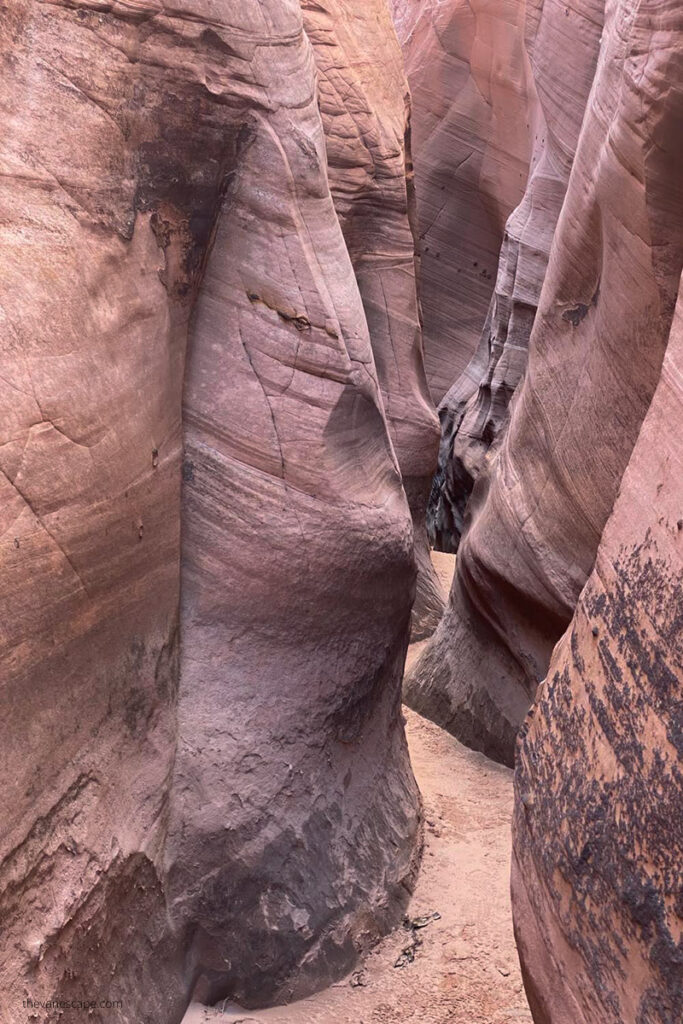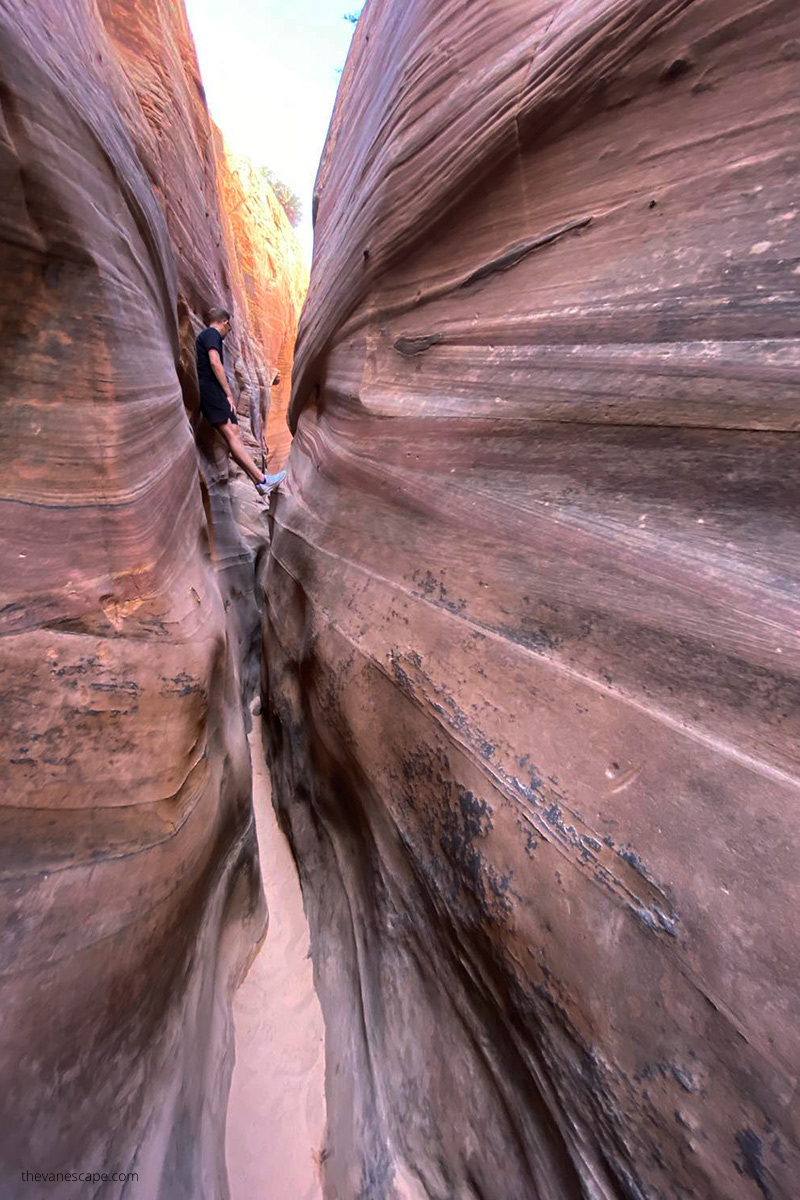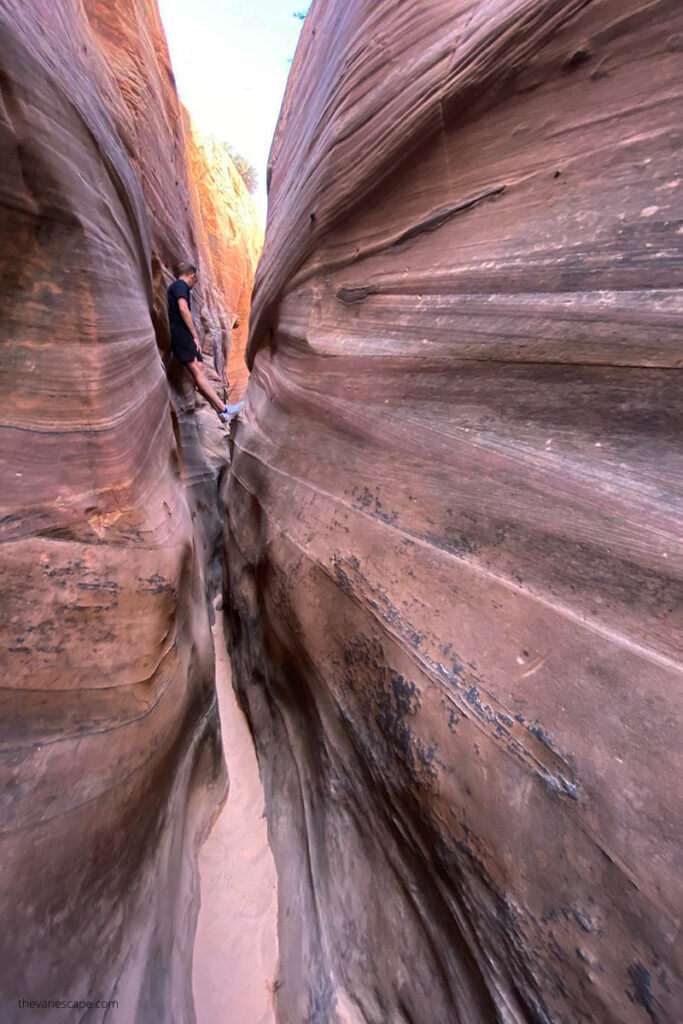 Zebra Slot Canyon Hike – Our Experiences
We love southern Utah and have tried to hike Zebra Slot Canyon at various times of the year. And we know this trail very well, its conditions, and how to prepare for it. We also had to back away from this slot canyon because the water level was too high and would have been too risky to hike. But on our recent road trip in southern Utah, the weather finally cleared up, and we were able to hike Zebra Slot Canyon successfully. We share the latest information about this slot canyon and how to prepare for it.
In addition, we have gained extensive experience hiking various slot canyons in Utah and Arizona. Our adventures have taken us through Peekaboo Slot Canyon, Buckskin Gulch Slot Canyon, Willis Creek Slot Canyon, and Cottonwood Narrows. We've also explored the fabulous hikes in Zion National Park, such as the Narrows and the Subway, where you hike in the river and stream water, so we have experience in this area. Additionally, we were fortunate to visit three world-famous Antelope slot canyons near Page, which are exclusively accessible through Navajo guided tours – Upper Antelope, Lower Antelope, and Antelope Canyon X.
We have a great passion for slot canyon hiking, but we know the potential risks involved. Therefore, we would like to share tips for safety during your adventure in Zebra Slot Canyon. With our experiences and recommendations, you can plan a delightful and secure trip.
Our short video from our last hike to Zebra Slot Canyon
Please take a moment to check out the brief video we captured during our recent hike to Zebra Slot Canyon. The article following the video will address all your queries about hiking through this slot canyon.
Where is Zebra Slot Canyon?
Zebra Slot Canyon is a part of the North Escalante Canyon/The Gulch Wilderness Study Area in the Grand Staircase-Escalante National Monument. The closest town to this slot canyon is Escalante, Utah, on scenic Highway 12. Hiking Zebra Canyon is a perfect day trip idea from Escalante, as the trailhead is only 13 miles south.
How Long is Zebra Slot Canyon?
The entire Zebra Slot Canyon is very short, with only about 1/4 of a mile. But it's incredibly narrow. It contains a few remarkably narrow places less than 10 inches (25.4 cm) wide, which might require scrambling through Zebra Canyon.
How Long is the Zebra Slot Canyon Hike?
Zebra Slot Canyon Hike is much longer, as it's a 2,5 mile (4 km) one-way desert hike to get to slot canyon itself. You should reserve at least 4 hours for the entire 5-mile round trip from the trailhead. Moreover, you should reserve at least 30 – 40 minutes one way to reach the trailhead from Escalante because the gravel road is very bumpy and challenging. So it would be best to have at least 5 – 6 hours for the whole adventure.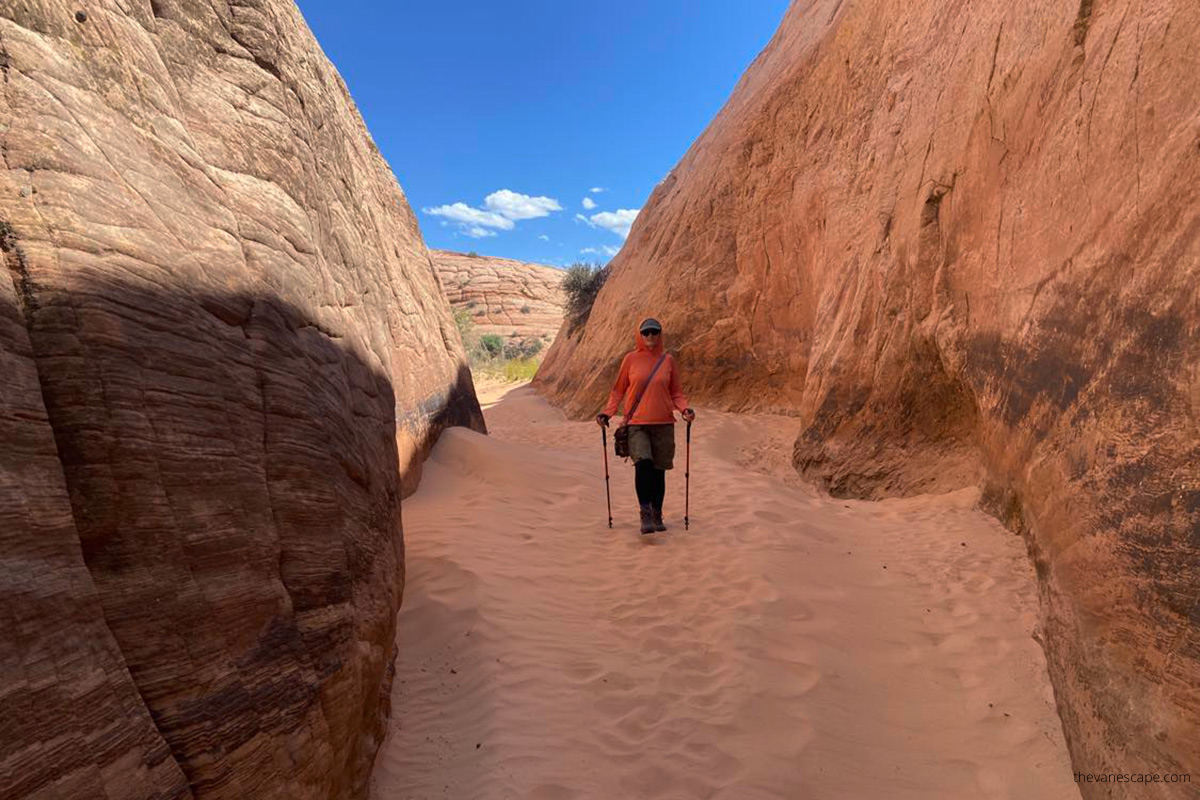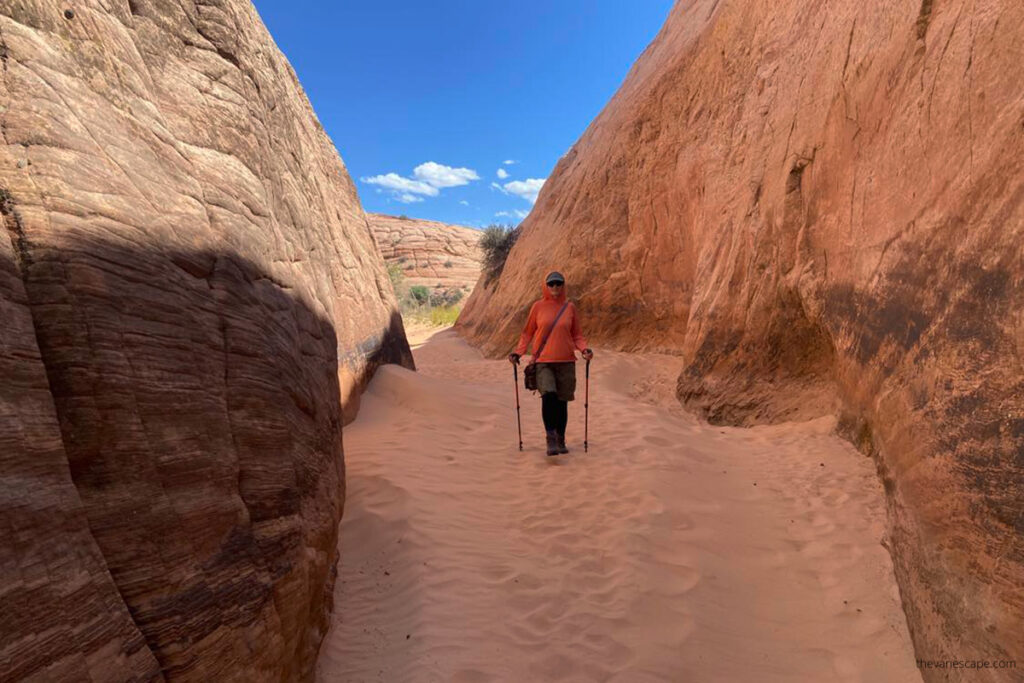 How Difficult is Hiking the Zebra Slot Canyon?
This slot canyon may not be suitable for those who experience claustrophobia, as you can feel confined. Even we felt uneasy during our hike through this narrow passage, with concerns of getting stuck and unable to exit. Perhaps watching the movie 127 Hours before our trip was unnecessary because we imagined we'd be stuck in a canyon like a movie character. Zebra Canyon is among the most narrow canyons we've ever traversed. But we made it. We didn't get stuck there. It's one of the best Utah hiking trails off the beaten path.
Only one last stretch of Zebra Slot Canyon is exceptionally narrow. You don't have to squeeze through it or climb walls if you don't feel up to the challenge. There's nothing to risk. Hiking is supposed to be fun. You can always retreat to a place where you feel safe and admire the canyon.
You must first traverse a challenging desert terrain to reach the Zebra Slot Canyon. While the trail itself is not technically demanding and the elevations are low, we rate it as moderate to difficult due to the extreme weather conditions. The desert terrain and high temperatures in southern Utah make it easy to become tired and dehydrated. Also, navigating the desert sand can be tricky, especially since the trail is poorly marked.
Our Tip: For a safer hiking experience, start your hike early in the morning or in the afternoon when the heat is not too intense. Avoid hiking in the heat. Ensure you're well hydrated before your hike, but don't rely on water alone. Electrolytes are essential, so pack them along for your trek. Pack at least a gallon of water (4 liters) per person any season of the year. Wear a hat, sunscreen with SPF 50, and cover your shoulders. We love this Kuhl sun protection hoodie. I wear a Kuhl-engineered hoody with premium UPF 30+ sun protection. It's light and breathable, perfect for summer hiking (you can read my review). Chris's choice is this men's long-sleeve hoody, which absorbs and distributes moisture for ultra-quick evaporation while providing sun protection 30+.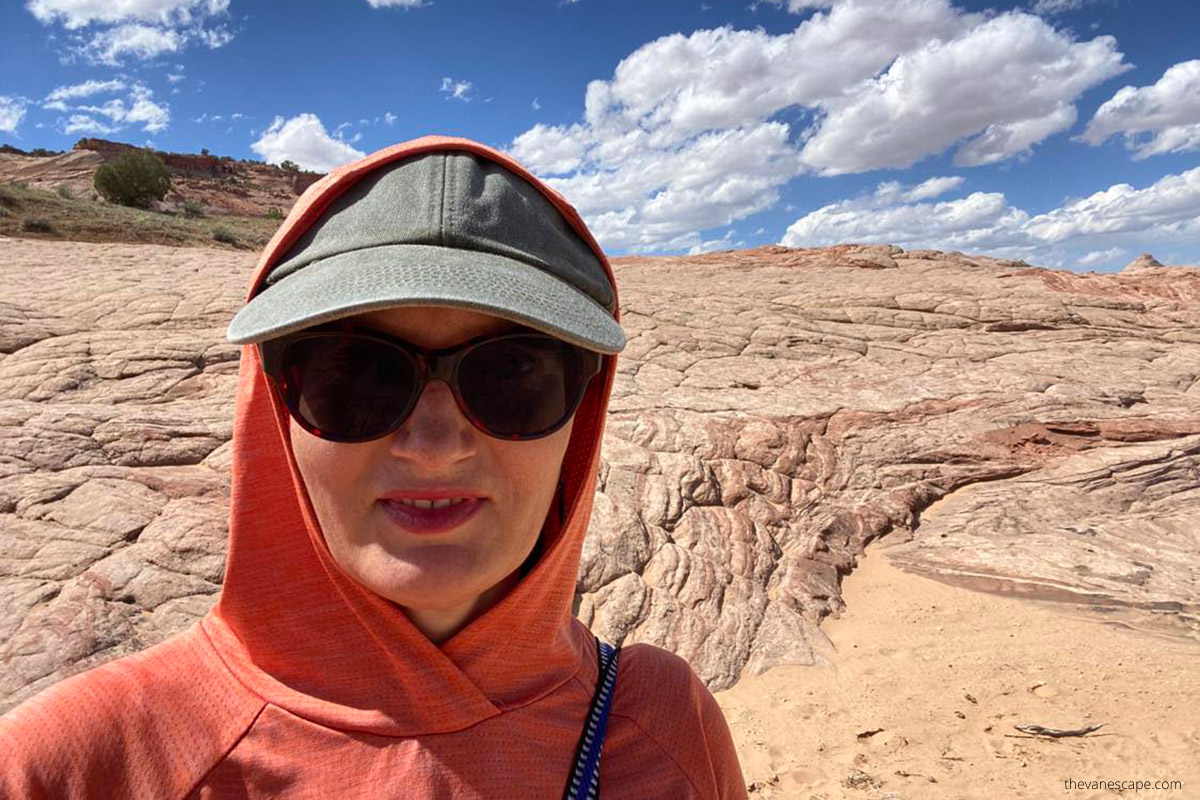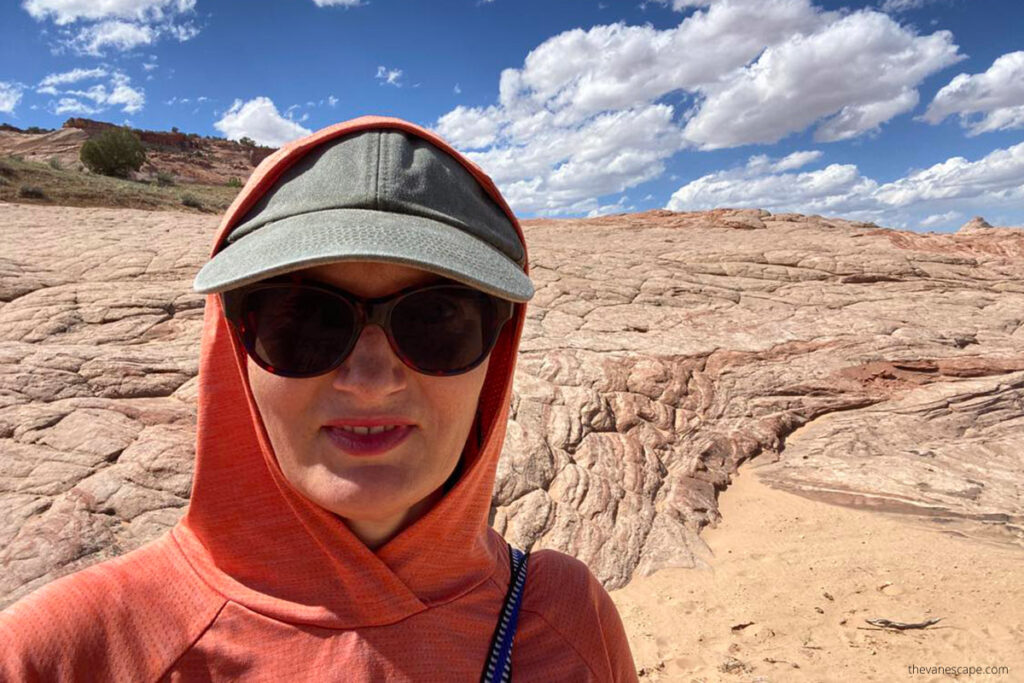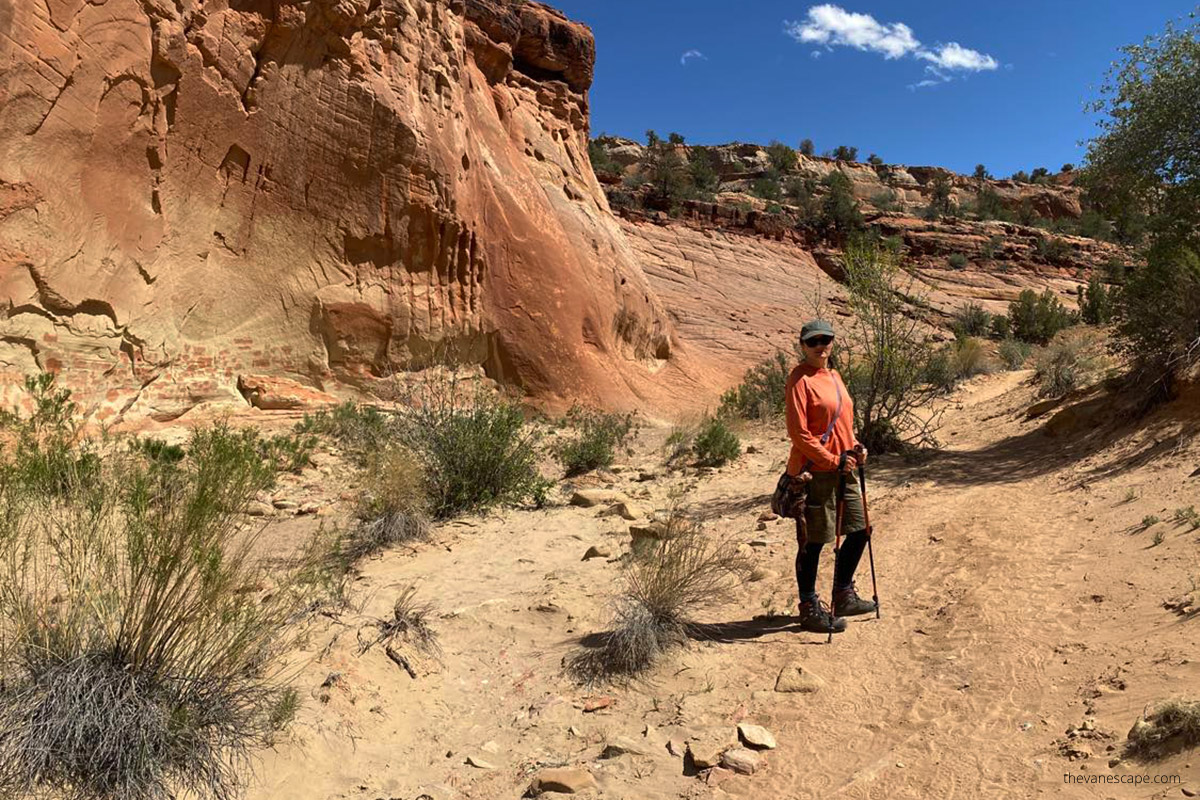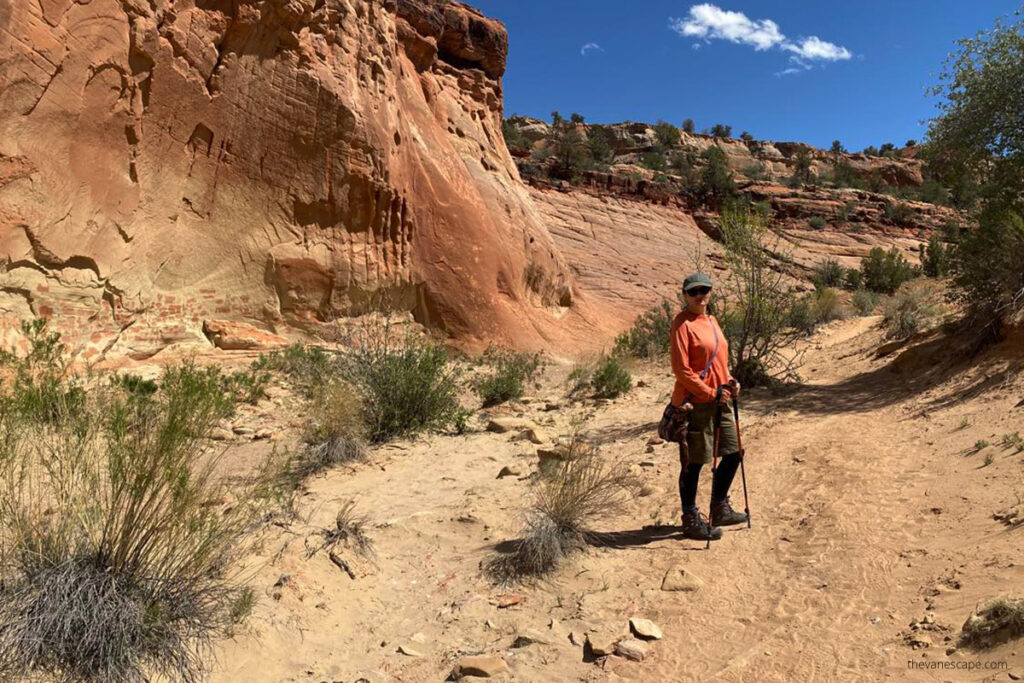 How to Get to Zebra Slot Canyon Trailhead?
Zebra Slot Canyon Trailhead is located on mile 7.6 (12.2 km) of the Hole in the Rock Road/BLM200, near Escalante. After crossing the cattleguard, the parking area will be on your right, while the trailhead is on the left of the road.
From Escalante, head east on scenic UT-12 E/W Hwy 12. Continue to follow UT-12 E. After 5 miles, you will reach the junction of Highway 12 and Hole in the Rock Road/BLM200. These 7.6 miles is a gravel road full of potholes. In addition, this region is a flash flood region in the event of heavy rainfall. The road may be impassable.
It might also be a great trip idea if you are visiting Bryce Canyon National Park. From Bryce Canyon City, it's only 64 miles and 1 hour and 30 minutes of driving to the trailhead.
If you visit Capitol Reef National Park, hiking Zebra Canyon might be a perfect day trip idea from Fruita. It is approximately 78 miles and 1 hour and 50 minutes to the trailhead from Fruita.
Hiking Zebra Canyon is also doable while visiting Kanab. However, it will be a full-day adventure, as it's 133 miles and 2 hours and 30 minutes of driving to the trailhead. So you should start your trip early in the morning.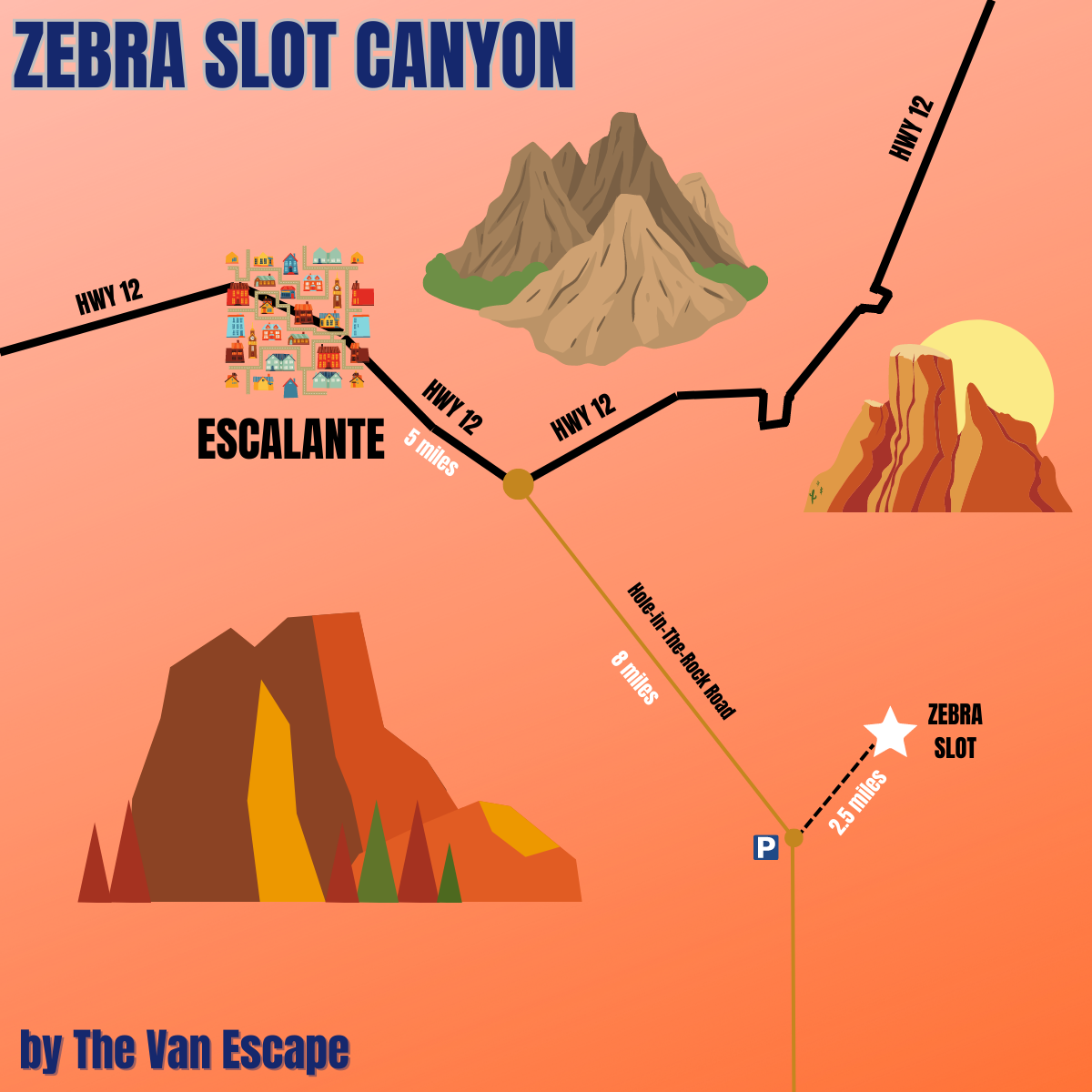 Is a 4WD Vehicle Necessary to Get to the Trailhead?
It all depends on the weather. It's less than 8 miles on a gravel road, so if you're an experienced driver, you'll probably be able to do it in 2WD. But most of Southern Utah's hidden gems and unforgettable trails in the area require 4WD and high clearance, so we recommend driving one. We rented a Jeep Wrangler 4WD during this trip, and we were delighted to have a 4×4 drive because the road is tiring. In addition, thanks to such a car, we could reach other remarkable trails in the region.
Our Tip: Before the trip, it is worth visiting the Escalante Interagency Visitor Center, located on Highway 12, 755 West Main Street, Escalante. Their staff has the best knowledge of the weather and trail conditions in the area. Thanks to their tips, your trip will be much more pleasant.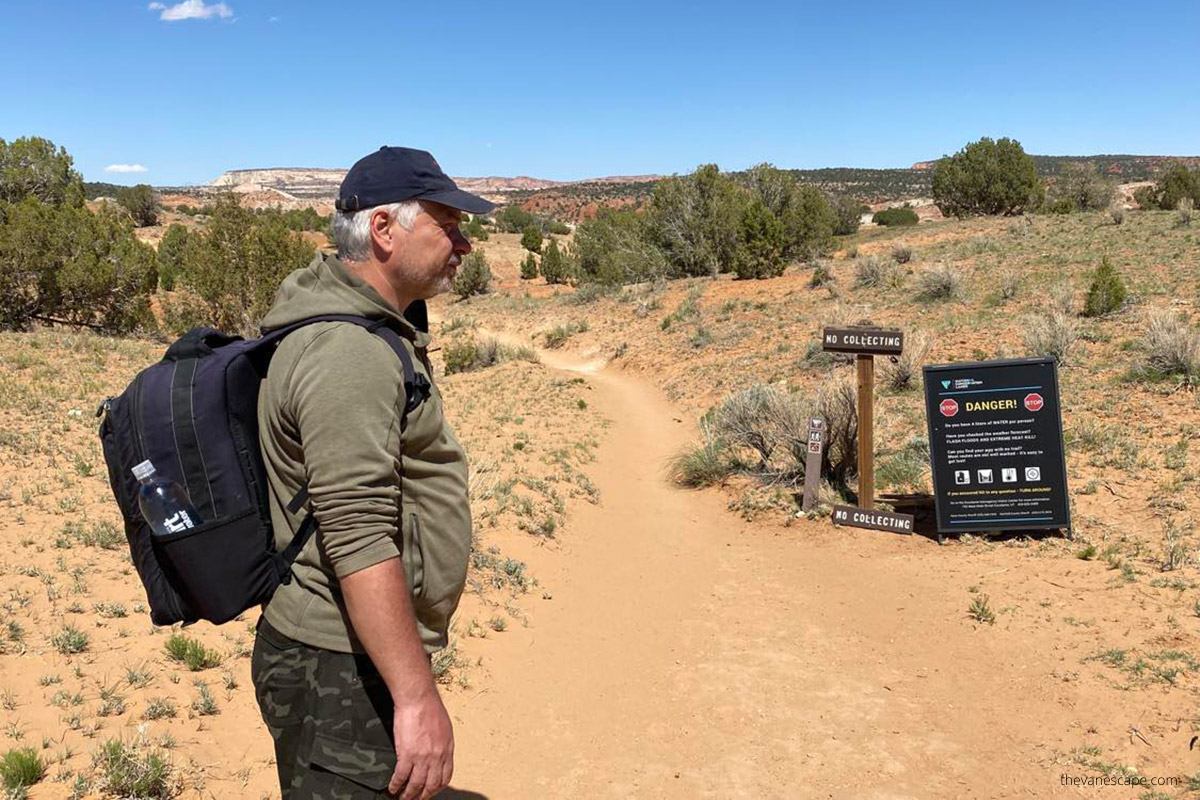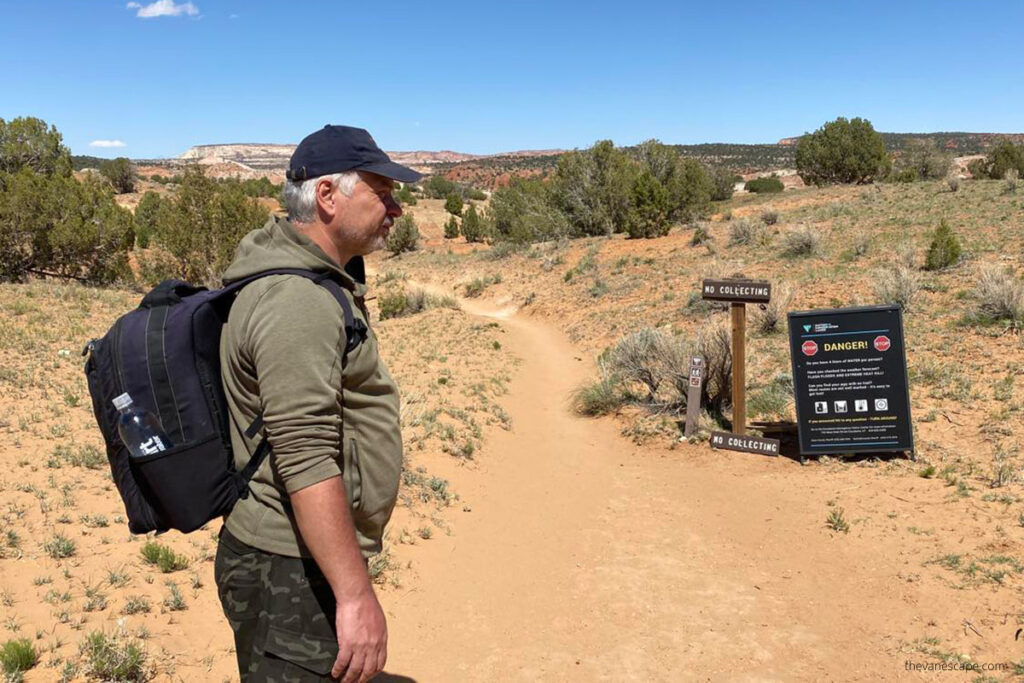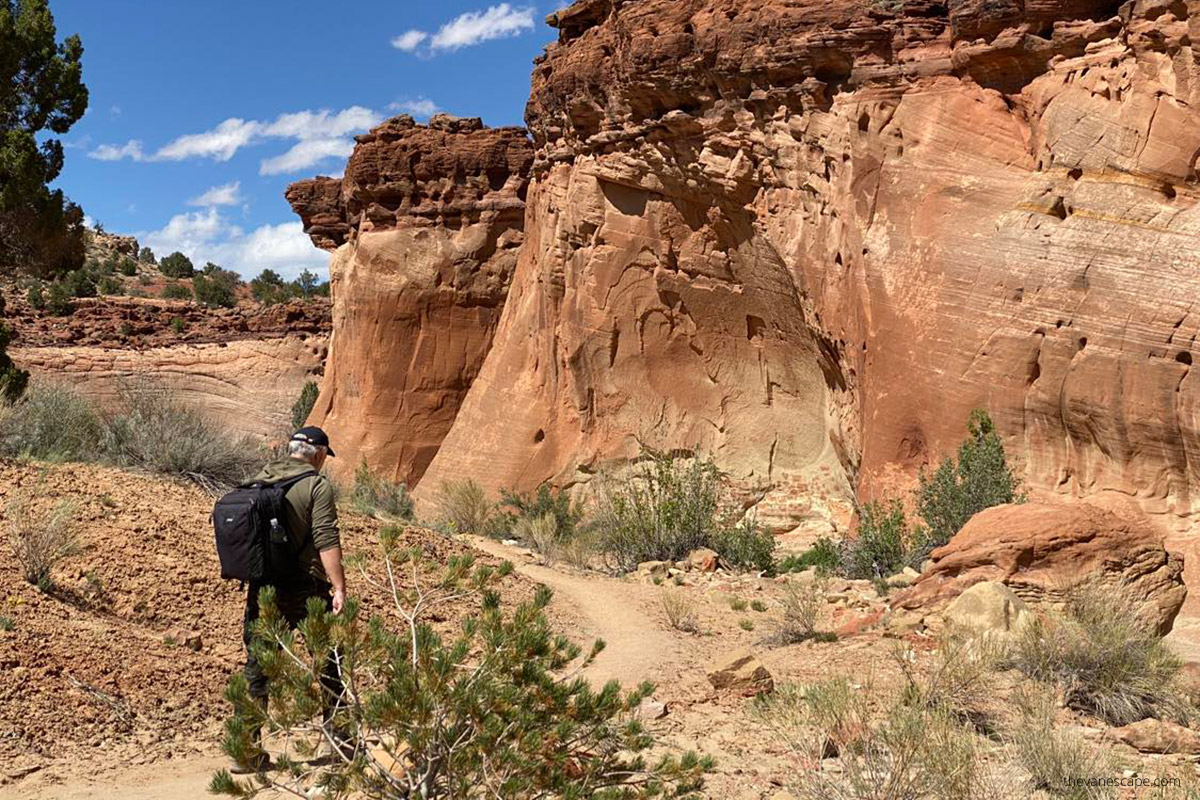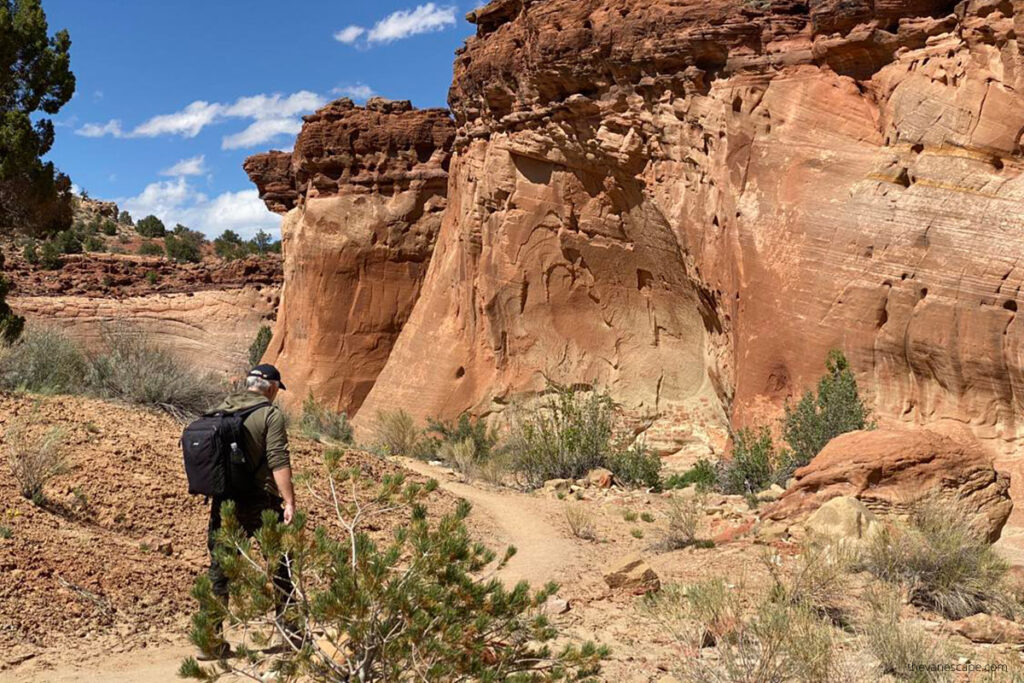 Hiking Details to Zebra Slot Canyon
Starting the Zebra Slot Canyon Hike
The trailhead to the Zebra Canyon is directly across the road from the car park. From the parking area, you'll spot a path that heads east, leading you through multiple meadows, low-lying brush, and desert sand into a shallow canyon with sandstone walls. The hike through this area is terrific, even if you don't plan on navigating the narrow slot canyon. The rock formations are one-of-a-kind, resembling those found at nearby The Wave and Coyote Buttes South, both of which require permits for hiking. Fortunately, the Zebra Slot Canyon Hike is a fantastic alternative without permits to access the trail. You'll see a large wooden fence between the canyon walls that appears to block your way, but it's easy to open and cross it.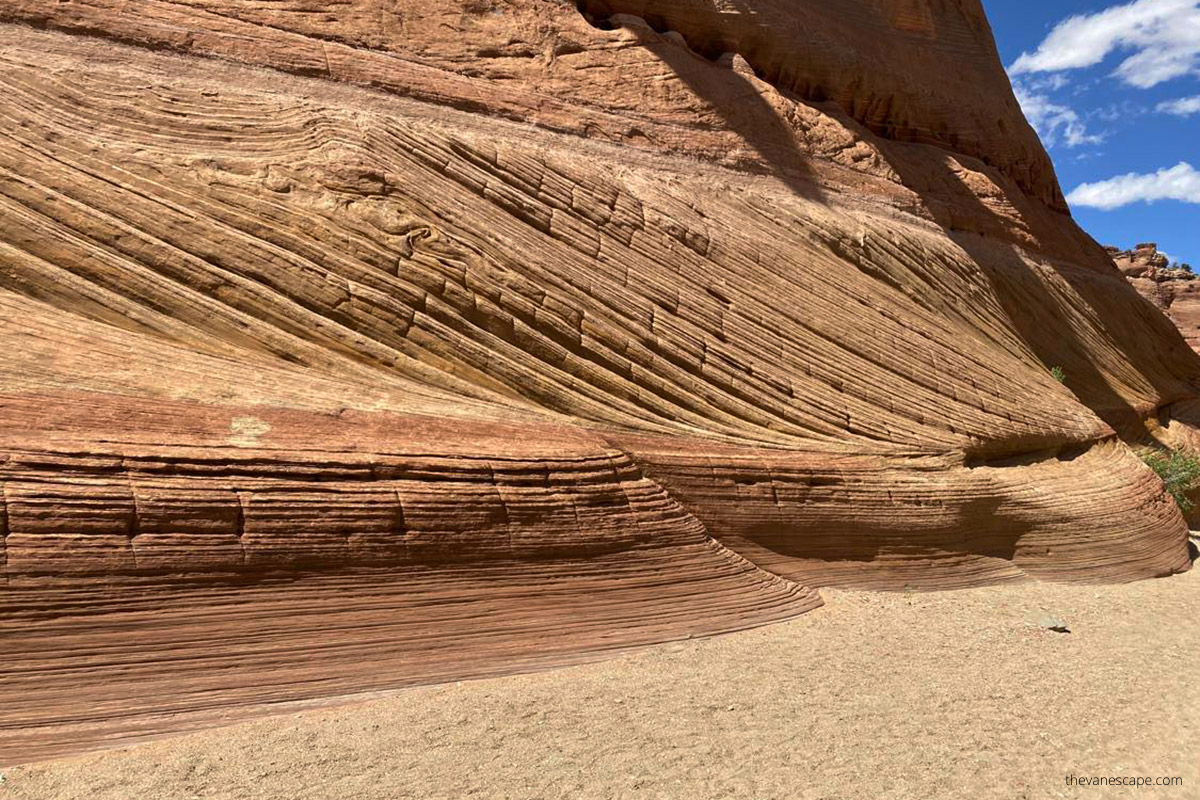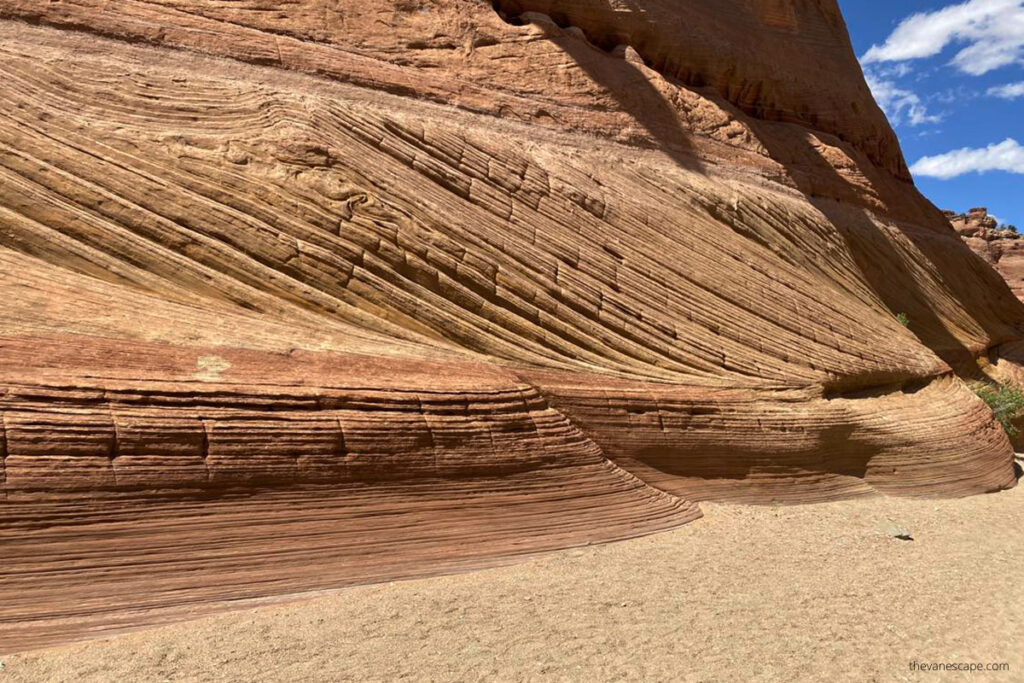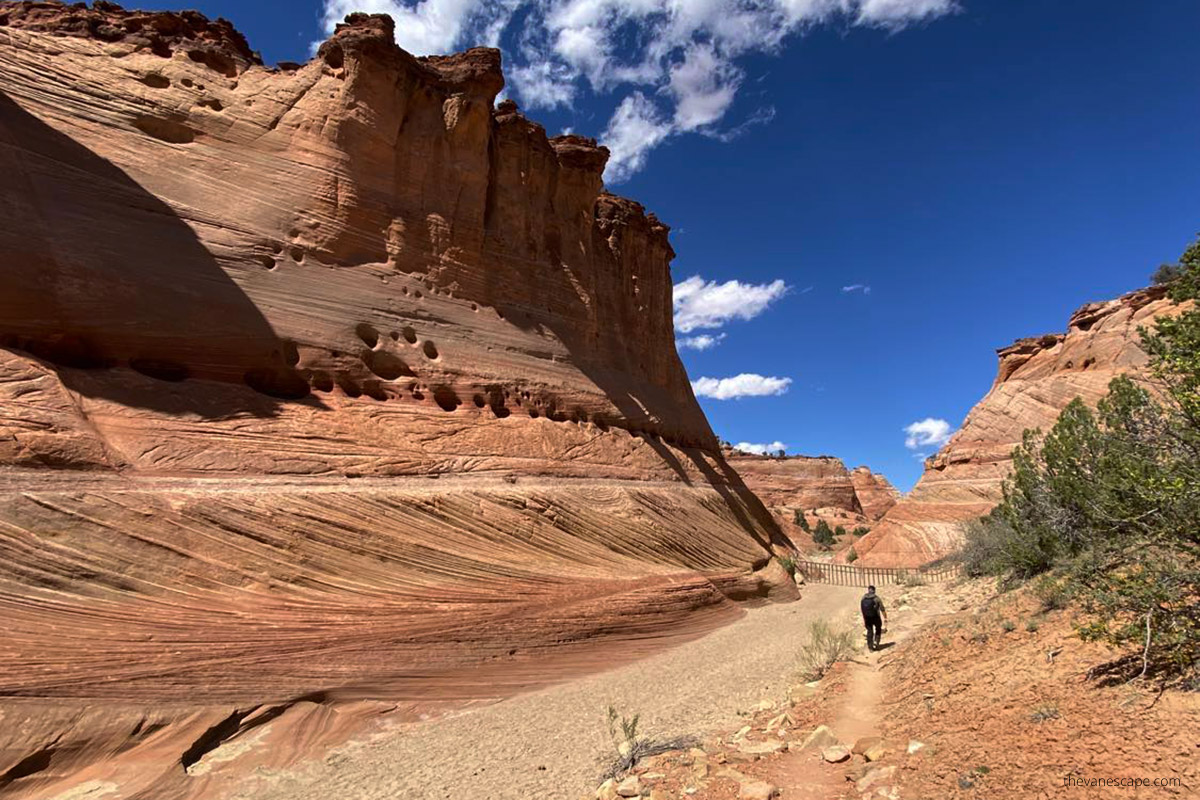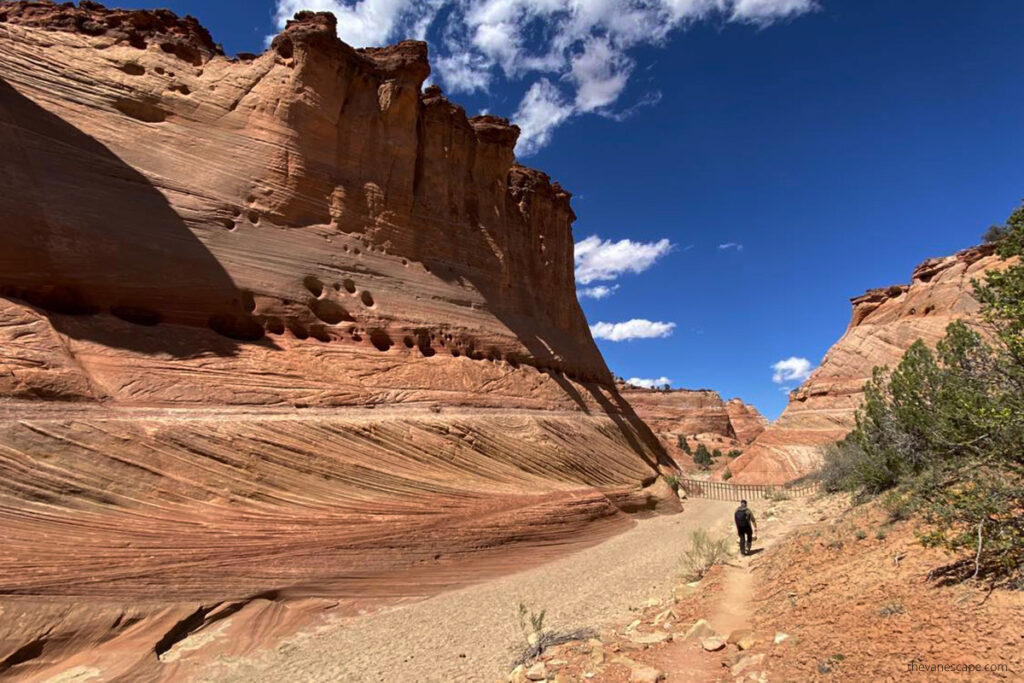 After covering a distance of 2 miles (3.2 km), you'll reach the vast, sandy Harris Wash. Take a left and move about 200 feet (61 m) north to spot a second-wide sandy wash that enters Harris from the right. You can follow this wash north or step onto a parallel path on the grassy knoll on your left, which is much easier to hike than walking through deep sand. Keep left! Continue north for approximately 900 feet (274 m) into the Zebra Slot Canyon.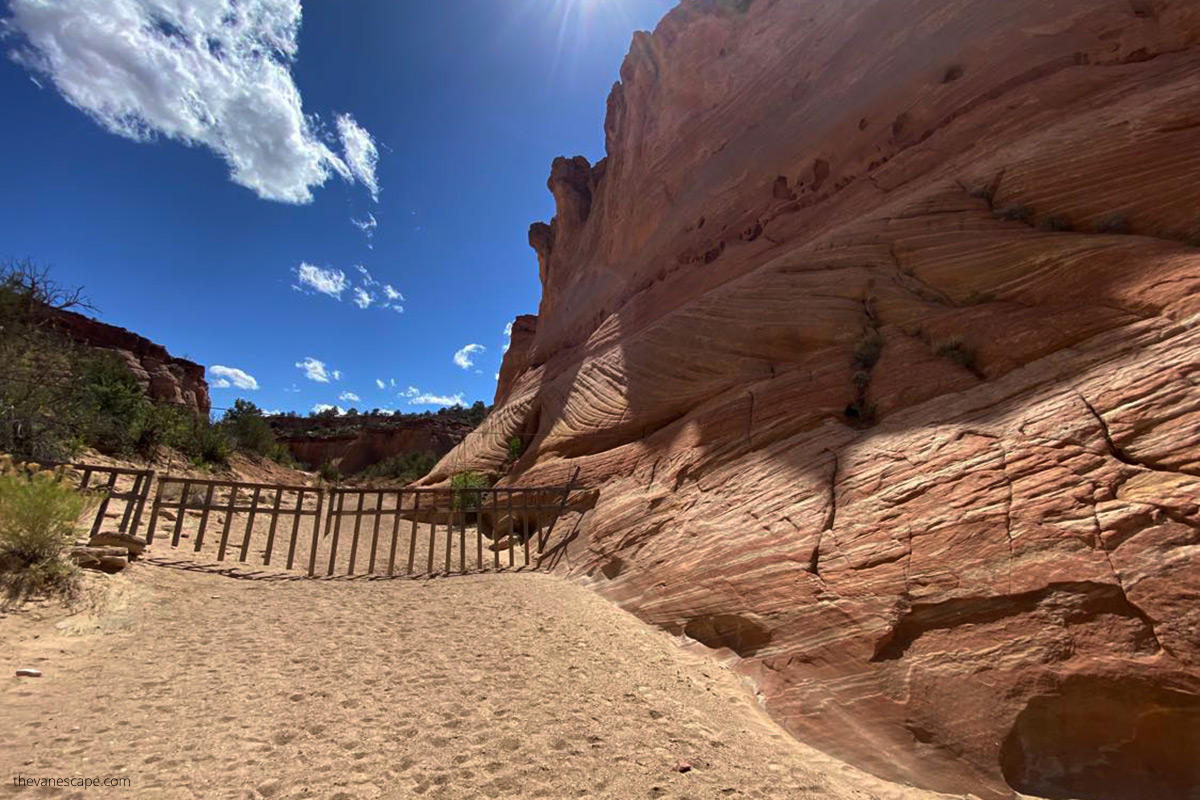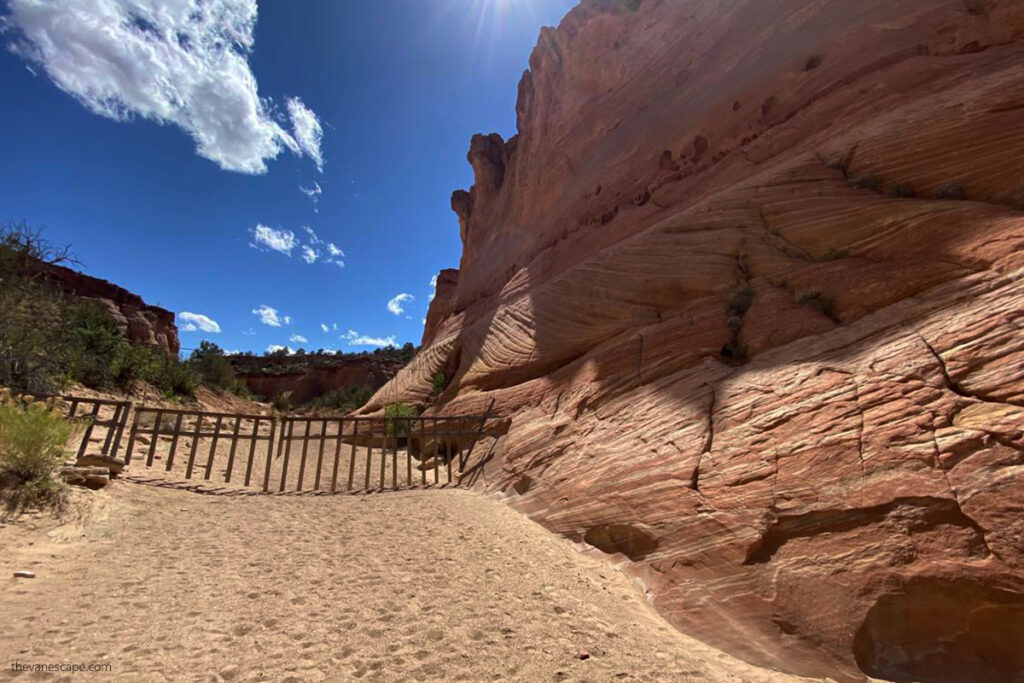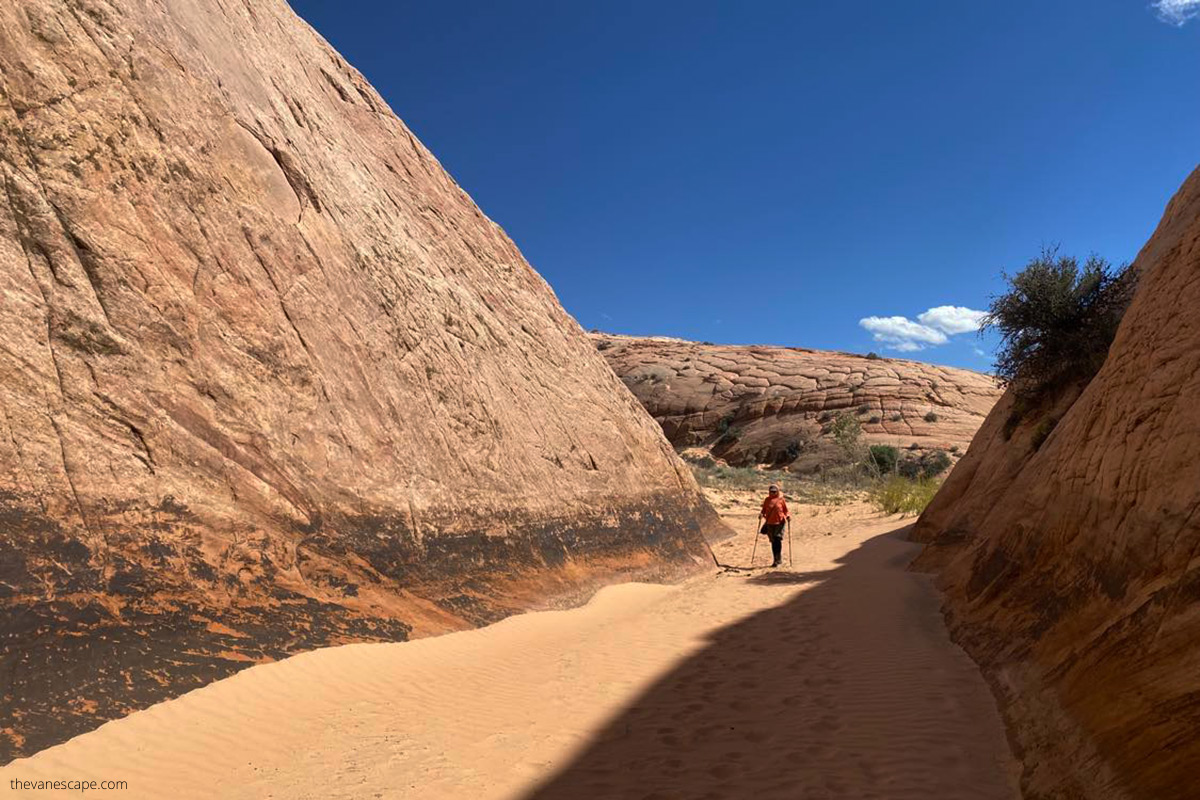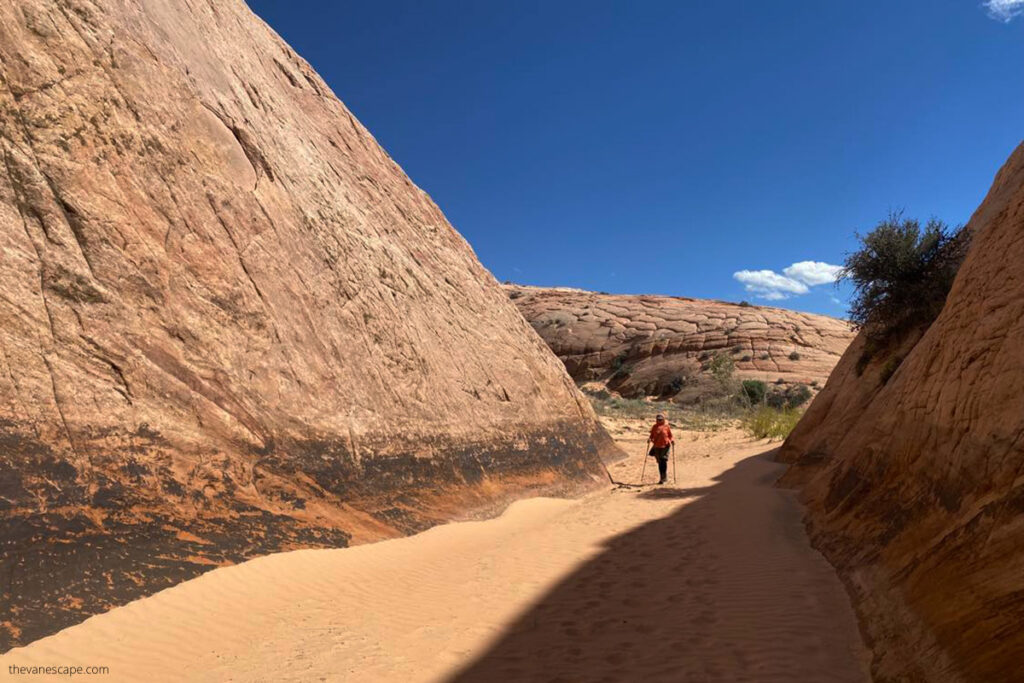 Entering Zebra Slot Canyon
Check the water level
First, check the water level when you reach the Zebra Slot Canyon. Last time we were lucky. The canyon was arid. But we encountered a significant amount of water on an earlier attempt. To assess the water depth, we utilized my trusty trekking poles. Unfortunately, they were nearly submerged, and we ultimately decided against hiking through the slot canyon. If the water level is ankle-deep or knee-deep, waterproof footwear will suffice, but in our case, we opted to forego the hike altogether.
Estimate the risk and make responsible decisions
We know that some people enter the canyon despite the high water level. We've seen pictures of people walking through the Zebra Slot Canyon with the water up to their necks. We strongly advise against such a risky activity. It's too dangerous. This canyon is very narrow, and the water is not transparent. You can't see the bottom. Just slip, and it will be a tragedy. You also never know when more water will arrive in the canyon. Moreover, the water levels can rise unexpectedly due to rainfall that occurs several miles away. Prioritize your safety and avoid taking unnecessary risks. We've hiked in deeper water in the Narrows and the Subway. In the Narrows, the water was almost waist-high. But these canyons are much broader. The water was clear during our hike, so it was easier to predict the next step.
Our Tip: The water in the canyon is very cold. Changing your hiking shoes to water shoes and wearing shorts for this part of the hike is worth it.
Leave your backpack
The Zebra Slot Canyon is incredibly narrow in certain areas, measuring only 10 inches (25.4 cm). Due to this tightness, it's impossible to pass through with a backpack or other equipment. We recommended leaving your gear in a dry place before entering the Canyon and either walking through without any equipment or carrying your bag overhead. However, this can quickly tire out your arms. You also won't be able to help yourself with your arms while squeezing through the Canyon.
Our Tip: To explore the Canyon, we walked through it one at a time. Chris had a backpack, so he stayed behind to look after it, along with my trekking poles and a bag containing water. I went through the Zebra Slot Canyon first. I went back to Chris and waited for Chris to make his way through. Due to the short length of the Canyon, we could still communicate with each other. We could hear each other's voices.
Hike, squeeze, or climb through the Zebra Slot Canyon
As you enter Zebra Slot Canyon, you'll initially enjoy the freedom of movement. However, as you progress further, the walls will start to narrow and press against your body, which may cause discomfort if you're prone to claustrophobia. The coolness of the canyon walls will be felt against your back, hips, and stomach. Eventually, you'll need to squeeze your way through the canyon. We sucked in our bellies. You could climb the canyon walls and traverse through the higher parts of the canyon. So try pushing your body up against the wall, using your feet to support yourself on the opposite wall. It may be a bit of a challenge, but it's achievable. This requires physical fitness, some climbing experience, and sturdy shoes to avoid any potential falls and injuries.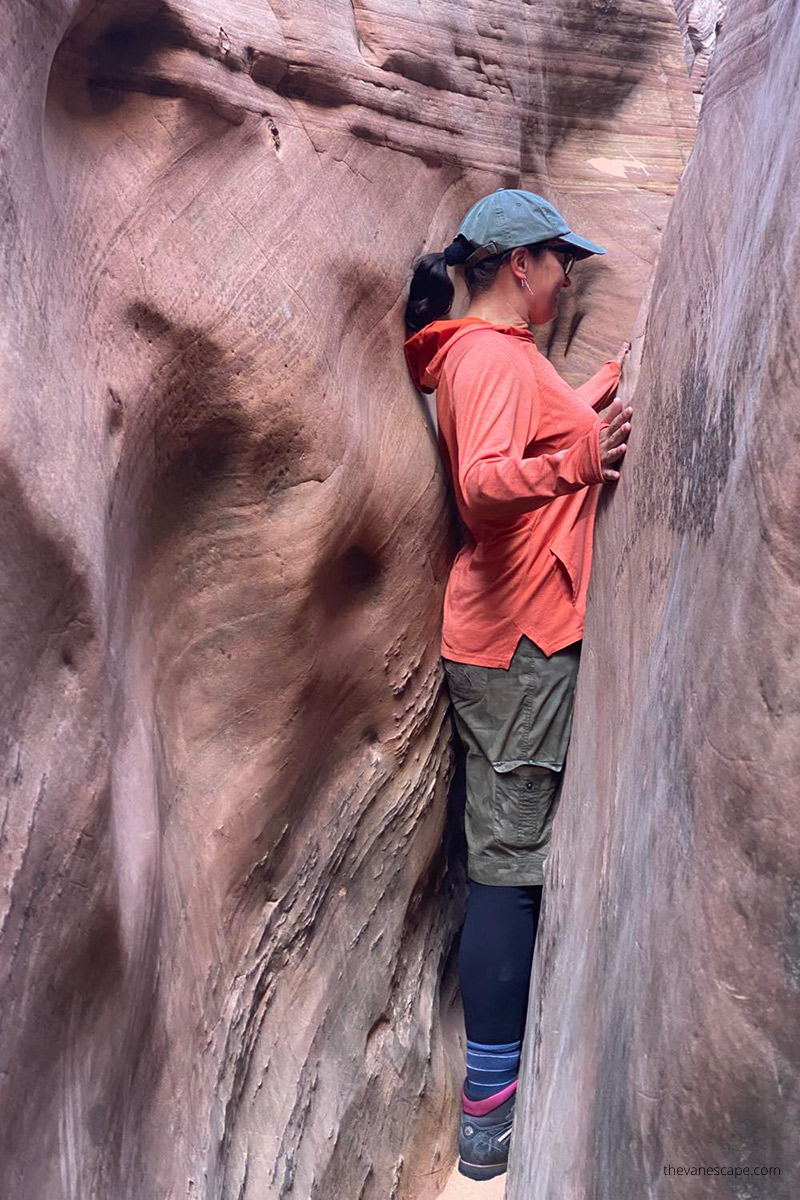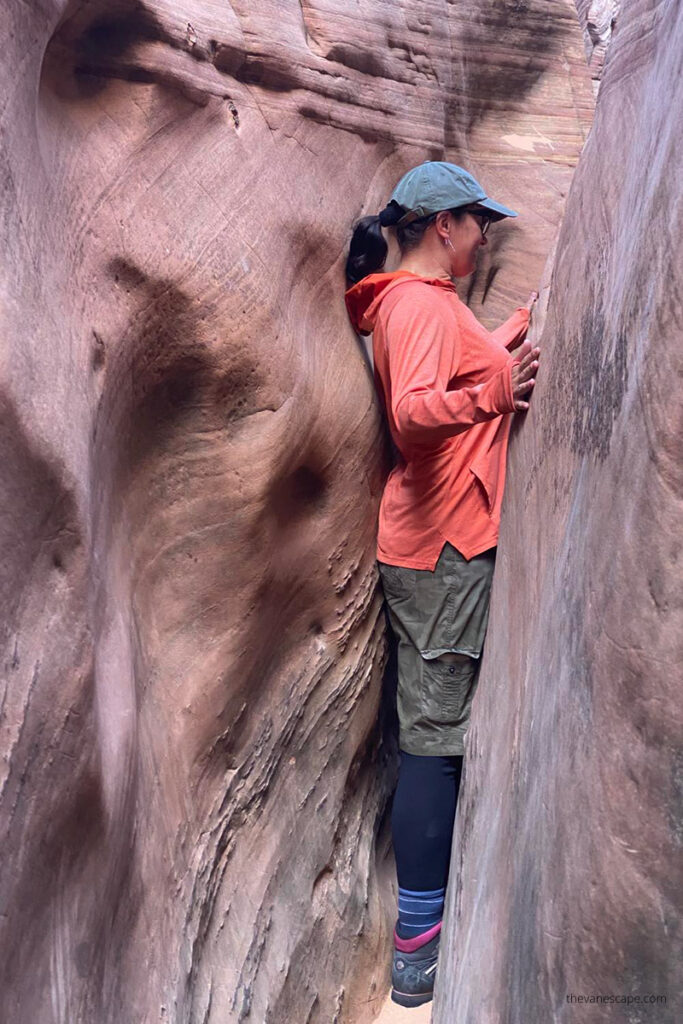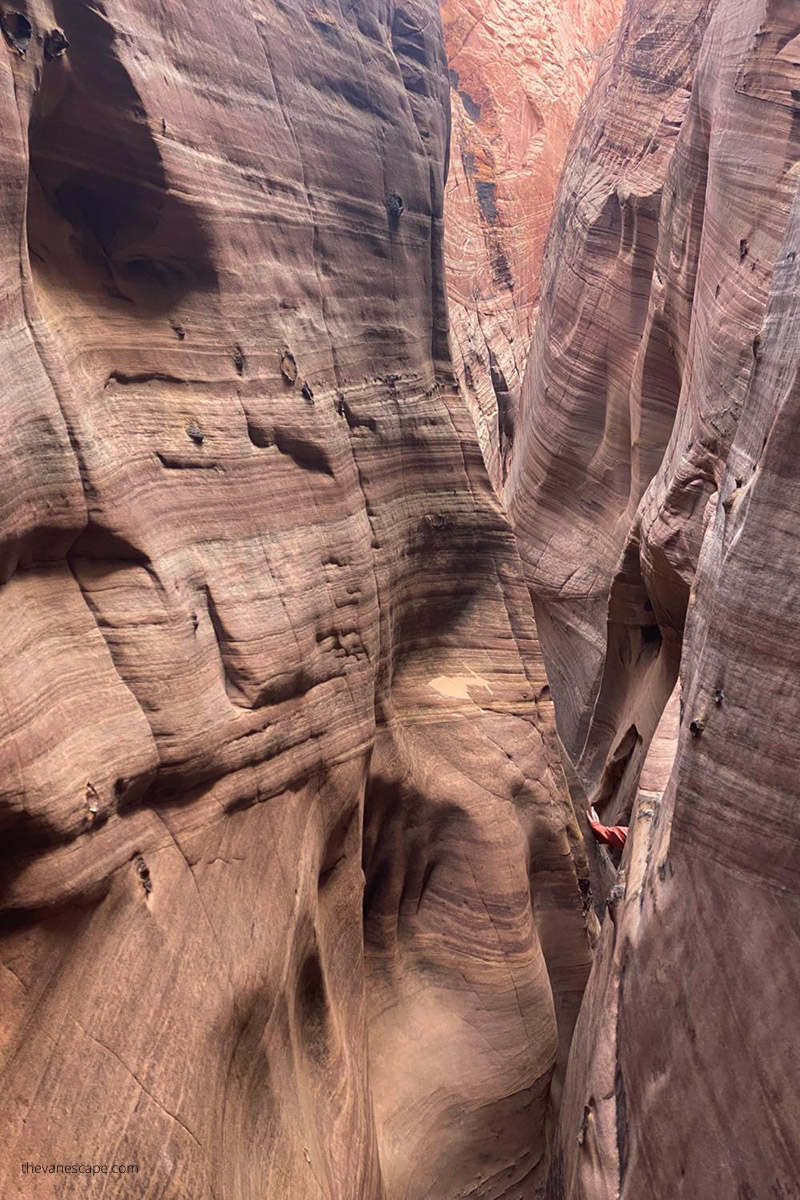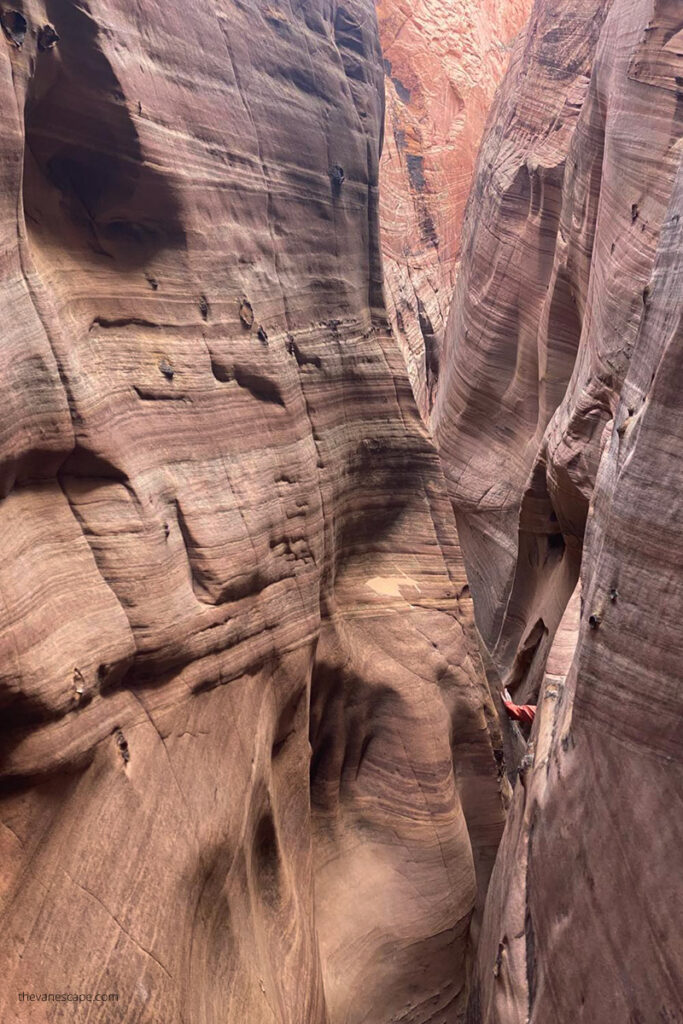 Back the same way
When you reach the end of the tunnel, you have to go back the same way. To be honest, we were able to complete the Zebra Slot Canyon hike, but we have no desire to do it again. Despite not experiencing any claustrophobia, we did not feel entirely at ease. We know that many people find hiking Zebra Slot Canyon great fun. We also enjoyed this hike greatly, but it is not our number one out of all the slot canyons we could walk in the Southwest. Moreover, we found much more enjoyable hikes such as Willis Creek Canyon, Buckskin Gulch, or guided tours of Antelope Canyons with Navajo guides.
Return Hike
You have to go back to the car park the same way. Save yourself some water for the return trek, as it's still 2.6 miles of the desert hike, and you'll be tired by now.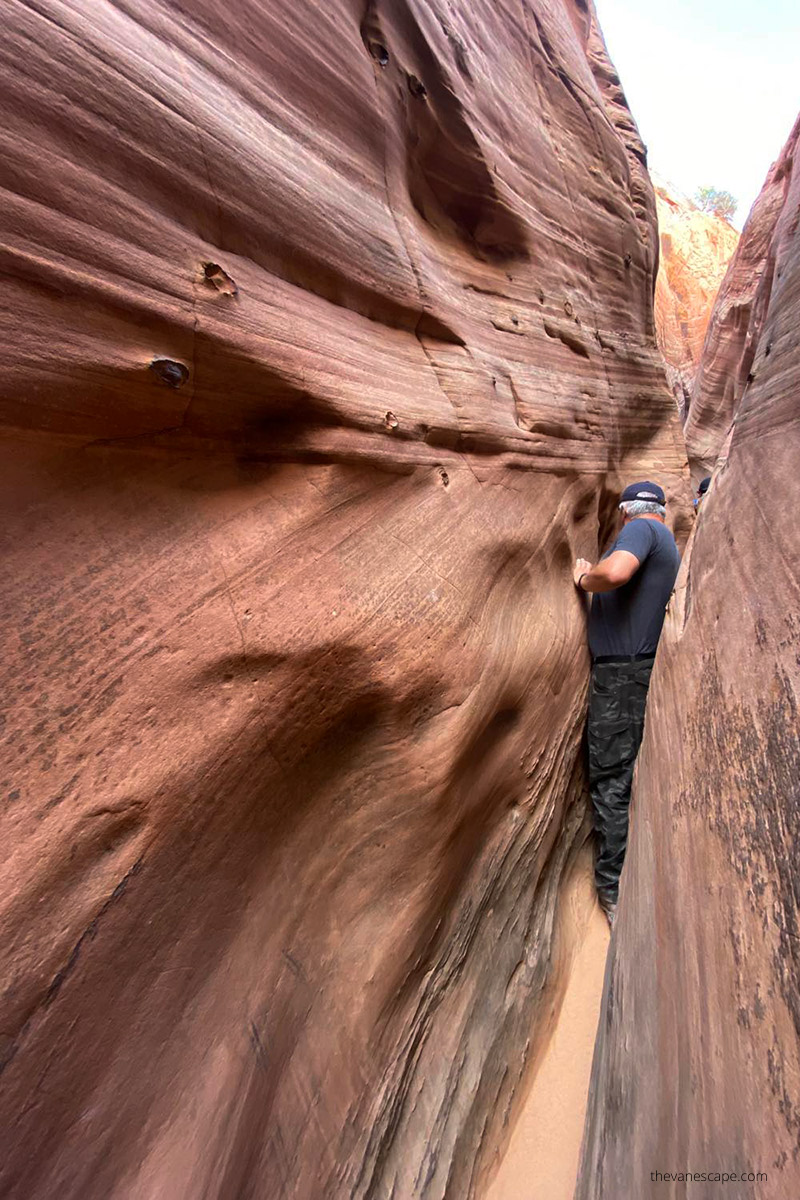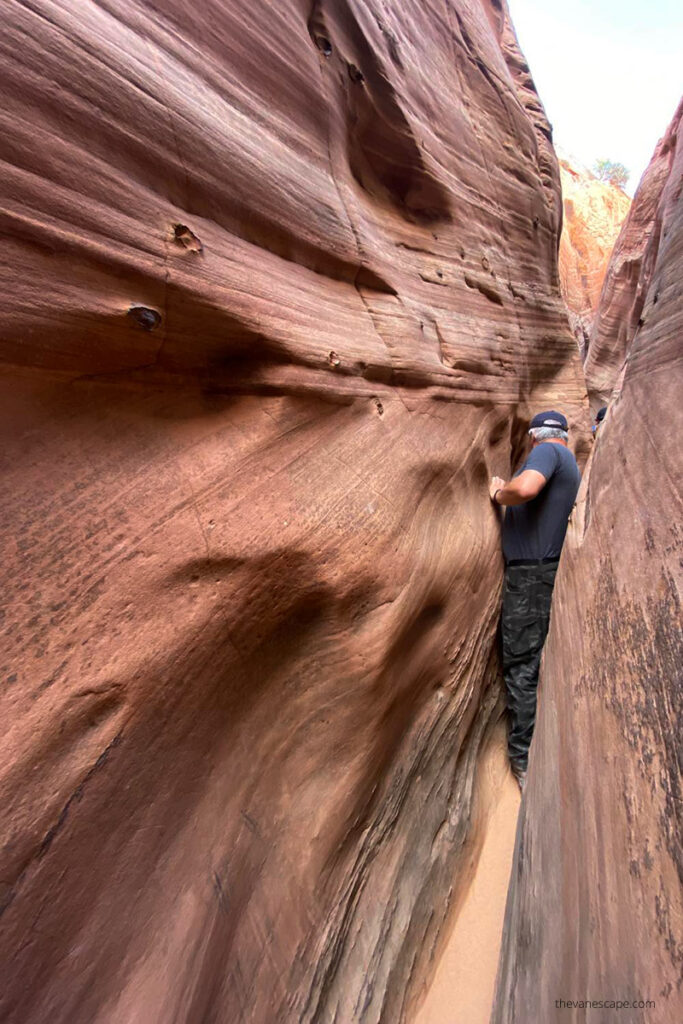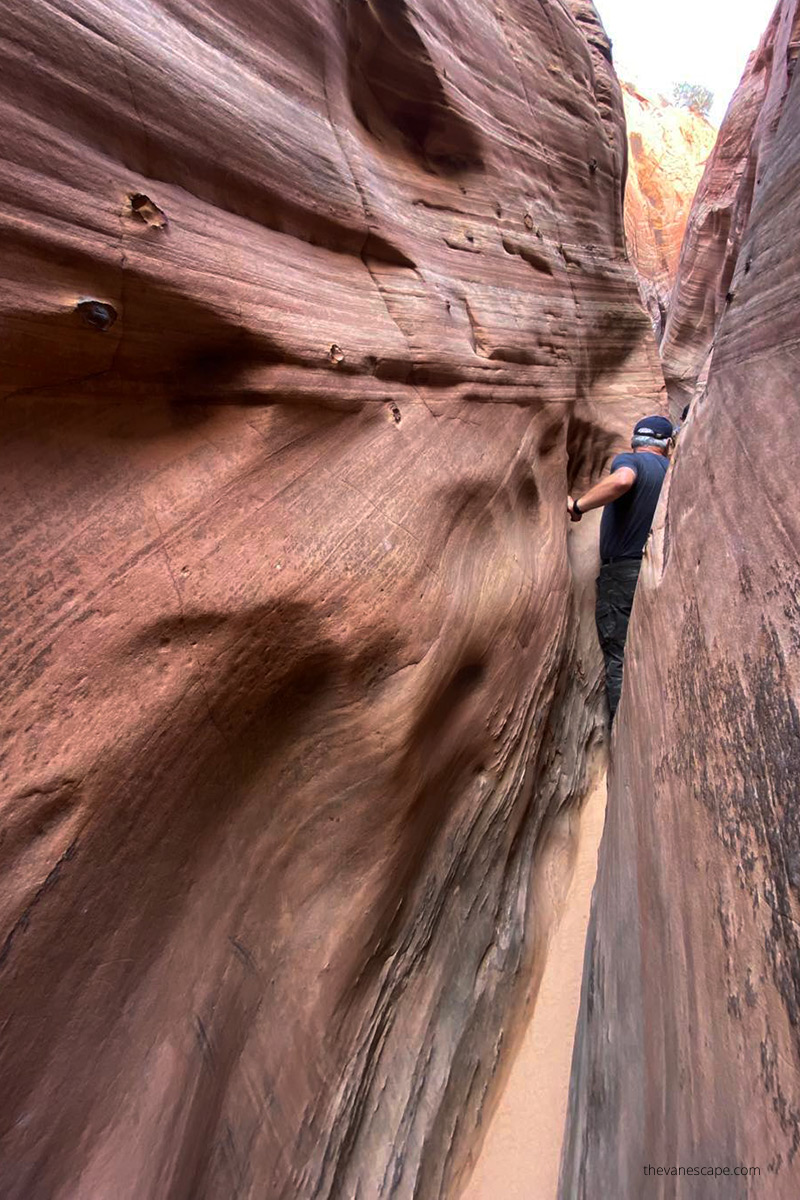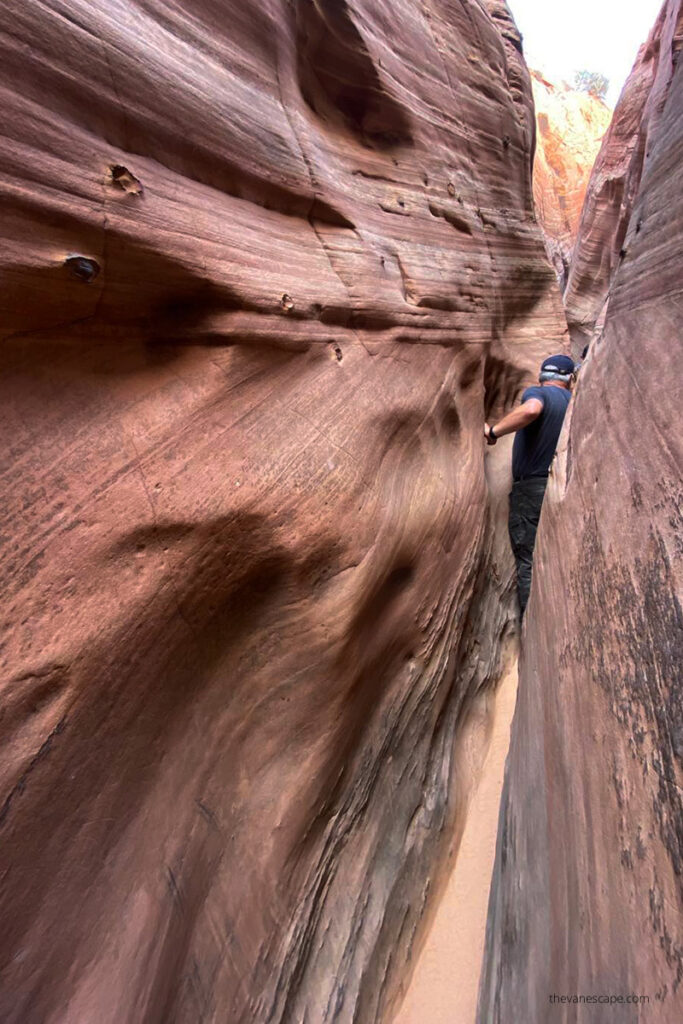 How to Plan Zebra Slot Canyon Hike?
When is the Best Time to Hike Zebra Slot Canyon?
Slot canyons hiking in Utah and Arizona highly depends on the weather, as flash floods can occur. Unfortunately, there have been drownings among tourists in the history of hiking in Southwest slot canyons. Such a tragedy happened in August 1997 in Antelope Canyon when a 40-foot-high wall of water swept through Lower Antelope Canyon, killing 11 hikers. Hiking in Antelope Canyon is only possible with a guide, and hikers' safety is always paramount. So in case of bad weather or flood risk, entering the canyons is prohibited.
The best for hiking in Zebra Canyon are late spring and late fall. We made our trek in mid-May, and the Zebra Canyon was completely dry. But on our earlier visits to Utah in October, there was quite a lot of water in the canyon, and we backed out of the hike. Usually, water levels are higher in the spring due to melting snow from the surrounding areas, especially from Bryce Canyon. In summer, thunderstorms and heavy rains pass over this area. So, be sure to check the weather before your hike.
Check the Water Level in Zebra Slot Canyon
It's essential to be aware that flash floods can happen any time of the year, with July, August, and September being the most common months. Checking the local weather forecast is necessary, but it's important to note that weather conditions can change rapidly. It is difficult to predict where heavy rain will occur. During stormy weather, it's best to avoid narrow canyons. Always stay alert to changing weather conditions. Check out also local alerts.
No water was present when we attempted the Zebra Slot Canyon Hike during our mid-May trip. We had perfect weather conditions. However, on a previous Utah road trip, we had to abandon our slot canyon plans due to the risk of flash floods. Remember, it's better to err on caution and give up a hike than to put yourself in harm's way.
Check the Weather Conditions
Before embarking on your trip to Zebra Canyon, it's essential to check the weather conditions in the area. Slot canyon hiking can be hazardous in inclement weather. It is crucial to check if there are rains or storms in the area. Even if it rains in Bryce Canyon, there can be a flood risk in Zebra Slot Canyon.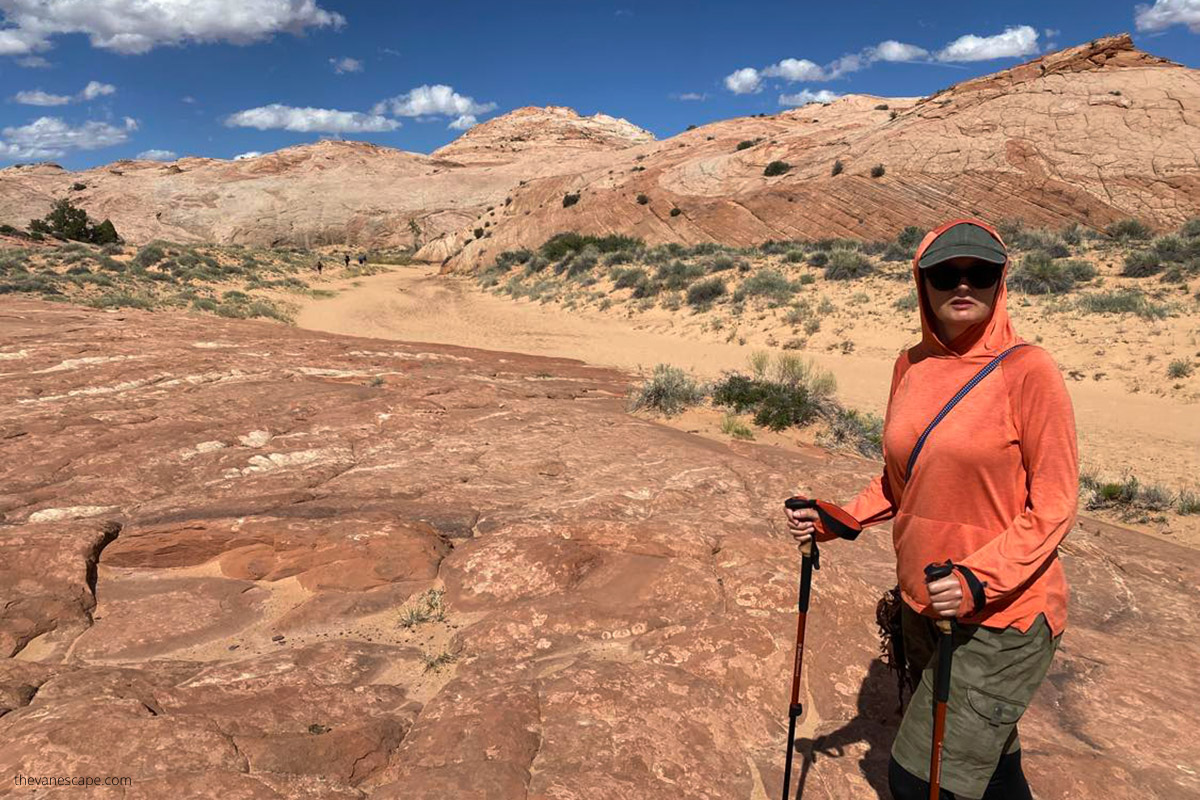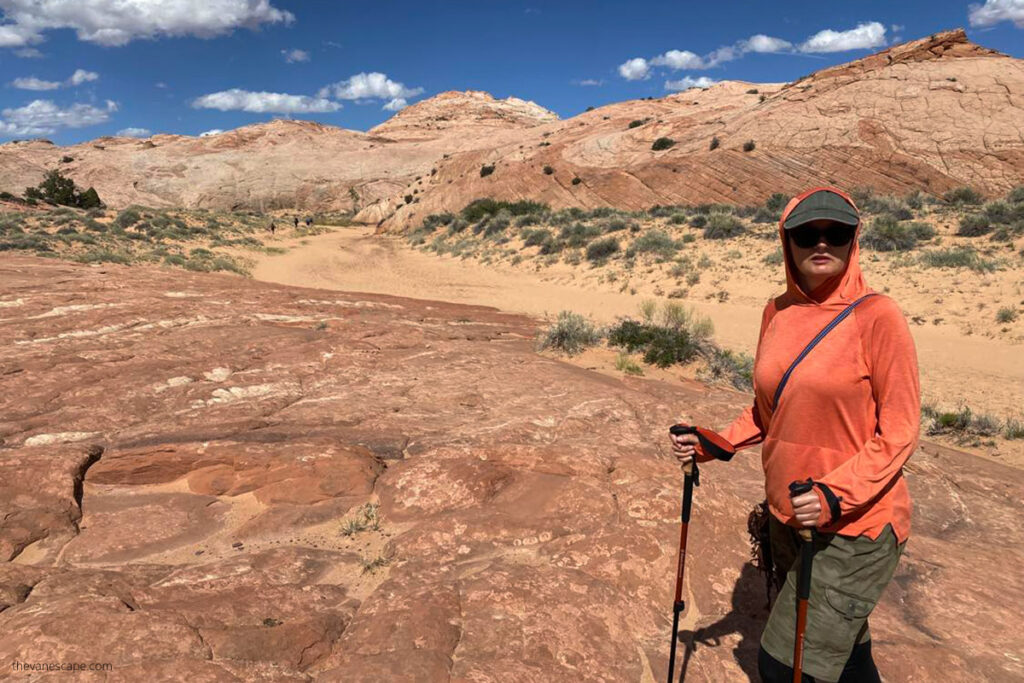 Check the Hole in the Rock Road Conditions
The Hole in the Rock Road is rough and uneven, making it challenging to drive on. The surface is gravel with small rocks and stones. Driving is comparable to the texture of a grater. Remember to bring a spare tire with you. It's essential to be prepared in case of a flat tire and can replace it. The access road to the trailhead can be completely impassable during or after rain. Verifying the weather conditions, ensure what the conditions are like on this route. Check current conditions at the UDOT Traffic website.
Start Your Trip by Visiting in Escalante Interagency Visitor Center
Even if you have the best possible weather forecast and are prepared for a slot canyon hike, visit the local visitor center in Escalante. Their staff has the best and most up-to-date knowledge in the region. So it's always worth discussing your hiking plans with the experts for a safe adventure.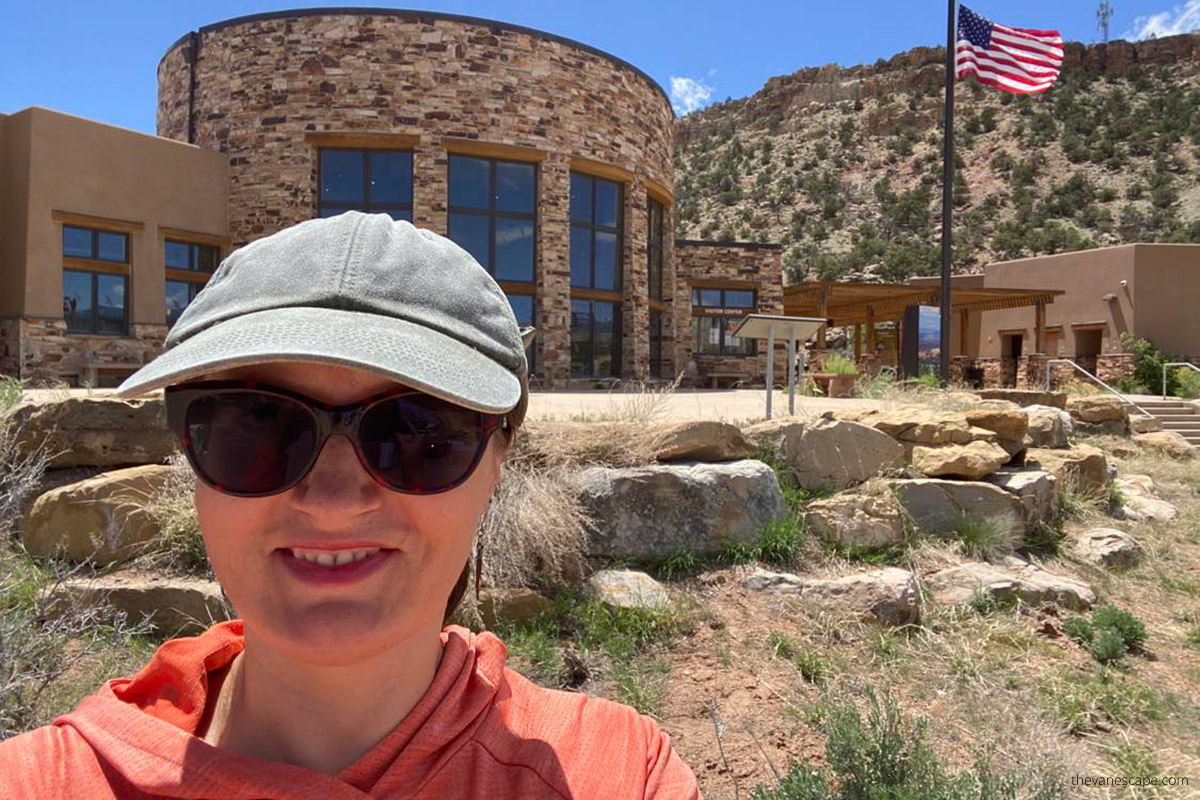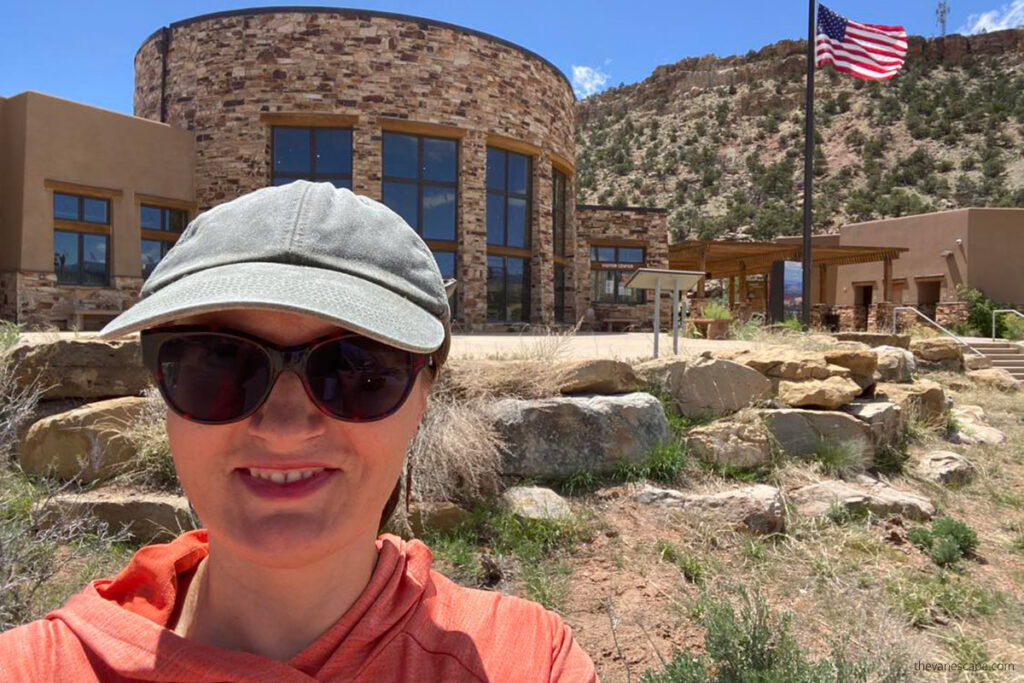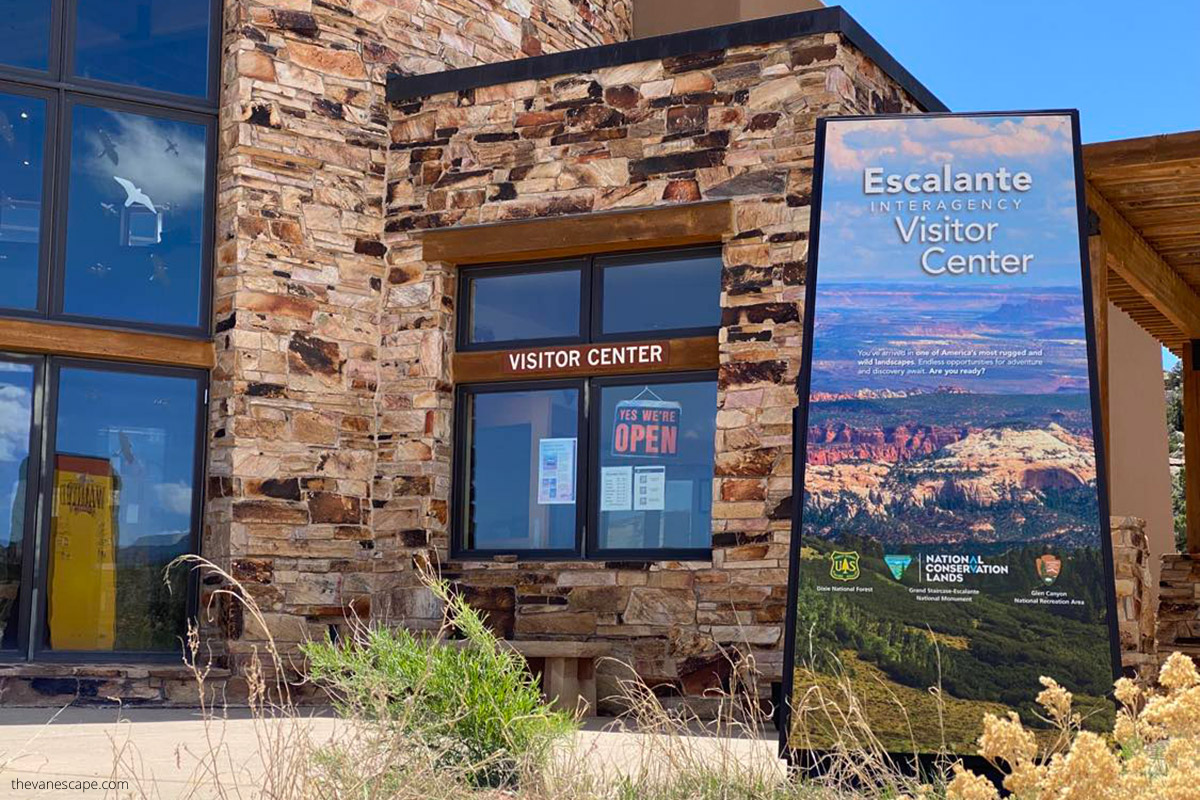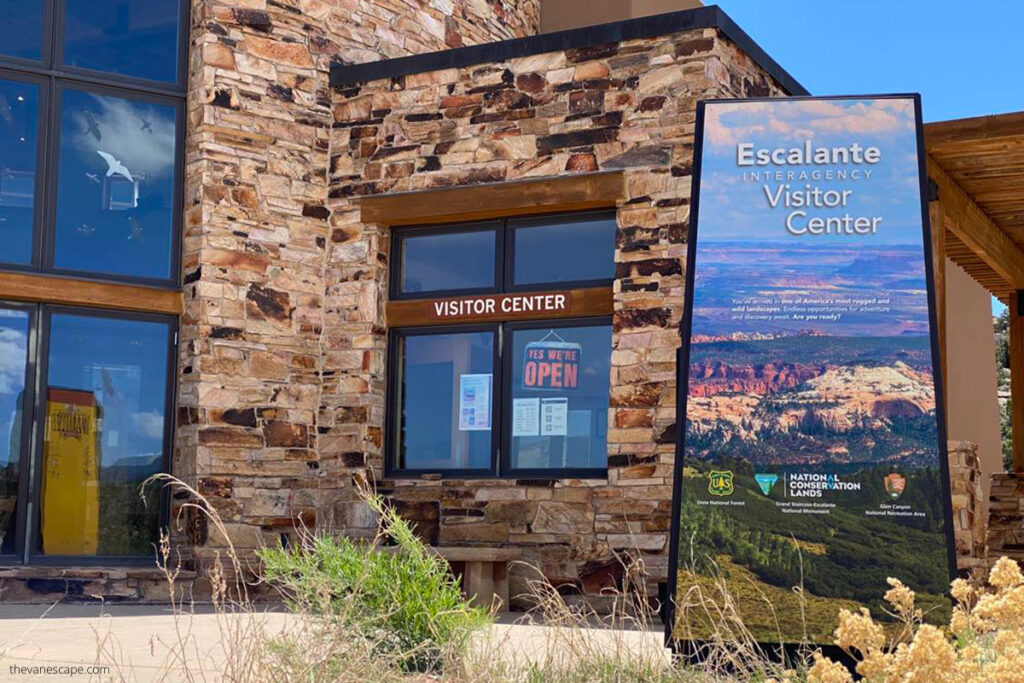 Practice the Seven Principles of Leave No Trace
Respect this wild and beautiful area. Follow the seven principles of Leave No Trace. Campfires in the Escalante canyons are strictly prohibited, as is camping on cultural sites. Collecting stones or artifacts from ancient dwellings or leaving any markings on the rocks is illegal. Ensure that you pack all of your trash, including toilet paper and food scraps. There is also a lot of livestock in this area. Make sure to give them a wide berth.
Pack Lightly for a Hike to Zebra Slot Canyon
Since the Zebra Slot Canyon is very tight and you won't be able to squeeze through it with a large backpack, pack the bare minimum. Water and electrolyte tablets are essential. Pack also a few snacks. Carrying at least one gallon of water (four liters) per person is recommended, regardless of the season. Additionally, pack water shoes in case there is water in the canyon. Protect yourself from the sun by wearing appropriate head and body coverings, as the route has no shade. Consider using trekking poles (here is a model of hiking poles I've been using for several years) to ease the pressure on your spine and legs while walking through deep sand. It's important to remember to bring and apply Lip Balm Sunscreen to protect your lips from cracking due to the heat, which can even lead to bleeding.
Our Tip: Slot canyons usually have no phone or internet coverage. It is not in Zebra Slot Canyon either. Even satellite devices may have a problem with the range due to the narrow and tight walls of the canyon. In case of an emergency, it's best to climb to a higher spot to increase the chances of getting coverage. You can check what we pack for a day hike, depending on the weather.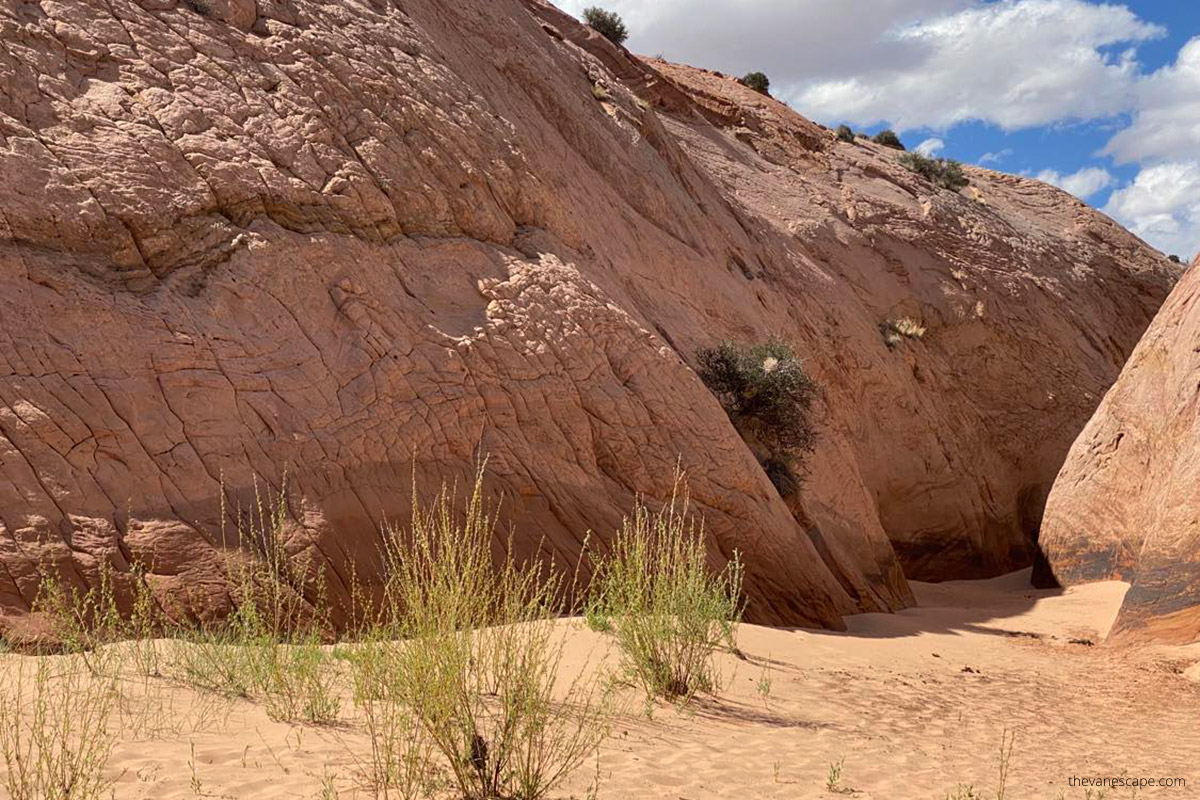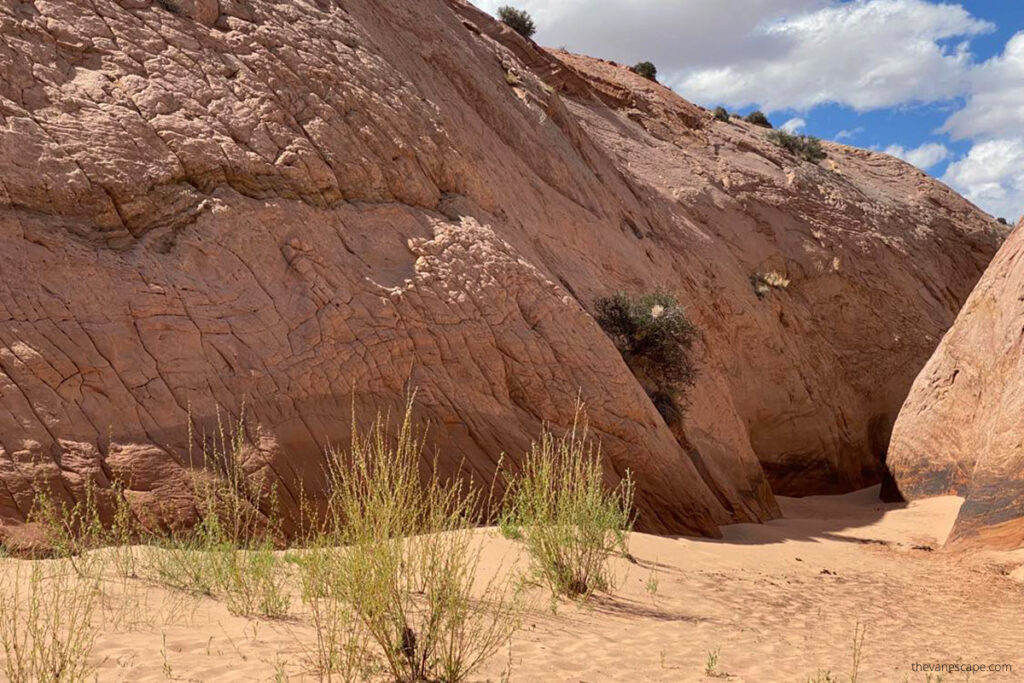 Where To Stay While Hiking Zebra Canyon in Utah?
Dispersed Camping on Public Lands
If you are traveling with a tent, van, or RV, you can stay overnight for free in public lands managed by BLM along Hole in the Rock Road. Dispersed camping is generally allowed on public land for not exceeding 14 days.
If you opt for this choice, it is essential to adhere to all regulations concerning camping on public land. Remember to bring along biodegradable portable toilet bags. Use them within at least 300 feet of water sources. Without these bags, ensure you have a camping shovel to dig holes 6-8 inches deep for burying human waste. Be sure to bury the waste at least 300 feet from any water source.
Lodging in Escalante
A possible alternative is to spend a night in Escalante town. We adore this charming town with its authentic Wild West vibes. Besides, it is not overly crowded with tourists, making it an excellent place to relax and soak up the atmosphere.
We stayed at the Cowboy Country Inn during our recent road trip to Southern Utah. The decor of the Western-style hotel was intriguing, perfectly capturing the essence of the wild west. Our room was decorated in Route 66 style. The room and bathroom were impeccably clean and comfortable, ensuring a pleasant stay. Check out more deals below.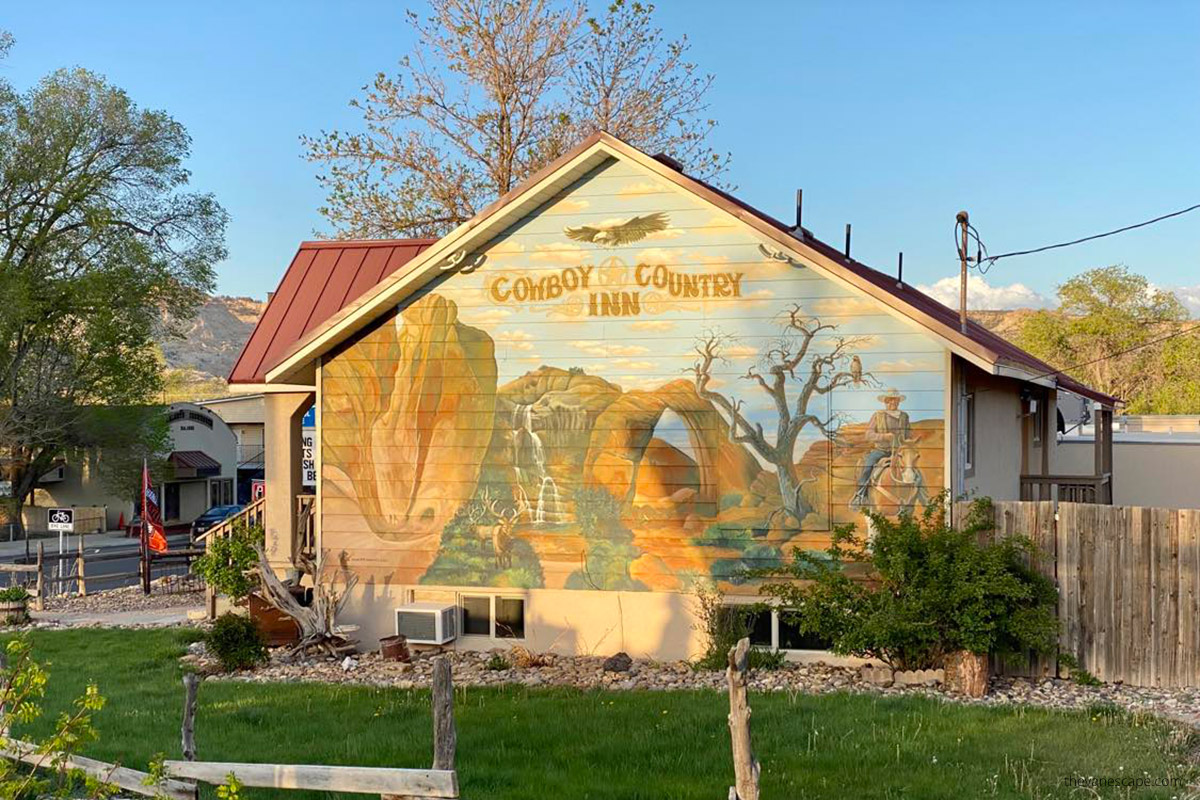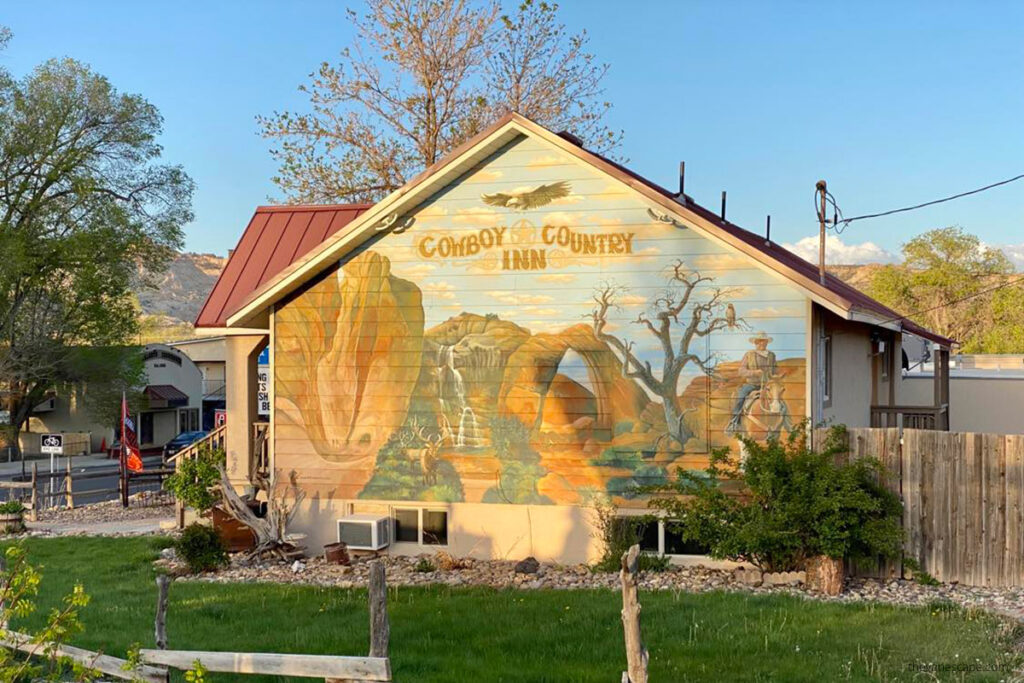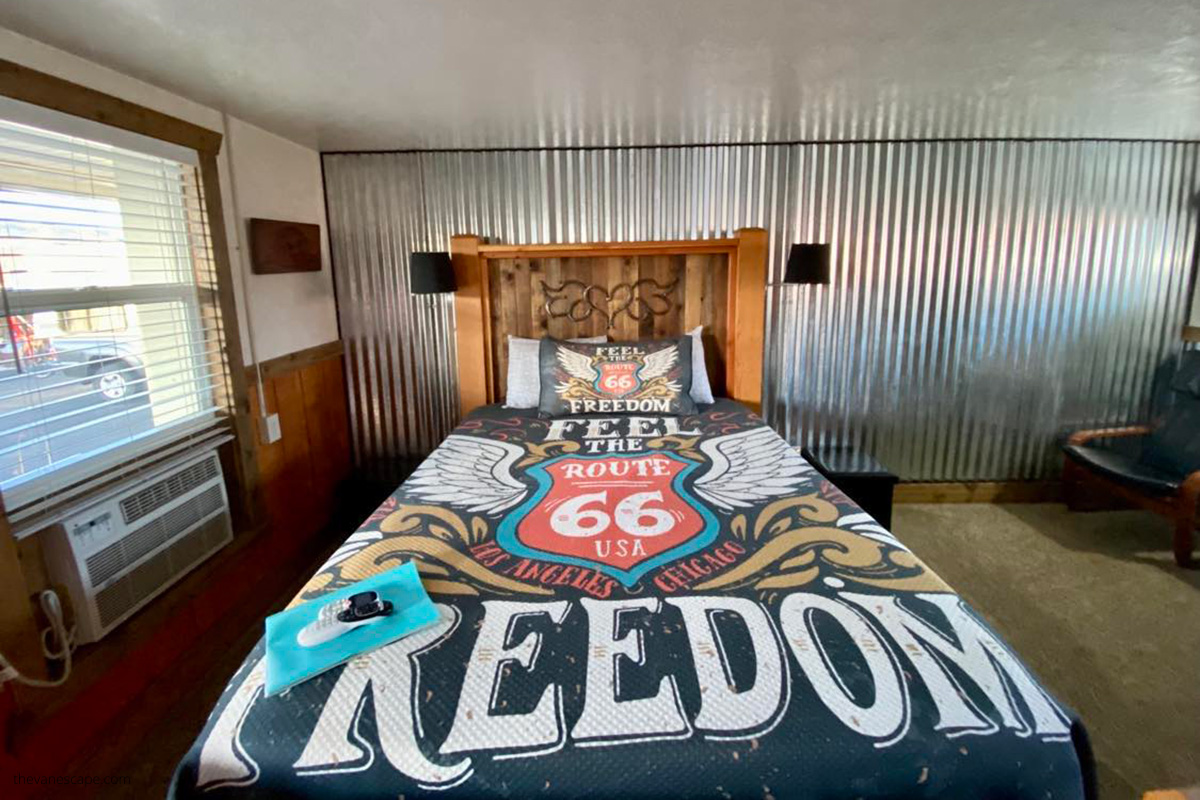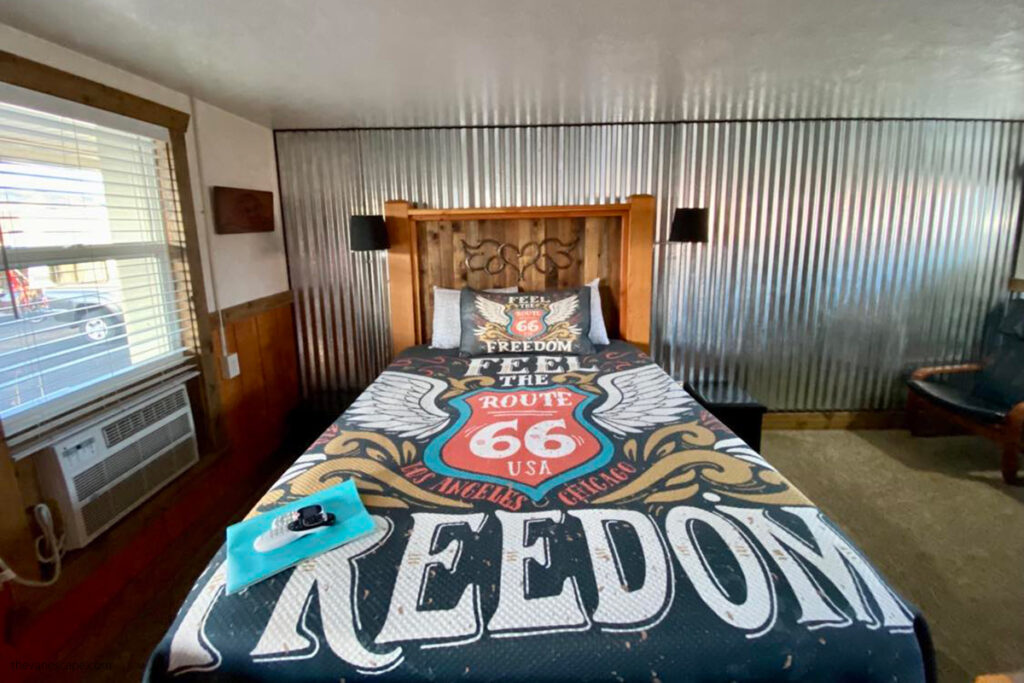 Campgrounds in Escalante
In Escalante, you will also find some exciting campgrounds with hookups and showers. We stayed at the Escalante Petrified Forest State Park campground during our RV trip around Utah national parks. The stunning scenery of the park and the ability to camp along the shores of Wide Hollow Reservoir or rent a kayak or paddleboard to explore its clear waters made our stay unforgettable. We highly recommend this place to anyone seeking a scenic and peaceful camping experience.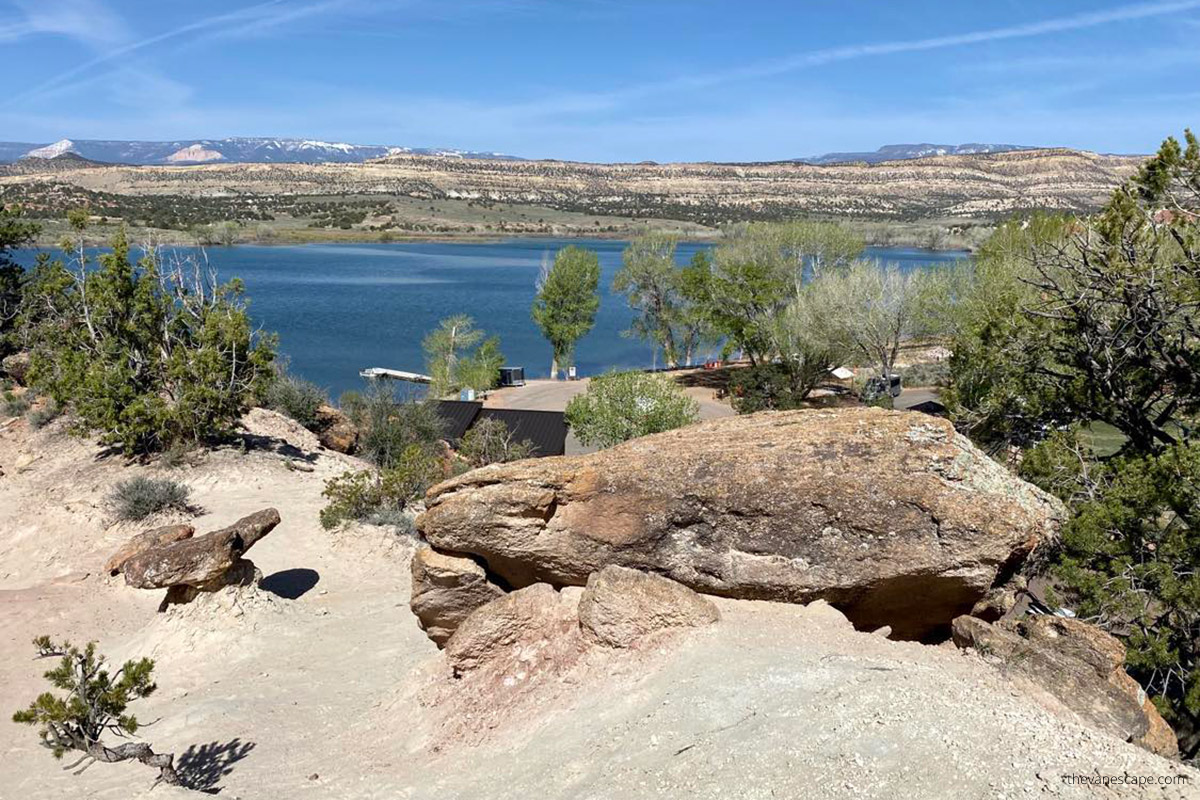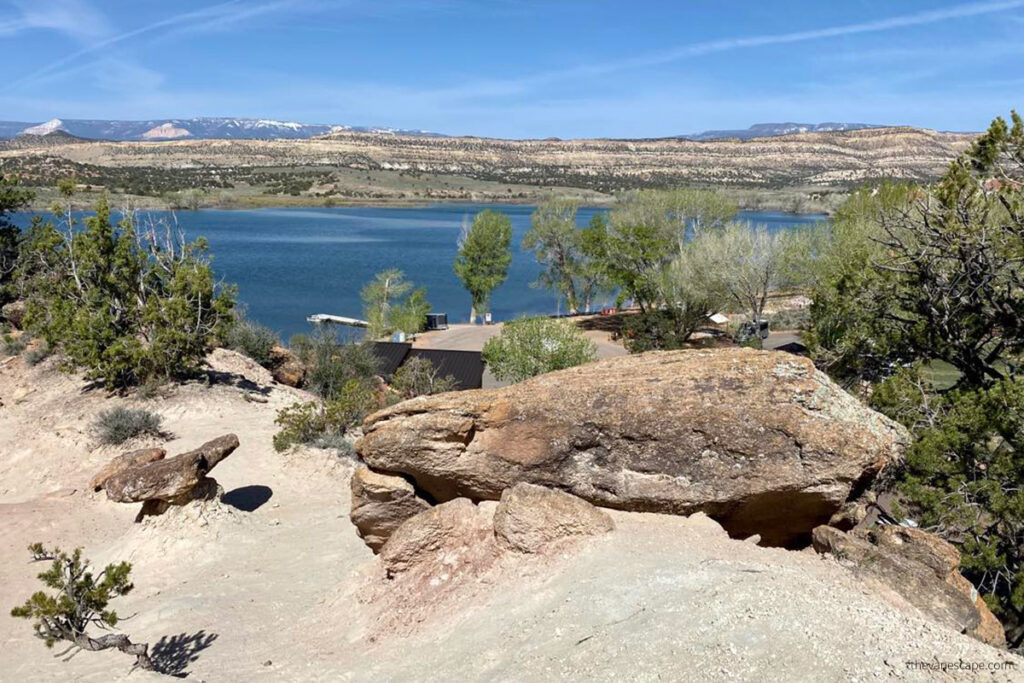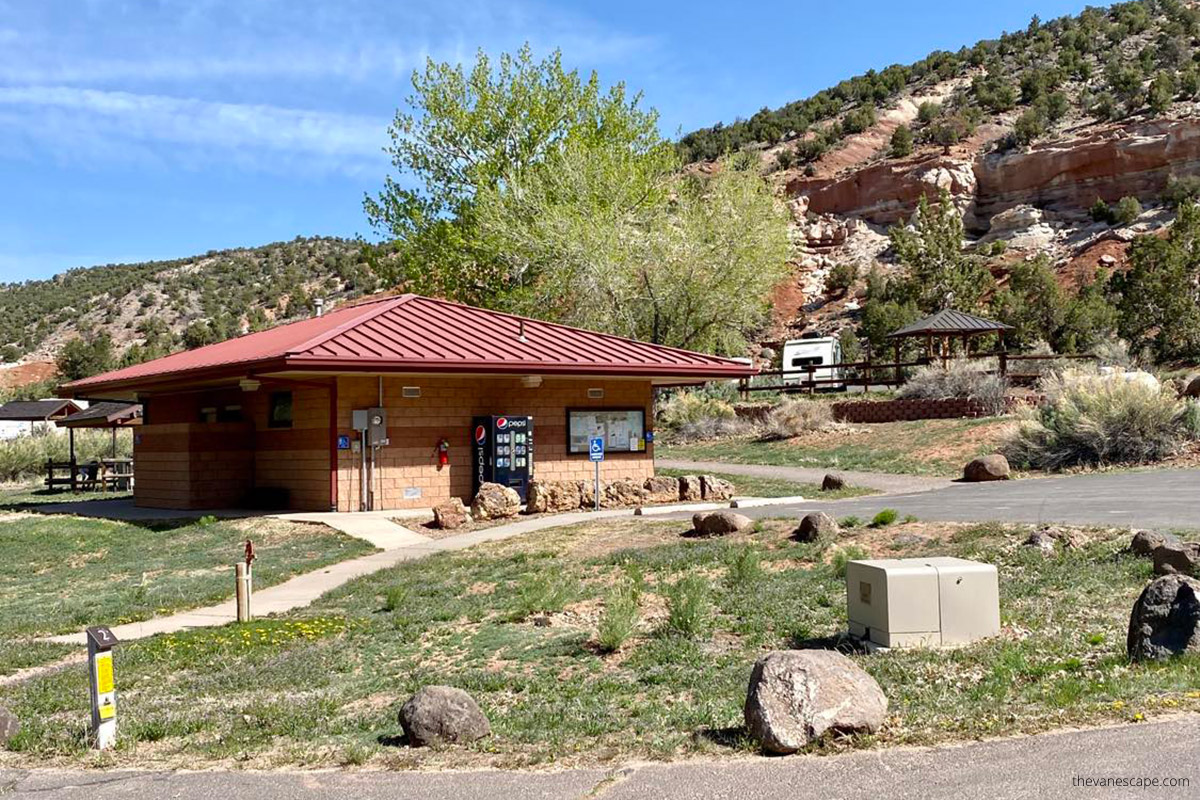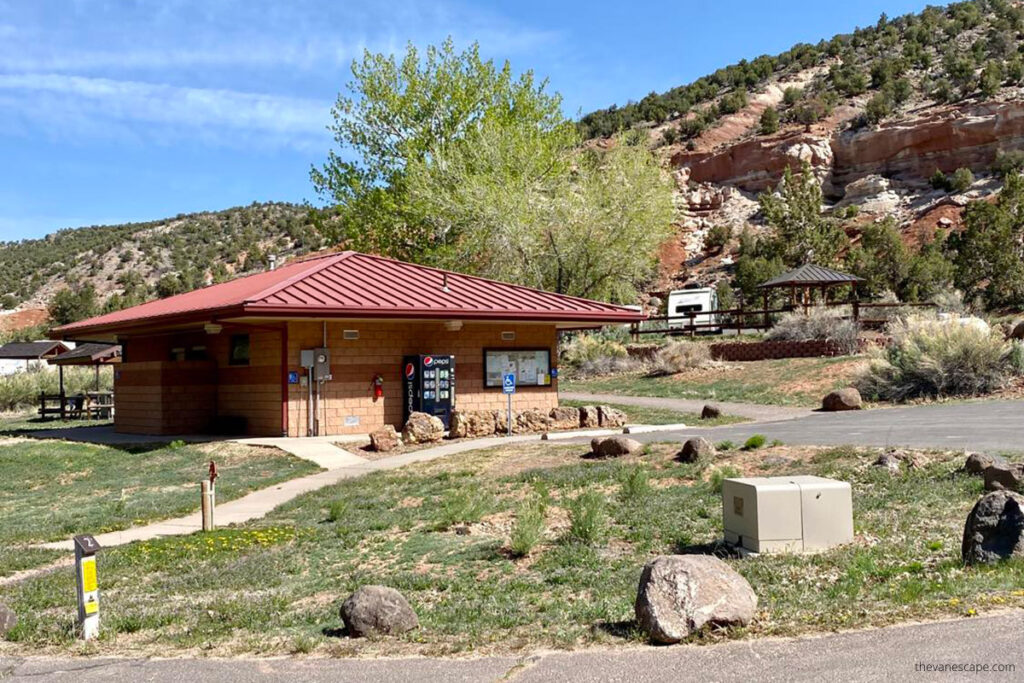 Do you like it? Pin it for later!