Check out our ready-made San Francisco Itinerary if you plan a trip to San Francisco. We love this city and have been there many times. The city boasts beautiful architecture, diverse neighborhoods, and iconic landmarks. We will show you the best places to see and things to do in San Francisco, not just highlights but much more. We have put together a perfect 3-day San Francisco itinerary with many tips for a great trip.
This article may contain affiliate / compensated links. For full information, please see our disclaimer here.
San Francisco Itinerary – Introduction
We love San Fransico. Especially the vibrant waterfront, the charming neighborhoods, the food from around the world, and the mix of old and modern architecture. We have visited the city many times to take photos of the bridges and skyline and to stroll through the neighborhoods. We know all the highlights and many secrets of the city. In our opinion is a must-visit city while traveling to California.
In this San Francisco itinerary, we will show you the most exciting and beautiful places in the city. We will give you many tips to plan the perfect trip to San Fransico. You'll also find out what to see in the surrounding area and where to go on day trips from San Francisco. We will tell you where to stay in SF and how to get around the city. In the last chapter, we also recommend our favorite restaurants for lunch and dinner. Just the ones we like to return to for the delicious food, atmosphere, and service.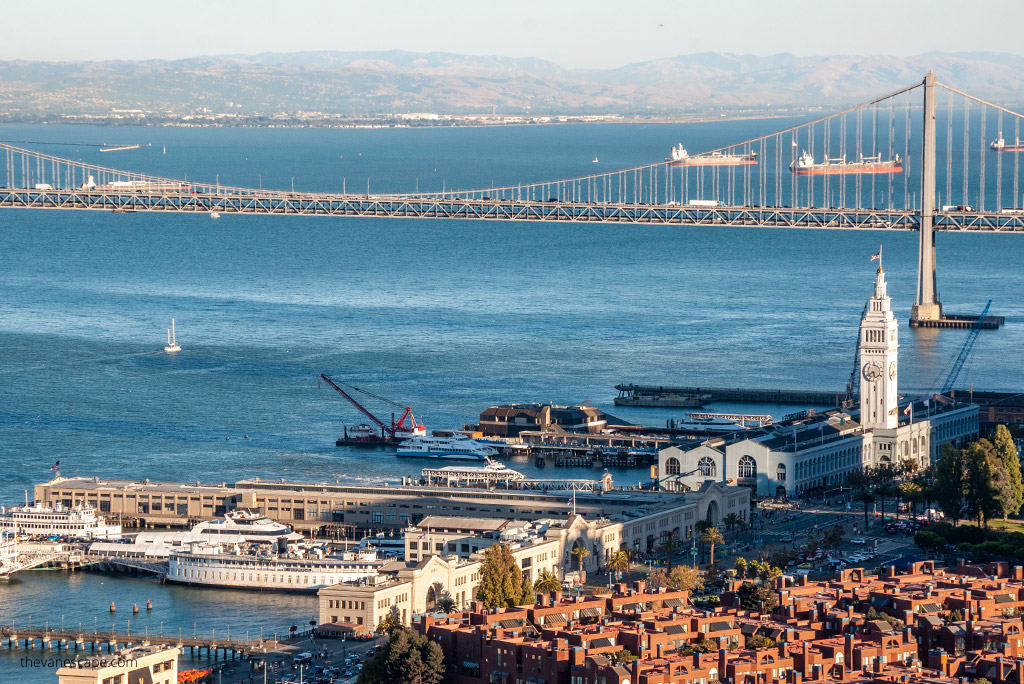 San Francisco Itinerary – How many days for sightseeing?
Even for a week, you will not be bored in San Francisco. The city has so many attractions to offer. In our San Francisco itinerary, you will find three options. We will tell you the best way to fill your sightseeing itinerary if you only have one day in San Francisco. What to see during two days in San Francisco. And finally, you have a ready-to-go San Francisco itinerary for 3 days.
For sure, with 3 days in San Francisco, you can explore it beyond the typical tourist attractions, and you can feel a little bit like a local. If you want to get to know San Francisco and feel its unique and vibrant atmosphere, take at least three days for your San Francisco itinerary. We will help you immerse yourself in the city. So, if you can stay 3 days in San Francisco, just do it.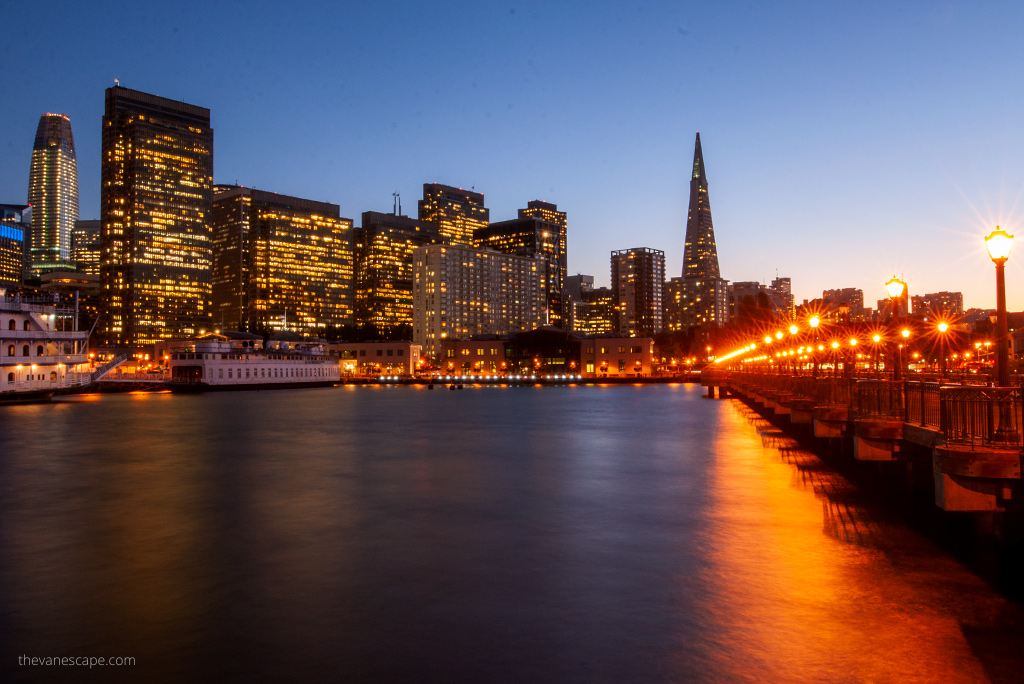 San Francisco Itinerary – Tips Before Your Trip
Get around San Francisco by public transport
Whether you arrive in San Francisco by plane or by car, you can explore the city by public transportation, Uber, or on foot. If San Francisco is your starting point for a California road trip and you plan to rent a car, do not drive it around the city. You'll just waste your time, your nerves, and your money. Move around the city on foot, by public transportation, or by Uber. Parking lots are terribly expensive, and the number of spaces is minimal. Unfortunately, there are more and more car break-ins. But public transport is well developed, so you can easily explore the city by cable cars, Hop-on Hop-off bus, on foot or with a rented bike.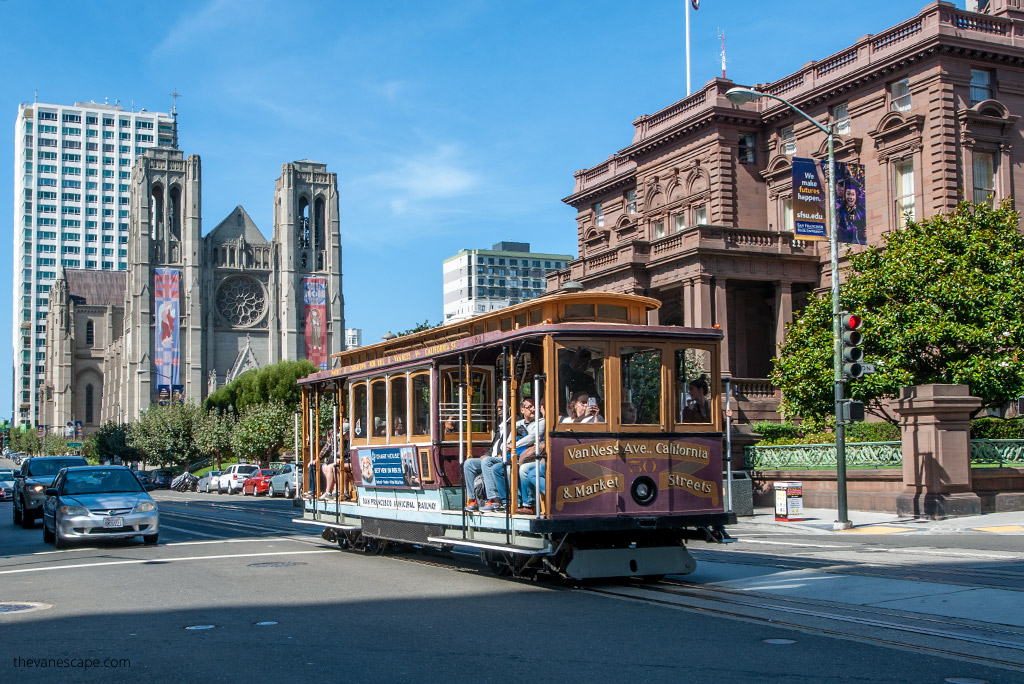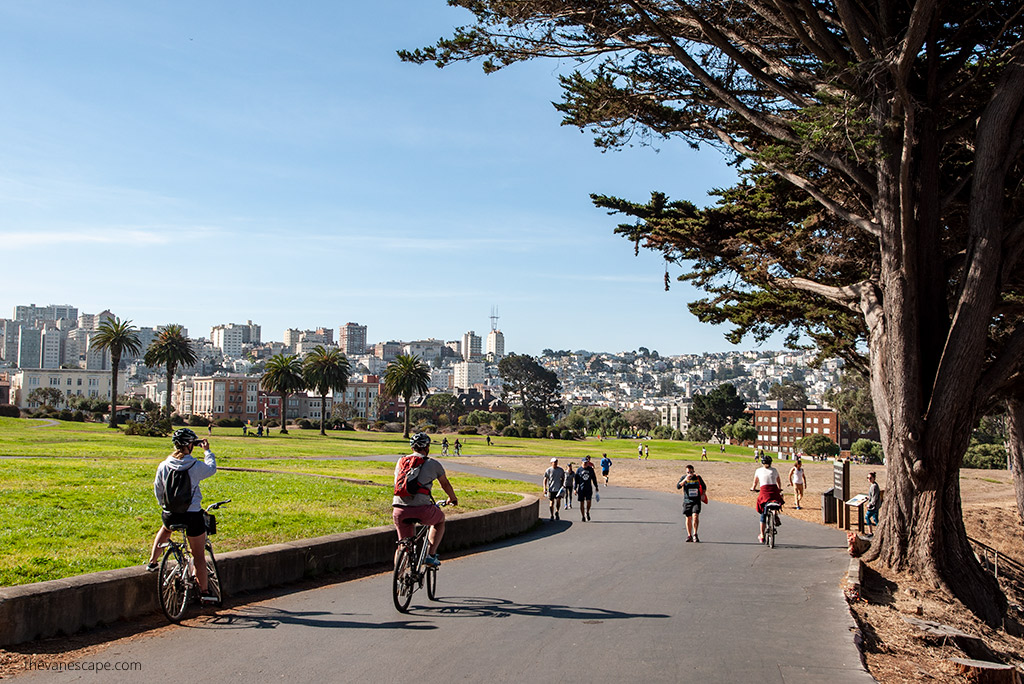 Buy San Francisco CityPASS to save your money
Unfortunately, San Fransico is not a cheap city. That's why it pays to save where you can. If you plan to stay longer than 1 day in the city, it is very worthwhile to buy the San Francisco CityPass. Sometimes it is even worth it for 1 day – it depends on how intensively you want to visit the city and how many attractions you want to see. You have several cards to choose from. We personally used the Go City All-inclusive Pass. With this card, you can save up to 55% off combined admission to 25 top attractions and tours.
Be sure to pack comfortable walking shoes
This hint may sound funny, but trust us, comfortable shoes are the basis of a great San Francisco vacation. Take checked walking shoes. No new shoes, flip-flops, no high heels. Proven shoes for miles of uphill and downhill hiking.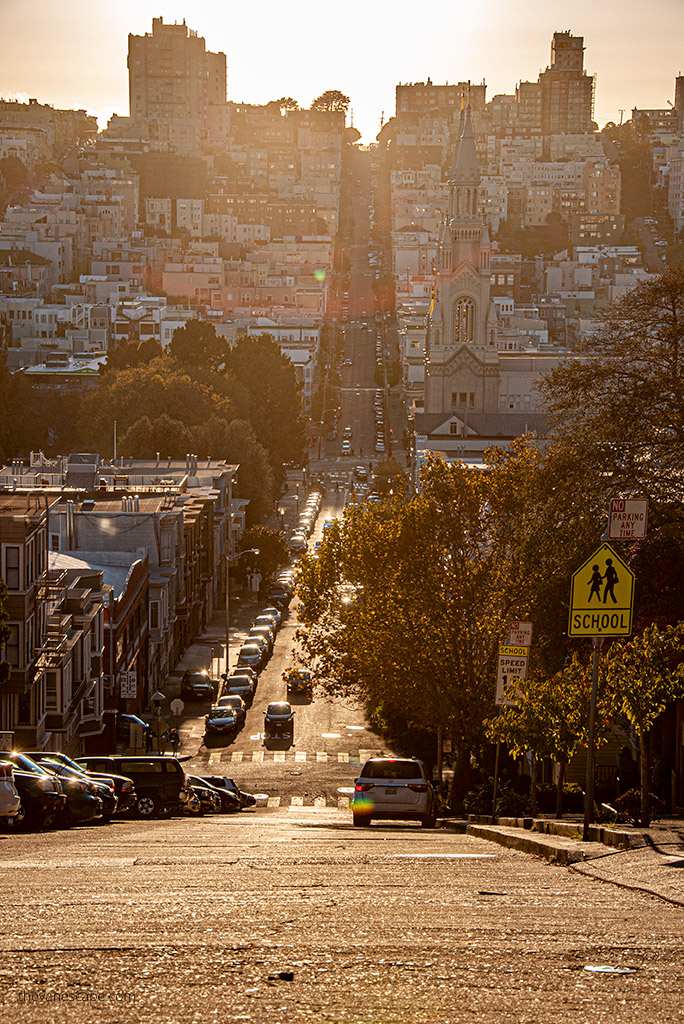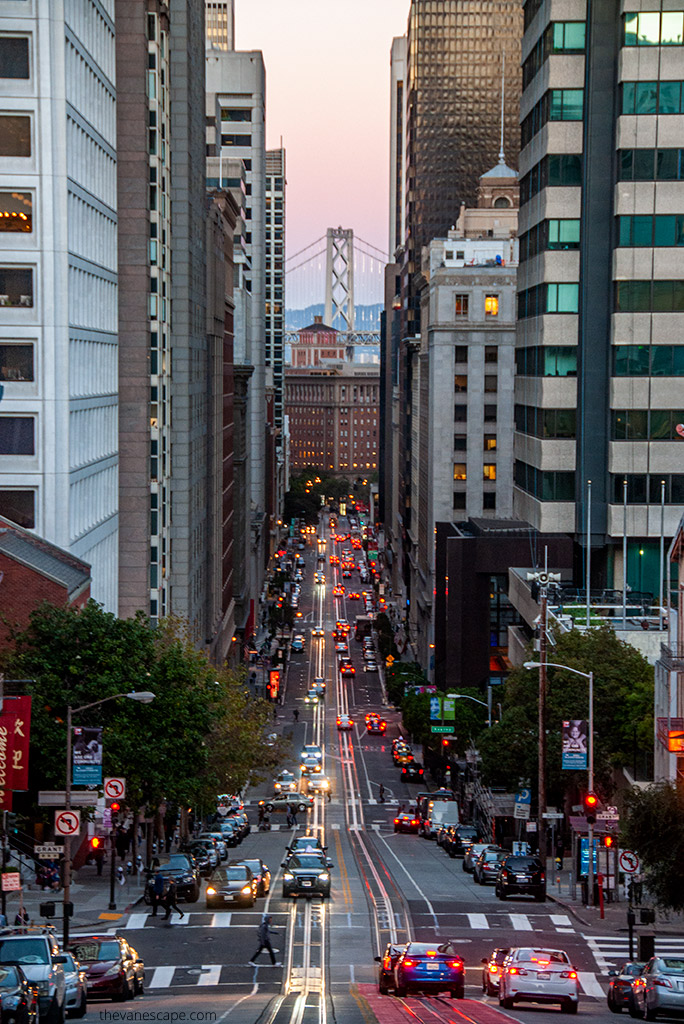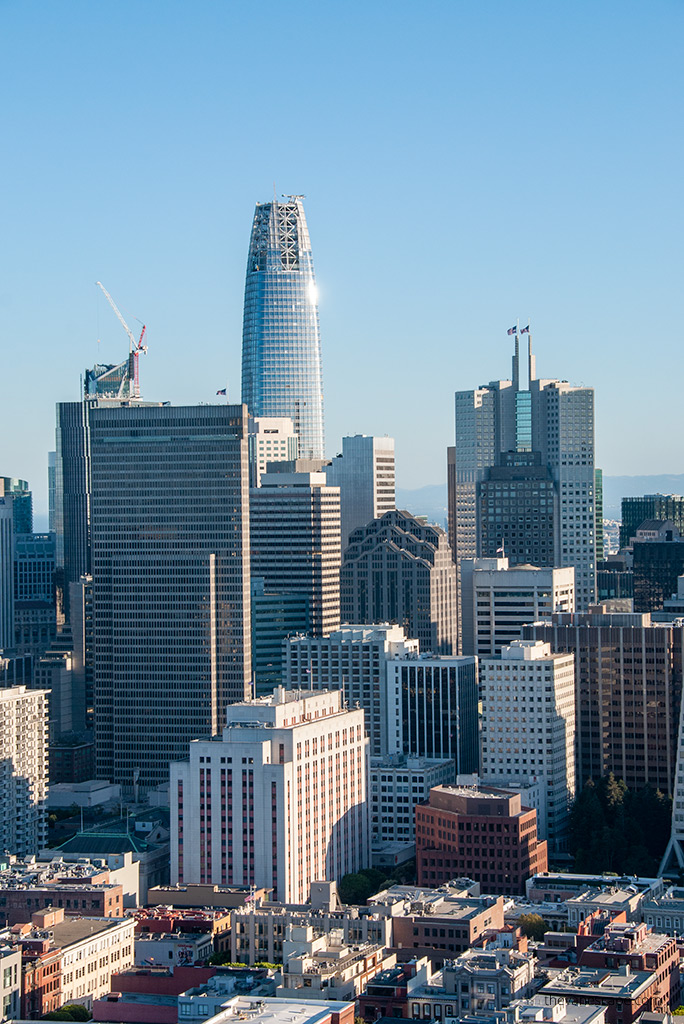 Book admission tickets in advance
The city attracts crowds of tourists all year round. Therefore, it is worth booking your admission tickets in advance to avoid staying in line. This is especially true of attractions such as Alcatraz Island, Coit Tower, or guided tours and cruises to Golden Gate Bridge.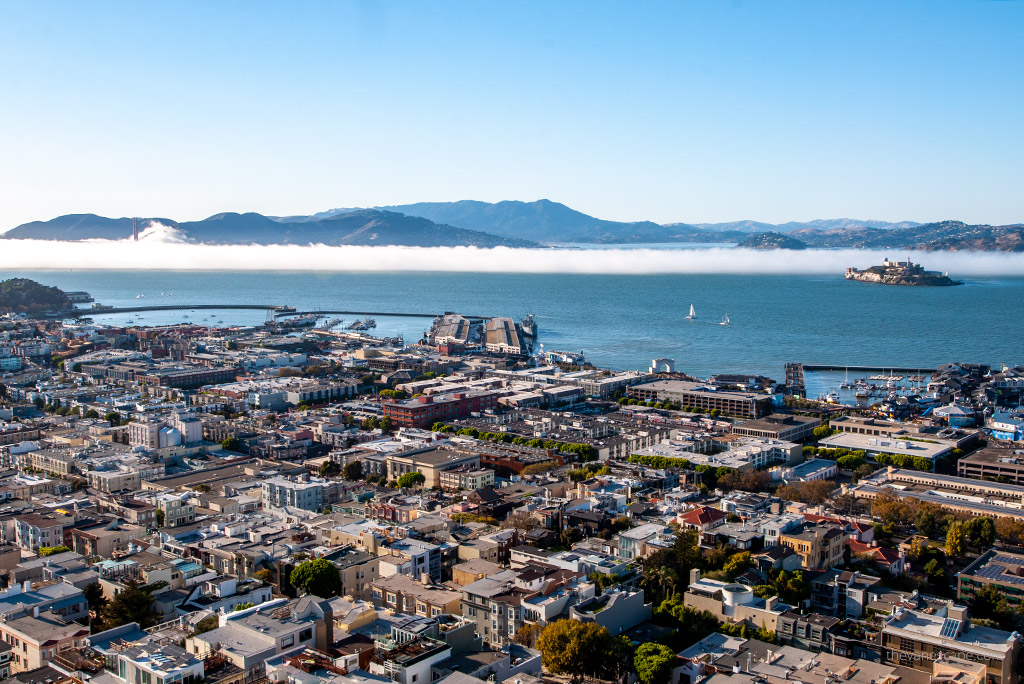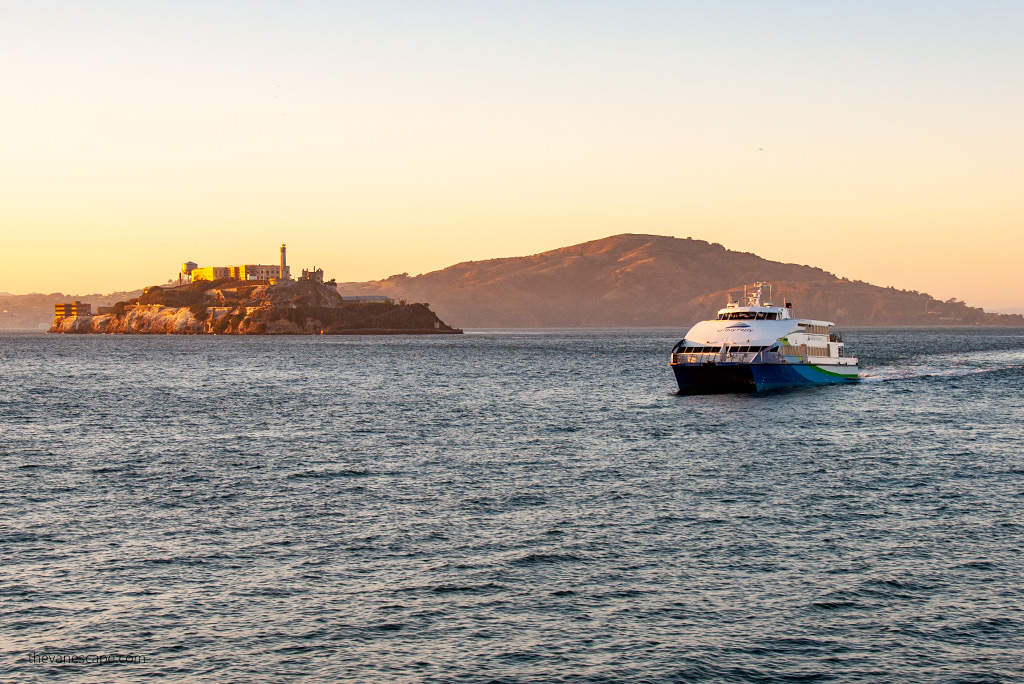 Inspire Yourself
Before any trip, we like to be inspired by stories and movies set in the place we want to see. Our readers know that we love to travel to movie locations like Twin Peaks, The Shining and others.
But just recently, a book about San Fransico fell into our hands. And it's one of the best books about the city – the best we have read about San Fransico so far. And even though we have been to this city a few times, after reading this story, we want to go back. Spirits of San Francisco: Voyages through the Unknown City it's not a typical travel guide. It is an unusual novel about love for San Fransico, one of the most beautiful portraits of this city and its secrets.
Spirits of San Francisco: Voyages through the Unknown City
Gary Kamiya teams up with acclaimed bestselling artist Paul Madonna for a fresh look at San Francisco. Kamiyas captivating narration accompanies Madonnas masterful drawings, bringing San Franciscos famous and unknown sites to life like no book about the city has ever done before.

Spirits of San Francisco is both a visual feast and a detailed, personal, loving, informed portrait of a beloved city.
San Francisco Itinerary – Where to stay in SF?
San Francisco is one of the most famous cities in the US. Extremely popular, visited by millions of tourists every year, well connected internationally and nationally. A perfect base for exploring the most beautiful and exciting places in California. Therefore, accommodation is not the cheapest, and it is worth booking a stay well in advance. Check out the Deals Finder below to receive the best deals. But we have prepared a unique guide for you where to stay in San Francisco, with tips on what to pay attention to, which areas are the best to book accommodation, and which streets to avoid for safety reasons. Check it out, please.
San Francisco Itinerary – Day 1
It's hard to visit San Francisco in one day because the city has a long list of attractions, highlights, and must-dos. But we will try to help you plan your stay to see everything that is best in San Francisco.
A Hop-on-Hop-off bus tour is an ideal way to get around the city if you have only 1-day to visit San Francisco. It's an efficient way to get around and see all the highlights of the city while someone else takes care of the transportation for you. With a price of less than $60, this tour is also more affordable than others.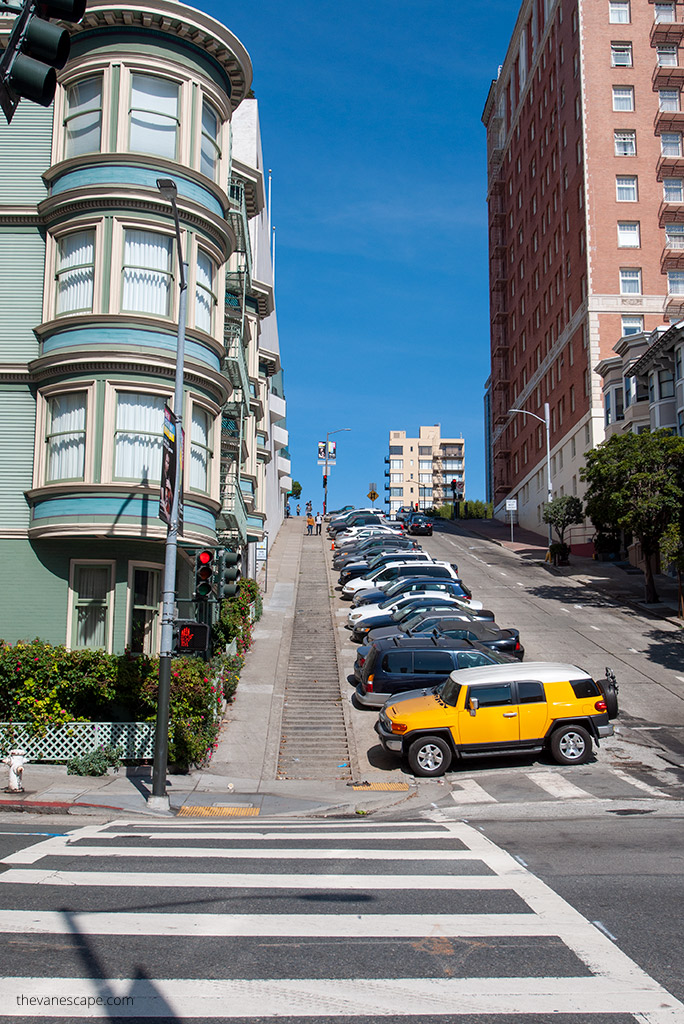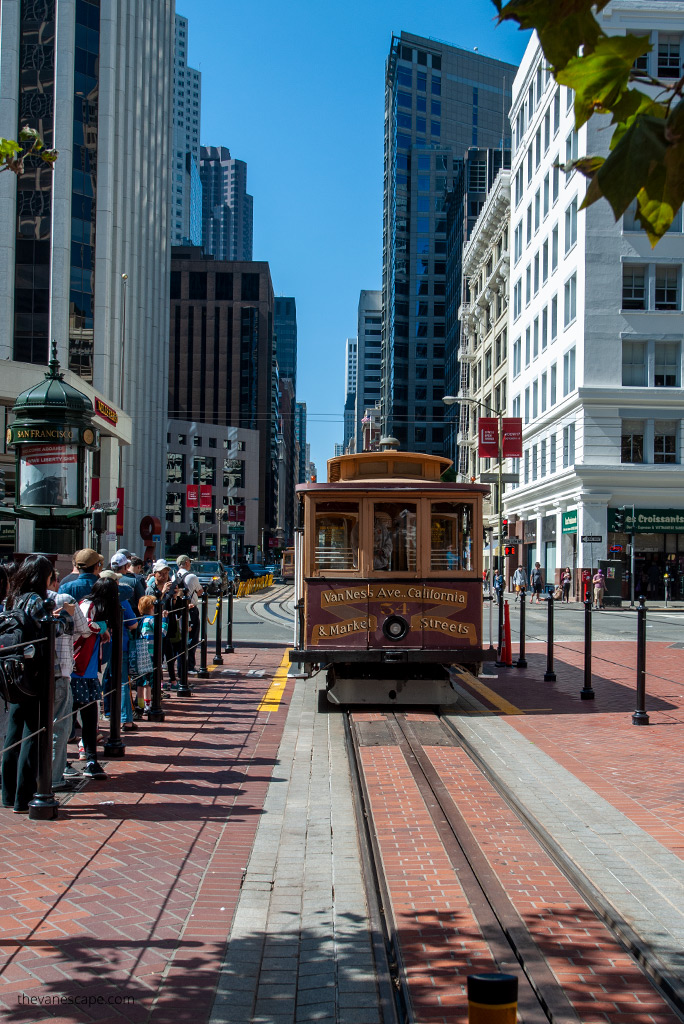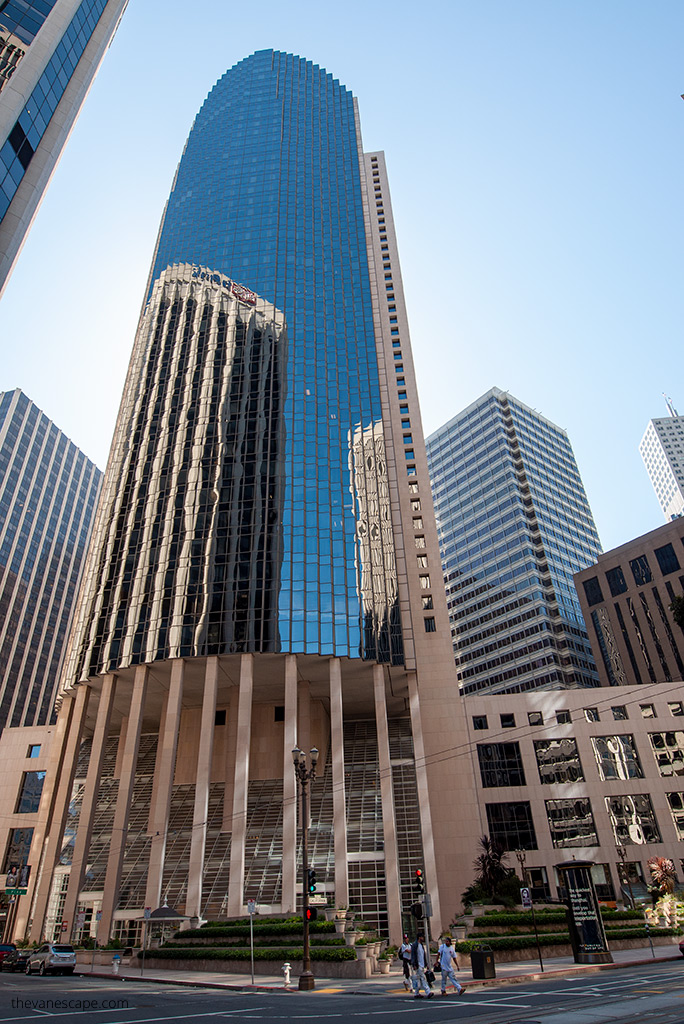 Waterfront Walk with Fisherman's Wharf, Ghirardelli Square and Pier 39
Time Required: 3 hours
Sightseeing Tips: wear comfortable shoes. Don't miss Sea Lions, Mirror Maze, and Mouse Mécanique.
We recommend starting your San Francisco sightseeing walk in the morning in the city hearth. Start in Fisherman's Wharf and enjoy the breathtaking view of the bay, Golden Gate Bridge, and Alcatraz. You can visit a famous former chocolate factory in Ghirardelli Square. From Ghirardelli Marketplace, you have a 10-minute walk via Hyde Street to Lombard Street, the city's most serpentine street. From here you can walk to the bay, stroll along the waterfront stalls selling crab and chowder and try them, because they are delicious. At Pier 39, be sure to see the colony of sea lions basking in the morning sun on the docks. Walk to the Embarcadero Promenade with trendy restaurants until you reach Pier 33. From Pier 33, all ferries depart for Alcatraz Island. This is your next stop on the San Francisco itinerary.
TRAVEL TIP: You can explore the center on your own following our tips. But if you only have 1 day to visit SF, consider a guided walking tour with an Alcatraz ticket. This way you will get to know the most exciting places and stories of the city. Besides, the price is affordable and you also get a ticket for the ferry. Another exciting option if you have little time to visit the city is the Hop-on and hop-off sightseeing bus with an Alcatraz ticket or an all-day Guided City Tour.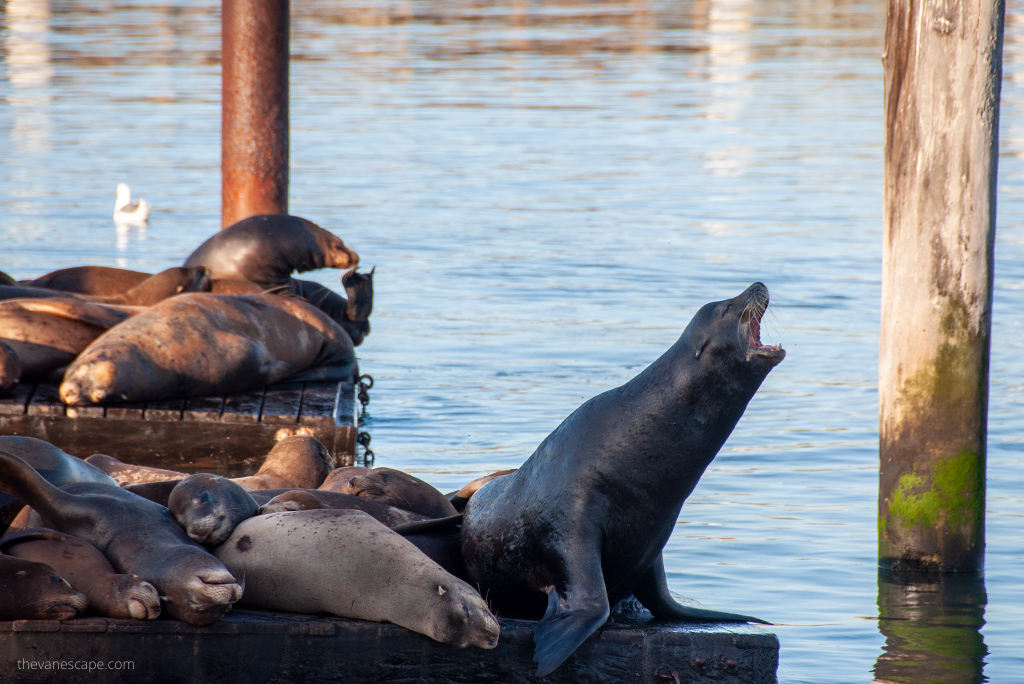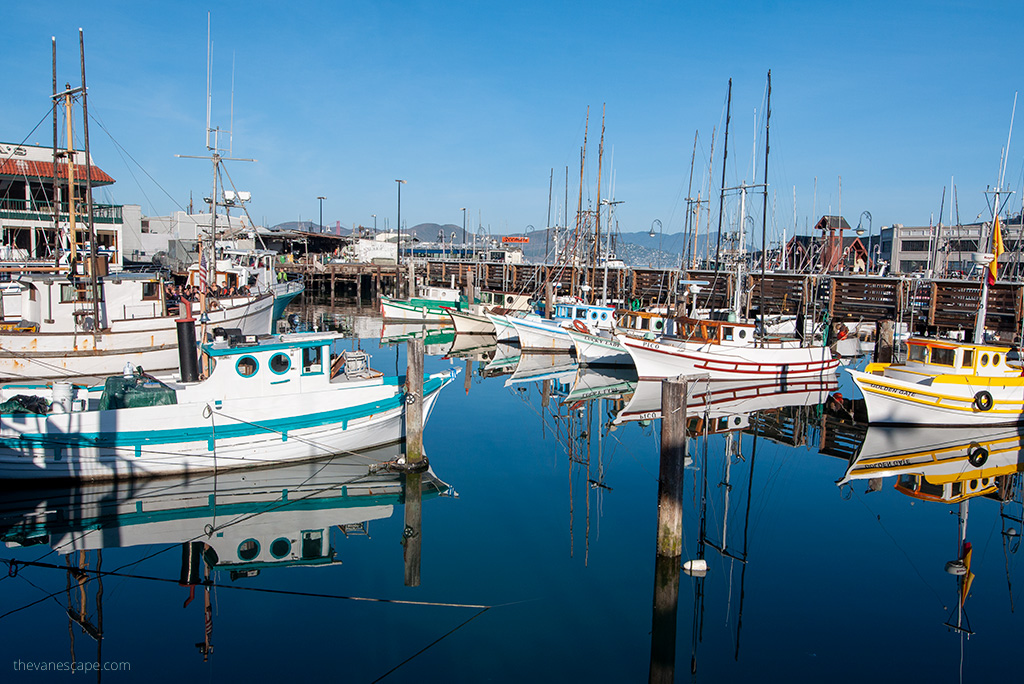 Visit Alcatraz Island with a self-guided audio tour
Time Required: 3-4 hours
Sightseeing Tips: Ferries depart from Pier 33. Be sure to arrive at least 15-20 minutes early, and take your photo ID and your booking with you. It can get a bit windy on the ferry and the island, so brings a light sweatshirt.
Even if you have only 1 day to visit San Francisco, be sure to book a ticket to Alcatraz, one of California's most important landmarks. For details about the prison, see our separate post. Buy your ticket in advance to avoid standing in line for the ferry. Thanks to a trip to Alcatraz, you will not only see the famous prison but also have a fantastic view of the city from the ferry! From the water, San Francisco and the entire coast look fabulous. From this perspective, you will have the chance to take great photos. Also, from Alcatraz Island and the ferry, you will have one of the most exciting views of the famous Golden Gate Bridge. Another remarkable landmark of San Francisco.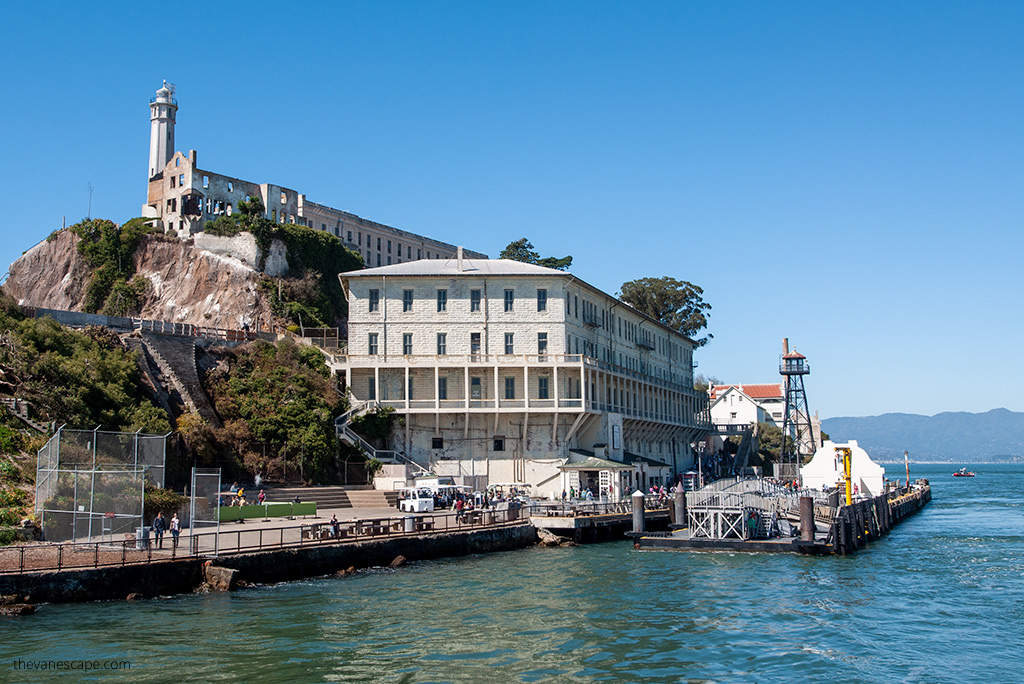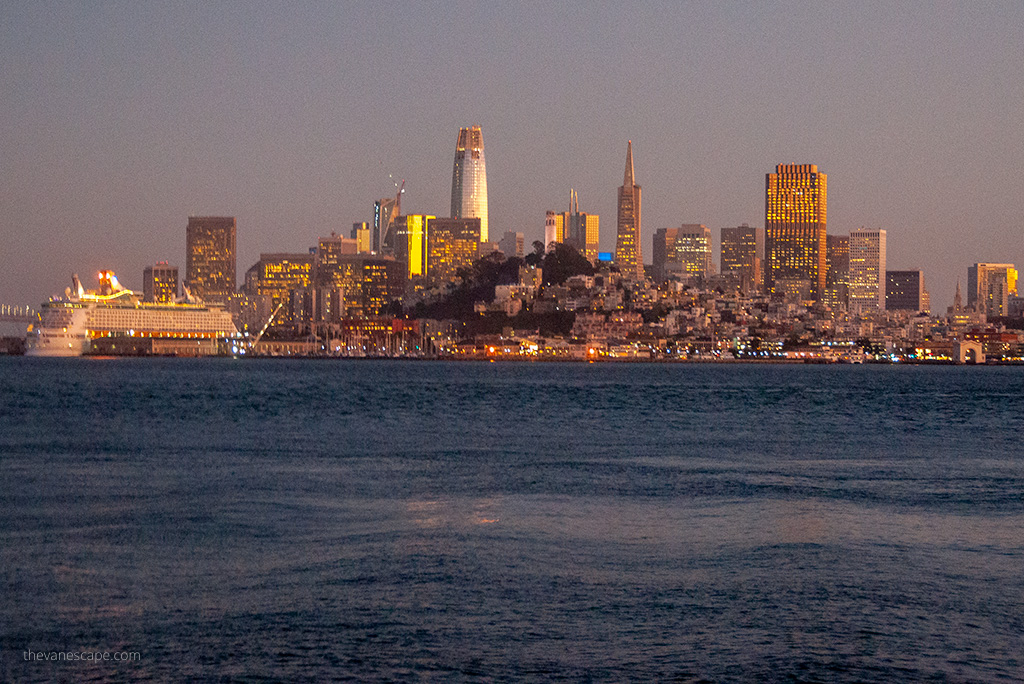 Head up Coit Tower
Time Required: 1 hour
Sightseeing Tips: The admission ticket costs $10 for adults and $7 for children and seniors. It is worth buying it earlier to not stand in line.
After you get off the Alcatraz ferry, you have to walk uphill for 15-20 minutes to get to Coit Tower. Coit Tower is another highlight of SF. It is a 210-foot (64 m) tower in San Francisco's Telegraph Hill neighborhood that offers spectacular panoramic views of the city and the bay. Located in the city's Pioneer Park, the tower was built between 1932 and 1933 from the legacy of Lillie Hitchcock Coit to beautify the city of San Francisco. There are also 27 frescoes by different artists. The murals were painted in 1934 by local artists to depict life in San Francisco during the Depression.
Ride the Cable Cars
Time Required: 1 hour
Sightseeing Tips: the cable car costs $8 for a single ride, but you can check multi-day visitor cable car passports on the official website. To board the cable cars at Powell & Market, Bay & Taylor, and Hyde & Beach Streets stops, you must purchase your fare in advance. You can get on at the Powell St & Market St stop to take the train to Fishermans Wharf. Or you can take the Powell Hyde Line from the Powell & Market stop for one of the best views of the city.
What is the San Francisco Cable Car System?
The San Francisco Cable Car System is the last manually operated cable car system in the world and a landmark in the city. San Francisco's cable cars invented nearly 150 years ago and designated a National Historic Landmark in 1964, are now one of the city's greatest highlights. Of the 23 cable car lines established between 1873 and 1890, only three remain. You can choose between three cable car lines – two start at the corner of Powell and Market and go to Fisherman's Wharf; one starts at the corner of California and Market and goes to Van Ness Avenue.
From Coit Tower, walk toward the coast and stroll along the famous Embarcadero. You will reach the Ferry Building. It is about a 1-mile walk away. The square intersects with Market Street. Taking a ride on cable cars is a great way to explore the city and get to know the different neighborhoods of San Francisco. You can take the cable cars from Market Street. Riding cable cars is fun and saves you a lot of time walking up and down the hills. You can pay for the ticket from the conductor onboard or online to avoid long lines.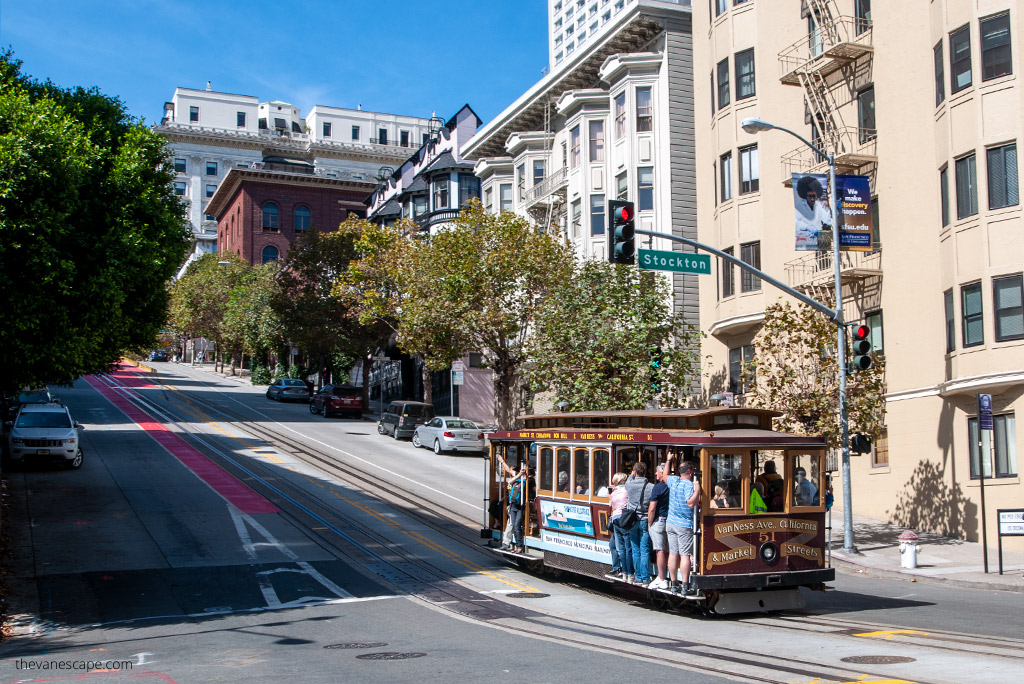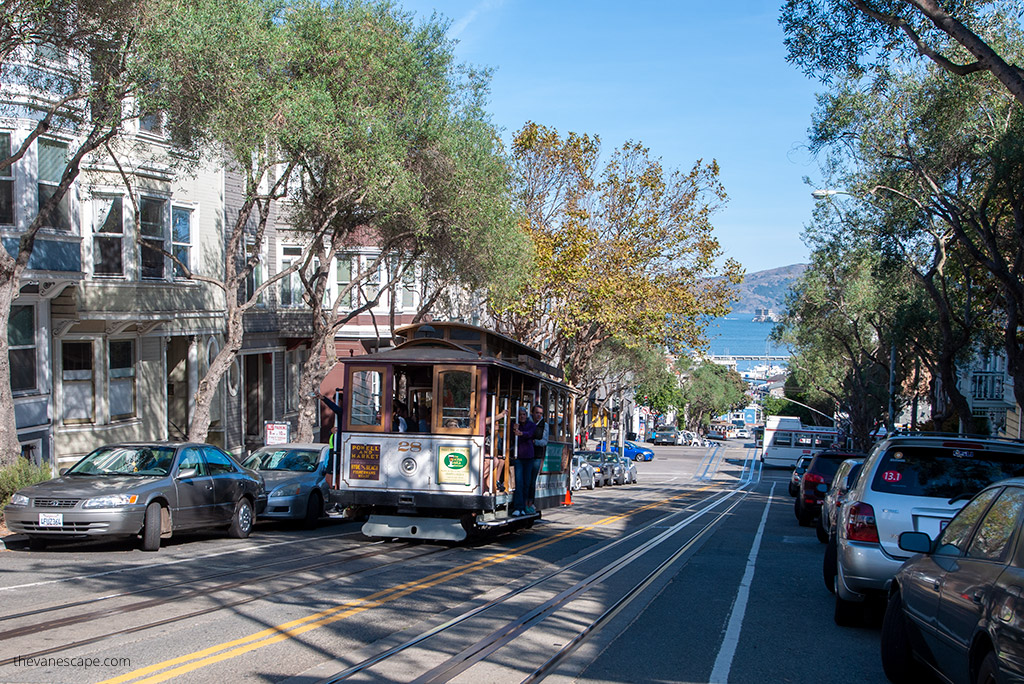 San Francisco Itinerary – Day 2
If you have two days to explore San Francisco, it's excellent. You will have the chance to see other exciting neighborhoods and attractions. Below are our suggestions on how to plan a San Francisco itinerary for your second day of sightseeing.
Walk or drive the iconic Golden Gate Bridge
Time Required: 2-3 hours
Sightseeing Tips: Begin your visit at the Golden Gate Bridge Welcome Center, located in San Francisco's Presidio. Here you can learn about the history, architecture, and construction of the bridge. You can also buy souvenirs such as postcards or magnets. Once you cross the bridge, you can walk up Conzelman Road to Battery Spencer for the best view of the Golden Gate Bridge.
We suggest starting your second day in San Francisco with a closer look at the symbol of the city. The Golden Gate Bridge is a suspension bridge spanning the Golden Gate, the one-mile-wide (1,6 km) strait connecting San Francisco Bay to the Pacific Ocean. It was declared one of the wonders of the modern world by the American Society of Civil Engineers. The bridge is one of the most internationally recognized symbols of California, and certainly one of the most photographed bridges in the world. It was originally designed in 1917 by engineer Joseph Strauss. At the time of its opening in 1937, it was both the longest and the tallest suspension bridge in the world, with a main span of 4,200 feet (1,280 m) and a total height of 746 feet (227 m).
Walk towards the bridge to admire it up close, you can walk as far as you want. It is worth walking or driving all the way across the bridge to see it from the other side of the hill. One of the best viewpoints is on this side, from where we took the photos below. You can also cross the Golden Gate Bridge by bike to Sausalito, which is a unique experience.
A great way to see the Golden Gate Bridge is during the Elite Airplane Flight Tour Over San Francisco. During this exclusive trip, you can see the bridge and many other parts of San Francisco from above. It's on our bucket list for the next trip. If you can afford it – book your flight trip.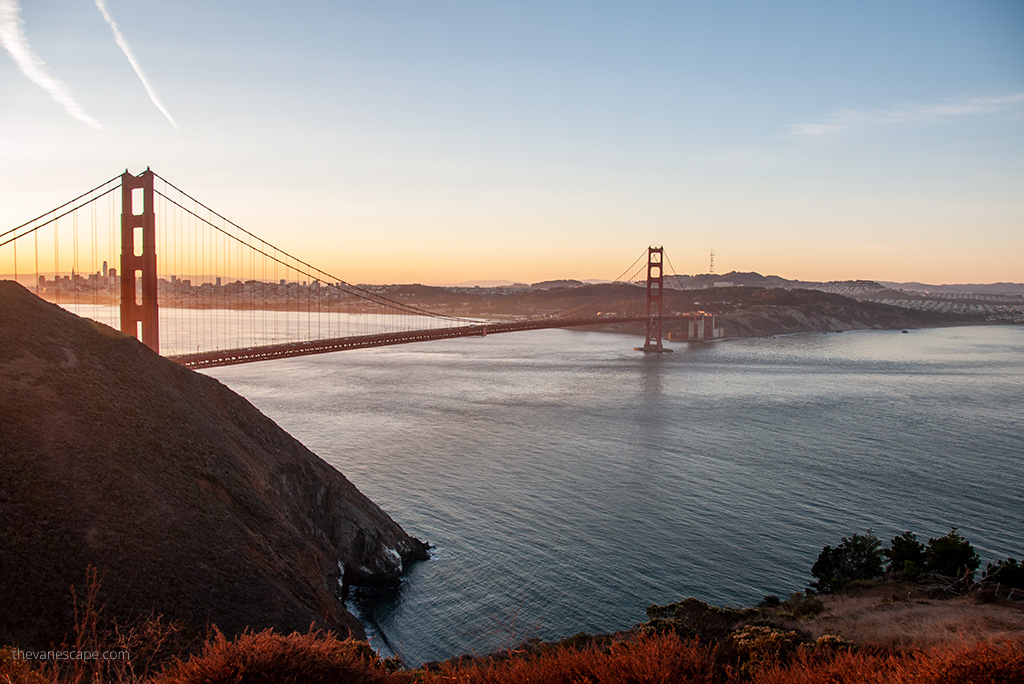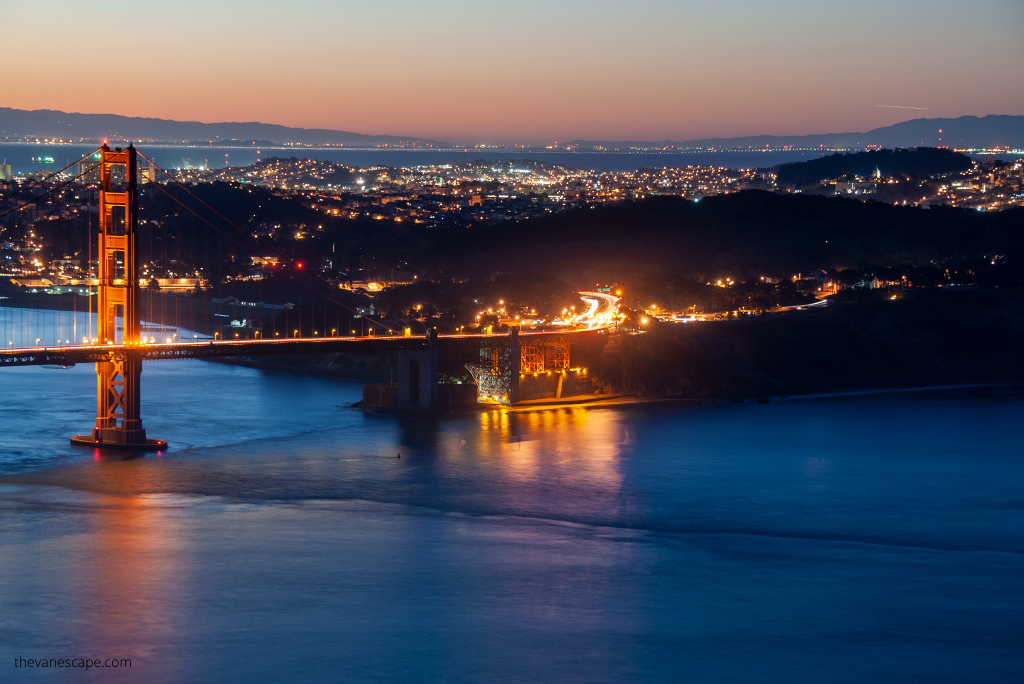 Explore the Presidio area
Time Required: 1-2 hours
Sightseeing Tips: This place allows you to find more exciting and unusual spots to take pictures of the Golden Gate Bridge. Great views of the bridge you can also catch from Battery Godfrey.
The area around the bridge where the Welcome Center is located is known as the Presidio of San Francisco. It offers many other attractions, including the Palace of Fine Arts, Crissy Field, the Walt Disney Museum, and Fort Point. You can spend an hour or two walking around here or visiting museums if they are on your interest list. If you are traveling with children, it's worth visiting the Walt Disney Museum, dedicated to the work of Walt Disney.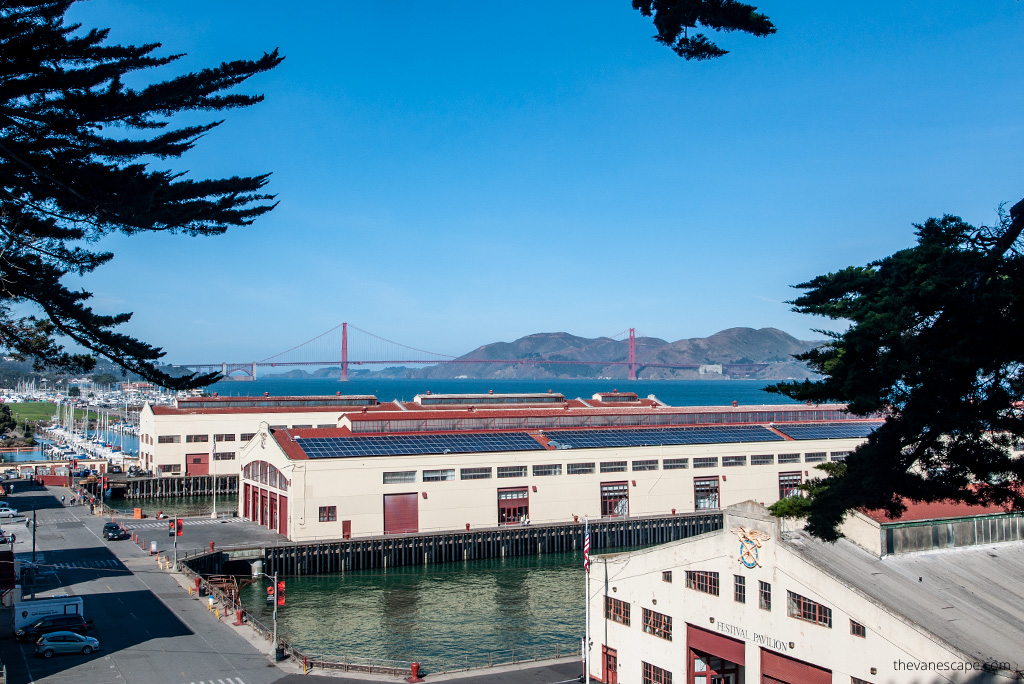 Lunch in San Francisco Chinatown
Time Required: 2-3 hours
Sightseeing Tips: Take time to wander the crowded streets of Chinatown discover its architecture, atmosphere, and flavors. Yes, be sure to have lunch here. It has one of the best and most affordable cuisines in San Francisco.
Chinatown at Grant Avenue and Stockton Street in San Francisco is the oldest Chinatown in North America and the largest Chinese enclave outside of Asia. It is also the oldest and largest of the four notable Chinese enclaves in San Francisco. Since its founding in 1848, it has been significant and influential in the history and culture of Chinese immigrants to North America. Chinatown is an enclave that has preserved its customs, languages, and identity. One of the most picturesque street corners is Eastern Bakery (Grant and Commercial St) with its combination of red streetlights, beautiful street signs, and Chinese temple pagodas lining the street.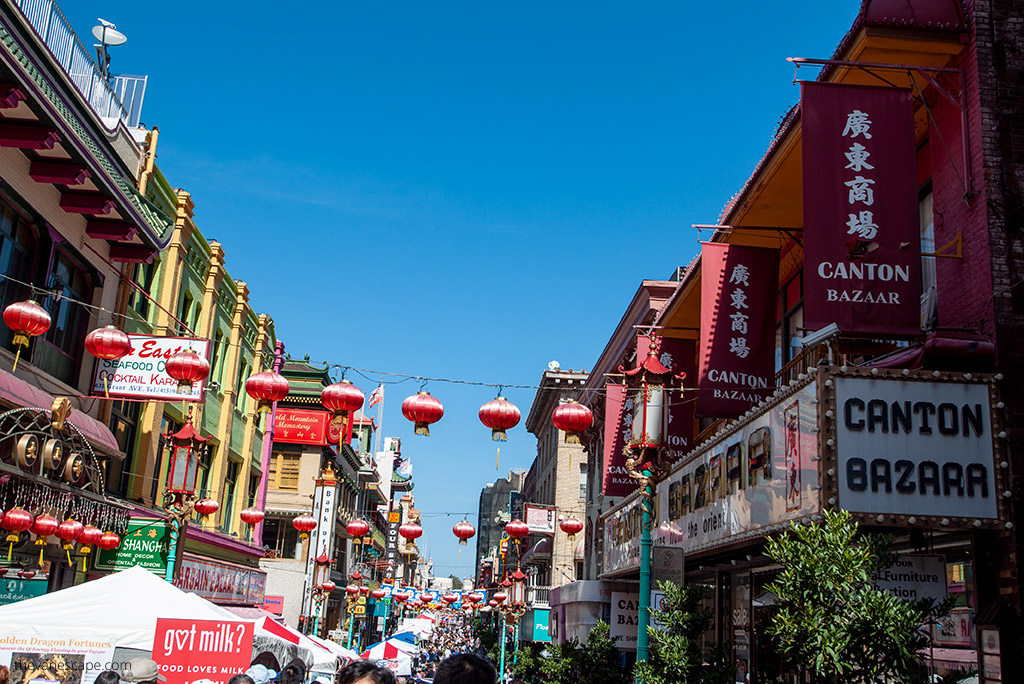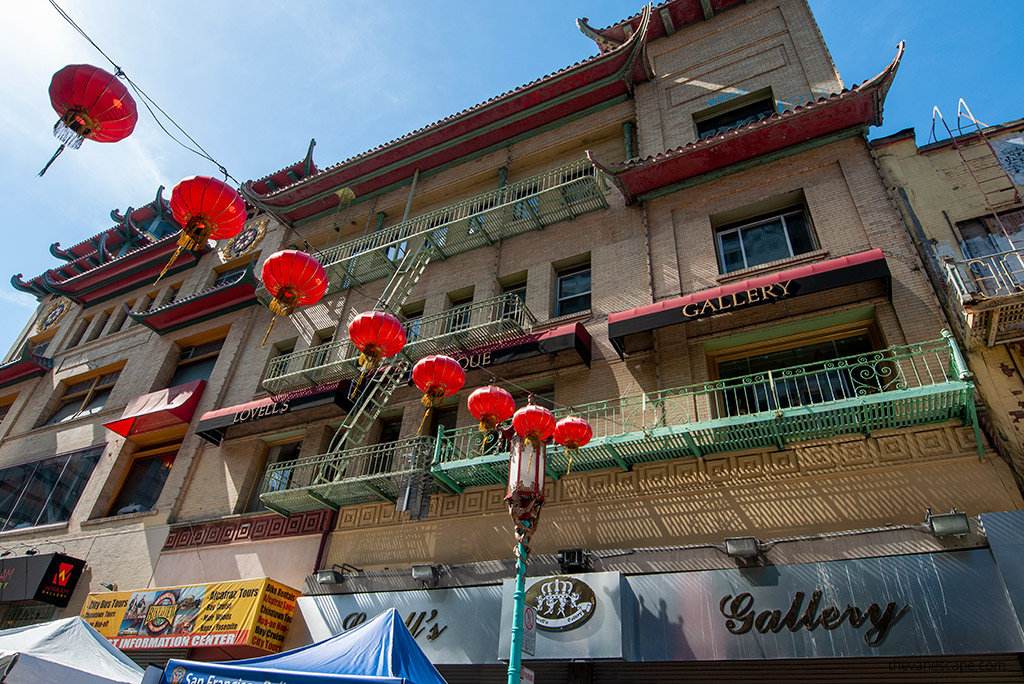 Take a Sunset Cruise on San Francisco Bay
Time Required: 2 hours
Sightseeing Tips: Book your sunset cruise in advance, because of the magical light and breathtaking views of the San Francisco skyline, Alcatraz Island, and the Golden Gate Bridge, these cruises are much more popular than during the day. Wear a warmer hoodie as it can be slightly windy.
This is definitely one of our fondest and most romantic memories of San Francisco. A great idea to relax after a long day of sightseeing. Perfect for couples. So if you want to surprise your sweetheart, take her/him on a cruise. During the cruise, you will hear the sound of the waves, and the cry of the seagulls, admire the city skyline, the fantastic bridge spanning the bay, and the sun setting behind it. The view is breathtaking. You look out at the illuminated prison on Alcatraz Island and remember scenes from the movie Escape from Alcatraz. We definitely recommend a sunset cruise. You have several options to choose from. Depending on your interests, you can take a boat ride or a catamaran cruise. Enter the date of your trip below and check the prices and availability of this cruise.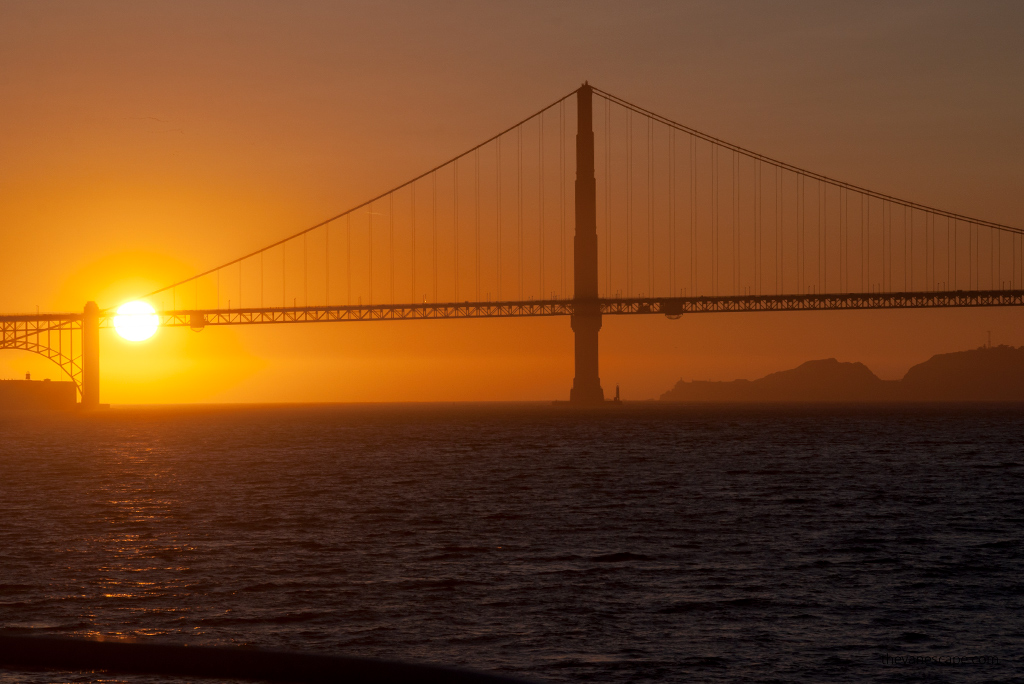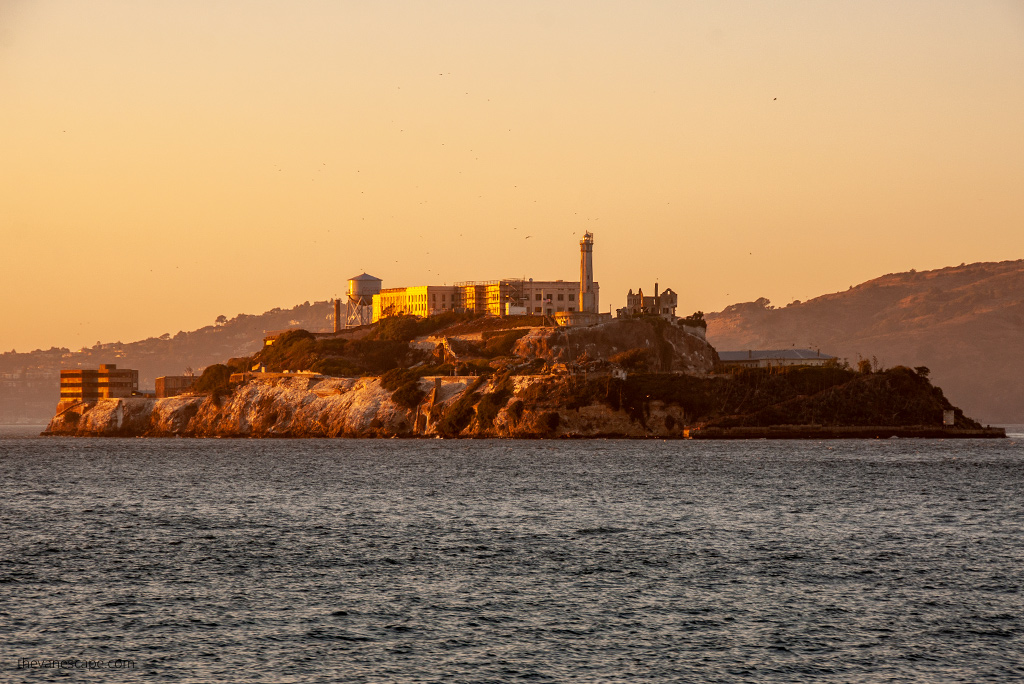 San Francisco Itineray – Day 3
If you have three days to visit San Francisco, explore the city and its less touristy neighborhoods, which we recommend below. Immerse yourself in the city, explore it, return to the places you liked best, and discover new places. Another idea is day trips from San Francisco, which we recommend in the next chapter.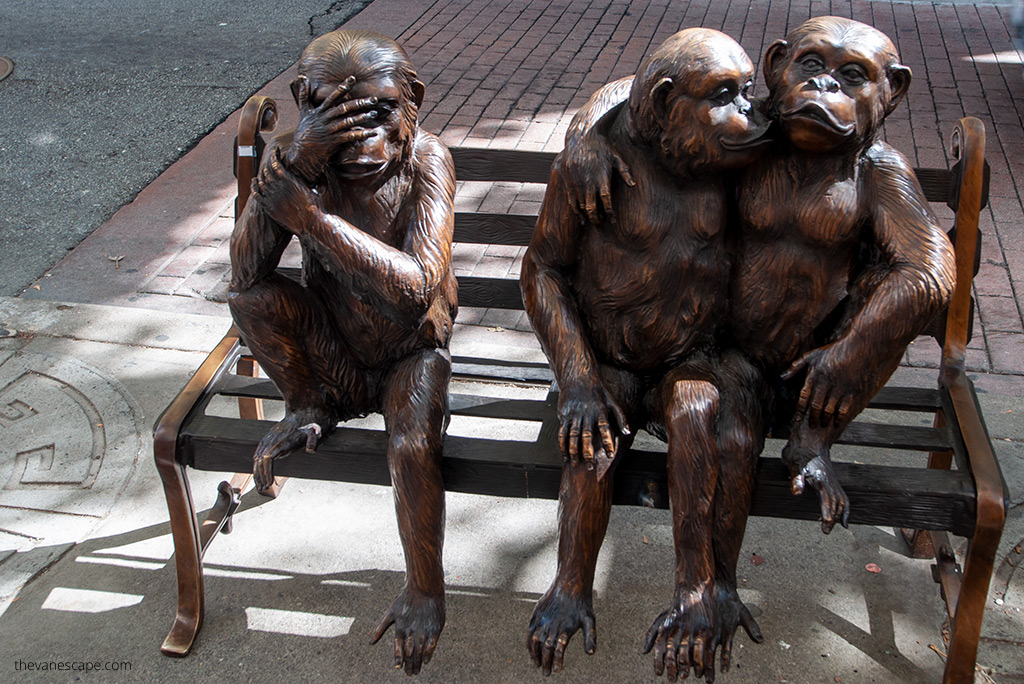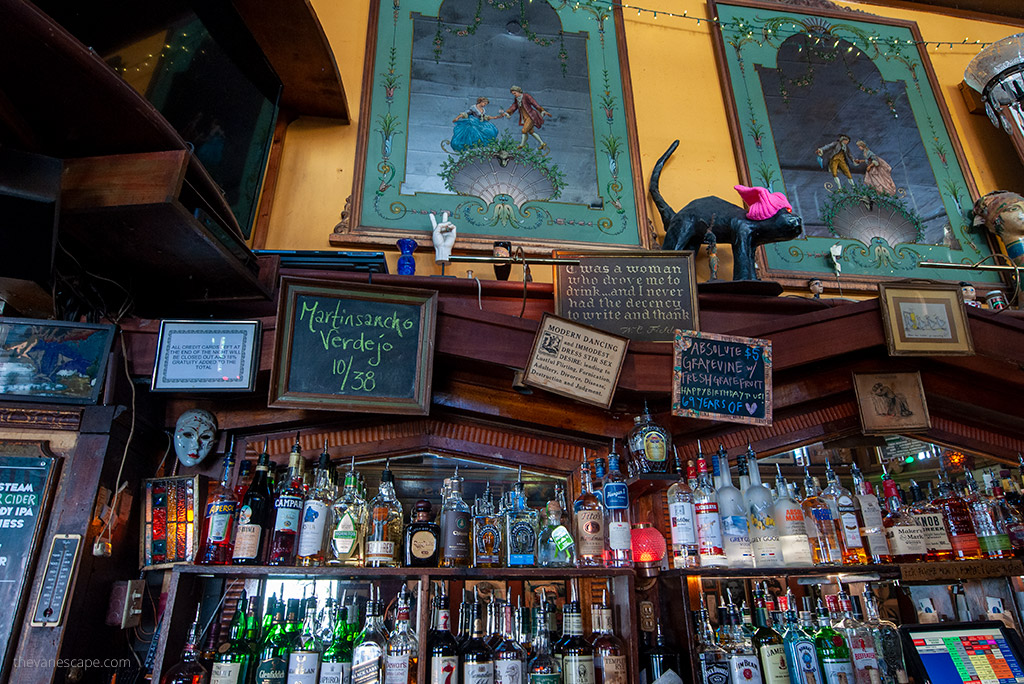 Explore North Beach neighborhoods
Time Required: 2 hours
Sightseeing Tips: Don't miss Vesuvio Cafe for a glass of wine or coffee
To feel like a local, we recommend exploring some of the city's most unique and vibrant neighborhoods in this part of the San Francisco itinerary. The first is North Beach, which has a strong Italian-American heritage that goes back generations. It was also a center of the Beat Generation of the 1950s, which influenced the counterculture movement of the 1960s. Browse the legendary City Lights Bookstore, one of the most famous bookstores in the United States and known as a gathering place for the Beat Generation of the 1950s. If you want to learn more about Beat culture, visit nearby Kerouac Alley and Vesuvio Cafe (just behind City Lights) or the Beat Museum.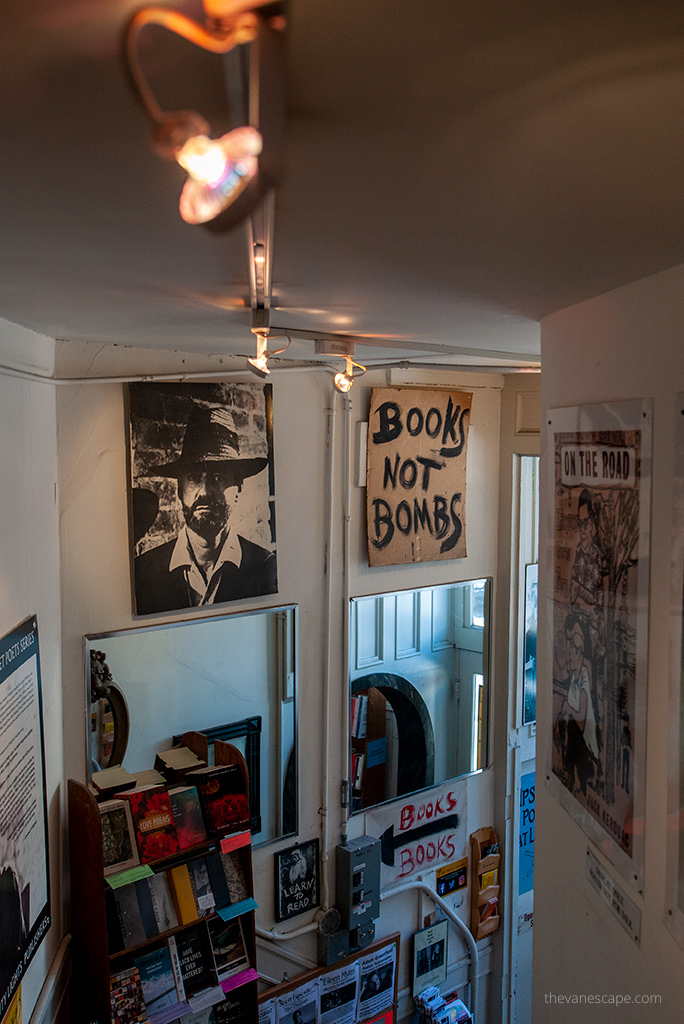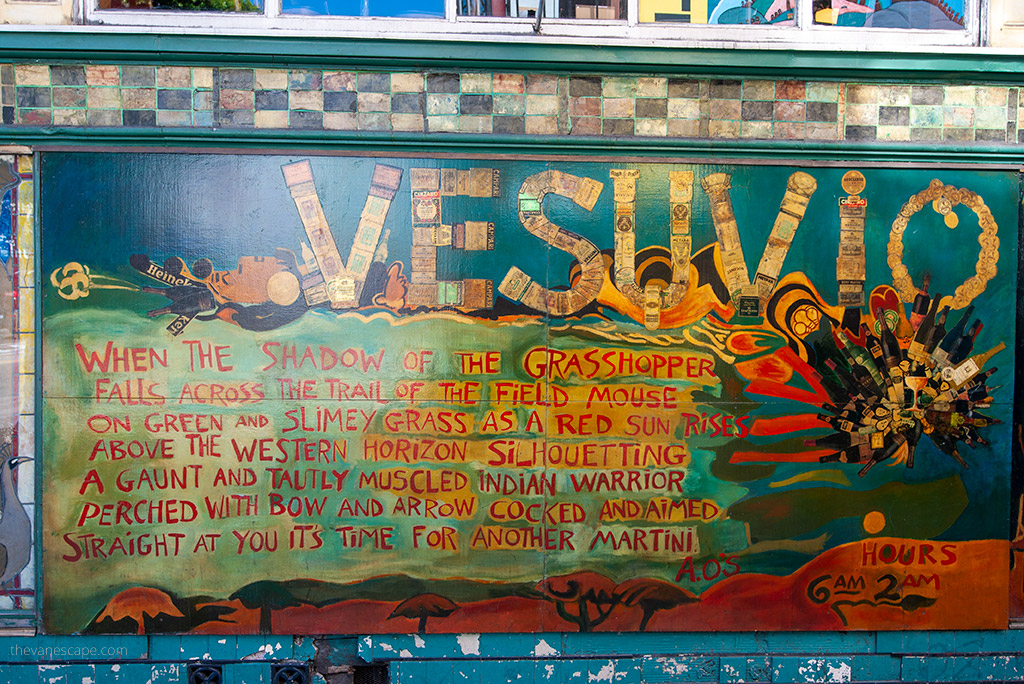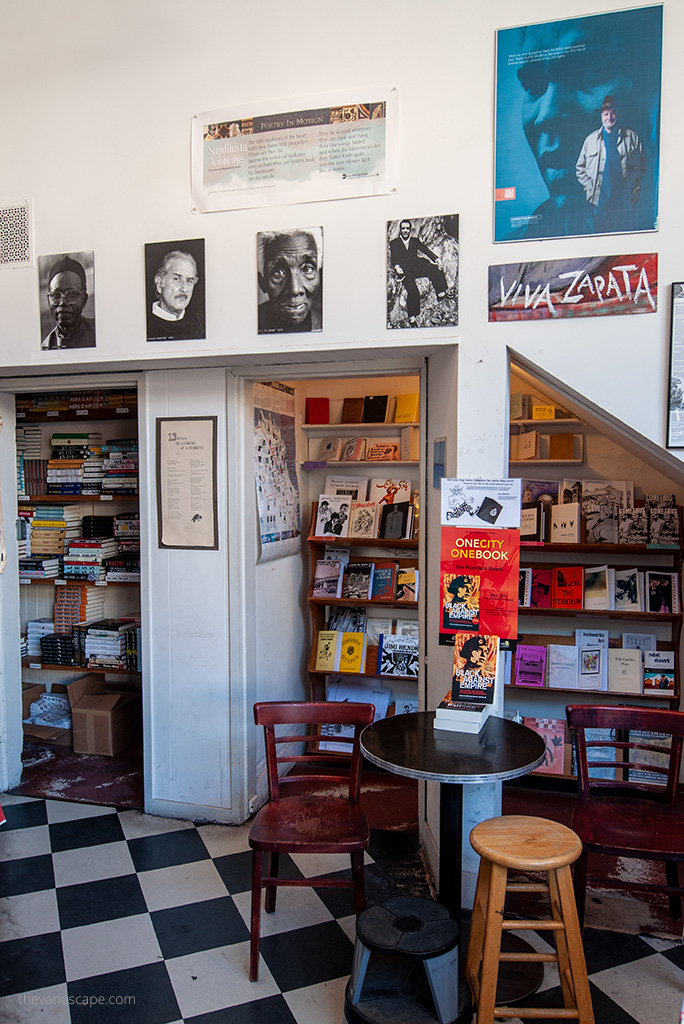 Check out street art in Mission District and visit Mission Dolores
Time Required: 2 hours
Sightseeing Tips: Take time to walk the streets of Mission District to find exciting murals on the walls of the buildings.
Why it's worth seeing Mission District in San Francisco?
Mission San Francisco de Asís, also known as Mission Dolores, is a Spanish California mission and the oldest surviving structure in San Francisco, located in the Mission District. It was founded on October 9, 1776, by Padre Francisco Palóu (a companion of Junípero Serra) and co-founder Fray Pedro Benito Cambón, who brought Spanish settlers to Alta California and evangelized the native Californians there, the Ohlone. Adjacent to the old mission is the newer and larger Dolores Basilica Mission, built in 1918 in an elaborate California Churrigueresque style.
But is worth visiting the Mission District of San Francisco to see its murals. Street art lovers should definitely put this place on their San Francisco itinerary. The Mission District has attracted San Francisco's young bohemians, but it retains its authentic, local Mexican ambiance. This is the place where the burrito became famous around the world. So be sure to visit a local hole-in-the-wall for something delicious.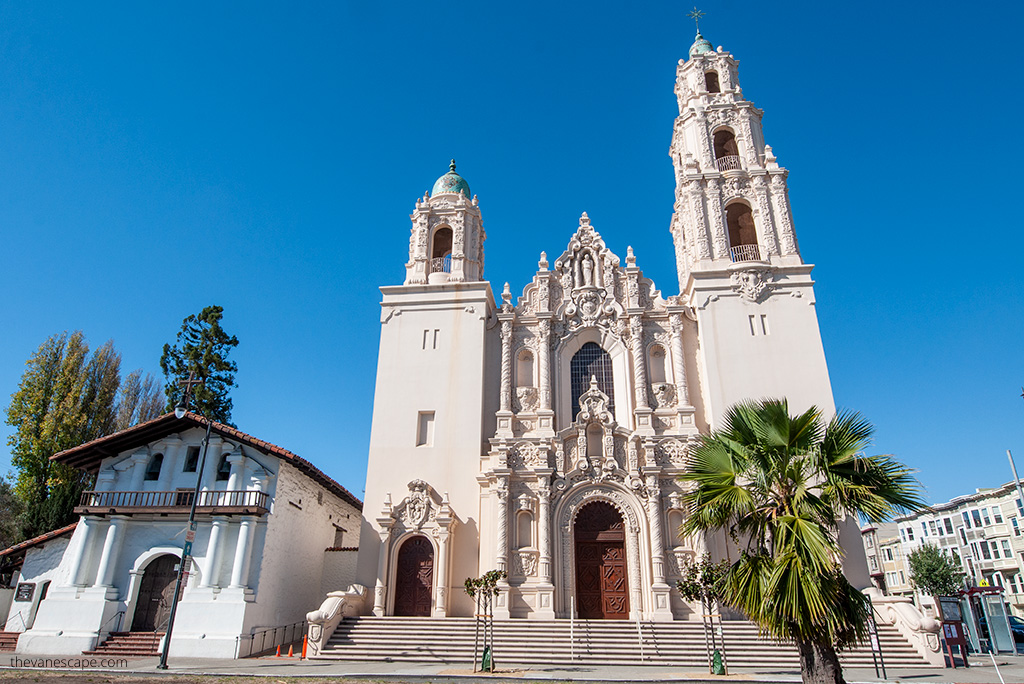 Head to Twin Peaks and Castro districts
Time Required: 2-3 hours
Sightseeing Tips: Don't miss Hot Cookie and Castro Theatre
What is the Castro district in San Francisco famous for?
If you want to explore San Francisco's rich gay and lesbian culture, the Castro neighborhood is the city's, vibrant heart. The Castro is the center of the city's LGBTQ community and is considered by many to be the gay capital of the world. In the 1970s, the Castro was home to Harvey Milk, the first openly gay public official in California and one of the first in the United States. His tireless advocacy for gay rights not only earned him the title of "Mayor of Castro Street," but his political efforts helped put San Francisco at the forefront of the gay rights movement. Castro is fun, colorful, and friendly. The neighborhood is lined with quaint Victorian homes. If you have more time, take a hike to Twin Peaks. These famous grassy pounds rise 922 feet from the ground, making them the second-highest point in the city.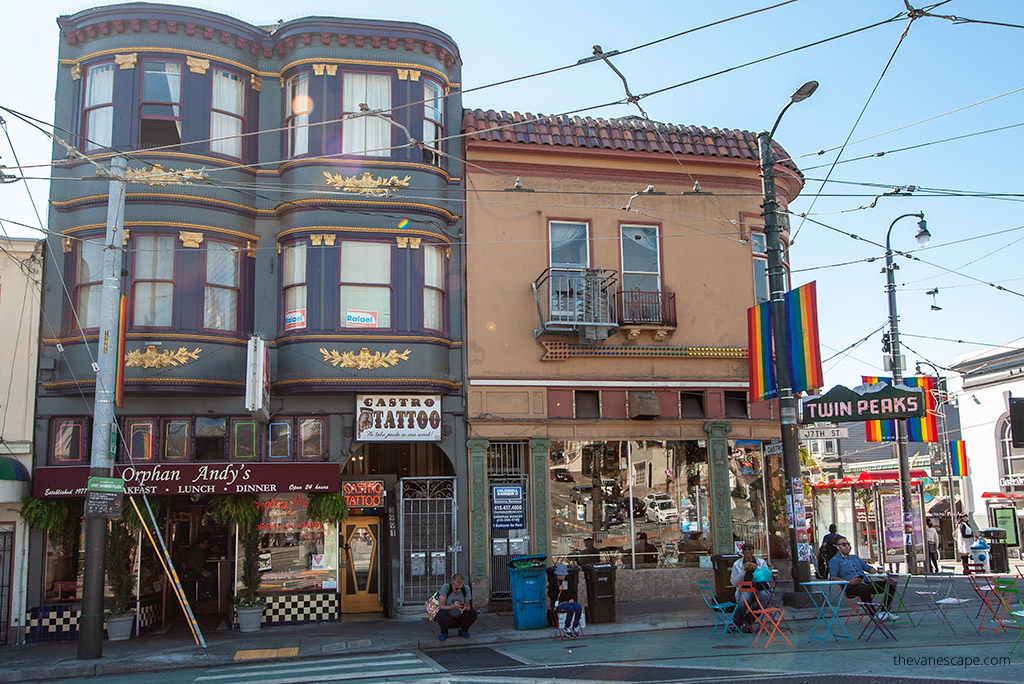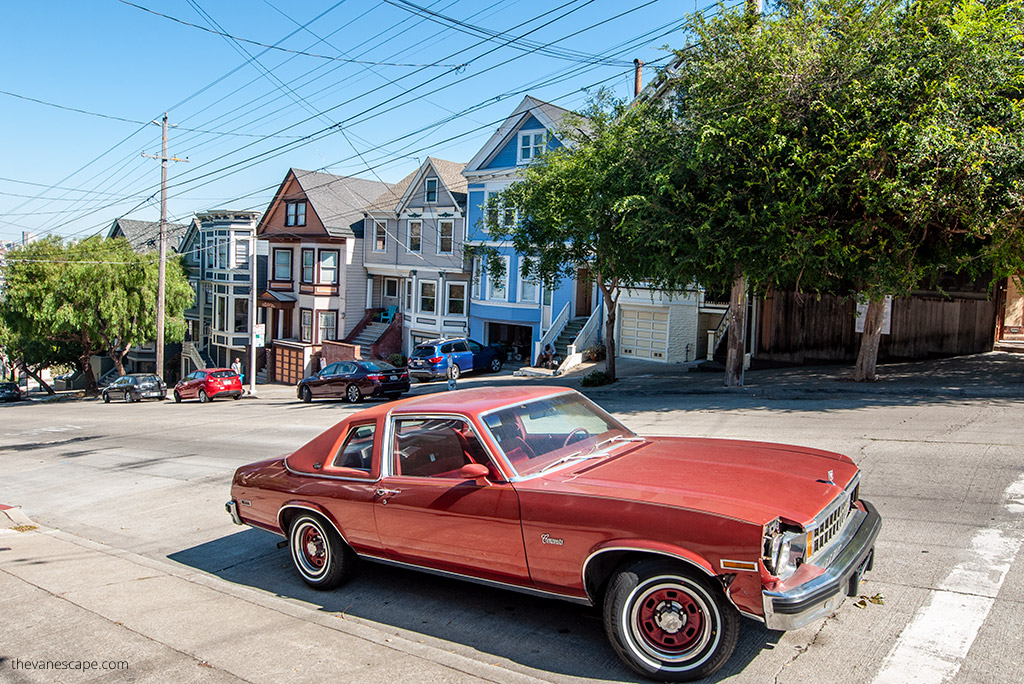 An evening stroll along the Embarcadero
Time Required: 1-2 hours
Sightseeing Tips: Wait for the sunset and light up San Francisco architecture.
This is your last evening in San Fransico. Immerse yourself in it. Go for a long walk along the waterfront, get a glass of wine and try local oysters. Eat some delicious dinner at one of the restaurants we recommend in the final chapter of our San Francisco itinerary. Check which bar has a live concert. Enjoy the city!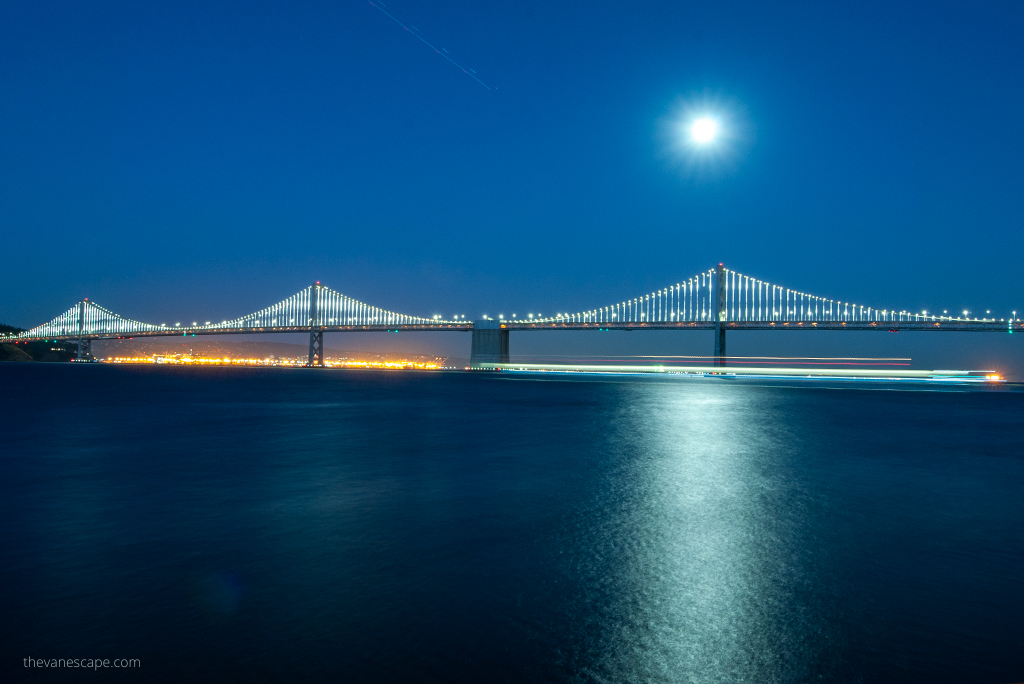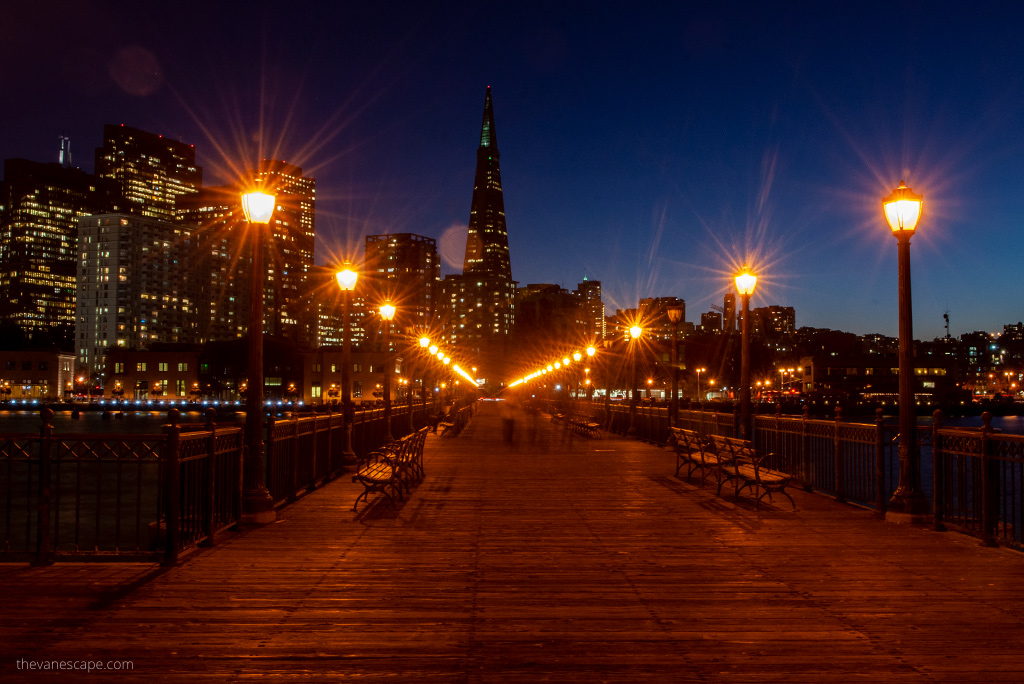 San Francisco Itinerary – Best Day Trips from San Francisco
Wine Tasting Tour
The San Francisco area is famous for the best vineyards in California. And a visit to this city is not complete without a wine tasting. Be sure to add one of the wine-tasting tours to your San Francisco itinerary. We have been to several wineries in the area and chosen a different tour each time to enjoy the following wines. We recommend Napa & Sonoma Valley Full-Day Wine Trip.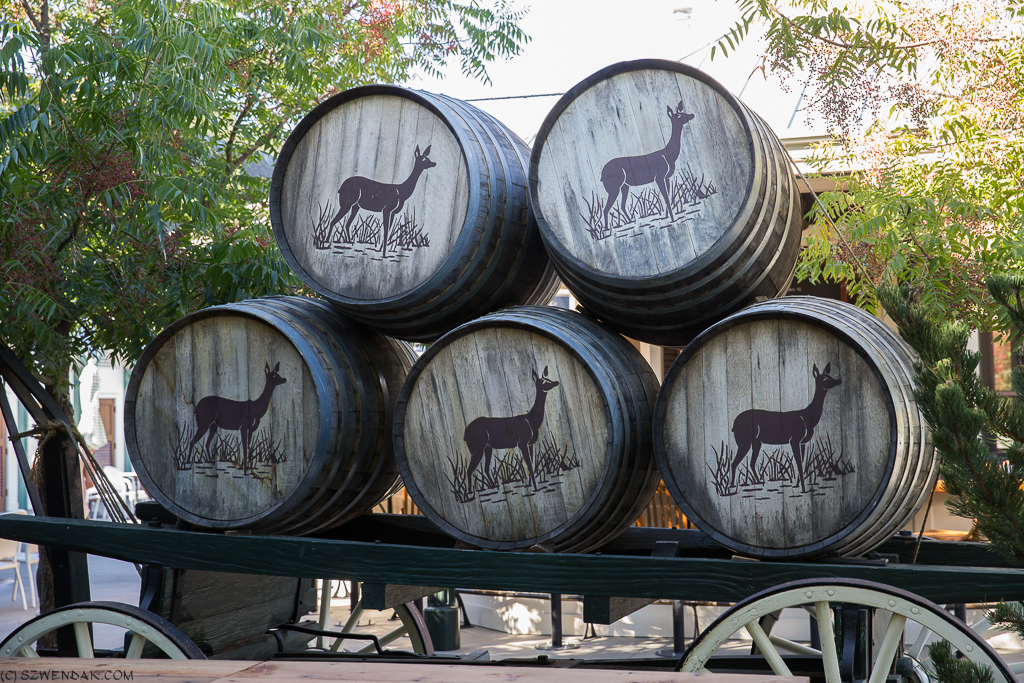 Point Reyes National Seashore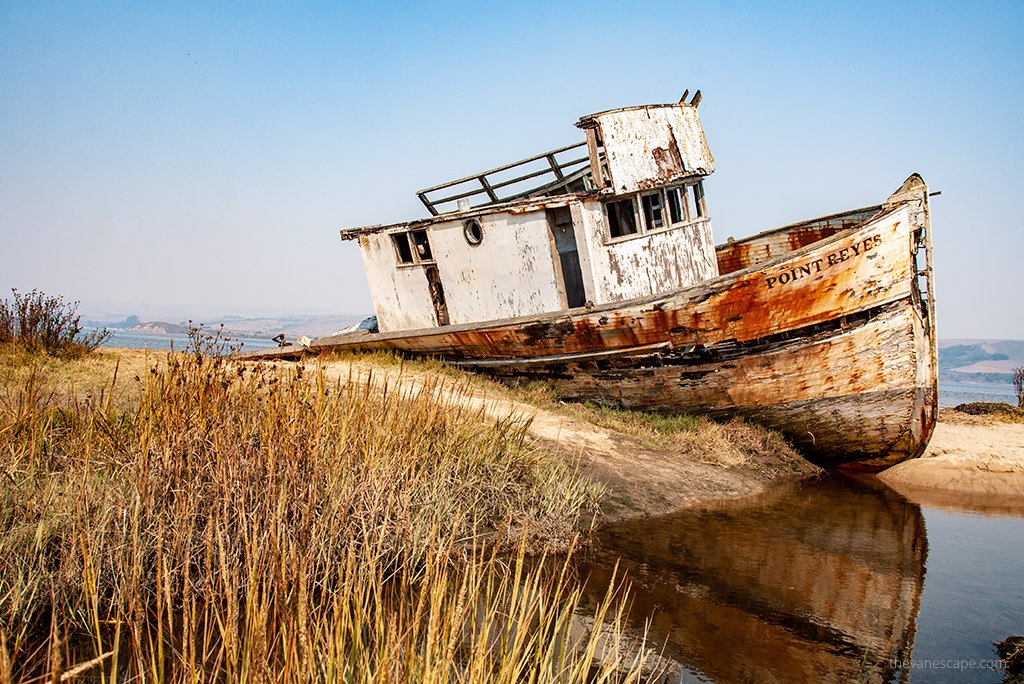 Point Reyes National Seashore is the perfect idea for a day trip or weekend getaway from San Francisco. Located in Northern California, just 40 miles from SF, Point Reyes offers great beaches, wildlife, hiking trails, delicious food, shipwrecks, and stunning scenery with the lighthouse. Check our detailed post on how to get there and what to do there.
Yosemite National Park Tour from San Francisco
If you have limited time exploring California, consider the Yosemite Tour with Giant Sequoias Hike on a day trip. You will see the most exciting places in this stunning park with a guide. After one day trip, you will be back soon to explore more in the area. If you have more time check out our ready-to-go Yosemite 2-day itinerary.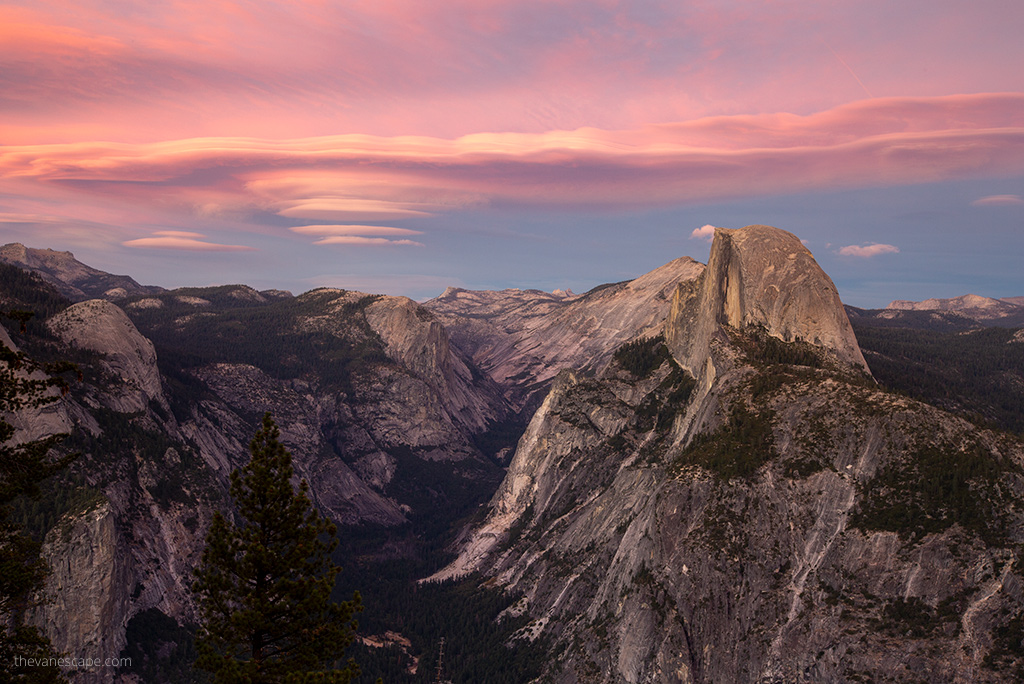 San Francisco Itinerary – where to eat in San Francisco?
San Francisco is famous for its excellent and incredibly diverse cuisine. You will find cuisines from all over the world, and try excellent Chinese, Mexican, and Italian food. You will eat fresh and delicious oysters, mussels, crabs, and fish. What's more, you can choose between upscale restaurants, cheaper bars, and street stalls. In addition, you can enjoy excellent Californian wine everywhere. Below are some of our favorite places, which you can add to your San Francisco itinerary.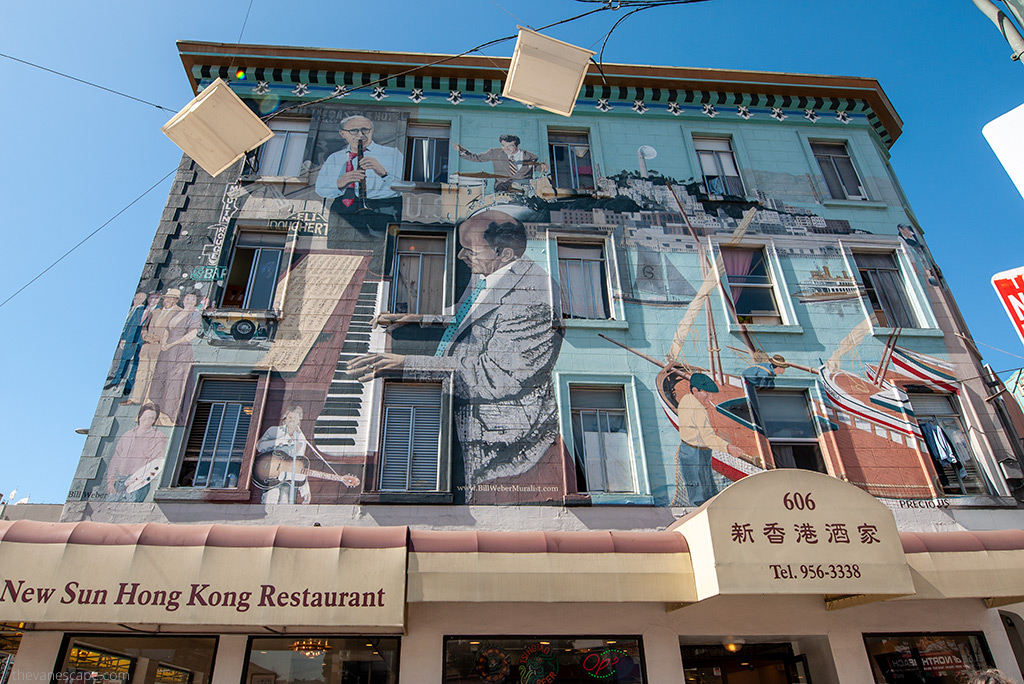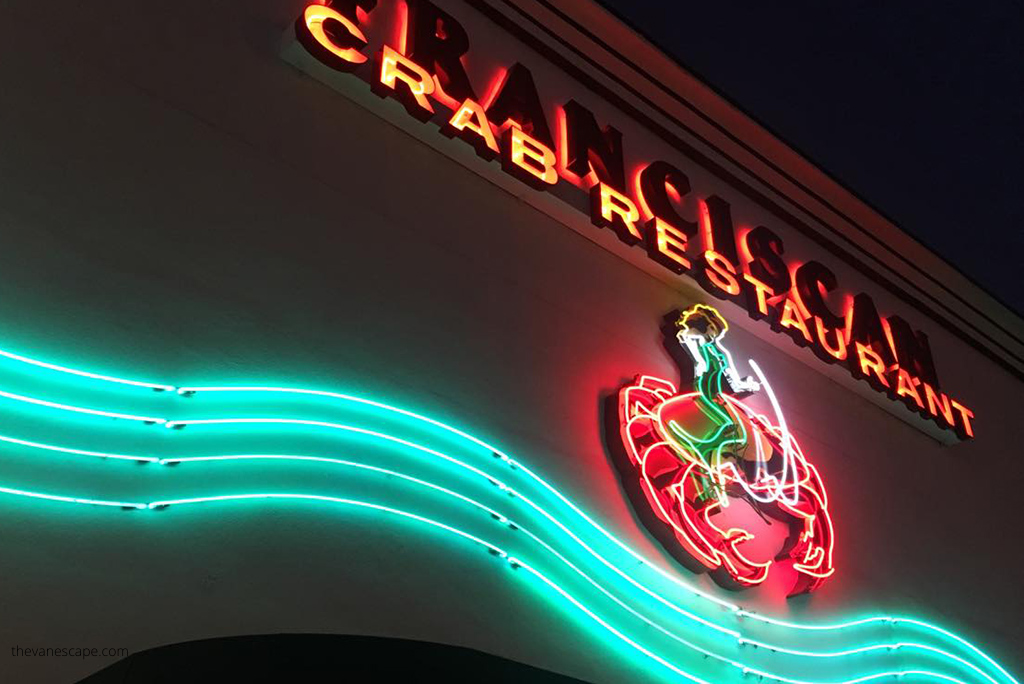 Breakfast in San Francisco
Buena Vista Cafe $$ – if you are an Irish coffee lover, you can't miss this place! Probably the best Irish coffee in the area. You can also order a chicken pesto sandwich or benedict eggs on a crab cake. Enjoy!
Café Me $ – Nice breakfast place. We can recommend a bacon egg n cheese croissant or an English muffin sandwich with sausage, egg, and cheese. Of course, they serve fantastic coffees!
The Grove $$ – This is a place with simple food, but tasty and well made. Lots of healthy options if you like. You can have Avocado Toast, a pastrami sandwich, or poached eggs. The place also has a lovely atmosphere and location.
Lunch in San Francisco
Hog Island Oyster Co. in Ferry Building $$ – If you are oyster lovers like us, this is a must-visit place in SF. They have the best clam chowder in the area and fantastic oysters. Don't forget to order beer or wine because seafood without alcohol might be risky.
Garaje $$ – They say the best Mexican cooks are in the US, not in Mexico, and it must be true if you visit this place. Their tuna taco, burger, Zapato, or veggie burrito are all tasty! Probably you will not find better tacos nearby. Please note that they accept cash only – no cards!
Cotogna $$$ – This is the place for Italian food lovers. When in Italy I usually grab some focaccia and here you can have authentic Italian ones! If you want something lighter, go for ravioli! Of course, drink some original Italian wine as well!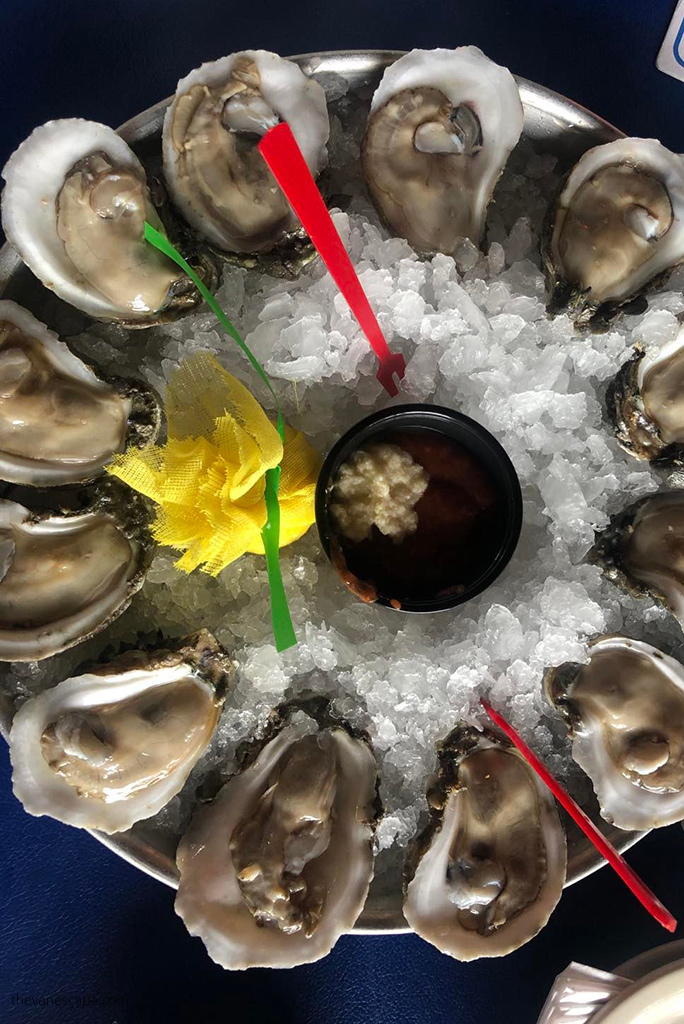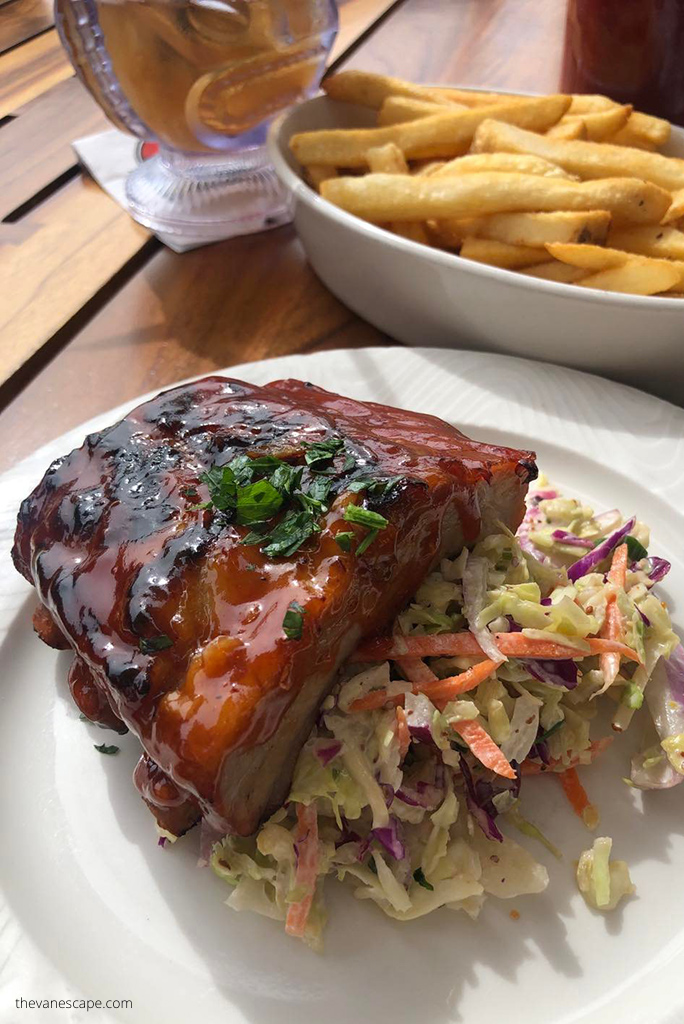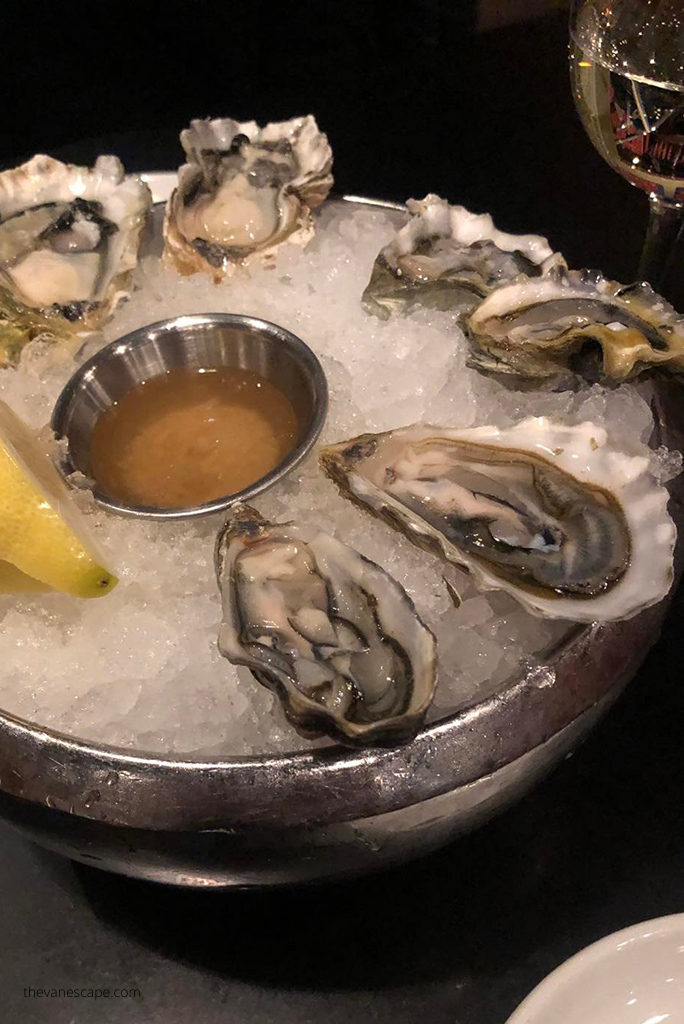 Dinner in San Francisco
Wayfare Tavern $$$ – This place is located in Financial District; however, it is worth visiting for dinner. You can start with steak tartar (probably #1 in the area!), continue with fried chicken and finish with homemade doughnuts. Everything should be delicious. We love to get back to this place and discover new things each time.
The Crab House at Pier 39 $$$ – This place is a must-visit in SF. It used to be crowded, so please make a reservation for your dream dinner. Of course, you should order crab here. If you are not a fan of crab, you can try shrimp or crab chowder. It's tasty. They also serve excellent bloody mary.
House of Prime Rib $$$ – As the name tells you, the thing to eat here is prime rib. The steaks are just excellent here. The place might be a little noisy and crowded (a popular birthday spot). And don't even try to come in a car here; better take an uber or walk. This way, you can also try their excellent wine selection.
Add one of the above suggestions to your San Francisco itinerary because the food has always been delicious.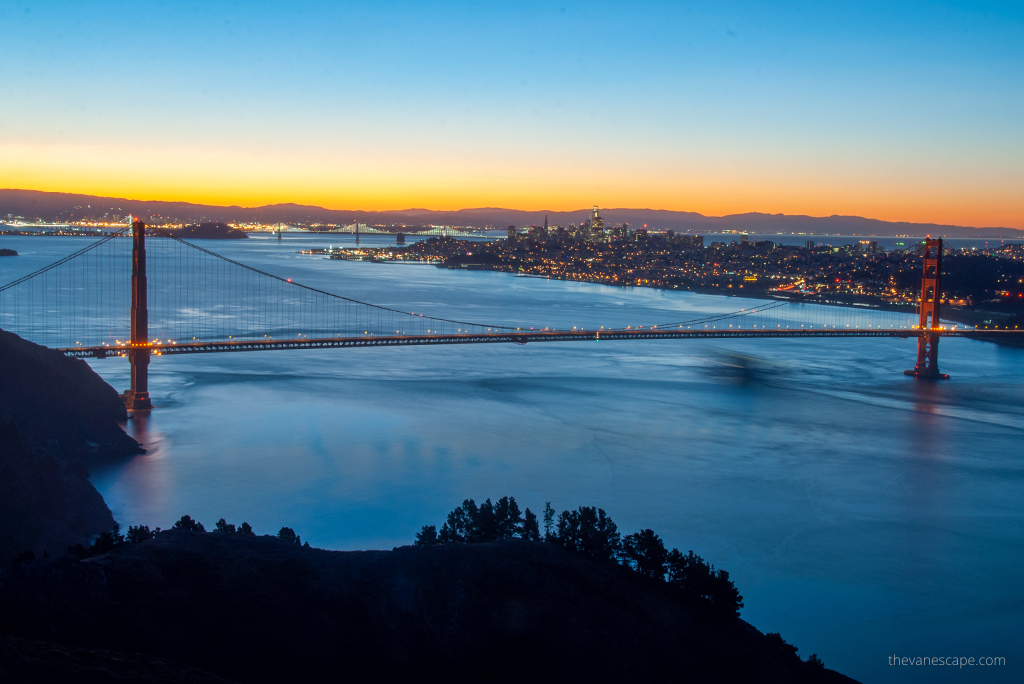 Do you like it? Pin it!