3 Best Bayou Swamp Tours in Louisiana
Check out our 3 Best Bayou Swamp Tours in Louisiana list if you want unforgettable vacations. The Bayou Swamp Tours in Louisiana was one of the exquisites of our experience. Gnarled cypress trees dripping with lush Spanish moss look so mysterious that you feel like you've stepped back in time to an ancient land. Dense Spanish moss hides wild inhabitants of southern waters like alligators, turtles, hundreds of birds, raccoons, and more. Visiting Louisiana or New Orleans without bayou swamp tours is not complete. Louisiana swamp tours are amazing and allow you to observe wildlife. So we share with you The 3 Best Bayou Swamp Tours in Louisiana reviews.
This article may contain affiliate / compensated links. For full information, please see our disclaimer here.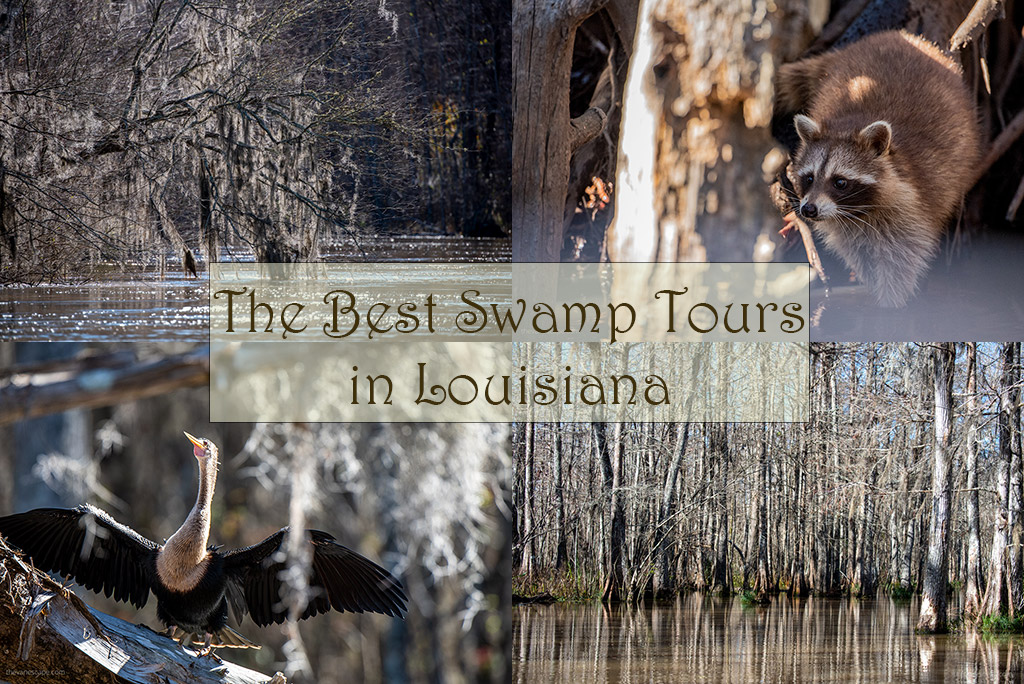 3 Best Bayou Swamp Tours in Louisiana – Introduction
Louisiana is a state with a rich history and past, wonderful architecture, Cajun culture, vibrant music, and excellent food. The most famous city in a state where one can experience its richness and diversity is, without a doubt, New Orleans.
But Louisiana also offers ancient and wonderful nature. The swamps of Louisiana are home to diverse ecosystems. Winding waterways hide amazing wild nature. So during our visits, we booked some Bayou Swamp Tours in Louisiana, and we share our reviews and experience. We also give tips on preparing for the Bayou Swamp Tours in Louisiana.
Trip Tip Planning: If you plan a trip to New Orleans, check out related articles: New Orleans 3 Days Itinerary, Mardi Gras New Orleans Itinerary, and 5 Best New Orleans Plantation Tours.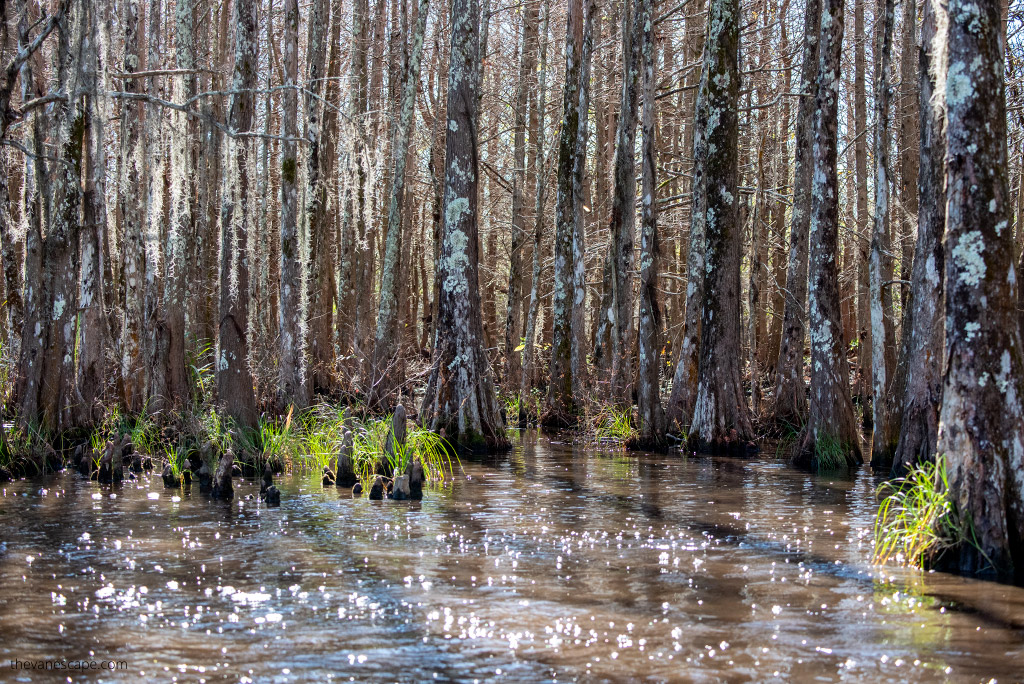 How to experience the Best Bayou Swamp Tours in Louisiana?
To experience the scenic swamps of Louisiana, you must take a guided tour. The guides introduce you to the world of nature and the history of these amazing Louisiana swamps. They know perfectly the hiding places where animals rest and soak in the sun, so you have a chance to spot them closely.
The best selection of swamp tours in Louisiana with great prices, you will find on Viator.com, which is the Trip Advisor company, and Get Your Guide. There are many options to choose from, like tour boats, airboats, or kayaks. Below we describe some of them.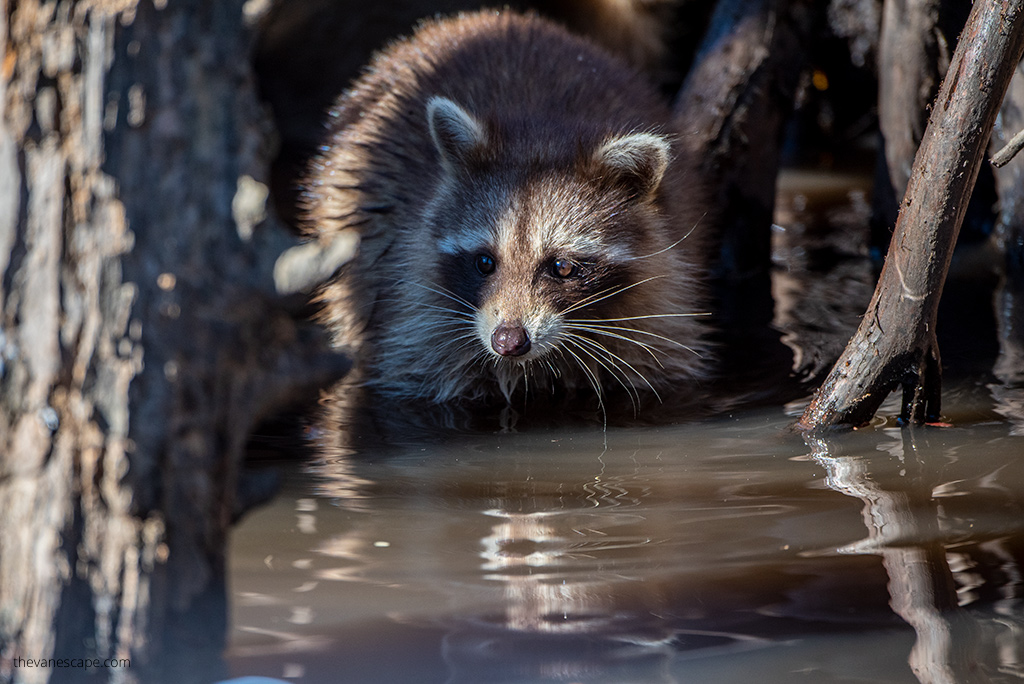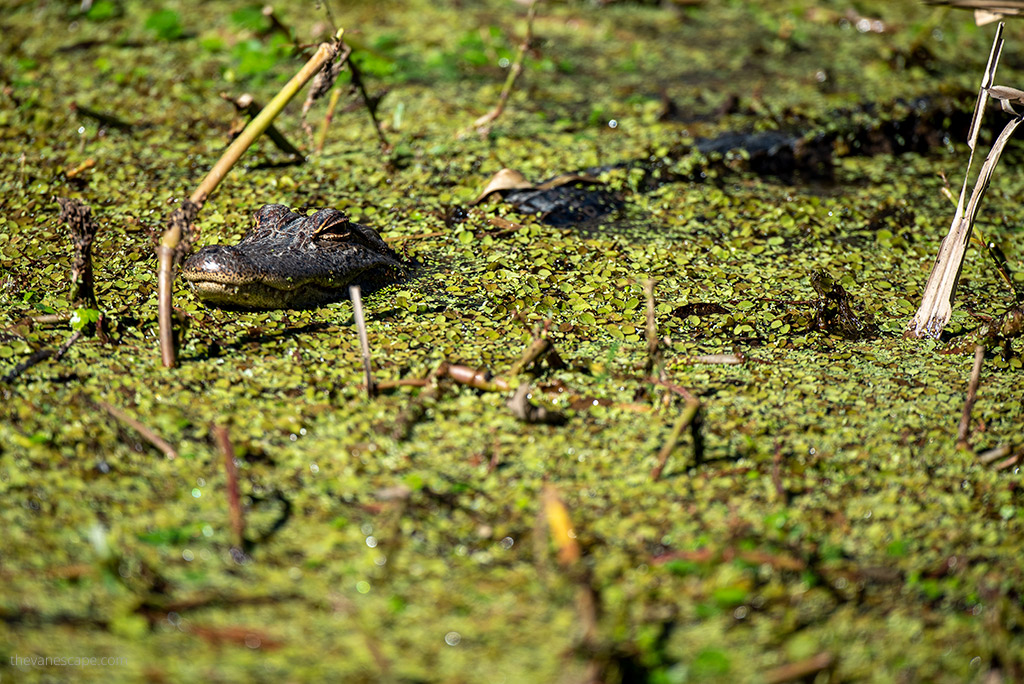 What's the difference between a bayou and a swamp tour?
When you visit Louisiana and New Orleans for the first time, you can be surprised by Bayou Swamp Tours' name. We were. We felt a little confused. What is a Bayou? What's the difference between Bayou and Swamp? And most of all, where can we spot and photograph wild swamp animals?
What is a Bayou?
A Bayou is a Franco-English term (from Cajun French). Bayou is a body of water typically found in a flat, low-lying area. It can either be an extremely slow-moving stream or river, a marshy lake, or a wetland. Bayou is used almost exclusively to refer to Louisiana and the Mississippi River Delta's water bodies and the adjoining areas, including southern Mississippi, eastern Texas, and Arkansas. Moreover, the Louisiana bayou on the Mississippi River Delta is a natural barrier between inland areas and natural disasters like hurricanes and tropical storms.
What is a Swamp?
A Swamp is a forested wetland. The Swamp area is a land saturated with water at all times. These areas are covered in cypress swamp trees and hardwood swamp trees, which grow in the water. The fauna adapts to both conditions, land and water.
So, when you visit the New Orleans area and the Mississippi River Delta, you will often meet the term a bayou swamp tour specific to this area.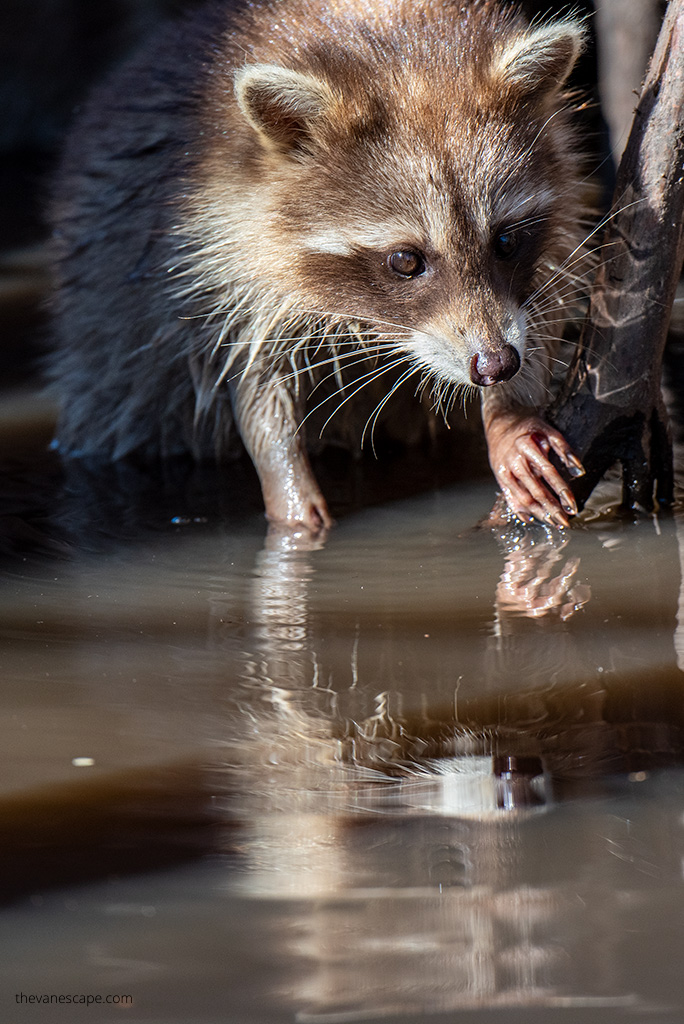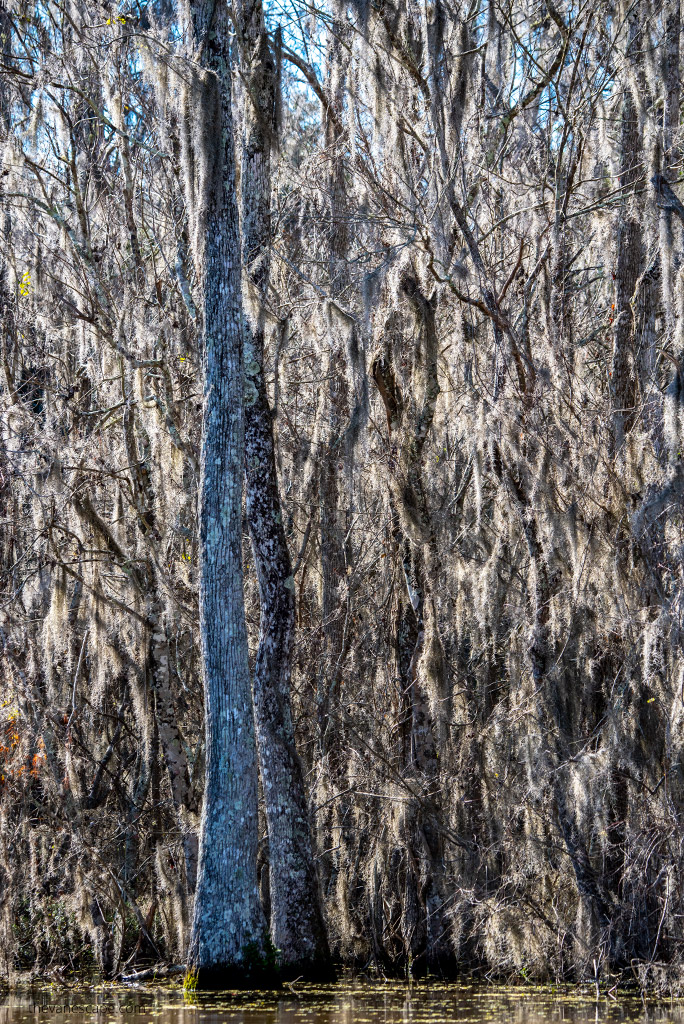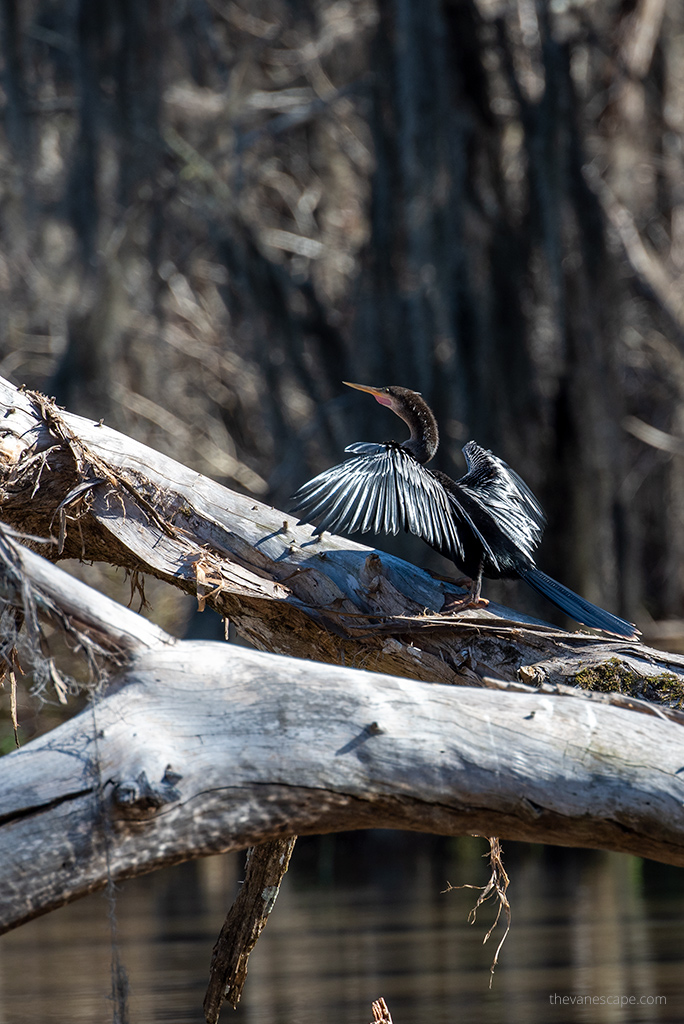 What animals live in the Bayou Swamp in Louisiana?
Louisiana's swamplands is a paradise for nature lovers and wildlife photographers. Beautiful and menacing swamps are teeming with exciting flora and fauna. Swamp Tours in Louisiana offers an in-depth peek into winding waterways with all its fabulous creatures.
We encountered alligators soaking in the sun during our bayou swamp tours in Louisiana. Moreover, we photographed a family of raccoons playing on the marshland. Turtles stretched lazily on branches and stones.
Anhingas had spread their wings in front of us, like at a fashion show. These beautiful birds are also called snakebirds, American darters, or water turkeys.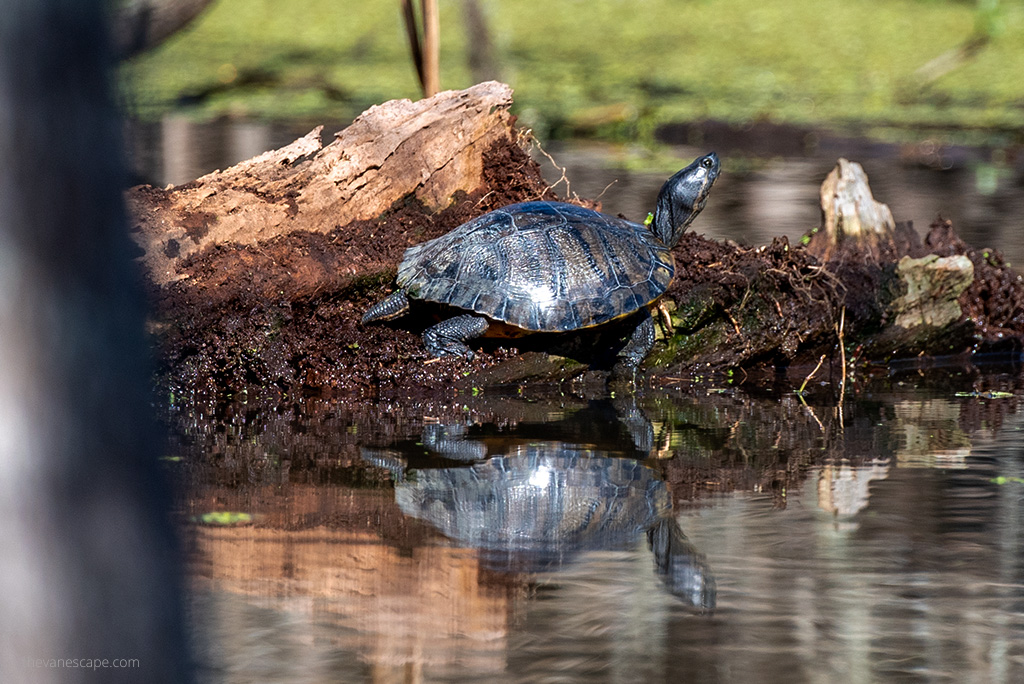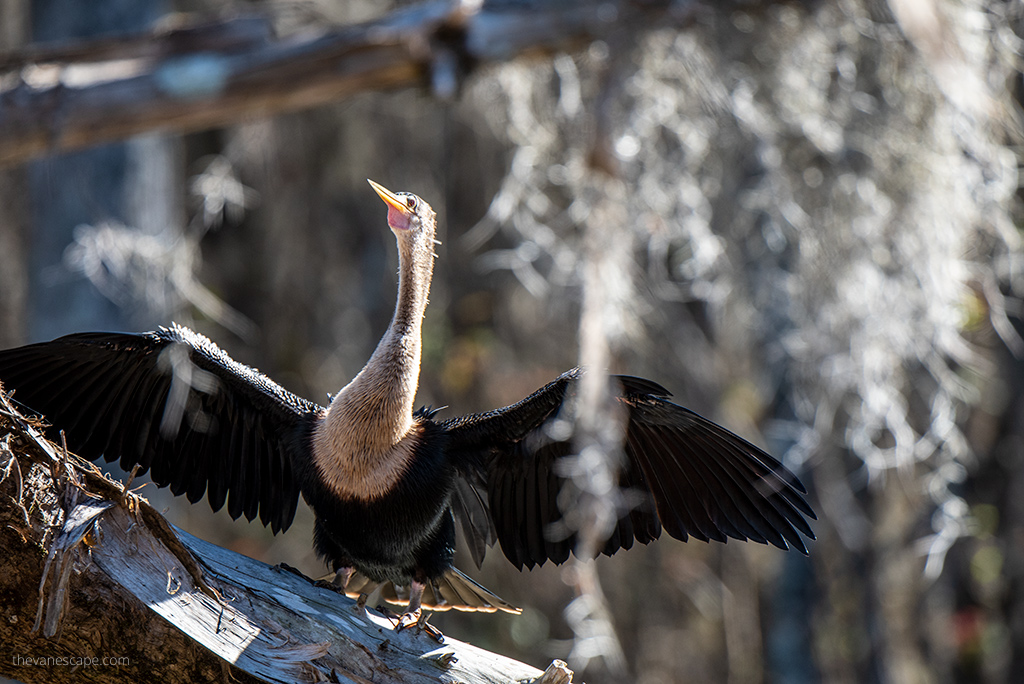 Moreover, there are over 200 species of birds on Louisana's swamps. Marshlands are full of fish, so it's a paradise for egrets, cranes, and herons. If you are lucky, you can also spot river otters, wild boars, and nutria, also known as river rats.
When is the best time of day to see alligators?
During summer, morning hours are the best to spot alligators in a swamp in Louisiana. Therefore, if possible, book a morning bayou swamp tour. Usually, they start around 9.00-9.45 a.m. Later, gators hide in the shade. In the winter months, around noon, you have better chances to encounter alligators when they try to catch some sun.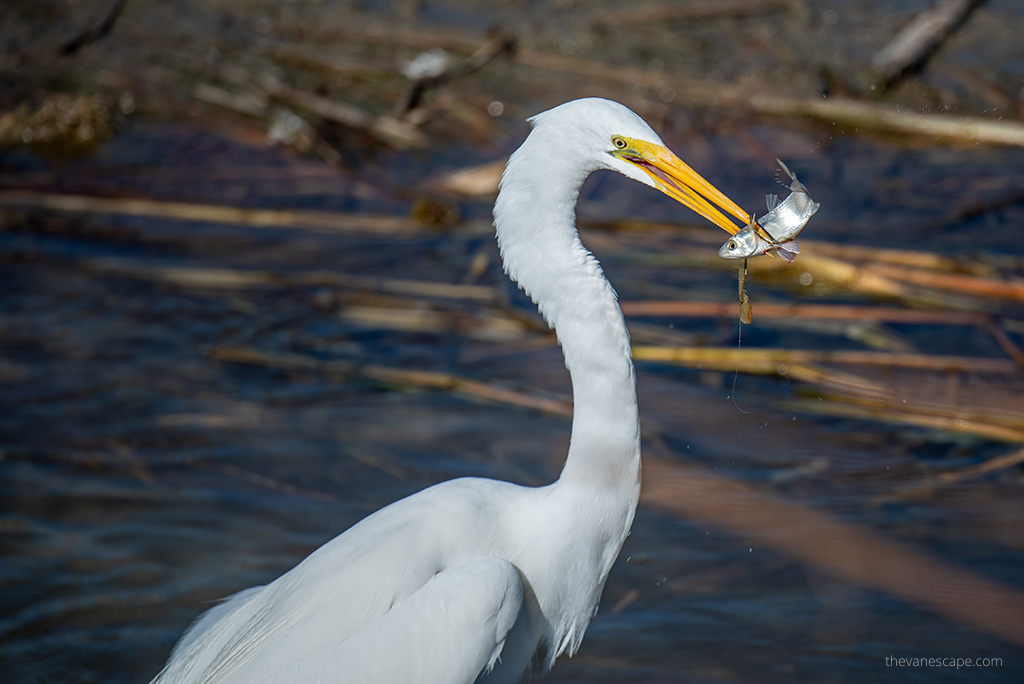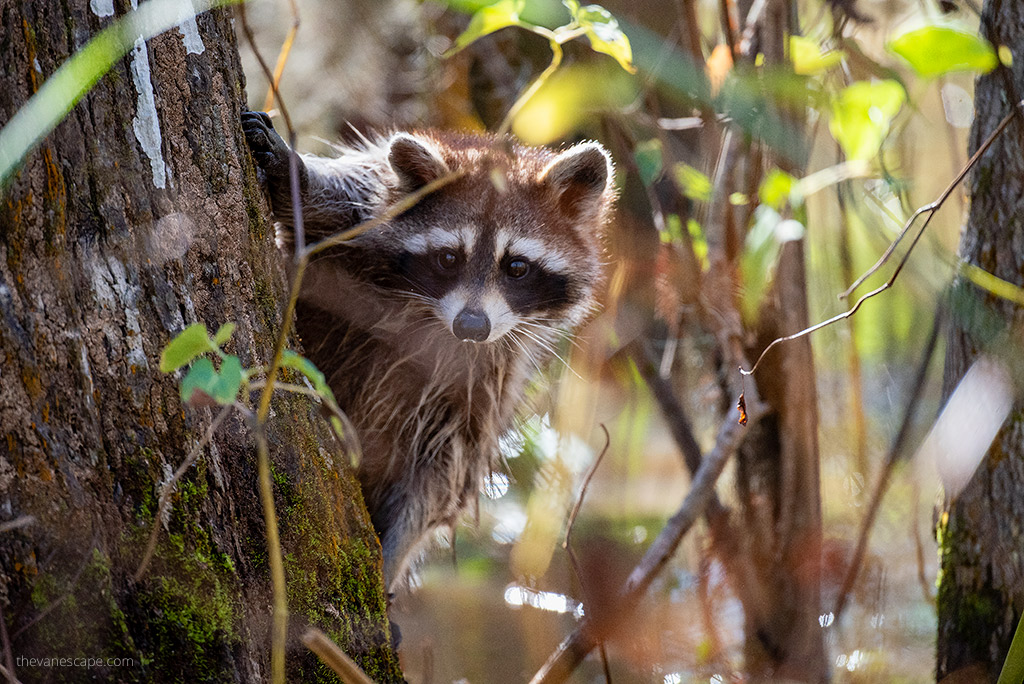 How much is Bayou Swamp Tour?
Prices depend on the type of swamp tour and the number of groups. Private tours for several people are more expensive. It is definitely worth spending a few dozen dollars per person to see the Louisiana swamps.
The standard tour itself on the boat is just under 2 hours. And during this time, you have the opportunity to spot the wildlife.
Small airboats usually have 6 to 11 seats, and the prices are slightly higher. But in a small boat, you'll get deeper into the bayou.
Medium airboat seats up to 18 guests, and large boat seats up to 30 guests. It's the cheapest option.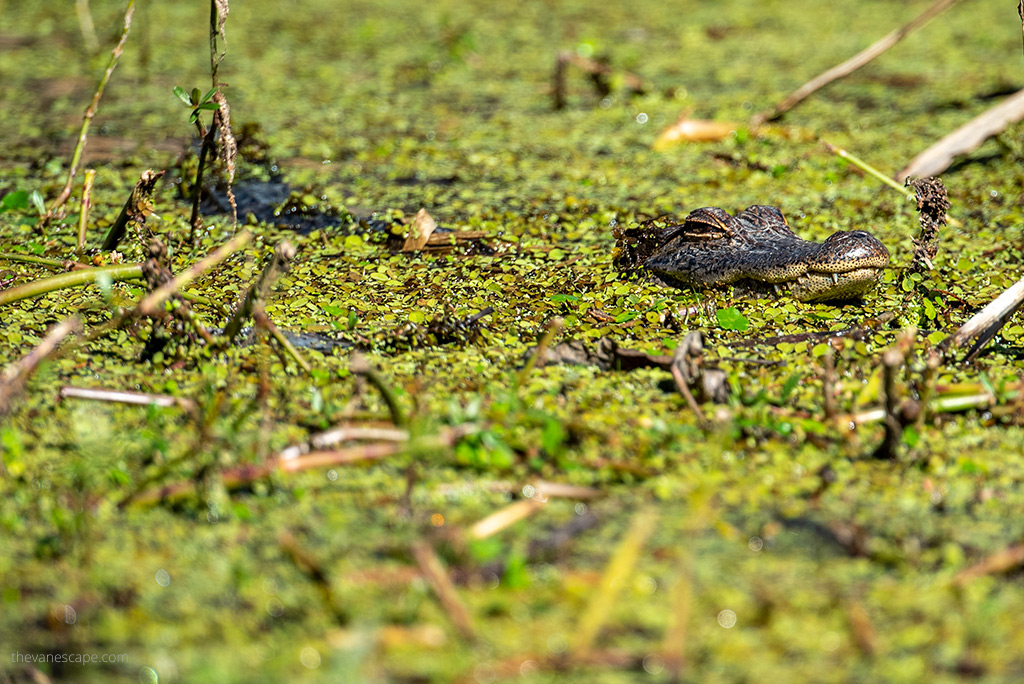 What do you wear to the best swamp tour in Louisiana?
Do you get wet on an airboat? What to pack for a bayou swamp tour? How to prepare for it?
If you're wondering what to wear on a bayou swamp tour in New Orleans, it all depends on the season and the weather forecast. So, check the weather before your trip.
Clothes for Swamp Tours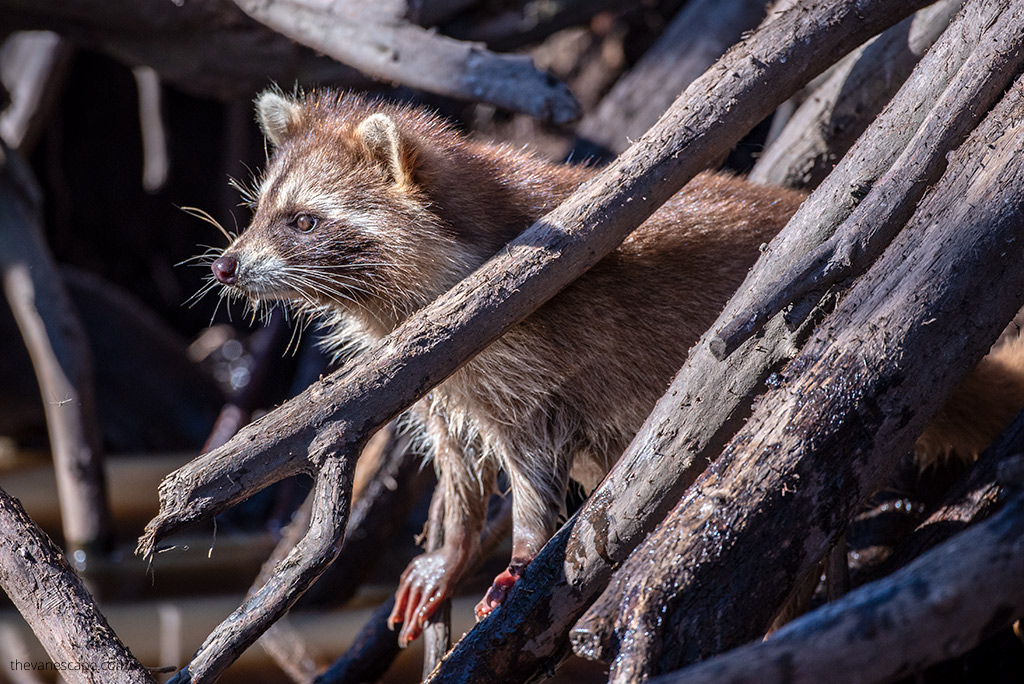 Other essentials for Swamp Tours
If mosquitoes are in a given season, a repellent may be useful. Mosquitoes are usually not a nuisance during the day. If you want to use a bug spray, remember to do it before boarding the boat. We often use Mosquito Wipes.
Camera. There are endless photo opportunities on the bayou swamp tours in Louisiana. If you want to capture wildlife, bring a camera or smartphone.
Some cash. If you are satisfied with the swamp tour, it will be a nice gesture to tip the crew.
Bottle of water. Remember to stay hydrated, especially in summer.
Don't take food on the boat. Wild animals cannot be encouraged with smells or leftovers.
Do not take large bags or backpacks. There is no place for luggage on the boat.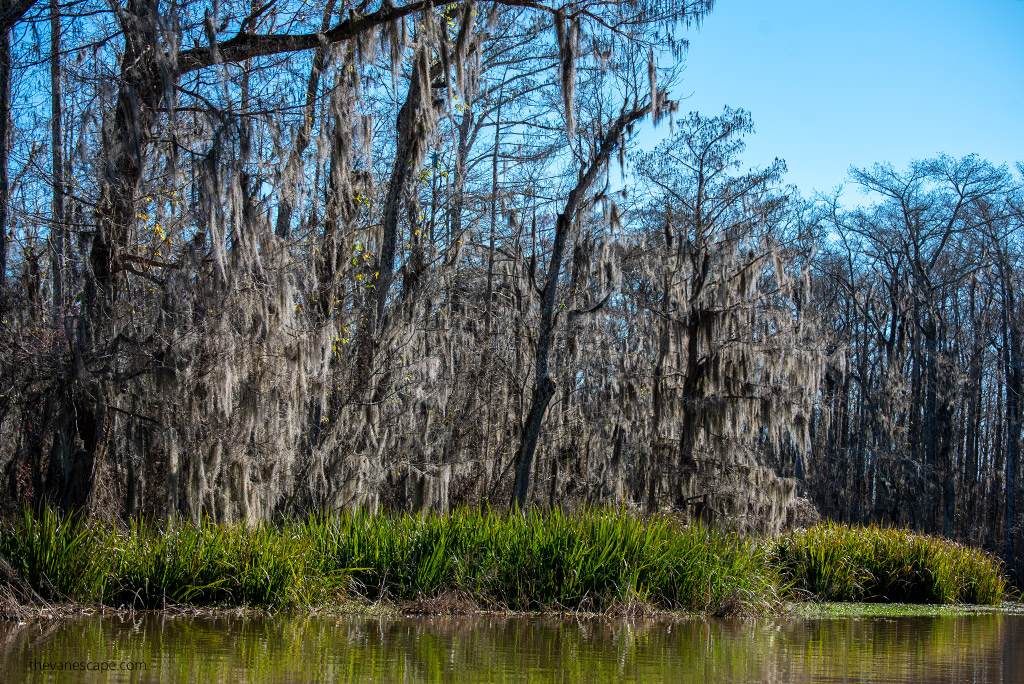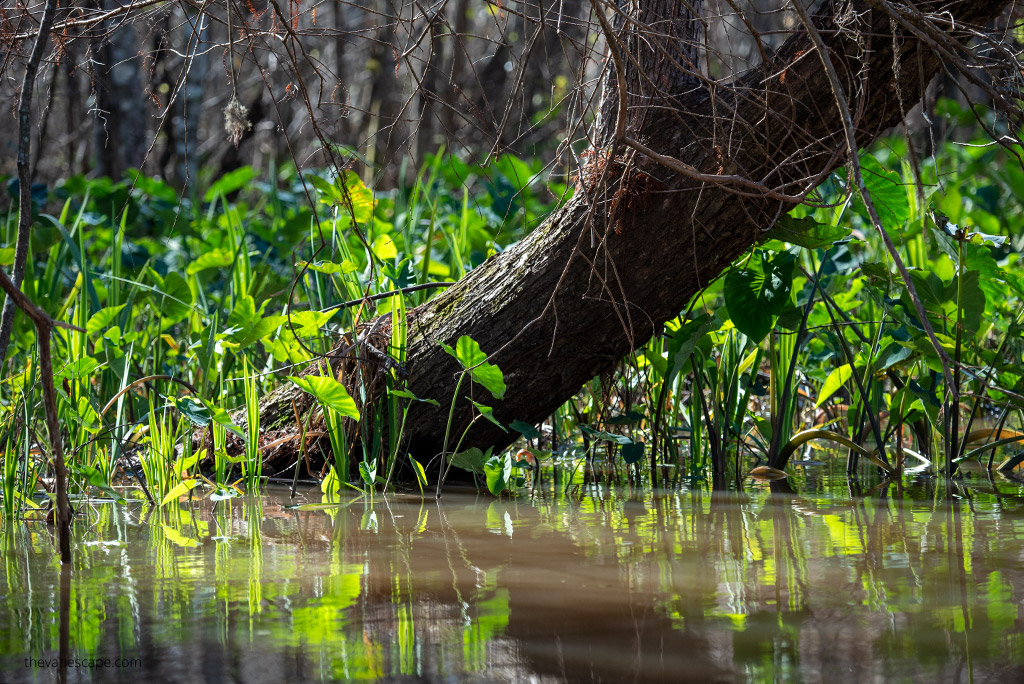 What is the best swamp tour to take in New Orleans?
We only share our opinions from the best bayou swamp tours we did. Close to the huge city as New Orleans, you can feel and experience the pristine wilderness on a boat.
Bayou Swamp tours in the New Orleans area typically go north of the city to the Honey Island Swamp, half of which is preserved for posterity as part of the Pearl River Wildlife Management Area. Some go south to the Jean Lafitte National Historical Park and Preserve, and others head west to Maurepas Swamp Wildlife Management Area.
Small-Group Swamp Airboat Tour – perfect choice for photography enthusiasts
Because we wanted to be as close to wildlife as possible and wanted to photograph animals, we choose Small-Group Swamp Airboat Tour. t was a great choice. An experienced local guide and being close to nature made this trip an amazing adventure. So, if you love taking pictures of wildlife like us, choose this swamp tour.
Honey Island Swamp Boat Tour – perfect for families
But if you want a lower price, we can also recommend the Honey Island Swamp Boat Tour. There are about 20-30 people on the boat. But you can also observe wild animals from it. You can also take some photos and have a great adventure. We also encountered alligators and raccoons on this swamp tour. We were a bit further but still could spot animals. It was a perfect trip at an affordable price. So, if you are not a photographer, it's also a good choice.
Guided Kayak Swamp Tour – for adventure lovers
Finally, on our bucket list is the Guided Kayak Manchac and Maurepas Swamp Tour. As we had no time to do this one during our last trip. We will definitely use this option on our next visit to New Orleans. Thanks to this tour, we can get into narrow bifurcations between trees. We will be closest to wildlife in complete silence.
We hope you found this post helpful. If you like it, please share it.
We wish you a great bayou swamp tour in Louisiana! It's a fabulous adventure.
And if you are planning a visit to New Orleans, check our 3-days NOLA Itinerary.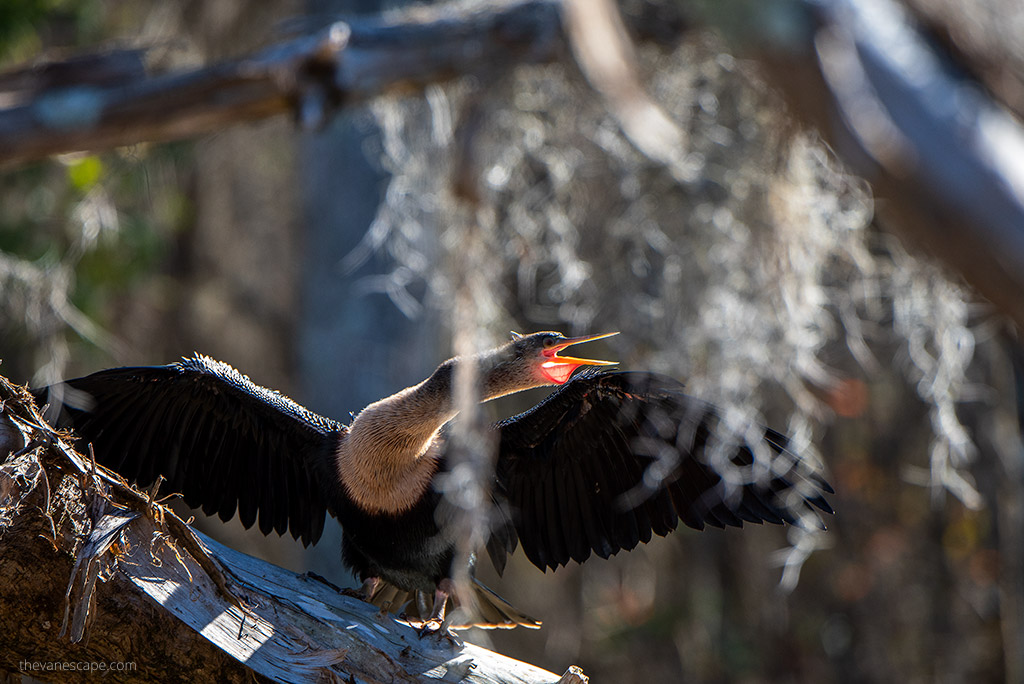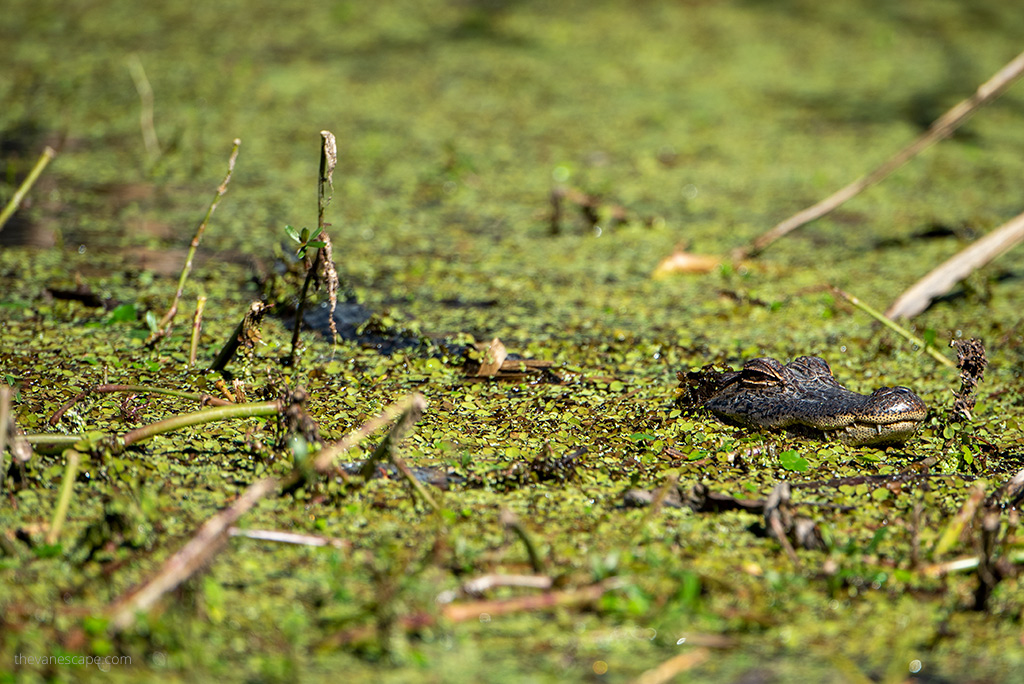 Like it? Pin it!