Roslyn the Northern Exposure Town
Do you remember the Northern Exposure comedy-drama TV series from 90′ about the eccentric residents of a fictional town in Alaska? Well, the series was shot in Roslyn, in Washington State. So, if you are in the Seattle area, it is worth visiting this small charming Roslyn town. Time stopped there, and you can still find traces of your series characters.
This article may contain affiliate / compensated links. For full information, please see our disclaimer here.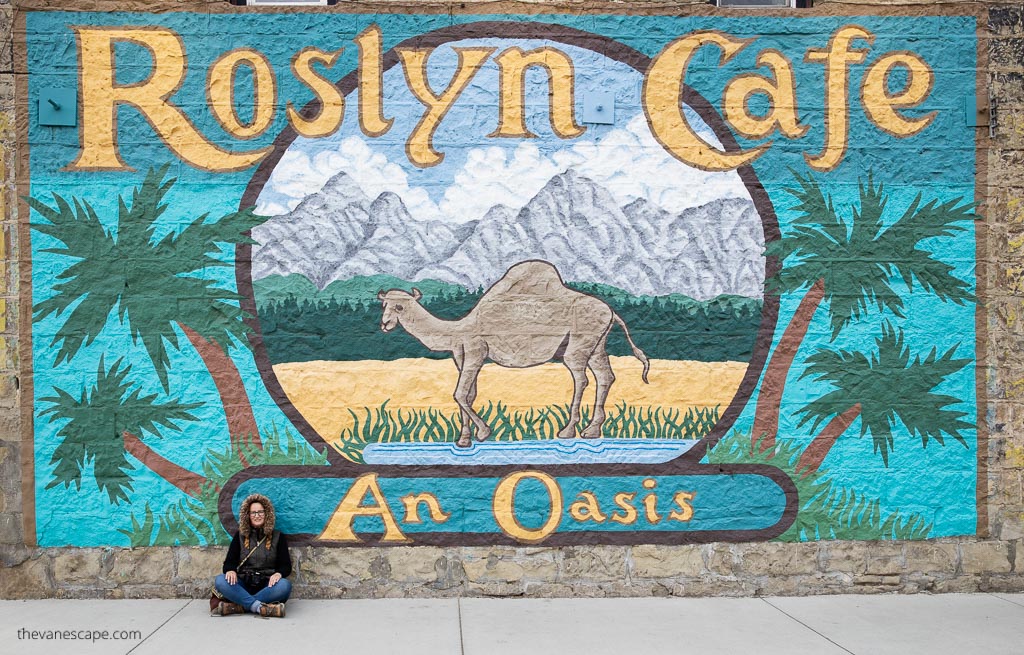 Introduction to visiting Roslyn the Northern Exposure Town
We like to visit places that served as movie scenery. That is why we love Monument Valley in Arizona, where the best westerns of all time were filmed. During our Oregon road trip, we visited the famous Timberline Lodge, where "The Shining" with Jack Nicholson was shot. In addition, during our Colorado road trip, we also visited the Stanley Hotel. This hotel is also where many scenes for the movie Shining were filmed. And more importantly, Stephen King stayed at this hotel. And his stay in this hotel inspired him to write a thrilling novel that became a bestseller.
But we also love series. One of our favorite series of the 90s was Northern Exposure. We dreamed of seeing Alaska while watching this series. But we were surprised that Washington State got a lot of TV time in the early 1990s.
So, during our several days in Seattle (check our ready 3 days in Seattle itinerary), we reviewed the movie plans for two great TV series from 90′ the "Northern Exposure" and "Twin Peaks".
Northern Exposure
If you're planning a road trip through Alaska and want to see the lovely Cicely town, where the action of the Northern Exposure series was taking place, you need to change your plans.
The famous series was shot in Roslyn, in the Seattle area, Washington state, not in Alaska. So, within around a two-hour drive from Seattle, you can traipse the streets of Roslyn. And imagine that you are in Cicely, Alaska, in the CBS series "Northern Exposure". From 1990 to 1995 it was a total of 110 episodes were created by Joshua Brand and John Falsey.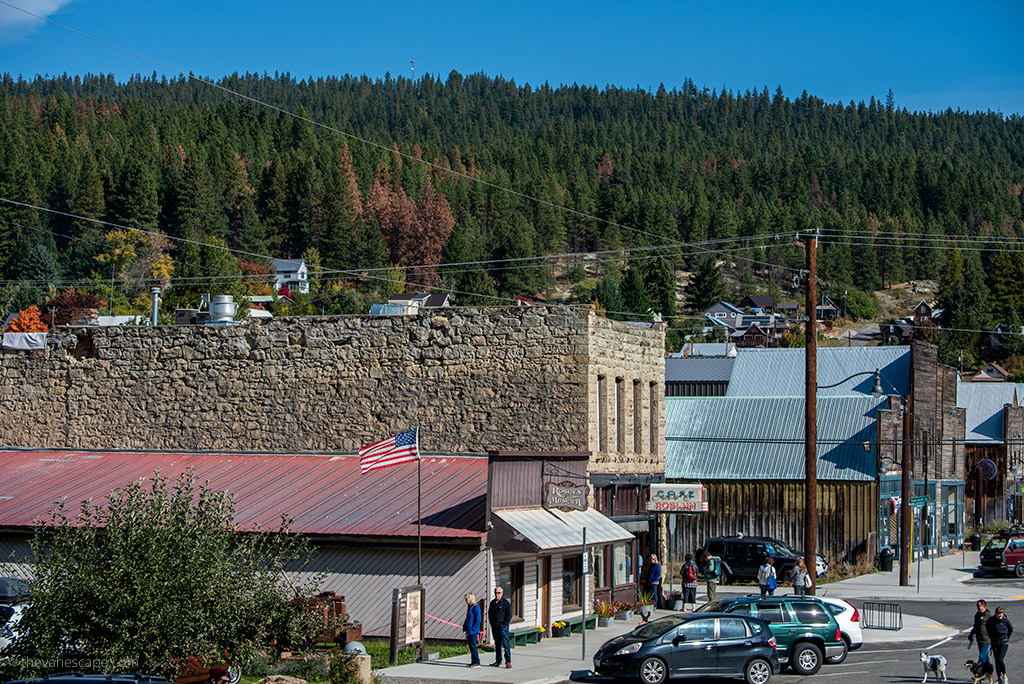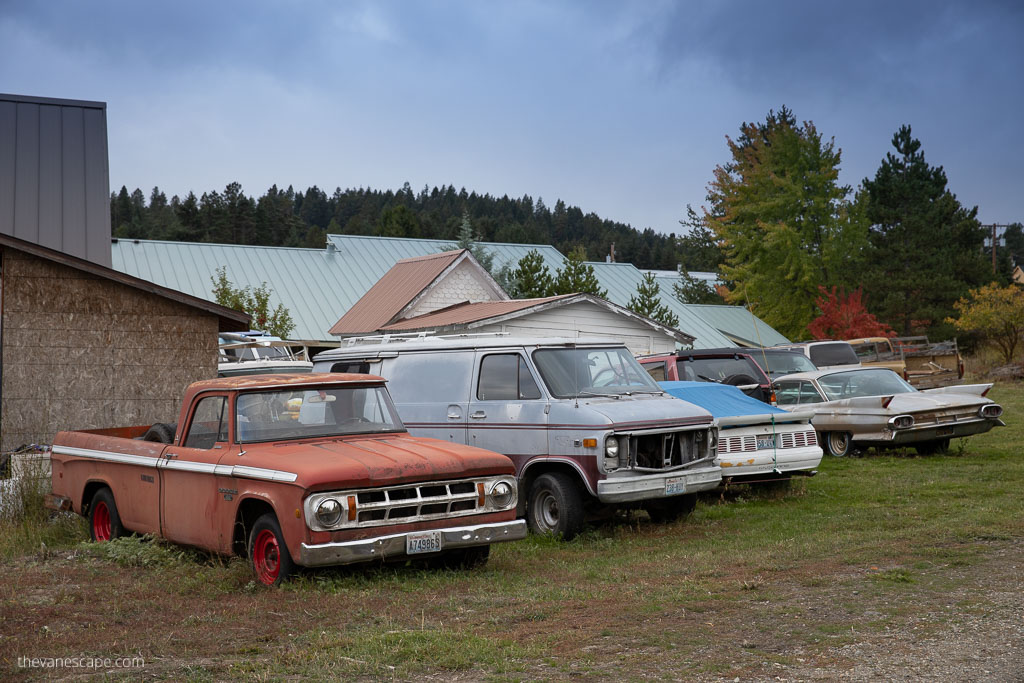 The storyline of Northern Exposure
The main character of "Northern Exposure" is a young doctor, Dr. Joel Fleischman (Rob Morrow), who comes to Alaska after his medicine study. His modern New York view of the world collides with the natural, free way of life of the inhabitants of Cicely. Joel Fleischman is a neurotic Jewish from New York City.
He is legally contracted to practice medicine for four years in Alaska according to the terms of a student loan underwritten by the state. Expecting to work in a relatively large, modern hospital in Anchorage, he is unexpectedly reassigned to the small town of Cicely. His struggles to adjust to his very unfamiliar new environment drive the plot in many episodes.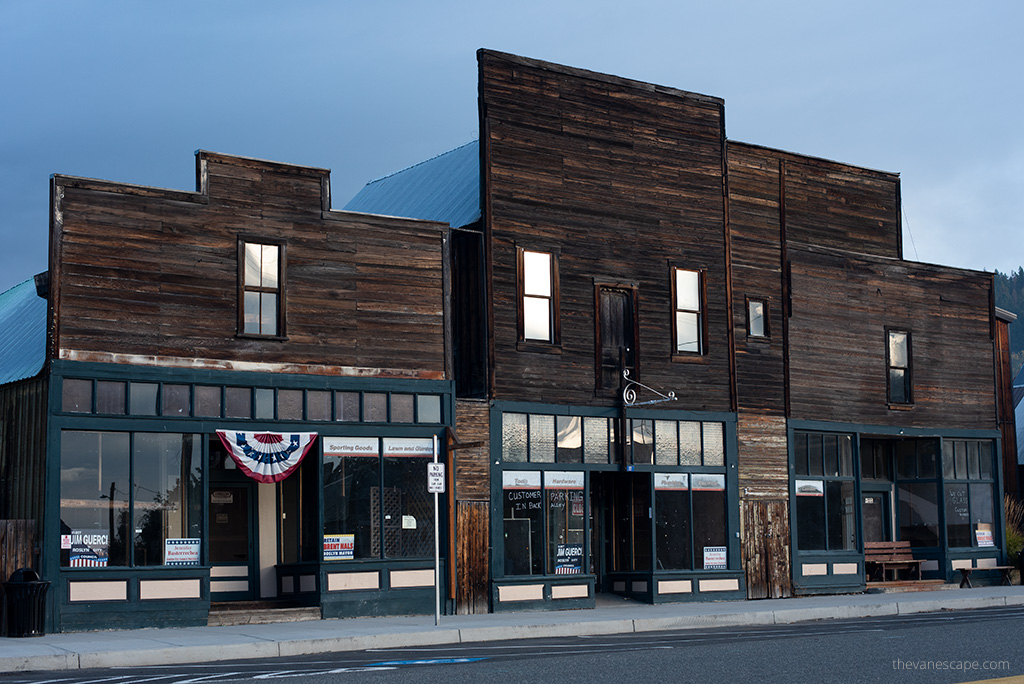 Roslyn
When you get to Roslyn town you immediately recognize it as the setting of "Northern Exposure". First of all, you will see the camel painting on the side of the Roslyn Cafe. However, it was renamed Roslyn's Cafe for the TV in the show's opening credits. The population was 893 in 2010. Roslyn is located in the Cascade Mountains, about 80 miles east of Seattle, and 4 miles off Interstate 90. The town has amazing charm and it is worth spending a few hours in it.
Most of the series' familiar locations can be found in the one-block business district, including The Brick (Holling's tavern), Central Sundries (Ruth-Anne's store), and the Northwest Mining Company storefront (Dr. Fleischman's office). Moreover, Central Sundries and Northwest Mining Company, now Cicely's Gift Shop, offers "Northern Exposure" souvenirs for sale. So, it is worth taking a walk around the streets of the town looking for traces of the heroes of the series: Joel Fleischman (Rob Morrow), Maurice Minnifield (Barry Corbin), Maggie O'Connell (Janine Turner), Holling Vincoeur (John Cullum), Chris Stevens (John Corbett), Ed Chigliak (Darren E. Burrows).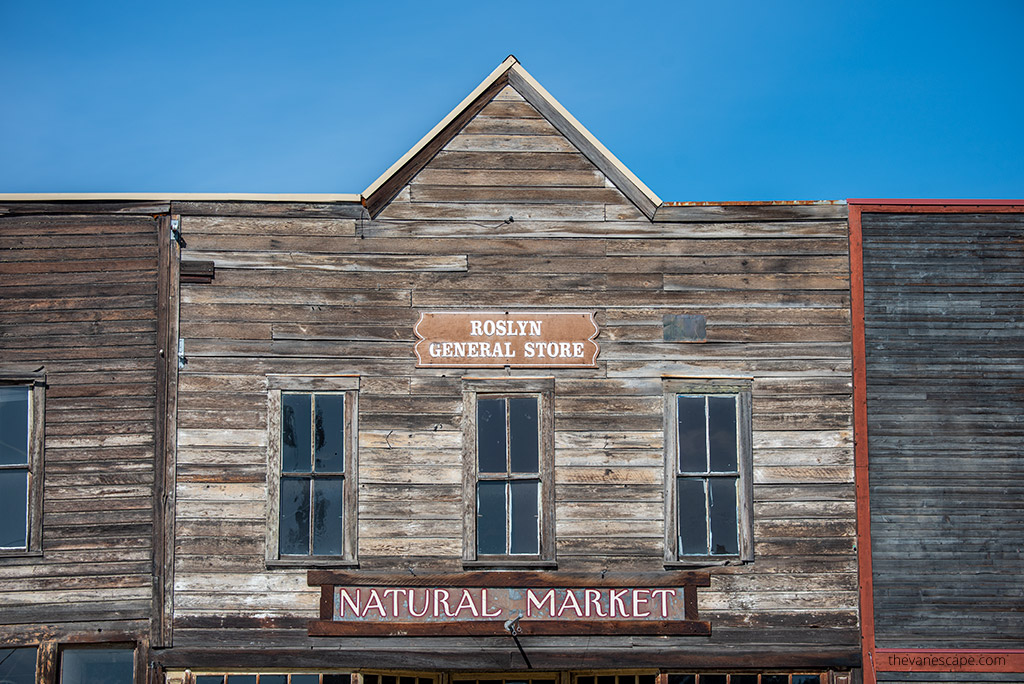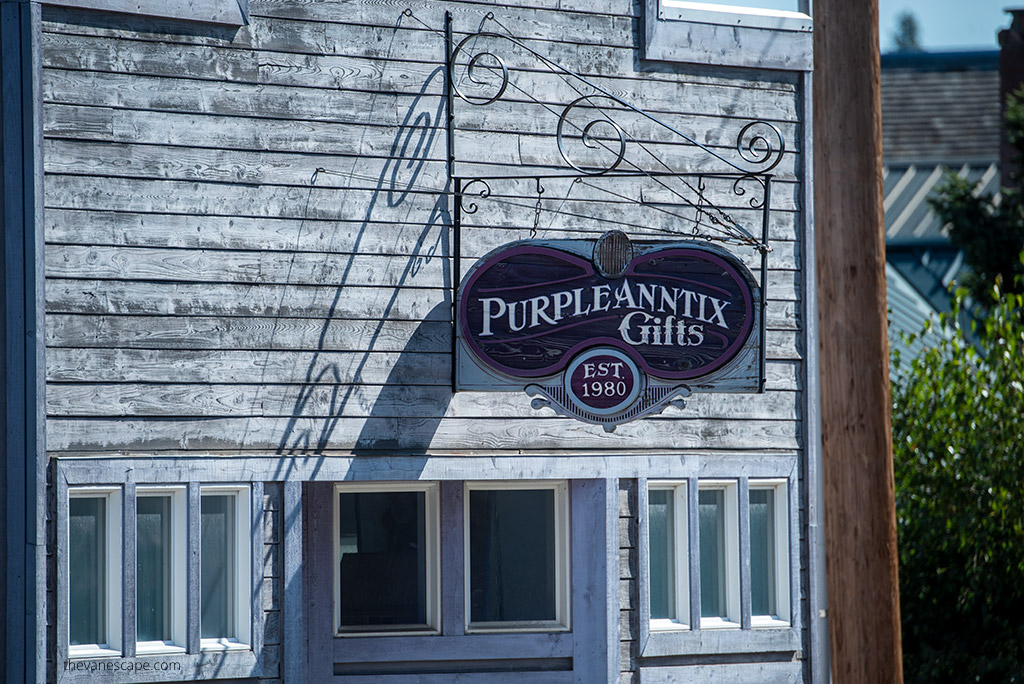 Roslyn's Cafe – Mural From the Intro
It's the iconic spot from Roslyn the Northern Exposure Town. The mural from the intro of "Northern Exposure" is one of the most characteristic places in the town. Do you remember a moose walking along the main street of the town, passing a wall with a vast mural "Roslyn's Cafe – An Oasis."
Moreover, the moose in the opening title was named Mort and was provided by Washington State University. To film the opening sequence, the crew fenced off Roslyn, set Mort loose, and lured him around with food.
The painting is still on the same wall as in the 90s. However, careful observers will notice that the inscription on the series was different – instead of Roslyn Cafe, there was Roslyn's Cafe. Moreover, it is worth going inside for a tasty lunch and a local beer. The Roslyn Cafe features dishes such as burgers, pulled pork sliders, and a Salmon La Sac omelet, made with house-smoked sockeye salmon, and much more.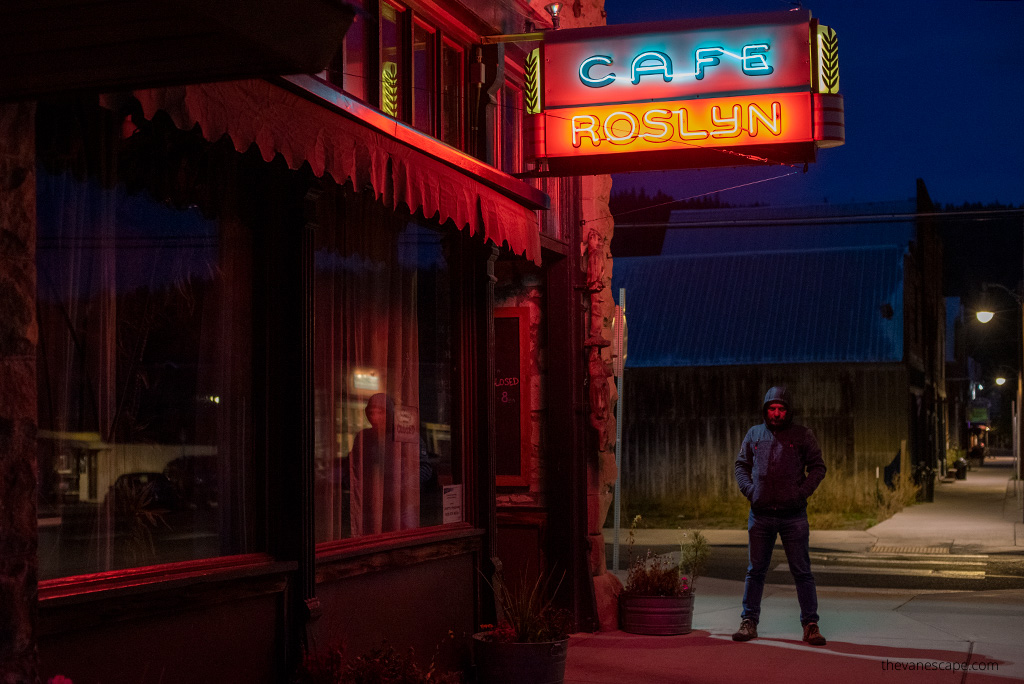 Dr Joel Fleischman office – Cicely's Gift Shop
In Roslyn, you can visit Dr. Joel Fleischman's office. Right now, it is Cicely's Gift Shop. It now houses a props museum and gift shop. On the walls, there are hanging photos from the movie set, and portraits of the actors. In the center of the room stands a real treat for fans – the original desk of Joel's serial assistant – Marilyn.
The place is run by Steve, who has a vast knowledge of the series. The building was repurchased by a woman after completing the movie photos. She also began purchasing souvenirs from the series to make a museum there.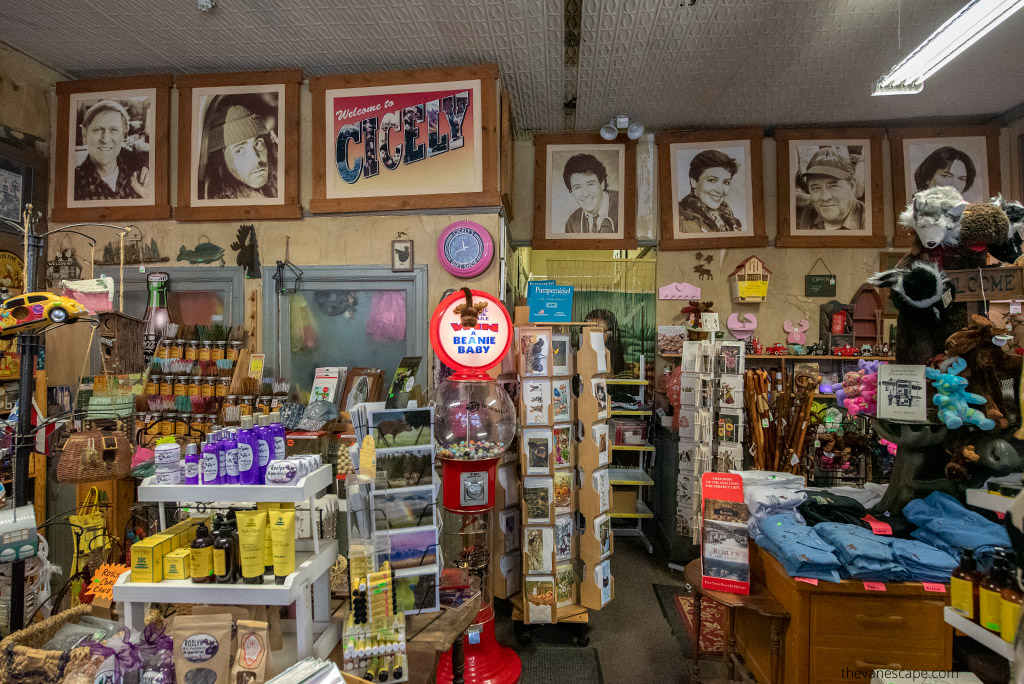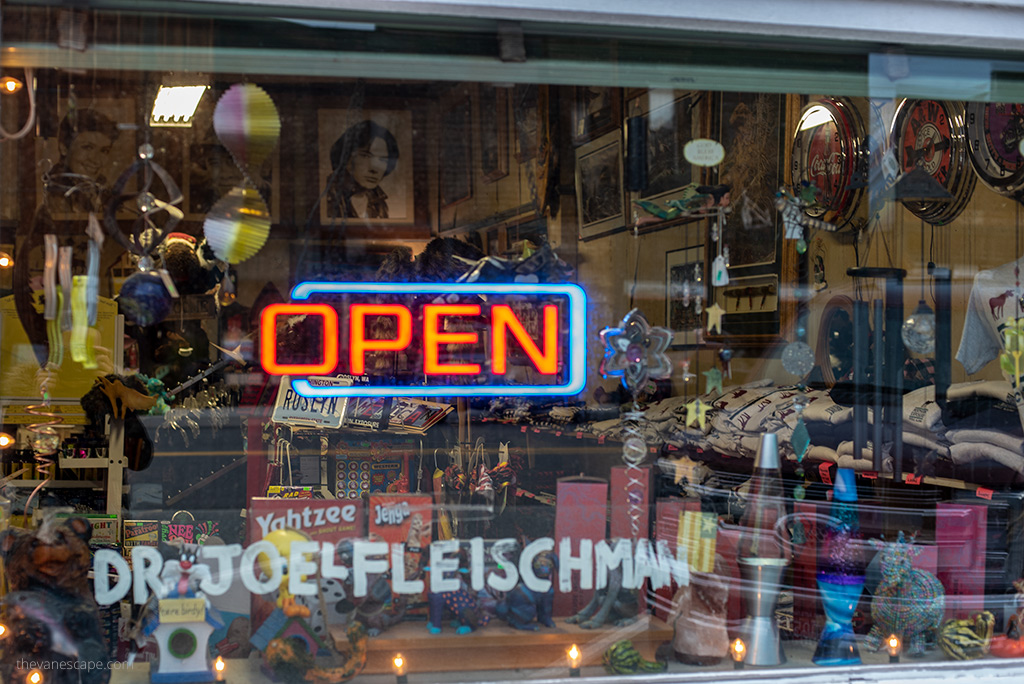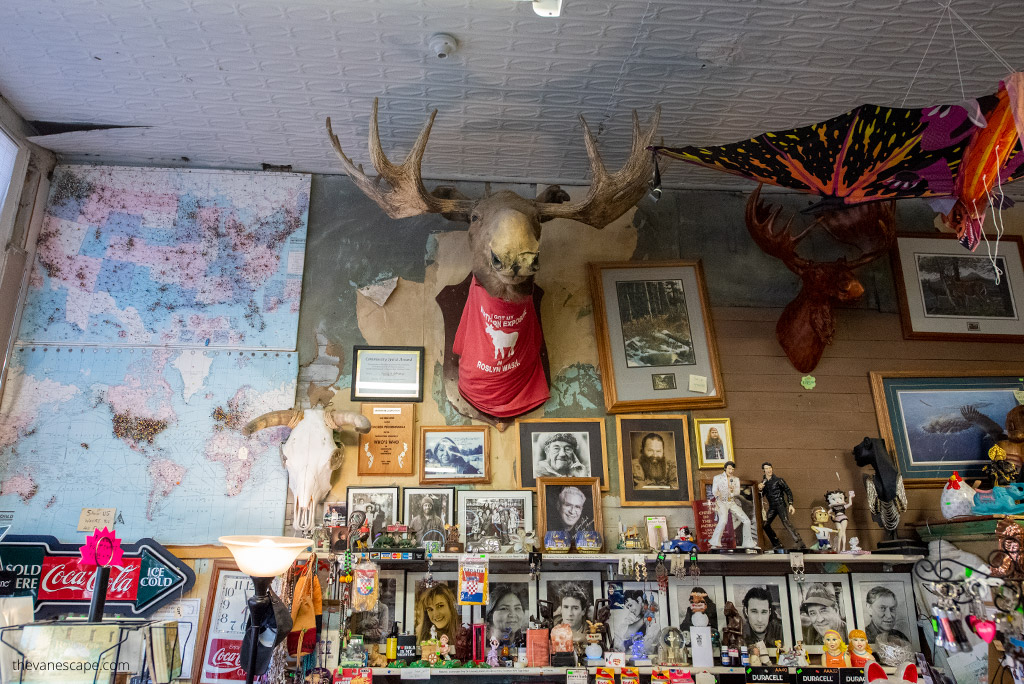 The Brick
The Brick – a place you absolutely can't miss – Holling's bar. Interestingly, the pub in the series is called the same as in reality "The Brick". It is a restaurant, bar, place of meetings, talks, and essential events in the series. The Brick is distinguished by its distinctive neon sign out front and a massive wood-burning stove.
Established in 1889 the heart of town offers pub fare, live music, and a great atmosphere. It is Washington's oldest continuously operating bar. They serve delicious burgers and a great local beer. It is worth coming here in the evening to meet the locals and feel the spirit, like from a movie.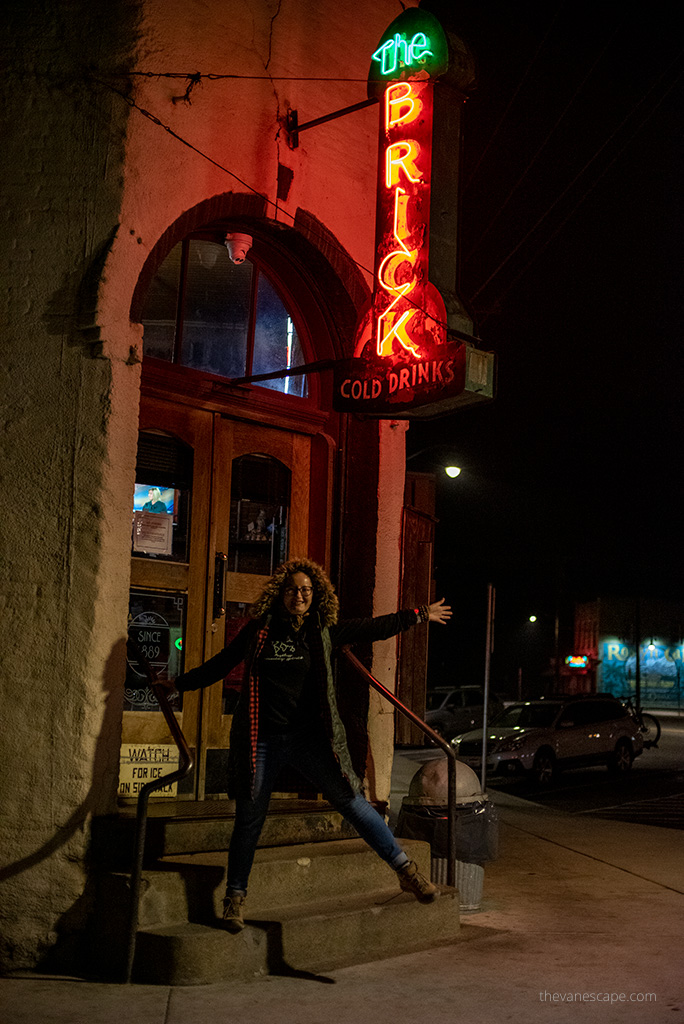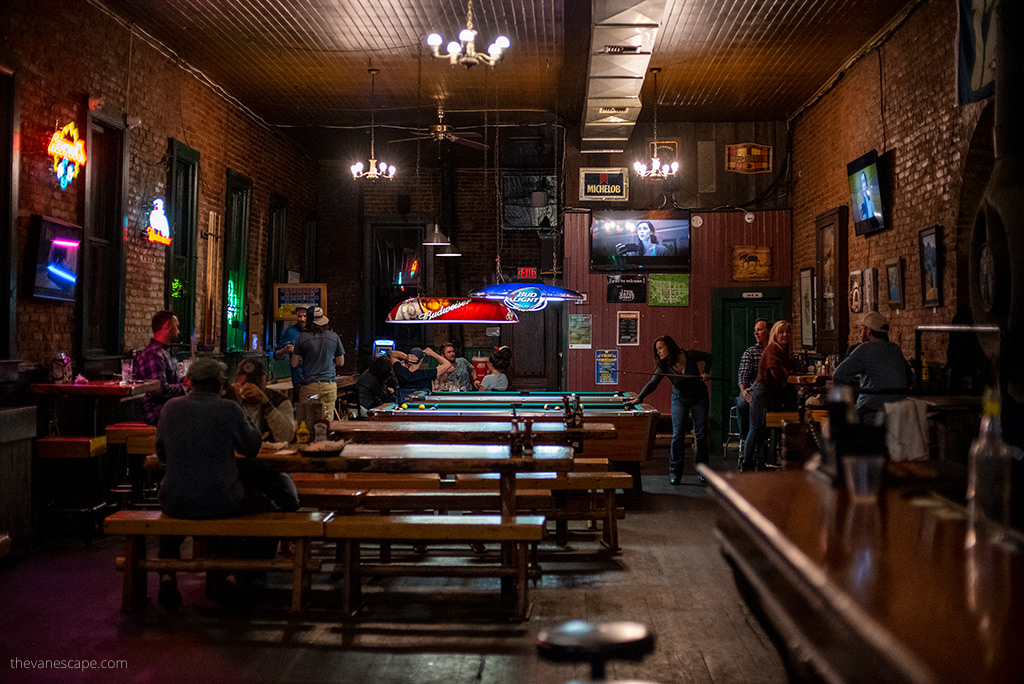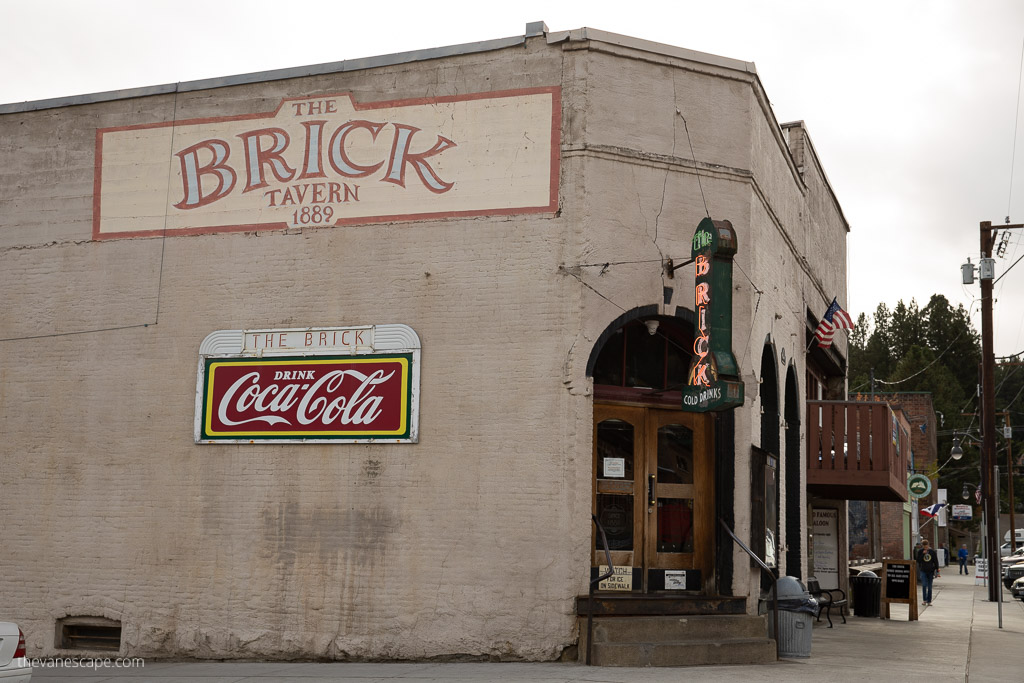 KBHR Radio Station
KBHR – The Voice of the Last Frontier. It's our favorite stop in Roslyn the Northern Exposure Town. That's the home of "Chris in the Morning" broadcasts. It is in the window of the Northwestern Improvement Co. building, 101 E. Pennsylvania Ave. Cicely's radio station played a big role in Northern Exposure.
Some of the scenes were shot right here, and you can look through the glass to see the "on location" set. It looks like Chris Stevens (John Corbett) is about to sit on his chair and read poetry to Minniefield's rage. A radio host with a philosophical flair and vast historical and cultural knowledge is one of my favorite characters.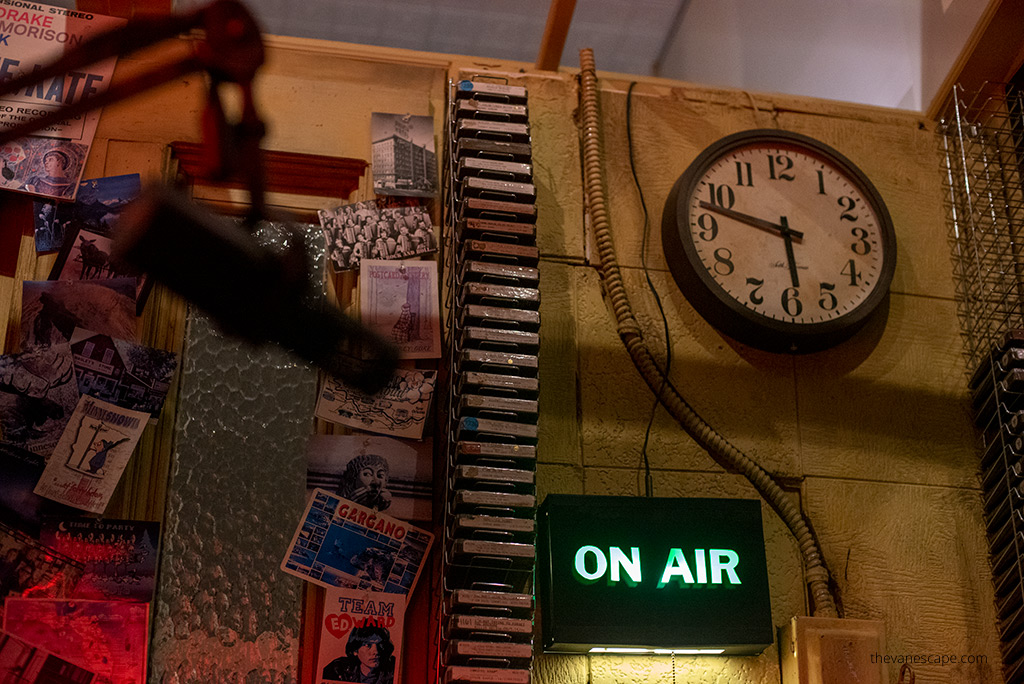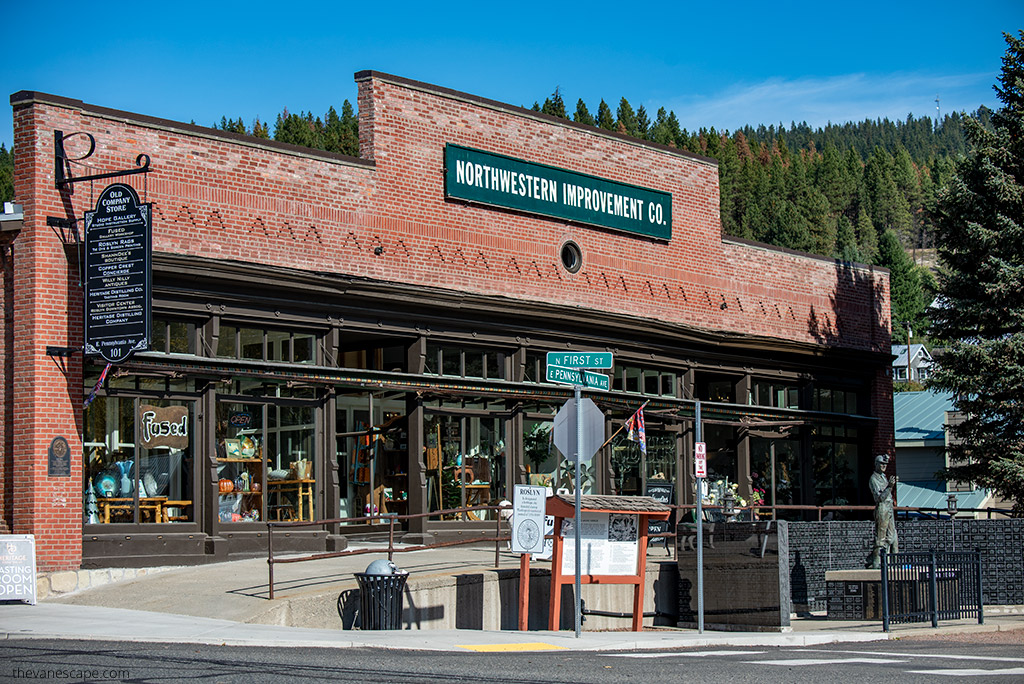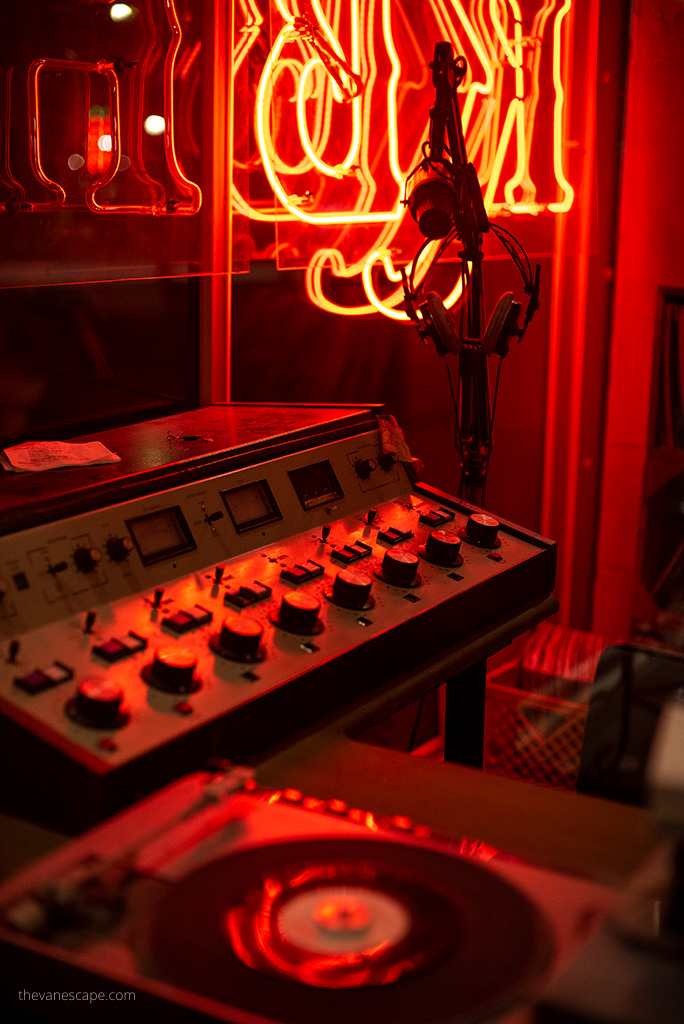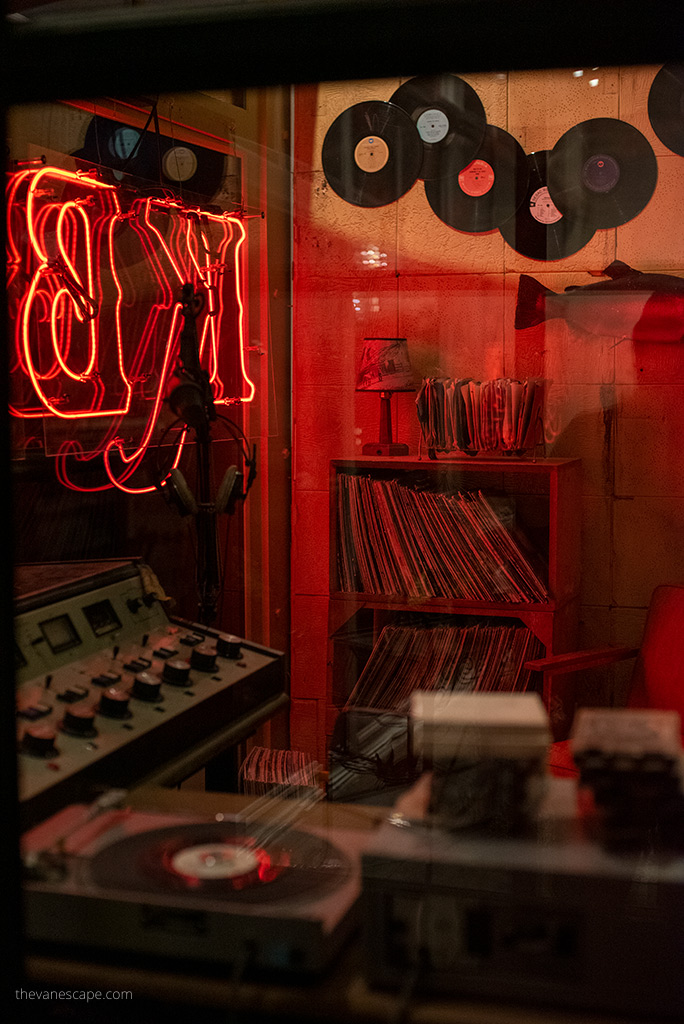 Rooth – Ann Shop & Village Pizza
You can still visit the Ruth-Anne shop. The local shop served supplies to all residents and was also a post office. You can buy here some food and souvenirs.
However, it is a great idea to visit Village Pizza. This storefront appeared in the opening credits of the show. Inside, tables come equipped with bottles of honey as well as boxes of cards from old games of Trivial Pursuit.
The most popular pizza is Village Combo – with Canadian Bacon, pepperoni, sausage, olive, onion, and mushroom. Our favorite place in Roslyn for lunch & coffee is part bookstore, part coffee shop, Basecamp Books and Bites, next to Roslyn Yard.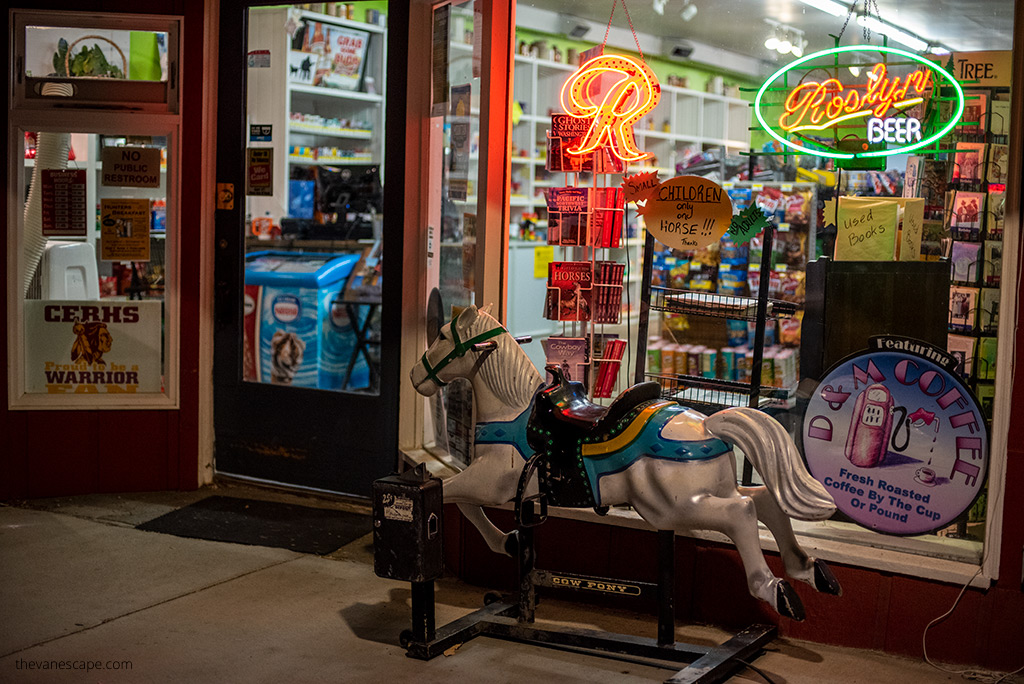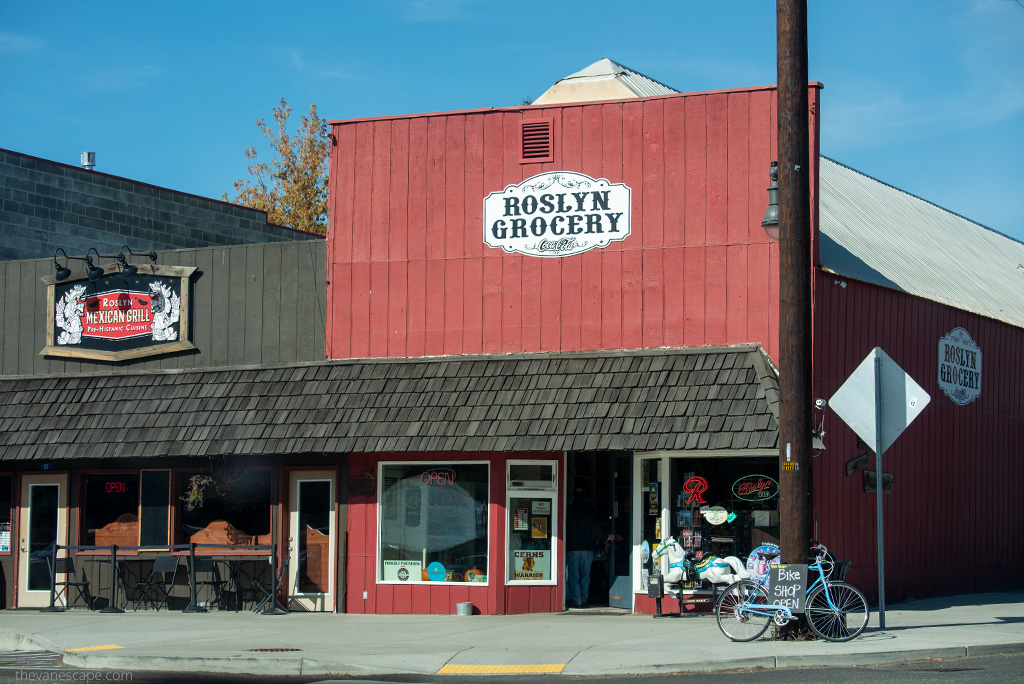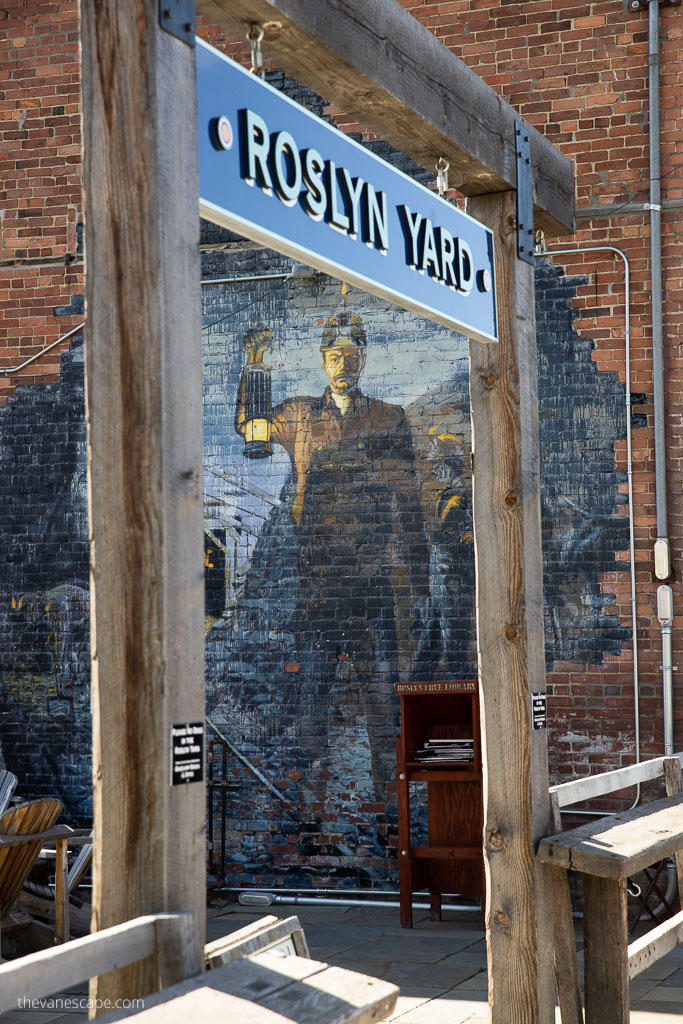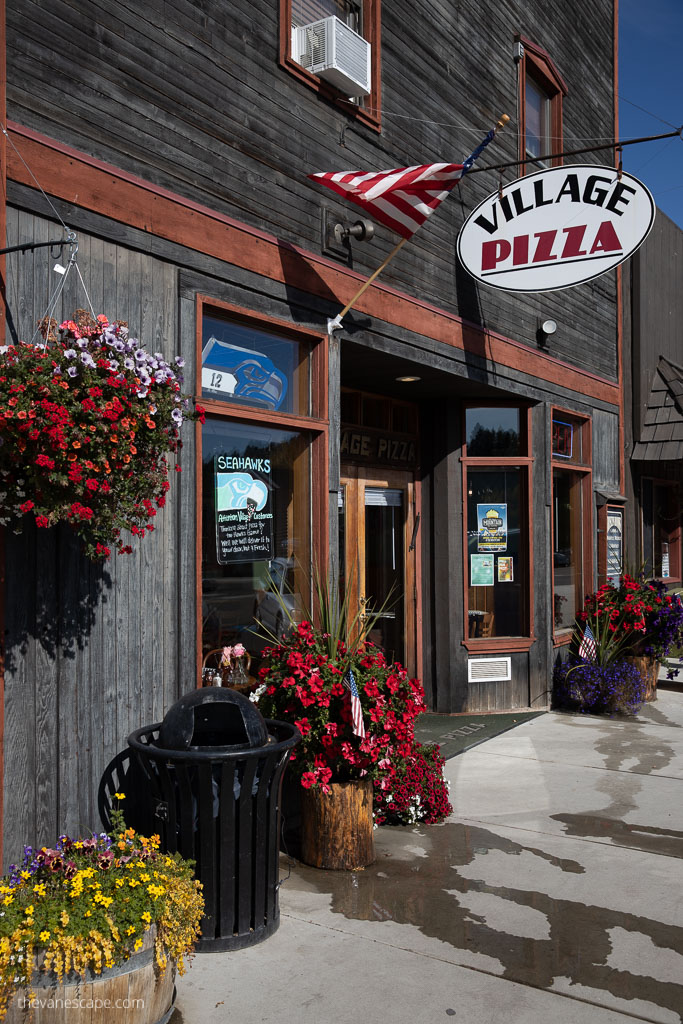 Roslyn Museum & Roslyn Theatre
Next to the Roslyn Cafe, you will find Roslyn Historical Museum. The museum is a reflection of Roslyn. It's a love of life and the richly seasoned ethnic mix that once represented more than 20 nationalities. The town was founded in 1886 as a coal mining company town.
Roslyn quickly became a bustling mining camp-turned-company-town. When coal was king, immigrants from all over Europe came here for work. During the 20th century, the city gradually transitioned away from coal, and today its economy is primarily based on forestry and tourism, after the Northern Exposure series. So it is worth to stop in this museum for a while.
However, during your walk, don't miss the mural at the Roslyn Theatre. The Roslyn Theatre is located in a historic 1890s clapboard building that once served as the town mortuary. It was converted into a movie theatre in the late 1970s and now shows films. The building is hard to miss on the Roslyn Yard. One side of the building is decorated by a huge mural depicting Marlon Brando in his iconic role in "The Wild Ones."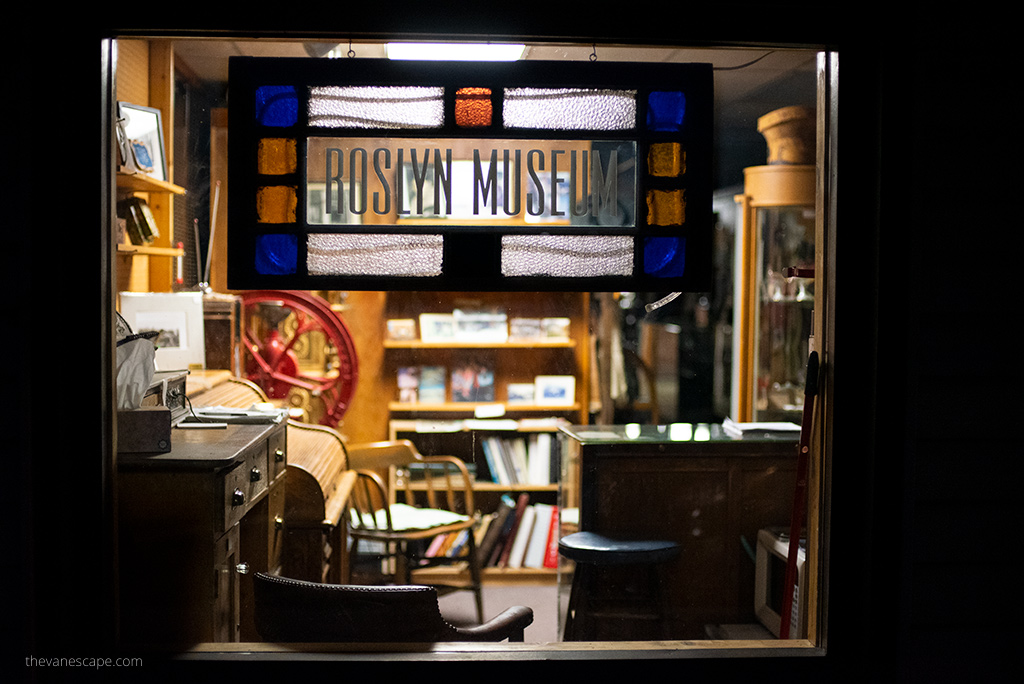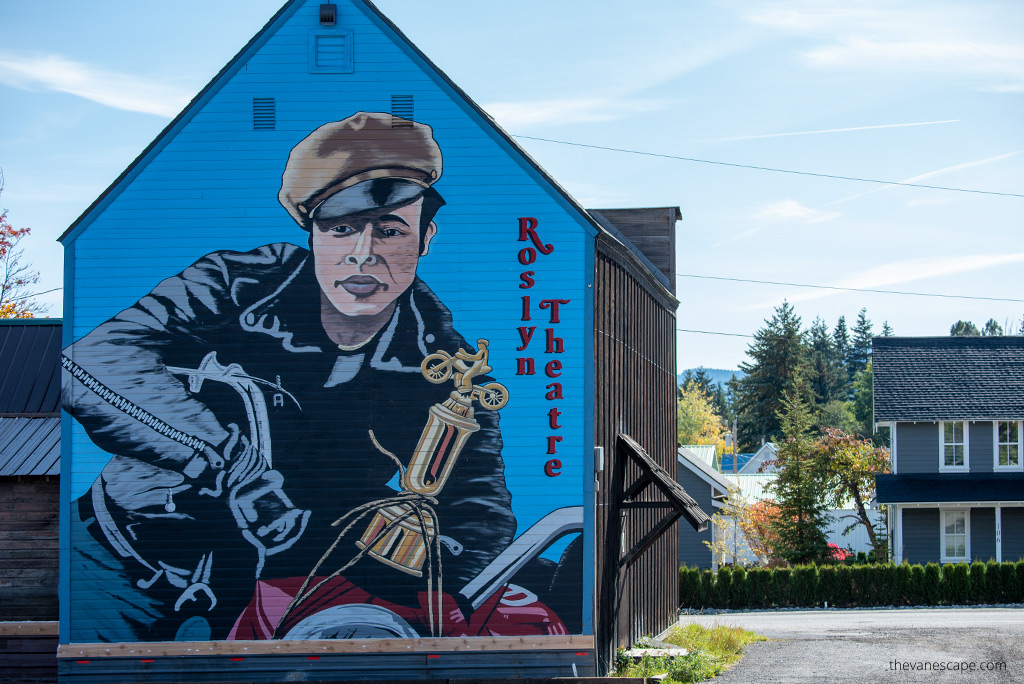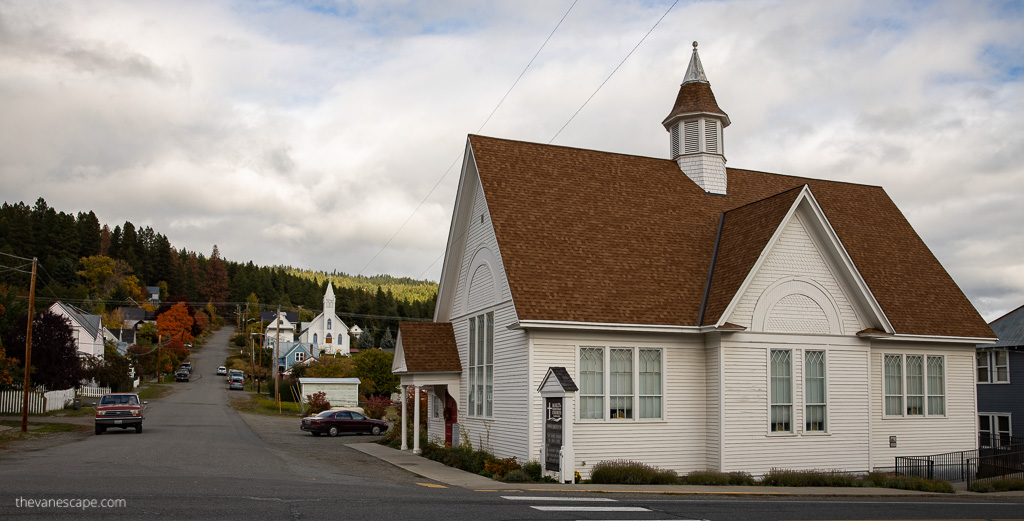 Where to stay while visiting Roslyn the Northern Exposure Town?
If you plan to stay in Seattle, check out our ready Seattle itinerary, where we also present the most interesting and the best lodging options in Seattle.
However, there are small inns and bed-and-breakfasts, and rooms for rent in the charming Roslyn area.
For a world-class resort experience, you have a luxury hotel in the area. It is The Lodge at Suncadia Resort in Cle Elum. It offers a bar, shared lounge, garden, and free WiFi, a 24-hour front desk, a restaurant, a water park, and an outdoor pool. The resort features an indoor pool, fitness center, evening entertainment, and room service. You can check prices here.
Cle Elum and Cle Elum Lake area offer lots of hiking trails as well.
The Best Books about Washington
We prepare ourselves thoroughly for each of our journeys: read books, and guides, and analyze maps. It is great to know as much as possible about the place we plan to see. We like to know the history of a given location. As photography passionates, we want to have good photos, so we are looking for the best photo spots. Below are some book recommendations that you may like as well.
Photographing Washington is for us the best. We love all the series to each state. This book offers an excellent overview of photography opportunities for Washington State. As with other books in the series, the printing is perfect, and the binding is durable. There's a lot more detail on places than you get in a general travel guide. It's lots of photographic hints & tips.
If you enjoy hiking, consider Moon Pacific Northwest Hiking. A wide variety of hikes and trails are offered. Tou will find a route to suit every mood, season, and hiking style or ability. Inside are beautiful photographs too. You will find directions to the trailhead, permits required, trail maps, GPS coordinates, mileage and elevation gain, elevation profiles, and highlights of each trail.
We also like Hiking Washington: A Guide to the State's Greatest Hiking Adventures. It's very informative and detailed. Before you hit a mountain trail, check our detailed post with the Day Hiking Packing List. You will find lots of useful hiking tips and a printable pdf packing checklist.
Finally, if you are planning a road trip, we recommend a paper map: Washington Road and Recreation Atlas. It's very detailed and informative. Except for roads, you will find useful information about wilderness, forest service, state parks, BLM areas, Tribal lands, national parks and monuments, campgrounds, and more.