Real-Life Twin Peaks Locations You Can Visit Today
The famous TV series "Twin Peaks" by David Lynch and Mark Frost had its 30th anniversary of premier in April 2020. It was the most popular American mystery horror television series of 90′ on ABC. We are fans of the works of David Lynch. So, during our visit to Washington State, we decided to visit the places where FBI Special Agent Dale Cooper and local Sheriff Harry S. Truman run an investigation into the murder of beautiful Laura Palmer. The action takes place in the fictional town of Twin Peaks. So, check with us real-life Twin Peaks Locations you can visit today, which are in Snoqualmie and the neighboring communities of North Bend and Fall City.
This article may contain affiliate / compensated links. For full information, please see our disclaimer here.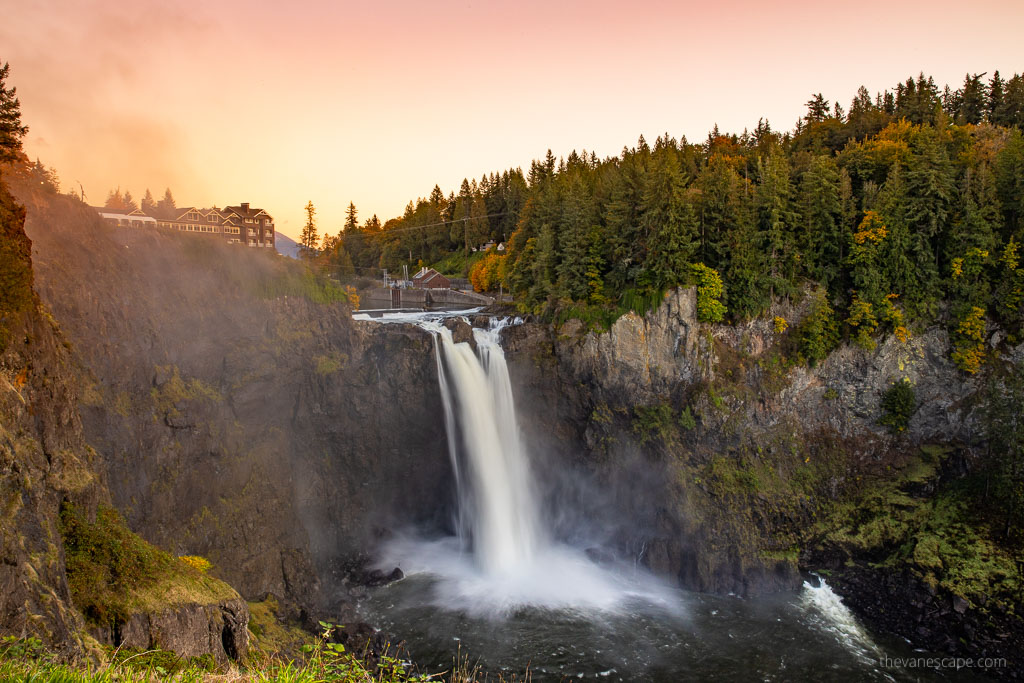 The storyline of Twin Peaks
Twin Peaks premiered on April 8, 1990, on ABC. Twin Peaks was a murder mystery set in the archetypal small American town in Washington State. One day, the body of a young woman – Laura Palmer (Sheryl Lee) is discovered near a riverbank wrapped in plastic. She has been brutally killed, and all of Twin Peaks' inhabitants are shocked. So, FBI agent Dale Cooper (Kyle MacLachlan) came to solve the murder mystery with the local sheriff Harry S. Truman (Michael Ontkean).
Furthermore, the TV series is full of surreal images, dancing dwarfs, rad room, a woman cradling a pet log, flickering electricity, and delicious cherry cake. Finally, light and dark, good and evil co-existence. As the plot unfolds, the dark sides of the seemingly innocent characters are revealed, as well as the double lives they have. Therefore, it might seem that all characters are freaks.
However, it was with the music by Angelo Badalamenti that Twin Peaks truly became Twin Peaks. Hence, it makes the story remain in memory for years. David Lynch and Mark Frost have completely revolutionized television. Everyone wanted to know who killed Laura Palmer. And that's why after 27 years in 2017.was made Twin Peaks: The Return. Twin Peaks: The Return is a bizarre thriller, bolder, more baffling, and more hallucinogenic.
Twin Peaks Locations
One of the reasons that made Twin Peaks an iconic TV series is the climatic locations. Many diehard fans of the original 1990s show have traveled to the Pacific Northwest to see the most iconic real-life Twin Peaks filming locations, and follow in the footsteps of creator David Lynch. So, if you're in Seattle, take a one-day trip through the 90's famous TV series locations: Twin Peaks and Northern Exposure series (check our article about the Roslyn – the Northern Exposure location).
Every real fan of Twin Peaks associates locations such as the Double-R Diner, Great Northern Hotel, and characteristic Snoqualmie Waterfalls. Almost all of the pictures were taken in Snoqualmie in Washington, where a large part of the scenes from this iconic TV series was shot. So, let's check what these places look like after 30 years.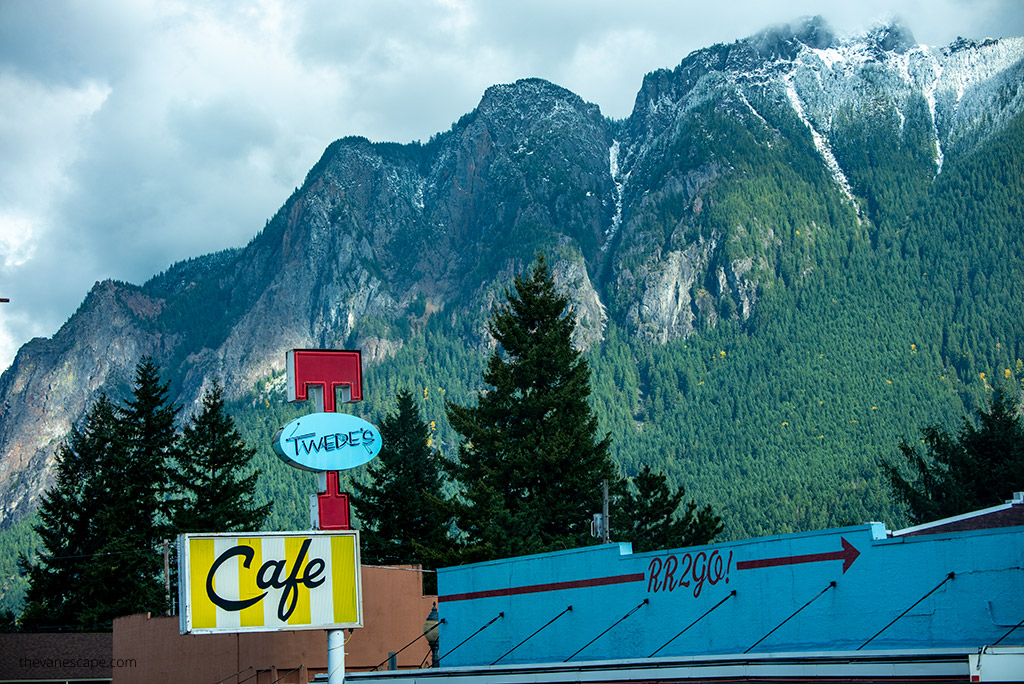 | | | | |
| --- | --- | --- | --- |
| | | | |
| The Secret Diary of Laura Palmer | The Secret History of Twin Peaks by Mark Frost | Twin Peaks: The Final Dossier by Mark Frost | David Lynch Collection |
| View Item | View Item | View Item | View Item |
Welcome to Twin Peaks Sign
The sign 'Welcome to Twin Peaks, Population: 51,201', which Agent Cooper drives past in the pilot, actually stood on Reining Road in Snoqualmie, Washington. We checked this place, and there is no sign there anymore. But as Twin Peaks fans, we appreciate the view. Furthermore, in the distance, you can see the famous peak of Mount Si. The four-mile-long (6.5 km) Mount Si trail vertically climbs 3,500 feet (1,070 m) to the summit ridge.
Address: Welcome sign at SE Renig Rd., .25 Mile West of 428th & Renig, North Bend, WA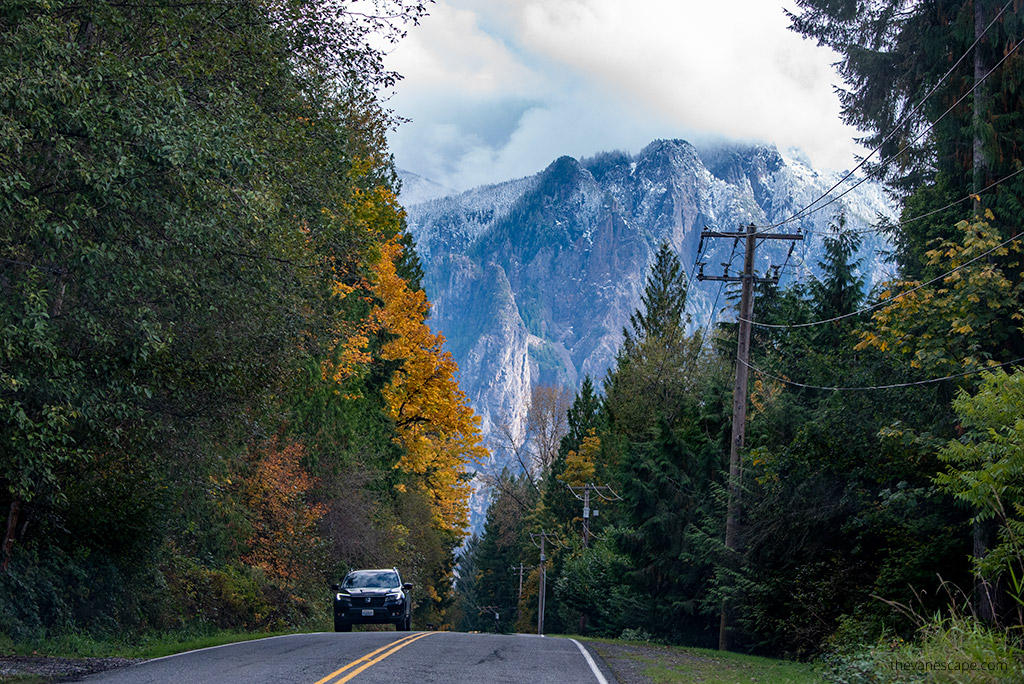 Great Northern Hotel (Salish Lodge and Spa)
The Great Northern Hotel (Salish Lodge and Spa in Snoqualmie) hosted FBI Agent Dale Cooper on the TV series. It takes only about 30 minutes to get there from Seattle. We would love to stay there for a night, so if you can afford for staying there check the prices and book it, because it is an amazing place. Producers used shots of the Salish Lodge and Spa in Snoqualmie as the exterior, which overlooks Snoqualmie Falls. While, the interiors of the Great Northern Hotel were actually shot at Kiana Lodge in Poulsbo, Washington.
The Salish Lodge and Spa's "Twin Peaks Experience" includes Damn Fine Coffee and Cherry Pie-inspired spa treatments, a Dale Cooper cocktail in The Attic, and Twin Peaks souvenirs in the Country Store. So it is worth stopping there during your trip. For us it's the best Real-Life Twin Peaks Location, as the view of the falls and hotel is stunning.
Address: Salish Lodge and Spa, 6501 Railroad Ave., Snoqualmie, WA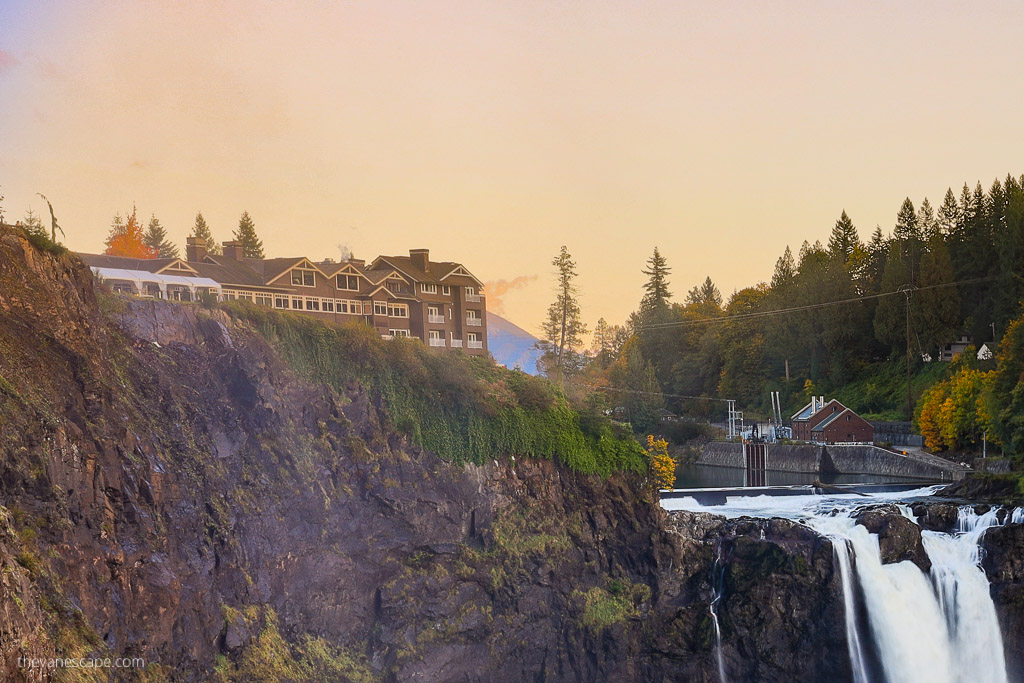 Snoqualmie Falls
The sound of water drowns out your thoughts. Drops of water hit your face and your camera lens. Due to, it's hard to take a picture. Shivers pierce you at the thought of the mysterious death of Laurel Palmer when you are staying at the rim of the waterfall. The 270-foot waterfall is named after the Snoqualmie Tribe. It appears in the opening credits. Snoqualmie Falls is a memorable Twin Peaks location. If you don't stay at Salish Lodge and Spa, you can visit the observation deck or park to view the falls.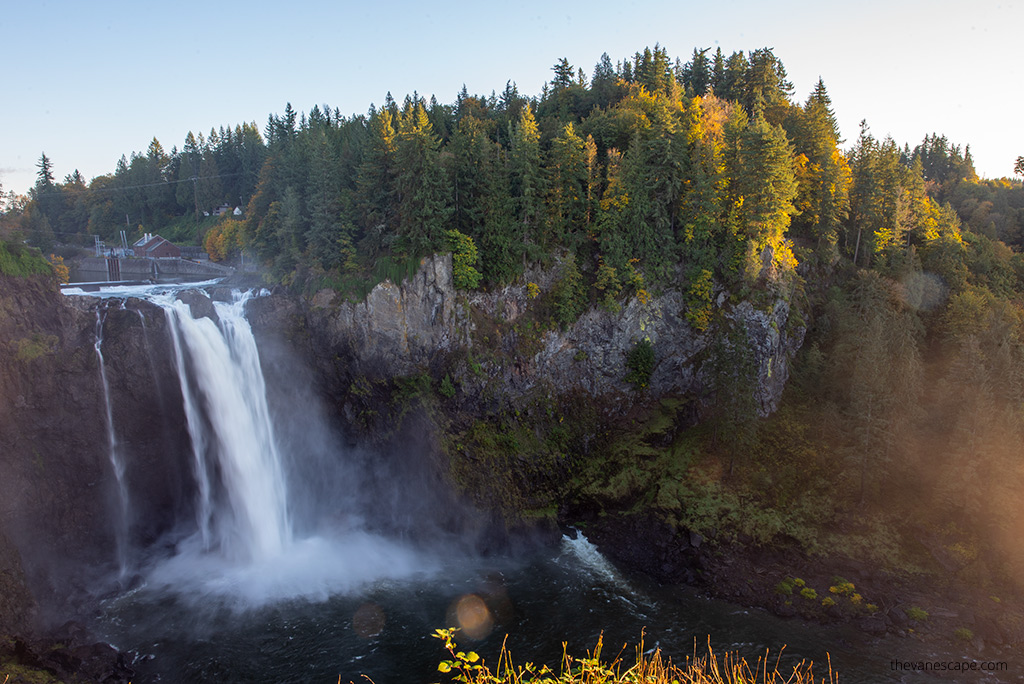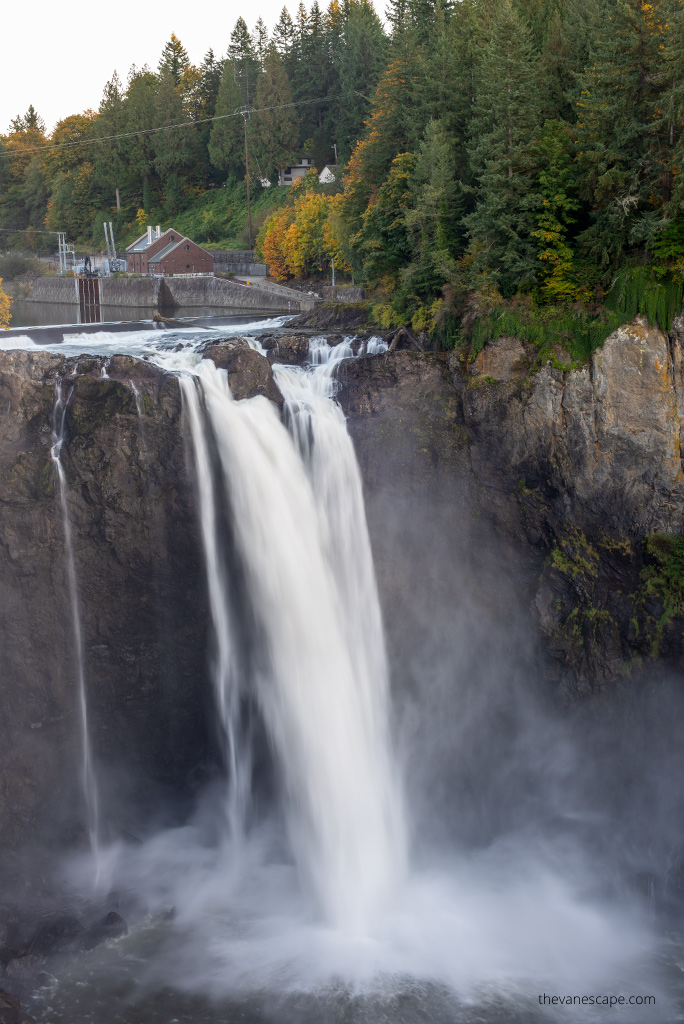 Ronette's Bridge – Real-Life Twin Peaks Locations
In real life, Ronette's Bridge is the Reinig Bridge, which crosses the Snoqualmie River. In Twin Peaks is "Ronette's bridge," due to Ronette Pulaski, a classmate of Laura's, staggered across the bridge after her attack.
It is located near southeast Reinig Road in Snoqualmie and was constructed in 1916. The Snoqualmie Falls Lumber Company used it to transport wood. Now, the bridge forms part of the Snoqualmie Valley Trail for hikers and cyclists only.
Address: 396th Dr. and SE Renig Rd., Snoqualmie, WA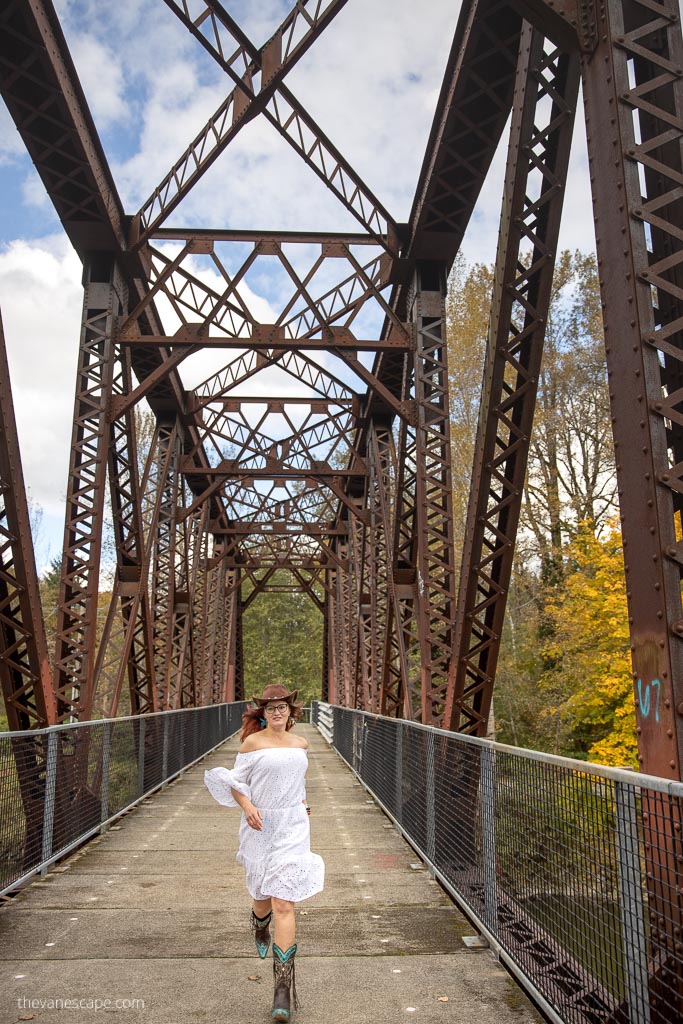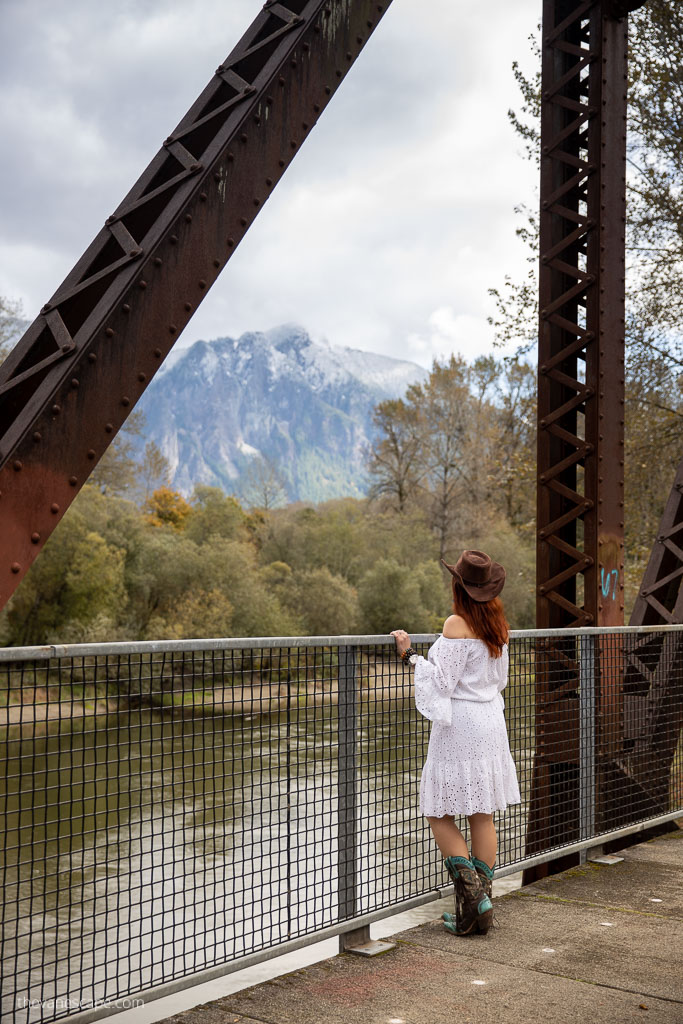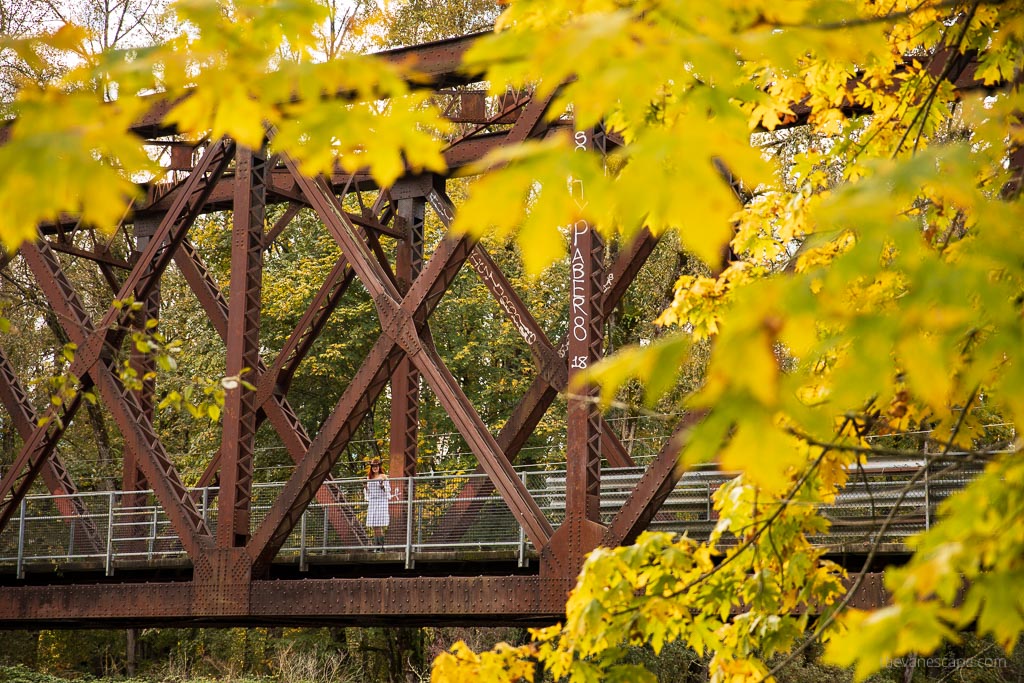 Packard Sawmill
It's one of our favorites Real-Life Twin Peaks Locations. The sawmill seen in the opening credits is abandoned and a lot of it is gone but there still remains a single smokestack and some of the manufacturing houses. The Packard Sawmill is located on Sparkwood Road near Black Lake Falls. Consequently, the mill played a critical role in most of the first season of Twin Peaks. Finally, the Packard Sawmill was partially destroyed by a fire. The fire was caused by a bomb set up by Leo Johnson. Most of the mill exterior shots were captured in Snoqualmie.
Address: Weyerhaeuser Paper Mill 7001 396th Dr. SE Snoqualmie, WA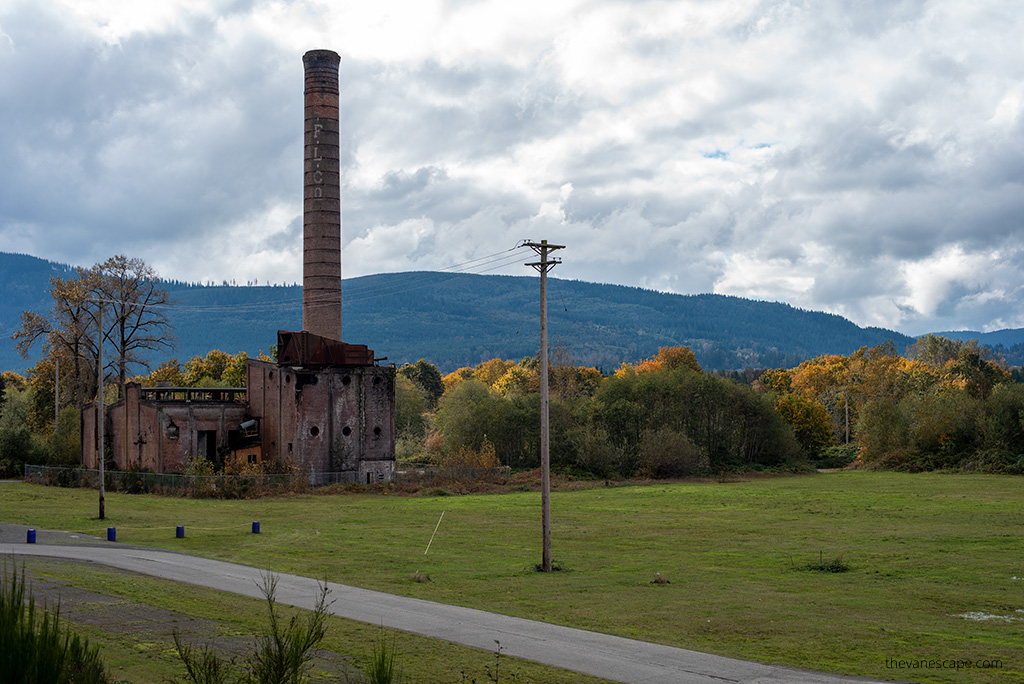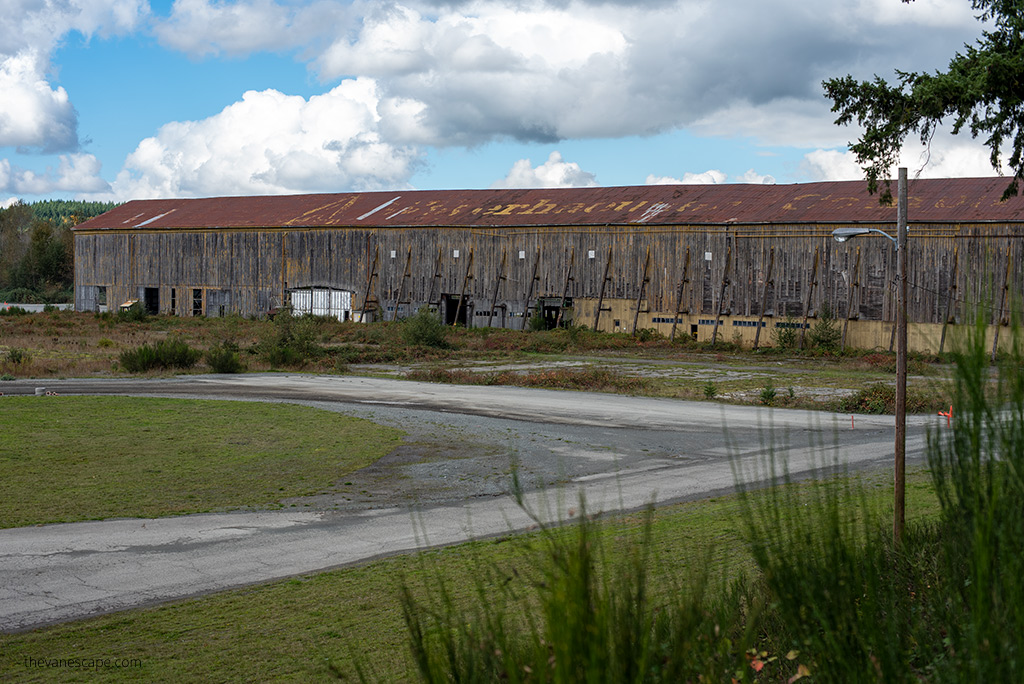 Sheriff's Station
The Twin Peaks Sheriff's Department is currently home to Dirtfish Rally School.
Addess: Weyerhaeuser Paper Mill offices 7001 396th Dr. SE Snoqualmie, WA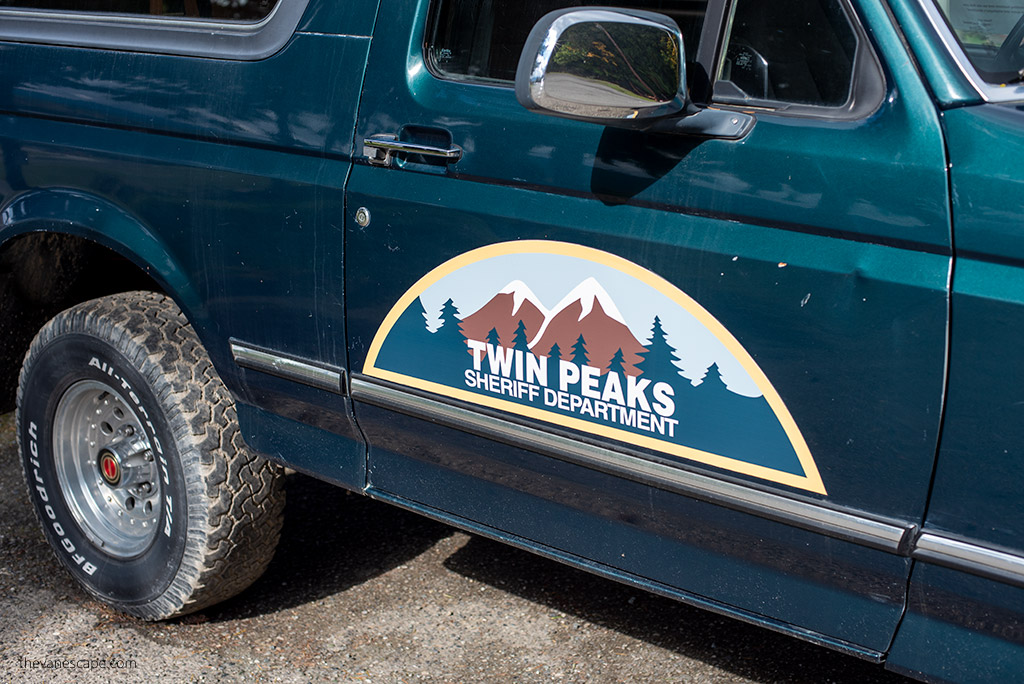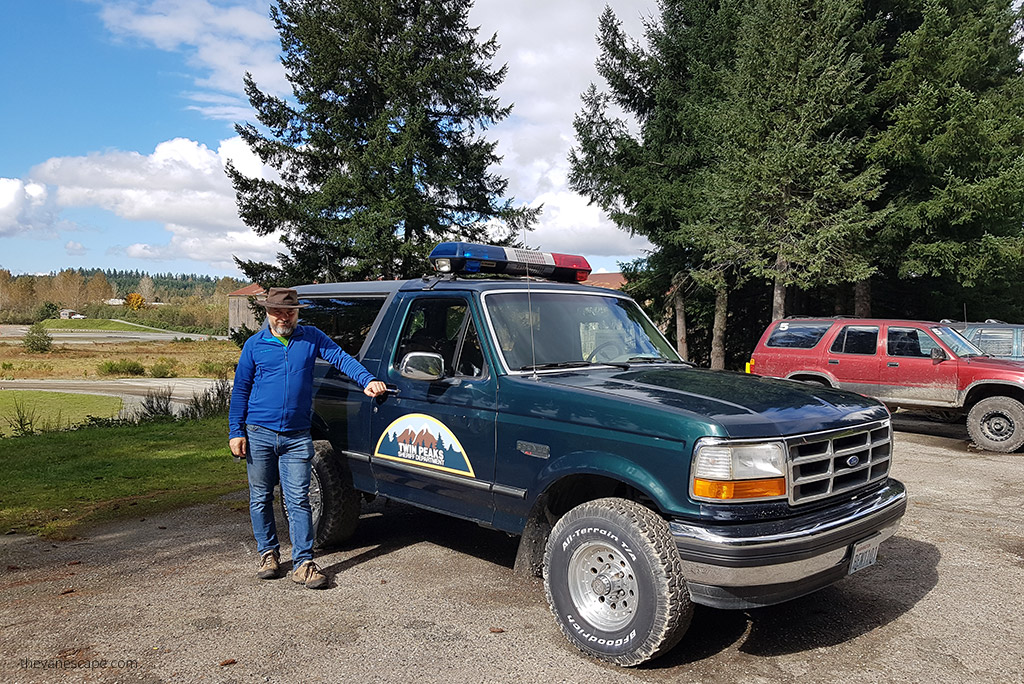 Double R Diner
We love these Real-Life Twin Peaks locations. Would you like to try a "damn fine cup of coffee" and a slice of "Twin Peaks cherry pie," just as Norma Jennings or Shelly Johnson would serve them? So, visit Twede's Cafe in North Bend, Washington. What's called Twede's Cafe now opened as Thompson's Diner in 1941. It became the Mar-T Cafe a decade later. And in 1989, it was the sound-stage model for Double R scenes.
As a result, the time has stopped here so that you can feel like on the show. Due to this, you can eat a cherry cake and look at the door, hoping Sheriff Harry S. Truman and Agent Cooper will appear.
Address: Twede's café 137 West North Bend Way, North Bend, WA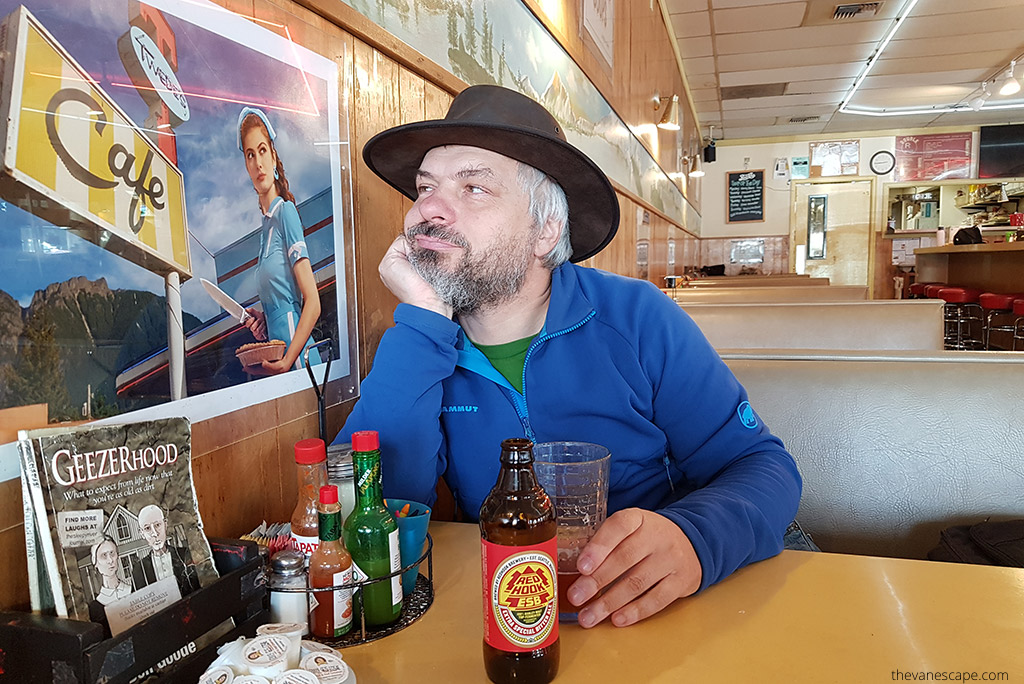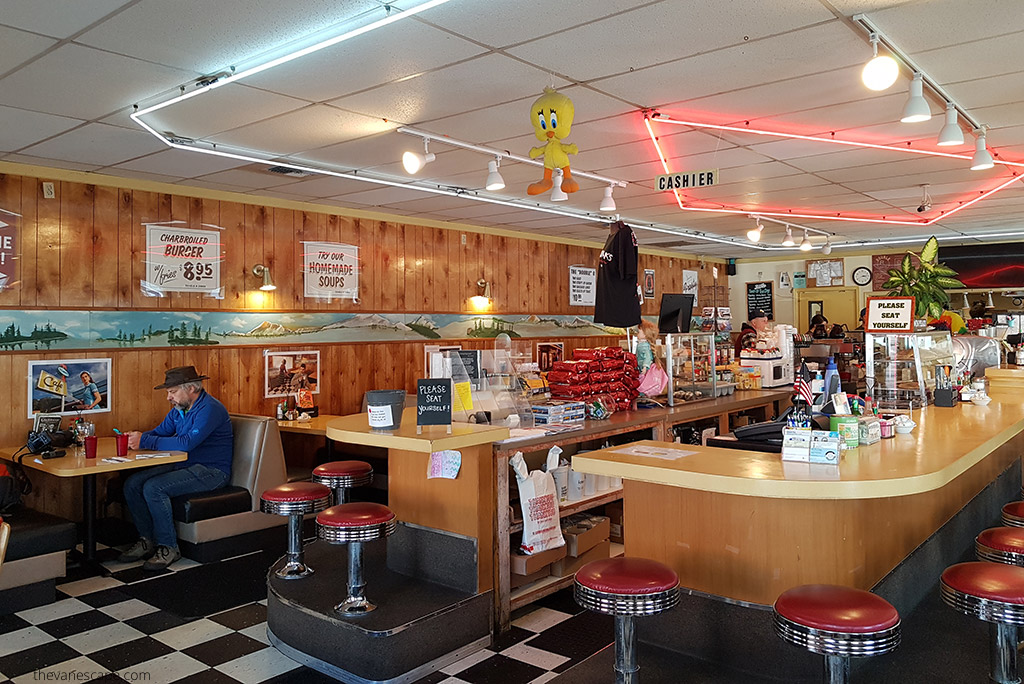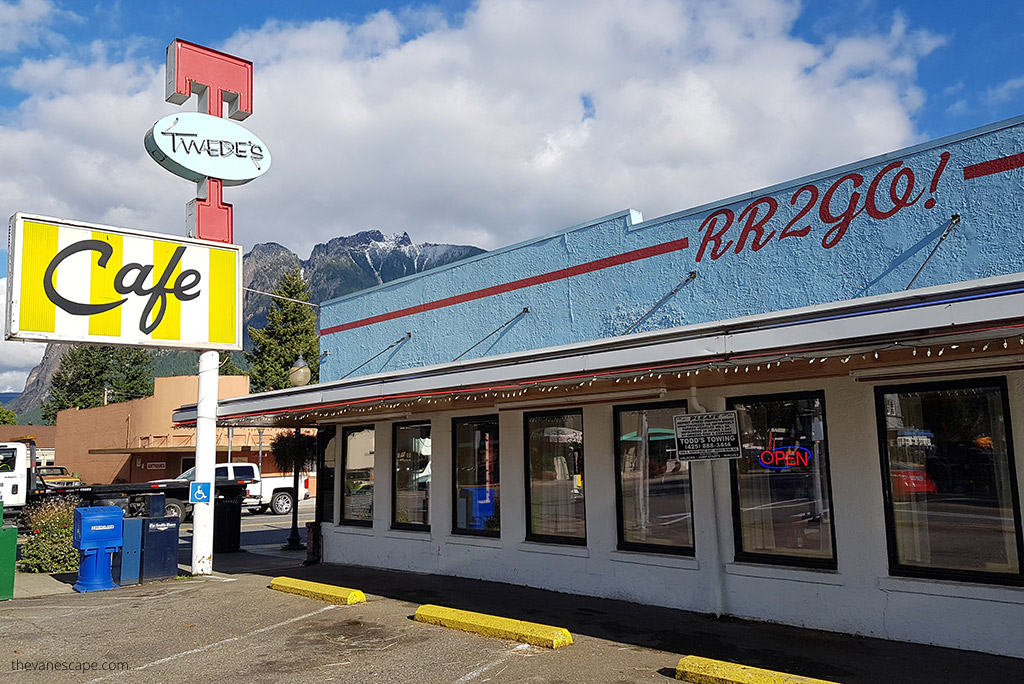 The Roadhouse Bar
It's also one of the best Real-Life Twin Peaks Locations. Disobeying curfew, Donna Hayward (Lara Flynn Boyle) sneaks off to the Roadhouse Bar. The exteriors can be found at the Fall City Roadhouse and Inn in Fall City, Washington, but its interiors were filmed at Raisbeck Performance Hall at Cornish College of the Arts in Seattle. We checked the menu; we had a delicious breakfast there. For sure, it is an excellent place for breakfast or lunch during your Twin Peaks trip.
Address: Colonial Inn 4200 Preston Fall City Rd. SE Fall City, WA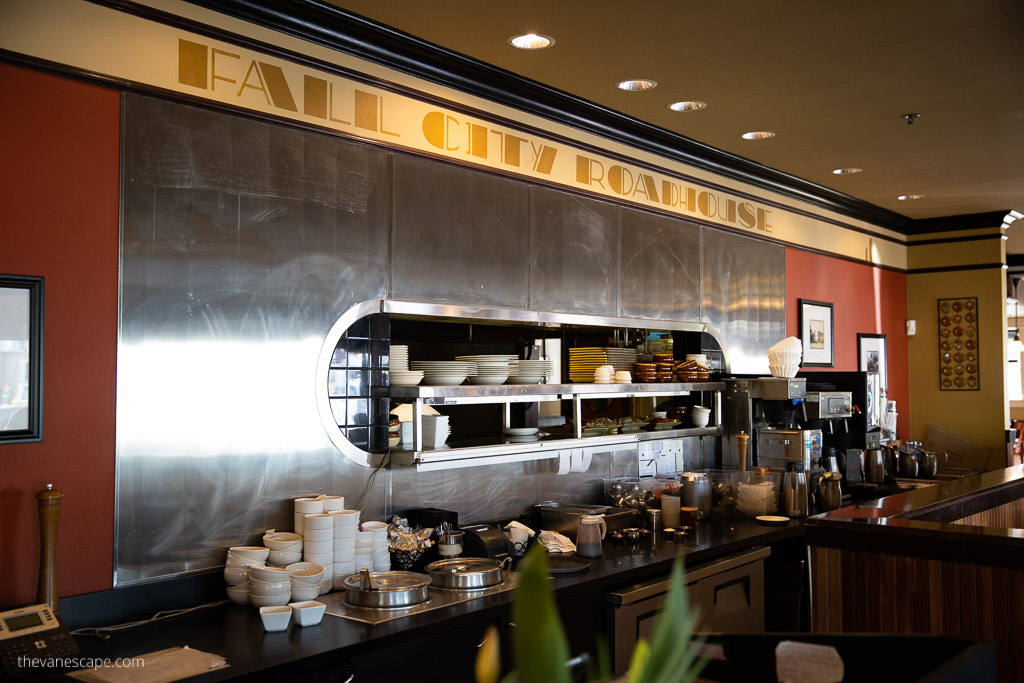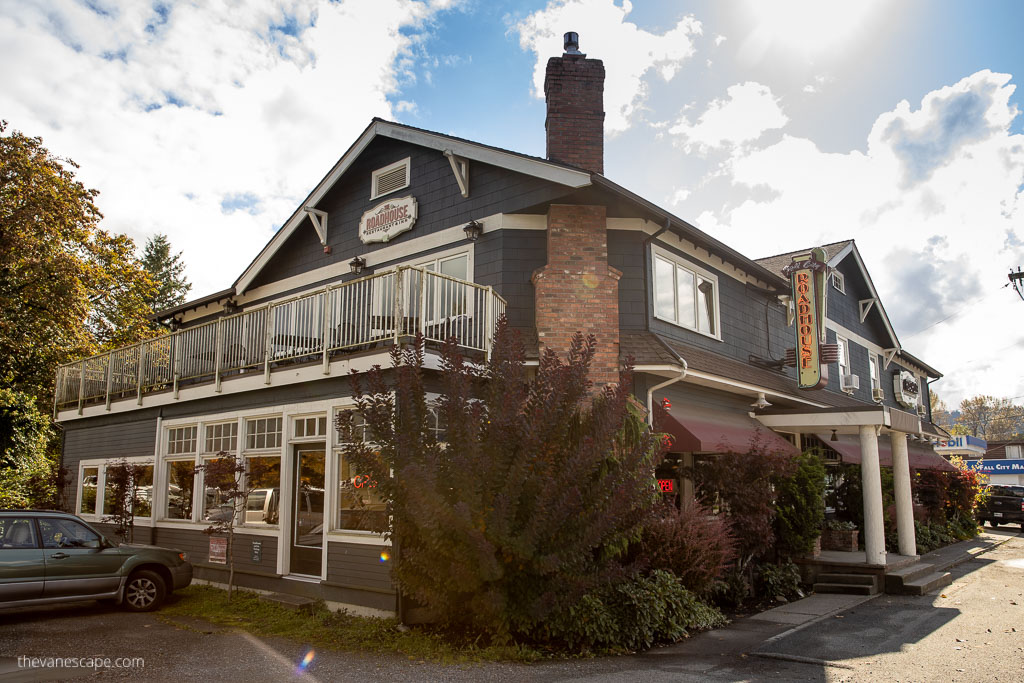 Where to Stay while visiting Real-Life Twin Peaks Locations?
If you plan to stay in Seattle, check out our ready Seattle itinerary, where we also present the most interesting and the best lodging options in Seattle.
Below are some suggestions for the best accommodation in the area of Snoqualmie.
Salish Lodge & Spa is nestled in the foothills of the Cascade Mountains, overlooking the 268-foot Snoqualmie Falls.
This one-of-a-kind experience allows you to explore the show's locations around the Lodge, cozy up in one of the 85 guest rooms while binge-watching the first season of Twin Peaks, relax with Damn Good Coffee, and Cherry Pie in The Attic.
Hampton Inn & Suites Snoqualmie is located within 5 minutes of Snoqualmie Falls and 10 minutes of North Bend Premium Outlets. It has rooms with air conditioning and a private bathroom in Snoqualmie. The hotel provides an indoor pool and a 24-hour front desk and free WiFi throughout the property.
Snoqualmie Nest provides accommodations with a casino and free WiFi throughout the property as well as free private parking for guests who drive. Finally, the guesthouse has mountain views, a sun terrace, and a 24-hour front desk.
Get Ready for the Trip to Real-Life Twin Peaks Locations
We prepare ourselves thoroughly for each of our journeys: read books, and guides, and analyze maps. It is great to know as much as possible about the place we plan to see. We like to know the history of a given location. As photography passionates, we want to have good photos, so we are looking for the best photo spots. Below are some book recommendations that you may like as well.
Photographing Washington is for us the best. We love all the series to each state. This book offers an excellent overview of photography opportunities for Washington State. As with other books in the series, the printing is perfect, and the binding is durable. There's a lot more detail on places than you get in a general travel guide. It's lots of photographic hints & tips.
If you enjoy hiking, consider Moon Pacific Northwest Hiking. A wide variety of hikes and trails are offered. You will find a route to suit every mood, season, and hiking style or ability. Inside are beautiful photographs too. You will find directions to the trailhead, permits required, trail maps, GPS coordinates, mileage and elevation gain, elevation profiles, and highlights of each trail.
We also like Hiking Washington: A Guide to the State's Greatest Hiking Adventures. It's very informative and detailed. Before you hit a mountain trail, check our detailed post with the Day Hiking Packing List. You will find lots of useful hiking tips and a printable pdf packing checklist.
If you are planning a road trip, we recommend a paper map: Washington Road and Recreation Atlas. It's very detailed and informative. Except for roads, you will find useful information about wilderness, forest service, state parks, BLM areas, Tribal lands, national parks and monuments, campgrounds, and more.