The Ultimate Guide to Ah-Shi-Sle-Pah Wilderness Study Area
The Ah-Shi-Sle-Pah Wilderness Study Area is a unique place that may be challenging to locate and pronounce. This New Mexico desert landscape, resembling a planet from another world, is home to stunning badlands, hoodoos, cliffs, and ancient fossils concealed within the San Juan Basin. The area boasts a natural and unspoiled environment, showcasing awe-inspiring rock formations. If you love to travel off the beaten track, this place is for you. Our comprehensive guide provides details on how to get to the remarkable hoodoos, the best time to visit, the difficulty level of the hike, what to pack, where to stay, and other essential information for the perfect adventure.
This article may contain affiliate / compensated links. For full information, please see our disclaimer here.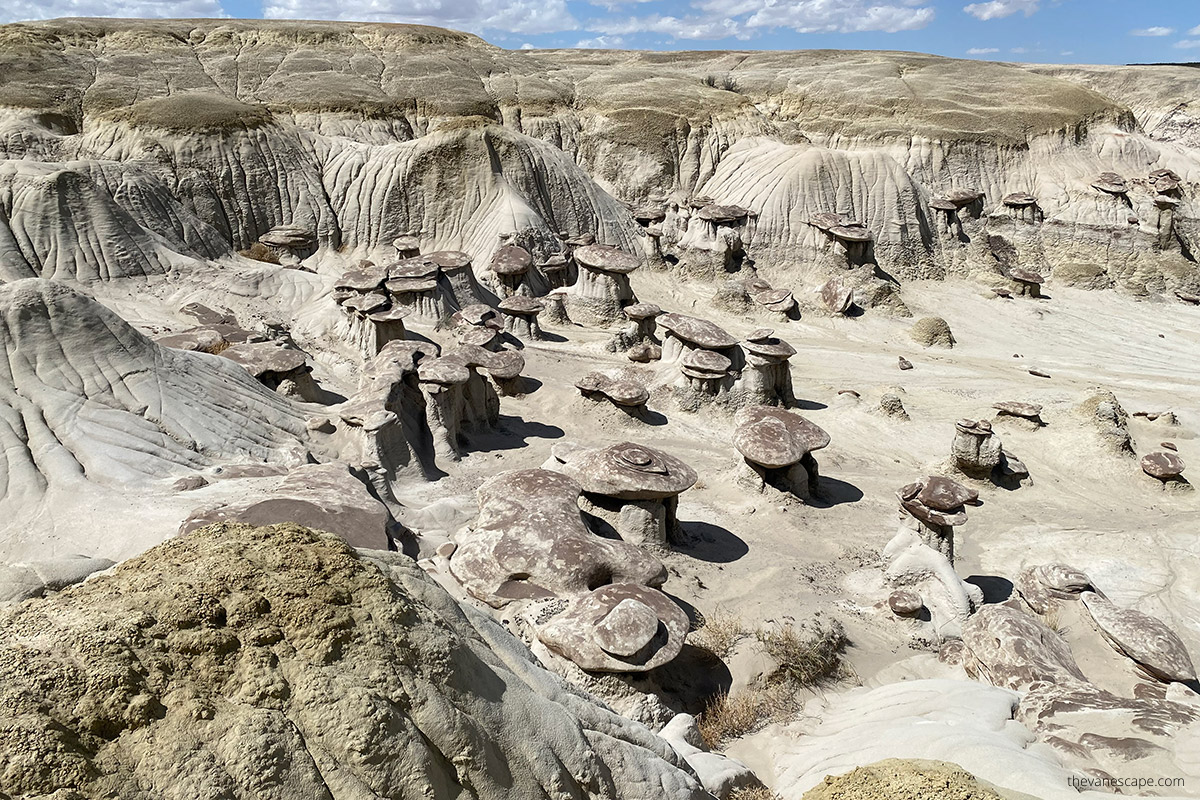 What is Ah-Shi-Sle-Pah Wilderness Study Area?
The Ah-Shi-Sle-Pah Wilderness Study Area is a badland area characterized by rolling hills of water-carved clay with sparse vegetation and exposed geological formations. Sandstone caprocks and picturesque olive-colored hills dominate the landscape of northwestern New Mexico. The Wilderness Study Area is centered on Ah-Shi-Sle-Pah Wash. The area is rich in fossils, including petrified wood and dinosaur bones. The vegetation is mostly limited to sagebrush, piñon-juniper, Great Basin scrubland, and grassland. Water is scarce, and there are no marked trails.
The location is renowned for its soft and unique colors that are rarely seen elsewhere. The valley floor is lined with grey-white mud hills, and minor drainage runs through the vast, barren valley that is bordered by a strip of eroded cliffs, ravines, and badlands. The area is home to countless hoodoos, balanced rocks, and other strange formations of various colors, including the distinctive brown-ochre of the badlands, yellow-orange hoodoos, and deep black scattered coal beds closer to the wash.
Exploring Ah-Shi-Sle-Pah is one of the best things to do near Farmington.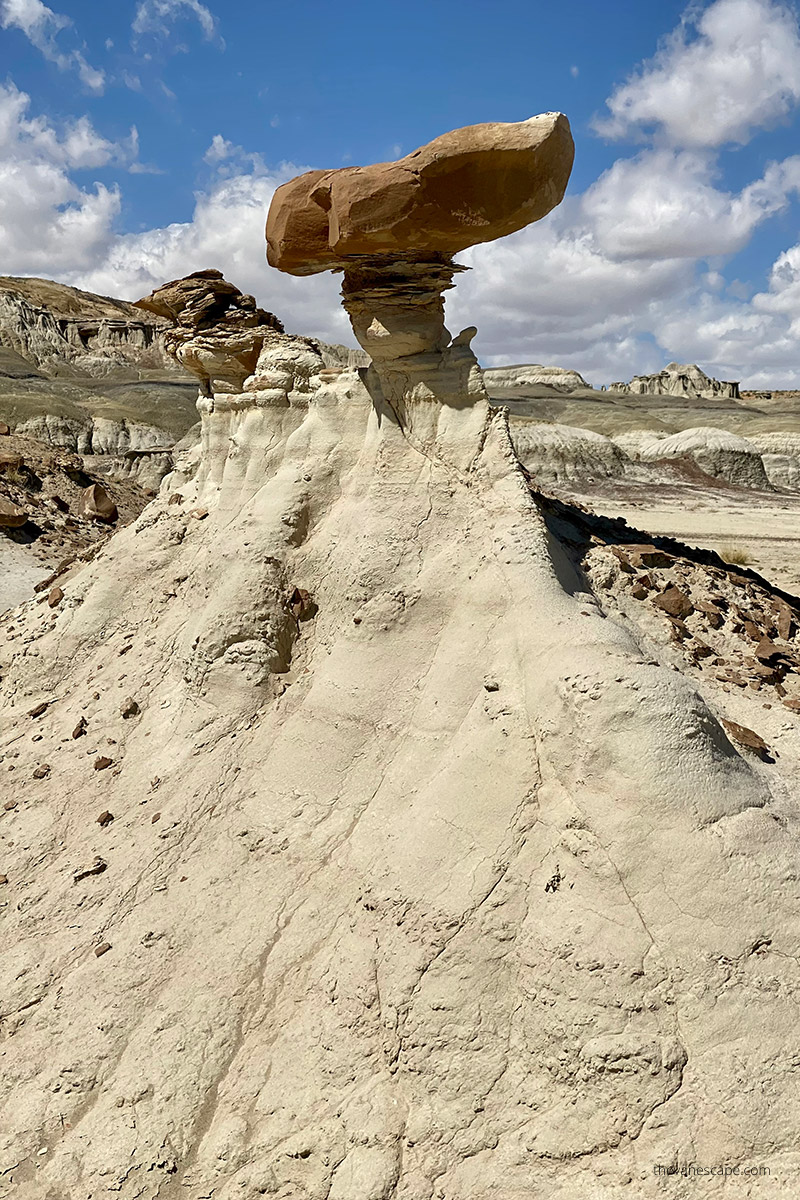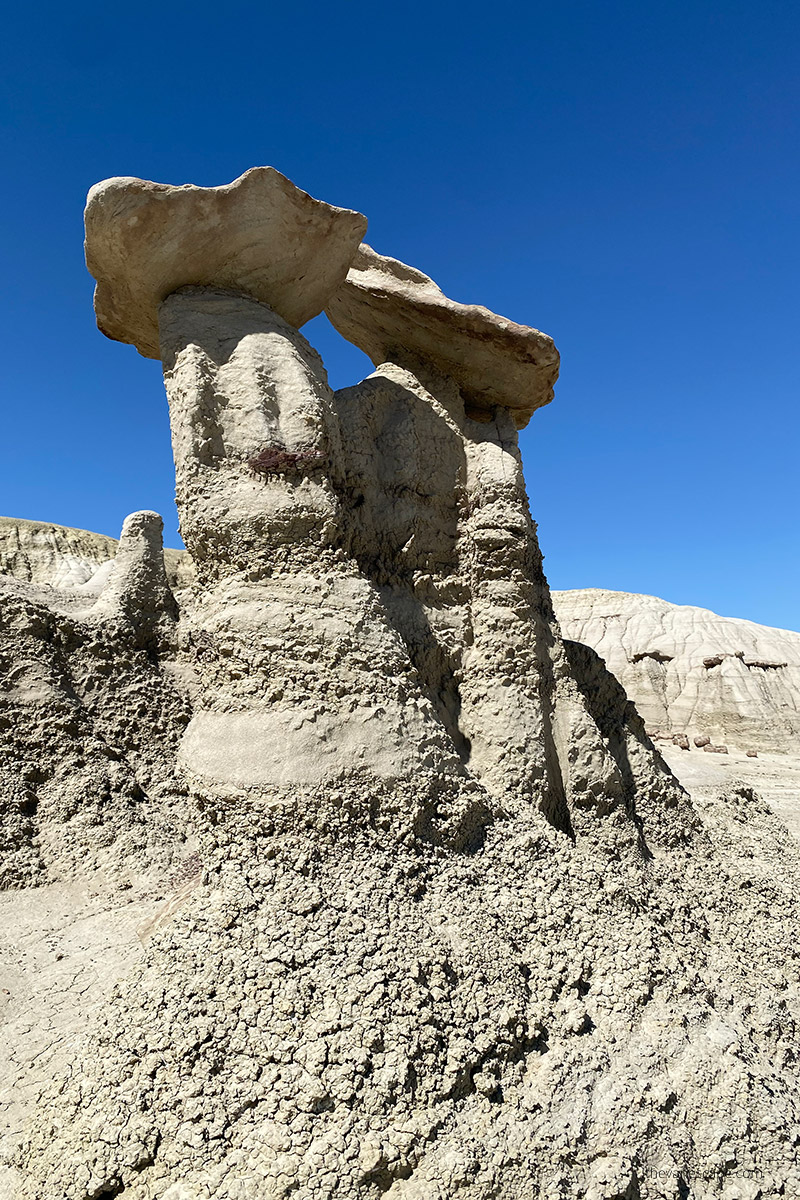 The United States Congress designated the Ah-shi-sle-pah Wilderness Study Area (WSA) in 2019. The total area is 7,242 acres, and the Bureau of Land Management manages it. It's a component of the National Wilderness Preservation System. It is located in northwestern New Mexico, nestled between Chaco Canyon and the De-Na-Zin Wilderness in San Juan County. Visiting and hiking the Ah-Shi-Sle-Pah Wilderness Study area requires no fees or permits.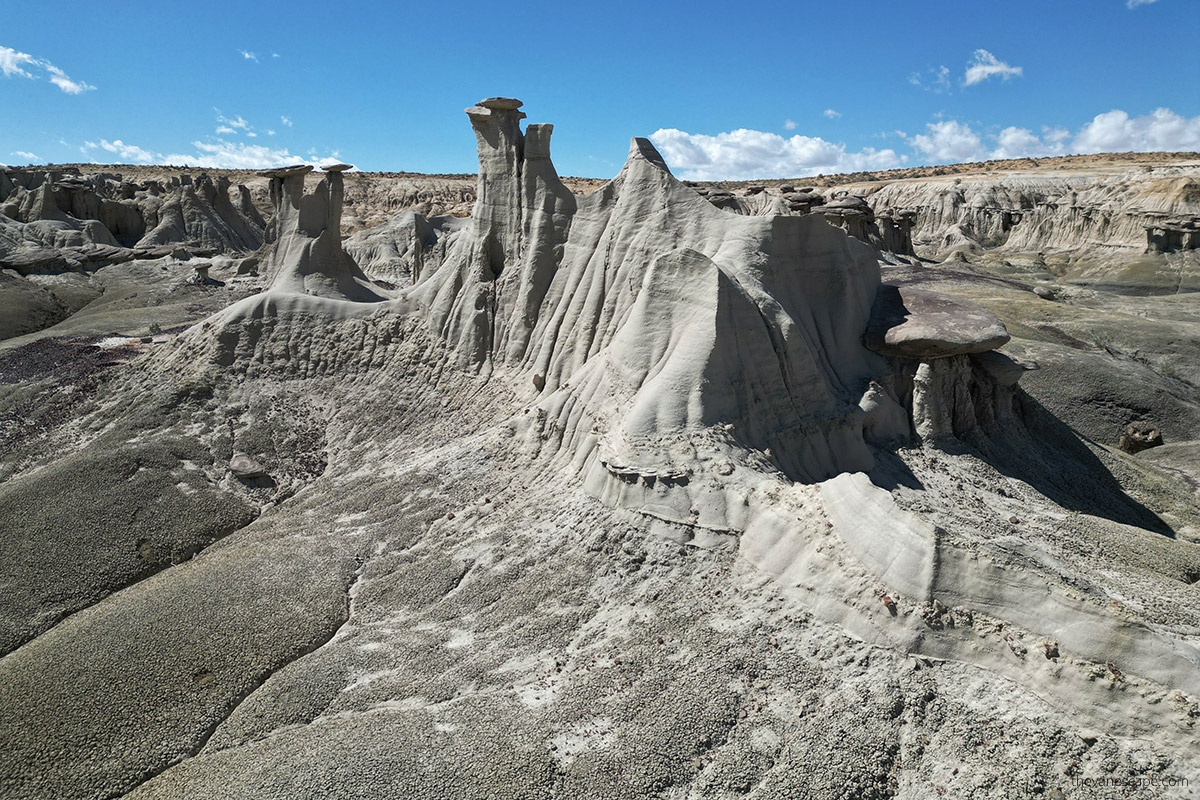 Ah-Shi-Sle-Pah Photography Locations
Ah-Shi-Sle-Pah boasts three stunning locations for photography and hiking enthusiasts:
These three areas are conveniently located within walking distance of each other. Nonetheless, navigating through the desert can be challenging, and you may miss the formations you're searching for. To make your experience more enjoyable and productive, we've compiled a comprehensive guide to assist you in exploring this region.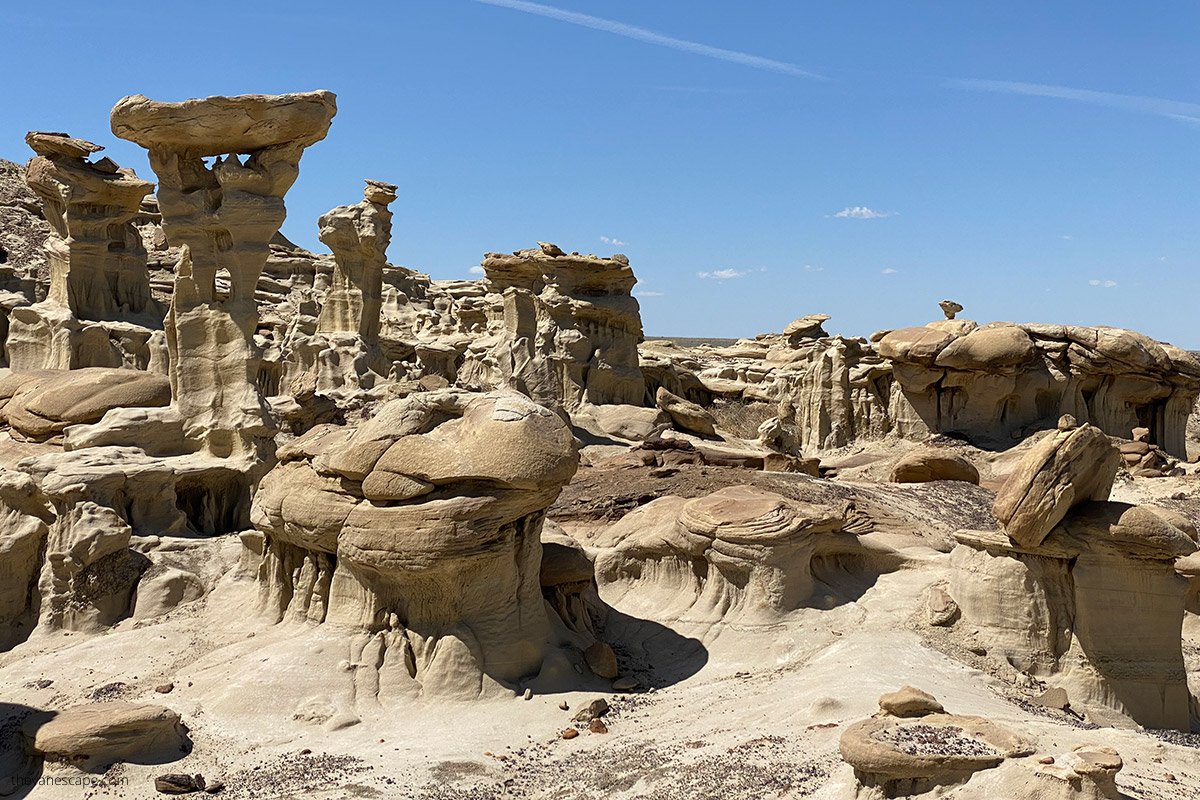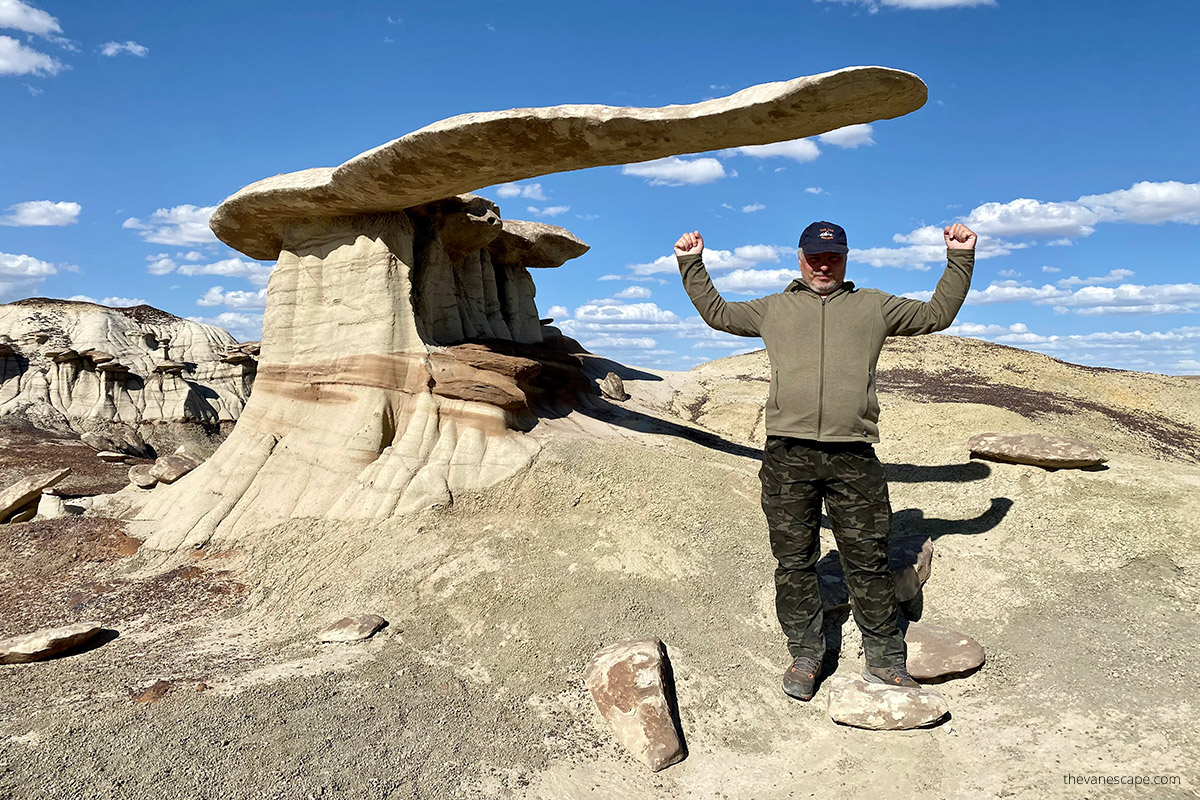 Ah-Shi-Sle-Pah Wilderness – Our Experiences
When we first visited New Mexico in 2019, we were immediately captivated by its deserts and unique badlands formations. Since then, we've made return trips to explore new areas. The Ah-shi-sle-pah Wilderness Study Area (WSA) was officially designated by the United States Congress in 2019. We could not find the famous formations during our first visit. There were no sensible directions to find them, no maps at the time. But we thoroughly explored the neighboring Bisti/De-Na-Zin Wilderness.
During our most recent road trip in May 2023, we focused on the Ah-Shi-Sle-Pah Wilderness and were well-prepared for hiking. We revisited each location a few times and created this Guide consisting of three parts for fellow explorers. This section provides crucial information about the Ah-Shi-Sle-Pah WSA and tips for preparing for your adventure. We also have created separate articles detailing the location and hiking tips for two of the most famous rock formations: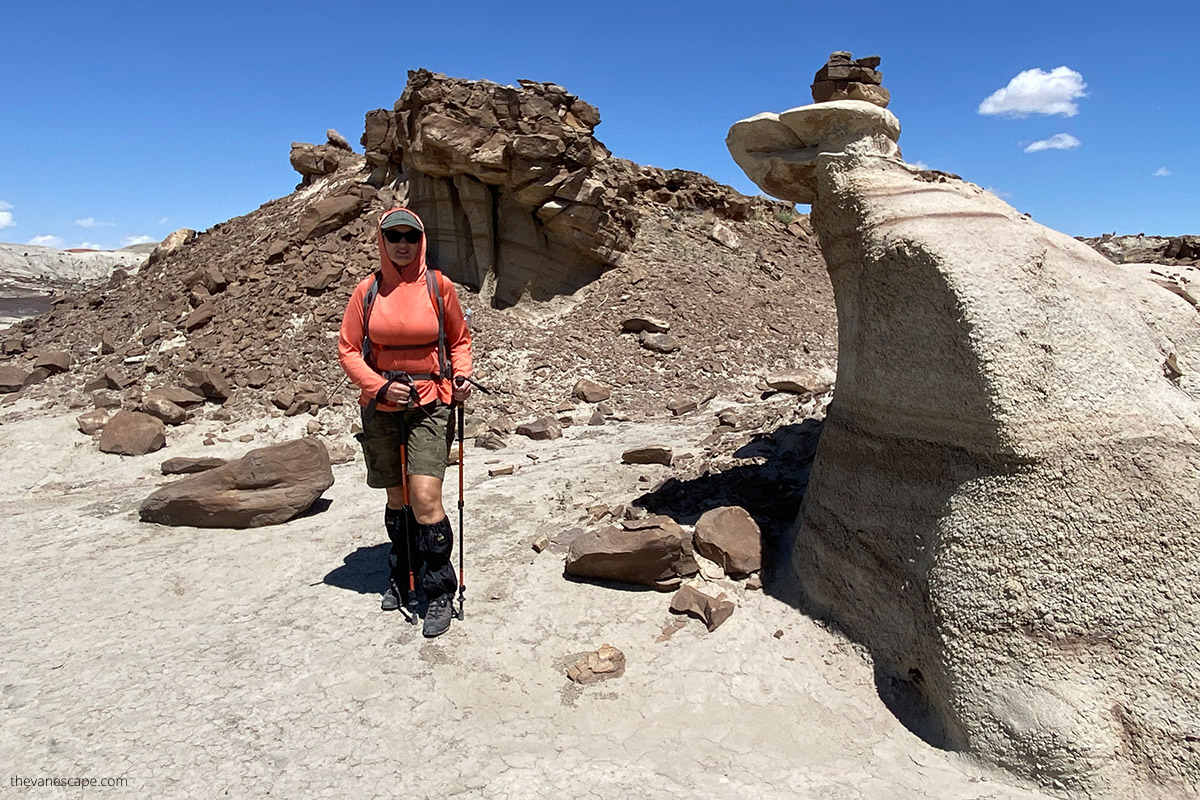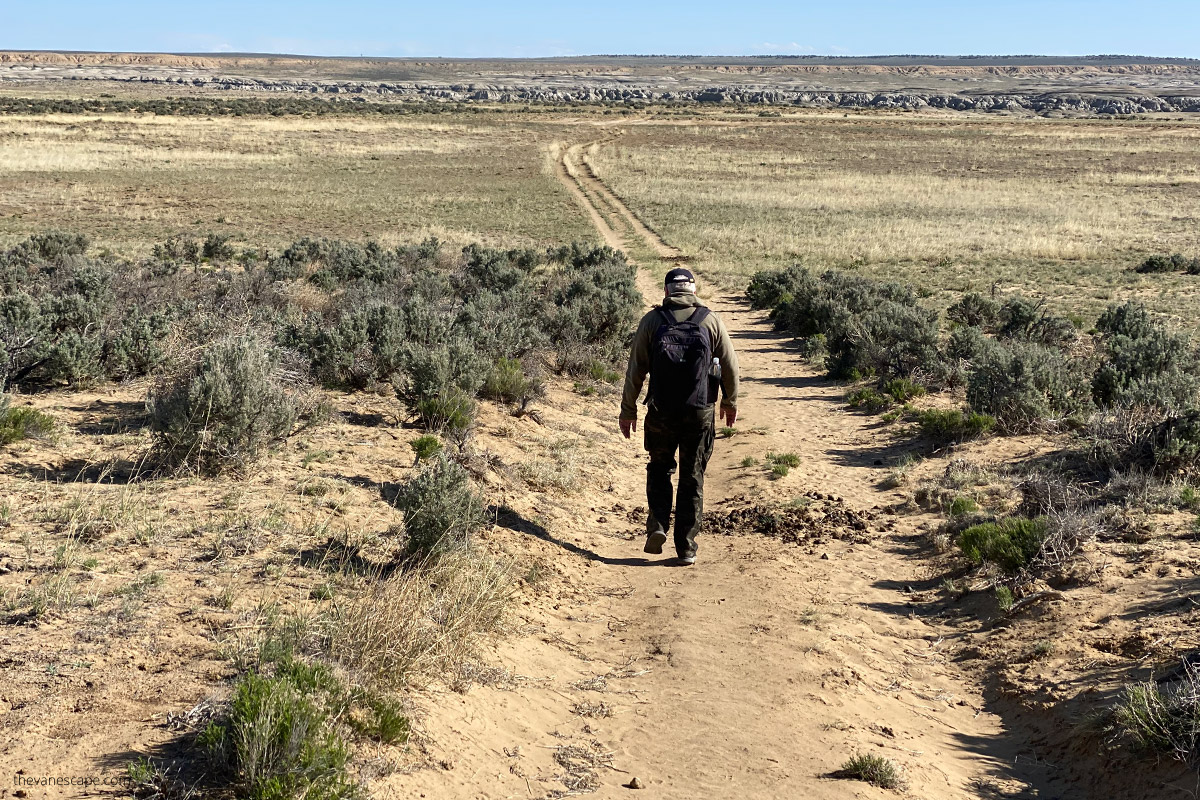 Whether you want to see just one or all of these locations, check out our tips below for crucial tips and regulations for the entire wilderness area. Use the Table of content for more straightforward navigation.
Take a moment to watch a brief video showcasing the stunning landscapes of the Bisti/De-Na-Zin and Ah-Shi-Sle-Pah Wilderness Areas in New Mexico. Although the video quality may not be perfect due to the use of a phone camera and DJI Osmo pocket camera (drones are prohibited in the wilderness), it offers a glimpse into the breathtaking clay hills shaped by wind and water over the past 75 million years. Be sure to explore the various rock formations and select the area that intrigues you the most for your visit.
What does Ah Shi Sle Pah mean?
"Ah-shi-sle-pah" means "gray salt." The name of this area is a phonetic transliteration of the Navajo phrase "áshįįh łibá," which translates to "salt, it is grey (grey salt)."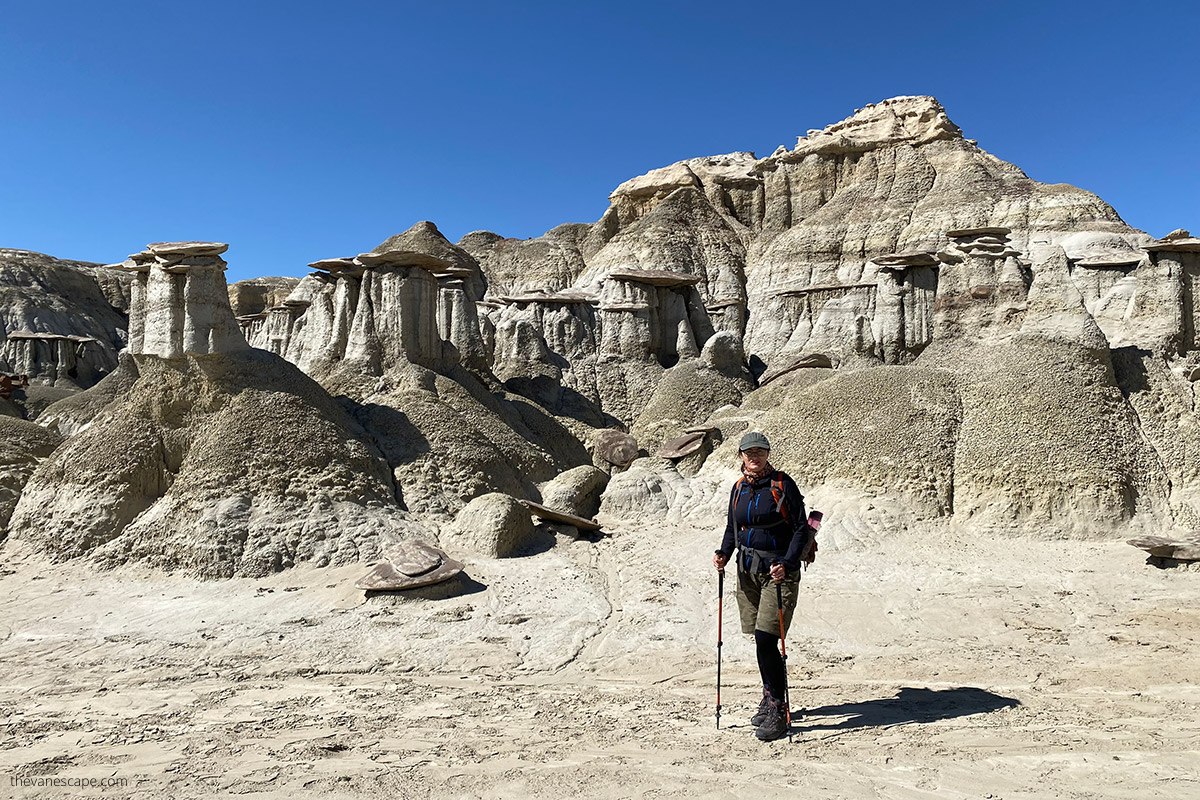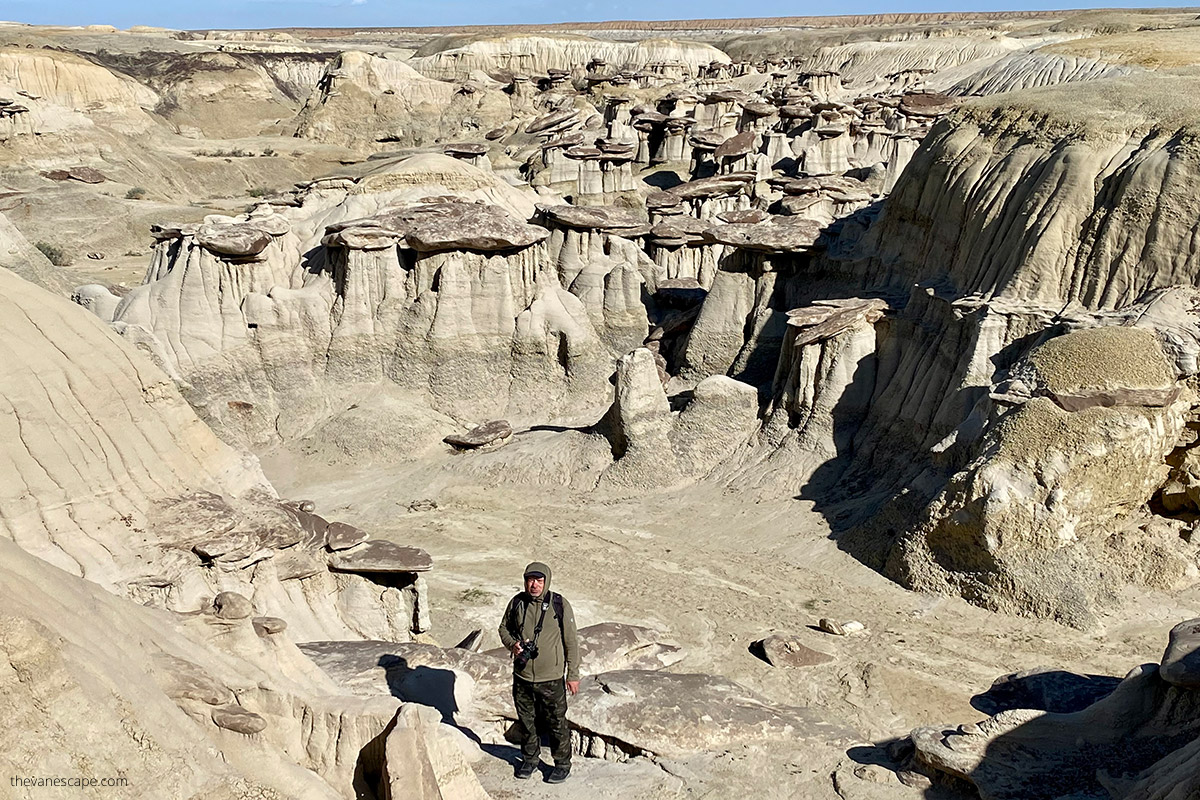 Essential Rules Before You Go To Ah-Shi-Sle-Pah
The use of drones is prohibited in the Ah-Shi-Sle-Pah Wilderness. Drone flight has been prohibited in all Wilderness Areas and U.S. National Parks designated by the National Wilderness Preservation System.
Campfires are not allowed in this area.
Motorized vehicles and bikes (also mountain bikes, strollers, carts, ATVs, coolers with wheels and etcetera) are also prohibited to preserve the natural state of the wilderness.
It is strictly prohibited to remove rocks, fossils, or petrified wood.
A special permit is required if you plan to film or take photographs for commercial purposes.
There are no established trails in the Ah-Shi-Sle-Pah Wilderness Study Area, and you won't find any phone or internet services. It's possible to lose your way while exploring, so it's a good idea to bring a hiking GPS unit or compass to help you navigate the area. We recommend checking out our hiking tips and packing list below for this adventure to ensure you're fully prepared.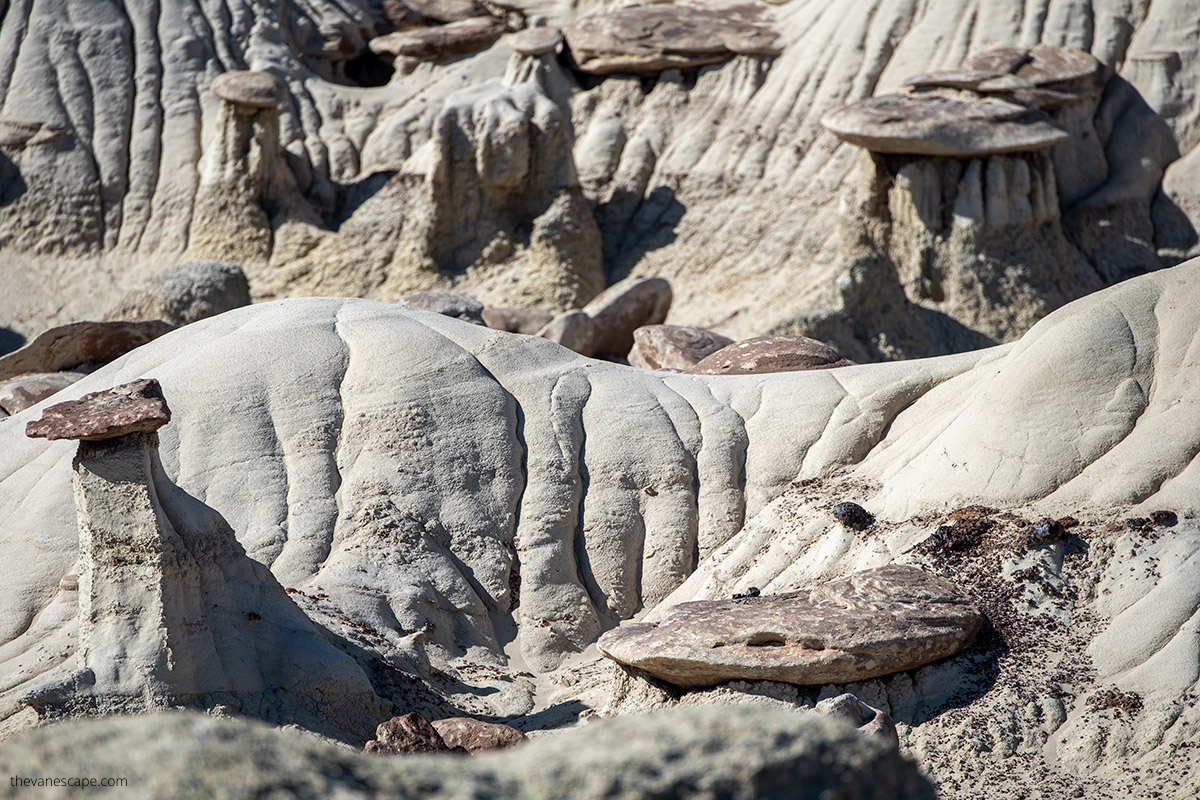 What is the difference between Ah Shi Sle Pah and Bisti?
Ah-Shi-Sle-Pah and Bisti Badlands (De-Na-Zin) are stunning wilderness areas managed by BLM, situated near Farmington, close to Four Corners. The regions boast breathtaking eroded rock formations amidst the high desert of northwest New Mexico, including countless hoodoos, balanced rocks, and other peculiar formations reminiscent of Alien Planet. However, Ah-Shi-Sle-Pah is more compact and convenient to traverse, with a bit easier and shorter hikes. On the other hand, Bisti Badlands is more open and spread out, requiring more time to navigate and offering more challenging hikes. Still, both of these areas require excellent preparation for hiking and exploring because no marked trails exist. They are wilderness areas in the desert.
Directions and Ah-Shi-Sle-Pah Wilderness Maps
To prepare well for your New Mexico adventure, you need a map. There are no marked trails in this area. You won't meet too many other people. You may find yourself alone in this wilderness. There is no phone coverage or internet services there. A few chapters down, you can see our exact map of Ah-Shi-Sle-Pah with the hike we made. But check out the official maps first:
Make sure to pack a paper map (the best are: DeLorme New Mexico Atlas & Gazetteer and New Mexico Road & Recreation Atlas), as it's the best solution in navigating roads in this remote wilderness.
Our Tip: It's great to visit or contact the Farmington Field Office before the planned hike to check out current conditions in the wilderness. The address is 6251 College Blvd., Suite A, Farmington, NM 87402. If the weather forecast predicts rain or storms, avoid hiking in this area for safety.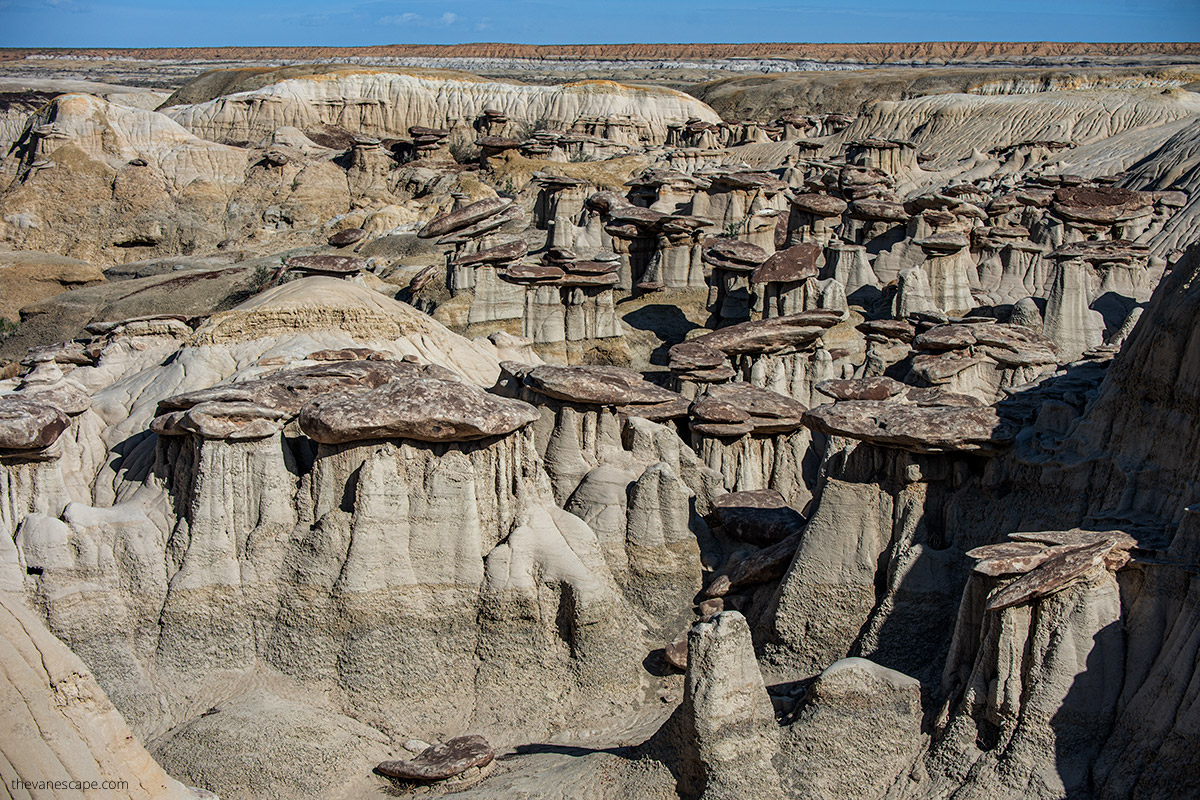 Is a 4WD vehicle required to get to the Ah Shi Sle Pah?
This place is way off the beaten path. It's at least 20 miles one way of dirty roads. There are potholes and deep sand. We had a Jeep Wrangler with 4WD. If it's dry, the route might be doable with regular cars with high suspensions. But in case of rain (the weather may change in minutes; once, we had to escape before the storm), 4WD is a must. Even after a light shower, the road might be impassable. We highly recommend 4WD to get to Ah Shi Sle Pah Wilderness Study Area.
Driving Distances
From Farmington, it's 65 miles; from Bloomfield, it's 52 miles via US-550 S to the Wilderness Study Area.
If you are driving from Shiprock, NM, it's at least 92 miles via US-550 S.
From Santa Fe is 180 miles via US-550 N.
If you are driving from Albuquerque, it will be 150 miles via US-550 N.
Directions to the Trailhead
Ah Shi Sle Pah Wash is best accessed off U.S. Highway 550. To reach the Wilderness Study Area, turn left onto NM 57 from US Highway 550, 7.5 miles northwest of Nageezi, NM (located 44.5 miles northwest of Cuba, NM). Proceed southwest for approximately 13.5 miles until NM 57 becomes the boundary of the wilderness. Continue driving for the next 4 ¾ miles with the wilderness on your right-hand side.
You will reach the main Ah-Shi-Sle-Pah Wilderness Study Area from this parking lot. You will even find a sign informing you that you have arrived in this area. We assure you that it is worth hiking from this point because it is a stunning place. But check out our articles if you want to find Alien Thron with Valley of Dreams and The King of the Wings formations. Thanks to our tips, you will find these rocks easier because we give you shorter routes. Theoretically, you will also get to Alien Throne and King of the Wings from this main parking lot. But it will be a much longer, challenging, and strenuous hike.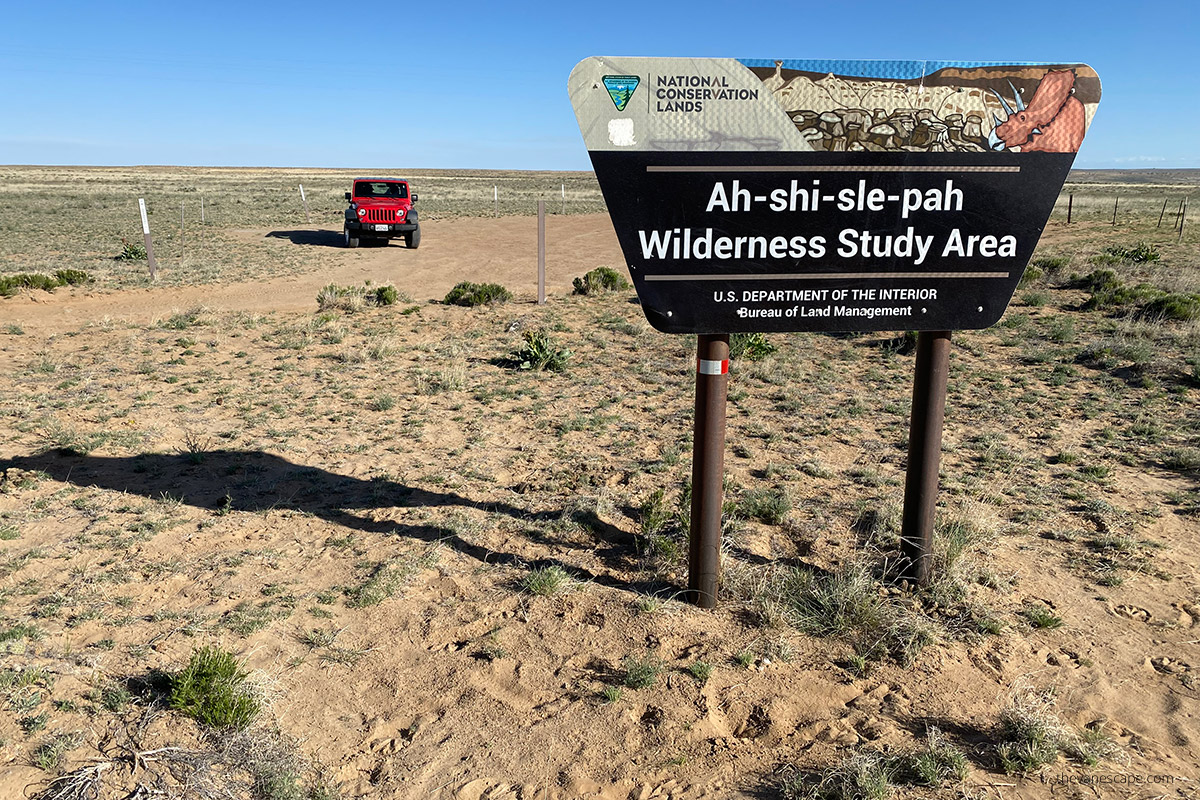 Ah-Shi-Sle-Pah Wilderness Hiking Tips
We start with what to pack and how to prepare for a hike in the Ah-Shi-Sle-Pah wilderness. Below is also a detailed description of our trek and our map.
Pack Properly for Hiking in the Wilderness
Download maps
Download maps before hiking. You may run out of internet coverage just outside the city. Also, make print screens of maps. Your phone can run out of charge quickly, so put it on flight mode and pack a portable charger.
Pack GPS or wear a Smartwatch with GPS
A decent GPS or a great smartwatch with navigation is necessary for hiking in a desert. Chris uses Fenix 6 Pro Solar, which helped us immensely during hiking in Ah Shi Sle Pah. You also have newer models. This great tool helps measure the distance traveled and, above all, find the way to the destination and the return route, no matter where we are currently. This great model lets you use a fully interactive topographic map of the area uploaded to the watch's memory. The GPS chip generates an exact track that occasionally cuts sharp turns or lays it next to the road. We followed in our footsteps during the return hike. It has many attractive solutions that we used in the Ah-Shi-Sle-Pah wilderness. One of them is detailed navigation on a topographic map generated in real-time. You receive information about upcoming turns and turns and the general direction of the route. Finally, this watch has a solar function, so we didn't have to worry about the battery running out. Chris loves this smartwatch.
Bring lots of water, electrolytes, and some snacks
Hydration is the basis of your safety. Pack a minimum of a gallon of water per person. We had weighty backpacks because we had over a gallon of water per person, photo equipment, extra clothes for a sudden weather breakdown, and hiking gear. In addition to water, we always pack electrolytes (usually tablets or our favorite ready beverages) because they have excellent hydrating properties. We already drink at least a gallon of water per person daily for a few days before planned hikes in the wilderness. We also recommend such a solution. This area has no water, so you must take plenty of water if you get lost or have to wait out bad weather somewhere.
Be sure to pack some snacks too. We always pack high-energy bars, beef jerky, nuts, and sandwiches.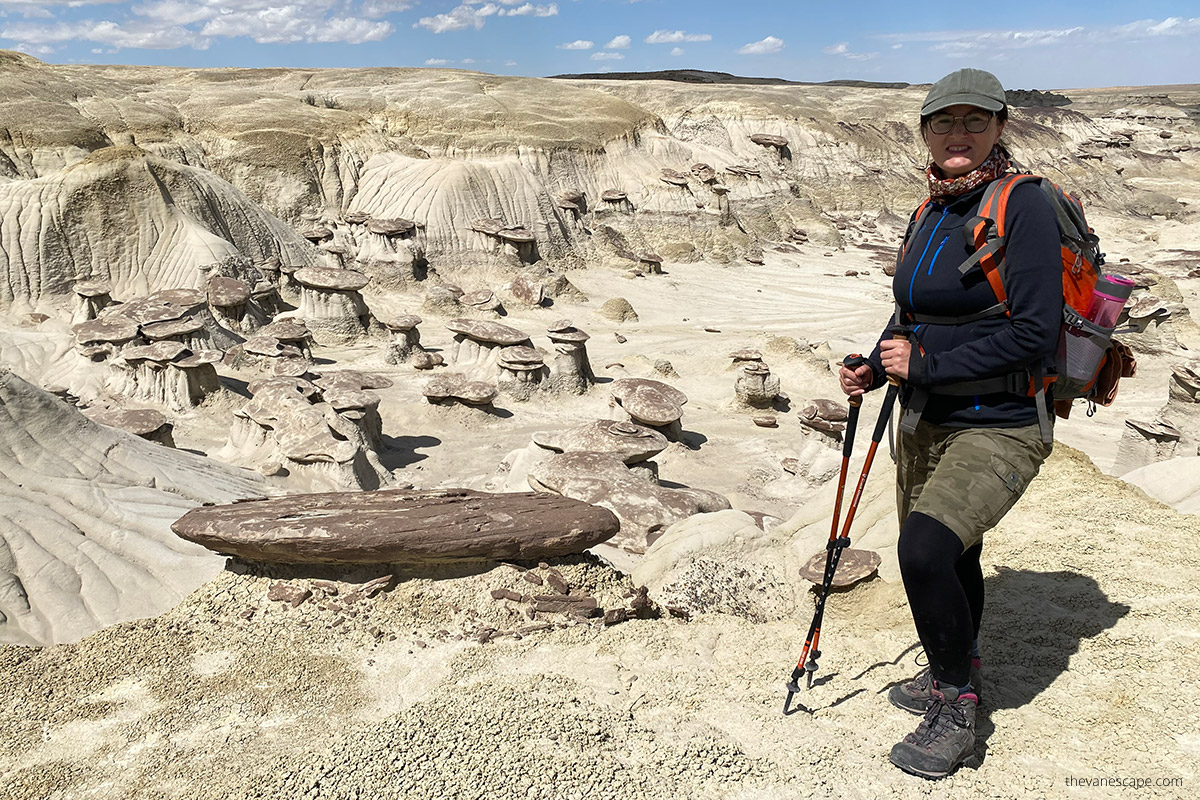 Wear sturdy boots
Be sure to wear hiking boots with great soles and the best ankle protection. This is important for several reasons: first, it is pretty tricky to walk in this area. Clay is soft and very slippery at the same time. Secondly, snakes are in this area, so it's worth protecting your legs for your safety. Thirdly when the clay is dry, small hard lumps will quickly fall into your low shoes during the hike, irritating your feet and making walking difficult. I know what I'm talking about because I had short boots the first time, and it was a big mistake.
A great solution that we have been using for several years in such an area is using Trail Leg Gaiters. I know they are mainly associated with protection against snow but believe us, they work best in desert terrain. Sand and clay do not fall into the shoes. They also perfectly protect against scratches on the legs by bushes and cacti and their thorns. And, of course, they protect your legs from snakes. And we spotted snakes in this area.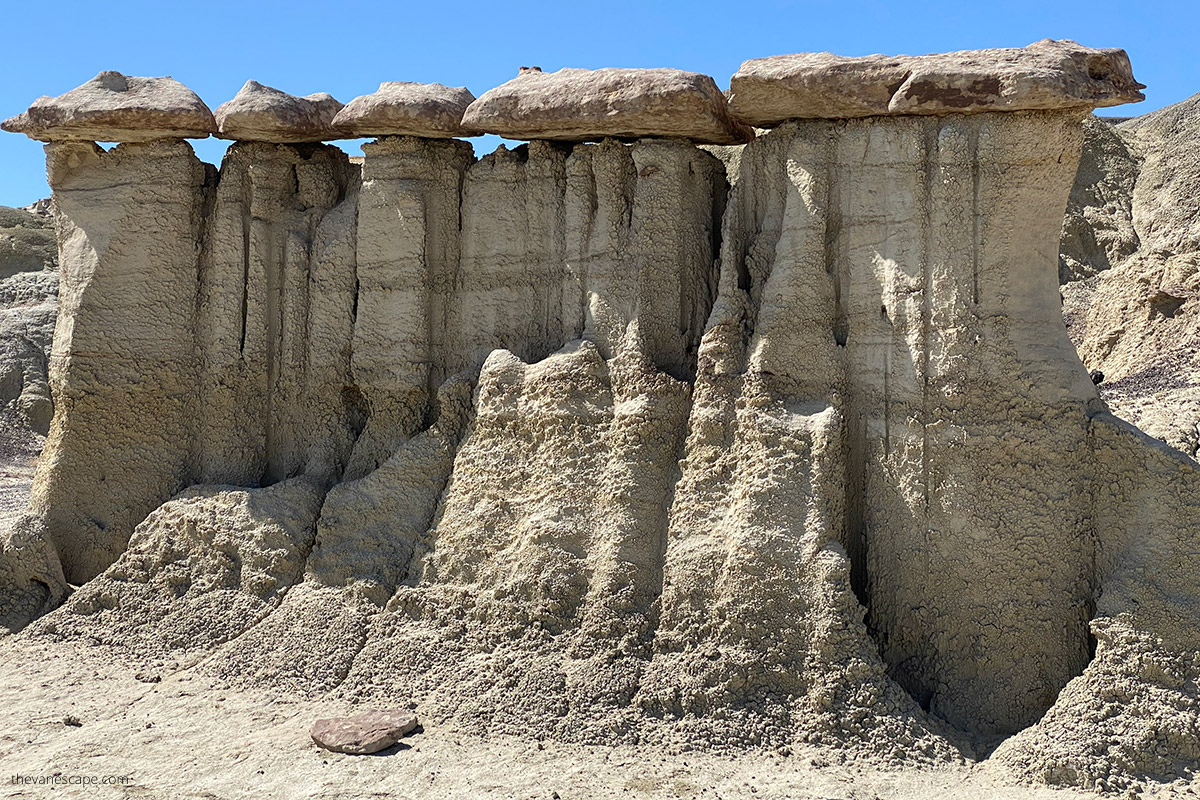 Protect your body from the sun
Regardless of the season, the sun is quite intense here during the day. Remember to protect your entire body from sunburn. Obligatory to cover your head. Wear long-sleeved clothes and long pants. During our wanderings in the New Mexico badlands, the Kuhl UPF clothing, especially protective long-sleeve t-shirts, worked great for us. They are light, airy and provide excellent protection against the sun. Agnes loves this soft and breathes hoodie with the neck, hood, and sun-protective UPF 25+. This shirt is perfect as a base layer or by itself. Chris has this men's hoodie by Kuhl, which absorbs and distributes moisture for ultra-quick evaporation while providing sun protection (30+).
Use sunscreen with a high filter. And be sure to use moisturizing lip balm. Even in winter in this desert, you will have chapped and cracked lips until they bleed, which is unpleasant. Use moisturizing lip balm (even Chris has started using it).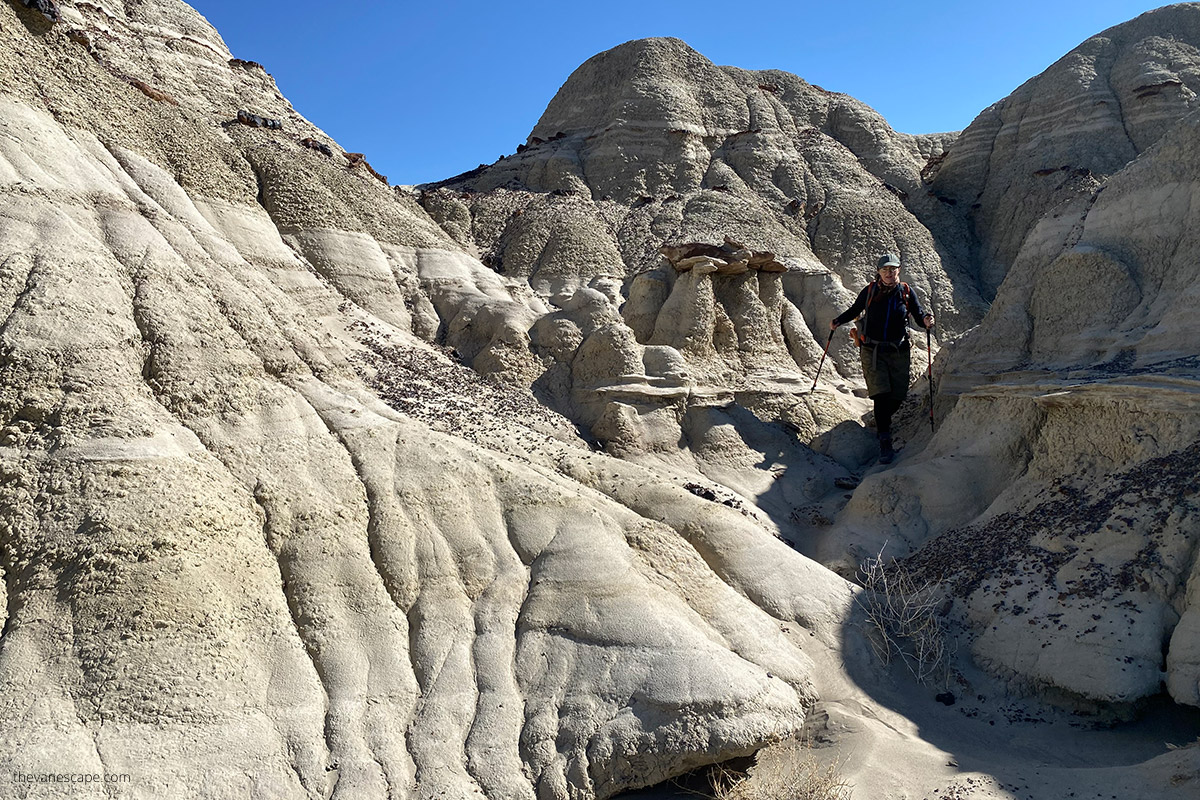 Be prepared for a sudden change in the weather
Dress in layers because the temperature differences in the desert are vast. Always be prepared for bad weather. Pack something in case of rain, but also something in case of a sandstorm. Watch for flash floods in the wash. Recently, we escaped from a sandstorm in Ah-Shi-Sle-Pah, and we assure you that fine sand getting into the mouth, eyes, and ears is nothing pleasant. Fortunately, we had light scarves and hoodies, so we covered our heads and faces.
Be prepared for lose orientation and return after dark
If you follow our previous tips, you shouldn't get lost. But you always have to assess the risks and manage them. Always let a trusted person know where you are going, when you should be back, and when to call back. It is also worth leaving a piece of paper with information about your hike in your car. We always pack an emergency tent with us in case we have to spend the night in the desert. It is cheap, light, and takes up little space. We've never had to use it, and we're happy for that. But we always have it in a backpack. We always pack solid headlamps. Chris uses Petzl Headlamp, and Agnes has Black Diamond Storm.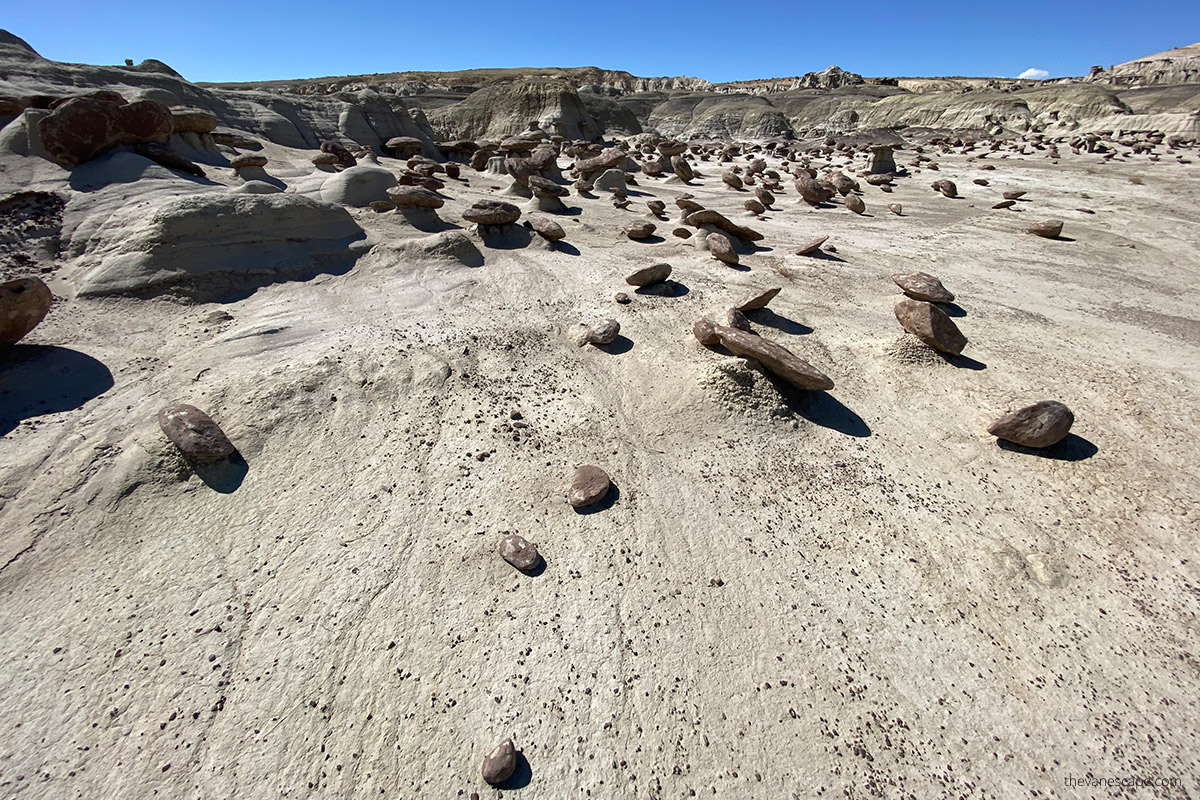 Don't forget First Aid Kit
We always pack a First Aid Kit, even for simple hikes with marked trails. And it has been helpful to us many times because it is not challenging to get abrasions or scratches on the path. And in Ah-Shi-Sle-Pah Wilderness, there are no trails. It is tough to walk on such terrain, although theoretically, it is not technically challenging. But wandering without marked paths is very tiring. Chris doesn't go hiking wilderness without his Gerber pocket knife, either.
Don't forget garbage bags and pack all your waste (also human waste)
Remember to respect this delicate area and do not litter it. Follow leave no trace principles. Pack up all your garbage, even organic ones like banana peels. And be sure to pack your human waste. We know it's a tricky topic sometimes, but it's worth discussing. It's a desert. How do you get rid of human waste when hiking or camping? The best idea is to use Portable Toilet Leak Proof Waste Bags. Or you can use the cathole method. You can deposit human fecal material in catholes dug 6 to 8 inches deep, at least 200 feet from running water, camp, trails, and drainages. But make sure to pack toilet paper!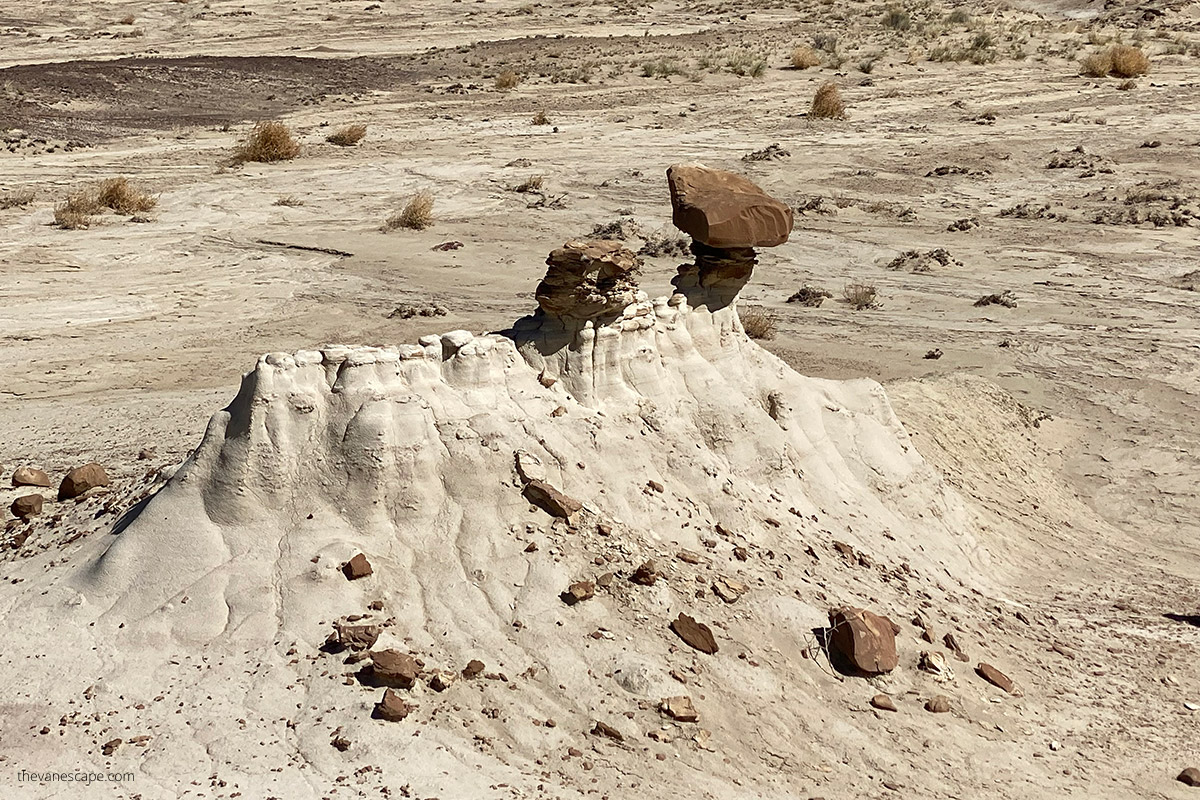 Respect Native American Lands
As we explore those unique rock formations, neighboring regions, and access roads, remember that some of these areas are situated on Tribal Lands. As visitors, we must honor their traditions and regulations. Failure to do so could result in losing the privilege of visiting these breathtaking areas. The most important rules are:
Let's show reverence for Native American Lands by refraining from walking on their crops, approaching their animals, damaging roads during adverse weather conditions, or driving off the designated path.
When encountering gates, please leave them in their current state, whether closed or open.
Our presence should not leave any trace behind. Pack all your rubbish.
The Native Americans residing near Ah-shi-sle-pah sustain themselves through farming and ranching, with small herds of cows, horses, goats, and sheep commonplace. It's essential to avoid disturbing their animals, blocking their access to water, or interrupting their customary way of life.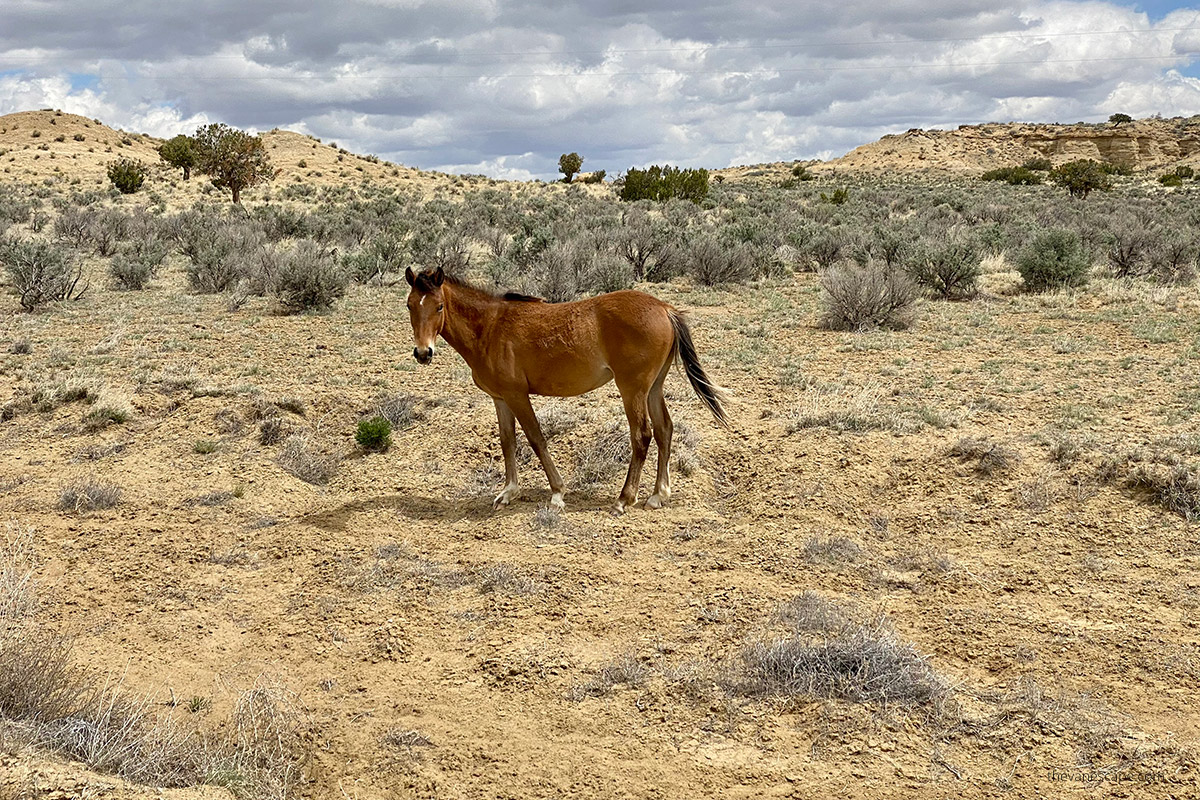 Ah Shi Sle Pah hiking with a map
Below we describe our trek and show you our map. Remember that this area has no marked trails, so each hike may differ slightly.
The hike
Pack your backpack carefully when you stop at the small parking lot with the Ah-Shi-Sle-Pah sign. Check if you have enough water. Remember about sun protection. Before you set off, hydrate, eat something, and hike. You will see a dirt road just past the parking lot. It runs straight across a flat desert plain covered with low grass. There may be horses in the area, so don't startle them and don't get close because they can be dangerous. If you want to take a picture of them, use the zoom.
We hiked about 0.6 miles north to reach the edge of the plateau. From the plateau, you will see the stunning Chocolate Hoodoo Basin. From this point, you should find a way to hike down.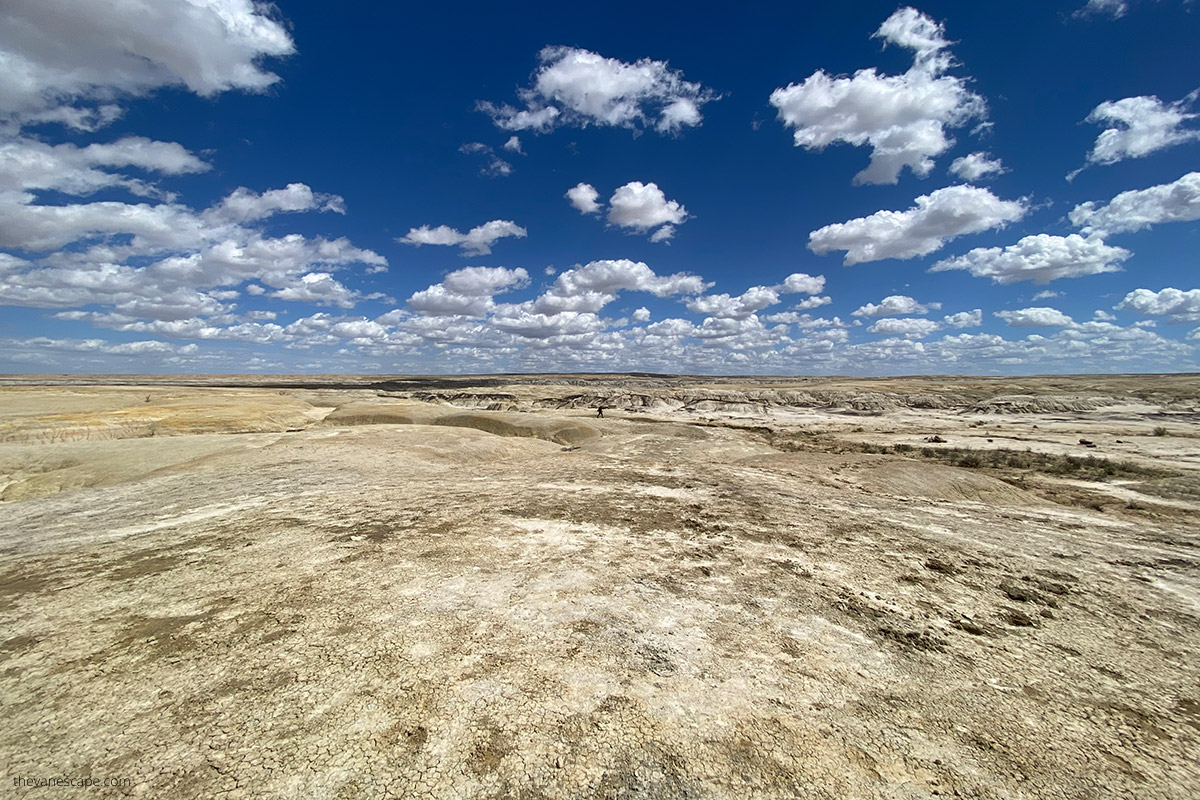 The terrain in this area is characterized by soft ground that often results in vertical sinkholes and short caves in the ravines. This makes walking along the drainages challenging, as the flow channel disappears below ground under piles of mud. Additionally, the hillsides are steep and the surface loose, so caution is required when traversing this area. To avoid potential hazards, hiking along the grassy and sandy plateau higher up is a more straightforward option. But the best idea is to use hiking poles, which are very helpful with balance in this area. Agnes uses Black Diamond Trail Ergo Cork Trek Walking Poles. You can check how to choose the best trekking poles.
When you reach the bottom of the basin, you can start finding particular rock formations. But remember that they are changing due to weather and erosion, so it's not easy, as they can look a bit different. Be careful where you step. Hiking the hills, the ground under your feet might suddenly collapse. Below are the most interesting rock formations from this main Wilderness Study Area.
If you want to combine all famous rock formations (including Alien Throne and King of Wings) in one hike, it will be at least a 7.5-mile loop hike in Ah-Shi-Sle-Pah. We did three separate hikes from three different parking lots. So as we mentioned earlier in this article, you can see pictures from the main part of WSA.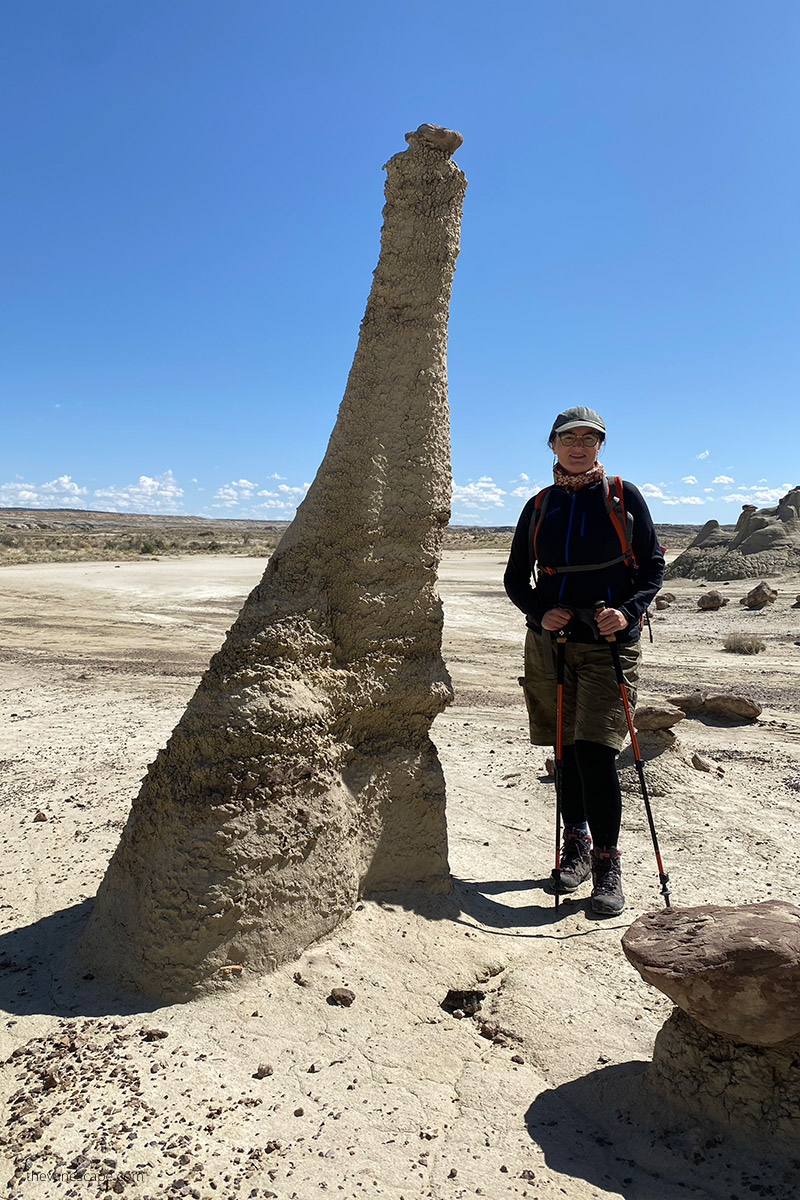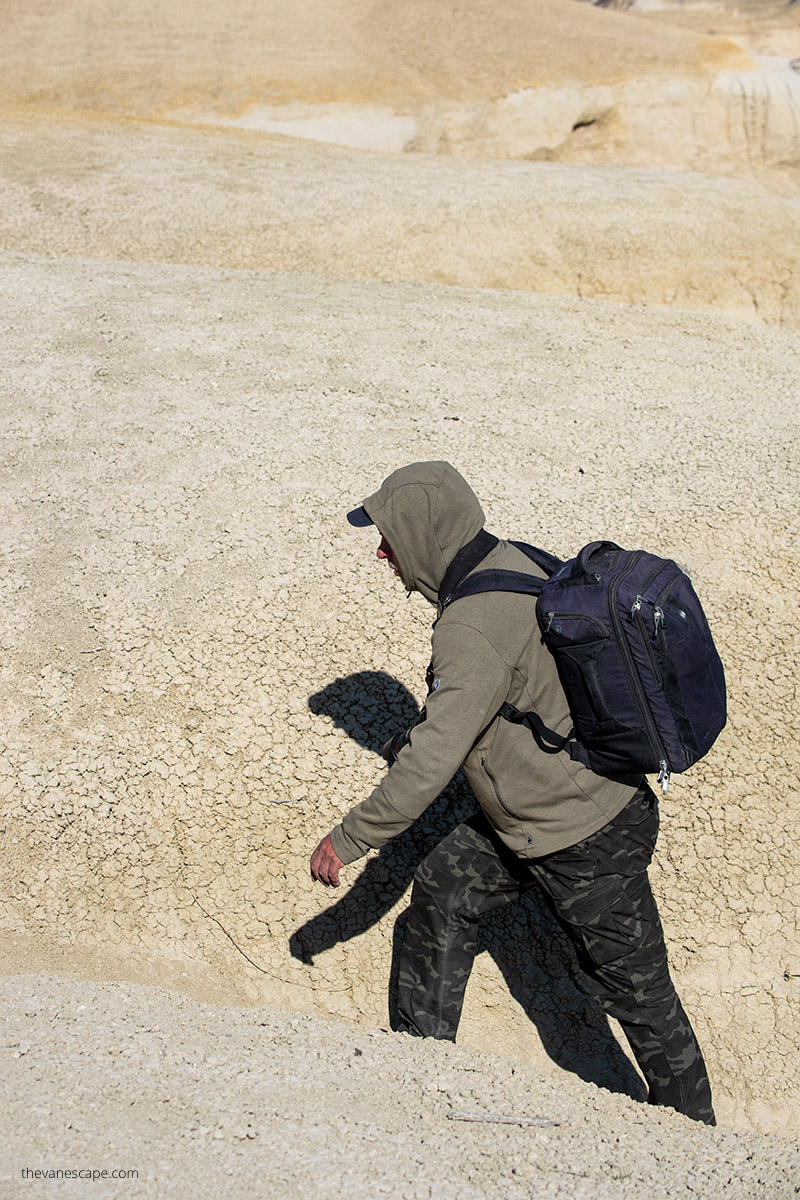 The most exciting badlands formations you will see in this part of Ah-Shi-Sle-Pah:
Chocolate Mushroom Hoodoos
Ah-shi-sle-pah Rock Garden
Ah-shi-sle-pah Hoodoo
Turtle Hoodoo
Mitten Hoodoo
Mutt & Jeff Hoodoos
Goblet Hoodoo
Stacked Plates Hoodoo
Orange Hoodoos
Petrified Tree Roots, Petrified Logs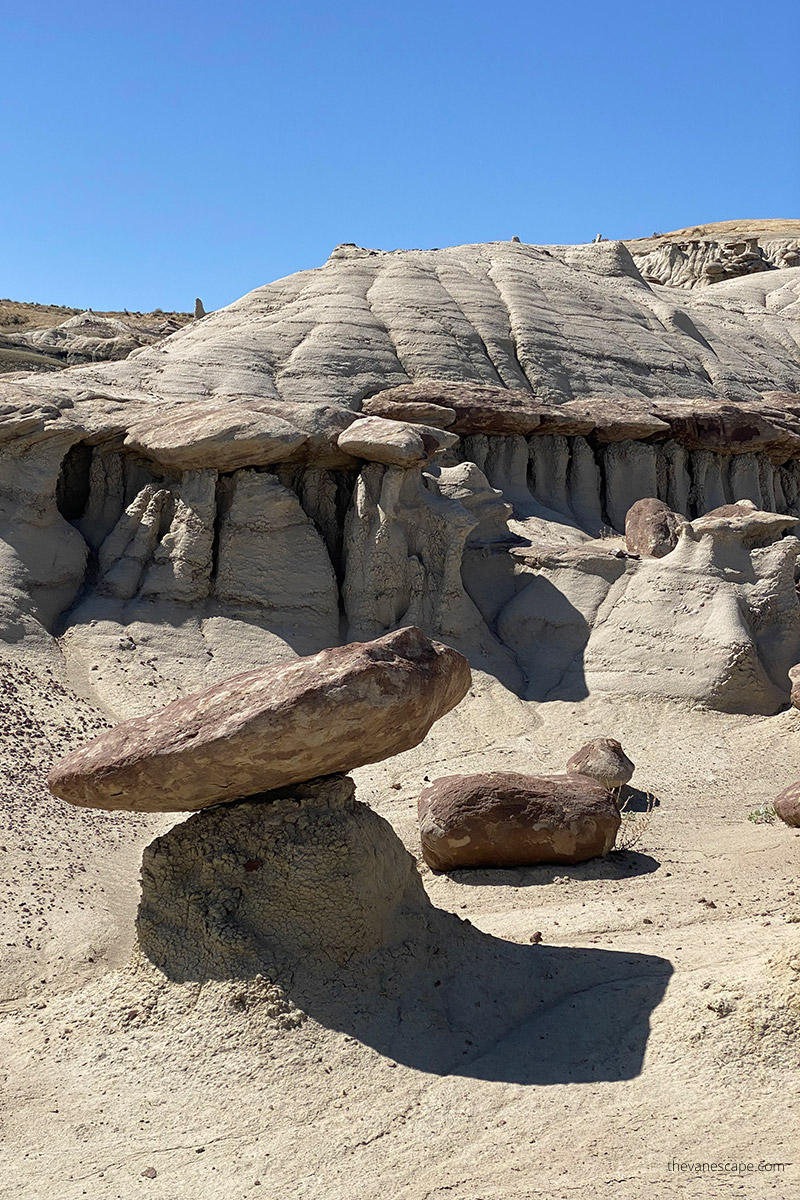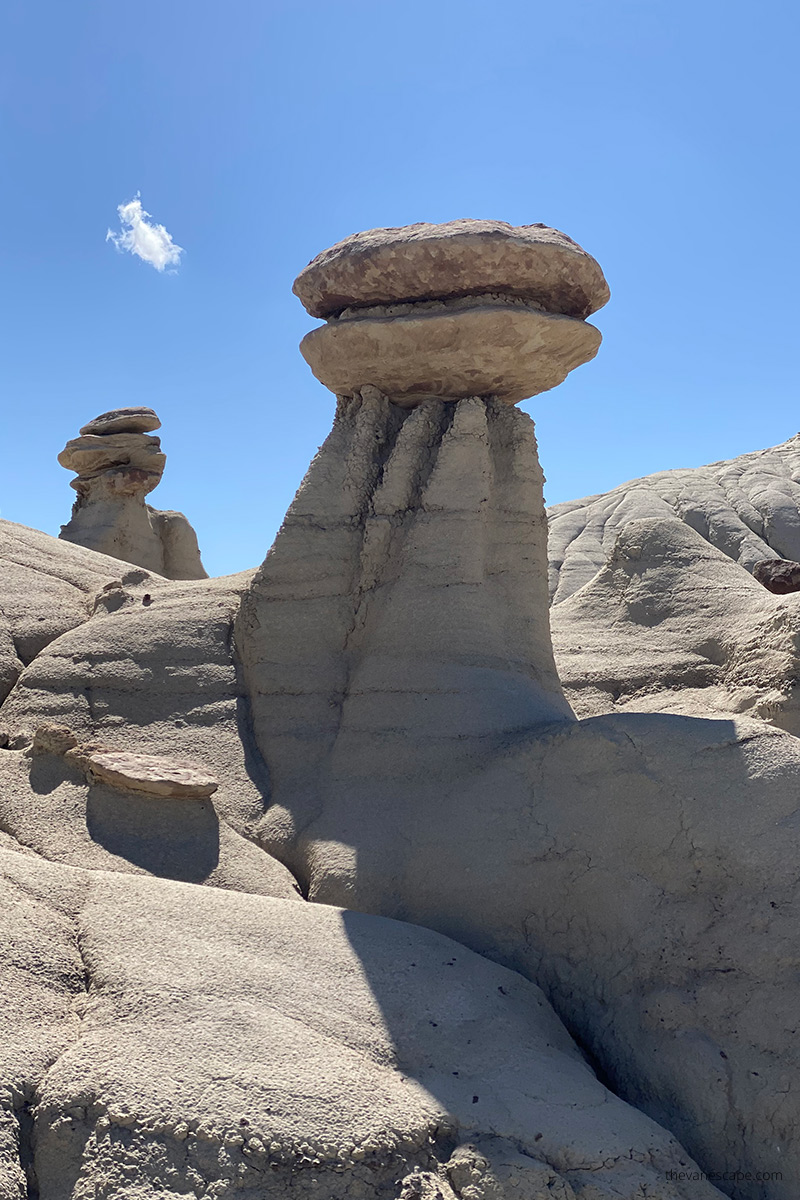 Ah-Shi-Sle-Pah Map
Below you can look at the map of our hike recorded with Chris' Feniks 6 Pro Solar watch.
Ah-Shi-Sle-Pah Photography Tips
Remember that drones are prohibited in all wilderness areas in the US.
You will need a tripod if you want to take photos at sunrise or sunset (we use Sirui Tripod).
All three areas of Ah-Shi-Sle-Pah are great spots for sunrise and sunset shots.
Also, all three locations are great during blue hour. At noon the light is quite sharp, but you also have a chance to take exciting pictures because the badlands and their colors look different at any time of the day.
A wide-angle lens will come in handy. Chris uses Canon 16-35 mm. We also used our iPhone 11 Pro.
But exciting pictures also come out with a telephoto lens. For many of the photos you see in this article, Agnes shot with her Nikkor 80-400 mm. Thanks to this, you can show an exciting structure and details of individual rocks, and there is an entirely different perspective.
Locations are perfect for Milky Way photography, but if you plan to stay there for a night, be prepared.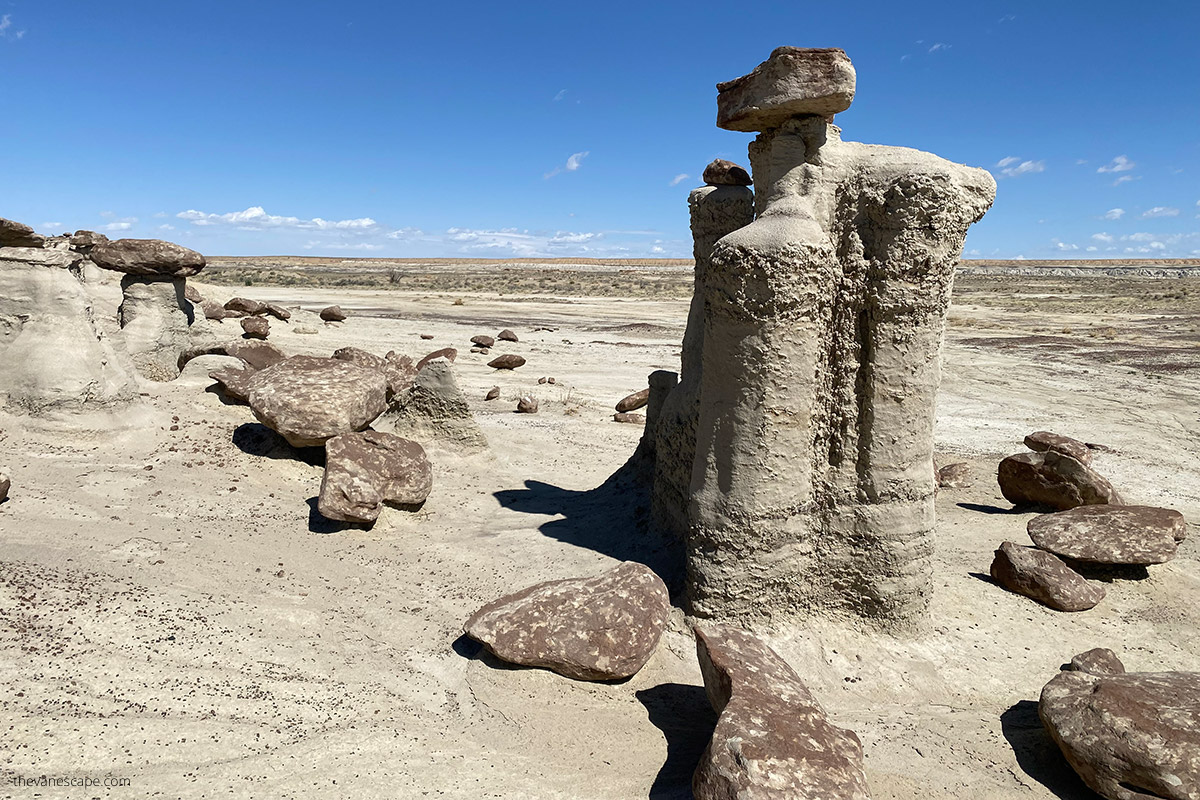 Where to Stay?
Below are recommendations for both hotel and camping accommodations.
Hotels
Our favorite place to stay is Farmington, which has many hotels on each budget, a few great restaurants, and stores. Farmington is a perfect base to explore this part of New Mexico, as it is near Shiprock, Aztec National Monument, and close by Chaco Culture National Historical Park. We stayed there often. Last time we stayed in Brentwood Inn & Garden, we highly recommend it. The rooms are large, clean, and very comfortable, and the hotel is in a great location. We recommend the Travelodge by Wyndham Farmington if you need something budget-friendly. We stayed there when we left the hotel a few hours before sunrise, so we didn't want to overpay.
If you plan to go to Ah-Shi-Sle-Pah Wilderness for sunrise, you must leave your hotel at least 2 hours and 30 minutes before sunrise. It's at least an hour of driving and about a one-mile hike one way to get to the formations.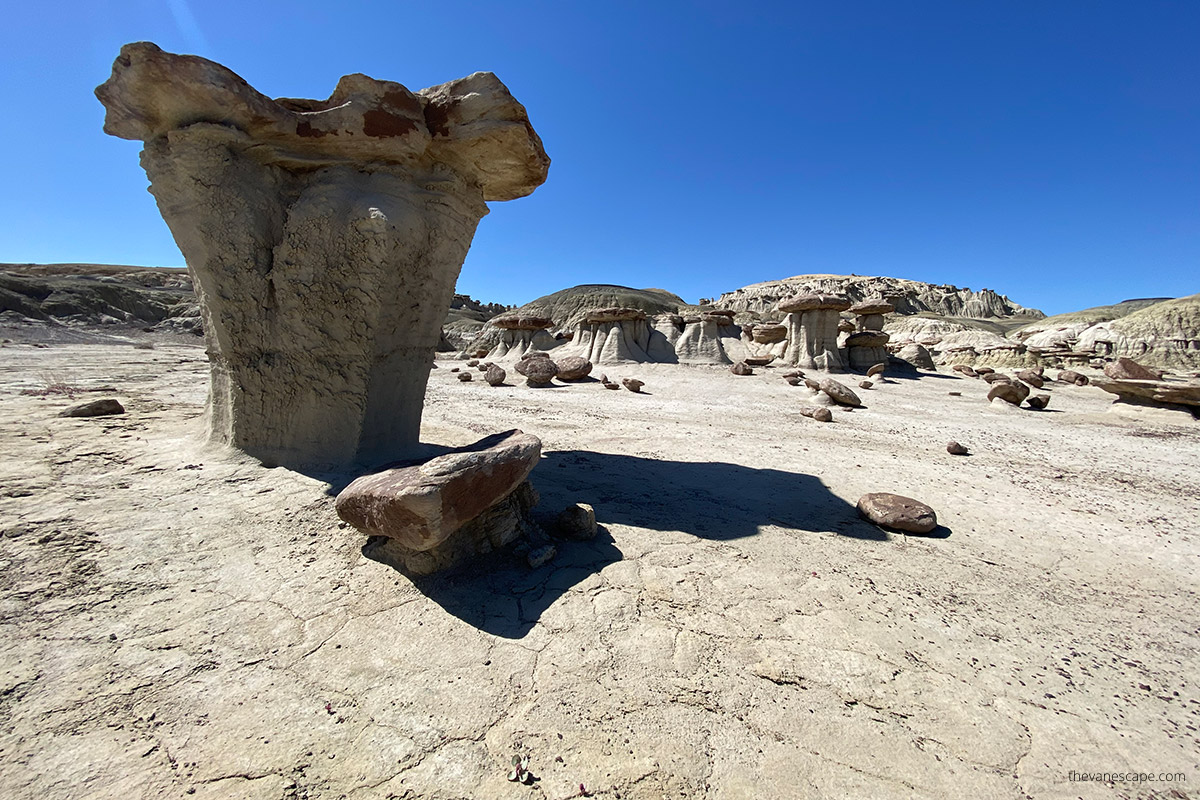 Ah-Shi-Sle-Pah Camping Rules
Camping in the backcountry is allowed on the BLM land located in the region. However, car camping is only permitted on BLM land that is situated outside the wilderness area. Exploring the great outdoors by camping on public lands without the amenities of developed recreation facilities is often called "dispersed camping" or "boondocking." These sites are typically spread out, undeveloped, and lack signage indicating designated campsites.
In New Mexico, dispersed camping is permitted on public lands for up to 14 days within a 28-day period. You can stay overnight in BLM areas. But you must carefully analyze the map and not violate private areas (the lands around are Tribal). Respect Native American Lands. Follow the BLM rules if you want to camp there.
To ensure that wildlife and livestock have access to water sources, camping within 900 feet of any developed water source, such as a guzzler or watering trough, is prohibited. It's important not to park vehicles near these waters or disrupt any animals from using them.
You must pack back all your rubbish and waste (including human waste). You must not dispose of refuse, hazardous materials, sewage, or gray water.
Follow the leave-no-trace principles.
Dispersed camping is not allowed in areas designated as "closed to camping" or where it could negatively impact wildlife, livestock, or the natural and cultural resources of the area.
Watch out for snakes and scorpions that can be found in this area.
Check the weather before camping. Roads and terrain may become impassable in wet weather.
Watch for flash floods in the wash, and don't camp in the wash areas, as it's dangerous.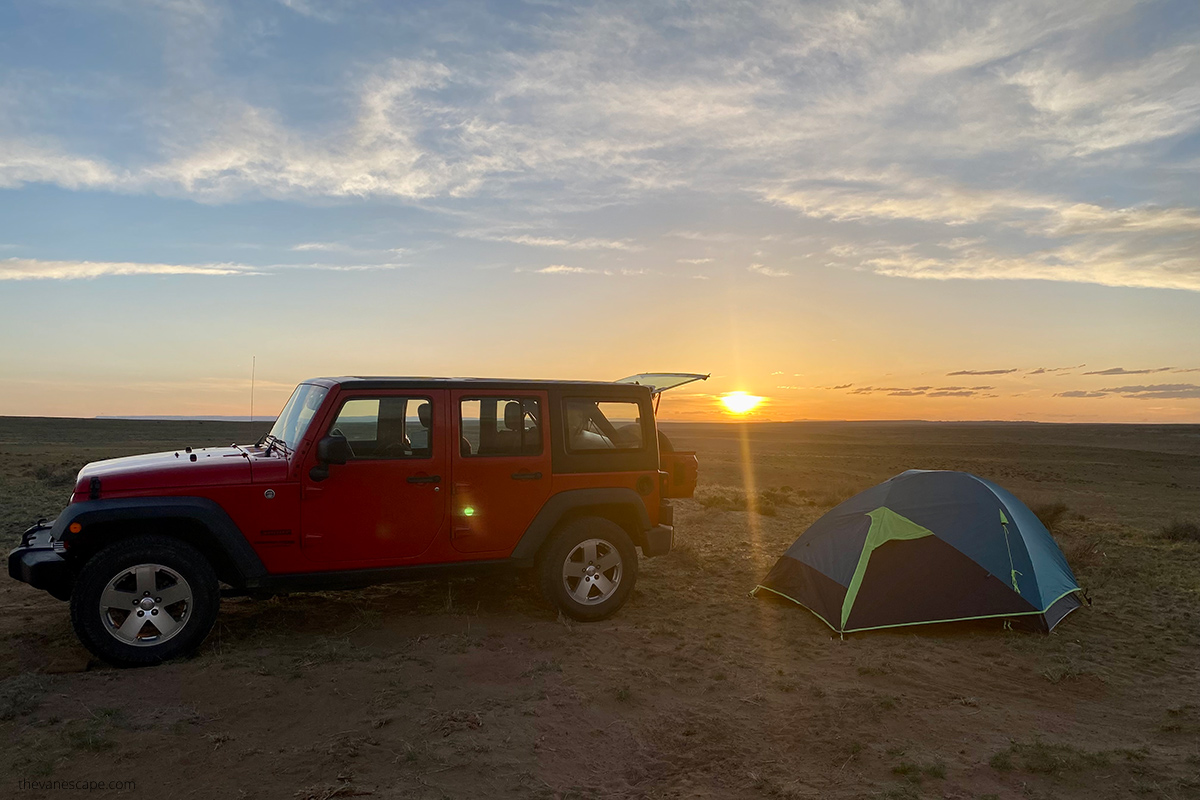 When is the best time to go?
Ah-shi-sle-pah Wilderness is located at approximately 6,200 feet elevation. The area is desert, which means summers are sweltering and winters are cold. There are also significant differences in temperature between night and day. It can be chilly early morning, just after sunset, and extremely hot during the day. It's also a very windy area, and dust storms are common in the Spring. But Spring and Fall are the best for hiking in this wilderness. Just be prepared.
The last time we visited this place was at the beginning of May. When we first tried to get to the King of Wings (KOW), we had to escape before a dust storm. The day was beautiful and sunny, we had a great forecast, and nothing indicated a sudden weather breakdown. Less than 600 feet separated us from the dream rock formation, and we had to stop the hike and go back because we always put safety first. When it's wet, roads may be impassable. We were also there in November, and it was challenging to hike after the rain because of its slippery clay-based soils.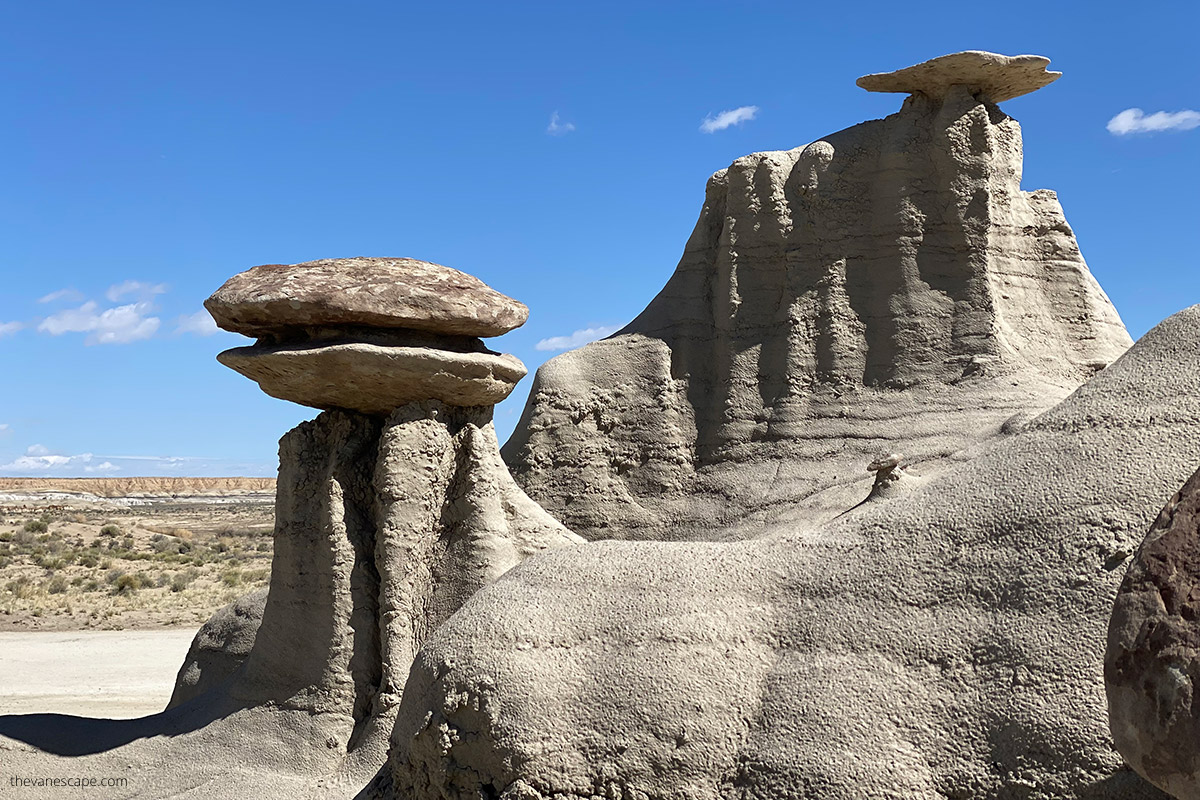 Below is the weather report for Farmington, the main city in the area. The hot season lasts from May to September, with an average daily high temperature above 82°F. The hottest month is July, with an average high of 91°F and a low of 63°F. The cold season lasts from November to February, with an average daily high temperature below 51°F. January is the coldest month, with an average low of 21°F and a high of 43°F. August is the wettest month, with an average of 6.4 days of precipitation. The dry season lasts from March to July, and June has the fewest wet days, with an average of 1.9 days of precipitation. August has the most days of rain alone, with an average of 6.4 days. The month with the most rain in Farmington is August.

Final Thoughts of Ah-Shi-Sle-Pah New Mexico
Adding the Ah-Shi-Sle-Pah Wilderness Study Area to your New Mexico itinerary is worth the effort. Rock formations like from the moon planet or Mars will surely delight you. We are already planning another visit. However, remember to prepare well for hiking and exploring this place because it is a difficult desert terrain. If you like such exciting places but are not experienced in hiking without marked trails, consider visiting Kasha-Katuwe Tent Rocks and White Sands National Park first.