The Best Grand Canyon Viewpoints & Travel Guide to South Rim
Are you planning a visit or hike in the Grand Canyon South Rim area? Here is our recommendation for the best Grand Canyon Viewpoints from South Rim. How to get to Grand Canyon National Park, where to stay, what to do? We have been there several times. So you will find a lot of information helpful in planning your trip to be able to feel a sense of the vastness of Grand Canyon. We share our opinion about the best Grand Canyon Photography Spots from South Rim, too.
This article may contain affiliate / compensated links. For full information, please see our disclaimer here.
The sound of Colorado River was audible. Sunset warmed the red cliffs of Grand Canyon. The ravens soared over the rim. When I first stood on the edge of the Grand Canyon, I saw its space and the Colorado River flowing at the bottom of the canyon. My knees were trembling. Since then, we have returned several times to the Grand Canyon to learn more about its secrets and majesty.
Grand Canyon Facts
Grand Canyon owes its distinctive shape to the different rock layers in the canyon walls. Each respond to erosion in a different way: some from slopes, some from cliffs, some erode more quickly than others. The vivid colors of many of these layers are due mainly to trace amounts of various minerals, which impart subtle hues of red, yellow, and green to the canyon walls. Sparse vegetation in the dry canyon climate makes it easy to see the rock layers.
How deep and how long is the Grand Canyon?
The Grand Canyon is a steep-sided canyon carved by the Colorado River in Arizona. It is 277 miles (446 km) long, up to 18 miles (29 km) wide and attains a depth of over a mile (6,093 feet / 1,857 meters). Its narrowest point is 4 miles (6.4 kilometers) across. The average distance across the canyon is only 10 miles (16 km). However, it is a five-hour drive of 220 miles (354 km) between the park's South Rim Village and the North Rim Village.
How did Grand Canyon come to be?
The Grand Canyon, including its extensive system of tributary canyons, is valued for its combination of size, depth, and exposed layers of colorful rocks dating back to Precambrian times. Grand Canyon owes its existence to the downcutting of the Colorado River. The forces on the canyon walls that have shaped and continue to widen the canyon today – running water from rain, snowmelt, and tributary streams that enter the canyon throughout its length – are equally important. The Colorado and its tributaries worked to deepen, and with the aid of rain, ice and gravity, widen the canyon to its present width. The river is one of the principal rivers (along with the Rio Grande) in the Southwestern United States and northern Mexico. The Colorado River is 1.450-mile-long (2.330 km).
How old is the Grand Canyon?
Grand Canyon tells two separate geologic stories. The older story is the one revealed in the rocks exposed in the walls of the canyon. These rocks provide a record of the Paleozoic Era (540-250 million years ago). At the bottom of the canyon, there are remnants of Precambrian foundations that are almost 2 billion years old. The second geologic story concerns the origin of Grand Canyon itself. The early history and evolution of the Colorado River is the most complex aspect of Grand Canyon geology. The erosion that shaped the canyon occurred only in the past 5 to 6 million years.
Grand Canyon National Park
"Grand Canyon" was officially designated a national park on February 26, 1919. The park covers 1,217,262 acres (1,901.972 sq mi; 4,926.08 km2). The Grand Canyon was designated a World Heritage Site by UNESCO in 1979. The park celebrates its 100th anniversary in 2019.
Our favorite books & maps: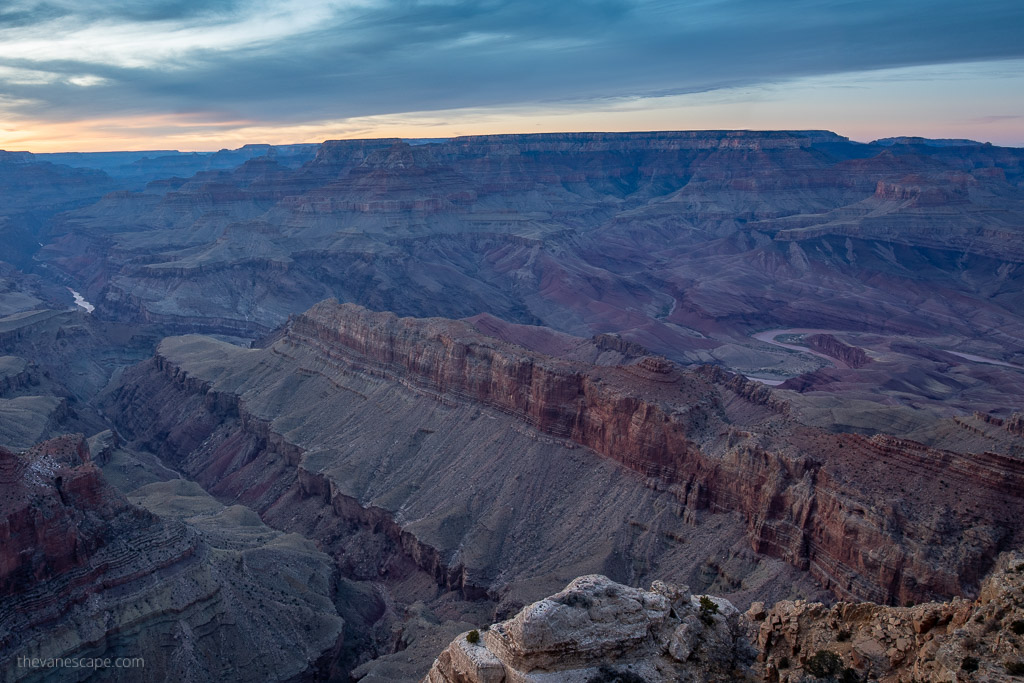 Grand Canyon South Rim
Open year-round; the South Rim is the most popular area of Grand Canyon National Park. The South Rim is more accessible than the North Rim, and accounts for 90% of park visitation. You can access it from two entrances. The closest town to the South Entrance is Tusayan, and the closest to the East/Desert View is Cameron. The entrance to the Park is $35 per vehicle, $30 for motorcyclists, and $15 for individuals. But the best idea is to buy America the Beautiful – National Parks & Federal Recreational Lands Annual Pass, which costs $80 for 12 months of unlimited visits to federal lands with no entrance fee. It's worth to have it before your visit to National Parks.
South Rim is filled with diverse lodging, camping and restaurant options. You will find here also a lot of adventure possibilities.
If you want to see the North Rim of Grand Canyon, check our pictures from the best viewpoints and tips in this post.
Getting to the South Rim of Grand Canyon
Firs of all, the South Rim of Grand Canyon has two entrances. The South Entrance is on Arizona Highway 64, accessible from Flagstaff or Williams. The East Entrance is on Arizona Highway 64 from U.S. Highway 89 at Cameron.
UPDATE 2020: The South Rim's South Entrance is now open 24 hours/day. Desert View and the East Entrance remain closed because of COVID-19 lockdowns on the neighboring Navajo Nation. So, you must enter and exit the park through the South Entrance (Tusayan). Buy your digital entrance pass on Recreation.gov. 
Grand Canyon Maps
The Grand Canyon is a vast area. If you intend to spend more than a day there to see the most beautiful and exciting places, it is worth taking a map. If you plan, a hiking map is a must-have for safety. Often there is no telephone coverage in many places. When you decide to go down to the Colorado River, there won't be coverage in most areas.
So, if you are planning a visit Grand Canyon for several days and you want to see all its parts and most exciting places, it pays to buy a set of 3 maps: Grand Canyon National Park Map Pack Bundle. National Geographic Trails Illustrated's three map collection provides a comprehensive overview of the entire park and its neighboring areas. The set includes Grand Canyon North and South Rims with enhanced detail maps around the central Grand Canyon, including Grand Canyon Village and the Bright Angel Trail. Moreover, you get the Grand Canyon East and Grand Canyon West map. We like this set of map, because they have a good scale and they are waterproof and tear resistant.
We also use Grand Canyon Trail Map. A new, more detailed 7th edition has been released in 2020, which is excellent. It's worth to buy it. Trails have trail ratings, text descriptions & statistics. It includes 100ft contours, shaded relief, a UTM grid for use with GPS, springs & drinking water, backcountry use zones, and much more. Very durable. Most importantly, very accurate. If you plan on doing any backpacking in the GC, this is the one to buy. It includes more detail, particularly if you want to get a little away from the regular routes.
We also like Grand Canyon: The Complete Guide. If you like guides, this one is exciting. It provides information to help you plan your trip—descriptions of routes, hiking trails, maps, attractions, recommendations of accommodation.
If you plan longer road trip consider detailed guide to Arizona and the Grand Canyon and Arizona Benchmark Road & Recreation Atlas, which is our favorite. Very detailed and helpful in trip planning.
Car
Rental Car: The best option is getting to Grand Canyon by car. You may rent a car in Las Vegas, Phoenix, or Flagstaff. There are no rentals at Grand Canyon Airport in Tusayan.
By car: From the west, you should take Highway 64 at Williams to the South Entrance (59 miles). From the east, take I-40 to Highway 89, to Highway 64, and then proceed to the East Entrance. If you are going from Flagstaff, take Highway 180 to Highway 64, and then continue to the park (79 miles). From the northeast, take U.S. Highway 160, to Highway 89, to Highway 89, to Highway 64, and then proceed to the East Entrance.
Train
By train: You can get by train from Williams and Flagstaff. You can take the Grand Canyon Railway from Williams. This vintage train offers five classes of service for this scenic over 2-hour ride. It's a great idea to take a Grand Canyon Railway Adventure Package tour. You can travel the way people have since 1901 during this Grand Canyon Railway tour.
Bus
By bus: Arizona Shuttle offers service from Flagstaff, Williams, and Phoenix to Grand Canyon. Check groometransportation.com/arizona for reservations. Flagstaff Shuttle and Charter also operate from Flagstaff, Las Vegas, Sedona, and Phoenix. Check flagstaffshuttles.com for tickets.
Airplane
Airlines: Grand Canyon and Scenic Airlines fly daily from the Las Vegas area to Grand Canyon Airport in Tusayan, seven miles to Grand Canyon Village. US Airways flies into Flagstaff, Arizona.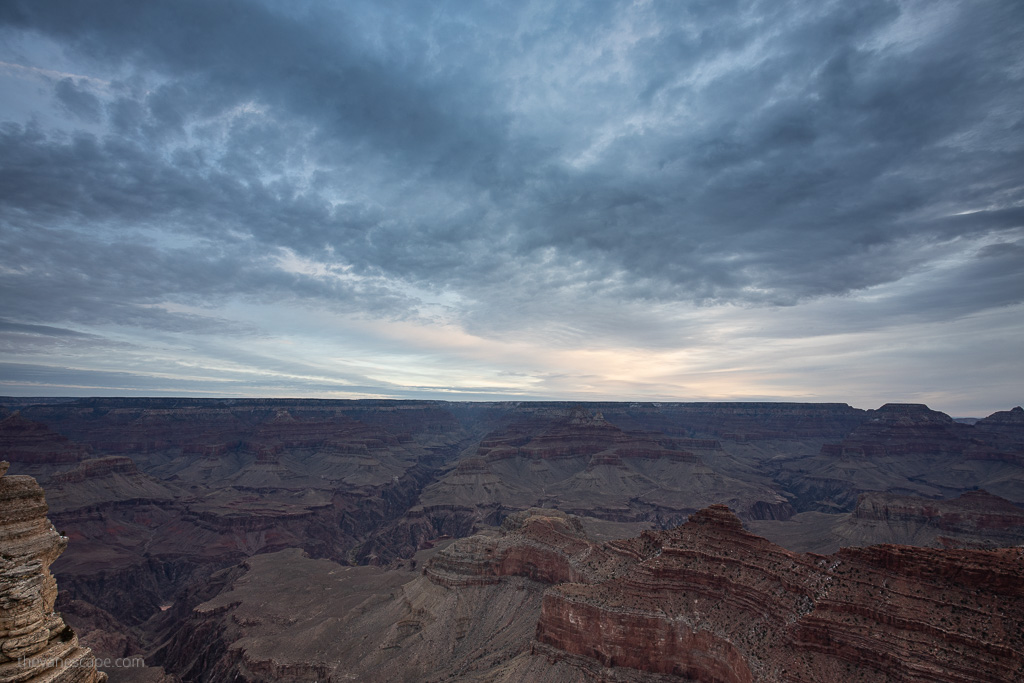 How to get from Las Vegas to Grand Canyon South Rim?
The easiest way to get from Las Vegas to Grand Canyon South Rim is by car. If you rent a car, we highly recommend Alamo. We have been using this rental company for years, and we are always satisfied.
From Las Vegas to Grand Canyon Village is about 280 miles (4 – 4,5 hours driving). Take U.S. Highway 93 South and then in Kingman take I-40 East to Williams. From Williams take Highway 64 at Williams to the South Entrance (59 miles). From Kingman, you can also take Historic Rute 66. It will be longer, but you can see Huckberry town and Peach Spring.
But it's a great idea to consider Grand Canyon South Rim Tours, too. From Las Vegas, you can take Grand Canyon Day Trip. You can choose a helicopter tour (which is a fantastic adventure) or trip by car or bus. We recommend the great offer from viator.com or getyourguide.com. They offer Grand Canyon trips from Phoenix and Sedona also. Or you can take an unforgettable and breathtaking helicopter flight from Tusayan over the Grand Canyon, which is a fantastic experience.
If you're planning a multi-day visit to Las Vegas, check out our ready to go & complete 3 days Las Vegas Itinerary.
Getting Around South Rim
You have a variety of activities at the South Rim. A driving tour (35 miles (56 km)) along the South Rim is split into two segments. The western drive to Hermit's Point is 8 miles (13 km), with several overlooks along the way, including Mohave Point, Hopi Point, and the Powell Memorial. From March to December, access to Hermit's Rest is restricted to the free shuttle provided by the Park Service. The eastern part to Desert View is 25 miles (40 km) and is open to private vehicles year-round. So as you see, many of the accessible vistas at the Grand Canyon are quite spread out, and driving from one area to another takes time, so if your time for the visit is limited, read our advice to prepare well for your trip.
Free Shuttle Bus
There is Free Shuttle Bus Service in Grand Canyon. Shuttles arrive every 10 to 15 minutes on most routes and stop at concession Facilities, visitors centeres, parking areas, and scenic overlooks. You can hop on hop off at any of the shuttle stops and use the shuttle bus service as many times as you need. There are four lines of Free Shuttle Bus:
Village Route (Blue) open year-round
Kaibab/Rim Route (Orange) open year-round
Hermits Rest Route (Red) open March 1 to November 30
Tusayan Route (Purple) open early spring to fall.
There is also Hiker's Express Shuttle, which is an early morning bus with service to South Kaibab Trailhead.
We highly recommend that you take advantage of the Grand Canyon shuttle bus service, especially during peak season. It will save you time, money, and gas. You'll be able to focus on enjoying the views of Grand Canyon instead of losing your nerves looking for a parking space.
South Rim to North Rim Shuttle
Between mid-May and mid-October, Truns Canyon Shuttle runs a daily five-hour rim-to-rim shuttle. Check trans-canyonshuttle.com for reservation. More info about North Rim you can find in our separate article. But it's not a good idea to do South Rim and North Rim in one day. Most of the time you spend driving.
Grand Canyon South Rim Weather
The South Rim of Grand Canyon is located in an exposed high-desert region renowned for temperature extremes, and the weather can change abruptly. It's much warmer than in North Rim. Summers are warm and dry, but prone to thunderstorms and quick temperature drops. Winters bring freezing temperatures and snowstorms, so check the weather before you go.
The 5000-foot elevation change between the top and bottom means, in summer, rim temperatures in the 70s to 80s (21°C to 32 °C ) average can mean temperatures exceeding 100 °F (43°C) at the bottom. Spring and fall are pleasant and warm.
The Grand Canyon South Rim is open year-round, but during the winter, check the weather and news on the Park's website, because some roads after a snowstorm may be closed.
Grand Canyon South Rim Tours
If you are looking for a tour recommendation, you have a wide selection of Grand Canyon South Rim tours offers from Viator.com or Get Your Guide. They offer Grand Canyon day trips or a few day's trip.
As we mentioned above, a fantastic experience is flying a helicopter over a Grand Canyon. The flight takes 45 minutes. The views are breathtaking. You can see the power and majesty of the Grand Canyon.
Another tour is Multi-Stop Guided Tour from Las Vegas (but you can choose from other cities tours, too). You can enjoy breathtaking views of the Grand Canyon from the South Rim at Mather Point and Bright Angel. It includes also stops at Historic Route 66 in Seligman, Arizona. You also have scenic views of the spectacular Southwest Desert and Hoover Dam, so you have exclusive photo opportunities.
We can also recommend Grand Canyon South Rim Small-Group Tour which is a tour with a hike with panoramic Canyon views. Check other tours depending on the time, your needs, and your money.
You have a large selection of Grand Canyon South Rim tours at Viator.com, which is a Trip Advisor company, and their tours have the highest rewiews.

Where to stay in Grand Canyon South Rim?
Unlike the North Rim on the South Rim of Grand Canyon, you have a much more extensive selection of lodging. It all depends on your budget and your travel style. We share our choices of best campgrounds and hotels.
Grand Canyon Village accomodation
Grand Canyon Hotels
If you want to spend the night or nights in a Grand Canyon Village, which is ideal, you need to book accommodation several months in advance. But lodging within the park can be costly, especially during peak seasons. The Grand Canyon Village is very popular. It is a beautiful area. Hotels have great reviews.
So, it's a great idea to stay inside the Park in the Grand Canyon Vilage. We have three suggestions for you. They have high reviews among visitors. They are:
Bright Angel Lodge – it's a historic lodge with 3 restaurants, with excellent food, great for families, near Hopi House.
El Tovar Hotel- with stylish interiors; historic hotel with a restaurant, near Hopi House, too.
Maswik Lodge, it's a good hotel with a restaurant, near Bright Angel Lodge.
But, as we mentioned above, Grand Canyon Village is trendy. Million of tourists visit the village throughout the year. Even during the winter, it is difficult to reserve a room. So it's worth planning your stay and making a reservation in advance. The number of recreational visitors to the Grand Canyon National Park reached a total of 6.38 million in 2018.
Grand Canyon RV Parks & Campgrounds
If you prefer campgrounds, you have two NPS campgrounds inside the Park and one operated by Delaware North Parks. Outside the Park you have even more options.
Desert View Campground located at the east entrance to the park (25 miles/ 41km east of Grand Canyon Village). It's closed for winter. It's open from mid-April to mid-October only. There are no reservations – First-come, first-served only. There are NO RV hook-ups. It's very popular, so it usually fills by noon each day.
Mather Campground is located in Grand Canyon Village. It's open year-round, and it is operated by NPS. It offers tent and RV camping. 30-foot maximum total length, including trailer or RV. There are no RV hook-ups, too. Reservations may be made through the National Recreation Reservation Service by calling 1-877-444-6777 or online at https://www.recreation.gov/. During the winter months of December, January, and February, the campground office is closed, and online reservations are not available. Registration is first come first serve using the self-pay machine.
Trailer Village RV Park with Full Hook-ups is located in Grand Canyon Village, too. You can make a reservation here.
You can find more information about campgrounds on the NPS website.
If you wish to camp anywhere in the park, other than in developed campgrounds on the South Rim, you must obtain a permit from the Backcountry Information Center.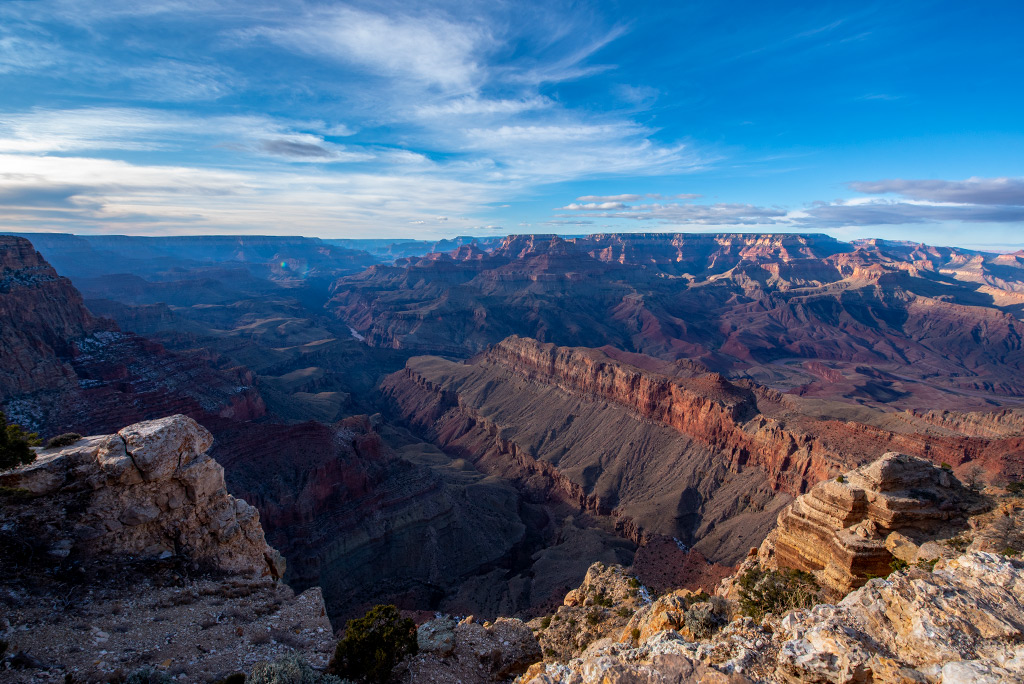 Hotels near Grand Canyon South Rim Outside the Park
Tusayan Hotels
You can find a lot of excellent places to stay in Grand Canyon South Rim outside of the National Park. The great idea is to stay in one of the Tusayan hotels. The town is located outside the Park, but only a few minutes to the park gate. You have a wide selection of hotels and restaurants. The town has its charm. Our favorite hotel is Best Western. And we often stay in BW hotels. It's very good quality at a reasonable price.
Loding in Cameron, Flagstaff or Williams
If you're coming from the East side of the park it's worth stopping in Cameron. Its small town, but great if you want to start from the East. Entrance is located on Arizona Highway 64 from U.S. Highway 89 at Cameron. If you stay in Cameron it's worth to visit Cameron Trading Post. They have a great selection of high-quality souvenirs and great restaurant. We love their breakfasts, too.
Another option is staying in Flagstaff. In this city, we stayed in Motel 6. It is cheaper, but still good quality. It is town on Historic Route 66. And it's a great idea to visit downtown.
Finally, our favorite town on Historic Route 66 – Williams. The town has amazing charm and atmosphere. You travel to the 60s and 70s. In Williams, we stayed in Canyon Motel & RV Park. There is also great Grand Canyon Railway RV Park. If you prefer hotels, once we stayed in the Grand Canyon Railway Hotel, which is great, but there is a lot of lodging possibilities with excellent reviews. From Williams, you can travel by train taking Grand Canyon Railway Adventure Package tour.
Grand Canyon Day Hikes from South Rim
Rim Trail
The Rim Trail is one of the most popular trails in the Grand Canyon and one of the best ways to see the South Rim's most popular attractions and viewpoints. This fairly easy walking path traces the canyon's edge, stopping off at popular lookout points like Maricopa Point and Hopi Point. Hikes can begin almost anywhere along this trail, and a shuttle can return hikers to their point of origin. Park's free shuttle bus runs along a paved road along the trail, allowing for easy access to the village and points along the way. Take a lot of water with you. Remember to stay hydrated. It's good idea to start walk from Mather Point.
Total distance of Rim Trail is 12.8 miles (20.6 km) one-way, but you can choose a short section or a few sections of the trail to discover the beauty of the Grand Canyon.
Stopping point are:
South Kaibab Trailhead to Pipe Creek Vista – 0.9 mi (1.4 km) one-way
Pipe Creek Vista to Mather Point – 1.4 mi (2.3 km) one-way
Mather Point to Yavapai Point – 0.7 mi (1.1 km) one-way
Yavapai Point to Verkamp's – 1.4 mi (2.3 km) one-way
Verkamp's to Bright Angel Trailhead – 0.5 mi (0.8 km) one-way
Bright Angel Trailhead to Trailview Overlook – 0.5 mi (0.8 km) one-way
Trailview Overlook to Maricopa Point – 0.7 mi (1.1 km) one-way
Maricopa Point to Powell Point – 0.5 mi (0.8 km) one-way
Powell Point to Hopi Point – 0.3 mi (0.5 km) one-way
Hopi Point to Mohave Point – 1.0 mi (1.6 km) one-way
Mohave Point to the Abbys – 1.1 mi (1.8 km) one -way
The Abbys to Monument Creek Vista – 1.0 mi (1.6 km) one-way
Monument Creek Vista to Pima Point – 1.8 mi (2.9 km) one-way
Pima Point to Hermits Rest – 1.0 mi (1.6 km) one way.
Our favorite maps and guides:
Bright Angel Trail
Bright Angel Trail is an excellent choice if you have never hiked in the Grand Canyon before. The trail is easy and very well maintained. There are drinking water and rest areas along the way. The views are breathtaking. Bright Angel Trail is 6.1 mi one-way. But you can take some part of the trail.
There are five stopping points:
Bright Angel Trailhead to Lower Tunnel – 0.9 mi one-way
Lower Tunnel to Mile-and-a-Half Resthouse – 0.6 mi one-way
Mile-and-a-Half Resthouse to Three-Mile Resthouse – 1.5 mi one-way
Three Mile-Resthouse to Indian Garden Campground – 1.5 mi one-way
Indian Garden Campground to Plateau Point – 1.6 mi one way.
South Kaibab Trail
South Kaibab Trail offers spectacular views along a ridgeline. It's worth to take this hike. If you don't have enough time to make all trail, go to the first stopping point, which is Ooh-Aah Point. Its only 0.9 miles one way. From Ooh-Aah Point to Cedar Ridge is 0.6 miles, and from Cedar Ridge to Skeleton Point – 1.5 miles. You have a lot of photo opportunities on this trail. Take a lot of water and snacks for your hike.
What to see in Grand Canyon in one day?
If you have only one day in Grand Canyon, it's a great idea to start in the morning from a short helicopter flight over the Grand Canyon from Tusayan. It takes only 45 minutes, but the impressions are fantastic. You will feel the power and majesty of the Grand Canyon. Book the helicopter tour in advance, especially if you are going during the peak seasons, between May-September.
Then, after the flight, if you can drive by your car or take a shuttle. If you are during high season, it is better to take a free shuttle; otherwise, you will lose a lot of time parking the car. So instead of wasting time trying to find a parking spot, we recommend that you park near the Grand Canyon Visitor Center and take a shuttle. You can get off at any stop. Or, if you don't have much time, use our best viewpoints on the South Rim list below. Please visit Desert View Watchtower and go to the top. The panorama view is perfect from the tower.
It's worth to see The Village Historic District. It is the heart of development on the South Rim, constructed mostly by the Santa Fe Railroad during the first half of the 20th Century. If you have enough time, take a short hike from our list. You will see the beauty of Grand Canyon from another perspective.
It's great to stop by the rustic Grand Canyon Railway Depot, which welcomes Grand Canyon Railway passengers to the village. In Grand Canyon Village you also have extensive selection of gift shops.
Other posts about Arizona with tons of tips and exiting information you will find in our Arizona PhotoTravel Guide!
The Best Grand Canyon Photography Spots from South Rim
Grand Canyon is probably one of the most spectacular sights in the world, that people heve tried to capture. There are endless fantastic photographic opportunities at the Grand Canyon, but it's essential to plan your photo visit. So we share our experience. There are dozens of viewpoints along the South Rim of Grand Canyon. Over 20 are easily accessible by vehicle; six require a certain amount of hiking. Some of them are jaw-dropping, epic, breath-taking. Others are not very impressive. One is better for sunset, other for sunrise. Some are great for both: sunset and sunrise. Finally, some of them are crowded, others not. The best idea to choose the most spectacular is to see all of them. But if you don't have enough time, we share our experience which viewpoints of South Rim Grand Canyon are the best and why.
The Best Grand Canyon Viewpoints for Sunrise
For sunrise photography of South Rim try: Mother Point, Lipan Point, Navajo Point, Yavapai Point, Hopi Point.
The Best Grand Canyon Viewpoints for Sunset
For sunset photos of South Rim try: Lipan Point, Navajo Point, Yavapai Point, Mather Point, Pima Point, Hopi Point, Grandview Point.
Desert View Drive Points
Desert View Drive extends east out of the South Entrance Road and continues for 22 miles (35,4 km) all the way to the Desert View Watchtower. Below you find our favourite points.
Desert View & the Desert View Watchtower
We start from iconic Desert View Watchtower at the eastern-most point of Desert View Drive, because we love these sweeping views. It's located 26 miles/ 41 km east of Grand Canyon Village, on the East Entrance Station closest access to/from the Cameron. It's also known as the Indian Watchtower at Desert View, is a 70-foot (21 m)-high stone building, completed in 1932. American architect Mary Colter designed desert View Watchtower. The interior contains murals by Fred Kabotie. You can climb 85 steps to the top of the watchtower for 360° views. It is a unique perspective for photos from the tower. Desert View is the highest viewpoint on the Grand Canyon South Rim with elevation of 7,438 feet (2,267 meters).
It's a grand vista for sunset and sunrise too. You have a full perspective for the canyon and Colorado River. Desert View Watchtower is also visible.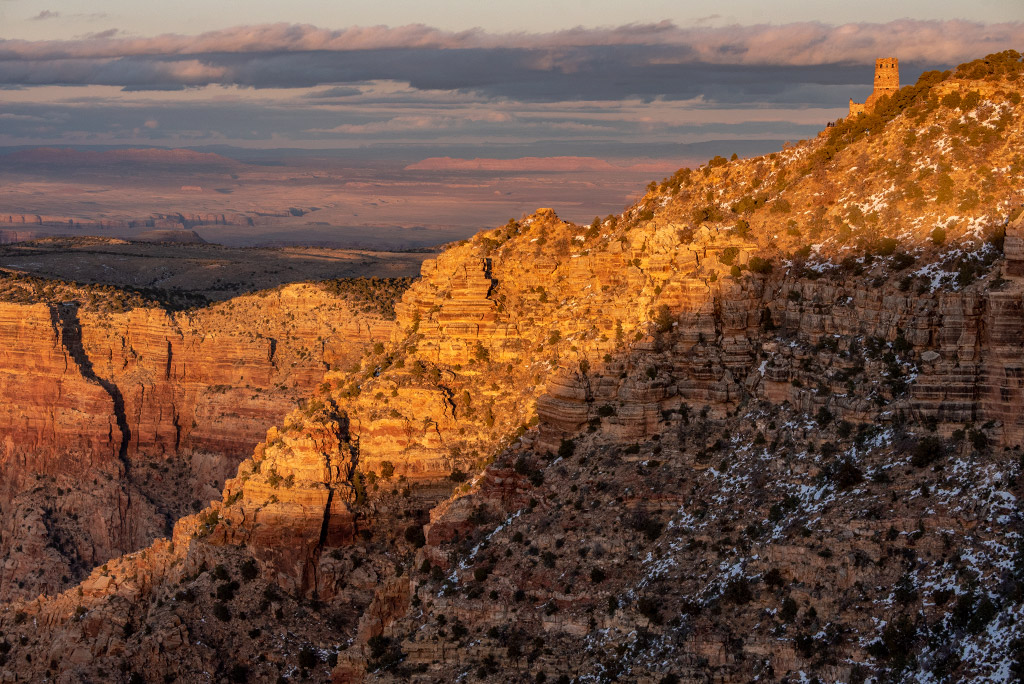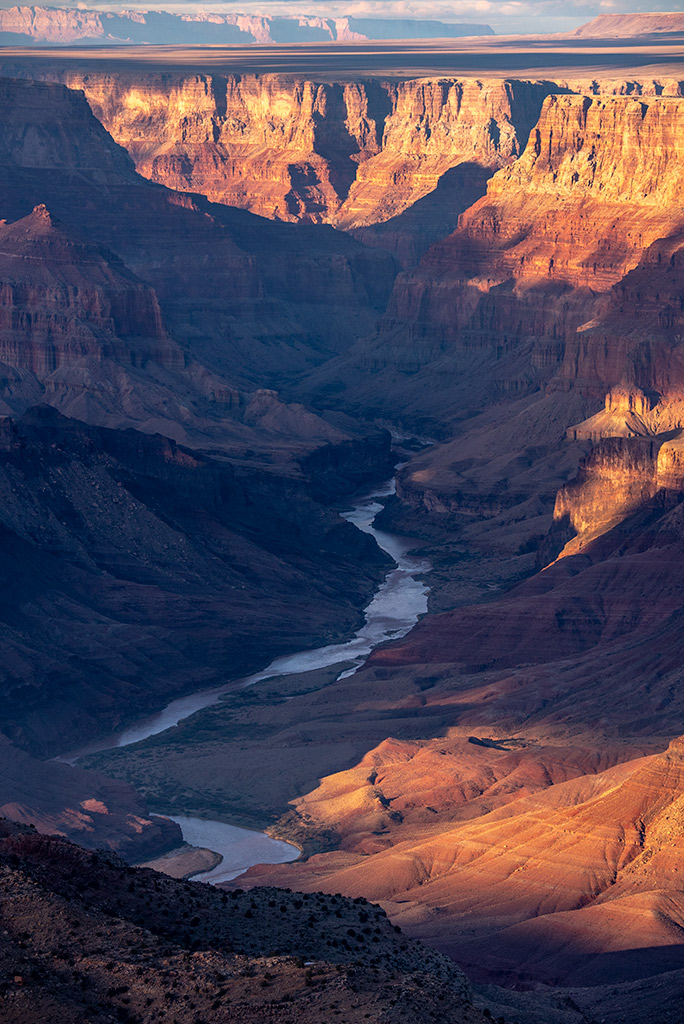 Lipan Point
We choose this point for sunset photos, and it was a great idea. The canyon looks broader and more open here. At the bottom of the canyon, you can see the winding Colorado River. Photos can be taken from several different places on edge so that you can have various shots.
Grandview Point
It's a broad and beautiful vista. From this point, you also have different options to take photos. From this point begins Grandview Trail, which leads to Horseshoe Mesa. Grandview Point elevation is 7,100 feet, so it is one of the highest viewpoints in South Rim. Besides, it is the southernmost point on the Grand Canyon.
Visitor Center Viewpoints
Below are two great viewpoints located near Grand Canyon Visitor Center.
Check also our photos from North Rim of Grand Canyon to find more inspirations!
Mather Point
It's the most popular point. In the picture below, you can see how it looks at the sunrise, and it's much worse during the day. It's crowded. But there are several nearby points that you have a much better view without the crowd. The good idea is to walk along the rim to choose spots less crowded. We choose Mather Point for the sunrise having the most popular platform on the left. And we focused on the canyon, not people. We like this perspective. From Mather Point, the Colorado River is practically below your feet, but in our opinion, it's not as spectacular as on the Toroweap. To the west is Bright Angel Trail, to the east is the South Kaibab Trail, and straight ahead is the North Rim.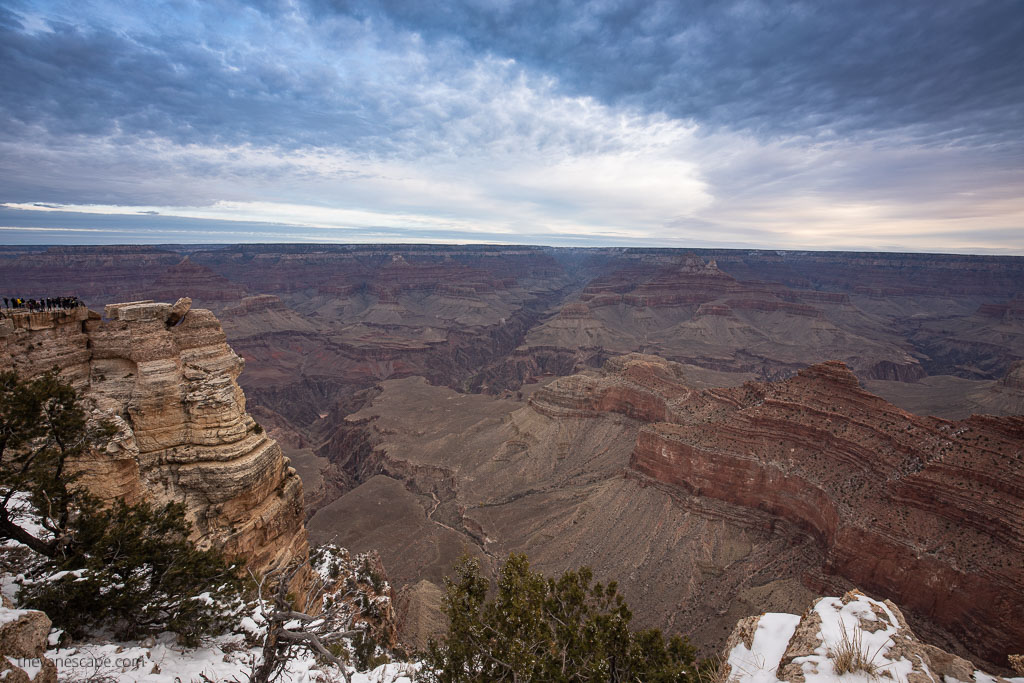 Yavapai Point
For us, the Yavapai point may provide one of the best panoramas of the inner canyon, the Colorado River, and Bright Angel Canyon. It offers sweeping views to the east and west. Its less crowded than Mother Point, and pictures are spectacular.
There is also Yavapai Geology Museum, where you can learn about Grand Canyon geology and history.
Hermit Road Viewpoints
Below you find our favorite vistas on Hermit Road. Remember that between March 1 to November 30, Hermit Road is accessible via a shuttle bus only. But its worth to take a free shuttle bus to see this part of South Rim. From December 1 to February 28, the road is open for private vehicles, and you need to drive or walk to get between the viewpoints.
Hermit Road is 7 miles long. It starts near the Grand Canyon Village and ends at Hermit's Rest.
Trailview Overlook
We like this point because it's a great view of Bright Angel Trailhead. You can see the winding trail going down the Grand Canyon.
Powell Point
This point has great eastern exposure, making it an excellent spot for sunrise. Vista is named after John Wesley Powell, the first man to successfully run the Colorado River through Grand Canyon. There is a monument to this historic achievement on Powell Point.
Hopi Point
The Hopi Point offers terrific views to the east and west, too. The vista is similar to the Powell Point from here, but the Colorado River looks much better from Hopi Point for us. Hopi Point offers excellent views of the stone temples (rock formations) rising from the depths of the Canyon.
So, it's an excellent spot for both sunrise and sunset.
The Abyss
The Abyss Point is located on the very edge of the rim and gives you an almost vertical look down into the canyon below. It offers a wide-ranging view.
Pima Point
We like Pima Point because it offers a beautiful Colorado River view from this part of South Rim, too. Besides, the views to the east are stunning.
Grand Canyon Photography Tips & Photo Gear
Arrive Early & Plan Your Photo Visit Ahead
To take good pictures, arrive way before the sunrise or the sunset (minimum one hour) to find the right spot. South Rim of Grand Canyon is extremely crowded, especially in the peak season. Great if you visit all points earlier to choose the vista that suits you best. You don't have to stay at the major viewpoints. For us, the best options are to walk between the views and along the edge to find the best vista. It's good to plan what is most important for you too.
It's essential to prepare for Grand Canyon Photography. But if you don't have time for it, use our hints above and see which spots are the best on South Rim.
Get to the Park as early as possible, because parking is limited, and there may be traffic jams at the park entrance.
Light and Time of Day is Important
The light is a crucial element in photography. It's very common to photograph at sunrise or sunset. The best time of the day is called the golden hour – it is just the first hour of light after sunrise and the last hour of light before sunset.
Another best time for photography is called the blue hour. It occurs just before sunrise and after the sunset, when the sky has a deep blue hue, saturated colors, and cold temperature.
Find Perspective & Use a Strong Foreground
First of all, perspective is essential. The Grand Canyon South Rim is vast, and getting a sense of scale can be a challenge. So it's a great idea to find a spot with the first plan on it. Your foreground might be a branch, tree or trees, rock, people, etc. It's good to have a wide lens for these photos. You can get perspective by including people in your compositions, so you capture the size of Grand Canyon this way.
Other posts about Arizona with tons of tips and exiting information you will find in our Arizona PhotoTravel Guide!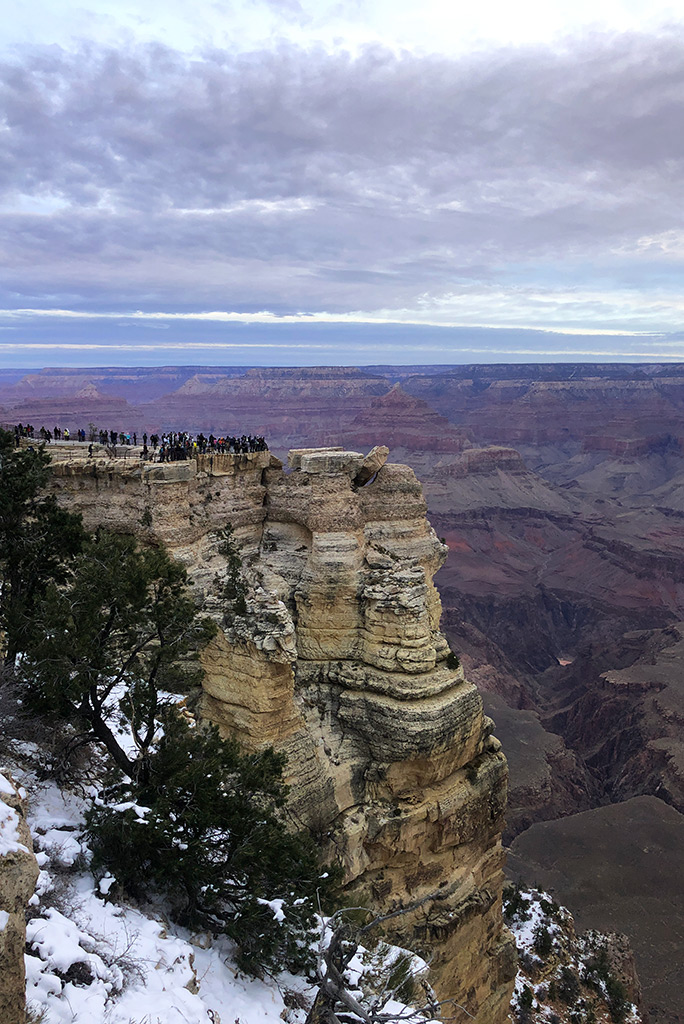 Use a Telephoto Lens
Grand Canyon photography might be a bit challenging. It is difficult to depict this space, power, and extends in the picture, so zoom it. One of the ideas to take a great picture of Grand Canyon is to use a telephoto lens. Then you can zoom the Colorado River, rocks, zoom in on overlapping layers, canyon. This way, it's possible to show the power and majesty of this place. So look for details and focus on specific details, as rocks colors and layers, their textures, and patterns.
Check the Weather
The weather can be favorable for photography. It is worth checking the weather before pictures. Maybe there will be fog over the canyon, clouds or storm. Last time we got some snow, which also added a different atmosphere to the photos.
Change Your Perspective & Take a Helicopter Tour or Go For a Hike
If you have time, its a great idea to change your vantage point. Even short hike 0,5 – 1 mile down into the canyon give you different compositions and perspective. Or you can take a hike along the rim, to change the point of view.
Most of all, if you can take a helicopter flight you can get an amazing vista and great photo opportunity, too. Helicopter flight over the Grand Canyon is an unforgettable adventure.
Use a Tripod
Before sunrise and after sunset the landscape is darker, so the best idea is to use a tripod.
Dress in Layers
The weather changes quickly, especially at the sunrise, which can be chilly. So dress in layers. We've prepared a complex packing list for camping in the Grand Canyon. The list is called Havasupai Packing List, but it contains necessary camping gear throughout the Grand Canyon National Park and Southwest in general. Including camping gear, cooking equipment, clothes, safety, and photo gear. So check it, please, our list helps you prepare appropriately for your adventure.
Photo Gear
Camera. If you read our earlier articles you know that we use Canon and Nikon. Agnes uses Nikon D750, and Chris Canon EOS R. Both cameras were ideal for Grand Canyon National Park due to their quality and flexibility. They are light enough as well to pack into a camping backpack.
Lenses. Above all, for photos of the Grand Canyon National Park it's best to have a wide lens and telephoto lens. Take the widest (ultra-wide recommended) and fastest aperture lens you have (good options are Canon 16-35/2.8 or Nikon 14-24/2.8).
This time at the Grand Canyon South Rim Chris used also Canon EF 24-70mm f/2.8L II USM and telephoto lens Canon EF 100-400mm f/4.5-5.6L IS II and Agnes used also Nikon AF-S FX NIKKOR 50mm f/1.4G and Nikon AF-S NIKKOR 80-400mm f/4.5-5.6G ED VR.
Finally, tripod is must-have, too. Tripod is necessary for landscapes for sunrise and sunset. We recommend a stable tripod because you will take photos over the rim. Don't take too light tripod; the wind can be intense. We have been using Sirui for years, they are reliable and durable tripods.
Do not forget also Remote Control Shutter Release. It is much safer to use it over the abyss, and you don't lose your balance using it. So you do not have to lean too often over the tripod. Our choice is: Camera Remote Wireless Shutter Release Intervalometer which is perfect also for night photos – milky way and stars. You'll be over the gulf when it's dark, therefore take also a headlamp and gloves. They are essential for your comfort, too.
With memory cards, it is easy. You always should buy the fastest and most reliable ones. For years we were using SanDisk and Lexar CF and SD cards for the reason that we never had any issues with them. This is why we can recommend them to you.
Finally Filters:
Minimum: Circular polarizing filter. Please make sure it fits your lens diameter. We recommend Heliopan or B+W filters.
Optimum: Circular polarizing filter, and ND grad filters (we suggest Lee soft edge 0.9 and Lee reverse ND grad to begin with). In the case of ND grads, you will need a holder as well.
Finally, Maximum: Circular polarizing filter, ND grad filters (minimum Lee soft edge 0.9, Lee reverse ND grad and a holder) and full ND (Lee Big Stopper or Little Stopper).
More Photo Inspirations you will find in books:
Sources of information about Grand Canyon, f.e. geology and history: Grand Canyon National Park, http://www.ohranger.com/ and https://www.wikipedia.org/ .