Must-see stops on Dempster Highway
Dempster Highway meanders through 456 miles (734 km) through Yukon and Northwest Territories. What are must-see stops on Dempster Highway? What are the highlights of Dempster Highway? And what to do during this scenic but challenging road trip? Check our tips!
This article may contain affiliate / compensated links. For full information, please see our disclaimer here.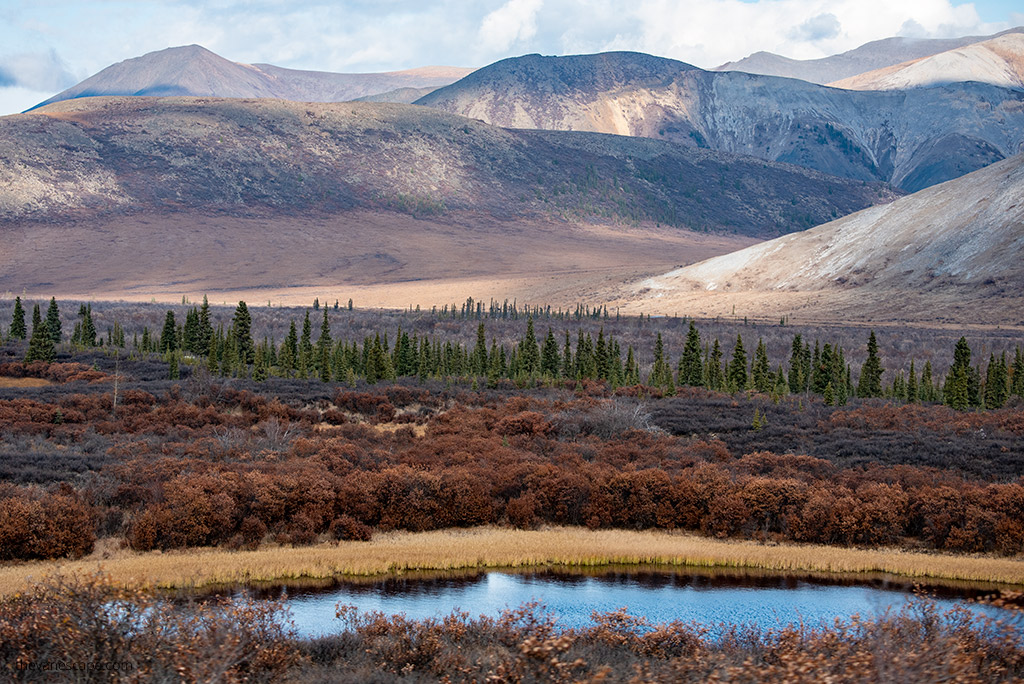 Must-see stops on Dempster Highway – Our Experiences
In the article Dempster Highway Comprehensive Guide, we provided many valuable tips on how to prepare your Dempster Highway road trip to safely travel 543 miles (874 kilometers) to the Arctic Ocean. We have done this thrilling drive ourselves, been to each of the described places, and share our experiences, observations, and tips.
In this article, we'll introduce you to the most beautiful, meaningful, and exciting places on the route that are worth stopping at. We present you with our list of must-see stops on Dempster Highway. And we share with you the best highlights on Dempster Highway. We tell you the best things to do while traveling the Dempster Highway.
You will find a detailed description mile by mile of this fantastic route in the MILEPOST. Purchase it before the trip because it is the best source of information about this route.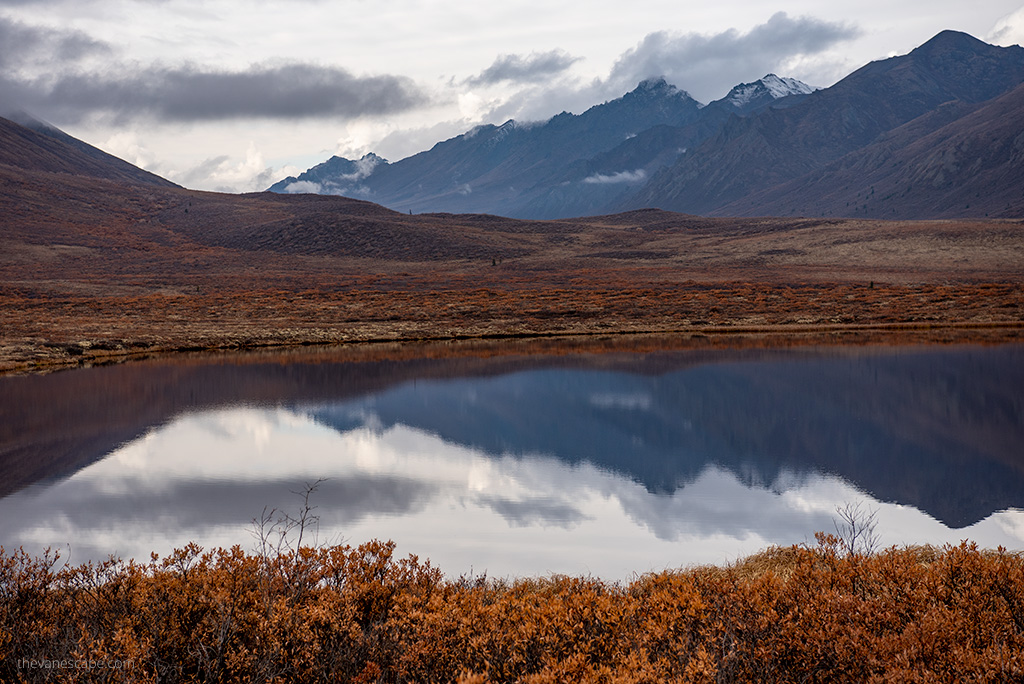 Must-see stops on Dempster Highway
Dempster Corner – Mi 0 / Km 0
Here you start your adventure on a gravel road. 25 miles / 40 km southwest of Dawson City is a junction of Klondike Highway and Dempster Highway. Here you will find a gas station. The next gas station is at Eagle Plains, 229 miles (369 km) from here. As soon as you reach the beginning of Dempster, you will find Dempster Highway Getaway Interpretive Display – check them as they have some exciting information.
Tombstone Territorial Park – Mi 44.5 / Km 71.5
Tombstone Territorial Park is a popular destination for hiking, car camping, backcountry camping, and wildlife viewing. It's only 1.5 hours driving from Dawson City, so it's a perfect a-day trip idea. The 2,200-square-kilometre Tombstone Territorial Park protects a unique wilderness of rugged peaks, permafrost soils, and abundant wildlife reflected in a rich First Nations culture. The Dempster Highway cuts through the park, providing opportunities to view breathtaking Arctic tundra landscapes.
Visit the Tombstone Interpretive Center which is open from mid-May until mid-September. You need a permit for some activities in the park so check the official website to get one. For backcountry camping Bear-resistant canisters are mandatory.
TRIP TIP: If you like driving into the wilderness and plan to reach the Arctic Ocean in the USA, you can also check out our guide to the Dalton Highway in Alaska. It's 414 miles one way, incredibly scenic, and a challenging route that takes you almost to the Arctic Ocean. Before hitting this remote road, check our Safety Tips for Driving the Dalton Highway, and where to camp along the Dalton Highway.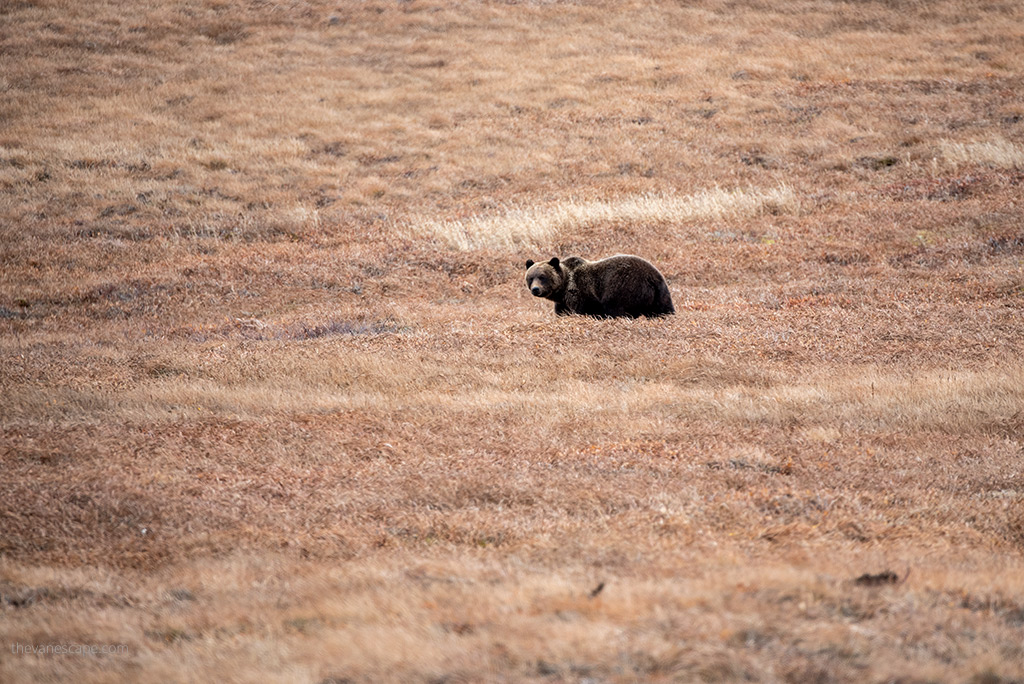 Hiking trails that are accessible from the Dempster Highway: Grizzly Creek to Mount Monolith Lookout, Beaver Pond Interpretive Trail, Edge of the Arctic Interpretive Loop, North Klondike River Trail, and Goldensides Mountain. Remember that this area has a large grizzly bear population. Pack Bear Spray and Bear Bells if you plan hiking in the Dempster Highway area.
There is also a campground (Tombstone Territorial Park Yukon Government Campground) with 51 sites, a shelter, fireplace, pit toilets and water from the river, and picnic tables. Remember to pack the water treatment tablets.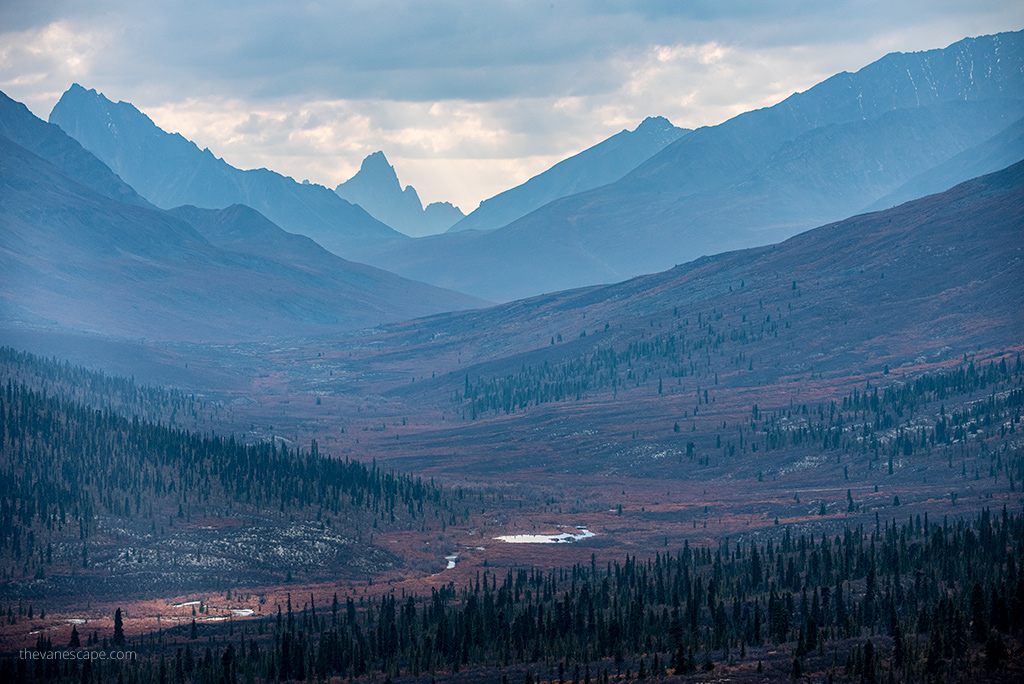 Tombstone Range Viewpoint – Mi 46 / Km 74
This is an excellent place for a shortstop, bone stretching, and picture taking as it has a nice view of the North Fork Pass and river. Camping is not allowed at this spot. It's a must-see stop when driving the Dempster Highway.
North Fork Pass Summit – Mi 49.3 / Km 79.3
It is the highest point on the Dempster Highway, at an elevation of 4,593 feet (1,400 m).
Two Moose Lake – Mi 63.7 / Km 102.5
There is a viewing platform from which you have a chance to encounter moose with a bit of luck. It is also an excellent bird-watching place: American wigeon, Northern pintail, ducks.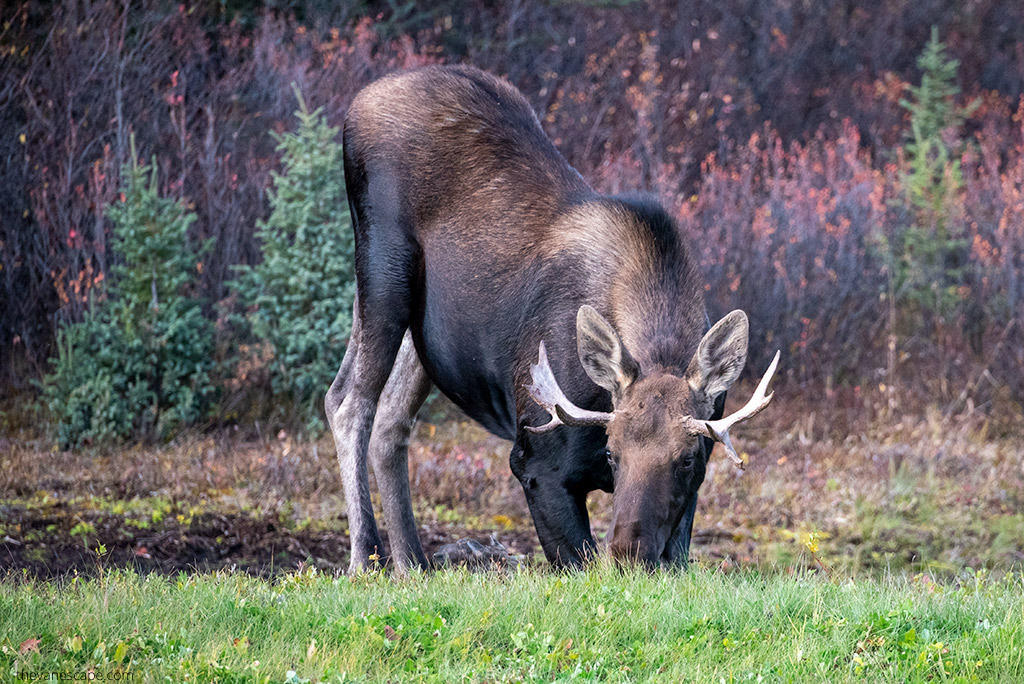 Chapman Lake – Mi 72.1 / Km 116
It is one of the lakes near the highway. The lake is named for Ernest Chapman, a local trader, trapper, and prospector. The lake is large enough to permit floatplane operations. Loons nest on the island. The porcupine caribou herd sometimes crosses the highway in this area.
Windy Pass Summit – Mi 95.2 / Km 153
At this point, at an elevation of 3,478 feet (1,060 m), you will turn at Windy Pass Summit. Here begin the Northern Ogilvie Mountains, which are rounder and more sparsely vegetated than the mountains to the south. The dolomite cliffs eroded by wind and weather and the rocky scree slopes of this range are nicknamed the Limestone Hills.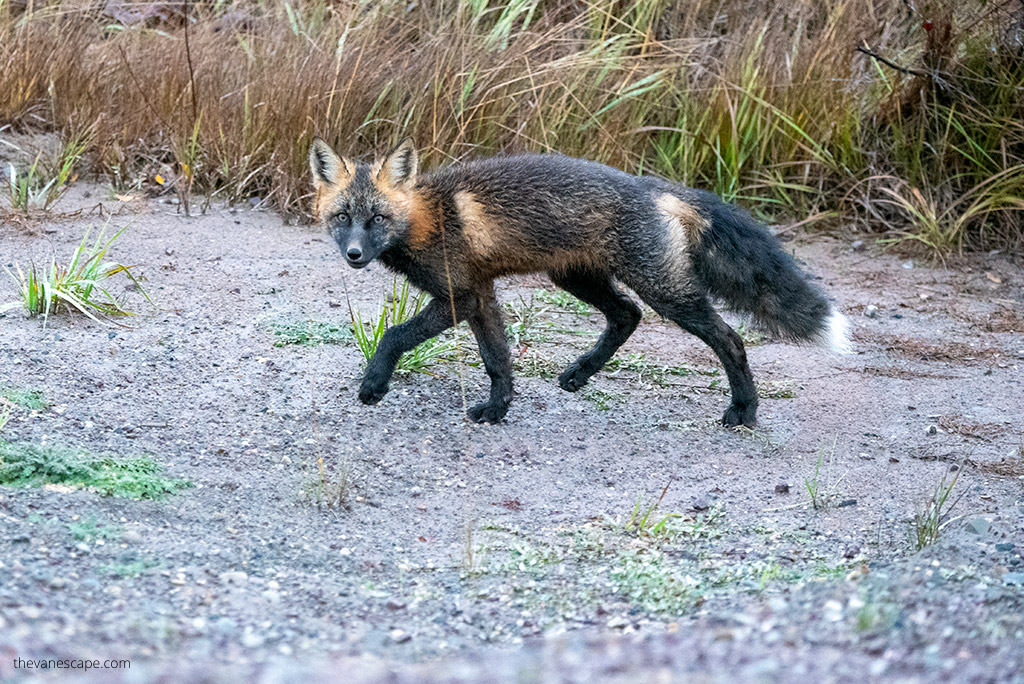 Engineer Creek – Mi 100.1 / Km 161
Engineer Creek is a tributary of the Ogilvie River. Its first name was Big Creek, but it was renamed in 1971 to commemorate the Department of Public Works engineers who worked on the Dempster Highway. Iron oxide, limestone, gypsum, salt, and sulfide-bearing sediments dissolve in the rainwater, turning the creek and soil red and orange-brown. The distinctive smell comes from the nearby sulfur springs. Don't drink the water from the creek.
Engineer Creek Yukon Government Campground – Mi 120.4 / Km 193.8
It's a campground with 11 sites, where you can stay for a night. But it's open only from June through September. Be sure to bring mosquito repellent, a mosquito hat, and mosquito nets, as mosquitoes are annoying on Dempster Highway.
Eagle Plains – must-see stop on Dempster Highway – Mi 229.3 / Km 369
It is one of the most important places on the route. First of all, you have a gas station here, be sure to refuel. You will also find a hotel and campground. You can ask for the weather forecast, eat something, and rest. Eagle Plains Hotel is an oasis in the wilderness. It's located midway on the Dempster and is open year-round. It was built in 1978 just before the completion of the Dempster Highway.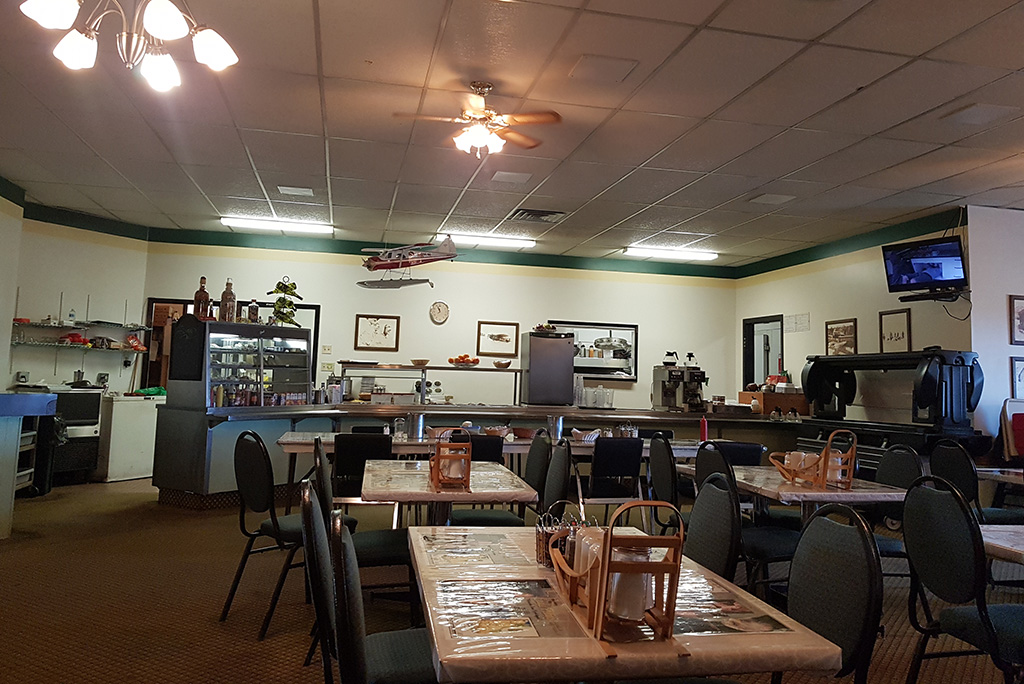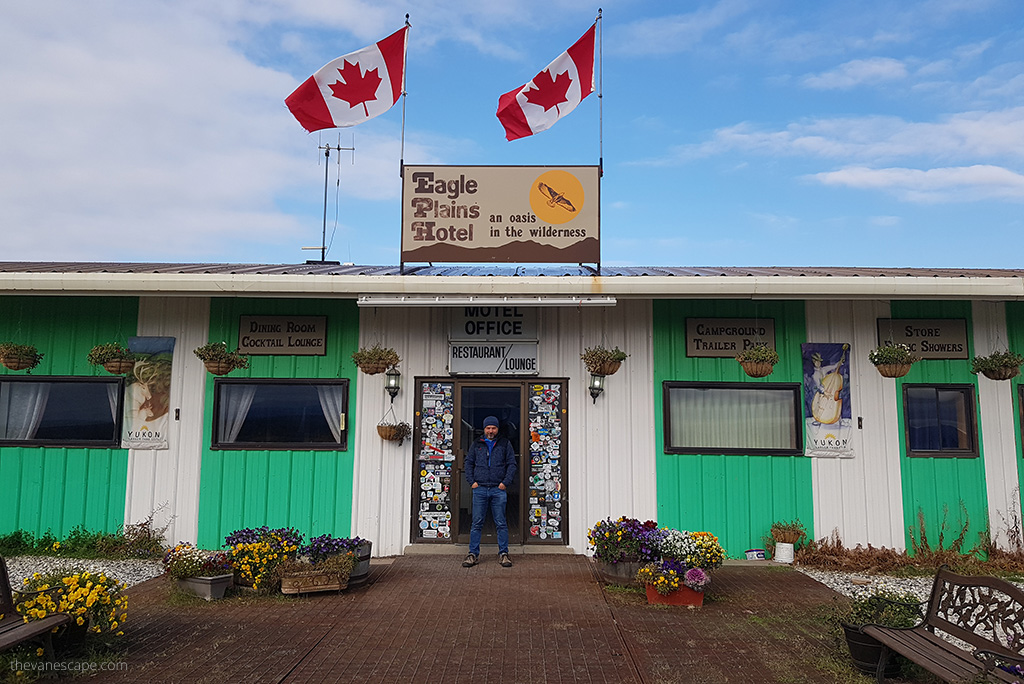 Arctic Circle Crossing – must-see stop on Dempster Highway – Mi 252 / Km 405.5
It is one of the most important highlights on the Dempster Highway, as it's the only road in Canada that takes you across the Arctic Circle at mile 252 (km 405.5). For many, it is an end in itself. Some tourists take pictures of crossing the Arctic Circle, rest by this sign, and come back to civilization.
At latitude N 66°33′ north of the Equator is located Arctic Circle Crossing. It divides the earth's Arctic area from the rest of the globe. On June 21, the sun does not dip below the horizon at this latitude for six weeks. It marks the southernmost latitude where the sun can stay continuously below or above the horizon for 24 hours – these phenomena are known as the Midnight Sun in the summer and the Polar Night in the winter.
It is a must-see stop on Dempster Highway. You will find information boards, picnic tables, and breathtaking views here. You will also see a significant difference in vegetation. At this latitude, it will already be dwarf vegetation. There will be few trees or shrubs. The highway crosses the Arctic tundra on an elevated berm next to the Richardson Mountains, which reach almost the Arctic Ocean. The Richardson Mountains were named for Sir John Richardson, the surgeon, and naturalist on Sir John Franklin's overland expeditions to the Arctic Ocean.
Trip Tip: We have already crossed the Arctic Circle in several countries. Also, on our recent trip to Alaska, we made the Arctic Circle Trip from Fairbanks as we drove the Dalton Highway to Prudhoe Bay and the Arctic Ocean in Alaska.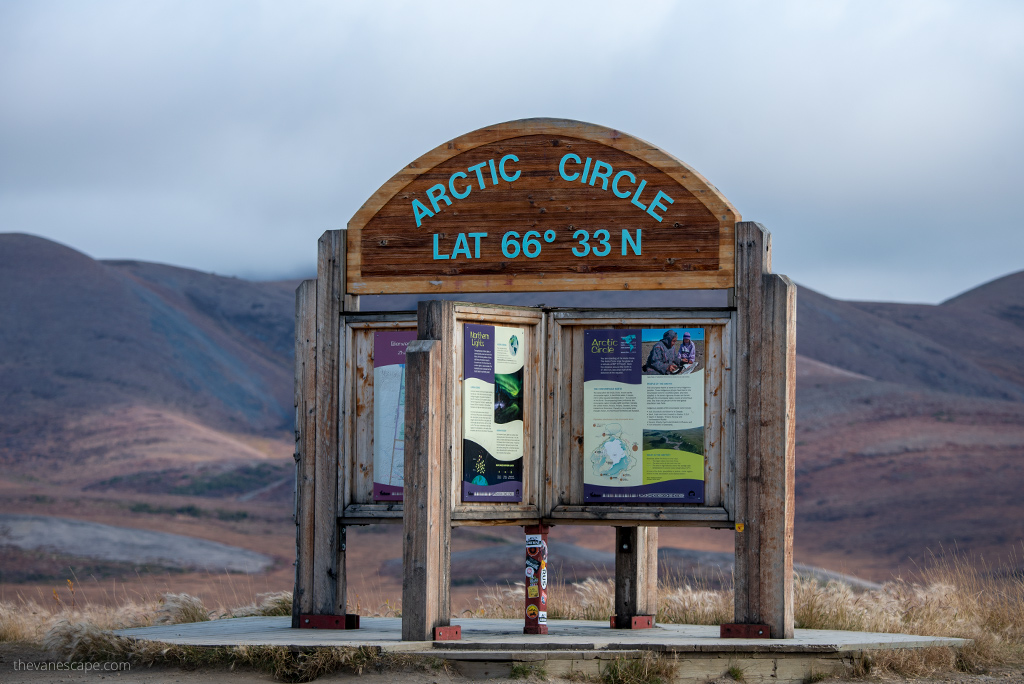 YT-NWT Border Mi 288.9 / Km 464.4
The border between the Yukon and the Northwest Territories is essential for one reason – the time zone is changing here. So remember to synchronize the watches. Yukon observes Pacific standard time while Northwest Territories is on Mountain time. The highway crosses Wright Pass and the Continental Divide in the Richardson Mountains. West of here the water flows into the Pacific Ocean. East of here, the water flows into the Arctic Ocean. We have seen many grizzly bears in this area. Read our Alaska tips on what to do and what to pack if you encounter bears.
Peel River Crossing – Mi 334.9 / Km 539
This is a must-stop on Dempster for the simple reason – you have to take the ferry to the other side. The ferry is on-demand. It's free. The crossing distance is 600 meters. Hours of operation 9:15 a.m. – 12:45 p.m. It's usually open from June 2 to November 8.
Fort McPherson – must-see stop on Dempster Highway – Mi 341.9/ Km 550.2
Fort McPherson is located on the east bank of the Peel River. It's the first NWT community you will encounter driving on the Dempster Highway. The name in Gwich'in: Teetł'it Zheh means at the head of the waters. It is a hamlet in the Inuvik region. The First Nations people who make up the majority are Gwich'in (Teetł'it Gwich'in), and the two main languages spoken are Gwich'in and English. Originally a Hudson's Bay Company post station. The community was named in 1848 for Murdoch McPherson, a chief trader. You will find here a gas station (gas/diesel) and general store.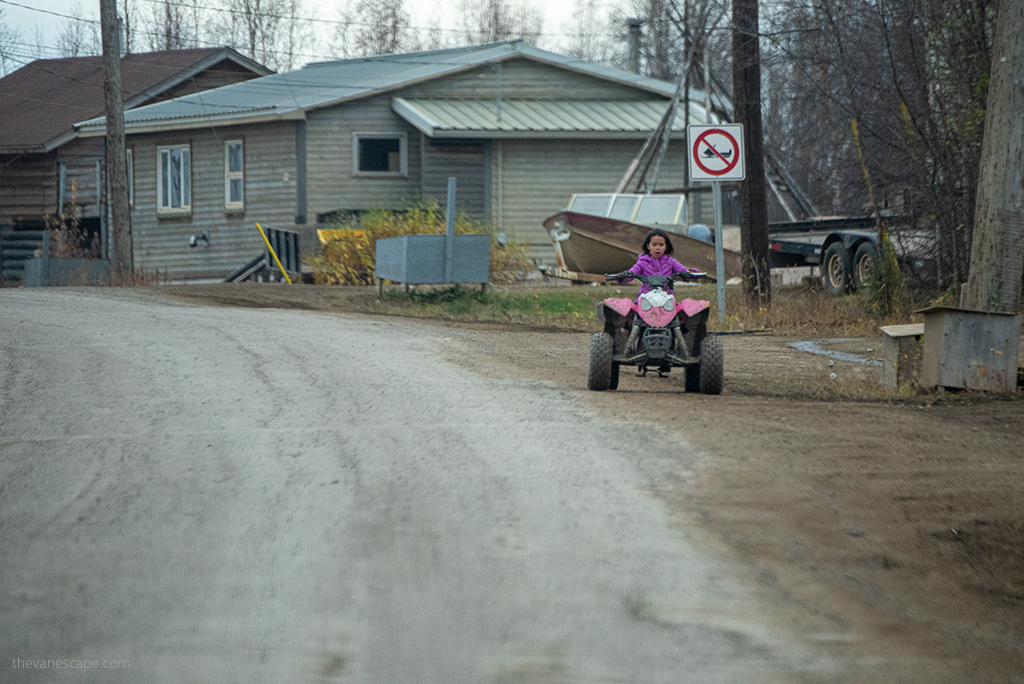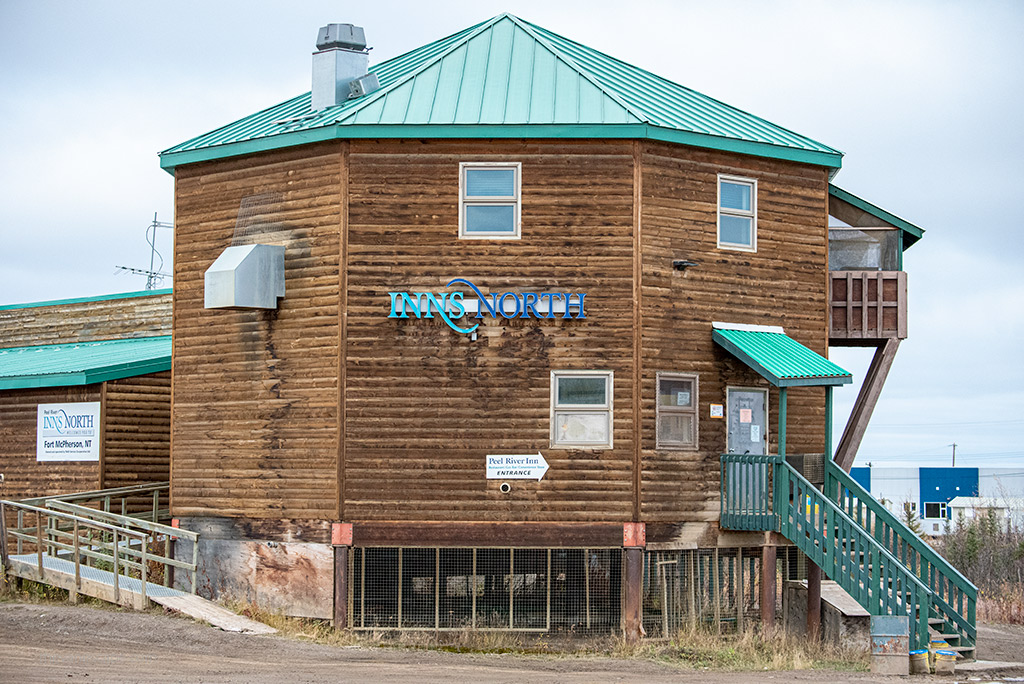 Mackenzie River Crossing – Mi 377.4 / Km 607.3
This ferry crossing is usually open from June to late October. Hours of operation 8:15 a.m. – 11:45 p.m.
Tsiigehtchic – Mi 377.4 / Km 607.3
Tsiigehtchic ("mouth of the iron river") is a Gwich'in First Nation community located at the confluence of the Mackenzie and the Arctic Red Rivers. The community was formerly known as the Arctic Red River. You can get there by ferry or take a short walk along the beach to take some pictures of the hills.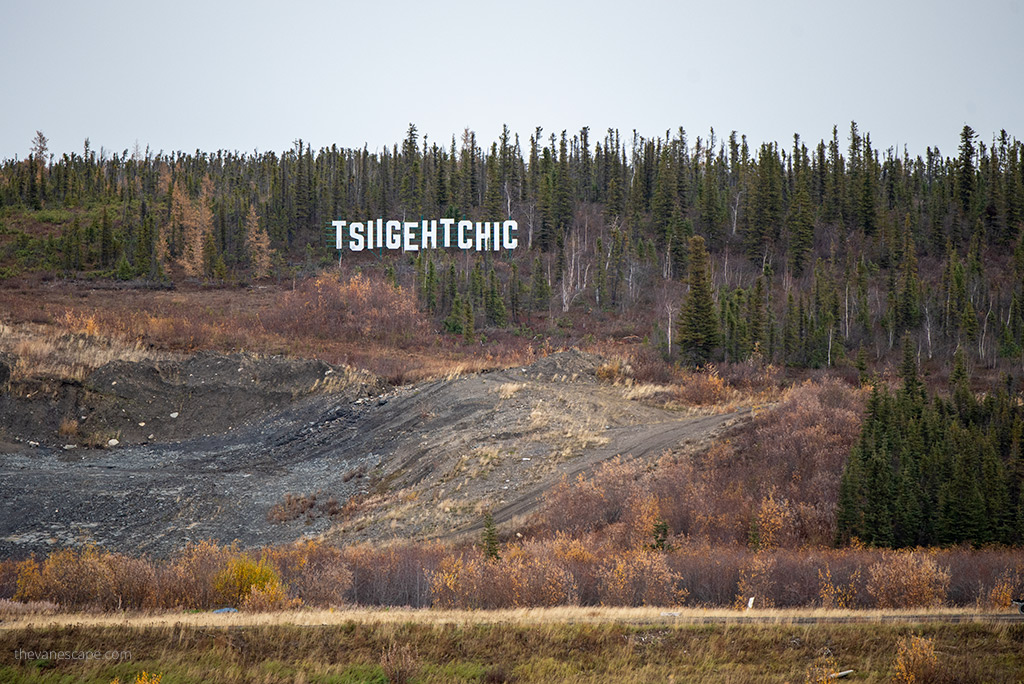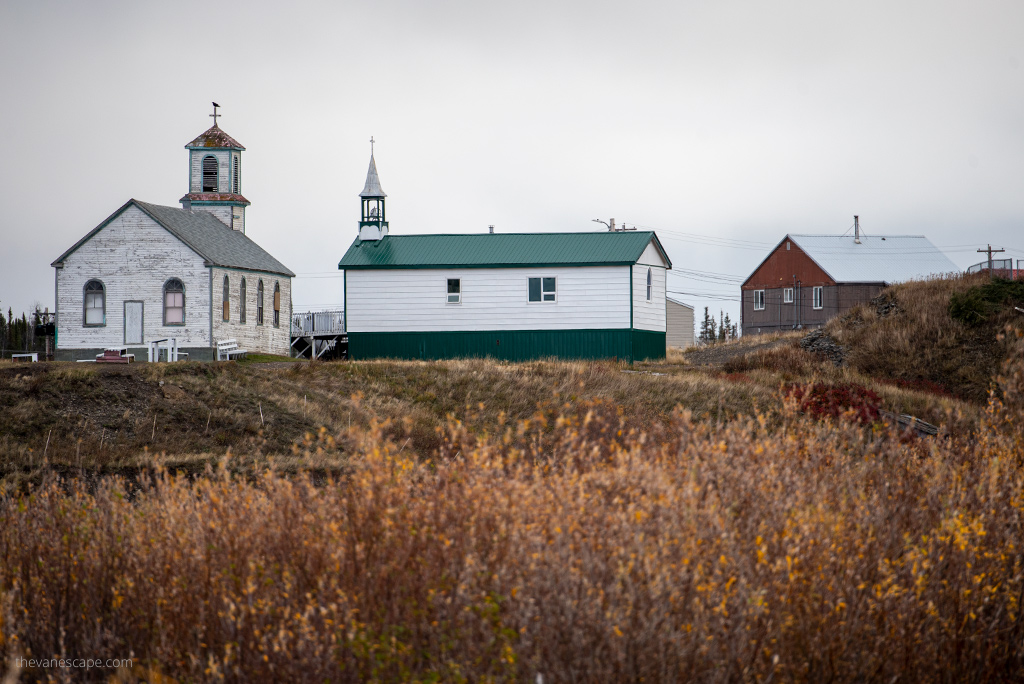 Tithequehchii Vitail Lookout – Mi 433.2 / Km 697.2
It is a great vantage point along the way. A 10-minute, easy trail will take you to the Campbell Lake viewing platform.
Ehjuu Njik Territorial Day-Use Area – Mi 440.5 / Km 708.9
You will find here picnic tables, pit toilets, and firepits. It's a nice spot if you want to rest for a while.
Nihtak Territorial Day-Use Area – Mi 442.4 / Km 711.9
It's another picnic spot in the area.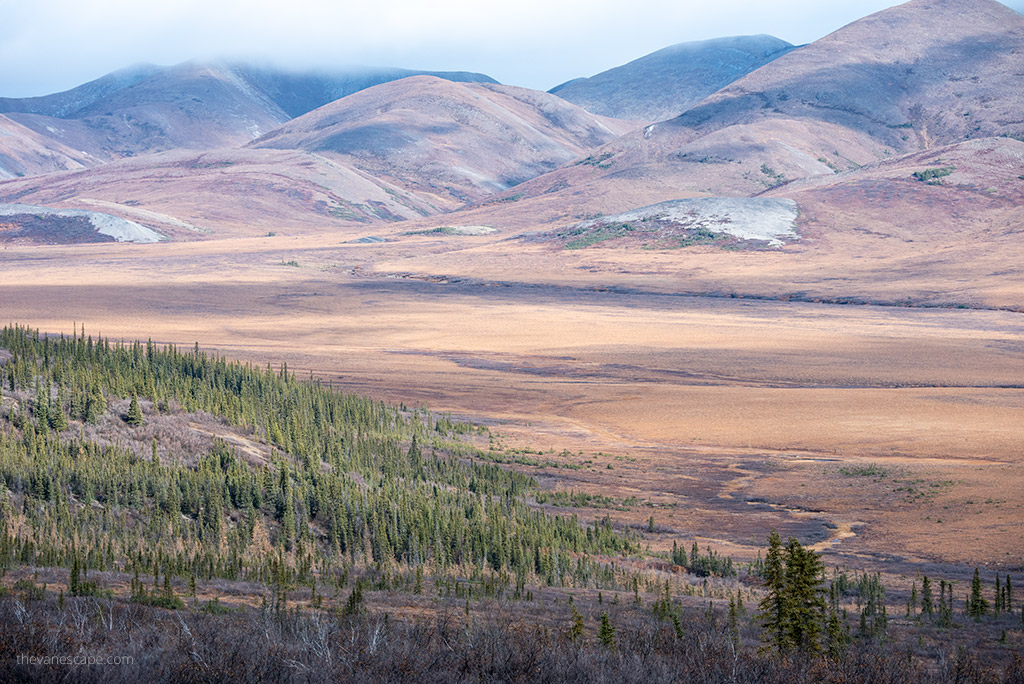 Jak Territorial Park – Mi 453.8 / Km 730.3
Jàk means berry in the language of the local indigenous people, Gwich'in. There is a lookout tower in this park where you can get a great view of the surrounding countryside and do some bird watching. Look out for hawks, eagles, and ducks, our summer residents. There are 11 powered campsites and 25 non-powered campsites at the park. Book your campsite earlier.
Inuvik – must-see stop on Dempster Highway – Mi 456.1 / Km 734
Here you are! At the end of the Dempster Highway! Inuvik is where the Dempster Highway officially ends and the Inuvik-Tuktoyaktuk Highway ("Road to Tuk"), which was put into service in 2017, begins. Via this route, you can reach the Beaufort Sea and the Arctic Ocean. It's about 2 -3 hours of driving. It's a 140 km (87 mi) route between the towns.
Inuvik is the largest town on the Dempster Highway with a population of 3,430. Here you will find a Western Arctic Regional Visitors Center, gas station, necessary services, a shop, several bars, a church, and a hotel.
Tuktoyaktuk and the Arctic Ocean – Mi 543.1 / Km 874
The highway to Tuktoyaktuk winds through the tundra, boreal forest, past ice hills, magnificent lakes, and incomparable scenery. Near Tuktoyaktuk you will see pingos (ice-cored hills ). Make sure, to stop at Pingo Canadian Landmark, on the shore of the Beaufort Sea. The largest, Ibyuk Pingo, is a real landmark in the flat coastal plain. Here you can admire the Arctic Ocean. We had the opportunity to see the Arctic Ocean in its Alaskan part in Prudhoe Bay during the trip through the Dalton Highway. But we much liked the Arctic Ocean in Tuktoyaktuk because Prudhoe Bay has a very industrial character. Tuktoyaktuk also offers more things to do, than is possible at Prudhoe Bay and Deadhorse.
With a population of 935, Tuk is the northernmost outpost on Canada's highway system and an Inuvialuit cultural hub hugging the Arctic coast. We love this tiny town, so check what to do in Tuktoyaktuk.