KUHL SPLASH 11″ Hiking Shorts for Women – Review
Mountains are calling. I finally found a pair of shorts that are perfect for mountain hiking – KUHL SPLASH 11″ Shorts for women. Comfortable, perfectly cut, and of a reasonable length, they provide excellent comfort. Check out the pros and cons I found in the Women's KUHL SPLASH 11″ Hiking Shorts.
This article may contain affiliate / compensated links. For full information, please see our disclaimer here.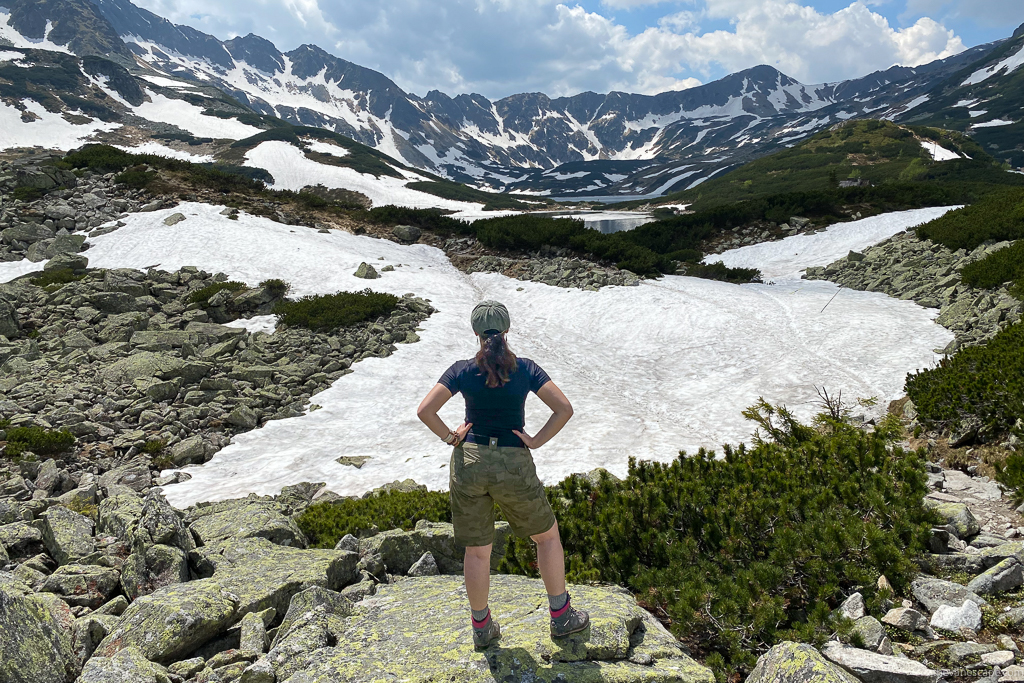 KUHL SPLASH 11″ Hiking Shorts – Introduction
We are planning a fantastic adventure for the coming summer. We are going to Alaska again. So, we are completing our gear and clothing, including hiking shorts. It's not an easy task because it will be an exciting trip – we want to drive the Dalton Highway, reach Prudhoe Bay, and visit two remote national parks: Gates of the Arctic and Kobuk Valley.
Alaska is challenging. So, it took me a while to find the best hiking shorts for women. When I got the opportunity to wear and test the KÜHL women's shorts I was happy. I chose KUHL SPLASH 11″ hiking shorts and hiked many miles in the mountains. What is my verdict? I can not wait to put them on in Alaska hiking adventures. Check the details below.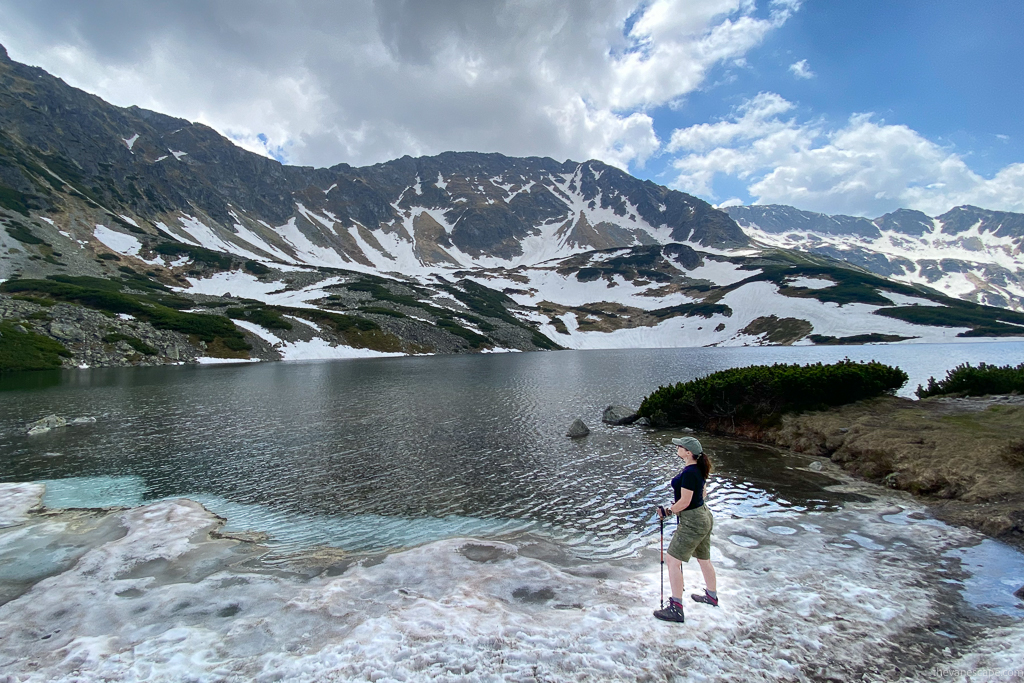 Women's KUHL SPLASH 11″ Hiking Shorts – Specs at a Glance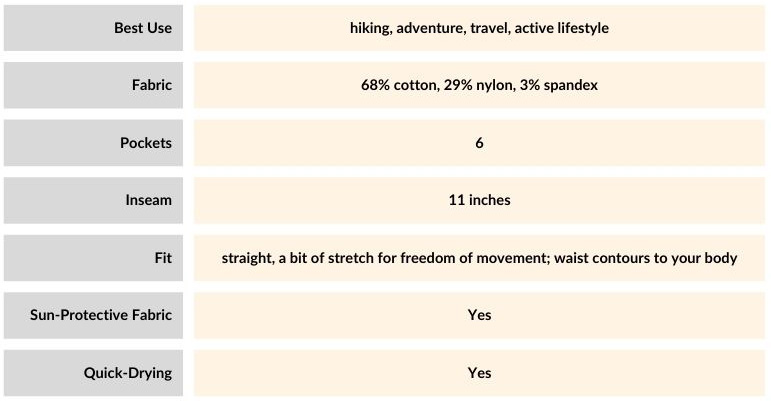 Women's KUHL SPLASH 11″ Hiking Shorts – Notable Features
Freedom of movement (performance cotton blend with stretch)
Six pockets (two snap back pockets and two snap thigh pockets)
Lightweight
Durable
Quick-drying
Superior sun protection (UPF 50)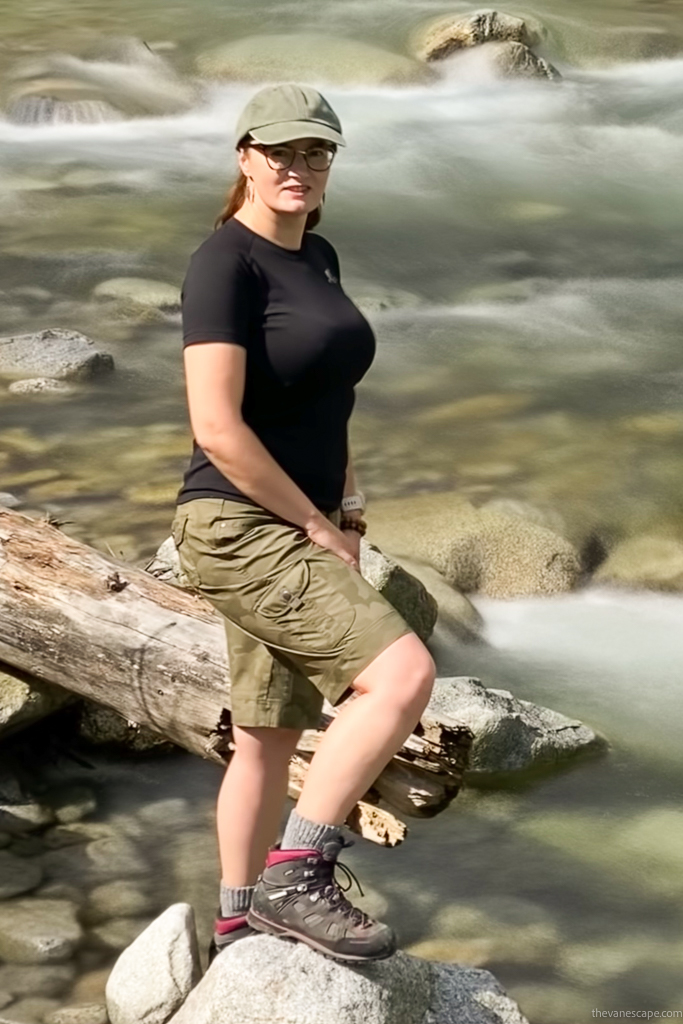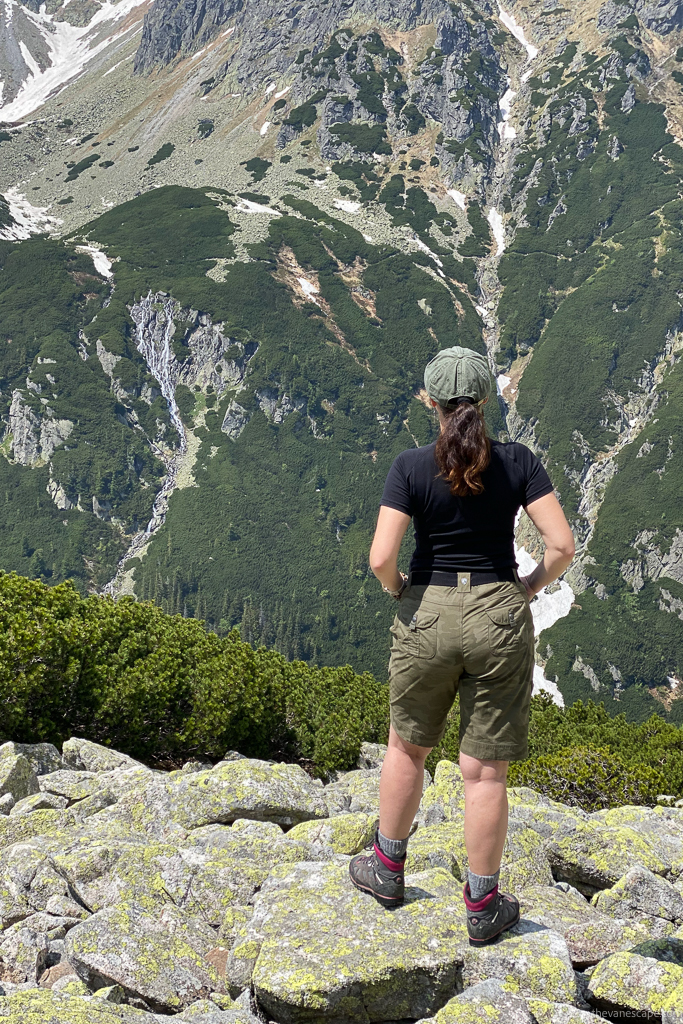 KUHL SPLASH 11″ Hiking Shorts for Women – Review
Design and Versatility
KUHL SPLASH 11″ shorts are designed for women who love hiking adventures and the outdoors. For women who feel most comfortable on long, challenging hikes, often in rough terrain. Who love exciting activities. They are durable hiking shorts for those wanting more coverage and feel comfy while trekking. The length and cut of the shorts (the legs are straight) make you look fit. Shorts optically lengthen the legs, making both slim and women's curves look attractive in this model. What's more, they cover all the essentials, from extra pocket space to breathability. Its versatility and style mean that the shorts can be used in various ways. Design is modern, so these hiking shorts for women transfer well into urban environments as well. The shorts are slightly higher in the back and lower in the front, making them perfect for a woman's waist. They fit perfectly.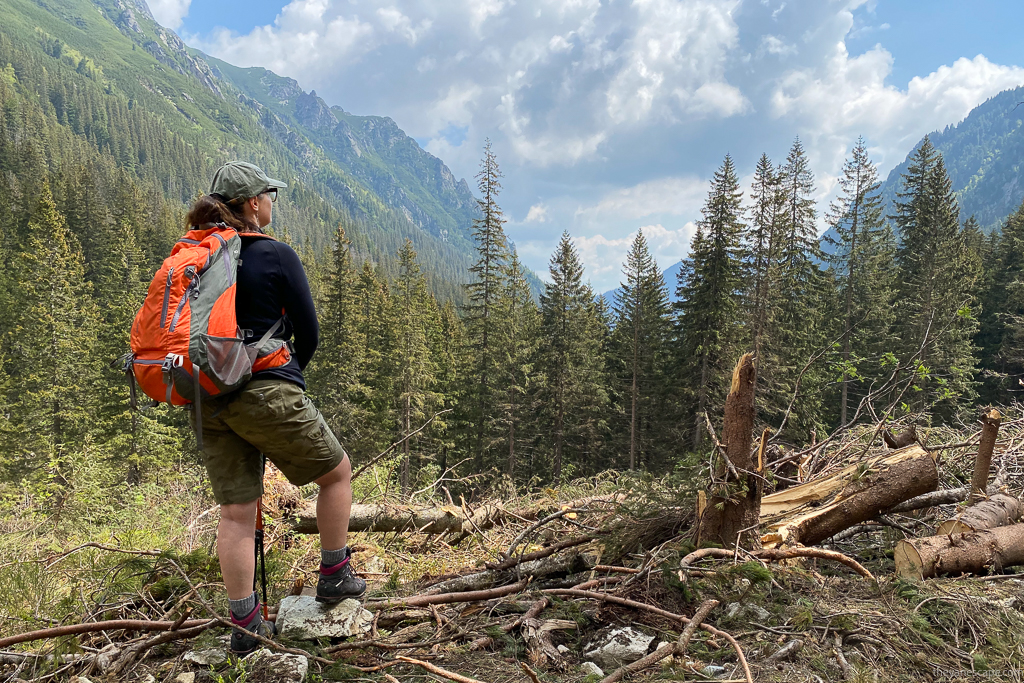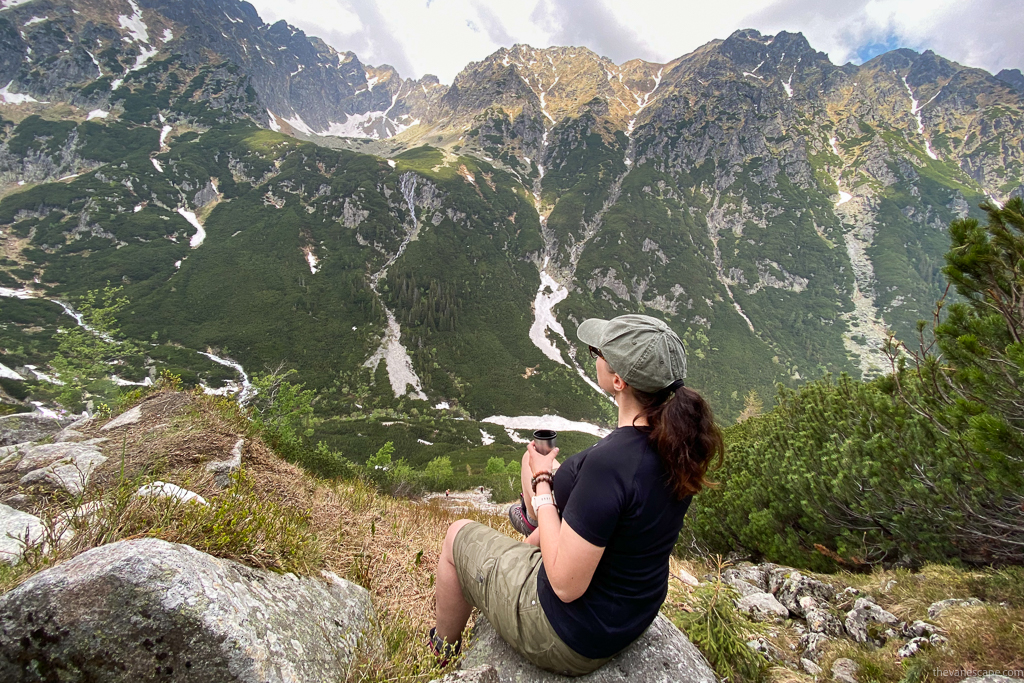 Comfort and Freedom of Movement
One of the main advantages of these hiking shorts for women is the advanced material they are made of. The KUHL SPLASH 11″ SHORT features ÜBERKÜHL STRETCH™ fabric. This high-performance cotton blend dries faster than cotton and stretches for superior comfort and freedom of movement. It's a new technology that combines 68% cotton, 29% nylon, and 3% spandex. In these shorts you can move without limits, hiking like a mountain goat. They are not so stretchy to do splits, practice yoga, or run. But they are flexible enough to take long strides, lift a leg high, and go up or down with rocks and stones in the mountains. What's important, this technical fabric stretches a bit but without losing the shorts' shape.
The fabric is also wrinkle-resistant and durable. At the same time, the fabric is pleasant to the skin. Even after a full day of exhausting hiking, there are no abrasions or redness.
Shorts features also include a contoured waistband, belt loops, a metal snap, and zip fly closure. I'm not a fan of the snap closure, but here it works well. Fastening and unfastening is quick and convenient. Usually, I also wear a belt because I have a slim waist, so it's excellent that shorts have belt loops.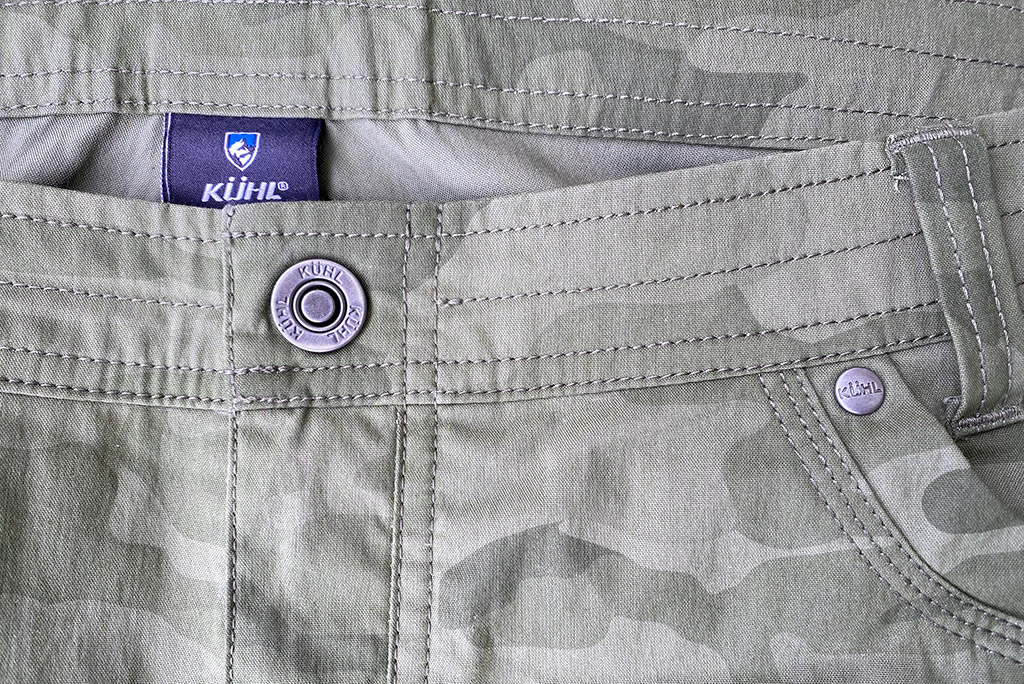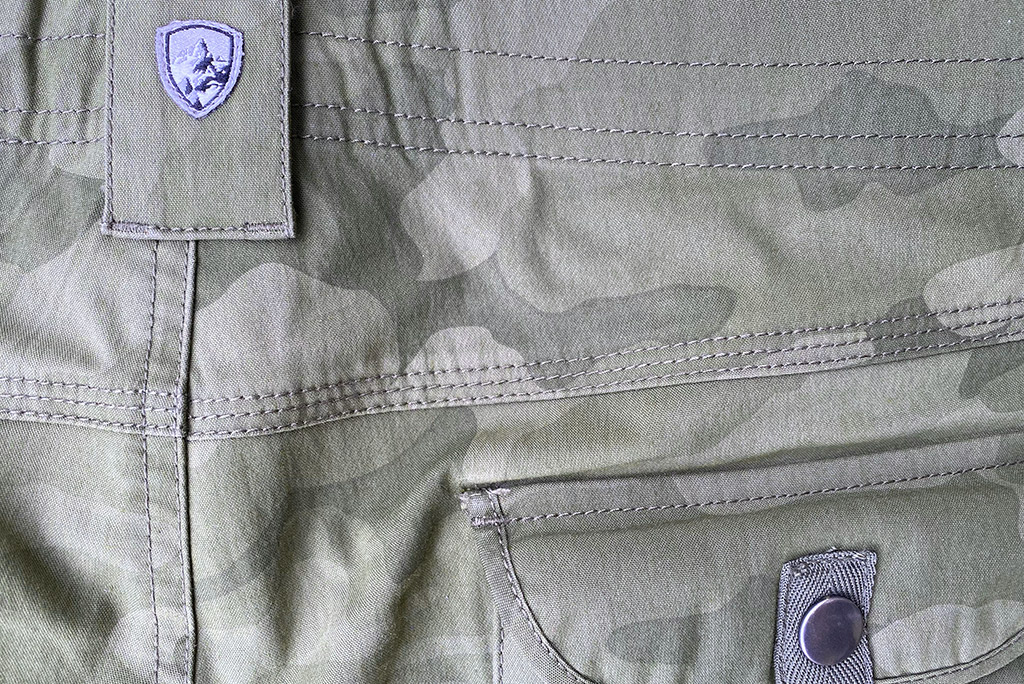 Venting and Breathability
Material is breathable. The shorts are light and airy and guarantee breathability. After 10 hours of intense hiking through the mountains with significant elevation changes and with a heavy backpack on my back, I still felt fresh. The shorts were not sweaty. Only in the place where I have the hip belt from the backpack, there was a wet spot that dried a few minutes after removing the backpack.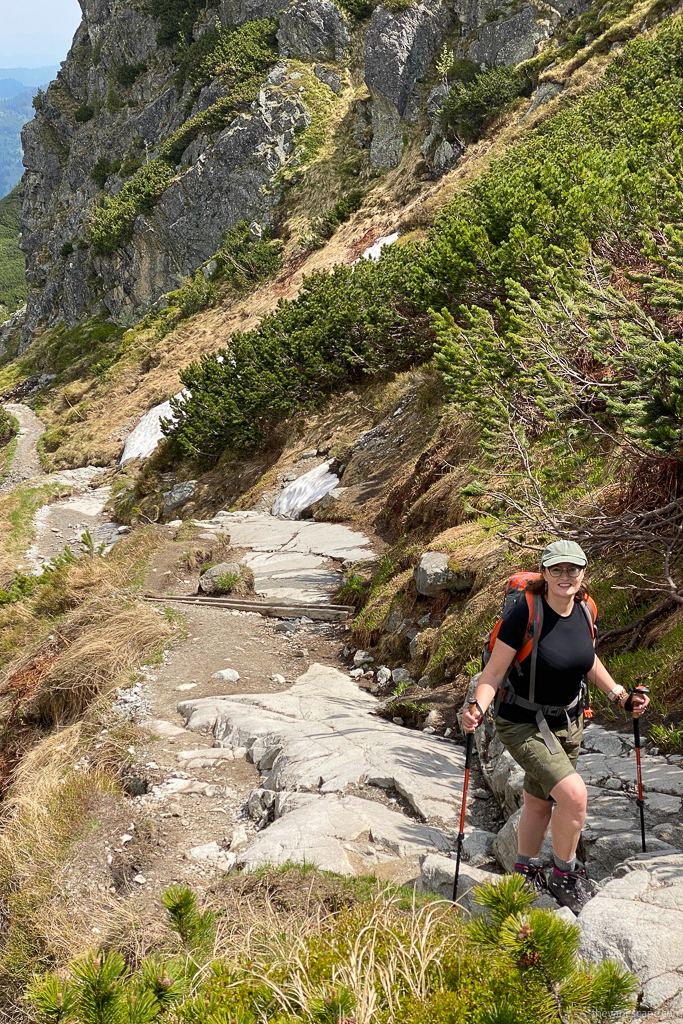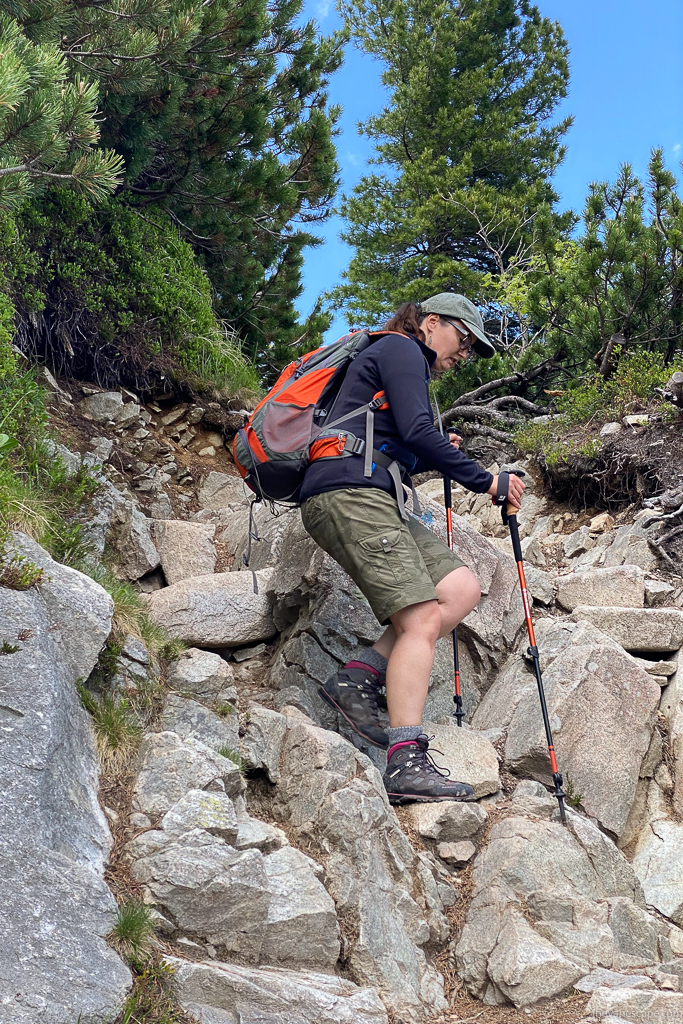 Inseam
One of the best things about the KUHL SPLASH 11″ hiking shorts for women is their length. The inseam is 11 inches (27.94 cm). They reach just before the knee. I have been looking for a pair of shorts like this for a long time. And why? They perfectly protect the legs from possible abrasions from stones or branches on the trail, bushwhacking. It protects against sudden weather changes. When the wind blows in the mountains, you do not get gooseflesh on your legs. Also, you can trek through dense foliage, and your skin will remain dry. The length does not impede mobility. What's more, this cut optically slims the figure.
But if you prefer shorter shorts, I have great news for you – there's also a KUHL SPLASH 5.5″ version. I think these shorts are a perfect solution for hot summer days. They are also great for outdoor activities and water sports. Seems perfect for hiking, kayaking, or sailing. But they have slightly different pockets (side pockets). They have a zipper instead of a snap. And they have 5 pockets. However, they also look great. The other features are the same as KUHL SPLASH 11″.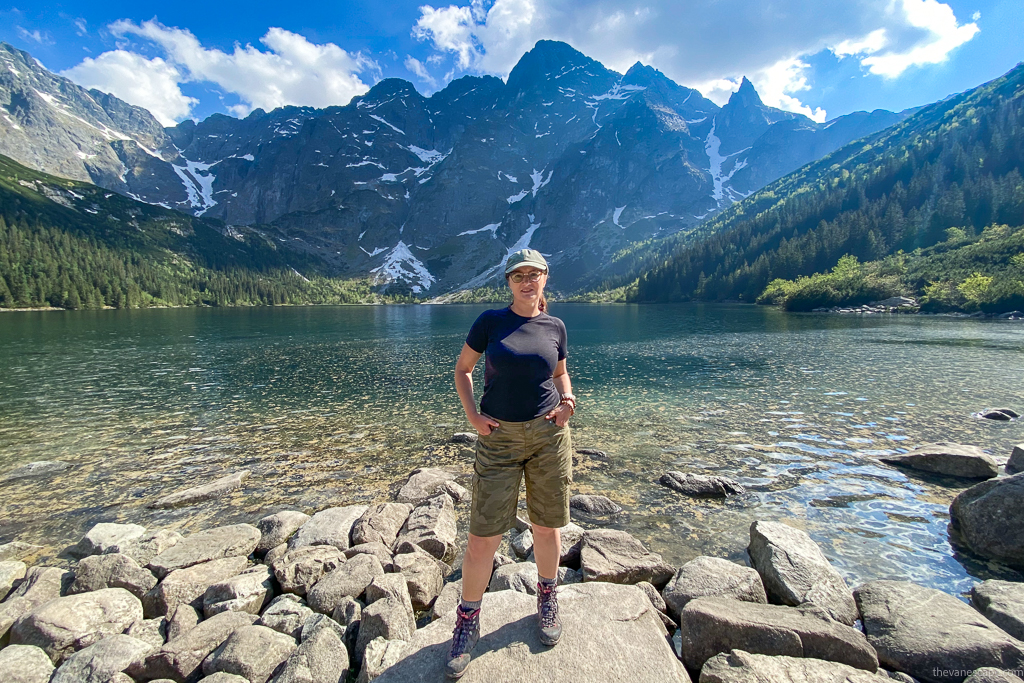 Sun Protection
The length and fabric also perfectly protect the thighs from sunburn. The pain of burnt thighs is horrible. Even if I carry cream with a filter there is not always the opportunity to rub it on the body on the trail. Often there is no water to wash your hands after applying the cream. Besides, almost every cosmetic product has a scent, and every scent attracts wild animals. I plan to take these hiking shorts for women with me to Alaska. So, I do not want to use a cream that lures with the scent of grizzly bears on the trail.
Moreover, KUHL SPLASH 11″ hiking shorts for women offer superior sun protection (UPF 50), so I don't have to pack a cream. Thanks to this, I will have a lighter backpack. And this is important in all-day hiking. The sun in the mountains blazed hard in the last few weekends when I tested the KUHL SPLASH 11″ hiking shorts for women. I did not use sunscreen, and the shorts did a great job protecting my legs and thighs.
Lots of Pockets
I love the number of pockets in these shorts. There are six of them. In addition, there are two back pockets with snaps and two thigh pockets with snaps. I can finally keep a lens cap, tissues, headlamp, sunglasses, or phone handy. However, there is a small minus here. It would be best if one of the pockets could be a little bit deeper to securely carry and store a larger phone. I have the phone on a cover, so it's a bit larger, making it a bit difficult to close the pocket. I like also the trendy stitching of cargo-inspired pockets.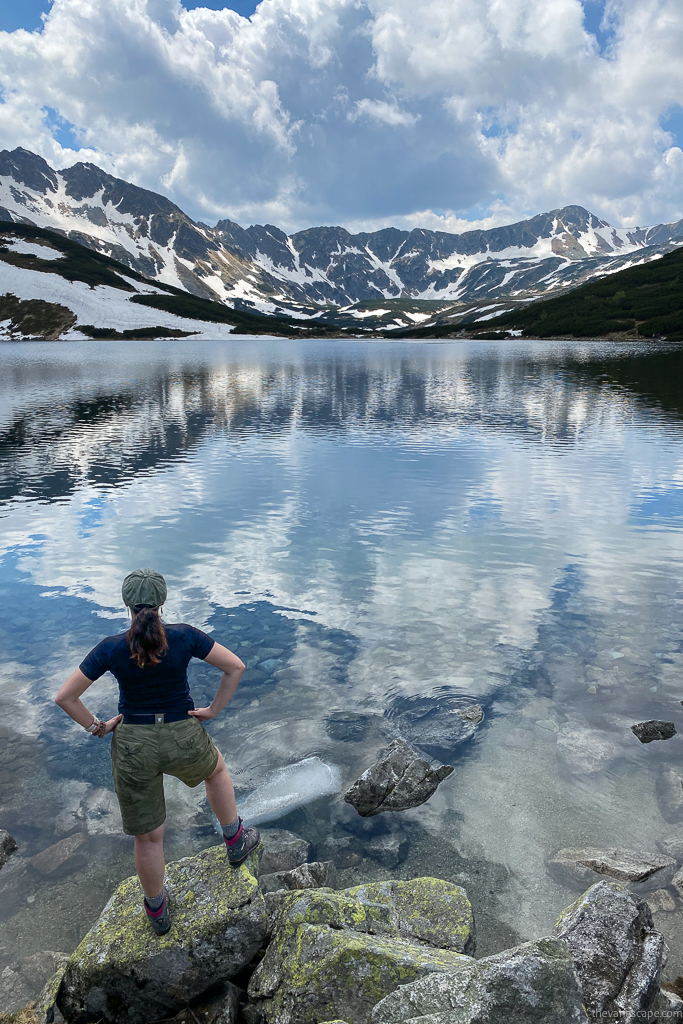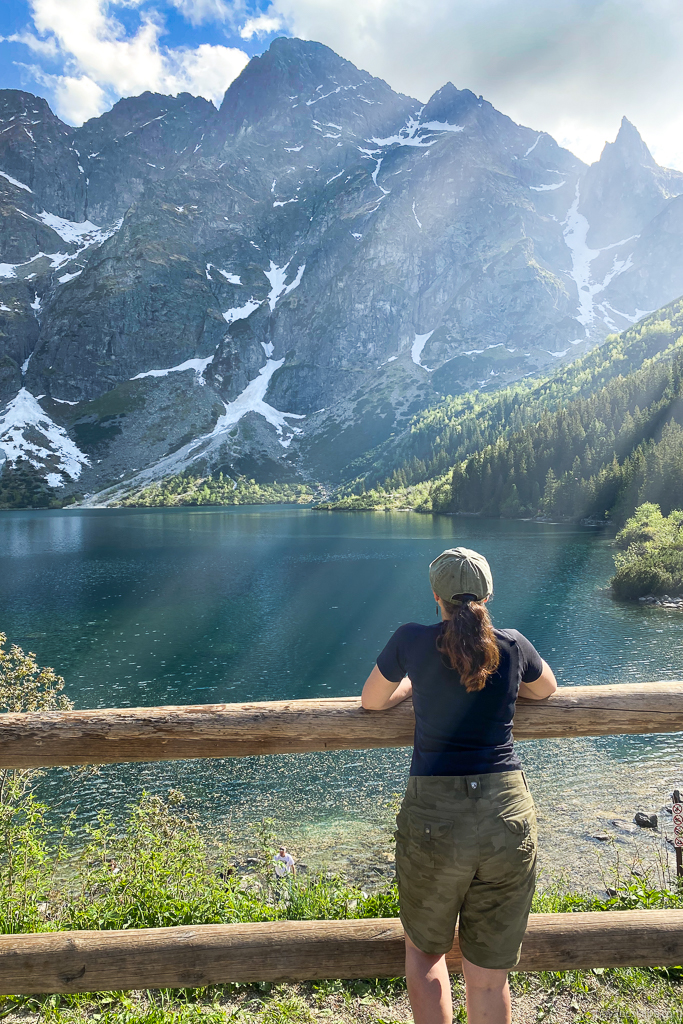 Dry Time and Water Resistance
I can also confirm that the KUHL SPLASH 11″ hiking shorts are quick drying. I usually have a heavy backpack for all-day hikes. There are snacks, water, a first aid kit, extra clothes for changing weather, and a camera with two or three lenses. So I use a hip belt to take the strain off my spine. It's normal for me to sweat a little at the bottom of my back when I am exerting myself more. Wet spots remain visible at the bottom of the T-shirt at the waistband and shorts. Fortunately, it only takes a few minutes for the shorts to dry. And there is no longer a trace of the wet spot. Five minutes after removing the backpack, the shorts were dry. I also washed my hands in the water of the stream and wiped my hands on my shorts, and after a while, there was no trace of wetness.
These shorts are not waterproof but also won't absorb water quickly. If during the trek you encounter rain, it will take a long time before the shorts become wet. The lack of water resistance can be considered a minus of these shorts, but the fact that they dry quickly is their advantage.
Colors
I chose the Green Camo color, but there are more to choose from Light Khaki, Pine, Shadow, and Metal Blue. All of them are subdued, perfect for mountain trips. I chose the camouflage color because I love to observe and photograph wildlife, so I want to remain as invisible in the wilderness as possible. In addition, this color will not get dirty quickly, and since I plan to spend three weeks camping and hiking Alaska, this is quite an important feature.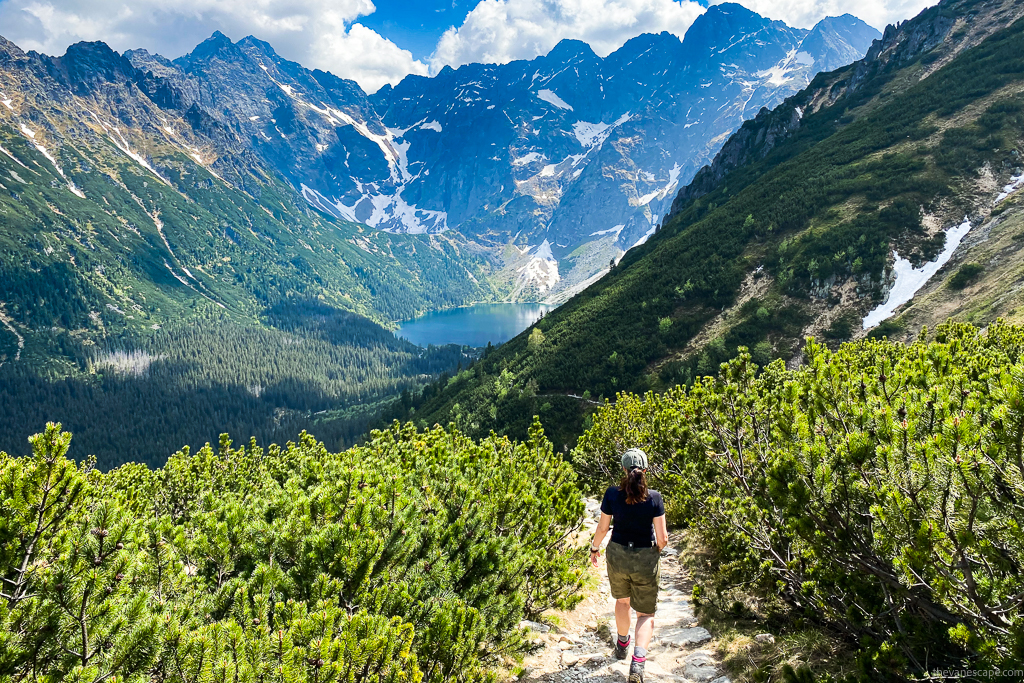 KUHL SPLASH 11″ Shorts – Verdict
I am adding KUHL SPLASH 11″ shorts to my Alaska Packing List and Day Hiking Packing List. They are now my favorite hiking shorts. KUHL Splash 11″ is a high-quality pair of shorts designed for adventure and outdoor activities. What I love the most about the KUHL SPLASH 11″ Shorts is the inseam length, which is perfect. It is long enough to protect from obstacles on the trail and the sun. It offers enough stretch to overcome the barriers and put your legs up when trekking. The numerous pockets allow you to store small accessories, which is very important when hiking. You do not have to stop and take off your backpack to look for the items you need. They would be perfect if one of the pockets were a little deeper. What I don't love so much about the KUHL SPLASH 11″ Shorts is that they are not waterproof. However, they dry quickly and are very breathable, keeping you comfortable, fresh, and ventilated throughout the day on intense hikes. Pack your pair of KUHL SPLASH 11″ Hiking Shorts when the mountains are calling.

Do you like it? Pin it!