Best Route 66 Towns Arizona
You've heard about Route 66 in songs and caught glimpses of it in the movies. U.S. Route 66, Main Street of America, or the Mother Road is a classic of the Old Times. Most of all, we love Route 66 towns in Arizona, where you can feel the old days spirit and atmosphere. Our Best Route 66 Towns in Arizona are Williams, Flagstaff, Saligman, and Hackberry. When you drive this nostalgic road 66 through these towns, it feels like you've been moved back in time. So, get your kicks on Route 66, with us!
This article may contain affiliate / compensated links. For full information, please see our disclaimer here.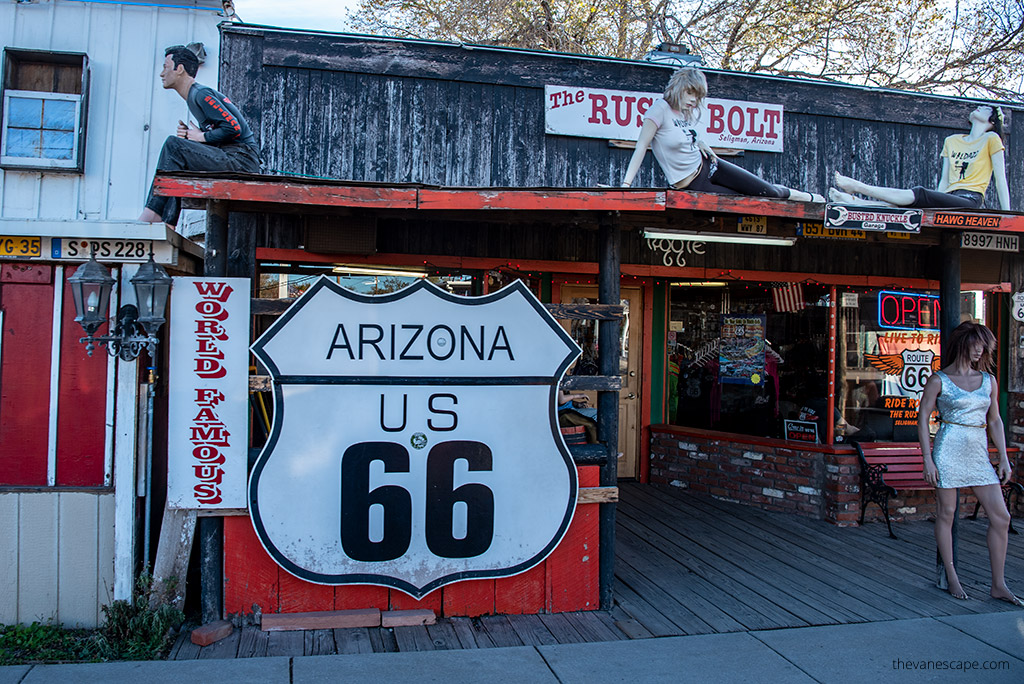 Get Your Kicks on Route 66
U.S. Route 66 or U.S. Highway 66, aka the Main Street of America or the Mother Road, was one of the most famous roads in the United States. US 66 was established on November 11, 1926. Route 66 originally ran from Chicago, Illinois, through Missouri, Kansas, Oklahoma, Texas, New Mexico, and Arizona before ending in Santa Monica in California. It was a total of 2,448 miles (3,940 km). Route 66 served as a primary road for those who migrated west in the 1930s. People started the business along Mother Road, which became prosperous due to the growing popularity of Route 66. Bobby Troup got the idea for the song Get Your Kicks on Route 66 in 1946 on a cross-country drive from Pennsylvania to California. The song became a hymn of Route 66. In the 1960s was played a TV series about Route 66, too. Road 66 symbolized escape and loss.
In the 1980s, road 66 fall in popularity due to the new Interstate Highway System. The new highway bypassed towns on Route 66. Businesses began to collapse, and cities were devastated. Local communities started to fight to keep the road alive as a "Historic Route 66".
So, traveling around Arizona, do not miss the most attractive towns on the old Route 66: Williams, Flagstaff, Seligman, and Hackberry.
TRIP TIP: If you are planning holidays in Arizona, check out our ready-to-go 14-days Arizona Itinerary with lots of tips and detailed info!
Moreover, we have a detailed and free Arizona Photo&Travel Guide, where you can find the most exciting & must-see places in Arizona and useful hints for trip planning.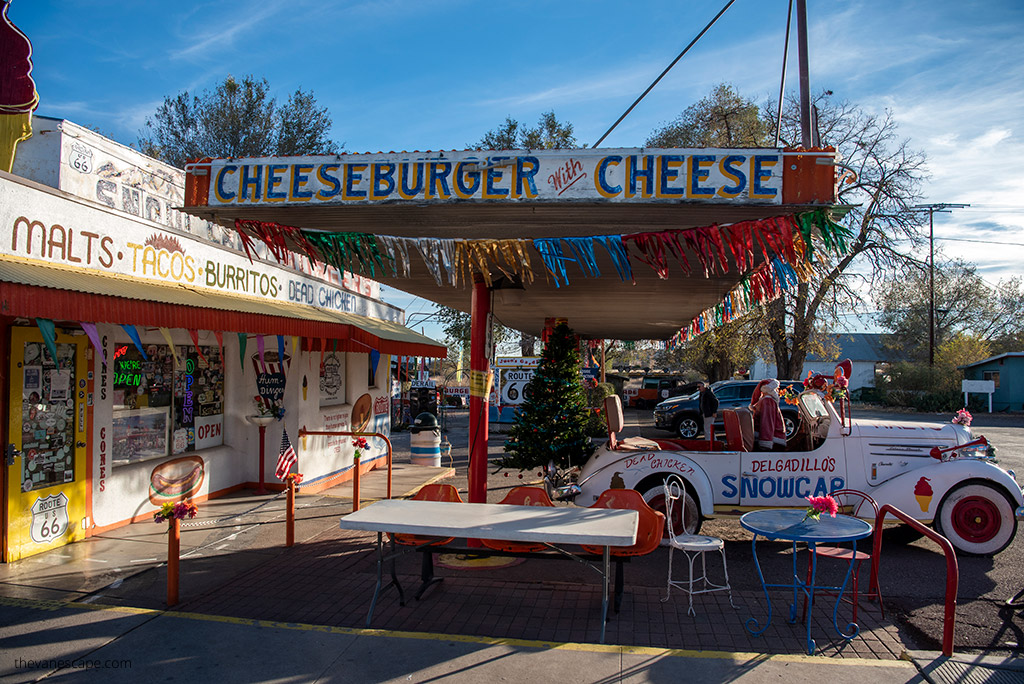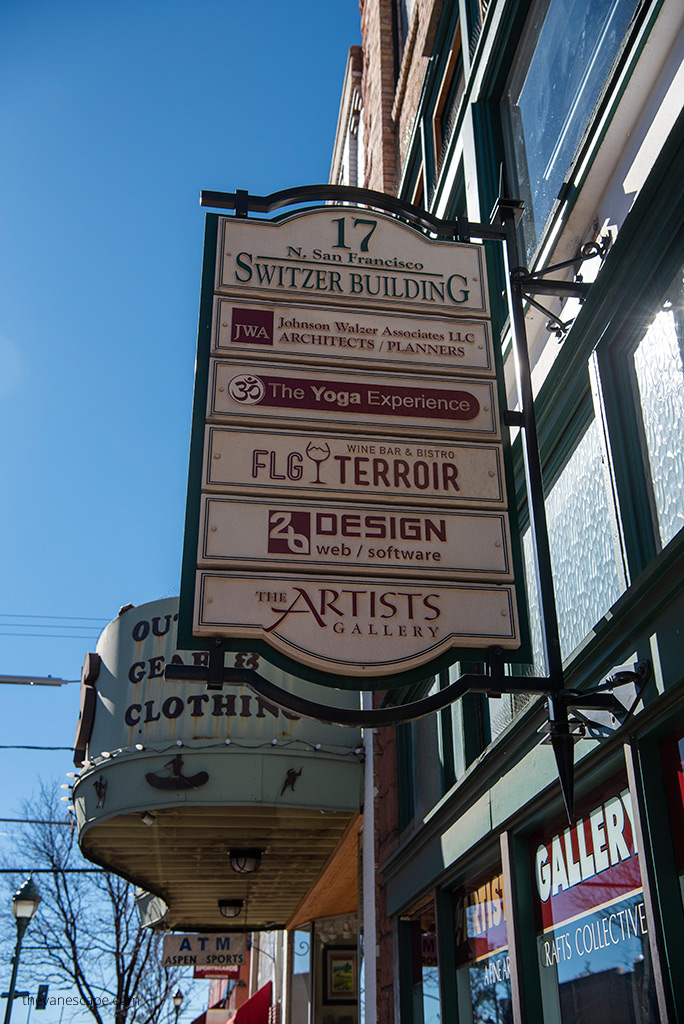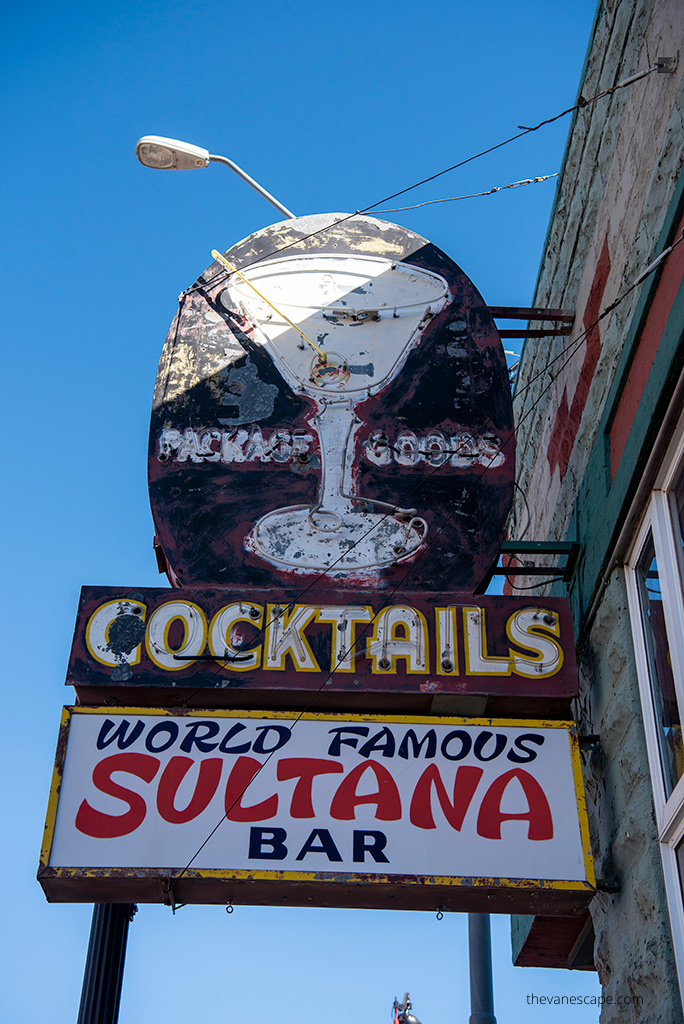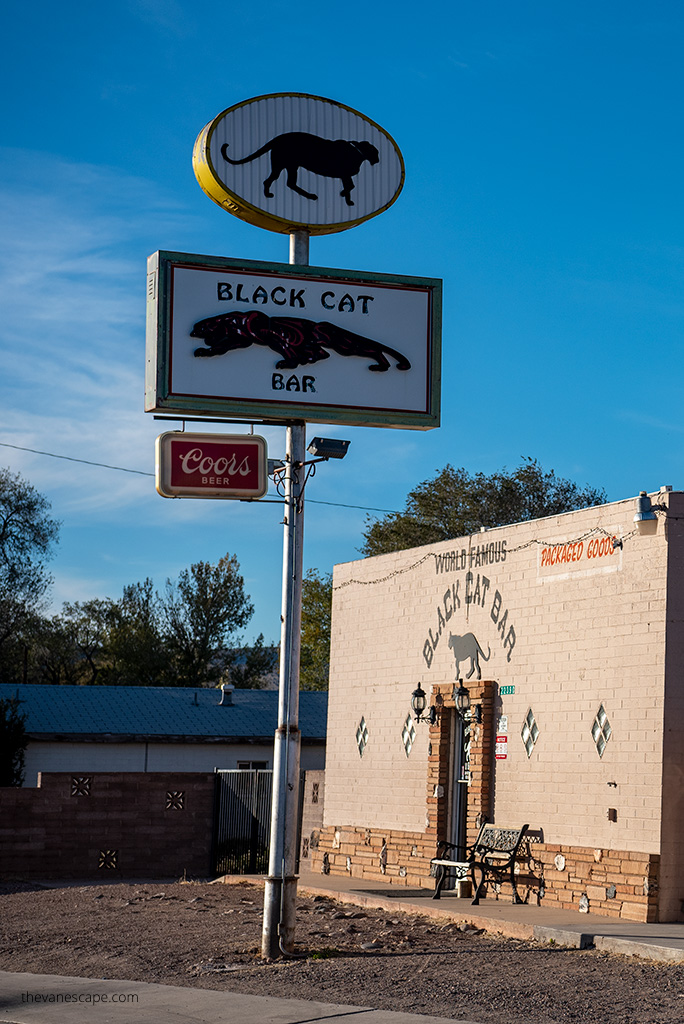 The best Route 66 Towns in Arizona – Williams
Williams AZ, is one of our favorites, one of the best Route 66 towns in Arizona. It is known as the "Gateway to the Grand Canyon" and is located in the heart of the Kaibab National Forest at an elevation of 6.770 feet. Williams was the last town on Historic Route 66 to be bypassed by Interstate 40.
What is Williams famous for?
Williams offers a lot of things to do and see. That's why it is a great idea to stay here overnight to feel the atmosphere of the 1950s, 1960s, and 1970s, have a drink in the stylish bar, or visit the wildlife park. Most important is to know that Williams can be your great base for exploring the Grand Canyon South Rim. In peak season, might be challenging to get lodging in the Grand Canyon area, and prices are high. So, it's worth considering charming Williams for your stay as an alternative because it's only 59 miles from the Grand Canyon. However, Williams offers much more than the heritage of Route 66. You can find a lot of hiking trails in the town area, fishing lakes and an alpine ski area, and cross-country ski trails.
TRIP TIP:  In our article, you will find detailed info about the best viewpoints on Grand Canyon South Rim and how to get great photos there. You will also find all the necessary information to prepare for your perfect trip to the South Rim of the Grand Canyon: how to get there, which trail to take, tour recommendations, and more.
However, if you dream of the remote Grand Canyon North Rim and breathtaking Toroweap Overlook, you can check your photos and detailed tips in this article.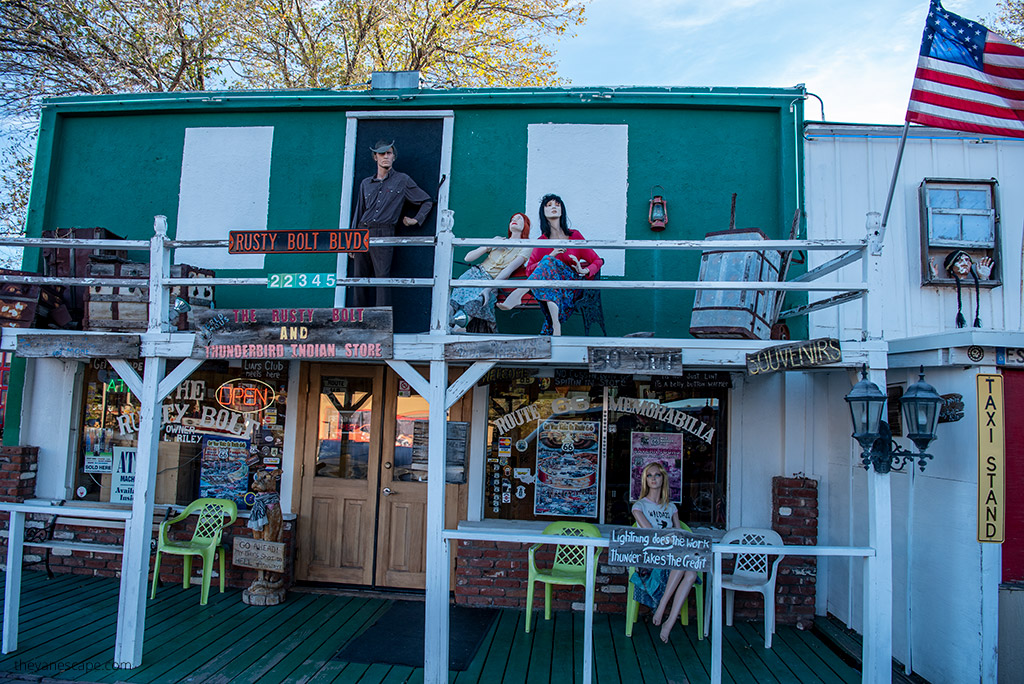 Where to stay in Williams
Williams has a wide range of hotels at very different prices. In Williams, we can recommend the 9 Arizona Motor Hotel, located on the world-famous Route 66 in downtown Williams. A great choice is also the affordable Motel 6. When we traveled with our camper truck, we stayed in Canyon Motel & RV Park, too. If you prefer comfortable hotels, the great one is the Grand Canyon Railway Hotel. From Williams, you can travel by train taking the Grand Canyon Railway Adventure Package tour.
Check lodging prices in Williams on the map below, which offers great promotions.
What to do in Williams AZ
Take a vintage train to Grand Canyon
The train enthusiast can ride the Grand Canyon Railway through Arizona. It's a fantastic experience to take this stylish train to visit Grand Canyon. You can enjoy a scenic, leisurely train ride from Williams, Arizona to the Grand Canyon Village, and travel the way people have since 1901 during this Grand Canyon Railway tour. You can choose from coach or first-class seating on the Grand Canyon train. It's a perfect choice for families.
Visit Bearizona Drive-Thru Wildlife Park
Bearizona Drive-Thru Wildlife Park is a great place to see animals during your Grand Canyon vacation. It's a chance to see bears, bison, bighorn sheep, and more at the family-friendly Bearizona Drive-Thru Wildlife Park. Drive through 3 miles (4 km) of Arizona wilderness in your vehicle, viewing North American wildlife like black bears and Alaskan wolves. We highly recommended this place, especially if you like taking photos or if you travel with kids.
Have a drink in Sultana Bar
Williams AZ has a variety of drink bars and dining options. Our favorite place for a drink is a stylish Sultana Bar. You can feel the spirit of Route 66 in this vintage place. Time stood still in this bar.
Goldies Route 66 Diner is a very classic place for breakfasts and lunches. We would even say it has not changed since the 1960s. Portions are significant, and we recommend it. Whatever you choose, it will be tasty, and the service makes the atmosphere feel like 50 years ago.
Shopping in Williams
Williams has a perfect atmosphere of a small town and great charm. If you want to buy souvenirs on Route 66, it's the best place to do it. On Route 66, you will find several shops with classic neon signs, with extensive selections of souvenirs. They are also perfect spots to take pictures. Williams also has leather goods, western collections, made in the USA only.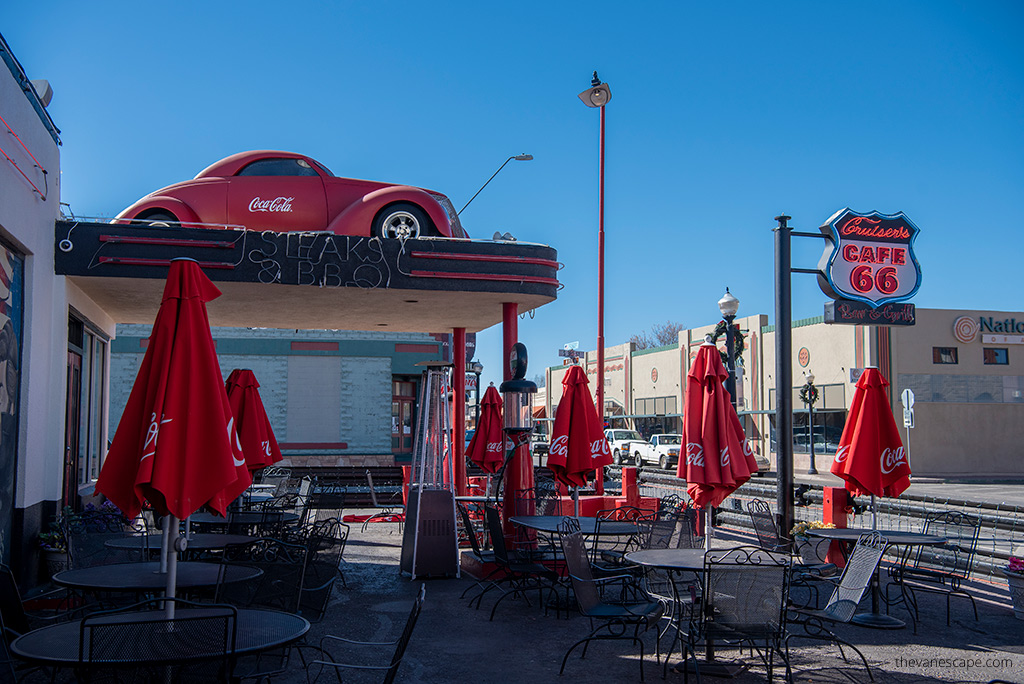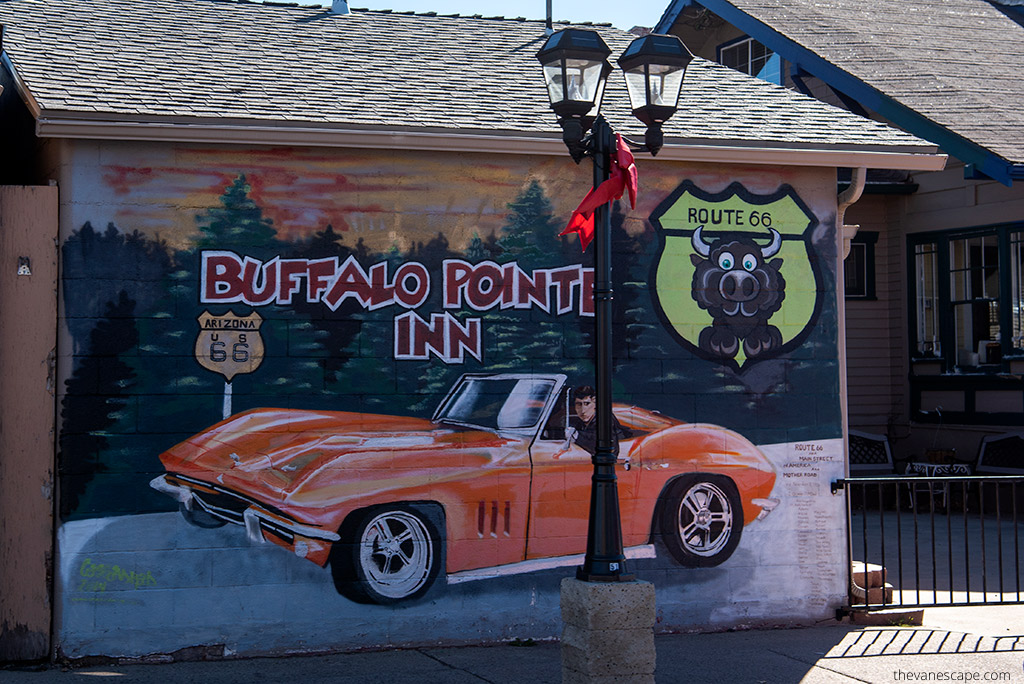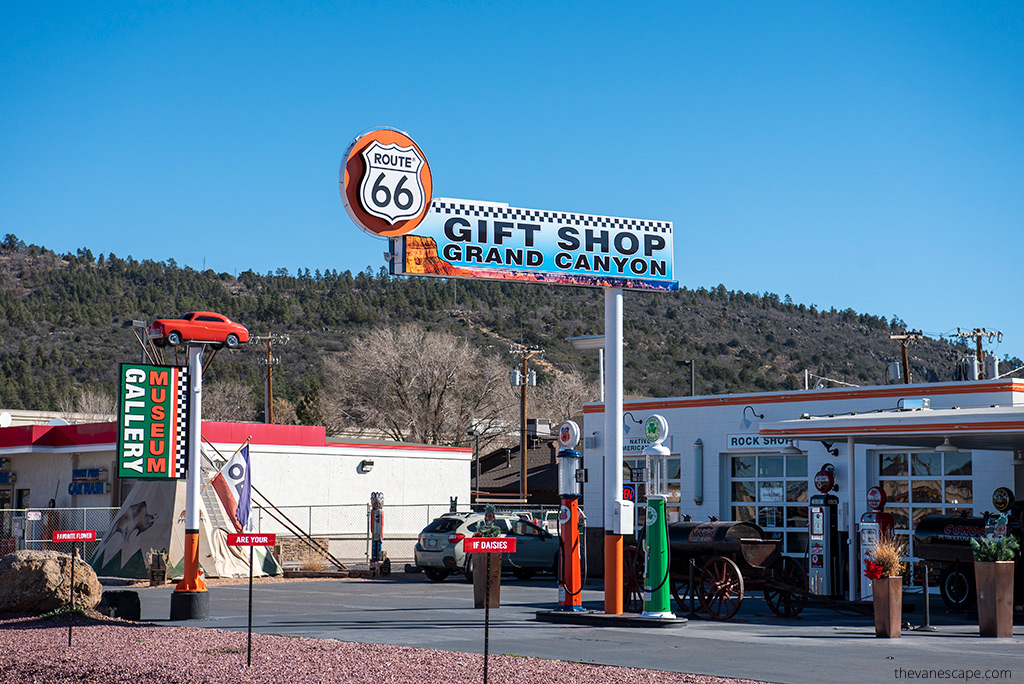 The best Route 66 Towns in Arizona – Flagstaff
Flagstaff is our second choice on Route 66 in Arizona. We like this town because, except for the historic center of Route 66, it is a pretty modern town, close to Grand Canyon. And like Williams, it can be a great place as a starting point for visiting South Rim.
From Flagstaff, it's only 79 miles to Grand Canyon South Rim, so it's worth staying there for a night, especially if you care about your holiday budget.
Where to stay in Flagstaff
Flagstaff offers a wide range of accommodations. In this city, once we stayed in Motel 6 and other times in Budget Host Inn NAU. It has a reasonable price and good quality. We liked the Best Western Pony Soldier Inn & Suites very much. It's a great hotel, but a bit more expensive.
What to do in Flagstaff AZ
Take a trip from Flagstaff
If you have limited time and if you are looking organized tour, you have a lot of possibilities from Flagstaff. You can take a Grand Canyon National Park Tour and explore one of the 7 wonders of the world during this one-day trip with a local guide.
Antelope Canyon and Horseshoe Bend tour is also possible from Flagstaff. So it's worth considering this trip if you are staying for a few days in Flagstaff.
But our favorite choice from Flagstaff is Colorado River Smooth Water Float Trip. It's a great one day adventure. You can enjoy a desert sightseeing trip and scenic float on the Colorado River.
Visit Historic Downtown & Wheeler Park
Flagstaff's historic downtown is centered around the old railroad and station, where you will find the visitors center. The historic city is a vibrant area to explore, dotted with shops, restaurants, and bars. Take a walk to Wheeler Park, an open green space with plenty of trees, where you can take a rest.
Go For a Hike in San Francisco Peaks Area
Just to the north of Flagstaff, the once-volcanic mountain range of San Francisco Peaks now contains 6 of the highest peaks in Arizona. You have around 30 trails to hike in the district of San Francisco Peaks if you like nature. The views are breathtaking. On San Francisco Peaks is also located at the Arizona Snowbowl – an alpine ski resort. It's a great idea to drive up Snowbowl Road.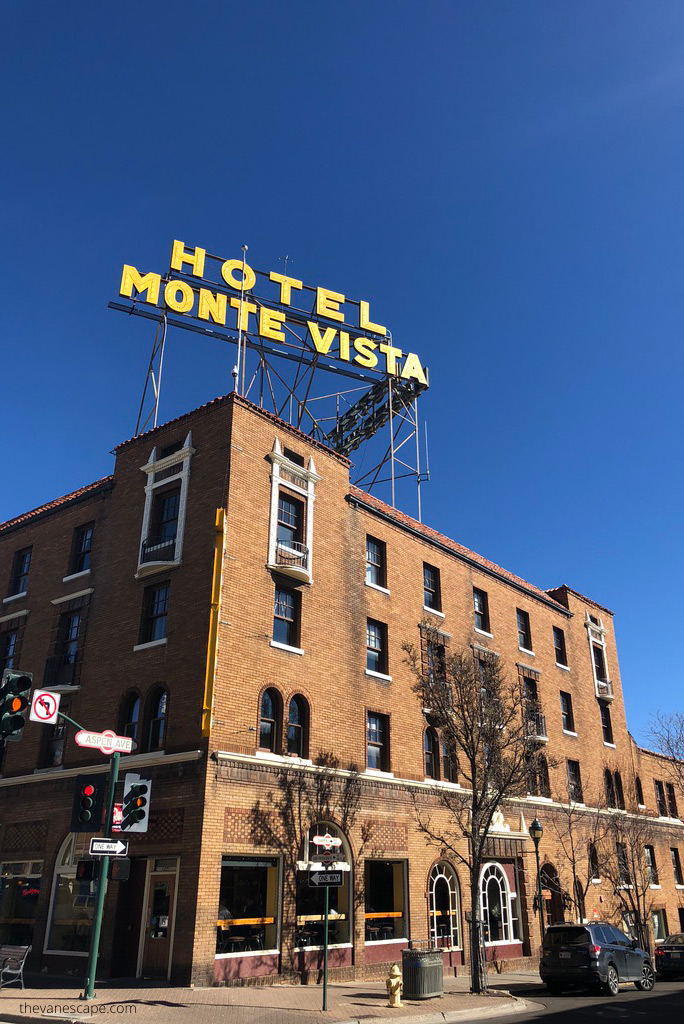 The best Route 66 Towns in Arizona – Seligman
Seligman is famous for Pixar's animated feature, Cars. Is for sure one of the best Route 66 towns in Arizona. The town was the inspiration for the storyline and topography of the little Route 66 town that had to fight for its survival after being bypassed by the interstate. Seligman has an area of 6.4 square miles and boasts a population of only 456. The town became a "Birthplace of Historic Route 66" due to the efforts of Seligman residents, most notably Angel Delgadillo, the Seligman barber who convinced the State of Arizona to dedicate Route 66 as a historic highway in 1987. Initially, the area was the homeland of the Havasupai people, and Seligman was originally a Havasupai settlement.
In this town, you feel like in a strange museum, when along the main street you can admire old rusty cars and odd items, relics of the past.
TRIP TIP: Check out our related article about the fantastic Havasu Falls in Havasu Creek. Havasupai Waterfalls are hidden gems of the Grand Canyon. Check how to buy a permit and how to prepare for this amazing adventure! We have prepared a free 5-part guide to this fairy-tale land.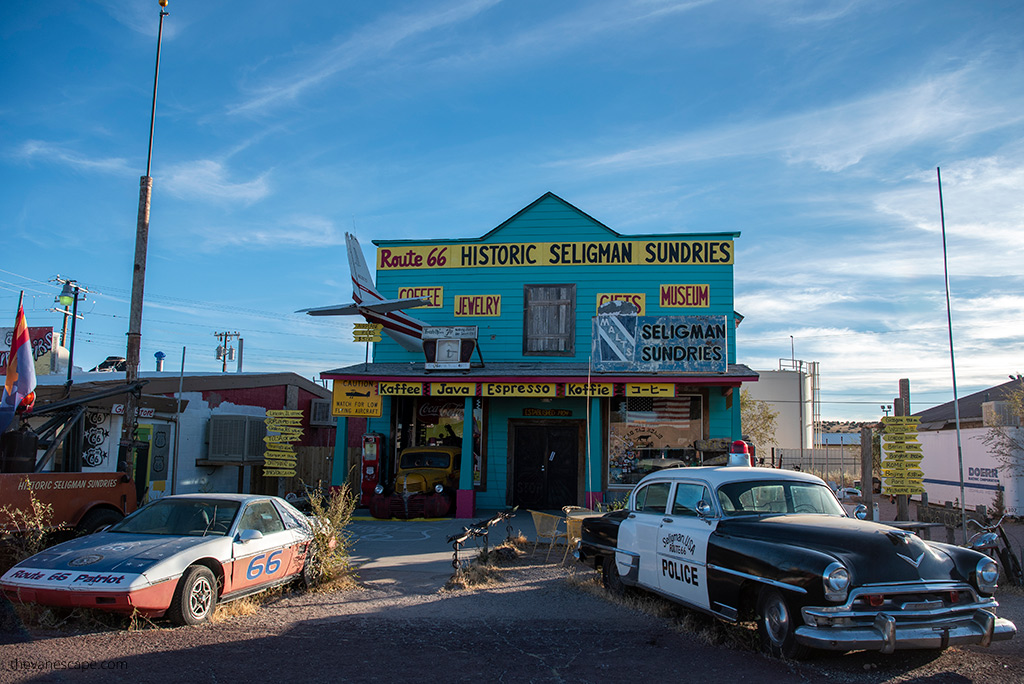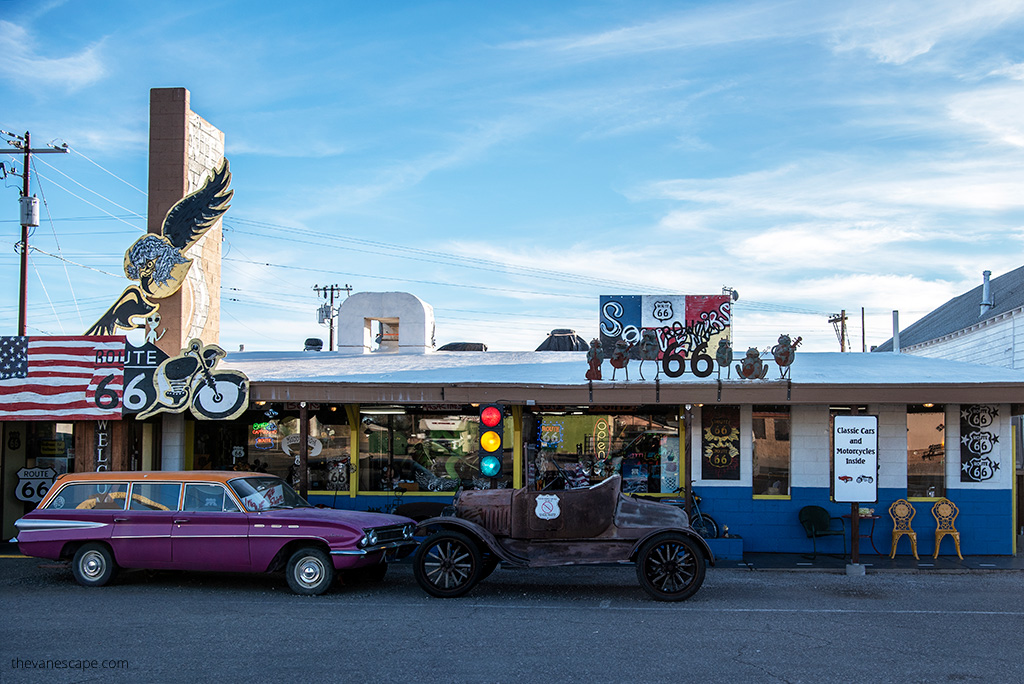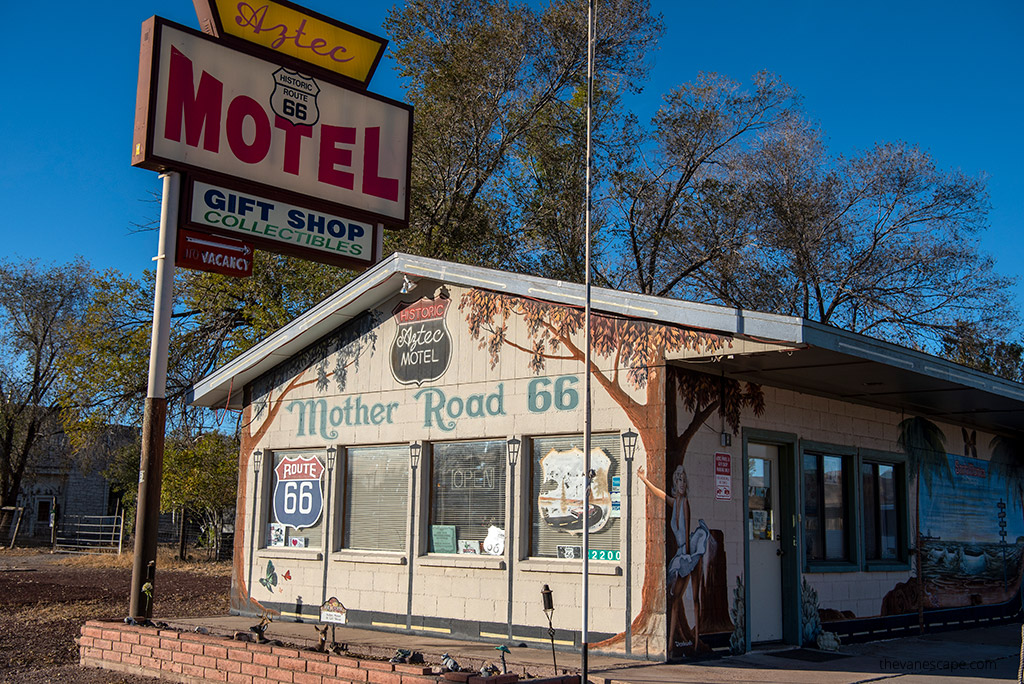 The best Route 66 Towns in Arizona – Hackberry General Store AZ
Hackberry General Store is a hidden gem of Route 66. It's easy to miss it, because there are no signs, and it is in the middle of the desert. Nothing more than Hackberry General Store left of the Hackberry Silver Mine town. Nicknamed the "Mother Lode of Mother Road Memorabilia", the Hackberry General Store is packed wall to wall with historic signs, artifacts, and quirks. It's a museum of Route 66. So, it's worth stopping here.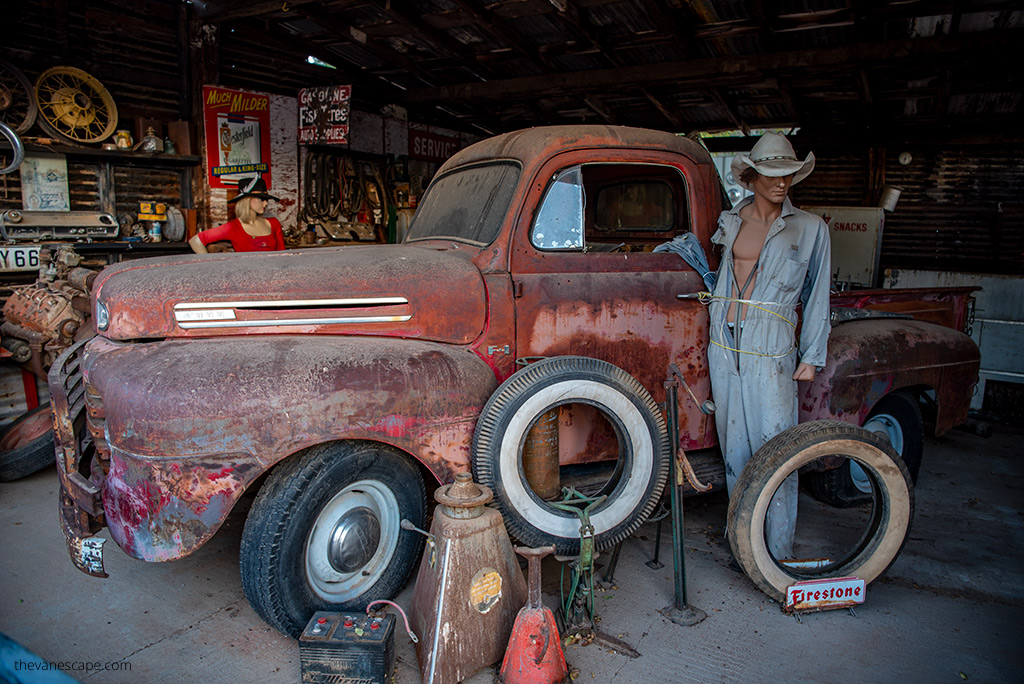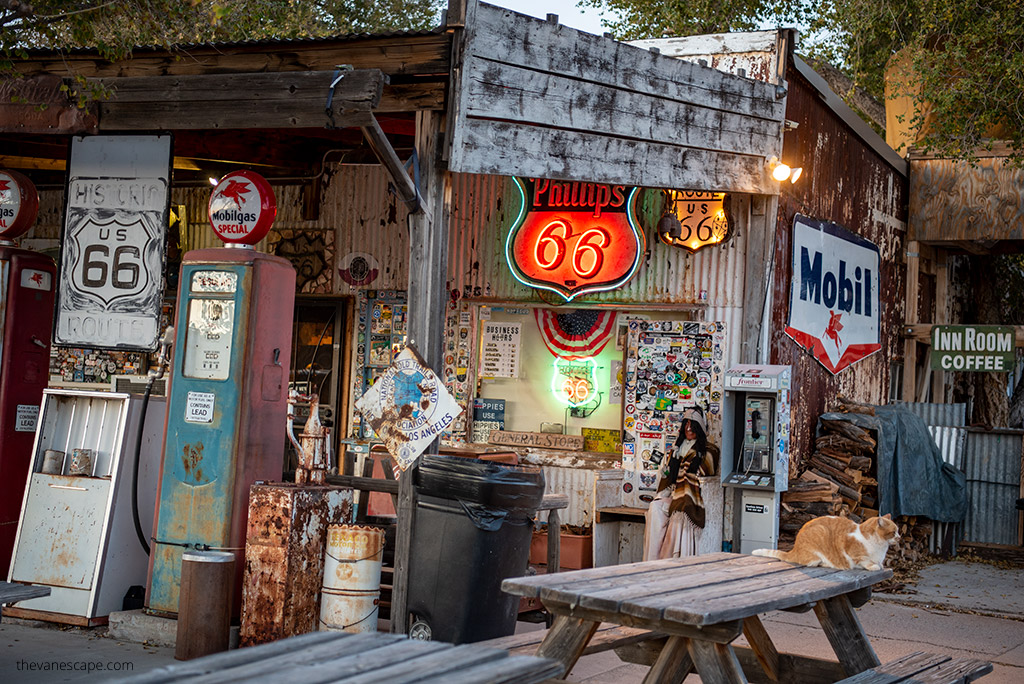 The Best Route 66 Towns – Related Articles
If you plan to visit other towns on the famous Route 66, check out some of our favorite California towns. It's easy to combine them with exploring Arizona Route 66 towns. Also, we suggest you visit some ghost towns from the Gold and Silver Rush Era.