Visiting Calico Ghost Town in San Bernardino County, Southern California, is an excellent idea for a family trip. Kids will be thrilled by the activities offered in this well-preserved ghost town. Check our tips and photos from this fabulous Wild West town.
This article may contain affiliate / compensated links. For full information, please see our disclaimer here.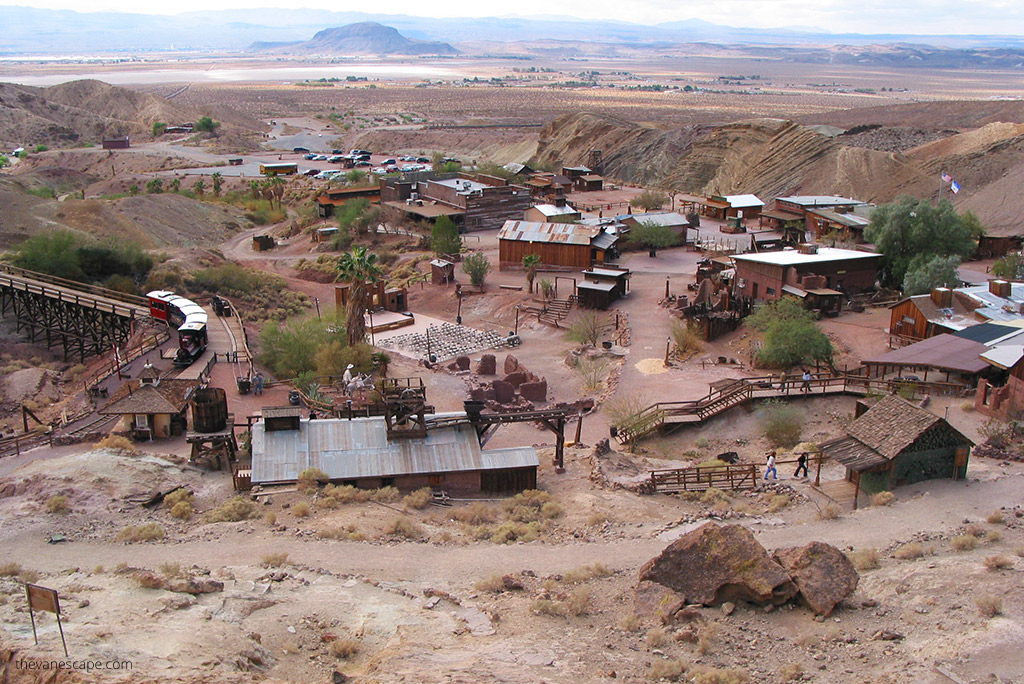 What is Calico Ghost Town?
Brief History of Calico
Calico is a ghost town near Barstow in the Mojave Desert in Southern California. It was founded in 1881 and gained notoriety for a silver mine. After the discovery of silver in the area, Calico became one of the most prosperous mining districts in the state. In 1886, the town's population peaked at 1,200 people. Miners and their families were doing very well here. Calico had a variety of businesses, hotels, a jail, saloons, a Chinatown, and, like any town, a red-light district. It was abandoned in the mid-1890s after silver lost its value. As of 1907, it was completely abandoned and became a ghost town. What's impressive with its 500 mines, Calico produced over $20 million in silver ore over 12 years. Beginning in 1942, it became known again due to controversial discoveries at the Calico Early Man Site archaeological site.
Calico Today
Walter Knott bought Calico in the 1950s and restored many buildings to look as they did in the 1880s. Calico was designated a State Historical Landmark. In addition, Calico was declared California's Silver Rush Ghost Town by then-Governor Arnold Schwarzenegger in 2005.
Today, Calico is part of the San Bernardino County Regional Parks system. Calico is utterly different from California's Bodie Ghost Town or Shaniko Ghost Town in Oregon, where there are no tourists, gift shops guided tours. This old mining town became a tourist attraction and is a bit over-commercialized. But it still is worth visiting, especially if traveling with kids, as they can see and learn about the Old West. If you plan a trip in this area, you can also be interested in visiting Goldfield – Nevada Ghost Town.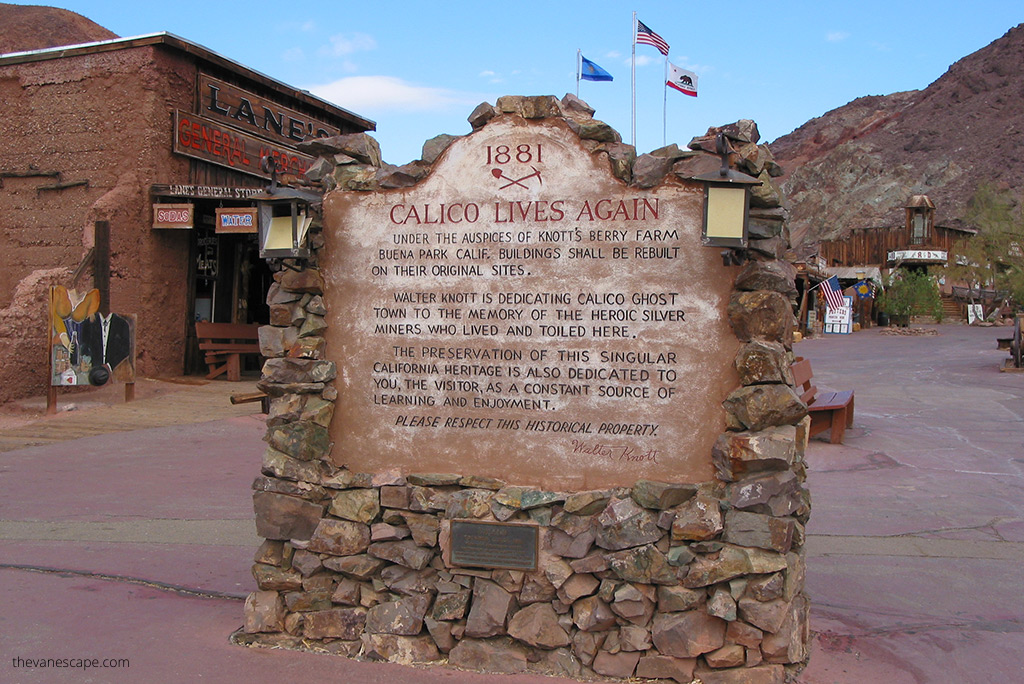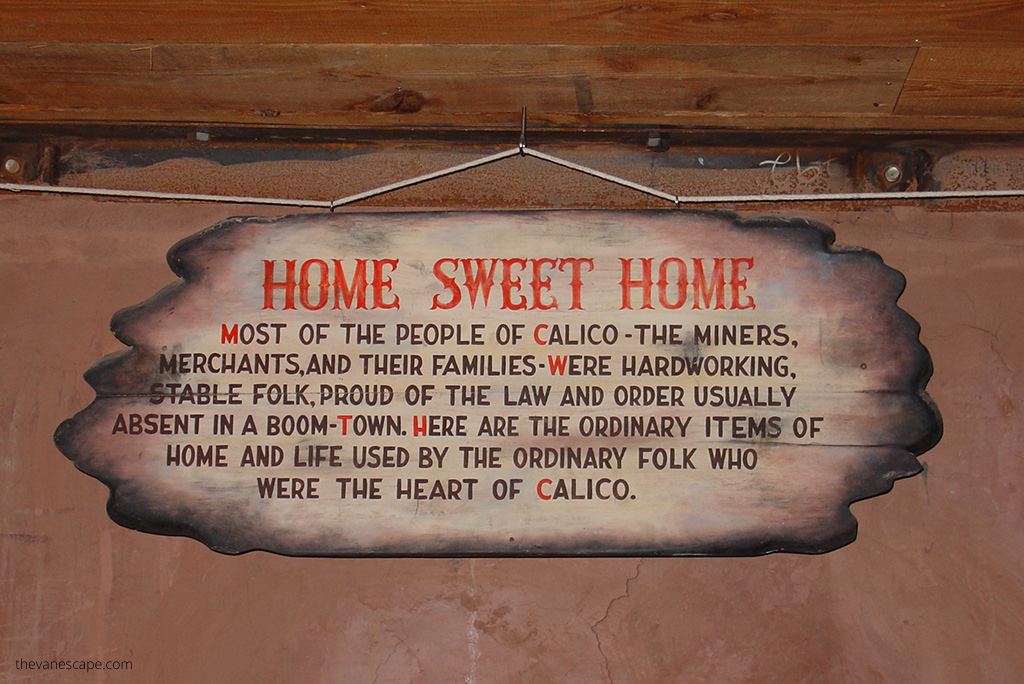 Where is Calico Ghost Town?
Calico Ghost Town is located in the Mojave Desert in San Bernardino County, Southern California. The closest town is Barstow. It lies 3 miles from Barstow and 3 miles from Yermo. Calico Ghost Town Regional Park manages it. It's on the way between Las Vegas and Los Angeles, close to the main old Route 66 attractions.
Because of its location on the busy I-15 highway between Las Vegas and Barstow, Calico is now a popular tourist attraction. There's a museum, gift stores, a campground, and exhibits on traditional costumes and Wild West customs.
Pro Tip: More about history and ghosts of Calico, you can read on Legends of America.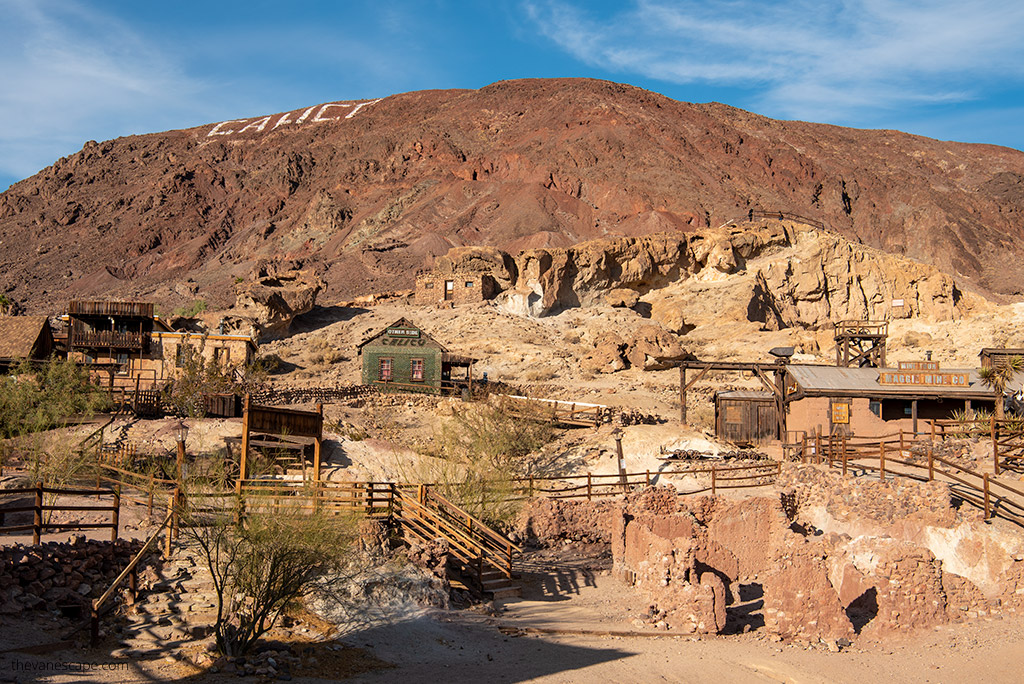 How to get to Calico Ghost Town?
From Las Vegas is 149 miles via I-15 S. Driving time is approximately 2 hours and 15 minutes.
If you are driving from Los Angeles, take I-15 N. It's 126 miles and 2 hours of driving.
Visiting Calico Ghost Town is also a great idea if you are in Death Valley National Park. It's only 169 miles from the park to Calico via CA-127 S and I-15 S. Driving time is around 3 hours.
Make sure to add two fabulous places to your itinerary – iconic stops on old Route 66: Roy's Motel & Cafe in Amboy and Bagdad Cafe in Newberry Springs. To Roy's Motel in Amboy, take I-40 E and National Trails Hwy. It's 79 miles. On the way, you will also find Bagdad Cafe. From Calico to Bagdad Cafe, drive 20 miles via Minneola Rd and National Trails Hwy.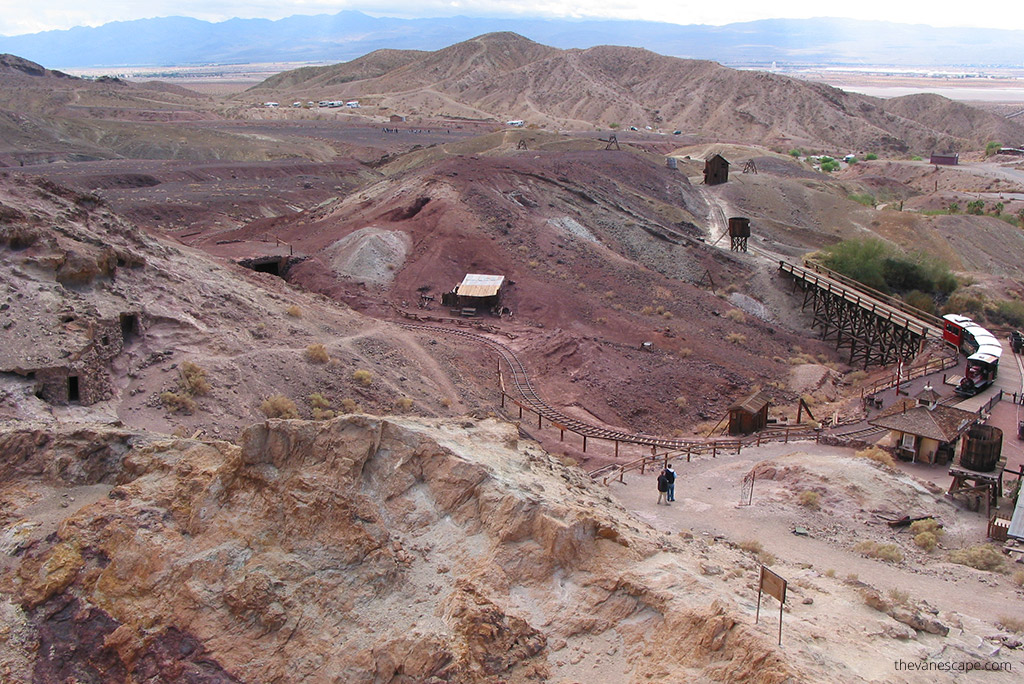 Is Calico Ghost Town open?
Calico Ghost Town is open daily: 9 AM to 5 PM. It's closed on Christmas Day. However, to be sure, check the official Facebook website before your visit.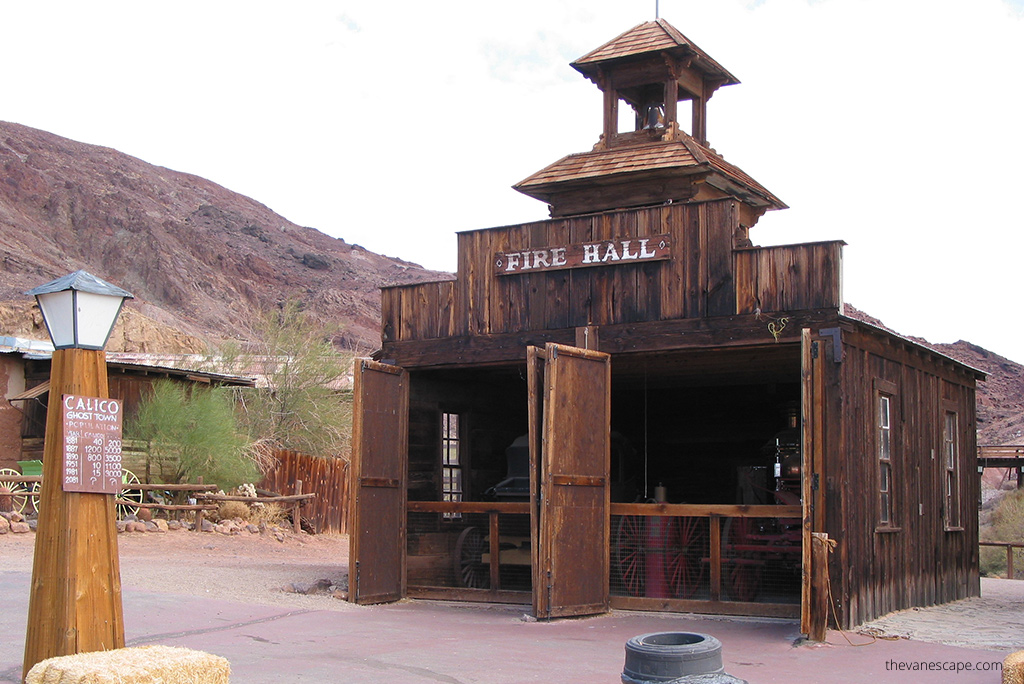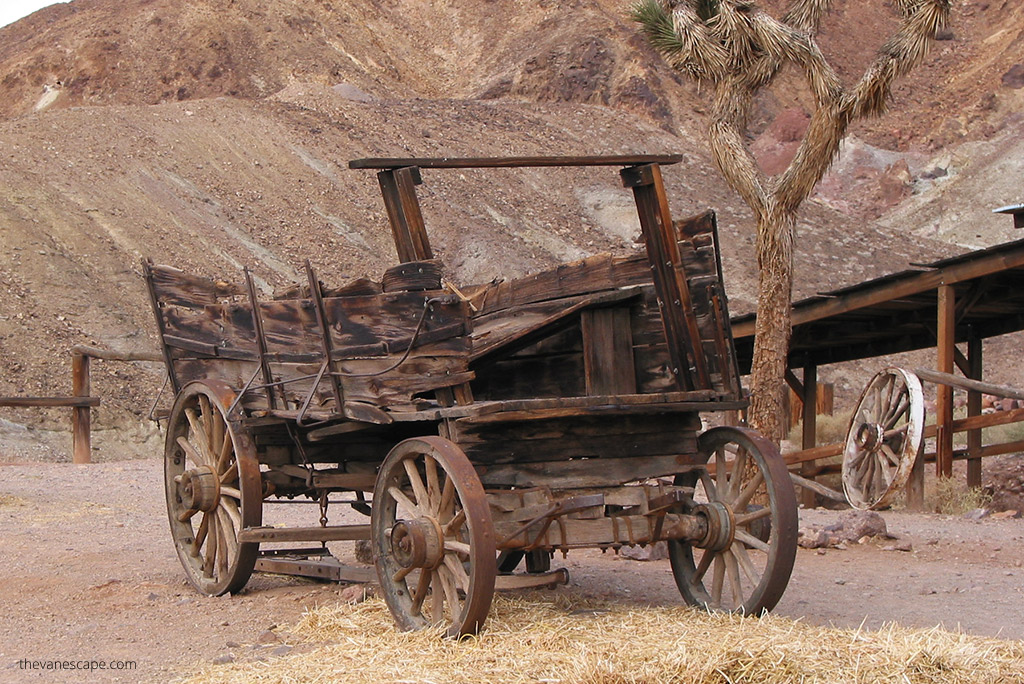 Is Ghost Town of Calico worth visiting?
Yes, in our opinion, Calico is worth visiting. It's one of the most beautiful ghost towns in California and one of the best preserved. Moreover, this place offers a great variety of attractions. Therefore, it's an excellent idea for an active family vacation. If you travel with kids, they'll be thrilled. On the town's official website, you can find various programs and attractions for children.
The Calico is very popular because it's located on the route between Las Vegas and Los Angeles. Therefore, there will always be other tourists here. It's not a wild place where you're alone and feels like you're in a real ghost town. But it's real. It's a slightly different character, an educational and relaxing one. Perfect place for families with kids.
Moreover, this town is perfect for stylized photos. So wear cowboy hats, cowboy boots, leather jackets, or plaid flannel shirts for yourself and your kids for awesome pictures.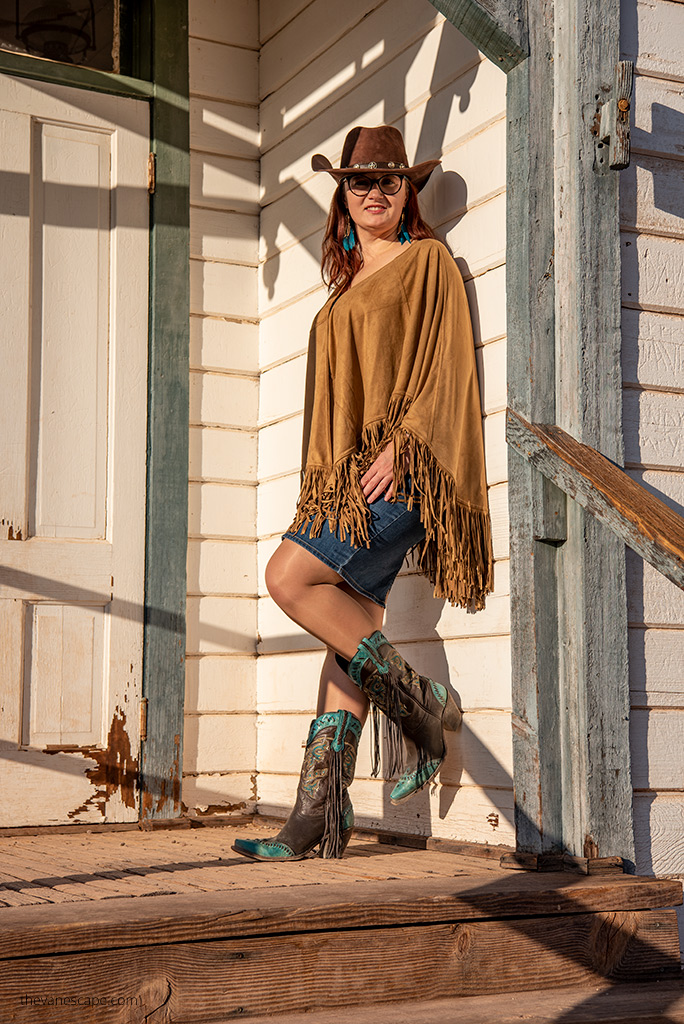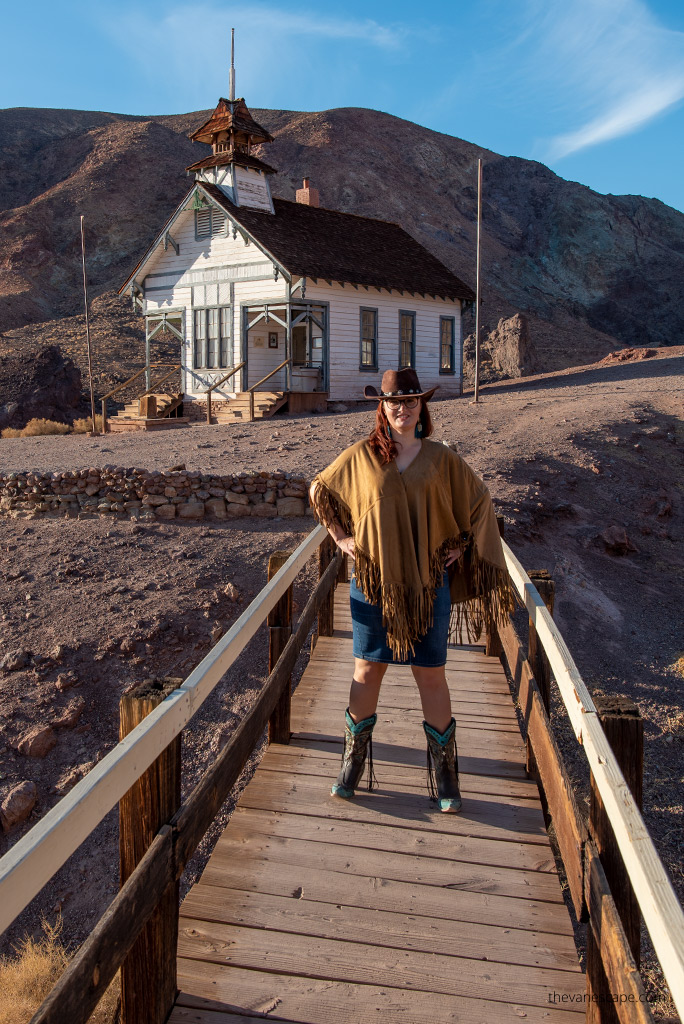 Calico Attractions
The town offers many attractions and events. You can visit Calico Ghost Town on your own (entrance fee applies) or with a guide. One among the more exciting attractions popular with visitors is Calico Ghost Tours. It is worth booking in advance, especially if you are planning a visit in the high season. Details and prices you can find on the official website.
Also, you can check Calico's attractions on this detailed map.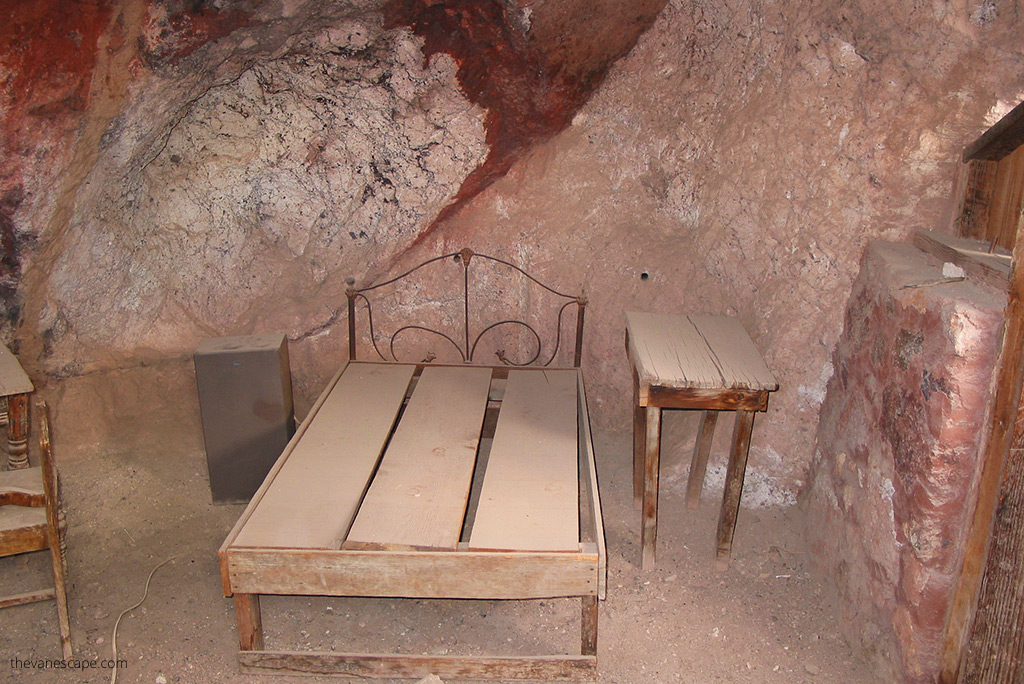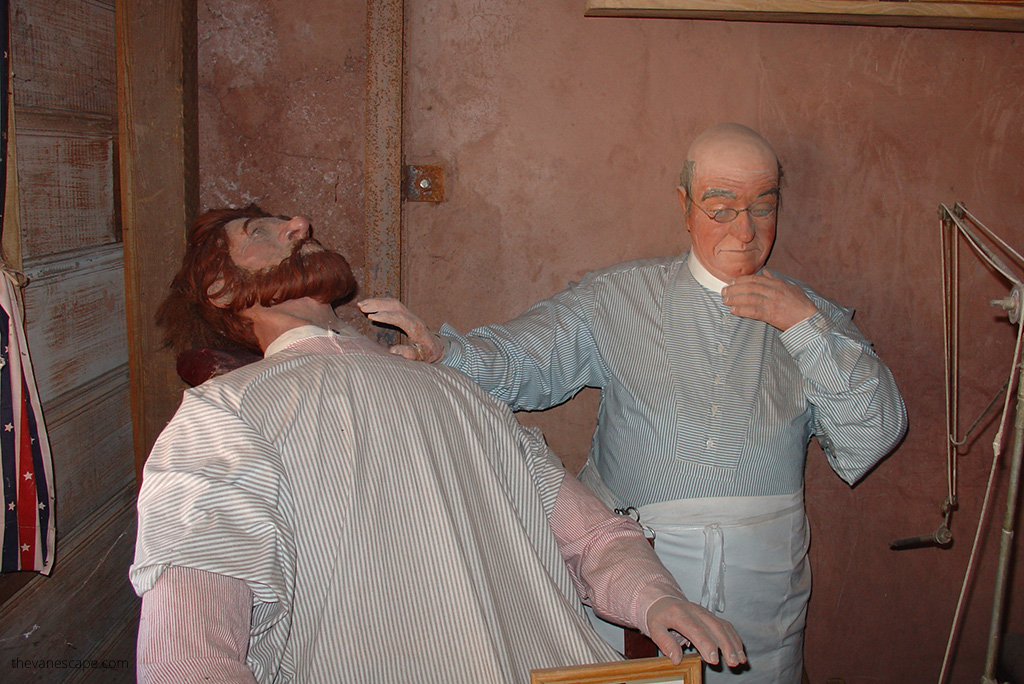 Calico Events
Calico Ghost Town Regional Park offers and organizes a lot of events. So, checking their program before your visit is a great idea.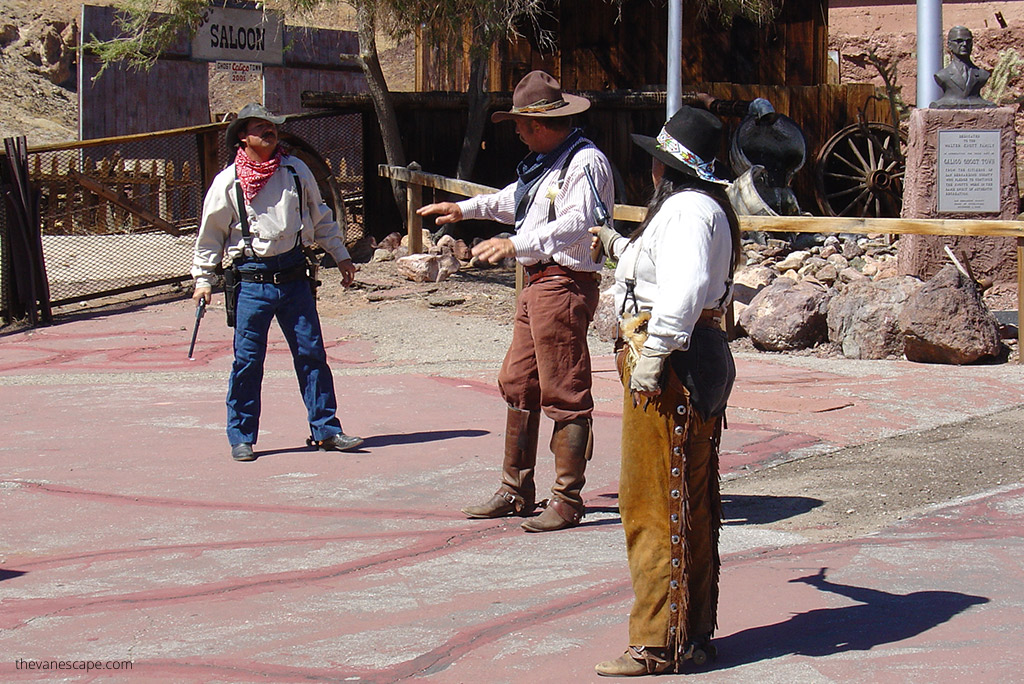 Top sights to see in the Ghost Town of Calico
Calico Odessa Railroad
Odessa Railroad is a small, working railroad that was installed in Calico Ghost Town in 1958 and has been in operation ever since. The train ride takes you around the hill and takes about 10 minutes. Along the way, you can see some of the old mining equipment and many of Calico's historic sites.
Mystery Shack Tour
Want to see water flow uphill? If you take a guided tour of Mystery Shack, you'll see it and learn more about Harry Dover, the shack's inventor. Kids will be delighted.
Maggie's Mine Tour
In the 1880s, a silver mine operated here. A guided tour will give you an idea of what Calico's mines were like. An exhibit shows some of the minerals found here.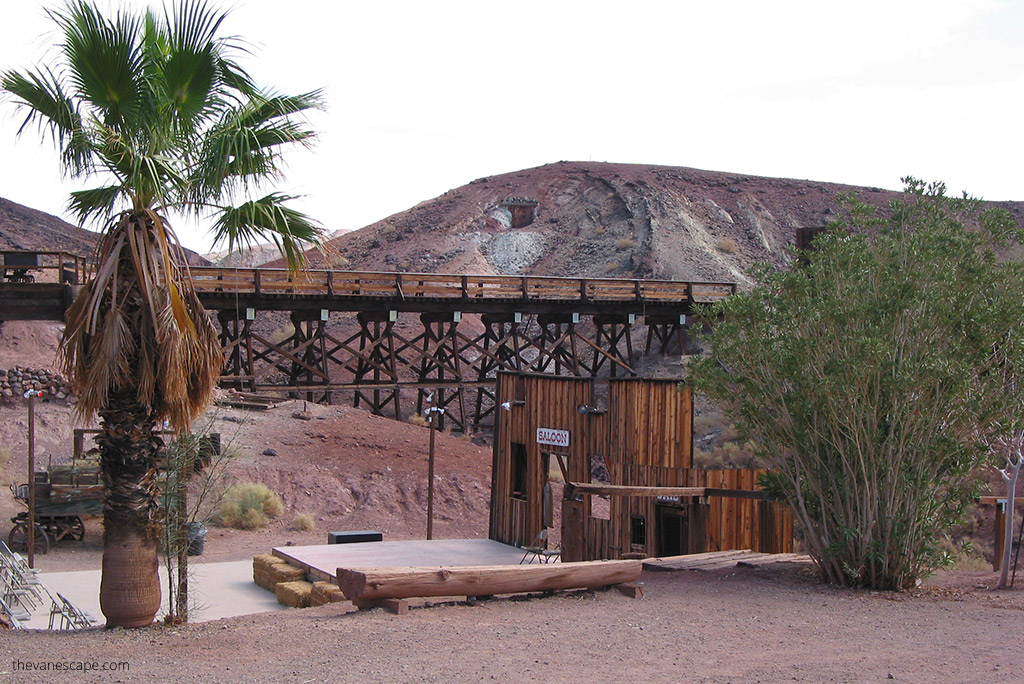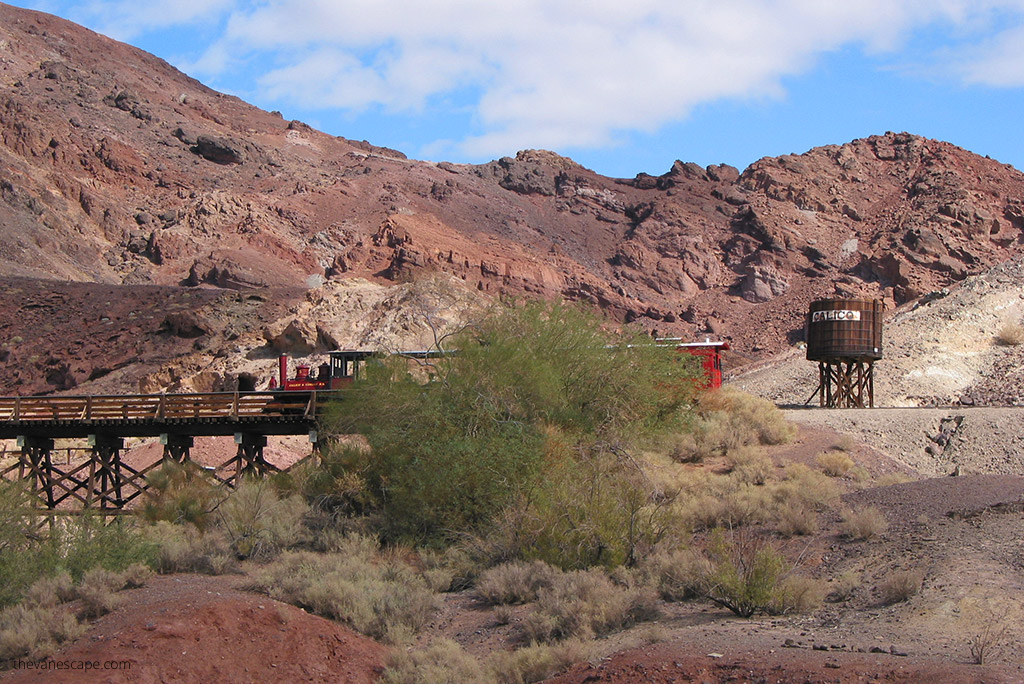 Lane House and Museum
If you want to learn about the former Calico Mining District, visit the Lane House and Museum. The museum building is one of five original adobe buildings from the late 1880s that have stood the test of time. You can still see some of the old features, such as transom windows, electrical wiring from the 1930s, and furnishings that belonged to the Lane family, who lived here from the 1920s to the 1960s.
Old School House
At the top of town, you'll see the Old School House building when you reach the end of the street. It's a replica, but it looks fabulous in the background of the mountains. Perfect spot for pictures.
Shops & Restaurants
There are also a few souvenir shops, handicraft shops, and wild west-style clothing in the town. Moreover, you can have lunch or drink a coffee at one of several places in the park. One of the best is Calico House which offers breakfast, lunch, and dinner and Old Miner's Café with good selections of American lunch.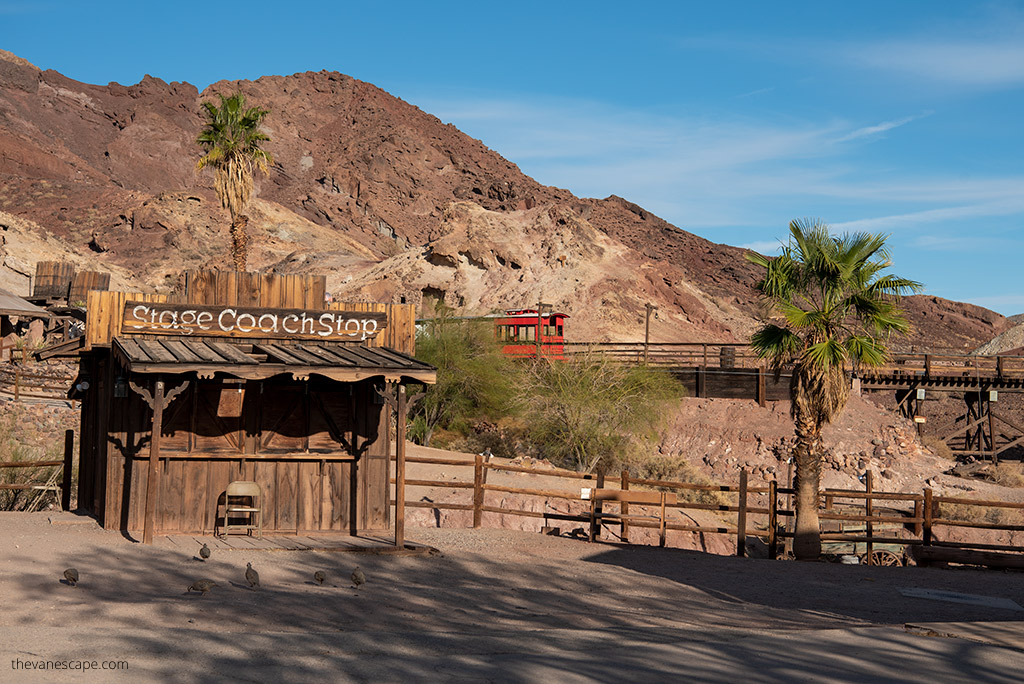 How much does it cost to visit Calico Ghost Town?
The town offers so many different attractions that we suggest you check the prices on the official website.
Daily Admission for Calico Ghost Town is Adults: $8, and Youth (4-11):  $5. With this fee, you can explore the town on your own.
But, especially if you travel with children, it is worth buying extras that allow you to take advantage of attractions such as Maggie Mine Tour, Mystery Shack Tour, Calico Odessa Railroad tour, or Gold Panning Adventure. Details and prices you can find here.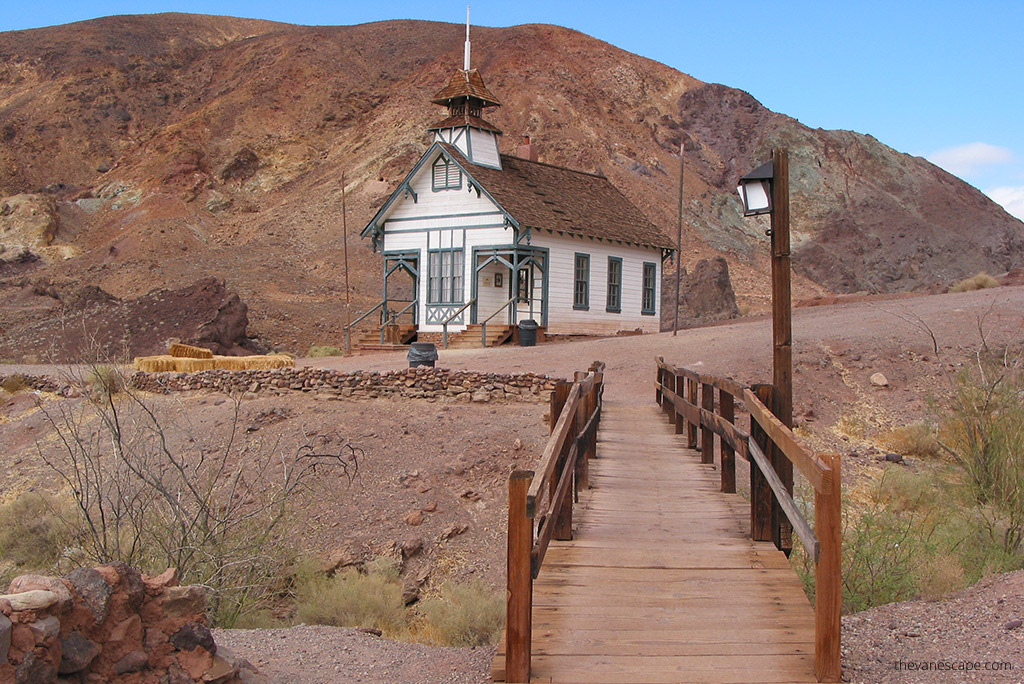 Is Ghost Town of Calico pet friendly?
You can take your dog with you, but the dog must always be on a leash. A symbolic fee for entering the town with a dog is $ 1.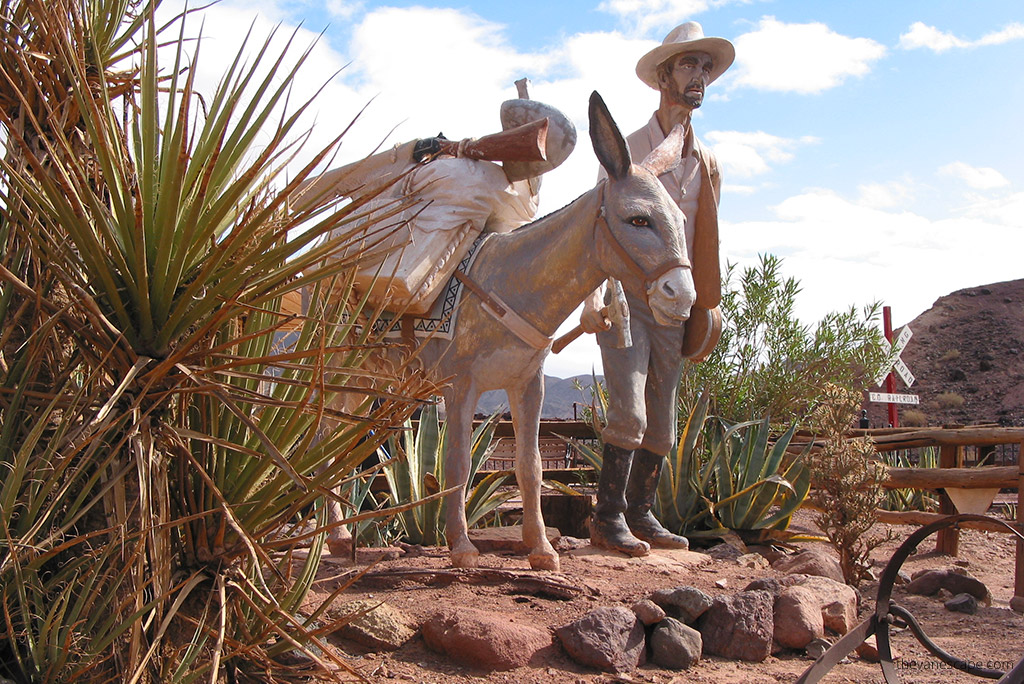 RV Park in Calico
It is good to know that a beautifully situated campground is next to the town. You can come here for a few days with your caravan or RV. Especially that, apart from the ghost town, there are several interesting hiking trails in the area or can fishing. It will also be an excellent base for exploring Southern California. But, unfortunately, due to the great popularity and attractiveness – it is worth booking the Calico Ghost Town RV Park in advance. The prices start from $30 per night.
What's more, there are 10 cabins available for rental at Calico Ghost Town. Each cabin sleeps 4 and is heated and air-conditioned. Also, the Mini-Bunkhouse sleeps six, is heated/air conditioned, and has a private bathroom/shower and kitchenette.
You can make your reservation online.