Seven Sacred Pools on Maui
'Ohe'o Gulch, aka Seven Sacred Pools on Maui, is a fabulous cascade waterfall in The Helakelala National Park. It is one of the best stops on the Road to Hana. How to get to Seven Sacred Pools on Maui? How does the hike look like? What to prepare and when to visit? Check our guide to Seven Sacred Pools Trail.
This article may contain affiliate / compensated links. For full information, please see our disclaimer here.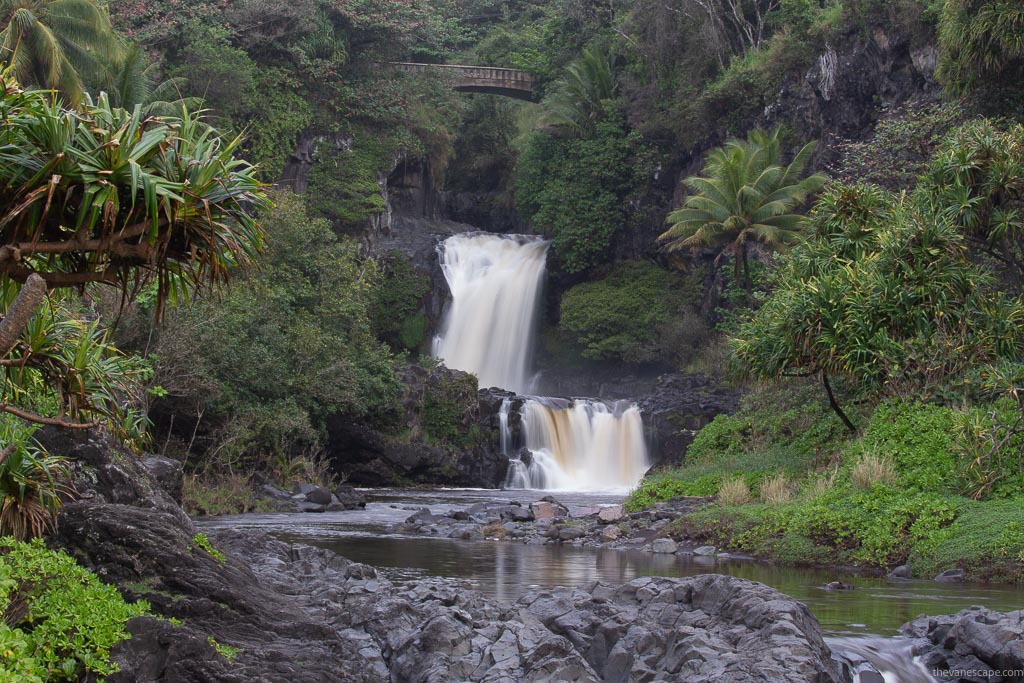 Seven Sacred Pools on Maui – Introduction
Update: We are shocked by the tragedy that has affected Maui in the last few days of August 2023. We deeply sympathize with the victims of the catastrophic wildfires, all those who lost their loved ones and possessions due to the tragedy. Some of the tips below may be outdated at the moment. If you are planning any trips, check the local guidelines first: All non-essential travel to West Maui (including Lahaina, Napili, Kaʻanapali, and Kapalua) is strongly discouraged through the month of August. Other areas of Maui (including Kahului, Wailuku, Kihei, Wailea, Makena, and Hana) and the other Hawaiian Islands, like Kauaʻi, Oʻahu, Lanaʻi, and Hawaiʻi Island, remain open. Don't cancel your Maui vacation. Consider rescheduling instead. Maui will need your tourism dollar to rebuild when it's ready.
Maui is one of the most beautiful Hawaiian islands, with exciting attractions for everyone. It is one of the best places in the world for whale watching. Or you can go on a thrilling trip on the Road to Hana and admire the Seven Sacred Pools. The most exciting stops on the Road to Hana we described in detail in a separate article.
For sure, one of the most beautiful stops on the Road to Hana, and at the same time, one of the final stops on the Hana Highway is Seven Sacred Pools. 'Ohe'o Gulch's remote valley features cascading waterfalls and deep freshwater pools surrounded by rainforest, jungle, and incredible natural beauty. This post focuses on the hike to Seven Sacred Pools in Maui. And we will give you tips and information about this place as we experienced it ourselves, and we love this hike.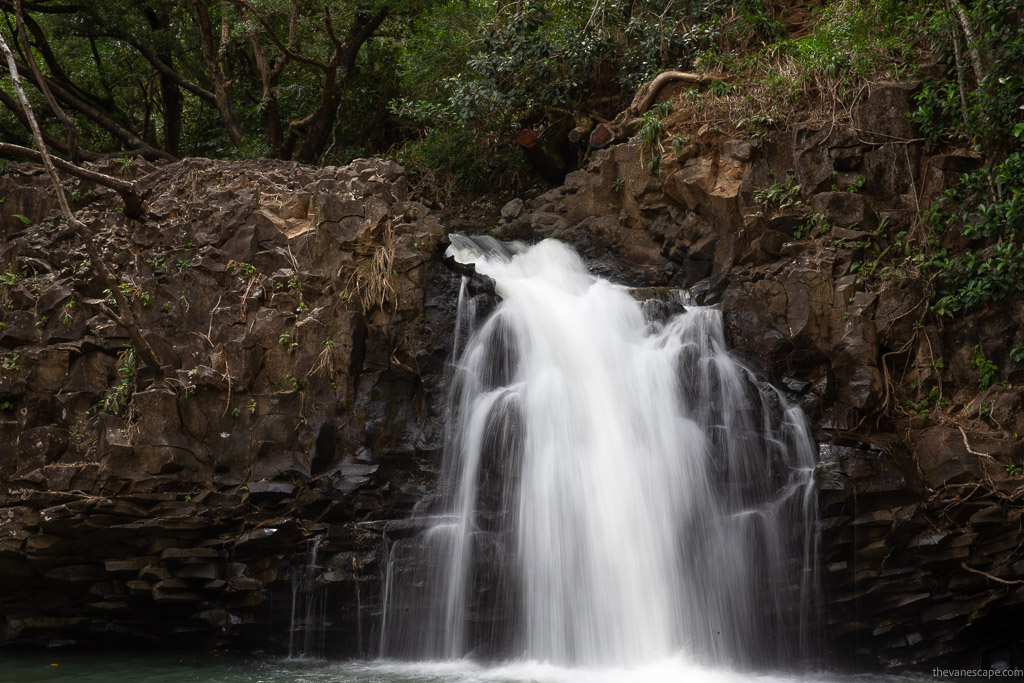 What is 'Ohe'o Gulch, aka Seven Sacred Pools on Maui?
Along the Kipahulu coast in Haleakala National Park is a hidden gem of Maui – breathtaking Seven Sacred Pools. It's also known as 'Ohe'o Gulch. The name "Ohe'o" translates to "something special." The waterfall is also known as The Pools at Oheo and Oheo Pools. So it might be a little confusing. But the most common names are Seven Sacred Pools, aka 'Ohe'o Gulch.
It's an incredibly scenic and spectacular place as the Seven Sacred Pools ('Ohe'o Gulch) are waterfalls part of a stream that flows from the mountain to the mesmerizing North Pacific ocean. When you stand on the cliff near the waterfalls, you can admire how its strong stream meets the sea. The Pools of Ohe'o, with their high cascades, surrounding tranquility, and the sound of the surf in the distance, crystallize Maui's dynamic, radical beauty. And no doubt that this place is special and magical. It's worth adding to your itinerary if you plan Maui Vacation.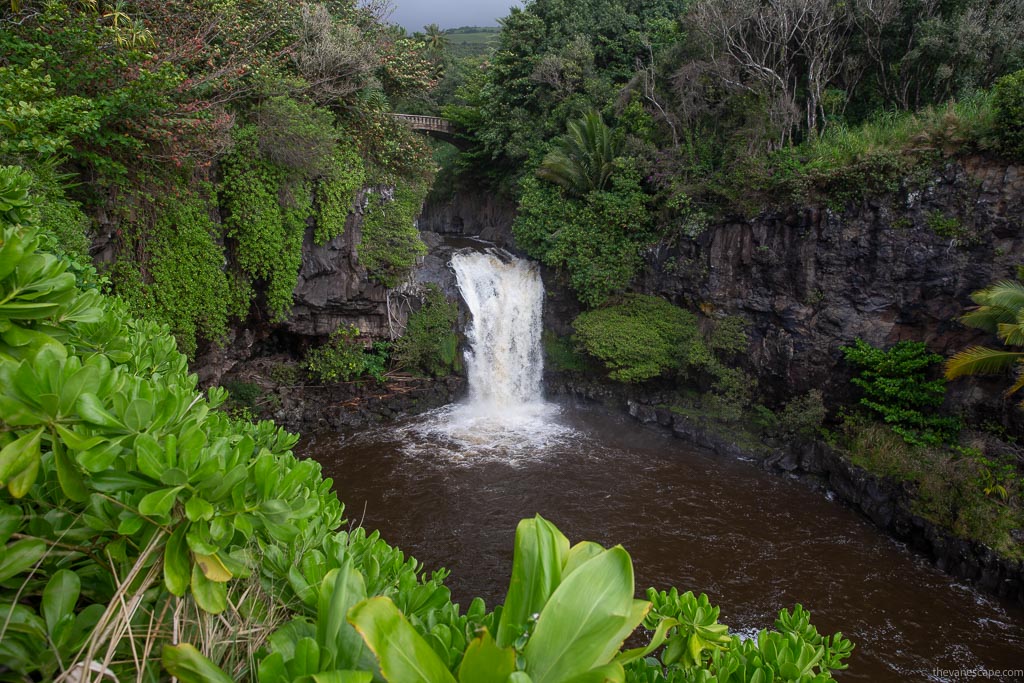 How to Get to Seven Sacred Pools on Maui?
Parts of Haleakala National Park
As we mentioned at the beginning, the waterfalls are located in Haleakala National Park. But it might confuse you. So read carefully about the location of 'Ohe'o Gulch.
Haleakala National Park has two separate parts: the Summit district and the Kipahulu district.
Summit district
Usually, when planning a vacation to Maui, you hear about the famous sunrise on the summit side at the top of Haleakala National Park. Probably plan a summit drive to this peak. It's a fabulous adventure but an entirely different side of the park. Please don't confuse them as those two parts of Haleakala National Park are not connected by road.
Kipahulu district
Hike to the Seven Sacred Pools on Maui ('Ohe'o Gulch ) will be a separate trip from the summit drive to the peak of Haleakala.
To see these spectacular Haleakala waterfalls requires hiking the Kuloa Point Trail in the Kipahulu district. So, it's important to remember that the Kuloa Point Trail is a part of the Kipahulu area. The other popular trail in the Kipahulu area is the Pipiwai Trail.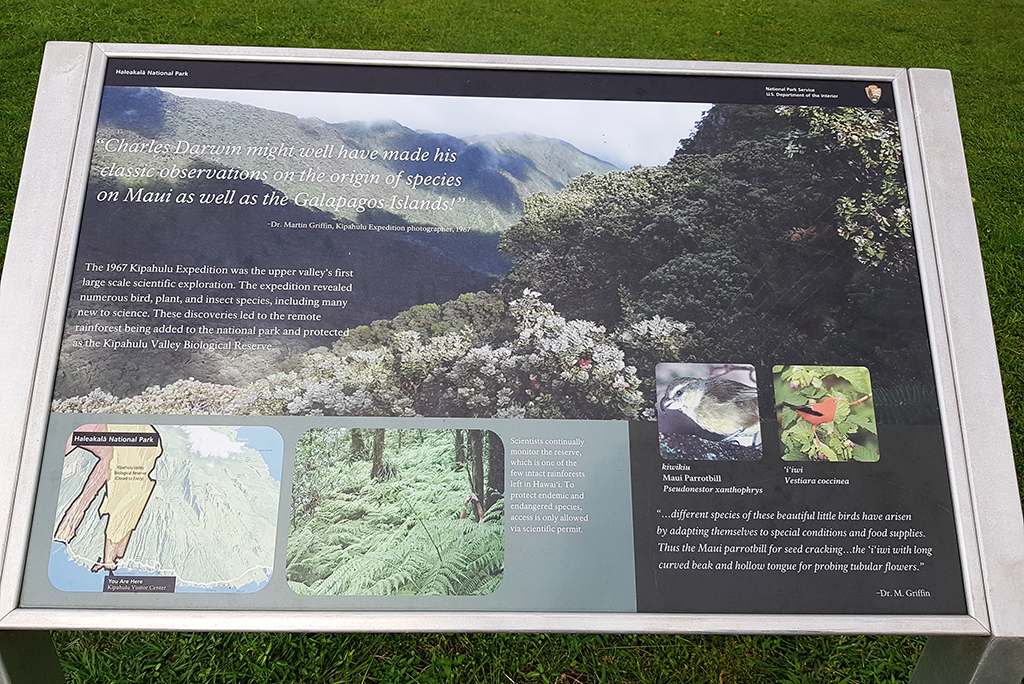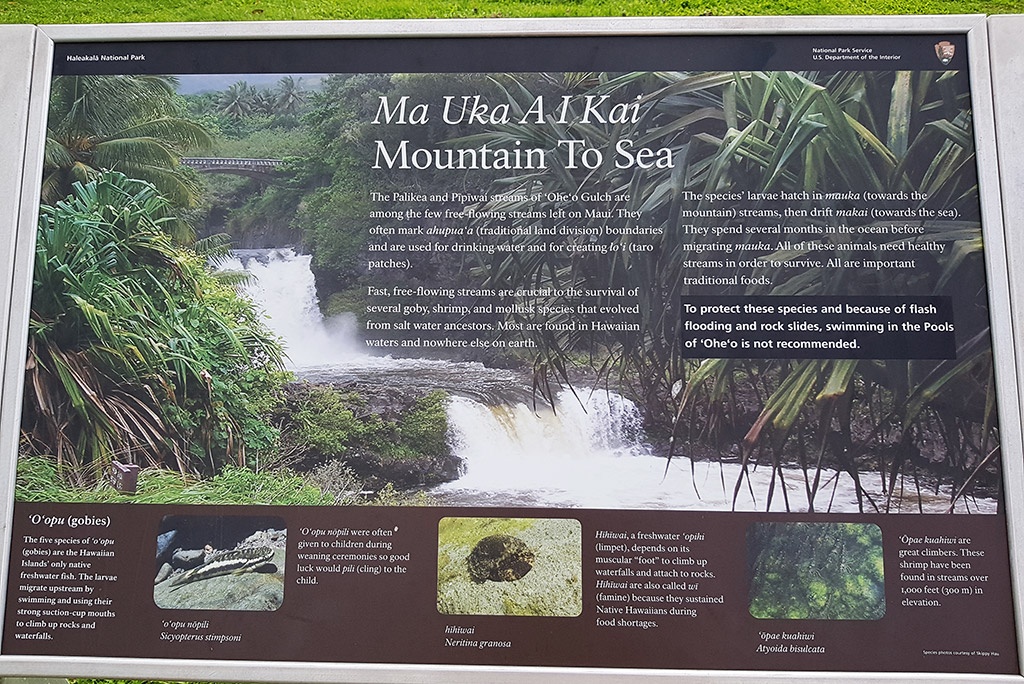 The Road to Seven Sacred Pools on Maui
So you can get to the Seven Sacred Pools as a part of the famous Road to Hana drive. It's about 30 minutes and 12 miles past the Hana town, at the end of the Road to Hana. If you choose this option, read our detailed Road to Hana guide with the best stops on the route. It's the last scenic stop on this route. From this point (Hana town), most people turn around and drive the Road to Hana as an out-and-back. But in our opinion, the place is so beautiful that it is worth staying here longer. Therefore, it is best to have at least two days for the Road to Hana itinerary. On the first day, end the trip at Hana, and the next day in the morning, visit Haleakala National Park with its phenomenal waterfalls, Seven Sacred Pools.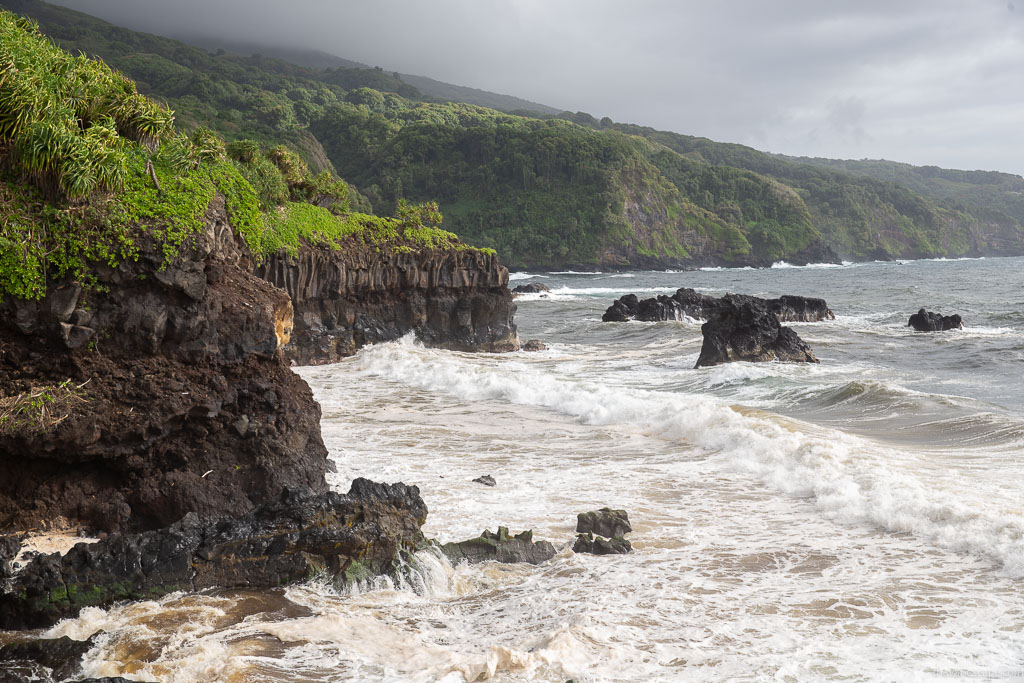 Where to Stay when visiting 'Ohe'o Gulch
You can stay for a night in Hana, an incredibly charming and romantic town. However, the accommodation prices are not low. So book your lodging in advance.
There is also a great campground close to the waterfalls inside the Haleakalā National Park if you like camping. Unfortunately, the Kīpahulu campground is still closed due to COVID – 19. But it is worth checking on the official website if it is already open to book in advance. We stayed there just before the pandemic lockdown, and the place was delightful. Therefore, a currently available camp option in this area can be Wai'ānapanapa State Park. We wrote about it in our post about the best stops on the way to Hana. The place is charming, with fabulous black beaches, but you must have earlier reservations.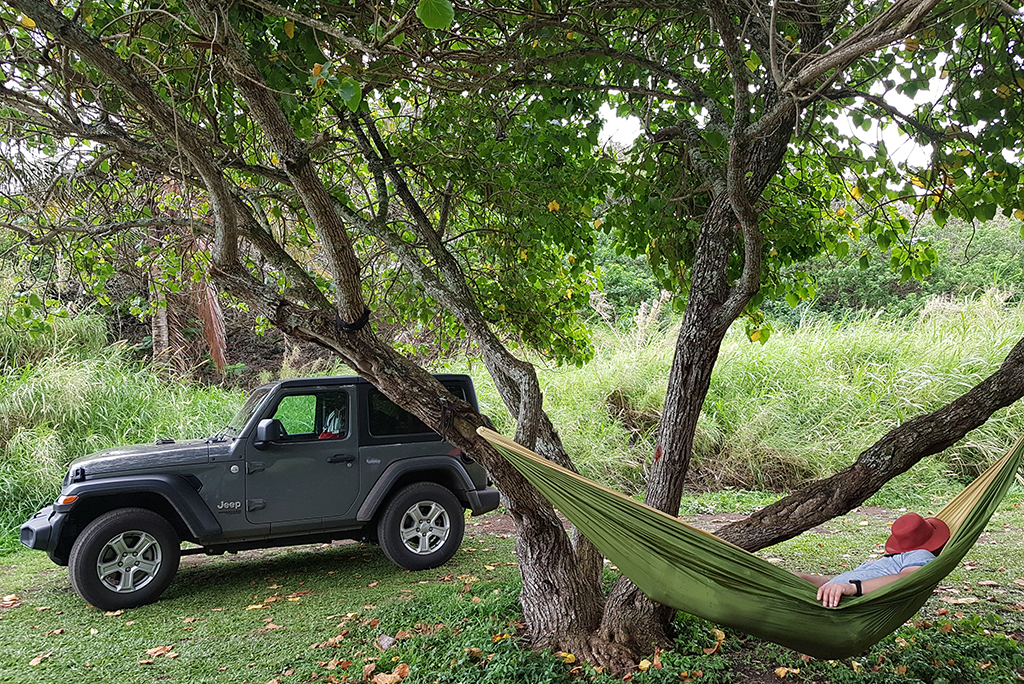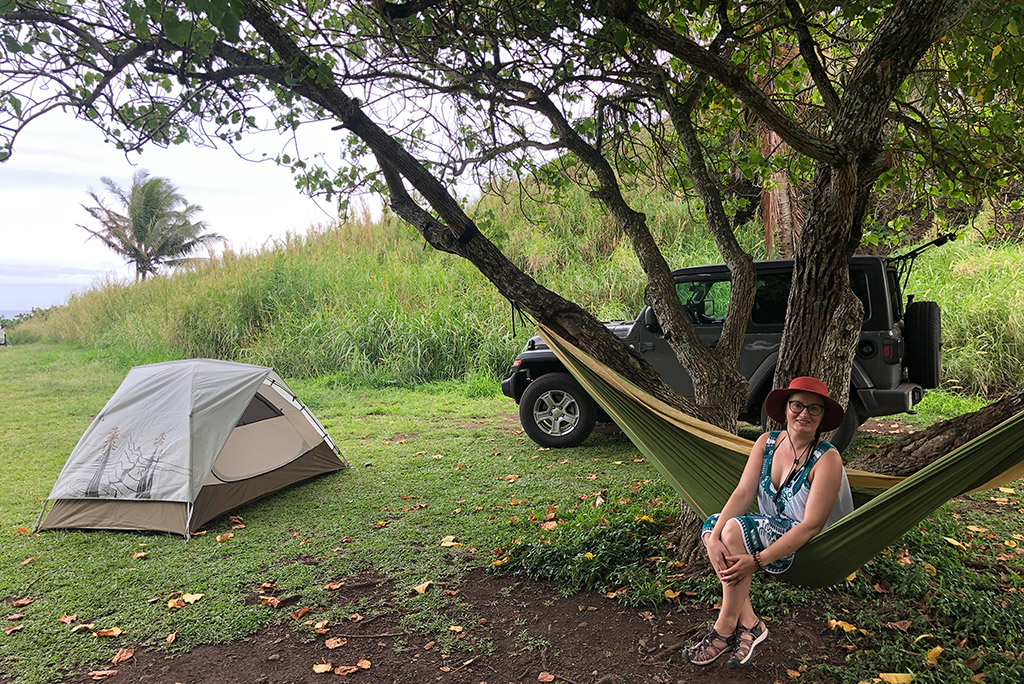 Hike to Seven Sacred Pools on Maui
Exploring Haleakala National Park
In 1969, Kipahulu Valley and 'Ohe'o Gulch were added to Haleakala National Park. Therefore an entrance fee is charged. All park visitors must purchase a pass for recreational use upon entering Haleakalā National Park. Passes are non-transferable and are valid for three days, including the date of purchase. The cost is $30.00 per private vehicle and is valid for three days.
If you plan to visit at least three U.S. National Parks for a year, purchase an America the Beautiful Annual Pass for all U.S. parks. It costs only $79,99 and is your ticket to more than 2,000 federal recreation sites across the country, including all U.S. national parks. What's essential Pass is valid for 1 year from the month of purchase. It covers entrance for a driver and all passengers in a personal vehicle at per-vehicle fee areas or up to 4 adults at sites that charge per person (kids 15 & under get in free)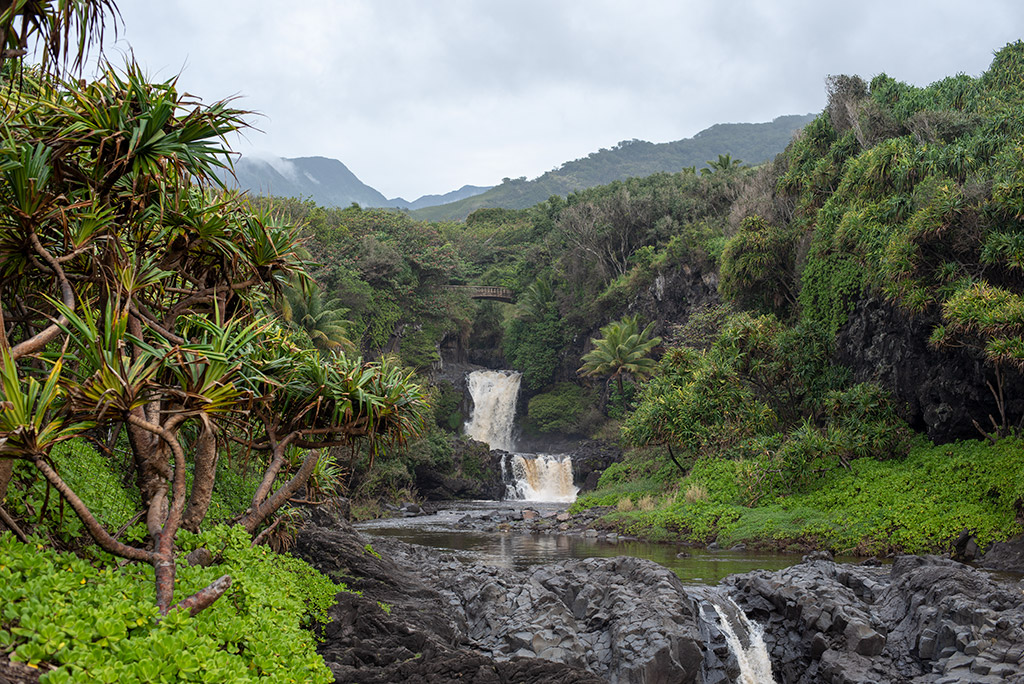 Hike the Pipiwai Trail to Waimoku Falls
The most scenic way to get to the Seven Sacred Pools, aka 'Ohe'o Gulch, is via the Pipiwai Trail. It's only a 2-mile-long one-way trail. It's 800 feet elevation change. This trail is moderately strenuous. But for sure is one of the best hikes in East Maui. You'll encounter a giant banyan tree, dense bamboo forests, a grove of mountain apple trees, and a series of dramatic pools and waterfalls. However, the highlight of this hike is at the end – below the spectacular 400-foot Waimoku Falls. As you stand at the base of the cliffs, you can enjoy the views of waterfalls and the sea. There is a refreshing mist created by the falling water around. Wet rocks along the water's edge can cause you to slip and fall, so be careful.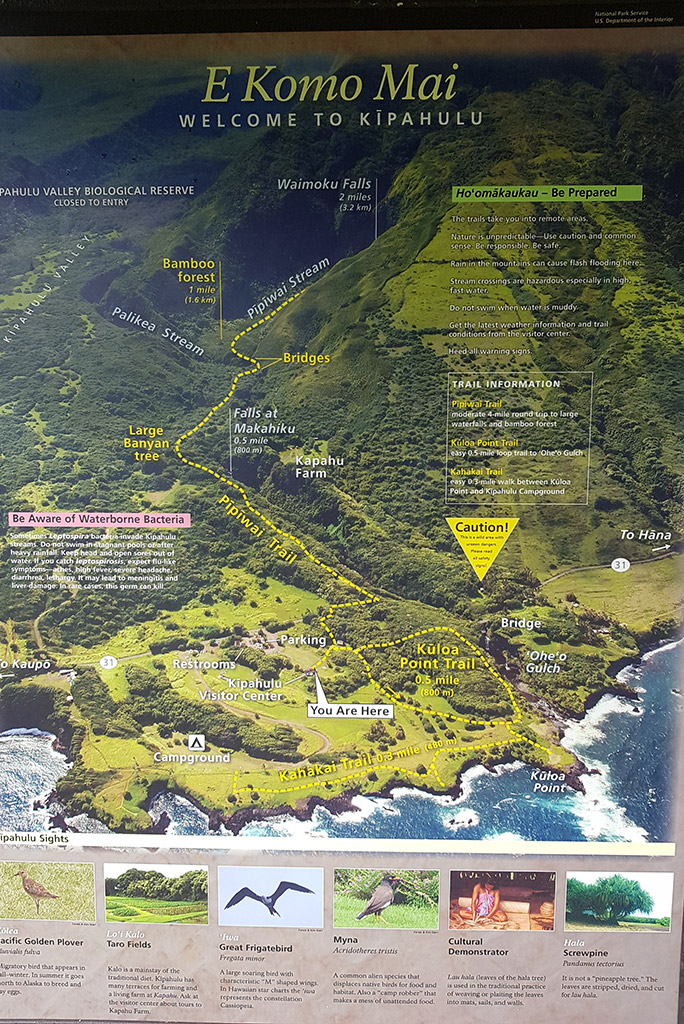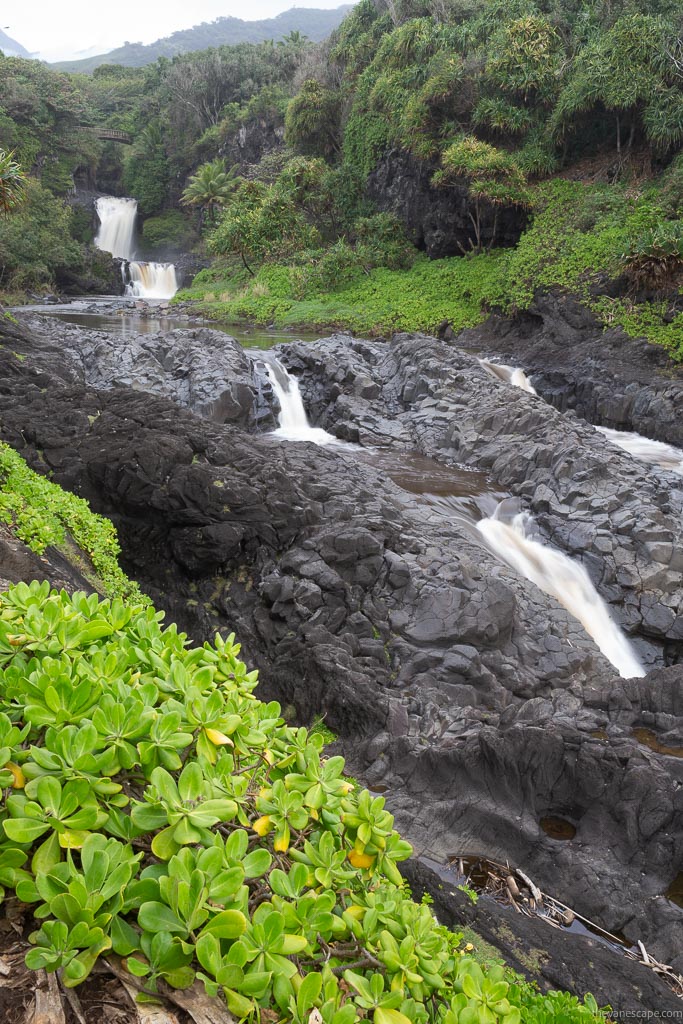 Hike the Kuloa Point Trail as the easiest way to Seven Sacred Pools
It's the easiest way to Seven Sacred Pools, so choose this option if you do not have too much time. It's only 0.5 miles (total) and 80 feet of elevation gain. This trail leaves the Kīpahulu Visitor Centre and passes a Hawaiian cultural display area to Kuloa Point at the mouth of 'Ohe'o Gulch. Here you'll find beautiful ocean views and archaeological sites. This trail is popular for visiting the Pools of 'Ohe'o.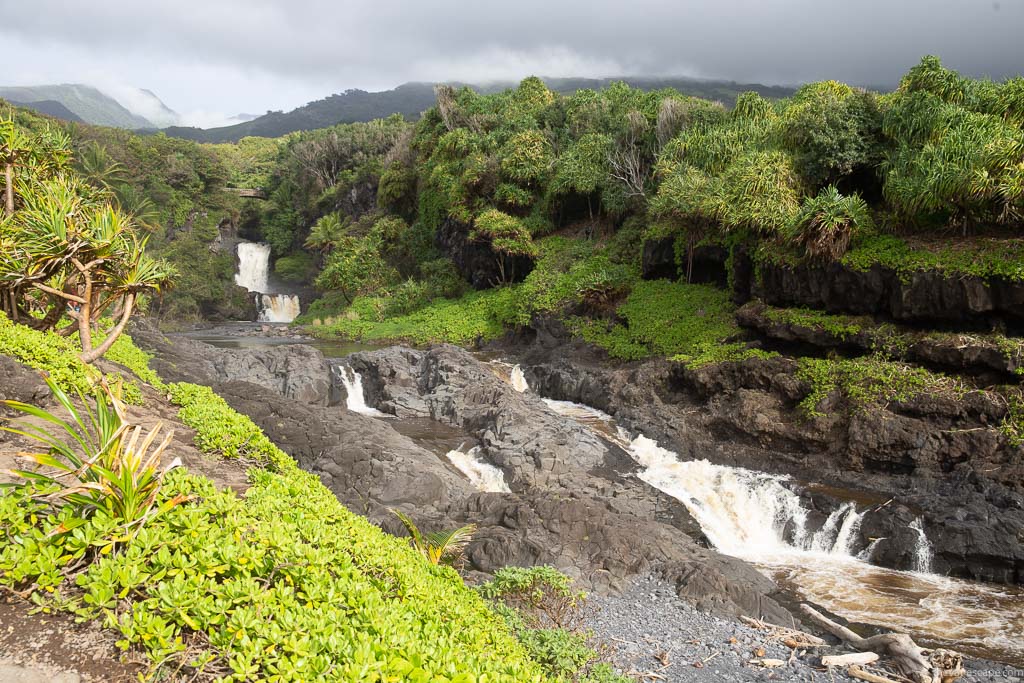 Can You Swim in the Seven Sacred Pools on Maui?
It's important to know that swimming is strictly prohibited at the Seven Pools but not along the Pipiwai Trail. Be extremely cautious if you decide to bathe in the two lower pools. There are lots of slippery rocks, and the water is cold. Do not jump or dive off cliffs because there are many dangers in the water. There are warning signs prohibiting jumping. Several injuries and deaths of thrill-seeking visitors have occurred after they ignored the warning signs and jumped anyway. So do not do that. Also, don't swim directly below a fall. Swimming in the pools when it's raining is also dangerous, as flooding can increase the size of the pools and increase the danger. So be careful of flash flooding, underwater hazards, and slippery surfaces.
What to Pack to Seven Sacred Pools on Maui?
If you want to wade in or swim in the water, you must wear waterproof shoes with excellent grips, such as our favorite Keen sandals with toe protection or those comfy water shoes. This way, you will protect your feet from abrasions and cuts. The pools are sometimes closed to swimming because of hazardous conditions. So, check alerts on the official website before you go. Ocean areas are unsafe for swimming or wading. Also, don't forget to pack a quick-drying towel. Due to the tremendous amount of moisture and mists from the waterfall in the air, take microfiber cloths to clean the camera lenses because they absorb water very quickly. It is also an excellent place for a romantic picnic amidst stunning nature. So pack some snacks to rest and enjoy this scenery. And, of course, you will need a travel tripod if you want to achieve the effect of blurred water in your photos.
Are you looking for more inspiration for Maui?
Check out our posts with a guide for Road to Hana and the best whale-watching tours on Maui.