Visiting Goldfield, Nevada Living Ghost Town
Have you heard about Goldfield, Nevada – World's Greatest Gold Camp? This almost abandoned Gold Rush-era city is full of exciting history, notable figures, exciting buildings, and even paranormal, and it is said to be haunted. We were intrigued by Goldfield Nevada Ghost Town. So, we shared our tips on what to do there and the photos we took during our stay.
This article may contain affiliate / compensated links. For full information, please see our disclaimer here.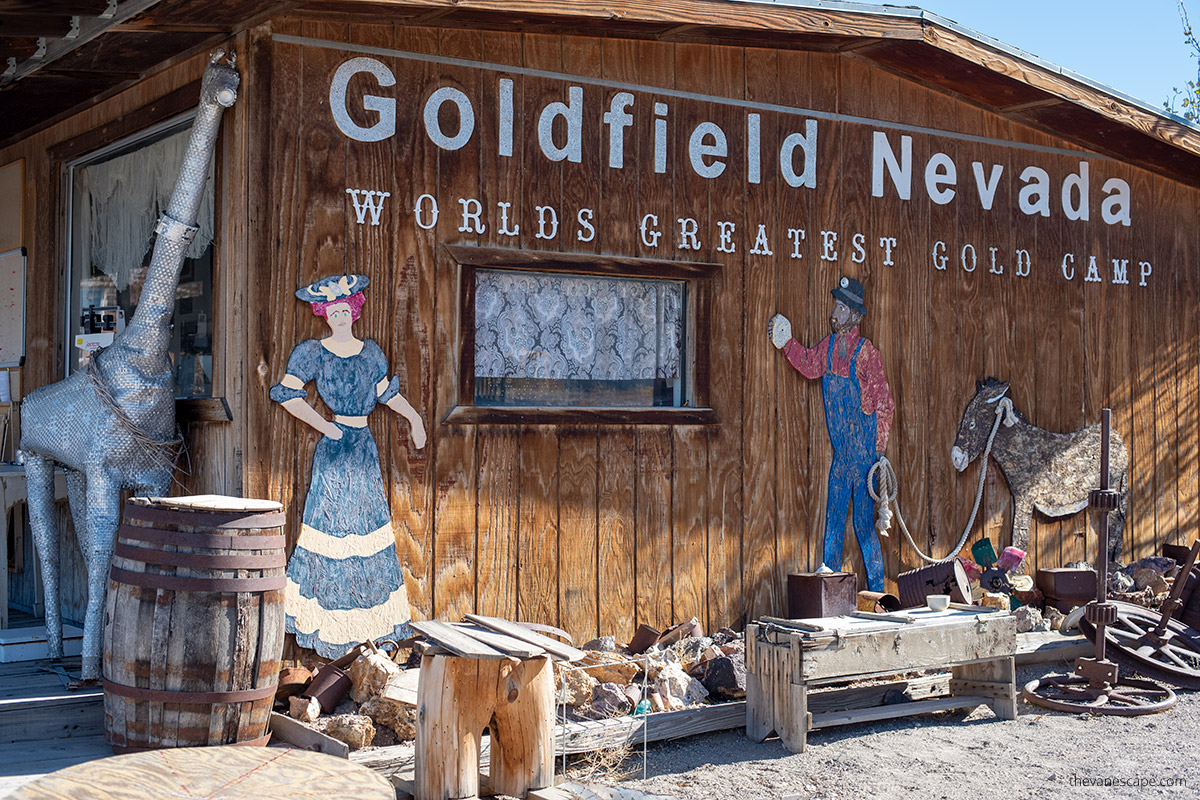 Goldfield Nevada – Our Experience
During our 8-month RV road trip from Alaska to Florida, we stumbled upon Goldfield, Nevada, a town we had never heard of before. We were heading from the Shaniko Ghost Town in Oregon to Las Vegas. We made a stop at the Spencer Hot Springs in Nevada. The next day our route took us through this quirky town, where we were amazed by the odd buildings, piles of old cars, dolls, toys, and flags. We decided to take a break and explore the area on foot. First, we had no idea this town was once a hub for gold mining during the Gold Rush. The roadside junk was the most noticeable thing. Curiosity was piqued, and we went into a gift shop to inquire about the Goldfield town's history.
We were surprised to learn that it used to be one of the largest gold mining towns. So we grabbed our cameras and looked for traces of the gold rush in Goldfield. Below we share the facts we learned about the city and tips on how to get there and what to do there.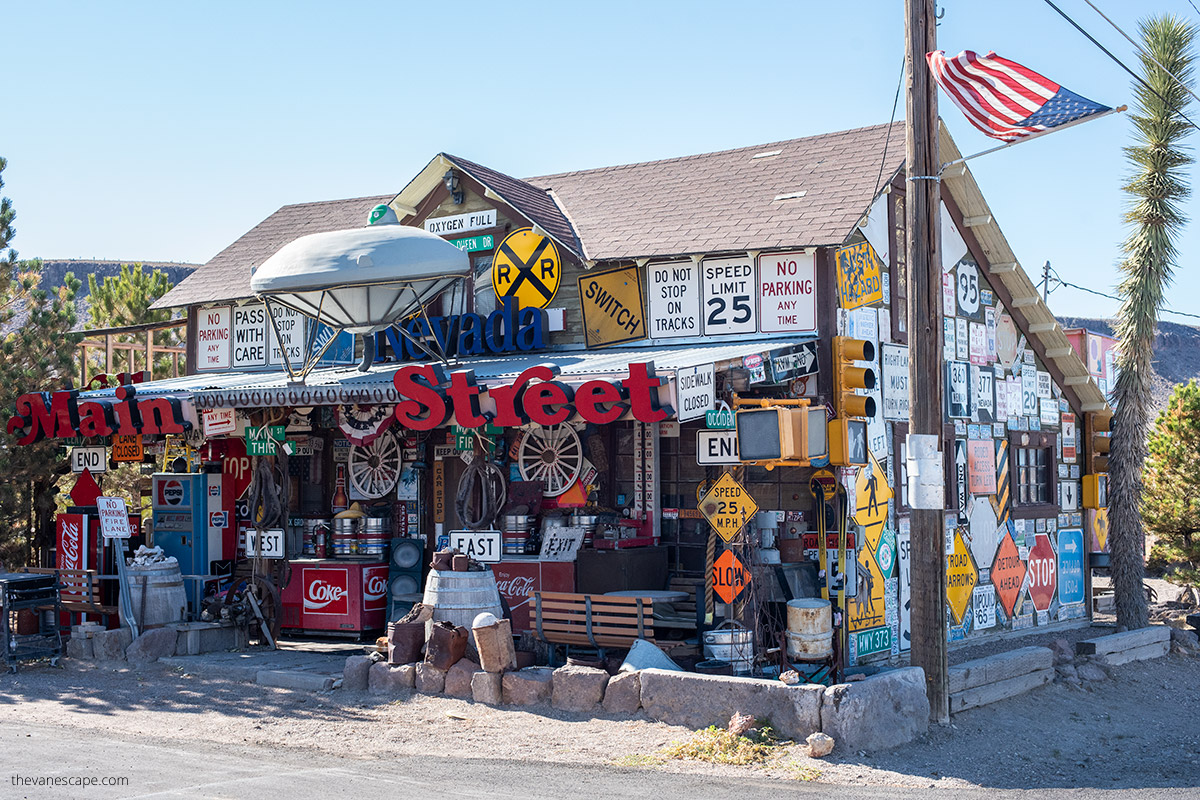 Where Is Goldfield, Nevada?
Goldfield, located in the desert, is a small unincorporated city that serves as the county seat of Esmeralda County, Nevada. Situated on Veterans Memorial Highway, also known as U.S. Route 95, between Beatty and Tonopah, it is approximately 185 miles north of Las Vegas.
Directions to Goldfield NV
A day trip to Goldfield is an excellent idea while visiting Las Vegas. It's 184 miles north of Vegas via US-95 N/Veterans Memorial Hwy.
You can also combine a trip to Goldfield in Nevada while exploring Death Valley National Park. From the famous Zabriskie Point and Furnace Creek, it's only 110 miles.
It's also doable while visiting Yosemite National Park, and Tioga Road is open (only in summer months). When you reach the end of Tioga Road, it will be about 180 miles via Lee Vinning.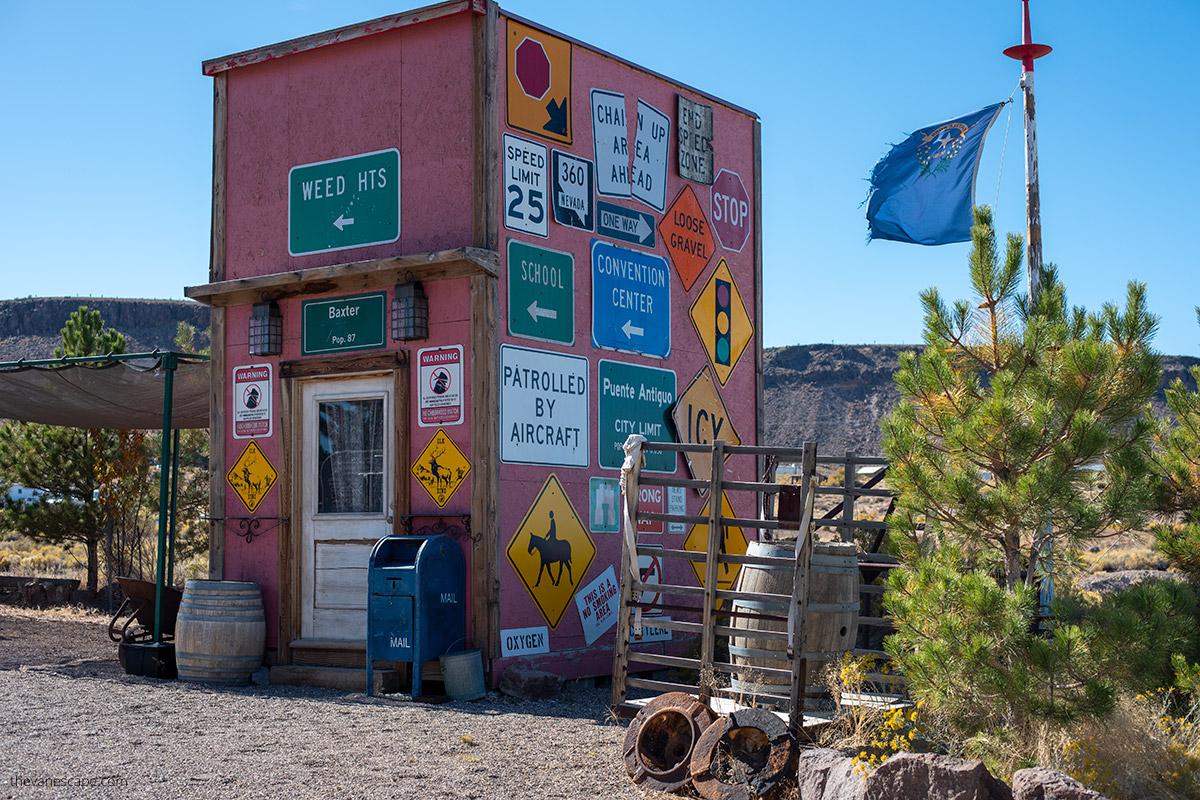 What is Goldfield in Nevada Famous For?
It's hard to believe, but Goldfield became Nevada's most significant and richest city after a major gold discovery in 1904. It had three newspapers, five banks, and a mining stock exchange. Additionally, Goldfield probably had the longest bar in the country – Tex Rickard's Northern Saloon. He employed 80 bartenders.
Goldfield, NV, used to be a bustling town with a population of approximately 20,000 during peak season. However, nowadays, it is considered a "living ghost town" with only around 200 residents.
What is the History of Goldfield, Nevada?
What Do They Mine in Goldfield, Nevada?
Goldfield earned its name from the abundance of gold that was mined from its rich deposits. Gold was discovered in 1904. Goldfield experienced remarkable prosperity due to the lucrative gold mines that generated an incredible $86 million worth of gold. During the time of the famous Gold Rush, it was one of the most famous cities of the Wild American West.
If you are interested in gold rush times in the US, you can also visit Calico Ghost Town and Bodie Ghost Town in neighboring California. Also, Alaska is renowned for its gold mining and abundant natural resources within the United States. If you're curious about the gold rush era and the extraction of valuable minerals, you may want to explore our articles on Independence Mine and Kennecott Mine in Alaska to gain insight into what early 20th-century gold and copper mines looked like. You may also be interested in the gold rush in Canada. Then check out our article on the legendary Dawson City.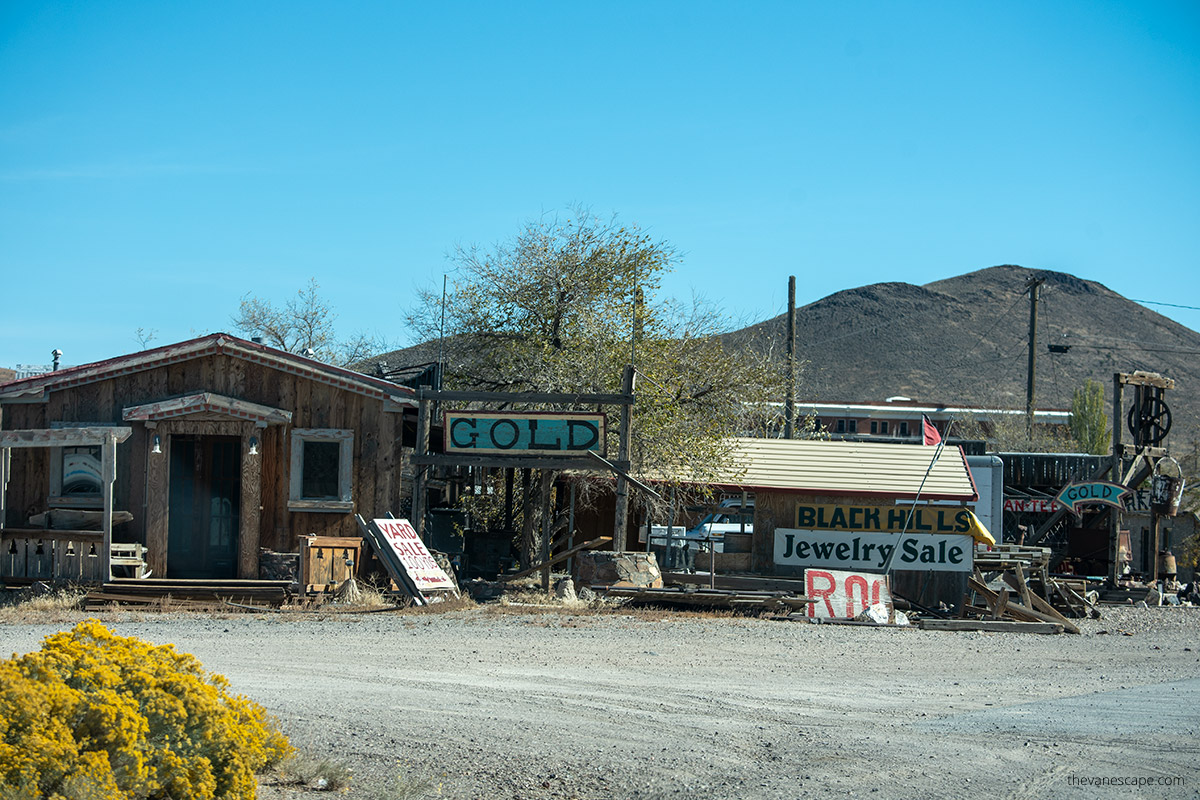 The Rise and Fall of Goldfield
For several years, Goldfield experienced a period of prosperity after the discovery of gold in 1904. It quickly became famous and was known as the World's Greatest Gold Camp. At its peak in 1906, the city boasted a population of 20,000. However, like all boomtowns, Goldfield eventually faced a decline. By 1910, most of its mines were severely declining, and the city's population dwindled to 1,500. Fortune seekers moved on to other opportunities elsewhere. To make matters worse, a flash flood hit in 1913, followed by a devastating fire in 1923.
Why is Goldfield in Nevada abandoned?
Goldfield faced its largest setback in 1912 when the biggest mining company departed. In 1913 there was a flash flood as well. However, a few years later, in 1923, the town was struck by an even greater tragedy when a moonshine distillery exploded, sparking a destructive fire that left only the brick and stone structures standing. Unfortunately, Goldfield never managed to recover from this devastating event fully.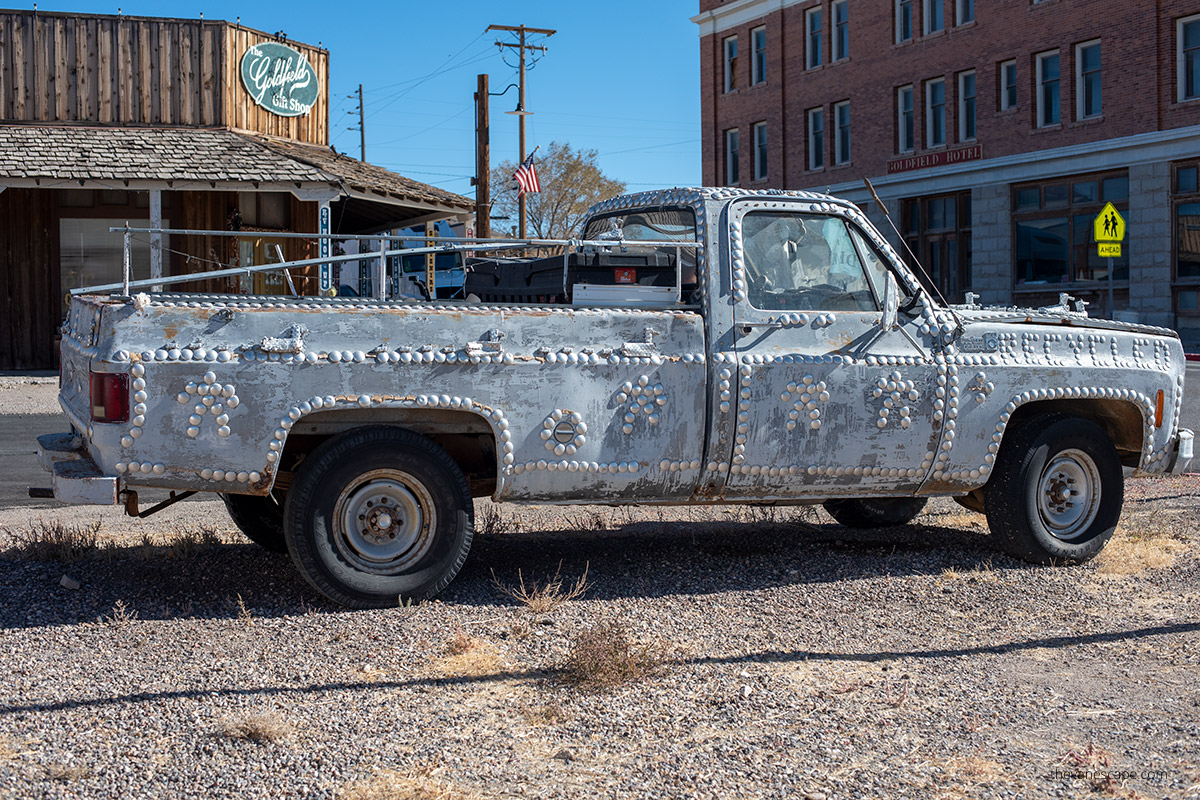 Notable Figures in Goldfield History
Goldfield was once home to several noteworthy residents, such as the well-known Nevada entrepreneur George Wingfield, the Earp brothers Virgil and Wyatt, Tex Rickard – an American boxing promoter, and future Senator Key Pittman.
Is Goldfield, Nevada, Haunted?
There have been rumors of ghosts haunting the Goldfield Nevada Ghost Town, but we were too afraid to stay overnight and find out for ourselves. If you are interested in the paranormal, you might want to check out a passionate website that covers all things ghostly in Goldfield. According to the site, paranormal experts have dubbed Goldfield as one of the most haunted places on Earth. Even popular TV shows like Ghost Hunters and Ghost Adventures have visited the notorious Goldfield Hotel and Goldfield Historic High School multiple times.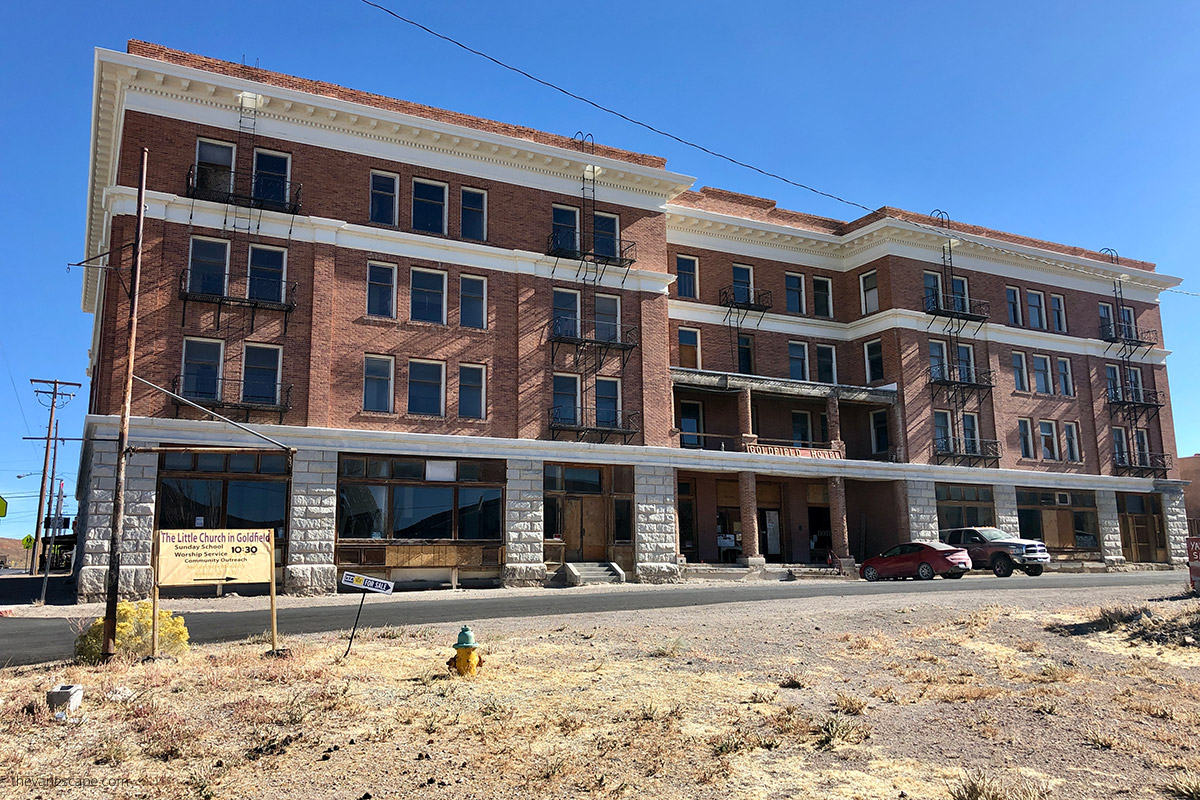 Top Things To Do in Goldfield NV
Visit Rocket Bob's Art Cars
When visiting Goldfield, don't forget to check out Rocket Bob's Art Cars. A longtime participant of Burning Man and resident of Goldfield, Rocket Bob's has quirky art cars that pay homage to the festival's early days. Three unique vehicles, decorated with numerous figurines, trinkets, a boat, and even the frame of another car, are prominently displayed along Goldfield's main street. Capture some tremendous eye-catching pictures while you're there.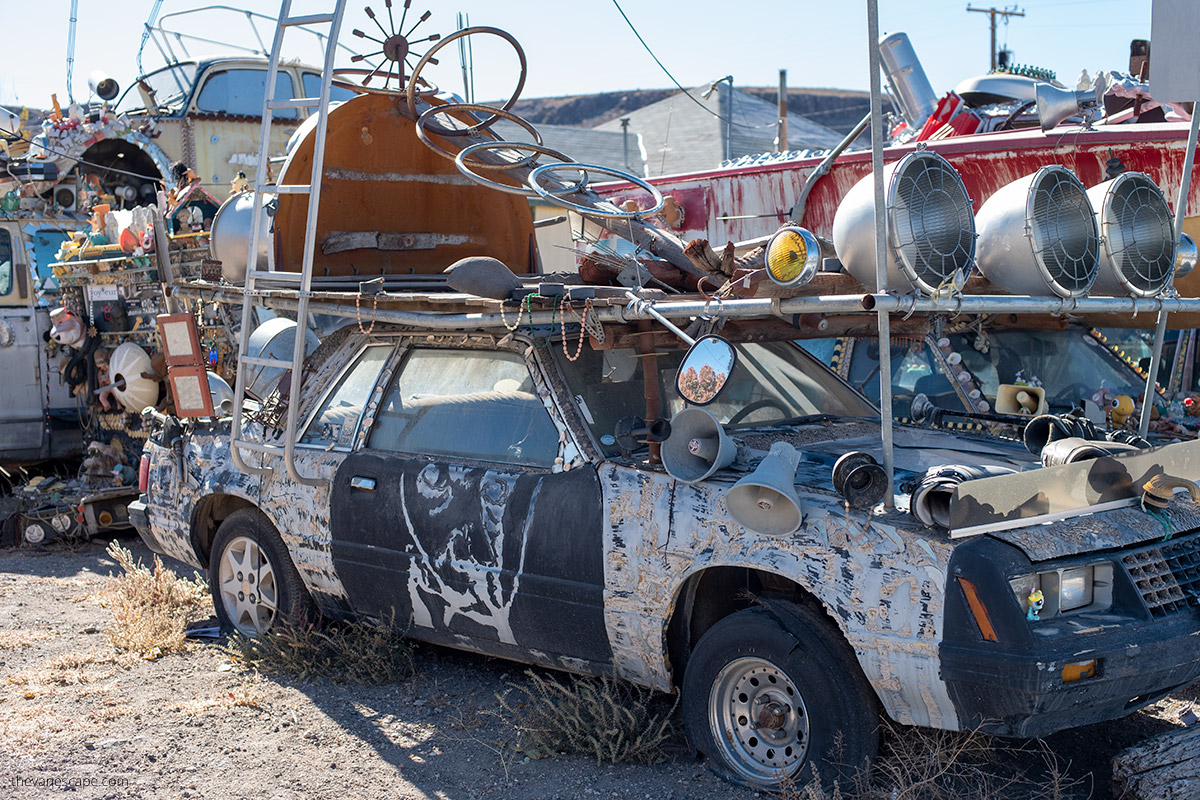 Check out the Haunted Location of Goldfield Hotel
The Goldfield Hotel is a remarkable establishment that has survived numerous natural disasters, including a devastating fire. It was once known as the most luxurious hotel between San Francisco and Denver, boasting 154 opulent rooms. According to the official website, champagne flowed down the grand staircase during its grand opening ceremony. Each room featured modern amenities such as telephones, electric lights, and heating, rare luxuries at the time. The lobby was paneled with mahogany and was adorned with crystal chandeliers, gold-leaf ceilings, and upholstered leather benches. The hotel even had an elevator, a rare extravagance of that era. The Goldfield Hotel has gained notoriety as one of the most haunted locations in Nevada. The ghost of Elizabeth, believed to be the mistress of George Wingfield, is the most well-known entity that haunts the hotel.
Take a Tour to Goldfield Historic High School
Goldfield experienced a population surge leading to the construction of four schools between 1906 and 1908. The renowned architect J.B. Randall designed one of these, which was an impressive three-story building. It boasted 12 classrooms, an auditorium, two offices, two bathrooms, four storage rooms, and a large attic. In its first year, a total of 125 students were enrolled and taught by 25 faculty members. Unfortunately, Goldfield's fortunes dwindled as the mines became less profitable. Three schools had closed by 1918. All classes were moved to the Goldfield Historic High School. By 1953, the school was abandoned due to a weakened foundation. The building is now often visited by ghost hunters who report paranormal sightings. You must make an appointment in advance to experience the Goldfield Historic High School tour.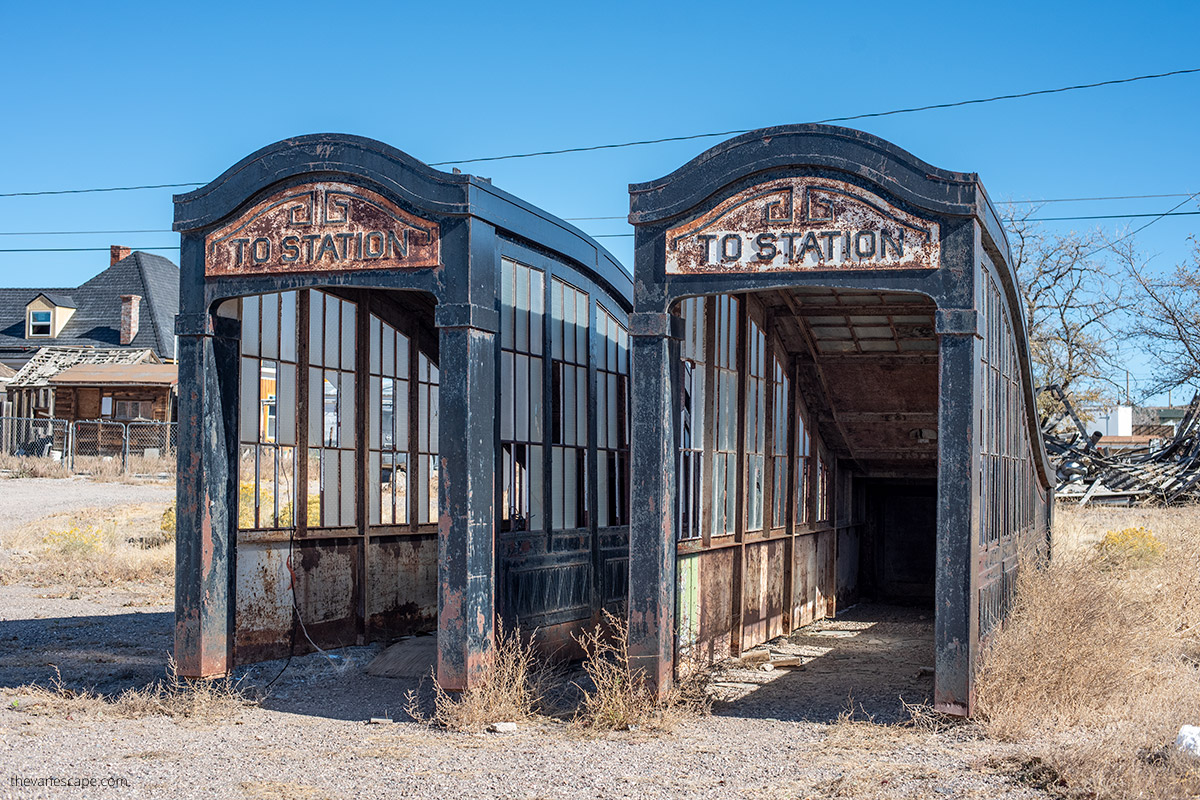 Visit the Santa Fe Saloon & Motel in Goldfield
The Santa Fe Saloon and Motel has little to do with Santa Fe in New Mexico but is a must-see when visiting Goldfield. The building was founded in 1905 and is one of the few that have survived. In the era of the gold rush, the inhabitants of this place lived extravagantly, spending their well-earned money at the Santa Fe Saloon, previously known as the Santa Fe Club. You can appreciate historical artifacts such as Julia Bulette's bathtub and authentic Goldfield mining claims. You may even encounter "Nevada's Meanest Bartender" while you're there.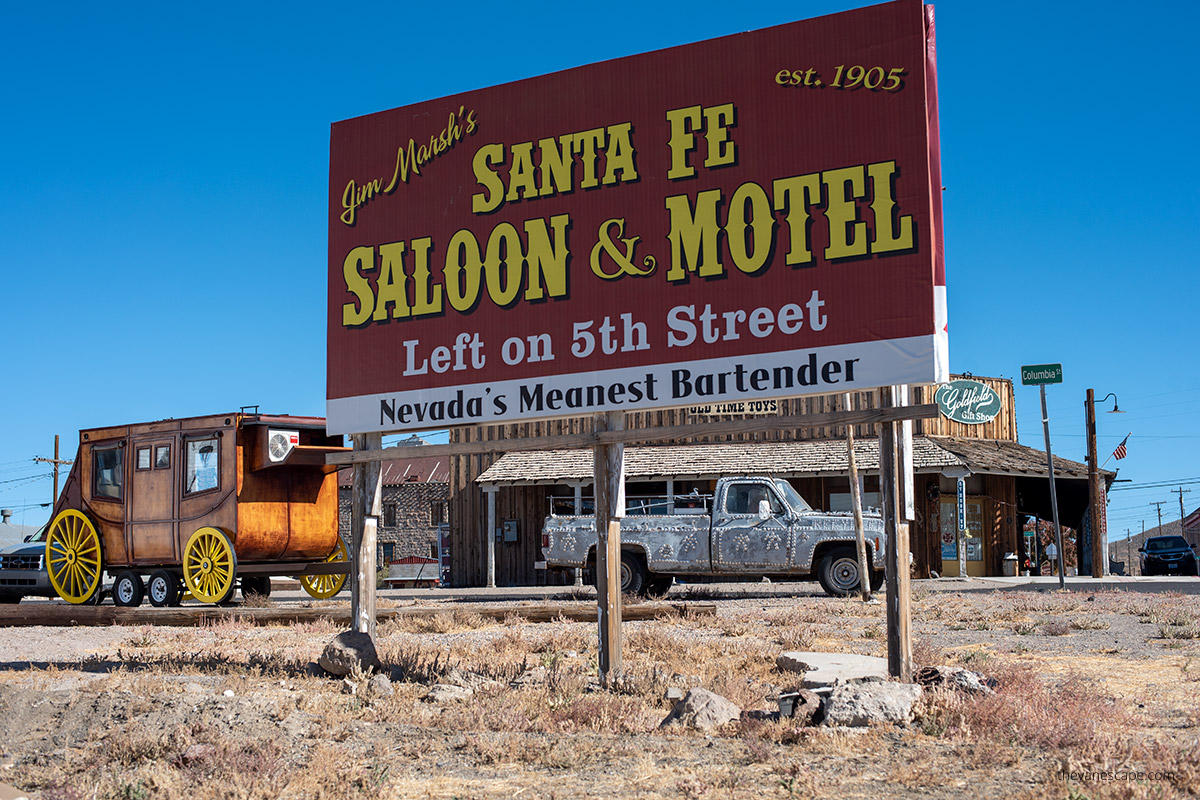 Stay in Goldfield Stop Inn
If you want to stay overnight in Goldfield Nevada Ghost Town to see if the town is haunted and there are ghosts, you can stay at the Goldfield Stop Inn. This rustic wooden stop is reminiscent of the Old West and serves as a trading post for souvenirs, antiques, and jewelry. After sundown, you can enjoy a comfortable stay in one of their three cozy rooms – Pearl's Place and Rosie's Room – adorned with antique queen beds, handmade quilts, historically furnished bathrooms, and modern amenities.
Eat at Dinky Diner
If you are hungry, there is only one place to eat in Goldfield. It's a family-operated Dinky Diner. They serve various classic breakfast dishes, including omelets, chicken-fried steaks, french toast, and burritos. Post noon, one can relish quarter-pound burgers, wraps, hot and cold sandwiches, Mexican delicacies, fried chicken, and more.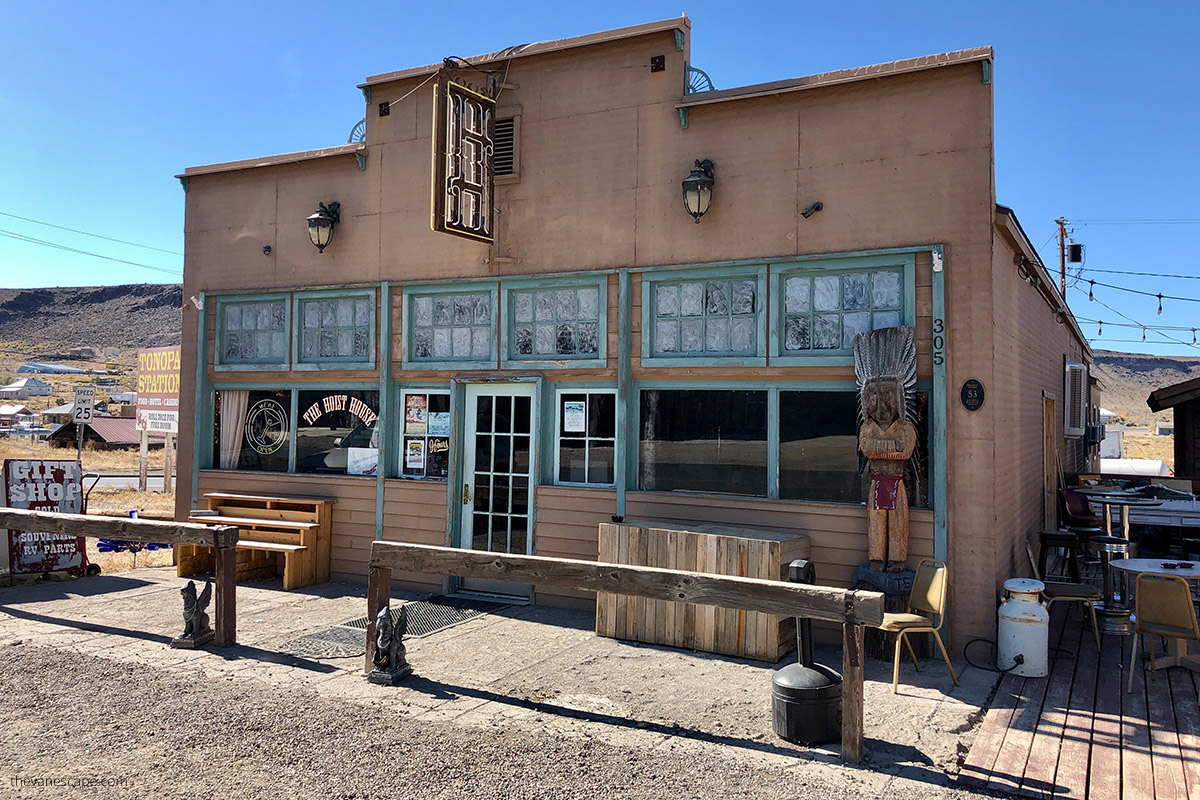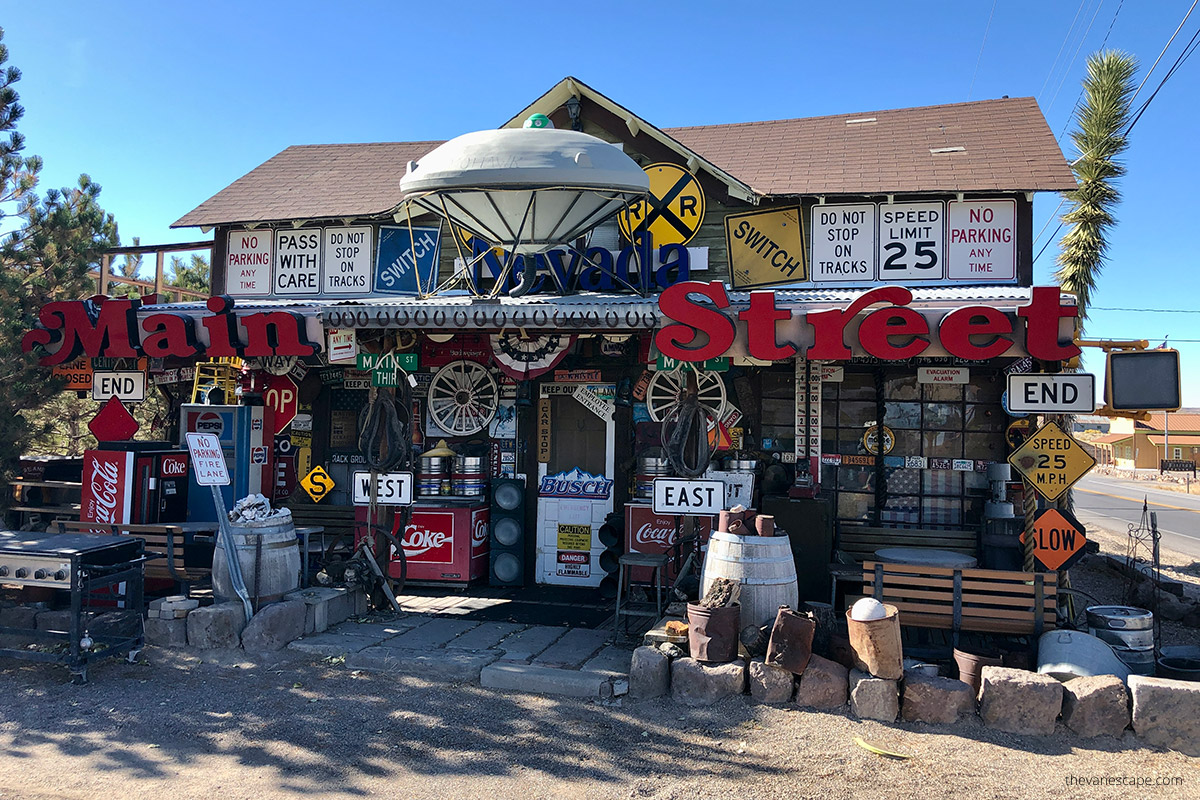 Check out Goldfield Historic Cemetery
Be sure to visit the Goldfield Historic Cemetery. You can explore the unique history of its past residents. The official website offers fascinating details, including various unusual epitaphs that chronicle the untimely mining-era demises. One memorable inscription reads, "Unknown man died eating library paste." The cemetery initially sat in the town center, beside the railroad platform. When town leaders realized that passengers shouldn't be boarding beside graves, the "Official Ghouls" formed to relocate the buried to a new location outside of town. They completed their work by night, and their story added to the area's colorful history.
Visit the International Car Forest of the Las Church
If you happen to be in Goldfield, don't miss the opportunity to explore the renowned International Car Forest of the Last Church. This unconventional sculpture garden features a variety of cars, trucks, and vans, some of which are stacked or protruding from the ground.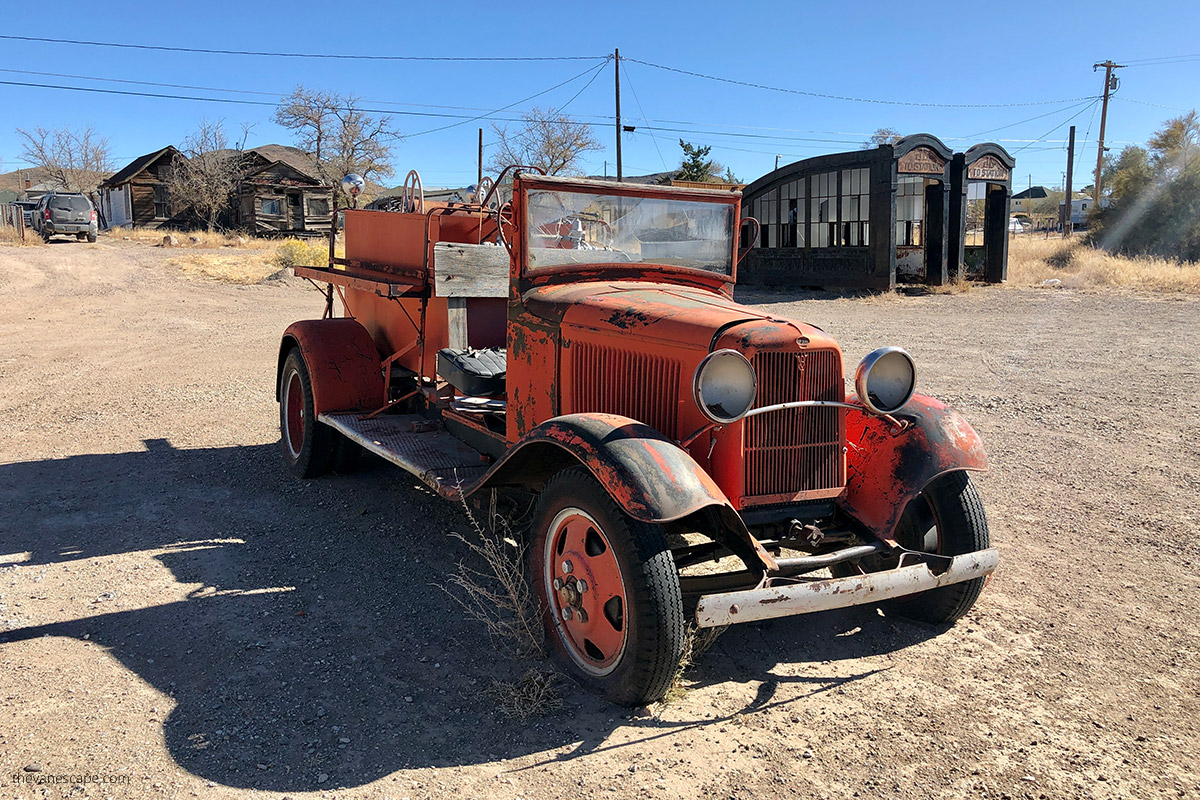 Participate in Goldfield Days Celebration and Land Auction
Goldfield Nevada Ghost Town is a Living Ghost Town that still has residents. And once a year, it gets pretty busy and fun there. Goldfield Days are held in August. The town fills up with locals and visitors celebrating their event. The festival exudes the Wild West spirit of old times. It offers a range of activities, such as a parade, a land auction, and a period costume contest. You can take ghost tours of the Goldfield Historic High School and Historic Goldfield Hotel. Moreover, you can enjoy a poker walk and a legendary land auction. Guests can also witness Wild West gunfights, enjoy live music, and savor Western BBQ. We personally enjoyed Wild West gunfights during a similar event in Tombstone, Arizona. We had a great time.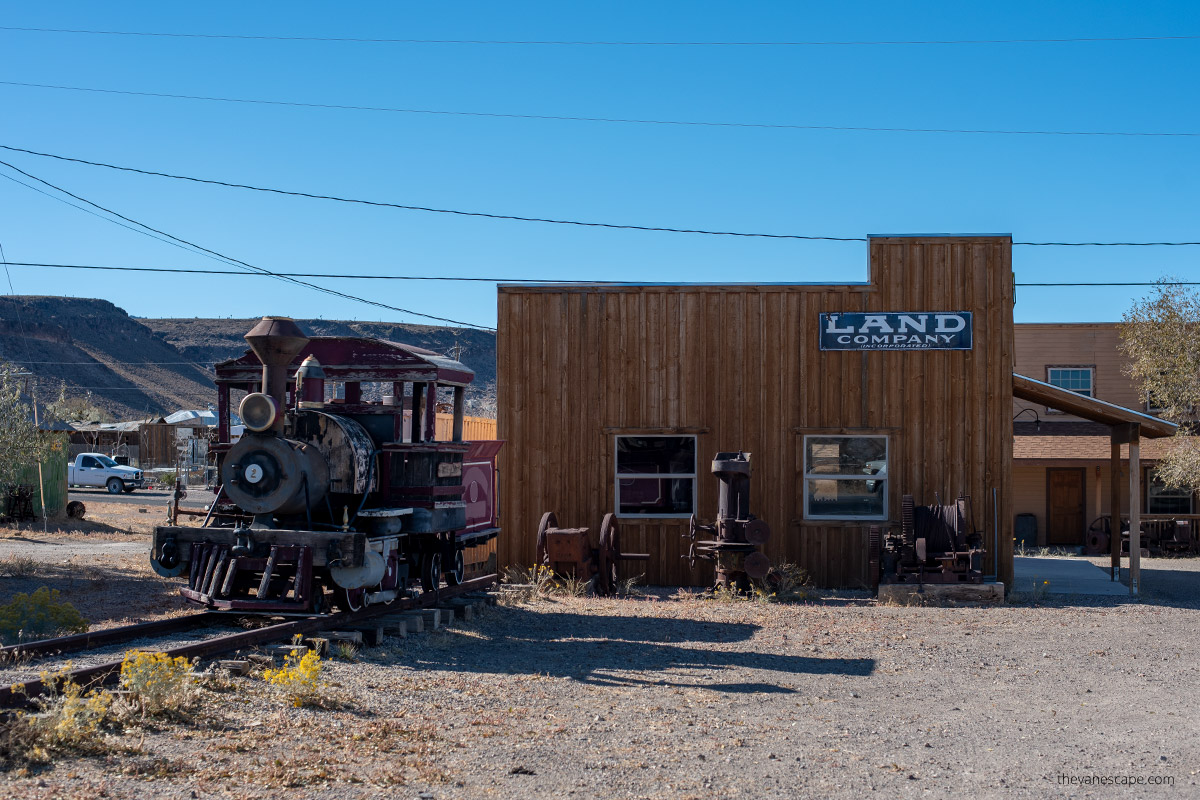 Final Thoughts of Goldfield Nevada Ghost Town
If you happen to be traveling through Nevada and enjoy exploring unique and a bit quirky places with a hint of the paranormal, consider adding Goldfield Nevada Ghost Town to your itinerary. This city boasts a fascinating history and striking architecture that will catch your eye. Take some time to chat with the friendly locals, check out the recommended sites, and search for remnants of the gold rush to make the most of your visit.