Visiting Bodie Ghost Town is the most authentic way to experience the scene of the California Gold Rush. Located in the Bodie Hills east of the Sierra Nevada in Mono County, it's the perfect idea for a day trip if you are in the Lake Tahoe or Yosemite National Park area. So check out our tips and photos of Bodie State Historic Park. You'll learn everything you need to know before the trip.
This article may contain affiliate / compensated links. For full information, please see our disclaimer here.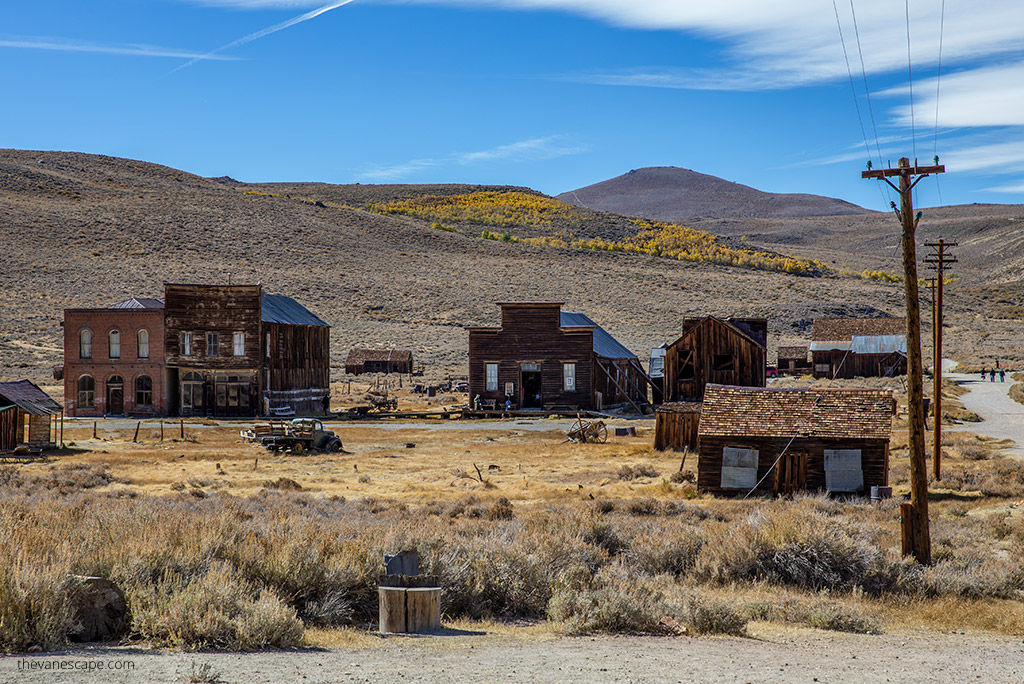 What is Bodie Ghost Town?
The abandoned town of Bodie is a remarkable open-air museum and a perfect representation of the California Gold Rush with all its ups and downs. Today it is managed by Bodie State Historic Park. While visiting Bodie Ghost Town, you can admire a total of 170 buildings remaining from the gold rush times. Bodie is an authentic Wild West ghost town worth visiting during a California road trip. If you plan to travel to California, add this place to your bucket list.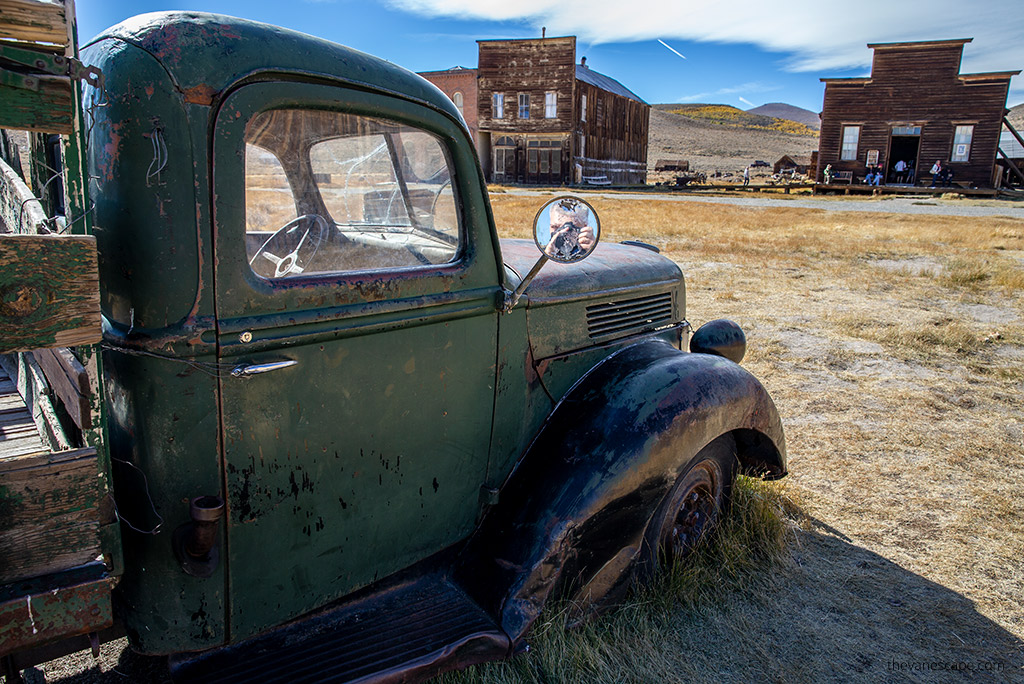 Where is Bodie Ghost Town?
Bodie is about 75 miles (121 km) southeast of Lake Tahoe and 12 miles (19 km) east-southeast of Bridgeport. It is only 45 miles (72 km) from Yosemite National Park – from the entrance gate east – Tioga Pass. Importantly, it is at an elevation of 8,379 feet (2554 m), so there is plenty of snow in the winter.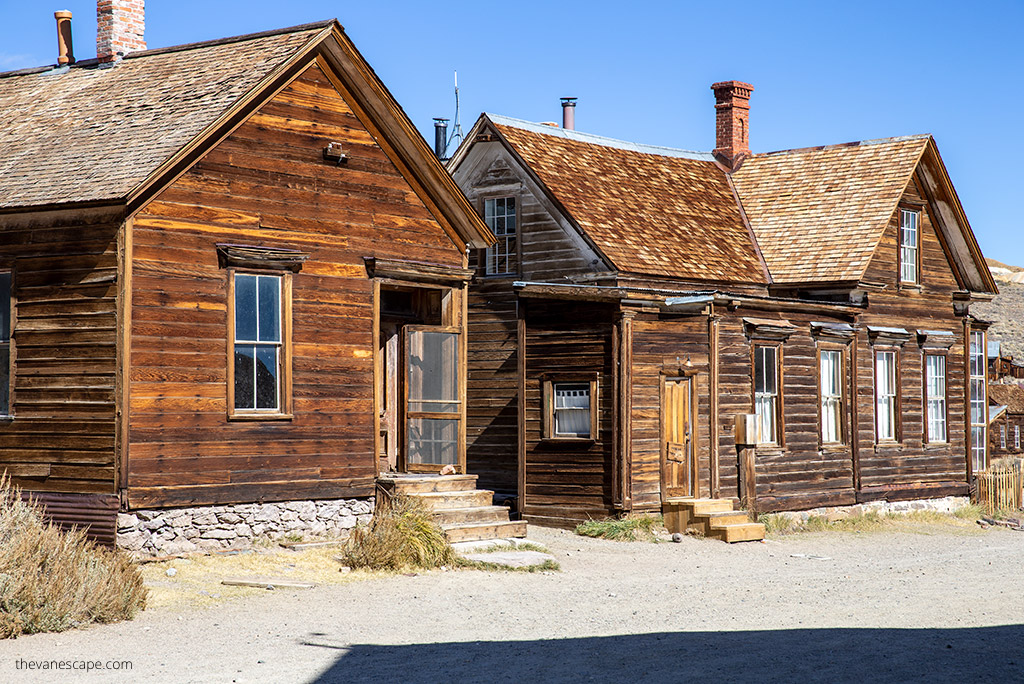 Bodie Ghost Town History
The town is named for Waterman S. Body (William Bodey), who discovered small amounts of gold in the hills north of Mono Lake. Bodie experienced its golden age in 1876 when a large vein of gold was discovered near it. The tiny town's population of only 20 grew to 10,000 within four years. From 1877 to 1882, Bodie produced more than $38 million in gold and silver.
The climate in the town of Bodie is almost wild. In summer, the sun blazes with its rays, and in winter (which begins in November), the houses are often covered with snow. There are severe frosts and strong winds.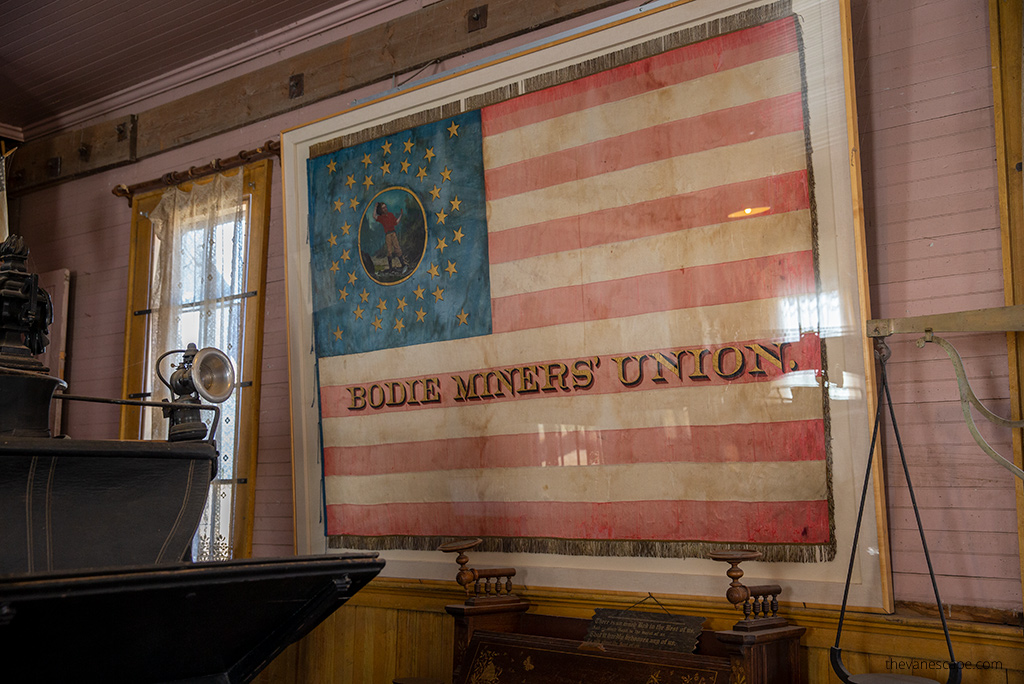 Nevertheless, in the peak years of its prosperity, Bodie had nearly 12,000 inhabitants, most of whom were employed in the nearby gold mine. During Bodie's heyday, residents had access to as many as 60 saloons along Main Street, casinos, churches, hotels, a railroad, and a jail. The Chinese had their own district in the town. It included a Taoist temple and an opium smoking room. The town quickly gained notoriety. Bodie was known for its lousy climate, rogues, brawls in the saloons, and the worst whiskey in the world.
Bodie's decline began in 1880 when the previously very prosperous gold miners began to mine the increasingly less valuable metal. The last census in 1940 counted only 90 people. By 1950, no one lived in this town, which was soon officially called Ghost Town.
Pro Tip: If you like ghost towns, check out the book Ghost Towns of the West to find more inspirations!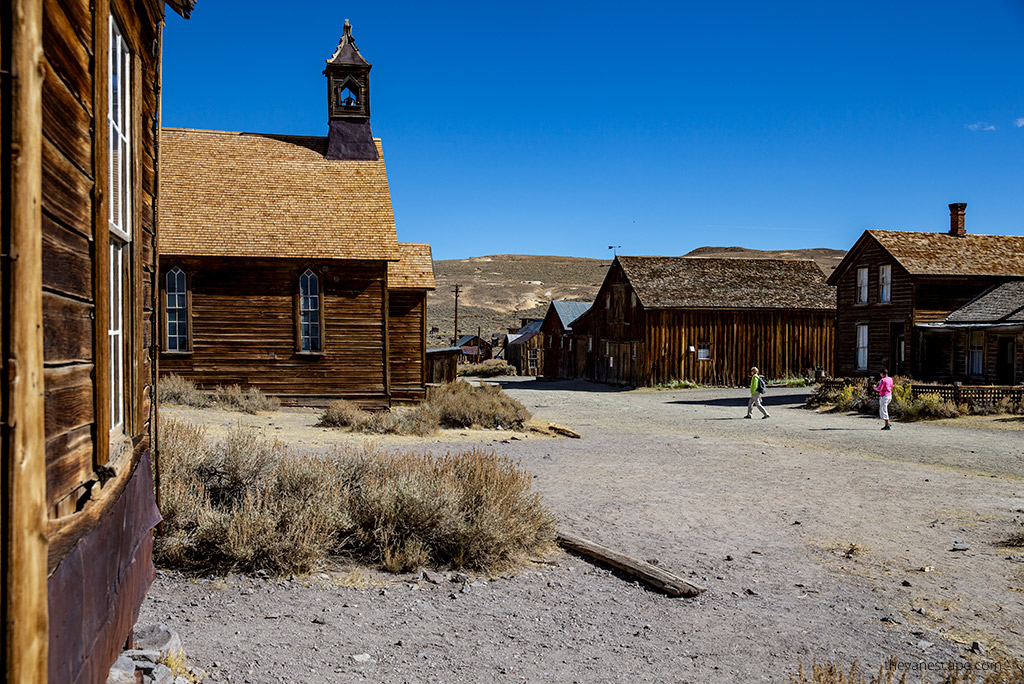 Bodie Ghost Town Today
The town of Bodie was designated a National Historic Landmark in 1961. In addition, Bodie State Historic Park was established in 1962 with 170 buildings from the Gold Rush era. Bodie was designated California's official Gold Rush ghost town. It's open to the public, and you can visit it.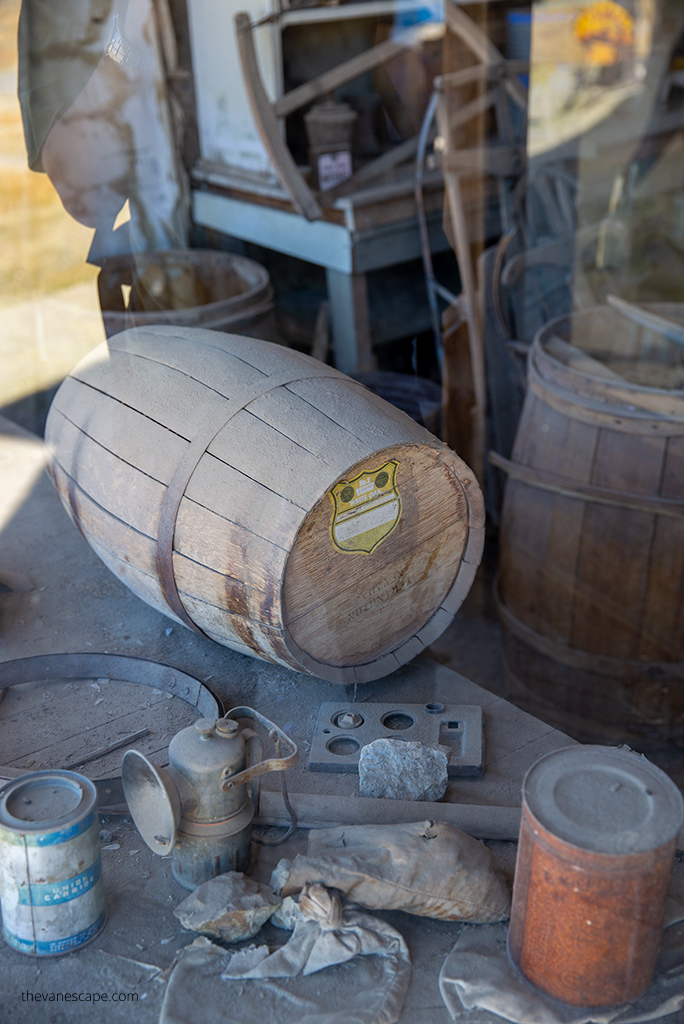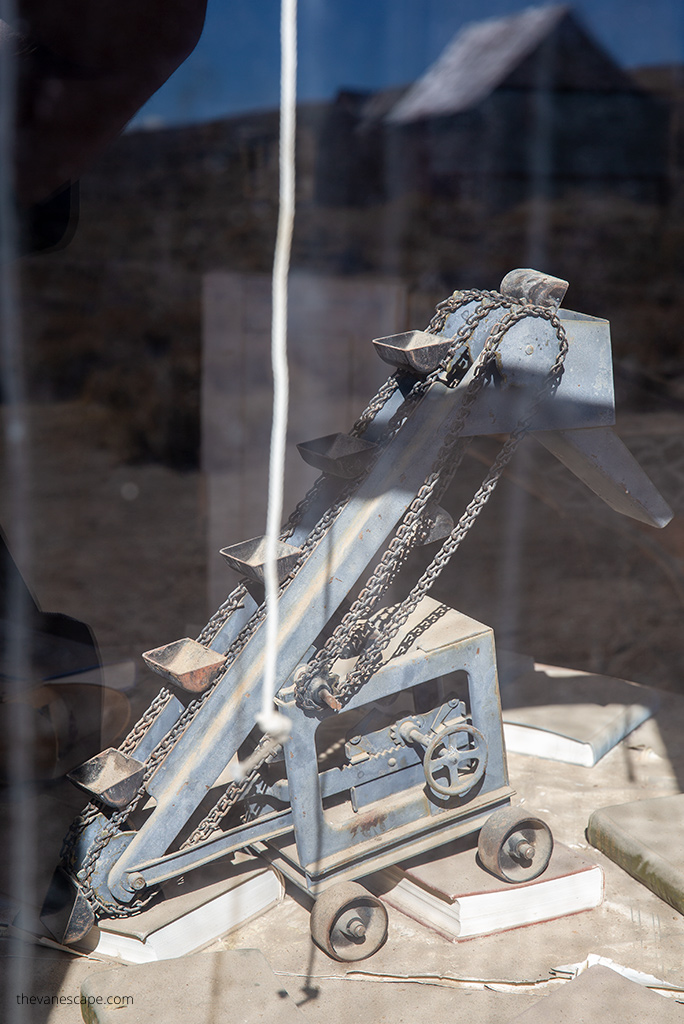 Is Bodie Worth Visiting?
Bodie State Historic Park is worth a visit if you are in this part of California. It is one of the best-preserved and most fascinating ghost towns in California.
In addition, there are far fewer tourists than in Calico Ghost Town, located on the popular route between Las Vegas and Los Angeles. So without a doubt, you have a chance to travel back in time in Bodie. Bodie should definitely be on your list if you like abandoned places without tourists. Shaniko Ghost Town in Oregon is also in a similar climate.
There aren't many tourists here, but there aren't too many attractions. The Calico mentioned above offers the whole family an engaging educational and cultural offer. In Bodie Ghost Town, you can concentrate only on the old buildings, their architecture, and their history. However, see also the chapter below with things to do in Bodie, as some activities like tours and workshops are available for tourists.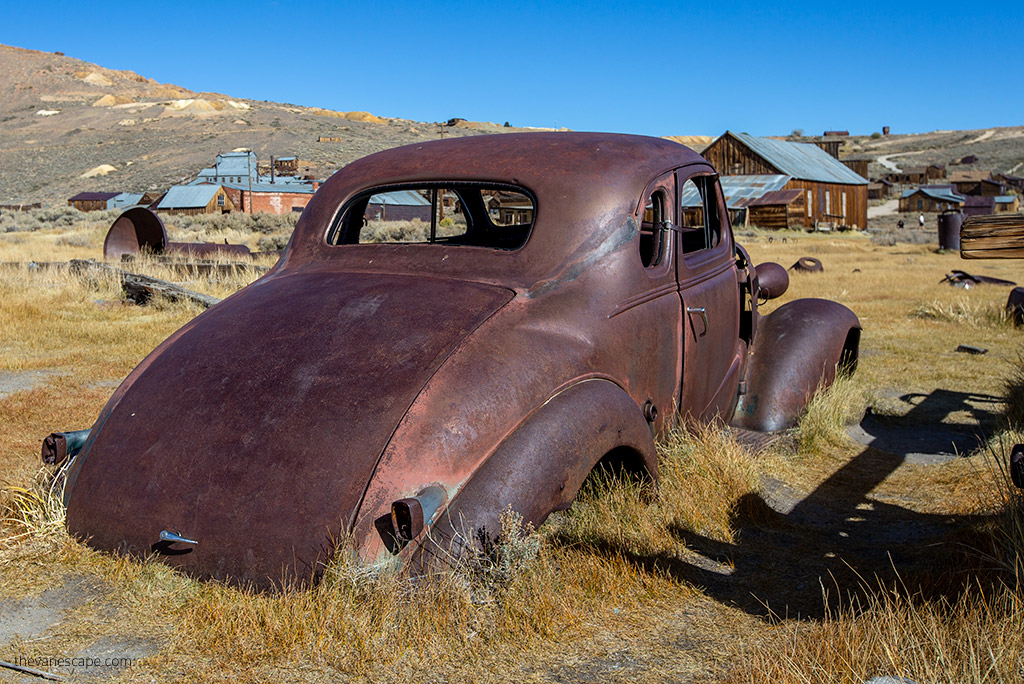 Tips for Exploring Bodie State Historic Park
Driving Directions to Bodie State Historic Park
The Bodie State Historic Park is northeast of Yosemite, 13 miles east of Highway 395 on Bodie Road, and seven miles south of Bridgeport. From U.S. 395, seven miles south of Bridgeport, take State Route 270. Go east 10 miles to the end of the pavement and continue 3 miles on an unsurfaced road to Bodie. The last 3 miles can, at times, be rough.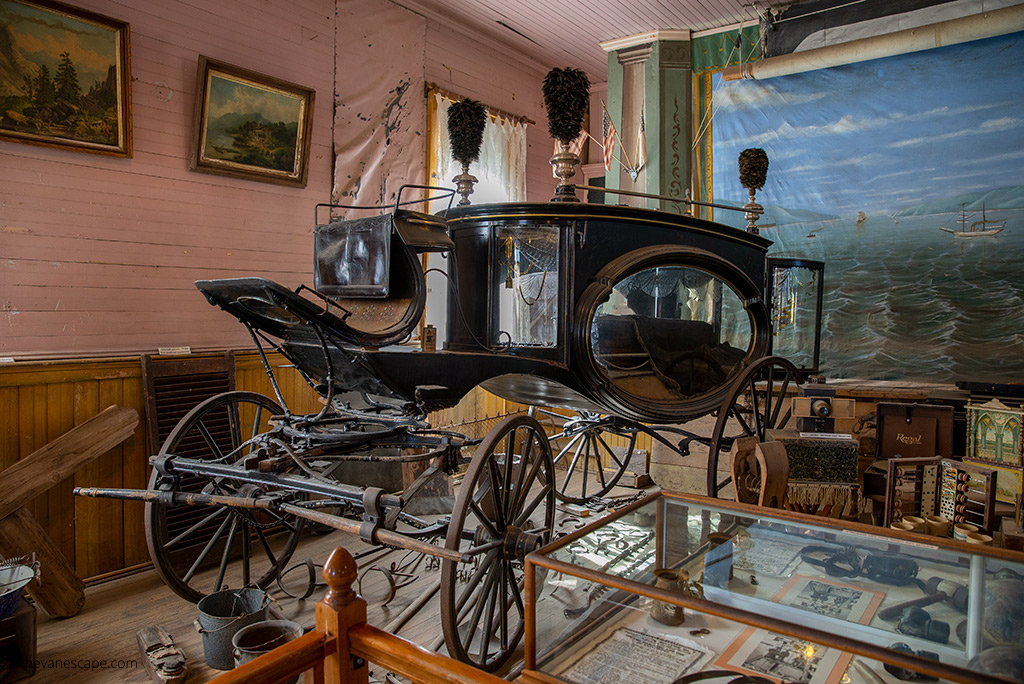 Bodie State Historic Park Entrance Fee
There is a fee for entering and visiting the historic town of Bodie:
Adults: $8.00 per person
Children: $5.00 per child (ages 4 to 17)
Infant: Free (ages 0-3)
You can also purchase for $3.00 Self Guided Tour Book
Bodie Ghost Town Hours
Park is open from 9 am to 6 pm during the Summer months (mid-May to the end of October).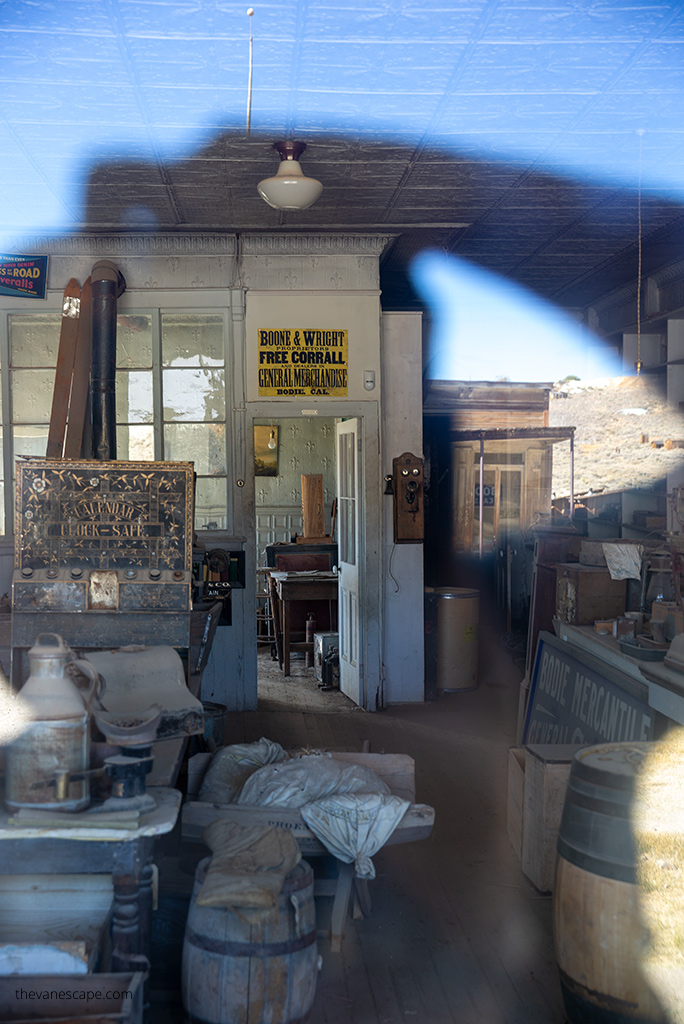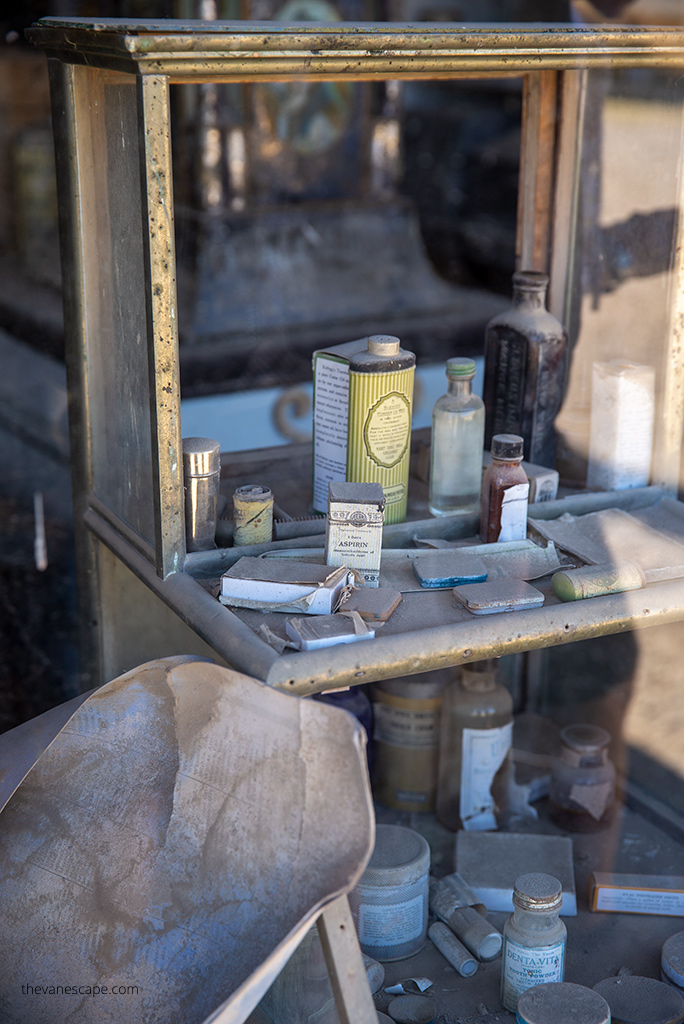 Is Bodie Ghost Town Open in Winter?
Yes, you can visit Bodie during the winter months as well. The park is open from 9 am to 3 pm in the winter (Nov 1st – May 14th).
But remember that roads at this elevation (8375 feet) are usually covered with snow and impassable in winter. The town is accessible only by skis, snowshoes, or snowmobiles during winter. Snowmobiles must remain on designated roads in the Bodie Hills. Below-freezing temperatures and high winds are typical in this area.
What is the Best Time to Visit Bodie?
The best times to visit the Bodie ghost town are late spring, summer, and fall. It can still be cold in March and April, and snow may still lie on the roads. Or the roads may be muddy after thaws. If you plan a summer visit, remember to take some water and protect yourself from the sun. Also, pack something warm in summer as the strong winds at this altitude are common. It is also worth packing a raincoat.
Pro Tip: Check the status on the official park website before your visit. Check SR 270 conditions on the Caltrans Road Information website or call 800-845-7922.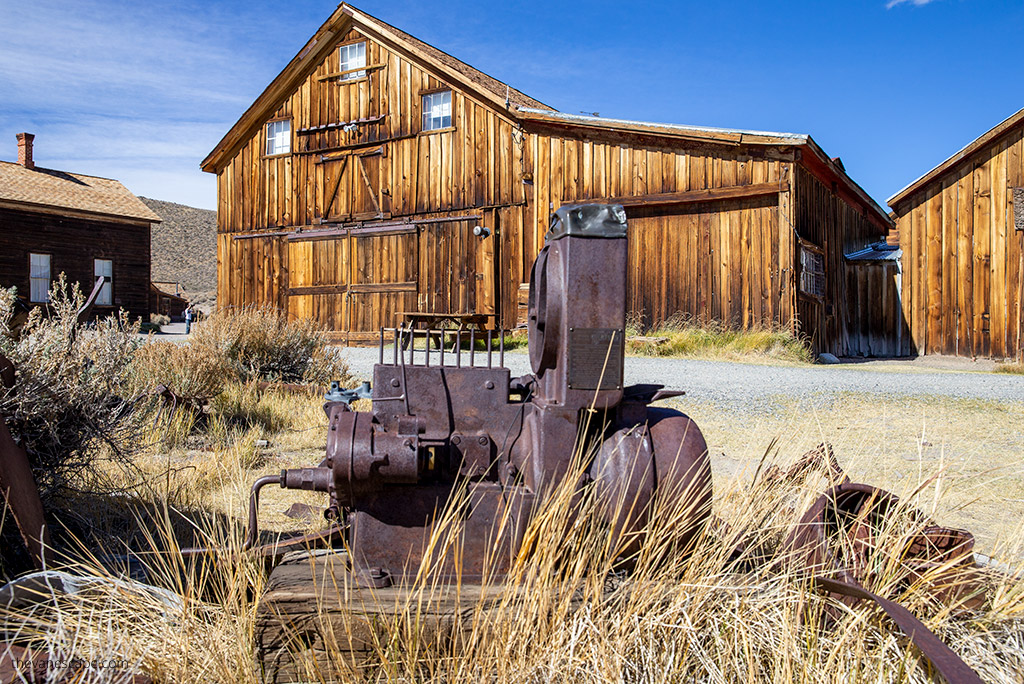 Bodie Ghost Town Safty Rules
Follow all rules in the park. Do not enter closed buildings. Do not enter closed areas. Walk only in designated locations and paths, as many buildings risk collapsing.
Dogs on leashes are allowed in the park but not in any historic buildings, including the Stamp Mill or the Museum. Please clean up after your pet.
Nothing may be collected or removed from the park. All items must remain in their place. Do not touch them or remove them.
Using drones in Bodie State Historic Park is prohibited by law.
Also, metal detectors are not allowed.
Our Tip: If you are interested in gold rush times, please check out our article about Goldfield in Nevada, one of the area's most important gold mining centers.
Bodie State Historic Park Facilities
There are no commercial facilities in Bodie, such as groceries or gasoline. So pack some snacks and water. Be sure to take all your trash with you. There is a bookstore in the museum where you can also inquire about daily tours. Restrooms (flush toilets) are located in the parking lot and picnic area. There is also limited cell service.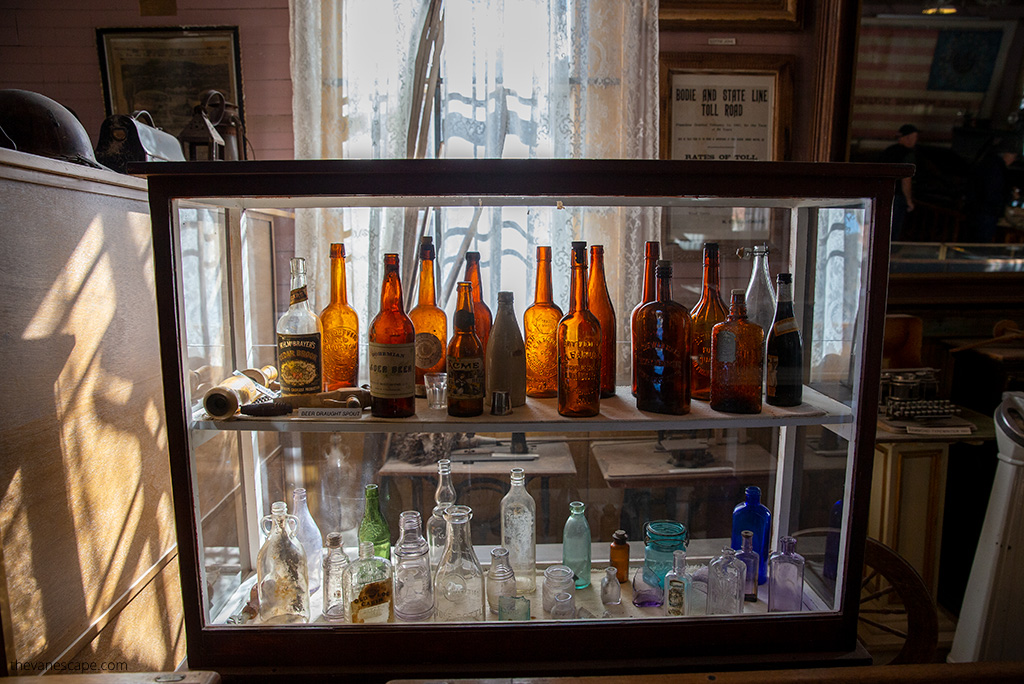 What to see in Bodie State Historic Park?
The buildings in Bodie Ghost Town are no longer in the best condition. Many are already badly damaged and in poor condition, so remember not to enter the forbidden places. But many of the buildings still look amazing and make a great impression. Be sure to also check out the cemetery just southeast of the main site. The most exciting places in Bodie that you can not miss are listed below.
J.S. Caine Residence
The finest house in the town of Bodie, with a glass porch, belonged to James Stuart Cain, who came to Bodie at the age of 25 and at first started a sawmill. In time, as he made some money supplying wood for railroad ties, he and his friend leased land from the mine. Within 90 days, they were mining $90,000 worth of gold at the time. The mine did not renew its lease, but Caine eventually became one of the largest landowners in the area. James Stuart's Cain house is inhabited by a real ghost called The Woman in the Window. From the second-floor window, a translucent figure likes to stare at tourists walking through the city streets.
Methodist Church
It is one of the most photographed buildings in the town. And one of the few that can be entered and admired from the inside. In 1882 residents built the Methodist Church and the Roman Catholic Church, which burned about 1930.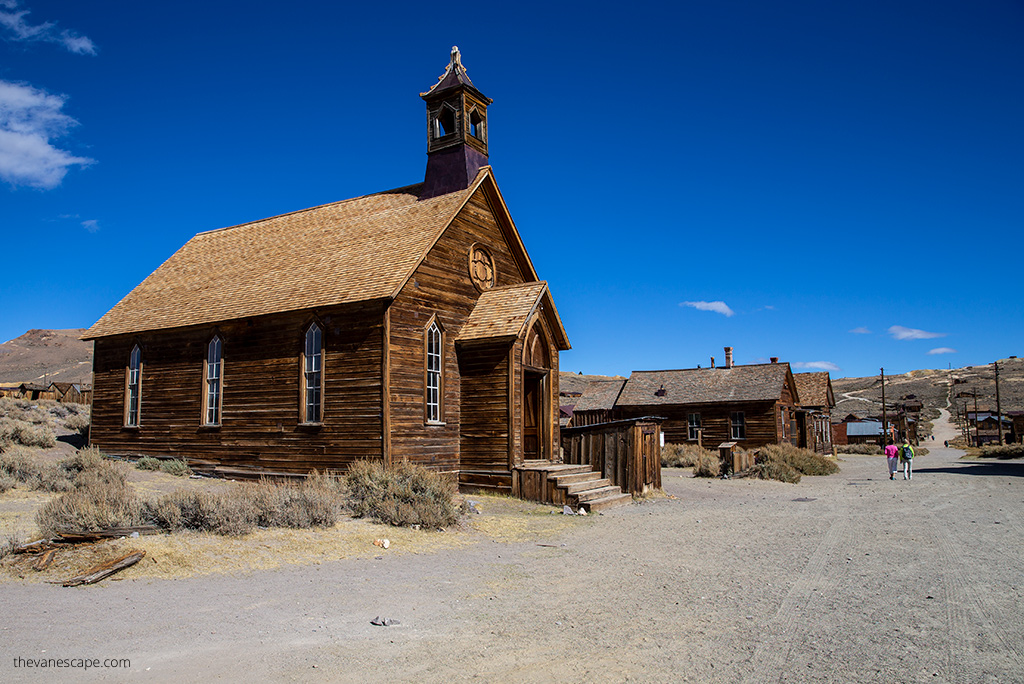 Boone Store & Warehouse
It was the largest General Store in Bodie, owned by Harvie Boone. It is also one of the most exciting places to take lovely photos, especially at the old gas station.
Stamp Mill
The Stamp Mill was the most profitable part of the mine. Here the whole process of processing the ore (gold and silver) supplied by the mine took place. It is best to visit this place with a guide to feel the special atmosphere of Bodie from its heyday. Guided tours take place only from the last day of May to the first week of September.
Bodie Bank
During the gold rush, there were more than a dozen bank buildings in Bodie. To date, only one brick safe has survived. Unfortunately, the wooden structure of the bank building has not withstood the test of time. It is worth noting that this is the only bank in town that has never been robbed.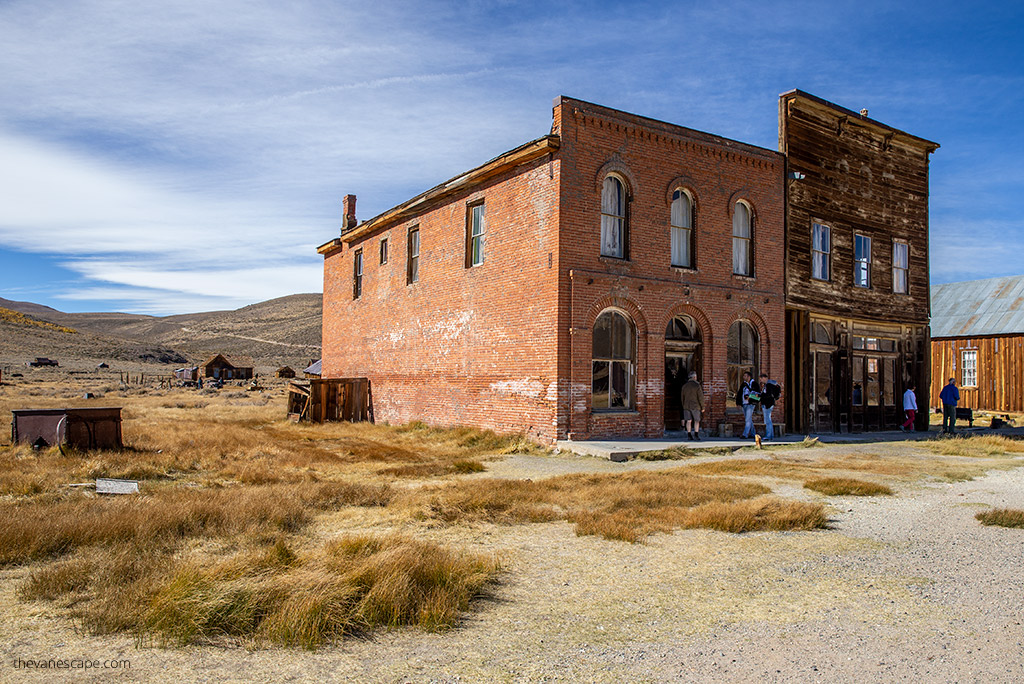 Things to Do in Bodie Ghost Town
In 2008, the Bodie Foundation was established by a small group of individuals committed to preserving Bodie. The Bodie Foundation is a nonprofit corporation dedicated to the preservation, interpretation, and public use of Bodie State Historic Park, Mono Lake Tufa State Natural Reserve, and Grover Hot Springs State Park. The Foundation organizes a lot of activities in Bodie. Check out the list below and choose something that fits your interests. The Bodie Foundation also operates the Bodie Mercantile store in Bridgeport. You can get information about the park and purchase unique gifts and souvenirs there.
Bodie Photography Workshops
Consider a photography workshop if you want to take attractive, amazing photos with Bodie. You will have the opportunity to take great shots in the Wild West scenery.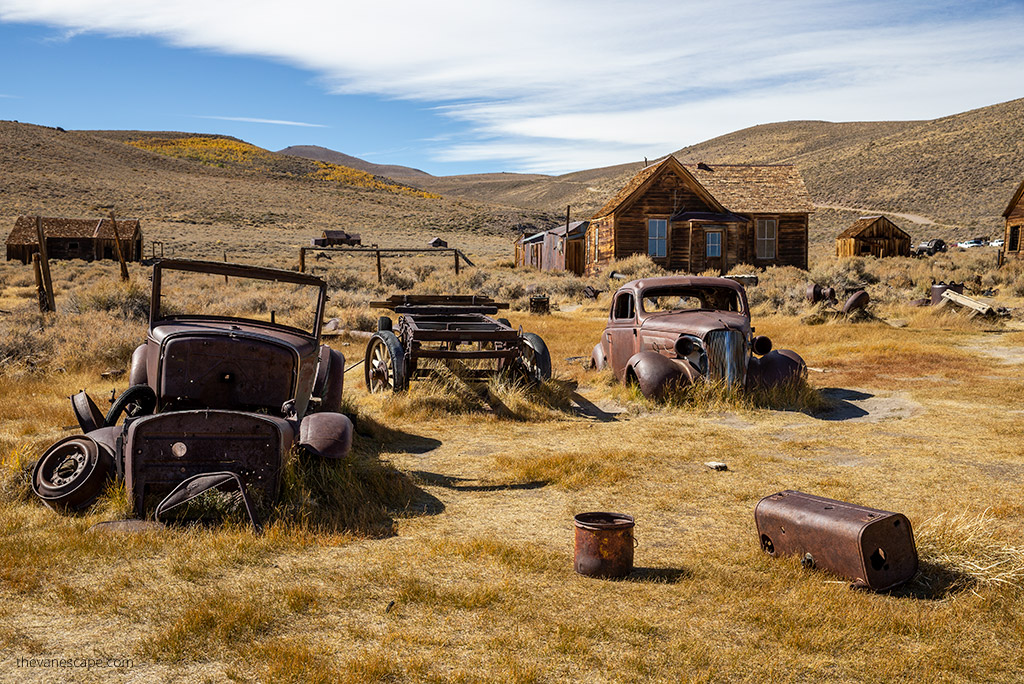 Bodie and Mono Lake Public & Private Tours
During the summer season, the Foundation also organizes guided tours. Please book them in advance. You can choose between different tours. The tours are offered from mid-May to mid-October.
Bodie Private Tours
You can book a two-hour private Bodie town tour. Another option is to enjoy the beautiful evening light during the Twilight Tours. This is excellent because you can visit the park after it closes, so there are no other tourists. During this tour, you will also see selected sights like the cemetery or the stamp mill. And if you have more time in the area, you can consider the Living at the Lake Tour. You will see the Mono Lake Tufa State Natural Reserve during this tour.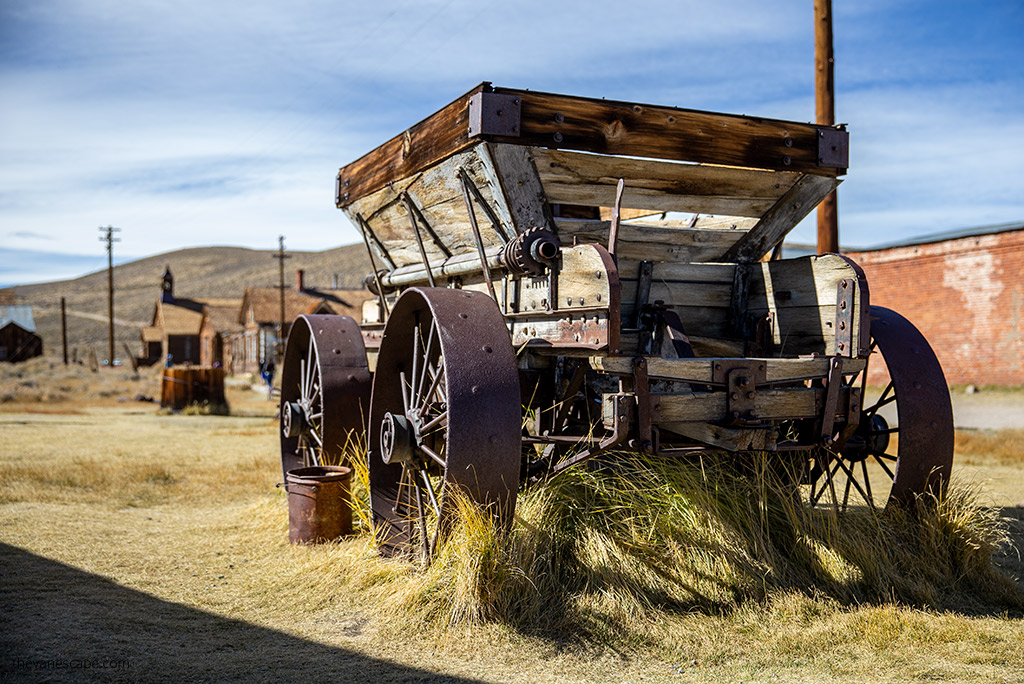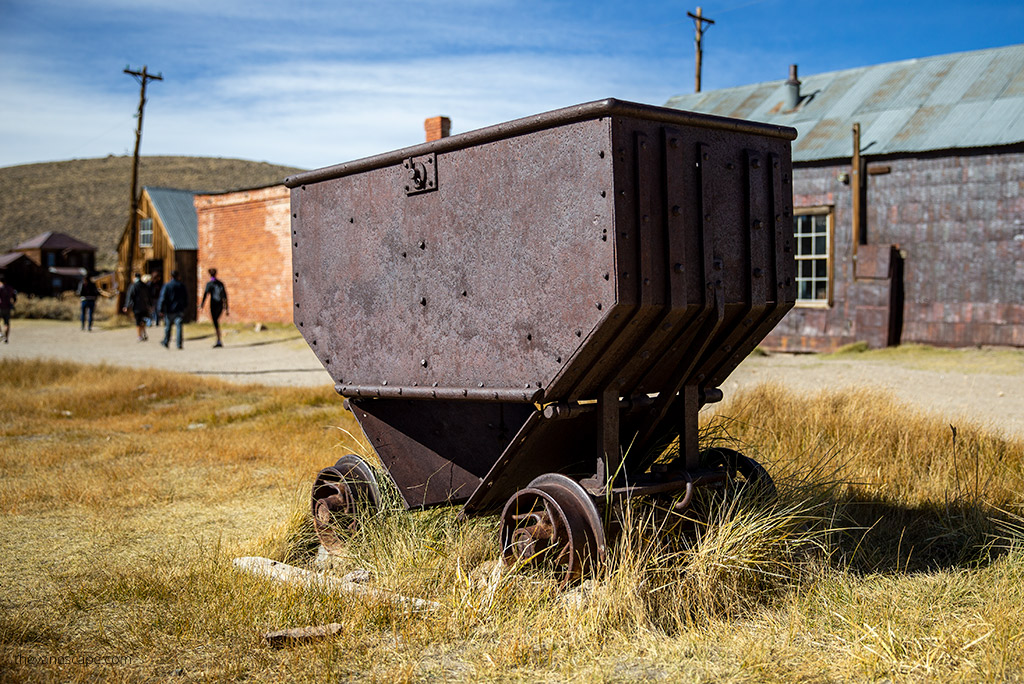 Bodie Public Tours
The Foundation also offers Daily Public Tours. Free History Talks are most days, at 10 a.m. and 4 p.m. Check details with Entrance Station or Museum.
What's more, there organized also Stamp Mill Tour. They are available most days at 11 a.m., 1 p.m., and 3 p.m. Visit Museum for tickets. The cost is $6 per person.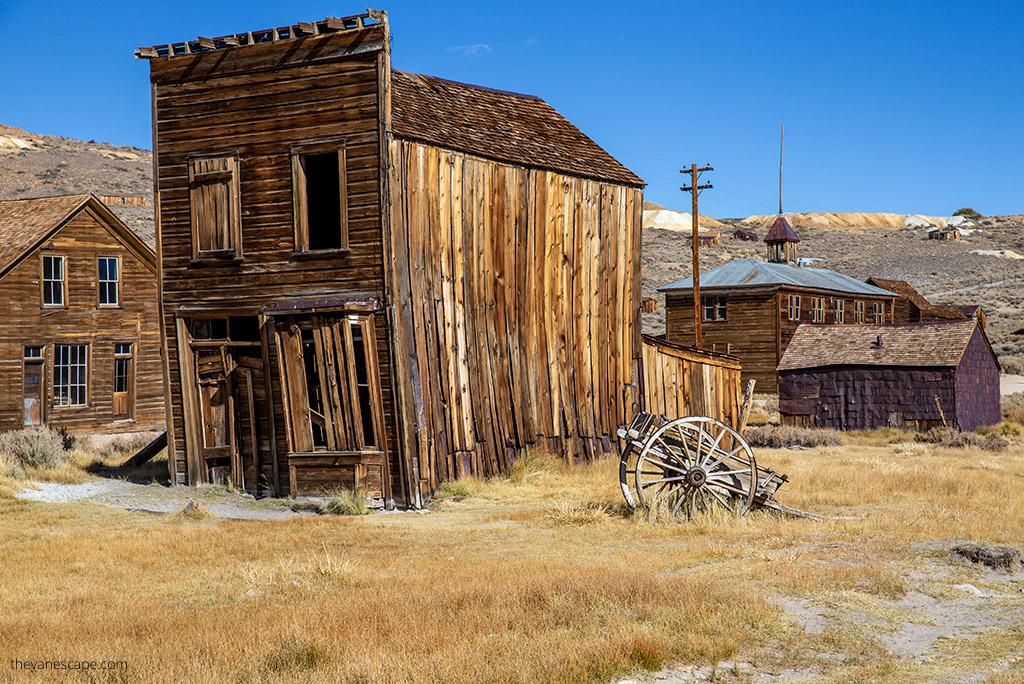 Where to Stay When Visiting Bodie?
Camping near Bodie
There is no campground in the Bodie State Historic Park, nor is it possible to stay overnight. However, if you travel in a van or RV, you can stay in public lands as part of BLM. Check BLM maps of the area. Private RV campgrounds exist in both Lee Vining and Bridgeport and surrounding areas. There are also US Forest Campgrounds along the west side of 395, such as Lundy Canyon, Virginia Creek, and Lower Twin Lakes.
Hotels near Bodie
The closest town where you can stay for a night is Bridgeport. Below you will find the best deals. The best way to explore Bodie Ghost Town is to combine it with a visit to Mono Lake, Yosemite National Park, or Lake Tahoe.
Do you like it? Pin it!