Yosemite in 2 days? Is it doable? How to visit this fantastic California national park in so little time? Are 2 days enough in Yosemite? How to plan a trip to see highlights? In our detailed Yosemite National Park itinerary, we help you cover Yosemite in 2 days. It's an excellent guide for first-timers to Yosemite. How to get there, when to visit, where to stay and eat, what to pack? Are permits and reservations required in Summer 2023? What are the best hiking trails in Yosemite? What are the most impressive overlooks? Where to stay for sunset and sunrise? You will find all answers and much more in our Yosemite 2 Day Itinerary.
This article may contain affiliate / compensated links. For full information, please see our disclaimer here.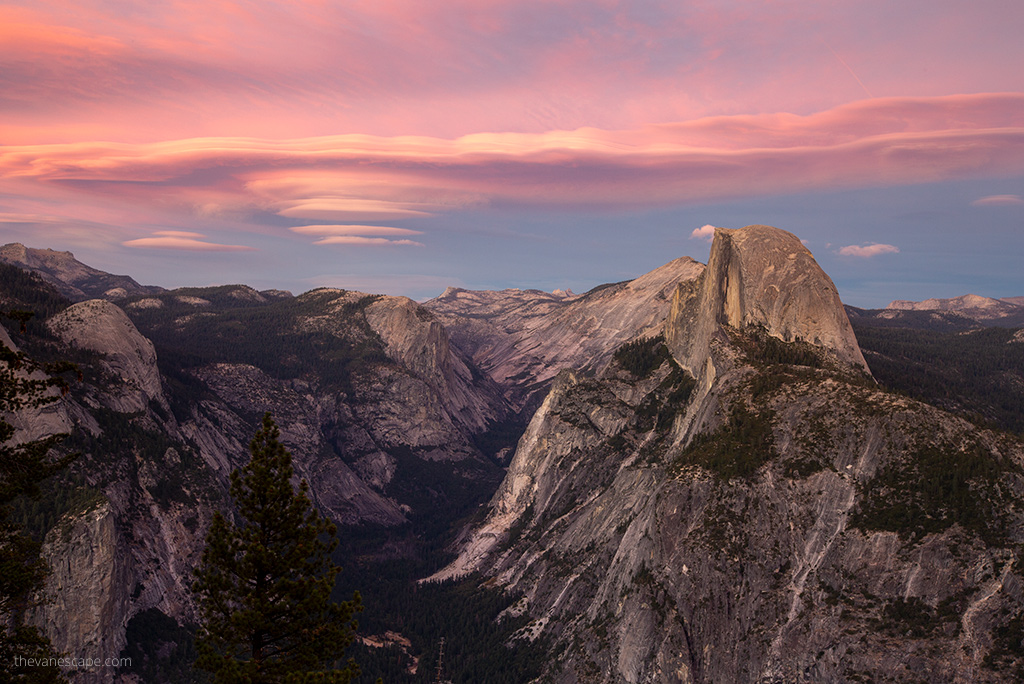 Why visit Yosemite National Park?
Yosemite is a pearl among U.S. national parks. This is one of the most beautiful parks, so add it to your California trip. It delights with its diversity and attracts several million tourists every year. The park is known for its granite cliffs, waterfalls, clear streams, giant sequoias, and biodiversity. Over 95% of the park's area is wilderness.
Moreover, Yosemite National Park is suitable for everyone. Mountain hiking enthusiasts will find fantastic trails with varying degrees of difficulty. Rock climbers can practice their skills on cliffs. Older adults or with disabilities or families with young children will enjoy a ride on the Yosemite Valley Scenic Loop. The viewpoints along the route through the park will leave you speechless. Finally, Yosemite is a photographer's paradise. Waterfalls, reflections of a magnificent mountain in the water, morning fog. Phenomenal sunrises and sunsets.
Our Yosemite itinerary will help you plan the most efficient way to spend your time in this crown jewel among U.S. national parks.
Most important facts about Yosemite National Park
Yosemite has been a national park since October 1, 1890.
What's more, Yosemite was designated a UNESCO World Heritage Site in 1984 and is world famous for its granite cliffs, waterfalls, clear streams, redwood forests, lakes, mountains, meadows, glaciers, and biological diversity.
Yosemite National Park covers an area of 759,620 acres (1,187 sq mi; 3,074 km2).
The most famous and beautiful part of the park is Yosemite Valley, which is home to famous tourist attractions such as Half Dome, El Capitan and Yosemite Falls. Glacier Road and Tioga Road provide seasonal access to other park areas outside the valley.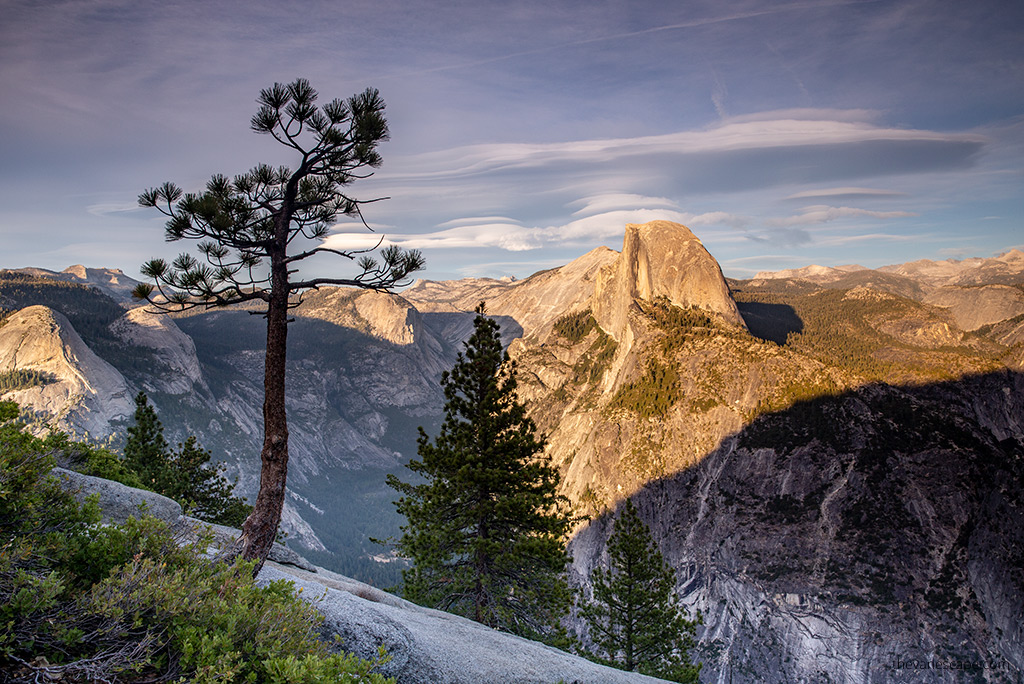 Yosemite 2 Day Itinerary – Important Before Your Trip
Are Reservations Required to enter Yosemite National Park in the Summer of 2023?
We have great news for you! There are no reservations to enter the park in 2023. According to the official NPS website, Reservations will not be required to visit Yosemite National Park during the summer of 2023. Reservations were required in the summers of 2020 and 2021 due to the pandemic and in the summer of 2022 when numerous key visitor attractions were closed for critical infrastructure repairs.
Campground Reservations are required in Yosemite
Plan it months in advance if you dream of camping in Yosemite National Park. It's a challenge to get a spot at the Yosemite campgrounds.
Yosemite National Park has 13 campgrounds, seven of which must be reserved via www.Recreation.gov. Reservations are essential from April through September. Even the campgrounds that operate on a first-come, first-served basis are usually full by noon or earlier from April through September.
Year-round reservations are required for Yosemite Valley car campgrounds and from summer through fall for Hodgdon Meadow, Crane Flat, Wawona, and half of Tuolumne Meadows. Reservations for campsites are available in blocks of one month at a time, up to five months in advance, on the 15th of each month at 7 am. Pacific time. Note that almost all reservations for May through September and some other weekends are filled the first day they become available, usually within seconds or minutes of 7 am.
You will find a detailed list of 13 campgrounds in Yosemite with details on booking requirements, opening seasons, a number of places, fees, elevation, and more on the park's official website.
Also, a wilderness permit is required year-round for backpacking, overnight climbing, or any other overnight stays in the Yosemite Wilderness.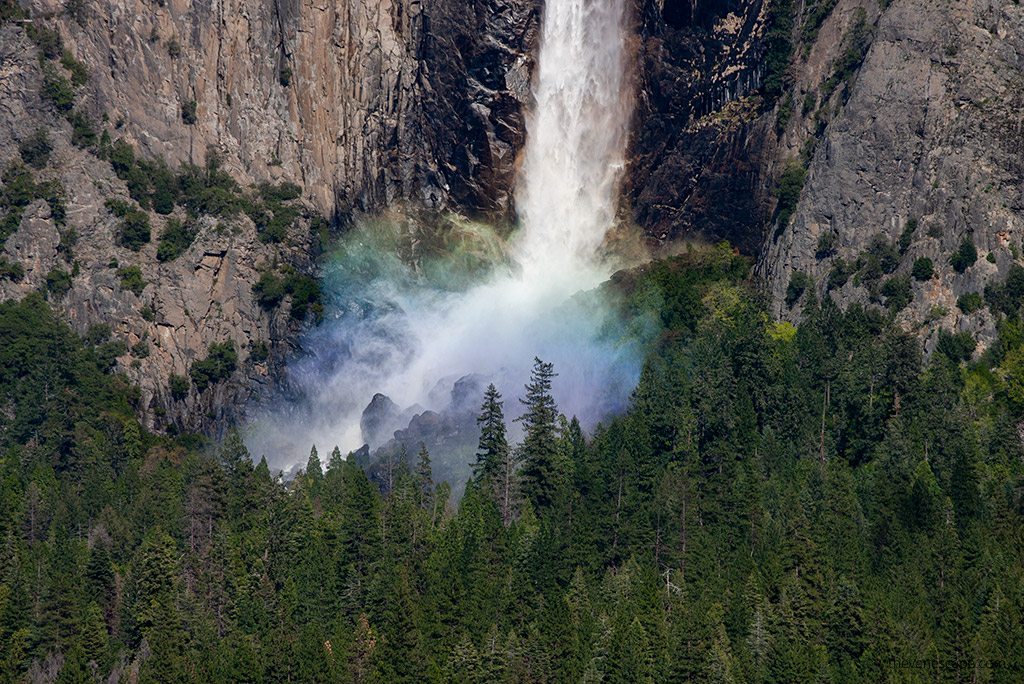 An Entrance Fee is required for Yosemite
As with all U.S. national parks, Yosemite has an entrance fee. Seven-day pass upon entry via:
Noncommercial cars, pickup trucks, motorhomes, or vans with 15 or fewer passenger seats cost $35 per vehicle (no fee per person).
Motorcyclists must pay $30.
On foot, bicycle, horseback, or non-commercial bus or van with more than 15 passenger seats pay $20 per person age 16 or older.
But remember that if you want to visit at least three national parks or several state parks during the year, the most profitable thing to do is to buy an America the Beautiful Annual Pass. It only costs 79.99, and it's your ticket to more than 2,000 federal recreation sites across the country, including all U.S. national parks. Pass is valid for 1 year from the month of purchase. With this card, you don't have to pay an entrance fee. It covers entrance for a driver and all passengers in a personal vehicle at per-vehicle fee areas or up to 4 adults at sites that charge per person (kids 15 & under get in free).
Download Yosemite Self-Guided Audio Tour before your trip
If you plan to explore Yosemite independently, we sincerely recommend this Self-Guided Audio Tour App. The price is affordable, and it's a perfect solution if you have only two days in Yosemite. It's very convenient and easy to use, you save a lot of time. All you need to do is download the tour and follow the plan, which gives you more time to enjoy the beautiful sceneries along the way.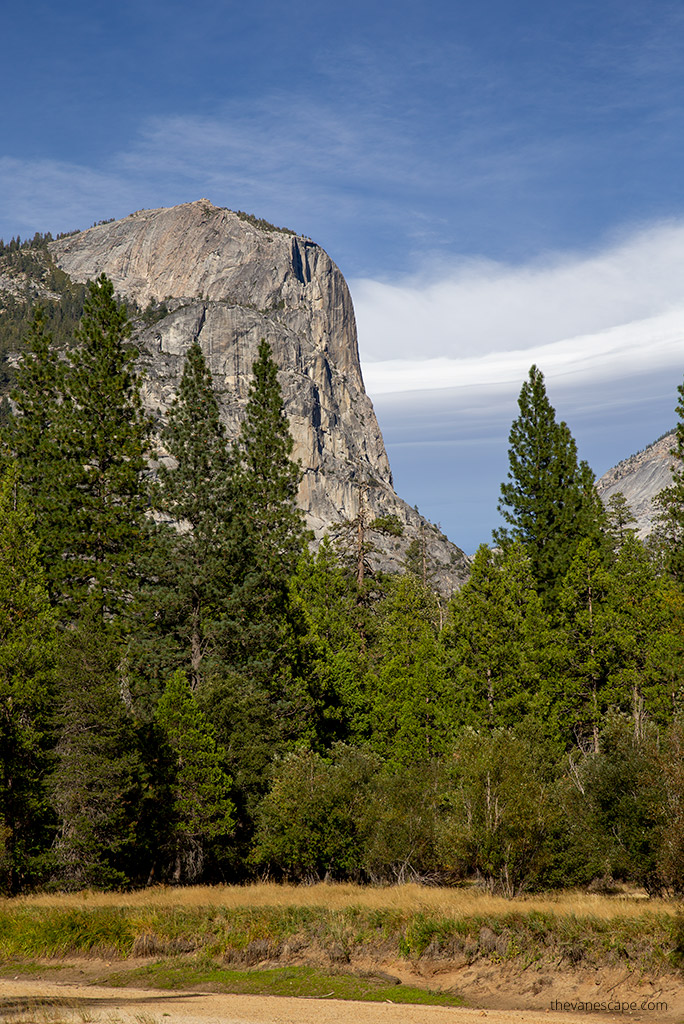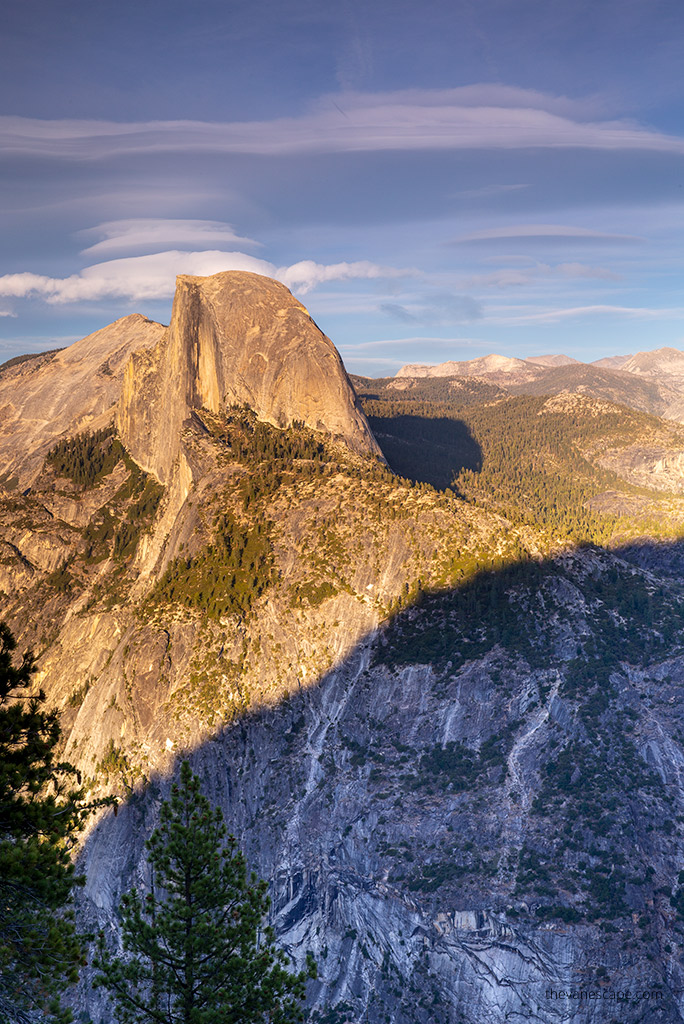 How to get to Yosemite National Park?
By Air
The main airports to get to the Yosemite National Park area are San Francisco, Oakland, San Jose, Sacramento. However, they are all about 5 hours drive. You will find the best international connections to San Francisco airport (SFO). From SF airport are 200 miles and 4 hours of driving. Smaller regional airports are Fresno-Yosemite International, Merced, and Modesto. It's about a 2-3 hours drive to Yosemite National Park.
For the best ticket prices and most convenient flights, check Skyscanner. For years we have searched and booked flights with it. If you plan to rent a car, compare prices and conditions at Rentalcars. We used this comparison tool and booked vehicles with it.
Yosemite By Car
There are 5 entrances to Yosemite National Park, but we present the 4 with access to the fabulous Yosemite Valley. Because in this Yosemite 2 day itinerary, we focus on the park's most essential and spectacular area.
Driving Entrances to Yosemite are:
Tioga Pass Entrance (East, but note that it is only open May-October, as crosses the Sierra Nevada)
Big Oak Flat Entrance (Northwest)
Arch Rock Entrance (Southwest)
South Entrance (South).
Which Entrance to Yosemite choose while driving by car?
From San Francisco and Oakland – enter Yosemite via either Arch Rock Entrance, Big Oak Flat Entrance or El Portal Rd.
If you are driving from Los Angeles, Sequoia National Park, Kings Canyon National Park, Joshua Tree National Park, and San Diego – enter via Fresno and South Entrance.
From Las Vegas, Death Valley National Park, Reno and Lake Tahoe – enter via Tioga Pass Entrance (but is open only from May through October).
Are you driving from San Jose? Choose Arch Rock entrance.
Enter Yosemite via the Big Oak Flat entrance if you are driving from Sacramento or North from Oregon and Washington.
Yosemite By Public Transportation
There are bus connections to Yosemite Valley from cities throughout California and the rest of the United States. However, this solution works best when you have more than two days in Yosemite.
Amtrak provides a combination of train and bus service to Yosemite Valley. YARTS provides Amtrak service beyond Merced (including Yosemite). Greyhound offers bus service to Merced, where you can transfer to YARTS to continue to Yosemite Valley.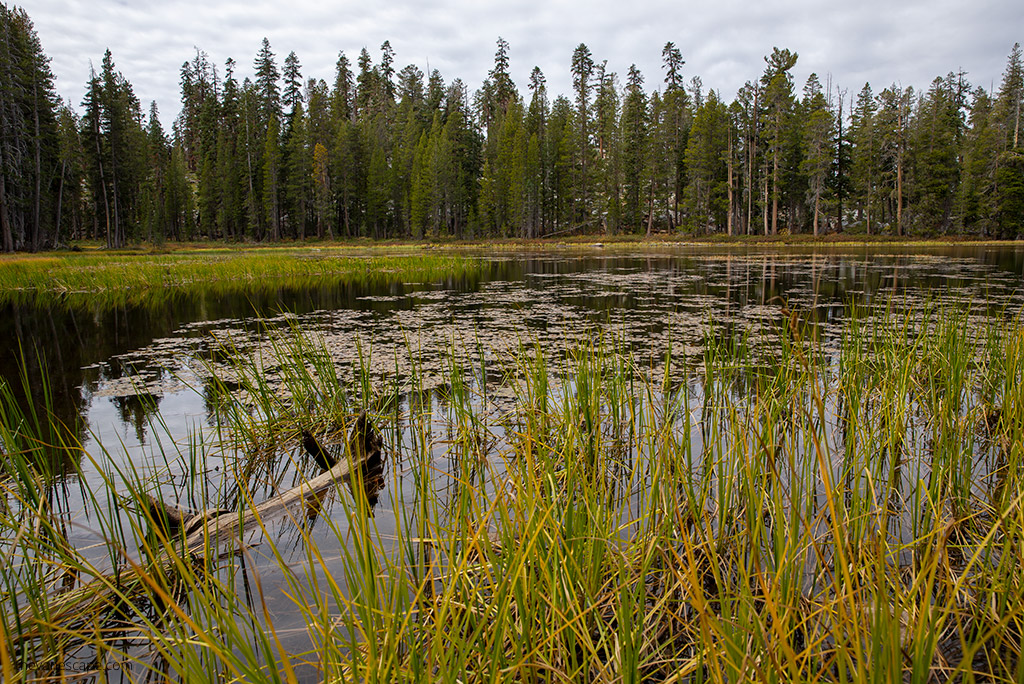 Yosemite National Park with a Tour
You can also take an organized trip to Yosemite. The best selection and prices can be found in San Francisco. This option is especially worth considering if you only have one day to visit Yosemite National Park. With a guide who knows every place in the park, you will see all the highlights.
From San Francisco, you can also take a 2-day trip to Yosemite. This can be a practical solution, especially with current rental car prices. It can also be an excellent solution for those who do not have experience exploring national parks on their own or do not have time to deal with the detailed planning of a trip. However, in this Yosemite 2 Day Itinerary, we help you plan your own perfect trip! Also, camping fans and sleeping in a tent will find something for themselves. 3-Day Camping Adventure might be a great idea for those who haven't been lucky to book a Yosemite campground.
The Yosemite tour can also be a great option if you fail to book Peak Hour Reservation which is mandatory to enter the park between May 20 and September 30, 2022.
Yosemite 2 Day Itinerary – Getting around Yosemite National Park
By Car
Yosemite in 2 days is best explored by car, so enjoy the trip. Also, don't forget to download a self-guided audio tour to Yosemite National Park. And most of all, if you visit the park in the Summer months, be sure to take Tioga Road. In our Yosemite 2 day itinerary, we tell you more about it. All of the roads in Yosemite National Park are scenic, but the most famous stretch is Tioga Road. It is a 46-mile (62 km) drive from Crane Flat to Tioga Pass. The road is usually open from late May or early June through November. To avoid crowds and parking problems, we recommend starting early in the morning, just before sunrise. Check the official website for roads status and conditions before your trip. We have visited Yosemite several times by rented car and, of course, also choosing some hiking trails. So in this plan, we show you the optimal route for two days.
Yosemite Valley Shuttle
Yosemite Valley's free shuttle system provides convenient access to Yosemite Valley so that you can use it during your trip. We recommend it, especially in the summer (July and August). Take the shuttle bus and get on and off at every stop. You will need to arrive very early and, if you are lucky to find a parking spot near Yosemite Village. Take a shuttle bus and do not move your car until you are ready to leave the park. See the shuttle bus map and details on the Yosemite website.
The Yosemite Valley shuttle runs through the valley all year round from 7 am to 8 pm. The El Capitan shuttle runs from 9 am to 5 pm from mid-June to early October. Check the Valley shuttle map.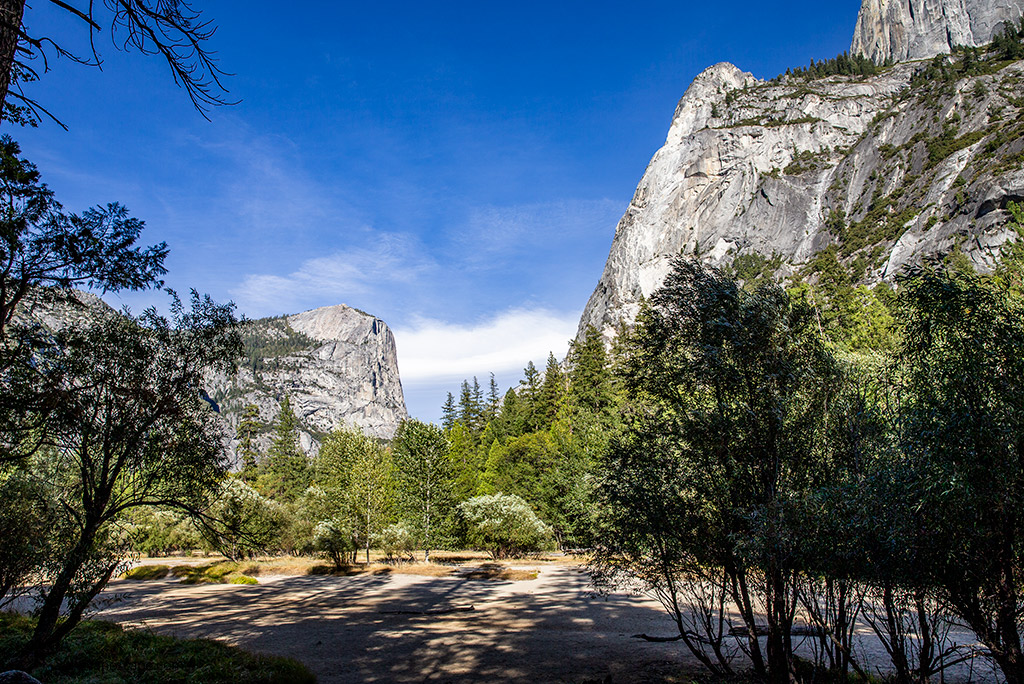 Yosemite National Park Map
If you plan a short 1 or 2 days in Yosemite, you don't need a map. Roads, day hiking trails, and main viewpoints are well marked. However, we always pack a paper map for our trips. We use and can recommend a great map, which is Yosemite Day Hikes & National Park Map. It's detailed and waterproof. If you plan longer and more challenging hikes and explore Yosemite for a few days, consider this exact set of maps. The maps offer detailed views of each park area from Yosemite Valley to Tuolumne Meadows, the Ansel Adams Wilderness, and Hetch Hetchy Reservoir.
Yosemite 2 Day Itnerary – Important Tips Before You Go
Book your accommodation in Yosemite in advance
Yosemite is one of the most popular and most visited parks in the US. You may have a problem with finding accommodation all year round. Therefore, be sure to book your accommodation in advance. Our Yosemite 2 day itinerary suggests accommodation in Wawowna or the surrounding area. Fish Camp is also great for a stay. It will be the optimal solution if you want to go according to our plan. Enter the dates of your visit to the park on the map below to receive the best deals on accommodation in the Yosemite area. We can recommend Wawona Hotel.
Fill up to your gasoline tank to full
Be sure to fill up the tank to full. During driving, manage your gasoline well. There are no stations in the Yosemite outside Wawona. So be sure to fill up your tank again when you reach Wawona.
Pack lots of snacks and water
There are not many places in the park where you can buy food. So pack some provisions, lots of hiking snacks, energy and protein bars, beef jerky, nuts, sandwiches. Also, our Yosemite 2-day plan is pretty tight, so pack lots of nutritious snacks so you do not waste time preparing meals. Also, remember to drink stay hydrated. Pack some beverages. It is a good idea to pack water filters (Straw or Purification Tablets) in case you need to replenish your water supply.
Personal Water Filter Straw
【Our Solutions For Life】Is a camping gear and equipment with 4-step filtration. The elastic strength of the membrane can get rid of up to 99.999999% tiny matters from raw water.

【The Proof Is In The Filter】PP Cotton wipe out small materials such as various adverse grains. Activated Carbon helps clean out all kind of dirts & enhance water taste.

【Extra Trust In Every Drop】This camping essentials water filter provides 1500 liters (396 gallons) of clean and safe drinking water.

【Gear Up Without Added Cost】

【Ultralight For Any Adventure】
Check the status of the roads in Yosemite
Be sure to check on the park's official website whether all roads are passable if there are any obstructions or fires. So check current conditions, and alerts. Also, check the weather forecast.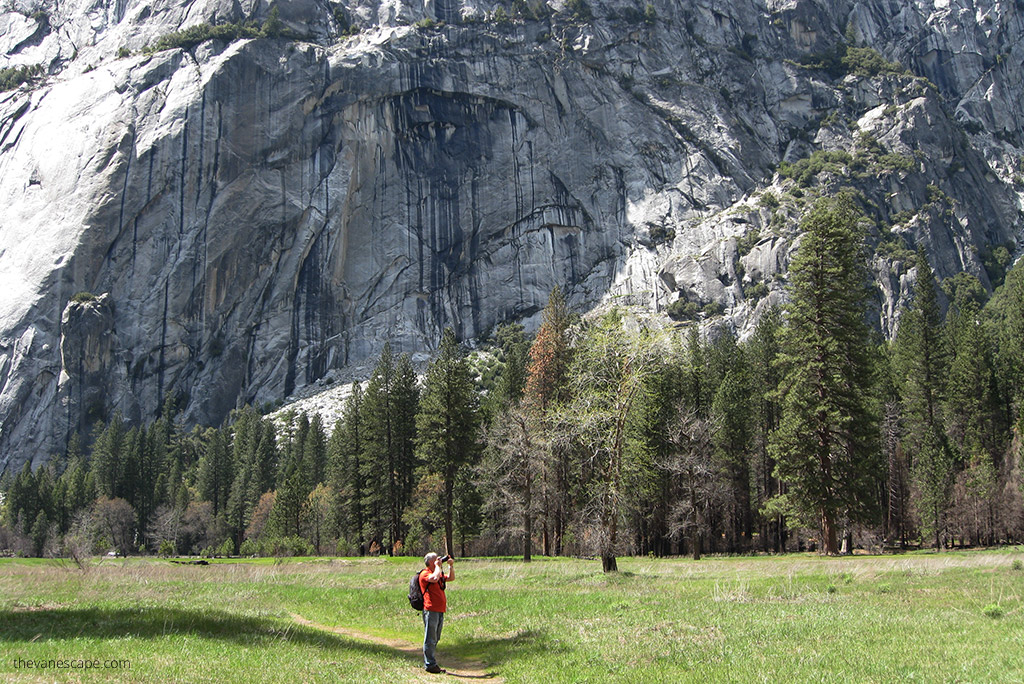 Yosemite 2 Day Itinerary – When is the best time to visit?
Any time of the year is good for visiting Yosemite. The park is open all year round, and the scenery is different but always breathtaking. However, each season also requires special preparation for the visit to Yosemite because the conditions in the park can be difficult and demanding. In winter, some roads are closed and impassable. Chains on wheels are obligatory. It is frost and a lot of snow, so this trip is much more challenging. Our Yosemite 2 day itinerary is designed for warmer months – from spring to autumn. Check our Day Hiking Packing List to prepare well for Yosemite hiking trails.
Spring in Yosemite
Spring weather arrives in Yosemite National Park in April. Temperatures reach highs of 64°F and snow has melted to an average of 5.1 inches. Sunshine averages 10 hours a day, although temperatures can drop to 43°F at times. Spring in Yosemite is the best time to travel for waterfalls in full flow after the snow melts, spring flowers, and hiking. However, wear several layers and pack warm clothes because the weather can change. The park is less crowded than in summer.
Summer in Yosemite
Daytime temperatures in Yosemite Valley sometimes reach 100°F in summer, while nights are cool. Temperatures at Tuolumne Meadows (8,600 feet) in midsummer are usually in the 70s during the day and 30s at night. The hottest month of the year in Yosemite is July with an average high of 93°F and a low of 64°F. Summer is also the high season, and with it, the problem of overcrowding. Prepare well for a summer trip to Yosemite and book your accommodations well in advance. Start your journey early in the morning every day to avoid crowds and enjoy the beauty of the park.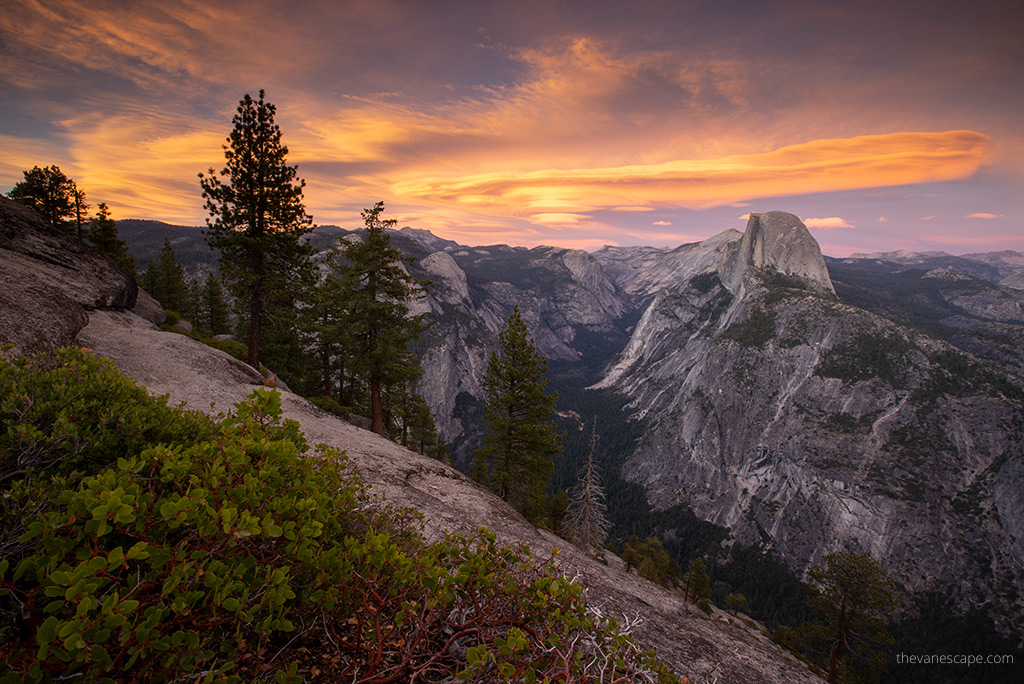 Fall in Yosemite
The average temperature in Yosemite Valley is a high of 71 °F and a low of 42 °F. At an elevation of 8,000 feet, the average temperature at Tuolumne Meadows is a high of 56 °F and a low of 25 °F. On average, there are three days of rain in October. Fall in Yosemite is an excellent time to visit, as it offers stunning autumnal foliage colors and comfortable hiking temperatures. It's also fewer tourists in the park.
Winter in Yosemite
Winter in the Sierra is cold and wet. More than 70 percent of the annual precipitation falls between November and March, mostly as snow. At higher elevations, snow may fall as early as September or October. Snowpack increases throughout the winter, reaching its maximum depth by mid-March. At higher elevations, snow depths can reach several dozen feet. Some snow usually falls in April and sometimes in May. Winter in Yosemite is cold, so you must be well prepared for winter travel. Most of the park is closed, so check the park's website for current conditions before your winter trip. The coldest month in Yosemite National Park is January, with an average high temperature of 47.1°F and an average low temperature of 25.5°F. Typically six nights a year drop as low as 20 °F.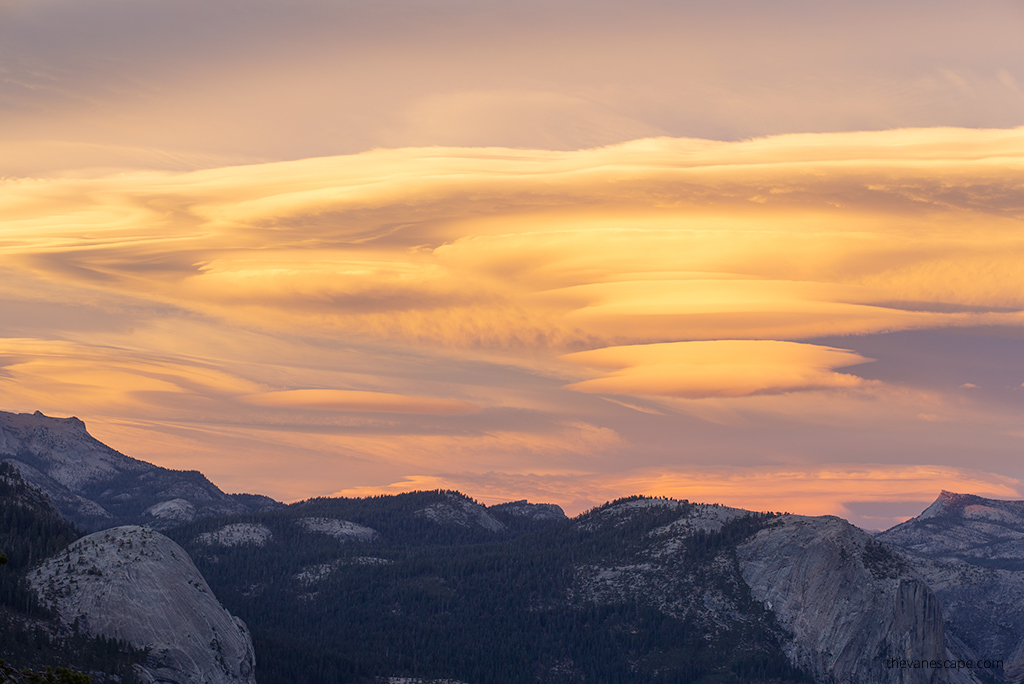 Yosemite 2 Day Itinerary
You won't be bored in Yosemite for a week. But in this guide, we assume that you plan to spend two days in Yosemite and that it is your first visit. Our Yosemite Itinerary does not plan to Half Dome hike as it is challenging to get a permit for this hike. So far, we have failed to win the Half Dome permit lottery.
It's an intense two days in the park so start visiting early in the morning, even before sunset. We assume that you will enter Yosemite National Park from San Francisco on road number 140 (Central Yosemite Hwy) and El Portal Rd.
Yosemite 2 Day Itinerary – First Day
Drive the Yosemite Valley Loop Trail
Time required – 1 hour
The distance of Yosemite Valley Loop is only 11.5 mi (18.5 km) entire loop. The western Yosemite Valley offers views of Yosemite's significant icons, including El Capitan, Bridalveil Fall, and Sentinel Rock. This route should take you no more than an hour with short photo stops at viewpoints. If you have more than 2 days, you can also park at several trailheads to go camping, hiking, climbing. Click on the link to see a detailed map of the loop.
Stop at Yosemite Valley Visitor Center
Time required – 0.5 hour
The Valley Visitor Center is located in Yosemite Valley and is the largest and most comprehensive in terms of exhibits, books, postcards, and maps. Stay here for 20-30 minutes. In addition, the area is also picturesque, so it's worth spending a moment.
Walk in the Northside Drive area overlooking the peaks of Yosemite
Time required – 1 hour
Northside Drive offers an extremely scenic view of the valley. Take at least an hour to walk around and enjoy the view of Yosemite's majestic peaks.
Bridalveil Waterfall
Time required – 0.5 hour
Head towards Mariposa Grove. But before it, the Park North Drive will bring you to Bridalveil Fall. It is worth seeing this waterfall, especially in spring and early summer. There is a large parking lot here. It is worth waiting for a place if it is complete because the rotation is high. You have approx. 0.5 mile to the Bridalveil Fall to walk on an easy path. There are steam and water particles in the air, so be sure to protect your lens and camera from moisture.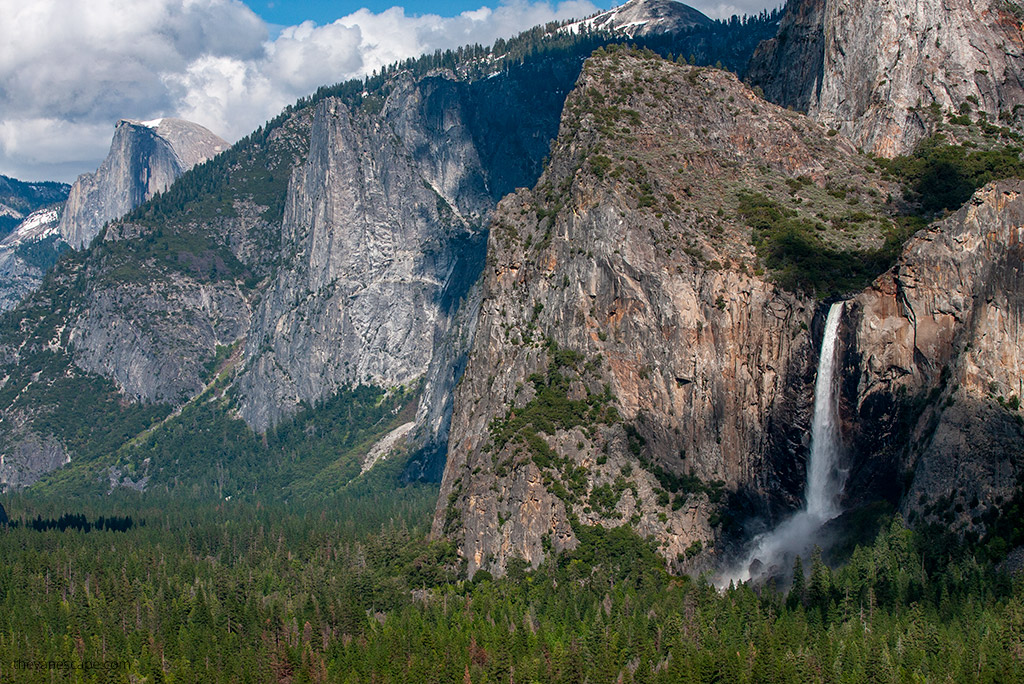 Wawona Road drive to Mariposa Grove
The Mariposa Grove of Giant Sequoias is the largest and most impressive redwood grove in Yosemite National Park and includes approximately 500 mature giant sequoias (Sequoiadendron giganteum). It is located only about 4 miles from Tenaya Lodge.
Tunnel View – Wawona Tunnel
Time required – 0.5 hour
Tunnel View is one of the most exciting and recognizable stops on Wawona road. A popular roadside viewpoint with impressive views of the wooded valley and mountains within the Yosemite National Park. You will drive the Wawona tunnel. It and the View tunnel just behind its eastern portal were completed in 1933. At 4,233 feet (1,290 m) long, the Wawona Tunnel is the longest highway tunnel in California. The Wawona Tunnel is the subject of the black-and-white photograph by Ansel Adams: From the Wawona Tunnel, Winter, Yosemite, c. 1935. The Wawona Tunnel was bored through solid granite rock and carries Wawona Road through a granite mountain on the south side of the Merced River.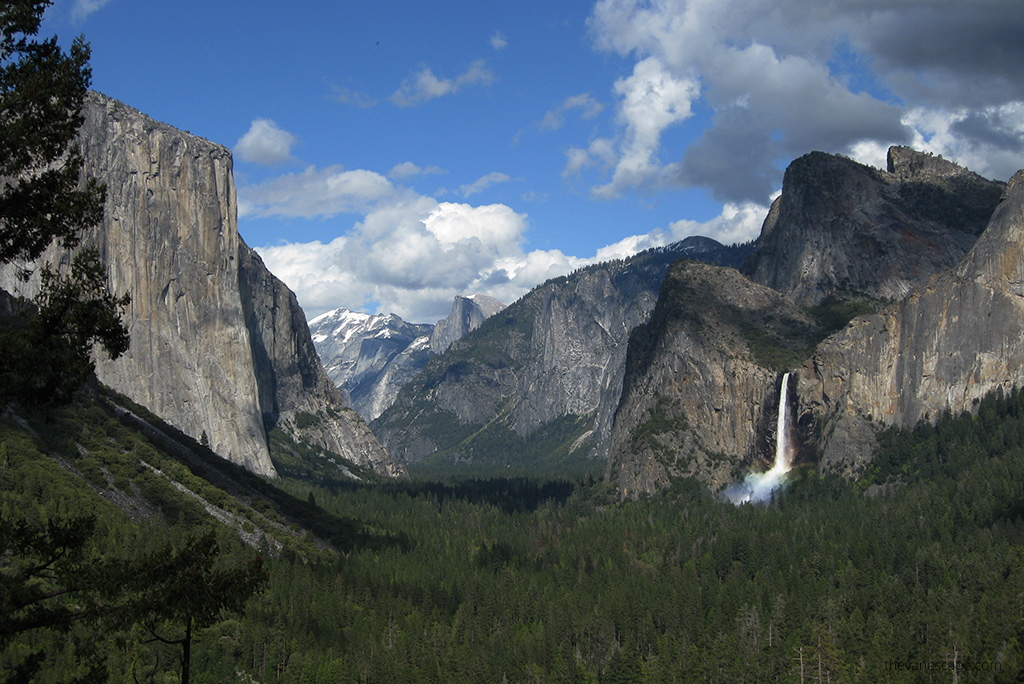 Turtleback Dome View
Time required – 0.5 hour
On the way to Mariposa Grove, stop at Turtleback Dome overlook. Just a stone's throw from Yosemite Valley, Turtleback Dome sits at 5,280 feet (1,620 m) and offers a lesser-known but equally beautiful view to the west, where the mountains merge into the Sierra foothills. If you want to hike to the source of this view, the 1.2-mile (1.9 km) loop trail climbs just under 400 feet and follows a graded service road.
Mariposa Grove – a walk among the Giant Sequoia
Time required – 2 hours
Mariposa Grove looks like something out of a fairy tale. This Giant Sequoia grove is located just inside the park's southern entrance. Here you can see the famous Grizzly Giant, which is about 2,400 years old, and the Wawona Tree, a fallen tree with a tunnel dug through it.
The Fallen Monarch is one of the first trees you will see when you enter the Mariposa Grove of Giant Sequoias. This tree fell centuries ago, but thanks to the tannic acid in the wood, you can still see the giant halo of the root system.
The Grizzly Giant is one of the largest trees in the Mariposa Grove and is believed to be more than 1,800 years old. Looking up, it is difficult to appreciate the size and mass of this redwood. The large branch high up on the south side of the tree is almost 7 feet in diameter. This one branch of the Grizzly Giant is larger than any other redwood in the grove. The burn scars at the base of the trunk provide shade for mule deer on hot summer days.
Just behind the Grizzly Giant is the California Tunnel Tree. The tunnel was cut through the tree in 1895 to allow horse-drawn carriages to pass through, and you can still walk through it today.
Choose Big Trees Loop Trail (easy), which is only a 0.3 miles (0.5 km) loop from the trailhead. It takes you 30 to 45 minutes (wheelchair accessible). Or choose longer and moderate Grizzly Giant Loop Trail. It's 2 miles (3.2 km) loop from the trailhead, and you need1.5 to 2 hours for this hike.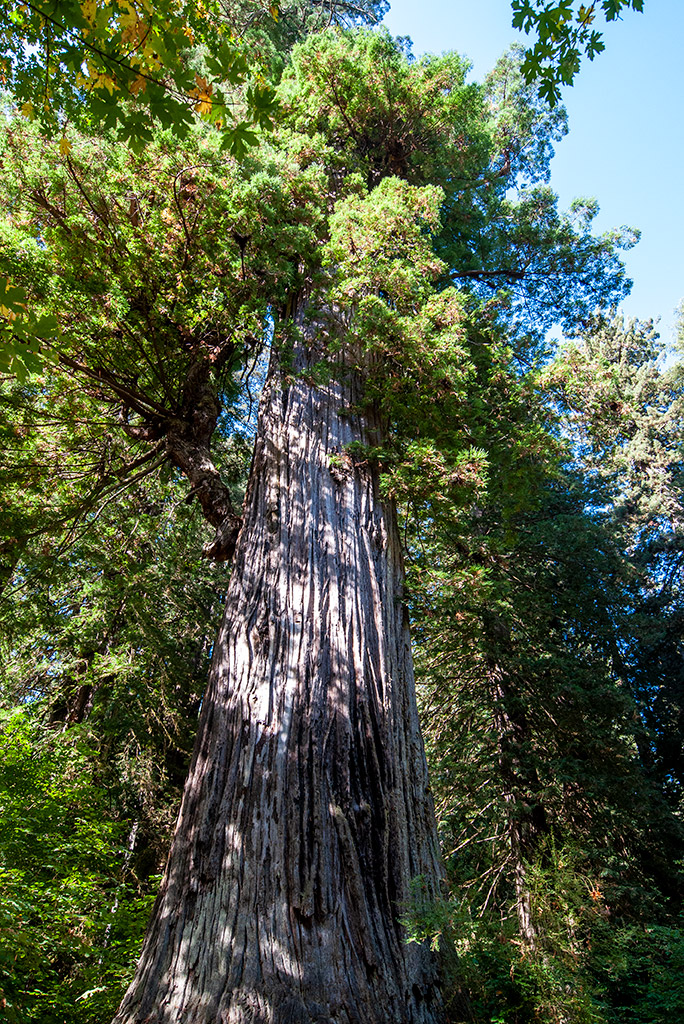 Fill up the tank at Wawona
On your way back from Mariposa Grove, stop to refuel in Wawona. Even if you still have gasoline, fill up the tank. Besides in and around Wawona, there are many historic sites you can visit. Visit the Pioneer History Center to see some of the Old West structures that are part of the park's history. From Wawona, there are many hiking trails into the backcountry and some easy hikes very close by. So if you have more than two days in Yosemite, consider staying here and exploring the area longer.
Sunset at Glacier Point / Washburn Point
Time required – 2 hours
From Wawona, head back to the park at sunset. Spectacular sunsets are at Glacier Point/Washburn Point and Tunnel View. We recommend Glacier Point because this view completely stole our hearts. But if you're afraid you won't make it, stop for sunset at Tunnel View. This overlook is closer, and you shouldn't be disappointed either. Be sure to check what time is sunset on a given day to make it on time. Reserve about 1.5 hours to drive from Wawona.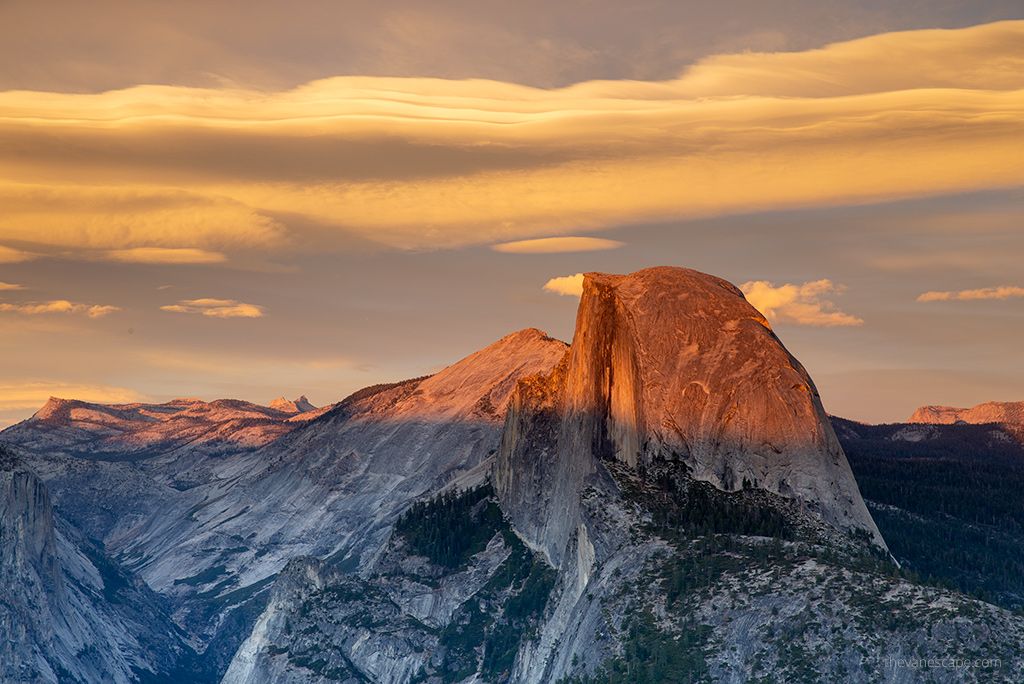 Return to an overnight stay in Wawona or the surrounding area
Time required – 1 hour
Immediately after sunset, do not hesitate to go to where you have your accommodation. Driving in Yosemite at night is dangerous because of the narrow road, darkness, curves, and wildlife. Therefore, we do not recommend driving at night. Be especially careful.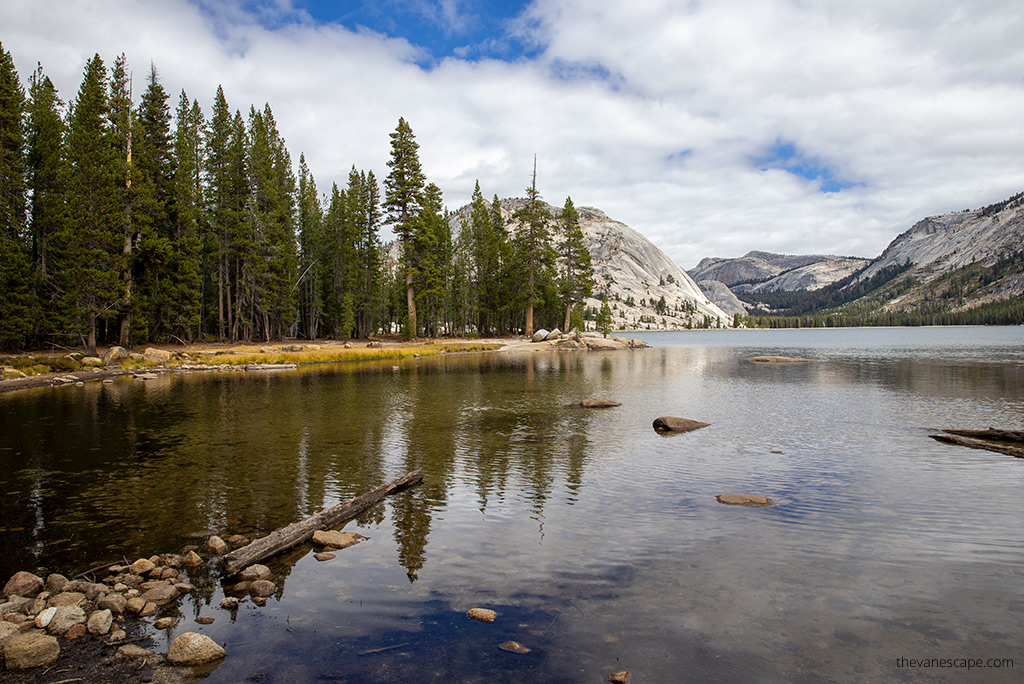 Yosemite 2 Day Itinerary – Second Day
It's our second day in Yosemite. Start it very early because it's an intense day and if you want to follow the plan and see the highlights of Yosemite, get up before sunrise. Before you start, remember to pack lots of snacks and water for the whole day of sightseeing. Put on comfortable hiking shoes and hit the road with us. Also, pack your stuff for a day hike because, on this day, we suggest one of the most exciting and beautiful trails in the park – Yosemite Falls Hike. So, check our Day Hiking Packing List to prepare for an adventure.
Drive to Yosemite Valley
Time required – 45 minutes – 1 hour
Getting to the Yosemite Valley (depending on where you were staying) should take about an hour. Leave early in the morning (just after sunrise) to enjoy the morning mists of the valley.
Yosemite Valley View short hike
Time required – 45 minutes – 1 hour
We suggest you drive to Yosemite Valley View and spend a maximum of an hour here on a short hike around the area. Especially in the morning, the views are incredible. Remember to wear a warm blouse or jacket as it can be pretty chilly and humid.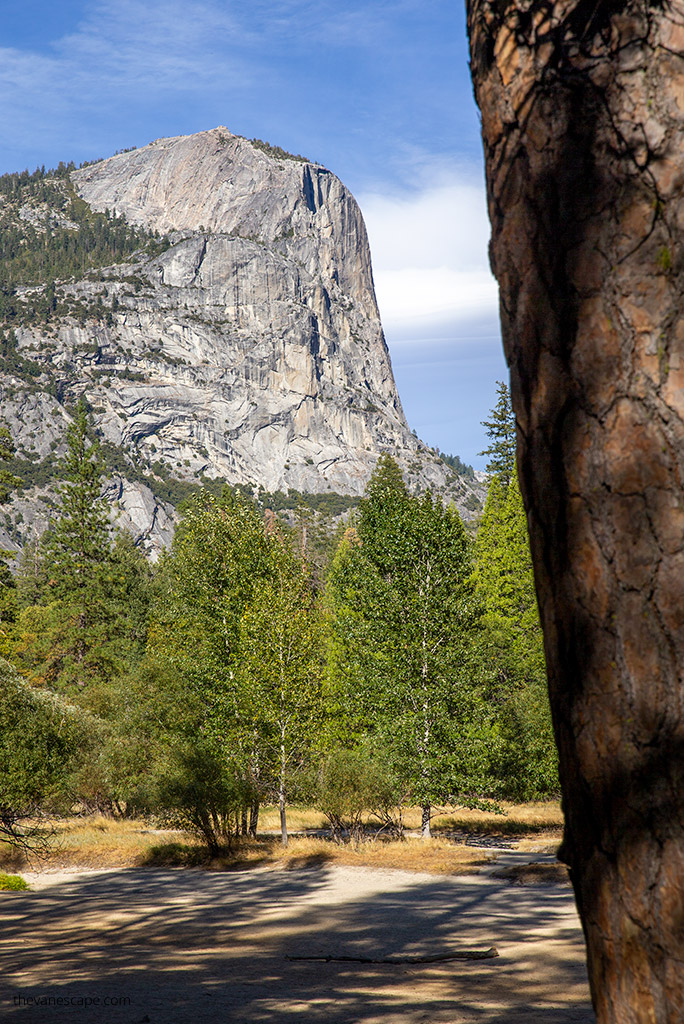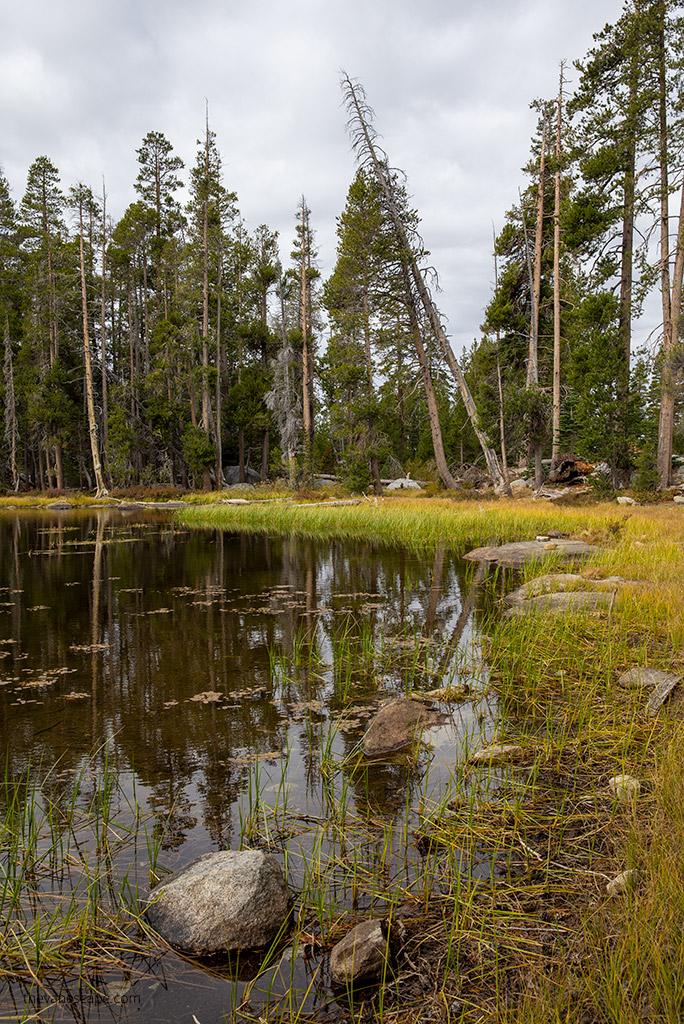 Hike to Yosemite Falls
Time required: 6-8 hours round trip
Distance: 7.2 miles (11.6 km) round trip
Elevation: 2,700 ft (823 m) elevation gain
From Yosemite Valley View it's about 15 minutes of driving to Yosemite Falls Trailhead. It is a strenuous trail. Therefore, we also provide suggestions below if you do not want to do a challenging trek or do not have that much time.
The Yosemite Falls Trail is open year-round; conditions vary by season. In the spring, when the waterfall is at its peak, this hike is breathtaking and you may even get wet from the spray of the waterfall during part of the hike. Also, early Summer is great for this hike. But remember about sun protection and hydration. Pack snacks and water, and wear comfortable hiking shoes. What's more, trekking poles are very useful during this hike. Here you can check our post on how to choose the trekking poles.
Foxelli Carbon Fiber Trekking Poles – Collapsible, Lightweight
100% CARBON FIBER: Foxelli Trekking Poles are made from 100% carbon fiber material, which is known for its incredible lightness.

EASILY ADJUSTABLE: Thanks to the quick-lock technology, Foxelli collapsible hiking poles are incredibly easy to use and a breeze to adjust - locking them in place takes only a few seconds.

PROVIDING THE ULTIMATE COMFORT: The anti-slip natural cork grips absorb sweat and moisture and will keep your hands cool and dry during those challenging long-distance hikes.

SUITABLE FOR ALL CONDITIONS: From challenging ice mountain climbing to casual strolling around the neighborhood.
Yosemite Falls Trail Description
The Yosemite Falls Trail is one of the oldest historic trails in Yosemite (built 1873 to 1877) and leads to the highest waterfall in North America, rising 2,425 feet (739 m) above the valley floor. This trail begins near Camp 4, along the Valley Loop Trail, and immediately starts climbing through the oak forest. You will begin to climb over some trees and onto exposed plateaus that will give you a glimpse of what awaits you: great views of Yosemite Valley and its many iconic landforms.
You do not have to do this hike in its entirety. Even if you make the one-mile, 1,000-foot climb (up dozens of switchbacks) to Columbia Rock, you'll be rewarded with spectacular views of Yosemite Valley, Half Dome, and Sentinel Rock. From there, it's worth hiking another 0.5 miles (0.8 km) for a breathtaking view of Upper Yosemite Fall.
The upper half of the trail is steep and rocky, but the views are spectacular.
If you have more time, at the top of the Yosemite Falls Trail you can extend your hike east to Yosemite Point (follow the signs to North Dome; this hike is 1.6 miles round trip (2.6 km) longer. Another option (if you have all day and are well prepared) is to extend the hike west to Eagle Peak (follow signs to El Capitan). However, you will need to allow 5.8 miles round trip (9.3 km) for this hike.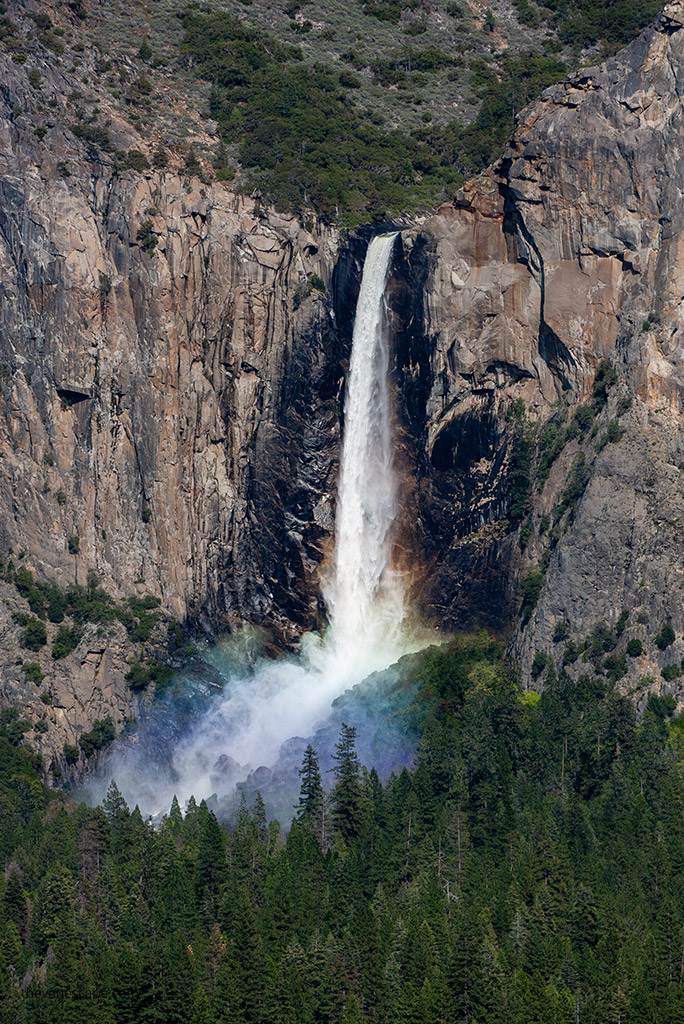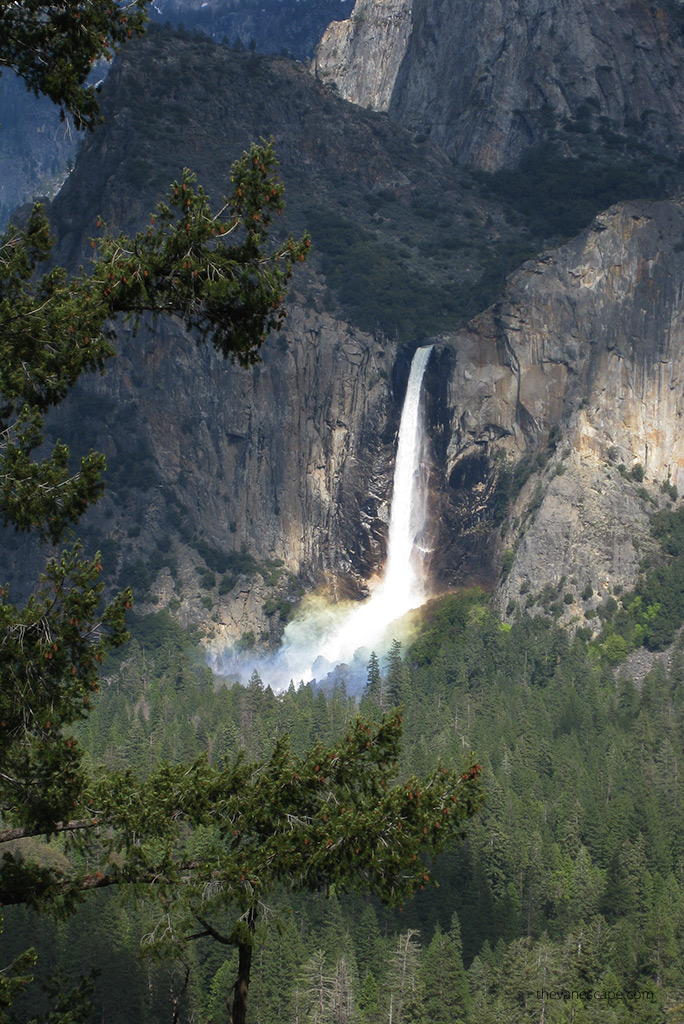 Easier and family-friendly hiking trails in Yosemite Valley
Give it up if your hiking experience, physical condition, or time limit do not allow for such a long and tiring Yosemite Falls hike. If you travel with small kids or the elderly, skip this hike as well. There are tons of more accessible and family trails in Yosemite National Park that offer spectacular views. You will find a complete Yosemite Valley Day Hikes list on the park's website. We suggest choosing:
Lower Yosemite Fall Trail offers delightful views of Yosemite Falls in its entirety, with the opportunity to walk to the base of the lower fall. It's only an easy 1 mile (1.6 km) loop, and you need 30-40 minutes to do this hike. Lower Yosemite Fall is the final 320-foot (98-meter) drop.
Cook's Meadow Loop. As you stroll through this large open meadow, you can see Yosemite Falls, Half Dome, Sentinel Rock, and the Royal Arches from the center of Yosemite Valley. It's only a 1 mile (1.6 km) loop, which is easy and flat. The trail begins at Yosemite Valley Visitor Center.
Mirror Lake Trail. The distance is 2 miles (3.2 km) round trip to lake and back; or 5 miles (8 km) loop around the lake. So you need 1 hour round trip to the lake (end of the paved trail) or 2-3 hours for a complete loop. It's an easy to moderate hike. This trail begins at a shuttle stop located at the start of Mirror Lake Road. This hike offers you a view at Half Dome directly from its base. You'll be rewarded with views of Tenaya Canyon, Mount Watkins, Washington Column, and more.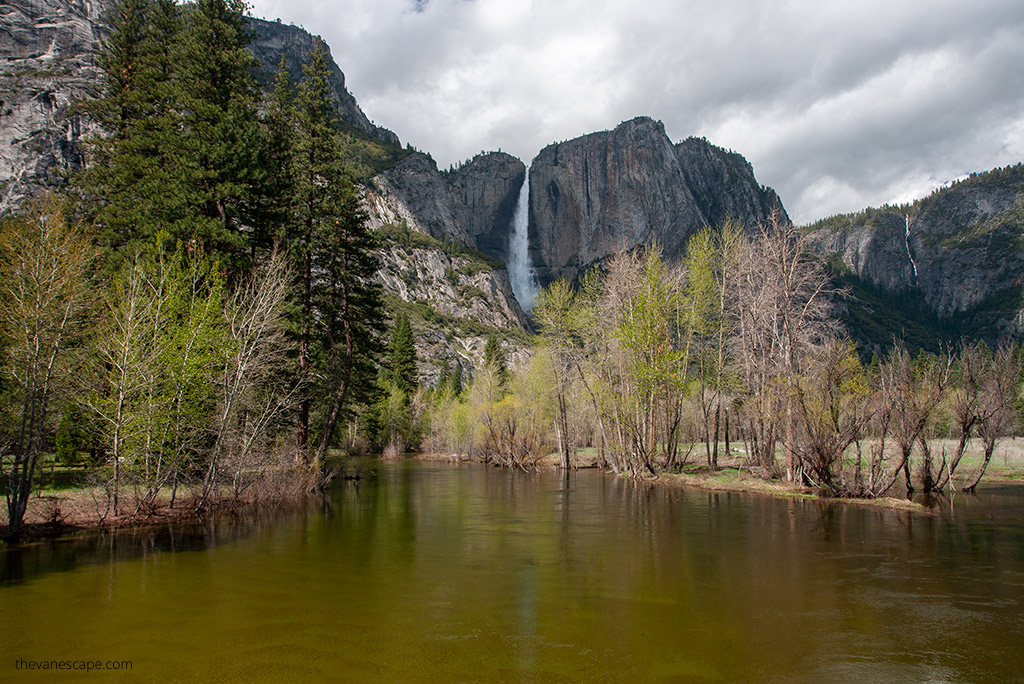 Yosemite 2 Day Itinerary – Driving Tioga Road (optional)
After the hike, we suggest driving Tioga Road. Leave the park via Tioga Road. It's is one of the most picturesque routes. It is a 46-mile (62 km) drive from Crane Flat to Tioga Pass. The road is usually open from late May or early June to the beginning of November. Be sure to check if it's available during your visit. If you want to back to San Francisco, you should do this road go and back. So you need about 2.5 – 3.5 hours. If you don't have to back to SF, you should do Tioga Road with a few photo stops in 2.5 hours. If you have more than two days in Yosemite, or you don't hike to Yosemite Falls, so you have more time on the second day, try to stop in some place on Tioga Road. They are 3 Stops on Tioga Road in Yosemite that you shouldn't miss if you have time:
Olmsted Point,
Tenaya Lake on Tioga Road,
Lembert Dome.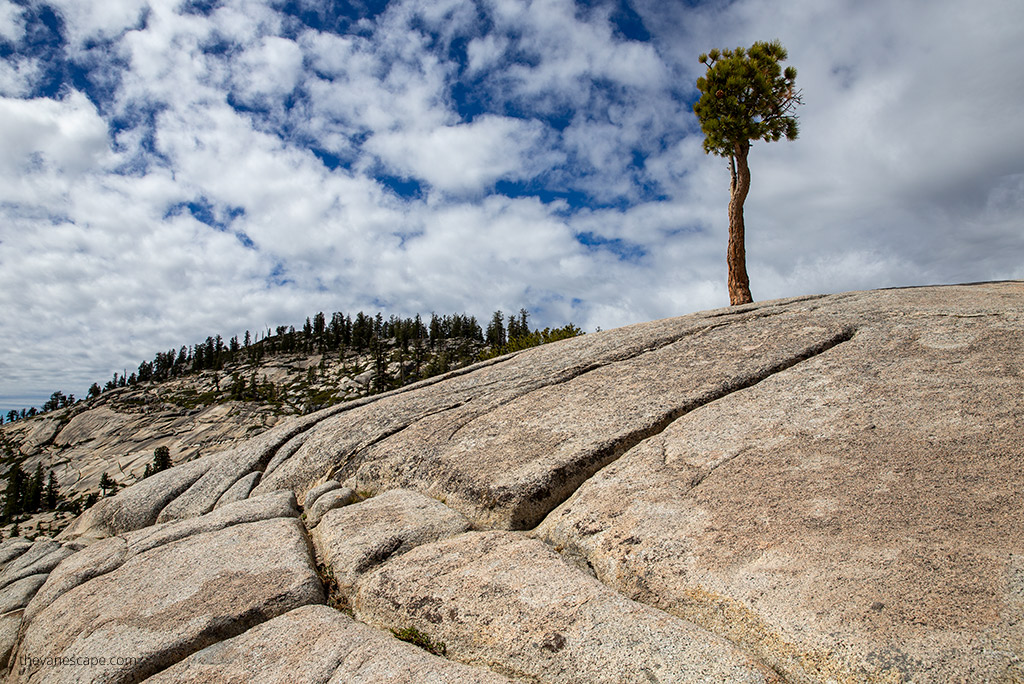 Yosemite 2 Day Itinerary – Departure from the Park
It will take you approximately 12 hours to complete the second day. So it is worth booking accommodation somewhere near the park to not drive at night. If you are returning to San Francisco, check the accommodations on the park's west side. We showed you the Yosemite 2 day itinerary we did once. But adapt it to your needs and possibilities because it's quite an intense plan. And prepare for it by following our tips. Enjoy your trip to Yosemite!
Plan a trip to California? Check out our related articles