Exciting Trip to Peekaboo Canyon in Kanab
Have you ever heard about Peekaboo Canyon in Kanab, also known as Red Canyon Kanab or Peek-A-Boo Slot Canyon? It's a beautiful short-slot canyon, the perfect adventurous trip while on vacation in southern Utah. Check out our tips on how to get there, whether to go hiking or better off on an ATV or jeep tour. We will tell you how to hike to Peekaboo Slot Canyon on your own and which guided tour to choose from. In our article, we present the most interesting solutions!
This article may contain affiliate / compensated links. For full information, please see our disclaimer here.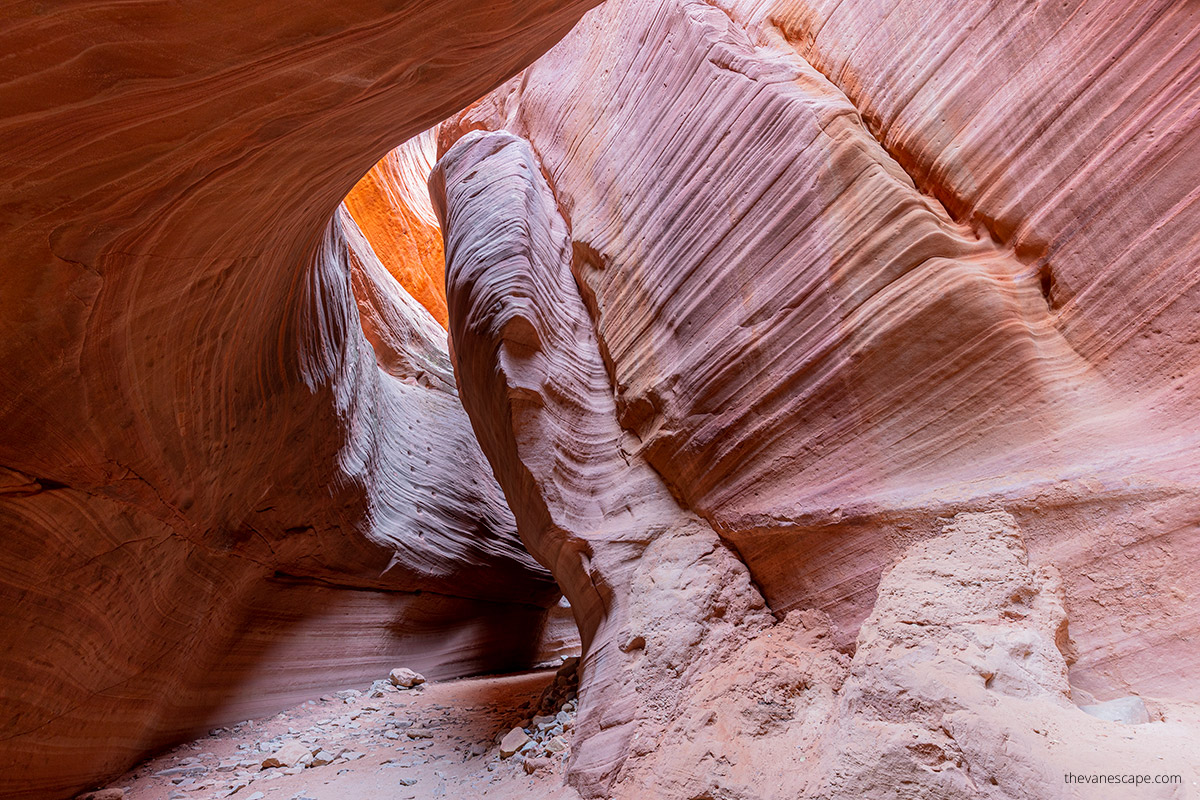 Peekaboo Canyon aka Red Canyon in Kanab – Quick Overview
Brief Description: The Glendale Bench, located a short distance east of Zion National Park, is home to a 0.7-mile-long Red Canyon, aka Peek-A-Boo Canyon – a breathtaking series of narrow formations carved out of deep red sandstone. This drainage system is a tributary of Kanab Creek. The area is characterized by Navajo sandstone, which is popular in this area.
Length: Peek-A-Boo Slot Canyon – 0.7 miles one-way easy hike.
Getting to the Trailhead: is possible only with a 4WD vehicle, ATV/UTV, or hiking in deep sand, but it's almost 4 miles one way to the dryfall via the sandy track. If you hike, it's a moderate level of difficulty. Less if walking cross-country over the Sand Hills.
The Red Canyon Parking (aka Peek-A-Boo) is located just off Highway 89 between Kanab and Mt. Carmel Junction. 9 miles north of Kanab. From this point, the deep sand route begins. From this parking, you can hike in deep sand (but it will be 4.5 miles one way) or get to the slot canyon by ATV or 4WD (below details).
Best Season for a Trip: Spring and Fall. Summers are hot.
The best time of day to take pictures in the Peek-A-Boo Slot Canyon: is around noon, when most light drops inside canyon walls.
Peekaboo Canyon Kanab – Our Experiences
One of the best things to do while visiting Kanab is take a trip to Peekaboo Canyon. And as huge slot canyons fans, we also visited this canyon. During our recent vacation in Kanab (we love this Western town and have visited it many times), we discovered a combined guided local tour to Peekaboo Slot Canyon and the breathtaking Great Chamber. The price is affordable, and the experience is amazing! So if you plan to visit two of these natural wonders in Kanab, this guided tour is our choice. But a few years earlier, we hiked Red Canyon on our own.
So in this article, we will give you all possible solutions to reach the Red Canyon. We will tell you how to get to the canyon independently (if you have a 4WD or ATV). Is it worth taking a trip with a local guide, and if so, which option should you choose? ATV or Jeep tour? We'll also tell you if it's worth taking a long tiring hike (14 miles round trip) if you don't want to book a trip and don't have a 4WD vehicle to reach the Peekaboo Canyon trailhead yourself.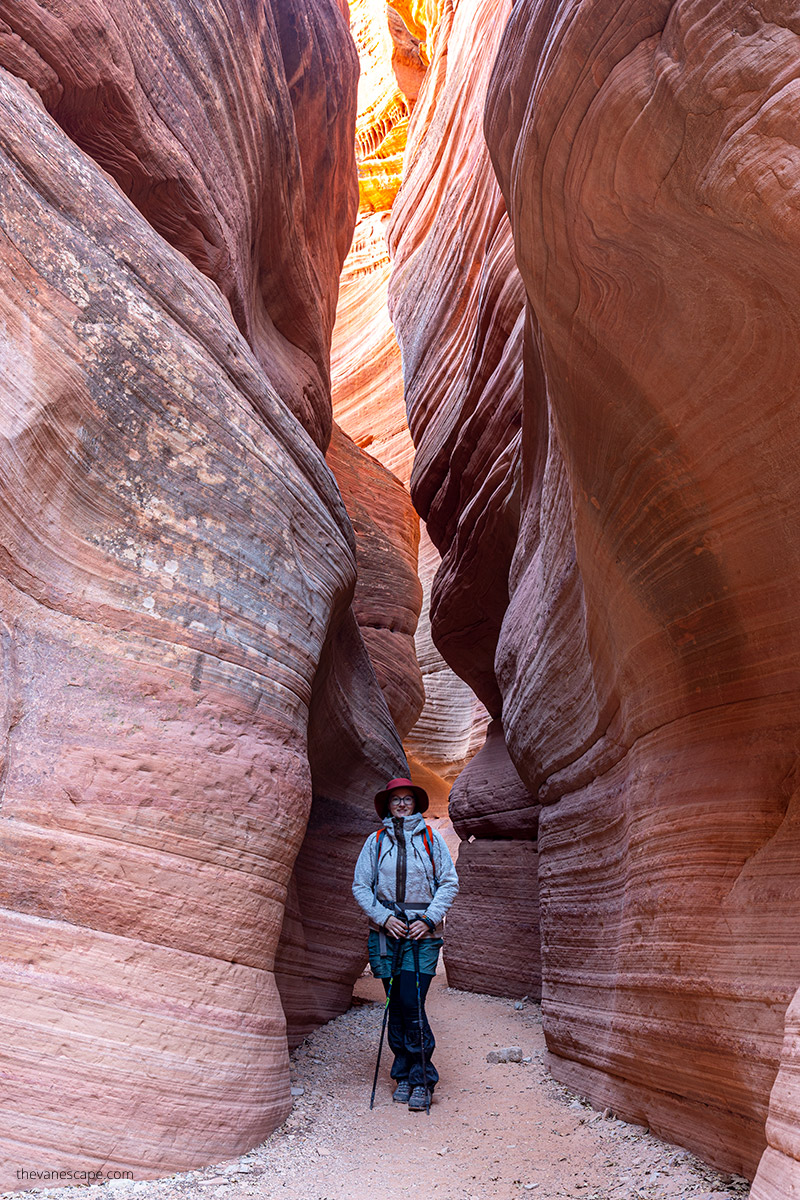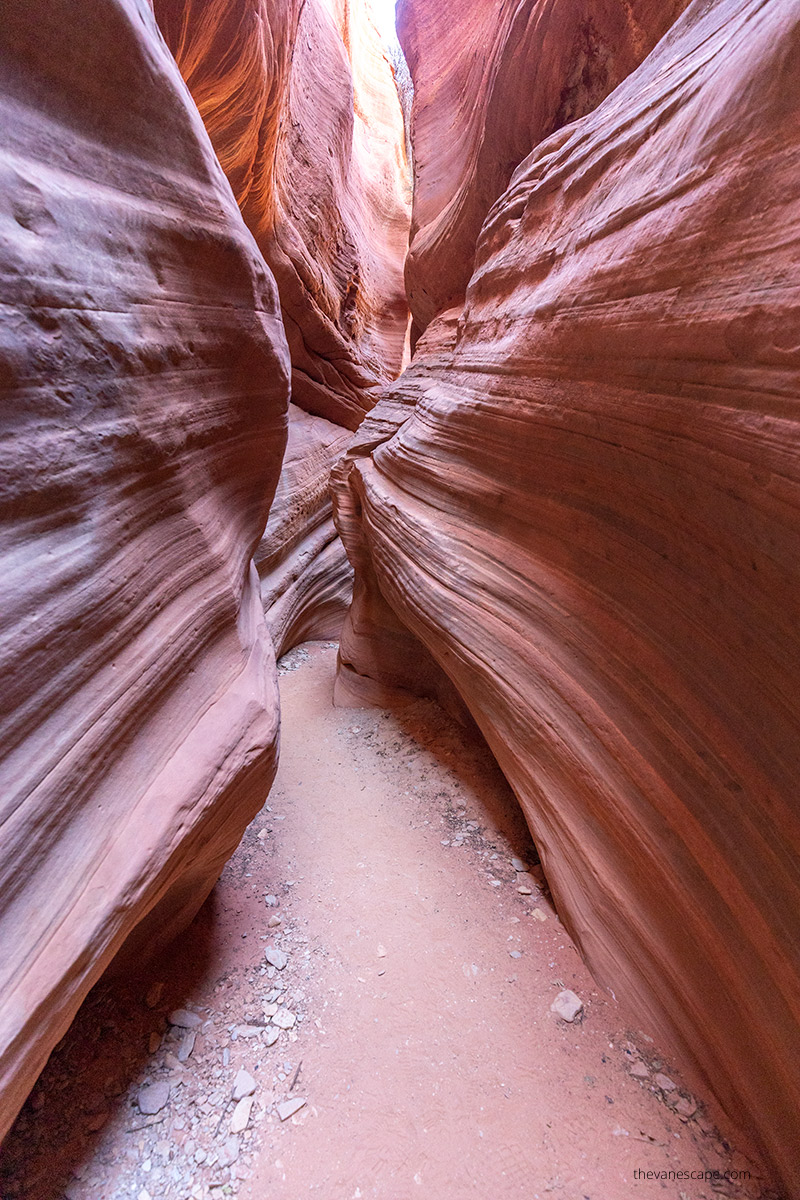 Facts about Peekaboo Slot Canyon in Kanab
Are There Two Peek-A-Boo Slot Canyons?
Yes, there are two Peek-A-Boo slot canyons in Utah, which can be confusing since they are close, one is near Kanab, and the second is near Escalante. It's possible to visit both in one day. This article focuses on the Peek-A-Boo Slot Canyon located on BLM land, which is 9 miles north of Kanab. This canyon is also known by its original name, Red Canyon.
The second Peek-A-Boo Slot Canyon is situated near Escalante, within the Grand-Stairs Escalante National Monument, on Hole-in-the-Rock Road. It's in close proximity to Spooky Slot Canyon, and both canyons can be explored together as one hike, known as Peek-A-Boo Gulch and Spooky Gulch.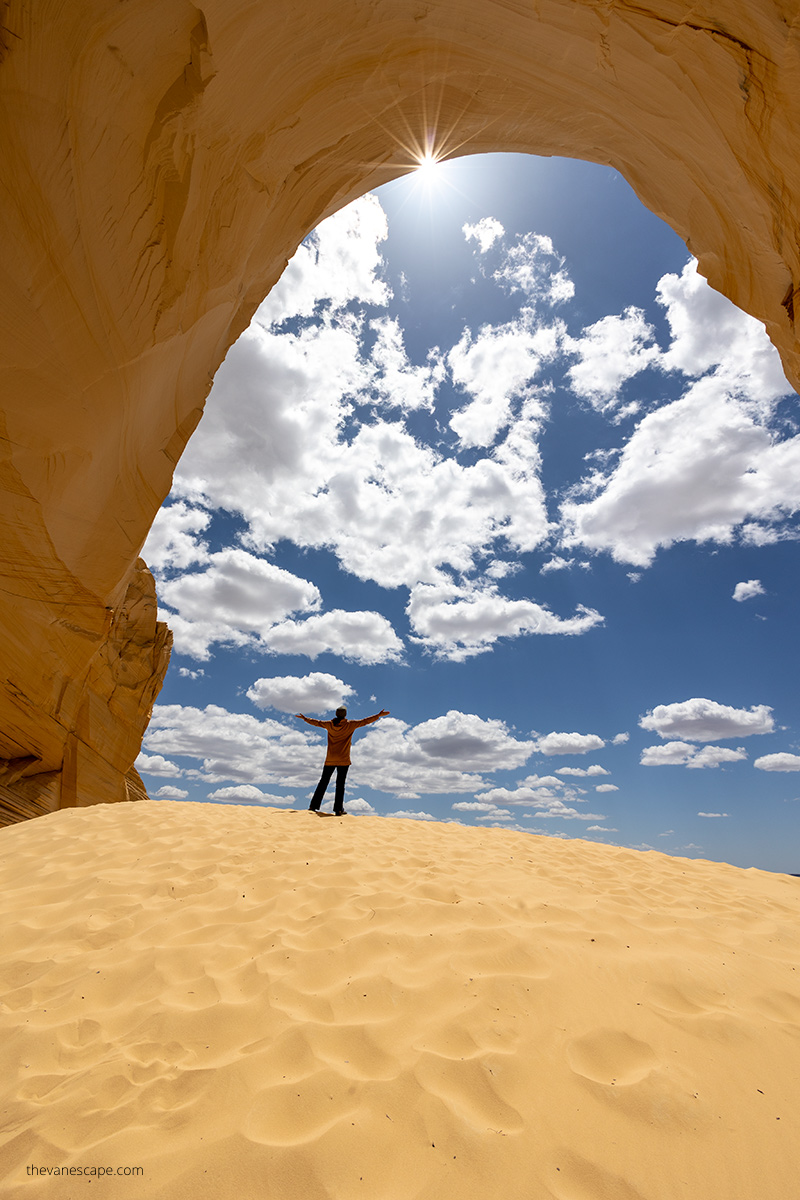 Guided Hike through Peekaboo & Great Chamber
Embark on a Jeep Guided Local Tour from Kanab to witness the breathtaking natural beauty of two iconic Utah attractions – the Peekaboo Slot Canyon and the Great Chamber (also known as Cutler Point). This tour is an excellent opportunity to discover one of Utah's hidden gems. You will enjoy a scenic hike on a 1-mile loop around the impressive sand alcove and a 1.5-mile round-trip trail to explore the Peekaboo Slot Canyon.
How Long is Peek-A-Boo Canyon?
Peek-A-Boo Slot Canyon, also written Peekaboo Canyon and commonly known as Red Canyon, is an easy, short hike (0.7 miles round trip) near Kanab. The canyon's remarkable orange sandstone walls provide a breathtaking setting for photography enthusiasts. The canyon is short and easy to walk, perfect for families with kids or those new to slot canyons, but getting to it is challenging. The almost 4-mile one-way route goes through dunes and deep sand. The road can be completely impassable. It is only available for ATVs and 4WD vehicles. But skills and experience in navigating such a desert area are also necessary. The solution may be hiking or a local ATV or jeep tour.
Is Peek-a-Boo Canyon Free?
Getting there is free if you decide to go on your own. This is quite tiring because the terrain is desert, and you walk for 2 miles in one way in deep sand, without shadow. Below we give details about this hike because we walked this trail in November. You can also get to the canyon by ATV. You can rent it in Kanab or take a local ATV tour or jeep tour.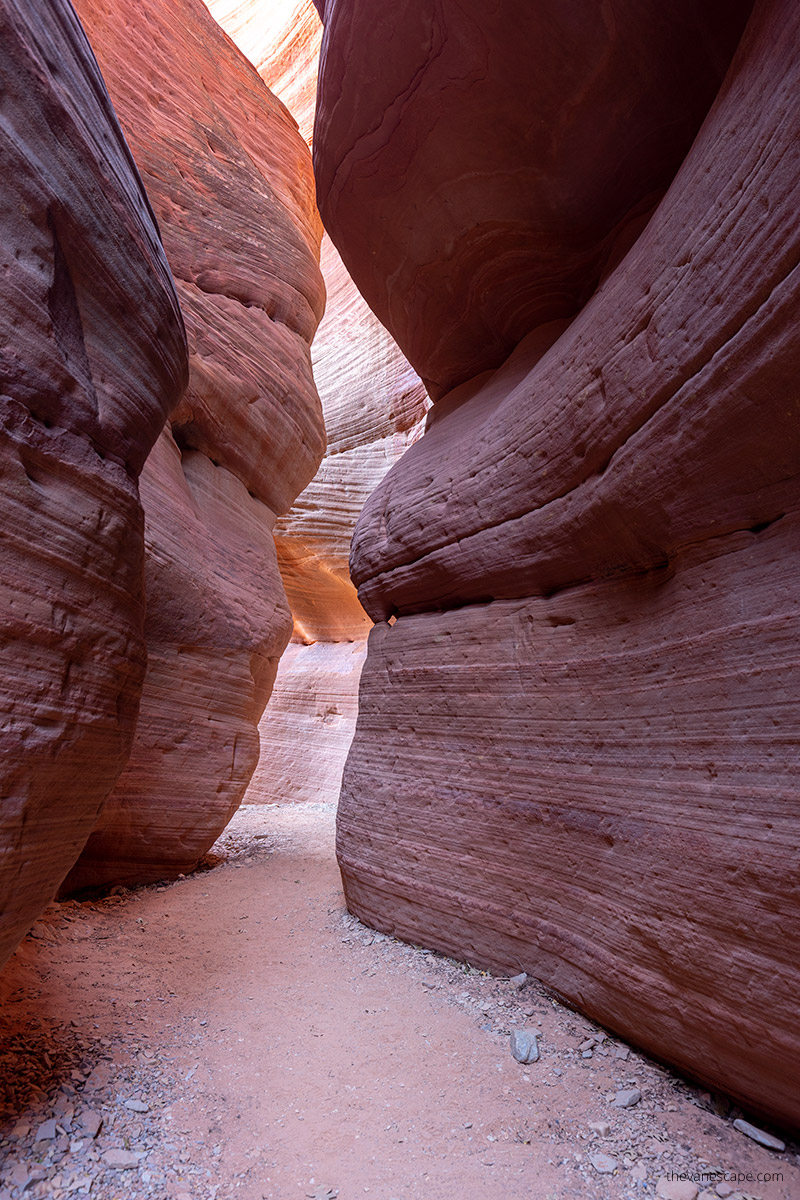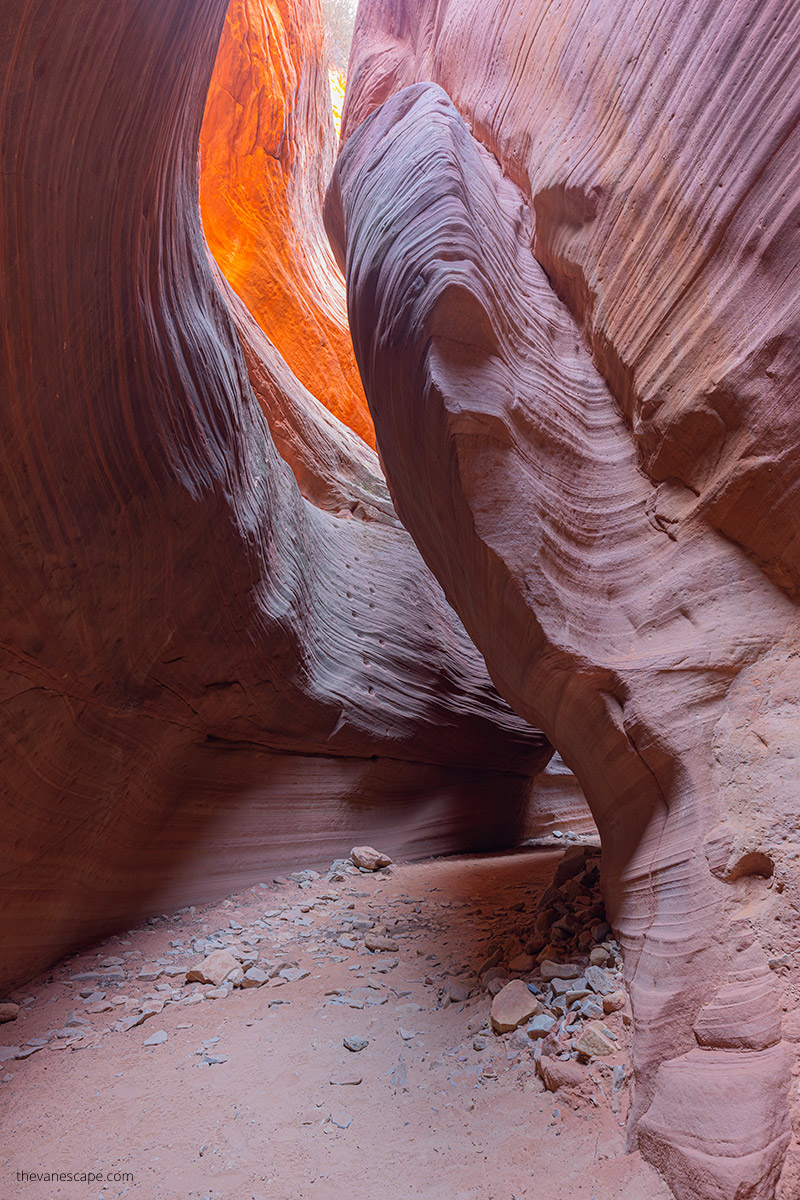 Driving Directions
To get to the Peek-A-Boo trailhead, head north of Kanab for 9 miles and take an eastern turn after spotting the Peek-A-Boo sign on the highway. After crossing a cattle guard and ascending a small hill, you'll arrive at a spacious gravel parking area. There are restrooms in the parking area.
From there, you can access BLM Route 102 on the eastern side of the parking lot. Follow that route until you hit a dry riverbed, also known as a wash. Once you've reached the wash, continue west onto BLM route 106H and follow it until you reach the slot canyon.
Remember that the path to the trailhead is filled with deep sand, so it's best to use a four-wheel, high-clearance vehicle. During the summer months, the route may be inaccessible to specific vehicles. The most popular modes of transportation to the canyon from the trailhead are ATVs and UTVs.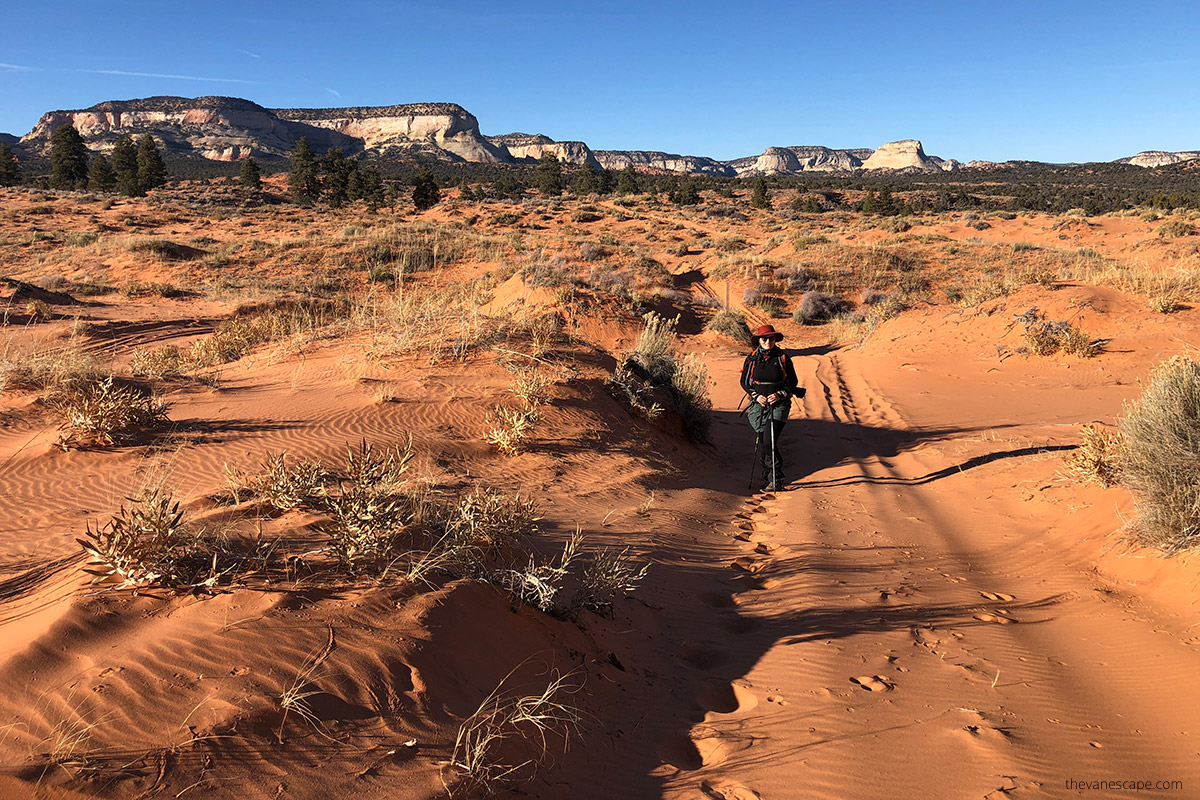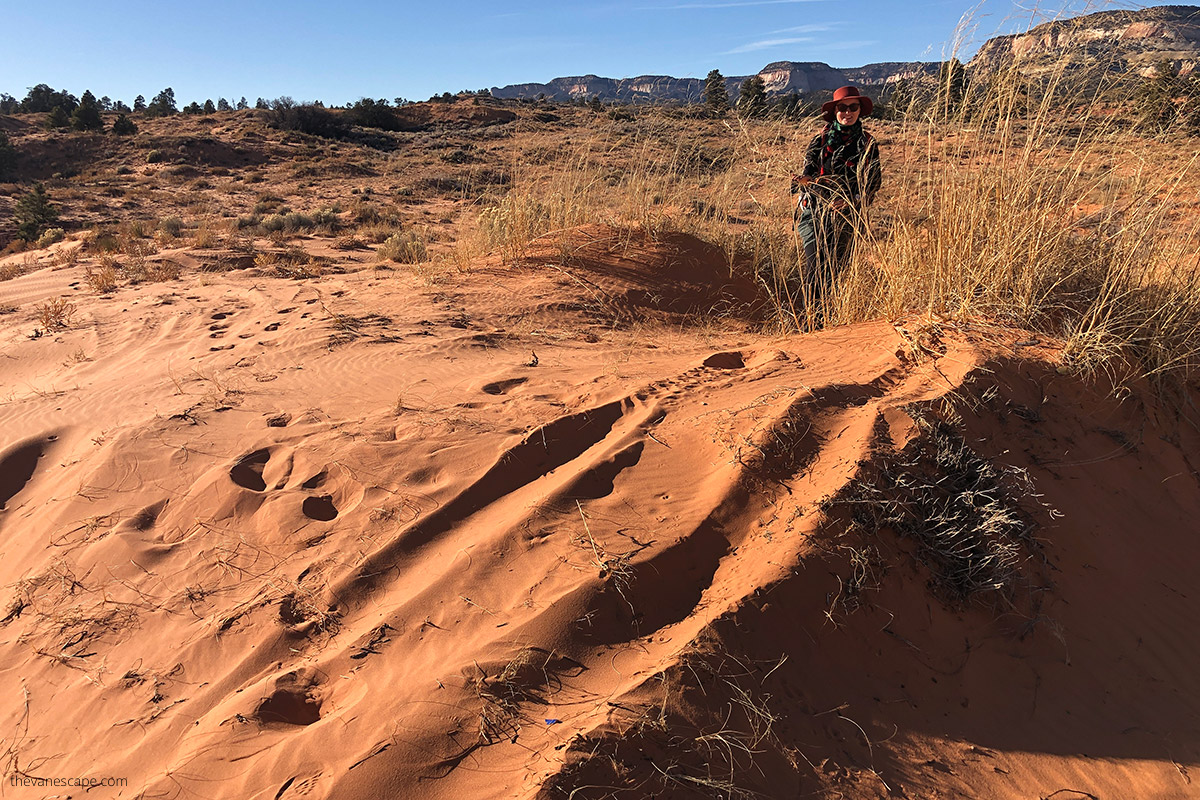 How to Get To Peekaboo Canyon in Kanab?
Rent a Jeep or ATV and do a Self-Guided Tour
If you have a 4WD vehicle or ATV and can drive deep sand, you can go to slot canyon on your own. Mainly since this route is quite frequented and it is difficult to get lost here.
Hike to Peekaboo Slot Canyon
If you don't have a 4WD vehicle or ATV and don't want a tour with a local guide (although we think it's a great idea because the prices are reasonable, you support local business, and it's great fun), you can hike on your own to Peekaboo Canyon from the parking lot. It's a 4-mile one-way hike to the canyon. Plus 0.7 miles one way inside the slot canyon. We walked this trail. It's not technically challenging, but it's tiring. It took us 5 hours to hike to and from Peekaboo Canyon.
Hike to Peekaboo is tiring for several reasons:
Deep sand. Wear comfortable closed-toe shoes. Sand can be scorching in summer, so be careful not to burn your feet.
Sun and no shadow. We made this hike in November, and it was pretty hot, so imagine the summer months. Protect your body from the sun. Remember to cover your shoulders, wear sunglasses and a hat, and use sunscreen with a high filter. Be sure to pack plenty of water and electrolytes for your hike.
The route is popular among UTVs and ATVs vehicles, so you must be extra careful. Which means you are walking along the shoulder in deep sand and dust.
Once you get to the slot canyon, it is a short hike (0.7 miles one way). It's not complicated. Moreover, it's not as narrow as Zebra Slot Canyon. It's not as long and challenging as nearby Buckskin Gulch.
Our Tip: Even for such a short and relatively easy hike, you must be prepared, so check the weather forecast. Also, ask about trail conditions at the local Kanab Visitor Center. You will also grab helpful maps for Peekaboo Canyon.
Please check record of our hike from Garmin Fenix 5 Watch below:
Off-Road UTV Private Tour with Guide
If you're seeking an exciting and adventurous way to spend a few hours in Kanab, look no further than this ATV tour! Speed along sandy trails on this private guided ATV tour as you reach the stunning Peek-a-Boo Slot Canyon. Along the way, experienced tour guides will provide insights into the area's distinct features. This tour promises a fun-filled excursion, remarkable vistas, and an authentic slot canyon adventure.
Our Tip: If you are an ATV enthusiast planning a trip, the sandy Kanab area is the perfect destination for you. A must-visit location is the Coral Pink Sand Dunes State Park in Kanab, where you can experience the thrill of driving in deep dunes. They are not as impressive and huge as the dunes in Great Sand Dunes National Park in Colorado or White Sands National Park in New Mexico but are still worth visiting, and you will have a great time.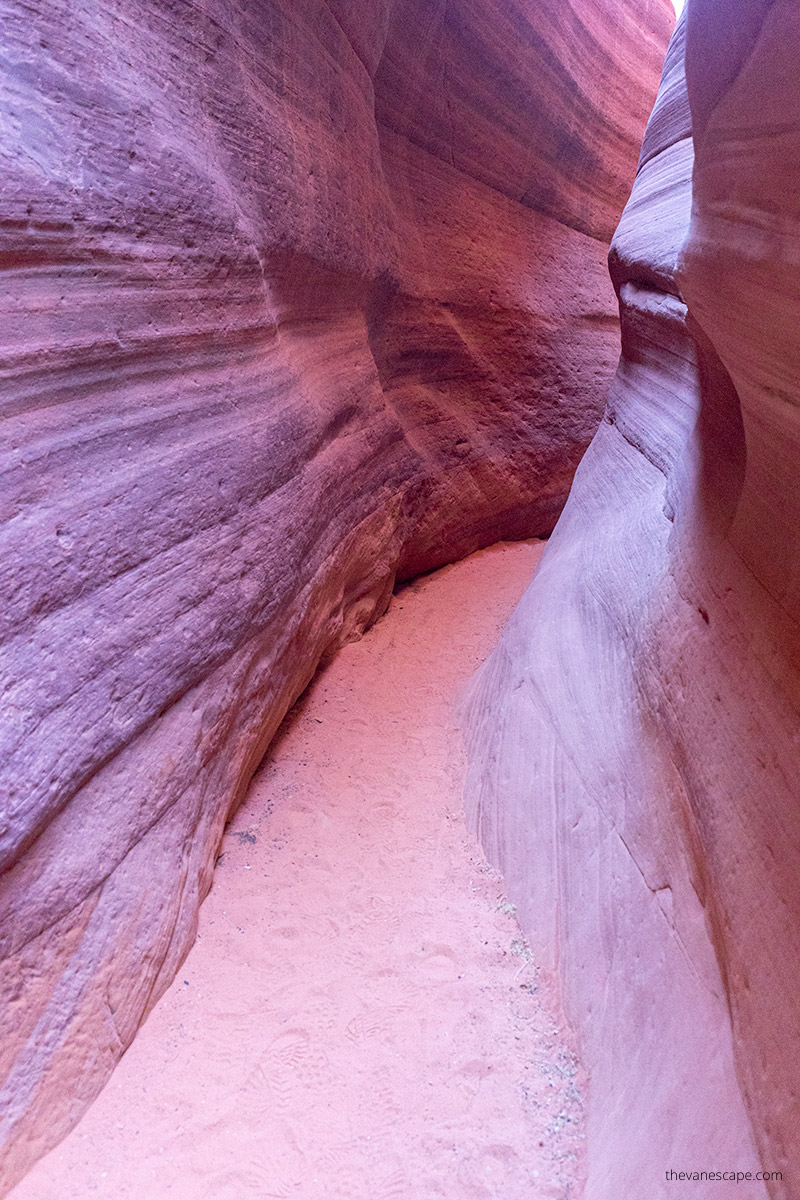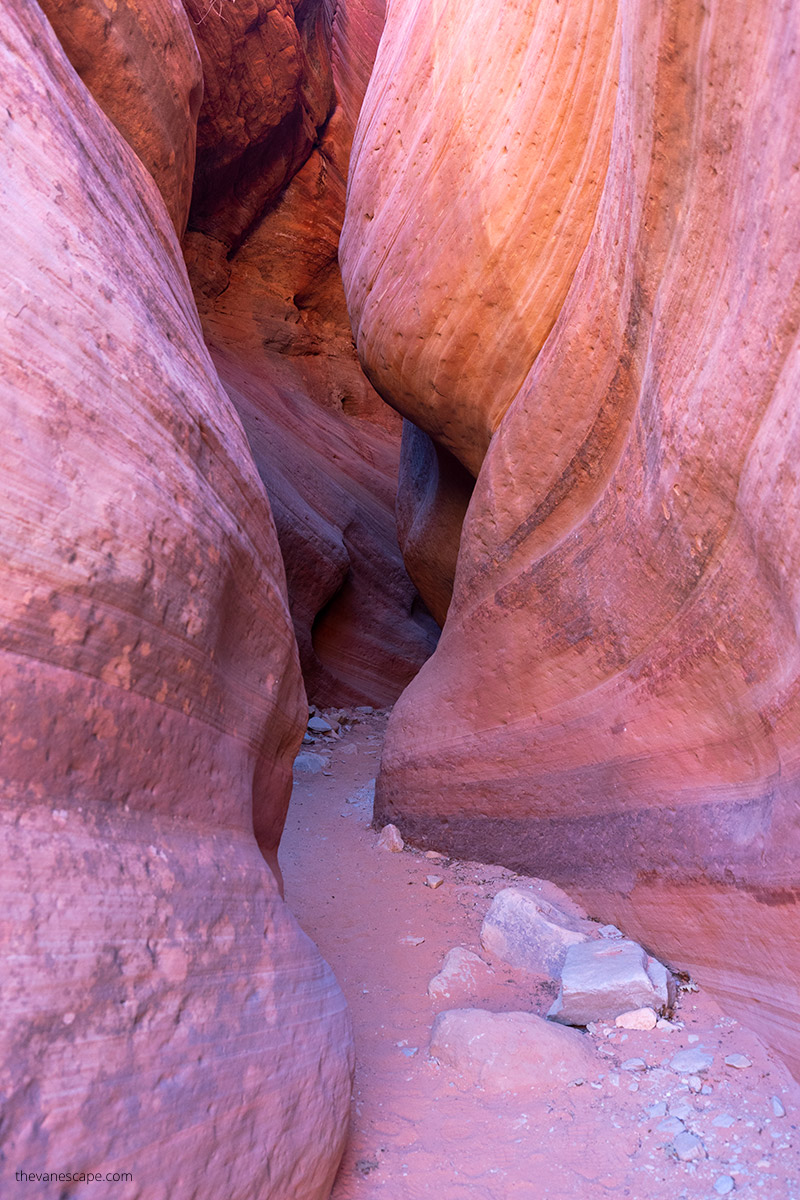 Off-Road Jeep Tour & Hike
If you lack a 4WD vehicle, aren't accustomed to driving on deep sand, and don't fancy ATVs, a Jeep tour could be an ideal alternative. This option has numerous advantages. Firstly, the price of this tour is remarkably reasonable. You have jeep transportation and a local guide, so you will learn many interesting facts about Red Canyon (Peek-a-Boo Canyon).
If you're traveling on a budget, have no experience in slot canyons, are a family with kids, or just looking for a lot of fun while learning about the place you're visiting from local experts, we highly recommend this Off-Road Jeep Tour & Hike.
You can check this tour's availability by typing your travel date below.
Guided Hike through Peekaboo and Great Chamber
As we mentioned at the beginning of the article, our discovery during our recent Kanab vacation in May 2023 is this jeep tour with a local guide that combines both Peekaboo Canyon and Cutler Cove. Check out our Great Chamber photos and tips if you haven't heard of this place. We were amazed when we got there. We have already seen many unique places in Utah, as we travel to Utah often. But the Great Chamber was intimidating with its phenomenal views and structure.
The whole tour will take about 5-6 hours. If you have that much time – book this tour. The price is also very favorable, considering you will visit two hard-to-reach places. The impressions are unforgettable. It's one of the best local trips we've had recently. Access to the Great Chamber is much more complicated than to Peekaboo Canyon. Getting there is 17 miles one way through extremely deep sand. We had a 4WD jeep but preferred a guided tour anyway, as our contract with the rental company did not allow driving on such extreme roads.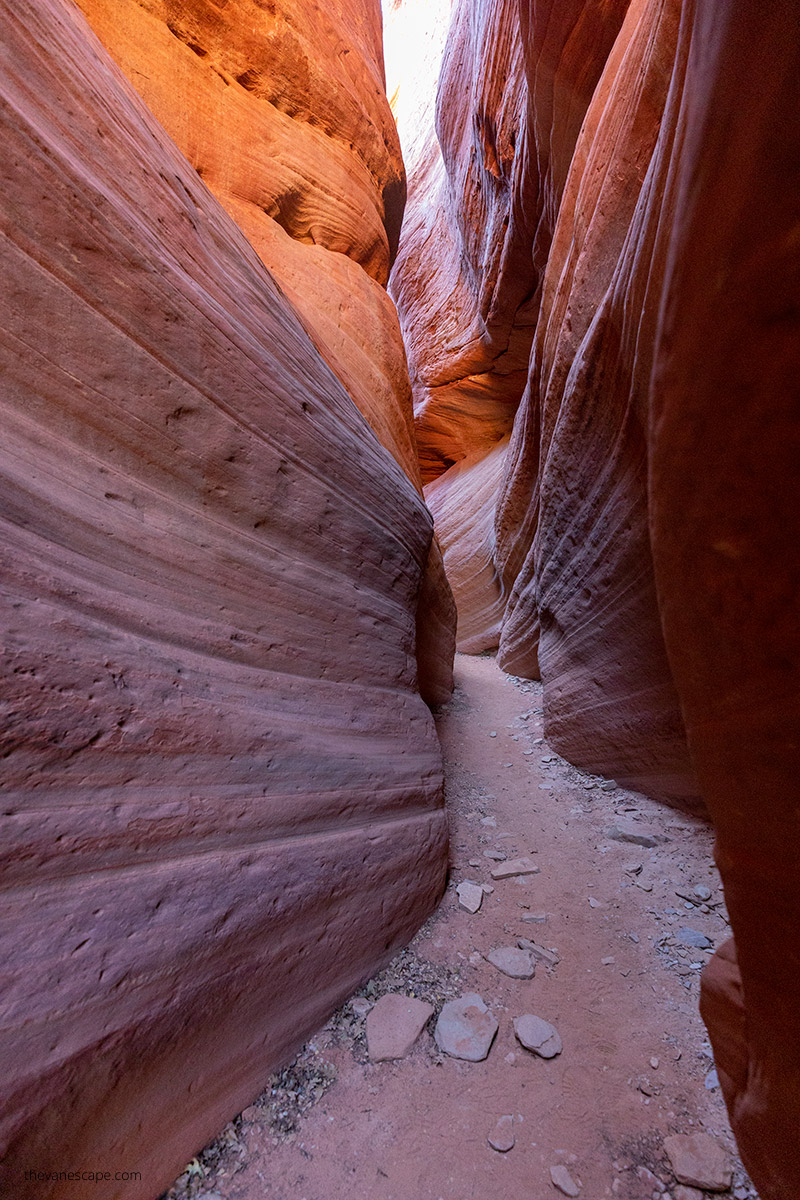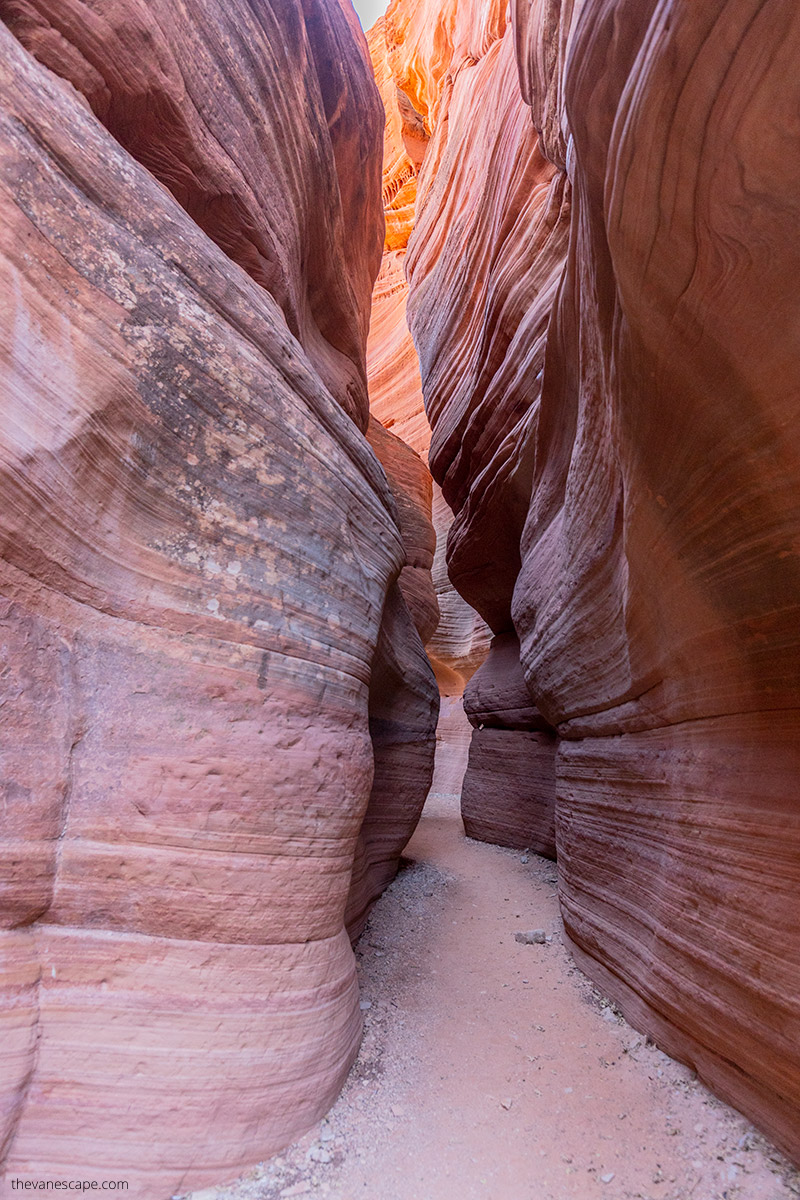 Final Thoughts of Peekaboo Canyon in Kanab
If you are in Kanab, we highly recommend visiting Peekaboo Canyon. This slot canyon is ideal for families with children and individuals who have not experienced other slot canyons before. The route to Red Canyon is easy to navigate, making it an excellent option for those unfamiliar with slot canyons. This hike provides an opportunity to determine your preference for slot canyons, as some individuals may feel claustrophobic in such environments.
Peekaboo Canyon may not match the grandeur of its renowned neighbors, Navajo Antelope Canyons in Page. You won't witness the stunning light beams like in Upper Antelope Canyon or the incredible walls of Lower Antelope Canyon and Canyon X. Nonetheless, Peek-A-Boo Canyon in Kanab is still a fabulous place worth a trip. Besides, it provides an affordable option for budget-conscious travelers, as Navajo tours are costly. You can explore Red Canyon in Kanab for free.
Moreover, you can add a Peekaboo Slot Canyon trip to your Utah National Parks road trip itinerary, as Kanab is just 40 miles from Zion National Park and 76 miles from Bryce Canyon National Park. For more inspiration, check out our top things to do in Kanab, as its area offers more stunning outdoor adventures!