How to Get to the Great Chamber Kanab at Cutler Point?
The Great Chamber, called Cutler Cove, is an iconic, unique geology formation. It's an off-the-beaten-path destination near Kanab, Utah. As getting there is incredibly challenging, we share all the tips and details to make your adventure unforgettable and safe. We tell you how to prepare your vehicle if you want to get there on your own, and we suggest which guided tour to choose if you prefer to get to the Great Chamber Kanab with a local expert. As photographers, we also give you some photographing hints for Great Chamber, as this scenery of Cutler Point is spectacular.
This article may contain affiliate / compensated links. For full information, please see our disclaimer here.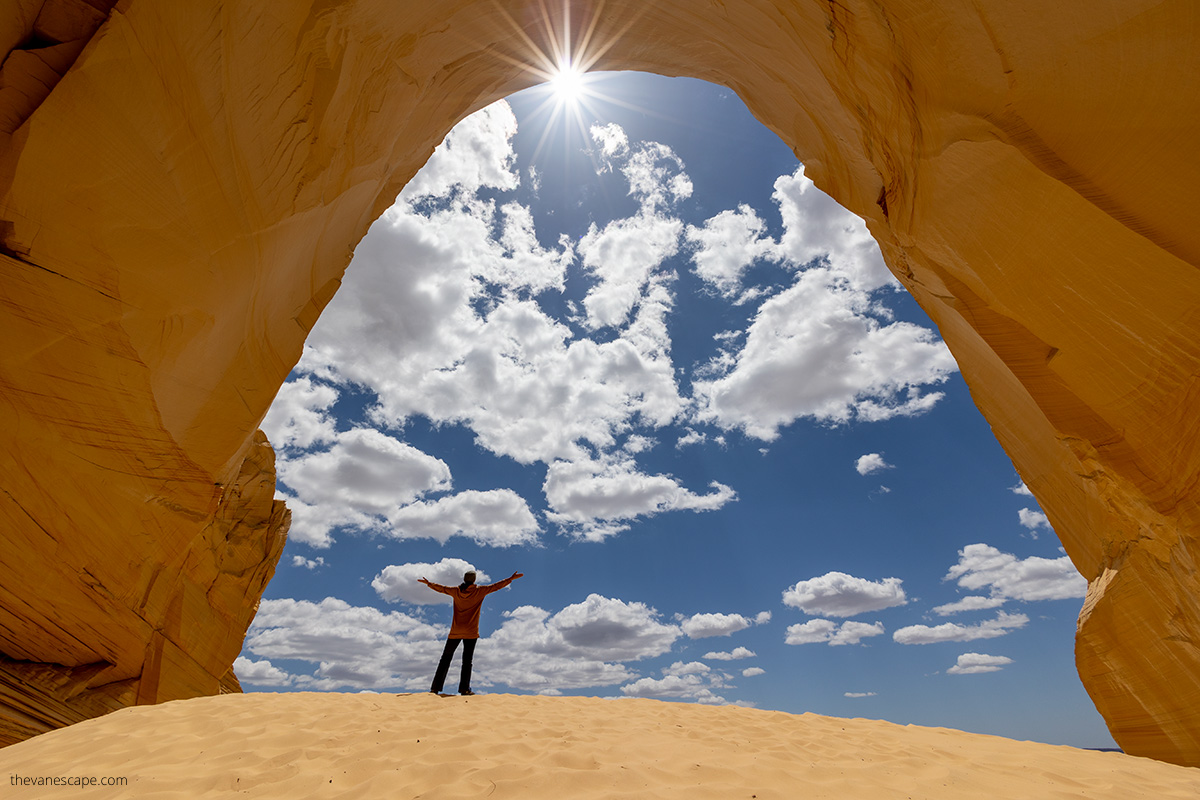 Great Chamber, aka Cutler Cove in Kanab – Quick Overview
Location: the Grand Staircase Escalante National Monument near Kanab at Cutler Point.
Permit Required? None
Entrance Fee Required? None if you explore on your own
Hike to the Great Chamber – Level of Difficulty: easy to moderate. It's a short and relatively easy walk than a hike. Only 0.5 miles long one way. It's a bit climb steep in deep sand (you must climb 200 feet in the soft sand).
4WD Required? Yes, it's a must.
Getting to the Trailhead: Extremely strenuous 4×4 drive through deep sand for 17 miles. 4WD with high clearance is a must. Driving experience in deep sand and dunes is a must. Consider a local tour if you do not meet the conditions.
Time Required: 3 – 4 hours. 15-20 minutes one-way hike to the Great Chamber. And a 45-minute – 1-hour drive to the trailhead.
Kids Friendly Hike? Yes (if they tolerate off-road driving well because of the deep sand).
Dog-Friendly Hike? Yes.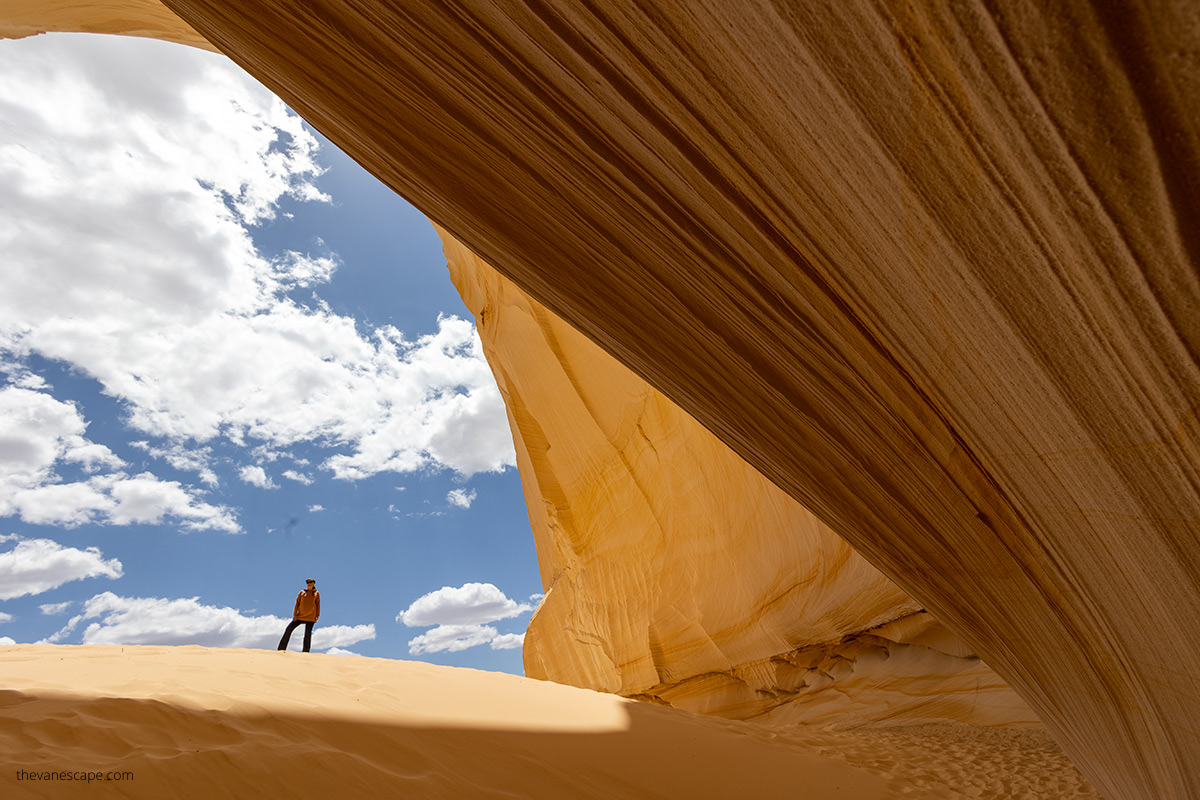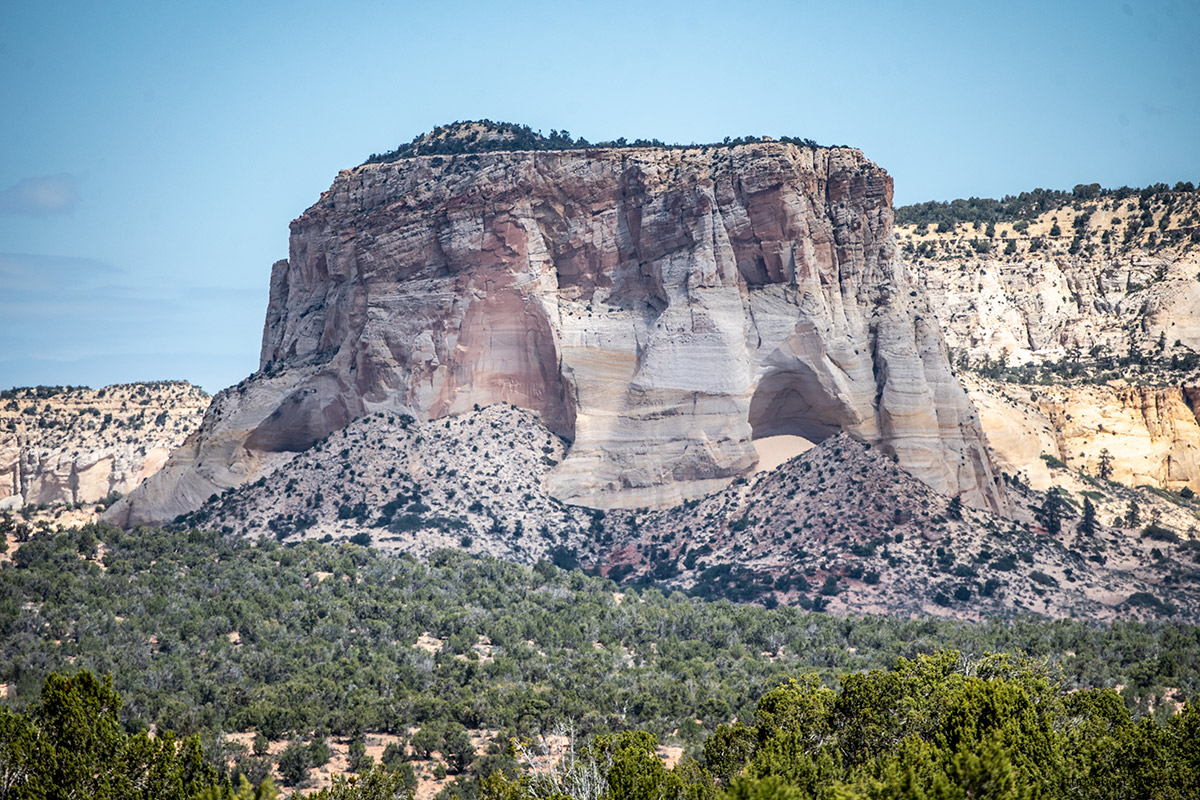 How to Get to the Great Chamber in Kanab – Our Experiences
The Great Chamber in Kanab enchanted us. Despite having been to Kanab multiple times, we struggled to reach this location due to weather and route conditions. However, during our most recent visit to Kanab in May, we decided to take a tour with a local guide, which proved the best solution.
In this article, we also offer tips on how to reach the Great Chamber independently, including advice on vehicle preparation and the hike itself. Getting to the Great Chamber at Cutler Point is a challenging feat that requires a high-suspension 4-wheel drive vehicle and a driver experienced in navigating deep sand over dunes. We give you detailed driving directions and a map to get to Cutler Cove.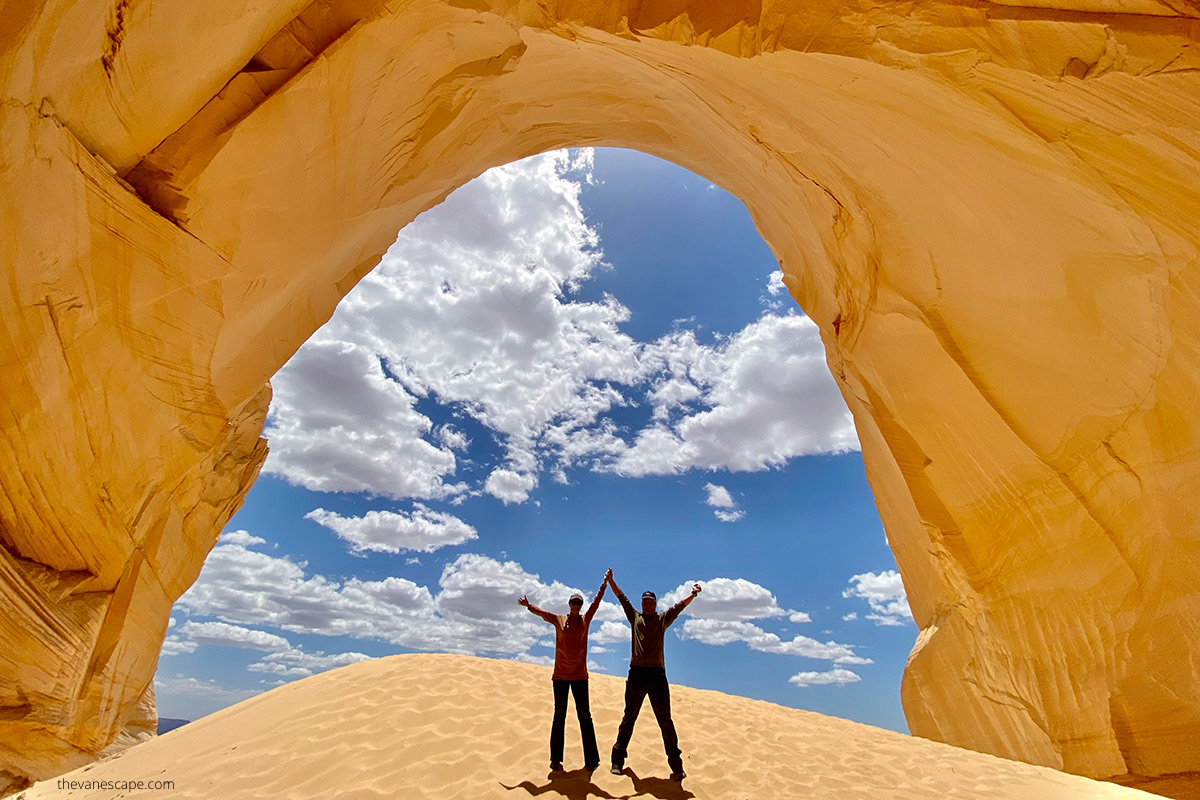 Although we met these conditions, we opted for this guided tour due to concerns over our rental car's insurance coverage in case of an accident or breakdown in the desert sand. This decision turned out to be a hit, as the guided tour proved to be one of the best trips we've had in recent times. It was a combination of two of the best attractions in the Kanab in one tour: The Great Chamber/Cutler Point + Peekaboo Slot Canyon. Moreover, we are thrilled that we could support local businesses.
As photographers, we have found that The Great Chamber is one of Kanab's best off-trail destinations. The White Cliff topography and windblown sand dune create a delicate geological environment, providing excellent opportunities to capture unique rock formations in stunning shots. If you love taking pictures – add a tour of the Great Chamber to your Utah Bucket List.
Take a moment to watch our brief video showcasing the breathtaking Great Chamber at Cutler Point before you proceed with the directions on how to get there. The video captures the area's stunning natural beauty and highlights how the sun illuminates scenic Cutler Cove during a hike.
What is the Great Chamber, aka Cutler Cove?
Located near the Kanab, in the Grand Staircase Escalante National Monument area, the Great Chamber is a vast monolithic sand alcove within the White Cliffs. It has been shaped by wind, sand, and erosion over many millennia. Its uniqueness lies in the presence of a remarkable sand dune that is concealed within the cove.
The scenery transforms into a magical fairy tale when the sun shines into Cutler Cove and onto the sand. The cave walls radiate a stunning glow, and you can climb to the top of the massive sand dune to capture breathtaking photos.
Our Tip: If you're considering a trip to Kanab, be sure to explore the Kanab surrounding area for other fantastic attractions. We have thoroughly researched and described them for your convenience.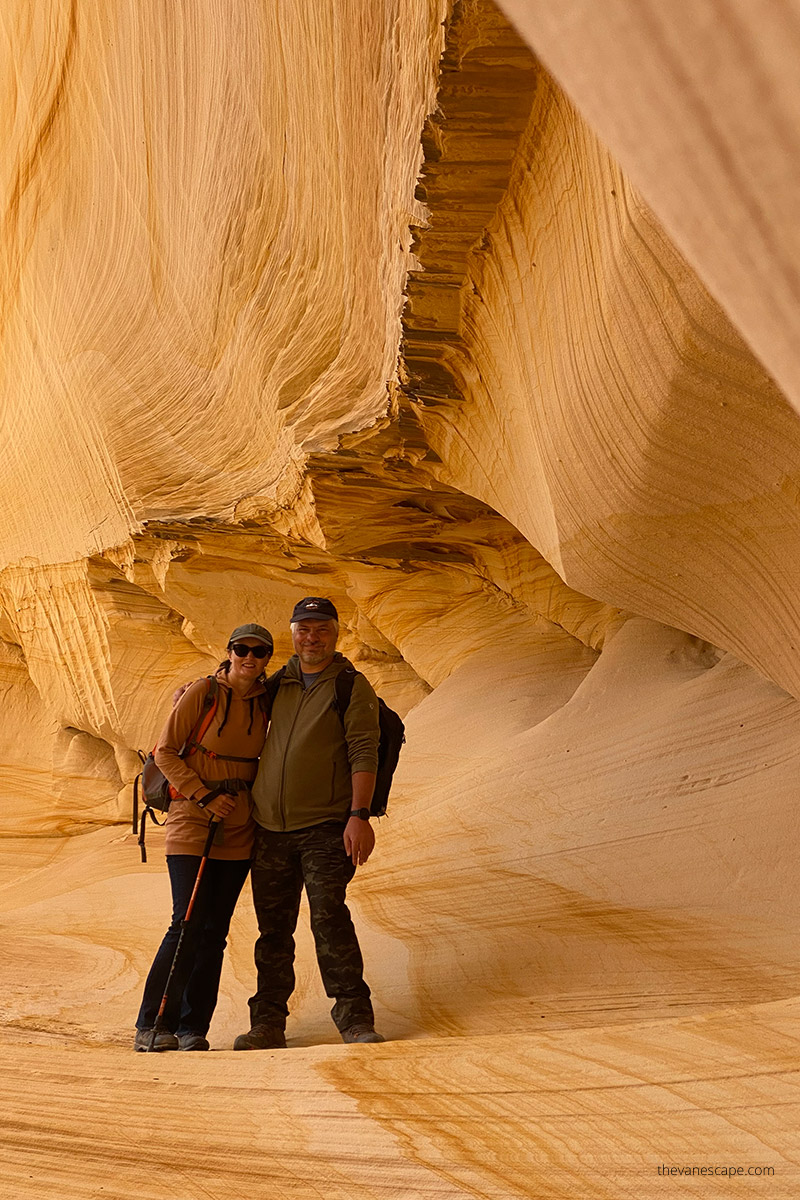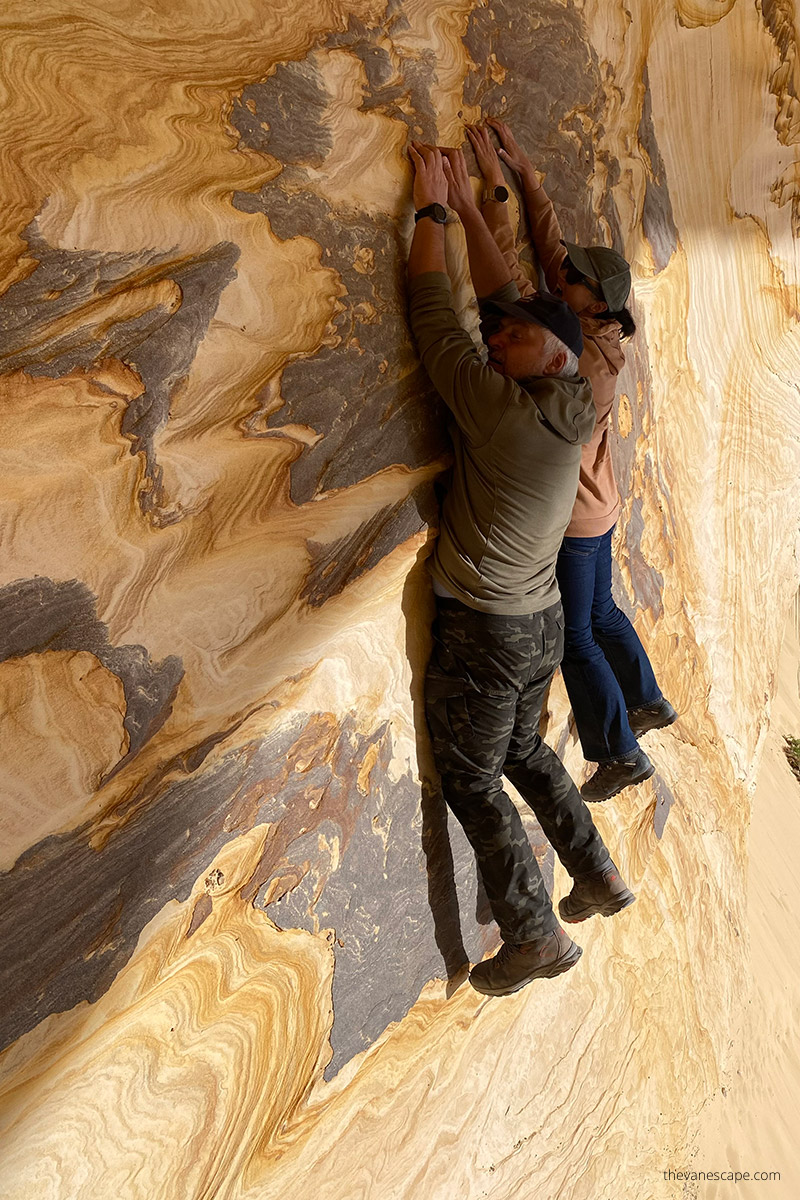 How to Get to Great Chamber at Cutler Point?
See below for details on how to get to the Great Chamber by your own vehicle with driving directions and a map, with a local guide off-road tour, and with a local guide with an off-road UTV tour.
Our Tip: If you have a rental car (even if it's 4WD and has high suspension), make sure the rental company doesn't prohibit you from driving this route. Many rental companies do not agree to ride in such extreme terrain.
The Great Chamber Tours from Kanab
Our Local Guided Jeep Tour from Kanab to Cutler Cove
We highly recommend this tour with Coral Cliffs, which we opted for. This tour allows you to visit two of the best off-road attractions in the Kanab area: Great Chamber and Red Canyon (Peekaboo Slot Canyon). Both these attractions require extreme off-roading. Our knowledgeable guide Kenny was an experienced off-road driver and an expert on Kanab and its surroundings. He regaled us with fascinating tales about the area, including Kanab as Little Hollywood, where many Westerns were filmed. Kenny impressed us with his personal story of reaching the Great Chamber with his grandfather on horseback at just six years old! It was in 60ths. His expertise is genuinely exceptional, and he ranks among the best guides we have encountered. Also, Kenny took some great photos of us together on this trip. Finally, we have better pictures than just selfies. We highly recommend selecting this tour.
Moreover, this two-site tour is more affordable than the Great Chamber tour alone. And since we've been to both places, we know that both are worth seeing. Although Peekaboo Slot Canyon may not be as striking as the nearby and unique Upper Antelope Canyon, the fascinating Lower Antelope, or the less frequented Canyon X, it is still worth experiencing.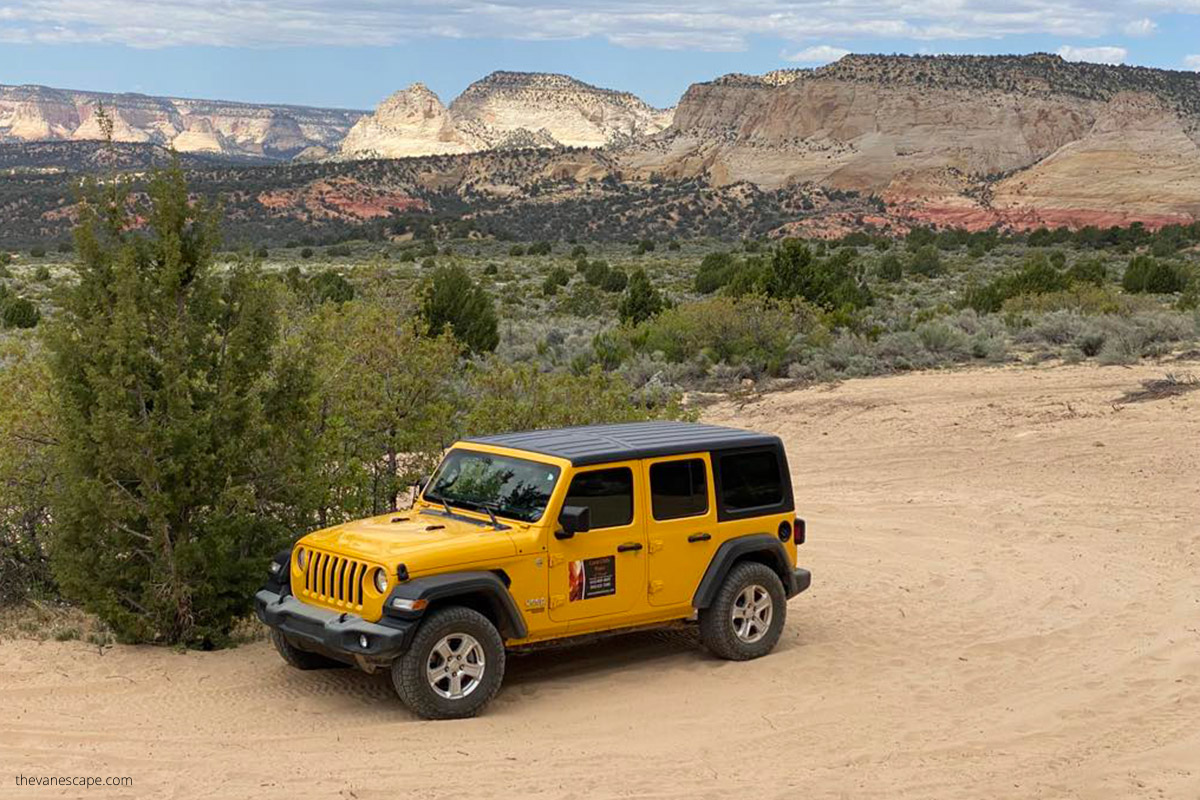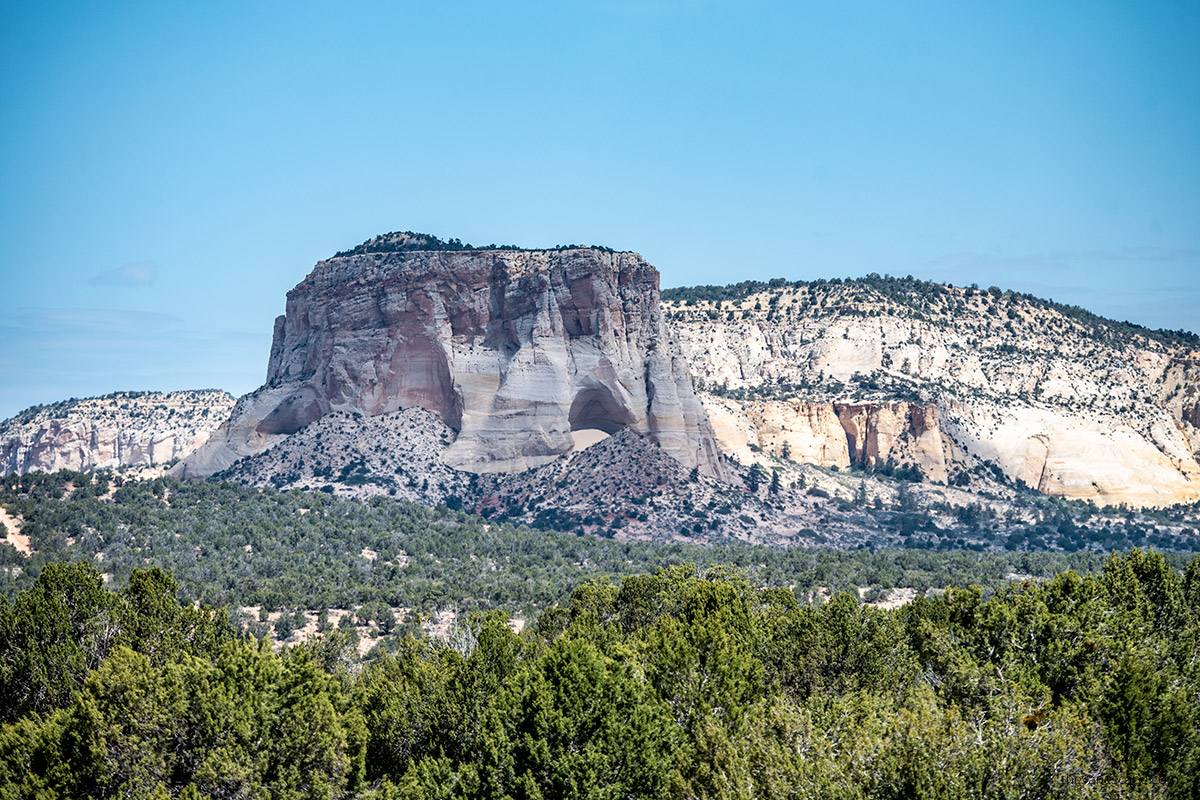 UTV Tour from Kanab
We opted for a Jeep tour. But you can get to both places with UTV tour if you like off-road adventures. The Kanab area is an excellent place for off-road and UTV enthusiasts. In addition to the Great Chamber at Cutler Point and Peekaboo Slot Canyon, you can ride a UTV nearby Coral Pink Sand Dune State Park.
Our Tip: If you have a rented car, please note that the rental terms and insurance may not cover driving off-road in deep sand. Make sure you can take this route. This tour we also recommended for those not feeling confident navigating deep sand. Merely having an excellent car with 4WD and higher clearance is insufficient if the driver lacks experience in driving on extremely sandy roads.
How to Get to The Great Chamber on Your Own?
Of course, you don't have to buy a tour to get to the Great Chamber in Kanab (although we were delighted that we got there with a local expert). Below are tips on how to get to Cutler Point on your own.
Vehicle Requirements
First of all, you must have a 4WD high clearance vehicle and driving skills in deep sand. We had a Jeep Wrangler Unlimited, but it was a rental. And our contract does not allow this type of off-road driving. Do not risk driving without a 4WD vehicle and without experience with driving through deep dunes. You'll get stuck in the deep sand, and towing from there is costly. Moreover, there's no cell phone service. It's a good idea to ring a shovel if you need to dig out your car if you get stuck.
5 Driving Tips to Reach the Great Chamber in Kanab on Your Own
Make sure you have a proper 4×4 high-clearance vehicle. The easiest way to make sure is to check if you have an extra lever that allows you to switch between 2WD, 4WDHigh, and 4WDLo. Examples of cars suitable for this road are the Jeep Wrangler, Toyota 4Runner 4×4, Ford Bronco, Land Rover Defender, etc.
Please ensure you have at least A/T (All Terrain) or M/T (Mud Terrain) tires, not regular tires. You will be driving in deep dry sand for about 17 miles.
Be prepared to down your tire air pressure to 25 PSI or lower before entering dirt road – depending on the season and sand situation. It would be best if you were prepared to up it back after getting off the sand – otherwise, there is a risk of a tire blowout, and it generally is unsafe. It would help if you kept a PSI of 35 or higher. It means you will need an air compressor or take the risk of reaching the nearest gas station on flat tires.
Turn off the traction control to have a better grip on the sandy road.
Start driving with 2WD, then when you see deeper sand, switch to 4WD. This gear should be suitable to take you to the top. If you ever need to change to 4WDLo, consider getting back and quitting the hike. Remember that 4WD is to get you out of trouble, not into the problem.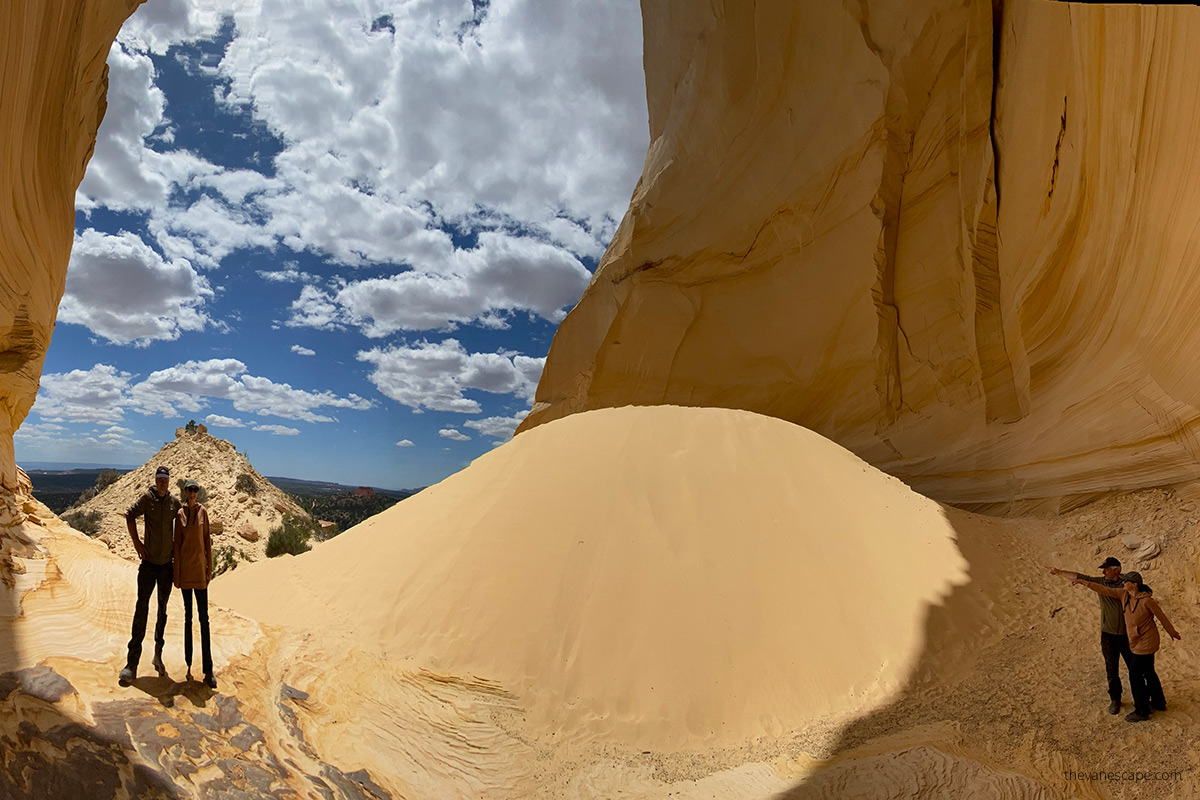 How to Get to Great Chamber at Cutle Point – Driving Directions and Map
Based on the official detailed BLM map from Kanab Field Office, which you can download as a PDF, we have prepared detailed driving directions to the Great Chamber Trailhead. We have marked which roads you must take to get to Cutler Point on the map. This area has several deep sand roads, and it is straightforward to make a mistake. Therefore, follow the instructions below. Download offline maps. You won't have coverage on this route.
Our Tip: Do not try to use Google Maps to navigate to the Great Chamber at Cutler Point, as you will get the wrong directions. Use only the BLM map.
Driving Directions from Kanab via Johnson Canyon Road
From Kanab, take US-89 S. Follow US-89 S through 9 miles. Then turn left into Johnson Canyon Road. This road is also paved and scenic, as there is a bit of destroyed Johnson Canyon Western Movie Set. Drive Johnson Canyon Road till you reach Trail 100 (Crocodile Trailhead 100) on your left. It's about driving 8 miles through Johnson Canyon Road. You can't miss it. as there is a parking lot, toilets, and BLM information boards. This is the point where deep sand roads start (we marked them on read). You must drive 17 miles in deep sand—first 8 miles via Trail 100 and then 9 miles via Trail 103. Good luck!
Facilities after Crocodile Trailhead
From Crocodile Trailhead, you enter a remote area. No services, phone coverage, water, restrooms, or other facilities exist. So, make sure to practice Leave No Trace principles. Anything you take with you needs to leave with you as well. Take all your garbage back with you.
Hike from Crocodile Trailhead
You can also hike to the Great Chamber from the Crocodile Trailhead parking lot. But walking to Great Chamber from this place is not a great option. It is a 17.6-mile hike in soft and deep sand, without shade along the way. This is a very long and dangerous distance for a one-day hike. So it's pretty risky. We don't recommend this solution. We hiked a lot in deserted areas of Utah, Arizona, or New Mexico (like Bisti/De-Na-Zin Wilderness or Ah-Shi-Sle-Pah Wilderness), and we know it's pretty dangerous to your health. It's easy to dehydrate. We also hiked dunes in White Sands National Park and Great Sand Dunes National Park, and hiking was challenging in such deep sand.
Great Chamber Infographic and Driving Time
Below is also a simple infographic that should help you get to Cutler Cove and distances in miles from the leading centers in the area.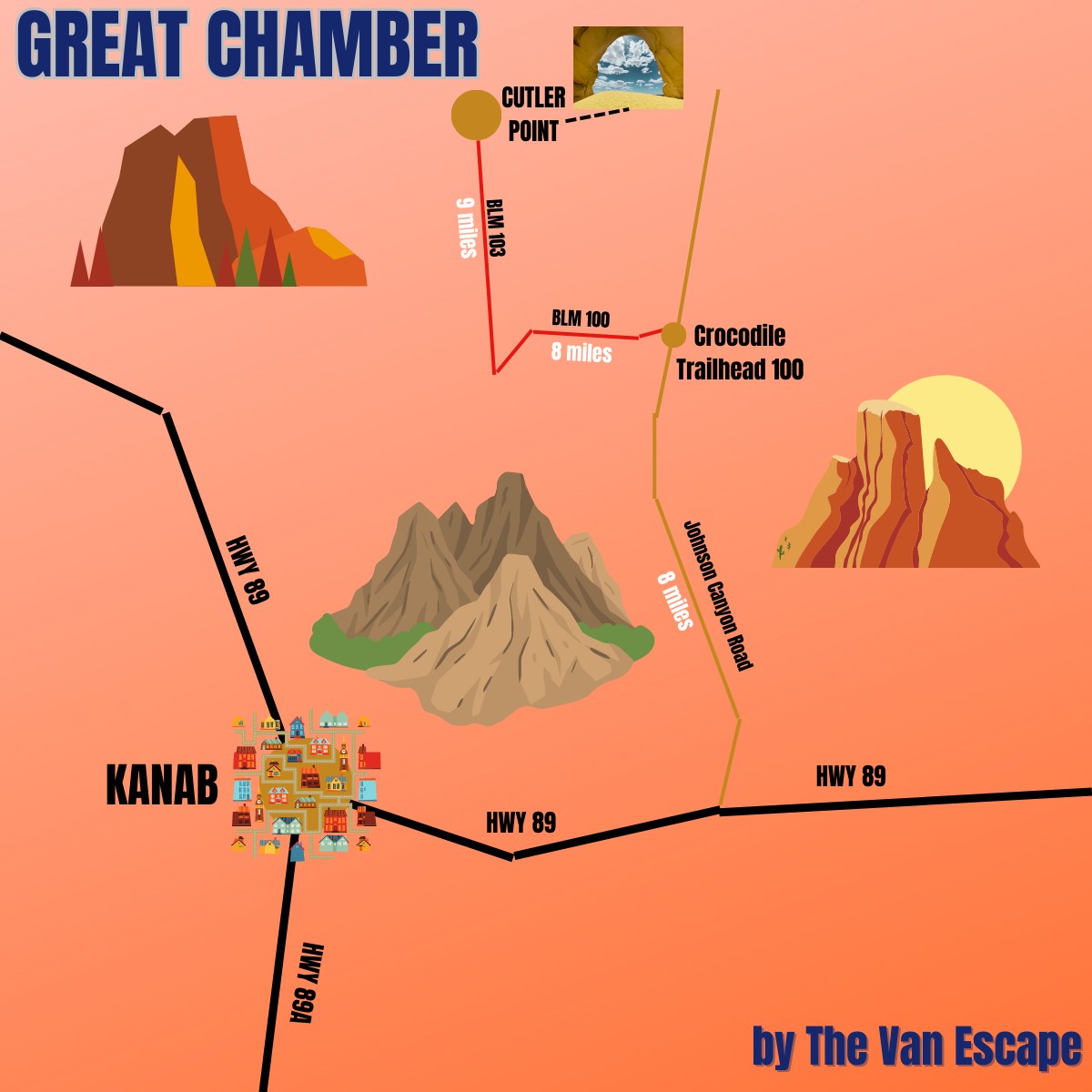 Hike to the Great Chamber in Kanab
Whether you are going to the Great Chamber alone or on a local tour, you will still have to climb a short distance from the trailhead. To get to the stunning Cutler Cove, you must ascend the sandstone rock amidst deep sand and rocks. While not particularly difficult, it will take less than half a mile and no more than 15-20 minutes. However, it can be exhausting as the sand tends to slip from beneath your feet. Hiking poles can help with balance and make the climb easier (feel free to check out my tips on selecting the best hiking poles). As the hike to Cutler Cove is through the sand, the best idea is to wear higher hiking boots or hiking sandals. The sand can be hot in summer. Sunscreen and a hat are necessary.
The path is quite visible and well-trodden. Keep to the right to reach the alcove. Return to the parking lot is the same way. There is no other path. It's best to download a trail map from AllTrails to avoid confusing the paths.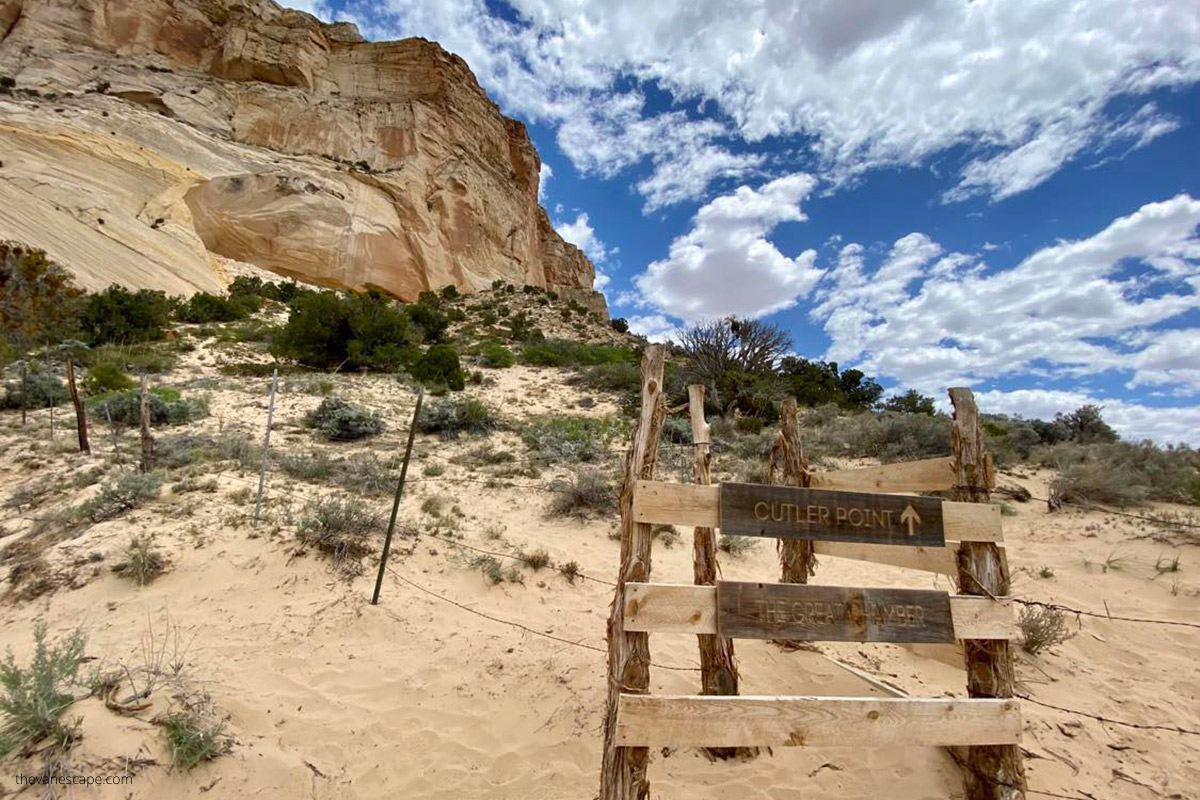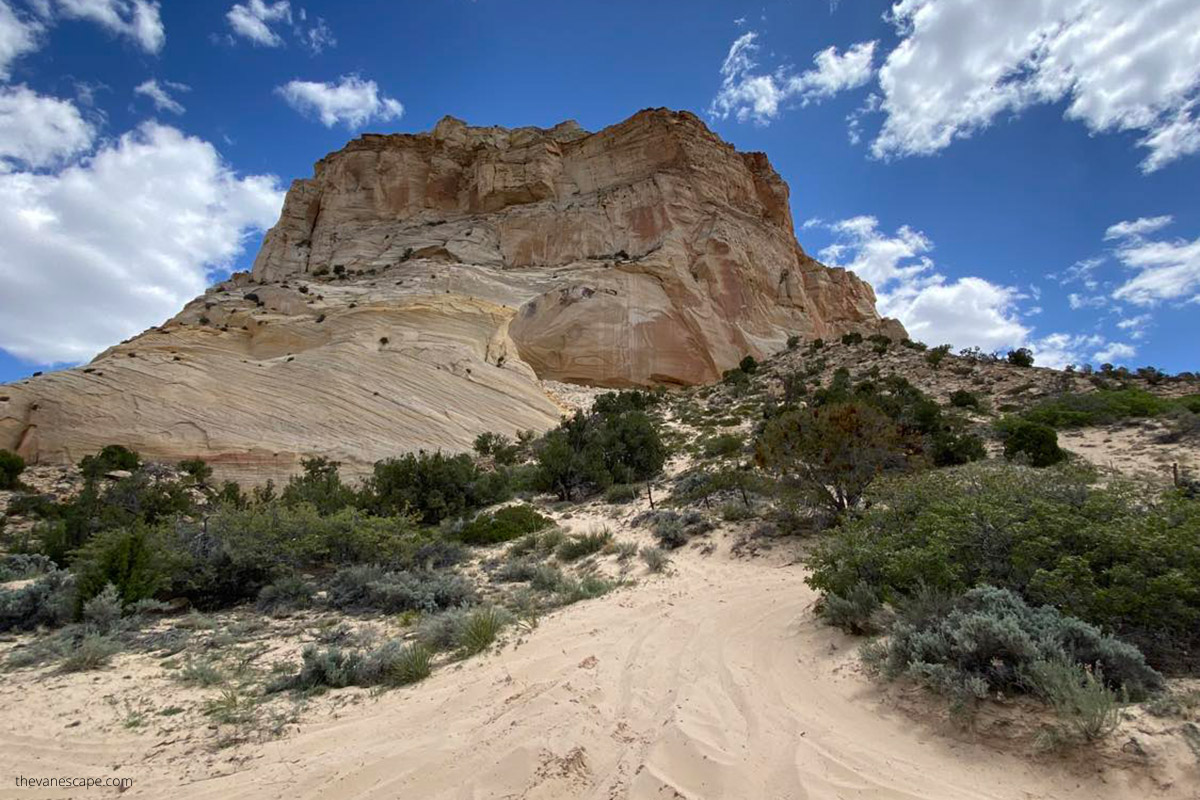 Great Chamber in Kanab – Photography Tips
This vast open dome of the Great Chamber with a tall sand hill is a dream photography spot. So we share with you some photography hints. They are helpful for both amateurs and professional photographers visiting Cutler Cove.
Bring a Wide-Angle Lens
This alcove is just huge. No pictures can convey its size and majesty. So to photograph it well, you need wide-lens. We used iPhones with a wide lens, and Chris took pictures using Canon EF 16-35mm f/2.8L Ultra Wide Angle Zoom Lens. Thanks to this lens, he could capture the sun and the rays of the sun falling so beautifully into Cutler Cove.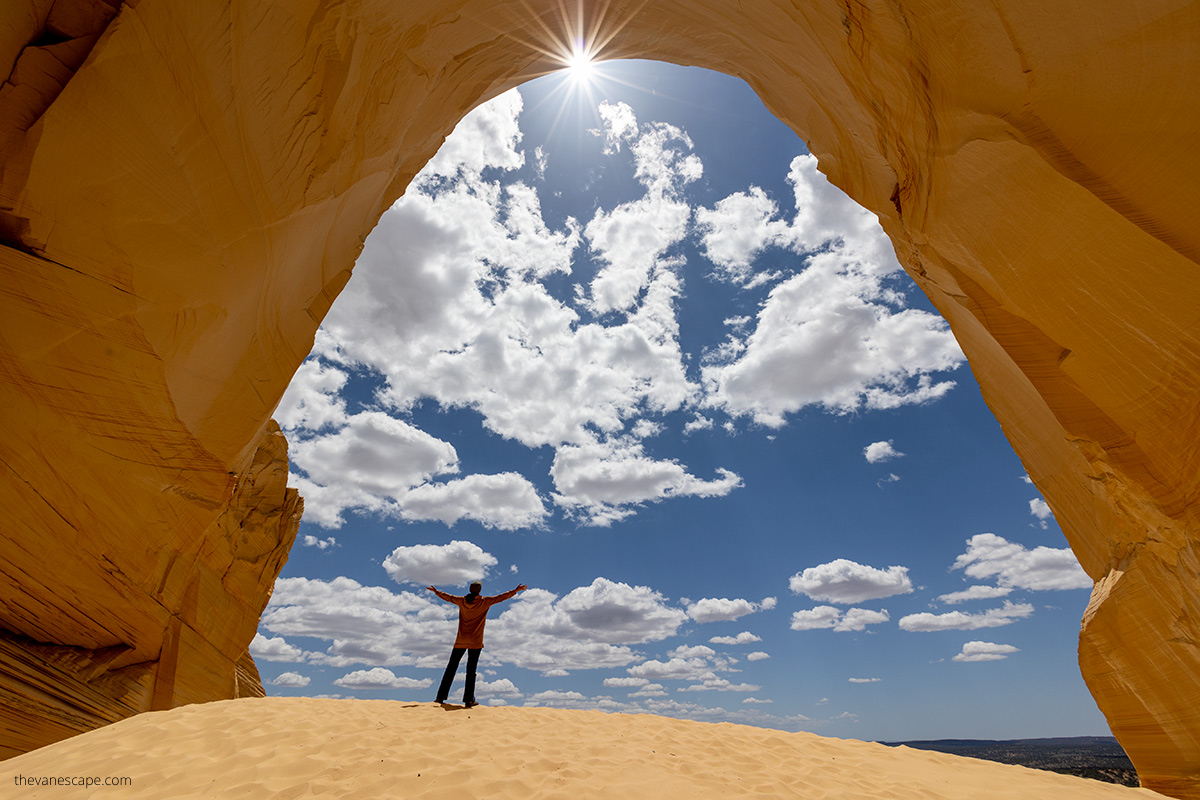 Play With The Sun, Sand, and Walls of the Great Chamber
It's worth trying to capture the sun flare in the Great Chamber, as it's stunning. Begin by adjusting your aperture to f1/16 to capture the sunburst effect. Utilize the edge of the cave to position the sun partially behind and partially in front of the cave wall for an interesting effect. Explore the Great Chamber's walls, patterns, textures, and shadows to experiment with different angles and views. Keep an eye out for the wind. You can catch the moving sand over the sand dune in your frame.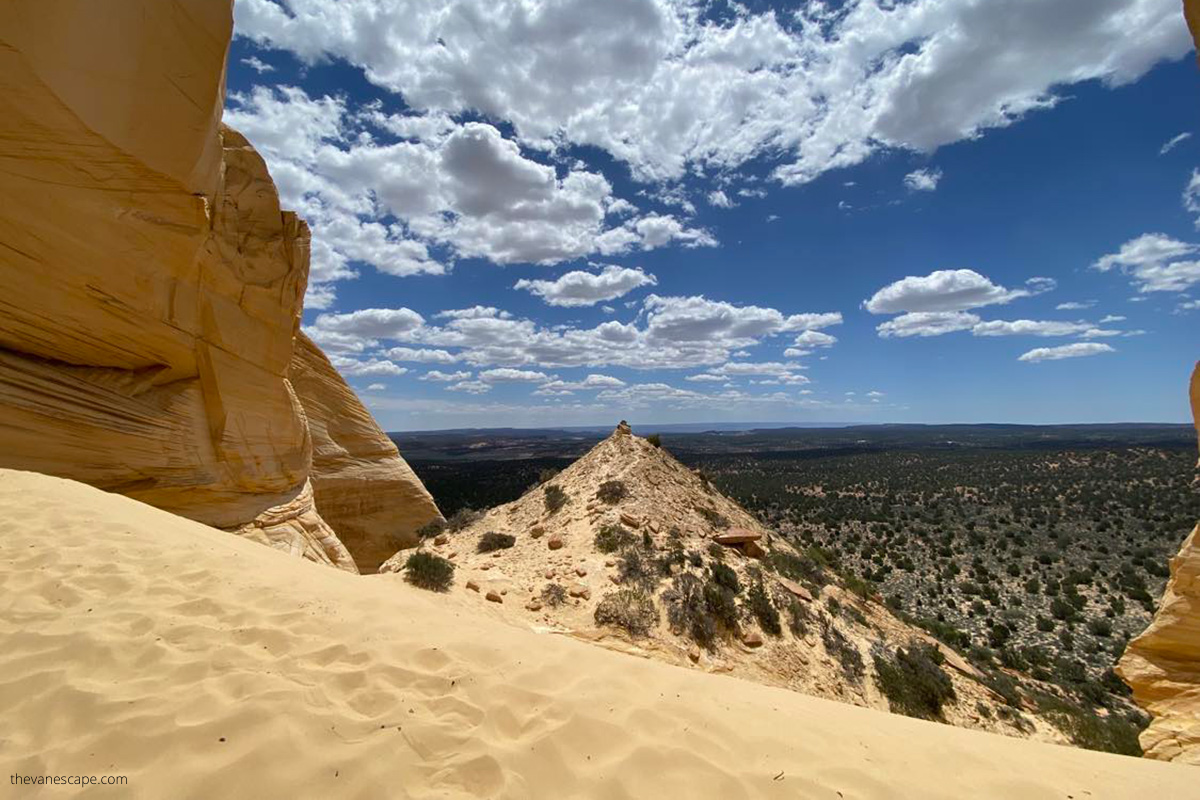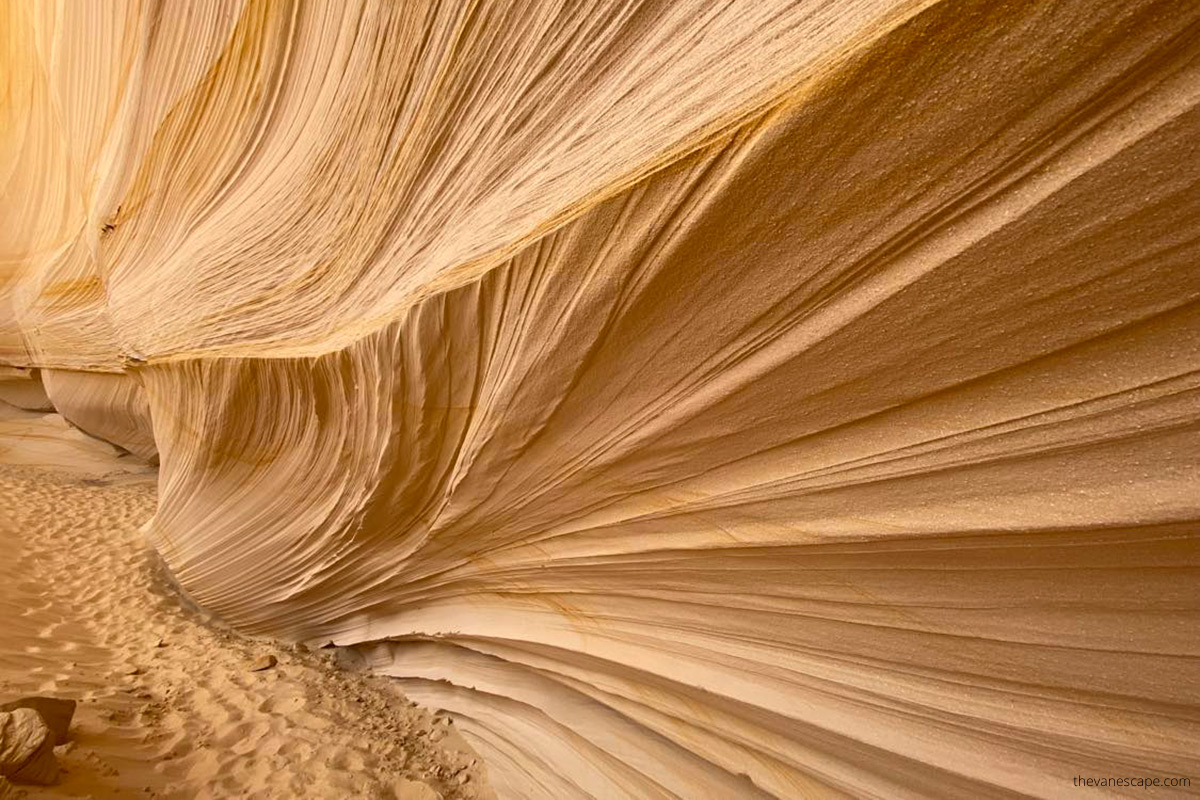 Best Time of the Day for Taking Pictures
We suggest visiting in the morning for optimal lighting conditions when photographing the Great Chamber. Our tour of the area began in Kanab at 11 am, and we arrived at Cutler Cove around noon, where we took all of our pictures between 12 and 1 pm. During this time, ample light was on the walls, sand, and throughout the cove.
The location of the Great Chamber is ideal for capturing the early-to-mid-morning sun and is also a perfect spot for capturing the beauty of the Milky Way.
Best Time of the Year to Visit the Great Chamber at Cutler Point
Kanab is a fantastic destination that can be enjoyed throughout the year. Despite the chilly winters, the area boasts plenty of sunshine, making visiting the Great Chamber at any time possible. However, the ideal time to visit is during spring and fall. Summer days can also be enjoyable. But it's essential to remember that temperatures can soar as high as 90-100 degrees during the summer. So taking precautions and protecting your body from the sun is crucial. Additionally, afternoon thunderstorms are more frequent in the summer. It's best to plan your trip for the morning hours. Bring also more water and electrolytes and remember about hydration.
Our visit to the Great Chamber occurred mid-May. We had perfect weather conditions. So we did a few other challenging hikes and scenic drives around Kanab in May because the weather was good. We reached the slightly claustrophobic Zebra Slot Canyon in Escalante, which was completely dry. We drove the famous Cottonwood Canyon Road and Smoky Mountain Road. But we visited Kanab many times before. Also, in October and November. During fall we did other hikes in the Kanab area like Coyote Buttes South, or Buckskin Gulch one day hike. We did Toadstool Hoodoos trail, and hiked to the Nautilus rock formation. And the temperature was perfect for day hiking. We were also in Kanab in April when we hiked to the unique Wave formation.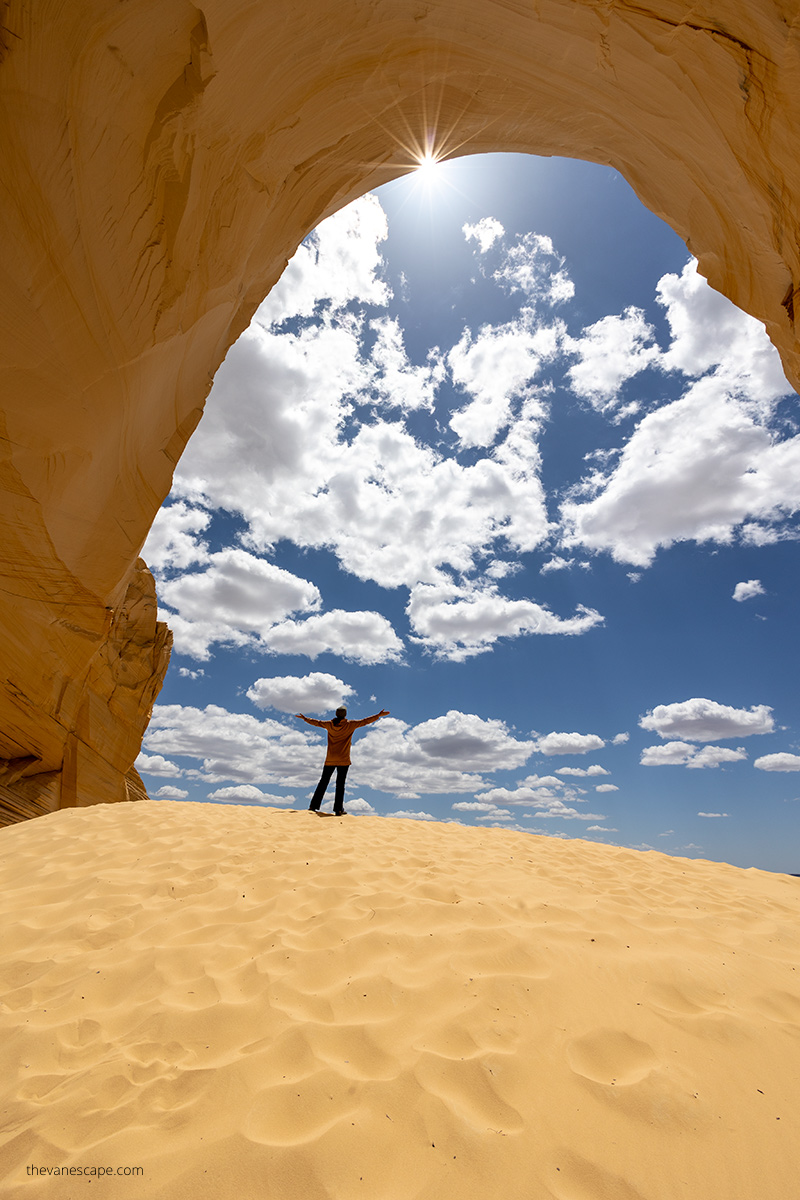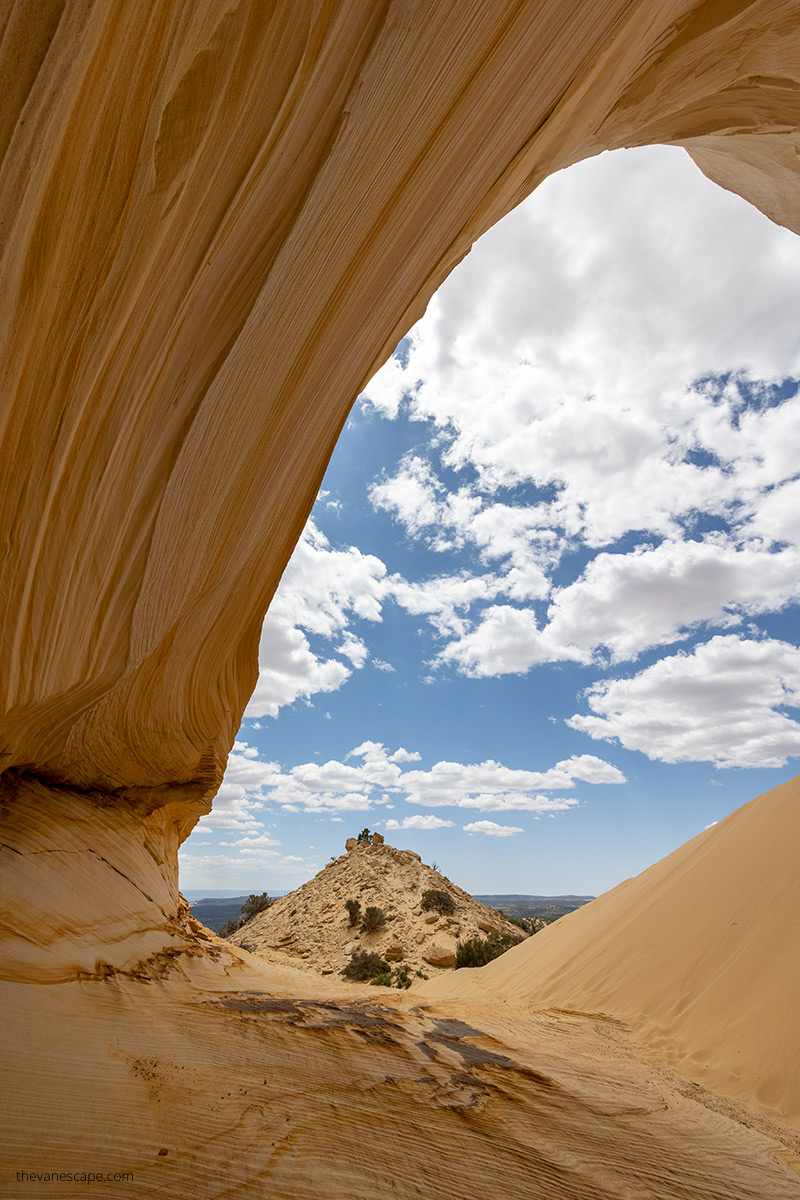 Where to Stay while Visiting the Great Chamber at Cutler Point?
We always stay in Kanab, and in our article about the best things to do in Kanab, you will find suggestions for the best accommodation in Kanab because we spent a lot of time in this city.
Below you can also see the best hotel deals for the dates of your choice.
Do you like it? Pin it for later!