Hiking The Bisti/De-Na-Zin Wilderness New Mexico
Have you heard about The Bisti/De-Na-Zin Wilderness Area in New Mexico? Also named Bisti Badlands? Sounds weird? We assure you that it looks even stranger. It is a fascinating place in the remote area of northern New Mexico, which looks like an Alien landscape. Walking through the Bisti Badlands Wilderness is like entering an alien, prehistoric world of desolate desert and bizarre rock formations. Unusual shapes stimulate your imagination. All the time, you wonder if, from behind of the cosmic rocks, some Alien or Bisti Beast will appear. But, there are no marked trails, so it is difficult to find them. So, we have prepared complete Hiking The Bisti/De-Na-Zin Wilderness Guide for you. You will learn how to get there, where to stay, and how to prepare for exploring this remote and challenging area.
This article may contain affiliate / compensated links. For full information, please see our disclaimer here.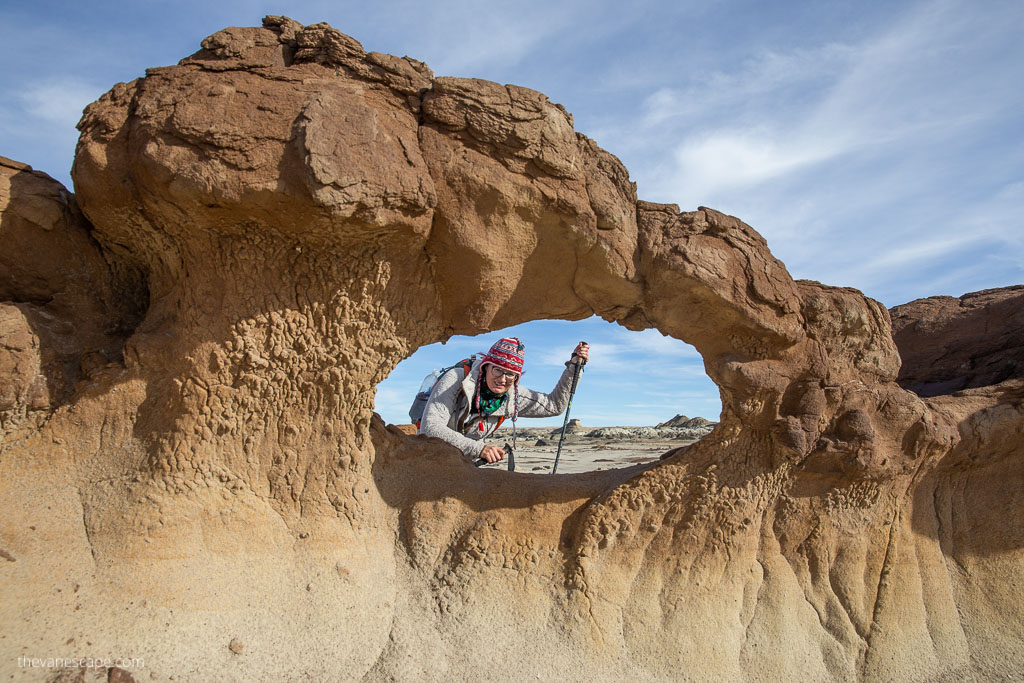 Hiking The Bisti/De-Na-Zin Wilderness in New Mexico – Introduction
In the article, we focus on the western section of Bisti Badlands/De-Na-Zin Wilderness which is about 36 miles south of Farmington, N.M. It includes locations like the Alien Egg Hatchery, also named Cracked Eggs, the Conversing Hoodoos, and the famous Stone Wings. The best description of the Bisti Badlands you will also find in the fabulous guidebook Hiking New Mexico: A Guide to the State's Greatest Hiking Adventures. It covers Bisti Badlands and many more amazing New Mexico hikes.
The prehistoric formations dotting the Bisti/De-Na-Zin Wilderness include the famous Bisti Wings, the Brown Hoodoos, Vanilla Hoodoos, Conversing Hoodoos, the Manta-Ray Wing, the Alien Egg Hatchery, and innumerable areas of petrified logs. Photos of these formations are a once-in-a-lifetime opportunity. But, for first-time visitors, it is not easy to find these hidden spots. Sometimes people are unable to find hoodoos, or they can find only part of them. So, in the next parts of the article, we give you all the necessary hints to help you find Bisti Badlands & prepare for these hikes.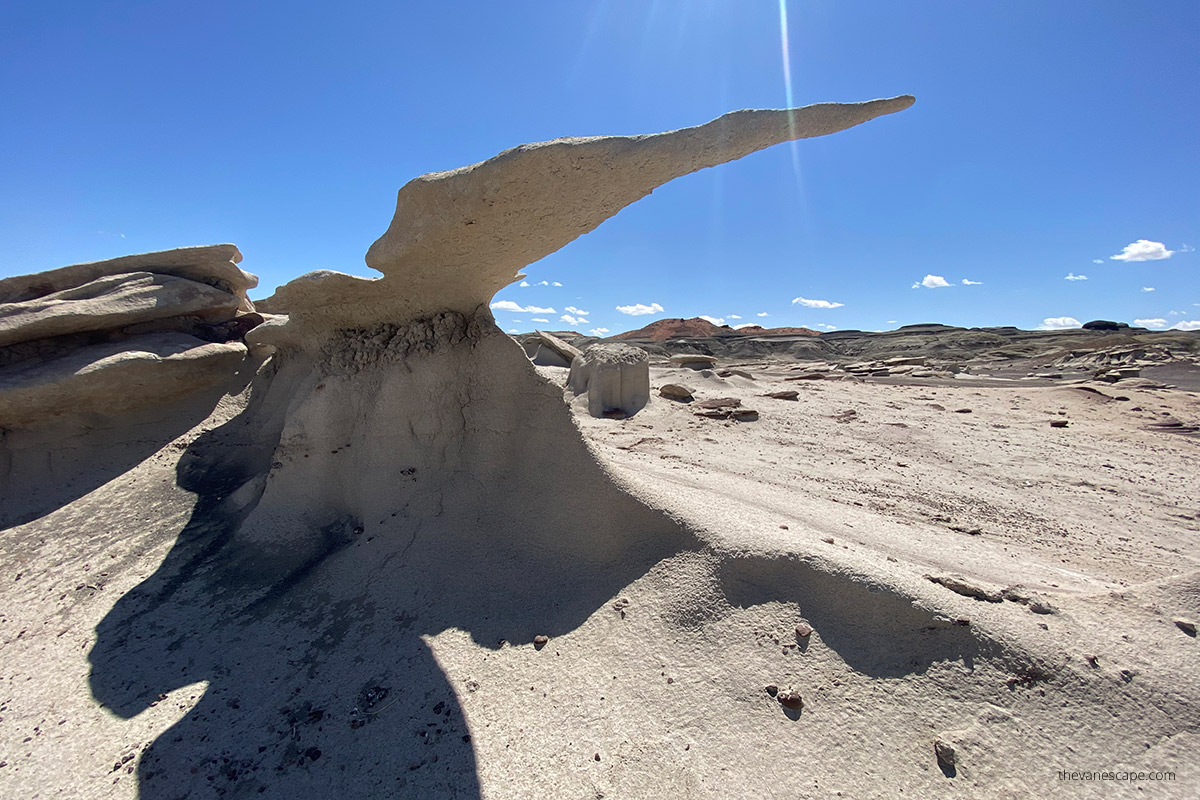 Hiking The Bisit Badlands – Our Experiences
We have been there three times in Bisti Badlands so far. First time in 2019. Our last trip was in May 2023, so you have the most up-to-date information. In addition, we reached several other unusual rock formations in New Mexico. We describe them in detail in separate articles: finding the King of Wings and Alien Throne and Valley of Dreams in the Ah-Shi-Sle-Pah Wilderness.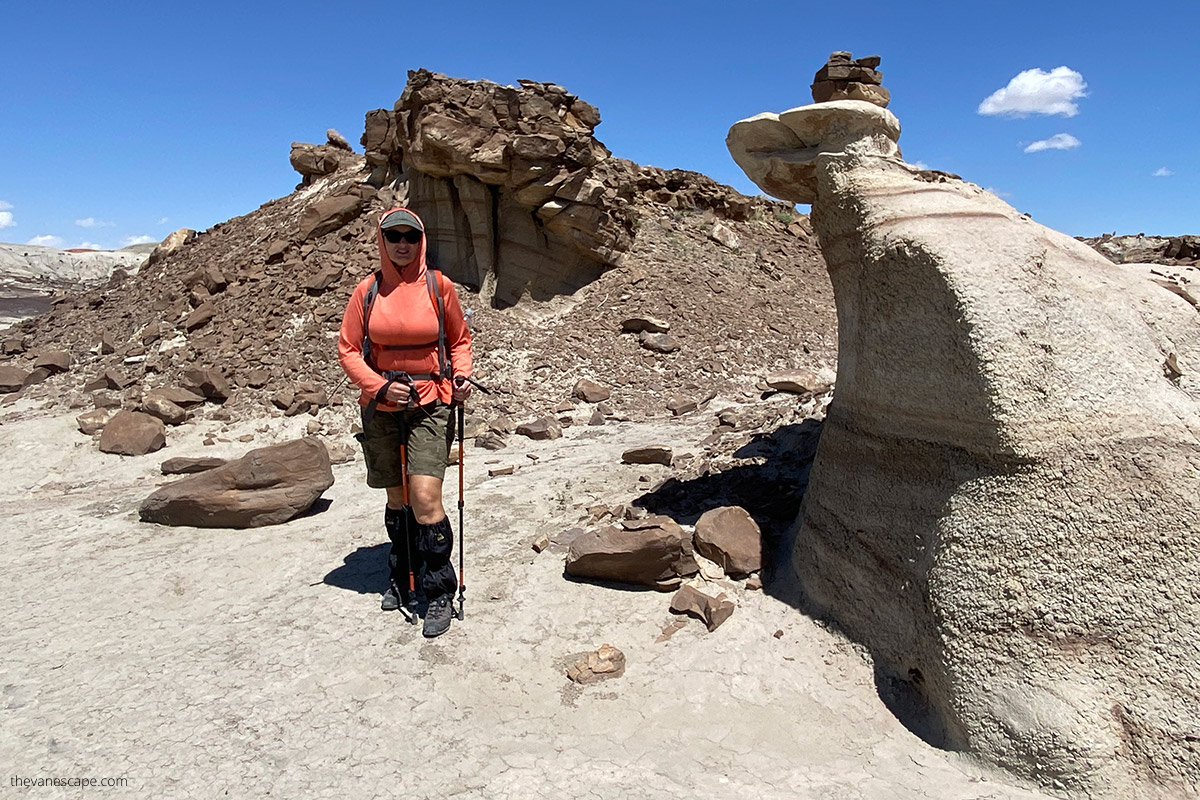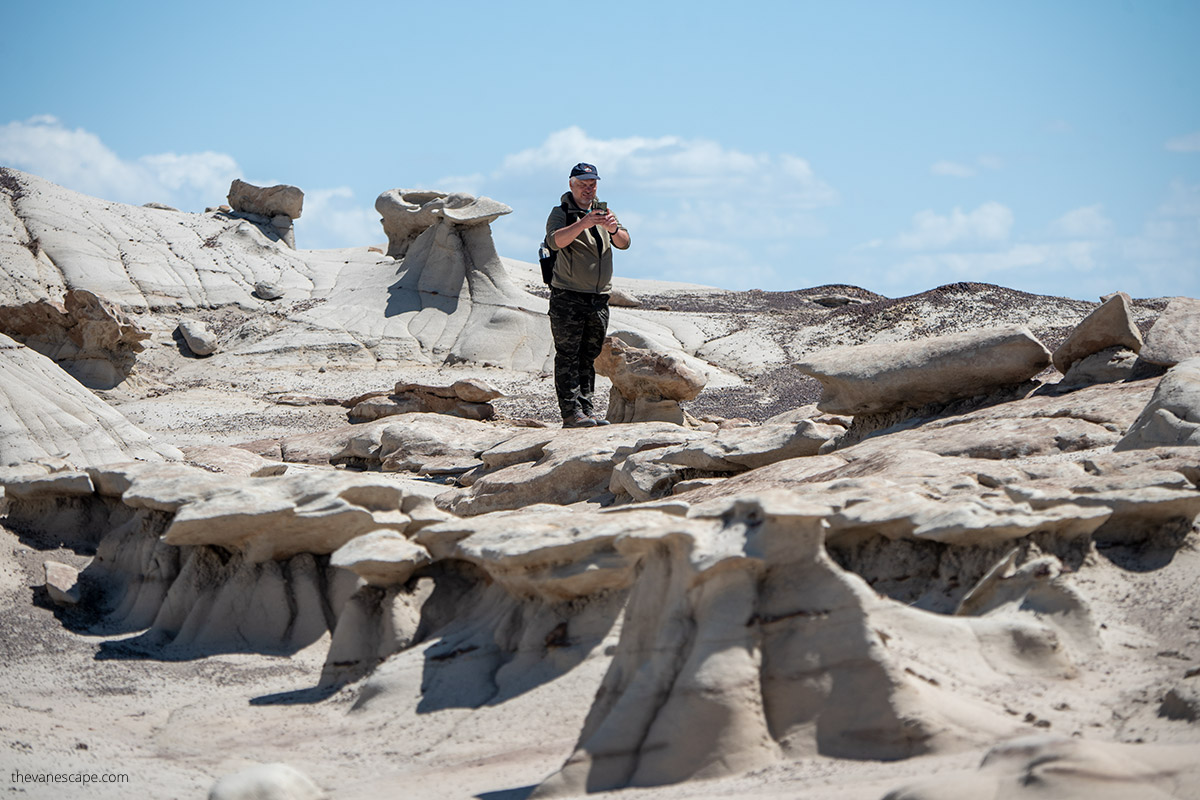 The photos presented in this article come from several of our trips. They were taken at different times of the year (fall and spring) and days and with different lenses. The rock formations themselves change over time. The cover photo, in which I am looking through a small oval rock arch (known as the Bisti Arch), is already a historical photo because this formation collapsed a year after our first hike in Bisti Badlands. These formations are incredibly delicate.
Thanks to the fact that we have been to Bisti several times and different months, we also provide you with details about the weather conditions and how to prepare for the trip, depending on when you plan it. We share our best experiences. And if you are visiting Farmington in New Mexico, make sure to add Bisti to your itinerary.
Take a look at the short video we've put together showcasing the breathtaking badlands formations we explored in this area of New Mexico. Since drone use is forbidden in the wilderness, we used the DJI Osmo Pocket handheld camera and the DJI Osmo Mobile 6 gimbal stabilizer to shoot this video.
Where Is The Bisti/De-Na-Zin Wilderness Area?
The Bisti/De-Na-Zin Wilderness is a 45,000-acre (18,000 ha) wilderness area is located in the northern part of the New Mexico state. It is in San Juan County. The closest town is Farmington, around 38 miles north, and 70 miles from the famous Shiprock formation. De-Na-Zin Wilderness is near the Colorado border in the north and the Arizona state border in the west. It is in the Four Corners area. Farmington is also the best place to stay for a night before this challenging hike.
So, if you are going south of New Mexico to Santa Fe or east to Taos Pueblo, it is worth adding Bisti Wilderness to your road trip itinerary. The Bisti Badlands is a rarely visited and mostly unknown, a colorful expanse of undulating mounds and eroded rocks hidden away in the San Juan Basin's high desert.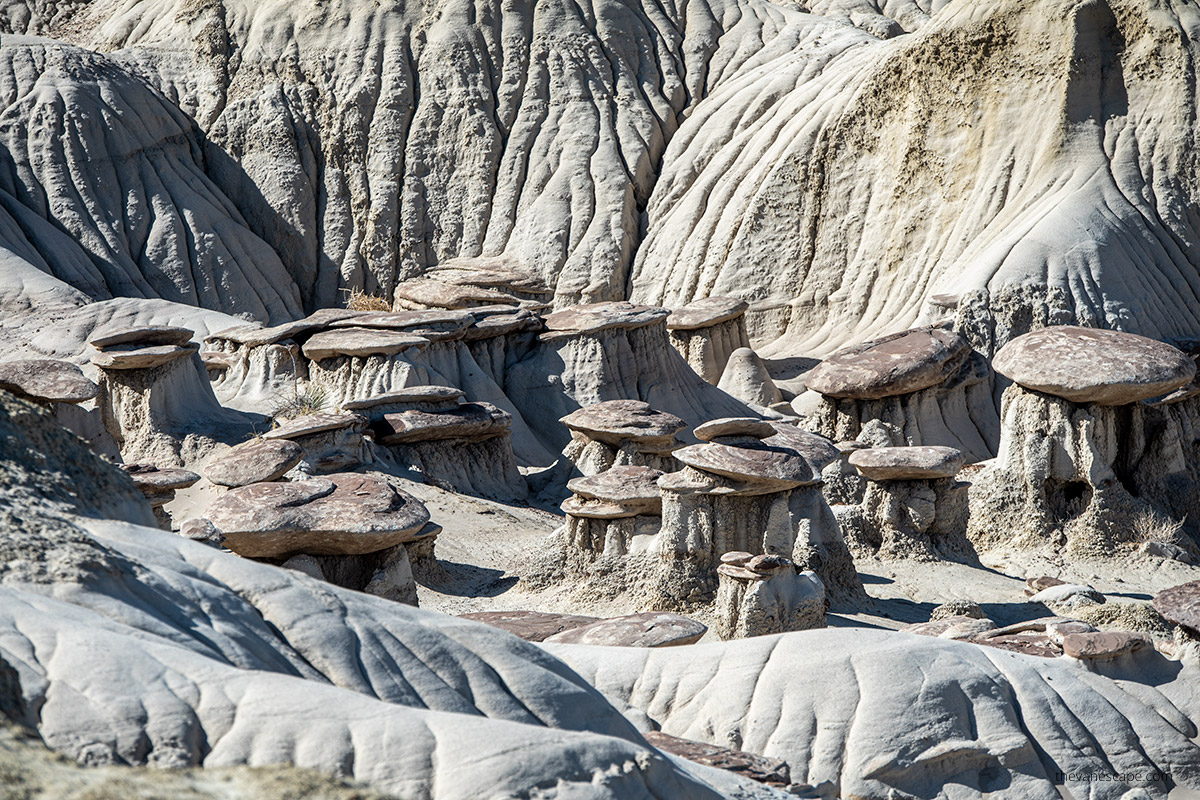 Special Rules for Exploring Bisti Badlands
The Bisti Badlands / De-Na-Zin is designated as a Wilderness Area, which means that it is off-limits to motorized vehicles and other mechanical forms of transportation. This includes any wheeled devices, such as drones, mountain bikes, strollers, carts, and coolers with wheels. Using drones is prohibited in Bisti Badlands. In addition, drones have been prohibited in all wilderness areas throughout the United States since 2019.
Visitors are also prohibited from engaging in campfires, collecting fossils or petrified wood, climbing on fragile geologic formations, traveling in groups of more than nine people, and trespassing on neighboring tribal lands. Certain activities, such as guided tours, photography workshops, scientific research, and grazing, require permits, so check the official website.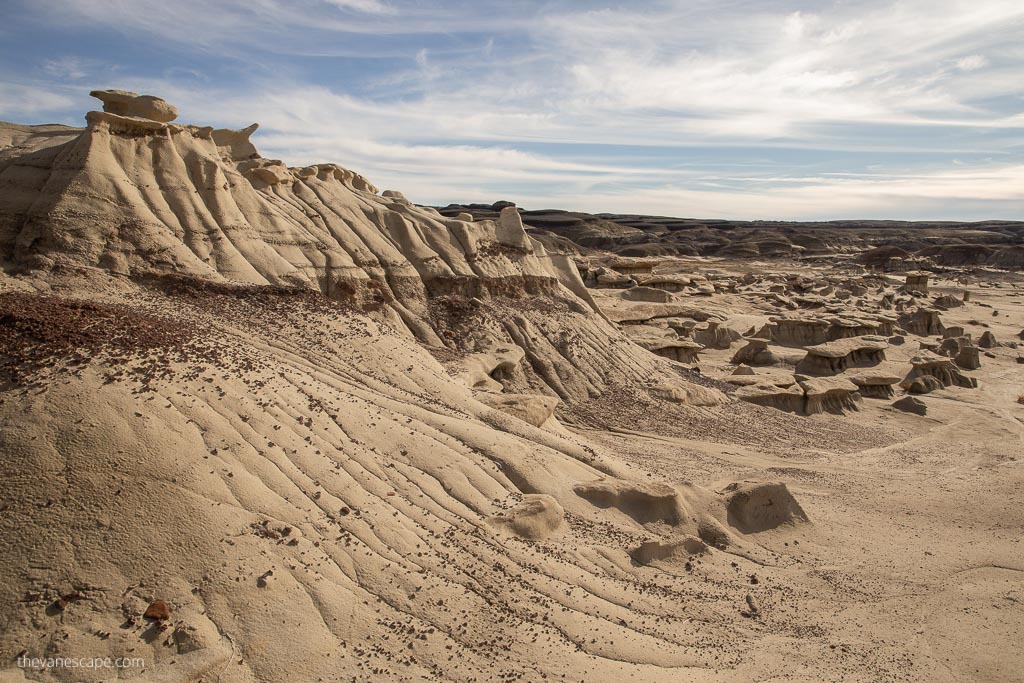 Important to know before you go to the Bisti/De-Na-Zin Wilderness Area
Hiking the Bisti/De-Na-Zin Wilderness is challenging, but worth your effort. So, plan ahead and prepare with our detailed hiking guide. Check our tips, as it's very easy to get lost there. Check out our tips on what to pack for this hike so you're well prepared for any surprises in this wilderness.
When you park you have to hike across a desert for at least 45 – 60 minutes. In the summer temperatures soar over 100° Fahrenheit. There is no visitor center, toilets, drinking water, or food. Furthermore, there is no shade or marked trails. The area is huge and it's easy to get lost in maze-like passages. No grass, no trees, only barren terrain. Finally, there is no cell coverage.
PRO TIP: If you are looking good New Mexico map DeLorme New Mexico Atlas & Gazetteer is the best one. It is a large-format paper map with elevation contours, major highways, and roads, dirt roads, trails, points of interest, landmarks, state and national parks, campgrounds, boat launches, golf courses, historic sites, hunting zones, canoe trips, scenic drive recommendations and more. We love all these series.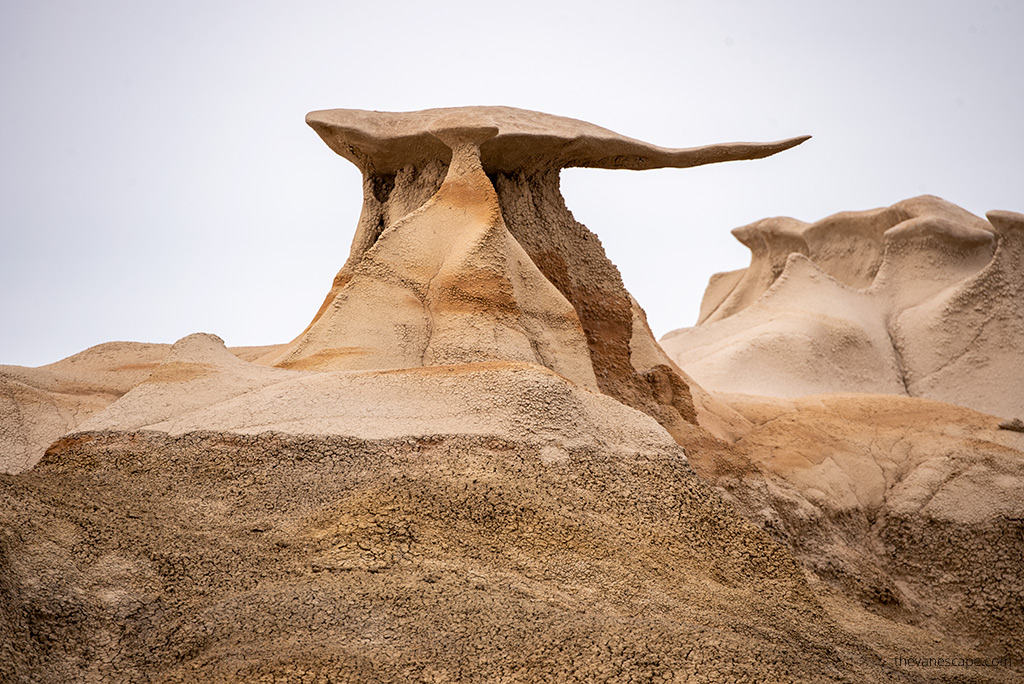 What Is The Bisti/De-Na-Zin Wilderness Area?
Geology & History of Bisti Badlands
Bisti Badlands was established as the Wilderness in 1984. The place is managed by the BLM. Native Americans consider the area to be sacred. It is a desolate area of steeply eroded badlands. You feel like in a Sci-Fi movie.
The area is a combination of two different prehistoric landscapes. The whole area was once the shore of an ancient sea that covered much of New Mexico 70 million years ago. It was home to many large trees, reptiles, dinosaurs, and primitive mammals. Erosion created vast areas of Bisti's geology with rock formations unique on earth. So, today is the preserved record of this pre-historic swamp that is now a true desert wilderness. Bisti/De-Na-Zin Wilderness is a wide-open area, with an eerie otherworldliness.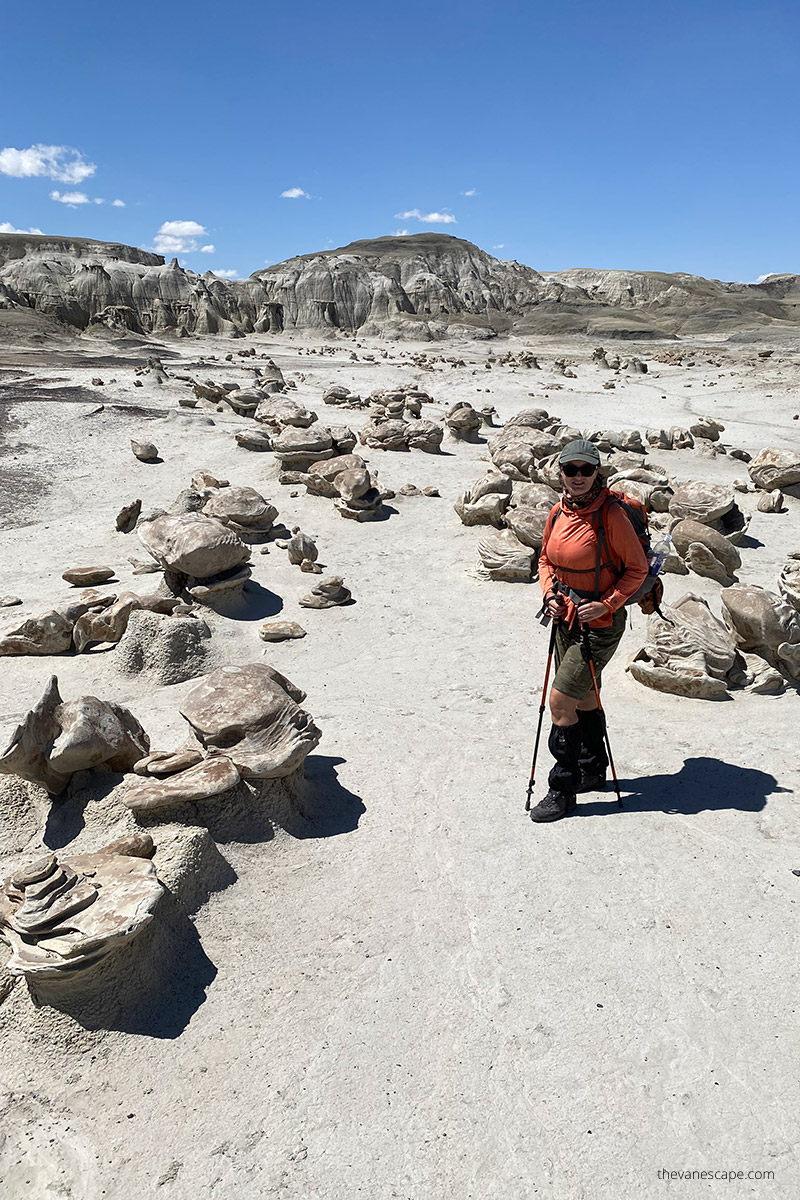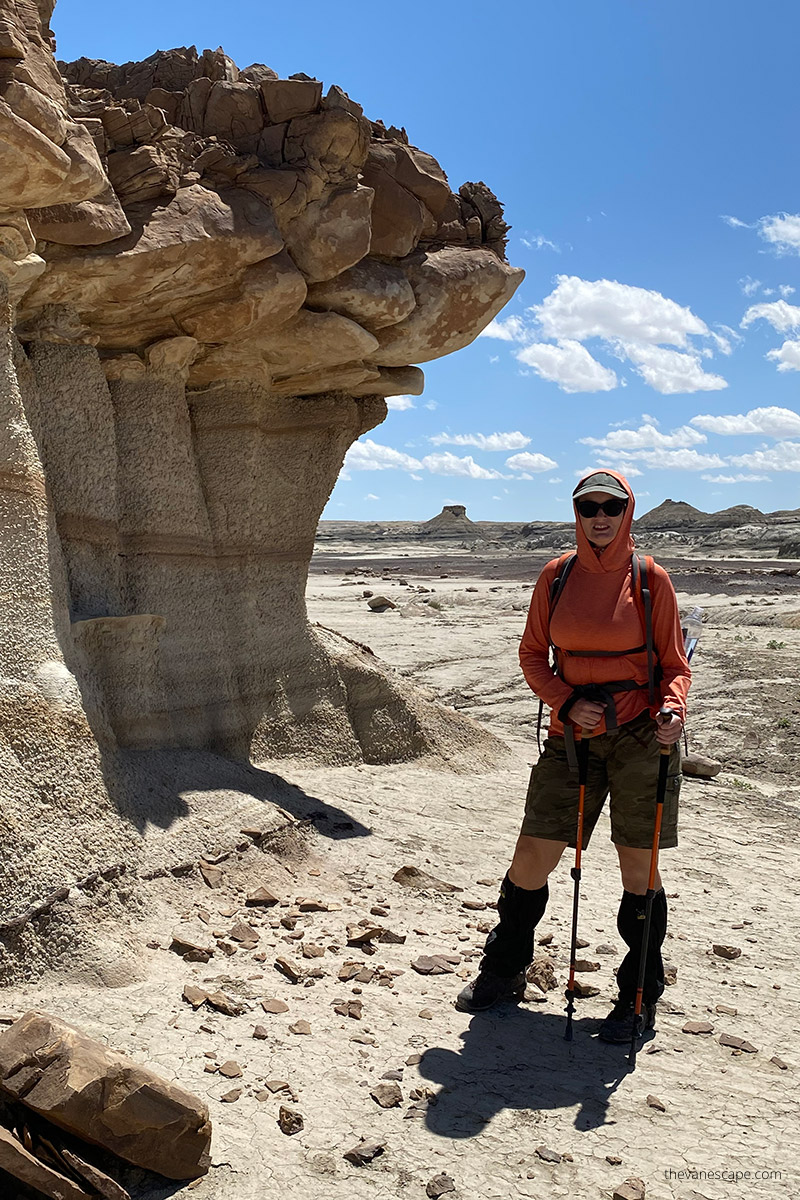 The Bisti Beast
An early relative of Tyrannosaurus rex, the Bisti Beast, was discovered in this area in 1997 by Paul Sealey from the New Mexico Museum of Natural History and Science. The fossil was excavated in 1998 from the Bisti/De-Na-Zin Wilderness, by paleontologist Dr. Thomas Williamson. The 30-foot tyrannosaur roamed the Earth around 74 million years ago. To date, it has only been found in New Mexico. Moreover, the Bisti Beast is a member of the same family as its more famous cousin, Tyrannosaurus rex.
Furthermore, it would have looked like a slightly smaller version of T. rex. The Bisti Beast was a scarce find and is of exceptionally high scientific value. The Bisti Beast is not the only specimen discovered within the Bisti. Researchers have found numerous other fossils, including the duck-billed dinosaur, a large sauropod, as well as multiple turtles, and fish. That's why hiking the Bisti/De-Na-Zin Wilderness is such a unique experience. But remember, that visitors are not allowed to take any rocks, fossils, or material of any kind from the park.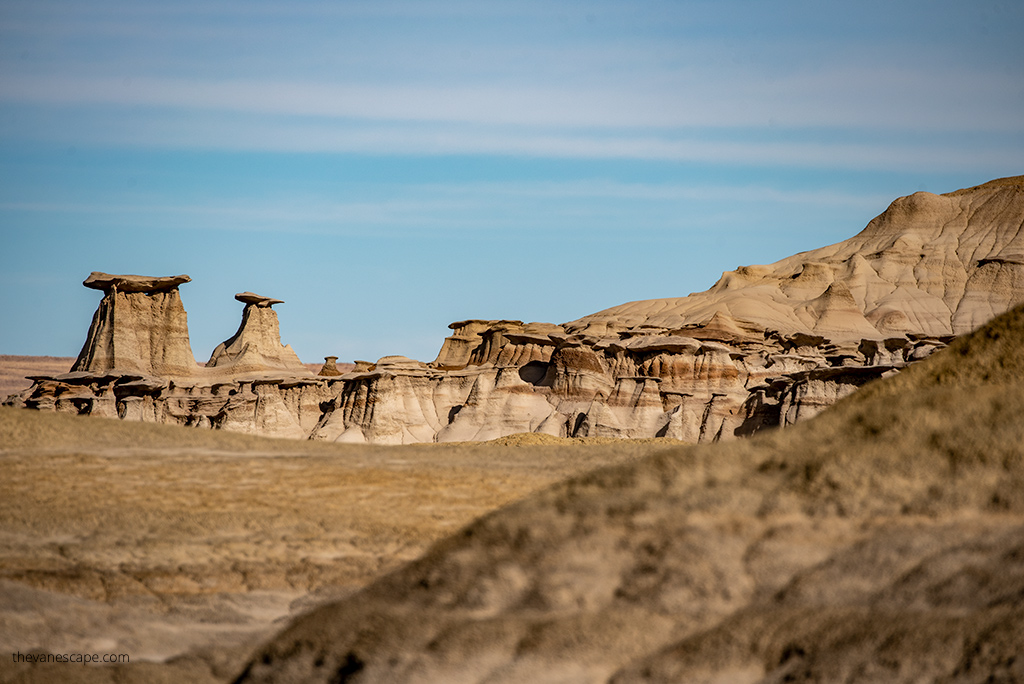 Other Facts about The Bisti Badlands/De-Na-Zin Wilderness Area
Bisti is a Navajo word meaning "a large area of shale hills" / "among the adobe formations." Furthermore, De-Na-Zin, from Navajo means "Standing Crane", because petroglyphs of cranes have been found south of the Wilderness.
Finally, National Geographic Traveler listed the Bisti/De-Na-Zin Wilderness, also known as the Bisti Badlands, as one of their must-visit adventure destinations for 2019. So, if you are looking for the best hikes in New Mexico hiking the Bisti/De-Na-Zin Wilderness is one of the tops.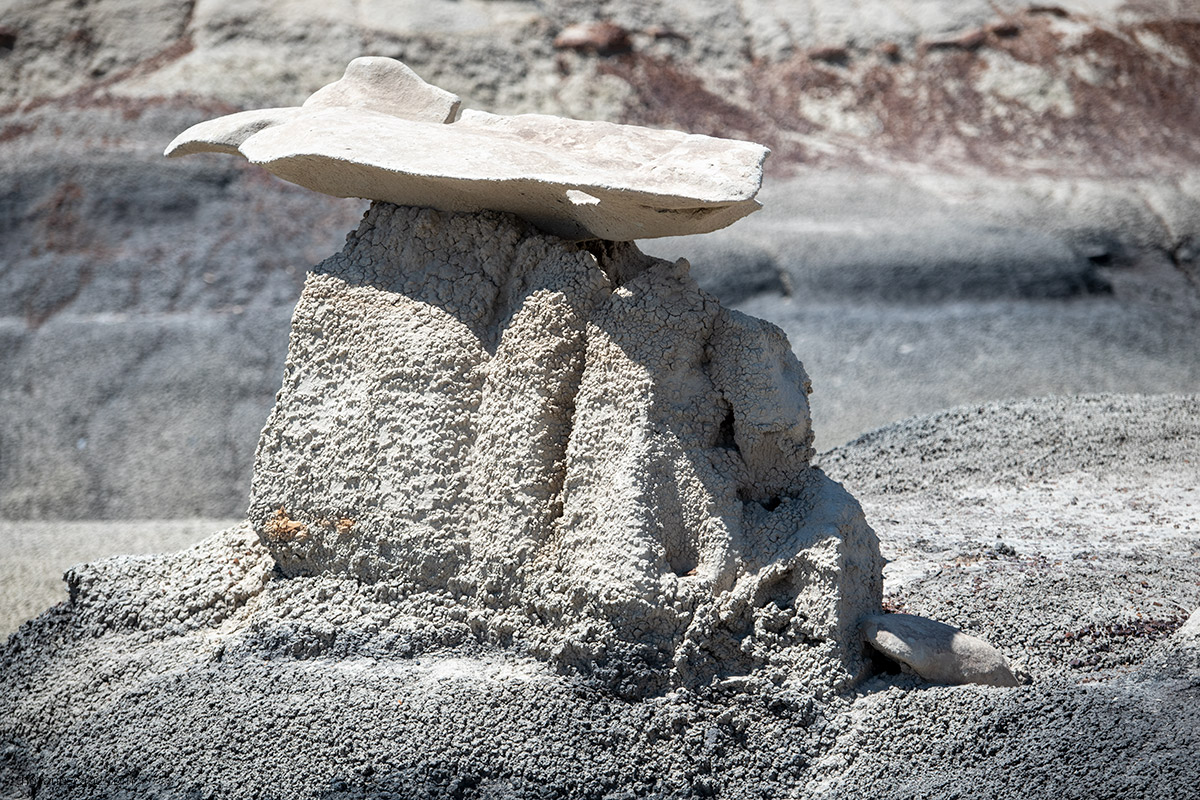 Bisti Badlands Weather
The sun's heat, both direct and reflected from the sand, can be surprisingly intense, even at 80° Fahrenheit. In summer, temperatures can quickly climb from 65 in the morning to over 100 in the afternoon. So, bring plenty of water. Spring is the windy season in the Southwest and sandstorms are common. Fall is the best season because the days are pleasant. Winter temperatures can get as cold as 10 degrees in the mornings. Winter is also great if you like colder weather, but days are much shorter. We were in December. Elevation averages around 6,300 feet. Below we have prepared for you the average highest and lowest temperatures in the Bisti Badlands, and the average rainfall during the year. It doesn't rain much, but you must know that even after little rain, the soil softens into a slippery substance. And roads might be impassable because it's clay and ashy terrain.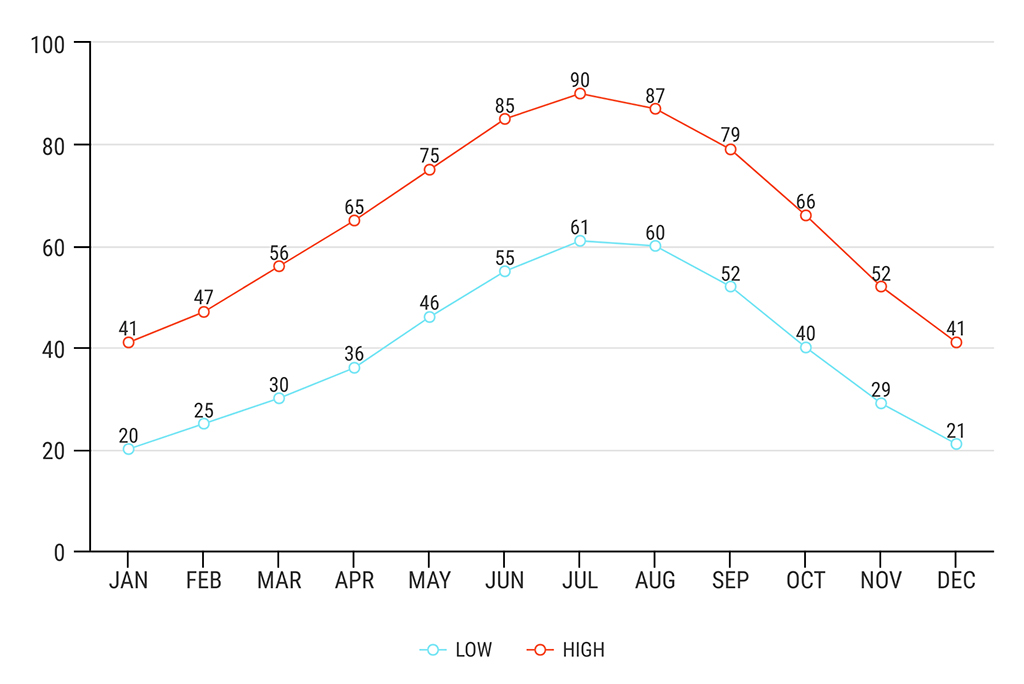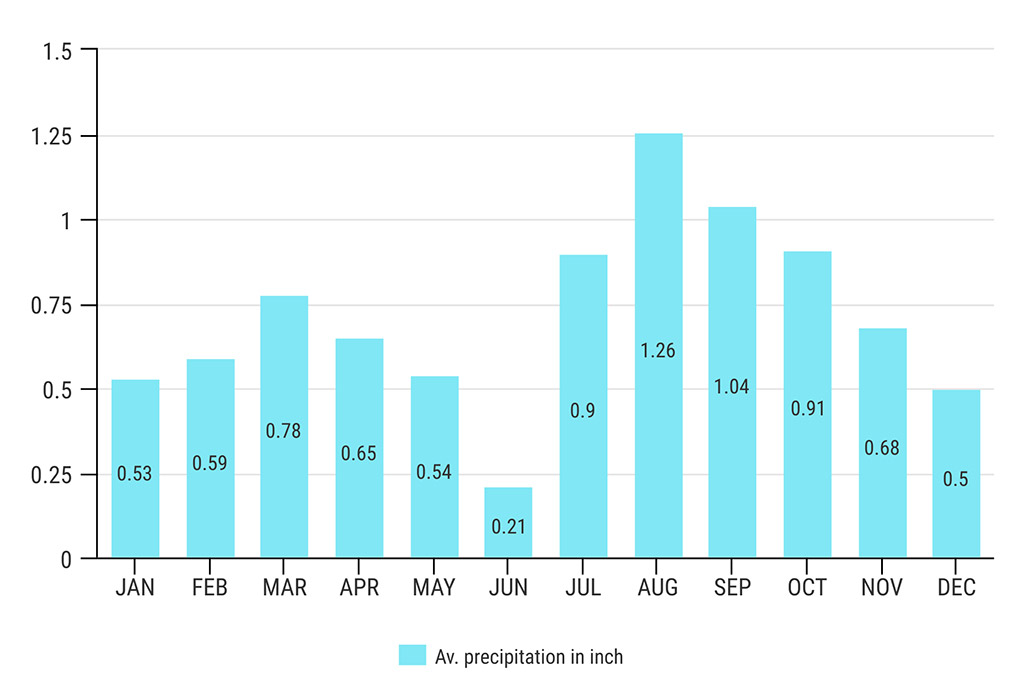 The Best Times to Hike Bisti Badlands
Bisti/De-Na-Zin Wilderness is open year-round 24/7/365. And there is no entrance fee. But, the Bisti Badlands is really a wilderness and a rough environment, so you have to prepare for this hike. Most importantly, carry plenty of water with you—more than usual. There is no drinking water in this desert area. You will cross a small stream, but this water might be toxic, because of the minerals. So, it is not recommended to filter it.
The best time for hiking the Bisti/De-Na-Zin Wilderness is the afternoon with sunset. But if you can walk from sunrise till sunset, you will have great photos opportunity. Take a good headlamp with you, because after sunset it's getting dark quickly. It's easy to get lost.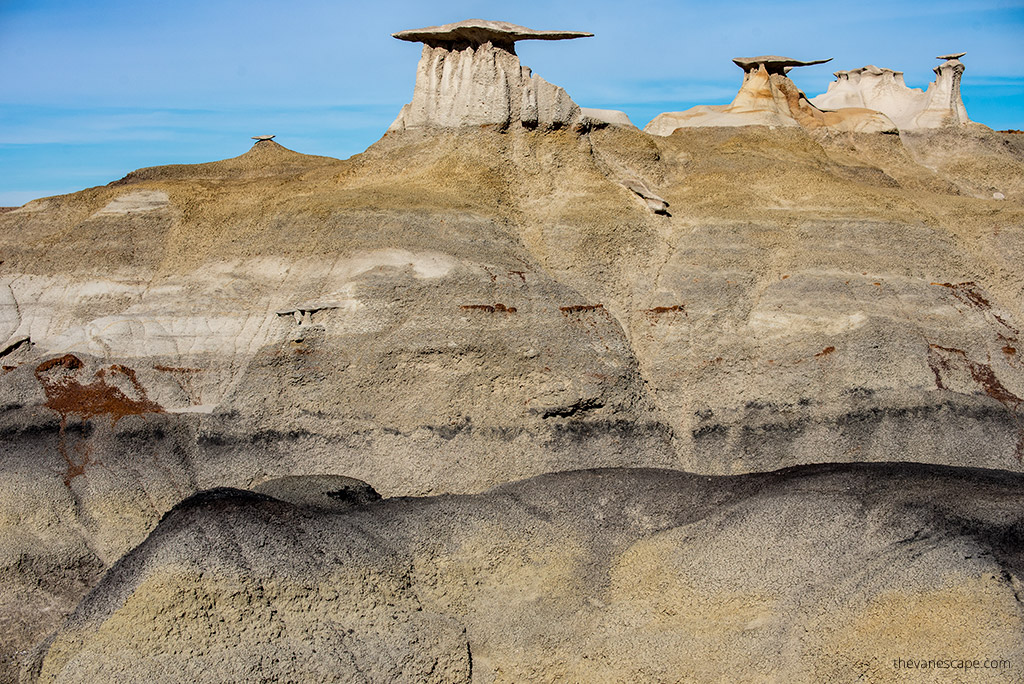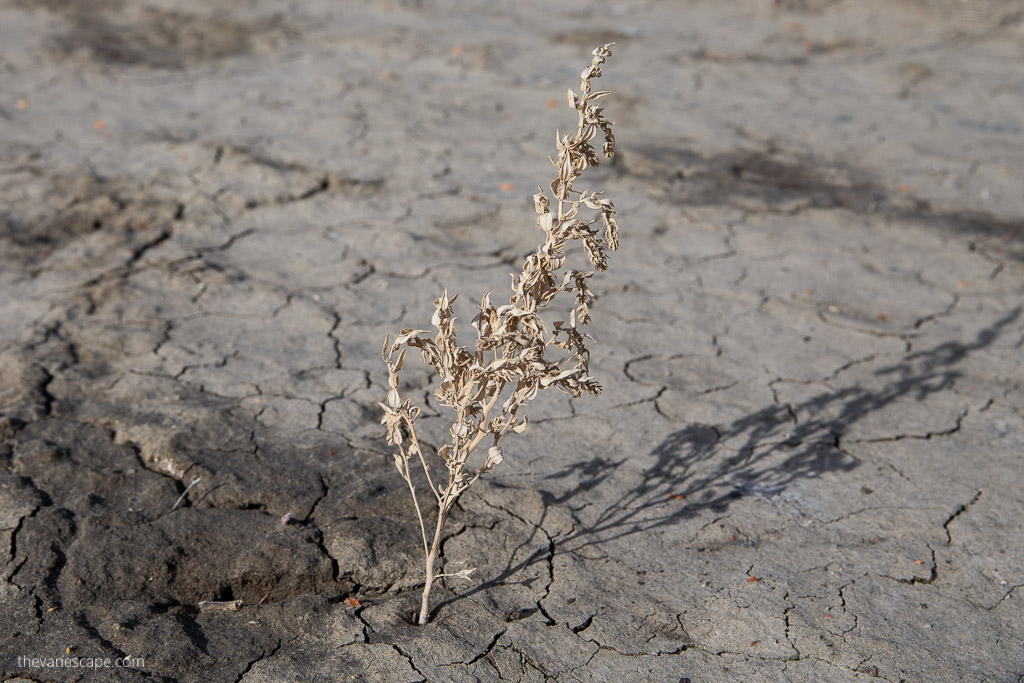 Where to stay in Bisti Badlands?
In this part of our Hiking The Bisti/De-Na-Zin Wilderness Guide we tell you where you can stay overnight in this remote area.
Bisti Badlands Hotels
Farmington is the best option to stay overnight. You will have the fastest way to Bisti. It's about 45 minute drive. Furthermore, you will find amenities like restaurants and other services.
We stayed in The Four Corners Inn in Farmington, and we can highly recommend it. The hotel has a high level, with excellent service, and modern, comfortable, and clean rooms. There is an indoor pool, gym, and WiFi. It belongs to the Best Western, which we like. You can book it here.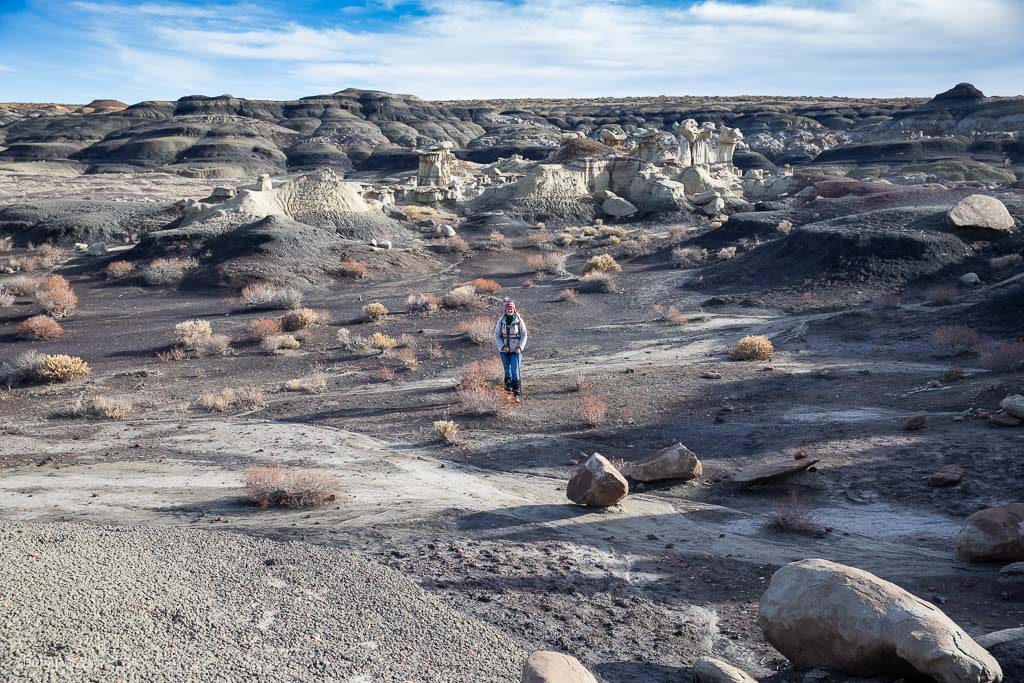 A bit further in Bloomfield, you will also find a great hotel in this chain: Best Western Territorial Inn & Suites. It is worth considering if you are traveling from or to Santa Fe/Albuquerque. It is still only a 45-50 minute drive to Bisti Badlands. The hotel offers a fitness center and an indoor pool, it is modern furnished and comfortable. Book it online.
Below you can check actual deals in Farmington.
Bisti Badlands Camping
The best camping in the area is Moore's RV Park & Campground in Bloomfield. It is a clean, quiet, and well-maintained park with great amenities and very friendly staff. It is also pet-friendly.
BLM Camping
If you don't need any amenities and would like a free Bisti Badlands camping, contact BLM Farmington Field Office, 6251 College Blvd., suite A. Phone number is 505-564-7600. Free camping across the wilderness area is allowed since the region is managed by the BLM, but won't come with amenities or services. But remember that there is no water in this remote area. And campfires are prohibited. All mechanical forms of transportation (including bikes) are prohibited. During our last road trip, we stayed in a tent on BLM lands. Remember to pack all rubbish, do not damage this delicate area, and follow the rules of Leaving no Trace.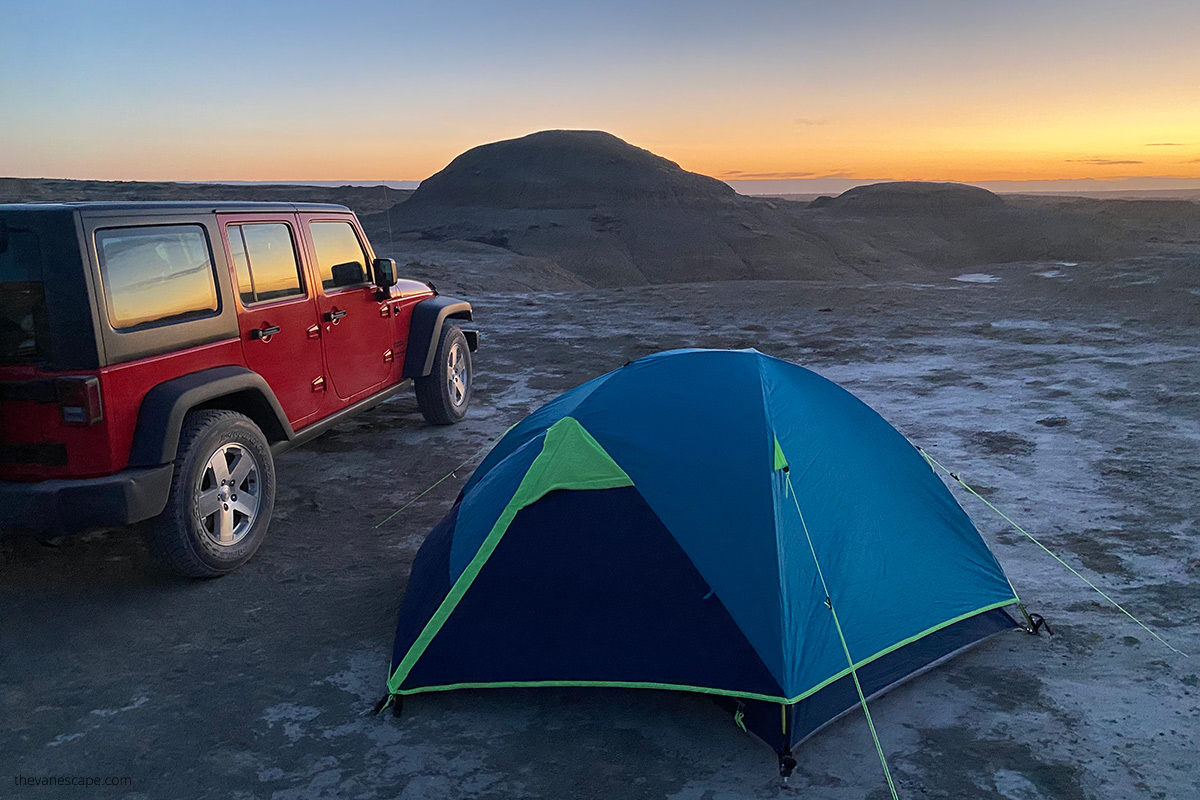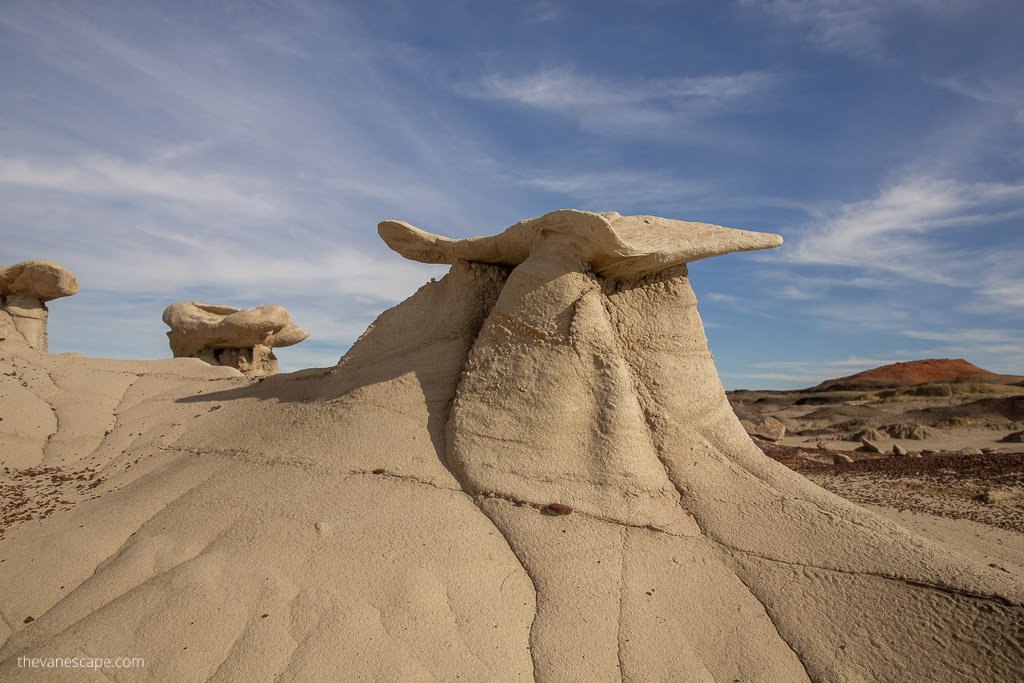 Bisti Badlands Map
The Farmington Museum & Visitor Center has topographical maps of Bisti, so it is worth visiting this place. In our Hiking the Bisti/De-Na-Zin Wilderness Guide we give you directions for two amazing places: The Stone Wings known as the Bisti Wings and Cracked Eggs with Rock Garden.
It is easy to get lost in Bisti Badlands because being in the hills is like being in a maze. There are many dead ends and you can easily lose your sense of direction, so take a good GPS with you. We use Garmin 64 GPS & we like it. It has proven itself many times in challenging conditions and wilderness areas. But there are newer models available, so check out and read the reviews on rei.com.
Bisti Badlands Directions
There are two main washes in the Bisti. The northern wash is named Hunter Wash. The southern is named Alamo or Gateway Wash and it is the main parking BLM area. It's easier to find this one, so if you are the first time in the Bisti/De-Na-Zin Wilderness it is worth starting from Gateway Wash.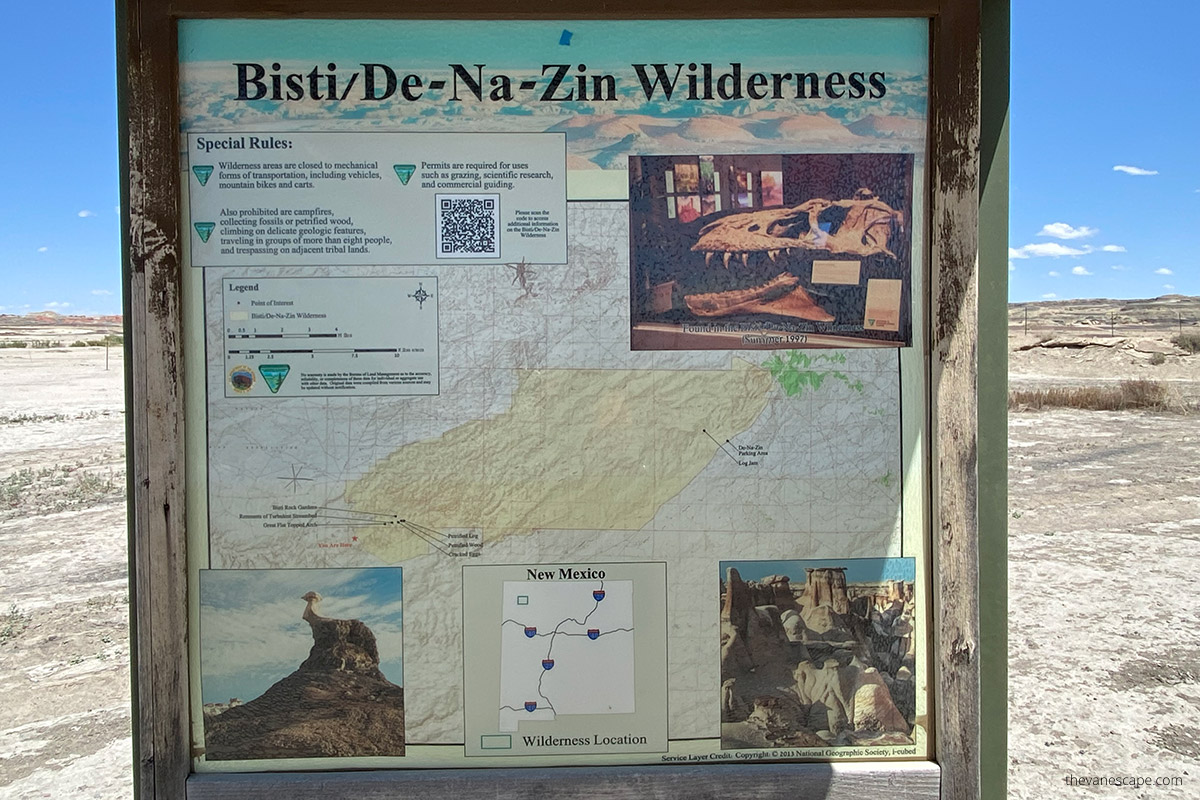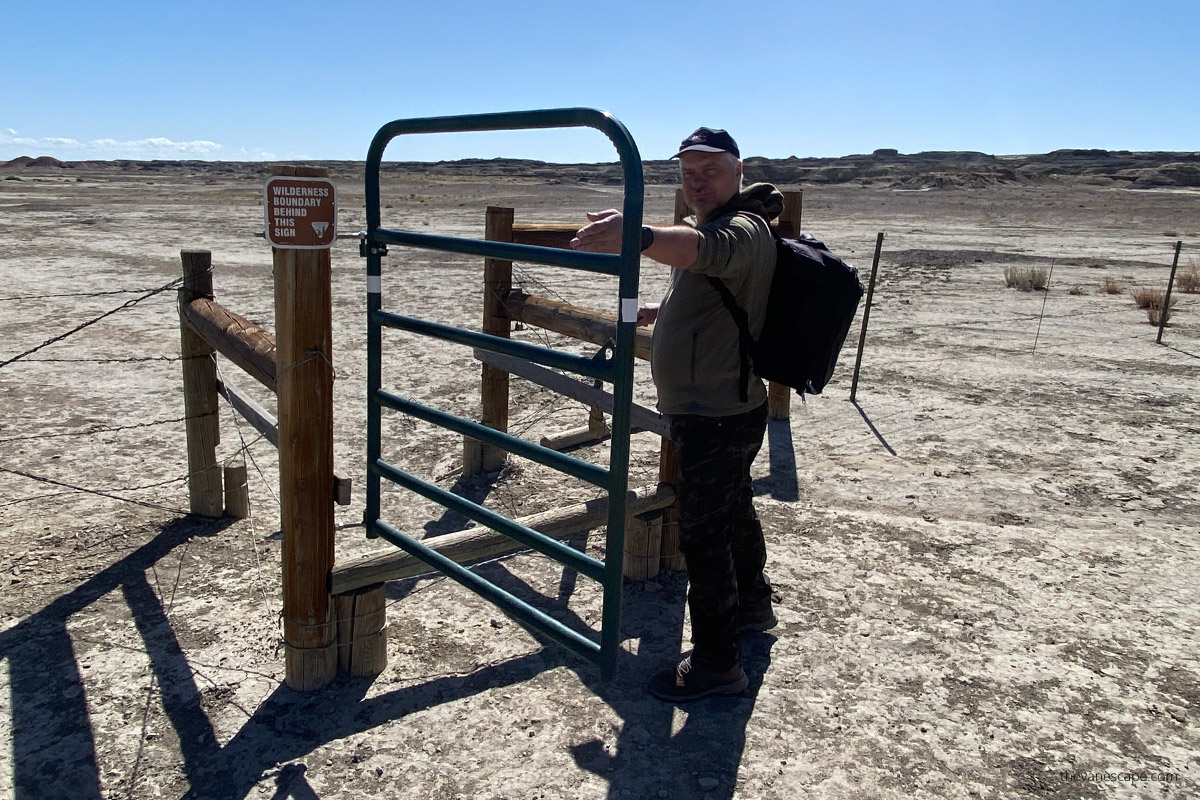 Gateway Wash Directions to Bisti Badlands
Alamo/ the Gateway wash is more popular, and you can spot here famous formations such as Cracked Eggs, Rock Garden, and Eagles Nest. You can reach from this entrance Stone Wings as well, but the hike is longer. It's also possible to see some other hikers in this area. So, if you have little experience in wilderness hiking or don't have GPS, it's safer to hike this part of the wilderness.
To get to the Alamo Wash section, go 36.5 miles south of Farmington on NM 371 till you get to road 7297 signed for the Bisti Badlands. Make a left (East) turn on the gravel road. After about 2 miles, proceed to the junction and make a left turn, then go for about two more miles to the parking area on the right side of the road. There is no water or facilities in the parking area. You are allowed to camp there, but campfires are not allowed.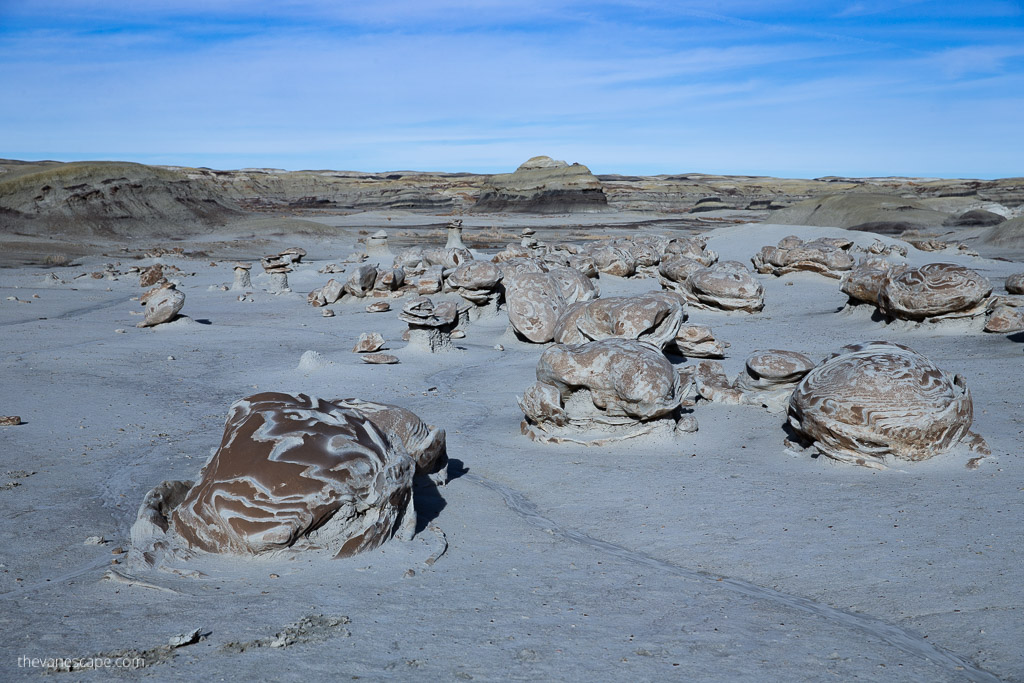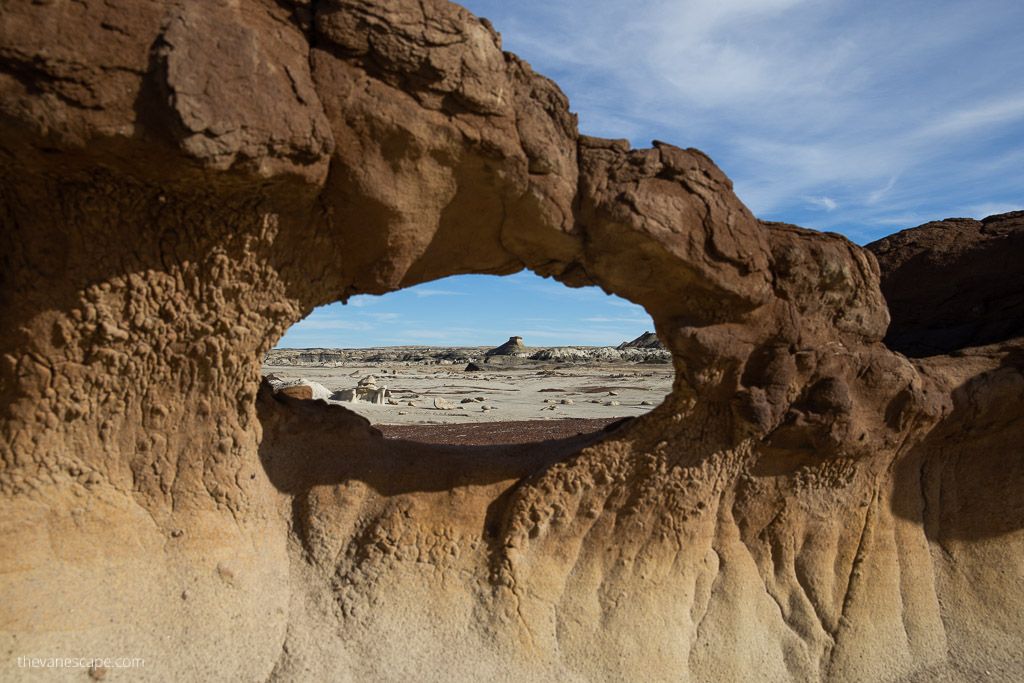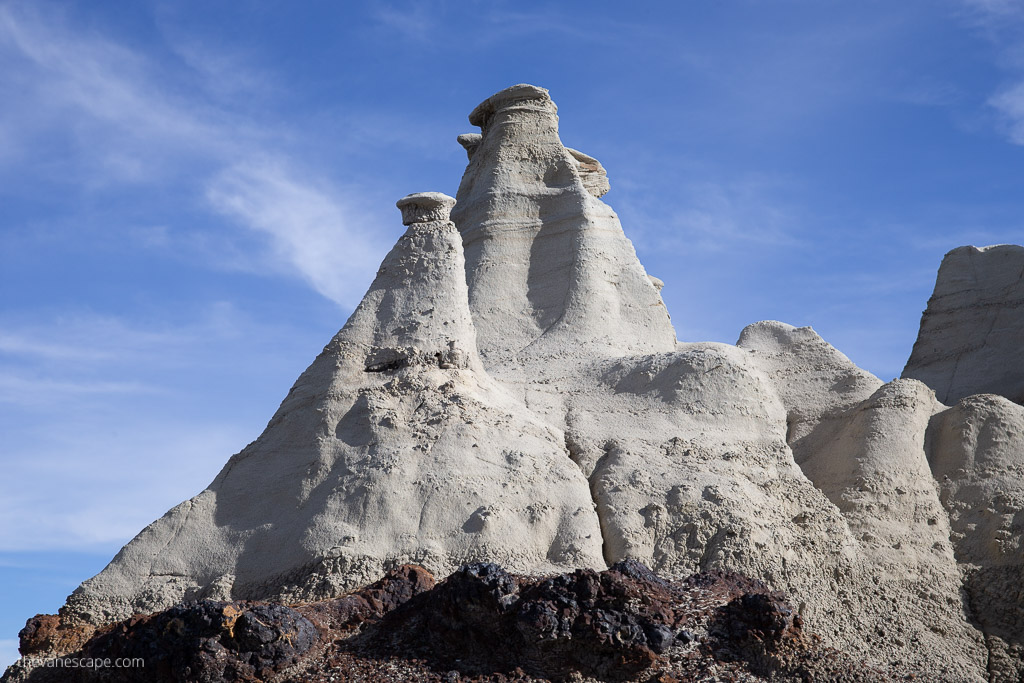 Hunter Wash – The Stone Wings Directions
The northern wash gets far fewer visitors but provides the shortest route into the northern sections of the Bisti with the Stone Wings, one of the best-known formations in Bisti. But it's challenging to get there, so we share our experiences. There is no formal parking area for the northern (Hunter) wash. A high-clearance vehicle is recommended. Parking at Hunter Wash provides the shortest and easiest access to The Wings, a bit over one mile over flat terrain.
But remember that you can also reach these formations from the main parking lot.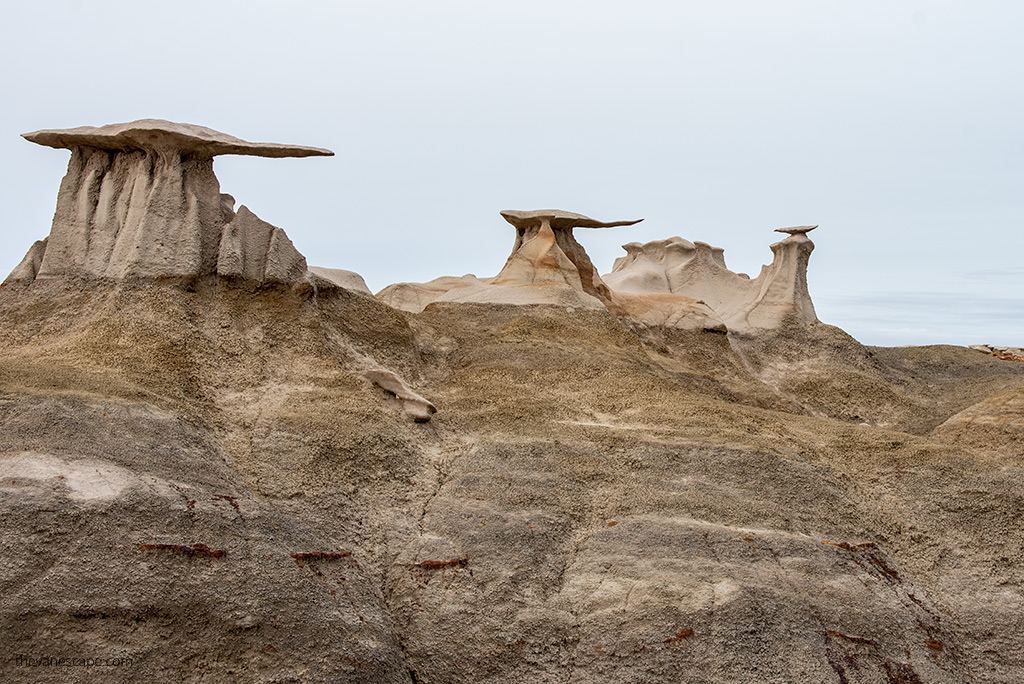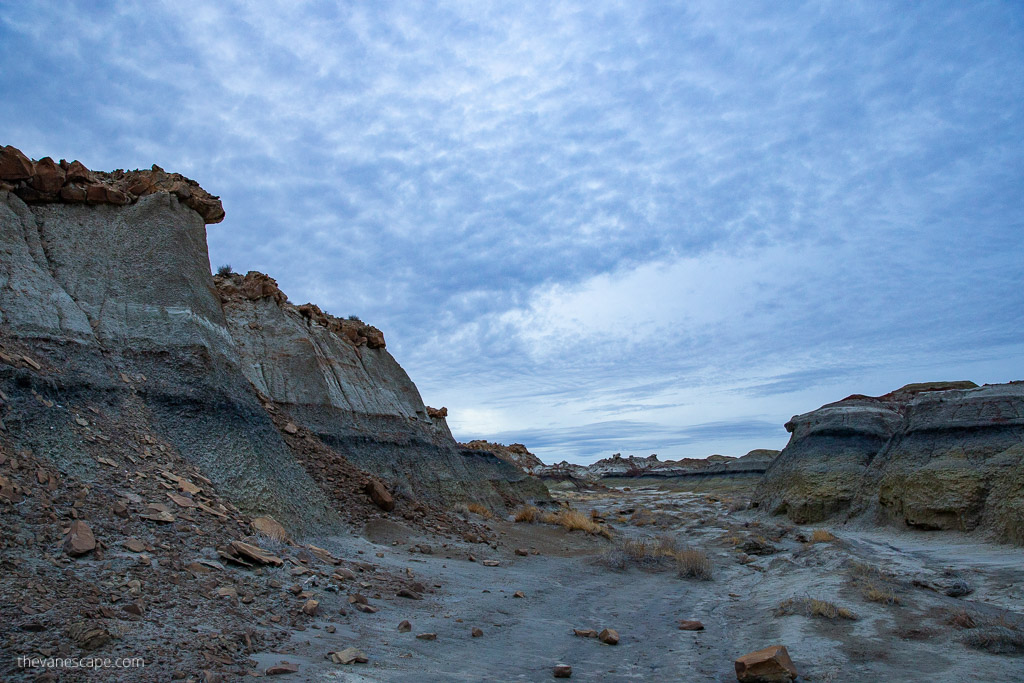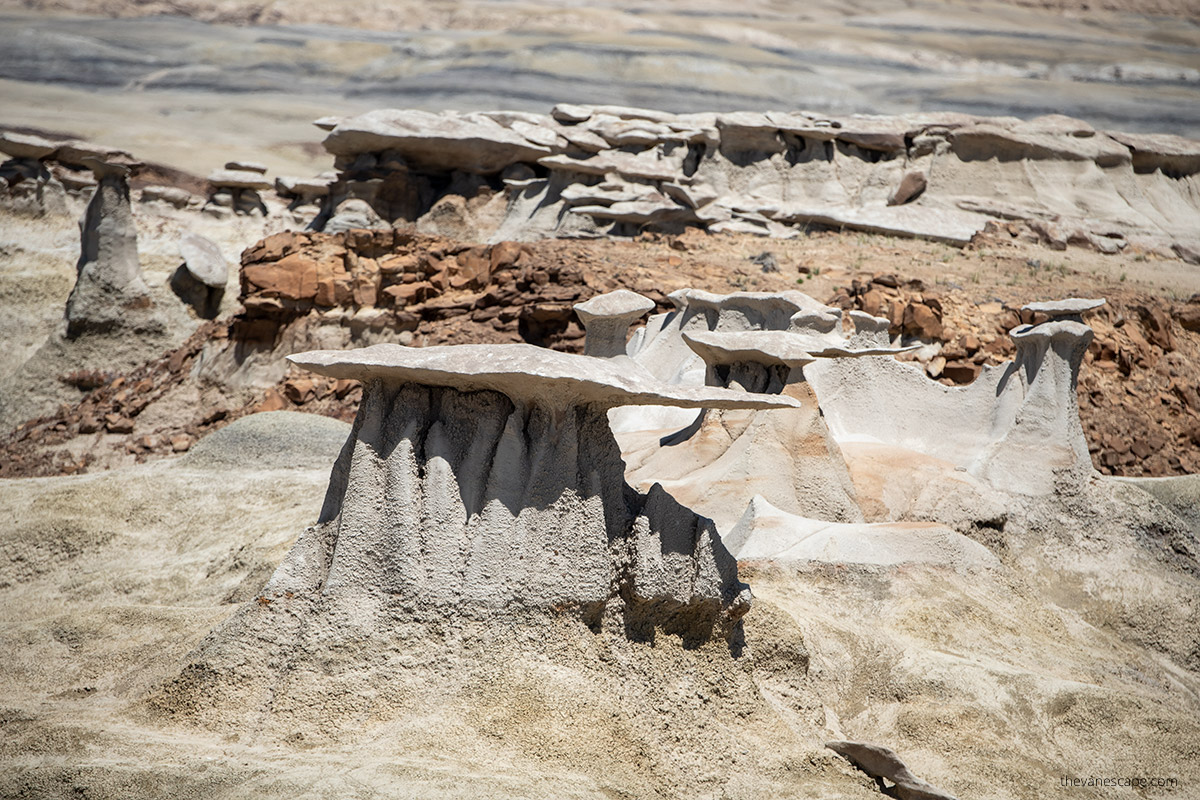 Bisti Badlands Hiking Tips
There are no facilities, so come prepared. We prepared Hiking Tips for you. They are based on our experience from a double visit in this wilderness.
Check The Weather Before Your Hike
Always check the weather before visiting. Roads and terrain may become impassible in wet weather. It's also easy to slip on the clay. Even little rain makes Bisti a mess.
Watch for flash floods in the wash; it might be dangerous. So, do not take the hike if rain is possible. Furthermore, there is little to no shade, be careful when hiking in high temperatures. It's a desert, there is a lot of sunshine 12 months a year. So, take a sunscreen and hat, and protect your body before the sun. Hydration is extremely important as well in this high desert environment. So, take a lot of water and healthy protein, and salty snacks.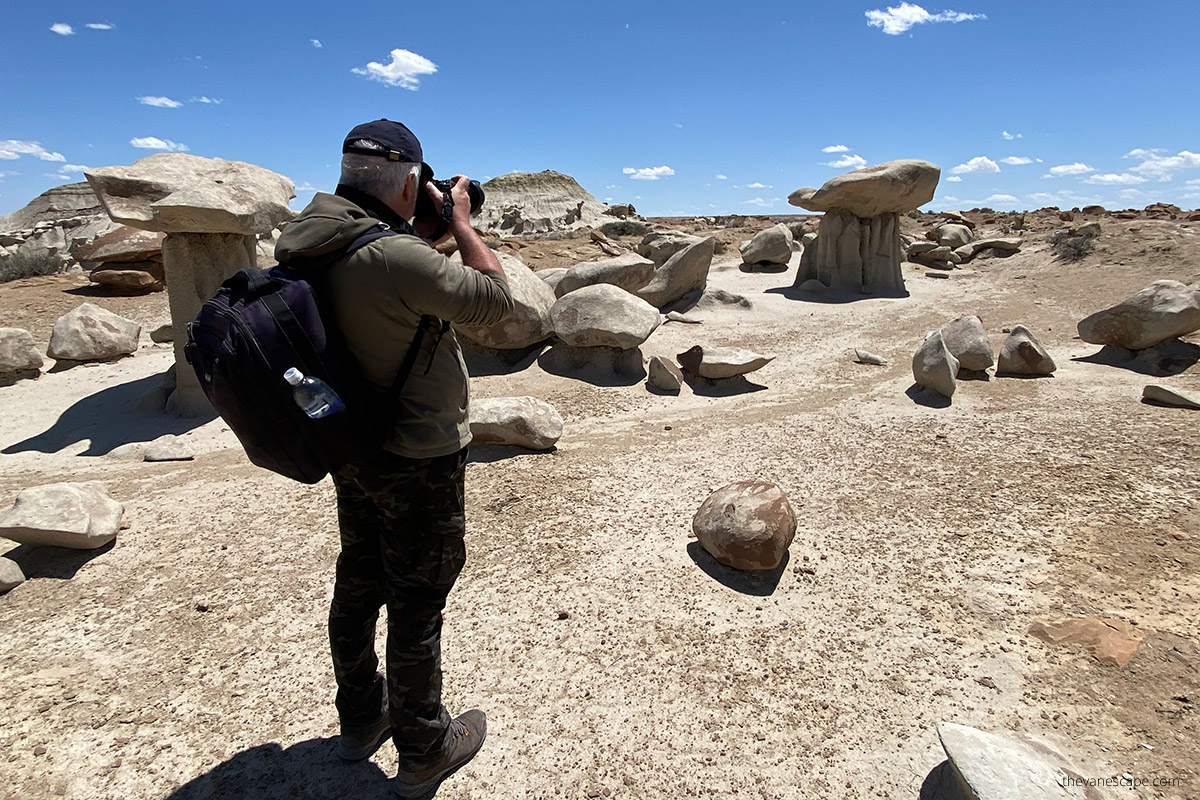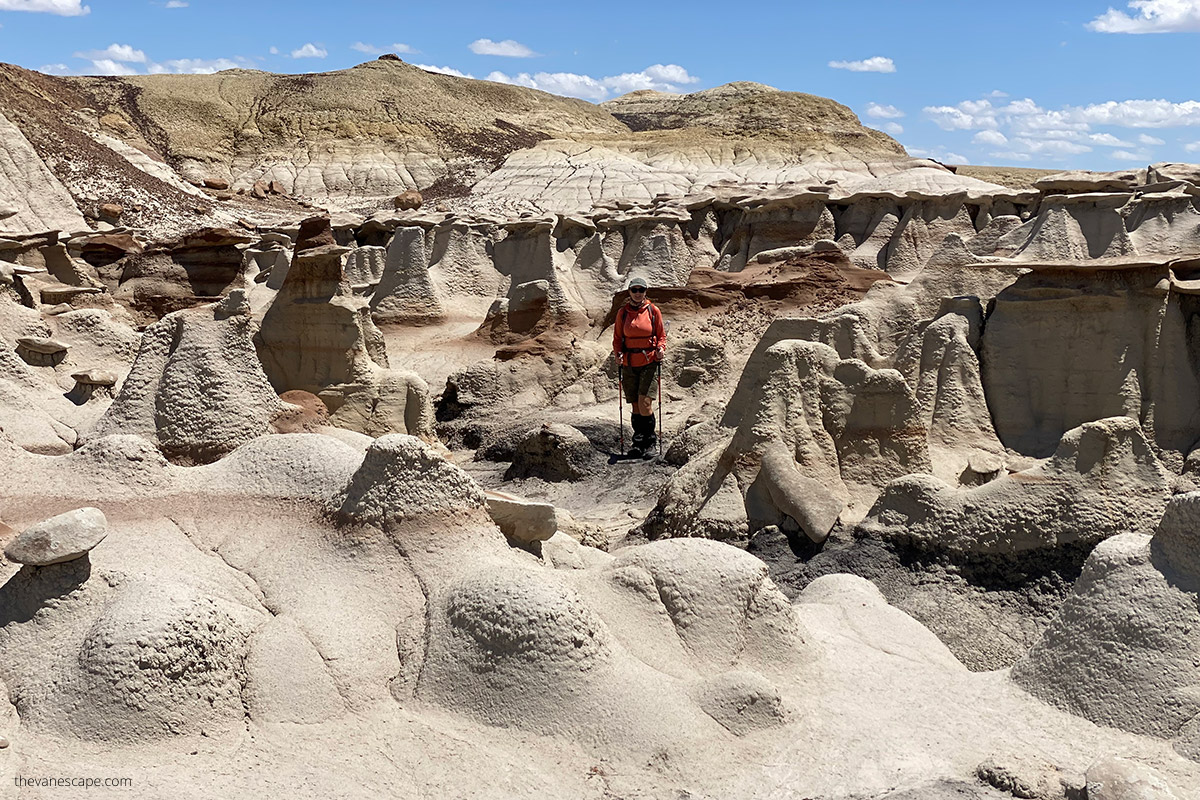 Take a GPS
Hiking the Bisti/De-Na-Zin Wilderness might be challenging even for experienced hikers.
There are no trails in Bisti Badlands, no paths, no rangers, and no cell coverage. So, take a good Handheld GPS or watch with a great GPS with you. (Chris loves this smartwatch, which is great for hiking in the wilderness). A mobile phone may not be enough. There is no coverage, and the battery can discharge quickly. So, lots of people are walking around for hours, getting lost, and not seeing much or only a part of the formations.
If you want some Apps with maps for your smartphone, use the All Trails Pro app. Download maps before you start your hike.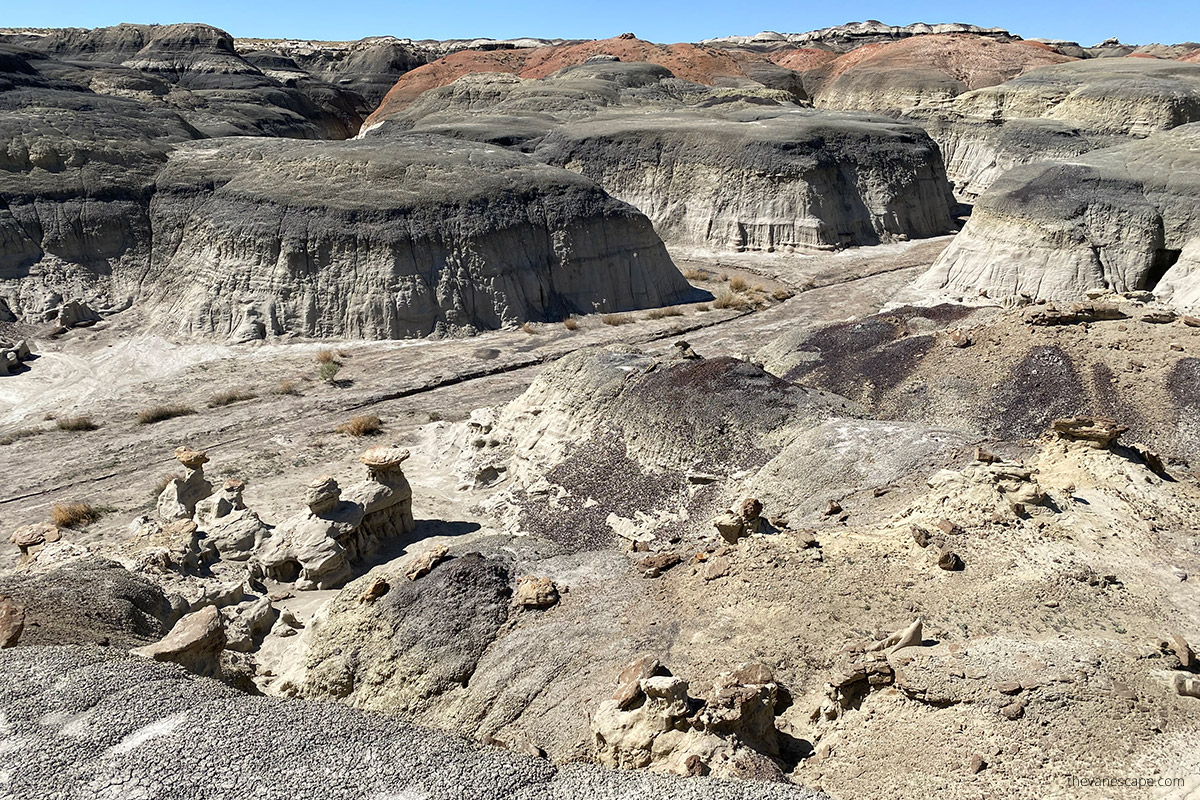 Take Care About Your Safty
Bisti Badlands is a vast wilderness area. Sometimes, throughout the whole day, you will not meet other people. So take care of your safety, especially if you are a solo hiker. If you lost yourself in the desert or have an accident, you will have a problem calling for help, as phone service is virtually nonexistent. It's easy to tip over there. Clay and volcanic ground are very slippery.
So, the good idea is to consider a Personal Locator Beacon (PLB). PLB is smaller than a cell phone, and it's light. It accurately relays your position to a worldwide network of search and rescue satellites in case of emergency.
Don't forget the First Aid Kit. We always have a First Aid Kit in case of an accident. We like this set because it is compact, light, waterproof, and contains everything necessary. So, it is perfect for an adventure. Finally, remember about your Travel Insurance.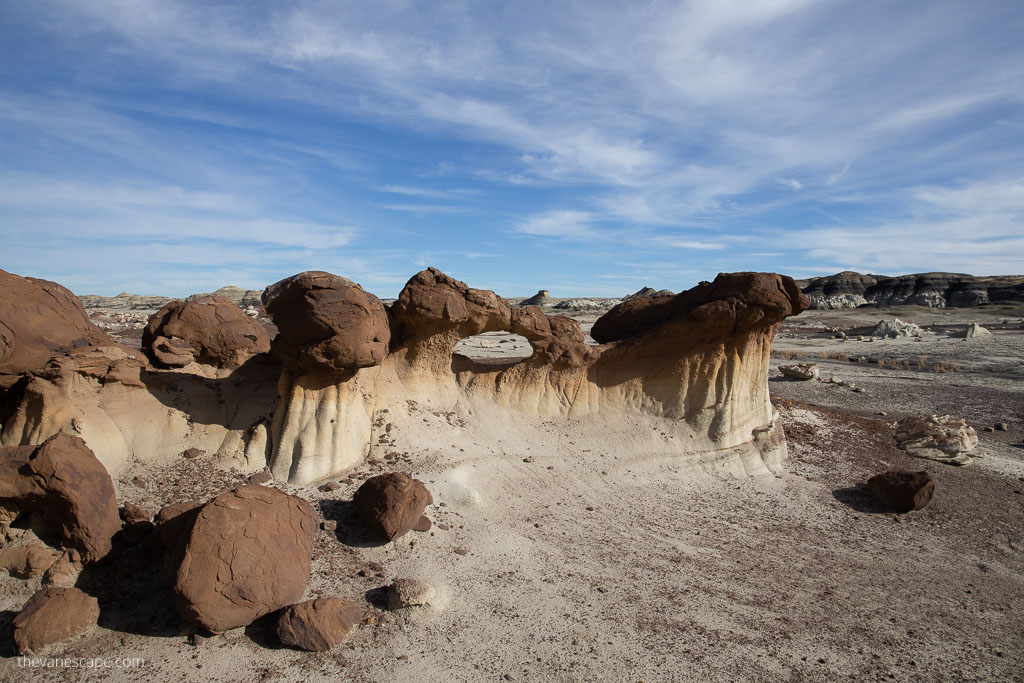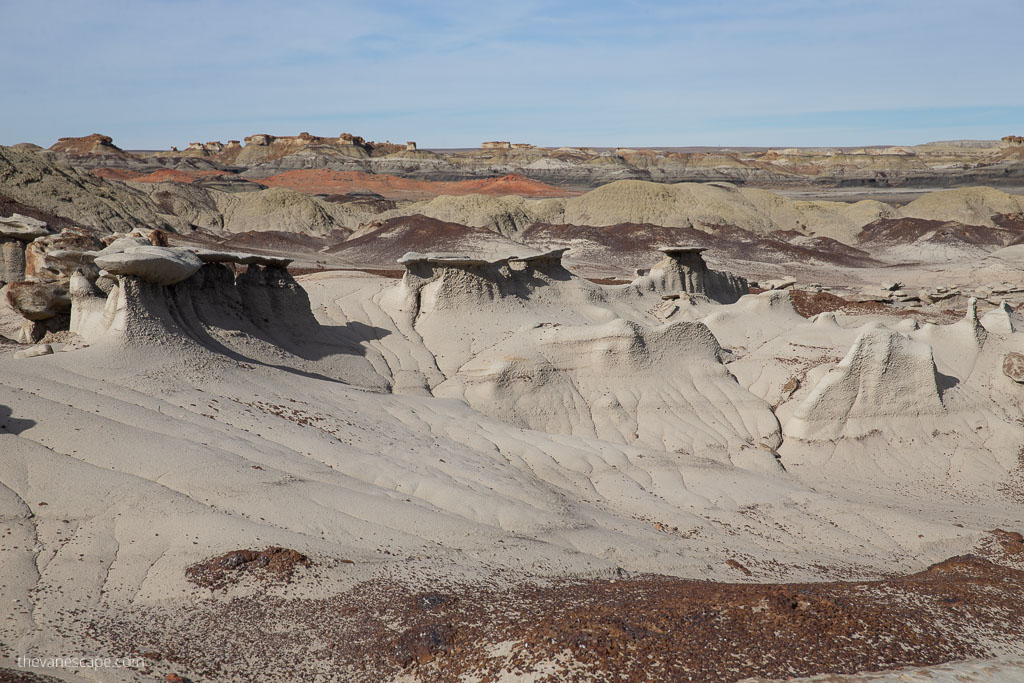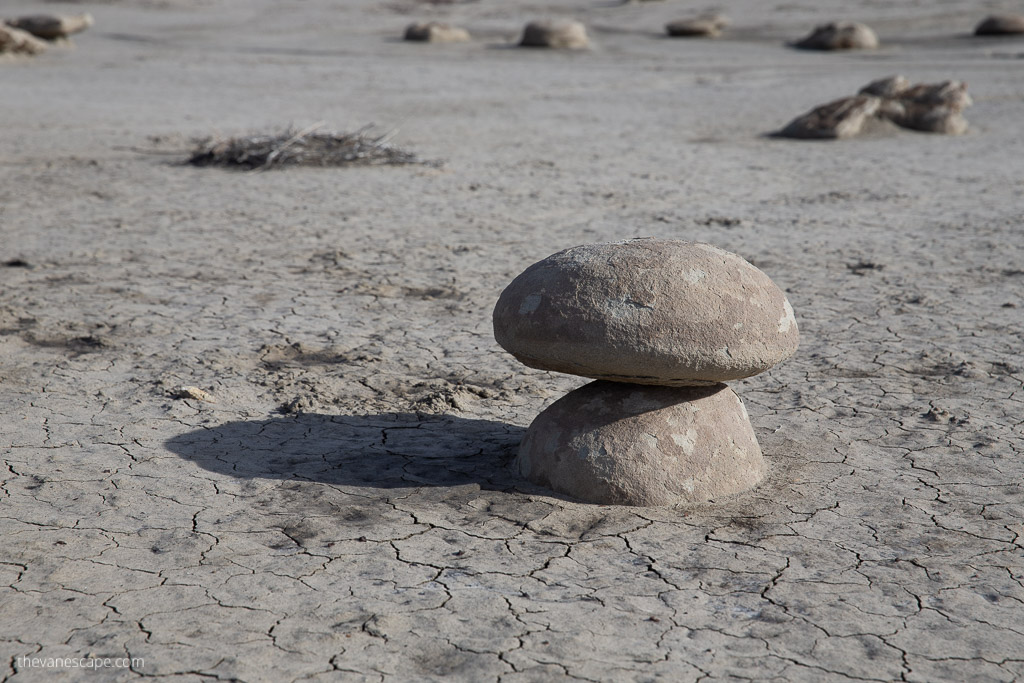 Hiking Boots Are A Must
No matter if you're going in summer or winter, you need solid shoes with excellent grip and ankle coverage. The soil underfoot lies soft and yielding. Even during a drought, it is easy to slip on clay grounds. Besides, this area is inhabited by rattlesnakes, spiders, and scorpions, which is why you should protect your feet and legs—no sandals, sneakers, or shorts. Only solid hiking shoes and long hiking pants are necessary for your safety. Hiking poles are also very useful in this rough terrain.
Leave No Trace & Respect Wildlife
Wildlife in this desolate area is very fragile. So, protect nature. Do not touch and approach the nests of wild creatures. Respect wildlife. Furthermore, please do not climb on the rock formation, and do not touch them. You can destroy it with a single touch. Erosion makes them tender. Furthermore, in march 2020, the impressive Bisti Arch collapsed due to weather conditions and erosion progress. So, leave this place clean for the next visitors. For this reason, it is essential to pack all your garbage. Leave No Trace.
Just in Case
No matter if the trail is short or long, easy or demanding, you always have to be prepared for the hike. Accidents happen, or the weather can change dramatically in a few minutes. That's why we pack carefully, even for shorts and leisure walks. But Bisti Badlands are demanding, so prepare for it better than usual.
Emergency shelter
Always carry some type of emergency shelter to protect you from wind and rain in case you get stranded or injured on the trail. Take an Emergency sleeping bag, which serves as your emergency blanket, survival shelter, and emergency bivy sack – all-in-one. It is a great solution just in case you have to spend the night in the desert. It's happening in this remote area.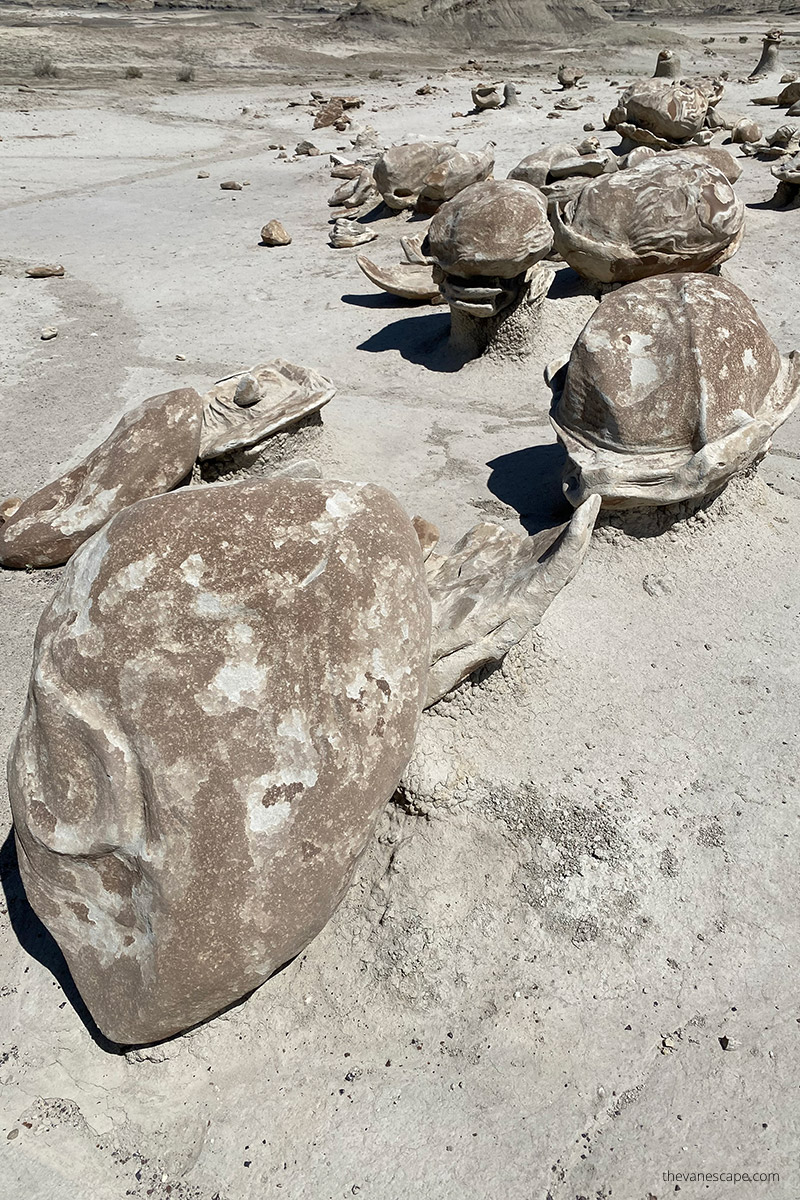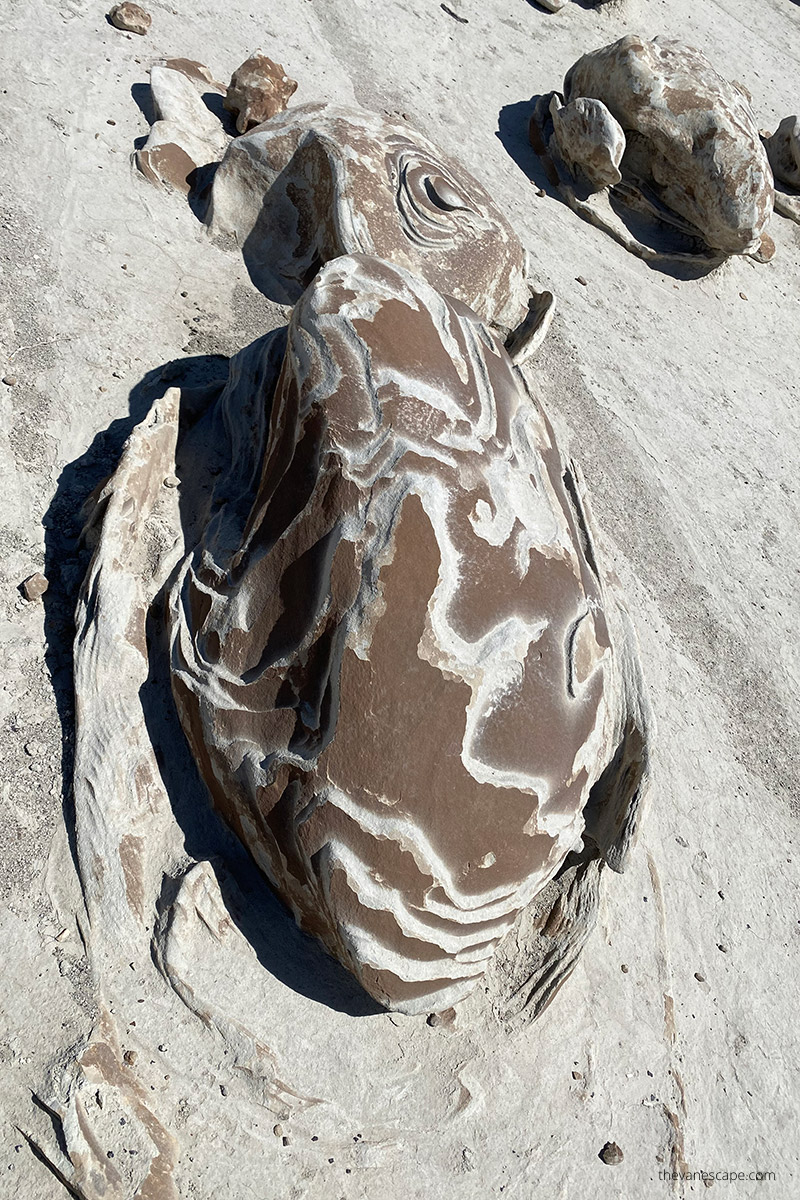 Layered clothing
Even for short hikes, we dress in layers. But we always put it in the backpack (we like Osprey) extra clothes beyond those required for the trip. We add a warm hoodie, raincoat or windstopper, gloves, a beanie, just in case of weather breakdown. Temperature differences in the desert are vast, so even in summer, take warm clothes. Furthermore, we have Pocket Knife with Multitool, which is ideal for outdoor activities like camping and hiking. It's essential for gear repair, food preparation, and first aid.
Watching your body while hiking
Even experienced hikers have weaker days. Hiking the Bisti/De-Na-Zin Wilderness is challenging. If you start to feel dizzy, disoriented, or nauseated, take a rest. Drink water and eat a salty and high-proteins snack and rest as long as you feel better. If you are cold, put on extra layers and eat. If you are hot, drink more water and rest. Protect your body by the sun, so take a hat & sunscreen.
PRO TIP: If you plan to do other New Mexico treks besides Bisti Badlands, we sincerely recommend Hiking New Mexico: A Guide to the State's Greatest Hiking Adventures. It offers more than 90 of the state's best hikes, mile-by-mile directional cues and detailed directions to the trailheads, and information on distance and difficulty for each trail. Well written with clear trail descriptions, great maps, and color photos. We still have on our bucket list many fabulous, off-the-beaten-path trails in New Mexico with this guidebook.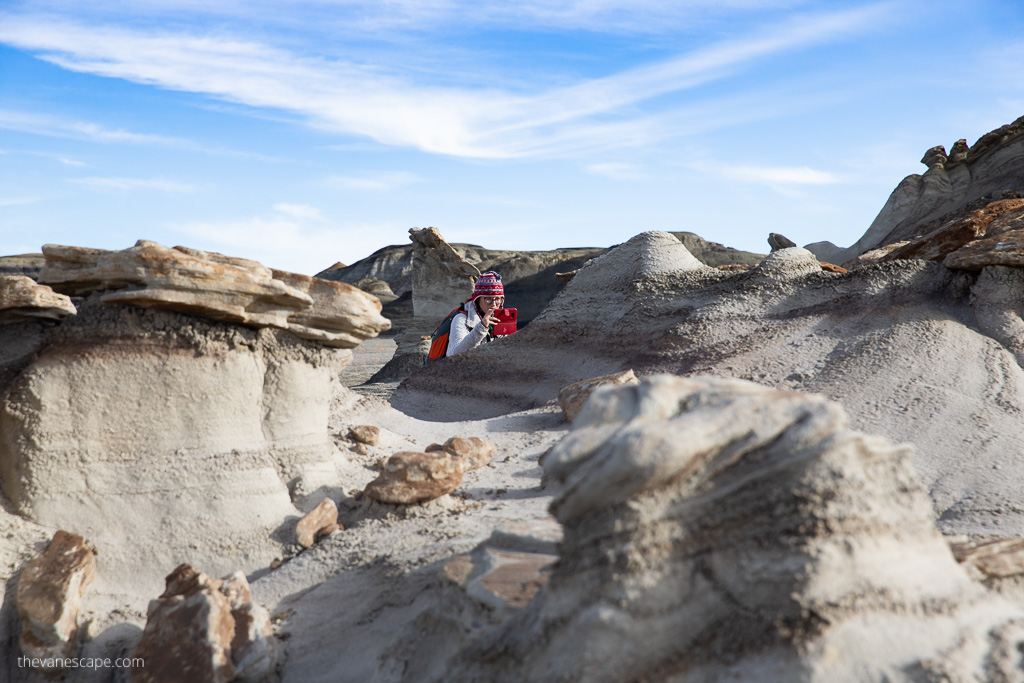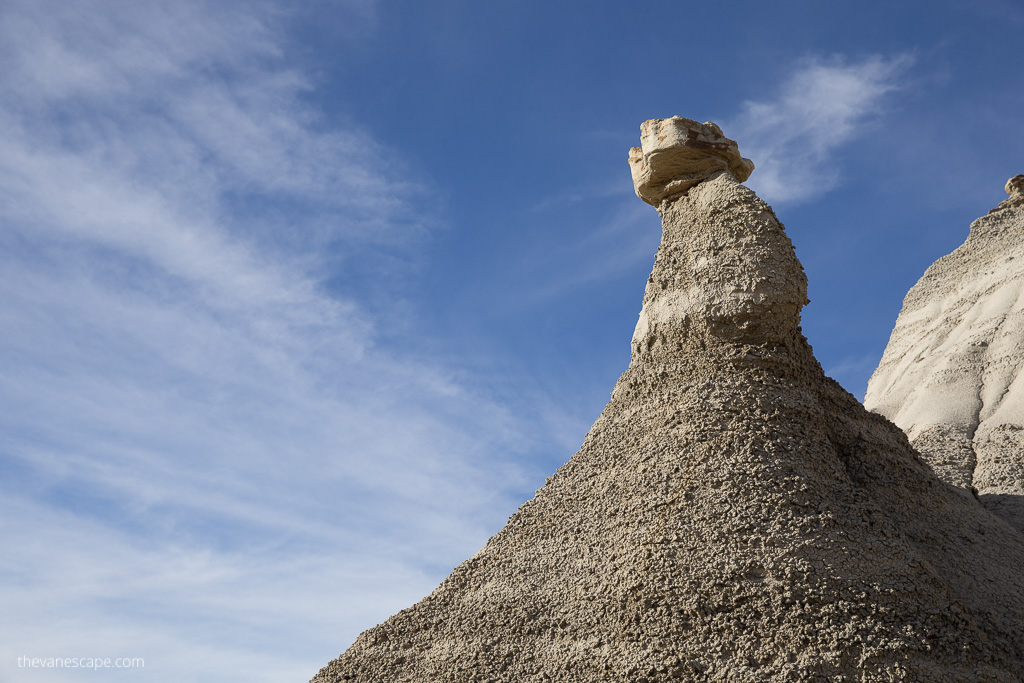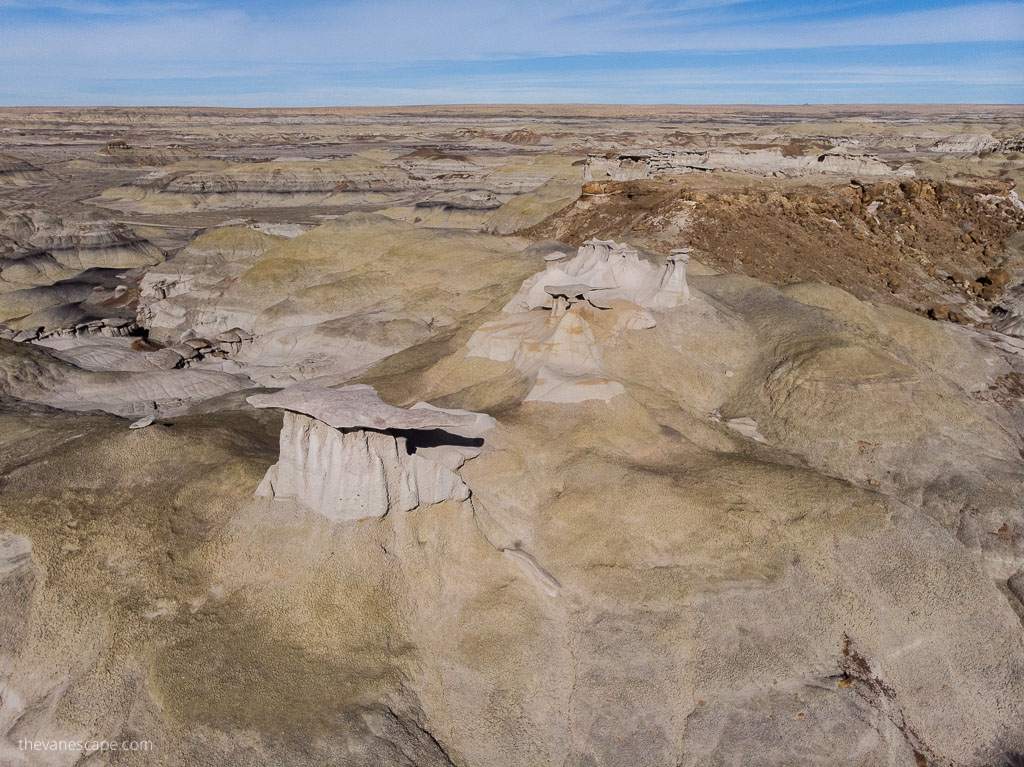 Hiking The Bisti/De-Na-Zin Wilderness Photo Tips
When it comes to photographing these Bisti Badlands, you are limited only by your imagination. You can photograph rocks from below or from above to get a different effect. However, remember not to step on or touch these delicate and unique formations. Unfortunately, the Bisti Arch collapsed in March 2020. We were lucky to photograph it in December 2019.
It's worth taking a tripod, especially if you want to stay until sunset. But wait till evening only if you have GPS with you, it's so easy to get lost there.
We used standard 24-70 lenses. Chris uses Canon and Agnes Nikkor. This lens was enough for the Bisti Badlands area. We didn't want to take too heavy backpacks in the desert. But honestly, you will get great photos using the iPhone 11 Pro.
We assure you that hiking the Bisti/De-Na-Zin Wilderness Area will be a great experience.
You can learn more about these fantastic rock formations from the books:
Finally, if you are looking for other best hikes in New Mexico or fabulous places in New Mexico, check out our related posts and photos:
If you plan a longer road trip through the most spectacular landscapes and most incredible US Southwest national parks, check out our detailed itineraries, which help you plan your dream road trip: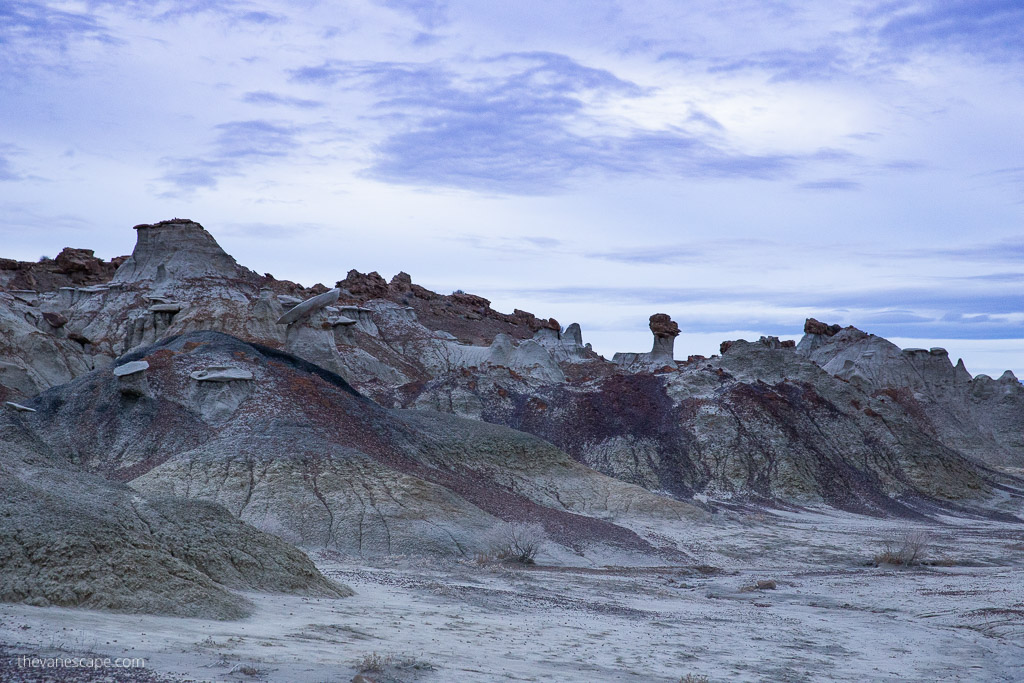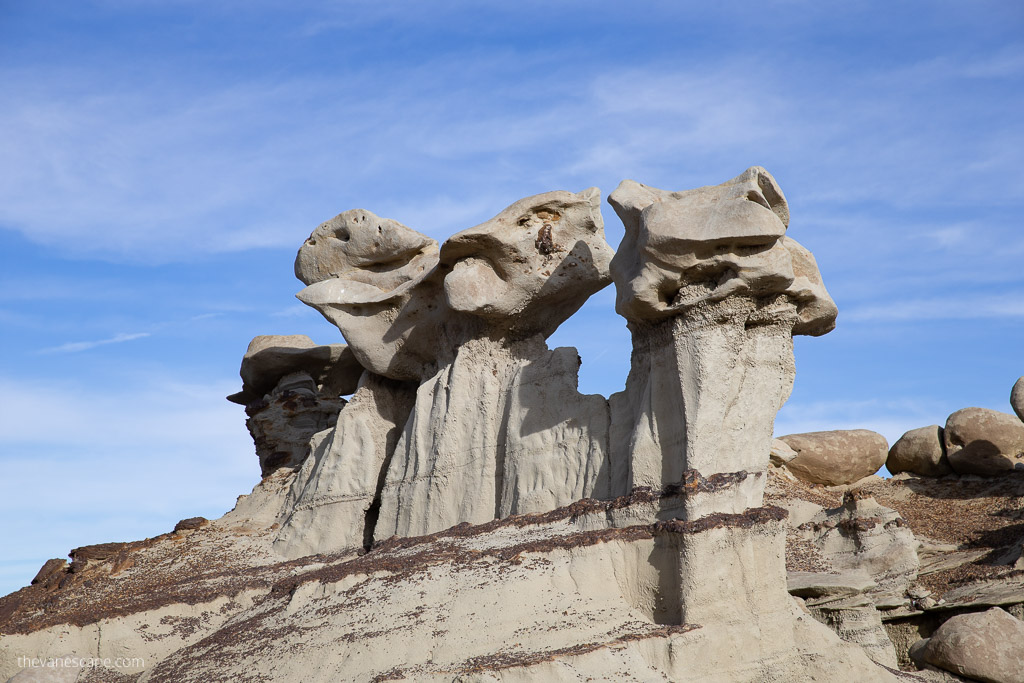 Bisti Badlands – Frequently Asked Questions
What animals are in the Bisti wilderness?
The Bisti/De-Na-Zin area is sparsely populated with wildlife, although cottontail rabbits, coyotes, badgers, porcupines, and prairie dogs can be seen. However, it is important to exercise caution as this area also houses lizards, snakes, tarantulas, and scorpions. Protect your body.
Do you need a permit for Bisti Badlands?
There are no permits for tourist hiking in Bisti Badlands. And there are no fees. But permits are required for guided tours, photography workshops, scientific research, and grazing.
Are the Bisti Badlands worth a visit?
Yes. These are some of the most stunning and peculiar rock formations in the US Southwest. When you visit, you'll feel like you've landed on an extraterrestrial world. It's worth adding those otherworldly hoodoos to the New Mexico bucket list.
What does De Na Zin mean?
The term Bisti (Bis-tie) is derived from the Navajo language, signifying an extensive region of shale hills. Similarly, De-Na-Zin (Deh-nah-zin) is named after the Navajo expression for "cranes."
What are the rules for Bisti Badlands?
The use of drones is prohibited. Also, campfires, collecting fossils or wood, climbing on geologic features, traveling in groups of more than eight people, and trespassing on adjacent tribal lands are prohibited.
Is there cell service in Bisti Badlands?
There is no telephone or Internet coverage in this area. You can rarely catch cell service, so be prepared for the hike, as it's easy to lose orientation in this desert area.