Multnomah Falls Photography Tips & Guide
Multnomah Falls is undoubtedly an icon of the Pacific Northwest. A must-see place if you plan a road trip in Oregon, and you are a nature landmarks lover. It is the tallest waterfall in Oregon and certainly one of the most beautiful in the United States. As fans of waterfalls, we have prepared a Practical Guide to visiting this place with Multnomah Falls Photography Tips. All you need to know before you visit Columbia River Gorge.
This article may contain affiliate / compensated links. For full information, please see our disclaimer here.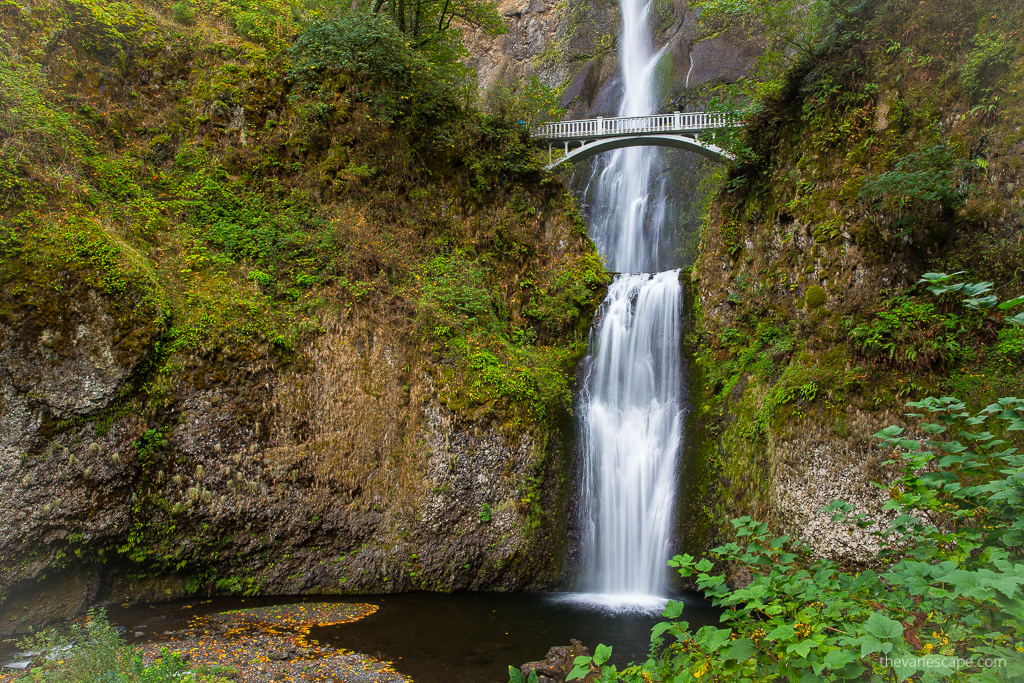 What is Multnomah Falls?
Multnomah Falls is the tallest waterfall in Oregon and one of the most accessible, which makes it one of the most visited natural landmarks of Oregon and possibly one of the most photographed waterfalls in the U.S. It's a truly magnificent two-drop cascade. It's located close to Portland, in Columbia River Gorge. The Columbia River Gorge of Oregon State with Multnomah Falls is breathtaking. It's worth staying in the area for more than one day. The Columbia River Gorge is a gigantic geologic feature that straddles the borders of Washington and Oregon State. The Gorge is over 80 miles (130 km) long, up to 4000 feet (1200 m) deep. It's home to fabulous waterfalls, epic hiking, and panoramic views. It's a dream location for waterfall lovers.
How tall is Multnomah Falls?

Multnomah Falls height is 620 feet (189 m) and is listed as the 156th tallest waterfall in the United States by the World Waterfall Database. The structure of Multnomah Falls is divided into two parts, spanning two tiers on basalt cliffs. The falls drop in two major steps, split into an upper fall of 542 feet (165 m) and a lower fall of 69 feet (21 m), with a gradual 9-foot (3 m) drop in elevation between the two.
What is the legend of Multnomah Falls?
According to the Native American legend from the Multnomah tribe, the waterfall was formed after a young woman sacrificed herself to the Great Spirit to save Multnomah village from a plague by jumping from the cliff. Due to her sacrifice, the Multnomah people were saved. Furthermore, after her death, water began to flow from above the cliff, creating the waterfall.
If you are a waterfalls fan, check out our detailed Guide to the Oregon Proxy Falls Hike with Photography Tips!
Photographing Oregon (Phototripsusa)
Photographing Oregon covers the most photogenic natural locations in beautiful Oregon, from the rugged coastline to the fertile Willamette Valley, through the Columbia River Gorge and over the Cascade Mountains, across the Great Basin high desert and Columbia Plateau to the eastern border. Come explore coastal cliffs and beaches, sand dunes, lighthouses, wildlife refuges, gardens, waterfalls, verdant valleys, volcanic peaks, unique rock formations, the deepest canyon in North America and remote desert outposts.
How to get to Multnomah Falls?
If you are a photographer and dream of taking great pictures of a waterfall, check out our tips below. Step by step, we suggest how to prepare for a trip on your own. But if you wish, you can take an organized day trip from Portland.
Multnomah Falls Lodge
Multnomah Falls Lodge was built in 1925 to serve tourists who came to view the spectacular Columbia Gorge and its waterfalls. The historic structure was made of rocks found in the gorge in a "Cascadian" architectural style using native split fieldstone laid irregularly. The lodge and footpaths were added to the National Register of Historic Places in 1981.
Now there is a gift shop, a restaurant, and a US Forest Service Information Center where you can find trail maps.
Is Multnomah Falls open now?
Yes, it's open. Check details on the official website, as reservations are required in the high season from May 24 – September 5. Due to the popularity of this place, timed reservation tickets are required for the Benson Bridge.
Multnomah Falls is fed rainwater and snowmelt, which makes it a year-round attraction. Due to the pandemic of COVID 19, the Benson Bridge was closed for a while. The bridge has already been opened, but it is worth reading the official website before visiting due to the changing situation.
The Multnomah Falls Lodge, which is on the National Register of Historic Places and features a restaurant, snack bar, and gift shop, is also open.
Multnomah Falls Tickets
Does it cost money to go to Multnomah Falls?
There is No Fee to visit Multnomah Falls. Pets are allowed at Multnomah Falls but must be on a leash at all times. But tickets for Benson Bridge are required in 2022 starting late May through mid-September.
Multnomah Falls Parking
The only parking area for the site is the Interstate 84 parking lot at exit 31. Parking along the Historic Columbia River Highway by Multnomah Falls is prohibited. Check if you must have parking reservation tickets before arrival or if it is still suspended due to the Pandemic, and this is the first-come, first-serve rule. So, plan your visit early morning or late afternoon to find a spot.
Multnomah Falls Directions
The waterfall is top drawn in the Columbia Gorge, is accessible from the Historic Columbia River Highway and Interstate 84. Multnomah Falls is located on Multnomah Creek in the Columbia River Gorge, just 30 miles off Portland, east of Troutdale, between Corbett and Dodson.
How to Get from Portland to Multnomah Falls?
It's only 30-40 minutes of driving and 34 miles from Portland to Multnomah Falls Parking. You must take east on Interstate 84 to exit #31, Multnomah Falls.
However, if you prefer Scenic Drive, which takes about 1 hour, take I-84 eastbound to the Troutdale exit. Follow signs for the Scenic Loop drive. Follow the drive along the old Columbia River Highway. You can encounter fantastic views of the Columbia Gorge, Mount Hood, and other waterfalls before you get to the Multnomah Falls parking area during this driving.
Multnomah Falls Shuttle
Due to the popularity of the place is worth considering taking a shuttle like the Columbia Gorge Express. It serves Portland, Cascade Locks, Hood River, and The Dalles. You must book a seat in advance.
How to Get from Eugene to Multnomah Falls?
From Eugene are about 139 miles and 2 hours and 15 minutes drive. The fastest road is via I-5 N and then from Portland via I-84 E.
How to Get from Sisters to Multnomah Falls?
From Sisters, it's over 3 hour drive and 165 miles via scenic US-26 W road.
If you travel from Sisters or plan to visit this charming town, check out our list of top things to do and see in Sisters.
Furthermore, if you have more time on the route from Sisters to Multnomah Falls, it is worth staying at the Mount Hood area at Timberline Lodge, The Shining movie location.
How to Get from Seattle to Multnomah Falls?
Seattle is approximately 195 miles and 3 hours 10 minutes driving if you take I-5 S. Check our 3 Days Seattle Itinerary if you plan to visit this fabulous city!
PRO TIP: We always look for inspiration in books. Our favorite is Photographing Oregon. We have all the books in this series from different states and can honestly recommend them. It depicts the most beautiful places in Oregon, including hidden gems, many photo tips, information about reaching the place, the trail's difficulties, etc. Beautifully issued with great inspirational photos.
As fans of waterfalls, we also use Hiking Waterfalls Oregon: A Guide to the State's Best Waterfall Hikes. It features over 60 breathtaking waterfalls in Oregon. We still have many places on our bucket list from this book.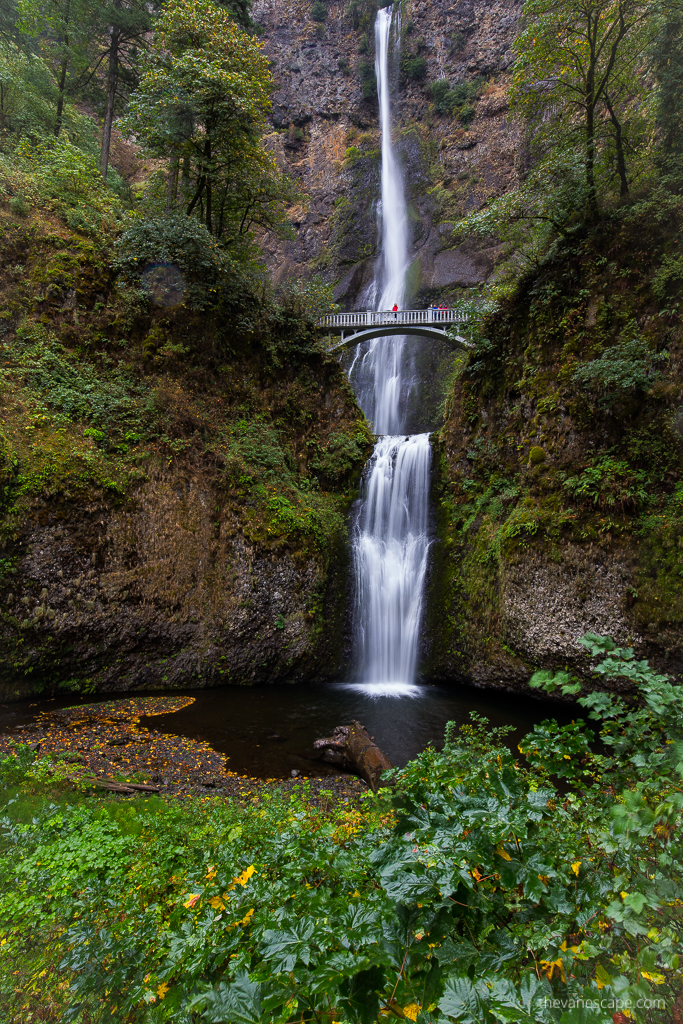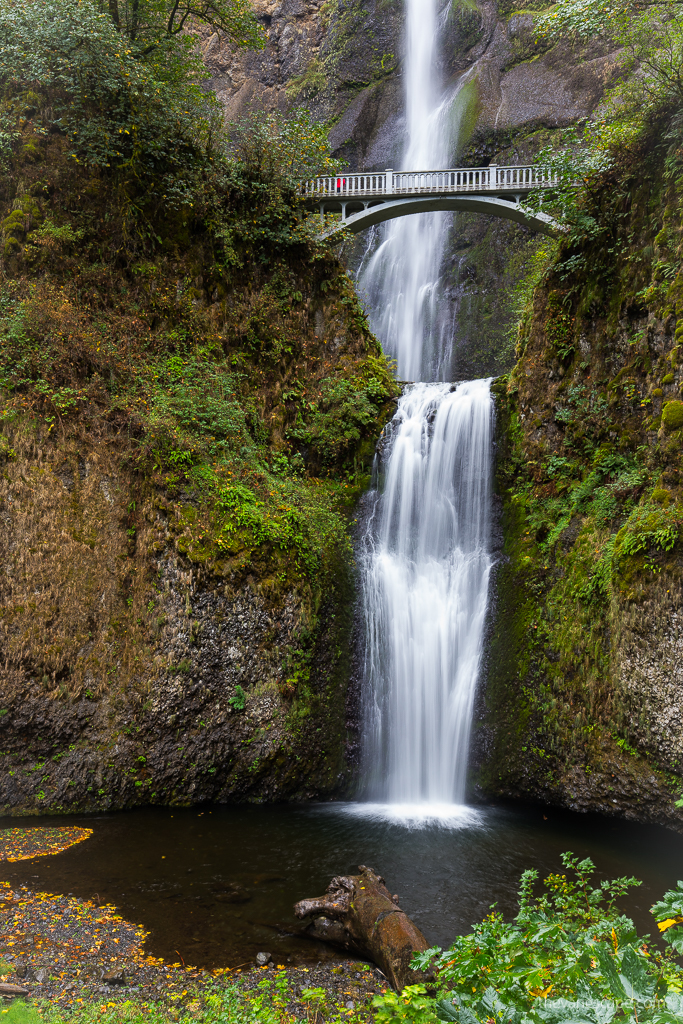 Multnomah Falls Weather
What is the best time to visit & photographing Multnomah Falls?
The waterfall is year-round. It does not dry up in the late summer. But it is worth avoiding the crowds, especially in times of a pandemic. Spray and mist cause a cooler micro-climate, so take a raincoat and warmer clothes even during summer.
In Winter, if the snow falls, you will have snowy rocks and ice drops.
In spring, rhododendrons bloom beautifully, providing a fabulous foreground.
In autumn, the leaves have yellow and red colors, making the place special too.
Peak flow is in late winter and spring when the water level increases flow and intensity.
Multnomah Falls Photography Tips – How to avoid crowds?
Be early in the morning, at about 6-7 a.m. The Sunrise is beautiful. Or be just before sunset, it should be less crowded too.
Avoid weekends and holidays when there are the most tourists. And if you can only come on holiday, come early in the morning.
If you can't come early in the morning, consider a shuttle service in the high season.
From November to February, tourist traffic is low during the winter months, and the waterfalls are still impressive. If the snow falls, you will have an exceptionally fairy-tale scenery.
More Multnomah Falls Photography Tips, which you will find in the last part of the article.
Multnomah Falls Lodging
You will find the largest selection of accommodations at great prices in Portland.
But if you want to spend the night in the closest area, then we sincerely recommend the Best Western Plus Columbia River Inn. Is located in the heart of the Columbia River. For sure is one of the most stunning vantage points in the Columbia River Gorge National Scenic Area. We would love to back to this hotel. Service is also great, and it offers all facilities for demanding guests.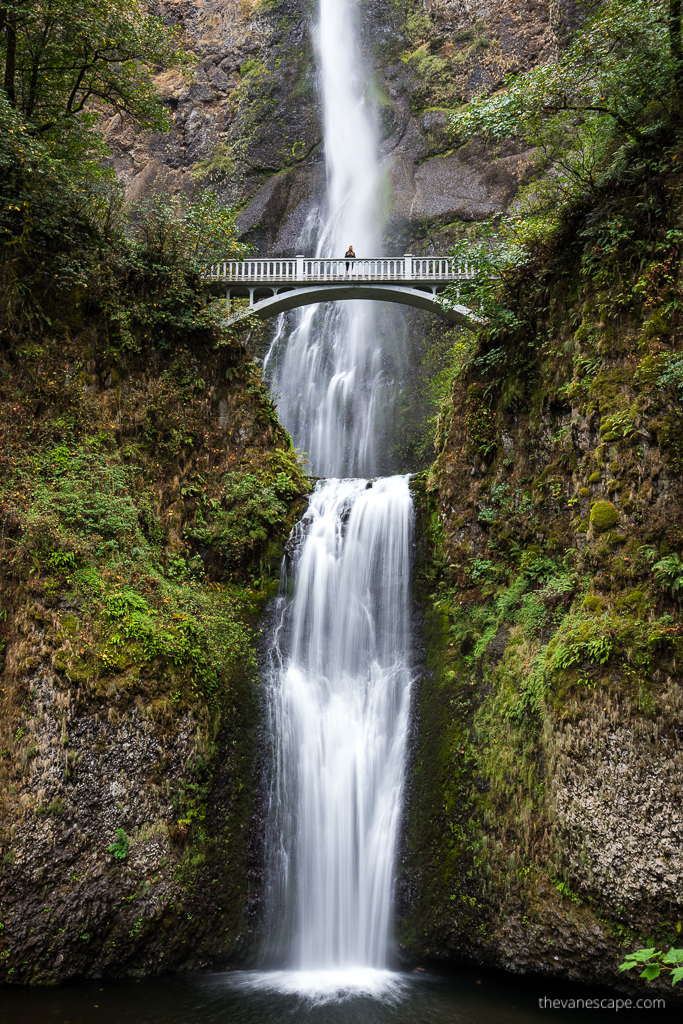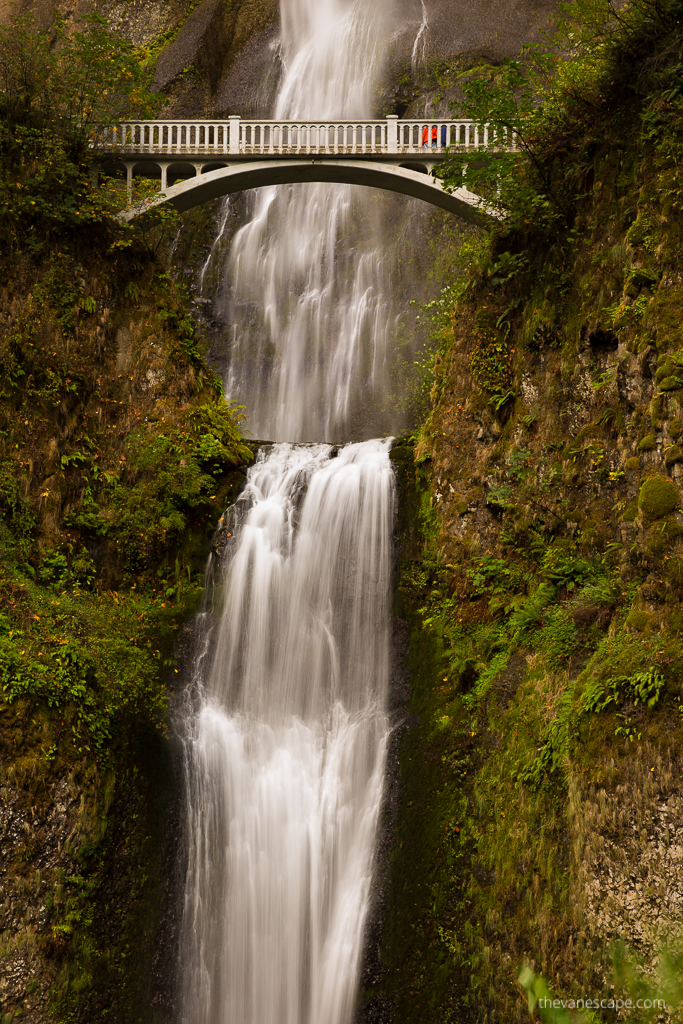 Multnomah Falls Hike
How long does it take to hike to Multnomah Falls?
You don't need to go hiking to see the waterfall, feel the mist of water on your face, and take spectacular photos of it. You will experience it all by walking just 5 minutes from the parking lot at the base of the waterfall. It's only 0.2 miles to a scenic footbridge. So if you pass through, you have little time, no hiking boots or rain protection for your camera, stay at the base of the waterfall, and enjoy the view. More about taking photos you will find in the part Multnomah Falls Photography Tips.
Hike to Multnomah Falls Bridge
The Benson Bridge is a photogenic foot-crossing spaning of the second drop of the falls. The bridge is only a quarter-mile hike up. However, it gets slippery during winter, due to freezing water droplets from the waterfall itself. Standing on the bridge, there is a great view of the top tier's full 542-foot height and vantage point over the second tier's 69-foot drop.
The Bridge is named for Simon Benson. He owned the falls in the early part of the 1900s. Benson financed Italian stonemasons to construct a bridge at the falls to allow visitors access in 1915. This businessman gave Multnomah Falls to the City of Portland before his death. The city transferred ownership to the USDA Forest Service.
From Benson Bridge, it is worth hiking another mile up a very steep path to reach the top of the falls. It's worth an effort because there is a spectacular view of the Columbia Gorge.
The trail is steep drop-offs, and uneven or slick walking surfaces make it challenging, so take great hiking boots and trekking poles. It might be closed during bad weather conditions, so check if it's open before you go.
If you follow signs just outside the lodge you can hike half of a mile to nearby Wahkeena Falls. It's also a fabulous waterfall. The name Wahkeena means "most beautiful" in the Yakima language. It has 240 feet, but it's also very photogenic. The steep one-mile trail leading from the base of the falls to the top is amazing.
Multnomah Falls Photography Tips
Take a Tripod and Remote Shutter Release
You will need a stable tripod with a proper head and remote shutter release. You need to use a longer exposure to make the water stand still and look beautiful in the picture. The best idea is to try a variety of exposure to different effects of the flowing water. Use the polarizer filter to reduce reflections on the water and other surfaces. Some filters may warm up your scene a little bit. Early in the morning or closer to the evening is the best time to shoot some long exposure shots.
Use wide lens
The waterfall is tall and narrow, so in this case, a wide lens (we use 14-24 mm Nikkor and 16-35 Canon) will work best.
If you want to have the entire waterfall in the frame, you must crop vertically.
Take a photo of the Multnomah Falls Bridge
If you have short telelens, like 24-70 mm ( we use Canon 24-70 and Nikkor 24-70), take a close-up of the Multnomah Falls Bridge.
One of the best views is from the observatory, where you can see a piece of log on the pool under, overlooking two the two drops and the Benson Bridge.
If the area is full of people you can use zoom and shoot the bridge and the waterfalls right over the top of the heads.
Cover Your Photo Gear Against Getting Wet
It's a very wet area, so if you don't have waterproof photography gear take a so-called camera rain cover or raincoat to protect your camera and lens. There is a lot of mist flying around.
Be prepared to clean your lens
It's possible that your lens will be getting permanently wet. So, don't forget the cleaning cloth. Finally, after setting your scene, please gently clean your lens front element to make sure there are no drops on it before pressing the shutter release.
Step on the Benson Bridge to take a picture
If you are lucky and your visit falls on the reopening of the bridge, climb onto it. And take a picture. But remember that you will be completely wet, so take a long raincoat and good protection for your equipment.
If you need more Multnomah Falls Photography Tips and other Oregon Waterfalls Hints, check these books. For us, they are a source of inspiration and further photographic expeditions.
The Best Guided Tours
The Columbia River area is gorgeous and worth exploring. It is great to consider guided tours to see the hidden gems of this spectacular area.
The most interesting tours are
Half-Day Columbia River Gorge Waterfalls Tour. During a few hours of the scenic drive along the Historic Columbia River Highway, you will see 4 or 5 unique and breathtaking waterfalls, including Multnomah Falls. You will have several short walks through the old-growth forest. One of the stops is Historic Vista House, which allows for amazing photo opportunities.
Columbia Gorge Waterfalls 40-Minute Scenic Flight. You will fly over the world-famous Multnomah Falls, between the Gorge Canyon, and past Bonneville Dam.
For more offers, see viator.com, which is a TripAdvisor Company, or GetYourGuide.