10 Best Things to Do in Bryce Canyon National Park in 2023
Check out our 10 Best Things to Do in Bryce Canyon National Park in 2023 to find inspiration for your trip! Bryce Canyon in Utah has unique worldly geology. And you should add it to your 2023 vacation plan because Bryce celebrates its 100th Anniversary this year! The erosional force shaped the colorful limestone rock into bizarre shapes, including slot canyons, windows, and spires called "hoodoos." These incredible structures are formed over millions of years due to erosion, freezing and thawing, and water movement. Red, orange, and white rocks create spectacular views. Bryce Canyon amphitheater looks like on fire. Hoodoo formations are extremely photogenic. In this article, we help you plan your visit to Brice Canyon. We share our experiences and recommend the best activities in the park, where to stay, how to get there, which vistas are the best for photos and much more.
This article may contain affiliate / compensated links. For full information, please see our disclaimer here.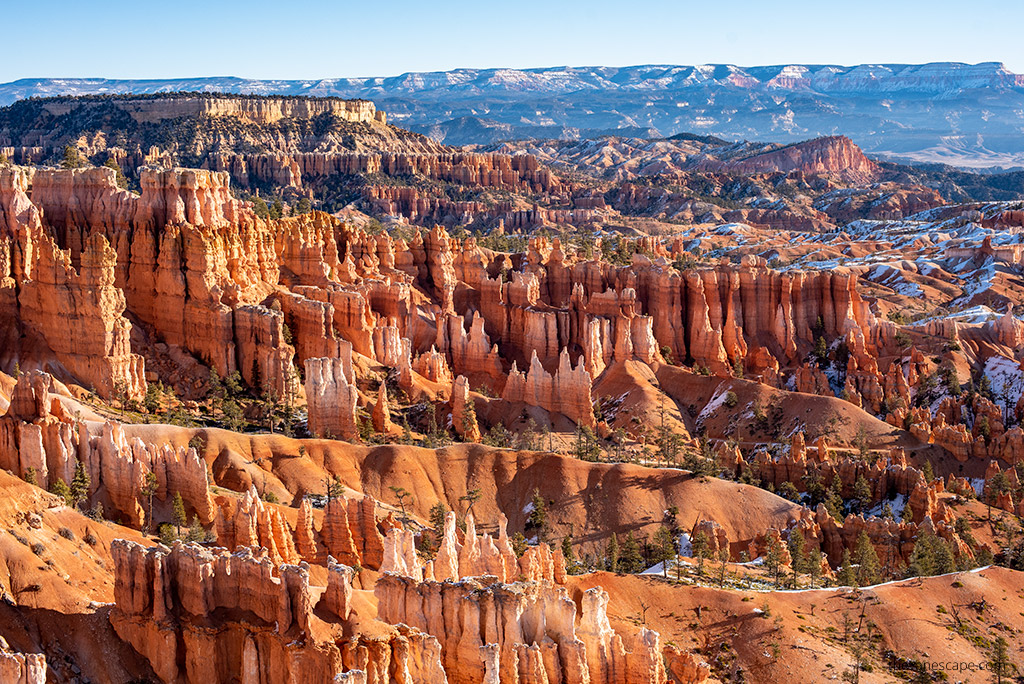 Best Things to Do in Bryce Canyon National Park in 2023 – Our Experiences
We've often visited Bryce Canyon National Park for its fantastic rock formations. Moreover, we have seen it every season, even in winter. Our last trip was in May 2023. Why did we go to this park again? Because Bryce Canyon National Park celebrates its 100 Anniversary this year! Congratulations! And this year is full of surprises, attractions, and additional programs for visitors, so it's worth going to Bryce Canyon. And in this article, you will find the most up-to-date information to prepare for your dream trip to Bryce.
What is Bryce Canyon Famous For?
Bryce Canyon National Park, located in Southwestern Utah, is famous for its beautiful hoodoos. The word "hoodoo" means to bewitch. Hoodoos are geological structures formed by frost weathering and stream erosion of the river and lake bed sedimentary rocks. The hoodoos are tall skinny shafts of rock that protrude from the bottom of arid basins. What creates these unique rock structures you see in Bryce Canyon's photos? The erosion process begins with rainwater seeping into cracks in the rock. Due to its high elevation, the nights are cold at Bryce Canyon. The water freezes, expands, and breaks the rock apart.
The park's primary feature is Bryce Canyon, which, despite its name, is not a canyon but a collection of giant natural amphitheaters along the eastern side of the Paunsaugunt Plateau with its hoodoos. The best viewpoints in the Bryce Canyon are Bryce Point, Inspiration Point, Sunset Point, and Sunrise Point. Above all, it's good to know that most of these fantastic Bryce Canyon sites can be seen without strenuous hiking, which is excellent news for those with mobility issues and families with children. Finally, if you have limited time, all day will be enough to visit Bryce Canyon.
TRIP TIP: If you are planning a Utah road trip, check our detailed Utah Photography & Travel Guide, where you can find the most exciting & must-see places in Utah, the best hikes in Utah, and useful hints for trip planning. If you plan Utah Mighty 5 road trip, check out our ready-to-go Utah National Parks Road Trip Itinerary!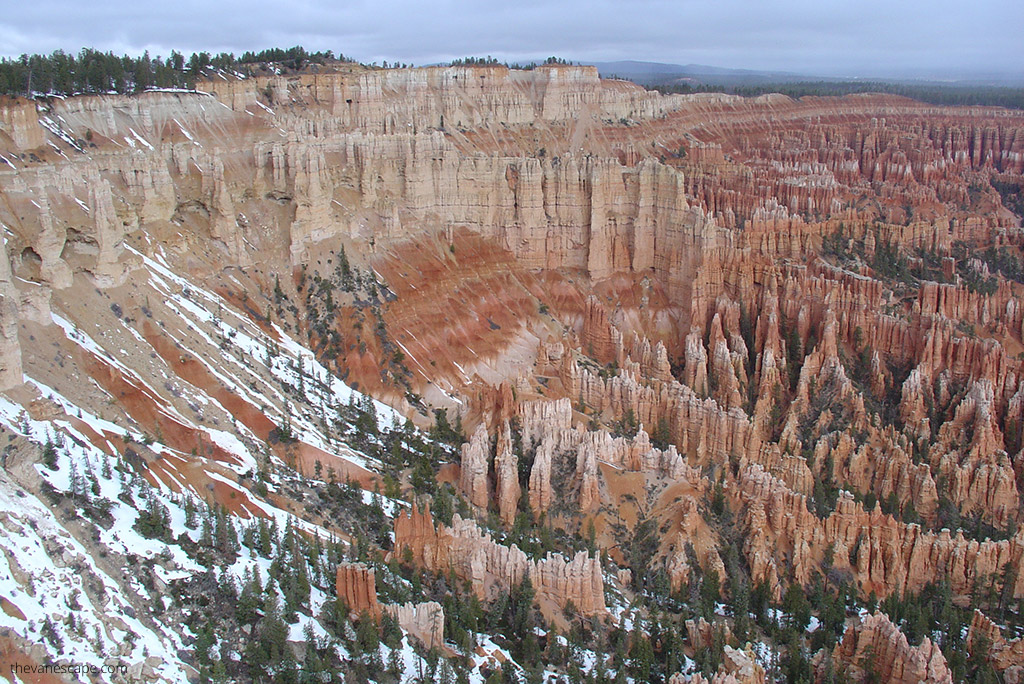 The Popularity of the Park
On February 25, 1928, Bryce Canyon officially became a national park. The park covers 35,835 acres (55.992 sq mi; 14,502 ha; 145.02 km2). The number of visitors to the park in 2021 was more than 2.1 million recreational visits, giving it second place after Zion among Utah Mighty 5, and it is among the 20 most visited U.S. national parks. The area around Bryce Canyon was originally designated as a national monument by President Warren G. Harding in 1923, and that is why Bryce Canyon has its 100th Anniversary in 2023!
As it's a trendy park, it might be crowded, so check our detailed tips below to plan your trip perfectly!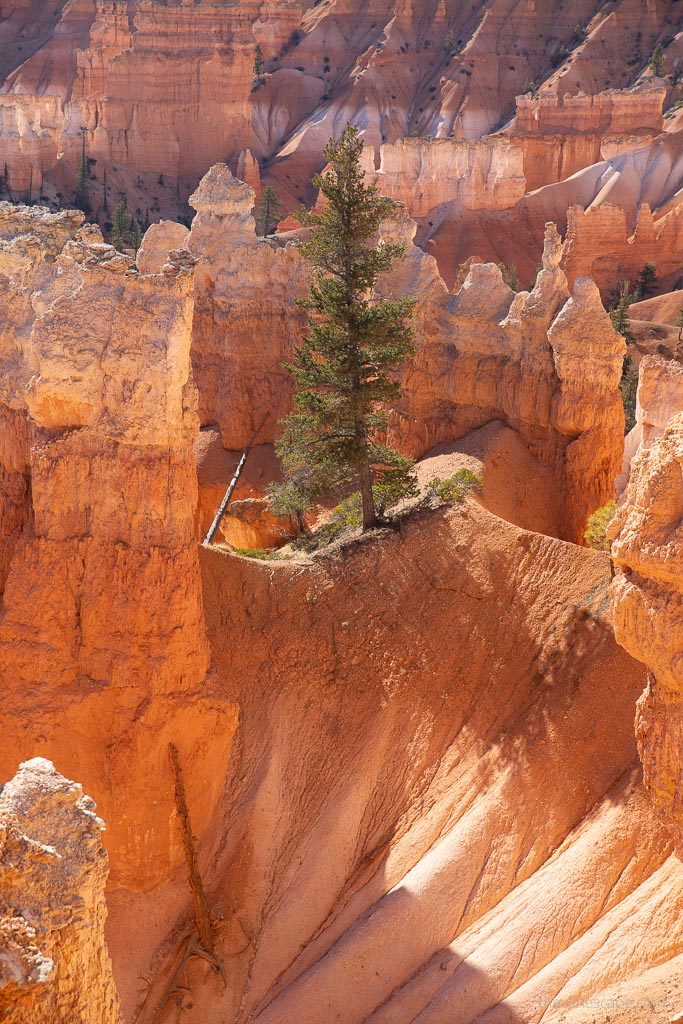 Where is Bryce Canyon National Park?
Bryce Canyon National Park is located in Southern Utah near the city of Bryce. The Park is accessible by air or car from Las Vegas, Salt Lake City, St. George, and neighboring Zion National Park.
The trip to Bryce Canyon National Park is best combined with the other great Utah National Parks as they are close. Here you have our ready Utah Mighty 5 itinerary.
How To Get To Bryce Canyon National Park?
By Air
The most convenient airports to get to Bryce Canyon National Park are Las Vegas International Airport, Salt Lake City International Airport, and St. George Regional Airport. You can find the best flights and prices on TripAdvisor, skyscanner.com, or CheapOair, a leading provider of airline tickets and one of the fastest-growing online travel companies in the US.
How to Get to Bryce Canyon By Car
Car is the best option to get to Bryce Canyon National Park. If you plan to rent a car, we recommend comparing the prices and terms of the different rental companies on RentalCars. But, if you plan to travel motorhome, we recommend RVshare.
From Las Vegas, take I-15 N. It's 260 miles to the park.
From Salt Lake City, take I-15 N. It's 270 miles.
If you are staying in Kanab, it's only 76 miles to the Bryce and 1 hour 20 minutes driving, so it's a perfect idea as a day trip from Kanab.
Visiting Bryce Canyon National Park is a perfect idea also if you are exploring Escalante, as it's only 55 minutes and 49 miles from the park.
Bryce Canyon's viewpoints are located along the park's 18-mile main road. It takes you from the park's only entrance in the north along the plateau rim to its highest elevations in the south (over 9,000 feet / 2,743 m). You will usually not need 4WD to get to Bryce Canyon National Park. 4WD might be necessary if you are planning your visit during the winter season. During one of our visits, we were in Bryce Canyon in the second half of November. Bryce was covered by snow, and only thanks to 4WD were we able to drive. The road is paved, so a regular car is enough in summer, spring, and fall.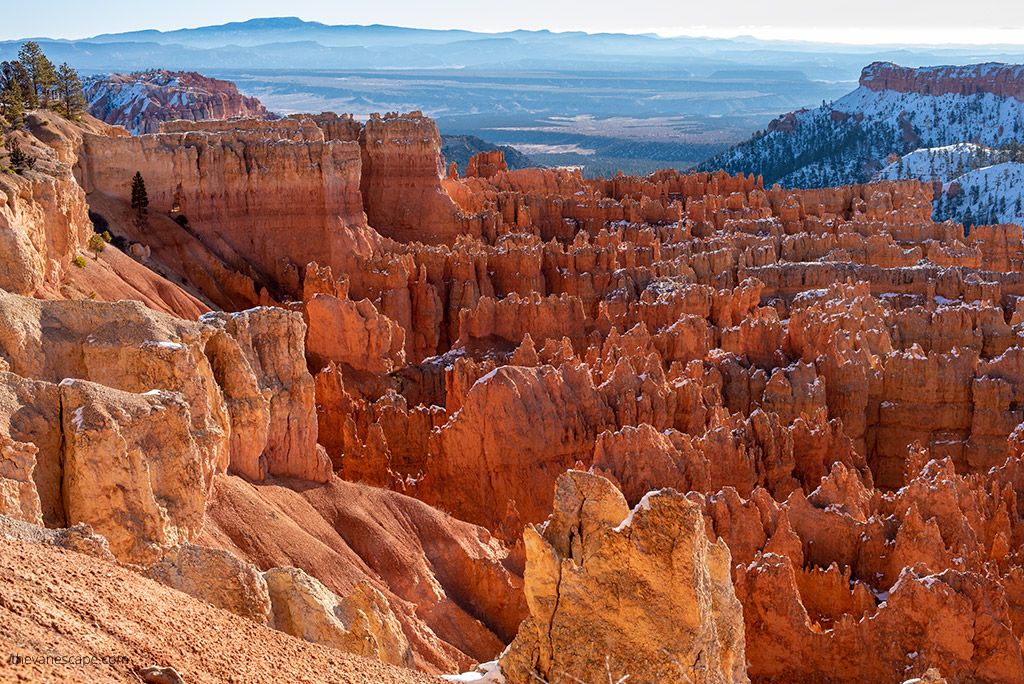 Bryce Canyon National Park Shuttle
Between April and October, you can take a free shuttle bus which is operated in the park to reduce traffic. Riding the shuttle is not mandatory except for vehicles measuring 20 feet/6 meters or longer, which are restricted from the Bryce Amphitheater during shuttle hours. However, taking a shuttle during peak season is a great idea because parking along the road has limited space. So don't waste your time waiting for a parking space. A shuttle bus takes you to each area of interest, viewpoints, and trailheads within the Bryce Amphitheater area of the park. On the NPS website, you will find detailed information about the shuttle.
How to get from Las Vegas to Bryce Canyon National Park?
From Las Vegas, Nevada it is around 260 miles to Bryce Canyon, which takes 4 hours drive. From Las Vegas, take I-15 North (direction: Salt Lake City) to UT-20 East. After 205 miles, take exit 95 from I-15 N (direction US-89 / Panguitch / Circleville). Take UT-20 E, US-89 S, and UT-12 E to UT-63 S in Garfield County.
How to get from Zion to Bryce Canyon National Park?
It is easy to connect visiting Zion National Park with Bryce Canyon National Park because they are neighboring. Please find detailed directions below.
Via The Zion-Mt. Carmel Tunnel
From Canyon Junction point in Zion National Park, you can take Zion-Mount Carmel Highway to East Entrance to 8 and 89 to Mt. Carmel Junction, Grand Canyon National Park, and Bryce Canyon National Park. There is a tunnel on this road. Furthermore, no bikes or pedestrians are allowed. Check the official Tunnel website before you go.
Vehicles 11'4" tall or taller, or 7'10" wide or more full, require one-lane traffic control through the tunnel. Visitors requiring traffic control through the tunnel must pay a $15 fee per vehicle in addition to the entrance fee.
Vehicles not permitted in the tunnel include the following: Vehicles over 13'1" tall; Semi-trucks and commercial vehicles; Vehicles carrying hazardous materials; Vehicles weighing more than 50,000 lb; Combined vehicles or buses over 50 ft.
It is around 73 miles and will take about 1 hour and 20 minutes to drive a scenic road.
Via I-15 North
If your car exceeds the allowed size, you must leave Zion National Park by Springfield and Touquerville and take I-15 North in Andersen Junction (direction: Salt Lake City) to UT-20 East. After 20 miles, take exit 95 from I-15 N (direction US-89 / Panguitch / Circleville). Take UT-20 E, US-89 S, and UT-12 E to UT-63 S in Garfield County.
It is around 146 miles and 2 hours 30 minutes driving.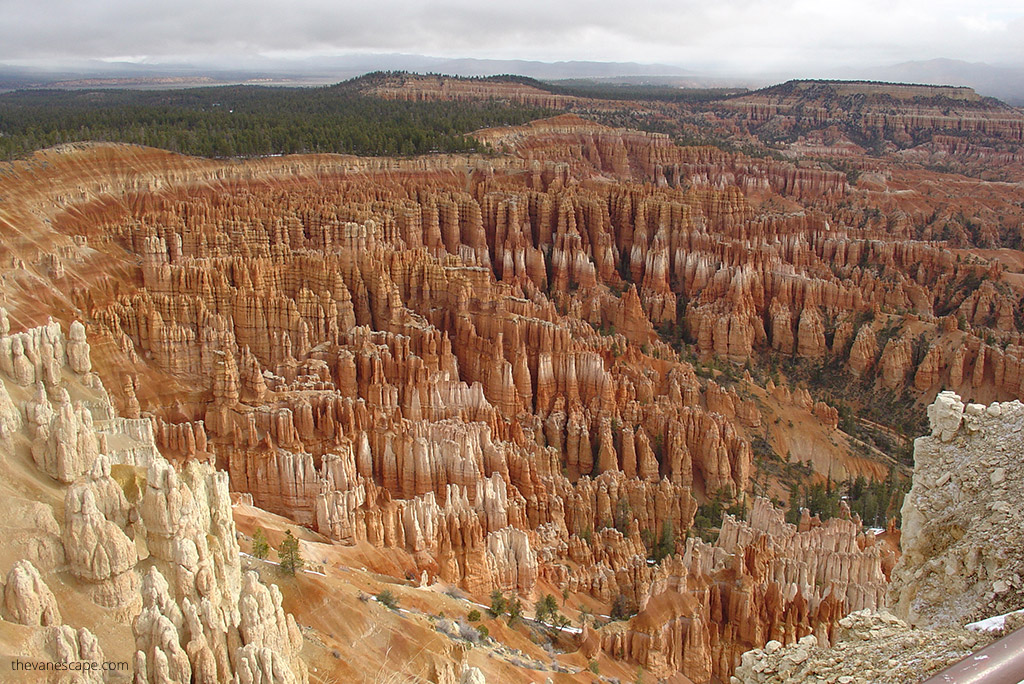 Bryce Canyon National Park Weather
The Bryce Canyon National Park is located in southwestern Utah, about 50 miles (80 km) northeast of and 1,000 feet (300 m) higher than Zion National Park, so the Bryce Canyon weather is cooler than the weather in Zion. Bryce Canyon National Park has a warm, humid summer continental climate. It means that the average temperature is below 71.6 °F (22 °C), at least four months are with an average temperature above 50 °F (10 °C), and the coldest month is having an average mean temperature below 32°F (0°C). Yearly temperatures vary from an average minimum of 9 °F (−13 °C) in January to an average maximum of 83 °F (28 °C) in July. From October to May, temperatures fall below freezing nearly every night.
Best time to visit Bryce Canyon
The best time to visit Bryce Canyon National Park is from late April through November. Fall (September – mid-November) is the most photogenic for us, and the weather is the best. It's not so hot, so hiking is much nicer. And it's a great idea to connect visiting Bryce Canyon with a visit to Zion National Park, which is stunning during autumn. However, late November might be much cooler, and might be snow in Bryce Canyon, too. But Bryce Canyon hoodoos covered by snow look like fairytales. It's a breathtaking view. First, you must be prepared for winter conditions if you want to go during the winter season. Furthermore, part of the accommodation and most campgrounds are closed from mid-October, so book accommodation before you go.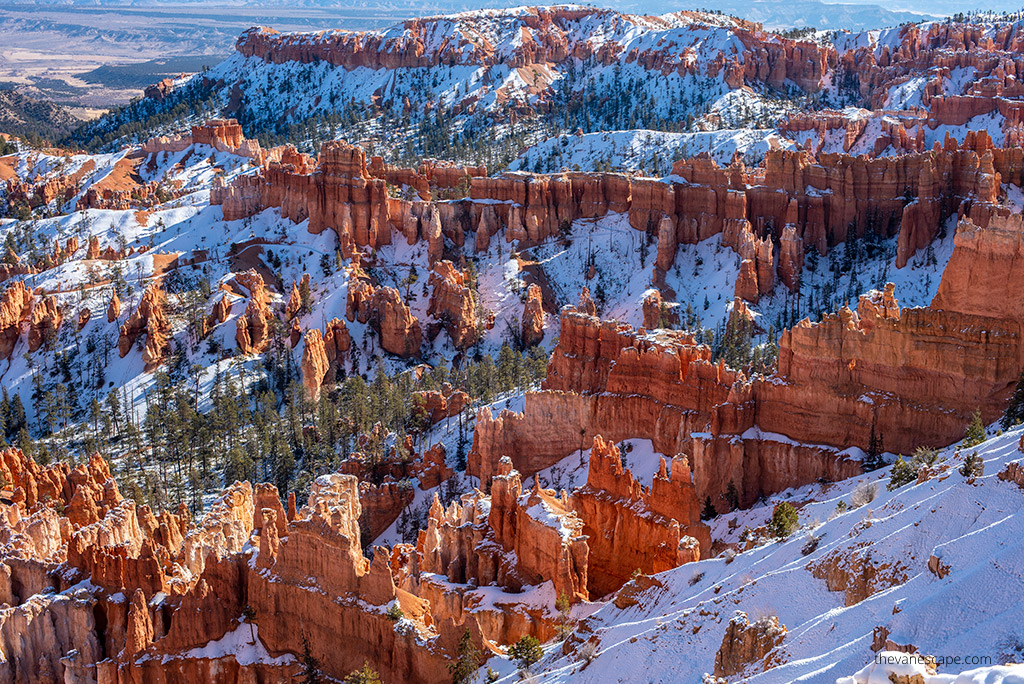 Where to Stay in Bryce Canyon National Park?
RV & Tent Campgrounds near Bryce Canyon
Finding a place at National Park Campings can be challenging in peak season. That's why we recommend booking a campground in advance. The beautiful Bryce Canyon Pines Store & Campground & RV Park, with all amenities, like hook-ups making you stay a great vacation, is located ten minutes from Bryce Canyon Visitor Centre.
You can find The Riverside Ranch RV Park Motel & Campground in Hatch, which is also the right choice.
There is Red Canyon Village RV Park in Panguitch, which is also close to Bryce Canyon. It is a good place to stay, too.
Bryce Canyon Camping
Bryce Canyon National Park has only two campgrounds, North and Sunset, located in close proximity to the Visitor Center, Bryce Canyon Lodge, and the main Bryce Amphitheater. North Campground is first-come, first-served and Sunset Campground accepts reservations.
North Campground is near the Visitor Center, Bryce Canyon Lodge, and the Bryce Amphitheater. All 99 sites are first-come, first-served, and surrounded by Ponderosa Pine forest with equal shade and sun. One loop is open for all camping types during winter, but no hookups are available. You will find more hints on the NPS website.
Sunset Campground is located west of Sunset Point, approximately 1.5 miles south of the Bryce Canyon Visitor Center, and comprises 100 sites. There are no water or electrical hook-ups available. You will find more on the NPS website.
Our favorite maps (which we recommend if you are planning more demanding hikes):
Bryce Canyon National Park
Trails Illustrated Map
Utah National Parks
Trails Illustrated Map
Hiking Zion and Bryce Canyon National Parks
View Item
View Item
View Item
Bryce Canyon Lodge inside the Park
Inside the Park, there is only one lodging option. The Lodge at Bryce Canyon is one of the park's most iconic historic structures. It offers 114 rooms, including lodge suites, motel rooms, and cabins. Reservations are highly recommended because the place is very popular.
Bryce Canyon Accommodation outside the Park
Outside the park, you have a large selection of accommodation. However, we recommend booking them earlier because Bryce Canyon is at the forefront of the most visited parks due to its unique rock formations. So, below are some suggestions for accommodation with the highest customer reviews.
Budget Hotels ($)
Rodeway Inn Bryce Canyon provides free WiFi and clean rooms with air conditioning in Panguitch. Bryce Canyon is 18 miles from the hotel. We stayed in it during one of our visits to Bryce Canyon, and we like it.
Bryce Canyon Villas is located in Cannonville. This motel is 20 minute's drive from Bryce Canyon National Park. Each room features a patio with mountain views.
Mid-Range Hotels ($$)
Bryce Canyon Resort. Bryce Canyon National Park is a 20-minute drive away. Rooms include a seating area and a private bathroom at Bryce Canyon Resort. Rooms are styled in wood furnishings and light-colored linens. It offers a seasonal outdoor swimming pool.
Bryce View Lodge. This hotel is within a 5-minute drive of Bryce Canyon National Park. Rooms are equipped with a coffee maker and cable TV. Rooms also have air conditioning.
Bryce Canyon Pines offers a seasonal outdoor pool and a hot tub. This motel is 5 minute drive from Bryce Canyon National Park.
Luxury Hotels ($$$)
Best Western Plus Bryce Canyon Grand Hotel is located next to the park entrance. It offers spectacular rooms, great facilities, and service, and has excellent guest reviews.
Best Western Plus Ruby's Inn is located in Bryce Canyon City, only 3 miles to the park. It offers charming and clean rooms, amenities, and great service. It is our choice.
Bryce Canyon National Park Entrance Fee
Private vehicle is $35 per week—a person entering by foot or bicycle: $20 (under 15 is free of charge). But if you plan to visit more than two parks, the best idea is to buy America the Beautiful – National Parks & Federal Recreational Lands Annual Pass, for the reason that it costs only $79.99 per year, and you have access to more than 2,000 National Parks and federal recreation sites in the United States. The pass is valid for 1 year from the month of purchase. It covers entrance for a driver and all passengers in a personal vehicle at per-vehicle fee areas or up to 4 adults at sites that charge per person (kids 15 & under get in free).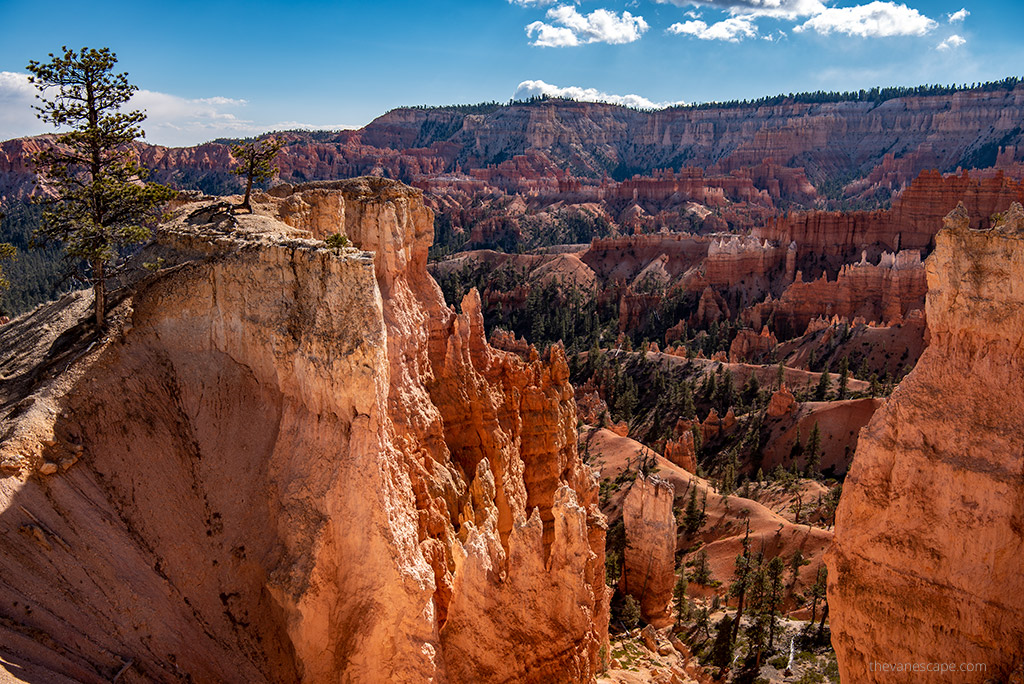 10 Best Things to Do in Bryce Canyon National Park in 2023
We give you our subjective list based on our own experience. Of course, the park offers many more activities, but we focus on our favorites, also guided by the fact that most people spend 1 to 2 days visiting the park. And we also know people who spent 3 hours in it. In our opinion, one day is a minimum, as Bryce Canyon offers spectacular sunrises and sunsets.
Take Bryce Canyon National Park Scenic Drive
The 38-mile loop trail through the park offers 13 viewpoints along the way. Make sure to stop on each of them. You need at least 3 hours to visit all of them, but in high season plan at least 4-5 hours. Below, we listed our favorite overlooks. If you have limited time, choose a few from our list. From April 1, 2023, to October 23, 2023, the best idea is to take a free shuttle bus, as parking at each stop is highly limited.
The Best Bryce Canyon Viewpoints & Photo Spots
Bryce Canyon is not a canyon but rather a series of amphitheaters. There are parking lots at each major spot, but they might be crowded during peak season. There are only short and easy walks from the parking to the edge of the amphitheater. It's difficult to decide what Bryce Canyon's viewpoints are the best, but after several visits to Bryce, we have our ranking of the best vistas. So, it might help plan your visit to get you the absolute best overlook of the Bryce Canyon National Park. So below is our list of vistas you can capture amazing photos of Bryce Canyon National Park.
Our favorites books:
| | | |
| --- | --- | --- |
| | | |
| Grand Canyon, Bryce, & Zion: A Photographic Travel Guide | Moon Southwest Road Trip: Las Vegas, Zion & Bryce | Smart Travel Guide to 13 National Parks in the Mountain West |
| View Item | View Item | View Item |
Stop at Sunrise Point
Sunrise Point is one of the most popular viewpoints in Bryce Canyon National Park. It offers incredible views of the Bryce hoodoos and is close to the visitor center, so it's easy to get to this point. So, the best idea is to start your morning at Sunrise Point for one of the most breathtaking views of Bryce Canyon hoodoos. From Sunrise Point, you can see the Boat Mesa and Sinking Ship, Limber Pine with exposed roots, and Fairyland Canyon.
From Sunrise Point, you can take a hike to Queen's Garden and Fairyland Loop trails. A short hike changes the perspective of the views, so taking one is a great idea. You can descend the Queen's Garden Trail 320 feet into the main Bryce Canyon amphitheater. On the 1.7-mile trail, you can admire royal formations such as Queen Victoria and Queen's Castle. It connects with the Navajo Loop Trail, which leads to Sunset Point.
Finally, along the rim, you have just a half-mile walk to Sunset Point and 0.7 miles to Inspiration Point.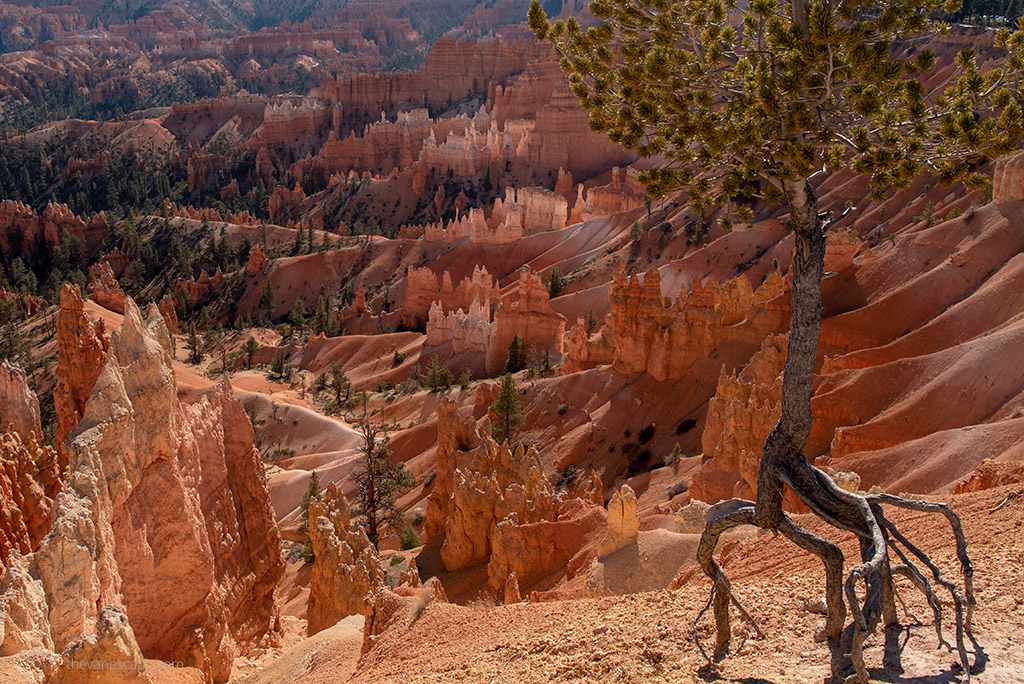 Stay for sunset at Sunset Point
With an elevation of 8.000 feet, Sunset Point offers dramatic views of Bryce Canyon amphitheater, too. The hoodoos are stunning anytime, but the best light is before sunset. Sunset Point is the focal point of the Bryce Canyon National Park. Aside from great views of the Silent City, this point is known for Thor's Hammer Bryce Canyon, which is formation has a huge boulder precariously balanced on top of a hoodoo.
You can also admire Ancient Douglas fir trees, which makes this vista a popular spot even for bird watching.
From Sunset Point, the Navajo Loop Trail starts descending 550 feet into Bryce Canyon National Park.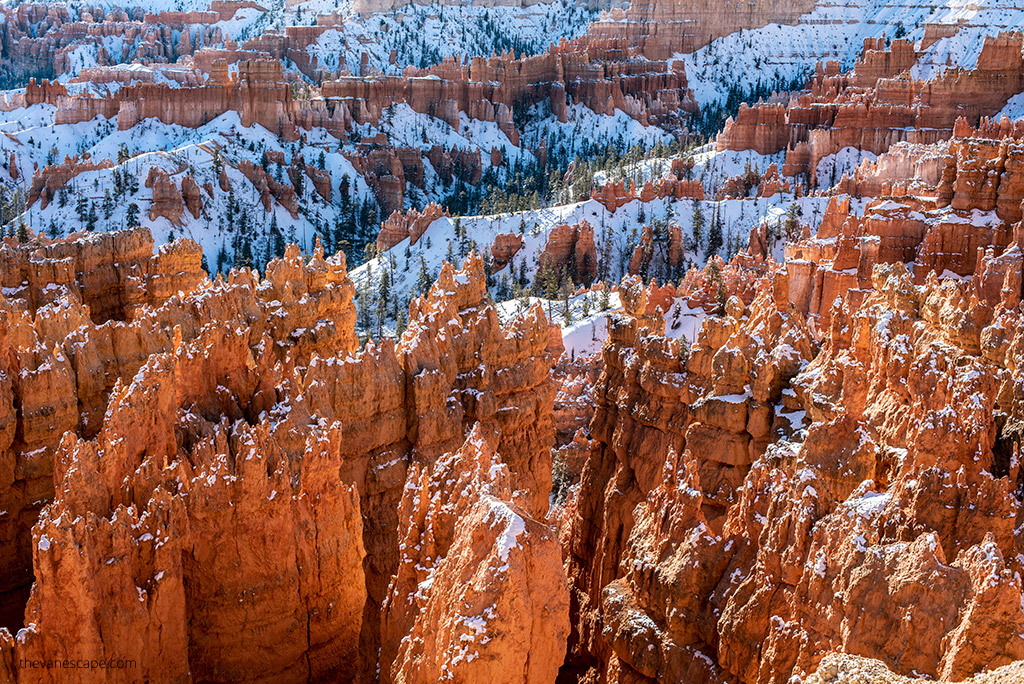 Admire Inspiration Point
Inspiration Point sits lower than Bryce Point. It offers pretty much the same view as Bryce Point. However, because it sits lower, the hoodoos seem to be much closer, and you can focus on their details. Inspiration Point looks stunning all day, the light is beautiful on the hoodoo formations. Green pine trees between red rock cliffs and slopes give a nice contrast.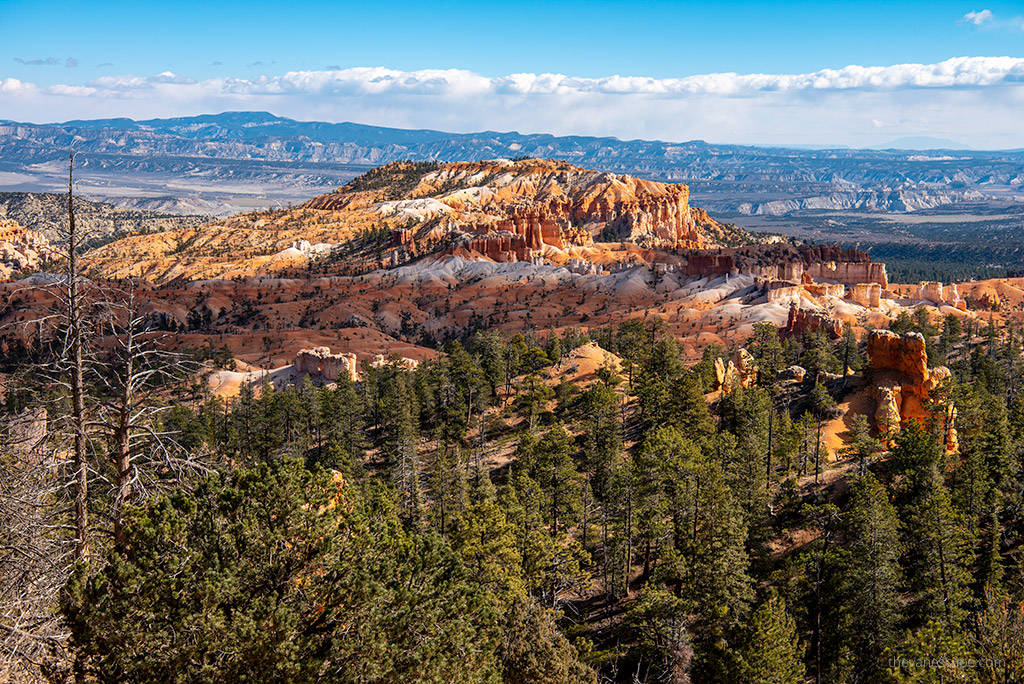 Visit Bryce Point
Looking down over Bryce Point gives you a breathtaking and unbeatable vista of the Bryce Amphitheater. It's a wonder of nature you can admire from Bryce Point. It's a fantastic point for sunrise.
You see the countless rock formations with red, orange, and white rock layers, making this landscape like a fairytale. It looks great in the morning light. You will also get a great view of the Grand Staircase-Escalante National Monument. Bryce Point is also a popular birding spot.
The Peek-a-Boo Loop Trail descends from this point. It is a strenuous 5.5-mile trail that winds among the majestic red rock hoodoos such as the Wall of the Windows and Three Wise Men formations. The Under-the-Rim 23-mile backcountry trail extends from Bryce Point in the park's northern end to Rainbow Point on the southern, passing hoodoos and scenic ridgelines. If you want to take the whole hike, you will need a permit (it's a three to four days hike with a backcountry permit). But you can hike only a few miles in one day without a permit.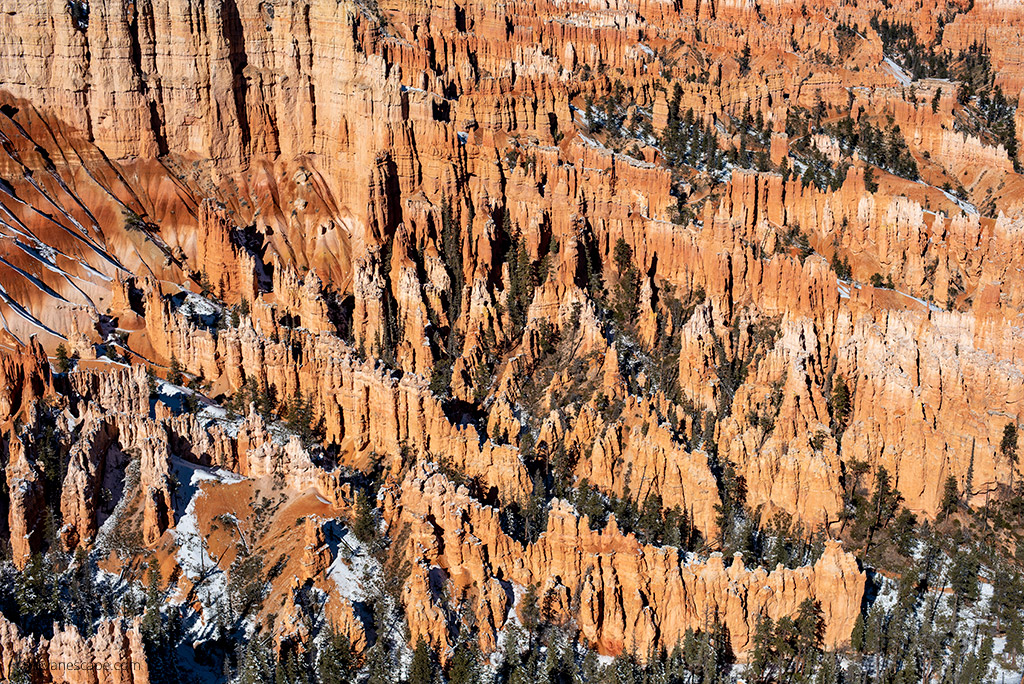 Admire Natural Bridge
Natural Bridge looks like a masterpiece of sculpture. You will see one of the most beautiful Bryce Canyon rock arches at this viewpoint. Erosion from ice, rain, and gravity sculptured the deep red arch.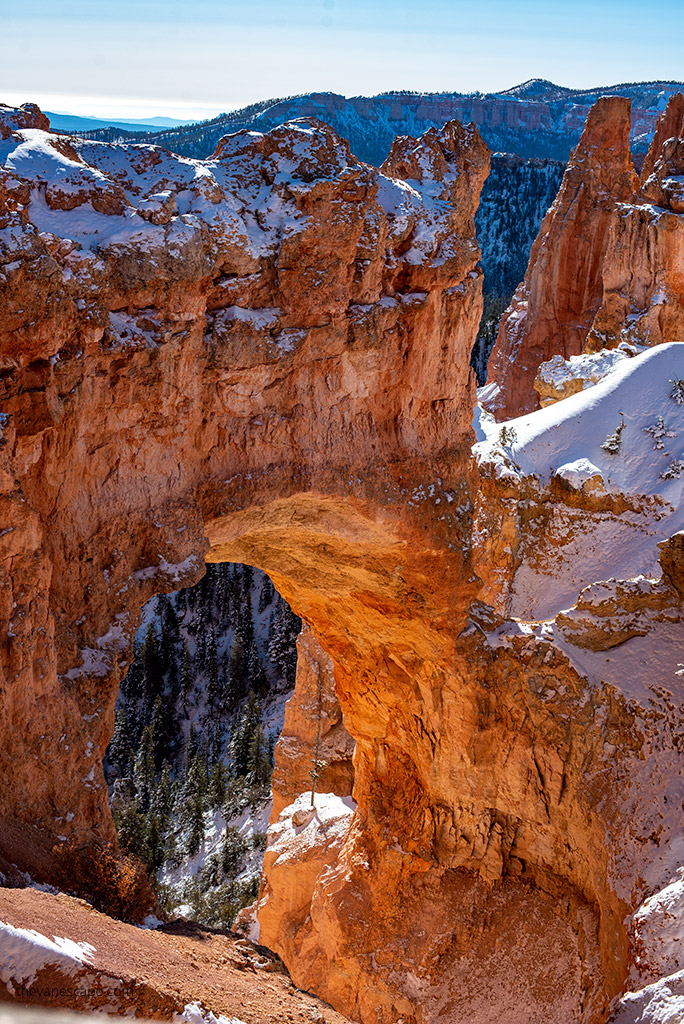 Stop at Rainbow & Yovimpa Point
The viewpoints at Rainbow Point and Yovimpa Point are located at the very end of the Bryce Canyon Scenic Drive. From staggering heights of 9,100 feet, you can see an incredible array of rock formations and plants over the edge of Rainbow Point. The rock formations vary in color based on their depth into the amphitheater. Reds, oranges, and whites Bryce Canyon hoodoos look like challenging puzzles consisting of a million pieces. From Yovimpa Point, you will get beautiful views of forested slopes. Above all, you have a chance to see even Grand Canyon.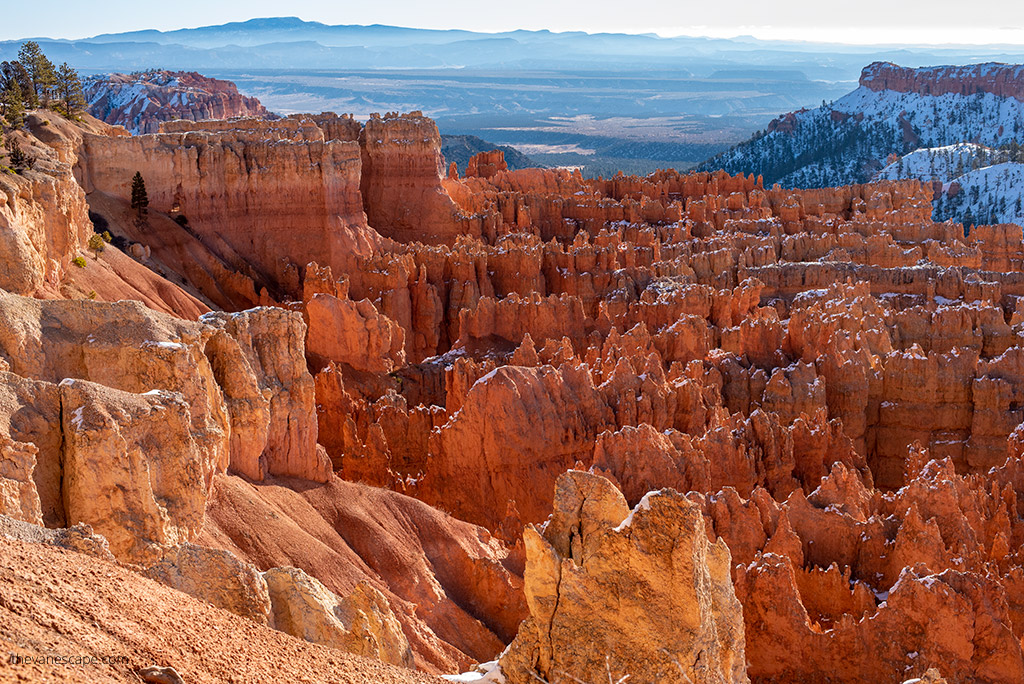 Go for a Hike in Bryce Canyon National Park
Bryce Canyon National Park offers several day-hiking trails. Hikes give you different perspectives and vistas of spectacular hoodoos. So, it's worth considering several Bryce Canyon trails or one hike if you have little time. Hiking is one of the best things to do in Bryce Canyon. Below you will find a list of the best hikes in the park. Those hikes are divided into easy, moderate, and strenuous. However, even if you are going on a short and easy trail, you should prepare for it. So, check our hiking tips before you go. Furthermore, check the list of essential things that you should take on a day hike. All of Bryce Canyon's hikes offer outstanding views and are worth the effort.
Our favorites guidebooks:
Easy Bryce Canyon Hikes
Queens Garden, distance: 1.8 mi / 2.9 km round trip, time: 1-2 hrs, elevation change: 357 feet/109 m
This trail starts at Sunrise Point. It is the least difficult trail into Bryce Canyon. Use your imagination to see hoodoos formations looking like Queen Victoria sitting on her throne. It's an easy hike, so it's worth taking it if you have limited time. Views in each direction are entirely different, so it feels more like a loop trail. Impressive hoodoos rise all around you. They look spectacular from the bottom perspective.
Sunset Point to Sunrise Point, distance: 1 mi / 1.6 km round trip, time: 1 hr, elevation change: 34 feet/10 m
If you have limited time in the park, this paved walking trail is for you. It is a part of the Rim Trail, runs along the top of the canyon, and looks out over the Bryce Canyon Amphitheater and one of the most impressive vistas in Utah. Hoodoo rocks look like from a fairytale. They are shining in the sun with reds and oranges.
Rim Trail, distance: 11 mi / 17.7 km round trip, time: 1-7.5 hrs, elevation change: 1177 feet/359 m
If you have time, take the trail along the rim instead of driving. Then you have the chance to observe the amphitheater and its hoodoos along the rim. You can visit all four main viewpoints during this hike. It's an easy hike, too.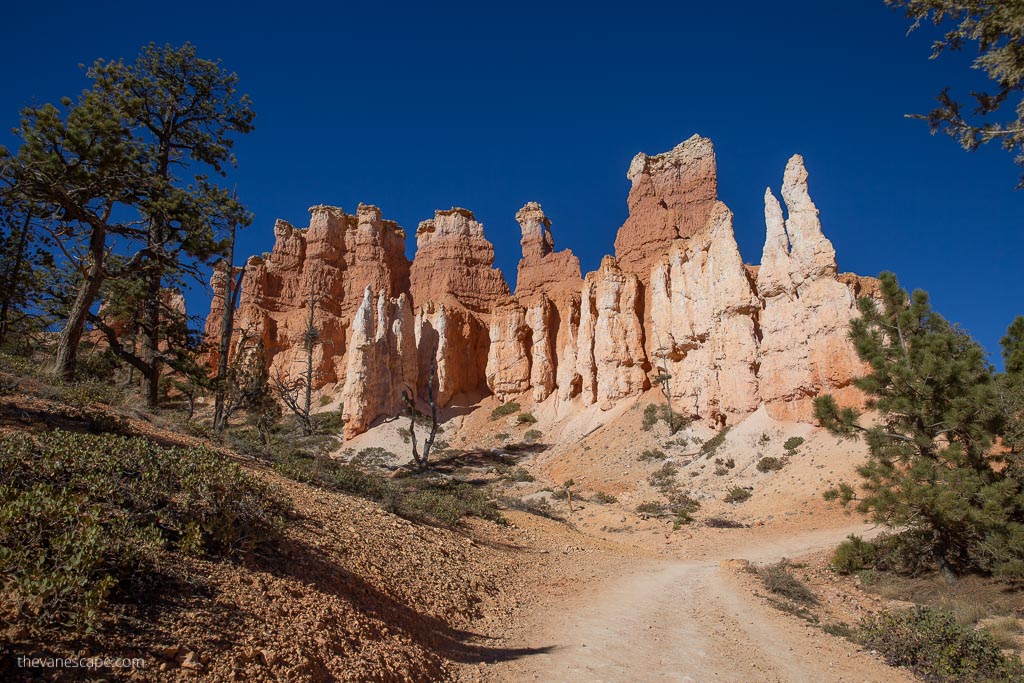 Moderate Hikes in Bryce Canyon
Navajo Loop Trail, distance: 1.3 mi / 2.2 km round trip, time: 1-2 hrs, elevation change: 550 feet/168 m
It is a short but steep trail with fantastic views. You can admire Thor's Hammer Bryce Canyon formation, Two Bridges, and the bottom of Wall Street. The most spectacular part is Wall Street, which is a slot canyon. You are between reddish walls with amazing light. It is our favorite hike in Bryce.
Queen's/Navajo Combination Loop, distance: 2.9 mi / 4.6 km, time: 2-3 hrs, elevation change: 600 feet/183 m
It is the most popular trail in Bryce Canyon National Park, so it might be crowded during peak season. It's a combination of Queens Garden with Navajo Loop, allowing you to see the most exciting and beautiful hoodoo formations in Bryce Canyon in a short time. A clockwise direction is recommended.
Tower Bridge, distance: 3.0 mi /4.8 km, time: 2-3 hrs, elevation change: 802 feet/245 m
The trailhead is at Sunrise Point. During this hike, you can admire Bristlecone pines and the Chinese Wall. A shady 1/4-mile spur trail leads to the bridge.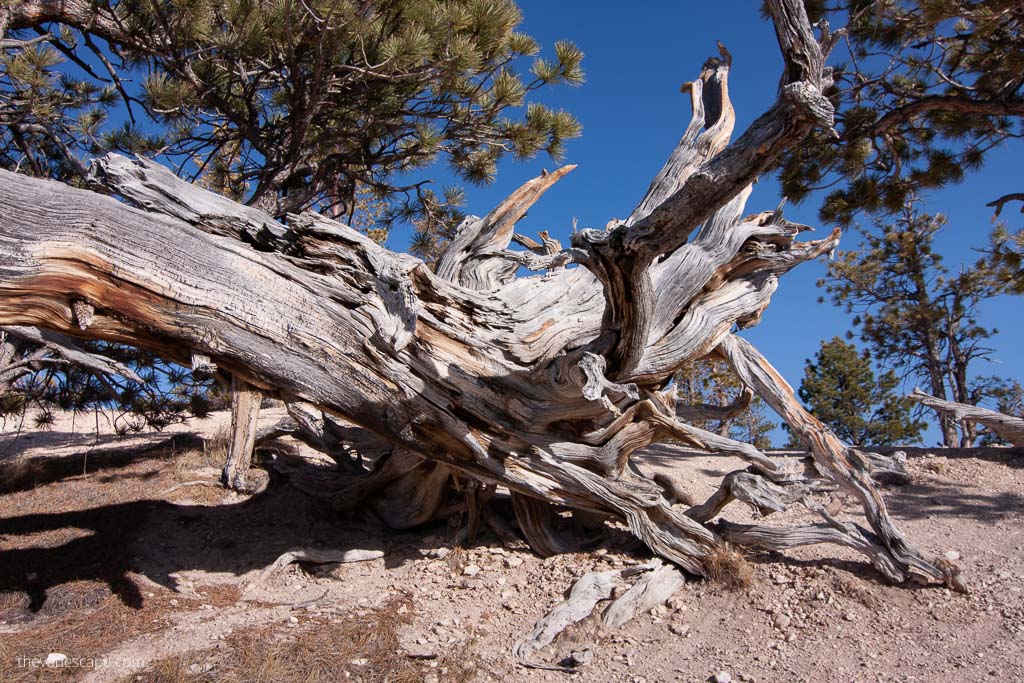 Strenuous Hikes in Bryce Canyon National Park
Peekaboo Loop, distance: 5.5 mi / 8.8 km, time: 3-4 hrs, elevation change: 1571 feet/479 m
The trailhead is at Bryce point. A clockwise direction is required. It is a steep but spectacular hike through the heart of the park. So, it's worth considering if you have time and are prepared.
Fairyland Loop, distance: 8.0 mi / 12.9 km, time: 4-5 hrs, elevation change: 1716 feet/ 523 m
You can start this hike from Fairyland Point or north of Sunrise Point. You can admire the Chinese Wall, Tower Bridge, and other hoodoos from this trail. This path takes you on a wonderful hoodoo and along ridges that provide awesome views and close-up looks at the strange formations.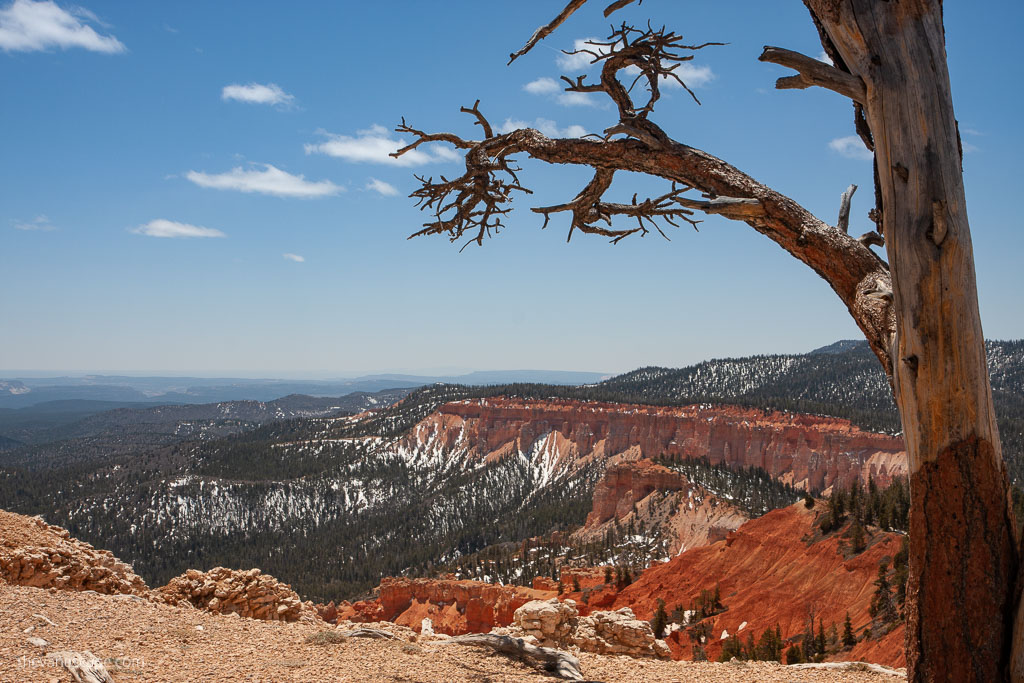 Stay for Stargazing in Bryce
Due to its high elevation and light pollution, a park is a fantastic place for stargazing. Moreover, it's on the official International Dark Sky Park list. Black Canyon of the Gunnison National Park in Colorado is also on this list.
Take a Tour
If you like organized trips with a knowledgeable guide, consider one of the tours. Such a trip can also be a great option if you have little time to explore the park.
3-Hour Sightseeing Tour is one of the options to explore Bryce Canyon National Park with a local guide. You will discover must-see sites while learning about the flora, fauna, history, and geology of these uniquely beautiful landscapes in the world.
Another suggestion is Horseback Ride in the Dixie National Forest. You will enjoy the majestic natural formation of Bryce Amphitheater and admire the stunning landscapes during this 1.5-hour tour. You can take also 3-hour horseback ride if you like.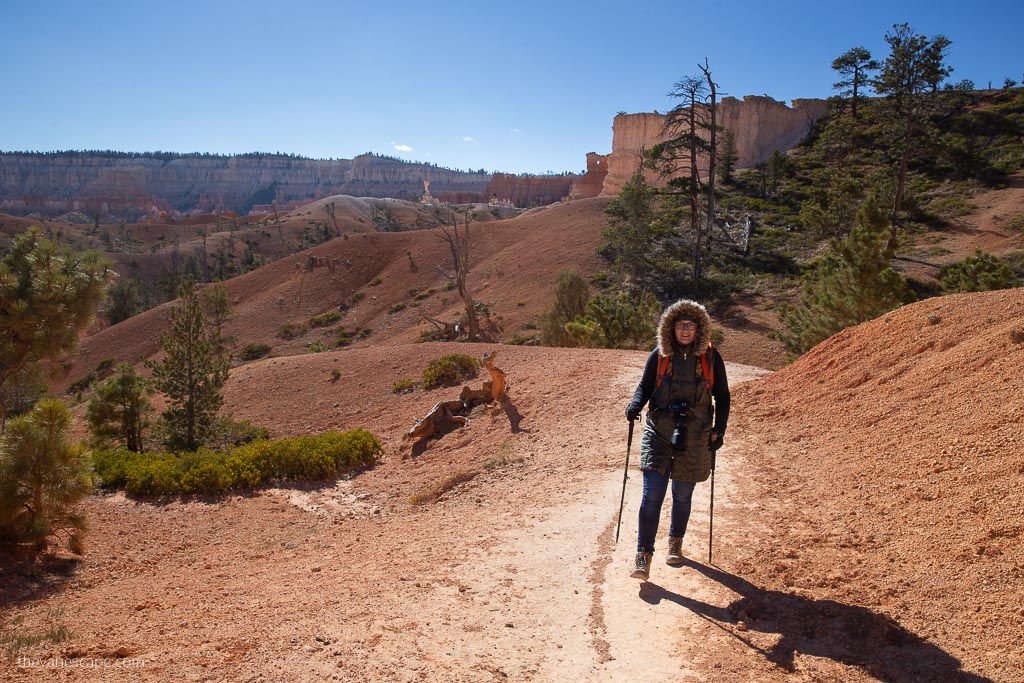 Photographing Bryce Canyon National Park
The best photo spots
Our favorite photo viewpoints in the canyon are Sunset Point, Sunrise Point, and Inspiration Point. If you have little time, focus on them to take good Bryce Canyon photos. It is worth going on a short hike to change the perspective and take pictures of hoodoos from the bottom. The best solution is to combine the two short trails, Queen's / Navajo Combination Loop. It's a combination of Queens Garden with Navajo Loop. You will see the best Bryce Canyon hoodoos on this hike. It takes you about 2-3 hours with taking pictures.
The best photo gear
The appropriate gear would include a wide-angle zoom for panorama shots of the Bryce amphitheaters and a more normal 24-70mm zoom. In our opinion, the telephoto lens is also perfect for photographing Bryce Canyon. And we highly recommend taking a telephoto lens to Bryce.
So it's worth taking a minimum of two lenses. One is a wide-angle, and the second is a telephoto lens. A polarizing filter will help saturate the beautiful reds and oranges on the rock formations.
| | |
| --- | --- |
| | Tripod for photographing Bryce Canyon is crucial if you want to take sunrise or sunset photos. We recommended a reliable and heavy tripod. We use these model of Sirui for years, and it's a high quality, and reliable tripod. Our second choice, the cheaper ones, is this model used by Agnes. It is also fantastic. |
| | Take remote shutter release, too. A remote shutter release allows you to control the shutter through a remote control, which ensures you won't have to touch your camera. As a result, you will eliminate any unwanted blur on your subject. |
| | Chris uses Canon EOS R , it is very light and modern mirrorless camera. |
| | Agnes loves Nikon D750, it is light camera with excellent quality sensor and very ergonomic. |
| | So, in the case of Canon, we recommend EF 16-35mm f/4L IS USM or EF 16-35mm f/2.8L or cheaper 17-40mm f/4L EF Ultra Wide Angle. |
| | In Nikon system, it's good to have Nikon AF-S NIKKOR 14-24mm f/2.8G ED (which Agnes uses) or Nikon AF-S FX NIKKOR 16-35mm f/4G ED VR. |
| | Use the polarizer filter to reduce reflections on surfaces. Some filter may warm up your scene a little bit. So, we recommend Circular polarizing filter, ND grad filters (minimum Lee soft edge 0.9, Lee reverse ND grad and a holder) and full ND (Lee Big Stopper or Little Stopper). |
| | Another important lens in photographing Bryce Canyon is telephoto lens. The telephoto lens is perfect for focusing on hoodoos' details, for catching their different and magical structures. So in case of Nikon we use AF-S NIKKOR 80-400mm f/4.5-5.6G ED VR lens. |
| | In Canon system our choice is Canon EF 100-400mm f/4.5-5.6L IS II USM Lens. Chris has been using it for years, and it works great in landscape and wildlife photography. |
Like it? Pin it!