Coyote Buttes South Hike – The Wave Alternative
The Coyote Buttes South Hike is amazing to experience while visiting Kabab or Page area on Utah/Arizona border. It's the hike which is the Wave alternative if you don't win the lottery to this famous formation. They are close to each other. In our article, you will find out how to get a permit to the Coyote Buttes South. We will tell you how the hike looks, how to prepare for it, and much more.
This article may contain affiliate / compensated links. For full information, please see our disclaimer here.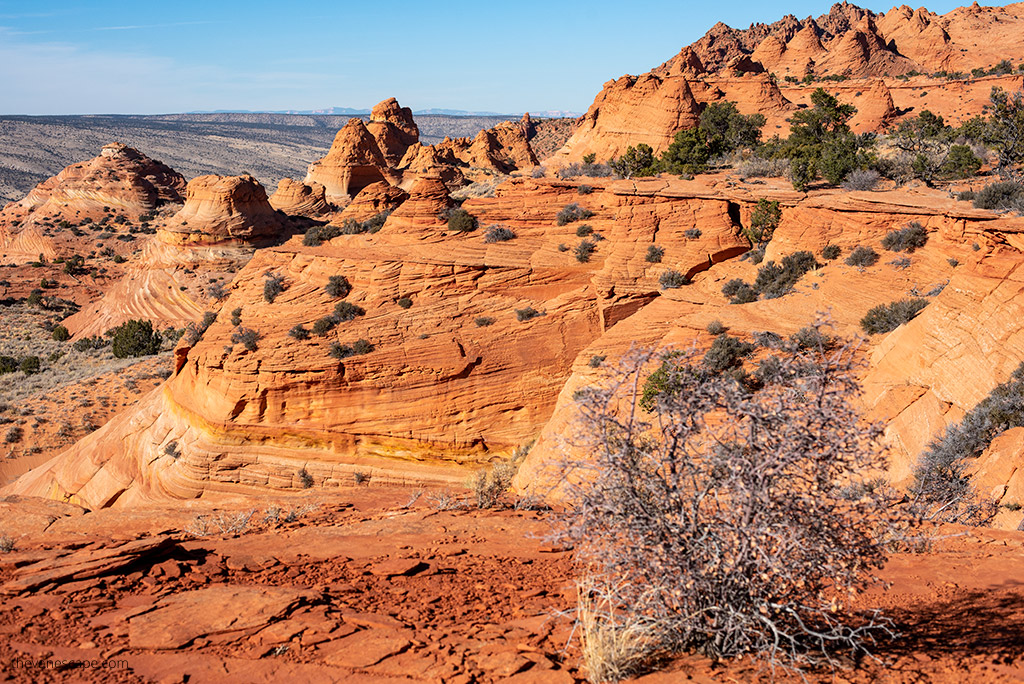 Coyote Buttes South Hike – Introduction
Social media have immense power. They created the Wave Arizona in Paria Canyon-Vermilion Cliffs Wilderness as the most famous rock formation on the border of Arizona and Utah. Thousands of people are trying to get the Wave permit every day. They want to take an Instagrammable photo. However, the Wave is the only small northern part of the fantastic Coyote Buttes area. Coyote Buttes South Hike is an even more delicate sandstone formation.
Coyote Buttes South is more colorful and picturesque than the Wave. Fragile windswept layers with a vivid display of colors fill the desert oasis of Coyote Buttes South, which looks like a fairytale. The area is also limited to 20 people per day because it's such a unique world formation. But, people often don't know that the Coyote Buttes South exists. So, it's worth going to Coyote Buttes South Hike. It is a fantastic experience in the desert wilderness. Check out our tips on how to get the permit and how to prepare for this challenging hike.
Coyote Buttes North vs Coyote Buttes South
Where is Coyote Buttes?
Coyote Buttes is a part of the 112,500 acres (455 km2) Paria Canyon-Vermilion Cliffs Wilderness. It is spanning south-central Utah and north-central Arizona. South of US 89 is halfway between Kanab, Utah, and Page, Arizona. It is divided into two areas: Coyote Buttes North with world-famous the Wave, and more remote and fragile Coyote Buttes South. While Coyote Buttes itself is in Arizona, the closest place to stay is in Kanab, Utah. And BLM Kanab Visitor Center administrates this area.
Visiting Coyote Buttes North as well as Coyote Buttes South areas requires a hiking permit. It is most important to know that permits are issued for 20 people per day, 10 of them online in advance (Advanced Permit), and 10 during the Daily Lottery, two days before your hike. Below we provide details about each of the lotteries. It is a wilderness desert area, without marked trails, administered by the federal Bureau of Land Management (BLM).
Kanab is the best and the closest place to stay for a night before the hike. Also, prices are more affordable. Check out more things to do in Kanab and Kanab area.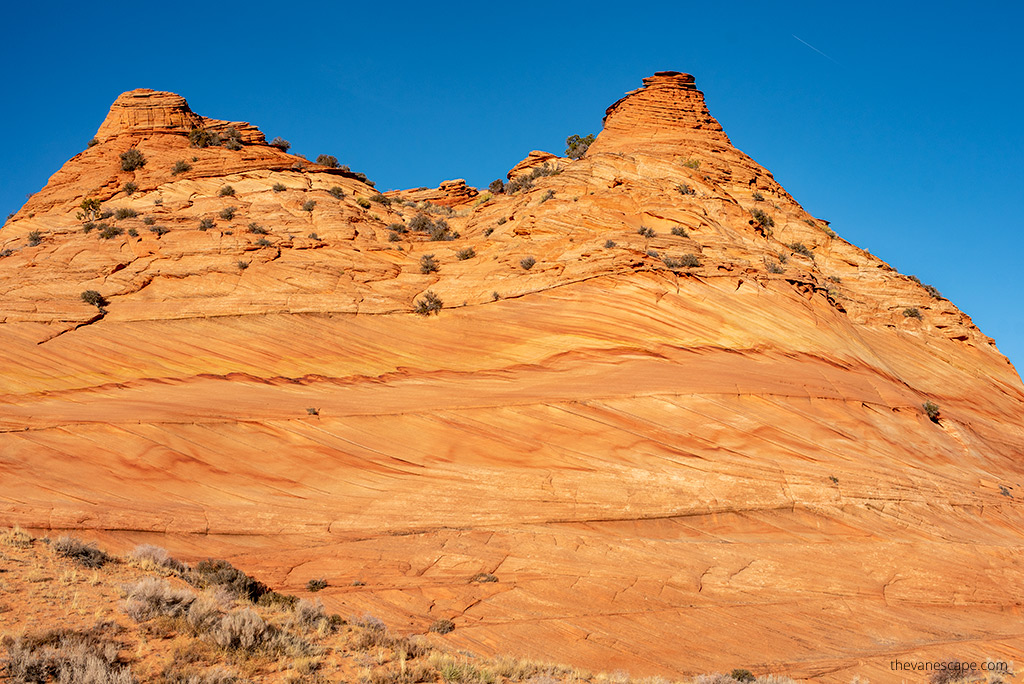 Coyote Buttes nearby Attractions
Coyote Buttes are just a couple of hours from the Grand Canyon South Rim and Grand Canyon North Rim, so it's worth considering this place during your Arizona road trip. Also, it's very close to the Page, where you can admire the famous Horseshoe Bend and Navajo slot canyons: Upper Antelope Canyon, Lower Antelope Canyon, and Antelope Canyon X. It's close to the Kanab, so you can also consider a nearby hike to the Great Chamber at Cutler Point and Zebra Slot Canyon hike.
What are Coyote Buttes?
Coyote Buttes are stunning, colorful, and delicate Jurassic Navajo Sandstone formations, as hoodoos, cones, ridges, and ravines. They are very photogenic and look like from another planet. The sandstones' variable coloration is a result of various iron oxide pigments within the layers—the colors span from reds and pinks to yellows and oranges, and even some green. The Coyote Buttes area includes dramatic swirling erosional rock formations such as The Wave in the Coyote Buttes North.
In Coyote Buttes South erosion has created unusual and different formations and strata, some soft and fragile like glass, but some hard as a rock. This desolate land contains twisted and striated sandstone formations. Some are delicate as spider webs or butterfly wings, so be careful not to destroy them. All of the sandstone creations are slowly crumbling as they continuously succumb to the forces of nature.
PRO TIP: The best-described hikes and the most exciting hiking trails in Utah you can find in Mountaineers Book 100 Classic Hikes: Utah.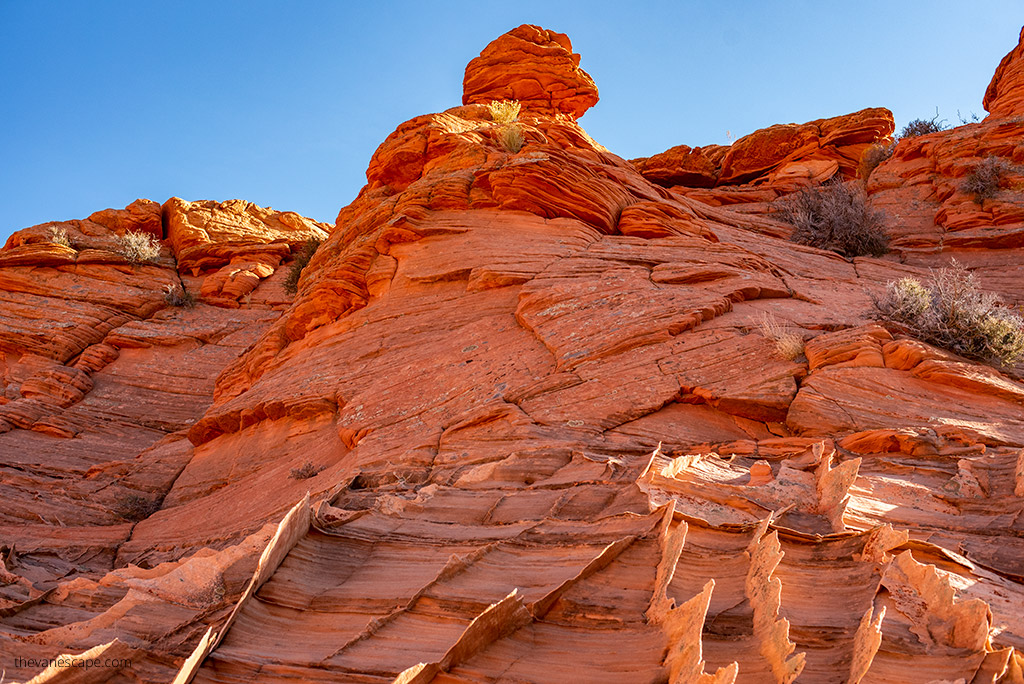 Coyote Buttes South Parts
Coyote Buttes South offers the most pristine nature. It is so a remote wilderness area, that it is challenging to meet other hikers throughout the day. Coyote Buttes South Hike is a strenuous hike because there are no marked trails, no mobile coverage, and is high sun exposure in desert terrain.
Coyote Buttes South is divided into two areas, Cottonwood Cove and Paw Hole. So, you must drive (road accessible only for high clearance 4WD vehicles) to two separate entry points or hike cross-country to see both parts. If you must choose one, go to Paw Hole. Coyote Buttes South, with its rock piles (also known as teepees), fins, and arches, is so enthralling that you don't want to leave.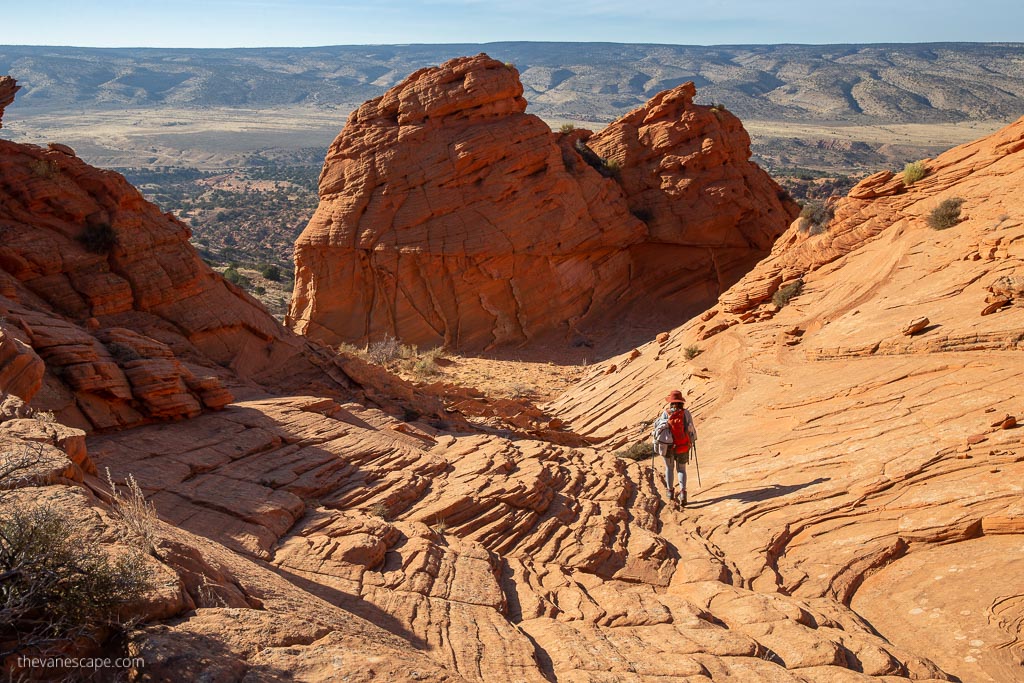 What is the difference between Coyote Buttes North and Coyote Buttes South?
On the Coyote Buttes North, there is only one primary formation, which you can see – the world-famous Wave.
South Coyote Buttes are located just south of the Wave, and it is a more variety of sandstone buttes formations. South Coyote Buttes are lesser-known and harder to get. There is more variety of sandstone formations, and the views are stunning. The colorful stripes and abstract rock shapes provide infinite opportunities for taking pictures. The Wave is a shorter hike, while Coyote Buttes South is an all-day hike adventure in a remote, desolate land.
Finally, the chance of receiving a permit to Coyote Buttes South is much higher than getting a permit to the Wave. So, if you want real adventure and you want to take unique photos, Coyote Buttes South is for you.
PRO TIP: Don't forget a map for this hike; there are no marked trails. It's Paria Canyon-Vermilion Cliffs Wilderness.
Coyote Buttes South Permit – How to Get It?
Obtaining the permit to Coyote Buttes South is much easier than the Wave permit or a permit for the famous Havasu Falls.
There are two ways to obtain a permit for hiking to Coyote Buttes South. You can try to get an online Advanced Permit. However, if you stay in Kanab or Page during your Arizona road trip, you can enter the Daily Lottery two days ahead of the permit date.
Coyote Buttes South Daily Lottery
The Coyote Buttes South Daily Lottery is a new system. The legacy walk-in lottery has transitioned to the new Daily Lottery if you are in the Coyote Buttes area. While within the geofence area on a mobile device, this lottery is available only by going to Recreation.gov in your browser or installing the Recreation.gov app.
Pro Tip: There are several steps and deadlines you must follow: submitting the application, entering the lottery, and collecting your permit. If you miss a deadline, your permit won't be issued. Look closely at the chart under Important Deadlines for details on time zones. 4 WD is required for this hike.
Information about the Daily Lottery
Applications must be submitted two days before your hike during the lottery application window (6 a.m. – 6 p.m.).
You must have a mobile device to apply – desktop PCs or laptops won't work. Out of date Recreation.gov apps will cause payment issues.
You must be in the geofence area to apply (see this map at the bottom of the page)
10 people and/or 4 groups (whichever comes first) will receive a permit in this Daily Lottery.
Daily Lottery Schedule
Day 1 – Application: Apply between 6 am and 6 pm, two days before the desired entry date. Lottery results are sent out at 7:15 pm that evening. The window will open to accept the lottery.
Day 2 – Safety Briefing: Successful applicants must accept the permit and pay the fees by 8 a.m. Utah time and be at the permit pickup location at 9:00 a.m. local time for a safety briefing. Local time may be different between pick-up locations. During daylight savings time, 9:00 a.m. in Utah is 8:00 a.m. in Arizona (except in the Navajo Nation)
Day 3 – Permit Day: Permit holders will have the day to explore Coyote Buttes South
Applications can only be submitted via a mobile device (e.g., a smartphone or tablet with an internet connection) using the Recreation.gov mobile app or browser.
Daily Lottery Fee
Application Fee: A non-refundable lottery fee of $9.00 is required for each lottery application.
Recreation Fee: If you're selected in the lottery, you must pay a $5.00 recreation fee per person or dog. This fee is paid online when you enter additional information to complete the process after you win. All persons, regardless of age, must be included in the permit. This includes young children who cannot yet walk. Payment of recreation fees is only required if the permit is issued as part of the lottery.
Coyote Buttes South Advanced Permit – On-line Permit
If you are planning your visit four months in advance, you can try to win an Advanced Permit. For Coyote Buttes South, you can get online permits. Make sure to follow all official tips. Reservations are accepted at 12:00 noon (MT) on the 1st of each month for a permit during the third month ahead. Reservations are not accepted for trips beginning day-of or the next day. For example, permits for the month of August would become available on May 1st at 12:00 noon MDT. Online reservations would not be accepted starting on August 14th for a trip on August 15th.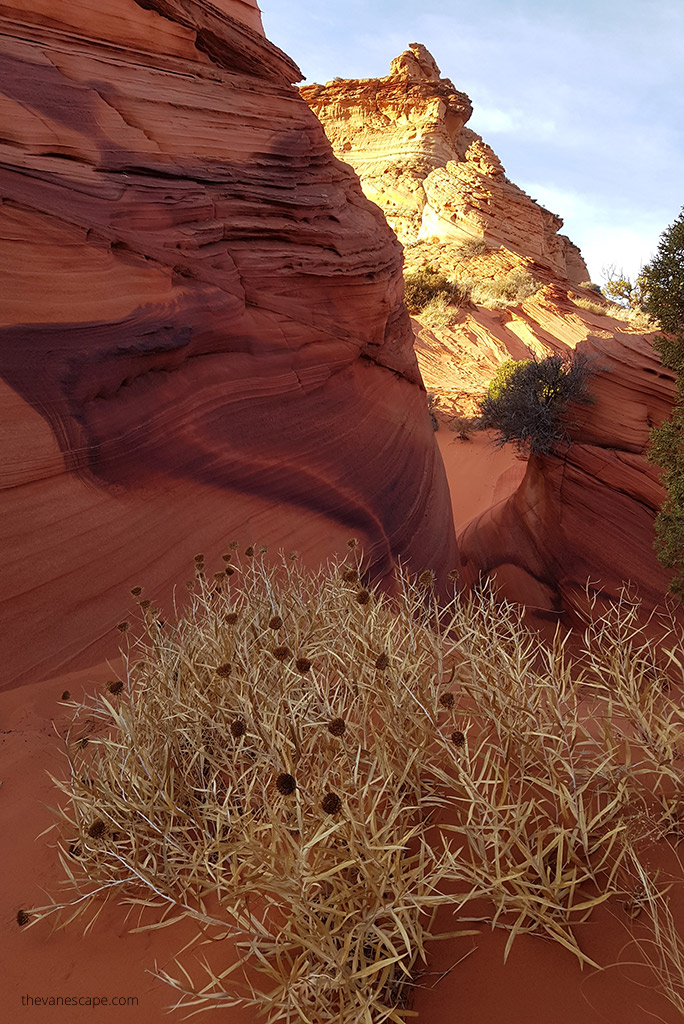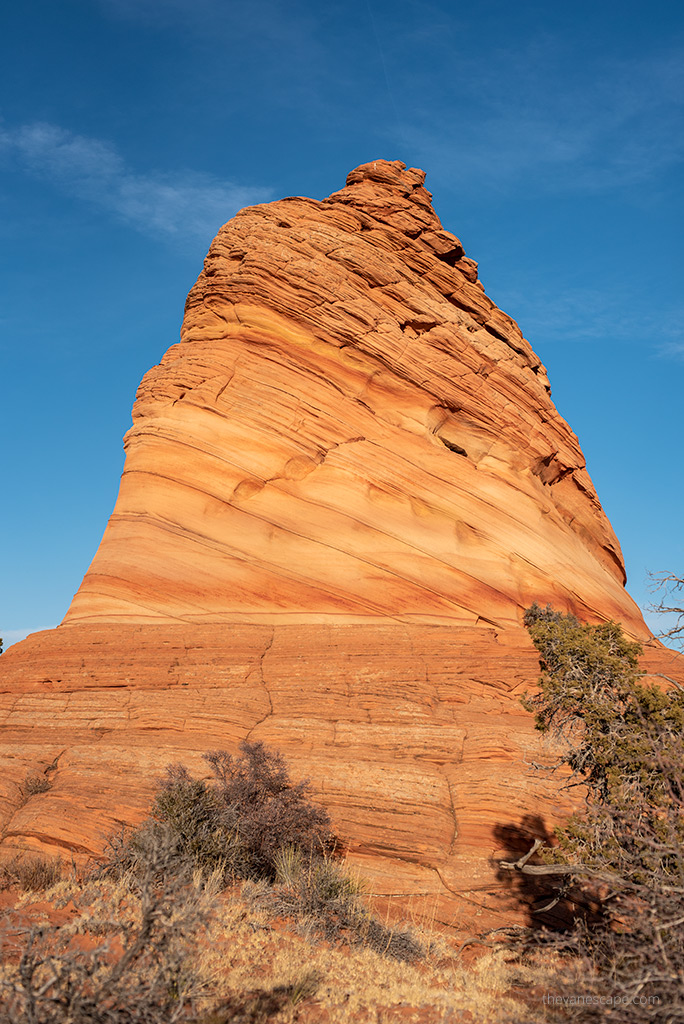 Applications beginning at noon (12:00 MDT) on:
January 1 – Reservations accepted starting at 12 noon MST for a permit during April
February 1 – for a permit during May
March 1 – for a permit during June
April 1 – for a permit during July
May 1 – for a permit during August
June 1 – for a permit during September
July 1 – for a permit during October
August 1 – for a permit during November
September 1 – for a permit during December
October 1 – for a permit during January
November 1 – for a permit during February
December 1 – Reservations accepted starting at 12 noon MST for a permit during March
Coyote Buttes Weather
The best season for the Coyote Buttes South Hike is spring, fall, and winter. There is no shade, you have to hike in deep sand, no marked trail, and the direct sun makes this hike extremely hot in the summer. Monsoon season can make the area very dangerous for both hikers and drivers. For a reason, that flash floods can ravage the road and the park. And it happens, so always check the weather before your hike. The best idea is to ask about weather conditions in the BLM Kanab Visitor Center.
Below, we've compiled charts with the lowest and highest average temperatures in Coyote Buttes South. Moreover, we have also prepared the average precipitation for each month.
Coyote Buttes South Map
The Coyote Buttes South permit is just the beginning of the adventure. You should be prepared well for this hike. Your safety is most important. There is no phone coverage. Furthermore, there are no designated trails, pure wilderness. It would be best if you took a detailed map and a good Handheld GPS with you.

It would help if you told someone, as friends or family, who will not be on the hike when you start the hike for your safety. You can stay the night before in Kanab (Utah) or Page (Arizona) if you plan this hike. There are two main access points for the Coyote Buttes South area Paw Hole and Cottonwood Cove, and we prepare the map below with the main points in the area.
How to Get to the Coyote Buttes South Trailhead?
It is not easy to get to the trailhead. You must have a 4WD high-clearance vehicle. First of all, you have to reach House Rock Road. House Rock Valley Road runs north/south between Highway 89 in Utah and Highway 89A in Arizona. House Rock Valley Road is renamed House Rock Road once you cross the Arizona state line, so you'll see the road referred to with both names.
From Kanab, Utah, drive 40 miles east on US-89. Turn right onto House Rock Road, a dirt road located between mile markers 25 and 26. You must turn just before a guardrail and a sweeping left-hand curve in the road. Next, you must drive for 17 miles. You will travel past the Wire Pass parking lot at 8.3 miles and then the Utah – Arizona state line. When you near 17 miles, look for an unmarked turn-off on the left side of the road. There is small parking at Lone Tree before the turn-off. Parking for the Paw Hole Trailhead is 2.5 miles from the turn-off.
If you are going from Page, Arizona, the distance is similar.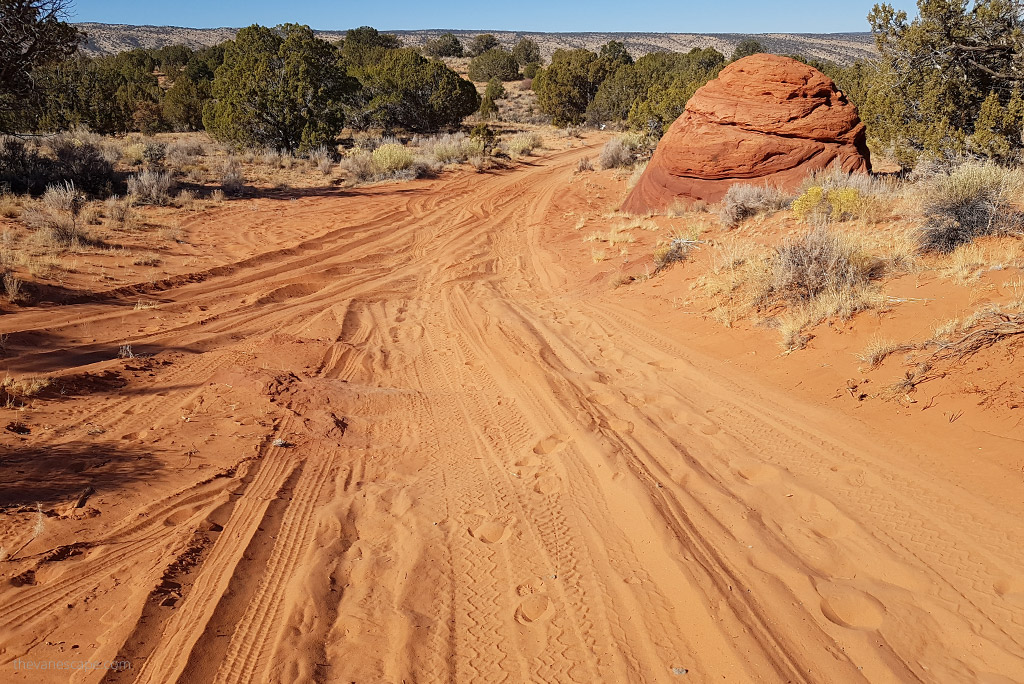 A 4WD high clearance vehicle is required to get to the South Coyote Buttes trailheads. Be aware that even with a 4WD, the main road is impassable and dangerously slippery if wet due to the clay content. It is challenging to get to the trailhead; the road is really rough, so drive carefully. Moreover, if you don't have experience with driving in sharp rocks and deep sand, consider leaving your car earlier on the parking named Lone Tree reservoir. Then you have to walk through deep sand for around 2.5 miles to get to Paw Hole trailhead. So, start your adventure early in the morning.
Because we had a camper truck, a heavy vehicle, even though we had the 4-wheel drive, we left our car in the parking lot Lone Tree before the turn-off. Then, we walked 2.5 miles in the sand to the Paw Hole trailhead. Our car was heavy, but we saw a regular pick-up stuck in deep sand on the road. So, pack appropriate tools to deal with flat tires or car issues on the road.
But, if you have only a 2WD vehicle, or you are not sure if you can drive this rough road, leave your car at Lone Tree and hike 2.5 miles.
Coyote Buttes South Hike
How Looks Coyote Buttes South Hike?
For us, it is one of the best hikes in Arizona. Coyote Buttes South Hike is a strenuous hike because there are no marked trails, no mobile coverage, and is high sun exposure in desert terrain. Moreover, there is a high probability that you won't meet other hikers throughout the day. You have endless possibilities to take beautiful photos. The fantastic rock formations are so unique and incredibly gentle, so watch every step, to not destroy them. Before you go, check our hiking tips and our packing list below.
First of all, take a minimum gallon (3,7 liter) of water per person for your hike. The temperature can often be well over 100 degrees in the summer. We like this Osprey Water Reservoir. It is comfortable, durable, and perfect for long hikes.
OUR TIP: Start hydrating yourself a day or two before the trek, drinking a minimum of 0,5-0,6 of a gallon (2-2,5 liters) of water daily. There isn't any water available on the trail, so plan to hike in the coldest part of the day, and start it early in the morning.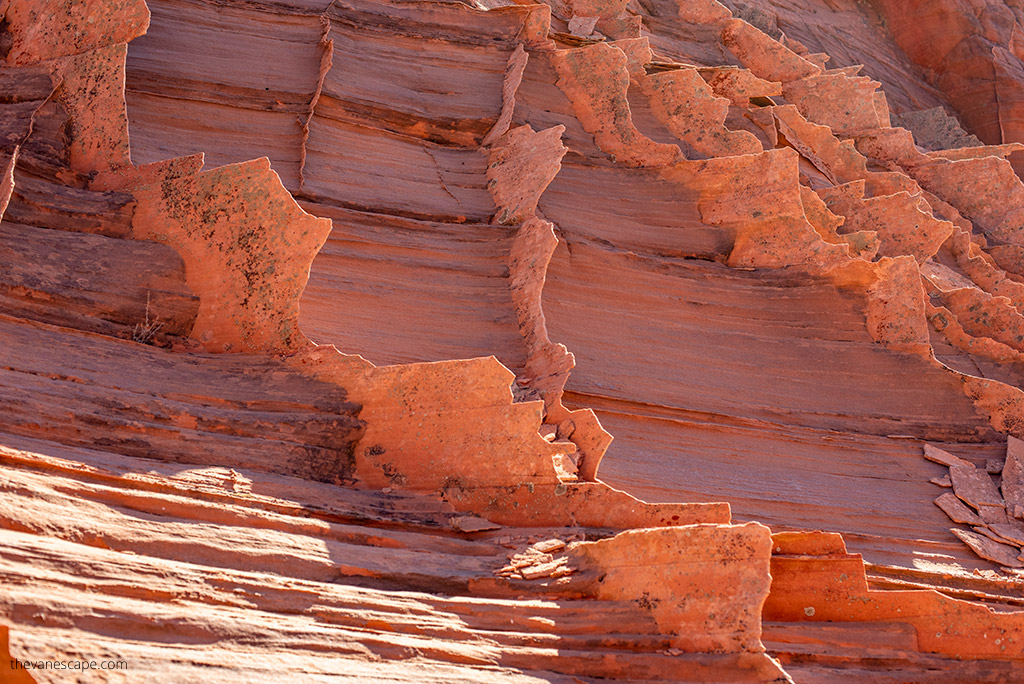 Paw Hole
When you get to Paw Hole, you start your hike from the parking area. Look for the small arch at the top of the first hoodoo. There are no marked trails. This route is more of an exploration around the rocks. However, do not climb to the fragile rock and watch your step. You will see a small fence from the parking area, go through it, heading for the buttes.
You will see dunes and a beautiful sandstone bowl at the end of the dunes all around you. Hike around the bowl and along the sand toward the hoodoos to the northeast. Once you turn west and top out on the ridge, House Rock Road appears to the west. You will see a variety of oddly shaped, fragile rock formations. You will find plenty of photo opportunities there. Just use your creativity. You have to hike in deep sand and sharp but breakable rock.
Other posts about Arizona with tons of tips and exciting information you will find in our Arizona PhotoTravel Guide!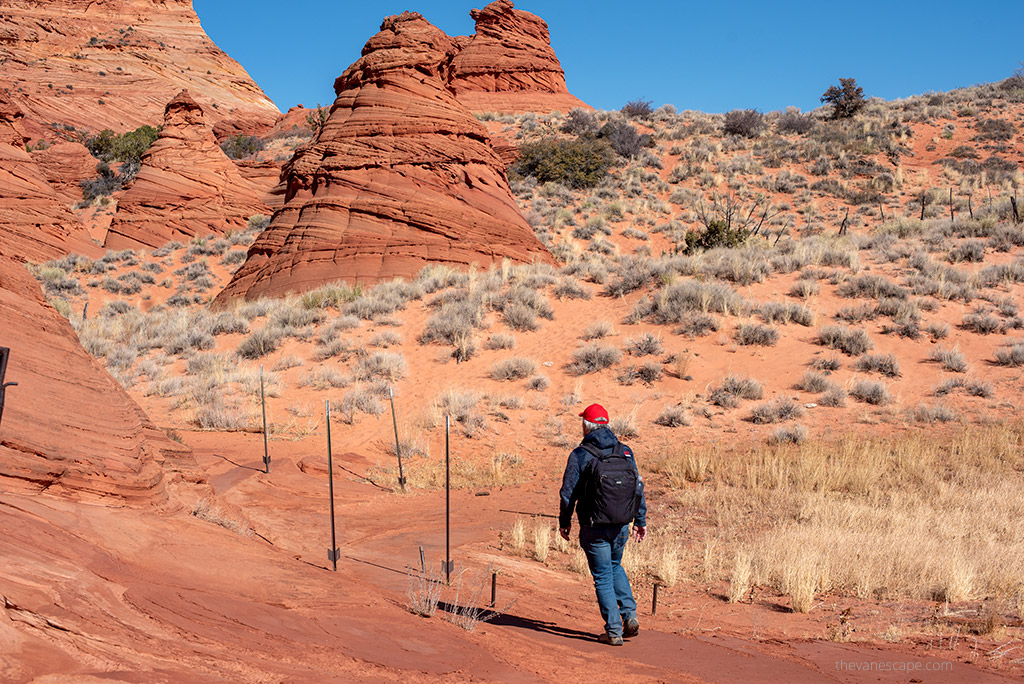 Cottonwood Cove
If you want to get to Cottonwood Cove, you have two options. You can walk there from the Paw Hole hike or back to the parking and drive to the Cottonwood Teepee parking area. You need to turn north or left, just before the windmill and other dilapidated structures. Travel north through the gate into the South Coyote Buttes Special Permit Area. Leave any barriers behind you. The road becomes impassable, and you will find a parking area. Both north and west from the parking area are massive hoodoos called the Cottonwood Teepees. You can hike over the desert sand to the rock formations.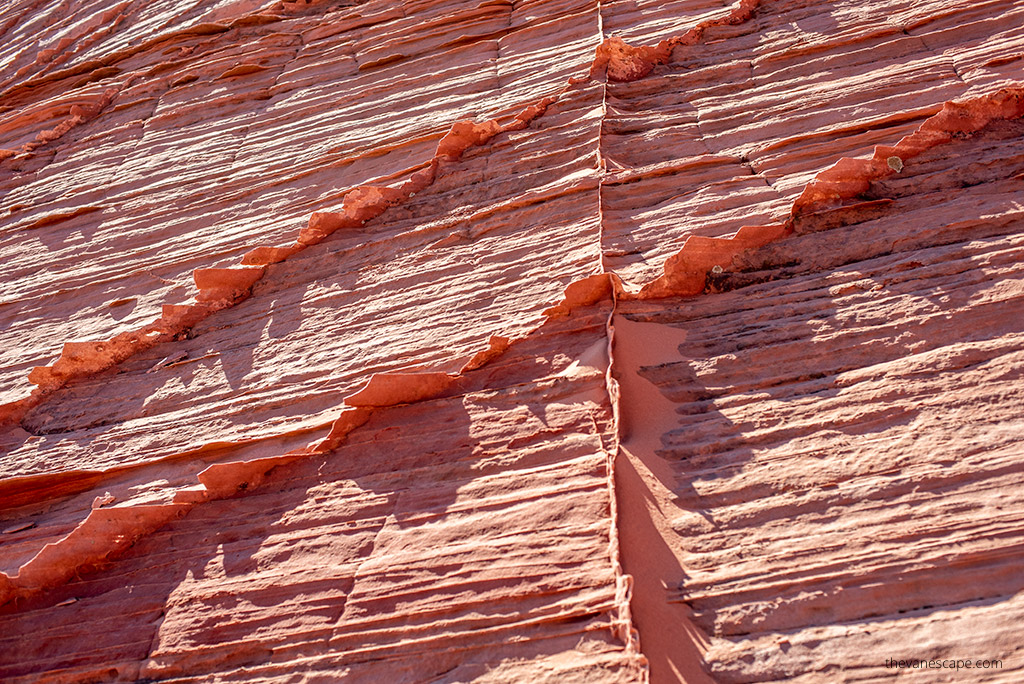 What is Coyote Buttes South Hike Elevation?
South Coyote Buttes Elevation is 5789 feet.
The top of Cottonwood Teepees Elevation is 5933 feet.
Paw Hole Starting Elevation is 5950 feet.
Paw Hole Highest Elevation is 6350 feet.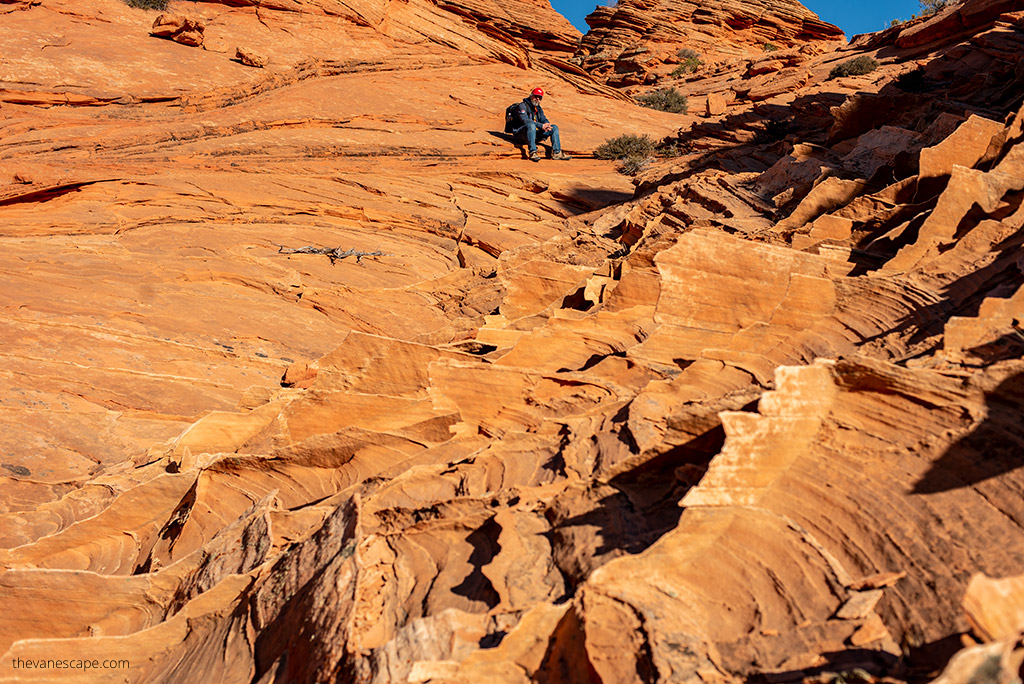 Hiking Tips For the Coyote Buttes South
First of all, there is little or no shade, and sand reflects the sun amplifying the effects of heat. So, carry with you plenty of water in a water reservoir and salty snacks, no matter when you hike. You need at least one gallon of water per person because there are no water sources. We were doing this hike at the end of November, and it was hot. There were over 78 degrees Fahrenheit. But, the hike was amazing. The land is a desert wilderness, so you can also choose to climb around on your own. However, it's easy to get lost, so a topographic map and GPS watch or GPS handheld are a must-have in our opinion.
Below you can check out our hiking tips and our essential packing list for this hike. If you need any equipment, check out rei.com, which has great deals and frequent sales.
Balance Water and Food
Drink lots of water the day before your hike. Because if you wait until you are thirsty in the desert, you will already be dehydrated. Drink when you are thirsty and stop when you are quenched. Snacks are also important during your hike. Because over-hydration can lead to hyponatremia. So, balance water and food during your hike.
Take Care of Your Body
Watch your body while hiking. Even experienced hikers have weaker days. If you start to feel dizzy, disoriented, or nauseated, take a rest. Drink and eat a salty and high-proteins snack and rest as long as you feel better.
If you are cold, put on extra layers and eat. If you are hot, drink more water and rest. Protect your body from the sun. Take a sun hat and sunscreen. It's the best idea to have long sleeves and pants to protect your body against the sun and sand. Moreover, clothes should be airy and quick-drying.
Knows the Signs of Hyponatremia, Hypothermia, and Heat Illness
Signs of Heat Illness
Heat illness is a spectrum of disorders due to environmental exposure human body to heat. It includes minor conditions such as heat cramps, heat syncope, heat exhaustion, and the more severe disease known as heat stroke. Signs of heat illness are headaches, dizziness, vomiting and nausea, cramping, and decreased urine output. So remember that hydration is most important during your hike, so start drinking water the day before the hike. Moreover, take a lot of water, but you should balance it with high-energy foods, as high protein bars or beef jerky. Rest in the shade, and remember to protect your head and body from the sun.
Signs of Hyponatremia
Hyponatremia is a low sodium concentration in the blood. It is caused by over-hydration. So you should always balance hydration with salty and high-protein snacks and meals, or electrolytes, or protein bars, and you should rest frequently. Mild symptoms include a decreased ability to think, headaches, nausea and vomiting, difficulty walking, and poor balance. Severe symptoms include confusion, seizures, and even coma.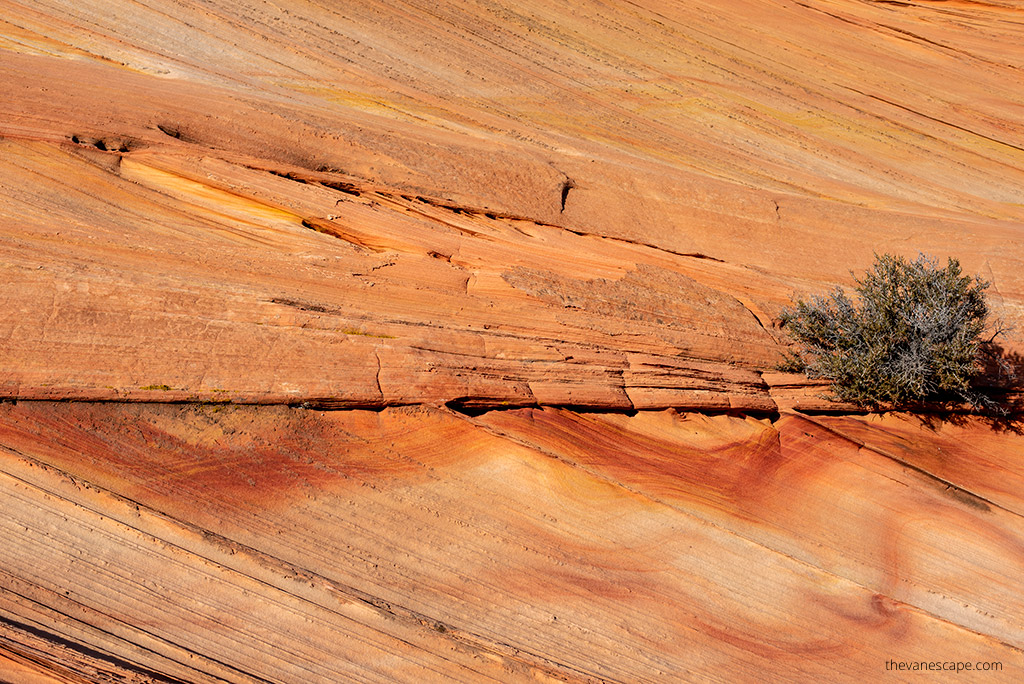 Signs of Hypothermia
Hypothermia is defined as a body core temperature below 35.0 °C (95.0 °F) in humans. Symptoms depend on the temperature. Hypothermia is a condition in which heat is lost faster than the body can produce it. It occurs when someone is exposed to external factors that lower body temperature for a long time, e.g., ice water or cold. Signs of hypothermia: uncontrolled shivering, exhaustion, and confusion.
The best idea is to take extra dry clothes, like thermal underwear (for men or women), and put on dry clothing. Drink water and liquids, and protect yourself from cold, wind, rain, or snow using warm clothes (such as waterproof layers, a warm hoodie) and an emergency shelter or emergency sleeping bag. You will need them if you lost your directions and will have to stay for a night in the desert wilderness. Remember that it immediately gets dark and cold in the desert after sunset, and temperature differences can be up to 30 degrees and more.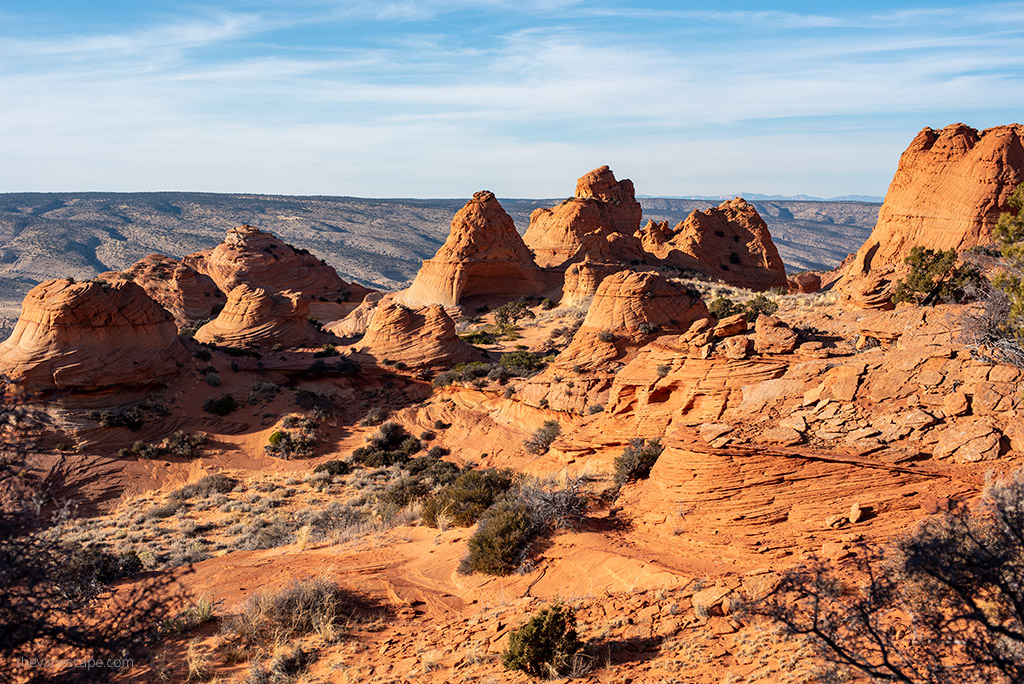 Protect Yourself – Coyote Buttes Packing List
Below you will find the most important and necessary things that we took with us on this hike.
| | |
| --- | --- |
| | Hiking boots are essential for this hike. It's a desert area. You are walking through the sand. There are sharp rocks, cacti, spines. In this area lives lizards, snakes, scorpions, so protect your feet and ankle. |
| | Extra Clothes. Even for all-day hikes, we dress in layers. We always have high trekking shoes with reliable traction, and we use trekking poles, too. But we always put it in the backpack extra clothes beyond those required for the trip. We add a warm hoodie, raincoat, gloves, a hat, and socks,in case of weather breakdown. |
| | First aid kit with blister care, duct tape. It will help you handle unexpected moments (includes CPR Mask, Bandaids, Blanket, Tourniquet and more) |
| | Headlap or flashlight with spare batteries. Yes, we take it with us even if the hike is lasting only a few hours during the day. A long time ago we lost during the day and then we had to come back through the wilderness at night. You never know what will happen, that's why we always have headlamp with us. |
| | GPS watch or GPS device allows you to find your location on a digital map accurately. They are waterproof and robust. Another option is to use a smartphone with a GPS app, but often there is no connection on the trails. If you have a phone, remember not to use its battery. Finally, monitor your battery power.In our opinion, a mobile is not enough. |
| | Water is most important even during short hikes, so bring a sufficient amount of water, minimum gallon per person, and extra water in case of emergency. . There is no water sources on the Coyote Buttes South. The best idea is to take a light water reservoir. |
| | Always carry some type of emergency shelter to protect you from wind and rain in case you get stranded or injured on the trail. |
| | Take a salty snack, as high energy protein bars and beef jerky or other high - calorie meals, as nuts and sandwiches. Always take extra portions in case you have to stay in the desert for a night. |
| | Emergency sleeping bag, which serves as your emergency blanket, survival shelter, and emergency bivy sack all-in-one. |
| | Pocket Knife with Multitool it's ideal for outdoor activities like camping, and hiking. It's essentail for gear repair, food preparation, first aid. |
| | Always take a map of the area. The best idea is to have a topographic map. You can use App with your hike, but remember that there is no coverage often on the trails, so you should have printed maps too. |
| | Sun protection. Always pack with you and wear sunglasses, sun-protection hat and sunscreen. |
| | Emergency Whistles is must-have, too. Battery in the cellphone will run down, or there will be no coverage on the trail, and this is the only way you can call for help. |
| | Fire Starter, because in case of an emergency, you need to have reliable supplies with you for starting and maintaining a fire.But remember that you can use it only in case of danger. You can't make campfires in this area. And it is not allowed to stay overnight. |
| | Pack all your things into a comfortable backpack. Hiking through the sand and rocks is strenuous, so it's good to have a backpack with a hip belt, which will relieve your spine. |