Havasu Creek Waterfalls Travel & Photography Guide
Havasupai Tourism is going to officially reopen on February 1, 2023, for current reservation holders. Havasupai Waterfalls in Havasu Creek, Grand Canyon Arizona, are a paradise. Also, a photo paradise with a massive number of possibilities to take waterfall pictures. In this article, we present information about each of the five breathtaking Havasu Creek Waterfalls. And most important, we share water photography tips, including waterfall photography settings, best spots, the best time to photograph each of the five waterfalls, and more.
This article may contain affiliate / compensated links. For full information, please see our disclaimer here.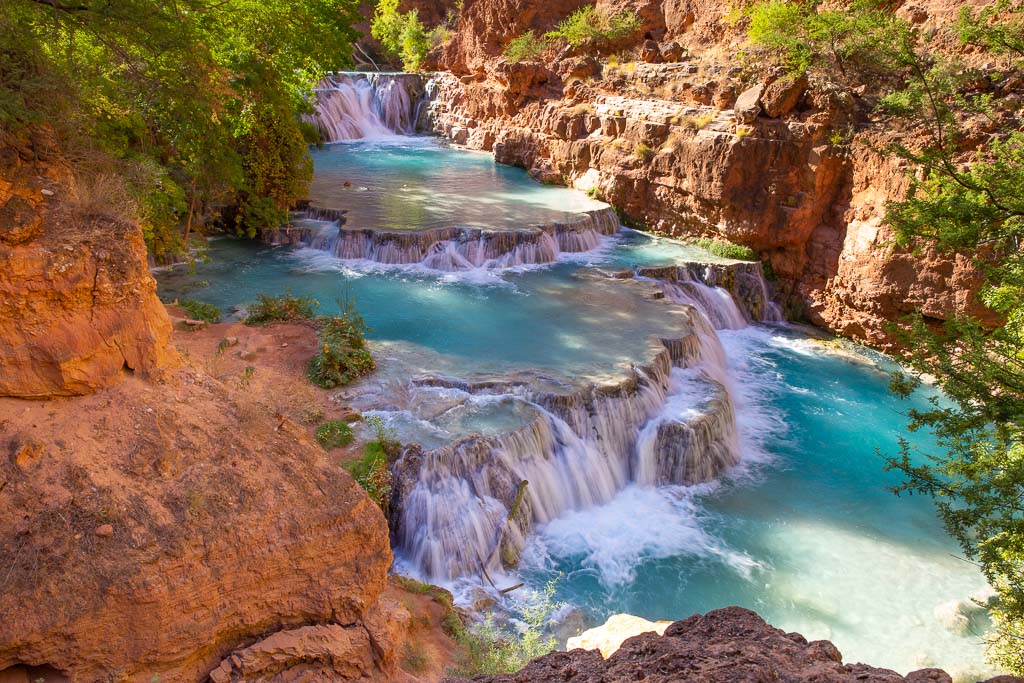 HAVASUPAI TOURISM OFFICIALLY REOPEN ON FEBRUARY 1, 2023
The best information we could receive at the end of 2022 from the Havasupai Tribe, which you can read on their official website, is that on February 1, 2023, the fantastic Havasupai Reservation with Havasu Creek Waterfalls is reopening for tourists. So, you can explore impressive waterfalls, including the most popular, Havasu Falls.
According to the Havasupai Tribe announcement, "they are eager to welcome tourists back to our beautiful Reservation starting February 1, 2023, for current reservation holders."
Due to the Covid-19 pandemic and the extreme health and life risk to the isolated Havasupai tribal community, the Reservation, Suppai Village, and Havasupai Waterfalls have been closed to tourists since March 2020. The flood also damaged the area.
In this article, we are happy to provide you with all the up-to-date details for your Havasupai Waterfalls trip in 2023.
About Havasupai Waterfalls Travel and Photography Guide
We love Havasupai Waterfalls, also called Havasu Falls, from the name of the most popular one of the five waterfalls in the Grand Canyon area. It's a unique place in the world. Chris was there three times, and together we were once. That's why we've prepared a comprehensive and detailed guide to this stunning place. We divided it into five separate articles so that it could be easier to find content that interests you. So, if this spectacular scenery of the Grand Canyon waterfall oasis is on your list, check out our guide, please. It will help you prepare properly for the adventure. To save you time, below is a brief navigational description of what you'll find in each part of our guide.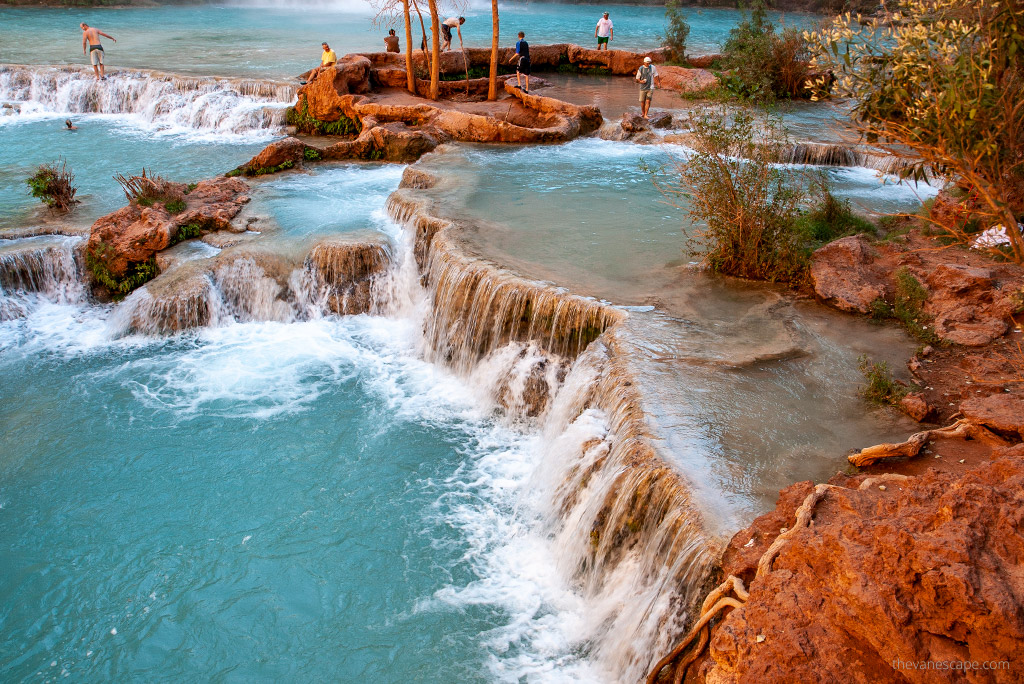 Part 1 – Havasu Falls Permit and Havasupai Reservations
Havasu Falls Permit. If you dream of seeing and photographing the blue-green Havasu Falls, but don't have a permit yet, check out our article on how to make Havasupai Falls reservations and get a Havasu Falls permit. Permits are mandatory to be on the Havasupai Indian Reservation. These permits are incredibly tricky to acquire, and often need to be reserved months in advance. But we share hints, which help you to get the permit. In this article, you will also learn all the essential information about Havasupai: How much does the permit cost, and when and where you can buy it? How long do you have to stay in Havasupai? Where is Havasu Falls and how to get there (including the Havasu Falls helicopter)? When is the best time to visit Havasu Falls? How long is the hike to Havasu Falls? Are there any options if you don't want to carry all of your gear on your back? How looks Havasupai Lodge reservation, and more.
Trip Tip: As the Havasupai Waterfalls were closed for two years, make sure to check also Havasupai Tribe's official website for current news and follow their official Facebook tourism page for updates. They are opening starting February 1, 2023, for current reservation holders.
Part 2 – Havasupai Packing List
Havasupai Packing List it's the second part of our detailed guide to Havasupai Waterfalls. As it is not easy to pack for the hike to Havasu Falls. There is no water for 10 miles. You also need to bring camping equipment because day trips are prohibited, and you have to stay overnight. Take advantage of our many years of camping experience, which helps you choose what is necessary for Havasu Falls Camping so that you don't overpack yourself. First rule: bring only basics and travel as lightly as you can. You will find information about what camping gear to take, what clothes, everything about photo equipment, and cooking gear. And of course, finally, how you should take care of your safety, and more. So, check our Havasupai Packing List, which is a result of three trips to Havasu!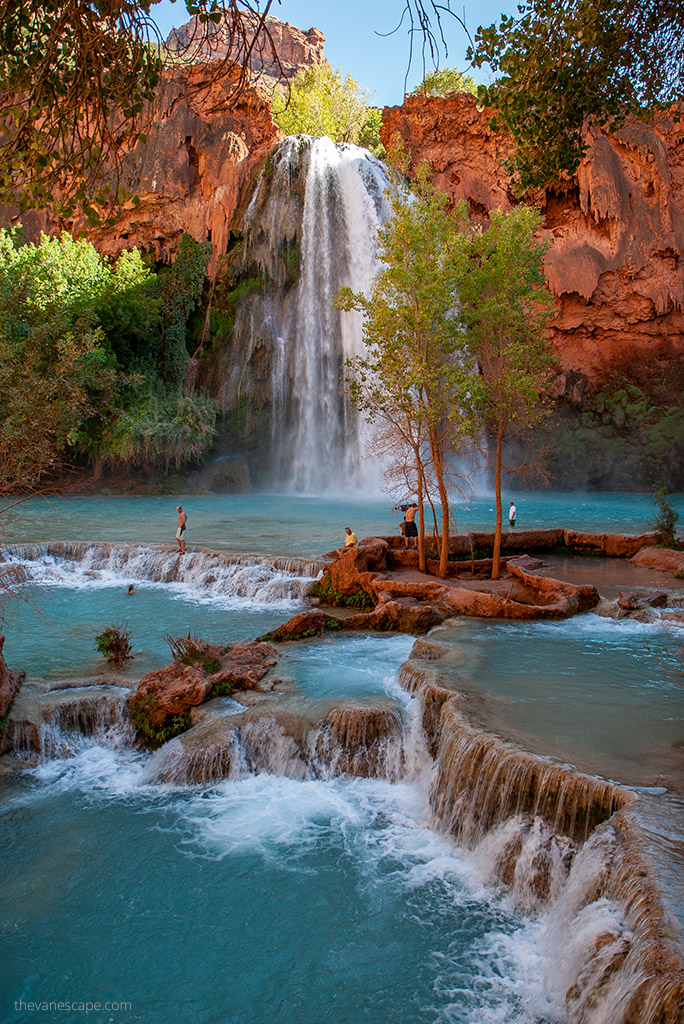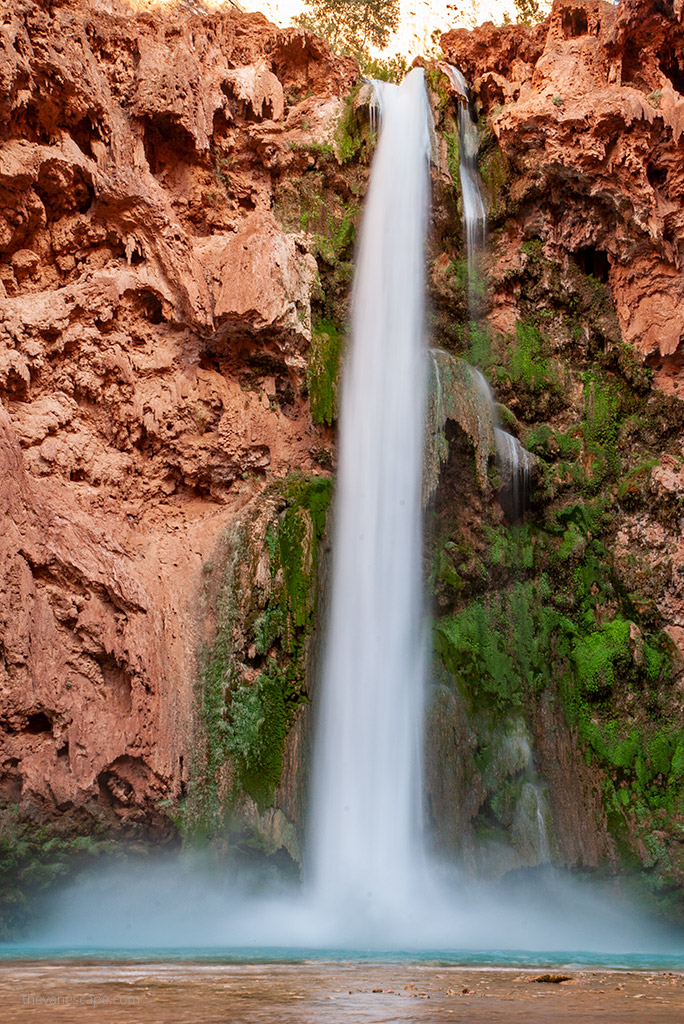 Part 3 – Hike to Havasu Falls
Hike to Havasu Falls is the third part of our guide. Planning Havasu Falls Trip is as exciting as the hike itself. In this part, you will find everything you should know about the Havasupai hike, and how to prepare for it. Where is Havasu Falls Trailhead, and how to get there? What is the closest airport to Havasu Falls Trailhead? Where to stay the night before hiking to Havasu Falls? How long is a hike to Havasu Falls? What is the best time to hike Havasupai Falls? How does the Havasu Falls hike look mile by mile? Is there drinking water available along the Havasu Falls hike? How is Havasupai Falls weather, and more you will find here in our detailed article. Chris made the hike to Havasu Falls three times. Together we made it once, so we share the best experiences and tips.
PRO TIP: If you are looking for the most exciting and best hikes in Arizona, we can highly recommend Mountaineers Books 100 Classic Hikes Arizona – 4th Edition. It's the best hiking guide with detailed hikes descriptions, great maps and photos, numerous tips, and the most incredible hikes across Arizona.
| | | | |
| --- | --- | --- | --- |
| | | | |
| Top Trails of Arizona Includes Havasu Falls | Exploring Havasupai: A Guide to the Heart of the Grand Canyon | People of the Blue Water | I Am the Grand Canyon: The Story of the Havasupai People |
| View Item | View Item | View Item | View Item |
Part 4 – Havasu Falls Camping Guide and Rules
Havasu Falls Camping Guide is the fourth part of our Havasupai Falls Guide. From this article, you will learn how to choose the perfect campsite in Havasu Falls Camping. We share our hints with you. What features offers Havasu Falls Camping have? And what facilities ARE NOT available at Havasupai Campground? We tell you what items you cannot take to Havasu Falls Camping and what you cannot do there because it is prohibited by Havasupai Tribe law. And you will learn what to do, what to bring, and what to eat at Havasu Falls Camping to have a wonderful time there. Read details here.
Part 5 – Waterfalls of Havasu Creek Photography Guide
You are in this part. Below you will find all details about each of the five Havasu Creek Waterfalls. We give you the necessary info about these stunning waterfalls; how high are they, a little bit of history, and how to hike to each of them. And most of all, we share our tips on taking waterfall pictures, waterfall photography settings, what time is best for photos of each waterfall, how to prepare for them, which spots are the most interesting, and more.
Havasu Creek Waterfalls Facts
What is a Havasu Creek?
Havasu Creek is a stream in Arizona associated with the Havasupai Tribe. The Havasupai Indian Tribe is living on this land for about eight centuries, long before the Grand Canyon was established as a National Park in 1919. Havasu Creek is a tributary to the Colorado River, which enters in the Grand Canyon. Havasu Creek is the second-largest tributary of the Colorado River in Grand Canyon National Park. However, Havasupai Waterfalls are not a part of the Grand Canyon National Park area. They lie on tribal lands of the Havasupai Indian Reservation and are managed by the Havasupai Tribe, so make sure to abide by their rules.
The creek is well known for its breathtaking blue-green color of water and distinctive travertine formations. It is because of large amounts of calcium carbonate in the water that formed the limestone that lines the creek and reflects its color so strongly. Because a natural spring feeds Havasu Creek, it is not prone to drying up like other creeks around Arizona. The falls are active, and the water temperature remains around 70°F year-round.
What are the main waterfalls of Havasu Creek?
The five main waterfalls of Havasu Creek (which we describe in detail below) are:
Fifty Foot Falls (which is the closest one to the Supai village),
Little Navajo Falls (which is on the trail to camping),
Havasu Falls (the famous one, which is closest to the campground),
Mooney Falls (which is the tallest one, and with a demanding descent down), and
Beaver Falls (furthest from the village and camping – 3 miles hike one way).
Trip Tip: If you plan a trip to Arizona, check also our detailed Arizona road trip itinerary and guide to Grand Canyon National Park: South Rim, North Rim, and Toroweep Overlook.
What are the best sources to learn more about Havasupai Tribe and Havasu Creek Waterfalls?
If you like books and would like to learn more about the history of the Havasupai Tribe and the impressive Havasu Waterfalls, we can recommend two items.
Please also check the video below from the Havau Creek Waterfalls – it was recorded with a fantastic DJI Osmo Pocket camera. Check also our review here.
Flooding in Havasu Creek Waterfalls
Flooding is frequent along Havasu Creek. That's why it's so important to check the weather before your hike to Havasu Falls, especially during the monsoon season. The last great flood occurred in August 2008. But almost every year during the monsoon season, rainstorms or small flooding occurs at the campsite. As a result, the 2008 flooding changed the appearance of Havasu Canyon and Havasu Creek Waterfalls. On August 17, 2008, the Redlands Dam on Havasu Creek burst after days of heavy rain. The village was evacuated. Havasu Canyon is home to the Havasupai Tribe, consisting of over 400 members living in the village of Supai. Flooding in Havasu Creek poses a hazard to both visitors and residents of Supai. During this flooding, Lower Navajo Falls was formed, and Fifty Foot Falls became more prominent.
On October 1, 2022, the Havasupai Tribe also experienced severe flooding, which destroyed several bridges and trails that are needed not only for tourists but, most of all, for the everyday movement of goods and services into Supai Village.
Navajo Falls was the first prominent waterfall in the canyon until flooding changed the area in 2008. They were named after an old Supai chief. It was located 1.25 miles (2 km) from Supai village. The falls were approximately 70 feet (21 m) tall. Please see a photo taken before the flood in 2008 below.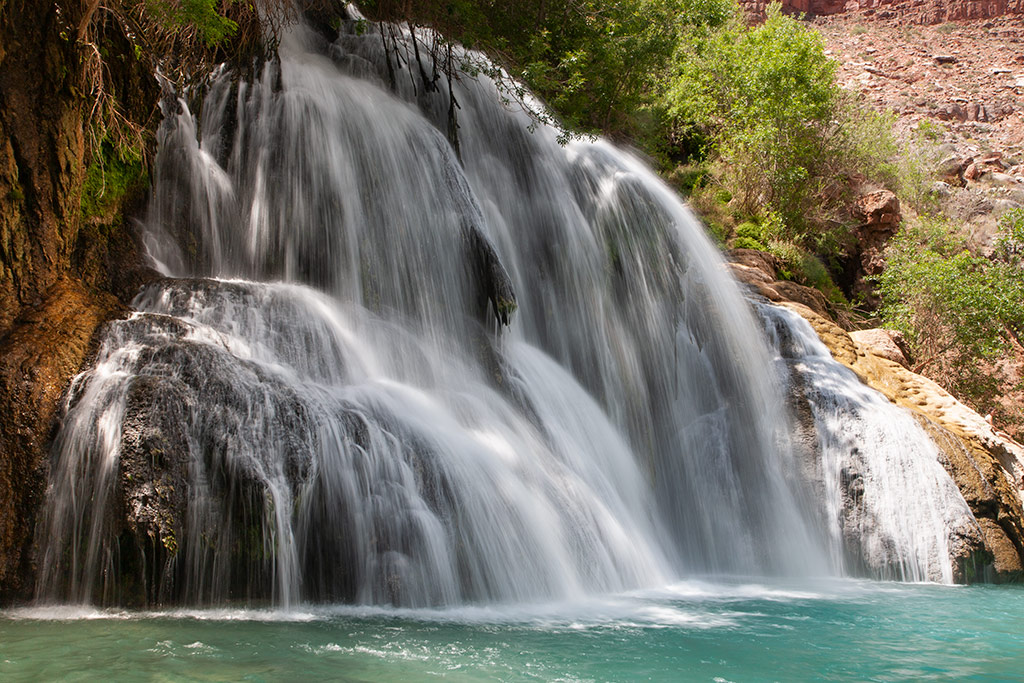 Beaver Falls Waterfall at Havasu Creek
Basic info about Beaver Falls
Beaver Falls is the farthest of Havasu Creek's five waterfalls and the longest hike you'll have to make. Beaver Falls consists of 5 tiers of waterfalls that drop a total of about 40 feet and offer outstanding swimming opportunities in its pools. It's occurring at the confluence of Havasu Canyon and the dry Beaver Canyon.
Beaver Falls is the farthest from the Supai village (6 miles) and the campground (3 miles). But for us, Beaver Falls is undoubtedly the most beautiful. Although the hike is demanding, however, it's worth it. The hike requires off-trail hiking, scrambling, and crossing the river. We recommend this hike if you are up for 5-7 hours of hiking (round trip) and are well prepared for it. And only if you have hiking experience. But if you are not a moderate or advanced hiker, stay at Havasu Falls Camping. Less than half of the visitors to the Havasupai Indian Reservation make this hike. The other waterfalls are also beautiful, and stunning, and provide you with a surprising and delightful experience and magnificent waterfalls photos.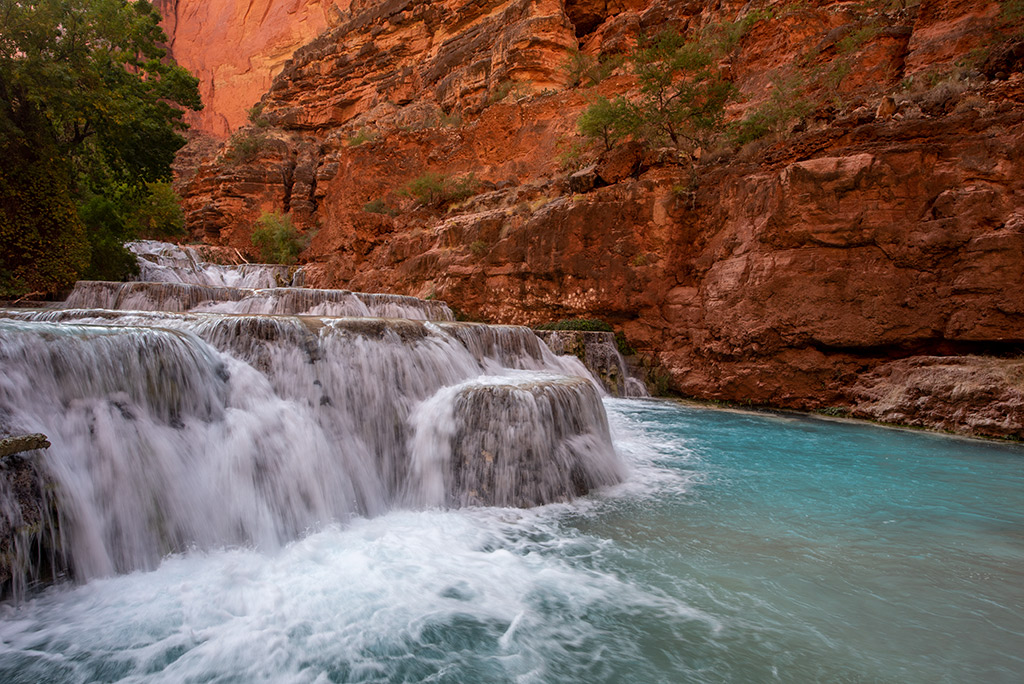 Hike to Beaver Falls Arizona
How long does it take to hike to Beaver Falls?
Well, it's not an easy hike, but worth your effort. It's a rough and rocky 6.0-mile round-trip hike from Mooney Falls. The hike is dynamic, with a river crossing, climbing ups, and climbing downs. How long does the hike take? It's about 3 miles down the canyon from Mooney Falls (one way). It's a day-trip destination. Hike from Havasu Falls Camping to Beaver Falls takes about 2-3 hours one way (depending on your physical condition, preparation, and weather). For us, it was 2 hours one way. Hike provides beautiful views, and often you can also encourage mountain goats and other wildlife. Pack properly for this hike.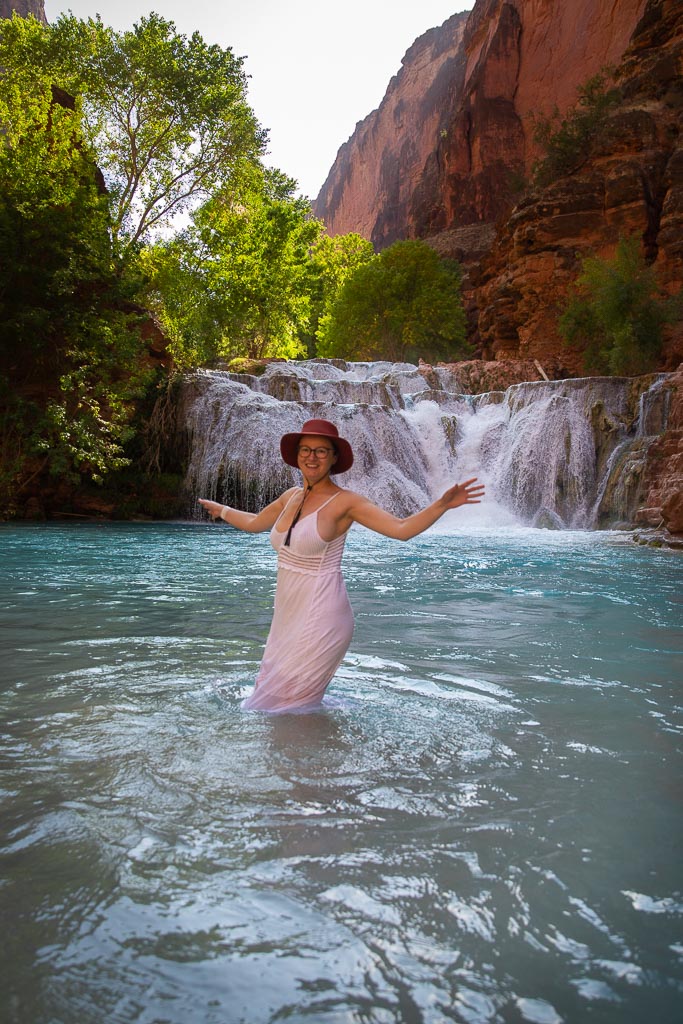 How hike to Beaver Falls looks? Is it a difficult hike?
To get to Beaver Falls from the Havasupai Campground, you must make the Mooney Falls descent first, which is difficult. Take traction or work gloves. But after the Mooney Falls descent will be a little bit easier. From Monney Falls, you must hike three more miles down the canyon. There is no marked trail, but you will find it for sure. It's winding through grapevine fields and crosses Havasu Creek several times. You have to cross the river at least three times. So, check our packing list, and take water shoes or waterproof sandals and trekking poles.
Crossing the river and ladders climbing
The water reaches up to the knees and sometimes even above the thighs. It depends on which water route you choose. Observe the banks of the river on your side and the other side. You will see trodden places on both sides. It will be easier to decide where you should cross the river. After about 2 miles, you will see a huge palm tree. From this place, you will climb several times. Some ladders will help you with climbing. These are not very difficult approaches. But the stones are slippery, so it's a good idea to change your water shoes for hiking boots before the first ladder for your safety. From this point, you won't cross the creek again, so water shoes will be useful when you reach Beaver Falls.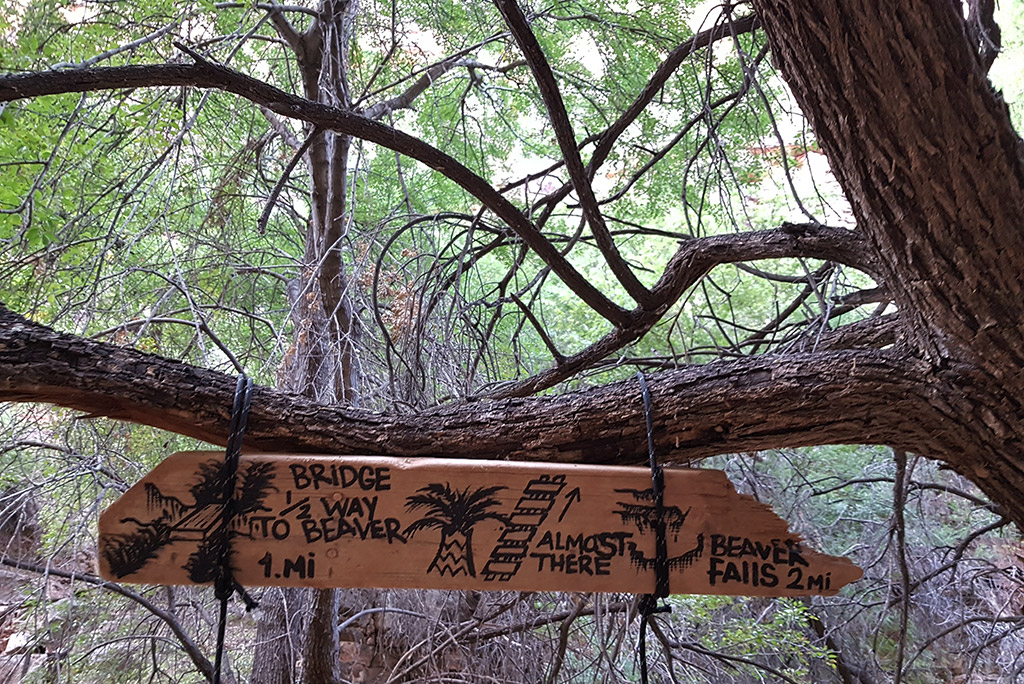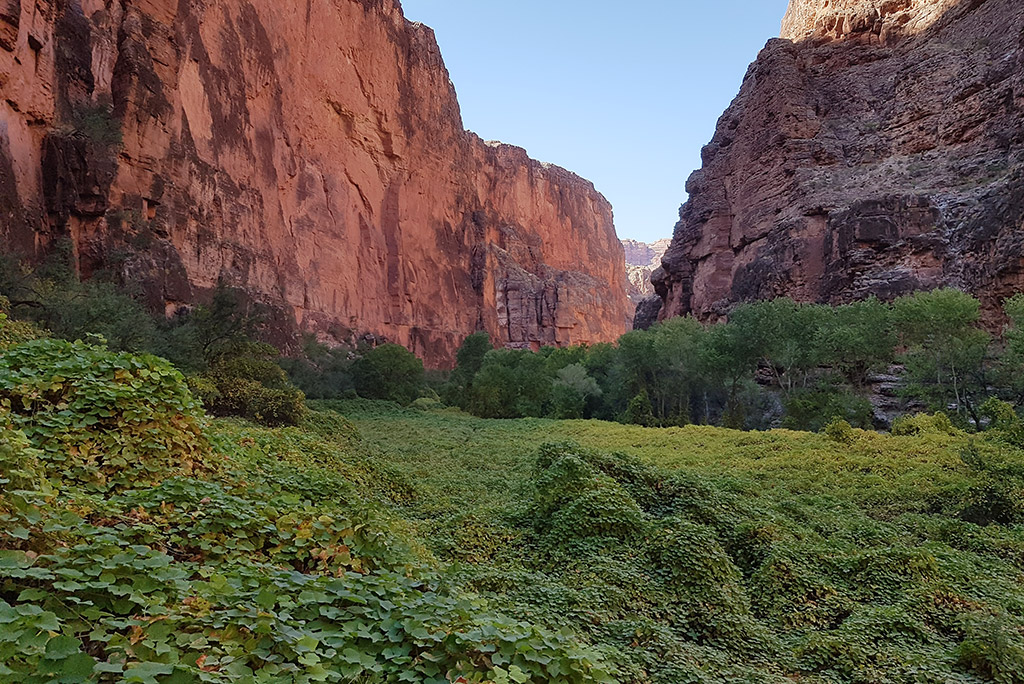 Beaver Falls Shooting Hints
The best time for photographing Beaver Falls
If you want to take great pictures of Beaver Falls, you should start your hike early in the morning at about 6.00 am- 6.30 am. It will be the best light for shooting. Around 9.00- 9.30 am, the sun is already sharp, and there will be huge contrasts on the canyon walls. Around 9.30, other campers will reach the falls, too. They want to swim in the water warmed by the sun. So if you go in the morning, you will have waterfalls for yourself. The sun changes position and hides behind the red creek wall around 11.30. Well, it's good to wait and spend this time wading and swimming in the water and bathing with other campers. After 11.30 people leave the water because it's getting much colder and you can retake pictures.
The best spots for photographing Beaver Falls
Before you go down the last ladder to Beaver Falls, it is worth stopping for a moment next to the bench. You will have an excellent spot for all pools from above. You have to do it in the morning; later, the sun is too intense. After descending the last ladder, everything depends on your imagination.
You will find great spots directly in the water under all pools. But it is worth going higher between the pools from the left. Trees create a tropical and fairy landscape. Light infiltrates through leaves and branches. From the trees, you can also enter the upper waterfall. You will have a view of the lower pools. Obligatory, you should put on water shoes for your safety, take a tripod, and remote shutter release. Take a lot of water and snacks for this hike, too.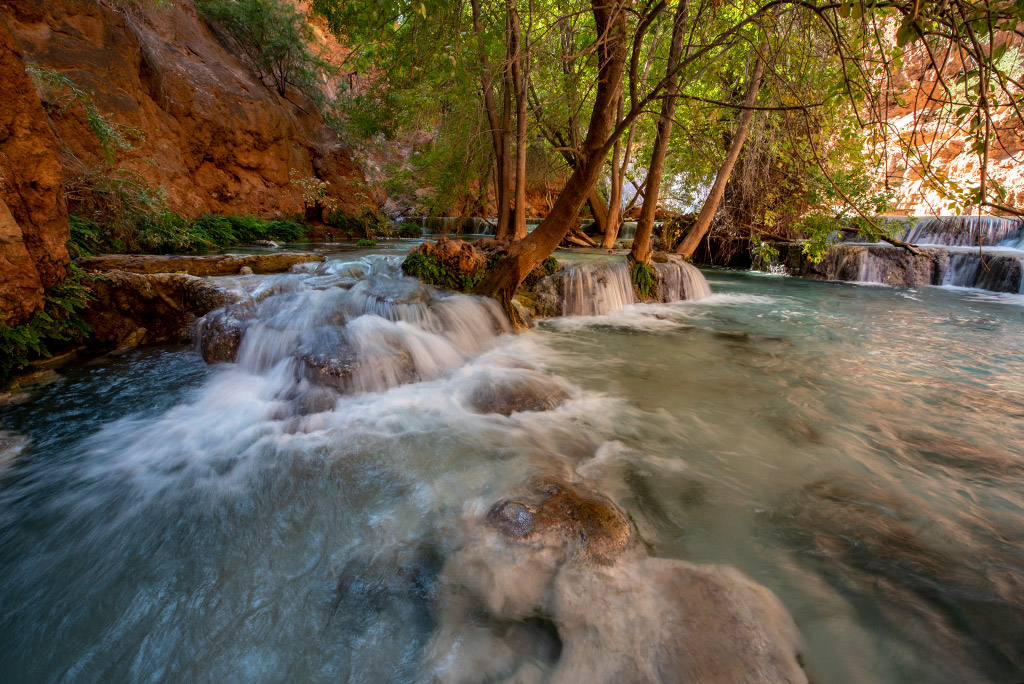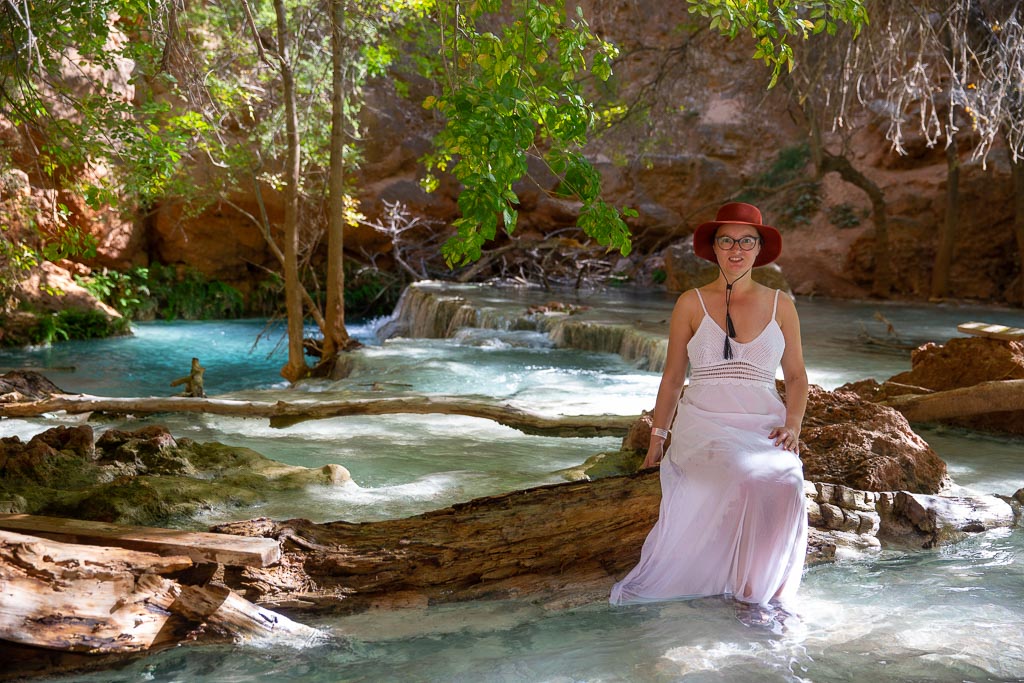 Mooney Falls at Havasu Creek
Basic info about Mooney Falls
Mooney Falls is the tallest of Havasupai's waterfalls. It's 196 feet tall. It's the most spectacular of the Havasupai waterfalls, too. But swimming in this waterfall is dangerous due to the circulating currents. Mooney Falls is located just beyond the end of the campground, but reaching the base of the falls requires a steep scramble down a cliff wall. It is a highly exposed trail, and you should not go when the weather is not suitable, and you are not prepared. It is named after D. W. "James" Mooney, a miner, who in 1882, decided to mine the area near Havasu Falls for minerals. One of Mooney's companions was injured, so he decided to try to climb up the falls with his companion tied to his back and subsequently fell to his death. Hence, Mooney Falls.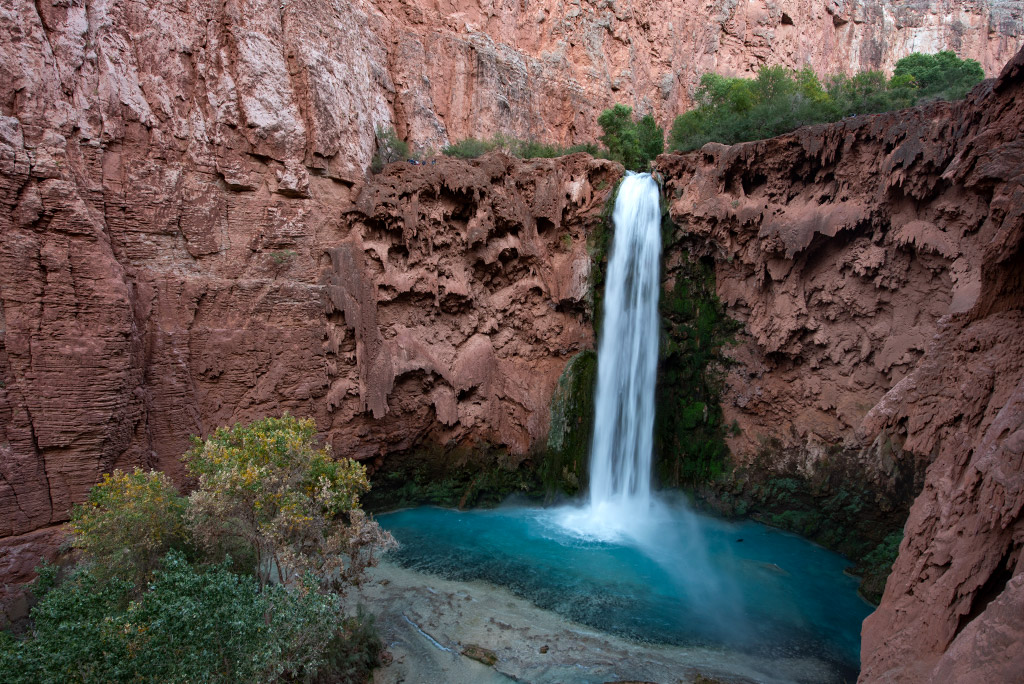 Mooney Falls Hike
How long is a hike to Mooney Falls? It's short and takes only 15-20 minutes to go down, but it's the hardest and most challenging hike in Havasu Creek. It's only 0,5 miles from Havasupai Campground, but it's very vertical climbing downwards. The trail is narrow; the rocks are slippery and sharp. If you are afraid of heights and exposure, it could seem a bit spicy. So take your time, do not hurry up, and be careful. It requires several climbs down through a dark tunnel carved into the rocks. There are vertical ladders and a chain to help you climb. Unfortunately, the problem is that everything is incredibly slippery. The water breeze from the Mooney Fall is powerful and reaches the top of the rocks. Ladders, chains, and stones are very wet and muddy, so be careful. The climb is also tricky because of having to pass people going in the opposite direction.
Unfortunately, tragic accidents and even death took place on this route, so be careful and prepare yourself very well. Take high trekking boots with excellent traction and work or traction gloves for easy climbing and keeping wet and muddy chains and ladders. Take comfortable clothes that will not hinder your movements. Descend to the base of Mooney Falls at your own risk.
Mooney Falls Shooting Hints
The best time for photographing Mooney Falls
Any time of the day is good for photos of Mooney Falls because the waterfall is the highest, and no sharp light reaches it. But the best light and warmest colors of cliffs you will reach before sunset. But also in the morning light is great here.
The best spots for photographing Mooney Falls
If you are afraid of going down the waterfall for health, physical, equipment, or any other reasons, don't worry. You have two spots to take great Mooney Falls photos without steep climbing.
At the top of the Mooney Falls, there is a spot that overlooks the 210-foot (64 m) canyon wall that the waterfall cascades over.
The second spot you achieve just after 3-5 minutes going down the trail. But just before the tunnel and ladders. This piece of the path is safe, and you can take a great picture from this height.
If you decide to go down to the waterfall, you can take pictures of the water from different places in front of the waterfall. Remember, however, that the breeze is powerful. Watch out for your lenses and equipment so that they don't get too much water. It's one of the most powerful of Havasupai Waterfalls.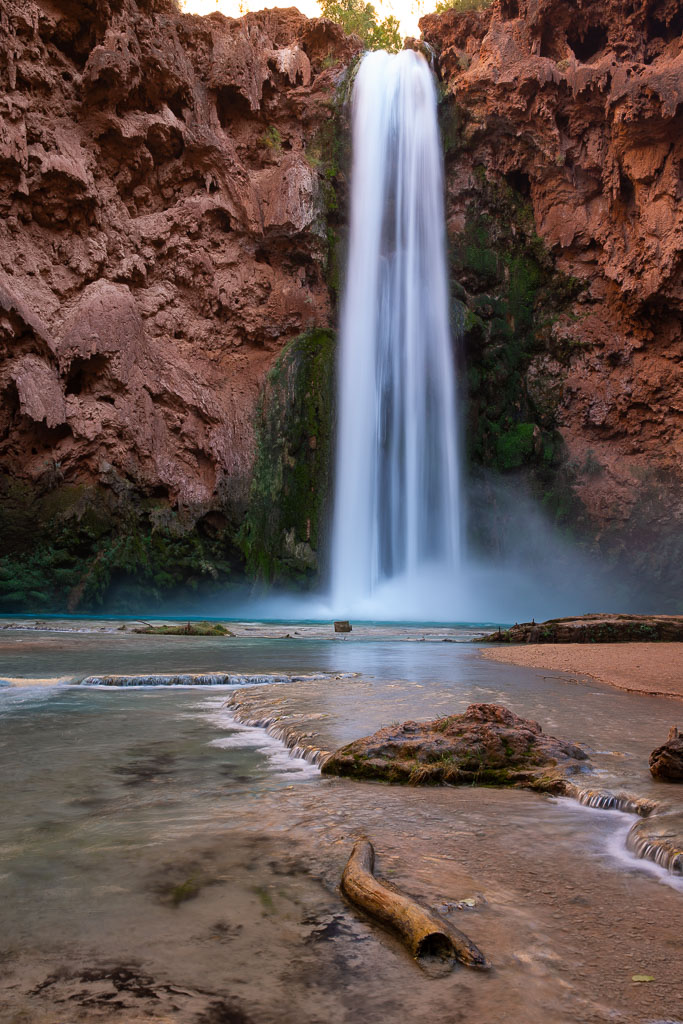 Havasu Falls at Havasu Creek
Basic info about Havasu Falls
Havasu Falls is the most famous of the Havasupai waterfalls. And is one of the most frequently photographed features in the Grand Canyon. That's why all the Havasu Creek Waterfalls area is commonly called as Havasu Falls. It is 100 feet (30 m) vertical cliff tall and cascades into a crystal blue-green pool. It is the third waterfall during the hiking journey to Havasupai. Havasu Falls is located about 2 miles from Supai village, and just 5 minute easy walk to Havasu Falls Camping.
It's the favorite one and most crowded due to its proximity to the Havasu Falls Camping and ample space for sunbathing and swimming. The water temperature is a cool 70 degrees. The pool is large and about 4 to 5 feet deep in most places. The falls were called "Bridal Veil Falls," before flooding in 1910 because they fell from the entire width of the now-dry travertine cliffs north and south of the present falls.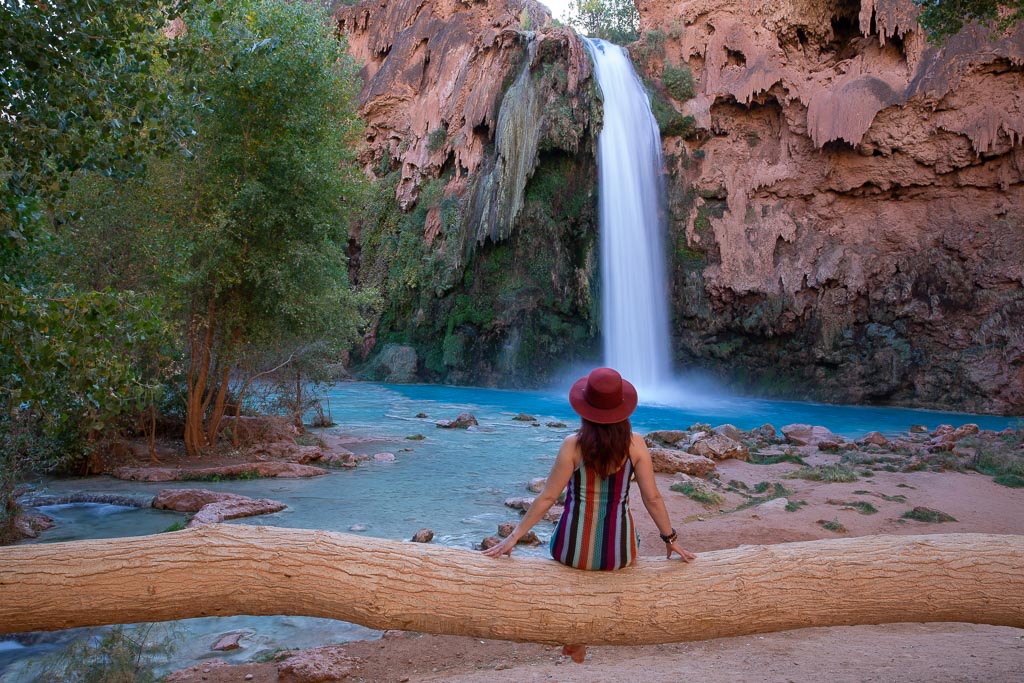 Havasu Falls Hike
All you should know about the hike to Havasu Falls (all areas of Havasu Falls Camping) you will find in our detailed, separate article. So check it, please.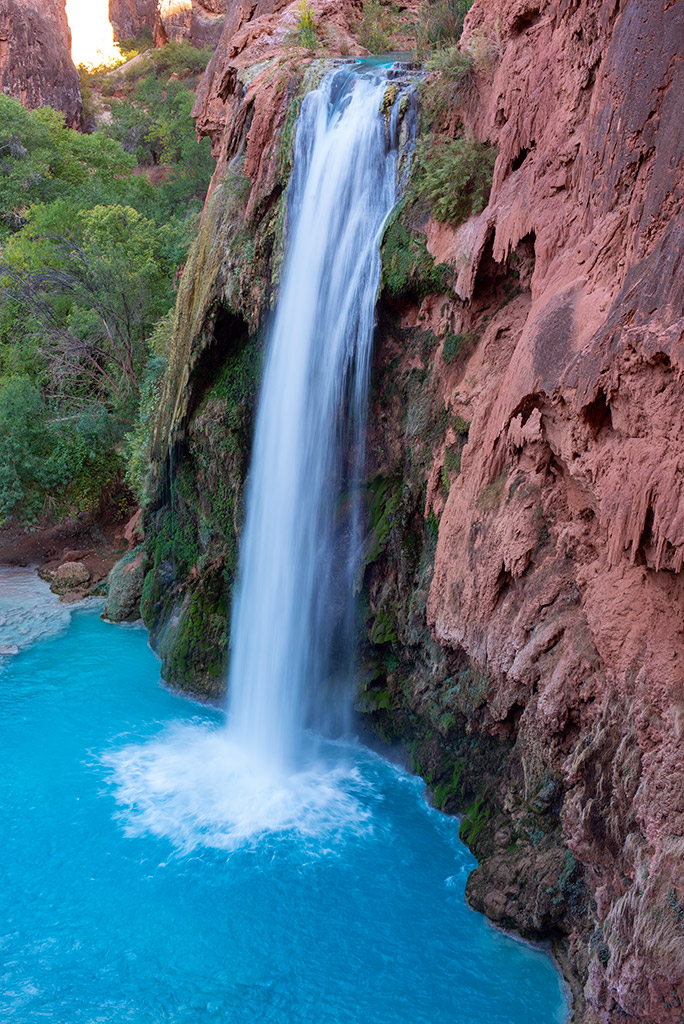 Havasu Falls Shooting Hints
The best time for photographing Havasu Falls
The best light for taking pictures of the famous Havasu Falls is in the morning, between 8 and 9. Fortunately, it's close to the campground (10-15 minutes), so you don't have to get up early. There are no people in the morning, too. They will come around 9.30 – 10.00 when the sun warms the water in the pools, and they can swim. So if you want to have waterfall photos without people, come before 8 am. In the afternoon around 5 pm. before sunset, there is good light for taking pictures of the waterfall from above. You have several points where you can take photos from the top, and the best is directly on the trail leading from the camping to the village.
The best spots for photographing Havasu Falls
You have many photo possibilities for taking photos of Havasu Falls.
You can wade in the water under the waterfall.
An interesting point is a large fallen tree, too.
On the left, you have a small tree-lined island. In water shoes, you can easily get on it and take photos from the island.
On the left side of the island, you also have several small cascading pools. The trees cover the main waterfall, but it is also an exciting place for pictures. After 9.30 people are swimming in these little pools.
After 9.30 it will be possible to take pictures too, but not in front of the waterfall. You should go through the water to the left wall of the waterfall behind the island), then the sun will not fall into the lens.
The afternoon is the best time to take photos from the trail. Then you have the best light to photograph the waterfall from above.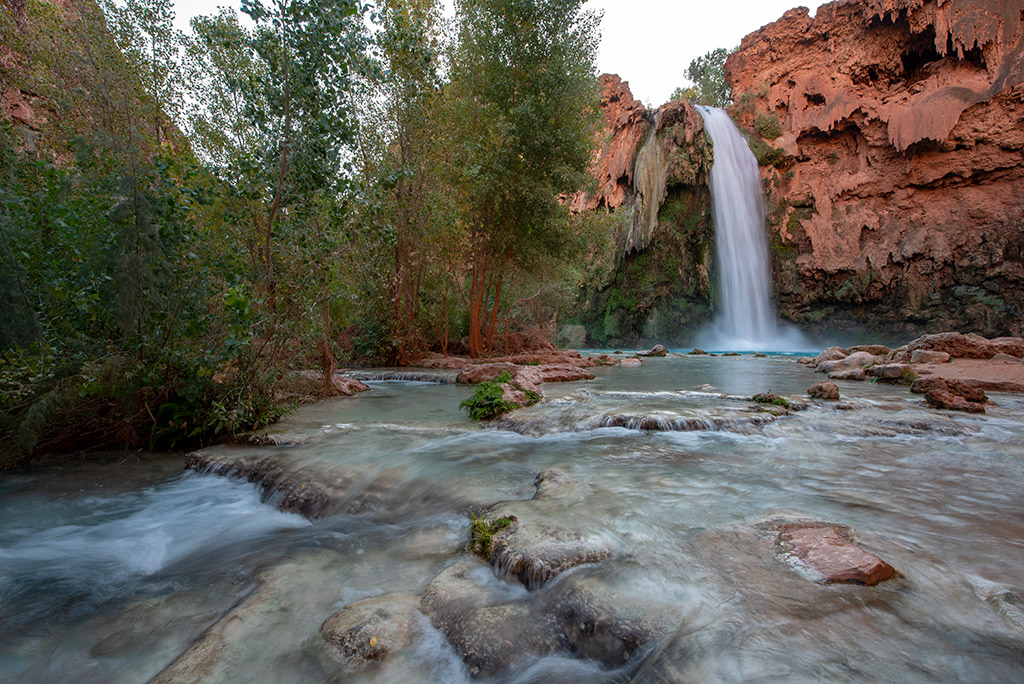 Little Navajo Falls is also called "Lower Navajo Falls" or "Rock Falls". It is 30 feet (9,1 m) tall and was created during flooding in 2008. This waterfall offers outstanding swimming opportunities with breathtaking views. It's about a 1-mile easy hike (30-40 minutes hike) from Havasu Falls Camping. Little Navajo Falls is located on the road to Supai village and about 0,15 miles (0,24 km) below Fifty Foot Falls.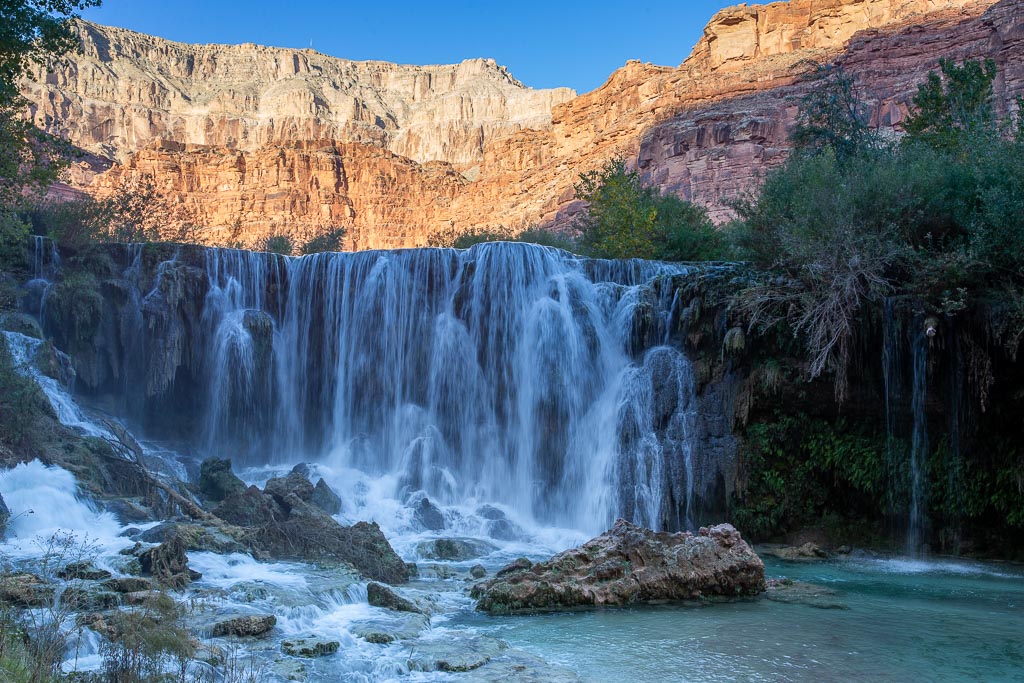 It's just a 5-minute walk from the main trail. You will see it on your left (heading to the campground). It's easy to get there from Havasupai Campground or the village. The hike from the campground is about 1 mile and is easy. In our article: Hike to Havasu Falls you will find how to prepare for the trek to Havasu Falls, and what to bring. Going down to the base of the waterfall is not demanding and takes a few minutes, so it's worth getting there.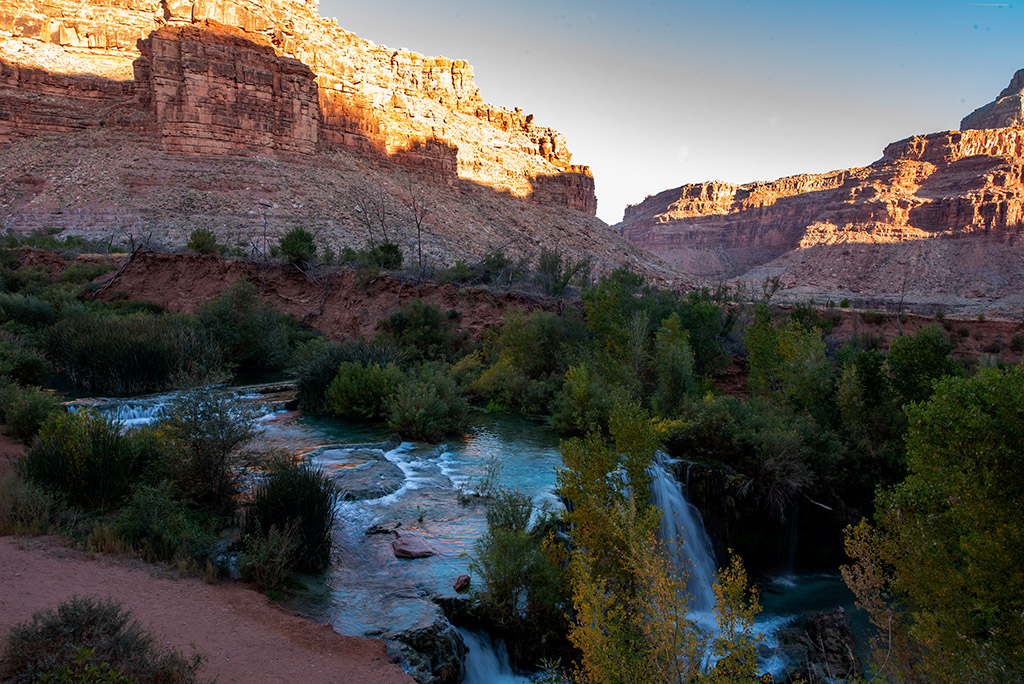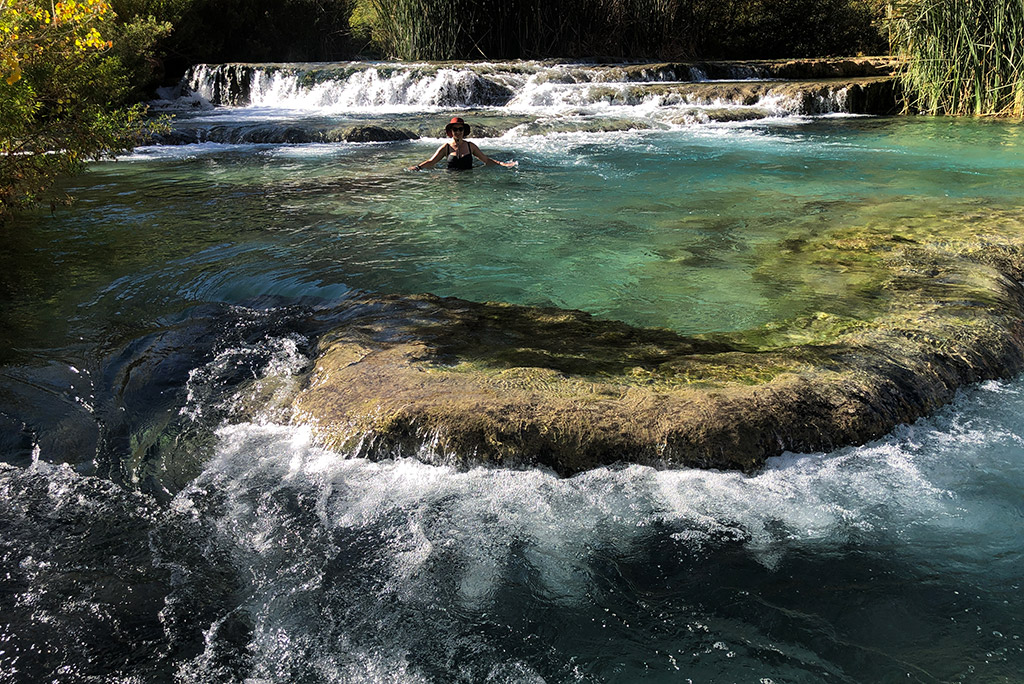 The best time to take pictures of this waterfall is early in the morning, around 8 am. After 8.30 am, the sun gives a sharp contrast on the canyon walls. Later you can also try to take photos after 4:30 pm.
We recommend going down to the base of the waterfall and taking photos from the bottom. The path is on the right from the pools. It leads 3-5 minutes down between the bushes and trees, but it is effortless. There is another spot on the main trail. You will see cascading pools and red canyon walls.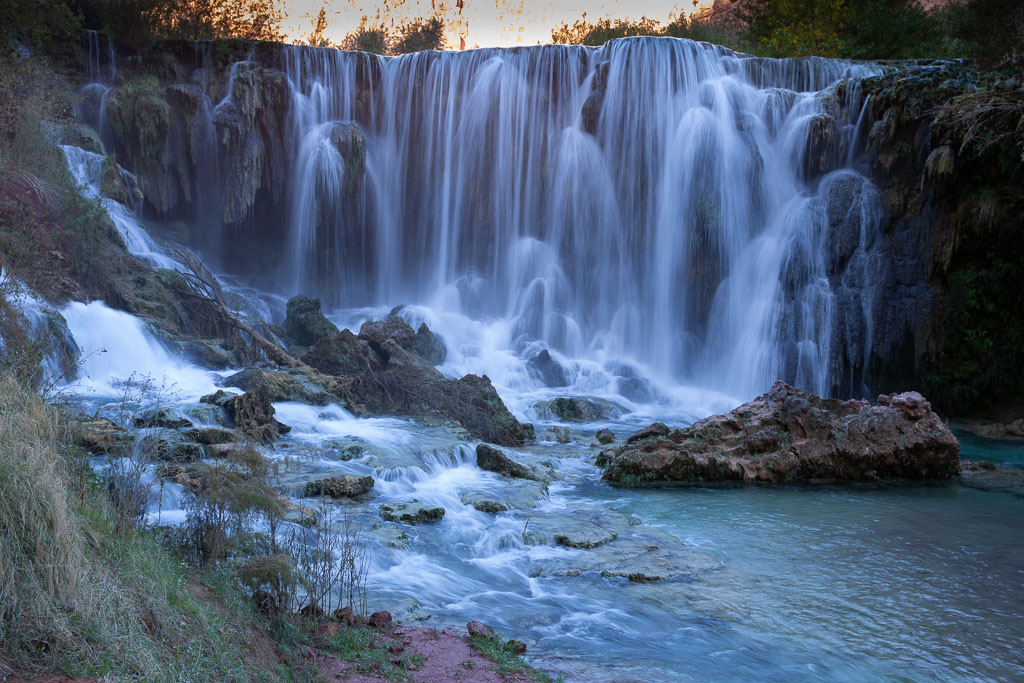 Fifty Foot Falls at Havasu Creek
Basic info about Fifty Foot Falls
Fifty Foot Falls started to be significant when it was changed by the massive flood and mudslides of 2008. The other name is "New Navajo Falls" or "Upper Navajo Falls." The falls are about 50 feet (15 m) tall and fall into a rocky pool, and offer excellent swimming opportunities, too. It is the closest major waterfall to the Supai village; it is 1 mile below the Supai village and about 0,8 miles upstream of Havasu Falls. The original name of this waterfall is Supai Falls.
Hike to Fifty Foot Falls
Fifty Foot Falls is above Little Navajo Falls. It's a short hike about 5-10 minutes to reach it. They are just north of Navajo Falls. It is lovely falls between the village and the campground. It's a little bit of a challenge to get there because the trail is not well-marked, but you should see the path. These waterfalls are tucked behind thick tall grassland, and you have to wade through the water a little bit.
Fifty Foot Falls Shooting Hints
Similar to Little Navajo Falls, the best time to take pictures of this waterfall is early in the morning, around 8 – 9 am. Or later after 4 pm. You can take photos from the bottom. It requires a little rock hike down and wading in the water. But it is an easy hike and a few minutes of short descent. Other spots you will see when you reach it from the path.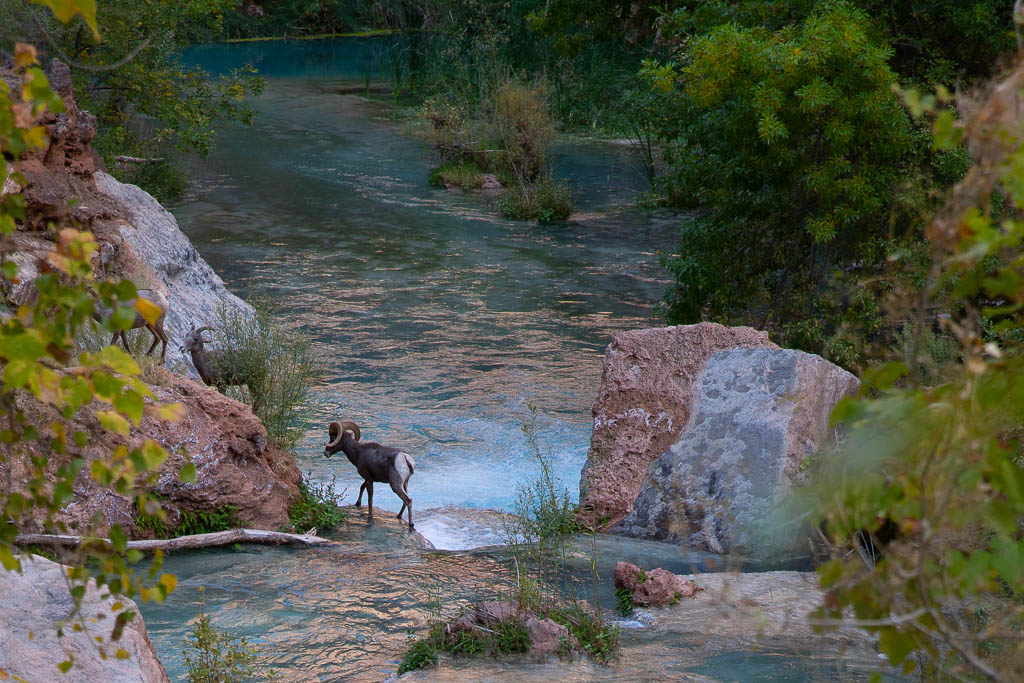 The Confluence of the Colorado River
Havasu Creek flows to the Colorado River from Beaver Falls. There are multiple ways to reach the Colorado River. You can be hiking to the confluence of Havasu. One of them included going back to the Beaver Falls trail and continuing the downstream hike. The 3 miles (4.8 km) hike from Beaver Falls is long, challenging, and rugged, and it is advisable only for experienced hikers. The creek ends at the confluence, where there are some camping areas. This spot is also famous for the river rafters to stop. We didn't hike to the confluence, because we were focused on the Havasu Creek Waterfalls. But confluence is on our list for next time.
Havasu Creek Waterfalls – Photography Settings
Havasupai Waterfalls photography is not difficult. You just need to have some essential gear and basic knowledge. Except for the camera and lens (in the case of Havasu, it's good to have a wide or standard zoom lens), you will need a stable tripod with a proper head and remote shutter release. You might also need some ND filters if you plan to take pictures in a very sunny day. Check our Havasupai Packing List. There is a part about the photo equipment we used in Havasupai.
Shutter speed
The trick is that you need to use a longer exposure to make water in Havasu Creek Waterfalls stood still and look beautiful in the picture (please compare photographs from this article). To get this effect, it's best to use your Tv, S, or M mode (time pre-selection mode or full manual mode). In this mode, you will be able to set your shutter speed to 1/8s-2s. To find proper exposure settings, you will have to take a couple of pictures and observe the desired effect, then adjust your settings accordingly.
Aperture
The aperture should be set to f/5.6-f8 or more. It will depend mainly on the amount of light in the scene (on a very sunny day, you will have to close it probably to f/11 or even f/16 to be able to set the shutter speed to desired value). If still, you can't set the desired shutter speed, you might have to use the ND filter.
ISO
The next important thing while photographing Havasu Creek Waterfalls is to keep your ISO as low as possible (in the case of Canon, it might be ISO L, and in the case of Nikon ISO 100). There are two reasons – we want to be able to set a long exposure, and we don't want to have noise in the picture. Lower ISO settings will guarantee it to us.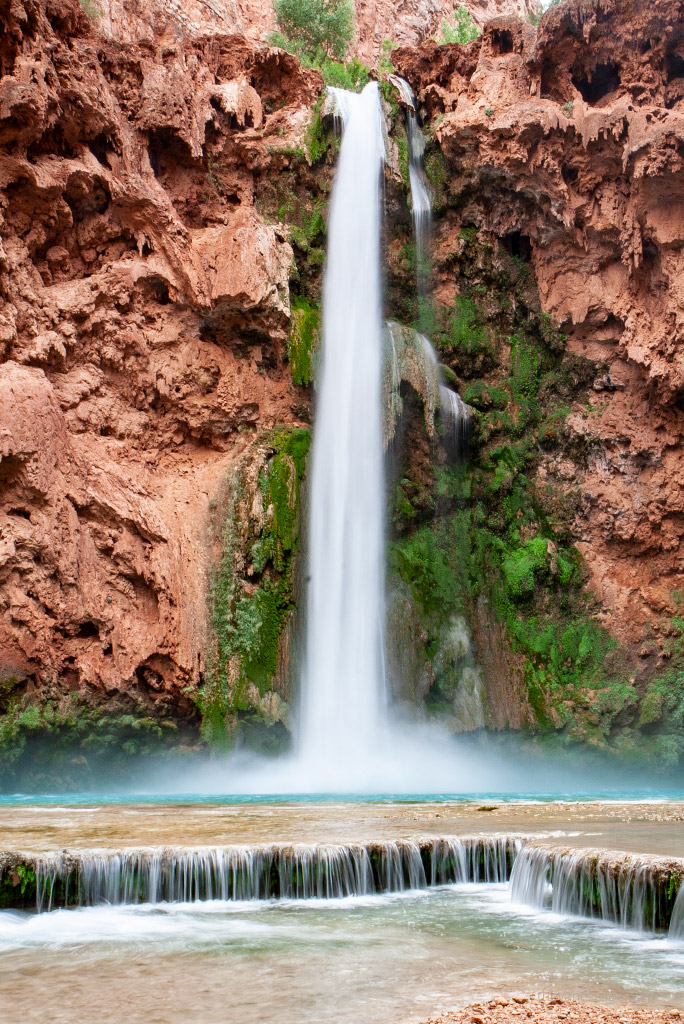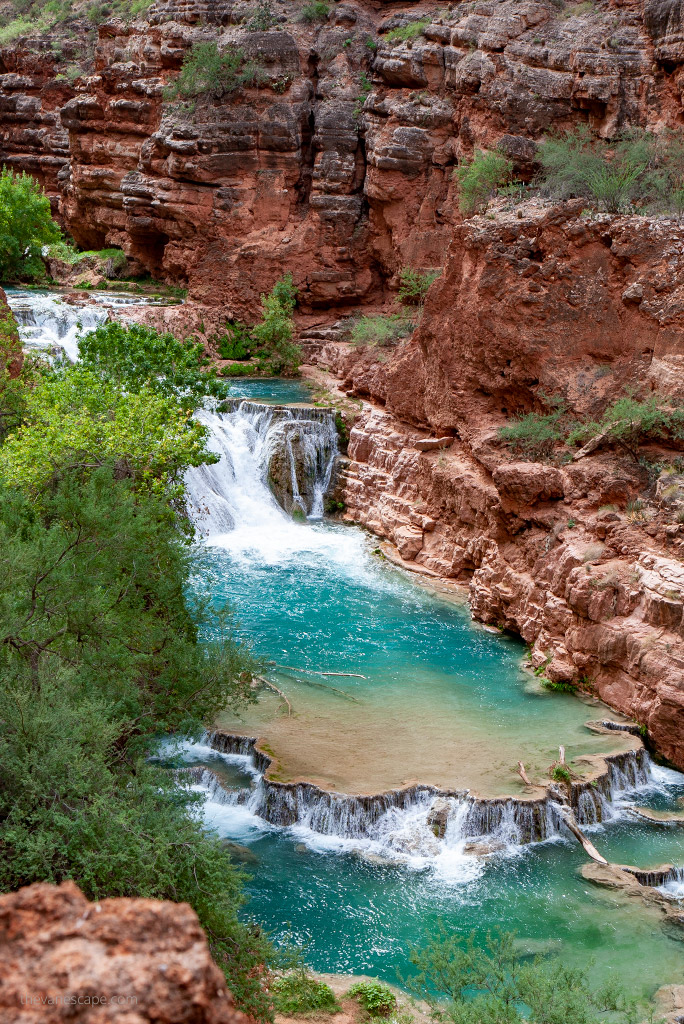 Tips & Tricks for Photographing Havasu Creek Waterfalls
Use polarizer filter
Use the polarizer filter to reduce reflections on the water and other surfaces. Some filters may warm up your scene a little bit.
Try different times of the day
If you go to the Havasupai waterfalls in the middle of the day, there is a big chance you will have too much light for your camera. Try to take a picture in the morning or later in the afternoon (the so-called "golden hour") when the sun is lower, and there's less light falling on the falls.
Use RAW format while photographing Havasupai Waterfalls
Shoot in RAW mode or JPEG+RAW mode, and then your sensor will record more data. You will be able to make more adjustments later on the computer during the post-processing phase.
Be prepared to clean your lens while photographing Havasu Creek Waterfalls
When photographing waterfalls from a close distance, you might encounter a situation when your lens will be getting permanently wet (usually, it happens in Havasu Falls and Mooney Falls). Be prepared for this situation with a cleaning cloth. Finally after setting your scene, before pressing the shutter release, please gently clean your lens front element to make sure there are no drops on it.
Cover your camera and lenses against getting wet
There is a common situation in waterfall photography that your gear is getting wet (especially on a windy day). You can be prepared for such a situation by buying a waterproof camera or just a so-called camera rain cover or raincoat to protect your camera and lens.
Take long-exposure photos of Havasupai Waterfalls with an iPhone
Are you surprised? Yes, you can do a long exposure shot with your iPhone. Just tap the round icon on the top of the screen (LIVE ON/OFF) and turn it on. Take a photo of the waterfall. Go into your Photos directory and find the picture then swipe up. You will have four choices: Live, Loop, Bounce, and Long Exposure. So please select the last one and see the effect.
Trip Tip: If you plan a trip to Arizona, check also our detailed Arizona road trip itinerary and guide to Grand Canyon National Park: South Rim, North Rim, and Toroweep Overlook.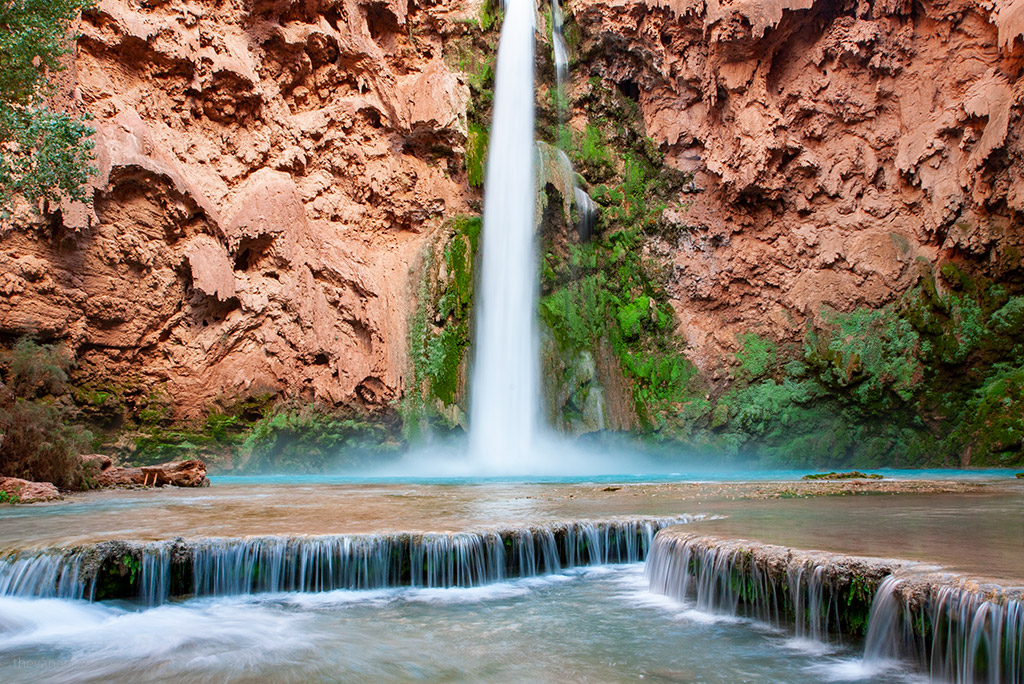 Do you like it? Pin it!