Toroweap Overlook – Tuweep – the best of the Grand Canyon
Planning a trip to Toroweap Overlook, also known as Tuweep – the most scenic peak in the Grand Canyon? Since it's difficult to get there, check out our tips and photos! Tuweep is a remote and isolated area of the Grand Canyon National Park North Rim. A trip there requires special preparation and effort, but it's worth it. The view from Toroweap Overlook is the most moving over the entire Grand Canyon. We have been there a few times, so read our detailed guide to the Torowep Overlook, where we share our experiences with you. What's more, we tell you everything about the new Tuweep Day-use Ticket Reservation System mandatory for 2023.
This article may contain affiliate / compensated links. For full information, please see our disclaimer here.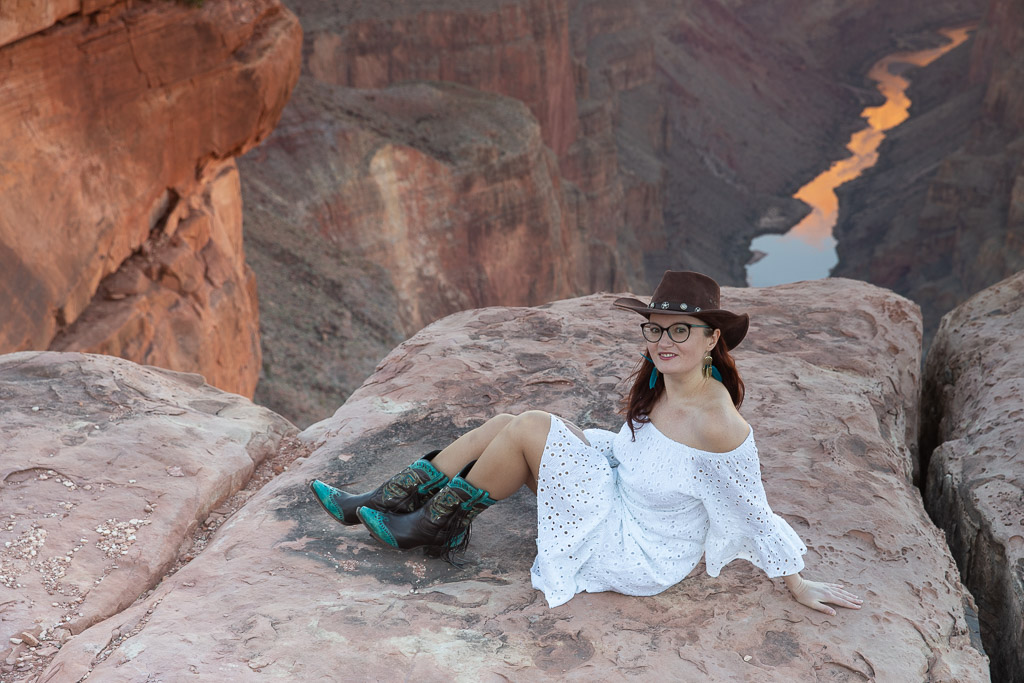 Toroweap Overlook – Introduction
Toroweap Overlook, also known as Toroweap Point or simply Tuweep, is a spectacular vantage point from which you can view the canyon and several volcanic ash mounds and lava flows up close. It is nearly 3,000 feet (915 m) above the Colorado River, and it is from here that the most beautiful photos of the Grand Canyon are taken.
Tuweep in Paiute (pronounced Tu-VEEP) refers to "the earth."
Toroweap Point (Tuweep) is the least visited viewpoint among the North Rim Viewpoints and South Rim Viewpoints. From Tuweep, you can enjoy the Grand Canyon for what it is. A deep, awe-inspiring canyon created by the erosion of the Colorado River. A trip to Toroweap Overlook is one of the best adventurous things to do while staying in Kanab, which is the closest town to this spectacular place.
We love the Toroweap Overlook, with the spectacular Toroweap Formation and Colorado River in the steep canyon. We visited it several times. What's more, we also spent two nights at Tuweep Campground to admire the sunrises and sunsets and listen to the sound of the Colorado River. We visited this spot a few times. Below you will find details to help you prepare for this fantastic adventure.
TRAVEL TIP: If you plan more time in the Grand Canyon National Park, check our detailed guide with lots of tips to The Best Grand Canyon Viewpoints from the North Rim and The Best Grand Canyon Viewpoints from the South Rim.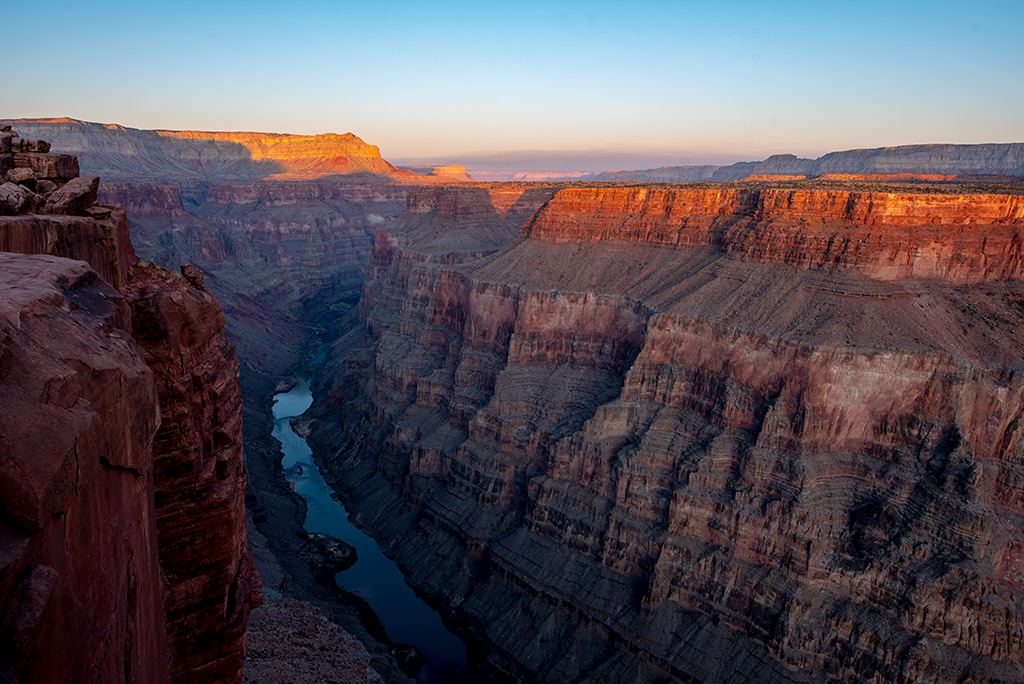 Toroweap Overlook – the best of Grand Canyon Viewpoints
Why is Toroweap so breathtaking? Why is it the most beautiful view of the Grand Canyon and Colorado River for us? Because it's pure wilderness, it's a remote experience. It's a unique place where you can hear the sound of silence. Getting to Toweep is challenging, requiring a 4WD, high clearance, but also the skills of the driver. There are no handrails or other security features too, so it's rustic. Pure nature itself. Space, the abyss, and the sound of the Colorado River. Moreover, it is a new reservation system from 2022, and you need a permit to get there.
Tuweep Day-use Ticket Reservation System – for 2023
Until recently, permits were not required to get to Toroweep Overlook for the day. Permits were only required if you wanted to stay overnight at the rustic Tuweep campground. To get to Tuweep Overlook during the day, you only needed America the Beautiful Pass or the day-use fee to enter the national park.
Changes from 2022
According to the official NPS website, the increasing popularity of the Tuweep area has led to overuse by vehicles and visitors. The Tuweep area is becoming overcrowded. In addition, vehicles are exceeding noise limits and impacting natural and cultural resources.
To protect the Toroweap Overlook and Tuweep area, Grand Canyon National Park has decided to implement a three-year pilot project for day-use reservations at the Tuweep Visitor Use Area, Toroweap Valley, and Kanab Plateau. A $2 per vehicle ticket fee is proposed for visitors to access Tuweep. It's also mandatory in 2023.
How do you make a Tuweep Day-use Ticket Reservation for 2023?
According to the NPS website, the Grand Canyon proposes implementing an expanded Tuweep reservation system for day use in 2023. This means that visitors will be required to purchase a day-use ticket before arriving at the Tuweep area. The pilot Tuweep day-use ticket reservation system will be available at Recreation.gov.
It is important to note that visitors with a valid Tuweep backcountry permit for overnight camping at the Tuweep campground (see below for more details) can enter the area without purchasing a day-use ticket. Visitors must also have a valid park entrance ticket or site pass.
The day-use pass system will allow 20 vehicles for daily access in addition to existing backcountry permit holders. Of the 20 vehicles with daily passes, 18 passes are reserved for private vehicles. Two passes are reserved for commercial Tuweep Tour commercial use authorization holders.
A new park use fee would be implemented to implement the Tuweep reservation system for daily use. A $2 fee would cover the administrative costs. Up to six tickets could be purchased by private vehicle owners 120 days in advance. The remaining 12 tickets can be purchased up to two days before the reservation date.
What is Toroweap Overlook? Geology of Toroweap Formation
The view from Toroweap Overlook is dramatically different, especially if you visit the North Rim and South Rim of Grand Canyon viewpoints. You speechless. Toroweap Overlook peers out over an abrupt gorge set a broad corridor 3,000 feet (915 m) below the rim. Eight million-year-old lava lows and conical black cinder cones stud the landscape. The Toroweap formation area is similar to the rest of the Grand Canyon but includes a more recent chapter of volcanism.
The Toroweap Fault underlies the valley, crosses the Colorado River, and continues south up Prospect Canyon. Volcanic activity began along this fault around seven million years ago. Beginning about 1.2 million years ago, lava flowed into Toroweap Valley, forming the flat-bottomed valley we see today. Vulcan's Throne, Mount Trumbull, and the Uinkaret Mountains result from volcanic activity.
Lava spilled over the canyon rim more than a dozen times, damming the Colorado River. Remnants of these flows and dams are visible just west of the overlook. Sediments clinging to the canyon walls high above the river indicate the formation of large lakes. The river eroded the lava dams and continued its downward cutting.
From Toroweap, it is less than one mile across the canyon to the Hualapai Indian Reservation, famous for Havasupai Waterfalls on the South Rim, making this place one of the narrowest and deepest segments of the inner canyon. The colorful red-rock of the Hermit Shale and Supai sandstones to the east contrasts with the black, basaltic lava flows to the west.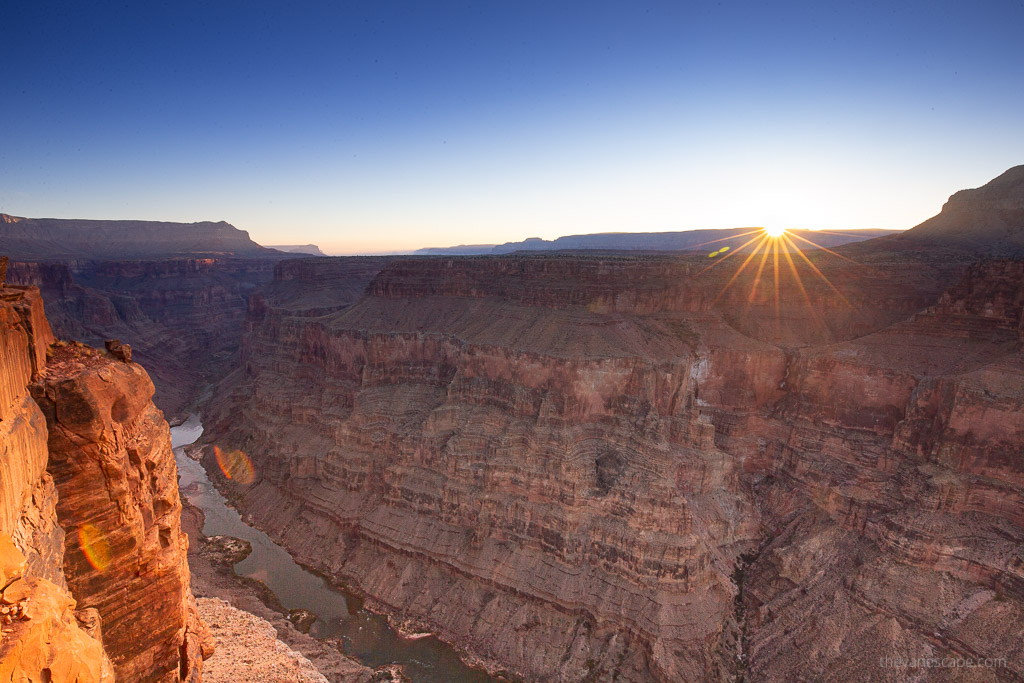 Where is Toroweap Overlook?
Toroweap Overlook is a part of the Grand Canyon North Rim called Uinkaret Plateau, known as the "Place of Pines." The closest Town is Kanab (Utah) and Fredonia (Arizona). Kanab is also a perfect place to stay for a night. From Kanab are 72 miles and at least 3 hours of driving. Below you will find the best deals for staying in Kanab.
Tips Before you Drive to Toroweap
Remember to get a Tuweep Day-use Ticket Reservation for 2023
As it's a new pilot system, check the official website to get your Tuweep Day-use Ticket. Reservation will be possible through Recreation.gov. Make sure to read all rules on this website as well.
Vehicle for getting to Toweep Overlook
High-clearance vehicles are required. Vehicles and vehicle combinations longer than 22 feet (6.7 m) are prohibited. This is the total length from end to end, including anything towed. The park rangers check it at the entrance; if you do not meet these conditions, you can be turned back. Ensure you have enough fuel, a full-size spare tire, a jack/lift, and the owner's manual.
Tow service costs $1,000–2,000, and assistance is not guaranteed.
No Services at Toweep
Services are non-existent at Toroweap: there is no water, gas, food, lodging, or phone service. So fill up to full. Just in case, pack more water, more food, and warm clothes. On our first trip to Toroweap, we could not stay overnight. We had no permit. So after sunset, we had to leave the park. It was November, and night fell very quickly, and the temperature dropped with it. It was so dark that we could not safely continue driving on this rough road. We stayed for the night on a side road in an uncomfortable car. Luckily, we always prepare ourselves thoroughly for road trips. Therefore, check out our Road Trip Packing List and Day Hiking Packing List before your Toroweap adventure. The second time we visited Toroweap together, we stayed there at Tuweep campground for two nights.
Day-Use Only Area at Tuweep Overlook
Tuweep Overlook is a day-use area. It's open from sunrise to 30 minutes past sunset when the gate is locked. And you must leave the park if you don't have a permit to camp there. Pets must be leashed. Drones are prohibited. Fires and charcoal grills are prohibited.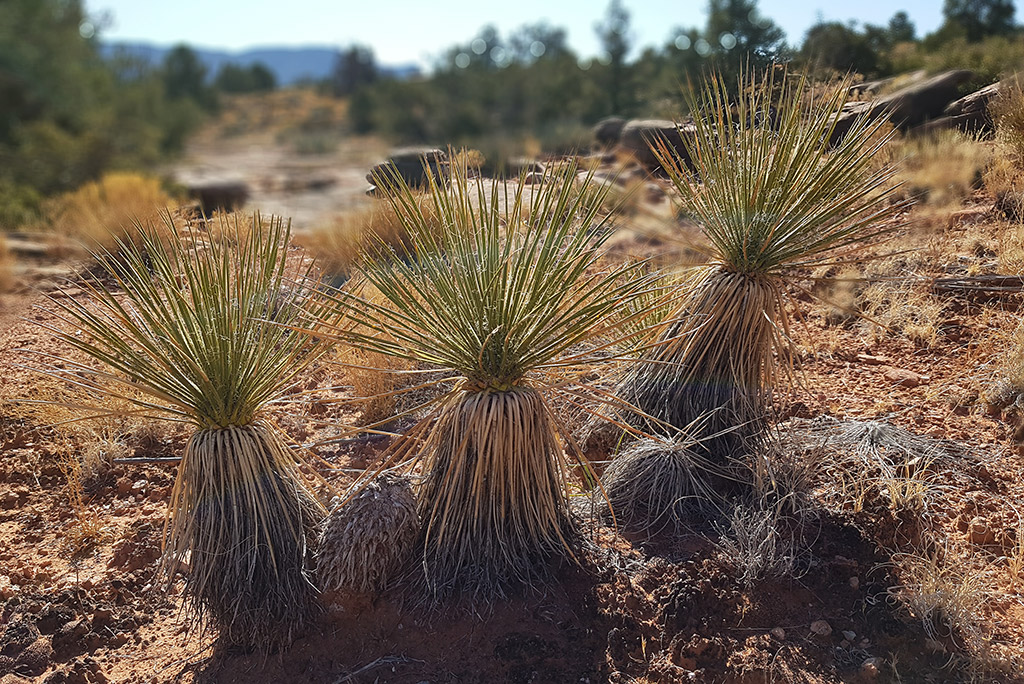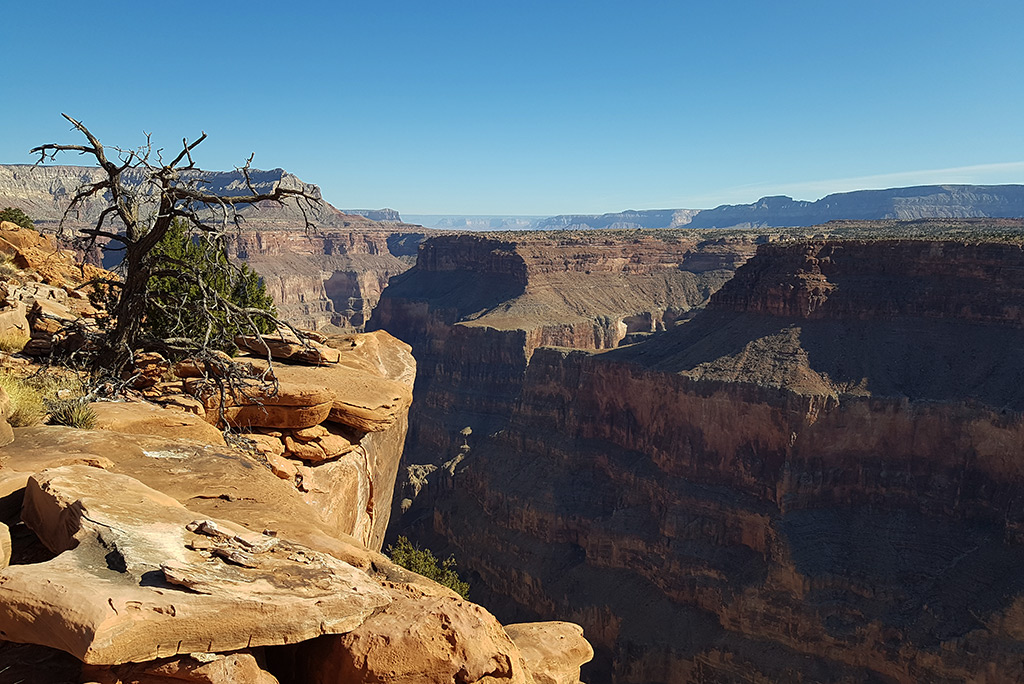 Permits for Tuweep in 2023
As the system is new – we will repeat this information – you need a permit to visit Tuweep during the day.
You also need a permit to stay at Tuweep campground for a night (you need a Backcountry Permit).
Camping requires a reservation permit (below, we give you details). What's more permitted campers must arrive by sunset. Advance permits are required for camping and overnight use at Tuweep Campground and in all backcountry use areas. So plan it ahead.
Weather at Tuweep Overlook
The weather on the plateau changes quite often. If a downpour or heavy rain, the road may be completely impassable. Therefore, be sure to check the weather forecast before your trip. Check also alerts on the official NPS website. Wear layers. It might be windy on the cliff.
Entrance Fee at Tuweep
Even if you have a permit to Tuweep, you need to pay an entrance fee to the park. Although Toroweap Overlook is extremely remote from the South Rim and North Rim, it is still a part of the Grand Canyon National Park. Entrance fees apply to each national park. So, don't forget to pack America the Beautiful Pass. Annual America the Beautiful Pass is your ticket to more than 2,000 federal recreation sites across the country, including all US national parks. The pass is valid for one year from the month of purchase.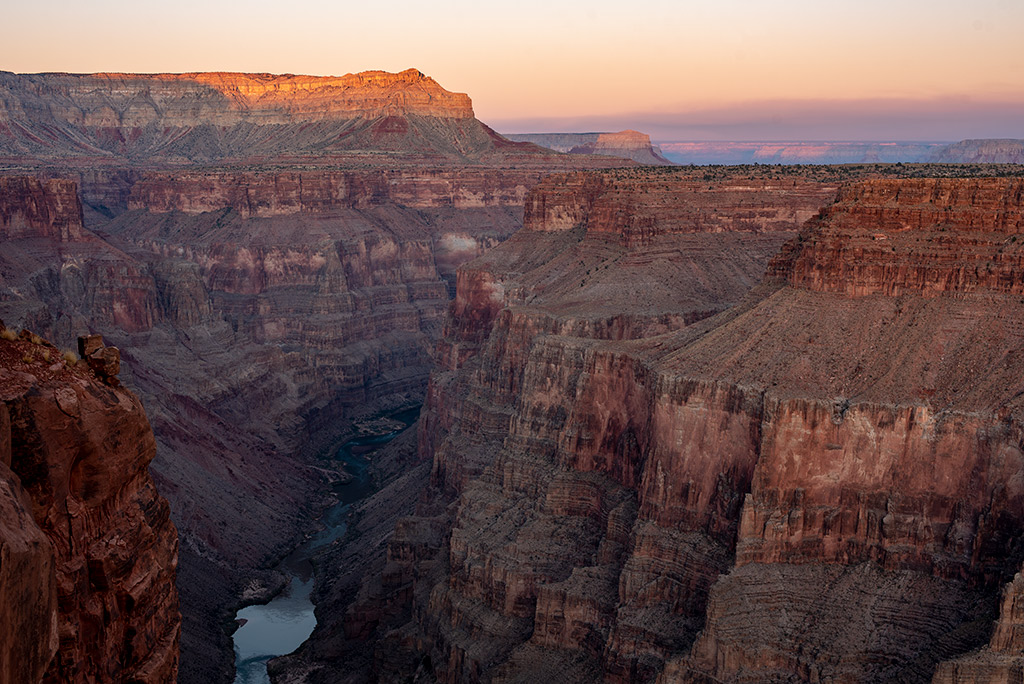 Driving Directions to Toroweap Overlook and Tuweep Campground
The Toroweap Overlook is located in the western part of the park on the North Rim. Driving to Toroweap Overlook is an adventure in itself. Not every driver can do that, and not every car does. As a result, bring tire plugs and a portable air compressor to repair flat tires. The road is primitive, with sharp rocks, deep holes, and dust. It's a rough road. Due to this, it is recommended to have 4WD to get to Toroweap Overlook and Tuweep Campground. High-clearance vehicles are required.
You can choose one of three main routes to Tuweep Overlook from AZ 389 between Fredonia, Arizona, and St.George, Utah. And it takes you about three hours of driving time one way.
Sunshine Route: from Fredonia, Arizona, by Country Road #109. Which is 61 miles (98 km) of primitive road featuring sharp rocks, wash-boarding, and dust. We did it a few times, and it's doable if you drive safely, your car has 4WD, and has high clearance.
Clayhole Route: County Road #5 leaves AZ 389 at Colorado City, Arizona. It is 56 miles (90 km) long and impassable when wet.
Main Street Route: BLM Road #1069 and County Road #5 from St. George is 90 miles (145 km) long. This scenic route is impassable in winter due to snow and mud.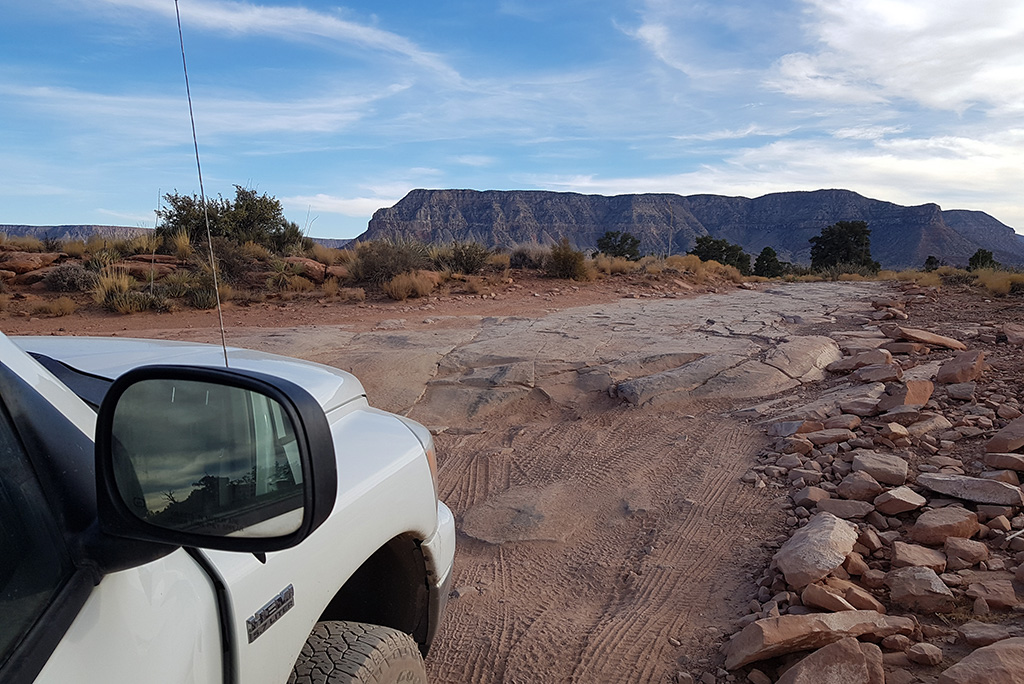 Tuweep Campground near Toroweap Overlook
Tuweep Campground is located next to Toroweap Overlook and is one of our favorites in the Grand Canyon area (the second is Havasu Falls Camping on the South Rim of the Grand Canyon). Why do we like it so much? Because you can hear the silence. You can admire the Grand Canyon rim. Above all, you can listen to the sound of the Colorado River. Finally, sunsets, sunrises, and stargazing from this edge moved us to tears. There is no civilization, coverage, electricity, or water available. There is only you and the infinite space of Toroweap formation.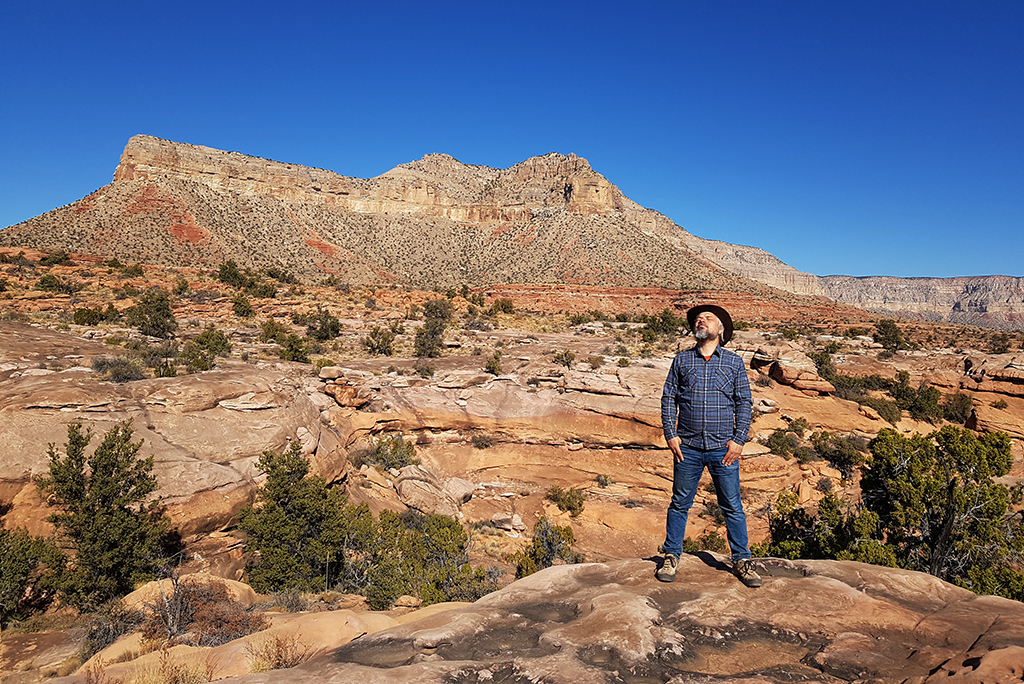 Tuweep Campground Permits and Facilities
First of all, you need a permit to stay overnight at Tuweep Campground. Advance permits are required for camping at Tuweep Campground and backcountry use areas. You can obtain a permit at go.nps.gov/tuweep.
Follow the directions on the official website. Complete a Permit Request Form. Use"TCG" for the use area, entry, and exit location codes, and mail or fax the completed form to the address at the top of the form. A "TCG" permit costs $10 per permit plus $12 per group per night. Permits cannot be issued at Tuweep. Camping is prohibited on the land adjacent to the park and at the airstrip.
Permits cannot be issued at Tuweep. But if you travel after the 15 of November, you can ask a ranger about the provisional permit. If there are no other reservations, you can get them at Tuweep. We got a temporary permit for two nights. One night costs 13$ (November 2019). However, if you plan to be during the season, you must apply for the permit in advance (a minimum of one month before arrival) because the place is gaining popularity and might be full.
There are no facilities except for composting toilets and picnic tables. There are nine small-group campsites for one to six people with a maximum of two vehicles and one large-group campsite for 7-11 people with a maximum of four cars.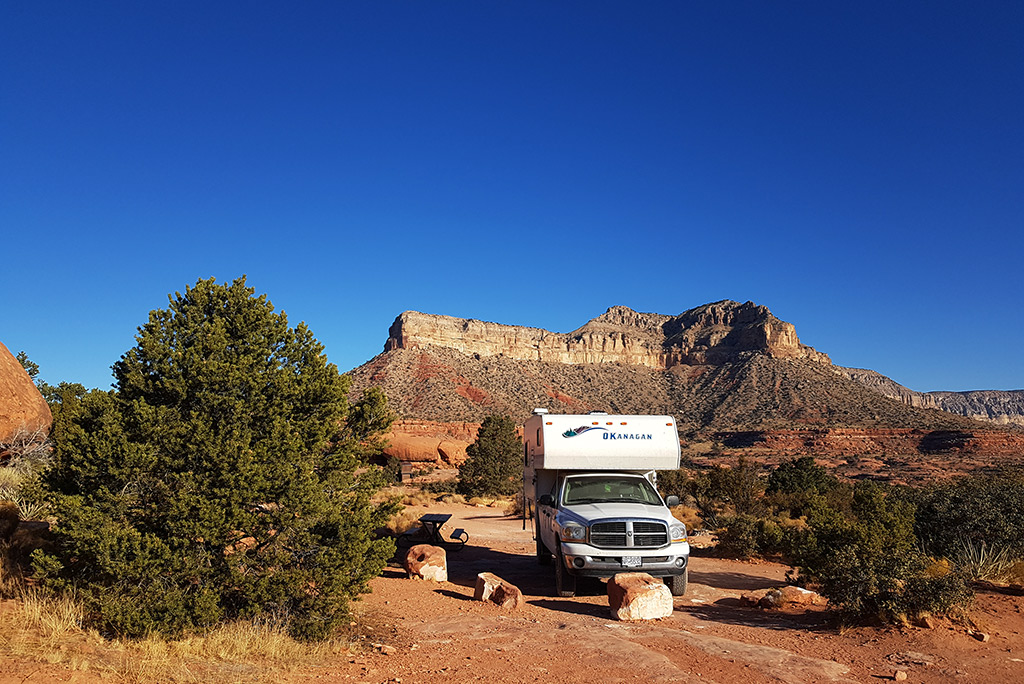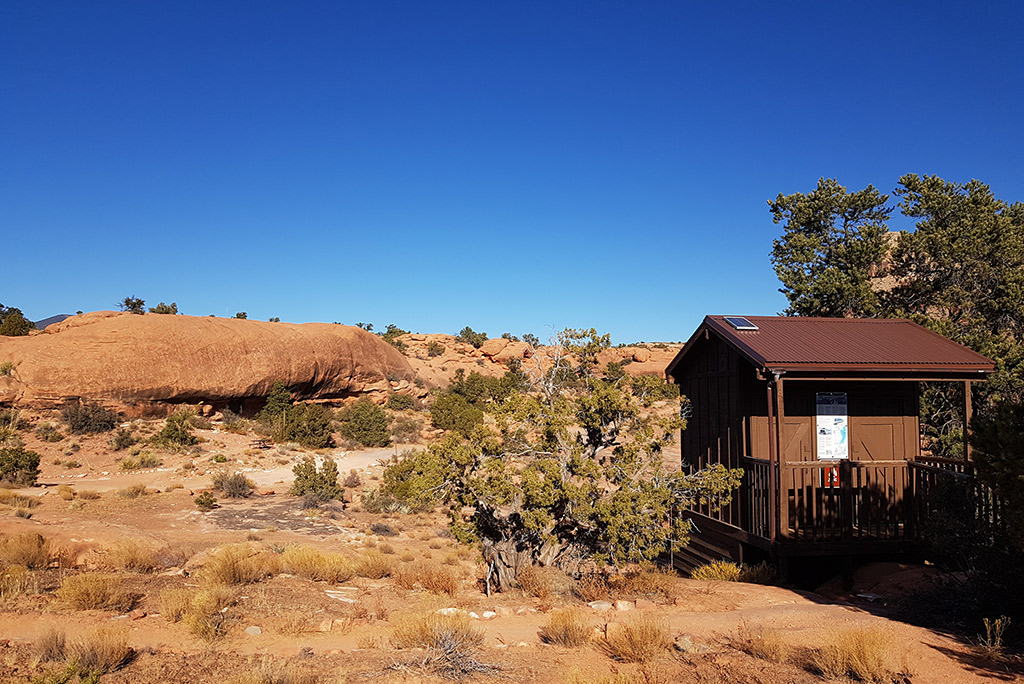 Tuweap Campground Rules:
vehicles and vehicles combinations longer than 22 feet (6,7 m) are prohibited (this is the total length)
campers must arrive by sunset
fires and charcoal grills prohibited
store all food and garbage in a vehicle, pack out all trash
seven-night limit.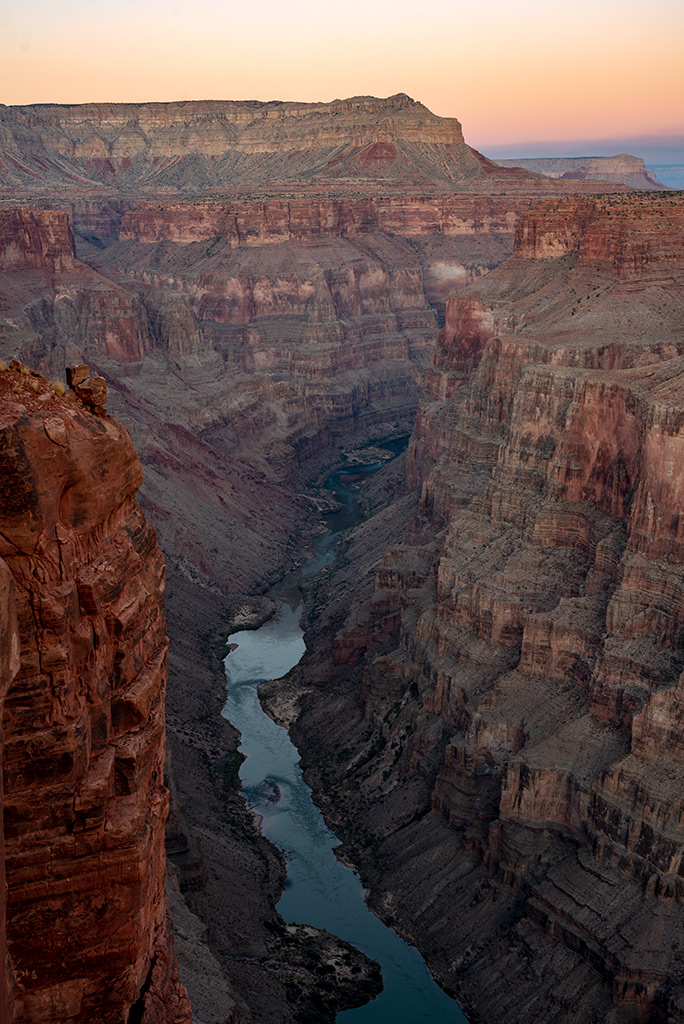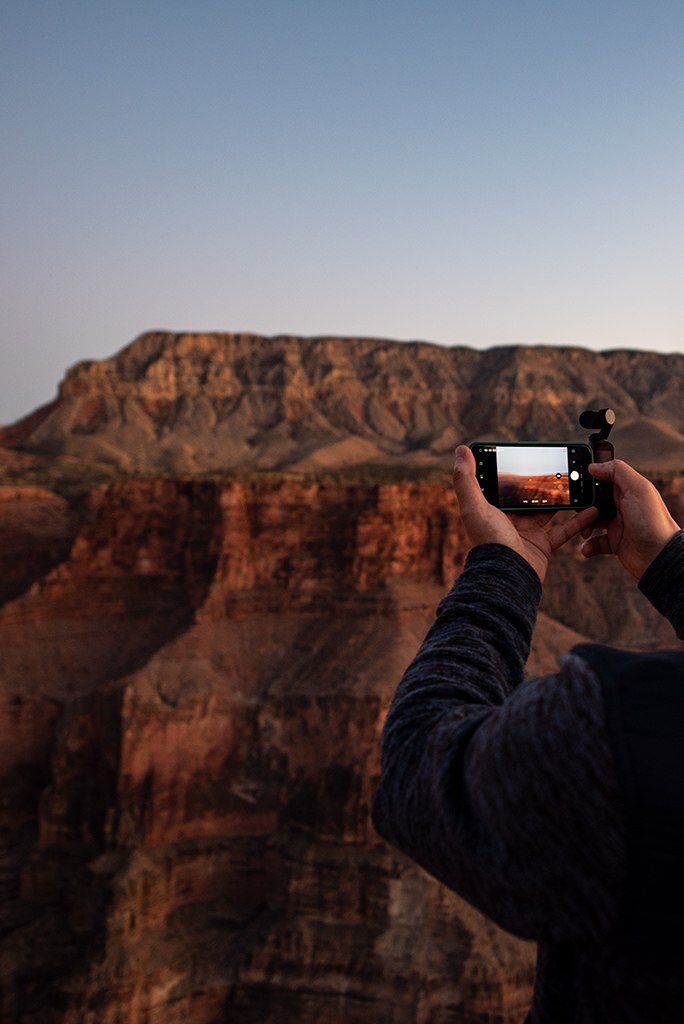 Where to stay if you don't have a permit for the Tuweap Campground?
If you can't stay at Tuweep Campground, the best place to stay is in Kanab. We love this small town with great lodging, food, and a perfect atmosphere. Our favorite lodging in Kanab is Best Western. But if you prefer RV Campground, our favorite in Kanab is Hitch-N-Post RV Park.
What's more, if you leave Kanab early in the morning, you have the chance to spend the whole day at Toroweap Overlook, wait for the sun to go down, and safely return to the town just after sunset. However, remember that it is forbidden to stay at Toroweap at night without a permit, so leave the park just after sunset.
Toroweap Overlook Hiking Trails
Tuckup Trailhead from Tuweep Campground
Our favorite hike from Toroweap Overlook is The Tuckup Trail, which gives you a spectacular taste of Esplanade slick-rock. The trail is 3 miles (5 km) long to Cove Canyon. You will be rewarded with endless views of the Grand Canyon area. And you can listen to the roar of the Colorado River.
How to get to the trailhead?
Access the Tuckup Trailhead is on the north of Tuweep Campground or, if camping, from site number 10.
How does this trail look?
Toroweap Overlook is dramatically different than other Grand Canyon viewpoints. Tuweep peers over a steep gorge set in a narrow corridor 3,000 feet (915 m) below the rim. Walk to the edge is a breathtaking experience because Toroweep Overlook is the wildest of viewpoints, and there are no facilities.
What is the difficulty level, and how to prepare for this hike?
It's an easy-moderate trail. It leads through the plateau above the cliff of the Canyon. No water is available, so take a lot of water and nutritious snacks for your hike. Especially during summer, when it's sweltering. The area is rocky and desert. Watch your step to protect the delicate ecosystem and stay on the trail. Above all, watch out for cactuses that densely cover the plateau because you can hurt yourself with cactus spines. Take trekking boots with excellent traction and trekking pools.
And finally, be careful of the edges. A spectacular 3000-foot (910 m) abyss offers dramatic views, but it might also be dangerous if you step too close.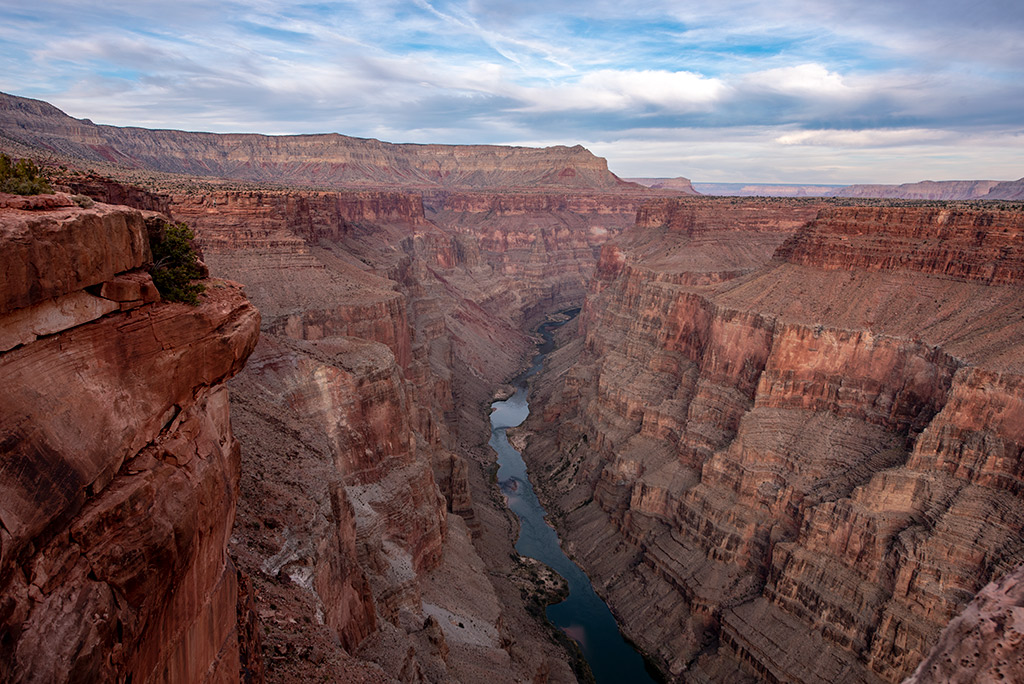 Saddle Horse Loop Trail from Tuweep Campground
It's an easy and short walk with spectacular views. If you have only a few hours on Toroweap, it's worth taking this trail. This 45-minute loop offers breathtaking views of the Colorado River in the steep gorge below the rim. It's also a colorful walk through the native plant gardens protected and nourished by beautiful displays of micro-biotic crusted soils. Every inch of crusted toppings signifies 10 years of growth and erosion.
Access to the trail is along the road between Toroweap Overlook and Tuweap Campground or from the trailhead near campsite number 5.