Kahekili Highway – West Maui Thrilling Drive
Kahekili Highway (also known as Hawaii Route 340) is a notoriously narrow and winding county-maintained road that runs along the northern coastline of West Maui. It's a breathtaking, wild, and quite challenging drive. So be sure to follow our tips to safely prepare for this scenic Kahekili Highway adventure!
This article may contain affiliate / compensated links. For full information, please see our disclaimer here.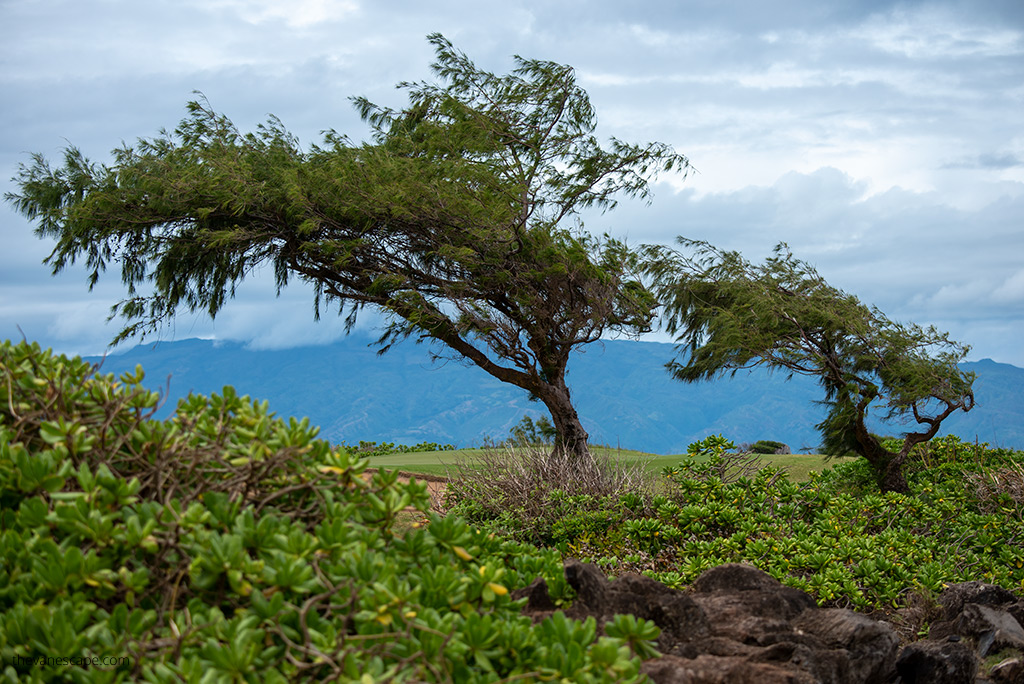 What is Kahekili Highway?
Update: We are shocked by the tragedy that has affected Maui in the last few days of August 2023. We deeply sympathize with the victims of the catastrophic wildfires, all those who lost their loved ones and possessions due to the tragedy. Some of the tips below may be outdated at the moment. If you are planning any trips, check the local guidelines first: "All non-essential travel to West Maui (including Lahaina, Napili, Kaʻanapali, and Kapalua) is strongly discouraged through the month of August. Other areas of Maui (including Kahului, Wailuku, Kihei, Wailea, Makena, and Hana), and the other Hawaiian Islands, like Kauaʻi, Oʻahu, Lanaʻi, and Hawaiʻi Island, remain open". Don't cancel your Maui vacation. Consider rescheduling instead. Maui will need your tourism dollar to rebuild when it's ready.
Imagine a winding road with steep inclines and declines. Intense hairpin turns, blind corners, no guardrails, the possibility of falling rocks, only one very narrow lane, with steep drops of hundreds of feet down to the rocks and sea below. And all this with oncoming traffic. It is Kahekili Highway, a hidden gem of Maui. Kahekili Highway (Hawaii Route 340, Hawaii State Highway 340) is considered one of the most dangerous roads in Hawaii and the USA.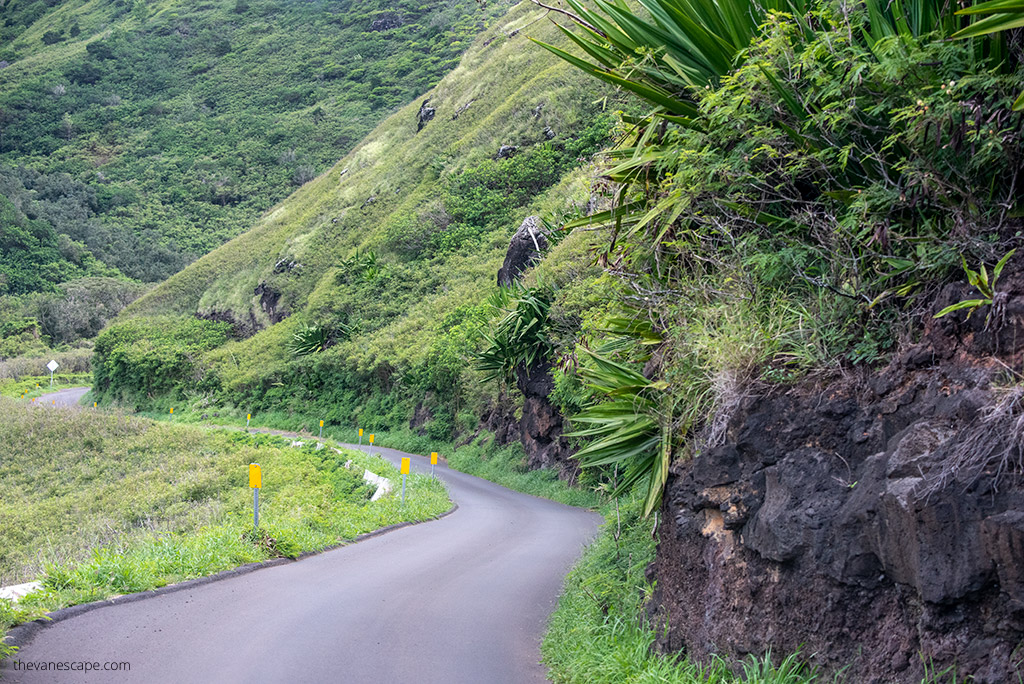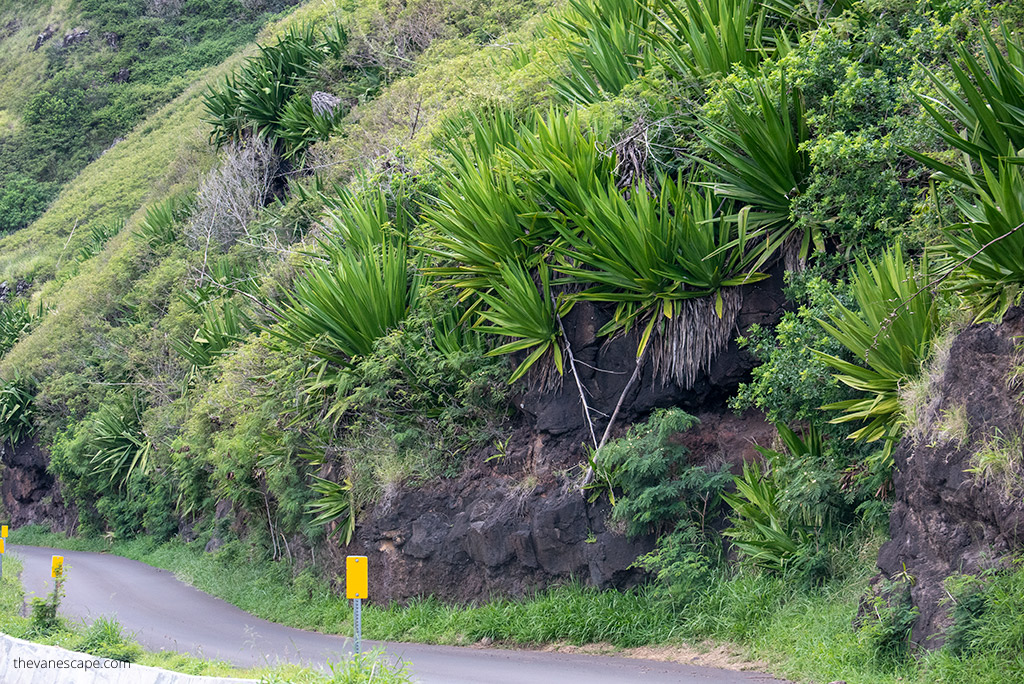 Kahekili Highway is less known and less touristic than Maui's famous Road to Hana. This route requires more driving skills than Road to Hana. We do not recommend the Kahekili Highway for everyone. It's a hazardous road. There were fatal accidents along the Kahekili Highway. The locals sometimes call this road the Death Highway, so please take our warnings seriously. You can get dizzy and nauseous on this stretch. It's common, especially with children. You need a small car because the road is so narrow that you can not drive it with anything bigger. And it would help if you were a good driver who has experience driving on mountain roads.
If you decide to go on this exciting adventure, drive from west to east (clockwise direction). Most cars head that way, and you'll be driving along the side of the mountain, not the cliffs. The Road to Hana is a breeze compared to the Kahekili Highway. But like the Road to Hana, there are so many fantastic things to see, do and eat along the way, from eccentric art galleries to panoramic views and hiking trails to truly exceptional banana bread. So we share our tips on what to do and how to prepare for this scenic and thrilling drive.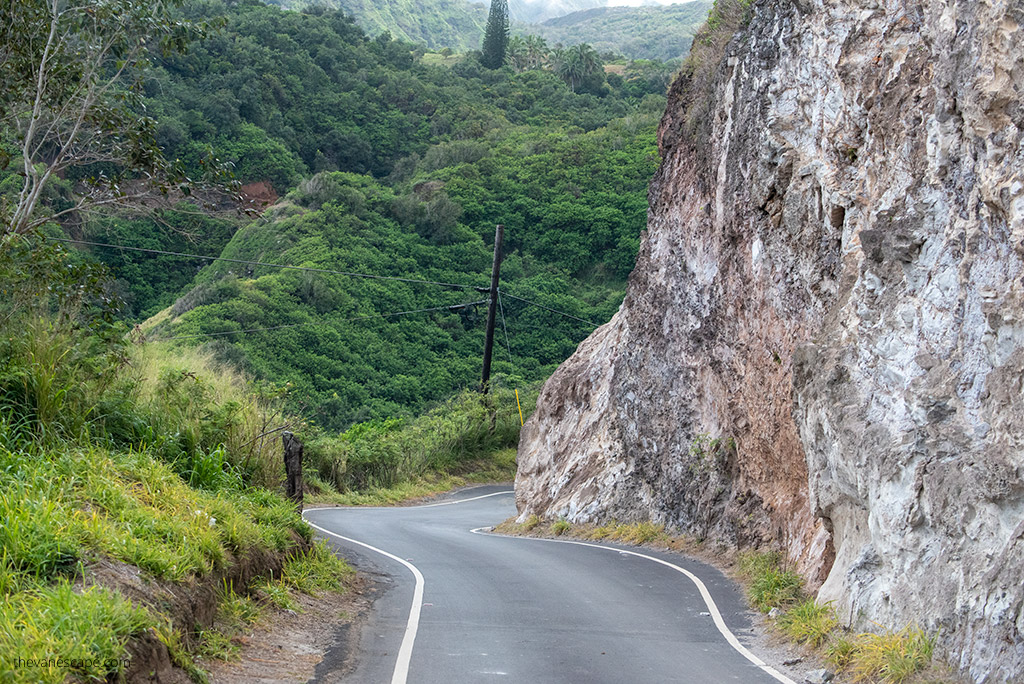 Where is Kahekili Highway?
Kahekili Highway (Hawaii Route 340) is a single-lane paved road framed by rocks on one side and sheer cliffs on the other. It stretches 21.5 miles from Kapalua to Wailuku in western Maui. It traverses a remote area in Maui. It's a legendary road known for switchbacks, narrow passages, and dangerous road conditions. But the views are breathtaking. But to be precise, it is necessary to explain that Kahekili Highway is divided into three sections.
The first section begins in Kahului and takes the end of Highway 30, in the extension of Honoapiilani Highway. This section is a nice, wide, and fairly smooth road that is safe.
At the end of Highway 30, the excellent road gives way to a simple asphalt road that narrows and becomes very narrow and winding. This road is called Highway 340, but it is better known as the Kahekili Highway. And this part is challenging and can be scary and dangerous. Especially dangerous is the stretch of highway between mile markers 6.9 and 16.3, where the changeover from state to county maintenance occurs in Maui. So be extremely careful.
Finally, the last few miles of the Kahekili Highway (Route 340) from Waihee Point Lookout no longer present any difficulty, as the road widens again near the first residential areas of Waihee-Waiehu. The road ends near Waiehu Beach Park, next to the town of Wailuku.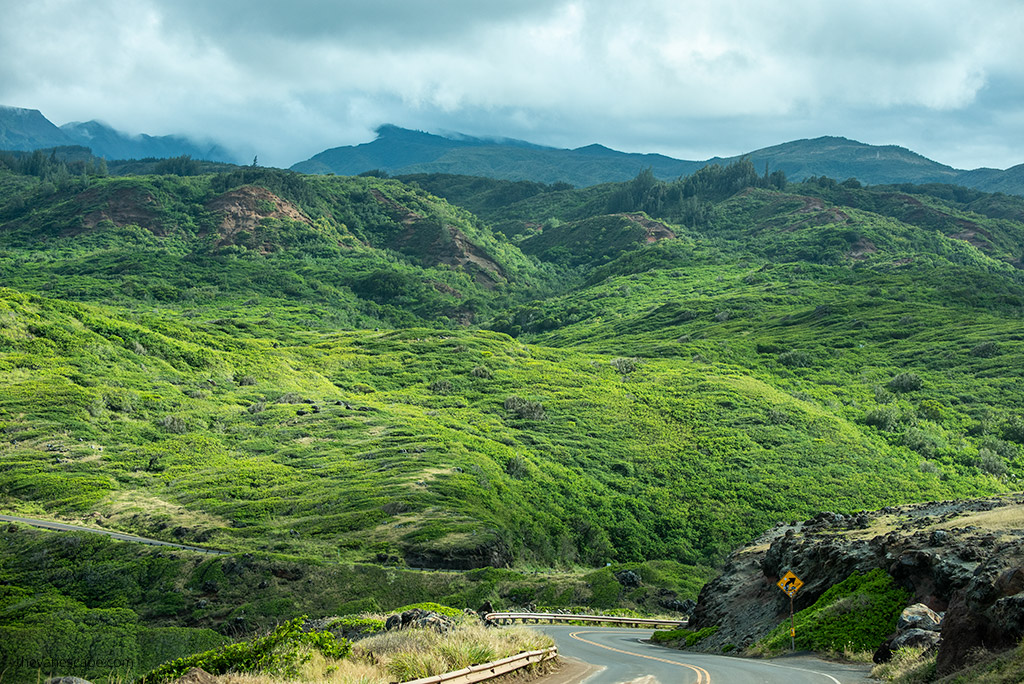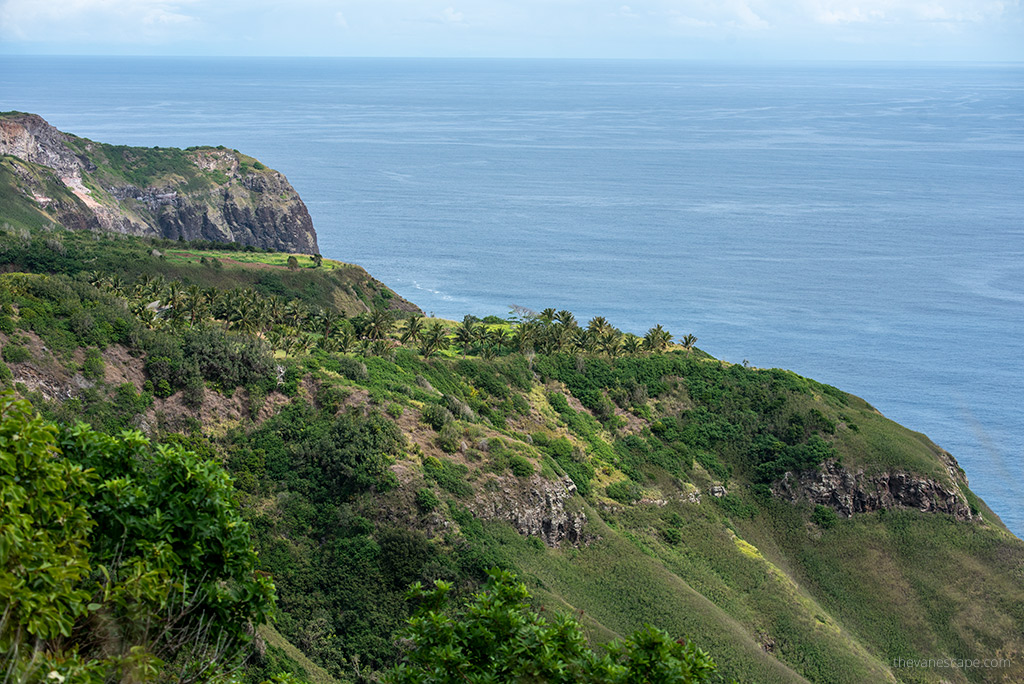 Kahekili Highway Driving Tips
The car
Rent a small car. Large vans or SUVs are more difficult to navigate on this narrow road, especially since it is barely one lane wide, but is traveled in both directions. You don't need a four-wheel drive as the road is paved. You will find the cheapest rental car rates at RentalCars.com. Check out their prices for your Maui road trip.
Make sure you are not violating the contract of your rental car. Check with the car rental company to see if they allow cars to be driven on the Kahekili Highway.
There are no gas stations along the way, so make sure you have enough gas.
Driving directions and driving tips
Start your trip in a clockwise direction from the Lahaina side (west to east). This has the advantage of driving on the inside of the road rather than along the edge. Also, you can look farther ahead to see oncoming traffic.
From Lahaina to Wailuku via Kahekili Highway is only 36 miles. Driving time without stops is about 2 hours. But you need at least 4-5 hours to enjoy the scenery and see the highlights on the Kahekili Highway.
Don't drive this route after dark. It's hazardous. Start your ride in the morning, so you have a chance to stop at all viewpoints and see all the attractions. The road is not lit, and many sections do not even have reflectors.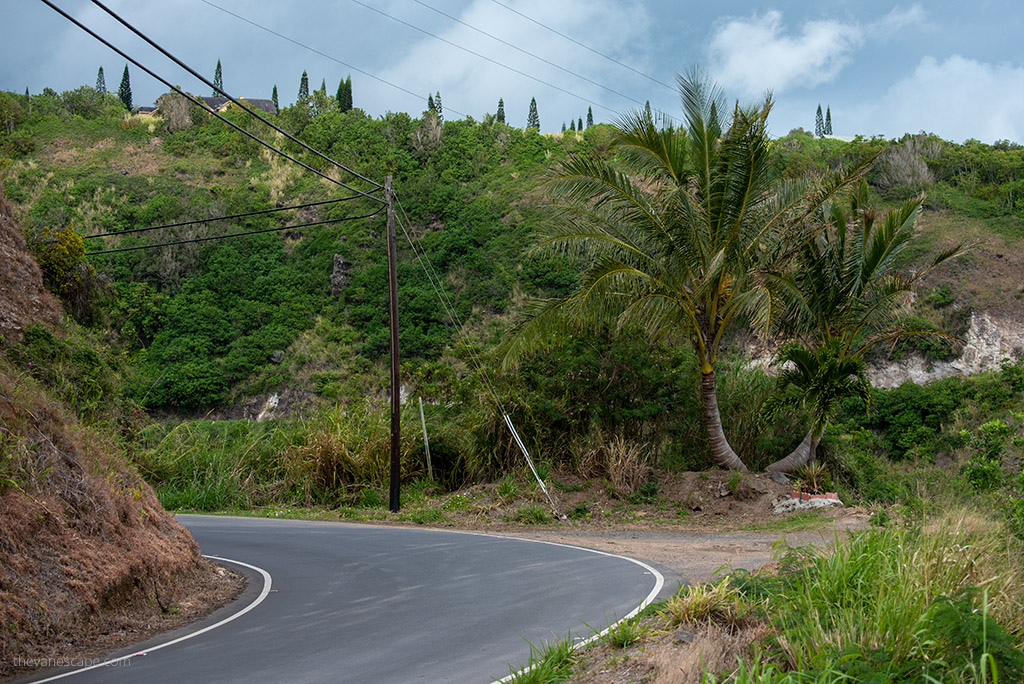 The driver should rest before this drive. It is a demanding, tiring and stressful way.
Drive very carefully, obeying all rules and road signs. Drive slowly. Speed limits are usually 15 mph or slower.
Don't play music in the car. Thank's that you will be able to hear the beeps of oncoming traffic.
On this route, a fairly common way of driving in some Asian countries can be helpful. On a one-lane road, if you can not see around the corner to see if someone is coming towards you, honk a few times to let people know you are coming around the corner.
Stop only in designated areas. Do not stop on the road to take "just one photo." It's life-threatening.
Be respectful of locals.
What to wear and what to pack for the Kahekili Highway trip?
Also, check the weather before you travel. It is much safer to drive on a sunny and dry day, as rains make the road slippery. Stones and mud can slide off.
Dress comfortably for the trip. Make sure you wear comfortable waterproof shoes with a good grip. Not flip-flops. Some viewpoints, places, and attractions require a short walk. These are not tricky trails, but the rocks are slippery, is often wet, so shoes with good grip are essential.
Pack a supply of water and snacks. Along the way, there are a few places where you can snack, but they are not always open. In our Maui itinerary, you can find out more about what to pack for your Maui vacation.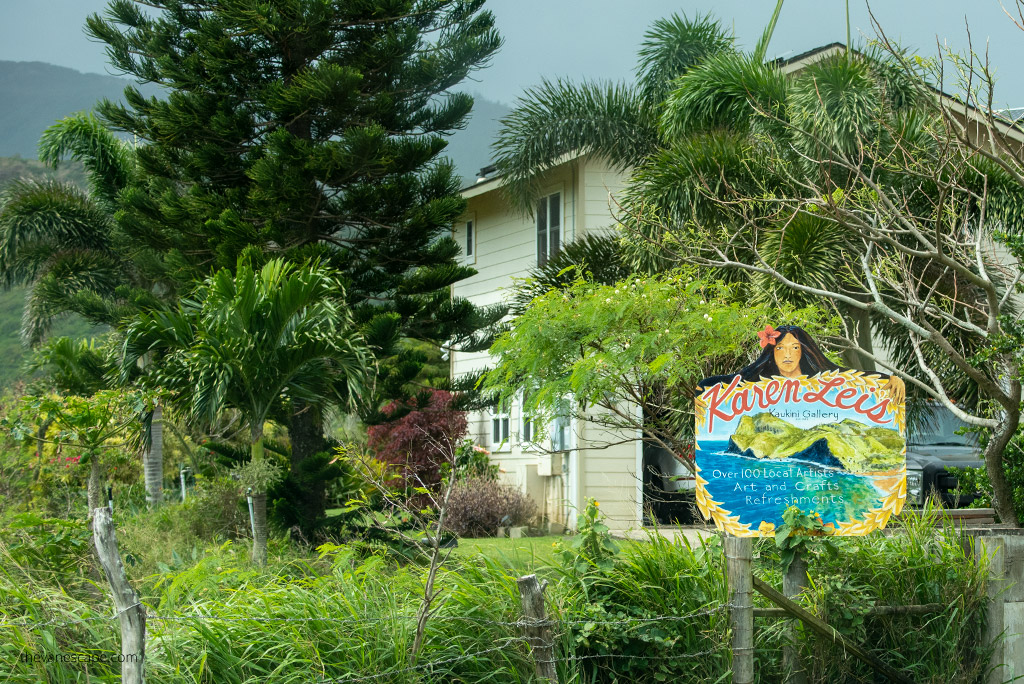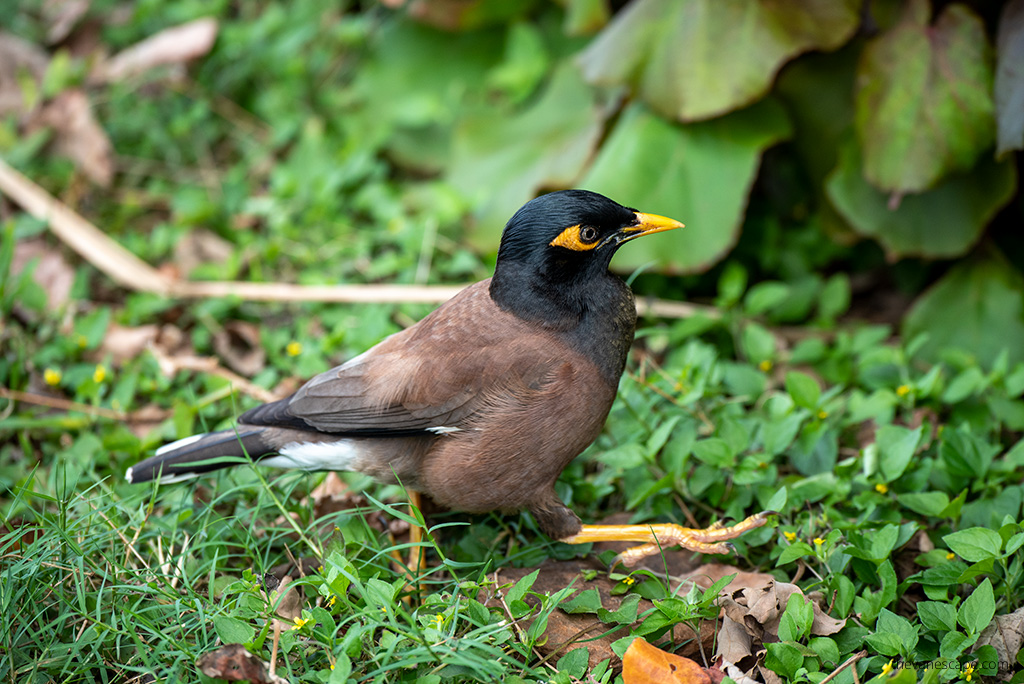 Suppose you do not want to risk taking the Kahekili Highway. In that case, you will find other exciting inspirations on what to see and how to spend an exciting time on this paradise island in our 5-day itinerary to Maui.
Kahekili Highway vs Road to Hana – which is better?
It isn't easy to decide which road is better. Undoubtedly, the Kahekili Highway is more challenging, dangerous, strenuous, wilder, and less touristy than the Road to Hana. Kahekili Highway is different from the Road to Hana. It's not nearly as tropical and does not have waterfalls, but it offers numerous sweeping ocean views that are missing on the Road to Hana. The drive Kahekili Highway is more exciting, but it is also scarier at the same time.
But if you already had the opportunity to drive the Road to Hana and were tired of that route, it was exhausting for you, to give up the Kahekili Highway. It will be much worse, and more tension and stress will be.
Route 340 is a road for adventurous types who like high adrenaline levels. We strongly advise against driving Kahekili Highway with children and people with sensitive stomachs or travel sicknesses. If you are less experienced in driving on mountain serpentines, we also suggest you give up this route. Also, there are fewer stopovers here than on the Road to Hana.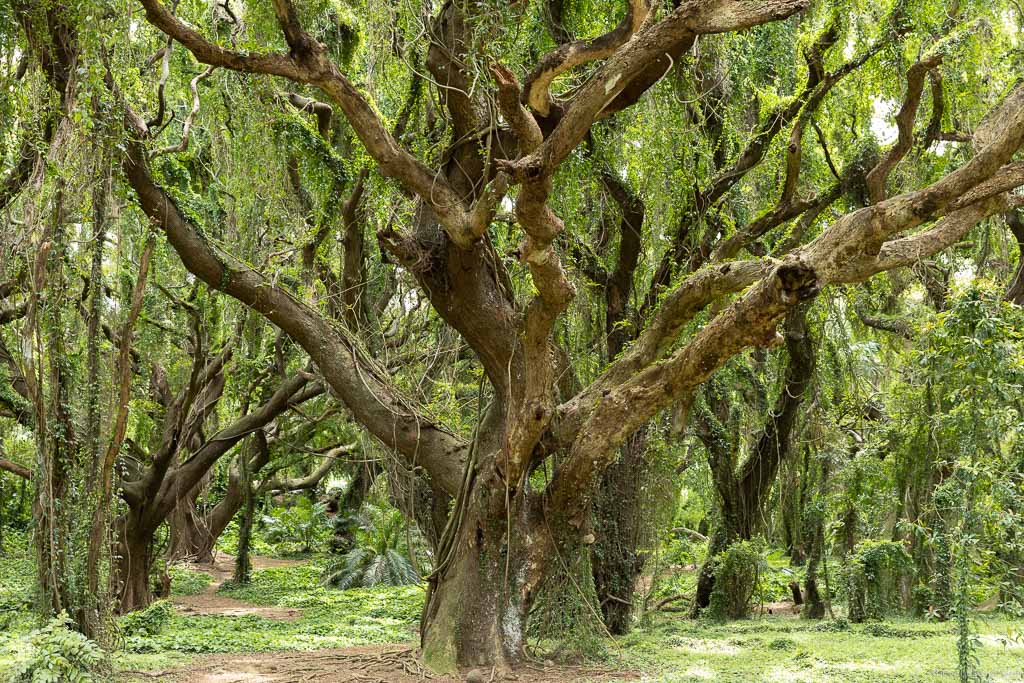 The Best Stops on the Kahekili Highway
Honokohau Bay with Makaluapuna Point
Honokohau Bay is located where the Honoapiilani Highway (Highway 30) ends, and the actual Route 340 (Kahekili Highway) begins. This is one of the most beautiful bays on the west coast of Maui. It is worth stopping here for a moment because the rugged mountain serpentine ride is about to begin.
Aside from the standard views of the bay, it's worth hiking a few minutes to the coast to Makaluapuna Point. There you'll find amazing rock formations. What's more, the Makaluapuna Pointon at the Kapalua coast is home to Maui's largest labyrinth. Makaluapuna Point is also known as Dragon's Teeth. As the nickname suggests, the lava rocks resemble the mouth of a dragon. Thus, you can admire the sharp, jagged prongs that rise high into the air. On your way, you will see a sign explaining the history of the area. It is an ancient Hawaiian burial site known as Honokahua Burial Site. Immediately north of Dragon's Teeth, you will notice a large stone circle. This is a prayer labyrinth (Dragon's Teeth Labyrinth). In 2005, the white coral labyrinth was built as a peace project, a true act of love by an anonymous builder.
Labyrinths are tools for walking meditation and spiritual growth. They are based on patterns that are thousands of years old and have roots in many cultures and traditions. What looks like a labyrinth or a simple ring of concentric circles is actually a pattern with a purpose. The many twists and turns on the one path of the labyrinth reflect the journey of life, which includes changes of direction, transitions, realization, and completion.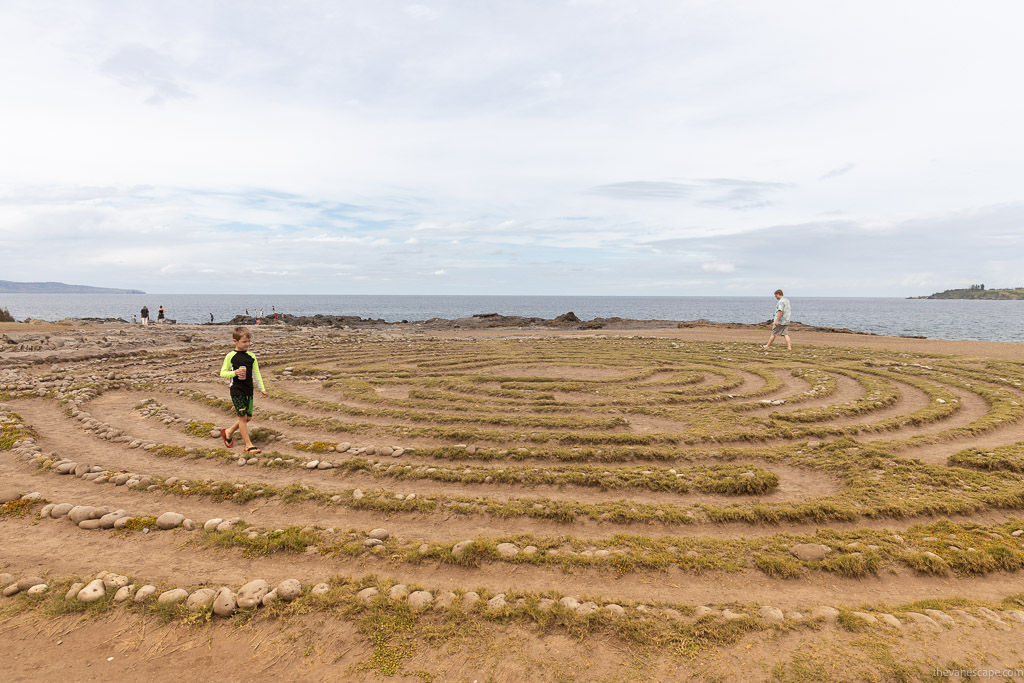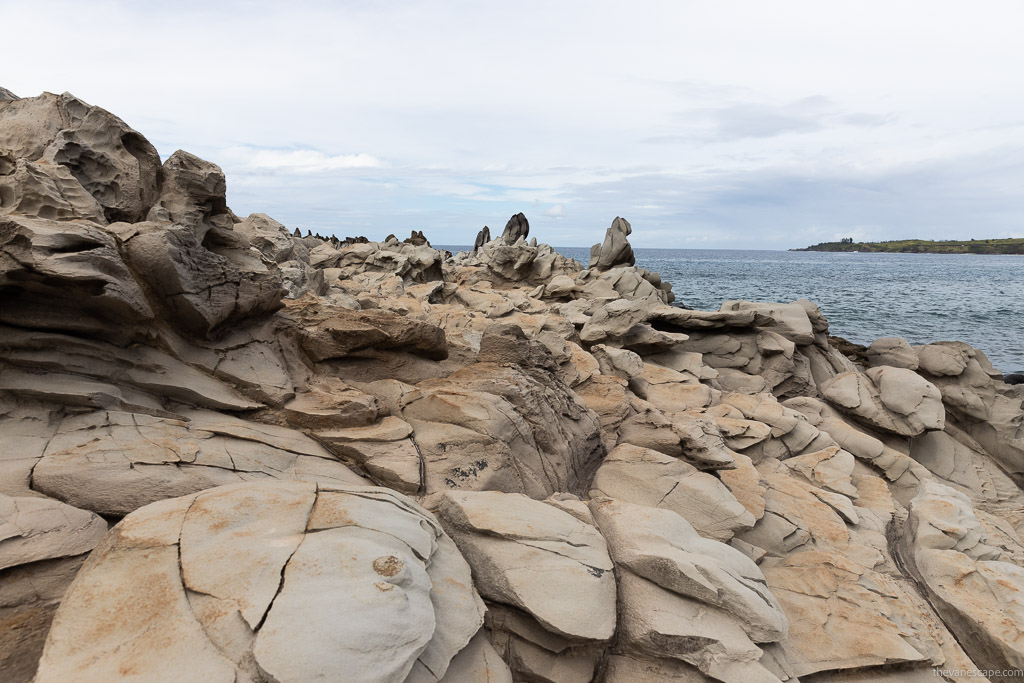 Honolua Bay and Honolua Park on Kahekili Highway
Honolua Bay is part of the Marine Life Conservation District, meaning it is illegal to fish and take natural resources including marine life and even rock. The bay has also been recognized by today's Hawaii as an area of significant cultural, historical, and ecological value. Honolua means "two harbors" in Hawaiian, and this bay has historically been used by Honolua Ranch to accommodate deliveries and shipping products. It's a great place to snorkel. But to get to the cove you will have to wander through magical forests – Honolua Park. The trail is easy and flat. It will take you about 10 minutes to walk to pebble beach.
If you want to snorkel, don't forget to pack a Snorkel Set, and Quick-Drying Towel, and check out this detailed guide to the best diving spots in Honolua Bay.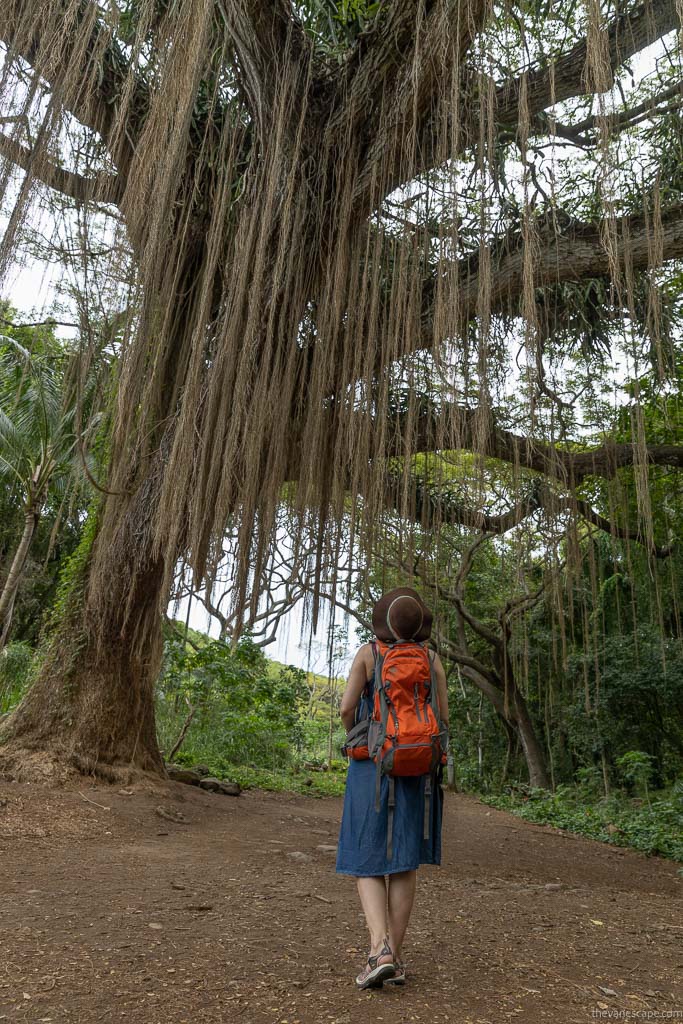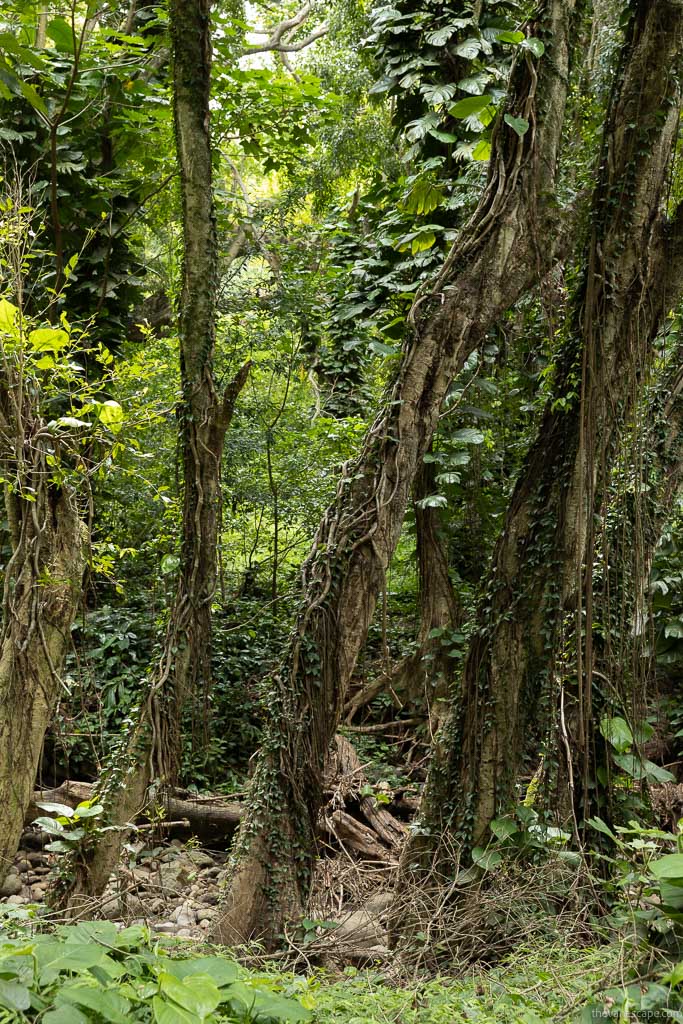 Nakalele Blowhole
The Nakalele Blowhole is near milepost 38. This is one of the most exciting attractions of the Kahekili Highway. The blowhole is located in the lava shelf and can reach over 100 feet high when air and water are forced up through the hole, causing a geyser-like effect. Be careful because the water hits full force if you want to get closer.
The rocks are very slippery. It is easy to trip. The water coming out of the hole also has a strong breeze, so be careful. You can get thoroughly wet. Both you and your camera can get wet.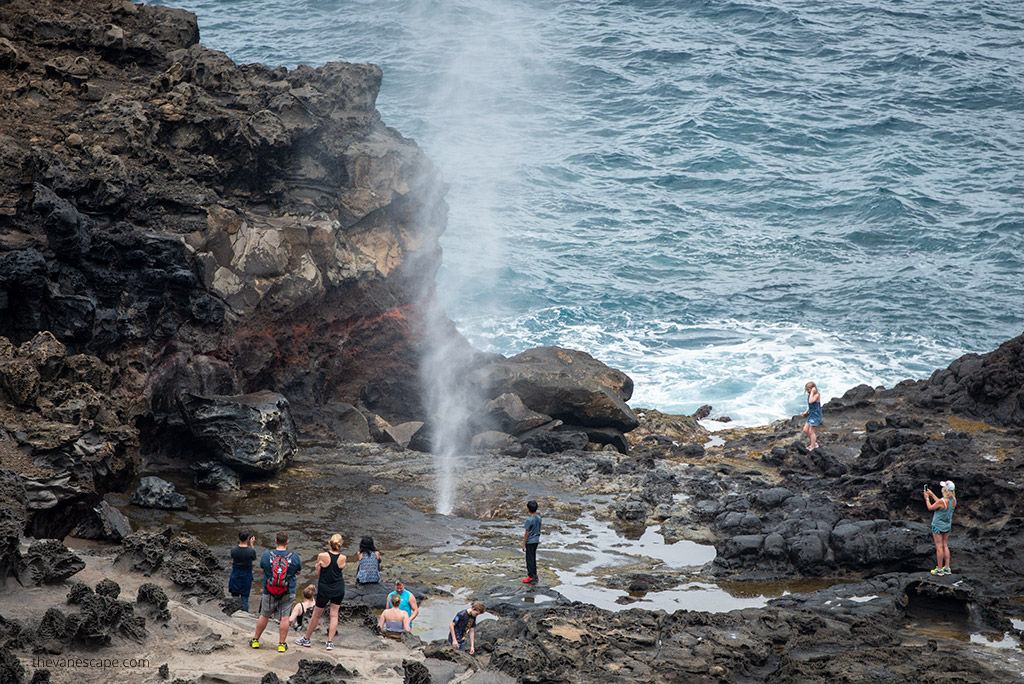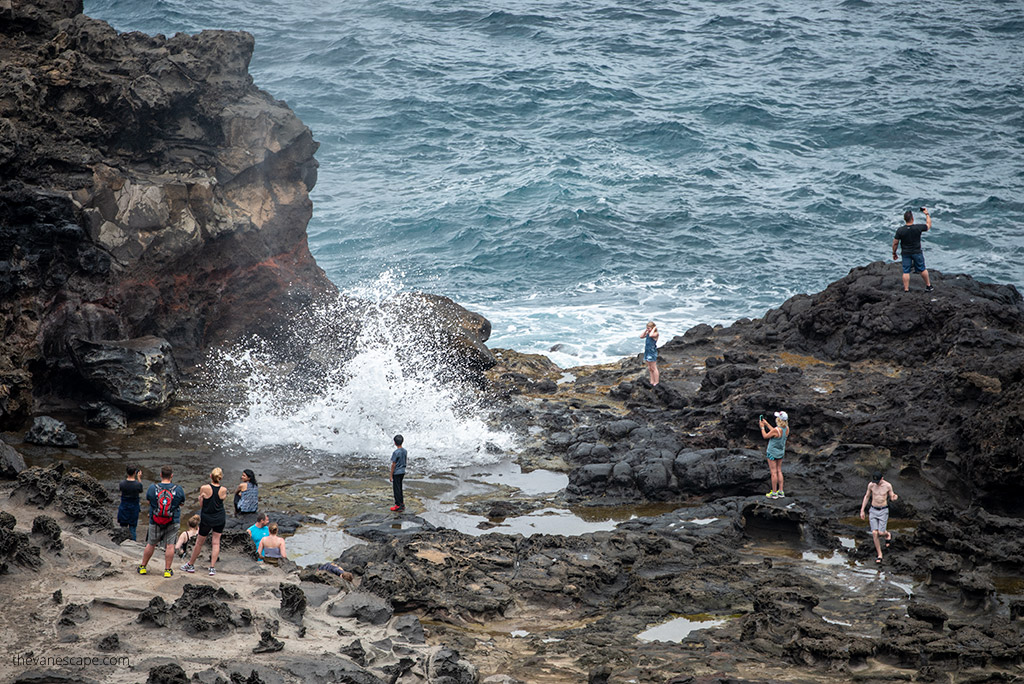 Ohai Loop Trail on Kahekili Highway
The Ohai Loop Trail is an excellent short hike on the north side of West Maui. Find the trailhead for the Ohai Trail between mile markers 40 and 41. It's an easy trail, but take shoes with good traction. This Nā Ala Hele trail is a great place to stretch your legs. It will take you about 30 minutes. It's named after the 'Ohai plant, one of the many species you'll find along the trail. The Ohai Loop Trail takes you over rolling hills along the scenic north shore several hundred feet above sea level. The hike passes several eroded rocks along the sea cliffs. There is also a short paved trail, the Overlook Trail, leading to a headland where you can see sweeping views of the rugged coastline. This is also a great place for whale watching in the winter. So bring a pair of binoculars.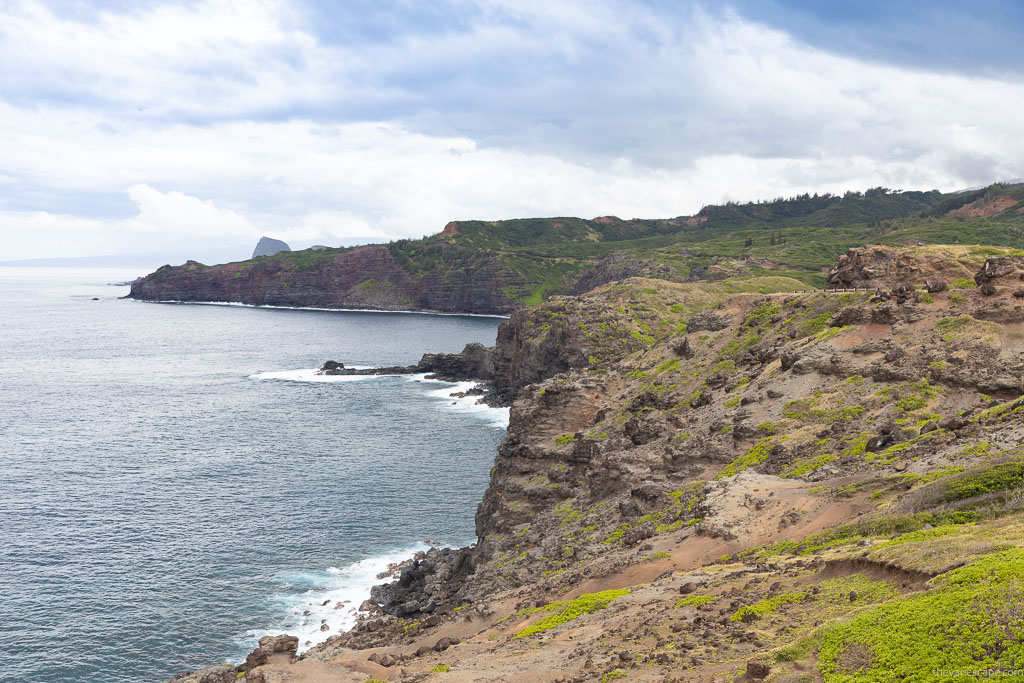 Olivine Pools Trail
First of all, a warning – although the name refers to pools, you should not enter or swim in these pools. This is a dangerous place to swim. Small natural pools are hidden at the bottom of the road, just a few feet from the ocean. The water level fluctuates depending on the weather of the previous days, with waves filling the small cavities more or less. However, a big wave can come at any moment, and you will find yourself underwater. As a reminder, a small stele by the path mourns Steven, a 34-year-old young man who was swept away by a wave in 2017 and whose body was never found.
The hike itself is beautiful and short, but rocky and slippery. Be on the lookout. There is an excellent viewpoint of the cliffs.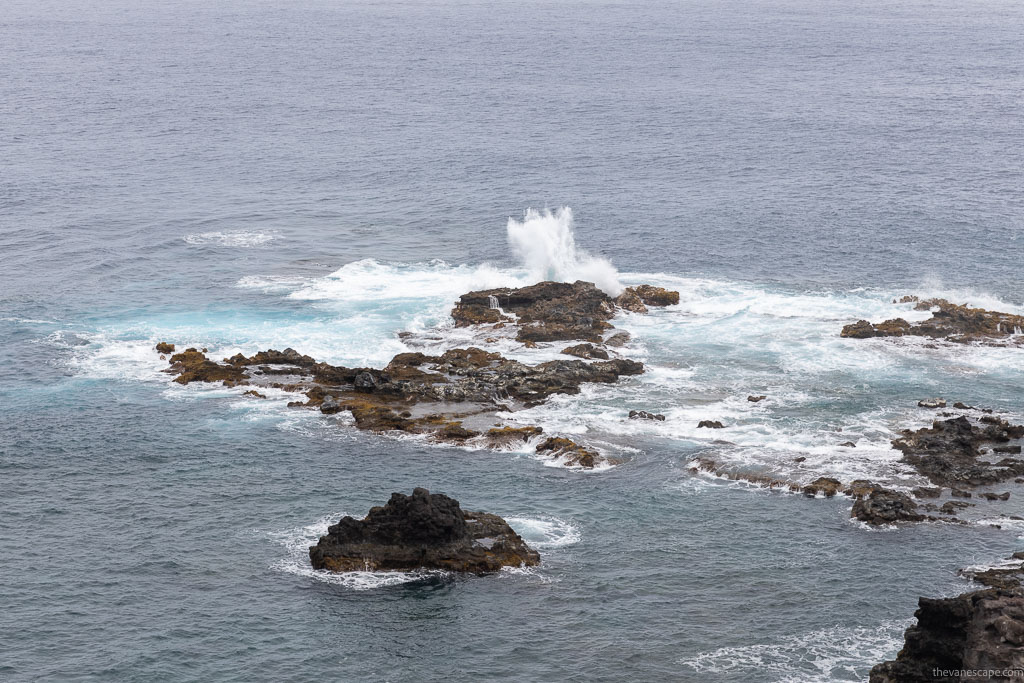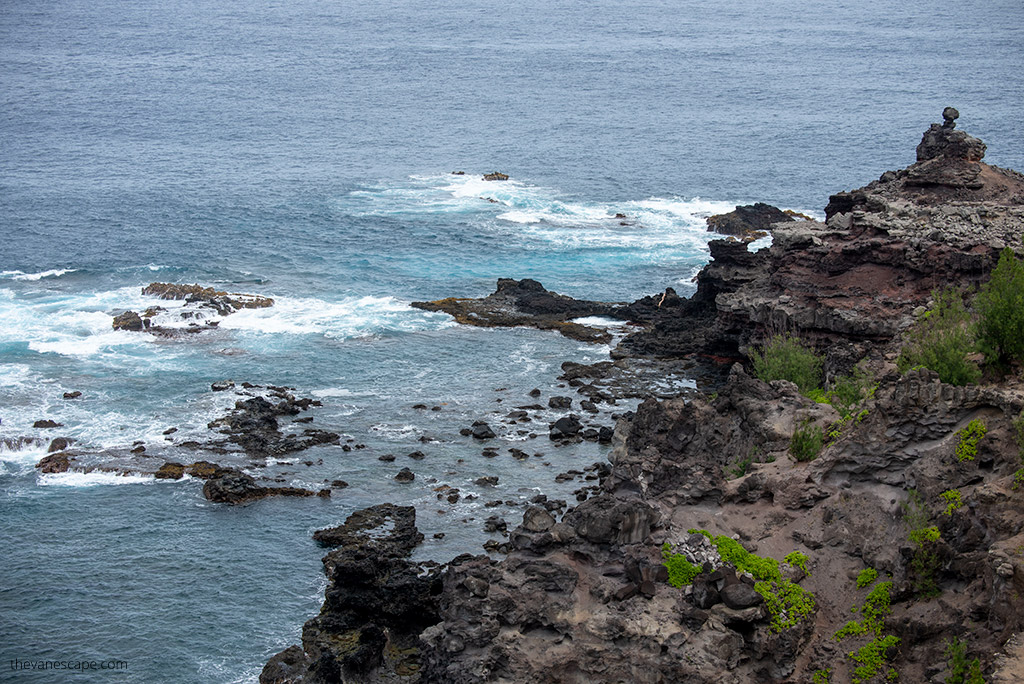 Kahakuloa Village
Kahakuloa Village is located near mile markers 14 and 15 on Kahekili Highway. The community of Kahakuloa Village is one of the most isolated spots in Maui. The village is home to about 100 people. The most interesting spots are Lorraine's Banana Bread and Banana Cream Pie, Julia's Banana Bread, Karen Lei's Gallery, Bruce Turnbull Studio, and Sculpture Garden. Be sure to stop in the village and rest for a while. It's one of the most charming stops on the Kahekili Highway.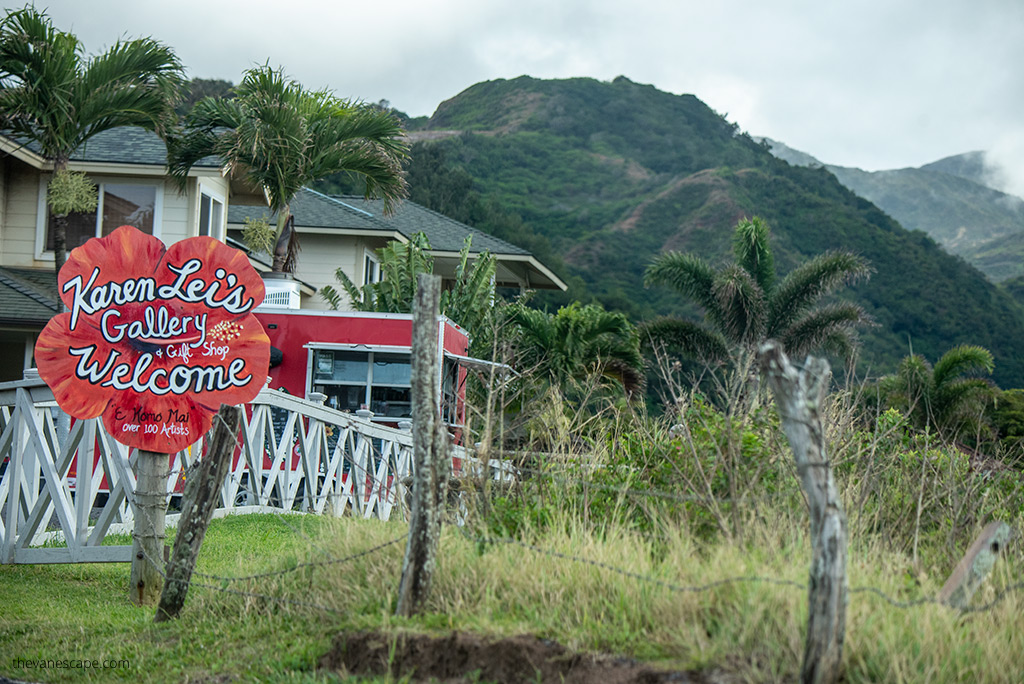 Ranch Land
The road climbed out of the village of Kahakuloa and into ranch country with wide vistas of green pastures. Cows graze in the pastures, and the landscape is idyllic.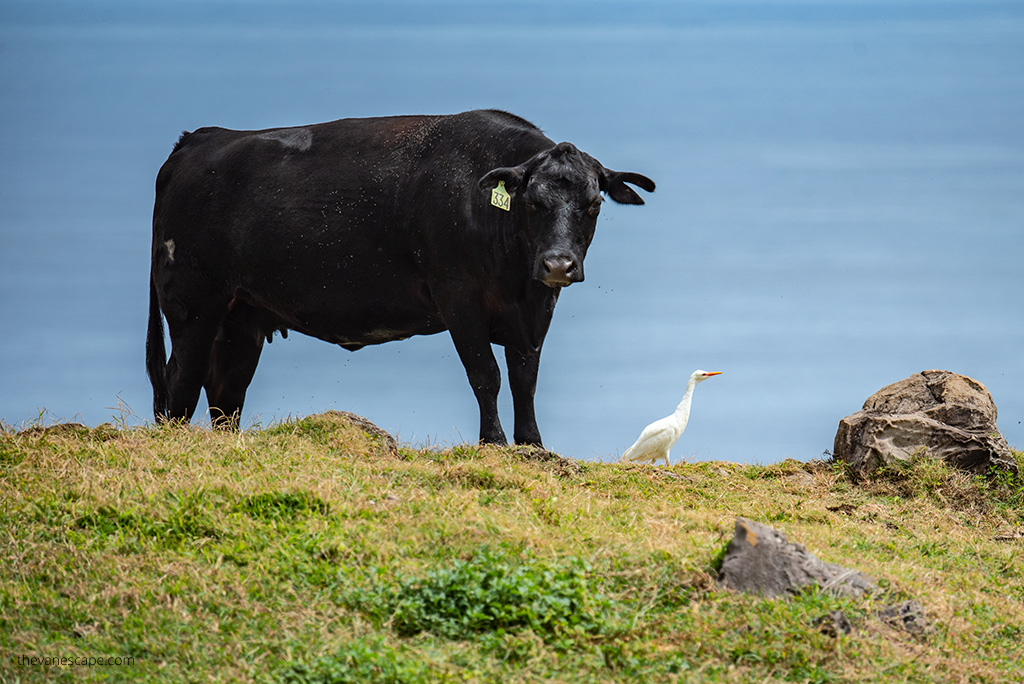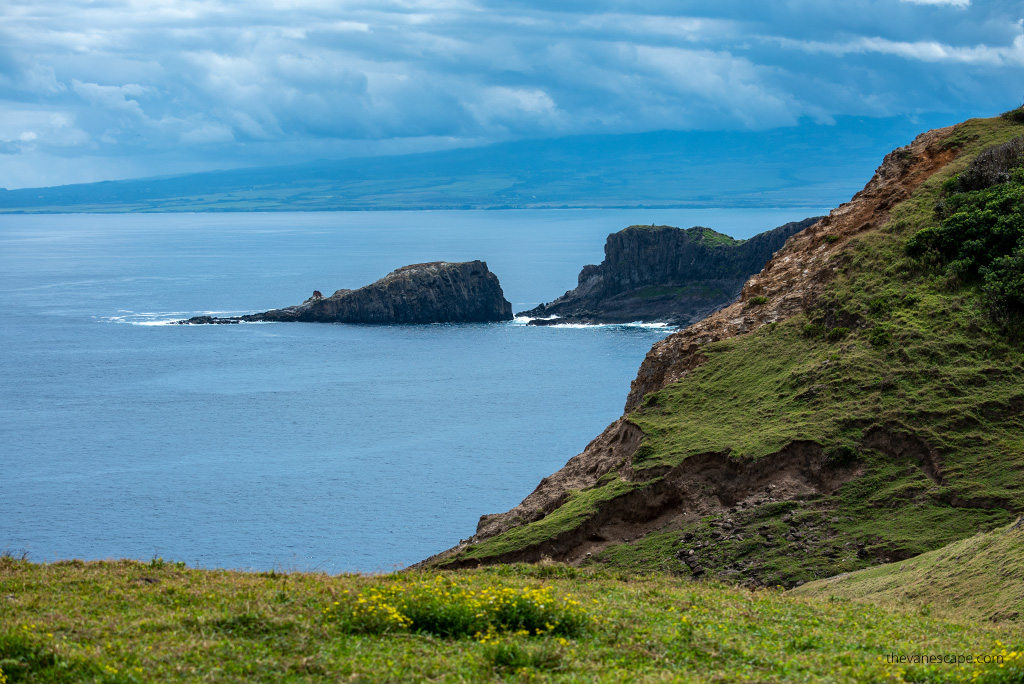 Kahakuloa Head
Kahakuloa Head (Pu'u Koa'e) is located near the sleepy village of Kahakuloa. The 636-foot (194 m) hill is a picturesque landmark. It is believed that Kahakuloa Head was one of King Kahekili's favorite places to cliff jump. King Kahekili was king on Maui in the mid-1700s. He climbed this hill and jumped into the ocean below. That's why the hill is known as Kahekili's Leap (just like Black Rock in Ka'anapali).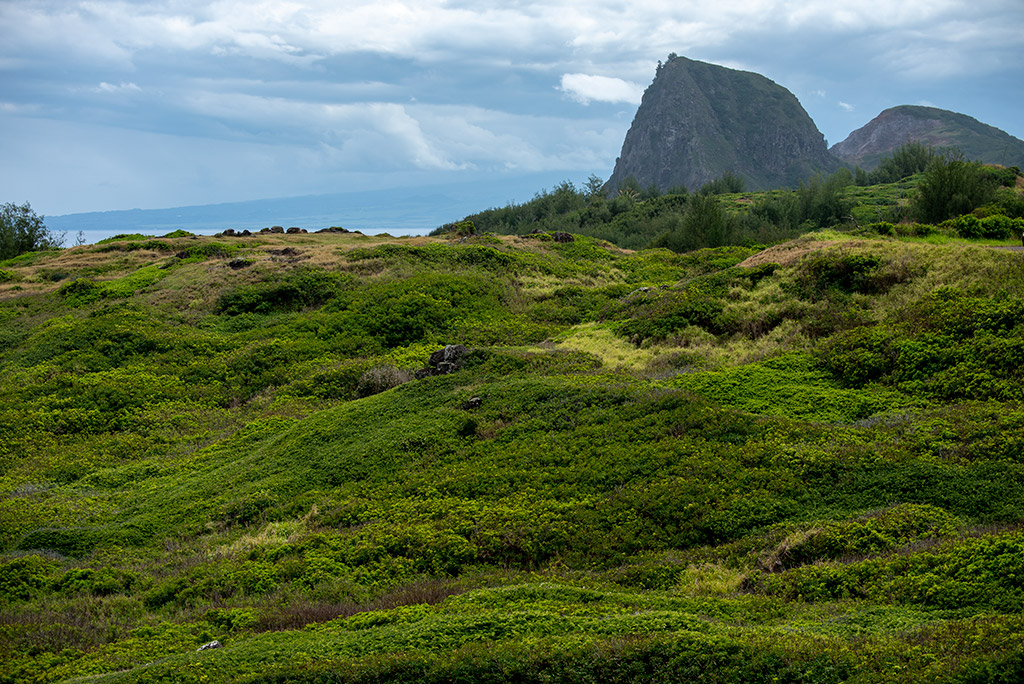 Fruit Stands
The last part of the ride is much easier. Before you head down Kahekili Highway to Waihee, you'll pass several small fruit and artist stalls. So, it's a good idea to stop, buy something local to support small businesses, and stretch your legs.