How to find the King of Wings New Mexico?
The King of Wings is an awe-inspiring hoodoo located in the New Mexico wilderness. Its unique appearance defies gravity, making it stand out among the surrounding rock formations. The boulder extends 10-12ft beyond the pedestal, creating the illusion of a massive wing stretching into the vast, forgotten landscape. If you're interested in discovering this hidden gem, we share tips on locating the King of Wings in New Mexico.
This article may contain affiliate / compensated links. For full information, please see our disclaimer here.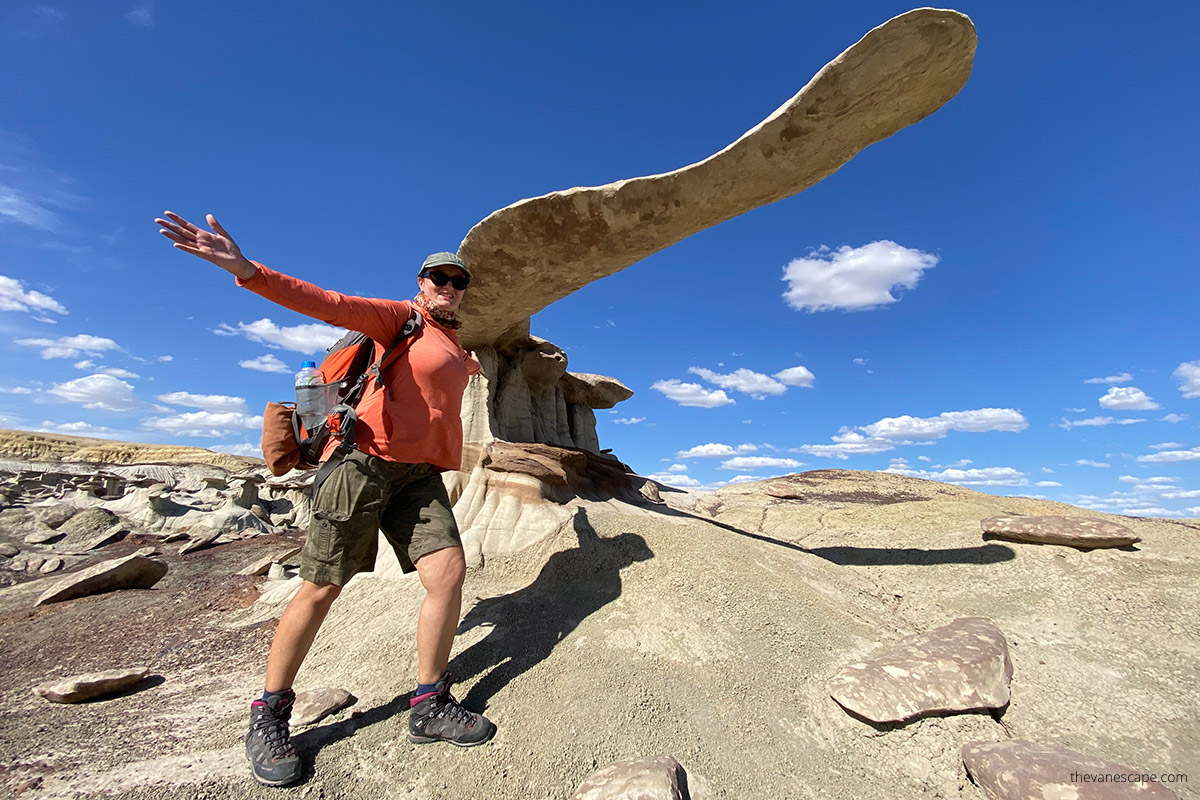 What is the King of Wings in New Mexico?
Have you heard of King of Wings, aka Momo's Wings? King of Wings is an incredible natural wonder located in a remote area of the San Juan Basin in northwestern New Mexico. This stunning hoodoo features a large boulder perched atop a clay pedestal, with a unique twist – the boulder extends at least 10 feet beyond the pedestal, creating the illusion of a massive wing stretching into the sky.
However, finding King of Wings can be challenging as no signs or trails lead to it. Without GPS, navigating the vast wilderness can be tricky, but we give you a lot of hints on how to find this spectacular rock. It's worth noting that King of Wings is situated within the Ah-Shi-Sle-Pah Wilderness Study Area.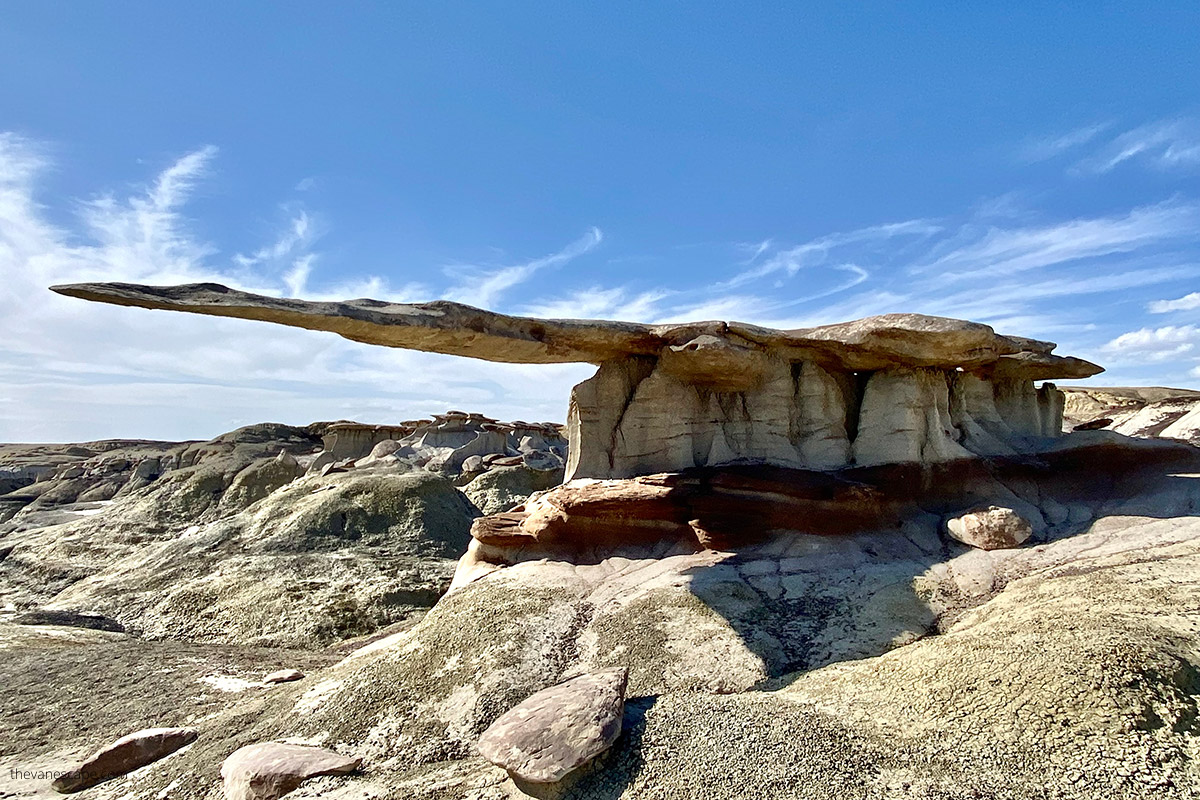 The Name
The man who discovered this rock formation was named Momo. Hence the formation was initially called Momo's Wings. However, over time, the name King of Wings has become common. This particular wing is significantly longer than the famous Stone Wings in the Bisti Badlands, so King of Wings is the more appropriate name for this impressive hoodoo.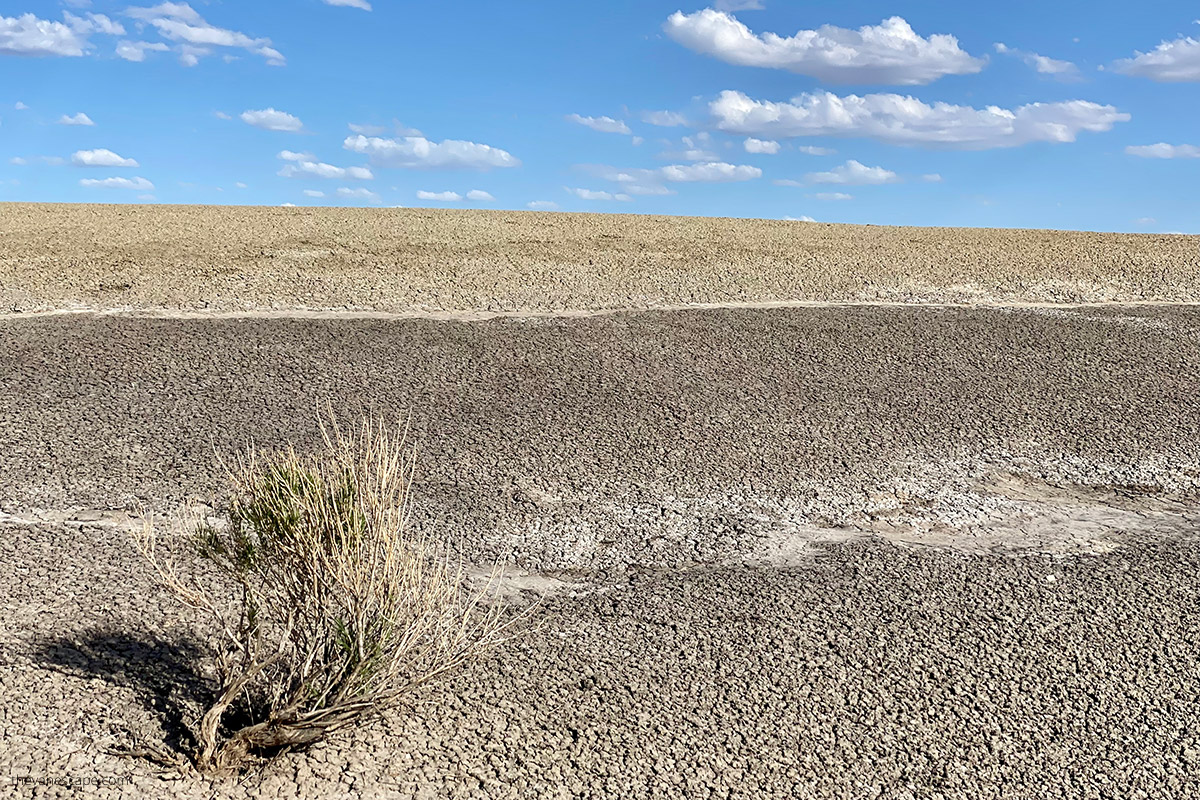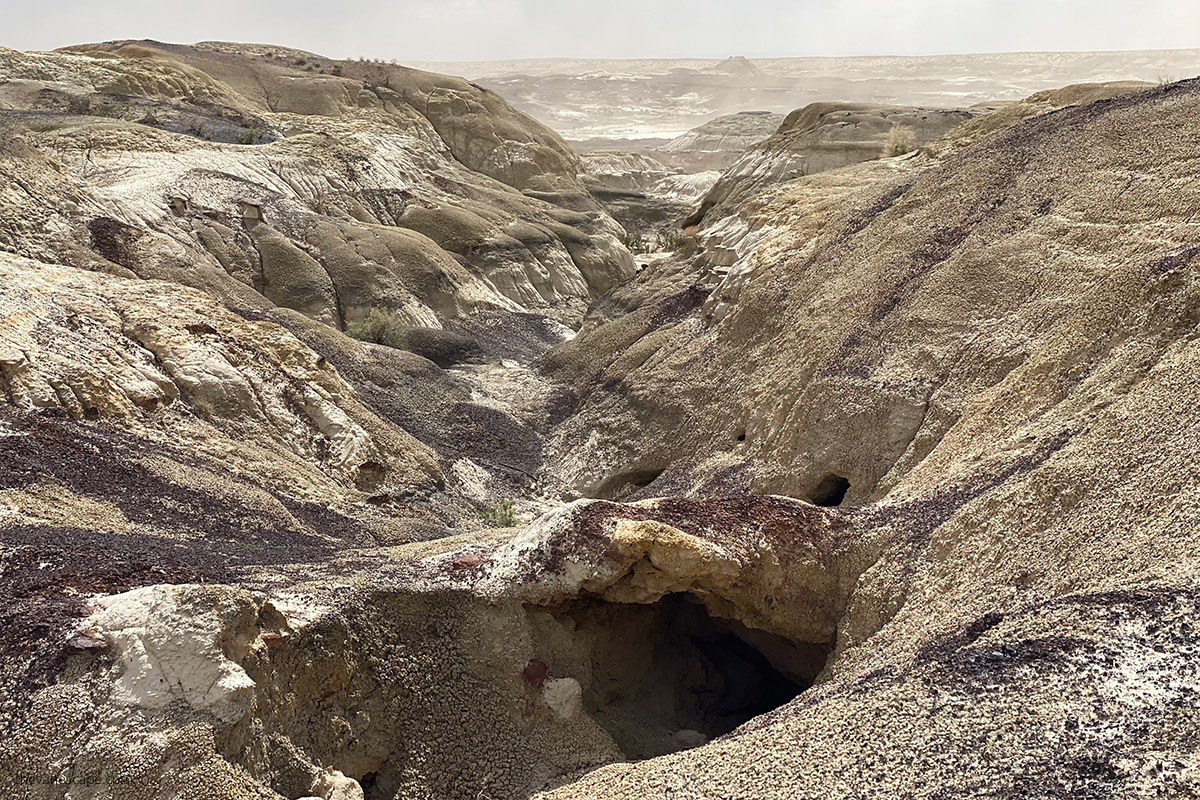 How big is the King of Wings New Mexico?
A boulder protrudes from the pedestal, appearing like a giant wing reaching up into the sky. It stretches about 10-12 feet beyond the pedestal, and King of Wings measures at least 30 feet in length.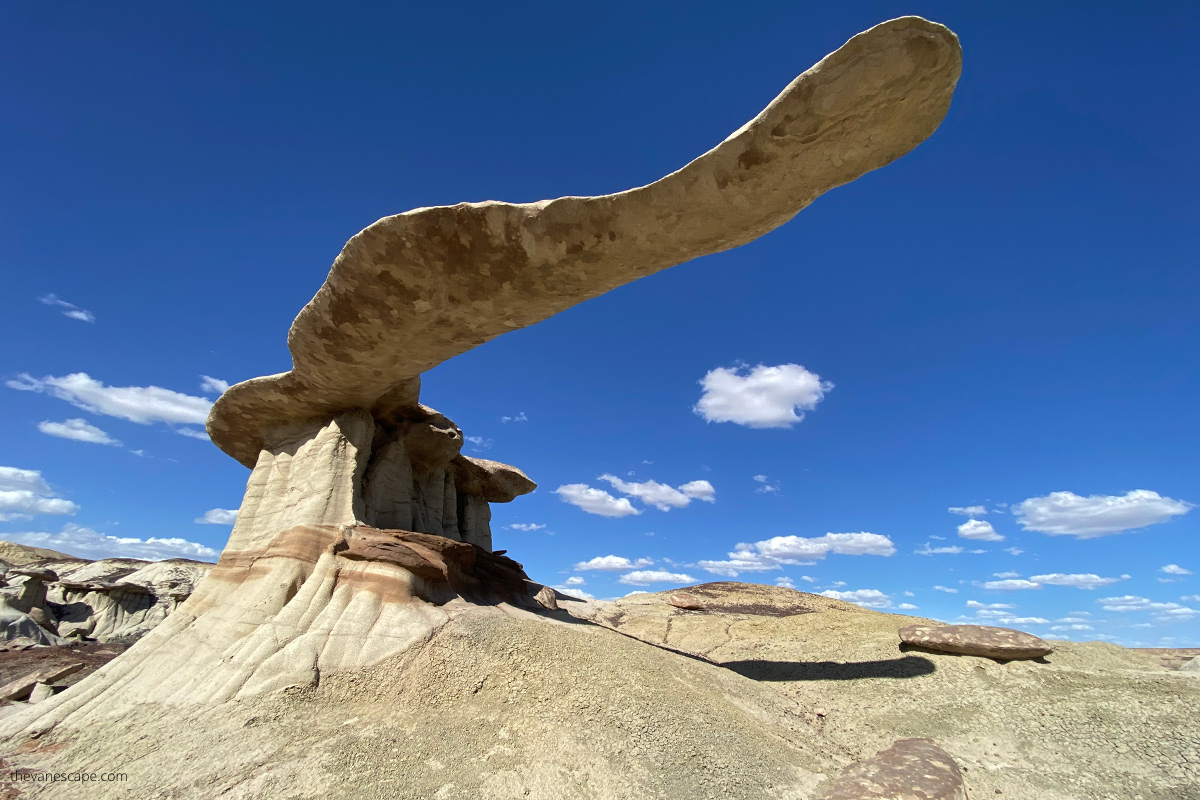 Our Experiences with Finding the King of Wings
We have had the opportunity and good fortune to access almost all of the known and unusual rock formations in this area of the San Juan Basin in northwestern New Mexico. This is why we have prepared a detailed Ah-Shi-Sle-Pah Wilderness Study Area guide. We encourage you to familiarize yourself with it because King of Wings is only a small part of this entire wilderness. In this guide, you'll find important information about the wilderness area, how to pack, when to go, and where to stay. We also have provided crucial details regarding the regulations and guidelines in the American Native Lands.
Moreover, we also prepared information about finding the unusual rock formations Alien Throne and Valley of Dreams. We also had the opportunity to hike several times in the eerie badlands of the Bisti/De-Na-Zin Wilderness. So we give you first-hand information and tips and share our experiences from exploring the badlands of New Mexico.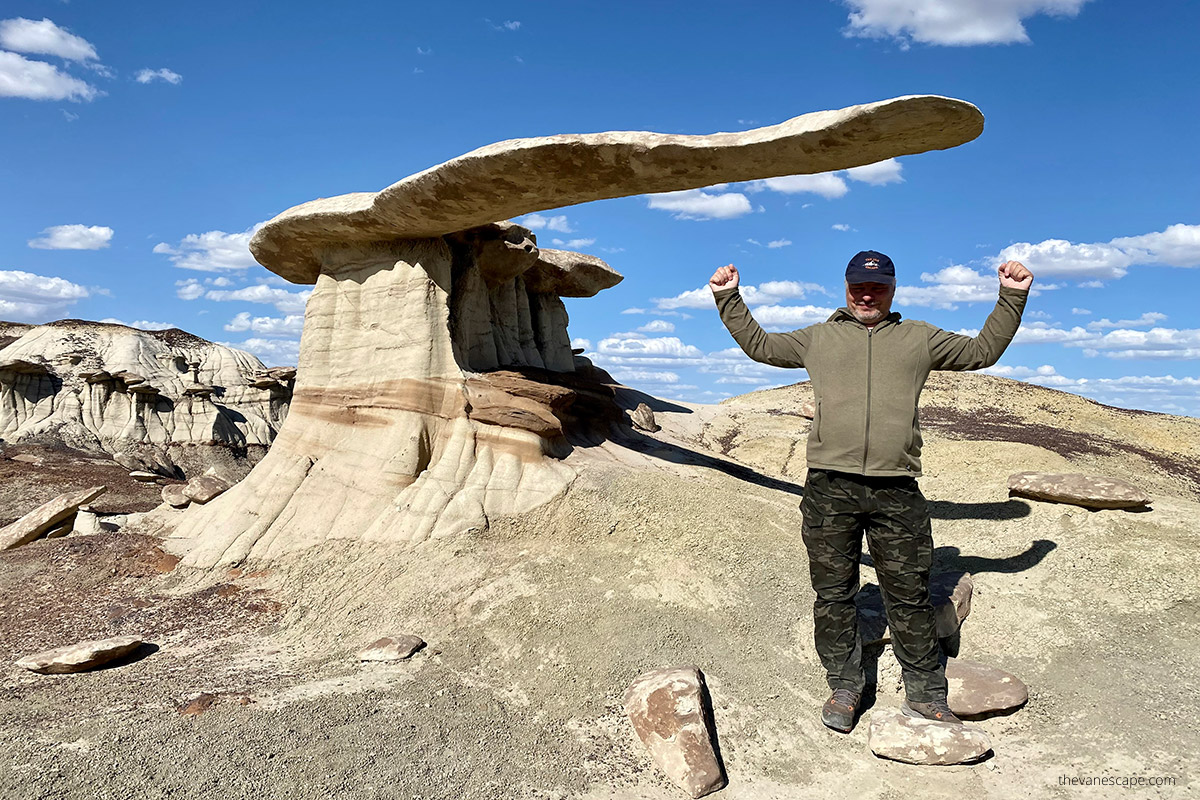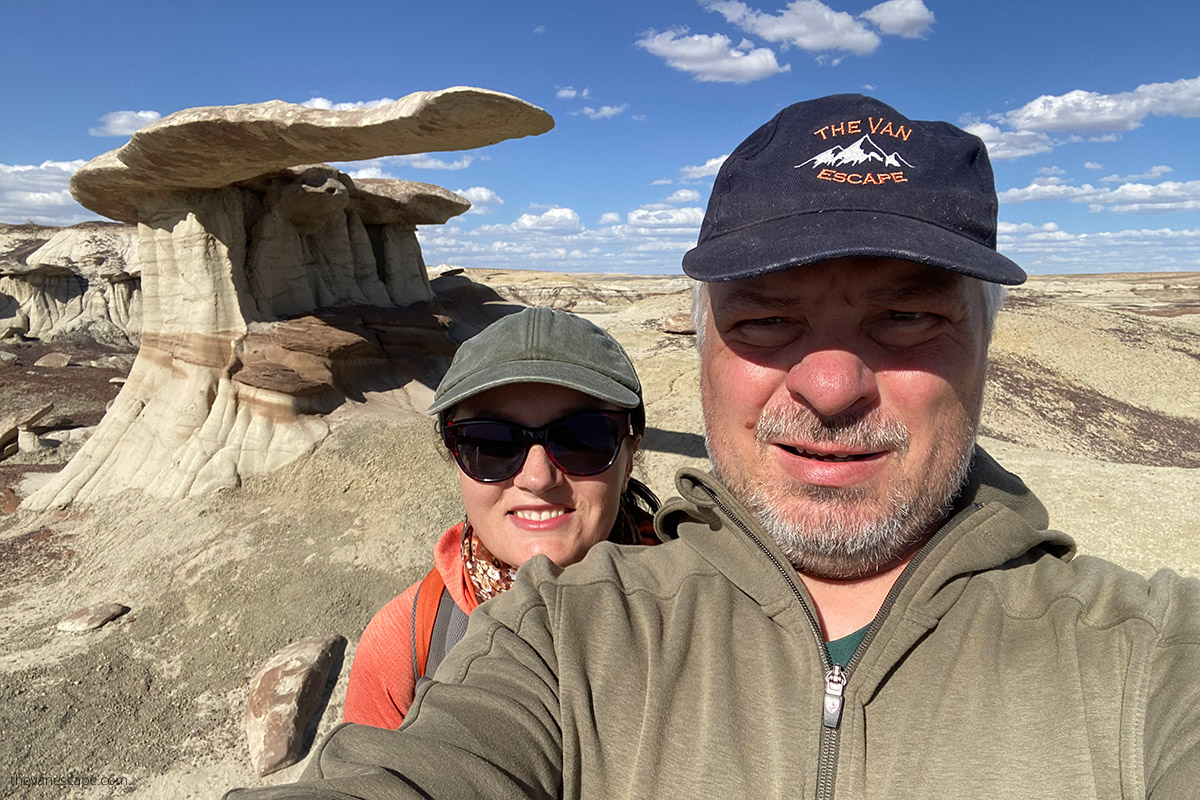 This guide focuses solely on the spectacular hoodoo King of Wings, also known as Momo´s Wing. However, finding King of Wings is not easy. We had several attempts to reach this unusual formation, and below, we share our hints and map.
The first time we had to run before a sandstorm. Although the weather forecast for the day of our hike was perfect, it changed within a few minutes. We had to escape from the sand and dust getting into our eyes, ears, and noses. We were less than 10 minutes from King of Wings but turned back because sandstorms can be very dangerous. Fortunately, we are always prepared for sudden changes in the weather. So, before you hike there, check what to pack for hiking in a desert.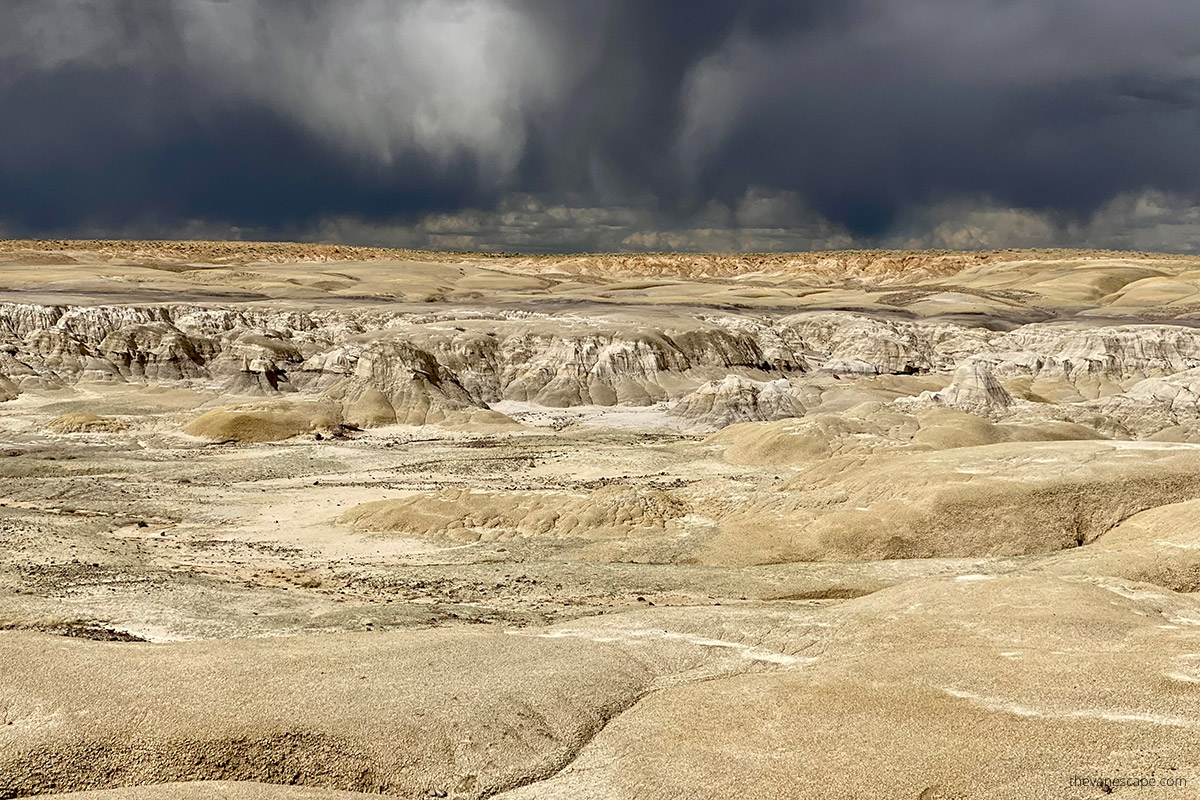 After two days, we returned to the King of Wings (Momo´s Wing) formation when the weather improved. Fortunately, we were able to find King of Wings New Mexico. But we didn't have enough time to stay for the sunset. Also, we were concerned about leaving the car on private land for any length of time, so we plan to return there soon to repeat the photos. Below, you'll find plenty of tips on how to get there and what to expect.
Our Tip: Before embarking on your trip, check the weather conditions. Roads in this area become impassable in inclement weather. While wet is also impossible to hike on the clay hills. Also, flash floods and sandstorms occur in this area. Do not go there in the rain. You will get stuck.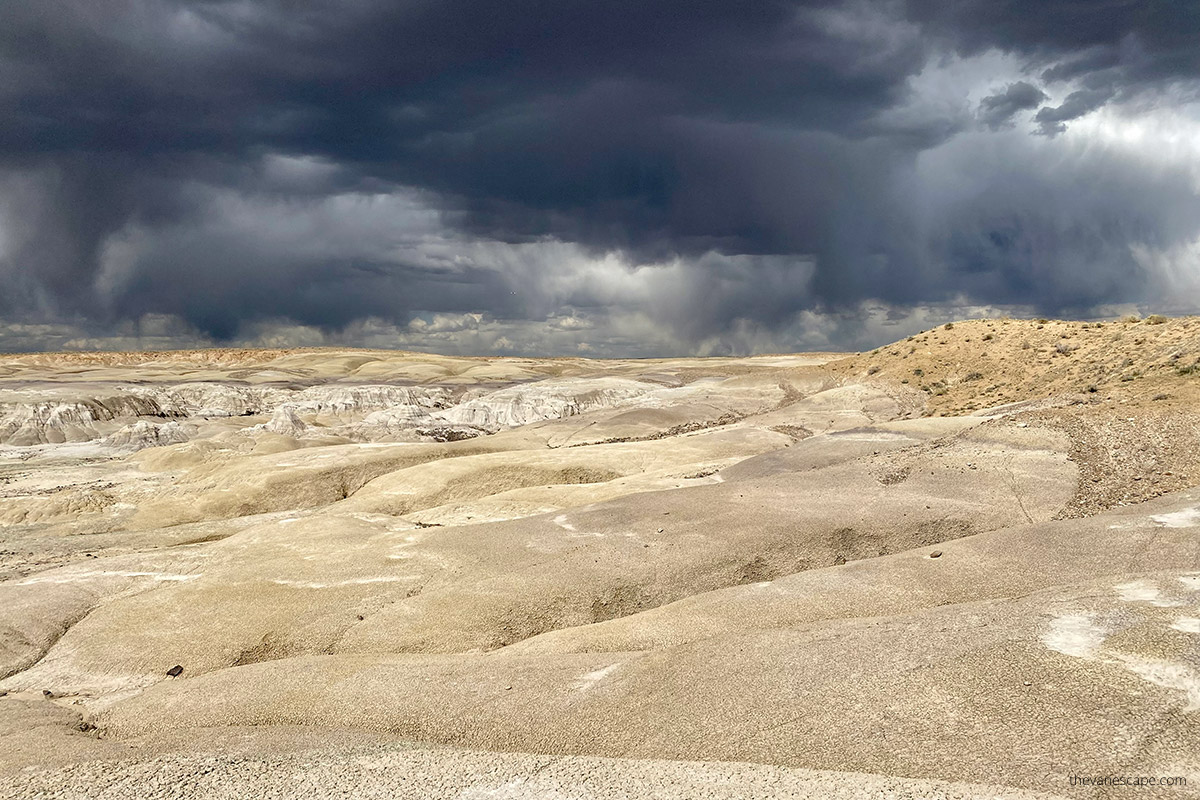 King of Wings New Mexico Locations
How to get to King of Wings Trailhead from Farmington? It's about 1 hour of driving time on a dirty road, and you have 2 options.
Take road 371 South. After about 45 miles driving this way, you should notice a crossroad with 7650 dirt road. Take a turn left. Drive for over 10 miles until you see a windmill on your right. Find a turn right (after the cattle guard) leading to this windmill. Take a sharp turn right on the narrow dirt road (With a fence on your right). Drive along the fence until you reach the windmill parking lot (about 0.5 miles). You can leave your car here and hike from this point.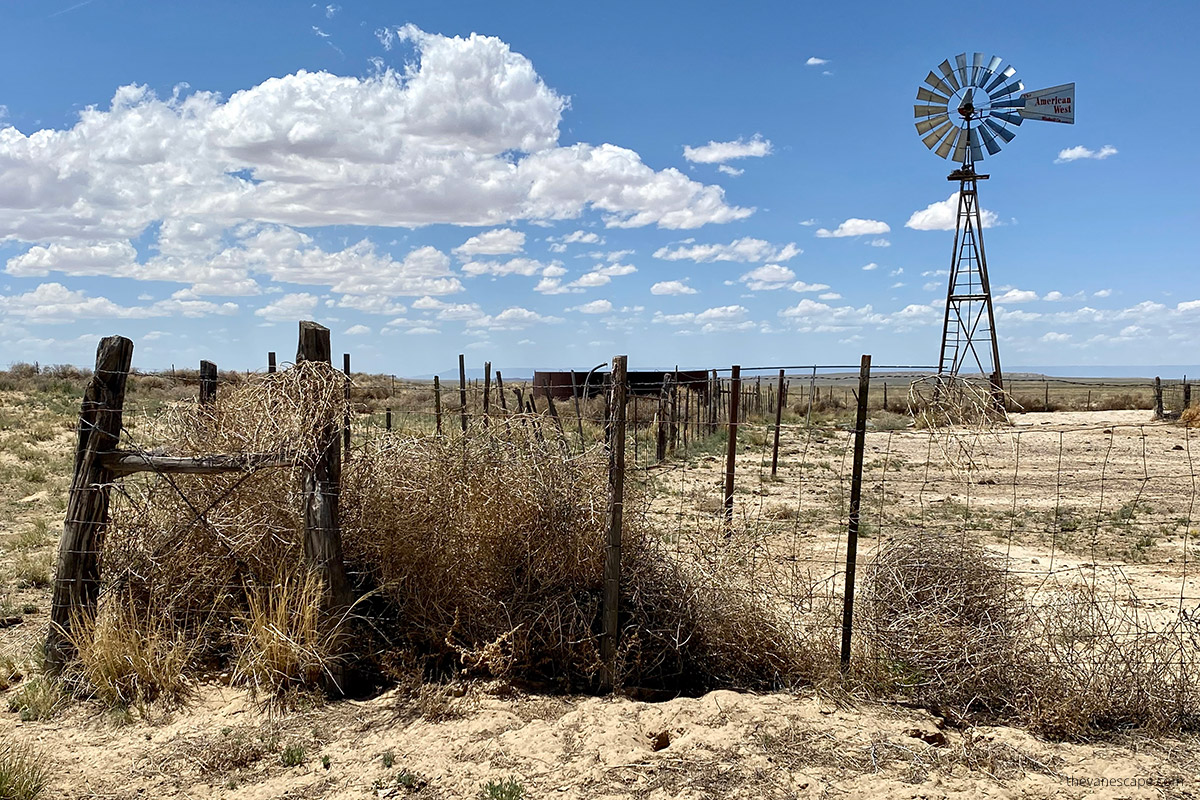 Or try to drive a further 1.2 miles along this fence if you have a high-clearance 4×4. You will reach a small parking lot with the hill on your right. You can leave your car here and start hiking. Leaving the car on these parking lots is at your own risk – we heard about cases when local people were damaging tourist cars.
Important Note: Please remember there are no official trailheads in Ah-Shi-Sle-Pah. It's a wilderness. From the above locations, you decide to park your car and wander the desert at your own risk. You don't have marked trails here. Although the BLM manages Ah-Shi-Sle-Pah, some roads lead through private lands and Tribal Lands. There are no official car parks in this place, nor designated official trails. From these locations, you hike on your responsibility. It's the easiest and the fastest way to get to King of Wings New Mexico (Momo´s Wing), but you park and hike partly through private lands.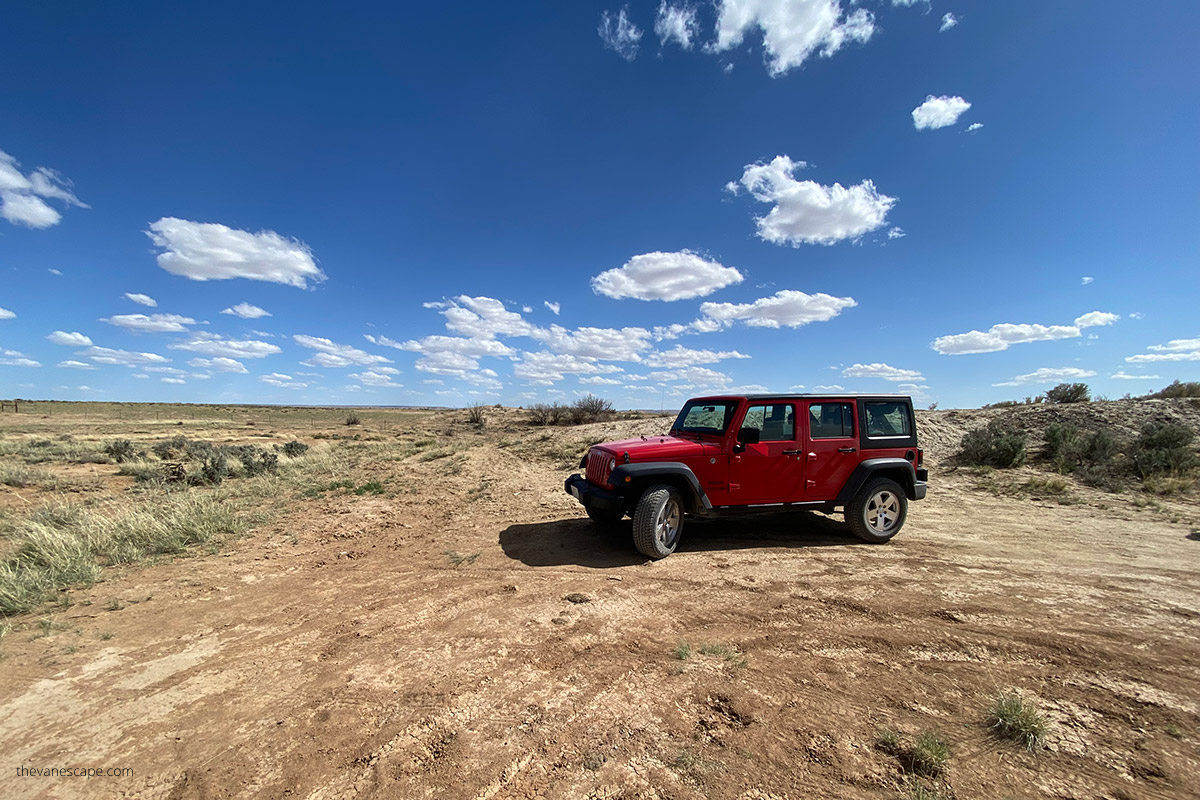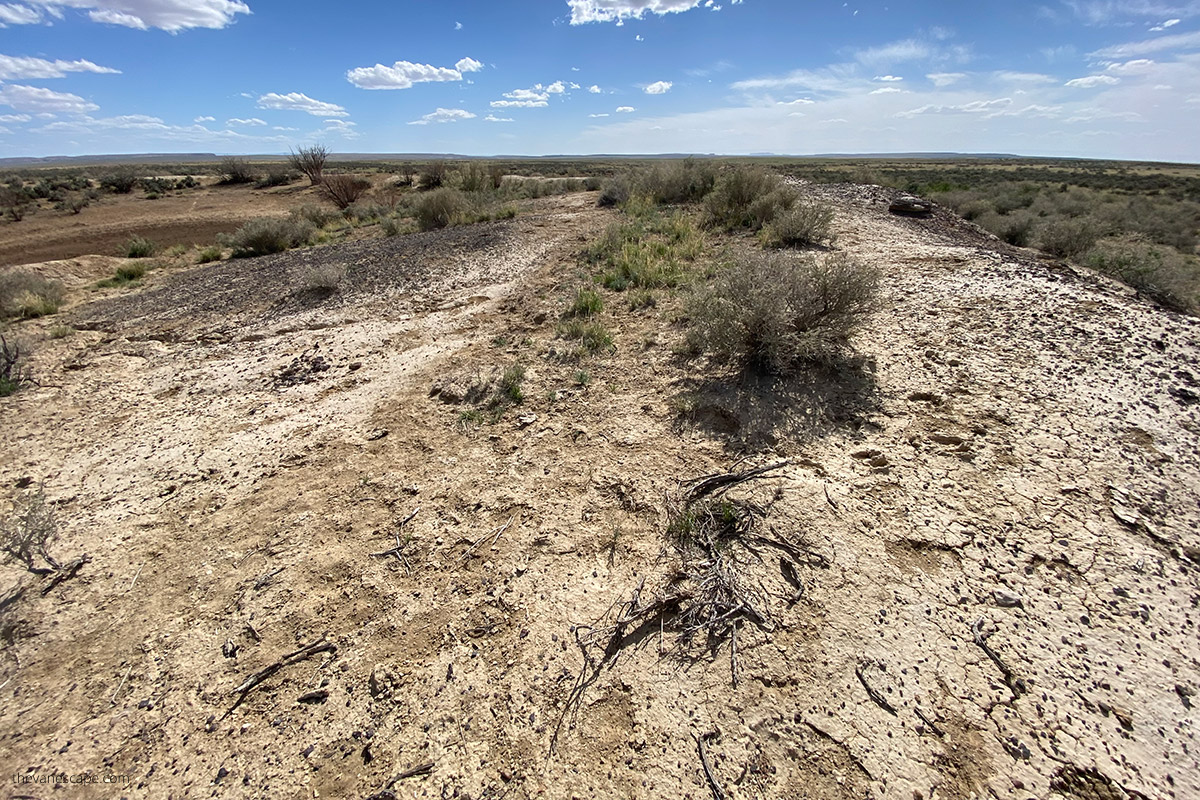 King of Wings Trail
King of Wings trail in total was 2.4 miles. As we mentioned, you don't have an official trail in this area. Each hike and map available online may look slightly different (below our map for King of Wings). You may wander partly through private lands. Respect this area, do not destroy vegetation, do not litter, and do not approach animals (you can meet cows and horses here). Pack up all your garbage, including human waste. Follow the leave-no-trace policy.
Important Note: Once you find the King of Wings New Mexico, don't touch or destroy it. It is an extraordinarily delicate and fragile formation, defying gravity. Don't step on it. Remember that using drones in this area is also prohibited.
You take this route at your own risk and responsibility.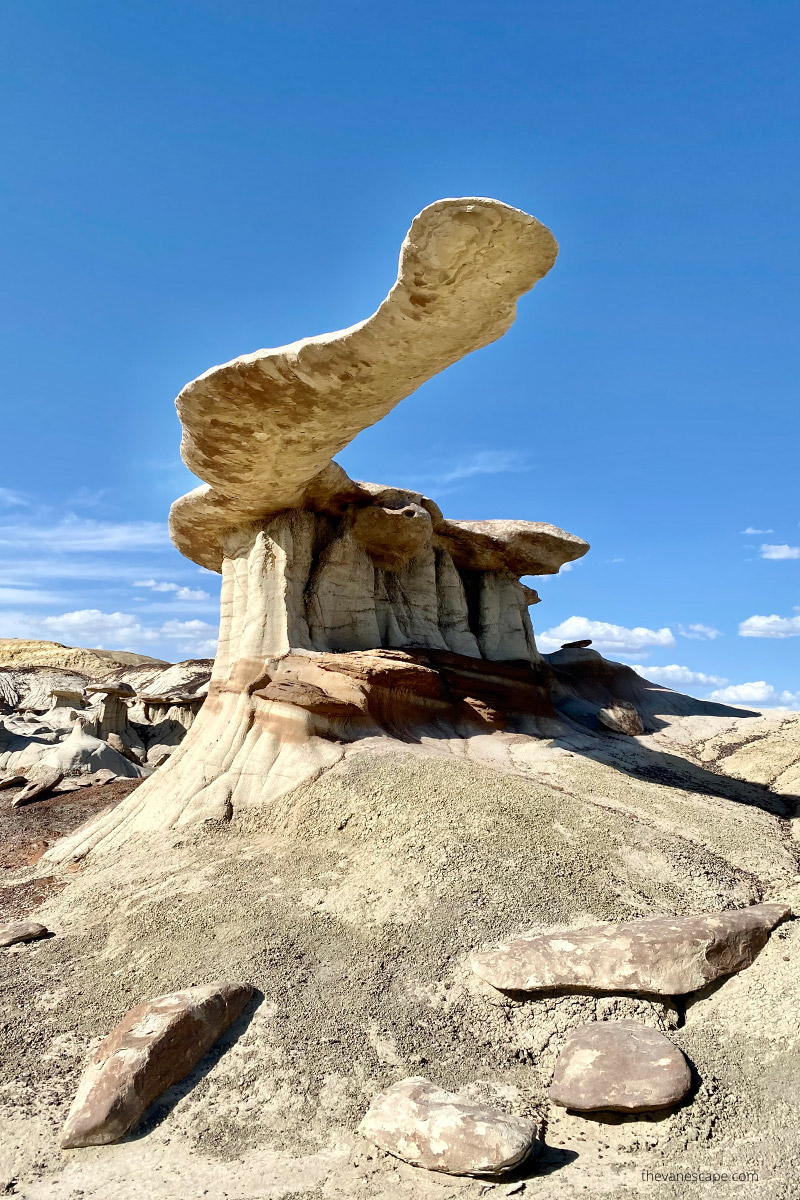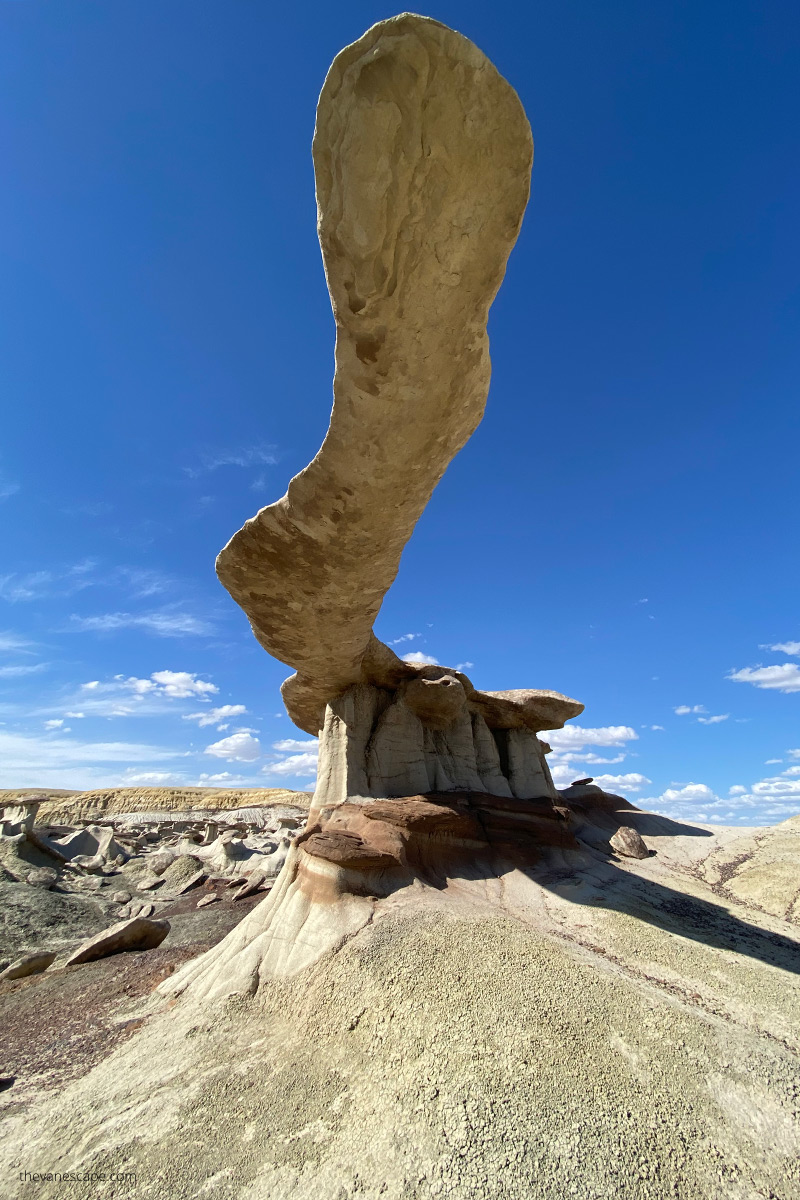 You must cross a barbed wire fence. The easiest way is to slip under the wire. The hike is quite tiring because you walk on sand and then on clay. Not even a bit of shade. Remember to pack plenty of water and electrolytes. Protect your body and head from the sun. Also, watch out for snakes in this area. The route is not technically difficult but tiring because of the soft ground, sun, and sand.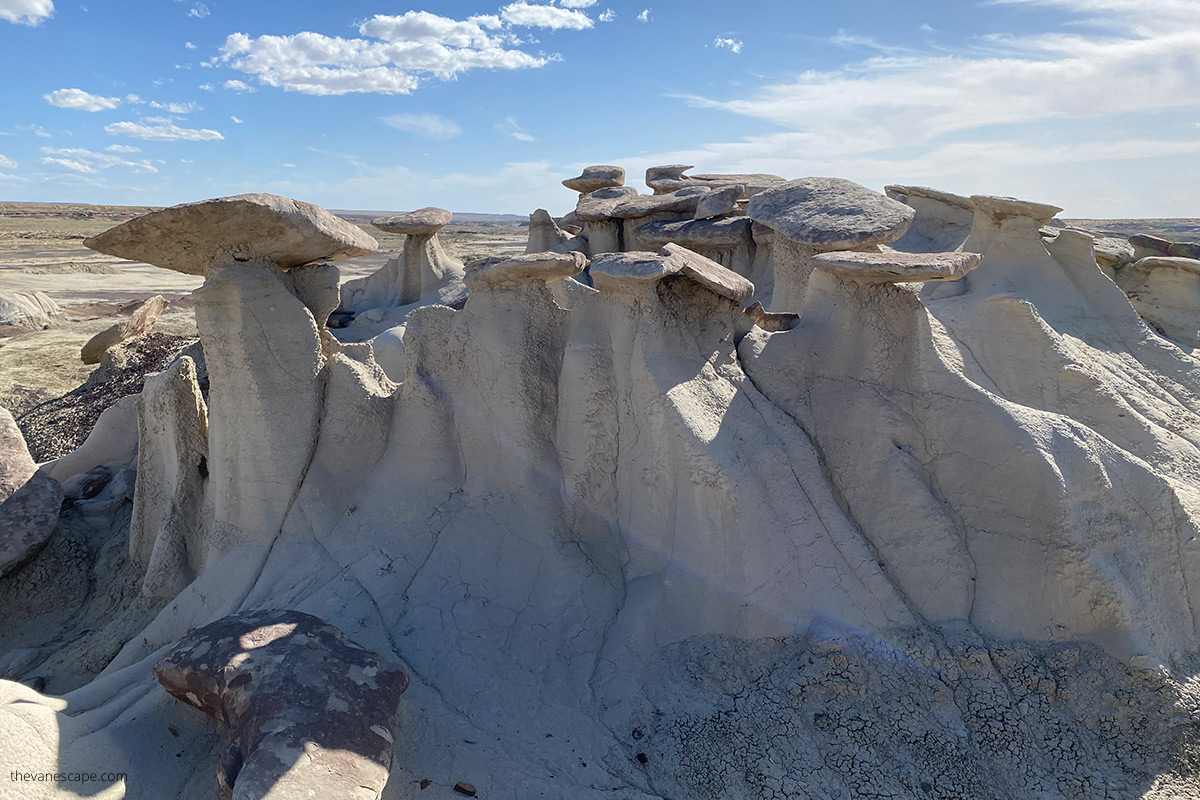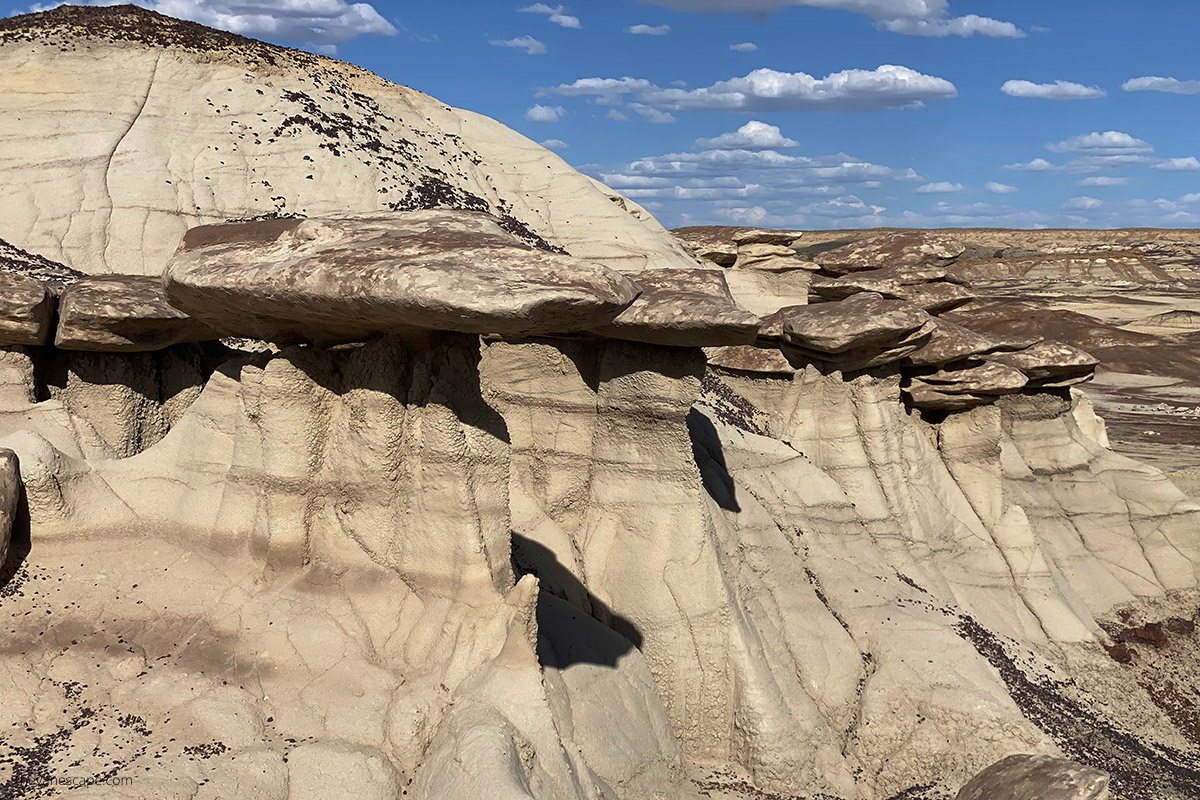 You must find a path down once you reach the desert badlands, which look like colorful baked mud hills. Be careful on the plateau's edge because the ground slides easily under your feet there. There are also sinkholes. You'll find some interesting hoodoo formations, but it's not King of Wings yet. You must go through several ravines and canyons carved in those badlands over thousands of years. Then you have to climb up again after the dune. You will get to another plateau with badlands. You have to cross this desert until you find a descent and some rocks.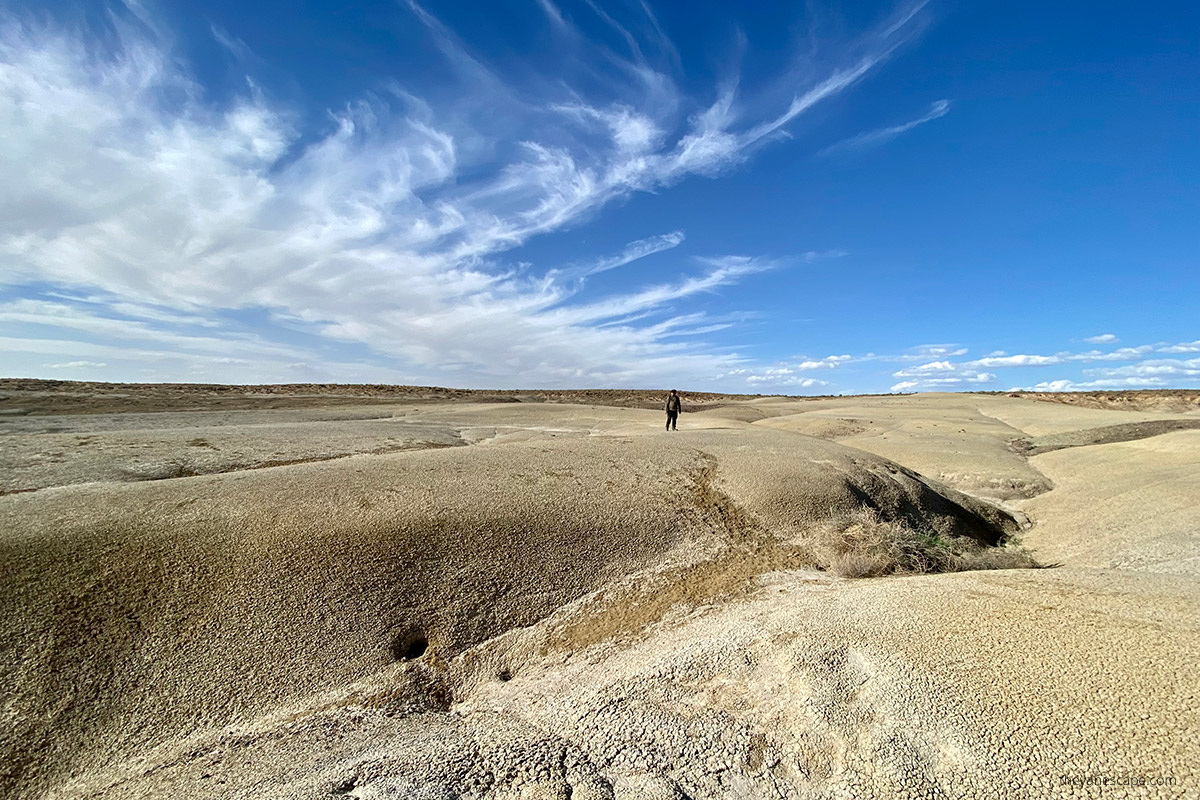 Since you won't see the King of Wings until you're within 50 feet of it, you should track your hike via video to avoid getting lost.
Our Tip: We do not recommend staying overnight or setting up camp in this area as it is tricky to check whether they are BLM or private land. If you want to stay overnight on BLM lands, check out the exact map and our camping hints. Also, pack this New Mexico Road & Recreation Atlas because it shows all the roads, including dirty and gravel roads, that are rarely traveled, and has Public Lands detail maps, so it's easier to find a place to stay.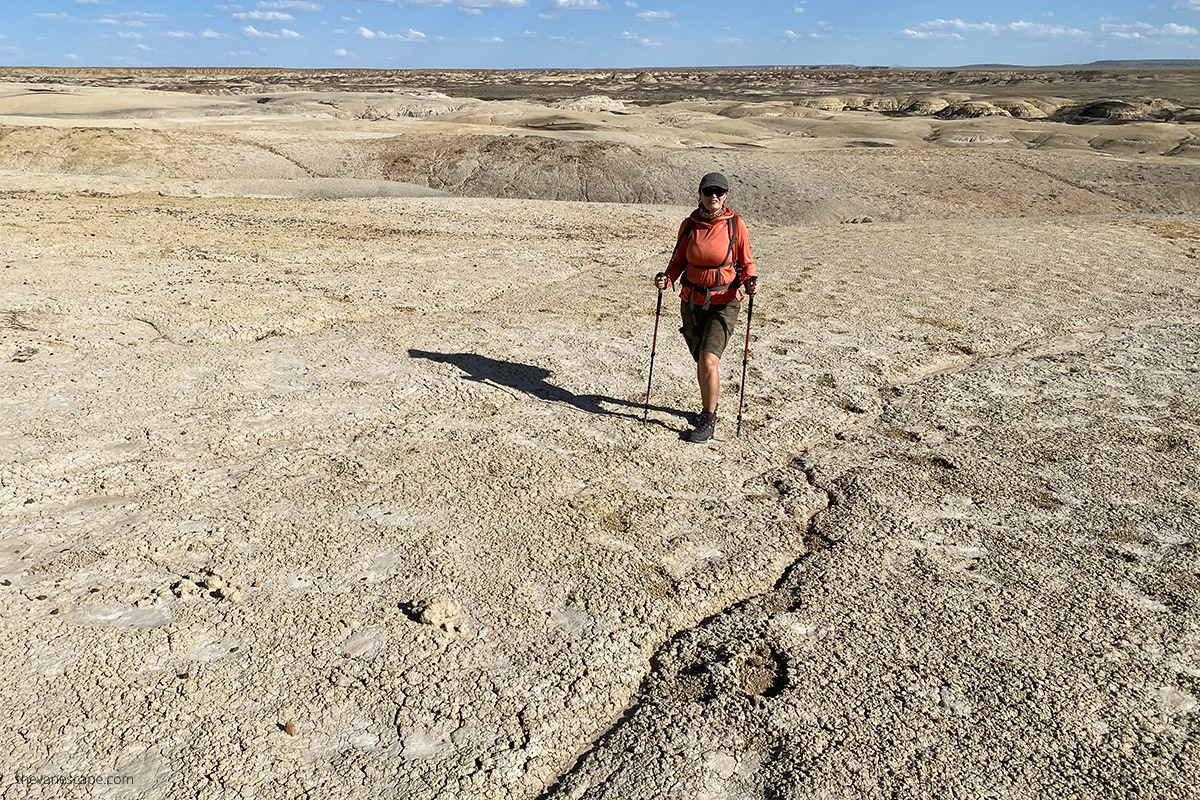 King of Wings New Mexico Map
Below you have our map of the hike to King of Wings in New Mexico, recorded with the Feniks 6 Pro Solar smartwatch.
In addition, AllTrails and Mapcarta might be helpful. Remember that there is no internet or telephone coverage in this area. You are entirely cut off from civilization. Chris's smartwatch was very useful. We highly recommend having a smartwatch with great GPS or handheld GPS in this wilderness. It's easy to get lost here. We always pack this paper map of New Mexico as well.
Conclusion about King of Wings, aka Momo's Wings in New Mexico
King of Wings is one of the most interesting but difficult-to-locate and reaches hoodoo formations in New Mexico. Therefore, be prepared for this hike, analyze the risks, and do not go there if it rains or is a sandstorm. If planning a trip to New Mexico, consider adding this rock formation to your itinerary. Still, only if you are experienced in desert, off-road hiking and driving, and are well prepared.
If you're new to wilderness hiking, consider the Kasha-Katuwe Tent Rocks Hike or visit White Sands National Park beforehand.