Kasha-Katuwe Tent Rocks Hike, New Mexico
Kasha-Katuwe Tent Rocks National Monument is a land of spectacular and bizarre rock shapes in the southwestern foothills of New Mexico's Jemez Mountains, near Cochiti Pueblo. Furthermore, it is a National Monument since 2001, managed by the Bureau of Land Management. Kasha-Katuwe Tent Rocks Hike is a fantastic adventure. It gives you a chance to see the unique geologic formation known as Tent Rocks. It's a great idea for a day trip from Albuquerque or Santa Fe. It is one of the best hikes in New Mexico. It's only about 3 mile one-way moderate loop trail through a slot canyon with hoodoos, and striated rock formations seem cones or teepees. Kasha-Katuwe means "white cliffs." Furthermore, it is a religious site of the Cochiti Pueblo. So, in this article, we give you all details to help prepare for this fantastic experience, which is Kasha-Katuwe Tent Rocks Hike.
This article may contain affiliate / compensated links. For full information, please see our disclaimer here.
What is Kasha-Katuwe Tent Rocks National Monument?
Kasha-Katuwe Tent Rocks National Monument is located on the Pajarito Plateau in north-central New Mexico, between 5570 and 6760 feet above sea level. The cone-shaped tent rock formations are the products of volcanic eruptions that took place 6 to 7 million years ago and left pumice, ash, and tuff deposits over 1,000 feet thick. Tremendous explosions from the Jemez volcanic field spewed rock fragments, while searing hot gases blasted down slopes in an incandescent avalanche called a pyroclastic flow. Furthermore, the Tent Rocks vary in height from a few feet to 90 feet. As a result of the uniform layering of volcanic material, bands of grey are interspersed with beige and pink-colored rock along the cliff face. Over the years, wind and water cut into these deposits, creating distinctive pointy hoodoos as well as the sinuous slot canyon. Finally, it was contouring inward ravines into smooth semicircles.
The place was established as a U.S. National Monument by President Bill Clinton in January 2001. It is managed by the Bureau of Land Management (BLM). The Kasha-Katuwe provides opportunities for hiking, birdwatching, geologic observation, and plant identification. Kasha-Katuwe Tent Rocks National Monument is a very popular hiking destination from Albuquerque and Santa Fe. Hiking trails are for foot travel only. If you do Tent Rocks hike, you also go through a slot canyon and up onto the mesa, leading to great views of the Sangre de Cristo and Jemez Mountains. So, if you are looking for best hikes in New Mexico take Kasha-Katuwe Tent Rocks hike.
Where is Kasha-Katuwe Tent Rocks National Monument?
Kasha-Katuwe Tent Rocks National Monument is located around 40 miles southwest of Santa Fe, New Mexico, near Cochiti Pueblo. From Albuquerque is about 54 miles north. So, it is a perfect idea for a day trip from Santa Fe or Albuquerque.
Directions To Kasha-Katuwe Tent Rocks
Directions from Santa Fe
From Santa Fe, you should head south on I-25. Take the Cochiti Pueblo Exit 264 off I-25 onto NM 16. Then turn right off NM 16 onto NM 22, and follow the signs to Cochiti Pueblo and the National Monument. It's about 50 minutes driving. Check accommodation in Santa Fe on booking.com or hotels.com
Directions from Albuquerque
From Albuquerque, you must head north on I-25. Take the exit for Santo Domingo/Cochiti Lake Recreation Area (Exit 259) off I-25 onto NM 22. Then follow the signs on NM 22 to Cochiti Pueblo and Kasha-Katuwe Tent Rocks National Monument. It's about one hour driving from Albuquerque. Check accommodation in Albuquerque on booking.com or hotels.com, which offers great discounts.
Our favorite maps and books:
Tent Rocks Hours of Operation
Before you go to Kasha-Katuwe Tent Rocks Hike, you must know that it has short opening hours. So, plan your time properly. Kasha-Katuwe Tent Rocks National Monument is open only from 8 am to 4 pm. Closing procedures begin at 3:30 pm, so visitors must be out of the fee booth gated area by closing time. It is a day use only area. The park has no campground and primitive camping is not allowed. The Monument is closed to dogs.
Furthermore, The place is closed several days a year to allow Pueblo de Cochiti cultural observances. Kasha-Katuwe Tent Rocks National Monument is closed on:
New Year's Day
January 6
Friday before Easter
Easter Sunday
Monday after Easter
May 3
July 13-14
July 25
November 1
Thanksgiving Day
Christmas Day
Are you interested in Pueblos & the Native American community in New Mexico? Check our post about famous Taos Pueblo.
Entrance Fee to Tent Rocks
Private Vehicles – $5
Groups: up to 25 individuals – $25
Groups: 25-100 individuals – $100
It can get crowded on the weekend, so it is worth to be earlier to get a parking spot. Be patient with the gate guards. They won't let you in until a space is available for you to park. There are restrooms and picnic tables on the parking area.
Our favorite hiking guides:
Kasha-Katuwe Tent Rocks Hike
The National Monument includes two short trails.
The Cave Loop Trail is 1.2 miles long and it's easy. The second and one of the best hikes in New Mexico is Slot Canyon Trail. It is called Kasha-Katuwe Tent Rocks Hike.
There is only one trailhead to Slot Canyon Trail and Cave Loop Trail. So, go straight to the Slot Canyon. And in the end, on your return, add Cave Loop Trail, if you will have time. If you put them together in this way, it's only 3.1 miles one way.
Slot Canyon Trail is around 2.8-mile, one-way trek into a narrow canyon with a steep (630-feet) climb to the mesa top. Furthermore, it offers excellent views of the Sangre de Cristo, Jemez, Sandia mountains and the Rio Grande Valley. However, during heavy rain, there is a risk of flooding in the canyon. So, check the weather before you go. Do not hike if there is any danger of flash floods in the slot canyon, especially in monsoon season (mid-June to mid-September).
How Long Does It Take To Hike Tent Rocks?
Depending on how good your physical condition and how often you stop to take photos or enjoy the view, the primary hike, which goes to the top, can be done in 60 to 90 minutes.
Tent Rocks Hike Description
Slot Canyon
The first half of the trail is winds through a shady slot canyon. The slot has beautiful examples of rock strata, hoodoos, the effects of wind and water. It is so narrow you can touch the walls on either side. Moreover, you might have to walk sideways. You can feel the cold and damp walls, their smooth surfaces. When you lift your head, you will see Tent Rocks looks like a rocket. The forces of water and wind continue to carve hoodoos from the cliffs. As the trail continues beyond the slot canyon, the hoodoos become larger and more varied in shape. There are a few obstructions along the way, so you'll have some scrambles over some rocks blocking the path. The trail is the bottom of the wash, looks like a tunnel. So be careful in case of heavy rain.
Climbing To The Mesa Top
Trail switchbacks 640 feet up to the plateau. After 1.1 miles, the trail turns to the left to pass beneath some of the best formations. The canyon opens up beneath the 90-foot conical hoodoos that give this National Monument its name. It begins to climb steeply on a crumbly, eroding trail, with occasional scrambling required. There is a viewpoint just before mile 2. The trail continues to climb higher, out of the canyon. There is the second viewpoint at mile 2.1. It is a great view back down the canyon and the formations surrounding it. There's also little balancing rock close by this vista. The path continues up and then down on the canyon rim. It's about 0.3 miles to the final viewpoint. It's worth it to go to the top. White cliffs are spectacular from the plateau.
From the top of the mesa, you have an overlook of the slot canyon and Tent Rocks as well as sweeping views of the Rio Grande River Valley to the east and the Jemez Mountains to the west.
Return via The Cave Loop Trail
Return the way you came, but continue right at the junction with the Cave Loop Trail. It intersects with the Slot Canyon Trail. It's an easy and short trail on your return walk. The Cave Loop Trail is relatively flat, with lovely views. It is well marked, with numerous warnings about snakes, the importance of staying on the trail, and the ban on rock collecting.
Tent Rocks Weather
When is the best time to visit Kasha-Katuwe Tent Rocks National Monument? We did the Tent Rocks hike in December 2019. It was cold but sunny and perfect weather for a walk. If you are going in the summer, take a plentiful water supply. There is shade in the slot canyon, so take a warm jacket with you. Monsoon season is from mid-June to mid-September. So, always check the weather/check the forecast before you go – it is a slot canyon, so it is susceptible to flash flooding. Below we have prepared charts with average temperatures and precipitation in Kasha-Katuwe Tent Rocks National Monument.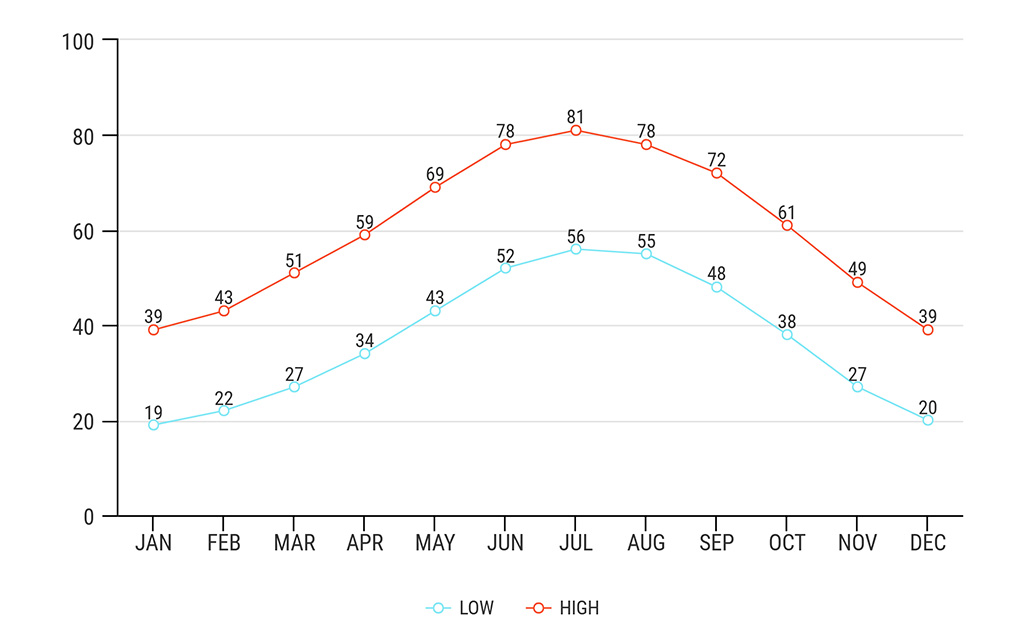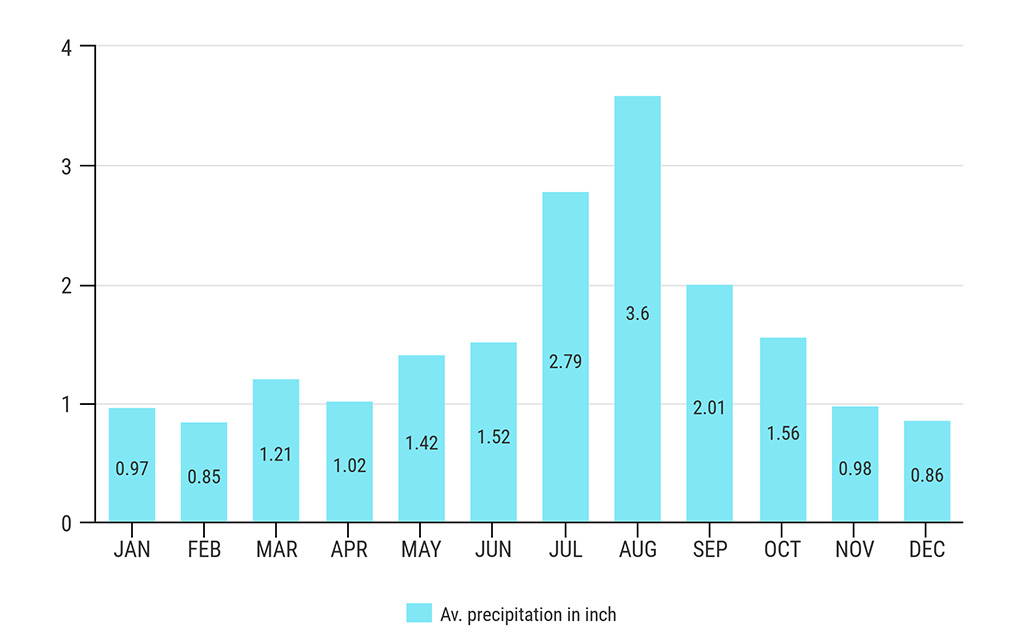 What To Bring For Kasha-Katuwe Tent Rocks Hike?
No matter if the trail is short or long, easy or demanding, you always have to be prepared for your hike. Accidents happen, or the weather can change dramatically in a few minutes. That's why we pack carefully, even for shorts and leisurely walks.
First of all, take proper hiking shoes. Do not attempt this hike in flip flops or even flimsy shoes. You need sturdy shoes with a good grip and tread.
It is a rattlesnake land so be cautious. Protect your legs by pants. Make lots of noise with your feet and don't reach down near any stumps or logs. Hiking poles will be useful during this hike also.
Pack yourself in a comfortable backpack. You should have hiking backpack with a lap belt so that it relieves your spine while climbing.
Watch your body while hiking. Even experienced hikers have weaker days. If you start to feel dizzy, disoriented, nauseated, take a rest. Drink water and eat salty and high-proteins snack and rest as long as you feel better. If you are cold, put on extra layers and eat. If you are hot, drink more water and rest in the shade. Protect your body by the sun, so take a hat & sunscreen.
Below is a list of our essentials, the most necessary things you must have on the trail. So we pack the essentials even on day hikes.
| | |
| --- | --- |
| | Water is most important even during short hikes, so bring a sufficient amount of water, and extra water in case of emergency. Always carry a water treatment method, f.e.tablets. Check before the hike if there any water sources on the trail. The best idea is to take a light water reservoir. |
| | Take a salty snack, as high energy protein bars and beef jerky or other high - calorie meals, as nuts and sandwiches. Always take extra portions. |
| | Always take a trail map. You can use App with your hike, but remember that there is no coverage often on the trails, so you should have printed maps too. |
| | GPS watch or GPS device allows you to find your location on a digital map accurately. They are waterproof and robust. Another option is to use a smartphone with a GPS app, but often there is no connection on the trails. If you have a phone, remember not to use its battery. Finally, monitor your battery power. |
| | First aid kit with blister care, duct tape. It will help you handle unexpected moments (includes CPR Mask, Bandaids, Blanket, Tourniquet and more) |
| | Headlap or flashlight with spare batteries. Yes, we take it with us even if the hike is lasting only a few hours during the day. A long time ago we lost during the day and then we had to come back through the wilderness at night. You never know what will happen, that's why we always have headlamp with us. |
| | Extra Clothes. Even for short hikes, we dress in layers. We always have high trekking shoes with reliable traction, and we use trekking poles, too. But we always put it in the backpack extra clothes beyond those required for the trip. We add a warm hoodie, raincoat, gloves, a hat, and socks,in case of weather breakdown. |
| | Emergency sleeping bag, which serves as your emergency blanket, survival shelter, and emergency bivy sack all-in-one. |
| | Pocket Knife with Multitool it's ideal for outdoor activities like camping, and hiking. It's essentail for gear repair, food preparation, first aid. |
| | Fire Starter, because in case of an emergency, you need to have reliable supplies with you for starting and maintaining a fire. |
| | Emergency Whistles is must-have, too. Battery in the cellphone will run down, or there will be no coverage on the trail, and this is the only way you can call for help. |
| | Sun protection. Always pack with you and wear sunglasses, sun-protection hat and sunscreen. |
| | Always carry some type of emergency shelter to protect you from wind and rain in case you get stranded or injured on the trail. |
Sources of information:
https://www.blm.gov/visit/kktr
https://en.wikipedia.org/