10 Top Things To Do in Dawson City Yukon
If you love adventure, check out our list of 10 Top Things To Do in Dawson City, Yukon. It is a place that inspired Jack London to write The Call of the Wild. It is a city of gold and adventure seekers. A town whose glory years were at the end of the 19th century in the Gold Rush era. In Dawson City, you will still feel the spirit of adventure. The city's architecture is in excellent condition. How to plan a trip to this remote place? What are the best things to do in Dawson City? We share our tips and experiences from the fantastic Dawson City.
This article may contain affiliate / compensated links. For full information, please see our disclaimer here.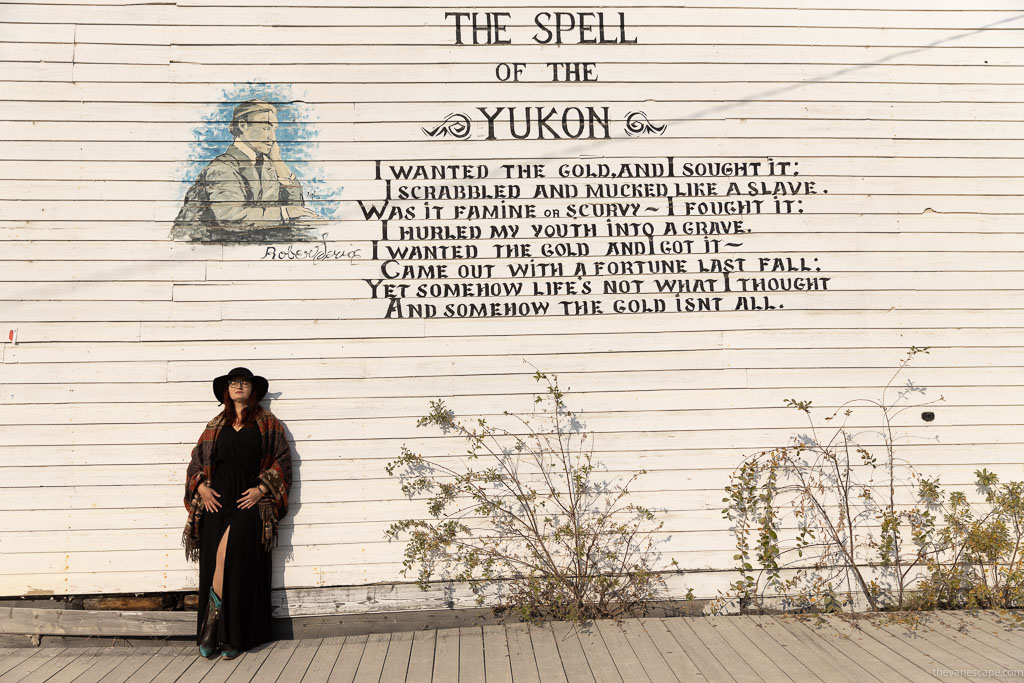 Where is Dawson City?
Dawson City is a town in the Yukon Territory, northern Canada. It's a remote area, close to the border with the USA state of Alaska. It's about 330 miles/533 kilometers from Whitehorse.
Why Should You Visit Dawson City, Yukon?
The town offers lots of things to do as it is famous for the Klondike Gold Rush, First Nations Culture, wooden architecture, and the wild beauty of Tombstone Territorial Park.
In its heyday, Dawson City was full of miners and businesses. The city was full of first-class entertainment and services for those who participated in the gold rush.
It is one of the best-preserved and most beautiful towns from the time of the gold rush. The architecture is perfectly restored. You can stroll around the city along the wooden sidewalks and admire the wooden facades of shops, hotels, and entertainment centers. What's more, the atmosphere in the town is excellent. The city still remembers its glory days.
It's also a great starting point for a road trip through Arctic Circle to the Arctic Ocean via the famous Dempster Highway.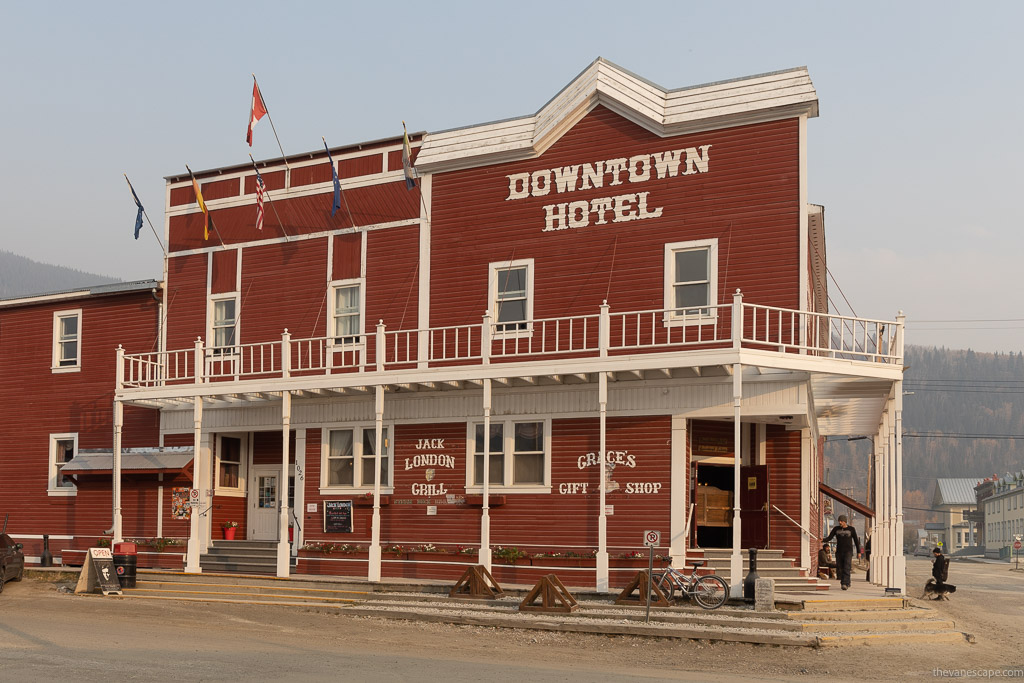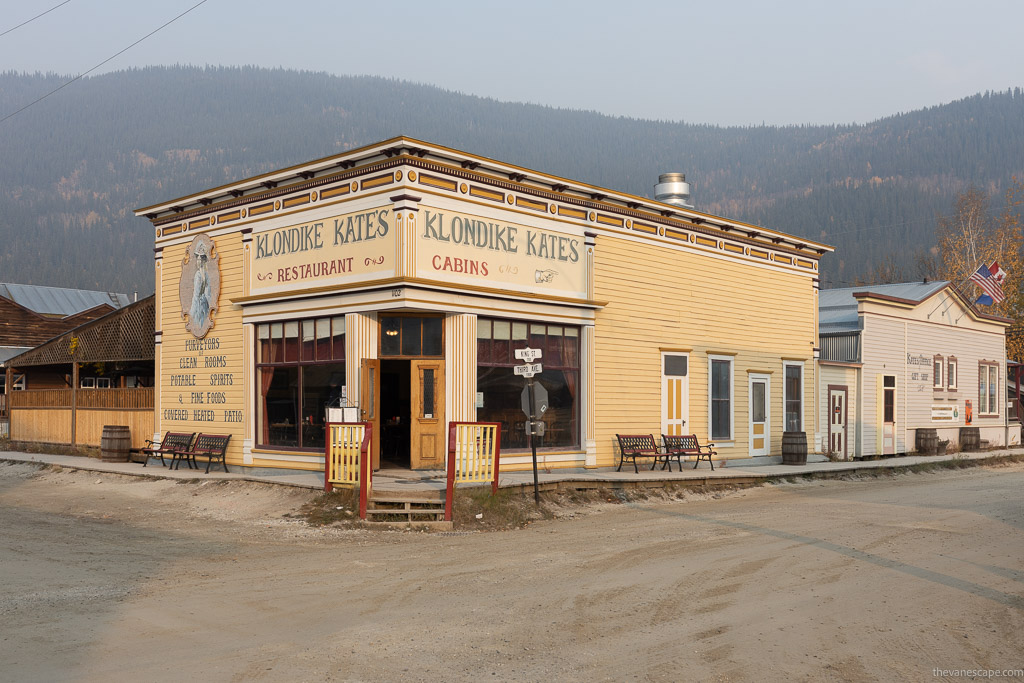 Interesting Facts about Dawson City, Yukon
Dawson City and the nearby ghost town of Forty Mile feature prominently in the novels and short stories of American author Jack London, including The Call of the Wild. Jack London lived in the Dawson area from October 1897 to June 1898. Jack London's childhood home is now managed by the Writers' Trust of Canada as a haven for professional writers. One of the best things to do in Dawson City is to walk in the writer's footsteps and read his books.
Other writers who lived in Dawson City and wrote about it include Pierre Berton and the poet Robert Service, often called "the Bard of the Yukon."
The Dawson City area was and still is home to the Tr'ondëk Hwëch'in First Nations, one of the hundreds of Indian self-governing groups in Canada.
The town was named for George Dawson, a geologist who explored and described the area in 1897.
After discovering gold along Bonanza Creek in 1896, Dawson developed explosively, becoming the largest city north of Seattle in 1898 with a population of 30-50,000. In 1899, the gold rush ended, and the population dropped to 8,000. When Dawson City received its city charter in 1902, the population was less than 5,000. One of the best things to do in Dawson City is to try to find some gold.
Today, the population is just over 1,300. And the city is visited by only about 60,000 people annually due to its remoteness from civilization.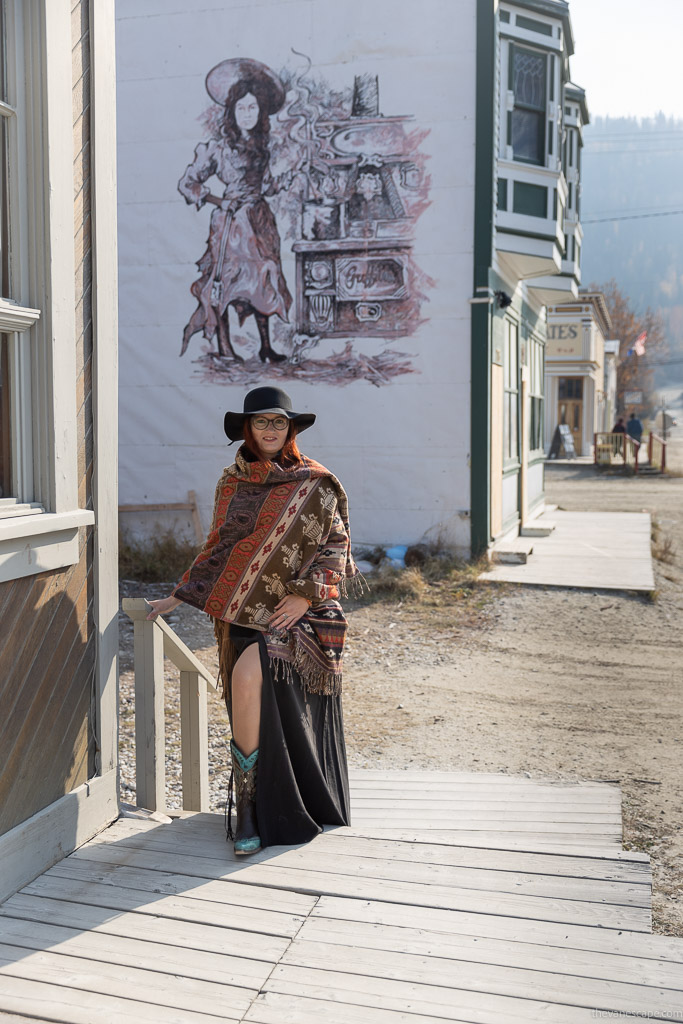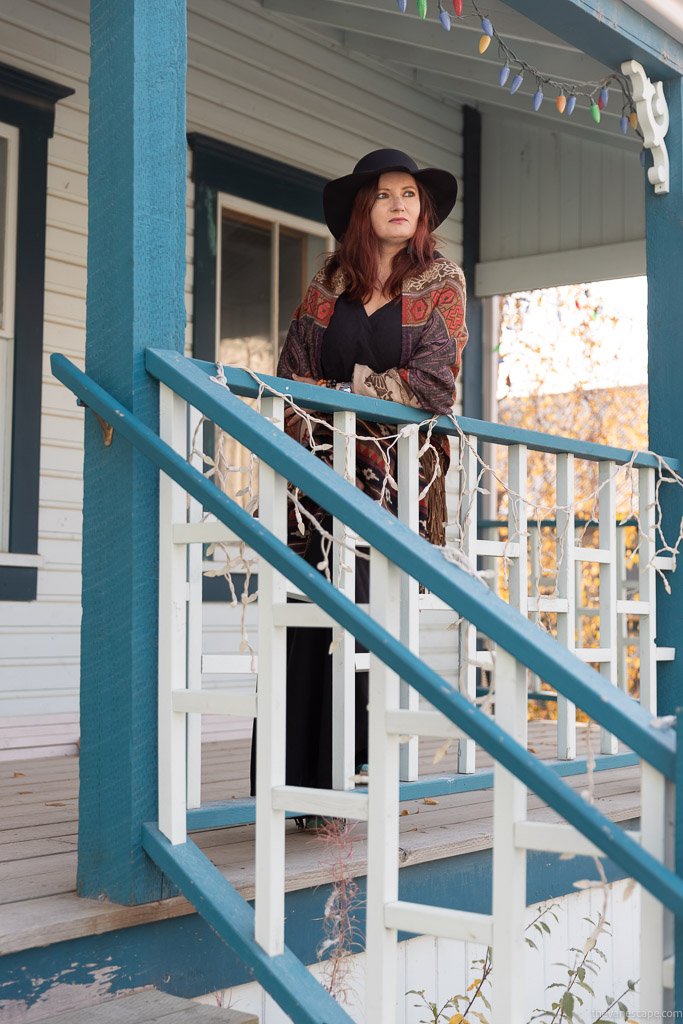 How to Get to Dawson City?
The nearest major city is Whitehorse. It is also the closest and largest airport in this part of Canada. So you can fly to Whitehorse and rent a car to travel to Dawson City and explore the Yukon Territory.
TRIP TIP: If you are planning a trip through the Yukon, northern Canada, or Alaska – we recommend The Milepost – it is the best map and guide available on the market. We used it for years on our road trips.
Driving from Whitehorse to Dawson City
The Klondike Highway, which leads you from Whitehorse to Dawson City, is open all year. It's about 330 miles/533 kilometers, and the driving time is about 6 hours if the weather is good. The road is scenic, and there is a lot of wildlife, such as bison, moose, caribou, and bears, so drive carefully.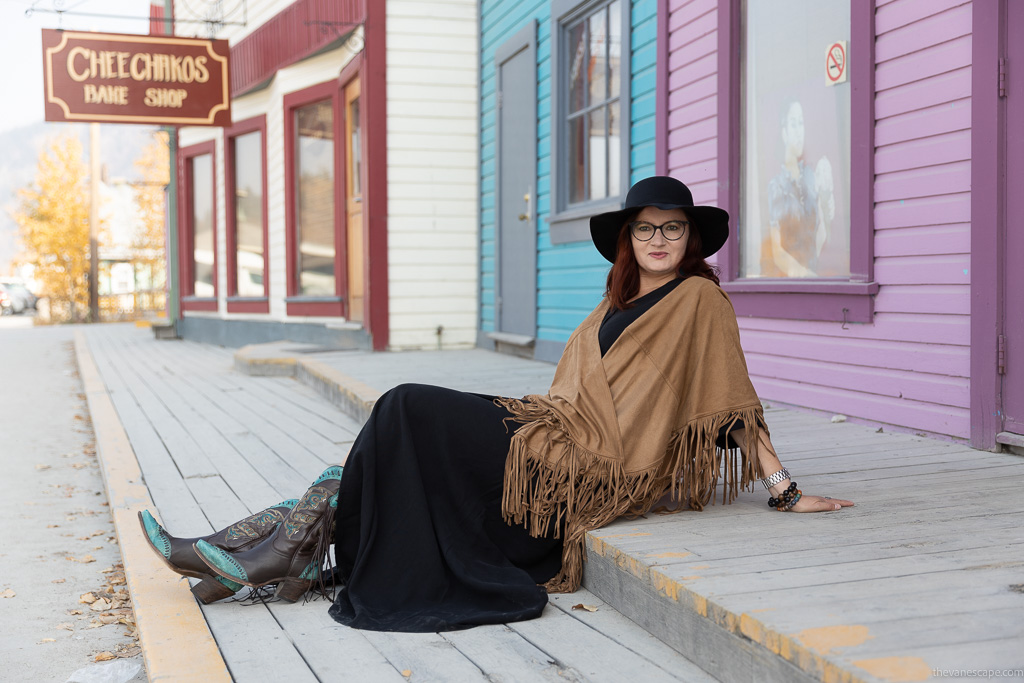 The MILEPOST 2023: Alaska Travel Planner
The Milepost includes mile-by-mile descriptions of more than 15,000 miles of road in Alaska, Yukon, Northwest Territories, British Columbia and Alberta. Its 700-plus pages detail accommodations, camping, fishing, gas stops, restaurants, attractions and services found along the highways and byways of Alaska and western Canad
Driving from Alaska to Dawson City
We got to Dawson City from Alaska, via Taylor Highway and Top of the World Highway. It was during our 8-month RV road trip through Canada and the USA. The route from Alaska is terrific and extremely picturesque.
Top of the World Highway is a fabulous adventure. The highway is closed in winter, which is usually in mid-September. There is minimal cell service along this route. Actually, there was no cell service during our drive. It's important to know that the border crossing between Alaska and the Yukon is closed at night. The opening hours depend on the season. So, don't miss the gate opening. Otherwise, you will spend the night in the middle of nowhere.
The Top of the World Highway is partially gravel and partially paved. There are many steep drop-offs without guardrails. So drive carefully. From Tok in Alaska to Dawson City, driving time is about 5 hours. Tok is about 175 miles from Dawson City. From Fairbanks to Dawson City is approximately 400 miles. You should know that there are no services between Tok and Dawson except in Chicken in Alaska, which is 108 miles from Dawson. [Please, also check our photos and tips from the town of Chicken].
The top of the World Highway ends on the west side of the Yukon River, directly across from Dawson City. A free ferry called the George Black ferry takes cars and people across the river from mid-May through October. It's weather depending. The ferry crossing takes about 10-15 minutes, and you enter Dawson City.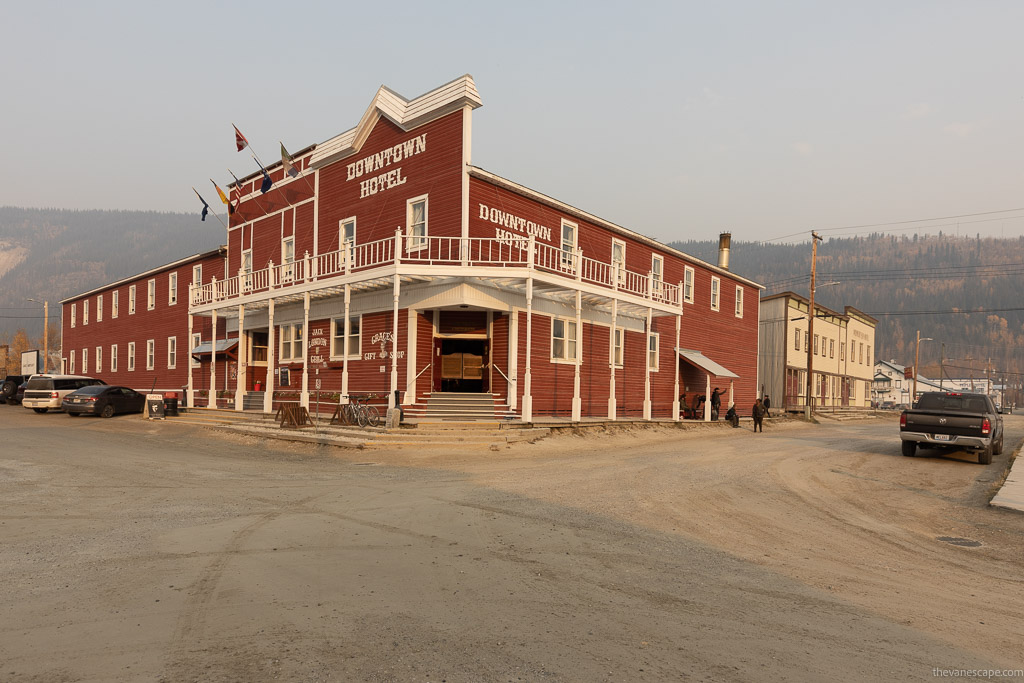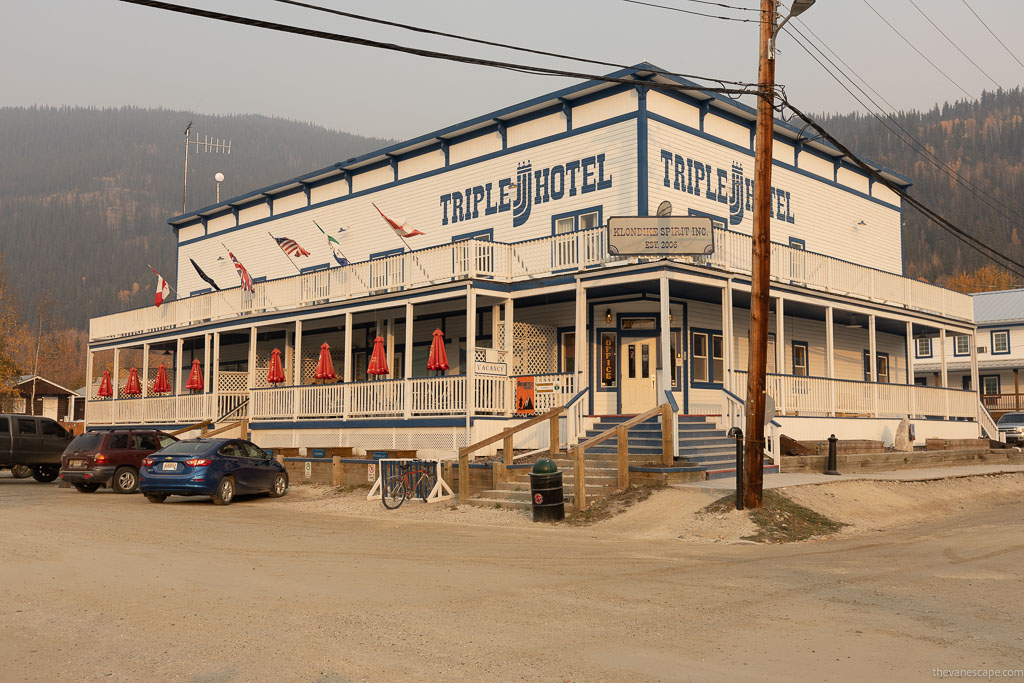 Where Can You Stay When Visiting Dawson City?
Dawson City has several historic hotels from the gold rush era where you can stay. Due to the limited number of places, it pays to book your accommodation in advance.

Canada's Best Value Inn – Downtown Hotel Dawson City is the best choice. There are 34 stylish and comfortable rooms. We loved its restaurant and lounge. Jack London Grill, serves great breakfast, lunch, and dinner. Moreover, the Sourdough Saloon is the home of the famous Sour Toe Cocktail! So, don't miss this place during your visit!
Triple J Hotel is also a good option with affordable prices. The localization is perfect, as it's a quiet place with lovely views. The rooms are clean and comfortable, and the staff is friendly.
The Bonanza Gold Motel is a cozy little hotel on Klondike Hwy. Notably, the rooms are spacious, comfortable, and clean, and the property is pet-friendly.
How Much Time do You Need to Visit Dawson City?
Book at least one day for a visit to Dawson City. But due to the number of attractions in the area, you will not be bored here even for 2-3 days. In addition, due to the distance of Dawson City from civilization, it is worth stopping here for a longer time. It is not easy to pop to Dawson as the weekend gateway, as it's a pretty remote area. So, we recommend booking at least two nights here to enjoy its beauty and atmosphere. Therefore, check below our list of the best things to do in Dawson City and decide how long you want to stay.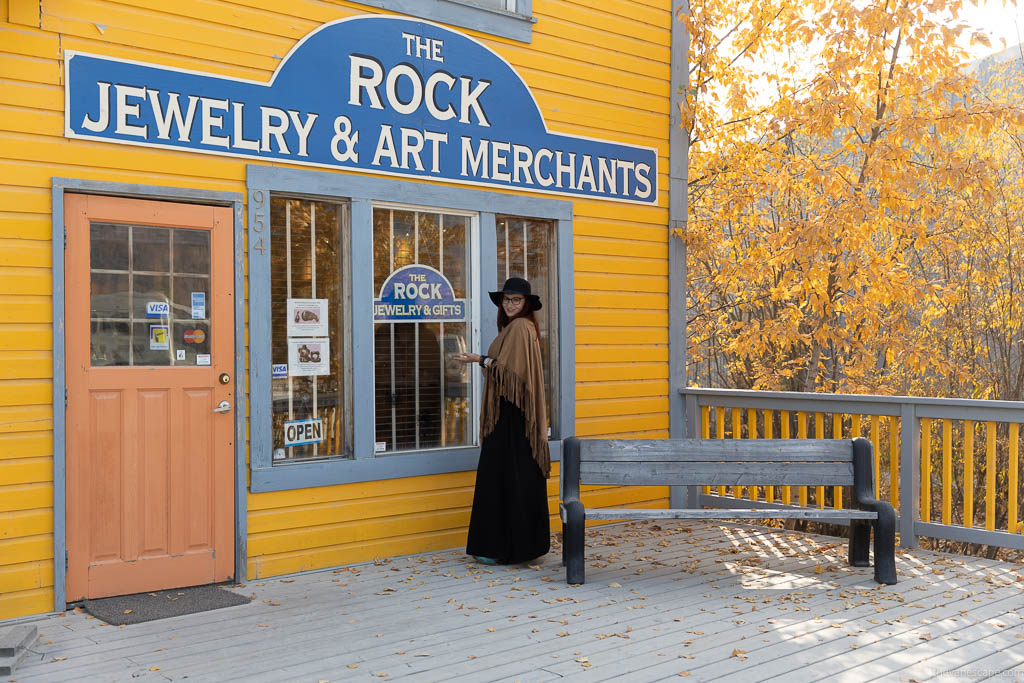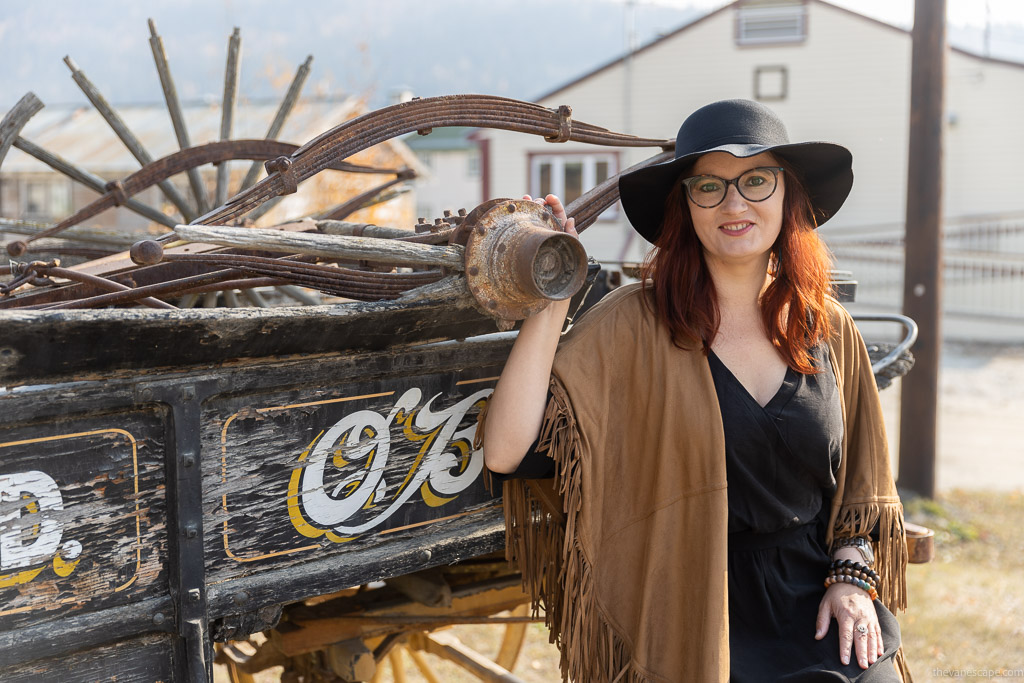 The 10 Best Things To Do In Dawson City, Yukon
Explore Historic Dawson City Downtown
Eight National Historic Sites of Canada are located in Dawson City, including the "Dawson Historical Complex," a National Historic Site encompassing the town's historic core. Walking between historic buildings is by far the best thing to do in Dawson City. We love the clatter of heels on wooden pavement over a hundred years old and the dust rising from the unpaved road. Most of the buildings in the city are on the list of historical sites. Old wooden facades, decorations, beautiful windows, and inscriptions attract their attention. Please spend a few hours admiring them. If you put on cowboy boots, a fringe jacket, or a cowboy hat, your photos will reflect the atmosphere a hundred years ago.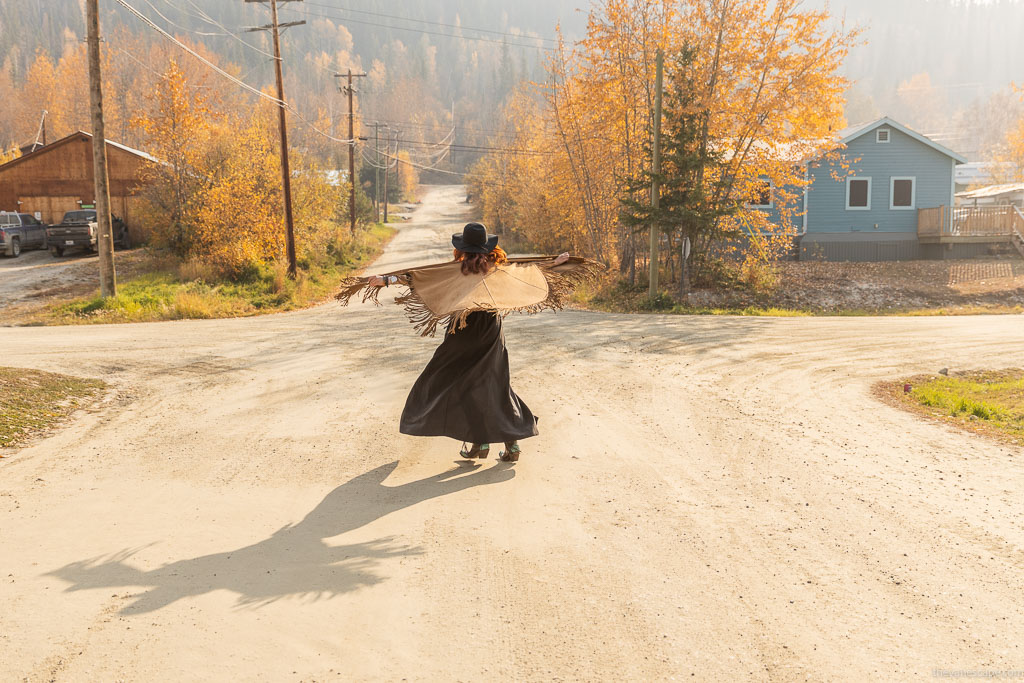 Visit Dawson City Museum
Dawson City Museum offers various archival images, materials, and displays, about the city and the Gold Rush era. You can see the original Tr'ondëk Hwëch'in settlement throughout its history. Staff provides a range of programming, from interactive exhibits to fascinating gold pour demonstrations. The Museum is open year-round.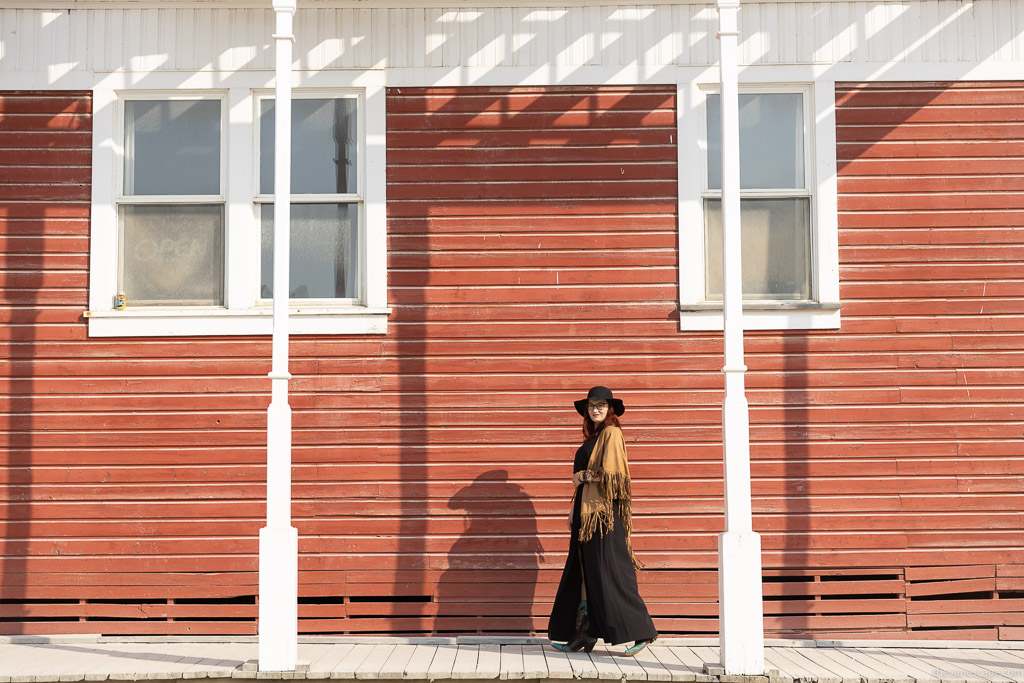 Visit Jack London Museum and Author's Row
Visiting Jack London Museum is one of the top things to do in Dawson City. As his novels, as White Fang or Call of the Wild, inspired many of us to travel is a great idea to learn more about Jack London's life in this museum. There are many photographs and stories about his adventures during and after the Klondike Gold Rush. There is also a replica cabin where he lived during the winter of 1897. The museum is open from May through October. Before your trip, reread The Call of the Wild to feel its spirit and atmosphere. Or you can watch the latest remake of The Call of the Wild with Harrison Ford and Omar Sy from 2020.
The Jack London Collection: The Call of the Wild, White Fang, To Build a Fire
This Jack London Collection includes three of Jack Londons most notable works: The Call of the Wild, White Fang, and To Build a Fire.

John London (1876 – 1916) was an American novelist and social activist. A pioneering writer of commercial fiction, he became one of the first American authors to become a true international literary celebrity and was an innovator in the development of the genre of science fiction.
Try Sourtoe Cocktail and Join the Sourtoe Cocktail Club
One of the best things to do in Dawson City to feel its old spirit is to visit the Historic Downtown Hotel at Second Avenue and Queen Street. The hotel is famous for its unusual Sourtoe Cocktail, which contains a natural mummified human toe. The hotel and toe received increased attention in June 2017 after the toe was stolen. It was soon returned to the hotel by mail, along with a written apology. We are always honest with you- we did not choose this drink. We stuck with a glass of whiskey and a glass of wine. You can only become a member of the Sourtoe Cocktail Club if you take an oath and drink a cocktail shot with that preserved human toe in it, which you also have to put in your mouth. Then you get a certificate. So, we failed. But if you like fun, creepy, and whimsical things, the Sourtoe Cocktail is for you!
Anyway, visiting the Sourdough Saloon at the Downtown Hotel is one of the best things to do in Dawson City. It's a great place for a drink or dinner and a fantastic place to stay for a night to feel the Gold Rush era.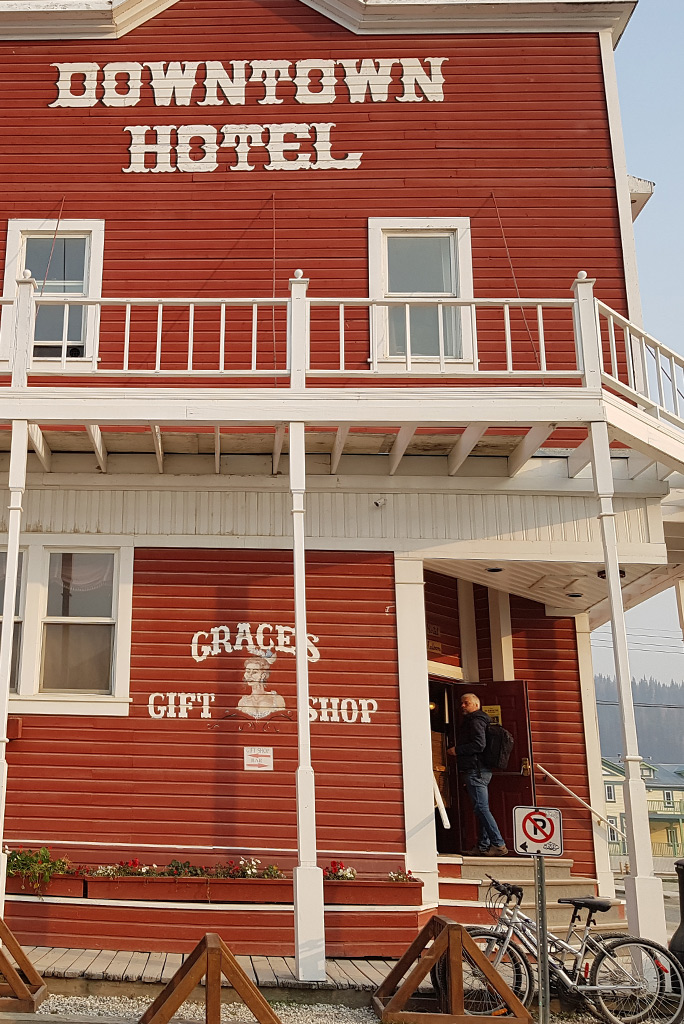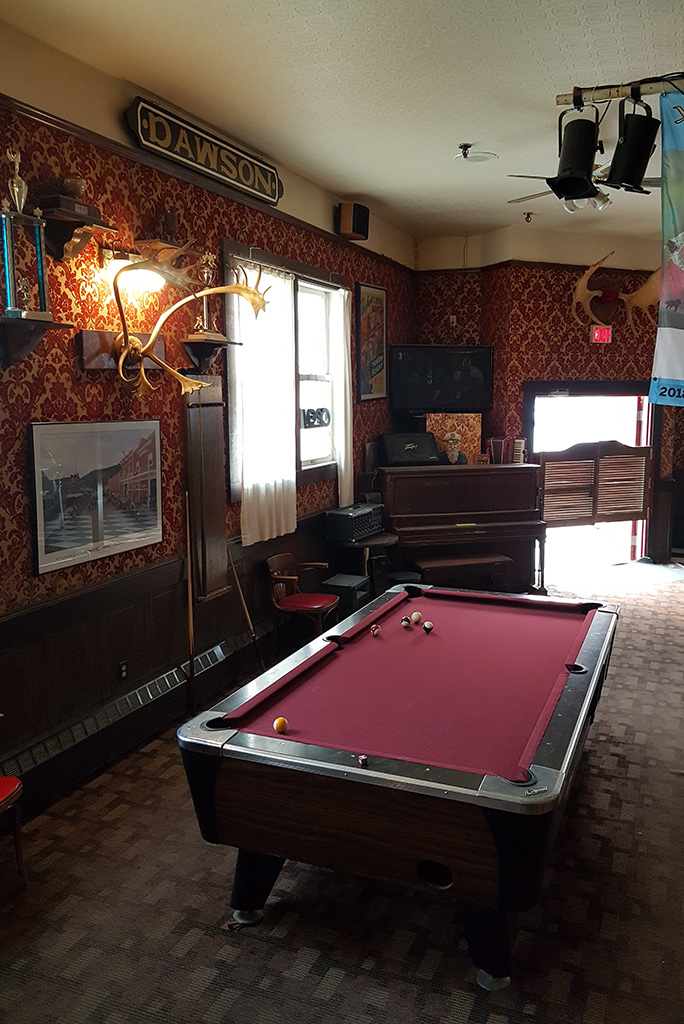 Go to the Live Show in Diamond Tooth Gerties Gambling Hall
The historic Diamond Tooth Gertie's Gambling Hall features a variety of vaudeville shows every night from May through September. It was also opened in 1971 by the Klondike Visitors Association, making it the oldest casino in Canada.
The building that houses Gertie was formerly known as the Arctic Brotherhood Hall. It was built in three weeks in 1901 by the Arctic Brotherhood, a fraternal social organization for men living in northwestern North America. Camp No. 4 of the Arctic Brotherhood was established in Dawson City in November 1899. The building was considered the most prominent and magnificent building in the Northwest.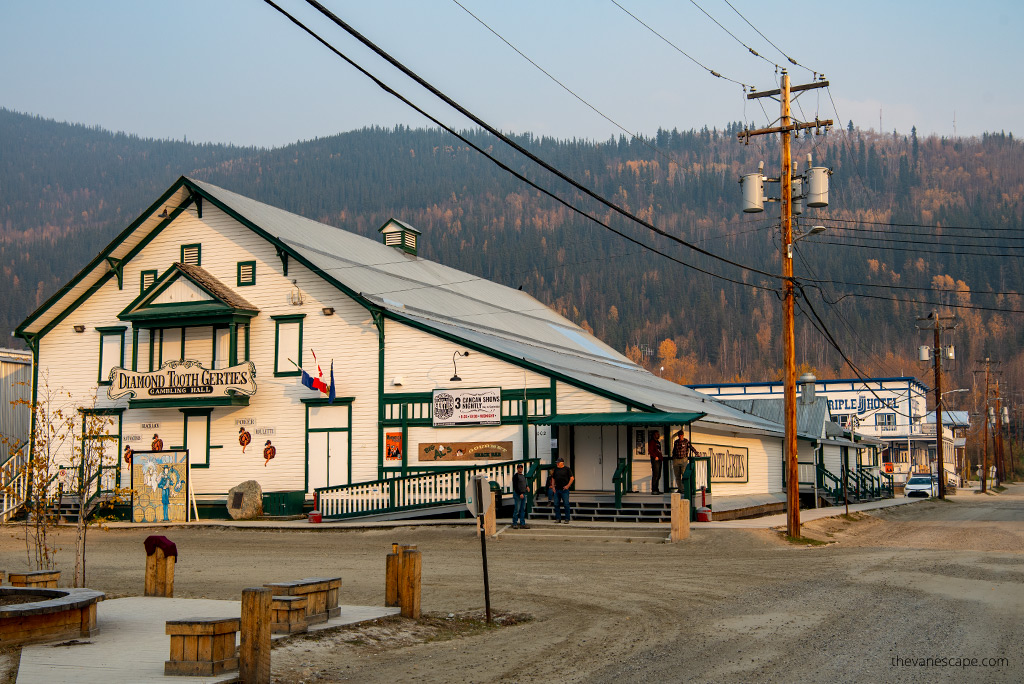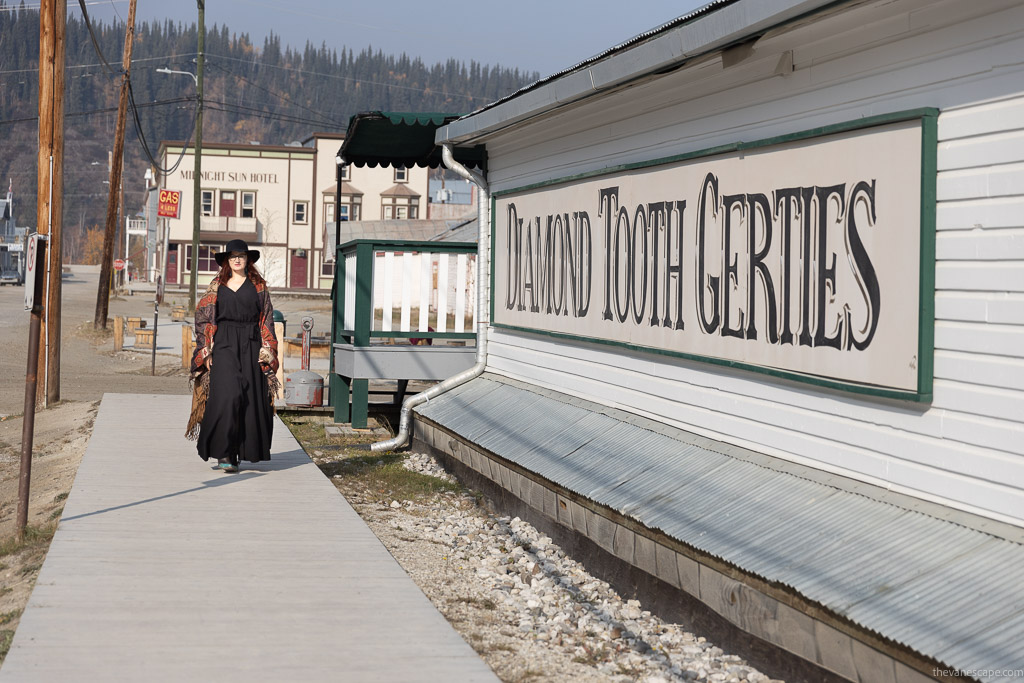 Visit Claim 33 Gold Panning and Try Gold Panning
Claim 33 Goldpanning & Jerry Bryde Klondyke Mining Museum is a small family business located in the heart of the Klondike goldfields. It's one of the best things to do in Dawson City, Yukon, if you are traveling with kids. You will learn here on panning technique and then try to find your gold. There is a lot of fun. It's open from May through September. You will find it on km 10, Bonanza Creek Road.
Visit S.S. Keno National Historic Site
The S.S. Keno is a steam-powered sternwheeler that represents the importance of the lake and river steamers in opening up the area to newcomers. You can find it on the banks of the Yukon River next to Front Street in Dawson. According to the official website, riverboats provided vital transportation on the Yukon River and its tributaries from the 1890s to the 1950s. In 1922, the British Yukon Navigation Company built the S.S. Keno to transport silver-lead ore from mines in the Mayo District on the Stewart River and return with vital supplies. For 29 years, this wood-fired, steam-powered vessel plied the waterways of the Yukon, connecting northerners with the outside world until modern roads led inland.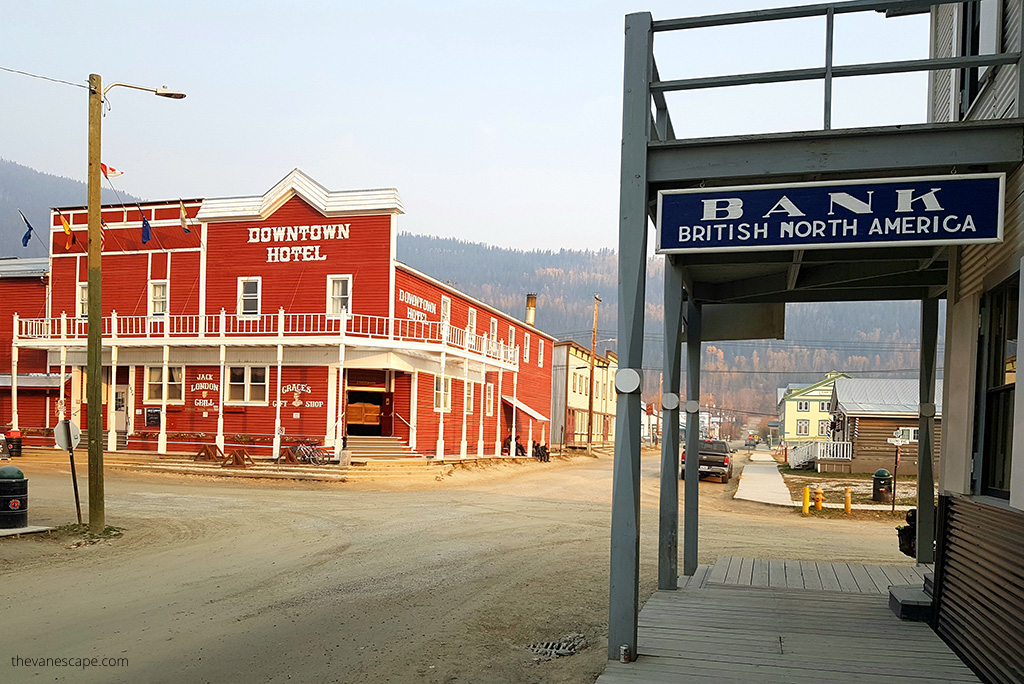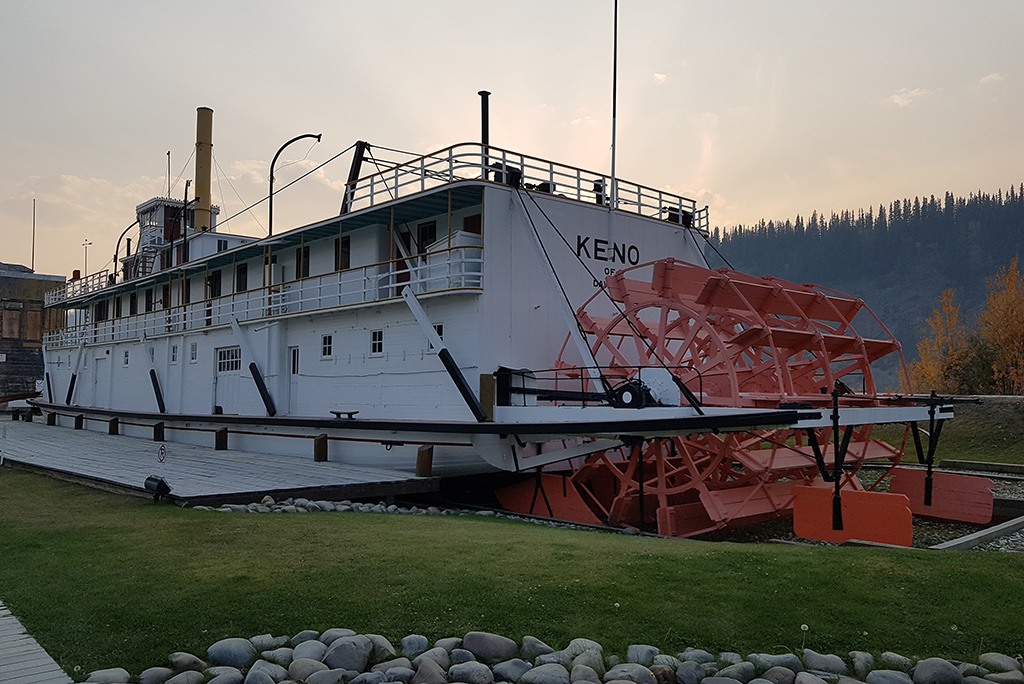 Learn about First Nations Culture at the Dänojà Zho Cultural Centre
Dänojà Zho Cultural Centre is the gateway to Tr'ondëk Hwëch'in heritage. A Centre is a meeting place for cultural activities, performances, and special events celebrating First Nations culture, traditions, and how they live today. They also provide a unique gift shop with handmade crafts, a heritage gallery, and tours. So, it's one of the best things to do in Dawson City, if you are interested in first nation culture and history.
Take a trip to Tombstone Territorial Park
One of the best things to do in Dawson City is taking a trip to Tombstone Territorial Park, a gateway to Dempster Highway. It might be a perfect road trip if you are well-prepared. It's a remote area with no services or no call reception. We did all the famous Dempster Highway to the Arctic Ocean go and back, and we described it to you in a separate article. But if you have only a day or two and are an experienced hiker and road-tripper, you can hit Tombstone Territorial Park. It's about 1.5 hours driving from Dawson City, at the beginning on Dempster Highway, at kilometer 71.5. You will find great hiking trails. But, as it's a wilderness and a totally remote area, check our Day Hiking Packing List before you hit the mountain trails. Yukon & Northwest Territories Map is a must-have for this trip.
Take a Trip
Consider taking an organized tour of the Yukon, as it is an extremely wild area that you will get to know better with a guide, especially if you would like to observe wildlife or northern lights.