Hiking in Bandelier National Monument
Hiking in Bandelier National Monument is a great idea if you plan a trip to New Mexico and looking for the best hikes in New Mexico state. You can find exciting trails in the Bandelier National Monument near Los Alamos and Santa Fe. Moreover, you will see ancient cave dwellings on rock cliffs and masonry pueblos. People lived there for more than 11 000 years. So, hiking in Bandelier National Monument is a fantastic adventure and a perfect idea for a trip. In this article, we share experiences and tips from this park.
This article may contain affiliate / compensated links. For full information, please see our disclaimer here.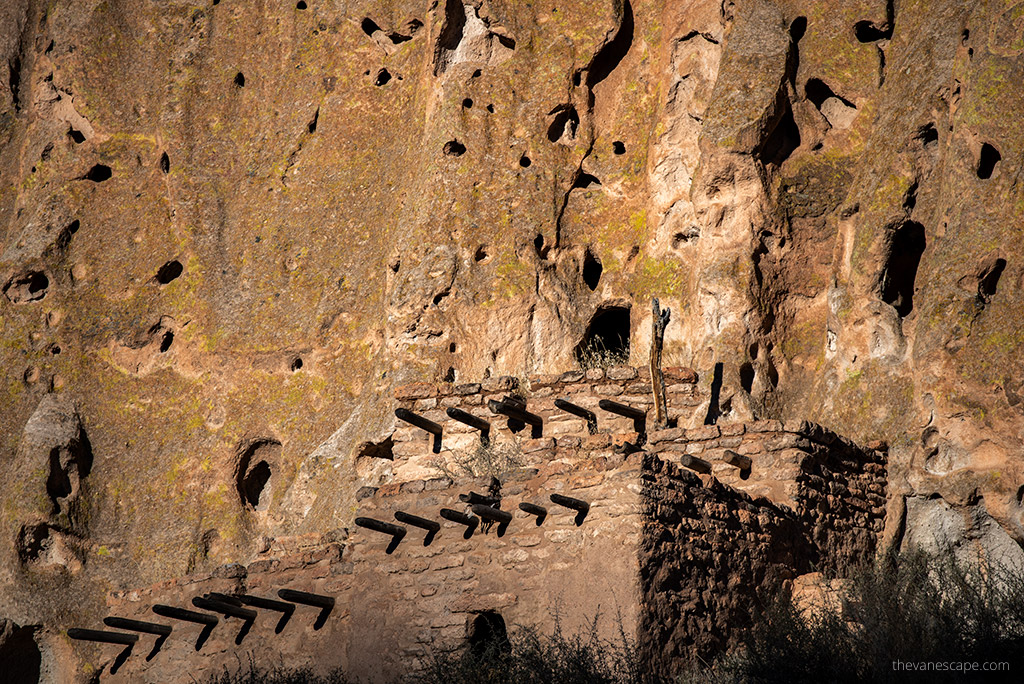 What is Bandelier National Monument?
Bandelier National Monument in New Mexico is a 33,677-acre site that protects the homes and territory of the Ancestral Puebloans, who occupied this area from the 12th to the 16th centuries. Bandelier was designated by President Woodrow Wilson as a national monument on February 11, 1916, and named for Adolph Bandelier, a Swiss-American anthropologist. He researched the area's cultures and supported the preservation of the sites.
The canyon walls contain numerous cave dwellings, petroglyphs, and pictographs that date from this period. Surface dwellings include the remains of two large villages, Tyuonyi and Tsankawi. The Ancestral Pueblo people (Anasazi) lived here from around 1150 AD to 1550 AD. The main construction activity in Bandelier began after 1300 AD.
Anasazi built homes from blocks of volcanic tuff, which is soft. There were also sources of hard basalt rock from which they made axes and hammers. Tools were used to form the tuff blocks. Axes were used to fell large Ponderosa pine trees, and the beams supported the roof. These Indians were agricultural. They planted corn, beans, and squash. From Yucca plants, they made soap and shampoo.
By 1540, when Francisco Vazquez de Coronado arrived from Mexico, the Indian people had already started to leave the canyon for new homes on the Rio Grande. The people of Cochiti Pueblo are the most direct descendants of the Ancestral Pueblo people who built homes in Frijoles Canyon. Likewise, the San Ildefonso Pueblo people are most closely linked to Tsankawi.
Are you interested in Pueblos & the Native American community in New Mexico? Check out our post about the famous Taos Pueblo.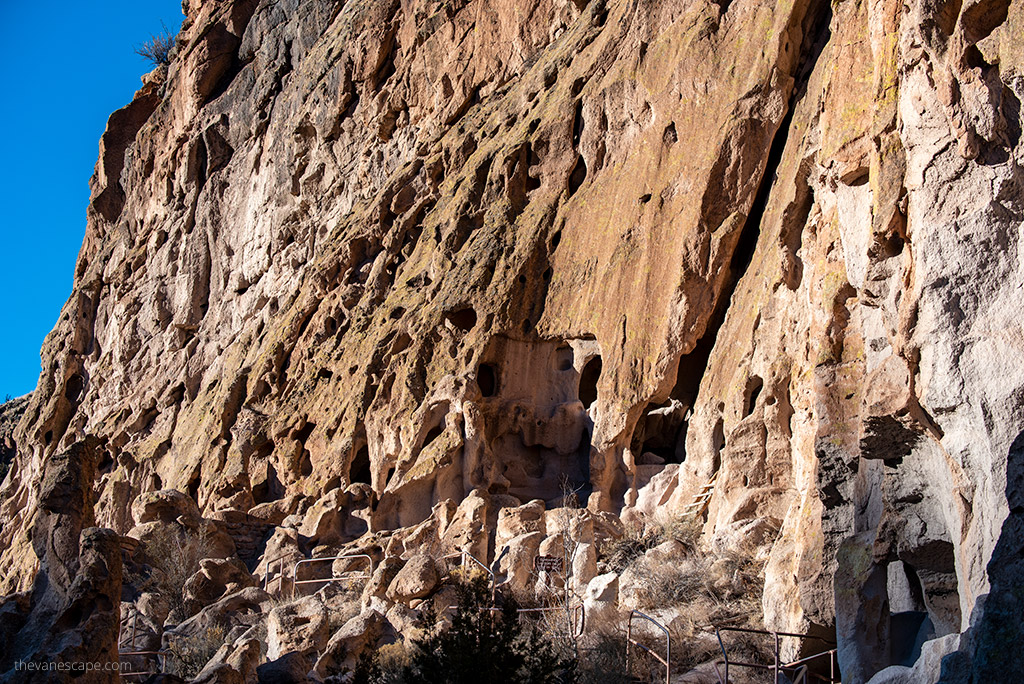 Where is Bandelier National Monument?
Bandelier National Monument is located 40 miles from Santa Fe, 12 miles from Los Alamos, 70 miles from Taos, and about 100 miles from Albuquerque. So, it is perfect for a day trip from Santa Fe or Taos.
Directions from Santa Fe
From Santa Fe, the fastest route runs through US-84 W and NM-4 W. The drive will take you approximately 50 minutes.
Directions from Albuquerque
From Albuquerque, you have two roads to choose from. The fastest route goes through I-25 North. It's 104 miles and about 1 hour 45 minutes driving.
The longer road runs through the mountains. It's 97 miles and over 2,5 hours of driving. From I-25 N, continue toward US-550 W / Bernalillo. Then follow the signs 'US-550 / Sandoval County Station' in Bernalillo and merge onto NM-165 W / US-550 N. After 55 miles, turn right onto NM-4 E.
| | | | |
| --- | --- | --- | --- |
| | | | |
| Bandelier National Monument Map | A Guide to Bandelier National Monument | Home of the Ancestral Pueblo People | Santa Fe, Bandelier & Los Alamos Trail Map |
| View Item | View Item | View Item | View Item |
Where to stay in Bandelier National Monument?
Hotels near Bandelier National Monument
The best option for accommodation is staying in Santa Fe. It is one of the most beautiful towns in the Southwest we have been to. So, we honestly recommend this place. In our separate article about Santa Fe, you will find the best lodging options in Santa Fe, places to visit, restaurant recommendations, and more.
But if you want to stay as close as possible to Bandelier National Monument, choose Los Alamos. We can recommend the Comfort Inn & Suites Los Alamos hotel, which is in the town center in the historic district. It is excellent for families and offers free WiFi and free parking.
You can check the availability of hotels and prices on booking.com.
Bandelier National Monument Camping
There are three different ways to camp in Bandelier National Monument. Juniper Family Campground is a campground and is intended for small groups of 10 individuals or less. Moreover, there are two campsites in Juniper Campground designed to handle small groups (10 – 20 people). Sites are first come, first serve, and no reservations are taken. It is located just outside the main park entrance. For more information can check on their website.
Ponderosa Group Campground is a group campground for groups larger than 10 individuals. Ponderosa Group Campground is located on State Route 4, six miles west of the park entrance and near the turnoff to Los Alamos, State Route 501. This campground is located at 7600 feet. You must have a reservation for Ponderosa Group Campground. You can make your reservation at www.recreation.gov, or you can call 1-877-444-6777. But check other rules on the camping website.
The third option is backcountry camping, which is also available but with a permit. You can obtain a free permit at the visitor center. The closest backcountry camping zone is approximately 2 miles from the visitor center.
Bandelier National Monument Shuttle
Parking in Bandelier National Monument is small. So, it might be challenging to get a space during the high season. Furthermore, depending on the timing of your visit, you may be required to take a FREE shuttle down into the canyon and the park's visitor center. Shuttle Bus is required from May 14 – October 14. It stops at the White Rock Visitor Center outside the park (a 25-minute ride), and Bandelier's Juniper Campground (10 minutes to the park). Detailed information and shuttle timetables are available on the park's website.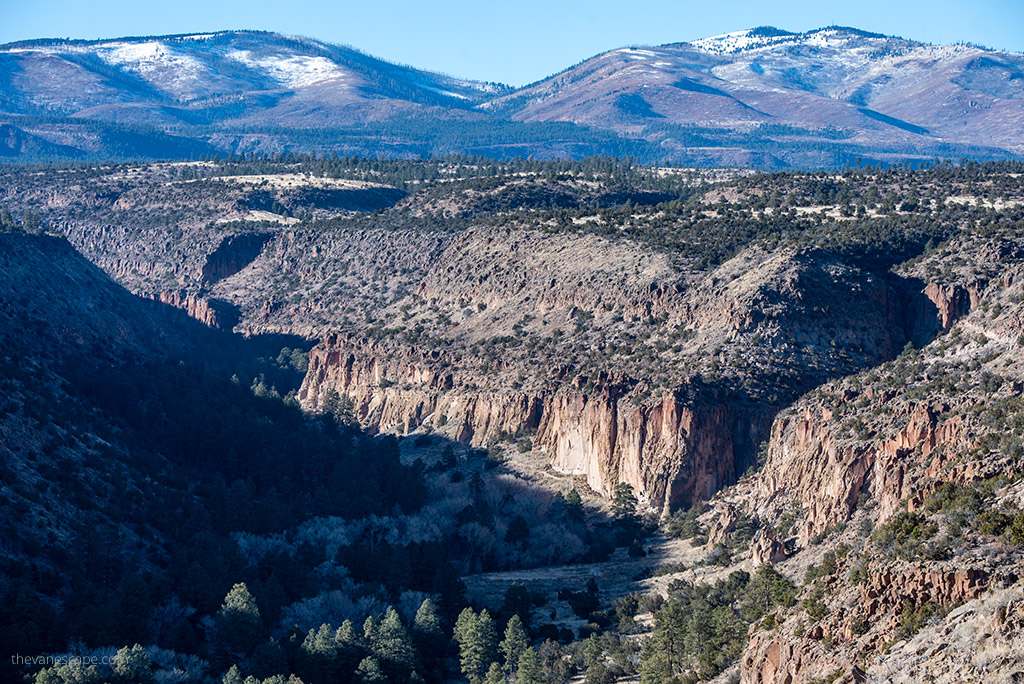 Hiking in Bandelier National Monument
There are over 70 miles of hiking trails in Bandelier National Monument. They are ranging from easy walking paths to multi-day treks. But pets are NOT permitted on any park trails. Below are short descriptions of some of the best hikes in Bandelier National Monument.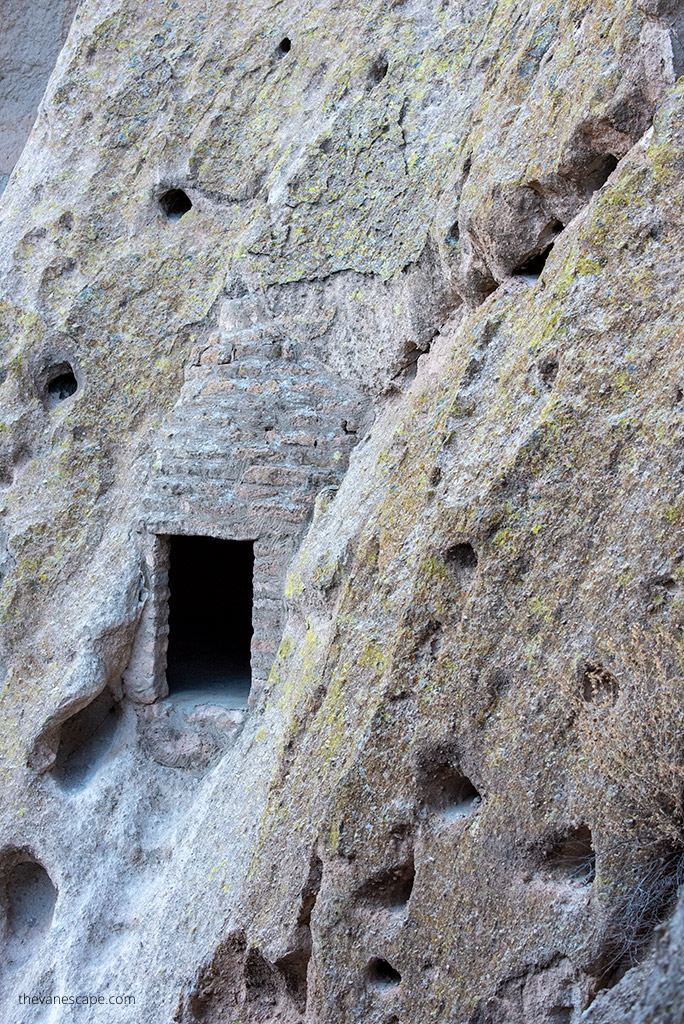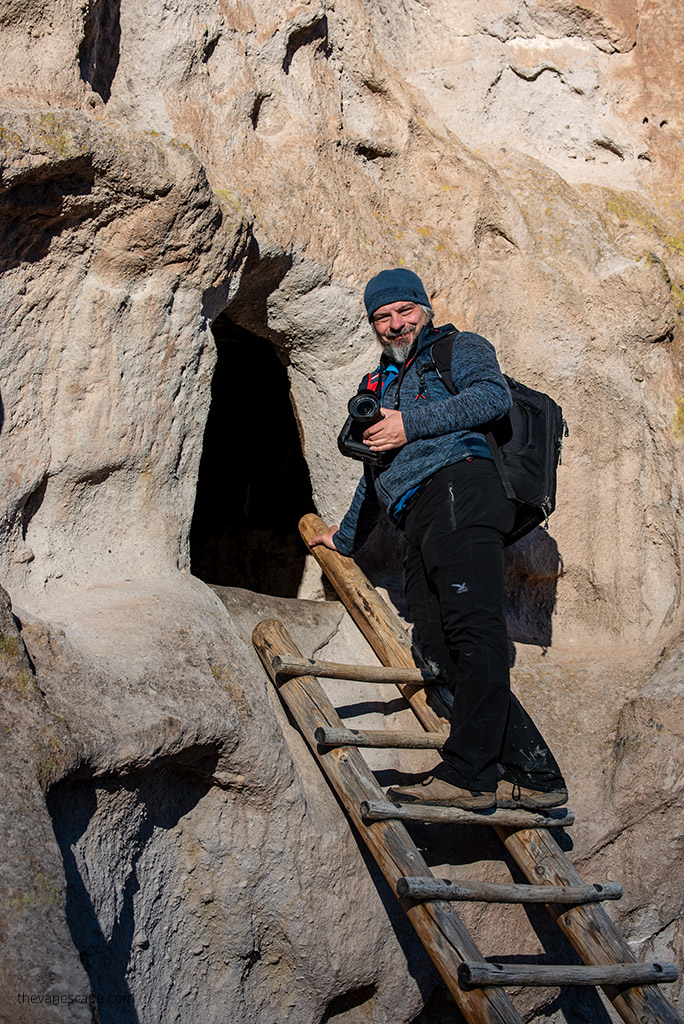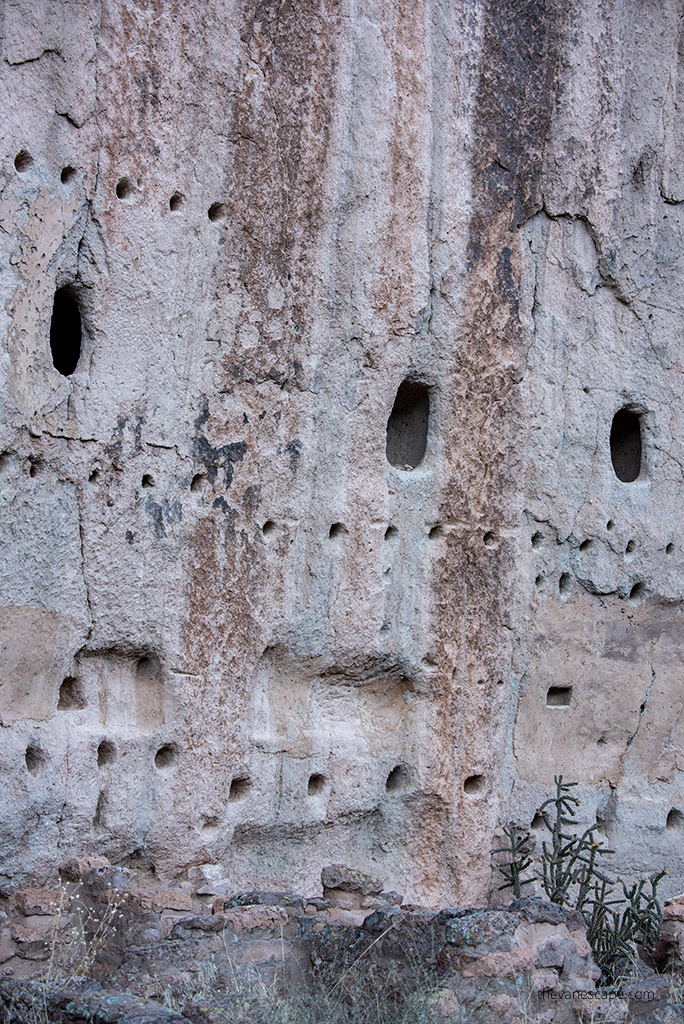 Main Loop Trail in Bandelier National Monument
Frijoles Canyon contains many ancestral pueblo homes, kivas – ceremonial structures, rock paintings, petroglyphs & pictographs. Some of the dwellings are rock structures built on the canyon floor. But others are at the canyon wall. A 1.2-mile (1.9 km), paved "Main Loop Trail" from the visitor center affords access to these ancient ruins.
It is a must-do trail in Bandelier National Monument. It is the best way to learn about the history and see the legacy of the Ancestral Pueblo people that inhabited this land between 1150 and 1550 A.D.It leads you through archeological areas, including the Big Kiva, Tyuonyi, Talus House, and Long House.
You can see the cliff dwellings if you climb short, sturdy wooden ladders. You will see details of ancient structures. It is an easy trail, great for kids. But part of the trail does require you to navigate numerous stone stairways and narrow walkways. It's also the most popular hike in Bandelier, so the path might be crowded.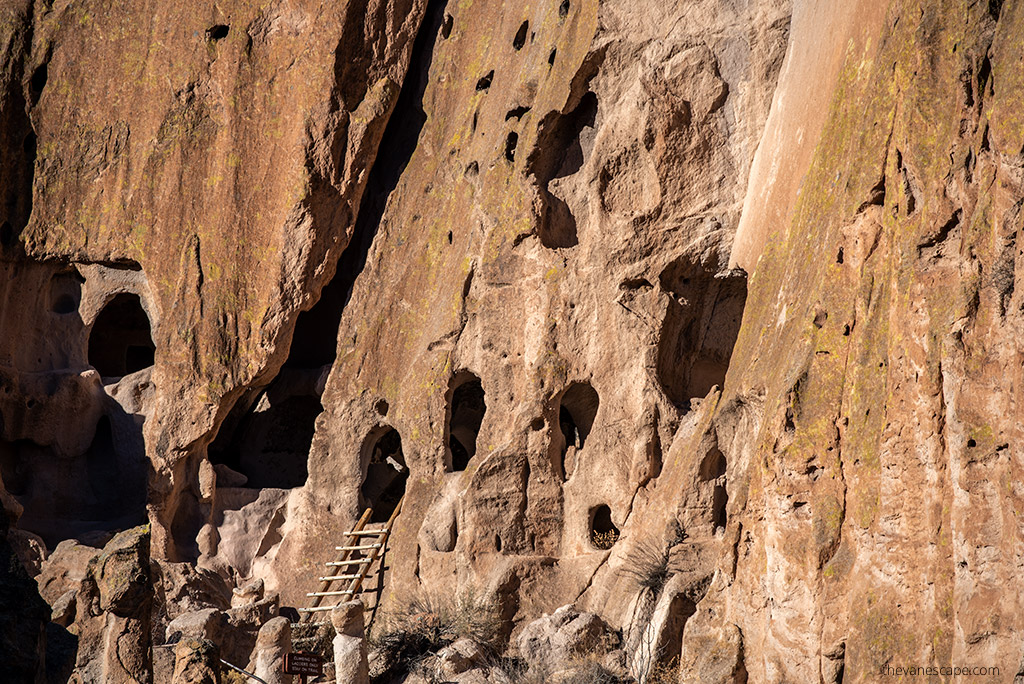 Alcove House Trail in Bandelier National Monument
A trail extending beyond Main Loop Trail leads to Alcove House. It is a Ceremonial Cave, a shelter cave produced by erosion of the soft rock. Furthermore, it contains a small, reconstructed kiva that hikers may enter via the ladder. The Alcove House Trail begins at the west end of the Main Loop Trail and extends 0.5 miles (0.8 km) to Alcove House. In addition, the Ceremonial Cave, the alcove, is located 140 feet (43 m) above the floor of Frijoles Canyon. This pueblo was the home of around 25 Ancestral Pueblo people. At the end of the hike, there is an optional climb on a series of wooden ladders to the actual Alcove House. So, you can climb or admire Alcove House from below. It's an easy trail, perfect for families.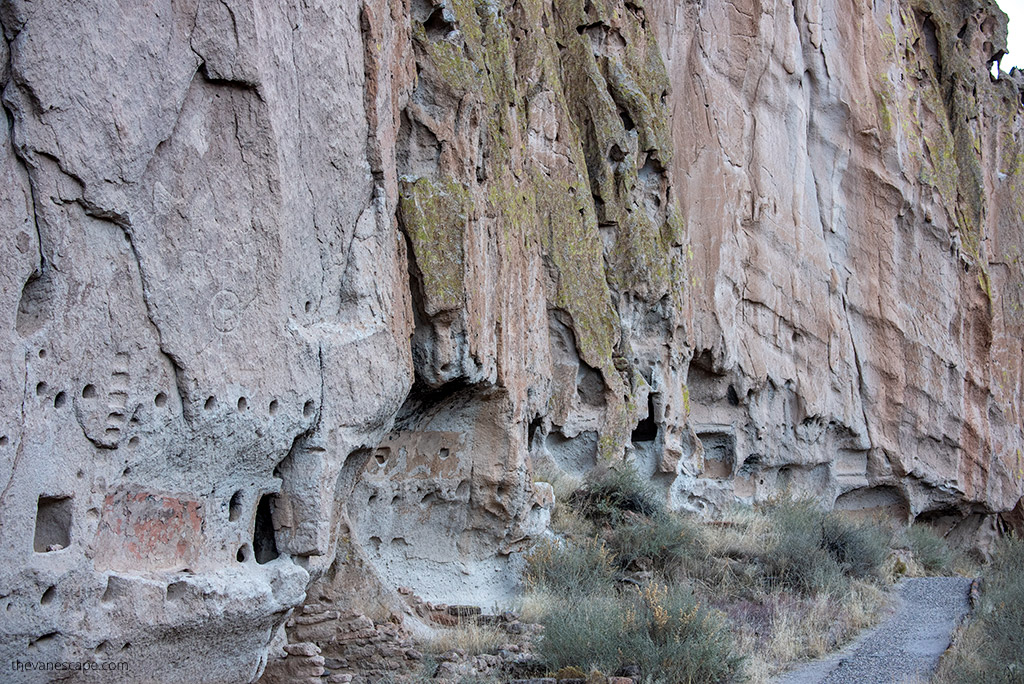 Frey Trail in Bandelier National Monument
The Frey Trail starts at the campground amphitheater. The trail is 1.5 miles (2.4 km) one way. There is an elevation change of 550 feet (170 m). The Frey Trail extends between the Juniper Campground and the center of Bandelier National Monument, where it joins the Main Loop Trail. It is a less crowded hike, so it's worth your effort. The Frey Trail starts at the campground and hikes down into the canyon, where the trail connects with the Main Loop Trail. The shuttle bus stops at Juniper Campground. It is a quiet, peaceful hike with scenic views and wildlife watching.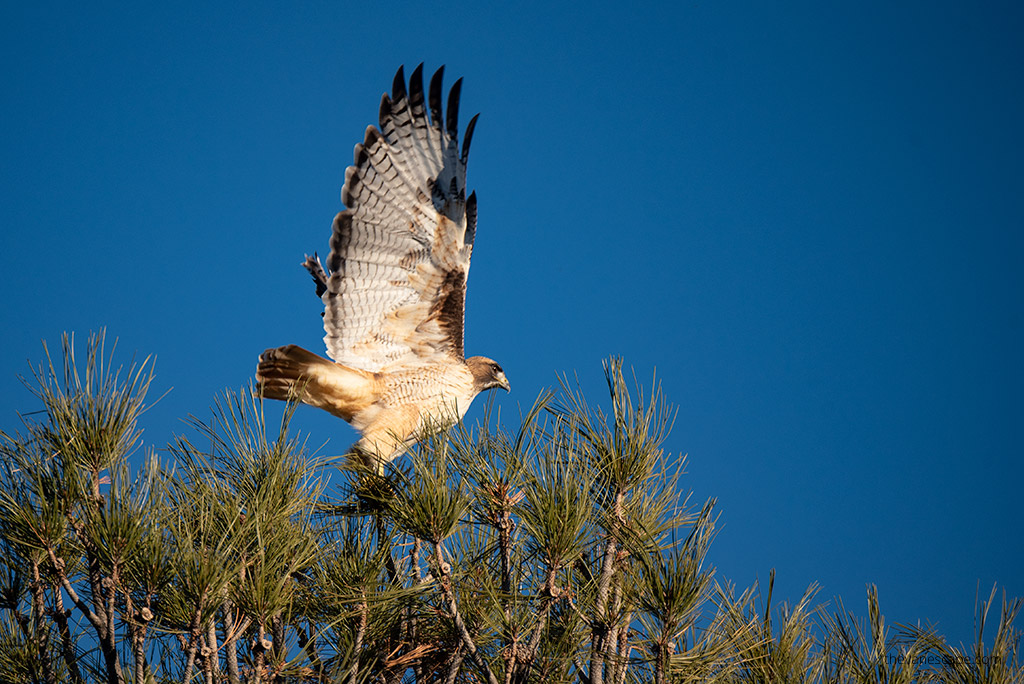 Falls Trail in Bandelier National Monument
The Falls Trail starts at the east end of the Backpacker's Parking Lot near the visitor center. It's over 1.5 miles long. Furthermore, it descends 400 vertically to the Upper Falls. There are no archeological sightings along the way. There are steep dropoffs along the trail and plank bridges across the creek. In the winter, it can be extremely icy.
Frijolito Loop Trail in Bandelier National Monument
The Frijolito Loop Trail is a more strenuous hike. It is 2.5 miles (4.0 km) long one-way. It starts in the Cottonwood Picnic Area and climbs out of Frijoles Canyon using a switchback path. Once on top of the mesa, it passes Frijolito Pueblo. It returns to the visitor center along the Long Trail.
Take a Tour to the Bandelier
You can visit the Bandelier National Monument on your own. But if you are going on a one-day trip from Santa Fe and are interested in the history of this place, it is worth considering a guided tour. The ancient Anasazi ruins with a professional guide are a fantastic adventure. Traveler pickup is offered at any hotel, or B&B, in the plaza area of Santa Fe. You also have a chance to visit the Valles Caldera, the site of a 2-million-year-old volcano that sits on the top of the Jemez mountains. You can book your trip here.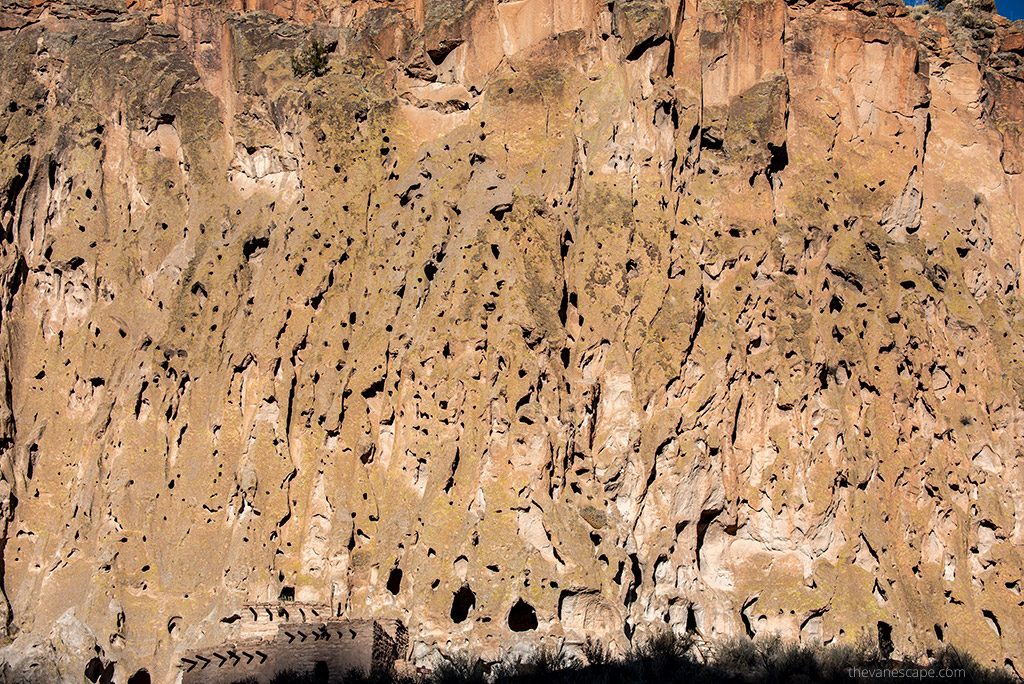 When to visit the Bandelier National Monument?
The Bandelier National Monument is open year-round from dawn to dusk except during heavy snow days or other emergencies. So, before you go, check the park website to ensure it's open. We went hiking in Bandelier in December. It was cold but sunny and perfect weather for a hike. If you are going in the summer, take a plentiful water supply. Monsoon season is from mid-June to mid-September. Spring and Fall are the best, in our opinion, because the Park is less crowded, and the temperatures are pleasant.
How to prepare for hiking in Bandelier National Monument?
Whether the trail is short or long, easy or demanding, you must always be prepared for your hike. Accidents happen, or the weather can change dramatically in a few minutes. That's why we pack carefully, even for shorts and leisurely walks.
First of all, take proper hiking shoes. Do not attempt these hikes in flip-flops or even flimsy shoes. You need sturdy shoes with a good grip and tread.
Hiking poles might be useful during these hikes also.
Pack yourself in a comfortable backpack. You should have a hiking backpack with a lap belt so that it relieves your spine while climbing.
Watch your body while hiking. Even experienced hikers have weaker days. If you start to feel dizzy, disoriented,or nauseated, take a rest. Take plenty of water for your hike. Drink water, eat a salty and high-proteins snack, and rest as long as you feel better. If you are cold, put on extra layers and eat. If you are hot, drink more water and rest. Protect your body from the sun, so take a hat & sunscreen.
Below is a list of our essentials, the most necessary things we must have on the trail. So, we pack the essentials even on day hikes.
| | |
| --- | --- |
| | Water is most important even during short hikes, so bring a sufficient amount of water, and extra water in case of emergency. Always carry a water treatment method, f.e.tablets. Check before the hike if there any water sources on the trail. The best idea is to take a light water reservoir. |
| | Take a salty snack, as high energy protein bars and beef jerky or other high - calorie meals, as nuts and sandwiches. Always take extra portions. |
| | Always take a trail map. You can use App with your hike, but remember that there is no coverage often on the trails, so you should have printed maps too. |
| | GPS watch or GPS device allows you to find your location on a digital map accurately. They are waterproof and robust. Another option is to use a smartphone with a GPS app, but often there is no connection on the trails. If you have a phone, remember not to use its battery. Finally, monitor your battery power. |
| | First aid kit with blister care, duct tape. It will help you handle unexpected moments (includes CPR Mask, Bandaids, Blanket, Tourniquet and more) |
| | Headlap or flashlight with spare batteries. Yes, we take it with us even if the hike is lasting only a few hours during the day. A long time ago we lost during the day and then we had to come back through the wilderness at night. You never know what will happen, that's why we always have headlamp with us. |
| | Extra Clothes. Even for short hikes, we dress in layers. We always have high trekking shoes with reliable traction, and we use trekking poles, too. But we always put it in the backpack extra clothes beyond those required for the trip. We add a warm hoodie, raincoat, gloves, a hat, and socks,in case of weather breakdown. |
| | Emergency sleeping bag, which serves as your emergency blanket, survival shelter, and emergency bivy sack all-in-one. |
| | Pocket Knife with Multitool it's ideal for outdoor activities like camping, and hiking. It's essentail for gear repair, food preparation, first aid. |
| | Fire Starter, because in case of an emergency, you need to have reliable supplies with you for starting and maintaining a fire. |
| | Emergency Whistles is must-have, too. Battery in the cellphone will run down, or there will be no coverage on the trail, and this is the only way you can call for help. |
| | Sun protection. Always pack with you and wear sunglasses, sun-protection hat and sunscreen. |
| | Always carry some type of emergency shelter to protect you from wind and rain in case you get stranded or injured on the trail. |