3 Days Santa Fe Itinerary
3 Days Santa Fe Itinerary helps you enjoy and experience the fullest of this charming city. America's oldest capital city, Santa Fe, in New Mexico, is the only one to have fascinated travelers for more than 400 years. Moreover, Santa Fe is one of the nation's highest significant towns. It is located at the top rim of the vast upper Rio Grande basin, 7,000 feet above sea level. Santa Fe has achieved world-class status as a fascinating getaway destination. It offers incredible art & architecture, delicious food, museums, and operas.
This article may contain affiliate / compensated links. For full information, please see our disclaimer here.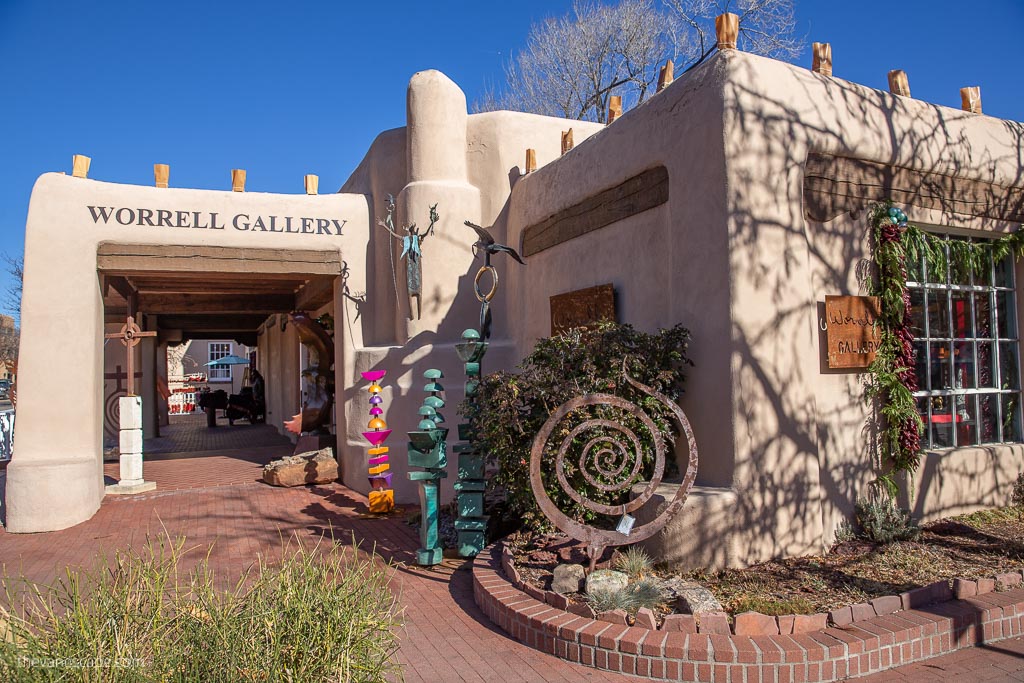 Why Visit Santa Fe?
Santa Fe is the capital of the U.S. state of New Mexico. The city was founded in 1610 as the capital of Nuevo México after it replaced Española as capital. So, it is the oldest state capital in the United States. The population is over 84 000. Furthermore, Santa Fe is considered one of the world's great art cities because of its many art galleries and installations. It is on UNESCO's Creative Cities Network list.
So, we have prepared 3 Days Santa Fe Itinerary. But there are so many attractions in the area that you can spend even a week or more here. Santa Fe is a fantastic base for exploring northern New Mexico.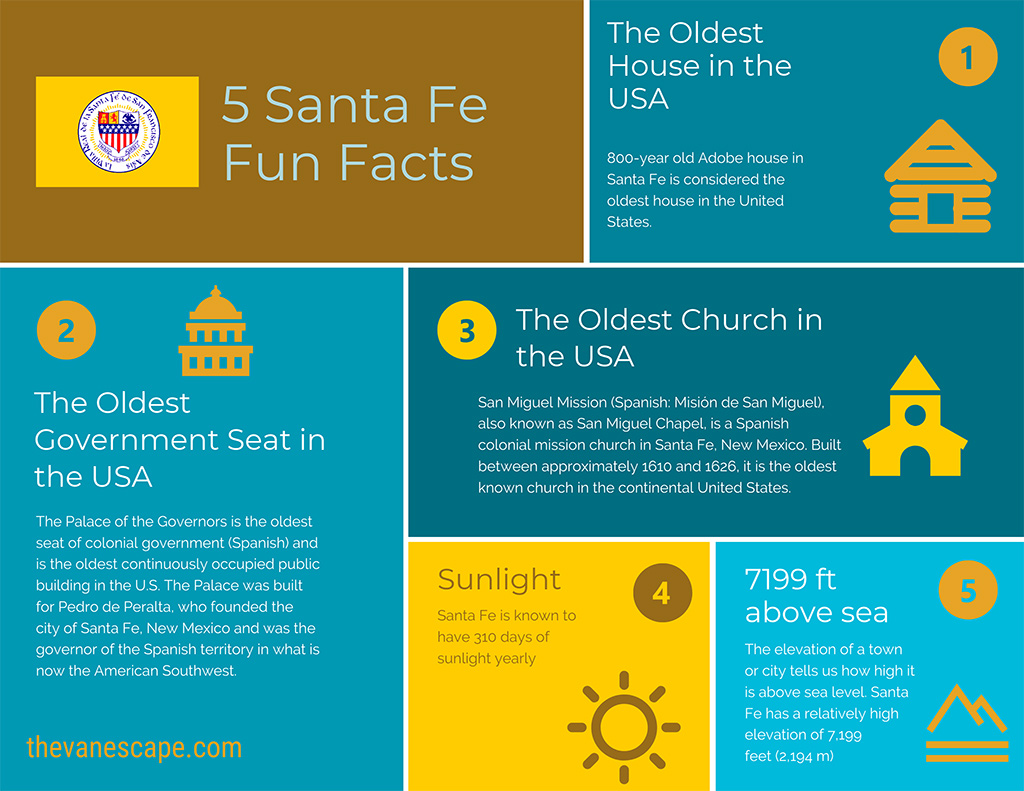 How To Get To Santa Fe?
The Santa Fe Municipal Airport offers daily direct flights from Denver, Dallas, or Phoenix. That's why Santa Fe is a perfect destination for a weekend or extended getaway. You can find some car rental agencies right at the airport. The closest international airport is Albuquerque International Sunport. So, check the best flight options on skyscanner.com or CheapOair, a leading provider of airline tickets and rental cars.
How to Get To Santa Fe From Albuquerque?
From Albuquerque International Sunport, it's only a short one-hour drive away to Santa Fe. You should take I-25 North. At Sunport, you can choose from several car rental agencies. You can compare conditions, and prices and book your car on TripAdvisor or RentalCars. Our favorite rental is Alamo. We've been using it for years, and can recommend it.
Another option is a shuttle. One service at the ABQ airport is the Sandia Shuttle Express. The shuttle offers to pick up and drop off at all Santa Fe hotels and other locations. Shuttle time is 75 minutes one way.
If you prefer to travel by train, you can choose The New Mexico Rail Runner (NMRX). It is a commuter rail system serving Albuquerque and Santa Fe, New Mexico metropolitan areas.
TRIP TIP: If you are going from Albuquerque, make sure to experience Rio Grande Valley Hot Air Balloon Ride, as it's one of the best adventures in the area!
The Best Time To Visit Santa Fe
When is the best time to visit Santa Fe? It is a beautiful year-round destination because Santa Fe's climate is characterized by cold, dry winters, warm summers, and relatively low precipitation. Santa Fe has over 300 days of sunshine a year. At any time of the year, you will find exciting activities. So, your interests determine what the best time to visit Santa Fe for you is. We have prepared weather charts for you below.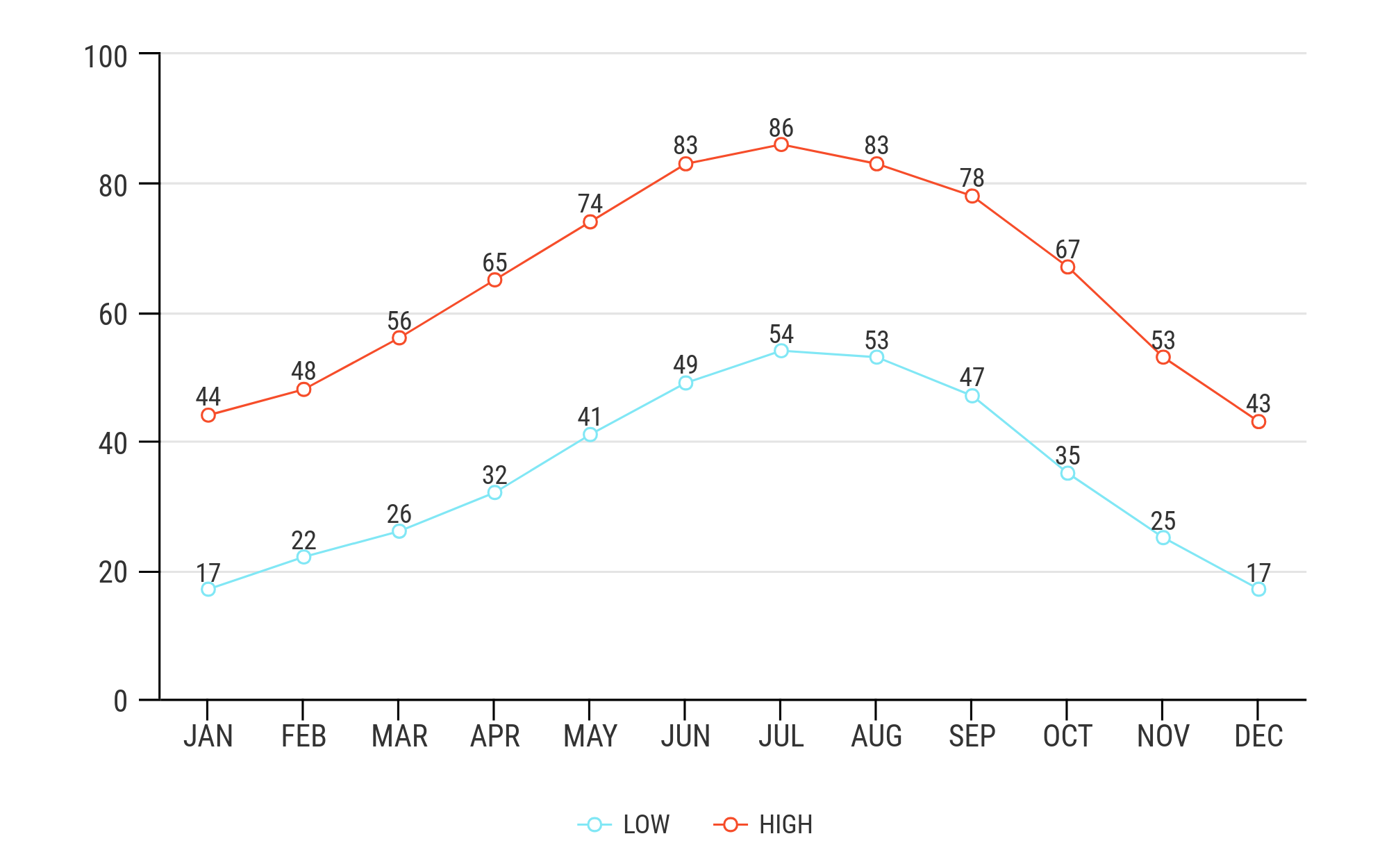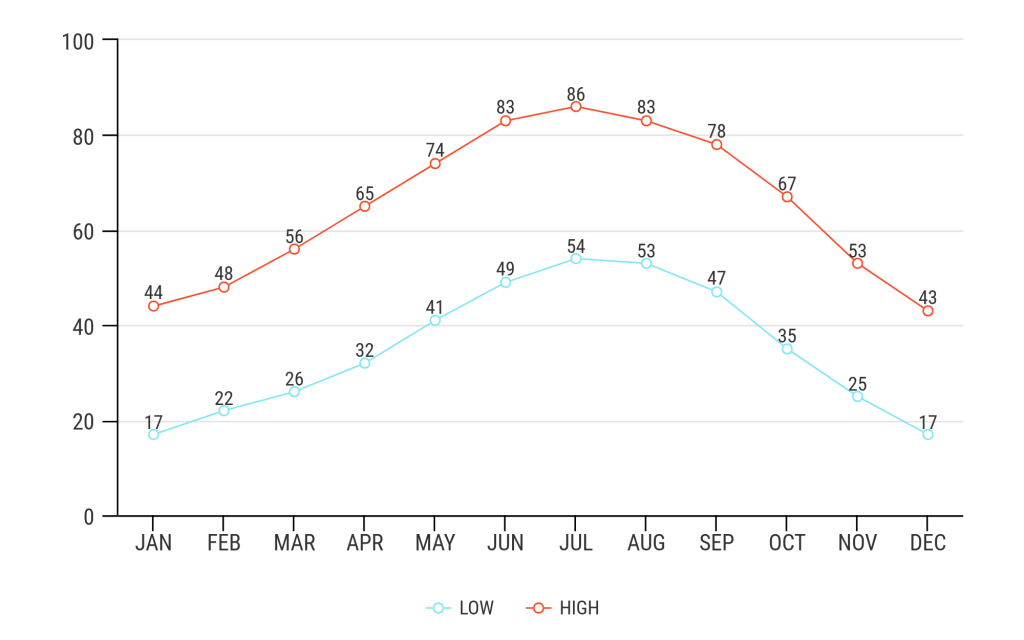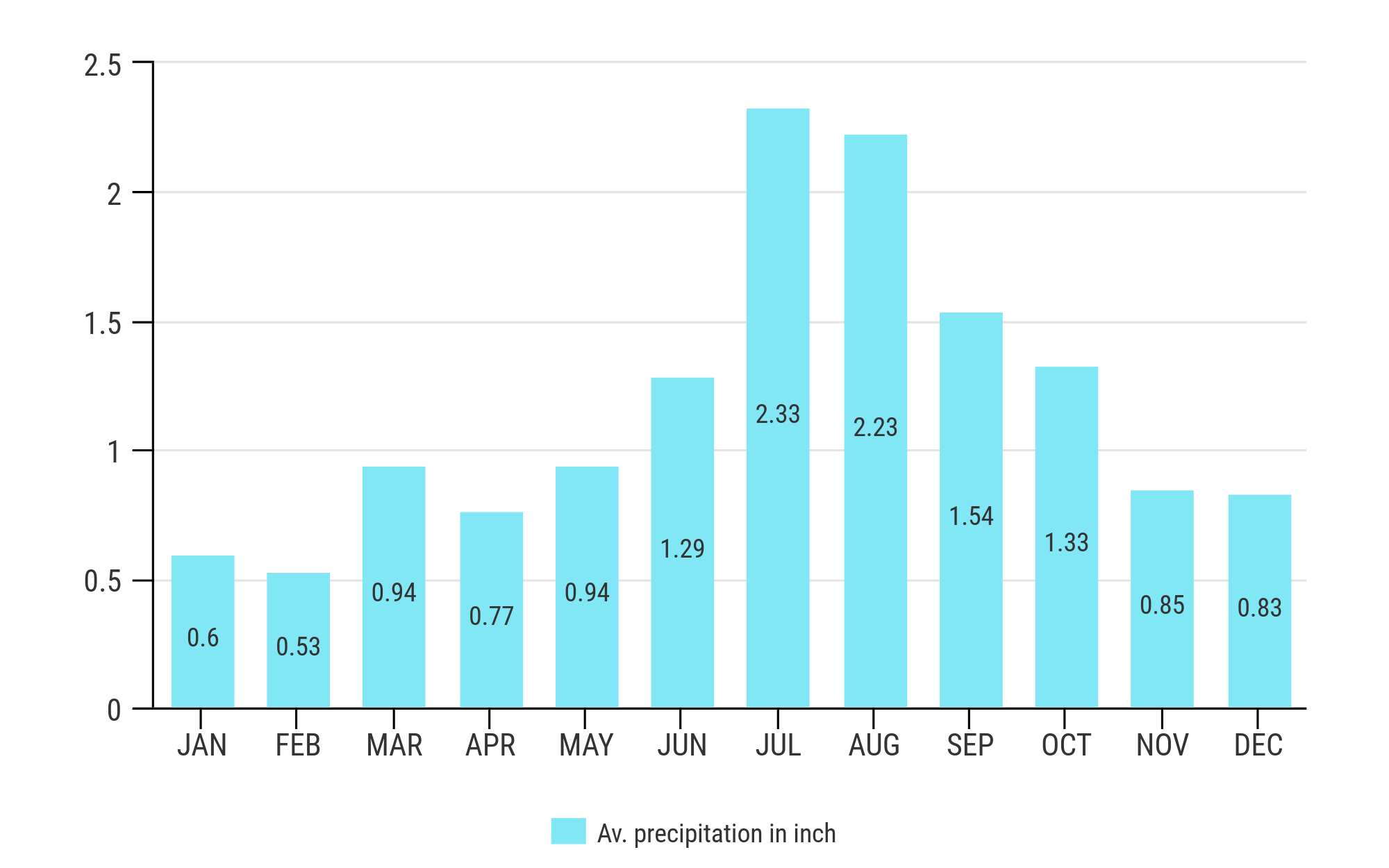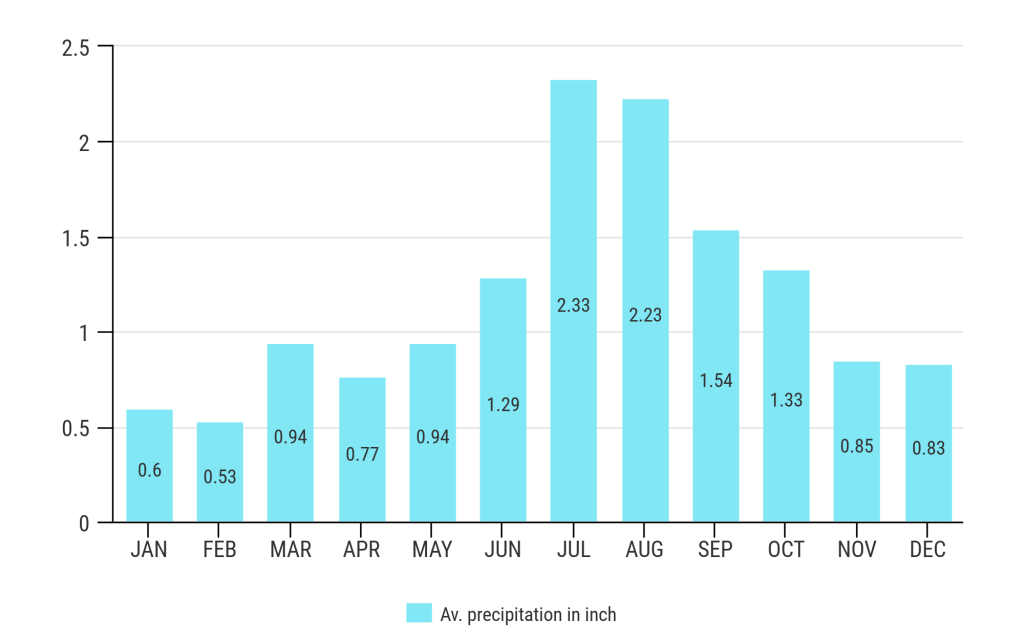 Santa Fe Ski Season
If you are looking to enjoy world-class skiing, you should plan to visit Santa Fe from December through early March. It is the height of the Santa Fe ski season. So, you should book your accommodation in advance. Ski Santa Fe is a fantastic ski resort. It offers 79 trails and over 200 inches of snow every year. Tracks have different levels. They are available for the most experienced skiers and beginners as well. Daily temperatures can vary from the high 50 F to low 30 F. However, the cold air is dry, so it doesn't feel as cold as the damp. Winter is beautiful in Santa Fe.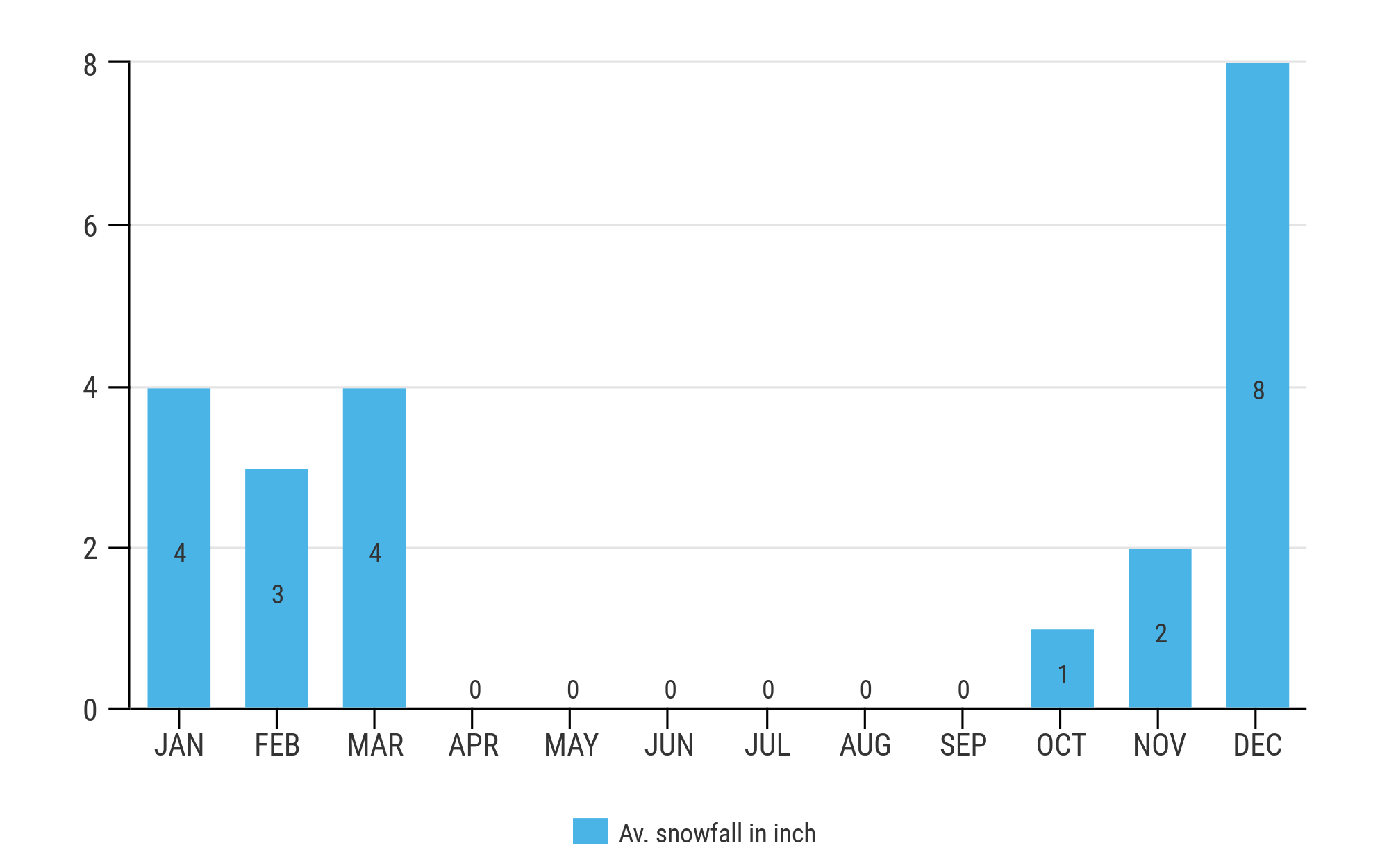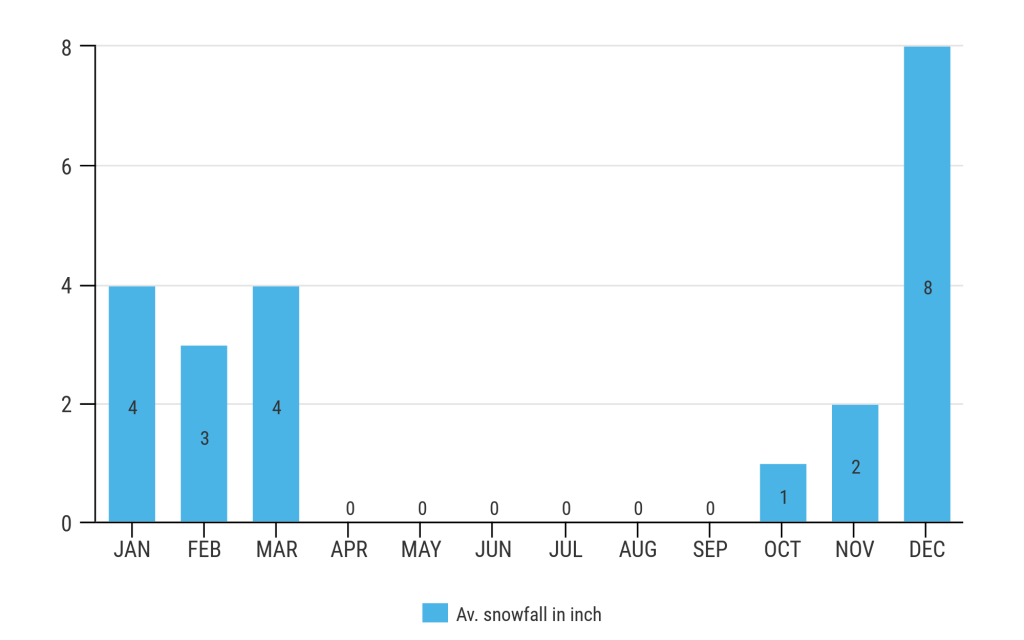 Spring in Santa Fe
Spring is one of the most popular times to visit Santa Fe. It is a very mild season. Temperatures usually hover between 50F and 70F. It is perfect weather for outdoor activities. There are also festivals and outdoor exhibits and markets during the spring in Santa Fe.
Summer in Santa Fe
Summer in Santa Fe can get hot, but the nights are usually fantastic. The temperature is usually about 80F, which is excellent for walking and hiking. July is the warmest month and has the highest precipitation average. Monsoons are also common during July. Fantastic events occur in Santa Fe during the summer, like the Spanish Market, Indian Market, or Santa Fe Opera.
Fall in Santa Fe
Santa Fe in the fall is similar to Santa Fe in the spring. The weather is mild. The fall brings cool nights and mornings. The days can warm up from 50F to high 70F. The crowd is smaller. So, September, October, and November are the best months to visit Santa Fe, if you love the outdoors. The mild weather is perfect for hiking adventures. Furthermore, there are a lot of Santa Fe events during autumn.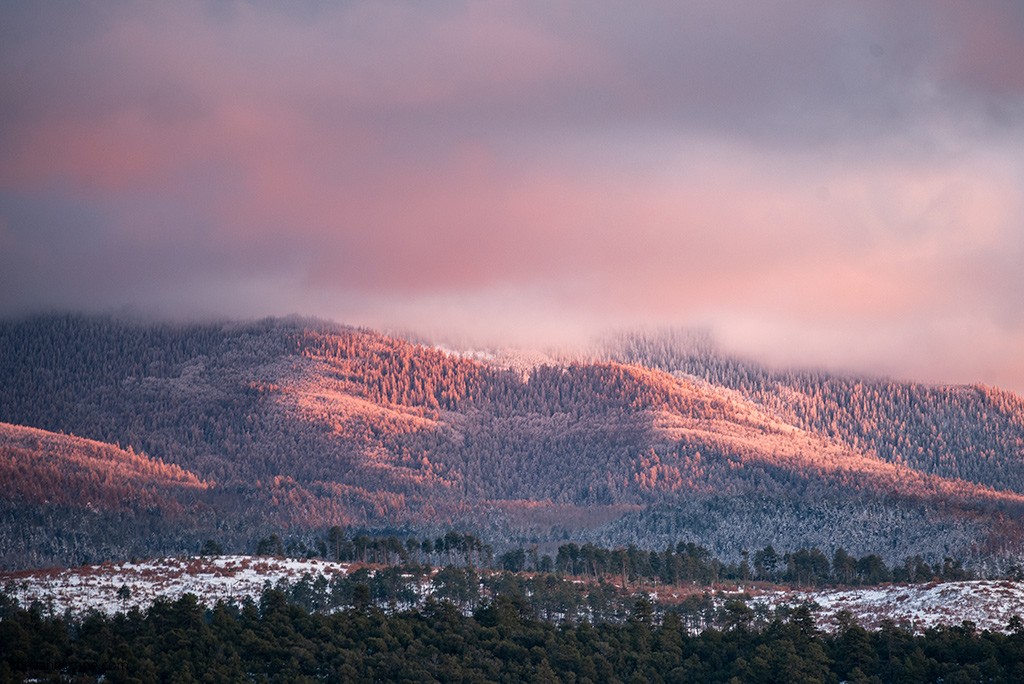 3 Days Santa Fe Itinerary – Famous Santa Fe Events
Below are some of our suggestions for the most fantastic Santa Fe events. It might help you to choose what is the best time to visit Santa Fe for you. Due to the popularity of these events, it is worth booking tickets (when needed, like to the opera) and accommodation in Santa Fe in advance. 3 Days Santa Fe Itinerary is, in our opinion, the minimum to feel the atmosphere of this place. On the map below, you can check actual hotel prices with their detailed location.
Santa Fe Farmers Market
Santa Fe is famous for its outstanding cuisine, and we can't wait to come back to enjoy these flavors again. Regardless of what month you plan your visit, it is worth going on one of the local culinary tours. What's more, if you love local cuisine and fresh food, the Santa Fe Farmers Market is something for you. It is held in the Railyard district of Santa Fe every Saturday year-round, and Tuesdays from May through November. On market days, the Railyard is full of shops, stalls, and tents with fresh produce, dairy, and meat. Moreover, you will find beautiful artisanal goods, unique handicrafts, and a great atmosphere. The Santa Fe Farmers Market starts at 8 a.m. and ends at 1 p.m.
International Folk Art Market
The Mission of the International Folk Art Market (IFAM) is to create economic opportunities for and with folk artists worldwide who celebrate and preserve folk art traditions. So, you can admire handmade cultural traditions and support folk artists' work.
Spanish Market & Indian Market
The Spanish Market takes place the last week of July every year. The event features over 250 local artists. They offer handcrafts like carving, painting, tinwork, silversmithing, and much more. The event takes place around the 400-year-old Plaza de Santa Fe.
In August, you can participate in the Indian Market. So, it is an opportunity to meet the artists and learn about contemporary Indian arts and cultures.
Santa Fe Opera Festival
From the end of June through August, you can participate in the Santa Fe Opera Festival. The internationally acclaimed Santa Fe Opera Festival began in 1957. The Gala Opening Celebration includes an Opera Ball. It is worth booking tickets for operas well in advance. So, if you are an opera lover, one of the top things to do in Santa Fe is to see a performance at the Santa Fe Opera.
Santa Fe Wine and Chile Fiesta
Taste of Santa Fe Wine and Lunch and Join-In Wine Tours are some of the best local tours in the town, available almost all year round. However, if you visit Santa Fe in September, you have a chance to join the local fiesta. The Santa Fe Wine & Chile Fiesta is an annual five-day weekend of events in September featuring the culinary artistry found in Santa Fe. So, if you're looking for a world-class culinary experience, plan your trip during the Santa Fe Wine and Chile Fiesta.
Furthermore, the Santa Fe Wine and Chile Fiesta brings together over 90 wineries from around the country, along with 75 of Santa Fe's world-class restaurants with the unique culture and traditions of northern New Mexico.
Fiesta de Santa Fe
In early September each year, you can experience Santa Fe's culture, history, and artistic community by visiting the Fiesta de Santa Fe.
Santa Fe Fiesta is a festival commemorating Santa Fe's reconquest by Spanish settlers in 1692. So, you can enjoy live music, carnival food, people-watching, and a great atmosphere during this event. It is connected with Zozorba Burn Him Festival.
Zozorba Burn Him Festival
Established in 1712 as a religious observation, the Santa Fe Fiesta now incorporates a Fine Arts and Crafts Market, historical observances, and the fiery destruction of Zozobra – a 50-foot tall marionette, during Zozobra – Burn Him Festival. Furthermore, the burning of the 50-foot-tall effigy known as Zozobra – Old Man Gloom began in 1924 and has become an annual tradition for Santa Fe.
Santa Fe Independent Film Festival
Each October, top international films, American independents, and the most competitive New Mexico programs participate in this film event. So, if you like independent films and events, visit Santa Fe during the Santa Fe Independent Film Festival.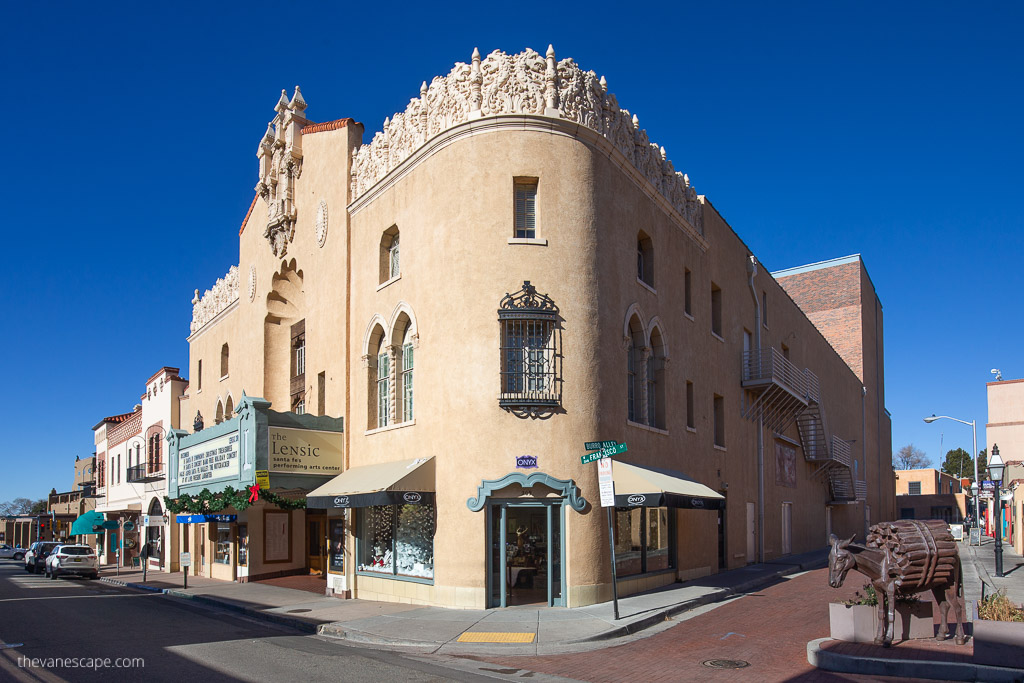 Where To Stay In Santa Fe?
In this chapter of the 3 Days Santa Fe Itinerary, we tell you where to stay in this fabulous city. Santa Fe offers a wide range of accommodation from luxury resorts, hotels, motels, and Santa Fe RV parks. Below are some of our suggestions for accommodation in Santa Fe for different budgets, including the best hotels in Santa Fe and Santa Fe campgrounds. Most importantly, these suggestions enjoy the highest customer reviews. Check Deals Finder below to get the best prices!
3 Days Santa Fe Itinerary – The Best Hotels in Santa Fe
($$$) Luxury Accomodation in Santa Fe
Rosewood Inn of the Anasazi is a luxury 5-star hotel with a restaurant, near Santa Fe Plaza in the town center. It offers 3 restaurants on site. All rooms feature a kiva fireplace and free Wi-Fi. Southwestern cuisine is served daily for breakfast, lunch, and dinner at Anasazi Restaurant and Bar. The Patio serves appetizers and cocktails seasonally. There is also a shared lounge and TV area and a library. Book it here.
Four Seasons Resort Rancho Encantado Santa Fe is a 5-star amazing mountain resort with a spa, near Santa Fe Opera. It is 15 minutes from Downtown Santa Fe. The resort is a wonderful getaway for couples. It is among the rolling hills of the Sangre de Cristo Mountains under the bright skies of Santa Fe. Furthermore, the natural environment of the Resort's setting is inherent throughout the spa design and treatment experience. The 10,000-square-feet Spa features 15 treatment rooms. Check prices, availability and book it online.
Inn & Spa at Loretto is a 4-star stylish hotel in the heart of Santa Fe. It offers an amazing Inn and Spa. It is modern lodging infused with the art and soul of the Southwest. Furthermore, it is close to Canyon Road's "Artist Row" and truly captures the spirit of the area's artistic community. We love this place. You can check prices & book it here.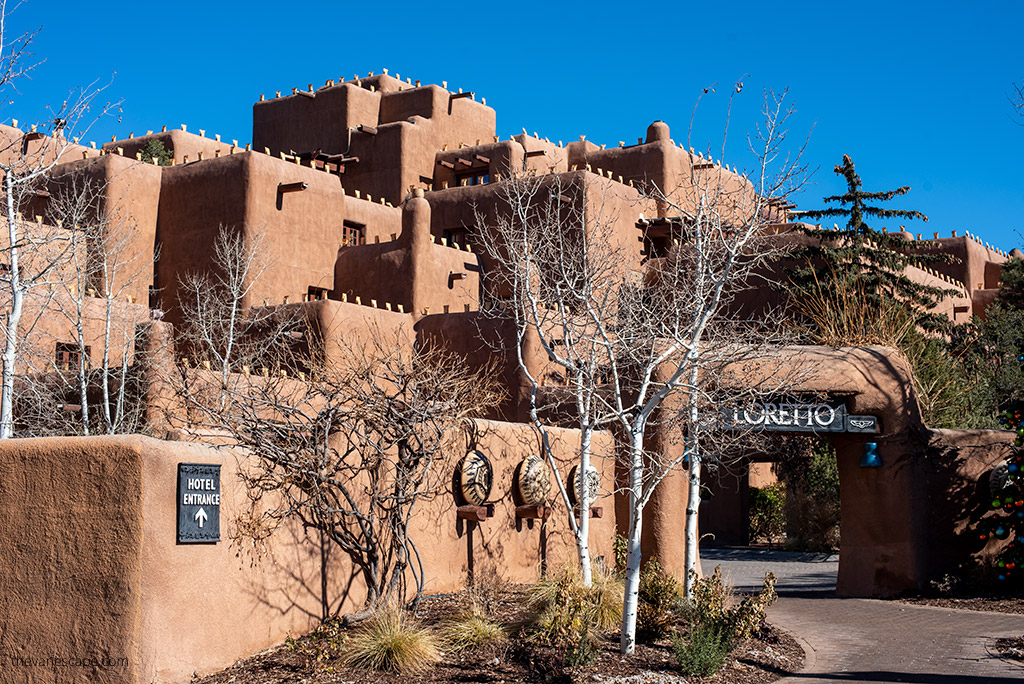 ($$) Average Accommodation in Santa Fe
Inn of the Governors is a 3,5-star hotel, perfect for families near Santa Fe Plaza. It offers a free buffet breakfast, free WiFi, and free parking. Rooms have a southwestern design. Del Charro Restaurant serves burgers and sandwiches. The full bar features margaritas and other cocktails. Check prices here.
The Parador is a 3-star charming and cozy B&B, convenient to Santa Fe Plaza. It's an only a 10-minute walk from the Santa Fe Farmers Market. The cozily furnished guest rooms at The Parador offer bathrobes, a private entrance, and a dining area. Free Wi-Fi is available in all rooms. Book it online.
Villas de Santa Fe by Diamond Resorts is a 3-star hotel with an outdoor pool, near Santa Fe Plaza, walking distance from Santa Fe attractions. It offers guests fully-equipped kitchenettes as well as an outdoor barbecue area. Furthermore, there is also an on-site games room and a heated outdoor swimming pool. So, you can check prices & book it online.
($) Economy Accommodation in Santa Fe
Econo Lodge Inn & Suites Santa Fe is near the Gallery District and Santa Fe Plaza. It offers free Internet and free continental breakfast. It's a comfy, clean and nice place. So, check prices & book it online.
Comfort Inn Santa Fe is 2.7 miles from the Santa Fe Country Club. It offers warmly decorated rooms with cable TV and a work desk. It also features an indoor pool and free Wi-Fi. Perfect for a weekend trip. Book it here.
La Quinta Inn by Wyndham Santa Fe is located in Santa Fe, 5.6 miles from The Plaza and 400 m from Santa Fe Place Mall. Guests can enjoy the outdoor pool and free continental breakfast. It's really nice and comfy. Check prices here.
Santa Fe RV Parks
Rancheros de Santa Fe Campground is quiet, wooded camping only minutes from Old Town Santa Fe with 99 spaces. 53 are full hookups. It also offers tent sites.
Santa Fe Skies RV Park is located on the Western Slopes of the Sangre de Cristo Mountains looking out upon the vast Rio Grande Valley, just south of Santa Fe city, resting on the top of a hill. You can enjoy a beautiful panoramic view of the total Santa Fe area.
3 Days Santa Fe Itinerary
Our goal in the 3 Days Santa Fe Itinerary is to inspire you to visit this fantastic place. We will give you tips on exploring the city on your own, but we will also suggest some great tours with a local guide that will allow you to feel the authentic atmosphere and charm of this city and learn about its remarkable history and culture.
Santa Fe is also the best location and area as a base for visiting the northern part of New Mexico. We want to show you the vast possibilities this place offers. So, we divided our Santa Fe Itinerary into three days of sightseeing. It will allow you to enjoy the town, discover its main attractions, and get to know the best bars and restaurants. Furthermore, you will find a recommendation for the best places to visit in the area of Santa Fe, as a trip from Santa Fe. Perfect for one day trip or half-day from Santa Fe. If you are busy and have limited time, even one day should be enough to explore Santa Fe, as it's a small town.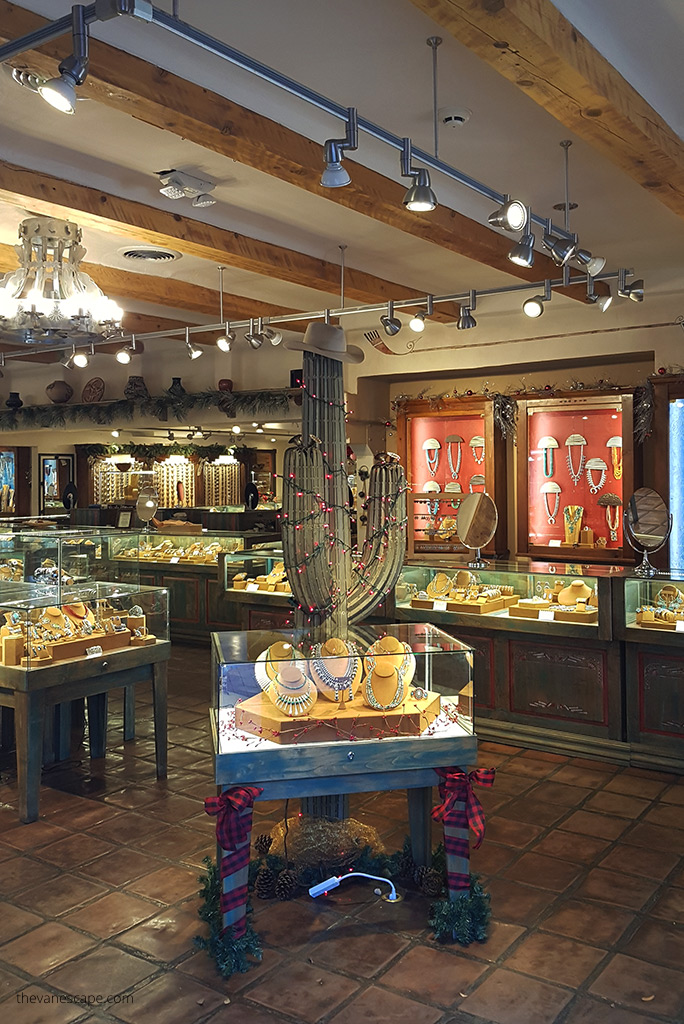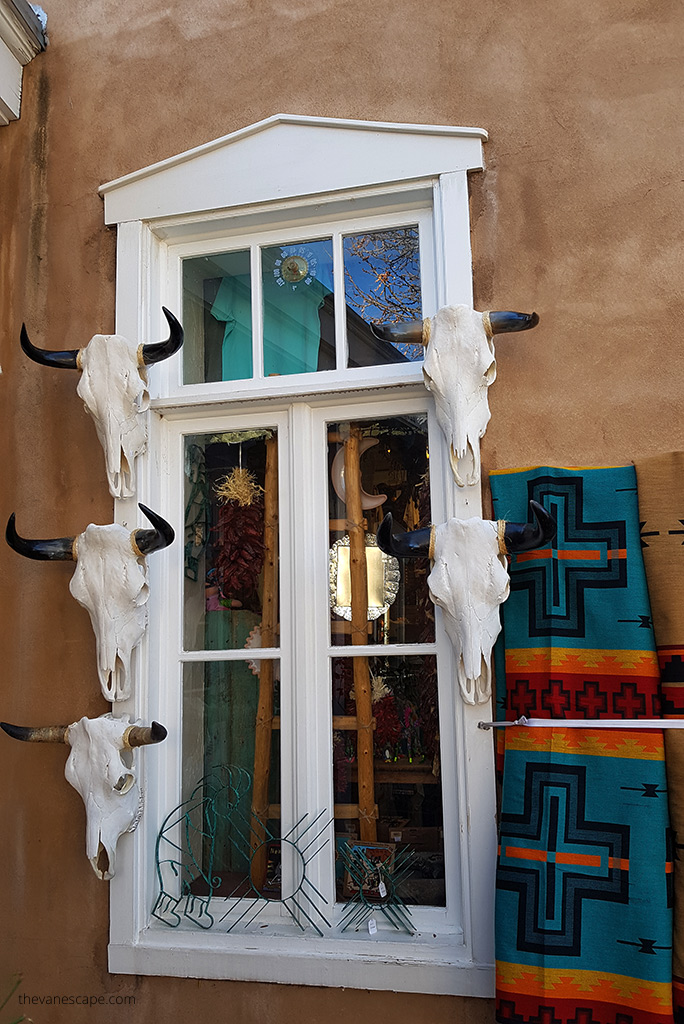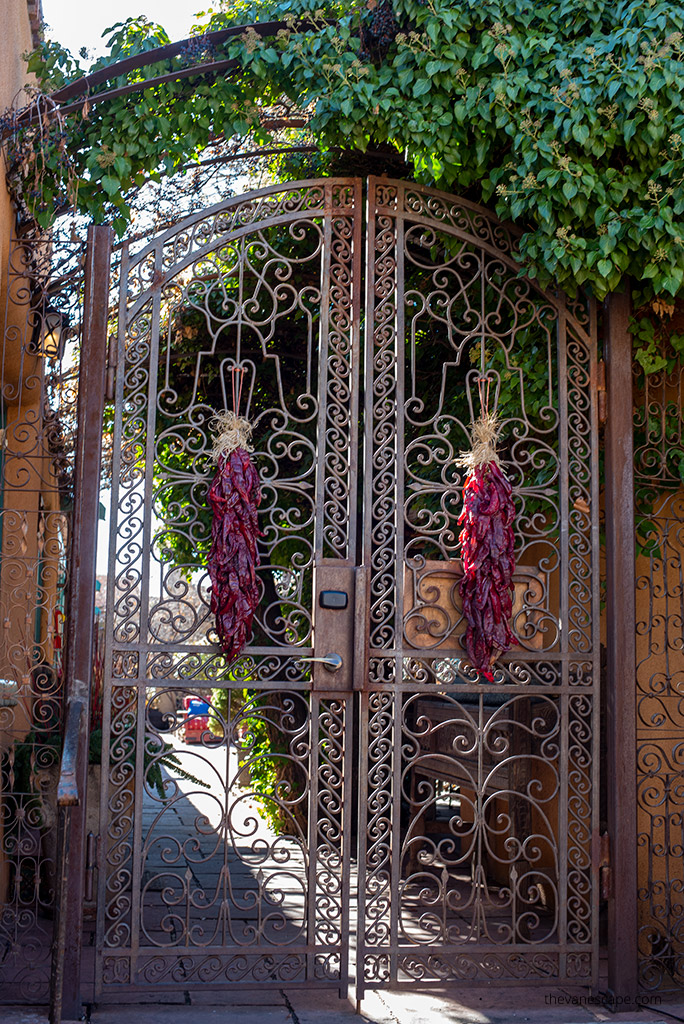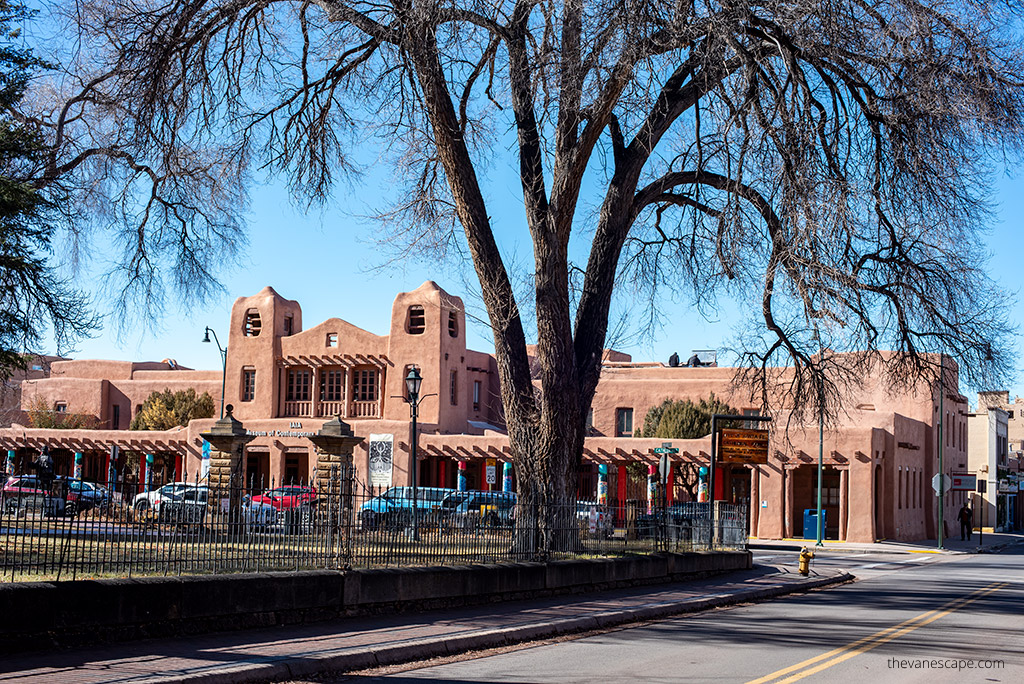 Day 1 of Santa Fe Itinerary
TRIP TIP: When you reach Santa Fe, ensure you have plenty of water to acclimate to our 7,200-foot elevation. Remember that hydration is essential to spend time in this beautiful scenery without health problems.
Explore the Plaza Area & Cathedral
The Santa Fe Plaza is the commercial, political and social center of Santa Fe since the city was founded in 1610. It is a National Historic Landmark listed on the National Register of Historic Places, the Plaza has long served as the city's gathering place for festivals, fiestas, Indian Market, Spanish Market, and a host of other events. All summer long, the bandstand hosts regular concerts and performances. So, walk down Palace Avenue to the Plaza. Stroll by the Native Americans selling their crafts under the portal at the Palace of the Governors. The seller or their family makes all pieces, so you are getting quality work. Furthermore, there are hundreds of shops in downtown Santa Fe featuring clothing, jewelry, art, and souvenirs of Santa Fe.
Cathedral Basilica of St. Francis of Assisi
The regal Cathedral Basilica of St. Francis of Assisi, just east of the Plaza, is one of Santa Fe's most important landmarks. The cathedral's construction began in 1869. New Mexico's first archbishop, Jean Baptiste Lamy, directed the works. He brought stonemasons from France and stonecutters from Italy to Santa Fe. Moreover, their descendants still live here. Finally, it's one of the most striking churches in the southwest.
Palace of the Governors
Enjoy visiting the Palace of the Governors, right on the Plaza. Initially built in the early 17th century as Spain's seat of government, it now houses two museums. One ticket allows access to both the original museum. New Mexico History Museum is said to be one of the best history museums in the country. Furthermore, a great option is to take a guide. During the Architectural and Interior Walking Tour, you will have a chance to learn about the history and culture of Santa Fe.
Visit the New Mexico Museum of Art
The fantastic downtown museum is the New Mexico Museum of Art. It features excellent works by many New Mexican artists, including woodcuts by Gustav Baumann or works by Gina Knee Brook and Paul Burlin. There are also temporary exhibitions.
Visit Meow Wolf
Visiting Meow Wolf is one of the top things to do in Santa Fe if you are an art lover. The mysterious multiverse of Meow Wolf brilliantly blends interactive art installations with a fantastical funhouse in "House of Eternal Return." It is the permanent exhibit created by a collaborative group of young artists. So, Meow Wolf is a wild & mysterious art journey.
Visit Georgia O'Keeffe Museum
The Georgia O'Keeffe Museum is the perfect place to admire one of the world's most iconic artists. The museum holds the world's most extensive permanent collection of O'Keeffe's work— 3,000 items, including oil paintings, drawings, and sculptures. Exhibits in nine galleries change annually and include O'Keeffe's work and other American Modernists.
Sunset in La Fonda
At the end of the day, visit the historic La Fonda Hotel. It is a perfect place for sunset. It is situated on the corner of the Plaza; this has been the site of hostelries since Spanish colonial times. Much public hanging occurred here.
Taste Flavors of New Mexico
Santa Fe is famous for its outstanding cuisine. You can discover the fantastic flavors of New Mexico here. You'll find some of the best restaurants in the region. In the last chapter, you can read our recommendations about where to eat in Santa Fe.
However, if you don't have much time for sightseeing, consider a Half-Day Santa Fe Food and History Walking Tour. You will explore downtown Santa Fe's best food and wine locals. You will sample classic New Mexican flavors. Furthermore, you'll also visit landmarks like the Cathedral Basilica of Saint Francis, Loretto Chapel, and the Palace of the Governors. Your guide tells you about the town's history and the mix of cultures that have shaped its food culture.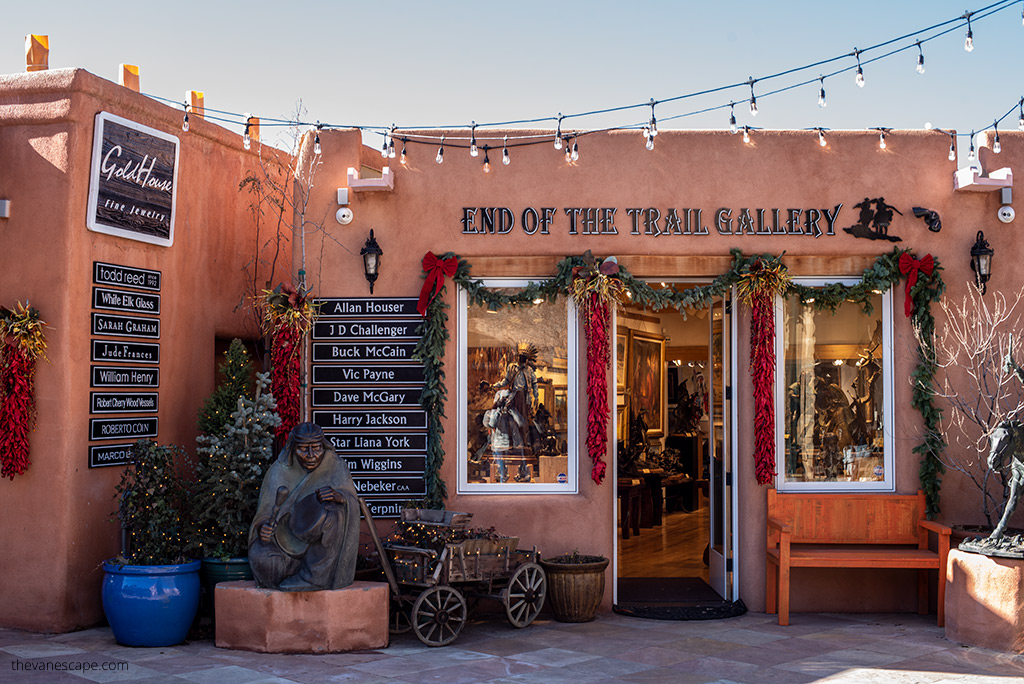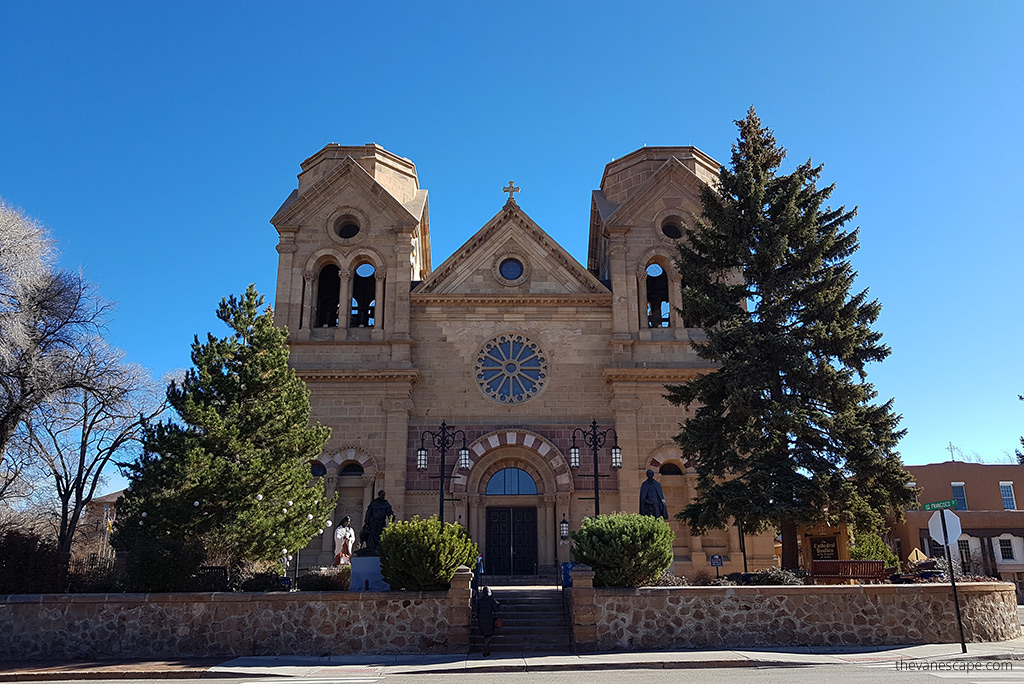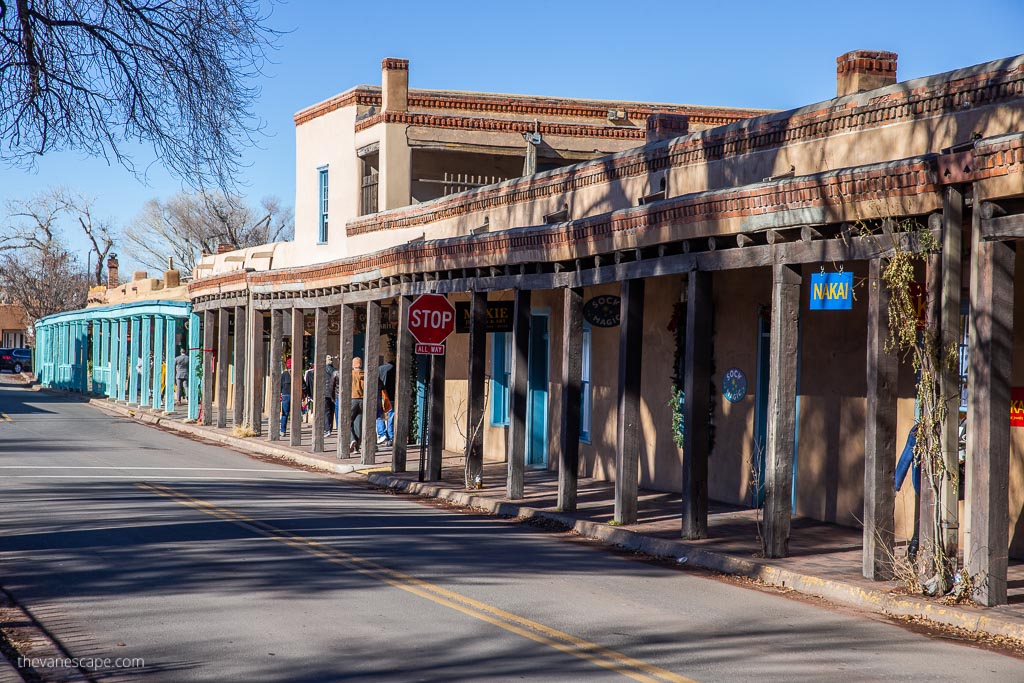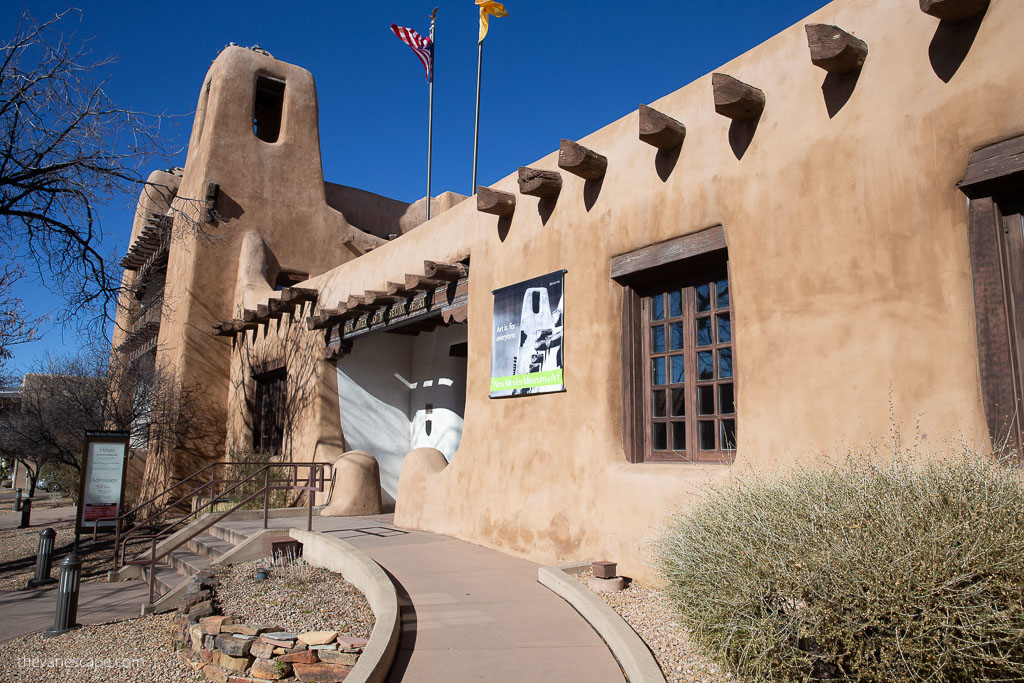 Day 2 of Santa Fe Itinerary
Walk Canyon Road Arts
If you're an art lover, you'll love Santa Fe. During your walk, don't forget about Canyon Road Arts. You will see how vital the arts are to this city and its people. You will find galleries, restaurants, and shops in charming adobe-constructed buildings. In just a half-mile walk you can meet fascinating gallery owners exhibiting stellar work by artists from around the globe.
Visit Loretto Chapel
The Loretto Chapel is one of the architectural jewels of Santa Fe. It is located just south of the Santa Fe Plaza. According to the legend, a mysterious man came to the unfinished chapel after the Sisters of Loretto prayed for nine days for help to complete the project. Behind closed doors, the man built the Miraculous Staircase with only simple tools, then disappeared before the sisters could pay or even thank him.
Due to a collaboration between Archbishop Jean-Baptiste Lamy and Antoine Mouly, a French architect, this chapel stuns with an elaborate and pristine design. It is worth getting inside to be amazed by the wooden spiral staircase.
Develop Your Creativity & Talents
Santa Fe is a city of art and artists. After a walk around galleries, exhibitions, shops with handicrafts, it's worth participating in the creation process. Develop or discover your or your kids' talents. The town offers many attractions related to creativity for children and adults: painting classes, photo creative workshops, and more.
So, check Top Santa Fe Classes & Workshops to finding something connecting to your soul & interest.
Visit Museum Hill
Santa Fe is a mecca for museum lovers. So, Museum Hill is the perfect place for museum exploration. It is situated on a picturesque hill east of downtown. Museum Hill offers stunning views of the city and four fine museums—the Museum of Indian Arts and Culture, the Wheelwright Museum of the American Indian, the Museum of Spanish Colonial Art, and the renowned International Folk Art Museum. After visiting museums, you can rest in Santa Fe Botanical Garden, all on the same hill.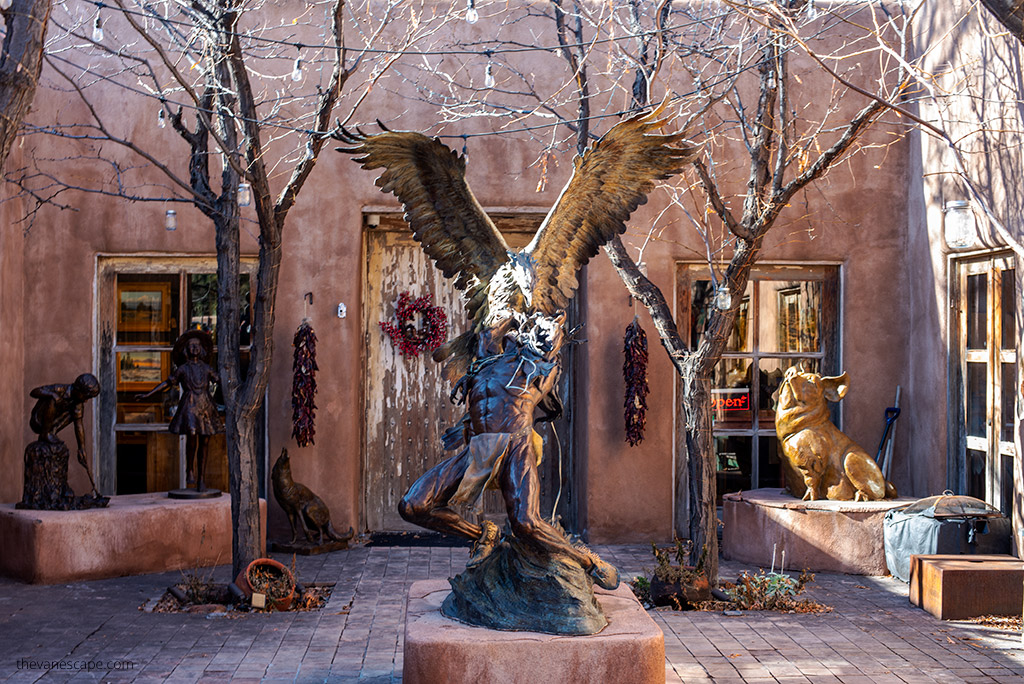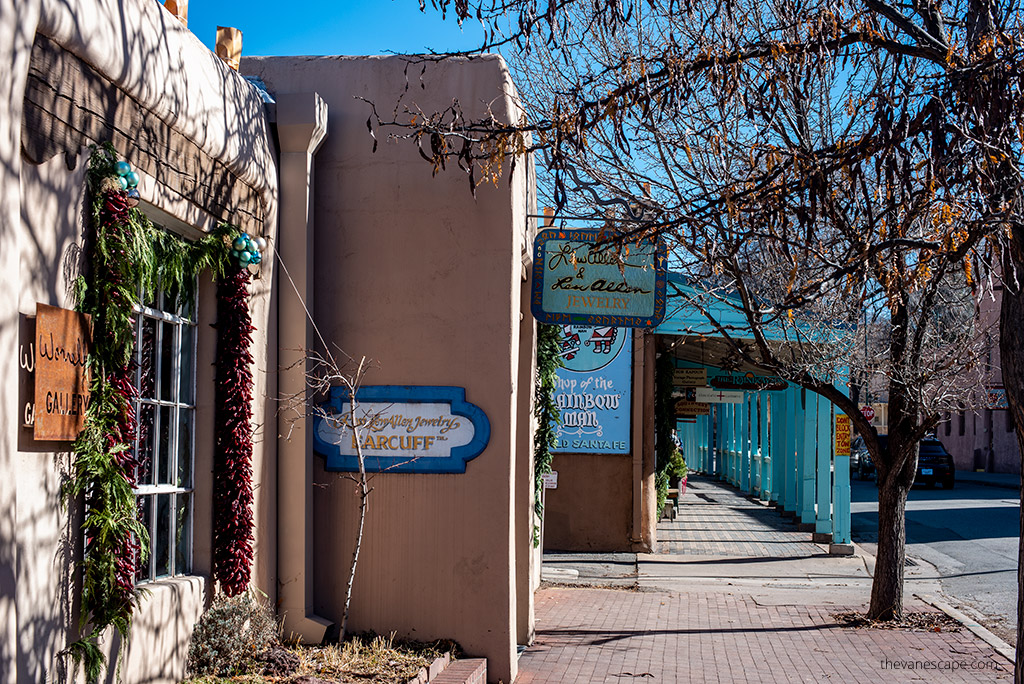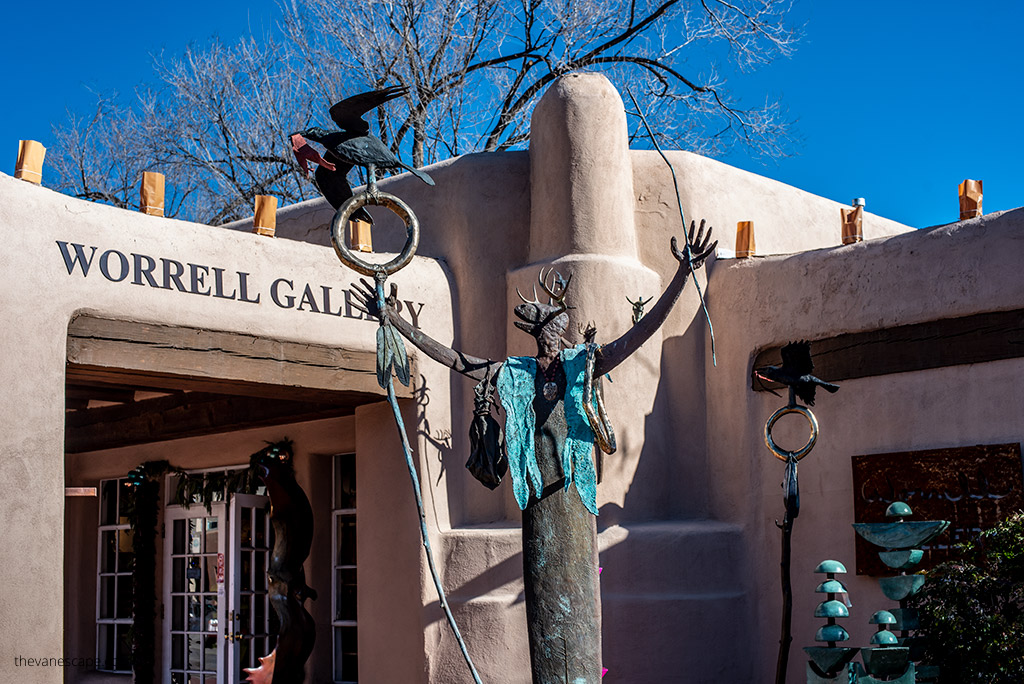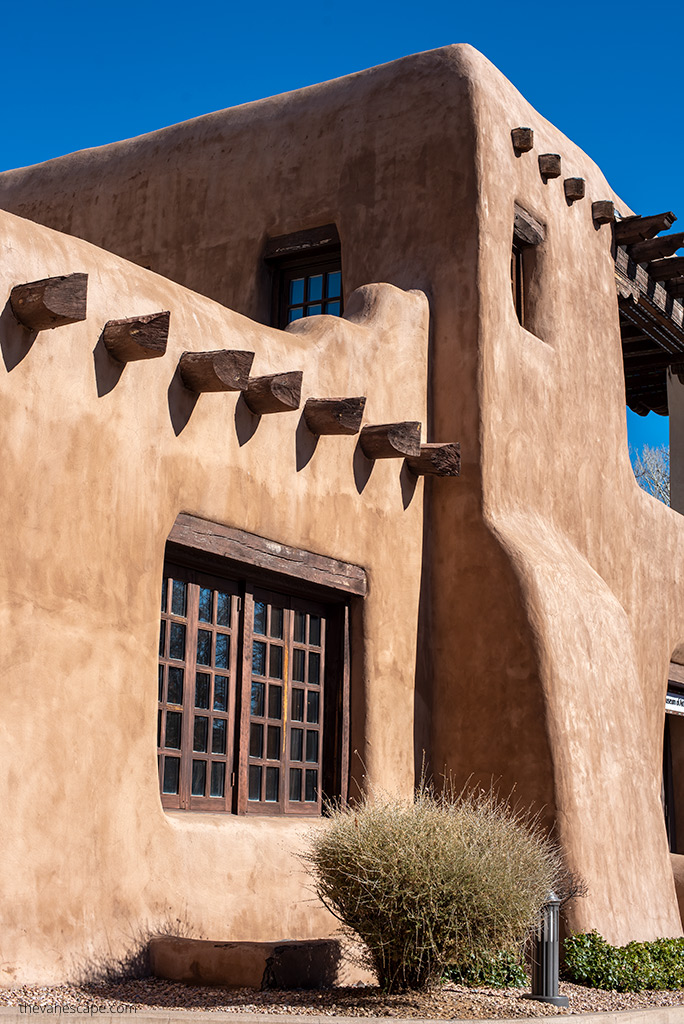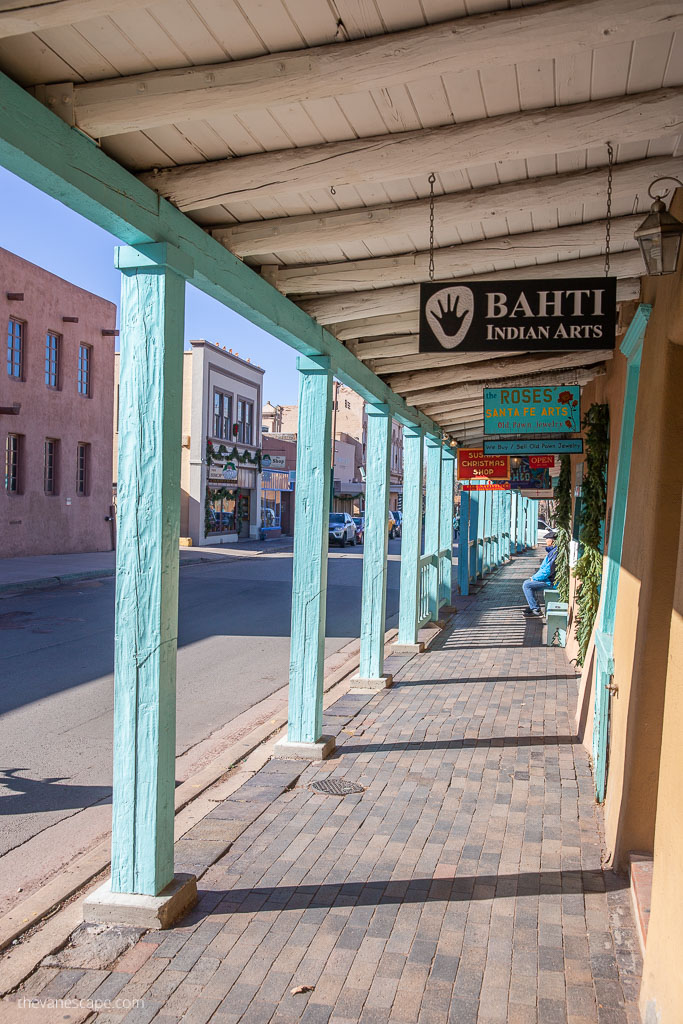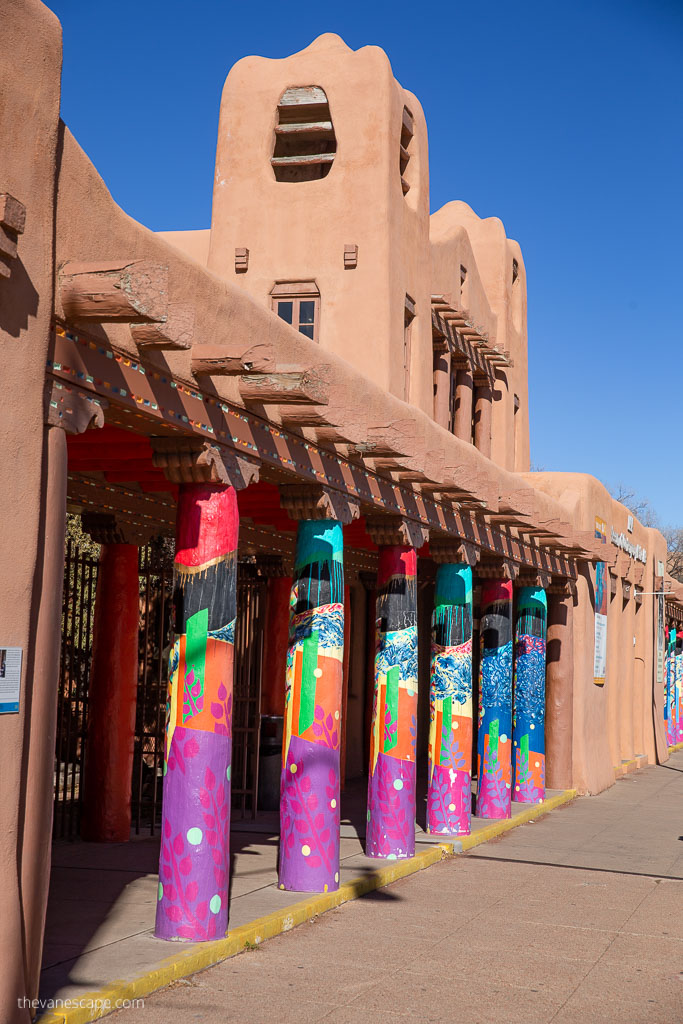 Day 3 of Santa Fe Itinerary
Last day of our 3 Days Santa Fe Itinerary, we suggest exploring the great area of northern New Mexico. Below are some of our suggestions for unusual activities; you can choose what suits your interests. They are the perfect one-day or half-day trips from Santa Fe.
Take a Bath in Ojo Caliente Hot Springs
The famous healing waters of Ojo Caliente Hot Springs, are one of North America's oldest health resorts. Ojo Caliente is the only hot spring in the world with four different types of mineral water including lithia, iron, soda, and arsenic. The twelve pools are filled with different types and combinations of these waters, with temperatures ranging from 80 – 106 degrees.
Visit Archaeological Site Bandelier National Monument
If you like Native American history, you should add to your Santa Fe Itinerary trip to Bandelier National Monument. This place is located an hour northwest of Santa Fe near Los Alamos. This place protects Native American cliff dwellings dating to the 13th century carved into the side of a forested canyon. A series of ladders leads 140 feet above the canyon floor to picturesque Alcove House. The ancient Anasazi ruins are a fantastic adventure. Our separate article, gives you all details about this National Monument.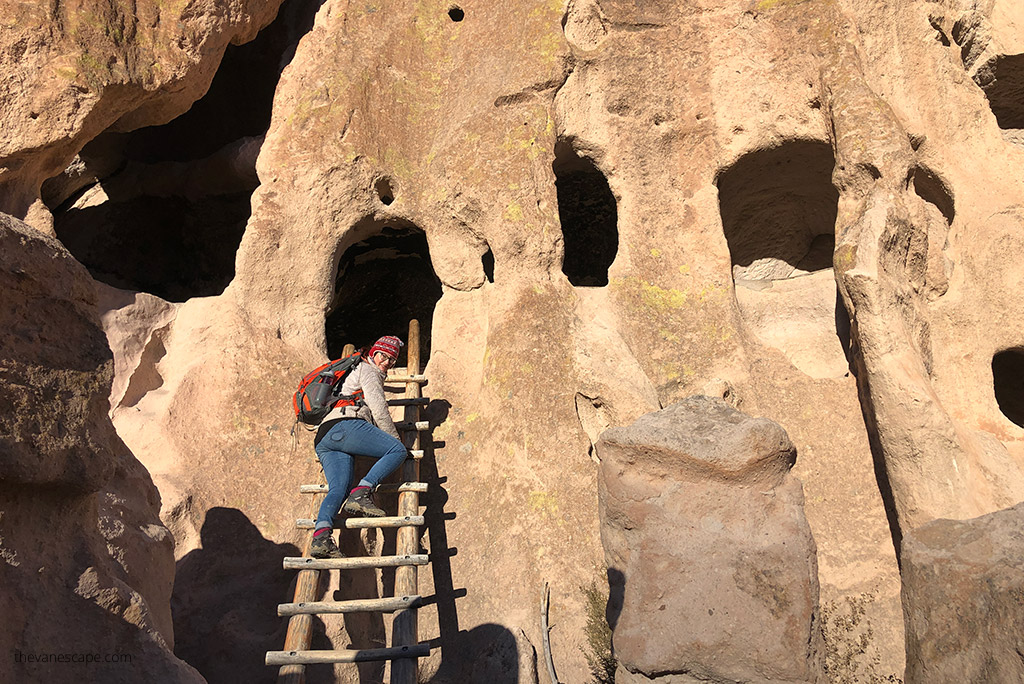 See Natural Wonder Kasha-Katuwe Tent Rocks National Monument
If you like to hike and wonders of nature, make sure to add a visit to Kasha-Katuwe Tent Rocks National Monument to your 3 Days Santa Fe Itinerary. It is only around 40 miles southwest of Santa Fe. Kasha-Katuwe Tent Rocks Hike is a fantastic adventure. It allows you to see the unique geologic formation of cones or teepees. It's an excellent idea for a half-day trip from Santa Fe. It is one of the best hikes in New Mexico. It's only about 3-mile one-way moderate loop trail through a slot canyon with hoodoos and striated rock formations. In a separate article, we give you all details to help prepare for this fantastic experience, which is Kasha-Katuwe Tent Rocks Hike.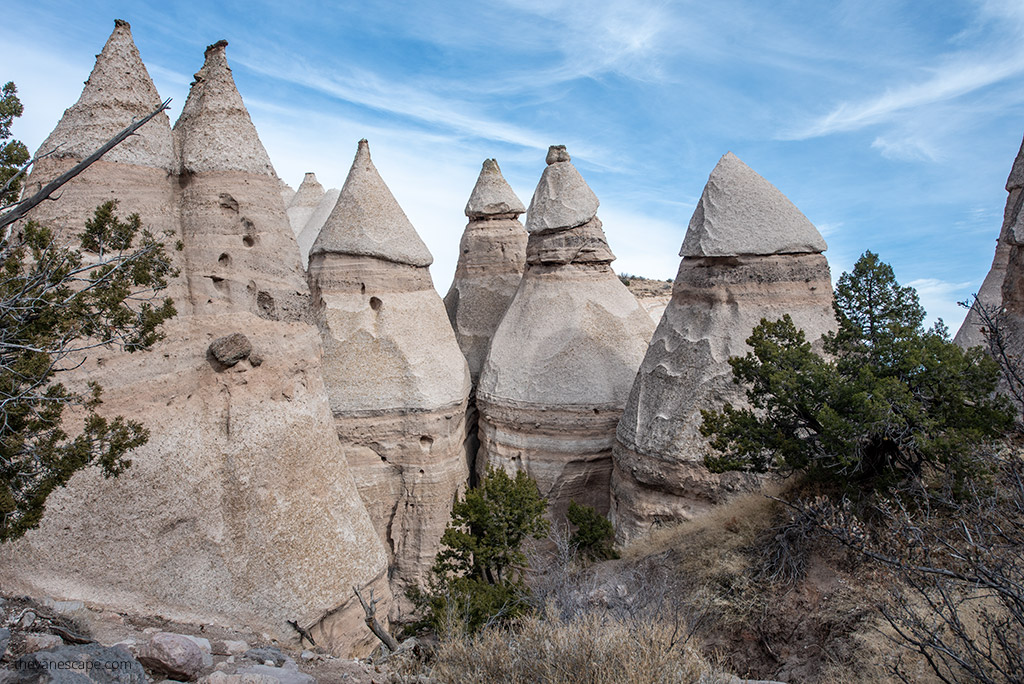 Visit UNESCO Site in Taos Pueblo
Make sure to add a trip to Taos Pueblo to your Santa Fe Itinerary. Taos Pueblo in New Mexico is one of North America's oldest continuously inhabited communities. The multi-storied adobe buildings have been dwelled for over 1000 years. It was named a UNESCO World Heritage site in 1992. Iconic Old Village is home to 150 tribal members who live traditionally without running water. We were delighted with the Taos Pueblo Tour. It is located 73 miles north of Santa Fe. So, it is an excellent idea for one-day tour from Santa Fe.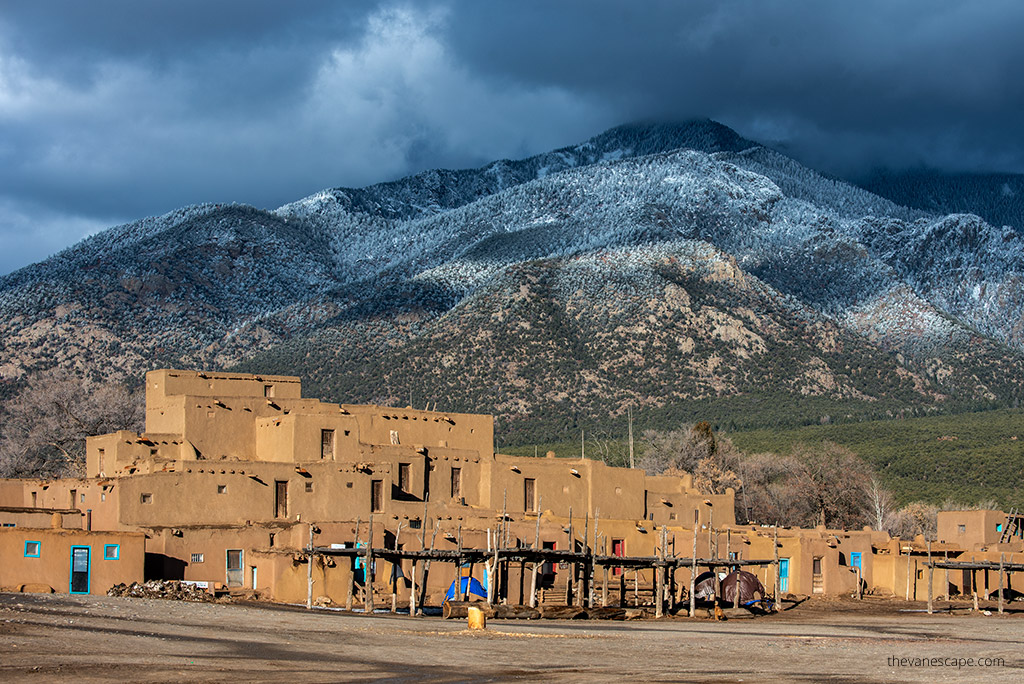 Taste New Mexico Wines
If you have a few hours off and are a wine lover, consider Wine Tours to taste New Mexico wines. The trip includes lunch and door-to-door service. So you can check it & book it here.
What's more, if you have the whole day and would like to connect wine testing with adventure, it is a great solution is to choose the Rafting & Wine Tour. It will be a relaxing day of rafting the Rio Grande with good wine & food after your rafting. The trip includes transportation, lunch & snacks, guide, driver. You can check & book it online.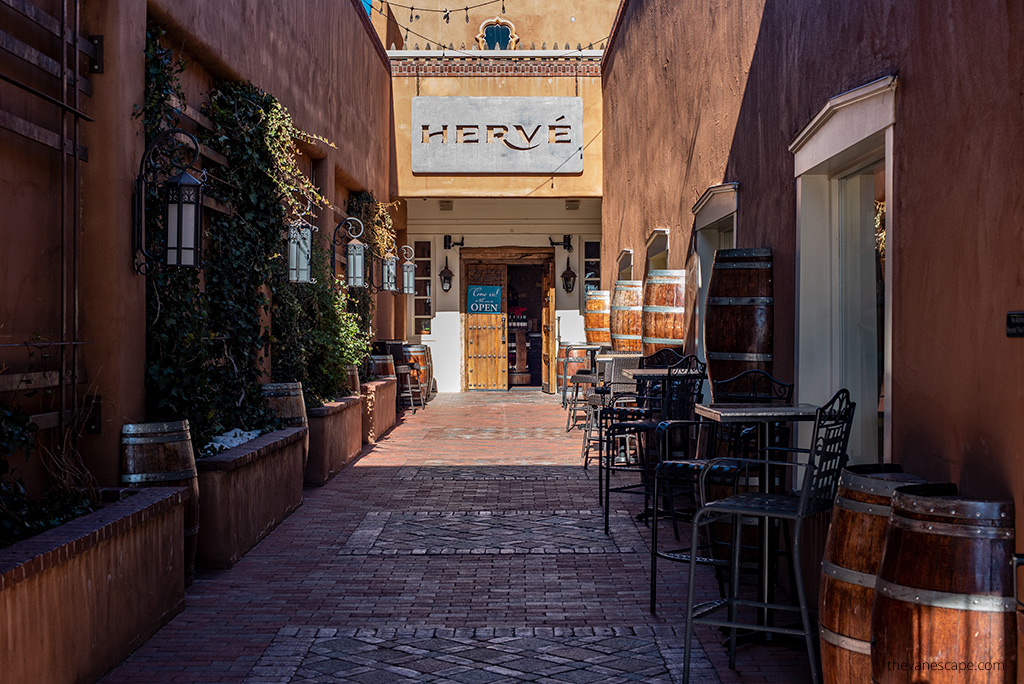 3 Days Santa Fe Itinerary – Where To Eat In Santa Fe?
The last chapter in our 3 Days Santa Fe Itinerary, is about food. Santa Fe is a culinary paradise. Bars, restaurants, and cafes serve outstanding food. Below are some suggestions we have checked ourselves so we can recommend them to you.
Breakfast
The Pantry Restaurant ($$) – We recommend this restaurant as a perfect place for breakfast because they serve amazing breakfast burritos with vegetarian sausage red and green sauce. If you are not a big fan of burritos, you can also try Durango Omelette. Please make sure to be ahead of your breakfast time. There is always a line in front of this place.
Tune-Up Cafe ($) – They specialize in fantastic huevos rancheros. You can also try their oatmeal or pancakes. Both are very good. Don't forget to order green chili sauce on the side. Another excellent option is eggs benedict – they prepare it to perfection!
Lunch
La Choza ($$) – It's hard to find a good restaurant in this town that is not a Mexican one. And La Choza is typical Mexican cuisine. You can order vegetarian meals like posole or green chile (sauce, not stew). If you are more for the meat, try beef tacos with red and green chile. For bigger hunger, you can also try the enchilada plate. You should also order margaritas – they are delicious!
Kohnami Restaurant ($$$) – It might happen that you are not a fan of Mexican food, but you are still hungry in this fantastic city. A good option might be this Japanese restaurant. We can recommend just a bento box and tempura on the side for lunch. We also love dragon rolls in this place!
Dinner
Radish and Rye ($$$) – We don't want to guide you only to Mexican restaurants. Thus we can recommend you one beautiful American diner serving fabulous food. They have a lovely outdoor garden located in a quiet part of the town. If you are a rib eyes fan, this is the place for you. A more vegetarian option worth recommending is for sure fried green tomatoes. Tasty cocktails should accompany everything.
315 Restaurant & Wine Bar ($$$) – Maybe you already know we are big fans of wine tasting. So we can't resist putting this winery on our recommendation list. You can drink in on the patio and order french food with it. This place is very romantic. We love their mussels and oysters, but you should also try salmon and steak. We can recommend trying onion soup for soup fans – it's just delicious!
Find more inspiration in New Mexico guides and maps
Image
Title
Price
Check

Top

New Mexico Road & Recreation Atlas (Benchmark Recreation Atlases)
$$
Check on Amazon

Top

DeLorme New Mexico Atlas & Gazetteer
$
Check on Amazon

Top

50 Hikes in Northern New Mexico (Explorer's 50 Hikes)
$
Check on Amazon

Top

Top

Hiking New Mexico: A Guide to the State's Greatest Hiking Adventures (State Hiking Guides Series)
$
Check on Amazon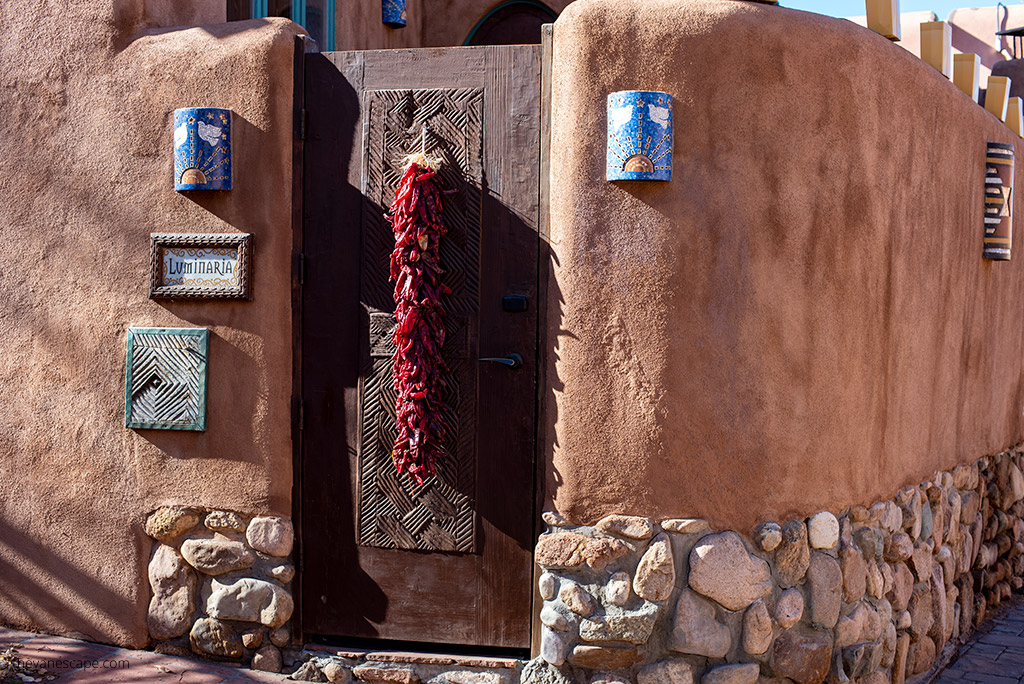 Do you like it? Pin it!