Arizona Natural Hot Springs
Does Arizona have hot springs? – My friend asked me. Yes! – I answered – There are some natural hot springs in Arizona!
He knew we are big fans of hot springs and don't miss any opportunity to visit one of our road trips. More, we even try to plan the route to visit them. And he asked me because he planned to go to Las Vegas and was wondering if there is any natural hot spring near the city. So check out our tips from the hike to Arizona Natural Hot Springs.
This article may contain affiliate / compensated links. For full information, please see our disclaimer here.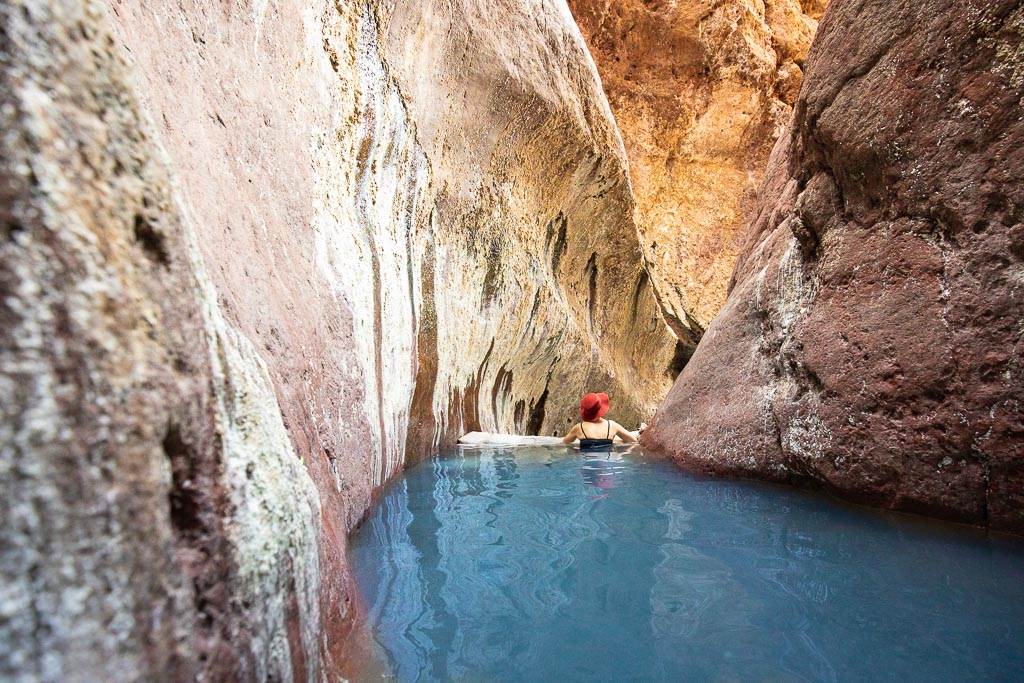 How to get to Arizona Hot Springs and when to go?
Arizona (Ringbolt) Hot Springs, also known as Ringbolt Hot Springs or Arizona Hot Springs, is located near Hoover Dam, Arizona. They are located in the Lake Mead National Recreation Area, only 40 minutes south of Las Vegas. To get to this fantastic slot canyon hot springs in Arizona, you must drive to the parking lot and then hike for at least an hour and half. We provide you with more details below.
How far is Arizona Hot Springs from Las Vegas?
It turned out that excellent natural hot springs in Arizona (aka Ringbolt Hot Springs) are not far from never-sleeping Las Vegas. And these are probably the best natural hot springs in Arizona. It's only about 35-40 minutes of driving south.
Driving Directions to Arizona Hot Springs
From Las Vegas, you must head to route 93, heading to Kingman. After passing Boulder City, then 4.2 miles past Hoover Dam (by the new bridge), look close to the parking on your left (it will be a separate lane to turn left to the parking). Turn to the parking and leave your car there. If you are coming from Kingman, Arizona, the trailhead is .2 miles before mile marker 4. It is a trailhead. Now the hike begins. Hot springs are located in a slot canyon.
TRIP TIP: If you are planning to stay in Las Vegas, check our related articles: Las Vegas 3 Days Itinerary &
The Best Day Trips From Las Vegas!!!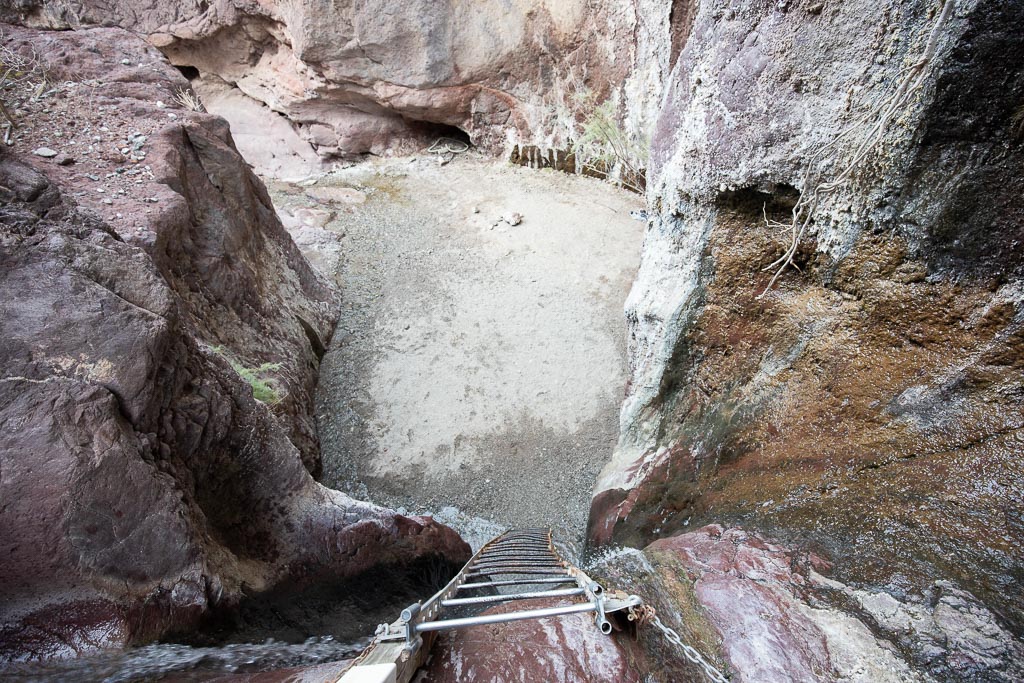 How long is the hike to Arizona Hot Springs?
The trail is not very well marked. But generally, you have two directions to choose from. Keep left and get to the hot springs faster with a shorter route (about 2.5 miles, 1-1.5h) or keep right (White Rock Canyon trail), visit Liberty Bell Arch and Colorado River on the way and reach the springs via the 20 ft ladder (about 3 miles, 1.5-2h).
Keep left to get to Arizona Hot Springs
If you keep left, the trail is not very difficult. It goes through the hills, then the slot canyon, and you reach the Arizona hot springs from the top. It's better to leave your stuff before entering the water and get into it only in a swimsuit. Hiking to the springs is mostly downhill, so back is mostly uphill and thus more strenuous.
Our Tip: If you like slot canyons, then Arizona is the place for you. Arizona is famous for its incredible natural slot canyons. Some of the most beautiful and famous are in the Page area. You can look at our photos of Upper Antelope Canyon, Lower Antelope Canyon, and Antelope Canyon X because we love hiking in slot canyons, and we've been to them all. Our photos and tips will help you decide which to book a tour, as they can only be entered with a licensed Navajo guide.
Or keep right to get to Arizona Hot Springs
If you keep right, the trail is longer and, in our opinion, more difficult. Last part (from the river), you will be going in the shallow and warm water, and just before the hot springs, you must climb the ladder. Leave your gear before entering the ladder for comfort (up in the springs, there is limited space). A hike from the bottom is better for overnight stays because you can put up your tent on the river bank.
Check the exact hike map on the national park nps.gov webpage.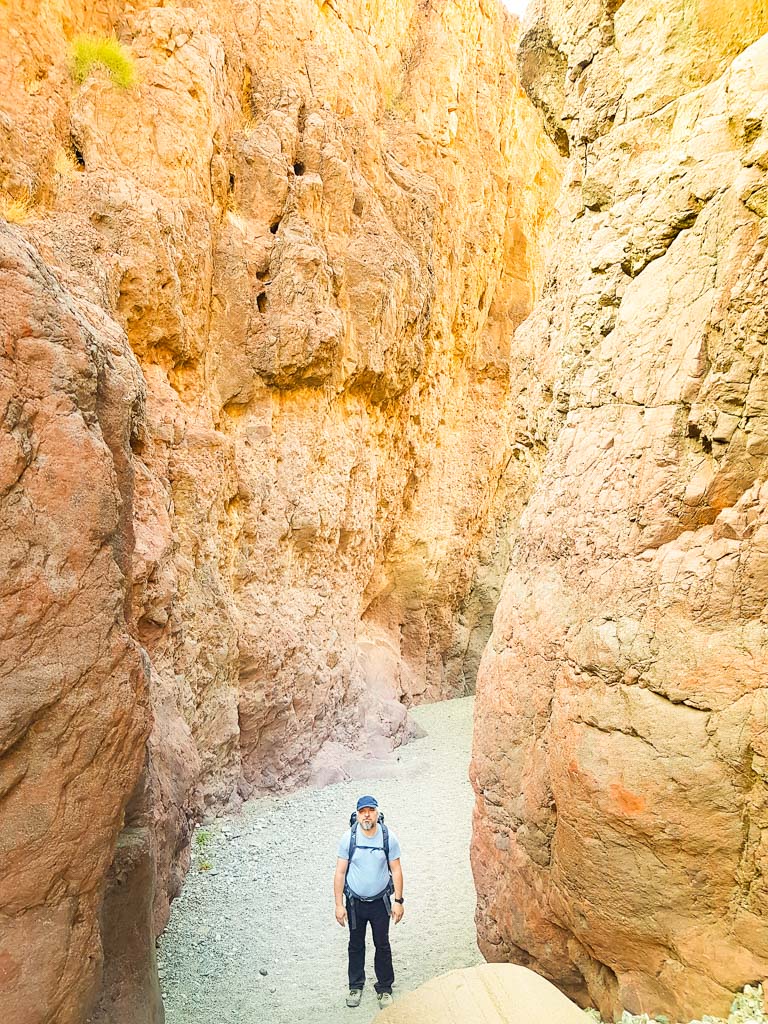 When to go to Arizona Hot Springs?
Arizona Hot Springs is open from the beginning of October to the middle of May due to the heat. There are a lot of signs warning hikers about the heat. However, many people don't take it seriously enough. In the past, there were some fatalities caused by dehydration. So now it is impossible to use the trail and springs in the summer.
But even in October or November, we started hiking very early at dawn. The trail is exposed, and even in those months, you might have a problem with the heat, so better try to hike early in the morning and back just before sunset. In any situation, take a lot of water with you.
Staying overnight near Arizona Hot Springs
You can stay overnight near the Arizona Hot Springs. The best place to put up your tent is Colorado River beach, a semi-formal backcountry campground. People are arriving here from the parking and water using kayaks, boats, rafts, and other floating gear. It seems to be a popular camping destination for some months of the year, especially on weekends.
But please remember that this is wilderness. No potable water or trash, so you must bring and take everything with you. Ok, there is one exception. There are two toilets south of the beach, which seem to be maintained regularly.
Of course, to stay overnight, you must be prepared, so check our list of minimum gear:
And please remember to take your trash back with you! Follow the "leave no trace" rules. You can also check our detailed Havasupai Packing List if you plan to hike and camp in the area. We have also detailed Havasu Creek Waterfalls Guide for you if you plan to hike to Havasu Falls.
You will find other posts about Arizona with tons of tips and exciting information in our Arizona PhotoTravel Guide!
Arizona Hot Springs – Lethal amoeba risk – Naegleria fowleri
Before going to the hot springs, you must know one essential thing. And there are signs everywhere with this information. There is a slight danger from a rare but lethal amoeba called Naegleria fowleri.
Naegleria fowleri infects people when water containing the amoeba enters the body through the nose. It typically occurs when people go swimming or diving in warm freshwater places, like lakes and rivers (and is known to be present in natural hot springs in Arizona). The Naegleria fowleri amoeba then travels up the nose to the brain, destroying the brain tissue. This is as well known as brain-eating amoeba.
Naegleria fowleri causes the disease's primary amebic meningoencephalitis (PAM), a brain infection that destroys brain tissue. In its early stages, symptoms of PAM may be similar to symptoms of bacterial meningitis.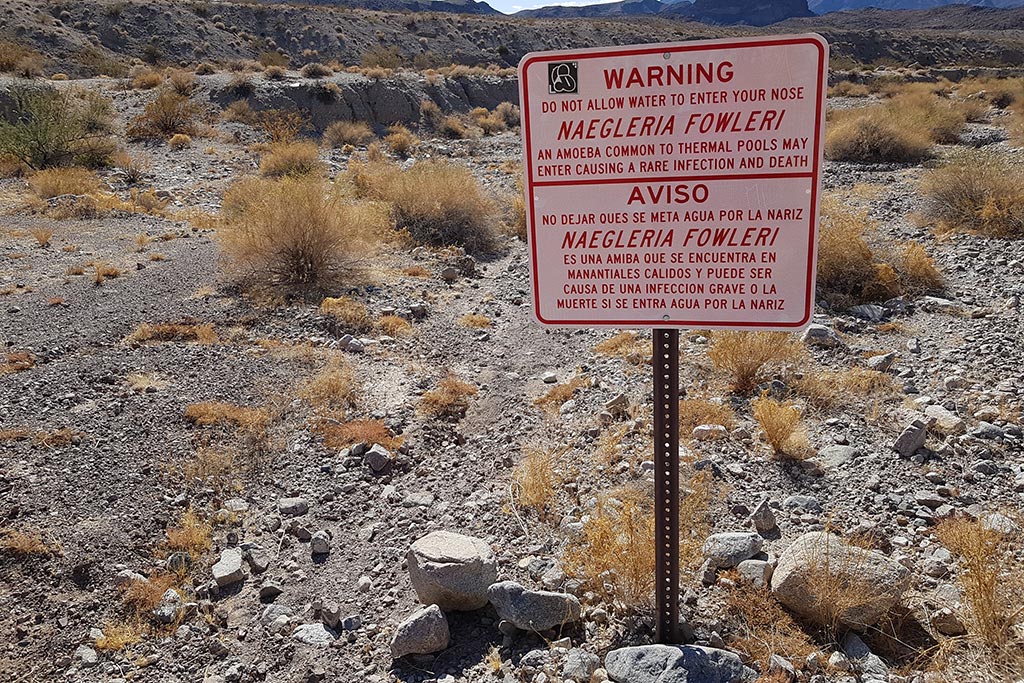 Initial symptoms of PAM start about 5 days (range 1 to 9 days) after infection. The initial symptoms may include headache, fever, nausea, or vomiting. Later symptoms can include stiff neck, confusion, lack of attention to people and surroundings, loss of balance, seizures, and hallucinations. After symptoms start, the disease progresses rapidly and usually causes death within about 5 days (range 1 to 12 days).
But don't worry! It is not to say you cannot enjoy the Arizona hot springs at Lake Mead National Recreational Area! The only thing you must do is to protect your nose. It will not harm you when swallowed, but please keep your head over the water and do not splash; you should be safe. We were afraid of the amoeba; however, we had great fun at the springs, so you can as well.
Arizona Hot Springs
The hot spring itself is not big and very limited by the walls of the slot canyon. If you start from the top (left hike) first, you approach a very hot water pool (about 110 F). Going downhill, you will have progressively colder pools. There is a total of 4 pools separated by gravel-filled sandbags. The water level in each of them was not deeper than your knees. And mineral water is kept in the pools only by the sandbags. Otherwise, it would go directly to the waterfall.
When we were there, it was just a couple more people, and they usually do not spend in the pools more than 30-60 minutes. The upper hot springs are just too hot, and space is limited. It's nice to be there at night. People are leaving small battery-powered colorful lamps, which creates a pleasant atmosphere. We have seen only people wearing swimsuits, maybe because of kids present. But we know that in such places usually there is no clothes rule.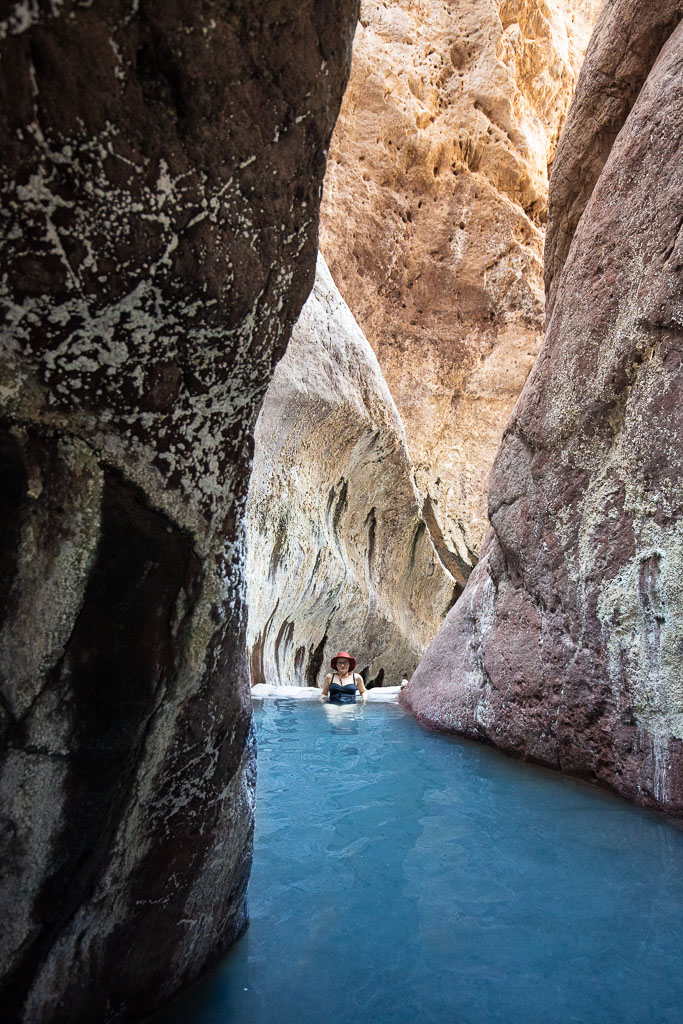 Photography Hints
If you plan to take pictures in natural Arizona Hot Springs, we can give you a couple of hints:
Take the widest (ultra-wide recommended) and fastest aperture lens you have (good options are Canon 16-35/2.8 or Nikon 14-24/2.8);
There is not too much light, so good quality high ISO camera body is advised; most of the time you will operate at 3200 or more;
Optionally you can take a tripod – it can help you take a long exposure of the falls and keep ISO low;
Come in the morning and wait for the light to enter the canyon from the top – you must observe changing light for best effects; Usually, in the afternoon it's too dark and shady to get great results;
Of course, you must find moments with not too many people in the pools (you are probably expecting to be alone, so for sure, do not go there over the weekend!);
You can try some night shots – in this case, the tripod is mandatory;