The Best Grand Canyon Viewpoints From North Rim
Are you planning a visit or hike in the Grand Canyon National Park area? Here is our recommendation for the best Grand Canyon Viewpoints from North Rim. We love Toroweap Overlook with spectacular Toroweap formation and Colorado River in steep gorge 3,000 feet (915 m) below the rim. Thanks to two nights in Tuweep Campground, we could admire the sunrise and sunset and listen to the sound of the Colorado River. During the night on North Rim Campground, we could delight the milky way from the highest point of Grand Canyon at all. Now we share our experience of how to get there, where to stay, what to do, and more. Finally, as usual, we give you some photography hints.
This article may contain affiliate / compensated links. For full information, please see our disclaimer here.
North Rim of Grand Canyon is quieter, more remote and offers fewer services than South Rim. This rugged portion of Grand Canyon National Park receives fewer visitors and offers a more outdoor-minded experience. That's why we like this part. The four plateaus run along the North Rim offering a breathtaking array of sights, a range of geologic features and miles of territory to explore. They are:
Kaibab Plateau called "Mountain Lying Down"
Kanab Plateau meaning "Willow"
Uinkaret Plateau called "Place of Pines"
Shivwits Plateau, meaning "Whitish Earth" or Coyote Springs".
In this article, we share two favorite places from North Rim of Grand Canyon, which is: Toroweap Point on Uinkaret Plateau and North Rim on Kaibab Plateau.
If you want to visit the South Rim of Grand Canyon, check our pictures from the best viewpoints and tips which help plan your trip around Grand Canyon in this post.
Our selection of maps and guides:
Grand Canyon North Rim
North Rim is also the highest part of Grand Canyon. Point Imperial, the highest point on the North Rim at 8,803 feet (2,683 meters), while South Rim's highest point is 7,522 feet (2,293 meters) above sea level. Due to its elevation, the North Rim is also cooler in temperature and experiences heavy snow in winter, resulting in a shorter season. The road to North Rim might be closed from November till mid-May.
North Rim Grand Canyon Weather
We have collected some weather data for you. In the chart, you can see average temperatures at the North Rim throughout the year.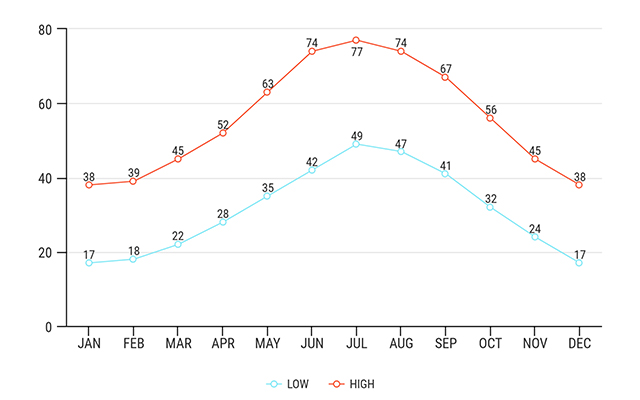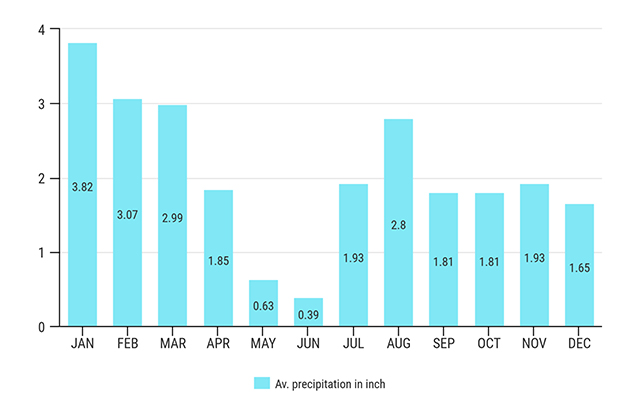 In this chart, you can check expected rainfall shown as average precipitation in inch for each month. It looks that the best is May and June, but please remember that North Rim road opens on May 15th.
How to get to North Rim?
Grand Canyon National Park's North Rim is located in Northern Arizona, 220 miles by road from the South Rim. Its visitation is only one-tenth that of the South Rim; however, it is certainly within reach.
Take the scenic Kaibab Plateau-North Rim Parkway (Route 67), leaving U.S. 89A at the junction at Jacob Lake. This road follows 43 miles through forests and meadows to the North Rim of Grand Canyon. Drive offers wildlife views; you can encounter bison and falcons and other animals. Highway 67 is closed from the first heavy snowstorms in November through May 15.
Grand Canyon Maps
If you are planning a visit Grand Canyon for several days and you want to see all its parts and most exciting places, it pays to buy a set of 3 maps: Grand Canyon National Park Map Pack Bundle. National Geographic Trails Illustrated's three map collection provides a comprehensive overview of the entire park and its neighboring areas. The set includes Grand Canyon North and South Rims with enhanced detail maps around the central Grand Canyon, including Grand Canyon Village and the Bright Angel Trail. Moreover, you get the Grand Canyon East and Grand Canyon West map. We like this set of map, because they have a good scale and they are waterproof and tear resistant.
We also use Grand Canyon Trail Map. A new, more detailed 7th edition has been released in 2020, which is excellent. It's worth to buy it. Trails have trail ratings, text descriptions & statistics. It includes 100ft contours, shaded relief, a UTM grid for use with GPS, springs & drinking water, backcountry use zones, and much more. Very durable. Most importantly, very accurate. If you plan on doing any backpacking in the GC, this is the one to buy. It includes more detail, particularly if you want to get a little away from the regular routes.
Our selection of maps and guides:
What to do on North Rim?
We went there for sunset and stayed until the sunrise. During the night, we admired the milky way. To experience the wonders of the North Rim, you might begin with a short walk on a paved trail from Grand Canyon Lodge to Bright Angel Point, which provides a spectacular view of the canyon. It's also an excellent spot for taking photos. From this point, you can see Roaring Springs more than 3,000 feet below the rim. It is the sole source of drinking water for both the North and South rims. Roaring Springs begins as snowmelt on the Kaibab Plateau, gushes out of the rocky canyon wall, and then gradually capture and pump back up to the rims.
From Bright Angel Point, there are also excellent views of Bright Angel, Transept, and Roaring Springs side canyons. The South Rim and the San Francisco Peaks are visible in the distance.
Two driving tips offer spectacular views too.
One is Point Imperial, which is 11 miles from Grand Canyon Lodge and is the highest point on either rim. Second is Cape Royal, 14 miles from the junction of the Point Imperial and Cape Royals roads.
You can also check our Grand Canyon North Rim Hikes recommendations in the chapter, below.
Finally, check great tours to the Grand Canyon on Viator.com which has the best offer!
Grand Canyon North Rim Camping & Lodging
Camping is permitted only in designated campgrounds in the North Rim, and reservations fill up quickly, because of the short season. You have to make a reservation at recreation.gov or call (877) 444-6777.
North Rim Campground
The North Rim Campground has 83 sites and can accommodate RVs. You have to make reservation at recreation.gov or call (877) 444-6777.
Cottonwood Campground
Cottonwood Campground is located halfway down the North Kaibab Trail along Bright Angel Creek. An overnight permit is required to camp and cost $10, plus $8 per person or stock animal per night. You have to purchase backcountry passes ahead of time. Grand Canyon Backcountry Information Center is located in Flagstaff, Arizona: 1824 S. Thompson St., Suite 201, AZ 86001; phone number: (928) 639-7875.
Grand Canyon Lodge North Rim
Grand Canyon Lodge North Rim was designed in the 1920s by architect Gilbert Stanley Underwood. The lodge is an informal and spacious hotel. Constructed of massive limestone walls and timbered ceilings, it features dramatic vistas of the canyon. Accommodations are in heavy demand from May through October. So you should try to make reservations several months in advance at https://www.grandcanyonforever.com/. Grand Canyon Lodge has also Dininig Room.
Lodging in Kanab or Page
If you like small towns, we highly recommended staying in Kanab, Utah, or Page, Arizona. They are an excellent base for exploring the north part of the Grand Canyon and the area. They have great accommodation and restaurants with good food. Our favorite lodging in Kanab is Best Western. If you prefer RV Campground our favorite in Kanab is Hitch-N-Post RV Park.
In Page, we also stayed in the Best Western. They offer good quality at an affordable price. But both in Kanab, Utah and Page, Arizona, you have a lot of other lodging possibilities. You can check prices on hotels.com, which offers great prices and frequent promotions.
Grand Canyon North Rim Hikes
Below are a few an easy-moderate trails recommend in this part of the Grand Canyon. There are recommendations from North Rim and Toroweap. But there are many more, of course. Prepare carefully for this trip if you plan a few days camping at the Grand Canyon. Take maps, guide, and GPS. And if you plan to camp at one of the campgrounds of the Grand Canyon area, check our Havasupai Packing List in which we recommend trekking equipment for Grand Canyon area, camping gear, trekking clothes, and more advice for hikes into the Grand Canyon area.
Transept Trail from North Rim
It's an easy and short hike. The trailhead is on the Grand Canyon Lodge, and it's only 3 miles hike. Elevation is 8,160 feet, gain 100 feet. This trail follows the canyon rim to the North Rim Campground. Views are beautiful.
North Kaibab Trail from North Rim
The trailhead starts in Grand Canyon North Rim, and it's a strenuous trail. Distance and hiking times vary a lot; it depends on you, how long you want to hike. You need a permit for this trail if you're going to stay overnight. The elevation is 8240 feet, and gain is -5,760 feet. It is the only maintained trail into the canyon from North Rim. Even a short hike to Coconino Overlook (1,4 miles round-trip) or Supai Tunnel (4 miles round trip) can give you an appreciation for the canyon's abundant natural beauty and immense size. You can also take a strenuous 9,4 mile round hike to Roaring Springs, or a two- to three-day round trip trek to Bright Angel Campground, 14 miles below the North Rim at the canyon's bottom. But remember that you need a permit.
Cape Final Trail from North Rim area
This trailhead is located 2,5 miles north of the Cape Royal parking area. It's a moderate hike, which takes 4 miles round-trip. Elevation is 7,850 feet and gains 210 feet. This walk offers a magnificent view of the canyon.
Tuckup Trailhead from Tuweep Campground
Our favorite hike from Toroweap Overlook is The Tucup Trail, which gives you a spectacular taste of Esplanade slick-rock. The trail is 3 miles (5 km) long to Cove Canyon. You will be rewarded with endless views of the Grand Canyon area. And you can listen for the roar of the Colorado River.
How to get to the trailhead?
Access the Tuckup Trailhead is on the north of Tuweep Campground or, if camping, from site number 10.
How does this trail look?
Toroweap Overlook is dramatically different than other Grand Canyon viewpoints. Tuweep peers out over a steep gorge set in a broad corridor 3,000 feet (915 m) below the rim. Walk to the edge is a breath-taking experience, because Toroweep Overlook is the wildest of viewpoints, and there are no facilities.
What is the difficulty level, and how to prepare for this hike?
It's an easy-moderate trail. It leads through the plateau above the cliff of the Canyon. There is no water available, so take a lot of water and nutritious snacks for your hike. Especially during summer, when it's sweltering. The area is rocky and desert. Watch your step to protect the delicate ecosystem and stay on the trail. Above all, watch out for cactuses that densely cover the plateau, because you can hurt yourself with cactus spines. Take trekking boots with excellent traction and trekking pools.
And finally, be careful of the edges. A 3000-foot (910 m) abyss is spectacular and offers dramatic views, but it might also be dangerous if you step to close.
Saddle Horse Loop Trail from Tuweep Campground
It's an easy and short walk with spectaculars views. If you have only a few hours on Toroweap it's worth to take this trail. This 45-minute loop offers breathtaking views of the Colorado River in the steep gorge below the rim. It's also a colorful walk through the native plant gardens protected and nourished by beautiful displays of micro-biotic crusted soils. Every inch of crusted toppings signifies 10-years of growth and erosion.
Access to the trail is along the road between Toroweap Overlook and Tuweap Campground or from the trailhead near campsite number 5.
Toroweap – the best of Grand Canyon Viewpoints
Why is Toroweap so breath-taking? Why for us it's the most beautiful view of Grand Canyon and Colorado River? Because it's pure wilderness, it's a remote experience. It's a unique place when you can hear a sound of silence. This place's not too popular, so it's uncrowded because the road is challenging. It requires not only a 4×4 car but also the skills from the driver. There are no handrails or other security features, too, so it's rustic. Pure nature itself; space, the abyss, and the sound of the Colorado River.
Geology of Toroweap formation
The view from Toroweap Overlook is dramatically different, especially if you visited North Rim and South Rim Grand Canyon viewpoints.
Toroweap Overlook peers out over an abrupt gorge set a broad corridor 3,000 feet (915 m) below the rim.
Eight million-year-old lava lows and conical black cinder cones stud the landscape. Toroweap formation area is similar to the rest of Grand Canyon but includes a more recent chapter of volcanism.
The Toroweap Fault underlies the valley, crosses the Colorado River, and continues south up Prospect Canyon. Volcanic activity began along this fault around seven million years ago. Beginning about 1.2 million years ago, lava flowed into Toroweap Valley, forming the flat-bottomed valley we see today. Vulcan's Throne, Mount Trumbull, and the Uinkaret Mountains are all the result of volcanic activity.
More than a dozen times, lava spilled over the canyon rim, damming the Colorado River. Remnants of these flows and dams are visible just west of the overlook. Sediments clinging to the canyon walls high above the river indicate the formation of large lakes. The river eroded the lava dams and continued its downward cutting.
From Toroweap, it is less than one mile across the canyon to the Hualapai Indian Reservation famous from Havasupai Waterfalls on the South Rim, making this place one of the narrowest and deepest segments of the inner canyon. The colorful red-rock of the Hermit Shale and Supai sandstones to the east contrasts with the black, basaltic lava flows to the west.
Driving to Toroweap formation and Tuweep Campground
The Toroweap Overlook is located in the western part of the park on the North Rim. Driving to Toroweap Overlook is an adventure itself. Not every driver can do that, and no every car does. As a result, bring tire plugs and a portable air compressor to repair flat tires. The road is primitive with sharp rocks, deep holes, dust. It's a rough road. Due to this, it is recommended to have 4×4 to get to Toroweap Overlook and Tuweep Campground.
You can choose one of three main routes to Tuweep from AZ 389 between Fredonia, Arizona, and St.George, Utah. And it takes you two to three hours' driving time.
Sunshine Route: from Fredonia, Arizona, by Country Road #109. Wich is 61 miles (98 km) primitive road featuring sharp rocks, wash-boarding, and dust.
Clayhole Route: County Road #5 leaves AZ 389 at Colorado City, Arizona. It is 56 miles (90 km) long and impassable when wet.
Main Street Route: BLM Road #1069 and County Road #5 from St. George is 90 miles (145 km) long. This scenic route is impassable in winter due to snow and mud.
Our selection of maps and guides:
Tuweep Campground
Tuweep Campground is one of our favorites in Grand Canyon National Park (the second is Havasu Falls Camping on the South Rim of Grand Canyon). Why we like it so much? Because you can hear the silence. You can admire the Grand Canyon rim. Above all, you can listen to the sound of the Colorado River. Finally, sunsets and sunrises and stargazing from this edge moved us to tears. There is no civilization, coverage, electricity, or water available. There is only you and the infinite space of Toroweap formation.
Tuweep Campground permits and facilities
First of all, you need a permit to stay overnight. Advance permits are required for camping at Tuweep Campground and backcountry use areas. You can obtain a permit at go.nps.gov/tuweep. Permits cannot be issued at Tuweep, but after 15 of November, you can ask a ranger about the provisional permit. If there are no other reservations, you can get it at Tuweep. We got a temporary permit for two nights. One night costs 13 $ (November 2019). However, if you plan to be during the season, you have to apply for the permit in advance (a minimum of one month before arrival) because the place is gaining popularity and might be full.
There are no facilities, except for composting toilets and picnic tables. There are nine small-group campsites for one to six people with the maximum two vehicles, and one large-group campsite for 7-11 people with a maximum of four cars.
Tuweap Campground rules:
vehicles and vehicles combinations longer than 22 feet (6,7 m) are prohibited (this is total length)
campers must arrive by sunset
fires and charcoal grills prohibited
store all food and garbage in a vehicle, pack out all trash
seven-night limit.
If you can't stay at Tuweep Campground the best place for staying is Kanab. We love this small town with great lodging, food and perfect armosfere. Our favourite lodging in Kanab is Best Western, and if you prefer RV Campground our favourite in Kanab is Hitch-N-Post RV Park.
Check lodging prices in Kanab on hotels.com which offers great prices.
Photography Hints
What season is best for Grand Canyon North Rim photography?
Toroweap Point is open all year; we love this place after a season in October-November. North Rim season is shorter. The road is closed from the first snow in November till mid-May. The best time to visit is in the fall (from September till the beginning of November) at the end of the tourist season.
Both these points: Toroewep and North Rim are much less prevalent than in the Grand Canyon South Rim. There are very few tourists here so that you can focus on photography in peace. You don't have to fight for a spot 😉
More inspirations:
What time of day is best?
For both North Rim and Toroweap is good to be on sunrise and sunset too. You have different light on the rocks and canyon. But if you have only one or a half-day and you have to choose the time, it's better to take pictures from both points: North Rim and Toroweap Overlook at sunset.
What photographic opportunities are there?
The essential difference between Toroweap Overlook and North Rim is that you can see the Colorado River from Toroweap. But you won't see the Colorado River from the North Rim. So if you have only one day and you have to choose, the most beautiful is Toroweap formation. For us, it is the most amazing and breathtaking place in Grand Canyon National Park at all.
Torowep Overlook
From the Toroweap Overlook, you have a view of the extremely colorful Torowep rock formations and the Colorado River. It is the narrowest part of the Grand Canyon, and that's why it's such a spectacular view. You can also take a short walk along the rim and photograph cactuses or dead trees on the edge of the Grand Canyon.
North Rim
North Rim is the highest part of the Grand Canyon at all, so photos from this point are spectacular due to differences in height. In good weather, even South Rim can be seen from the Bright Angel Point. Rock formations are incredible so that you can take exciting shots.
Check also our photos from South Rim of Grand Canyon to find more inspirations!!!
What gear should you take?
First of all, tripod is must-have. Tripod is necessary for landscapes for sunrise and sunset. We recommend a stable tripod because you will take photos over the rim. Don't take too light tripod; the wind can be intense. We have been using Sirui for years, they are reliable and durable tripods.
Do not forget also Remote Control Shutter Release. It is much safer to use it over the abyss, and you don't lose your balance using it. So you do not have to lean too often over the tripod. Our choice is: Camera Remote Wireless Shutter Release Intervalometer which is perfect also for night photos – milky way and stars. You'll be over the gulf when it's dark, therefore take also a headlamp and gloves. They are essential for your comfort, too.

Camera. If you read our earlier articles you know that we use Canon and Nikon. Agnes uses Nikon D750, and Chris Canon EOS R. Both cameras were ideal for Grand Canyon National Park due to their quality and flexibility. They are light enough as well to pack into a camping backpack.
Lenses. Above all, for photos of the Grand Canyon National Park it's best to have a wide lens. Take the widest (ultra-wide recommended) and fastest aperture lens you have (good options are Canon 16-35/2.8 or Nikon 14-24/2.8).
This time at the Grand Canyon North Rim Chris used also Canon EF 24-70mm f/2.8L II USM and Agnes used also Nikon AF-S FX NIKKOR 50mm f/1.4G .
With memory cards, it is easy. You always should buy the fastest and most reliable ones. For years we were using SanDisk and Lexar CF and SD cards for the reason that we never had any issues with them. This is why we can recommend them to you.
Finally Filters:
Minimum: Circular polarizing filter. Please make sure it fits your lens diameter. We recommend Heliopan or B+W filters.
Optimum: Circular polarizing filter, and ND grad filters (we suggest Lee soft edge 0.9 and Lee reverse ND grad to begin with). In the case of ND grads, you will need a holder as well.
Finally, Maximum: Circular polarizing filter, ND grad filters (minimum Lee soft edge 0.9, Lee reverse ND grad and a holder) and full ND (Lee Big Stopper or Little Stopper).
Does it require any hiking or other activities?
It depends on you and the time you have. In the chapter above, you have a few recommendations on the hiking trails that are rather easy, and you will have beautiful views. But you don't have to hike there. It's not necessary to take photos.
Toroweap Overlook
From the parking lot to Toroweap, you have 2 minutes to the rim. From Tuweep Campground, it's about 20 minutes to the rim. But you have to watch out for the edge of the rim. Remember, you are standing over a gulf. It's not worth to die for one photo. So choose a safe and stable place for photography. Do not place the tripod on edge. Don't get close to the side, either. You don't have any security or railings there. It's pure nature and wilderness. So be very careful.
North Rim
From the parking lot to Bright Angel Point is 15-20 min hike. But it's easy trail, and the path is wide. The Grand Canyon viewpoints are secured with iron rails, so the place is rather safe. Interesting Grand Canyon viewpoints are also at the height of North Rim Lodge. We were taking pictures of these points during sunset. From Bright Angel Point, we photographed the sunrise. However, sunset from this point is also impressive.
What kind of clothes do you need?
It depends on the season you are going to. But even in summer, the differences between day and night temperatures are significant, so it is worth taking warm cloaths. The best idea is to pack thermal underwear. If you stay overnight for sunrise, take a sweatshirt and windbreaker jacket because the winds can be intense. Furthermore, hiking boots are must-have, too (our choice is Mammut ). We highly recommended also trekking poles. If you are going to sleep in a tent, take a warm sleeping bag and pad mattress.
Finally, we've prepared a complex packing list for camping in the Grand Canyon. The list is called Havasupai Packing List, but it contains necessary camping gear throughout the Grand Canyon National Park and Southwest in general. Including camping gear, cooking equipment, clothes, safety, and more. So check it, please prepare properly for your adventure.
How long I need to get great pictures here?
If you can take pictures both at sunrise and sunset, it would be great, and that would be the best. A day or two in good weather is enough.
However, if you have only one day and you have to choose, it's better to take pictures from both points: North Rim and Toroweap Overlook at sunset.
More photo inspiration and tips from the most beautiful and exciting places in Arizona, you will find in our Arizona Photo & Travel Guide!
Sources of information about Grand Canyon, f.e. geology and history: Grand Canyon National Park and http://www.ohranger.com/