15 Best Things to Do in White Sands National Park
Step into the otherworldly beauty of White Sands National Park and uncover the best things to do in this stunning landscape. Our guide highlights 15 unforgettable activities, from peaceful evening walks under a full moon to the exhilaration of dune sledding.
This article may contain affiliate / compensated links. For full information, please see our disclaimer here.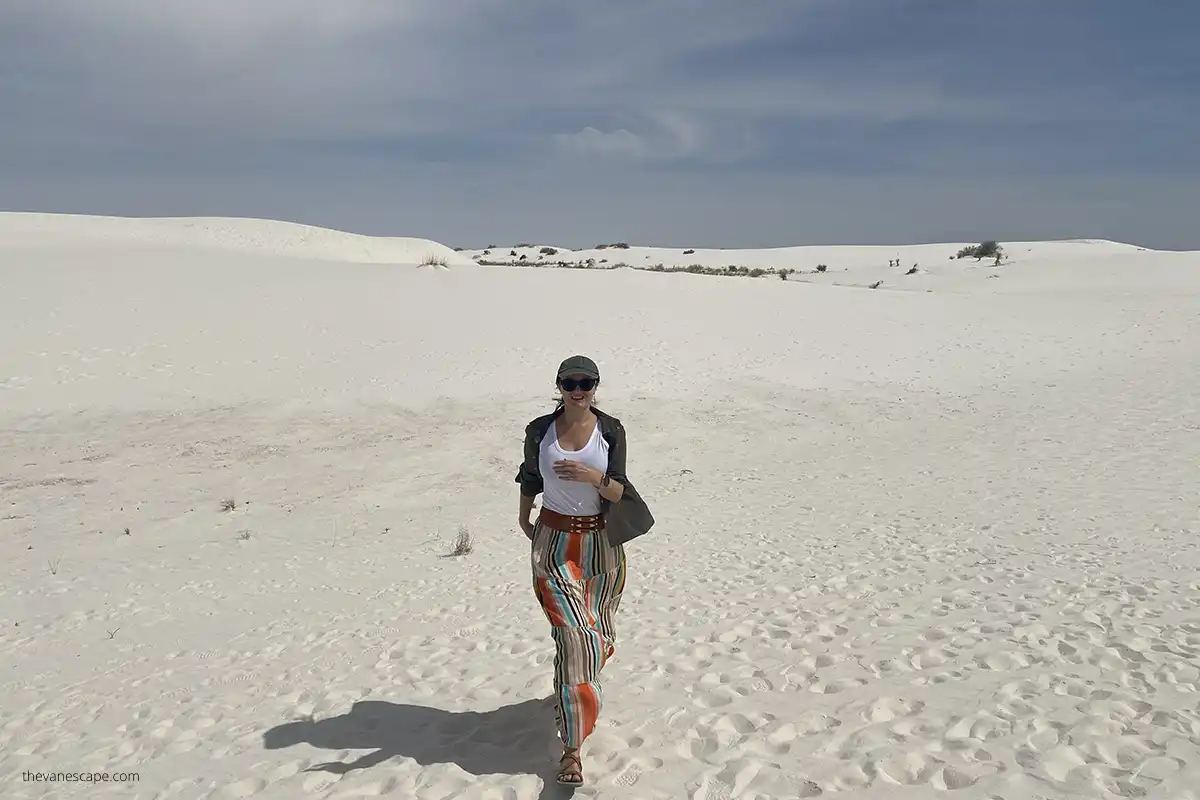 Things To Do in White Sands – Introduction
Welcome to White Sands National Park, a marvel of nature where the rolling dunes paint a landscape so surreal that it seems to belong to a dream. In the heart of New Mexico, this gem beckons adventurers, photographers, and families alike with its vast sea of glistening gypsum sands. Whether you're here for the thrill, the serenity, or a bit of both, White Sands is a playground of possibilities.
As you gear up for an adventure unlike any other, it's essential to come prepared. That's why we've crafted not just one but two comprehensive guides to ensure your visit is seamless and memorable. This article lays out '15 Things to Do in White Sands National Park,' each one a promise of discovery and delight.
But before you dive into the dunes, make sure to check out our companion piece, a practical guide filled with tips on planning your trip to White Sands, the best times to visit, and recommendations for local accommodations. It's the perfect primer to this one, setting you up for an experience that's as smooth as the sand beneath your feet.
From the exhilarating descent down dune slopes on a sled to the peaceful embrace of a desert sunset, we've curated a list of activities that capture the essence of White Sands. With tips for every traveler and insights into the park's best-kept secrets, you're about to embark on a journey that will leave you with stories to tell for years to come.
So, let's get started. What are the best things to do in White Sands? Here is our list.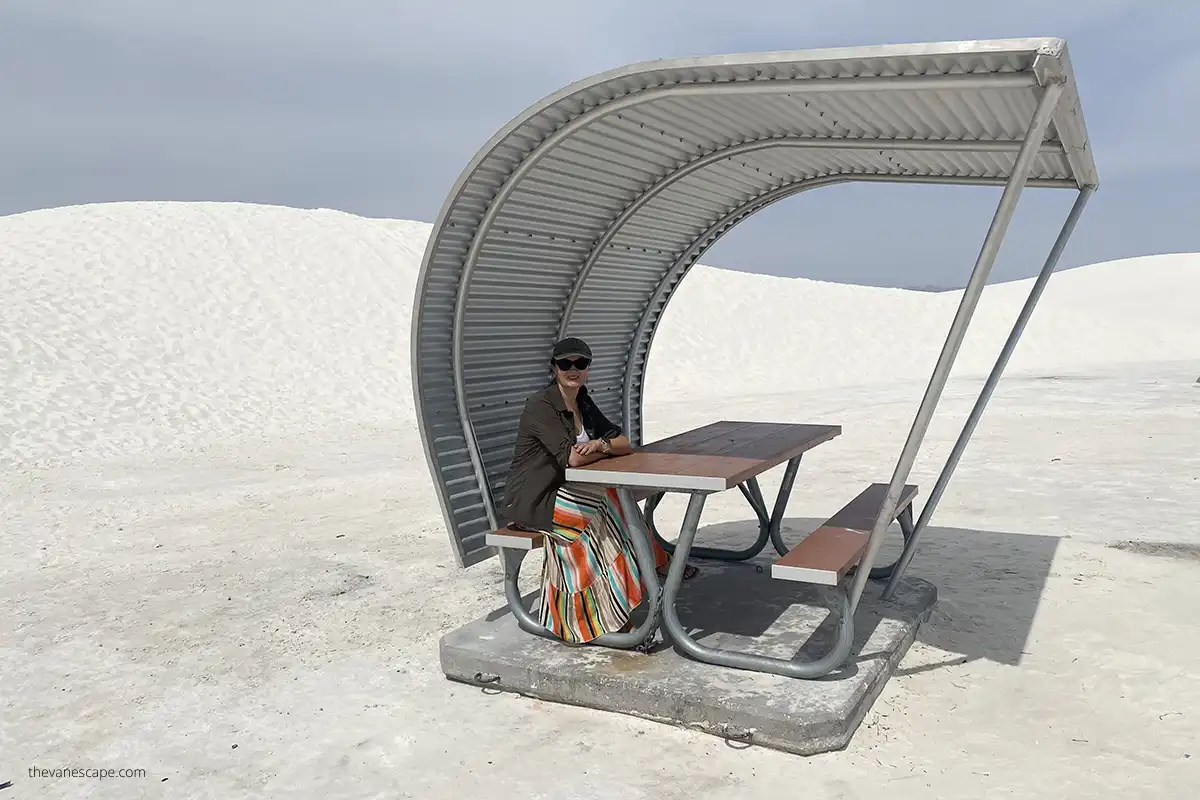 15 Best Things to Do in White Sands National Park
1. Drive and Gaze: The Dunes Drive Experience
Start your White Sands adventure on Dunes Drive, an 8-mile road that's perfect for all cars – no 4WD required. This route takes you deep into the dunes, with each turn offering a new, stunning view. It's a straightforward drive, with clear signs and plenty of spots to stop and enjoy the scenery.
The road is fully paved at the start, transitioning into a firm gypsum surface as you go further. You'll find the drive smooth and the landscape around you captivating. Keep your camera ready – every stop presents a photo opportunity with the dunes as your backdrop.
Be mindful that on windy days, the air can fill with fine gypsum dust, making it hard to see. If you find yourself in a dust haze, slow down and use your headlights. These conditions don't last long and are part of the park's natural charm.
Pull-offs along the way are your chance to stretch your legs and take in the vastness of the dunes. They're easy to access and provide a quick way to experience the sand up close without a strenuous hike.
As you complete the drive, you'll have a great overview of what White Sands has to offer. Next up, we'll guide you through more hands-on experiences in the park. Stay with us as we uncover the best activities White Sands National Park has to offer.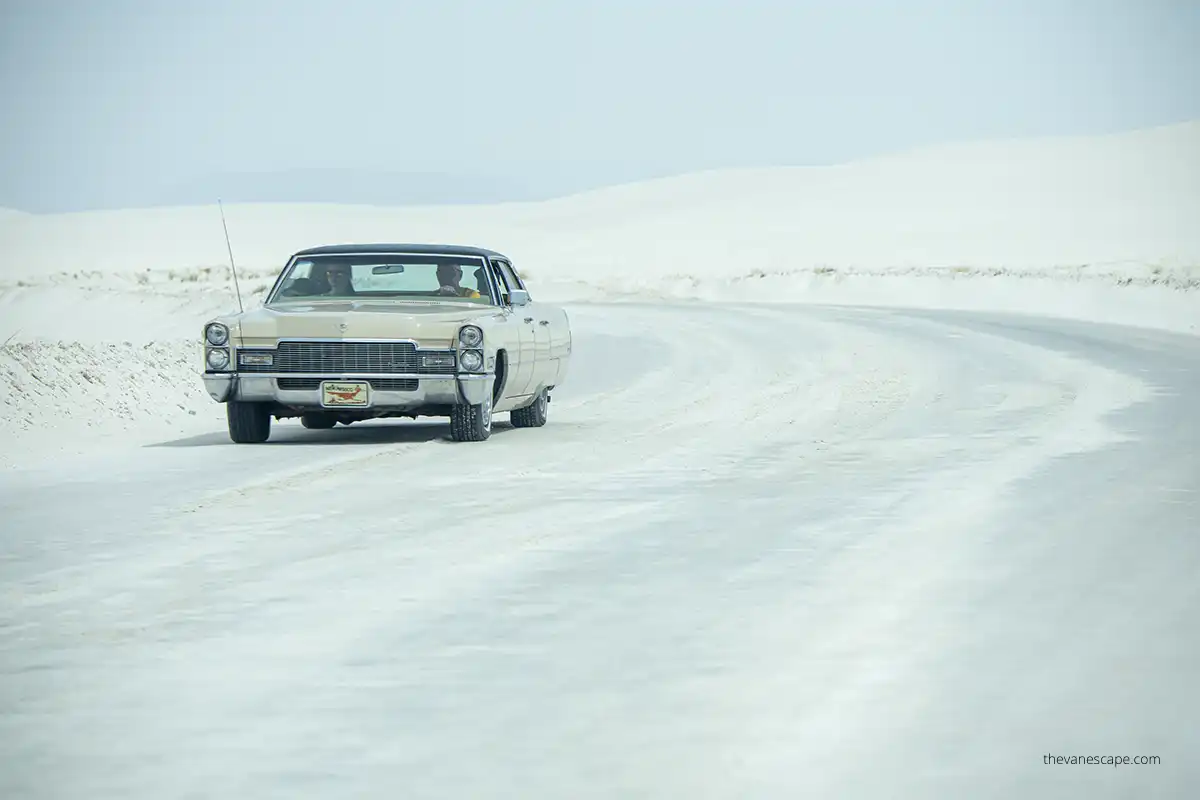 2. Sled Fun: Slide Down the Dunes
Sledding down the dunes is a must-do at White Sands. It's simple: grab a sled from the visitor center, find a dune, and go! The soft gypsum sand makes for a smooth ride and a soft landing. It's fun for all ages and a great way to experience the dunes.
Before you start, pick a sled that suits you from the visitor center shop. They offer various sizes, and you can buy or rent one. Then, head to a dune that calls to you. Look for one with a gentle slope if it's your first time.
Remember to sled in areas free of vegetation to protect the park's delicate plants. And while it's tempting to find the tallest dune, starting smaller can be just as fun and a bit safer, especially for kids.
Sledding or sandboarding at White Sands offers a unique thrill distinct from other dune destinations like Coral Pink Sand Dunes State Park near Kanab or Great Sand Dunes National Park in Colorado. Here, the gypsum sand remains cool to the touch, ensuring comfort as you glide down the slopes. Plus, the sand's compact nature and unique geological composition make for a smoother ride, setting White Sands apart as a premier spot for these exhilarating activities.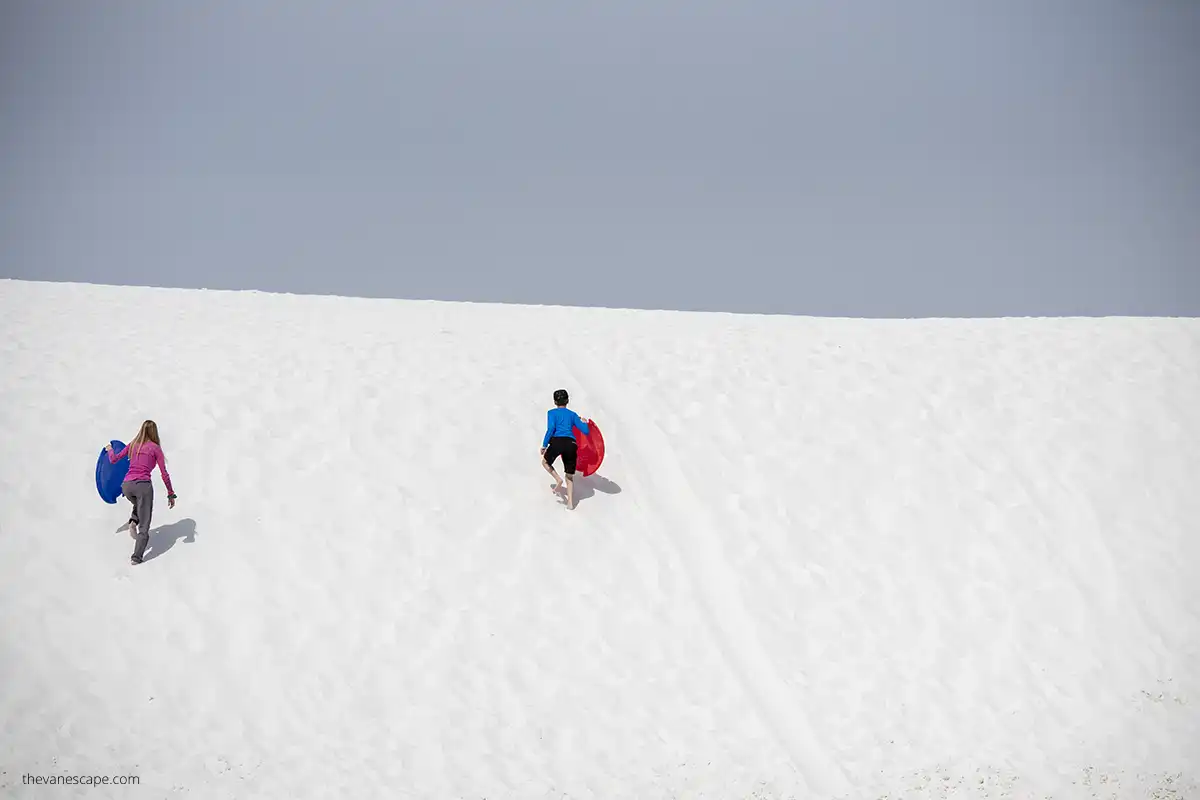 3. Sunset Magic: Evening Walk with a Ranger
Don't miss the Sunset Stroll, a ranger-led walk that's a highlight at White Sands. These evening walks are free, and no reservations are needed. Just meet at the designated area before sunset. Check the visitor center for the exact time, as it changes throughout the year.
During the stroll, you'll learn about the dunes, the plants, and the animals that come alive at dusk. Rangers share stories and facts, making it educational and fun. The walk is easy and suitable for most fitness levels, lasting about an hour.
As the sun dips, the sand reflects shades of pink and purple. It's a photographer's dream, so bring your camera. But also take time just to watch and enjoy. It's a peaceful way to end your day at the park.
4. The Interdune Boardwalk: Learn as You Go
The Interdune Boardwalk is your window to the park's ecology, perfect for all ages and abilities. This 0.4-mile round trip is a leisurely walk on a fully accessible boardwalk. Along the way, you'll find educational plaques detailing the dunes' unique environment.
No special gear is needed here, just a curiosity about desert life. The boardwalk is an excellent spot for those who prefer a less strenuous way to enjoy the park. It's also a prime choice for families with strollers or visitors with wheelchairs.
As you meander, take in the information about the plants and animals that thrive in this seemingly inhospitable place. The boardwalk offers a chance to appreciate the park's subtle beauties and complexities.
Finishing the boardwalk loop leaves you with a deeper understanding of White Sands. Ready for more discoveries?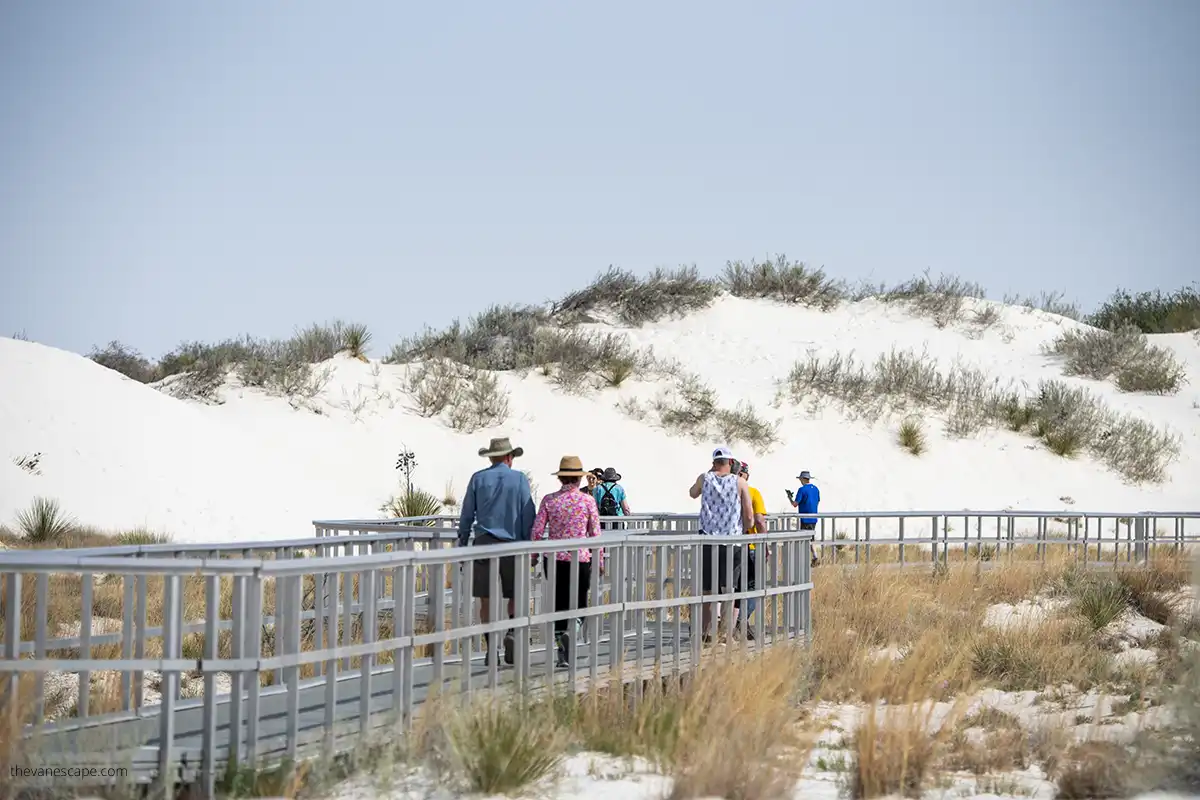 5. Trail Challenge: Tackle the Alkali Flat Trail
For a rewarding challenge, hit the Alkali Flat Trail. It's a 5-mile loop that's anything but flat. You'll need good shoes, water, and sun protection. The trail markers guide you, so keep an eye out as you navigate the dunes.
This trail is not for the faint of heart. It's tough, with no shade, but the views are worth it. You'll see the dune field and the San Andres Mountains. Remember, it's best tackled in the cooler morning or late afternoon.
Stay safe by telling someone your plans and checking in at the visitor center. They'll give you the latest trail conditions. And take plenty of water – at least one gallon per person is recommended.
Once you complete the Alkali Flat Trail, you'll have bragging rights. You've seen White Sands from a rare perspective. Up next, we'll guide you through more serene paths and exciting activities in the park.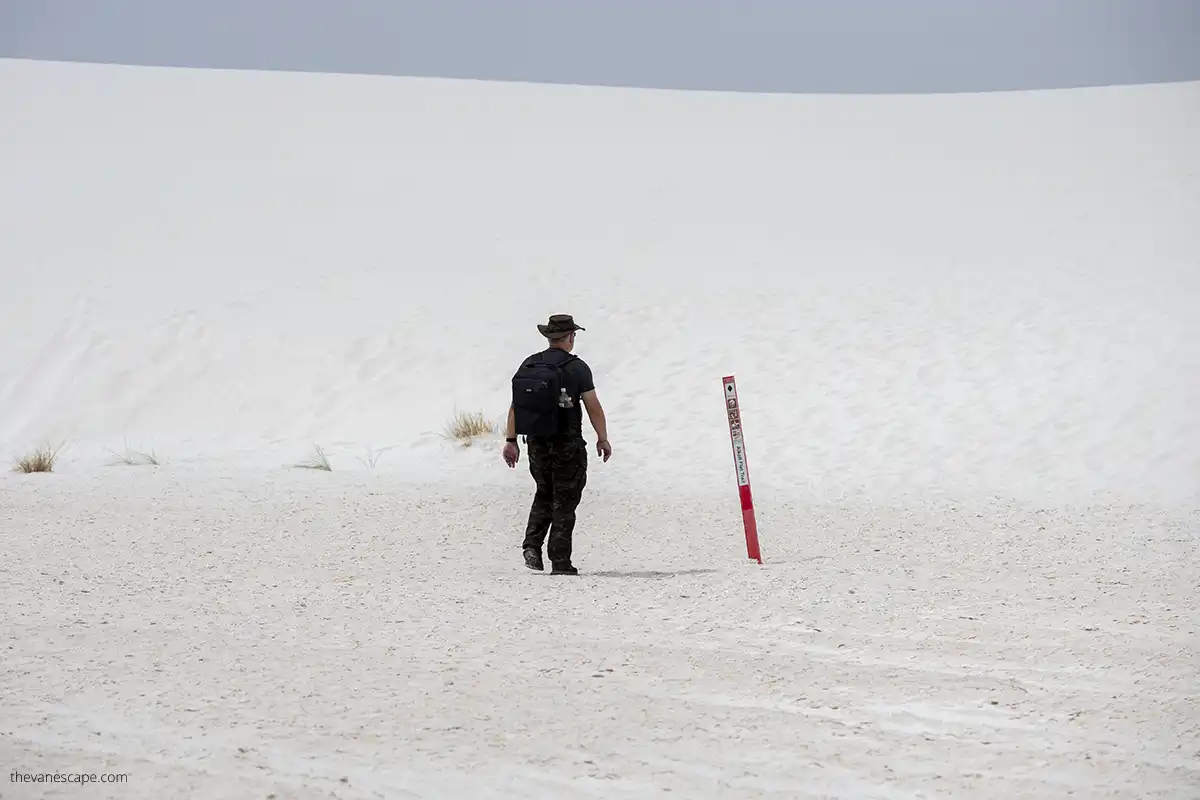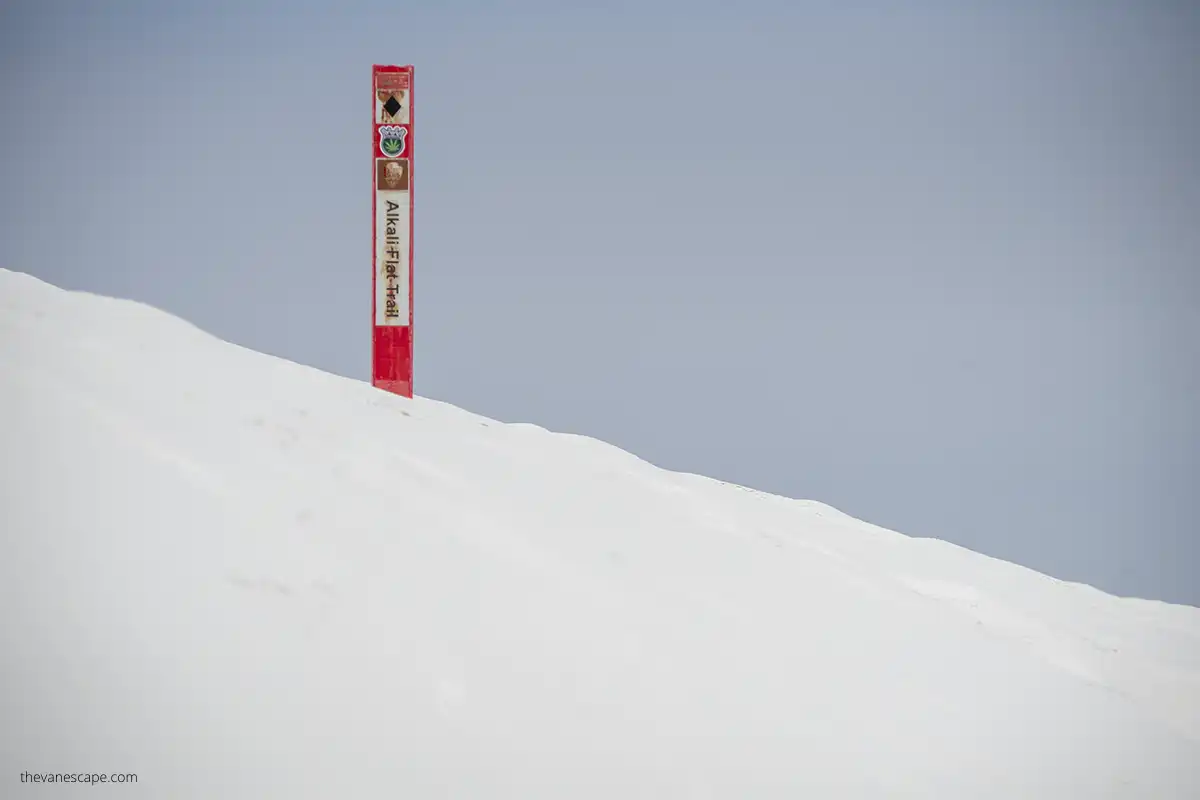 6. Picnic Spots: Eat with a View
Take a break at one of White Sands' picnic areas for a meal with a view. These spots offer tables and grills, set against the backdrop of the dunes. They're first-come, first-served, so arrive early to snag a spot, especially on weekends or holidays.
Pack your favorite foods and plenty of water. Remember, there are no stores in the park, so bring everything you'll need. While grilling, keep it safe—only use the grills provided, and never leave them unattended.
As you dine, enjoy the panoramic views. It's common to see the cotton-ball clouds dotting the blue sky and the dunes' shifting patterns. After lunch, take time to relax or walk off your meal on a nearby trail. Leaving your picnic spot, take all trash with you to keep the park pristine.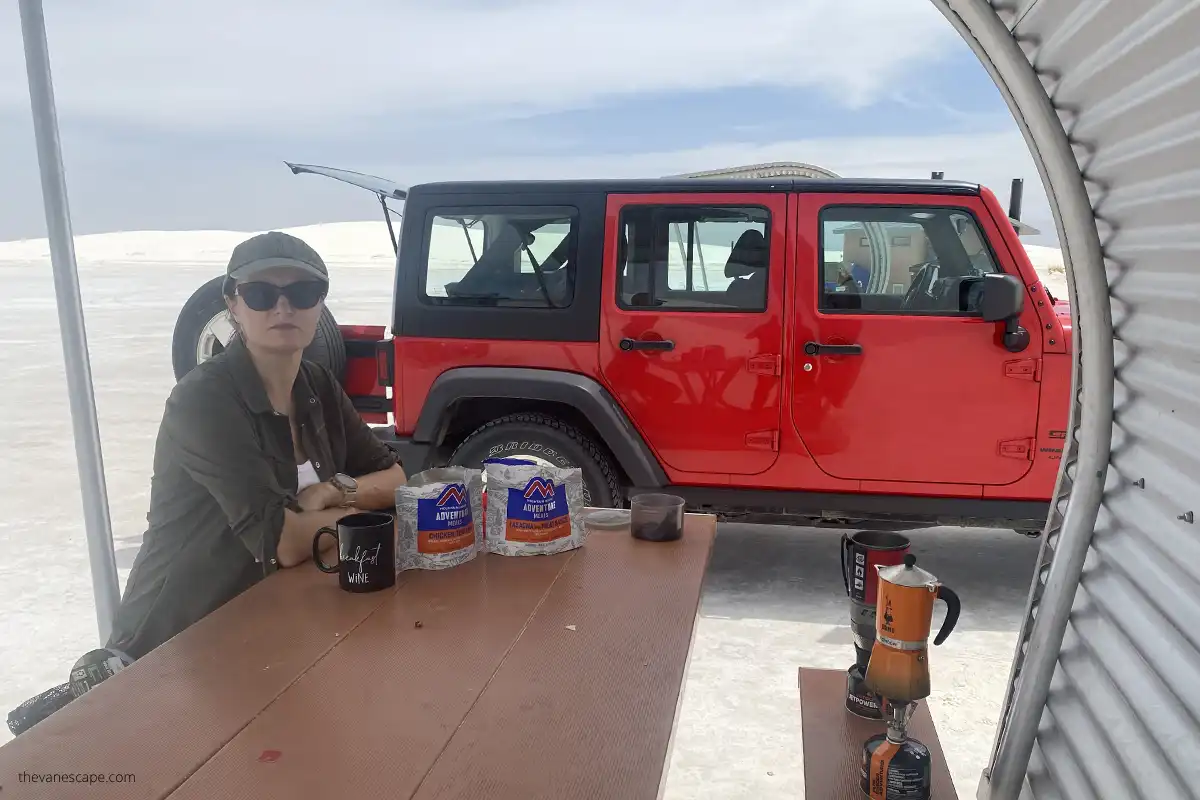 7. Snap the Scene: Photo Ops in the Dunes
Capture the essence of White Sands with your camera. The dunes offer endless opportunities for photographers, from amateurs to pros. The best light is during the golden hours of sunrise and sunset when the sand glows and shadows dance.
You don't need fancy equipment; even a smartphone can do the trick. Look for patterns in the sand, plants standing against the sky, or the play of light and shadow. Remember the rule of thirds for a balanced composition and try different angles for that perfect shot.
Be mindful of the environment as you seek out the best vantage points. Stick to open areas to protect the delicate dune life. And, of course, pack out everything you bring in to help preserve the park's natural beauty.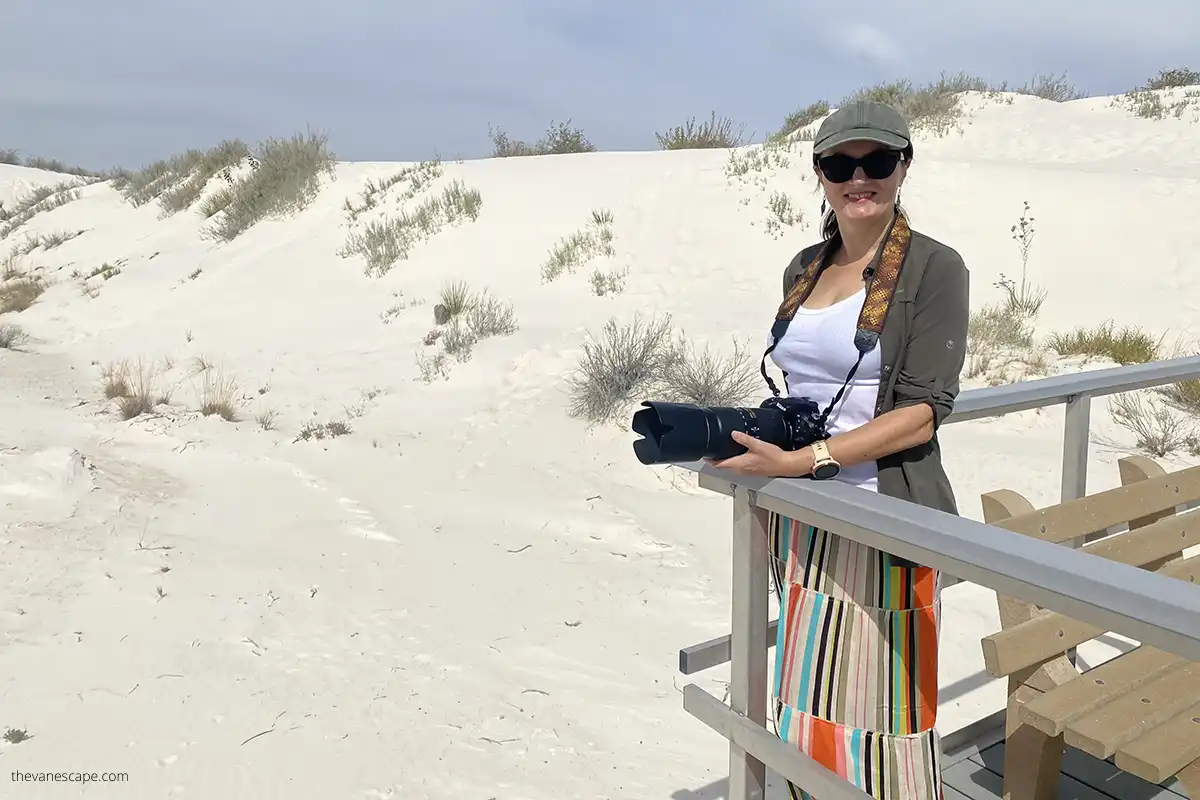 8. Nature's Path: Walk the Playa Trail
The Playa Trail offers a gentle walk to a different side of White Sands. This half-mile round trip leads you to a seasonal lake bed a playa, showcasing the park's cycle of life. It's an easy path, suitable for all ages and fitness levels.
Along the trail, interpretive signs explain the playa's role in the dune ecosystem. You'll learn how the rise and fall of water creates this unique feature. The trail is flat and well-marked, making it a relaxing stroll for nature lovers.
Wear comfortable shoes and bring water, even for short hikes. The desert can be deceiving, and hydration is key. The Playa Trail is a quick escape into the park's quieter side, away from the taller dunes.
After exploring the playa, you'll have a new appreciation for the park's diversity. Next, we'll share insights on where to spot wildlife and enjoy the quiet moments of White Sands. Join us as we continue to uncover the park's hidden gems.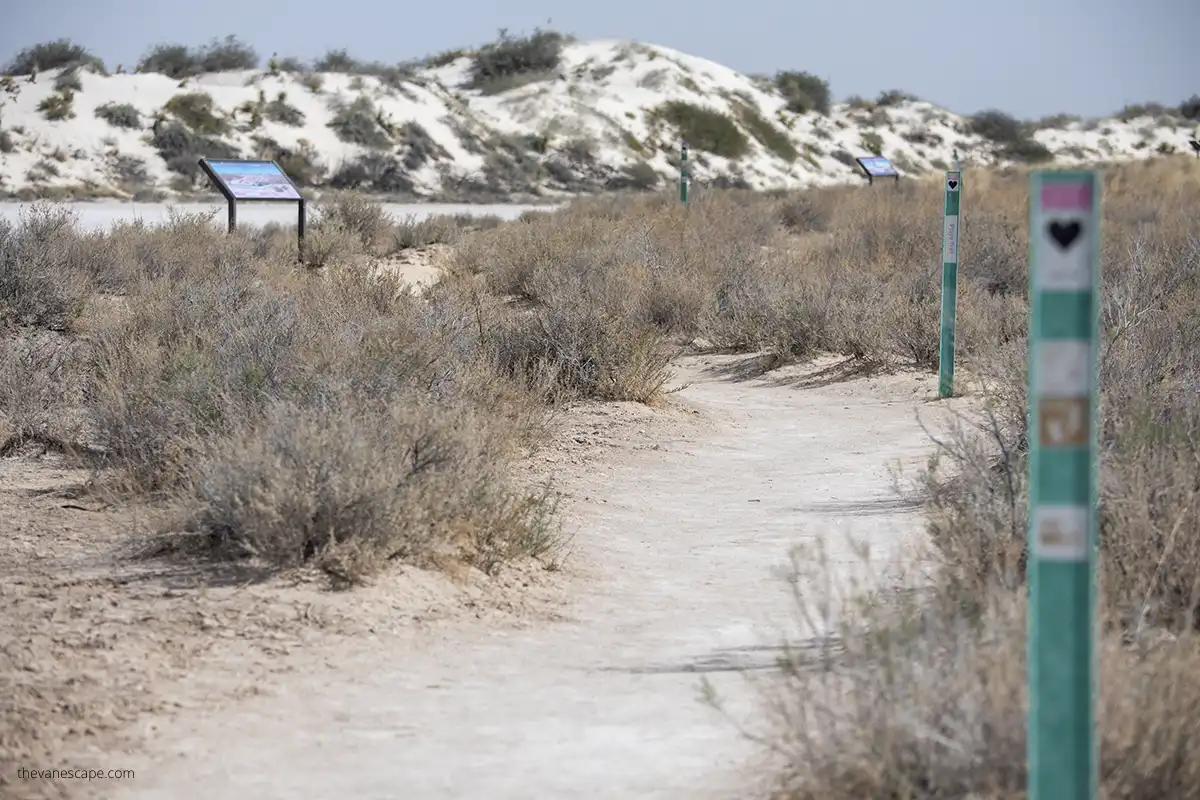 9. Birds Galore: Go Birdwatching
White Sands is a haven for bird enthusiasts, with over 220 bird species recorded. The park's diverse habitats provide plenty of birdwatching opportunities. Early morning is prime time, as the birds are most active.
Bring your binoculars and a bird guidebook to identify the various species. The visitor center can offer tips on the best spots for the season. Keep an eye out for roadrunners, hawks, and the occasional golden eagle.
Stay quiet and patient. Birdwatching is one of the best things to do in White Sands National Park. However, it requires stillness, but the rewards are worth it. You might spot flocks in the brush or solitary birds against the vast sky. Each sighting offers a glimpse into the park's thriving ecosystem.
With a list of birds spotted, you're ready for the next White Sands experience. Up ahead, we'll dive into the vibrant events that bring the park to life. Stay with us for more engaging activities.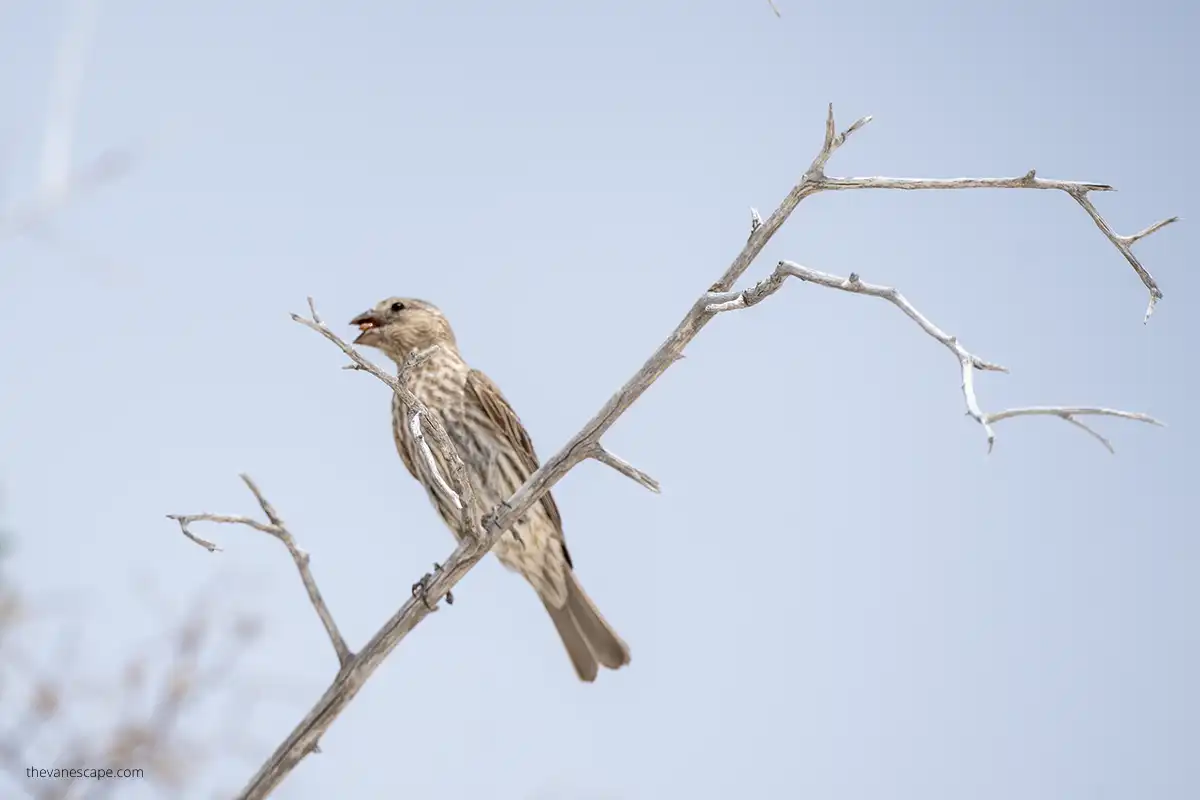 10. Moonlit Wonders: Explore by Full Moon
White Sands transforms under the full moon, offering a serene, silver-lit landscape. The park extends its hours on Full Moon Nights, inviting you to enjoy live music, ranger programs, and the artistry of guest presenters against the dunes' ethereal glow.
No need for flashlights here; the moon's radiance is your guide. But if you join a Full Moon Hike, remember to book in advance as these popular tours fill up quickly. These ranger-led hikes are a unique chance to experience the park's nocturnal beauty and hear stories that bring the desert to life.
For Full Moon Nights, set up your camp chair or blanket in the amphitheater, where the sand's surface is compact and accessible. Remember, seating isn't provided, so bring what you need to be comfortable. And while pets are welcome, they must be leashed and well-behaved.
Keep in mind Full Moon programs may be canceled due to weather or missile range activities, so it's wise to call ahead. And as temperatures can drop, dressing in layers will keep you cozy as you explore the dunes by moonlight.
With these tips, you're set for a memorable night at White Sands. Whether you're strolling under the full moon or joining a guided hike, the park after dark is an unforgettable experience.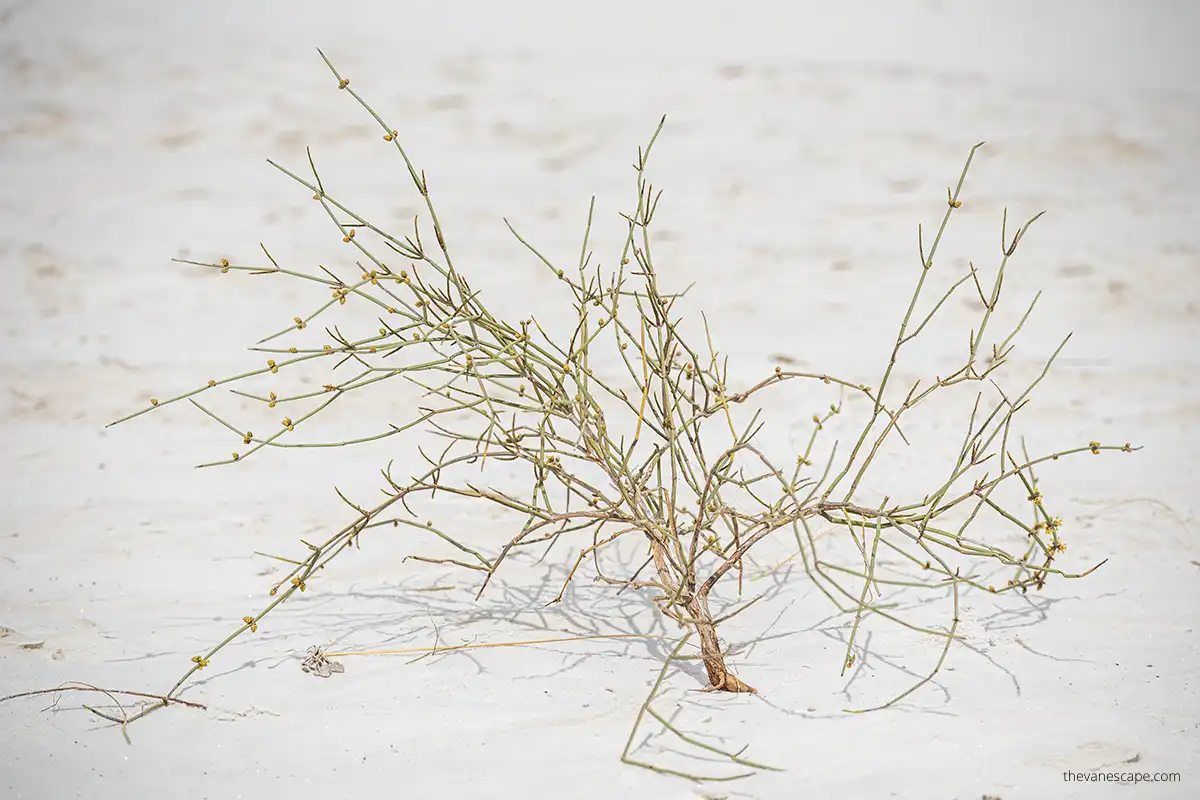 11. Kids' Adventure: Be a Junior Ranger
White Sands is a playground of discovery for young explorers, especially with the Junior Ranger Program. It's an engaging way for kids to learn about the park's geology, plants, and animals while having fun.
The program is free and perfect for children of all ages. Stop by the visitor center to pick up a Junior Ranger booklet filled with activities. Kids complete tasks tailored to their age, like scavenger hunts or educational games.
Once they've finished, they return their booklets to a ranger and take the Junior Ranger pledge. In return, they receive an official Junior Ranger badge, a keepsake of their learning and adventures in the park. This program is a fantastic way to inspire a love for nature and conservation in kids. It encourages them to observe and appreciate the delicate desert ecosystem.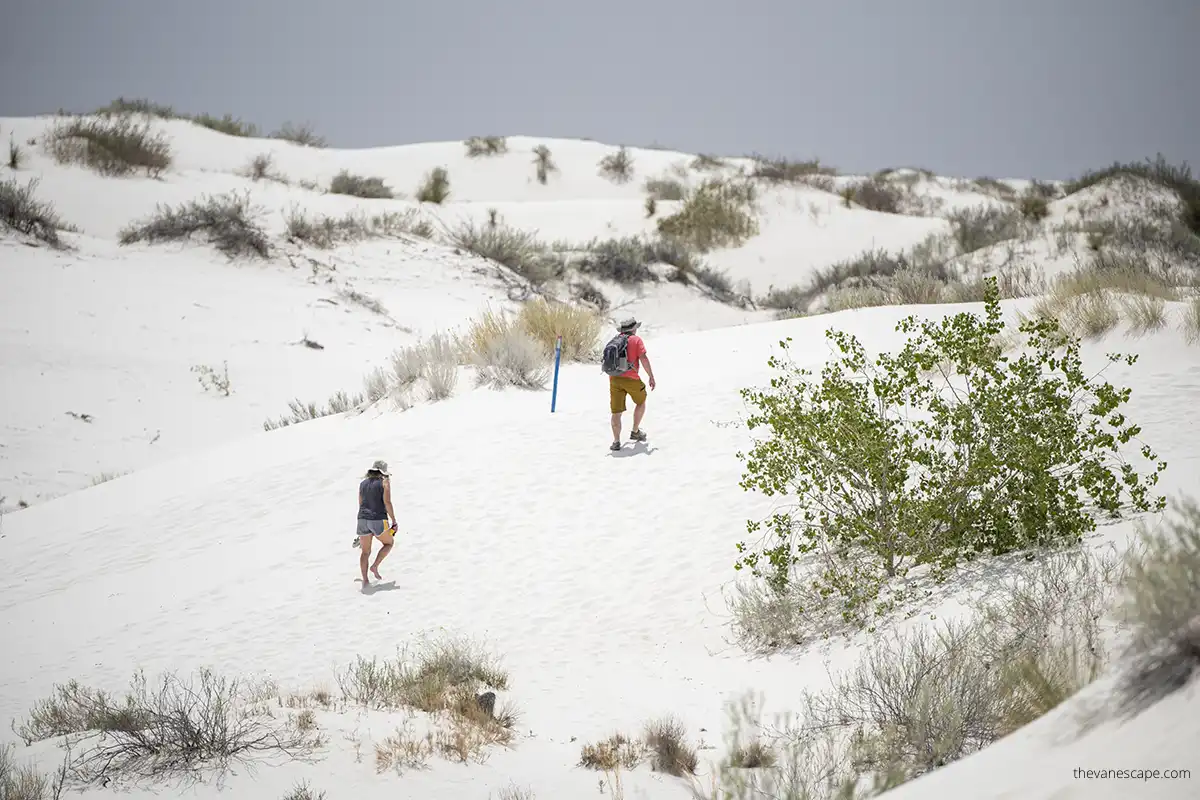 12. Star Nights: Gaze Up in Awe
White Sands National Park, with its Dark Sky status, is a stargazer's paradise. When night falls, the heavens above the dunes come alive with twinkling stars and constellations. It's a celestial theater that's hard to match.
To immerse yourself in this nocturnal wonder, a permit is required for staying late in the park. Planning is key, as you must request this special use permit at least 21 days in advance. The administrative fee for late stays is $75 per hour or a fraction thereof, but the experience is priceless.
You don't need to be an astronomer to enjoy the skies here. Just find a spot away from the lights of the visitor center, lay back on the cool sand, and look up. If you have a telescope, bring it along, or simply use your eyes to scan the Milky Way.
The park occasionally hosts "Star Parties," where rangers and local astronomers come together to share their telescopes and knowledge. These events are family-friendly and a great way to learn about the night sky.
Dress warmly, as desert temperatures can drop at night. Bring a blanket or a chair for comfort during your celestial viewing. And remember, use red lights to preserve night vision and the experience for everyone.
13. History Stop: Visit the Missile Museum
Step beyond the dunes to explore the White Sands Missile Range Museum, a short drive from the park. This museum offers a fascinating glimpse into the military and space history intertwined with the area.
The museum is open to all and free of charge, showcasing a collection of missiles and rockets tested at the range, including the famous V-2 rocket. It's a hands-on history lesson, perfect for families and history buffs alike.
Inside, you'll find exhibits on the range's role in World War II, the Cold War, and space exploration. Outside, the missile park displays a variety of missiles and rockets for up-close viewing. Remember to bring ID, as you'll be entering a military facility. Check the museum's opening hours before you visit, as they can vary.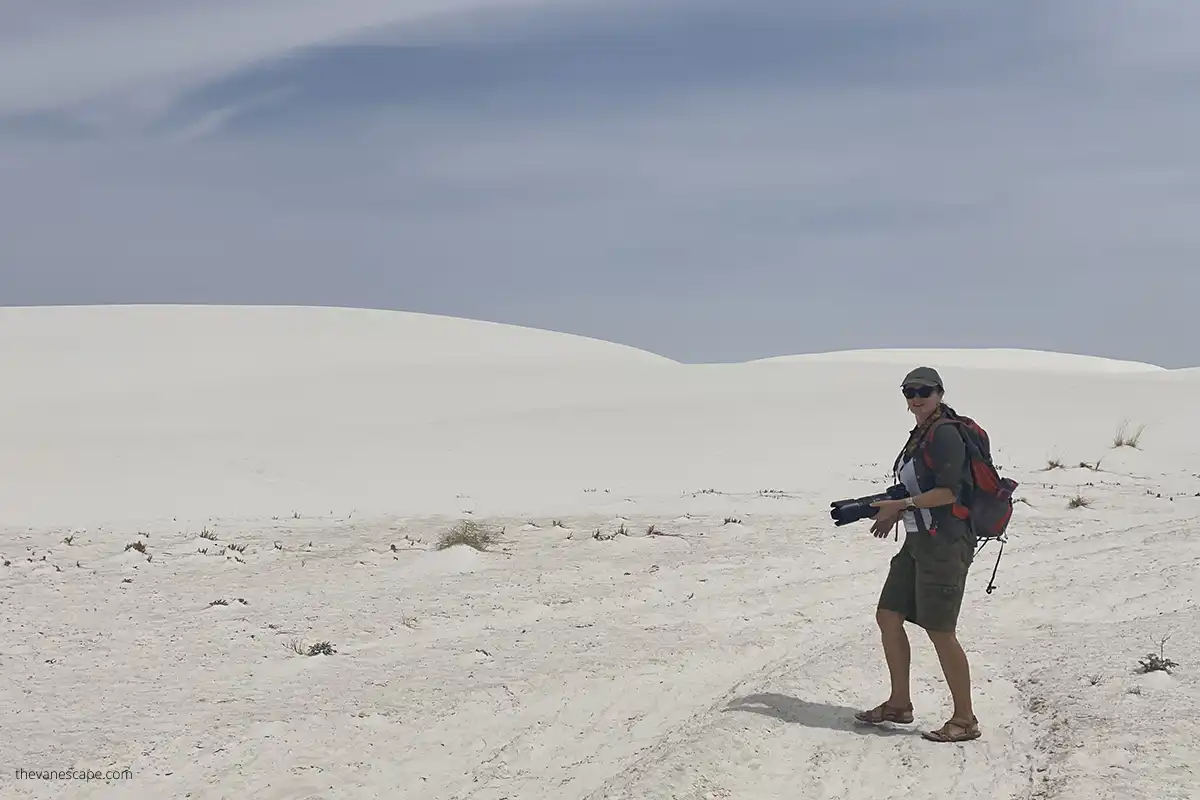 14. Balloons in the Sky: Catch the Festival
Each September, the White Sands Balloon Invitational paints the sky with vibrant colors. This annual event is a must-see, as hot air balloons launch from the heart of the dunes at sunrise, weather permitting.
Arrive early to watch the balloons inflate against the backdrop of the rising sun. The sight of them gently lifting into the cool morning air is unforgettable. Bring a blanket and a warm drink, and savor the peaceful spectacle.
The festival also includes evening events in nearby Alamogordo, offering more chances to enjoy the balloons and local hospitality. Check the event schedule for details and plan to spend the whole day.
Photographers, families, and early risers alike will find joy in this unique event. It's a celebration of color and community in one of the most striking settings on earth.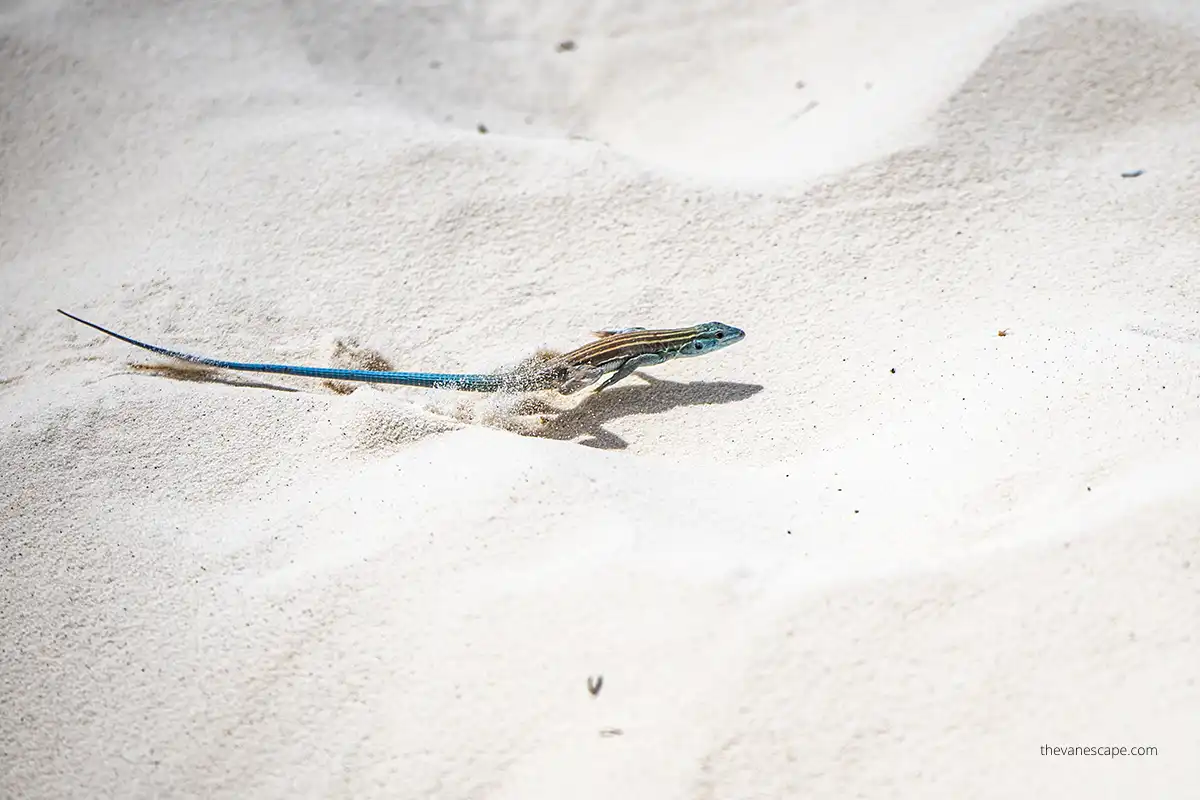 15. Night Under Stars: Camp in the Wild
For the ultimate connection with nature, camping in White Sands' backcountry used to be an unforgettable experience. Imagine sleeping under a canopy of stars, with the Milky Way's band stretching across the sky. Although backcountry camping is currently closed, it's a highlight that may return in the future.
When available, you would need to secure a permit at the visitor center and hike to one of the designated sites. It's a primitive camping experience with no water or facilities, so you must come fully prepared to pack in and pack out everything.
Keep an eye on the official park website for updates on when backcountry camping will be available again. The opportunity to sleep among the dunes, with the sounds of the desert night as your lullaby, is an adventure worth waiting for.
In the meantime, there are other ways to enjoy the park after dark. From stargazing during special astronomy events to the enchanting Full Moon Nights, White Sands offers many nocturnal wonders.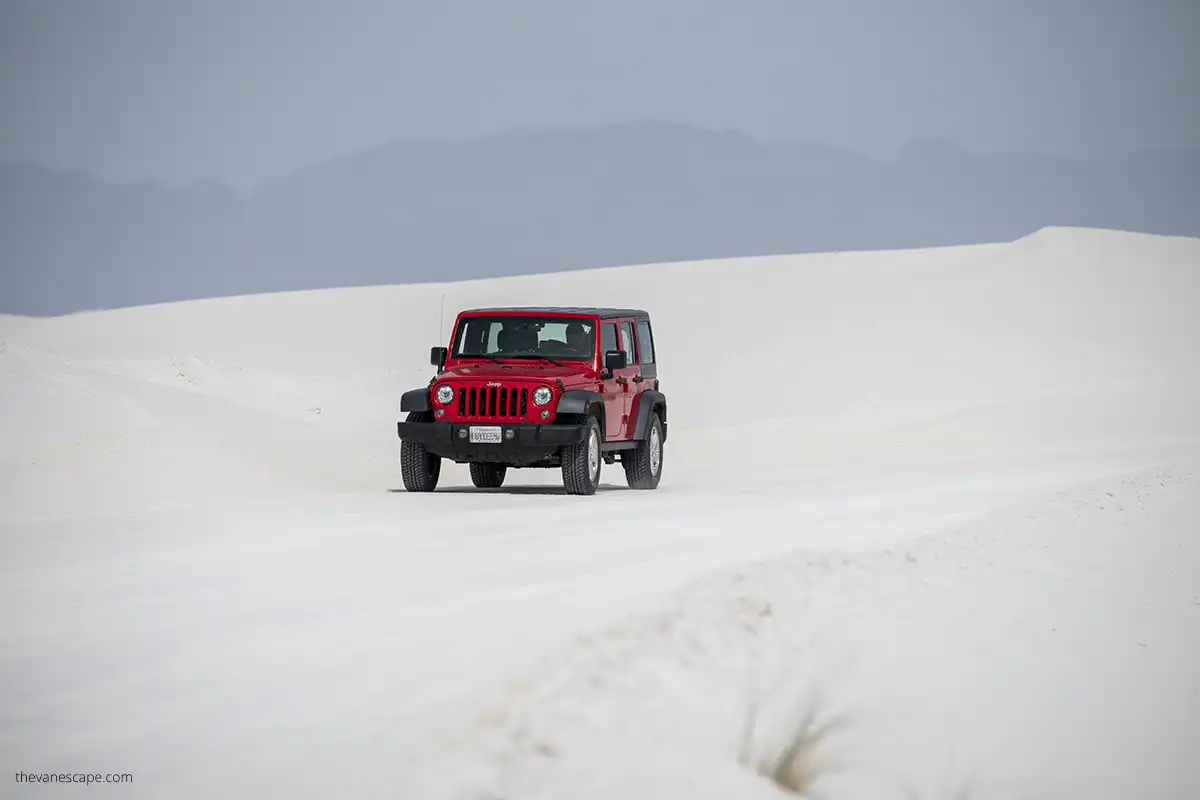 Things To Do In White Sands – Final Thoughts
In the heart of New Mexico's Tularosa Basin, White Sands National Park offers a landscape of rare beauty and a plethora of activities for visitors. From the scenic Dunes Drive to the thrill of sledding down the glistening gypsum dunes, there's something for everyone. Nature enthusiasts can join a ranger-led Sunset Stroll or challenge themselves on the Alkali Flat Trail. For a more relaxed pace, the Interdune Boardwalk and Playa Trail provide informative, leisurely walks.
Photographers will find a canvas of endless opportunity, especially during the golden hours, while birdwatchers can spot a variety of species in this unique ecosystem. Special events like the White Sands Balloon Invitational and Full Moon Nights add to the park's allure, offering unforgettable experiences against an otherworldly backdrop.
Families will appreciate the educational Junior Ranger Program, and everyone can look up in awe during the park's Star Parties. Although backcountry camping is temporarily on hold, checking the park's website for updates is recommended, as camping under the stars here is an experience not to be missed.
White Sands National Park is a place of wonder and discovery, where the beauty of the natural world offers a respite from the every day and ignites the imagination. Whether you're seeking adventure, tranquility, or a bit of both, this guide to the top 15 things to do in White Sands will help you plan a visit that's as vibrant and varied as the dunes themselves.
Do You Like It? Pin It For Later!