The Havasupai Packing List is for those who plan or dream of hiking to the famous Havasu Falls, Arizona. We share our experience of what to pack for the Havasu Falls hike. And we have a lot of experience because Chris is a lucky guy who has been to Havasu Falls three times! So we know exactly what to pack and how to prepare for this adventure. However, it's a tough backpacking trip. In other words, it's essential to prepare well for it, so check our Havasupai Packing List. Above all, the Havasu Falls hike is demanding and is 10 miles one way. Take advantage of our experience. Check our complete Havasu Falls Packing List.
This article may contain affiliate / compensated links. For full information, please see our disclaimer here.
Havasu Falls Packing List for 2023 – Update
We are delighted that from February 1, 2023, you can hike to Havasu Falls again. The Havasupai Tribe issued an official announcement on December 23, 2022. Those who have current permits can go hiking. Some have been waiting for this day for more than two years. If you have a permit and plan your hike, make sure to follow the Havasupai Tribe's official Facebook tourism page for updates. We are happy to share our experiences of what to pack for Havasu Falls.
We have prepared 5 parts guide for Havasu Creek Waterfalls:
1 – HAVASU FALLS PERMIT AND HAVASUPAI RESERVATIONS
2 – HAVASUPAI PACKING LIST – You are in this part 🙂
3 – HIKE TO HAVASU FALLS
4 – HAVASU FALLS CAMPING GUIDE AND RULES
5 – WATERFALLS OF HAVASU CREEK PHOTOGRAPHY GUIDE
Havasu Falls Packing List – Introduction
Are you the lucky one who has a mandatory permit to Havasupai Waterfalls in Havasu Creek, Grand Canyon, Arizona? Are you ready for the fantastic Havasu Falls Hike? If yes, check our Havasupai Packing List. Chris was there three times! So we know, what to pack and how to pack for this adventure.
As you probably already know (and if you don't, you should definitely read this article), you have a pretty challenging 10-mile backpacking hike ahead of you. You'll be staying at the Havsu campsite for 3 nights (unless you're staying at a Havasupai Lodge), so you'll also need to pack some food because in the village of Supai, prices for goods are very high and choices might be limited. After 3 hikes to Havasu, we now know what was worth packing and what wasn't, and what is prohibited, so study our tips carefully.
Havasu Falls Camping Rules
First of all, remember that you are on Havasupai Tribe land and you must respect their law. So, as a result, in our Havasupai Packing List, we start with what you CANNOT TAKE to Havasupai campground and what you CANNOT DO in Havasupai because they are strictly prohibited. Finally, you have to know that you can pay huge fines if you broke the rules. Above all, check all laws and campground rules and respect them. Check out more about the Havasu Falls campground in this post.
What items you cannot take to Havasu Falls?
Don't pack: Alcohol, Drugs (also marihuana), Pets, Firewoods, Fireworks, Weapons/guns, Drones, Coolers, Vehicles, Bikes, Speakers, Biodegradable cosmetics, as soap.
What is prohibited on the Havasupai Tribal Land (Havasu Falls)?
It is prohibited in Havasu Falls: to photograph the Havasupai village or residents of Havasupai, their community, as well mules; use drones, drink or have alcohol, use or have drugs (including weed), and make campfires. Prohibited are also: nudity or inappropriate clothing, cliff-jumping, diving, rock climbing, water sports, and littering.
Havasu Falls Packing List – Hiking Backpack
Havasupai Packing List – Water and Food for a hike
Hydration during a hike to Havasu Falls
First of all, take a minimum gallon (3,7 liter) of water per person for your hike to Havasu Falls. There is no water on the trail, and there is no water on the trailhead (here you can check details about the trailhead and hike to Havasu). The temperature can often be well over 100 degrees in the summer. We like this Osprey Water Reservoir. It is comfortable, durable, and perfect for long hikes. It's good to take some electrolytes for hydration during the hike.
OUR TIP: Start hydrating yourself a few days before the trek, drinking a minimum of 0,5-0,6 of a gallon (2-2,5 liters) of water daily. don't drink alcohol a few days before the hike. There isn't any water available on the trail, so plan to hike in the coldest part of the day, when the canyon is shady. The best time to start hiking to Havasu Falls is before sunrise. We started hiking at 4 – 5 am. It was dark, but the temperature was perfect. What's more, we got to Havasu campground early, so we had more choices of camping spots and had almost a whole day to enjoy the waterfalls.
Snacks for a hike to Havasu Falls
Pack some snacks for your hike sandwiches, bananas, and protein bars. We also pack Beef Jerky. The hike takes a few hours so you will be hungry. It would help if you had enough energy. Furthermore, there is only one store in Supai village, and prices are higher because there is no road. The choice of products in the store is minimal.
Havasupai Packing List – Camping Gear
Havasu Falls Packing List – Sleeping in a tent
Lightweight tent. It's important to have a solid backpacking tent. But should be light and easy to put up. We have 2 person tent, which offers a good amount of space and it's warm inside.
Lightweight sleeping bag. A light or ultralight sleeping bag is a must-have. It has to be warm even during summer. Above all, it keeps you healthy. A sleeping bag keeps you comfortable, especially in the morning, as temperature differences in desert climates are significant. Our choice is Mummy Sleeping Bag.
Light Thermarest sleeping pad. Insulation is important. A sleeping pad gives you cushion and padding while you are sleeping, so don't forget the mattress with you for camping. Our choice is Therm-a-rest Trail Sleeping Pad, which is self-inflating, light, solid foam type, and we enjoy our nights in a tent with this stuff.
Hammock Tent for Summer night & Hammock for relaxation
Useful gear for the Hike
Trekking poles. For Agnes is a must-have gear for the hike to Havasu Falls. On those uphill climbs, trekking poles help take some of the weight off your hips and legs by utilizing your arm strength. On the downhill, they help ease the pressure on your knees. Hiking poles should be light but tackle any terrain. You can read more about the advantages of using hiking poles in our article How To Choose and Use Trekking Poles?
Headlamp. It's a must-have on camping and also during a hike. If you follow our advice and start your hike before sunrise at 4-5 am, the headlamp will come in handy on the trail. So don't forget to pack it. Our choice is a strong headlamp.
Havasupai Packing List – Cooking & Eating
As we mentioned at the beginning of the article, you need to pack food for three nights and four days at the campground. You have one small shop in Supai Village (2 miles from the Havasu Falls campground), but prices are pretty high, and limited choices. One Indian family often sells fresh meals off Havasu Falls, so you have the chance to get a warm local meal. But there is no rule that their food stall will be there during your stay. So pack food supply.
Cooking
Water filtering
There is one spring at Havasu Falls camping that provides safe drinking water. So we didn't filter it. However, it's a good option to have some Water Purification Tablets just in case. Especially if you have a sensitive stomach or other ailments. We always pack tablets just in case.
For sure you should take Bag Water Reservoir, it's essential because spring is located at the beginning of Havasu Falls Camping, which is over half a mile long. And most important, remember to take a minimum of one gallon or 3 liters of water for your hike, but if you are going to hike during the day, about noon, take much more.
Zip Water Reservoir is also very comfortable.
Or you can take a big bottle of water and a water filter.
Paracord and bags
Surprised? You will need the rope at this campground. Paracord, food bags, and trash bags are a must-have. There are many squirrels and raccoons at the camping. So you should protect your food, and take it in a food sack or in a backpack well fastened for the night and hung on a paracord. At night there are also raccoons and they want your food and trash too. Anytime you are sleeping, or away from your campsite, you'll want to hang stuff on a paracord with a carabiners clip, so those animals can't get it. It is necessary to protect the garbage because the animals pull them out at night. So take a trash bag, please. And the basic principle of camping is not littering. Everybody takes their trash from the campsite to the village.
Camping food
We packed ready-to-eat camping meals that were easy and quick to prepare. Thanks to that we could spend more time at the waterfalls and less on cooking and cleaning. We like Mountain House and ReadyWise, as they're perfect for backpacking. Pack also your favorite snacks, coffee, bread, or fruit. If you are on any special diet, take all your food with you as you may have trouble getting the necessary supplies in the village.
Small daypack and rain cover
It's good to have one small daypack for daily hikes. It's a great idea to pack your equipment in a waterproof floating backpack or Lightweight Packable Backpack. Need to pack a lot of water, snacks, a quick-drying towel, and a camera for the Beaver Falls and Mooney Falls trek.
Rain cover for smartphones. If you like taking photos with your smartphone you should use a dry bag for it, especially when you are in waterfalls. The breeze is strong and your gear may get wet
Havasupai Packing List – Clothing
Adapt the suggestions below from our Havasu Falls Packing List to the season you are going to Havasupai. From June to August, temperatures are sweltering during the day but are quite chilly at night. The temperature differences are significant because you are at the canyon's bottom. Even in summer, take something warmer and wear layers. The waterfalls are phenomenal. In addition to our tips below, it is worth packing a lovely dress or an exciting T-shirt to have amazing photos with the falls in the background.
Havasu Falls Packing List – Clothing for water activities in waterfalls
Trip Tip: Please note that water sports in Havasu Falls, such as cliff jumping, scuba diving, SUP, kayaking, and water mattresses are prohibited. Follow and respect the rules of the Havasupai Tribe.
Hiking shoes
Hiking boots or Hiking shoes. Yes, you need them. The Havasu Falls hike is strenuous. Above all, you are walking on rocky and sandy terrain. You should have a well-protected foot and ankle. Most of all, you will hike to Mooney Falls and Beaver Falls. We used hiking boots, and when we crossed the river, we changed them to water boots. Our choice is Mammut and Merrell. We hiked for many miles on challenging trails. We also like and use Keen shoes, which are great for harsh weather conditions. They are reliable and comfortable, with excellent traction so you can hike even in mud, and slippery rocks.
Hiking clothes
Socks. Good moisture-wicking socks are a must-have during your trip to Havasu Falls. Our choice is Merino Wool Hiking Socks, which are incredibly soft and warm and have natural wicking and odor-resistant properties. As a result, keep you dry and comfortable while active in chilly weather.
Hiking underwear. You need high-quality and quick dry underwear, for the reason that it's essential to feel comfortable during your hike and camping. So choose well your travel underwear. For Agnes best hiking underwear are a sports bra and quick dry women's outdoor bikini. Chris' choice is breathable travel boxers.
Long sleeve thermal base layers. It is another important item on our Havasu Falls Packing List because the weather is unpredictable. Mornings and evenings in Havasu Falls camping might be chilly even during summer. That's why layered clothing will help you get ready for any conditions. Proper thermal underwear is essential during hiking or sleeping in a tent. Chris likes Merino Wool Thermal Pants, which are breathable and keep you fresh in summer and warm in winter. His choice is also Long Sleeve Thermal Shirt, which keeps you dry and comfortable while active in cold weather, and is super soft. Agnes' option is set Midweight Long Sleeve Thermal Shirt and Leggings Midweight Thermal for it, which is soft and warm and helps stay warm without overheating. We always choose a set with the highest weight (230-250gm) to protect us against cold (Spring, Fall, Winter) and a set with an average weight (100-200gm) for summer months.
Flees jacket. Agnes loves her Kuhl jacket (here you can read our review of this jacket). It's one of the best she ever had because it's warm enough and comfortable. This jacket is excellent for everyday layering in chilly weather. It also has big pockets for necessary gear such as a smartphone and our small DJI Osmo pocket camera. Chris' choice is a Kuhl Spekter Full Zip Hoody, which is warm and great as a layer as well. Remember that in the desert there are significant temperature differences between day and night, that's why even in summer it is worth having warmer clothes.
Hiking pants or jeans or leggings if you like. We prefer light outdoor trousers. Therefore Chris recommends Silencr Rogue Kargo Pant (here is the review), and Agnes recommends Freelex Roll-up Pants (here is the review).
Hiking shorts are a great choice if you plan your hike to Havasu Falls during the summer months. Agnes recommends hiking shorts for women (here is a review). Chris's favorite shorts are Ambush Cargo Shorts (you can check photos and review).
Short sleeve thermal t-shirt. It's good to have a minimum of two short sleeve t-shirts. When it's a hot day this t-shirt helps you to stay dry. It's great for the Havasu Falls hike so don't forget to add it to Havasupai Packing List.
Gloves. It's good to take a pair because you have chains and ladders on the hike to Mooney Falls and Beaver Falls. They are always wet and slippery because of the waterfall breeze. We prefer Touchscreen Gloves as they are also useful while taking photos. But we're always honest with you – the cheapest work gloves will also be great.
A rain poncho helps you stay dry. They are lightweight and will keep you dry in case of a storm, which occurs in the summer.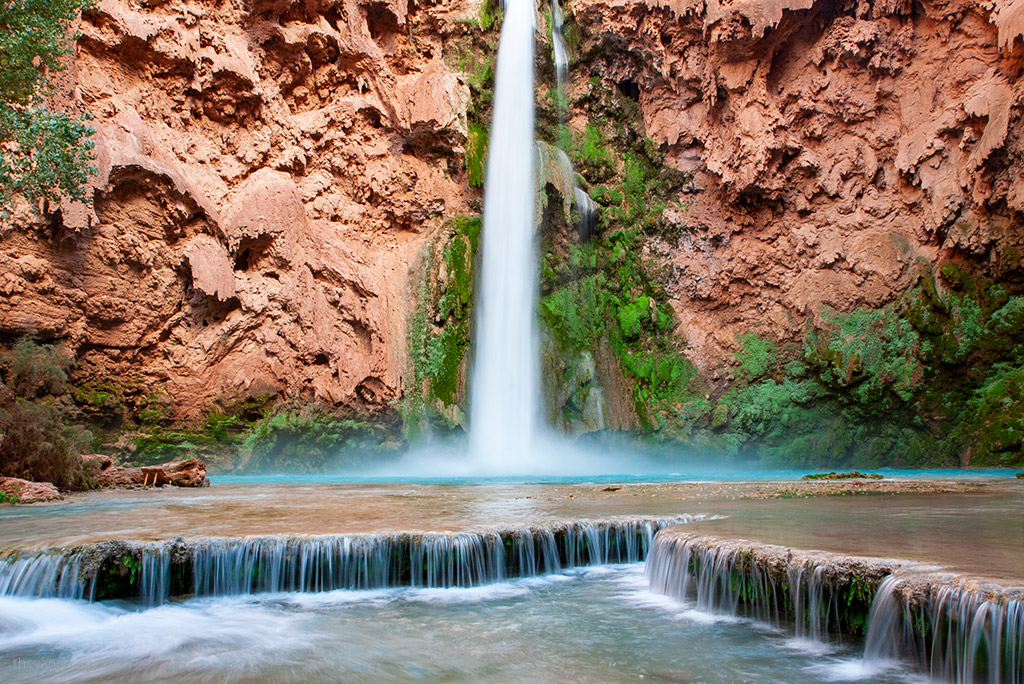 Havasu Falls Packing List – Safety & Security
First of all, remember that there are no medical services in Havasupai Falls and Supai village, no doctors, and no hospitals. There is no telephone coverage, the internet does not work, and there is no way to call for help. So, above all, you should have:
Your Identification: ID or passport – you must have it on check-in.
Take also confirmation of your reservation to Havasu Falls.
Travel Insurance.
First Aid Kit. Most noteworthy, you should always have a first aid kit when you are hiking in the backcountry. There is no medical help in Havasu Falls. Ultralight Adventure Medical Kit is essential in case of a wound.
Prescription drugs. If you have to take some medicines, do not forget them. It's impossible to get medicines in Havasupai Falls.
Solid Powerbank. You will be without electricity for three days, so charge your phone, and pack a power bank.
Safety whistle. Safety Survival Whistle – emergency whistle is essential in case of an accident and the need to call for help.
Knife and multi-tool. This survival kit includes an emergency blanket, Multitool Pliers, fire starter, scraper, swiss card, flashlight, whistle, folding knife, Heavy Duty Carabiners, tactical pen, woodcutter, and water bottle clip.
Money/cash. If you want to buy food from an Indian family, you have to take cash. They have great Indian tacos. It's also cheaper to pay cash in the Supai village. When you pay a credit/debit card, it's an extra fee.
Map/Book. The trail is well-marked. But it's worth having a map or a book about this area; they contain a lot of exciting information. It is worth reading a book while rocking in a hammock. We recommend the following books on the Havasu Falls history and the Havasupai tribe.
| | | | |
| --- | --- | --- | --- |
| | | | |
| Top Trails of Arizona Includes Havasu Falls | Exploring Havasupai: A Guide to the Heart of the Grand Canyon | People of the Blue Water | I Am the Grand Canyon: The Story of the Havasupai People |
| View Item | View Item | View Item | View Item |
Havasupai Packing List – Comfort & Toiletries
Please note that the Havasu Falls campground has no running water and no bathrooms with showers. There are only primitive compost toilets. You cannot take water-polluting cosmetics, so do not pack them with you.
Toothbrush and toothpaste. A small travel kit is enough for 3 days of camping in Havasu.
Cleaning wipes or baby wipes. There is no shower or running water in the Havasupai campground. So take a lot of refreshing wipes. Do not bring soap or shampoo and do not use any cosmetics in the streams. Even those that are biodegradable threaten animal life. Intimate wet wipes are essential if you are a woman. Chris uses Men's Shower Body Wipes.
Hand sanitizer and toilet paper. As there is no running water at camp, using a hand sanitizer is a must for your health.
Havasupai Packing List – Photography Gear
For the Havasu Falls hike, we limited our photo equipment to a minimum, and we put our gear in backpacks, for the reason that it's a long hike. Remember there is no electricity in the Havasupai campground so take a supply of batteries for your camera. Above all, check our photography equipment list below to make sure you have everything to take good photos. And check our tips for the best photo spots for each of the five Havasu Creek Waterfalls.
Havasu Falls Packing List – Cameras
Cameras. Canon EOS R – a very light and modern mirrorless camera – which is used by Chris.
Agnes uses Nikon D750 – an optimal choice for traveling photographers because it's a light camera with excellent quality sensors and is very ergonomic.
Havasu Falls Packing List – Lenses
Havasupai Packing List – Tripod
Havasupai Packing List – Filters
Havasupai Packing List – Memory cards
With memory cards, it is easy. You always should buy the fastest and most reliable ones. For years we were using SanDisk and Lexar CF and SD cards for the reason that we never had any issues with them. This is why we can recommend them to you. Finally, it doesn't make sense to save on cards because, certainly, you do not want to lose your pictures because of a card failure.
Finally, Remote Control Shutter Release. It's great to have one, especially for photos taken from a tripod, it's for taking pictures of waterfalls and a must-have for night photos. Our choice is Camera Remote Wireless Shutter Release Intervalometer.
Summarizing. Remember to take the essential things and not overpack yourself. Above all, the most important is your safety and hydration on the trail, so take a lot of water. We hope that this Havasu Falls Packing List was helpful and that you will enjoy your Havasu Falls hike!
Check out our related Havasu Falls articles:
1 – HAVASU FALLS PERMIT AND HAVASUPAI RESERVATIONS
2 – HAVASUPAI PACKING LIST – You are in this part 🙂
3 – HIKE TO HAVASU FALLS
4 – HAVASU FALLS CAMPING GUIDE AND RULES
5 – WATERFALLS OF HAVASU CREEK PHOTOGRAPHY GUIDE
Like it? Pin it!