Hike to Havasu Falls – all you need to know
In this article, we share with you our experience from the hike to Havasu Falls in Havasu Creek, Arizona. We spent three nights and four days in this paradise, enjoying the beauty of the Grand Canyon. For Chris, it was the third time in Havasu Falls. Believe me; he is an expert. And we will tell you all you need to know about the hike to Havasu Falls. How far is it, how to get there, what's Mooney Falls and Beaver Falls like, and more. Hopefully, this guide helps you to prepare perfectly for your trip to this unique place.
This article may contain affiliate / compensated links. For full information, please see our disclaimer here.
2022 UPDATE: Since the onset of the COVID-19 pandemic, Havasu Falls has been closed to tourists. Hiking to Havasu Falls is still prohibited. But this article will surely be of great help to you once tourism resumes.
Hike to Havasu Falls – You MUST Have a Havasu Falls Permit
If you are here, it means that you have a permit for a hike to Havasu Falls in Grand Canyon, and you want to prepare for the hike perfectly. It is mandatory. If you don't have a permit yet, check our post How You Can Make Havasupai Falls Reservations first.
If you're planning to hike to Havasu, check the rest parts of our detailed guide to this amazing place.
Hike to Havasu Falls – Key Points of Havasupai Trail
Distance of Havasu Falls Hike: 10 miles (one way) to Havasu Falls campsite and to the Havasu Falls. Access is via an 8-mile hike down to the Supai village. Then another 2 miles to the Havasu Falls campground. Then another 3 miles from camping to the farthest waterfall – Beaver Falls.
Elevation: Ascent: 2,346′; Descent: -2,346′; High: 5,175′; Low: 2,901′
Grade: Avg Grade: 5% (3°); Max Grade: 34% (19°)
Time required for Havasu Falls Hike: 4-8 hours depending on hiker condition and hiker experience and on the weather
Hike to Havasu Falls – Level of Difficulty: Intermediate to difficult depending on weather and hiker condition
Kids Friendly: No, official Tribe rules says that bringing young children is NOT recommended
Dog Friendly: No, NOT permitted
Permit Required: Yes, check how to Get a Havasu Falls Permit. Permits for Havasu Falls are available from February through November.
Trip/travel insurance: Highly recommended, there are no public health facilities in the village; in the event of an injury, it may take many hours to get treatment or be transported out of the canyon, so check our choice of travel insurance
Trail Condition to Havasu Falls: Well-maintained trail. Well marked and easy to follow.
Flood Warning: Be on high alert for flash floods, especially during monsoon season.
Water: There is no drinking water source between Hilltop and Supai village. Take a lot of water for your hike to Havasu Falls.
Weather: Check it before your hike to Havasu Falls, because this is the desert. Expect very high temperatures most of the year with extreme heat; expect significant temperature differences between day and night
Havasupai Trail map: Below is the trail map from the official Havasupai Tribe site, but it's worth having professional map of the area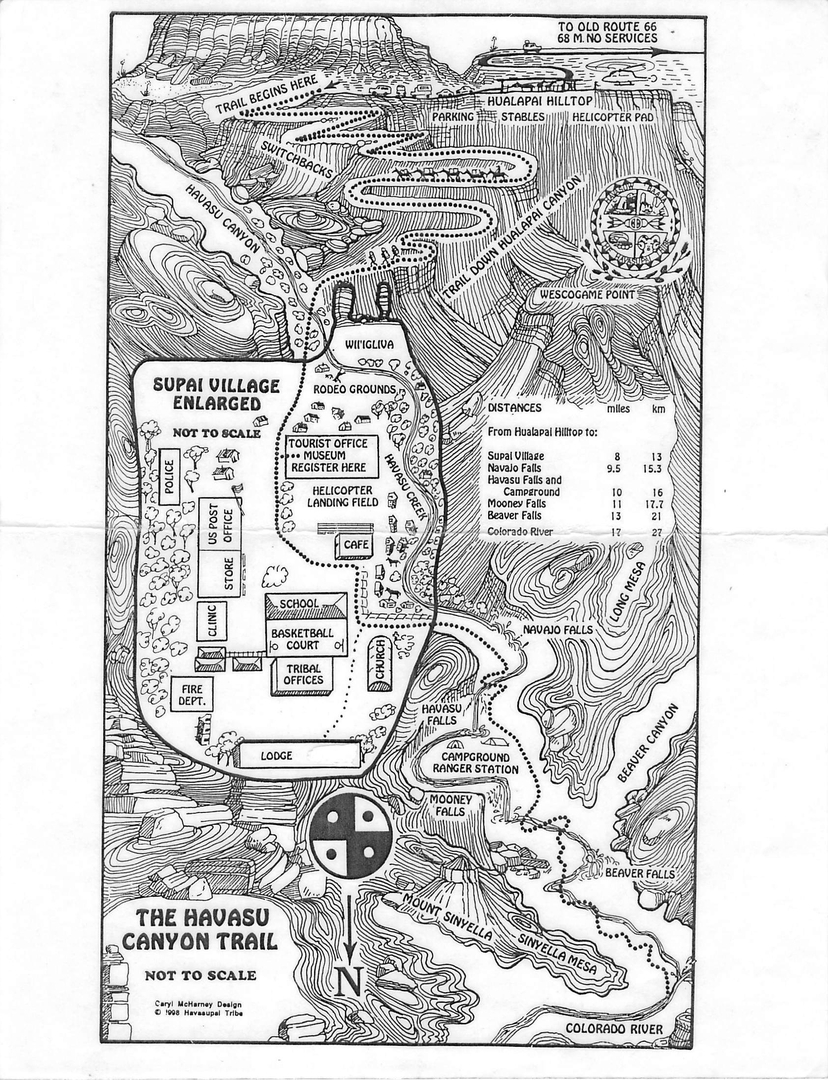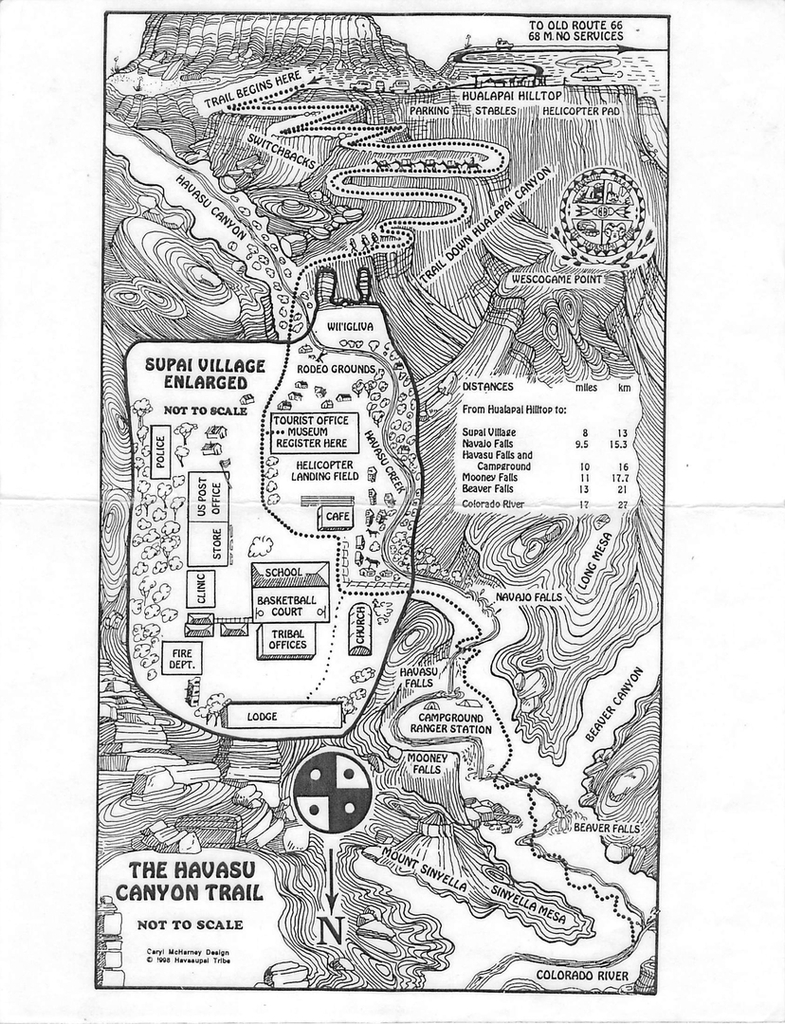 Hike to Havasu Falls – What to Pack?
Hike to Havasu Falls is one of our most beautiful backpack hikes. The 10-mile one-way hike, thanks to the excellent preparation and packaging of essential equipment, was a great adventure. Lucky Chris had been to Havasu twice before. Thanks to his experience, we had a wonderful time together, too. And we share this experience with you.
First of all, do not overpack yourself. Pack as light as possible. Take the most necessary things. You can check our detailed Havasupai Packing List, which helps you prepare correctly for your hike to Havasu Falls. And you will choose only essential and must-have items. Hiking poles are helpful to stabilize on the rocks and the switchbacks during this long hike. Comfortable trekking boots are a must-have for hiking on this terrain. A backpack with a hip belt will be necessary because you have to pack camping gear in it, including your food.
Above all, for the hike to Havasu Falls, take a lot of water, a minimum of a gallon per person if you start your trek before sunrise, and even 1,5 gallons or more if you start later. So, take a large water reservoir. Take also highly nutritious snacks. Besides, eat nutritious foods before and during your hike to and from Havasupai. You need salt to retain water in this extremely dry environment. Proper hydration is most important in this hike through the desert. You are responsible for your safety, so check our advice before you go.
Where is Havasu Falls Trailhead?
It's not easy to get to Havasu Falls Trailhead. Havasu Falls are on the Havasupai Indian Reservation on the Southern Rim of Grand Canyon, northwestern Arizona. But this area is not within the boundaries of Grand Canyon National Park. The Havasu Falls Trailhead starts at the Hualapai Hilltop Parking Lot (located at the end of BIA Road 18). Indian Road 18 is paved – but is a wide range with many animals crossing the road, so drive carefully, especially at night. The Hilltop is the location of a helipad for human and supply delivery to and from Supai village, too.
What is the closest airport to Havasu Falls Trailhead?
Nearest airports are:
Las Vegas, Nevada. The driving distance from Las Vegas, Nevada, to the Hualapai Hilltop Trailhead is 221 miles (approximately 4.0-5.0 hours of driving).
Phoenix, Arizona. The driving distance from Phoenix, Arizona, to the Hualapai Hilltop trailhead is 260 miles (approximately 4.5-5.5 hours of driving).
Flagstaff, Arizona. The driving distance from Flagstaff, Arizona, to the Hualapai Hilltop trailhead is 170 miles (approximately 3.0-3.5 hours of driving).
The best option is to rent a car from the airport (2WD is fine) and drive to Havasu Falls Trailhead.
How to get to Havasu Falls Trailhead from Las Vegas?
From Las Vegas, take the 93 South towards Kingman, Arizona, and then head east on Route 66. After 57 miles, turn left on Indian Road 18. Drive for 60 miles until you reach the end of the road. Driving from Las Vegas takes 4-5 hours.
Peach Springs and Kingman, Arizona, are the nearest places to the trailhead with essential services like gas, food, and water. So check, if you have enough gas to reach Havasu Falls Trailhead. More choices you have in Kingman. Then you can buy food after a roughly 8 miles hike down from the trailhead on the rim, in Indian Supai village. But the choice is limited, and prices are higher. From Supai village, it's 2 miles hike to Havasupai Campground.
Security checkpoint before hike to Havasu Falls
On the Road 18, about 5 miles before Hualapai Hiltop, it's a first security checkpoint. It's the first time Indians check if you have a reservation (permit to Havasu Falls) and if you are on the list. They also check your car and luggage and possession of alcohol, drugs, drones, weapon or coolers, and other strictly prohibited items on Tribal land, which you can check here.
Where to stay the night before hiking to Havasu Falls?
It's a long hike. So it's worth resting before it. Your nearest accommodation to the Hualapai Hilltop, which is the trailhead for the trek to Havasupai is in Peach Springs and Kingman, Arizona. Peach Springs is a lovely place and is only 66 miles (90 minutes from the trailhead).
From Kingman, it's 118 miles and about 2-2,5 hours driving. There is also more choice and better prices of lodging.
There are also a few options for lodging in Seligman, Arizona. It's 90 miles and about 1-3/4 hours to the trailhead. What's more, there are also some campgrounds in Seligman and Kingman.
Where to park to hike to Havasu Falls?
There is large parking with restrooms at the Hualapai Hilltop trailhead. There is also a place to park just below the toilets, but there is no water available at the trailhead. We saw people sleeping there in the parking. But we do not recommend sleeping in the car before this long hike. The parking lot is large but crowded. Besides, it is quite loud. Cars come all night. So, it might be challenging to rest before the hike to Havasu Falls. A much better option is to stay overnight at Peach Springs, Kingman, or Seligman. Sleep comfortably and let rest your legs and spine before a long hike through the desert and leave your hotel early in the morning, even 2-3 hours before sunrise.
How long is hike to Havasu Falls?
The hike to Havasu Falls is 10 miles one-way (16 kilometers), and it drops nearly 2,000 feet of elevation. How long you will go down depends on your skills, experience, and above all, on your physical condition. It depends on the weather, too. Most people can cover the 10 miles from the trailhead to the Havasu Falls camping in about 5-6 hours. Fast hikers will take less time (4-5 hours), and slow hikers will take more time (6-7 hours).
We did it in 4 hours with backpacks to go down. Hiking back out takes most people 1-2 hours more than it took them on the hike down.
Is the hike to Havasu Falls hard?
The hike is rated as being moderate to difficult. It depends on your skills, experience, and above all, on your physical condition. The trail down to the Supai village, and then to Havasu Falls camping is not technically challenging. When you are going down, the path is wide and safe. There is no climbing required. The biggest problem is the sun. It's hot. That's why the long hike through the desert is strenuous. Above all, most of the elevation loss on the hike occurs in the first mile from the trailhead. The trail descends moderately steeply along switchbacks. That's why it is much worse to get back upstairs from Havasu Falls to Hualapai Hilltop. The path is climbing all the time upwards through 10 miles, but the last mile is the worst one. In the heat and with the backpack, this is a very exhausting hike. On the way back from Havasu Falls Camping to Hualapai Hilltop trailhead, we decided to take a helicopter because of a lack of time for a long and strenuous hike. All about Havasu Falls helicopter, you will read here.
No scrambling is required to reach the famous Havasu Falls, the Supai village, or the Havasu Falls camping, but there is a steep down-climb needed to reach the base of Mooney Falls and also to get to Beaver Falls. So two of 5 Havasupai waterfalls require some skills and proper preparation.
There is no water on the hike to Havasu Falls for 8 miles. There is no shadow. So most important is water, take minimum gallons of water or more if you are going to start your hike during a day. But we recommend starting it before sunrise. So, if you have no experience hiking with a heavy backpack with equipment containing camping gear, clothing, food, and others, it might be a challenging trail for you. But don't worry, above all, you can train before your hike to Havasu Falls. Train for your hike to Havasu Falls by taking long hikes or walks, preferably with a loaded pack on your back.
How Havasu Falls hike looks like?
Havasupai Falls trail
As we mentioned above, you don't need scrambling to get to Havasu Falls. The hike to Havasu Falls is beautiful. You are going down to the spectacular canyon. Believe us; it's worth your effort. The trail starts at the Hilltop, where it switchbacks down the side of the canyon for about ¾ of a mile. This is the most challenging part of the trail by far and is much more difficult on the way back up. The path is approximately 8 miles (13 km) long to Supai, with an extra 2 miles (3.2 km) added on to reach the campground and descends about 2,000 feet (750 m).
The trail then leads down off the plateau into a dry streambed. Caution should always be taken when entering a dry streambed in any desert, as it is a prime place for flash floods. So if you are going during monsoon season, check the weather before you go. The trail follows the streambed down. Smaller paths veer away from the main trail. There are no signs, so every tiny path in the trail offers a choose-your-own-adventure predicament. But don't worry, all of them lead you to the Supai village. During your march, you can encounter mules on the trail. So make the space. Remember you can't take photos of them.
Hike to Havasu Falls – Security checkpoint before Supai Village
About 2 miles before the Supai village, we were met by a uniformed Indian on horseback. He asked about our names and checked them against the reservation list in his hand. So if you don't have a permit, you will be asked to return to the Hilltop.
The trail meanders down this streambed for approximately 5 miles (8.0 km). Then the canyon starts to open up into another canyon. There is a beautiful stream with green-blue water and a lot of plants. It starts oasis in the desert.
Hike to Havasu Falls – Havasupai village and check-in office
The path will take you next to the stream where you will encounter a bridge. The trail crosses the bridge, thus entering into the Supai village. On the tree, you will find a sign: do not take pictures of the village and community, so respect it, please. The trail enters the village, where is the check-in office. There is a lot of signs on how to get there. You have to go to and check-in.
Do not forget your reservation confirmation and your ID/passport. You must register at the Tourist Check-In Office (which is usually open from 6 am to 6 pm from May through October, and 9 am to 3 pm the rest of the year). Bring a printed copy of the email confirmation of your campground reservation (or at least a screenshot of it on your phone). Be sure also to write down (or take a photo of) the license plate number of your vehicle that you parked at the trailhead – you will need it when you check-in. A reservation is only valid if the person named on the booking is present at the Tourist Check-in Office in the Village of Supai with a photo ID – otherwise, the reservation is NOT valid and will NOT be honored.
When you check-in, you can go 2 miles further to the campground.
In our separate article, we give you some tips for choosing the perfect campsite in Havasu Falls camping, and we tell you more about camping rules and camping etiquette.
From the office, it's an easy path to camping. You have to cross a village. You will see a small village square where all the public buildings are located. There is a post office from which mail is taken up by mules! The trail then goes through the village along the canyon wall to the right. You will see an Indian school and a church (visitors are welcome), and Havasupai Lodge. It is only one lodging opportunity near Havasu Falls, but it's not easy to book it.
A massive flood changed the area in 2008. Chris was there before the flood, and the area looked completely different. After circling the small canyon, the trail starts to head down towards the creek, and you will cross two small bridges. You are now hiking alongside Havasu Creek under the shelter of shady cottonwood trees.
Then, the trail leads you to the first and second waterfalls: Fifty Food Falls and Little Navajo Falls. Fifty Foot Falls is located about 8.5 miles from the trailhead and a mile or so from Supai village. Little Navajo Falls is directly below Fifty Foot Falls, so you can easily hit both of these at the same time during your hike. Then you reach the famous one – the top of Havasu Falls. Havasu Falls is down the hill about a half to three-quarters of a mile past Little Navajo Falls. You don't need climbing to these three waterfalls to reach them in contrast to Mooney Falls and Beaver Falls.
Havasu Falls Camping
From Havasu Falls point, it's only 5-minute walk to Havasu Falls Camping. On the right side of the trail is the cliff that is next to Havasu Falls, where is an excellent spot for photographs of the falls. There is a handrail on the right side. The trail heads down and enters into the Havasu Falls camping. The camping is over a half-mile long and offers many campsites, and lots of them are scenic over the streams. You cannot reserve a specific campsite at Havasupai. All sites are first-come, first-served. In our Havasu Falls Camping Guide and Rules article, we share with you our experience about the best campsite in this campground.
There is a small spring (Fern Spring) at the beginning of the campground, which offers freshwater. The campground has many composting toilets and picnic tables. The Tribe asks to pack out all trash and does not permit campfires. More about camping rules read here. The following are not allowed: alcohol, drugs, smoking, drones, amplified music, littering, nudity, jumping, diving, climbing, fishing, hunting, horses, dogs, animals, carts, bikes, vehicles, fires, fireworks, firearms, weapons, boats, rafts, kayaks, inner tubes, pool floats, pool toys, styrofoam, water guns, taking photos of Havasupai people or property, and anything else that may be hazardous or discourteous.
Mooney Falls hike
As we mentioned before, two of the five Havasupai waterfalls require more difficult climbing and proper preparation. We have a separate article about all five of the Havasu waterfalls. Here we mention that to get to Mooney Falls you have to go through the whole camping. And then you have to go down the tunnel hollowed out in the rock and ladders vertically down. It is so complicated because it is very slippery. The breeze from the waterfall rises firmly upwards. Rocks, chains, and ladders are slick and muddy. So take appropriate footwear, boots with excellent traction, and gloves. But it's a short hike. The good news is the climb down is pretty quick and doesn't take more than 15-20 minutes.
Beaver Falls hike
The Beaver Falls is stunning. Worth the effort. It's the longest hike. It takes about 2 hours from Mooney Falls. It's deep down in the canyon about 3 miles past the Havasu Falls camping. The trail to get there is dynamic, with some ups and downs, there are several ladders too. Above all, you have to cross the river three times, so water shoes are essential. But the trail has fantastic views.
What is best time to hike Havasupai Falls?
Above all, start your hike to Havasu Falls as early as possible. First of all, it is a desert, and summer temperatures exceed 100 degrees. If you are going during the summer, start your hike an hour or even better two hours before sunrise. You will avoid the highest heat. If you go in Autumn, also begin as early as possible. Our advice: pack your backpack before you go to sleep so that you don't waste time early in the morning and risk hiking in the maximum heat of the day. And use your headlamps to light your path before sunrise.
You'll drop about 1000 feet on switchbacks within the first 1 mile or so of hiking. We hiked to Havasu Falls on the last weekend of October. The maximum temperature reached 65-70 degrees, but we left Hualapai Hilltop before sunrise, too. Why? To choose the best camping spot. And to enjoy this paradise for as long as possible. We had all the beautiful days after our hike for rest, relax, and hanging in a hammock. Believe us, the blue-green waterfalls and swimming holes of Havasu Creek are breathtaking and worth your effort.
What about Havasupai weather?
You have to check the weather before you start your hike to Havasu Falls. The hotter the temperatures are expected to be, the earlier you should try to start hiking. First of all, Havasu Falls Permits are available from February 1 through November, and peak season is from May-September, whereas the monsoon season is from July-August. Summers are sweltering, with temperatures exceeding 100 – 115 degrees F and even more (38 C – 42 C). In July and August, monsoon storms and flash floods are frequent. Be aware of the risk of flooding. So check the weather well in advance, and take a lot of water for your hike. Water temperatures average 60 -70 degrees Fahrenheit during these months.
The season of September through November, March, and April tend to have comfortable air temperatures; however, the water will be chilly. Fall (September-November) is an excellent time to visit Havasupai. The high temperature of the day is typically reached by about 10:00-11:00 am. So, we recommend starting your hike to Havasu Falls (down or up) between 3:00-5:00 am from June through September so that you aren't hiking at this time. In October, we started before 7 am. Remember, this is a desert area, so even in summer, the temperature differences between day and night are significant, so be prepared for chilly mornings and evenings. Check our list of what to take to Havasupai.
Do you have to hike to Havasu Falls?
Well, you don't have to hike. But hike to Havasu Falls is a terrific experience. Backpacking and hiking to Havasu Falls are not so difficult. There are three options for getting to Havasupai Waterfalls: you can hike in with all of your gear, you can hike in and hire a mule to carry your equipment for you, or you can take a helicopter ride. Yes, you can take a helicopter to Havasu Falls. If you have health or fitness problems, better take a helicopter, especially on the return trip, which is very heavy. But remember the helicopter takes you only to and from Supai village. From the Supai village, you have a 2-mile long hike to camping.
Or you can pack your equipment on mules to Havasu Falls. But we are against the use of animals. We've read stories about animal fatigue and death along this trail, and we don't recommend it — your choice. We saw overloaded animals in the heat. We believe that they should not be tormented. It's awful, especially when we saw young and healthy people, which pack their luggage on the mules. We could only understand using a mule by people with disabilities.
We give you details about this in our previous article.
Please come prepared, stay safe, and enjoy your visit to Havasupai Waterfalls! The sound of the waterfall hitting the cliffs, blue-green water, and red rocks are worth your effort and hike to Havasu Falls. It is a paradise.
We hope this article is helpful for you, and your hike to Havasu Falls will be a great adventure.
Please leave a comment, and if you like it, please share it.